Did you even know that another country existed situated inside Nevada? A whole other nation? I booked my ticket. I had to see it.
Caution: Rabbit Hole
First, a stern warning: There is a BIG chance this whole thing will send you down the rabbit hole. It sure did for me, and before I knew it, I found myself submitting an offer for some land to start my very own micronation. But we'll get to that later. First, The Republic of Molossia.
The Republic of Molossia is one of those things/places which I can't remember when or where I first heard about. At some point in my life, the knowledge of this place was planted in the back of my head and left there for years – to germinate and stew, eventually (years later) sprouting into a full blown conscious thought, decision, plan and action to take part in it all. June 1st, 2021 was the day I actually booked my airline ticket to Reno, Nevada, to rent a car and make the drive to visit the Republic of Molossia.
I guess now would be a good time to explain what the hell a "micronation" is, anyway. Brittanica states that a micronation is "an entity that claims to be an independent state but whose sovereignty is not recognized by the international community. Micronations are distinct from microstates, such as Liechtenstein or Vatican City, whose sovereignty over extremely small territories and populations is internationally recognized."
>>> RELATED: Some Vatican, Some VatiCAN'T – My Trip to The Vatican
In layman's terms, a micronation is usually land owned by someone so weird and eccentric, they decide to claim sovereignty and proclaim that said land is now a separate country. They name their country, appoint themselves "King" or some other ridiculous title, and then do a bunch of other silly stuff, from making a website to declaring war (or becoming allies) with other micronations or fictitious countries. Trust me, this is an extremely basic definition and set of details on a subject that is so complex. I've barely scratched the surface on the whole "micronation" thing. Did you know there's even a worldwide conference for micronations called MicroCon??? Now do you understand about this rabbit hole I was speaking of? It's so easy to get sucked in. Anyway, let's stay on track (clears throat) – let's talk about my trip to The Republic of Molossia.
The Plagues and Pleasures of The Salton Sea
I don't even remember what exactly caused me to pull the trigger and actually spend money to travel to this place, which lies about 45 minutes outside of Reno. I think it was a combination of wanting to travel somewhere new, but being restricted by the pandemic; combined with the rough plans to visit The Salton Sea with one of my best friends.
My buddy Polo and I have a lot in common, including our love of exploring weird and bizarre places. The Salton Sea in Southern California is one of those wacky spots and we'd promised each other we'd spend a day together in soon. The giant, salty lake in the middle of the desert was once a budding new resort area, with plans to compete with (and even be superior to) Palm Springs, but the whole area was abandoned after a flood. That story in itself is fantastic. (What did I tell you about that rabbit hole, huh?!) Polo and I were looking forward to wandering the toxic shores of that weird wasteland littered with old trailers and fish skeletons, but I decided to raise the stakes. I basically said, "Polo, I'll take your Salton Sea and raise you The Republic of Molossia," and well, here we are.
You Are Now Entering The Republic of Molossia
Polo and I flew into Reno on a Friday night and by Saturday morning we were heading out of town on our way to the mystical and mythical land known as Molossia. I'd reserved a tour for the both us. Molossia is not  country you can just show up and visit unannounced. The official government website is very clear that anyone wanting to visit must register for an official tour, scheduled on predetermined dates. I'd signed up back in June and even received an email confirmation from the president of Molossia himself, His Excellency Kevin Baugh. I'm not gonna lie, I was a little excited. This was just so fun!
We arrived a few minutes early and I was surprised to see over a half-dozen other "visitors" already there, waiting to enter the nation as if the gates of Disneyland was about to open. The President was already at the "port of entry" of his "country," taking photos with his special guests. Who were these people, where were they from, how did they hear about Molossia and what made them come? I don't know if I was relieved or confused that Polo and I weren't the only weirdos who wanted to visit this guy's "country." There are others!
The first order of business was to hand over the four tubes of cookie dough we'd brought for The President. Their currency, the Valora, is not backed by gold or silver, but by Pillsbury chocolate chip cookie dough. Hey, gotta support the people, right? Plus I wanted some of that Valora! I just hope the sudden influx of dough wouldn't cause hyperinflation.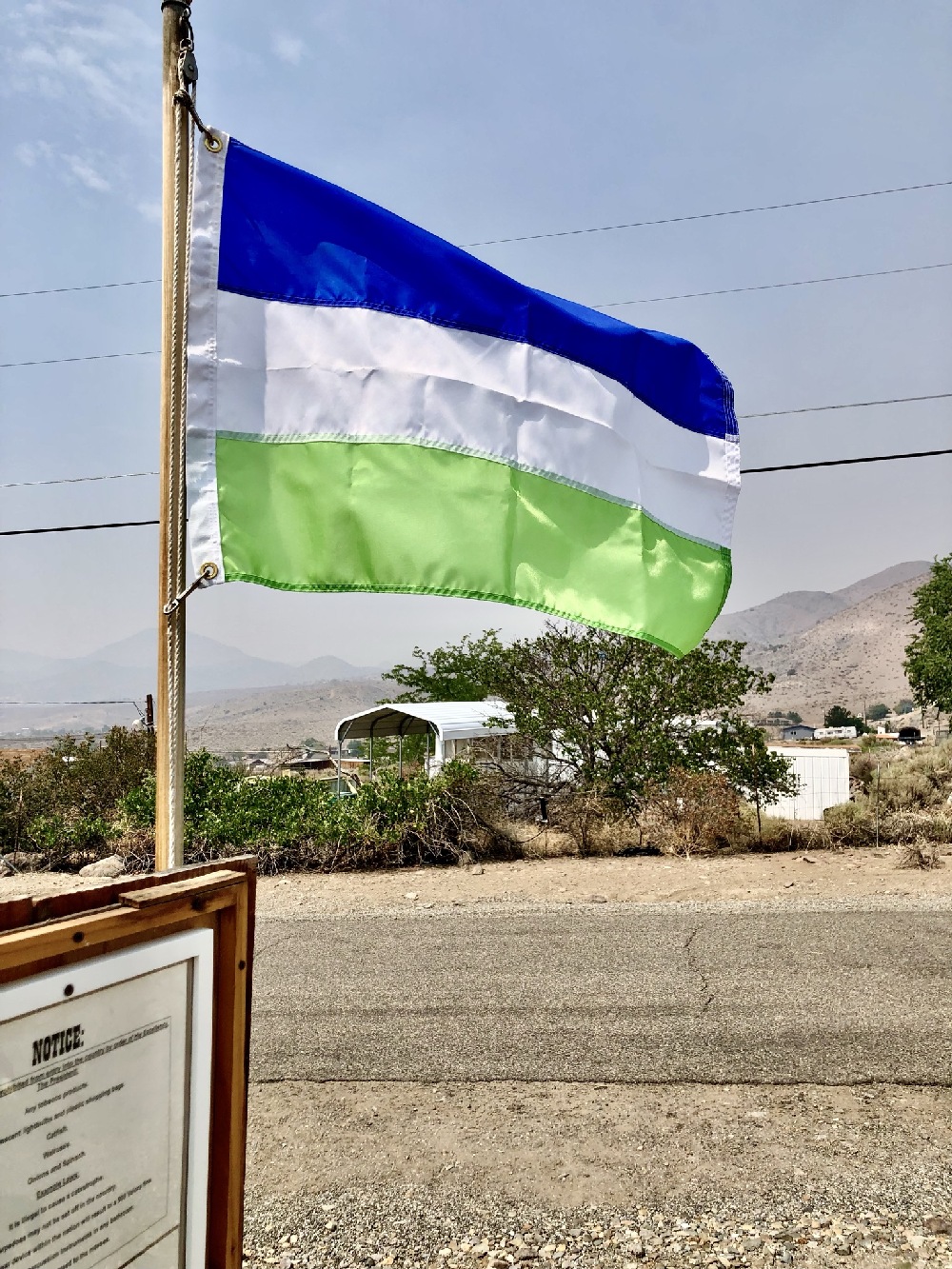 Customs and Immigration
The next hour was just one of the coolest things ever: a grand tour of a tiny country by its president and first lady. It started by being given the official rules and laws of Molossia, which included a list of prohibited items including walruses, catfish and plastic grocery bags. There was also a list of dont's, including prohibited acts like setting off a nuclear device and playing drums in the bathroom. And it gets more bizarre: There were all valid reasons for each and every one of these regulations and His Excellency explained every one in great detail. I'll save the specifics for you to learn on your tour. But if you're just dying of curiosity and can't wait until your visit, you can read many of Molossia's federal statutes HERE.
Next came the processing of passports. Getting your passport stamped was purely optional, but I wasn't passing up the chance to "make it official." One guest was using his expired passport – I could tell by the holes punched through it. However, I used my valid book. I was later warned via social media, that this stamp could/would invalidate my passport, but I wasn't too worried: The stamps and visas in my extra thick and almost-full passport from places like Afghanistan, Iraq and Somalia were much more likely to cause negative attention from border agents than that tiny stamp from Molossia. You probably couldn't find the stamp in under five minutes if you tried! One of the guests there did tell me about the border police in Toronto giving him grief about the Molossian stamp in his book, but oh well – I like to live life on the edge!
>>>RELATED: Dangerous Lands – The More Balls Than Brains World Tour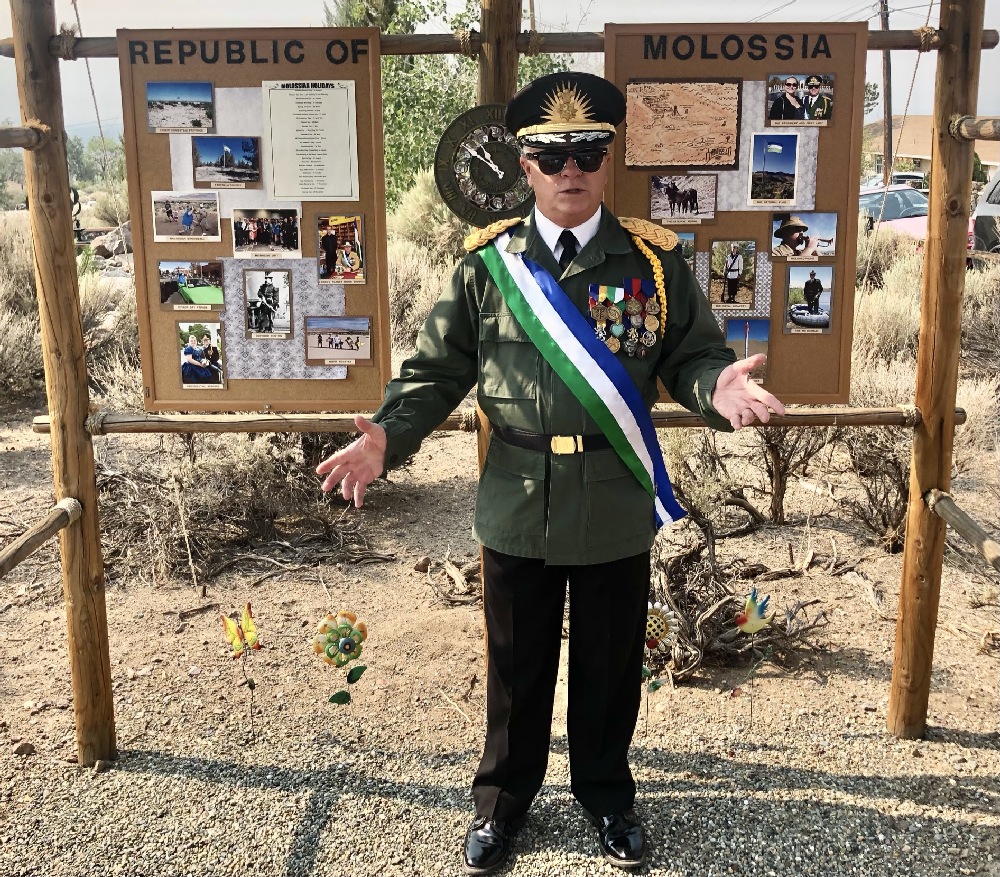 A Presidential Tour
After all the formalities and being "stamped in," it was time for the tour. First order of business: We were shown the nation's public phone system and the fire department, before being ushered into Red Square. This was the center of activity, where there lived a post office, general store, Tiki bar, federal bank and The Office of the President. But wait, there's more!
A Full-Service State
I was totally impressed with all the goings-on inside the main square, but there would be more. As we ventured out into "the county," the group was shown the nation's water department, wind tower, salt mine, national park (complete with trails and a map!), federal penitentiary, and wait for it…wait for it…the Molossia Space Station! We'd stop at each of attraction to learn its history. His Excellency was quite the comedian, slipping in many jokes along the way. He really had his script down to the tee! One couple bailed on the tour early – I think they were just too hot. I suggested they be ex-communicated and banned from ever returning to Molossia. You do not disrespect Molossia!!!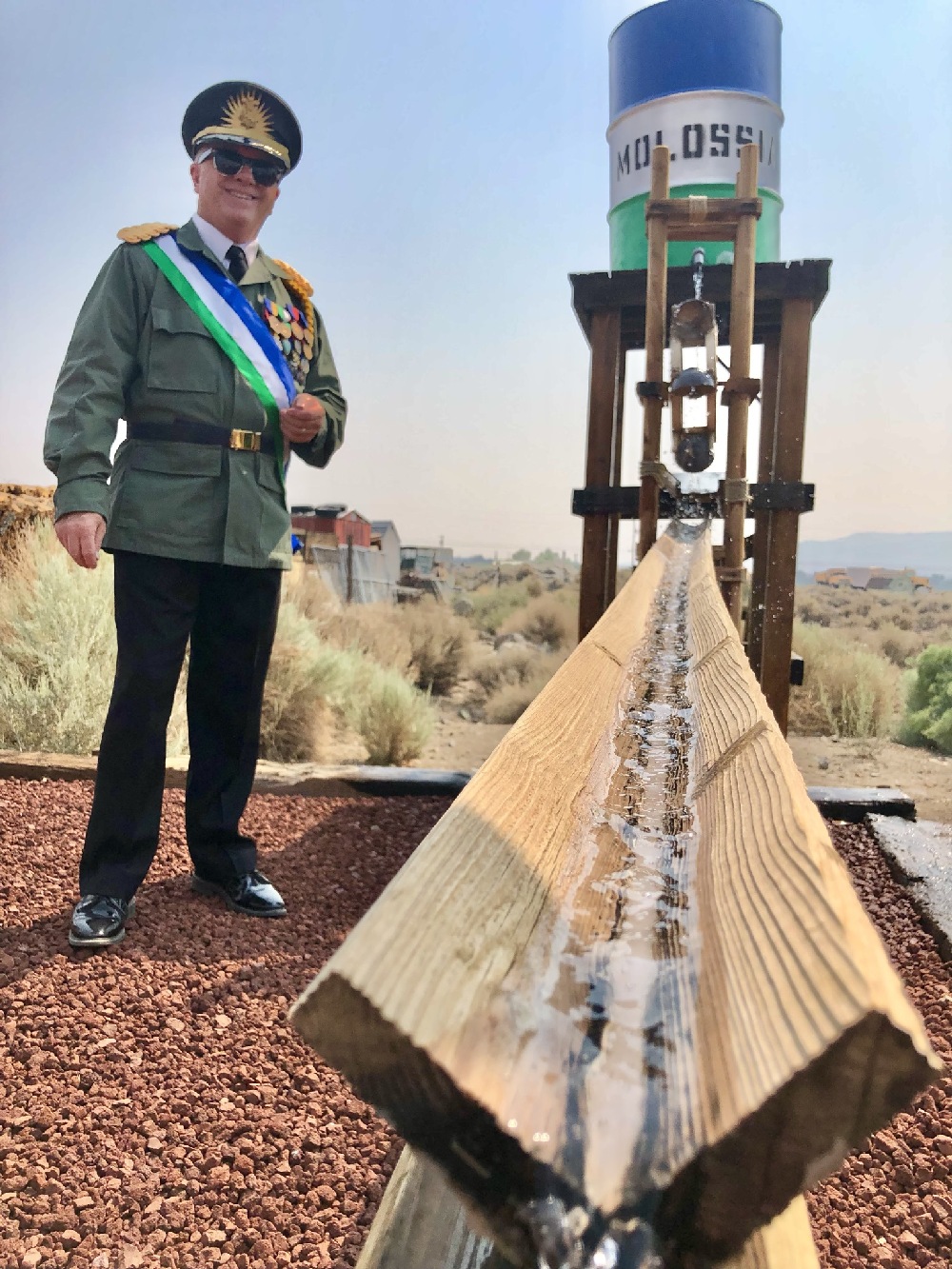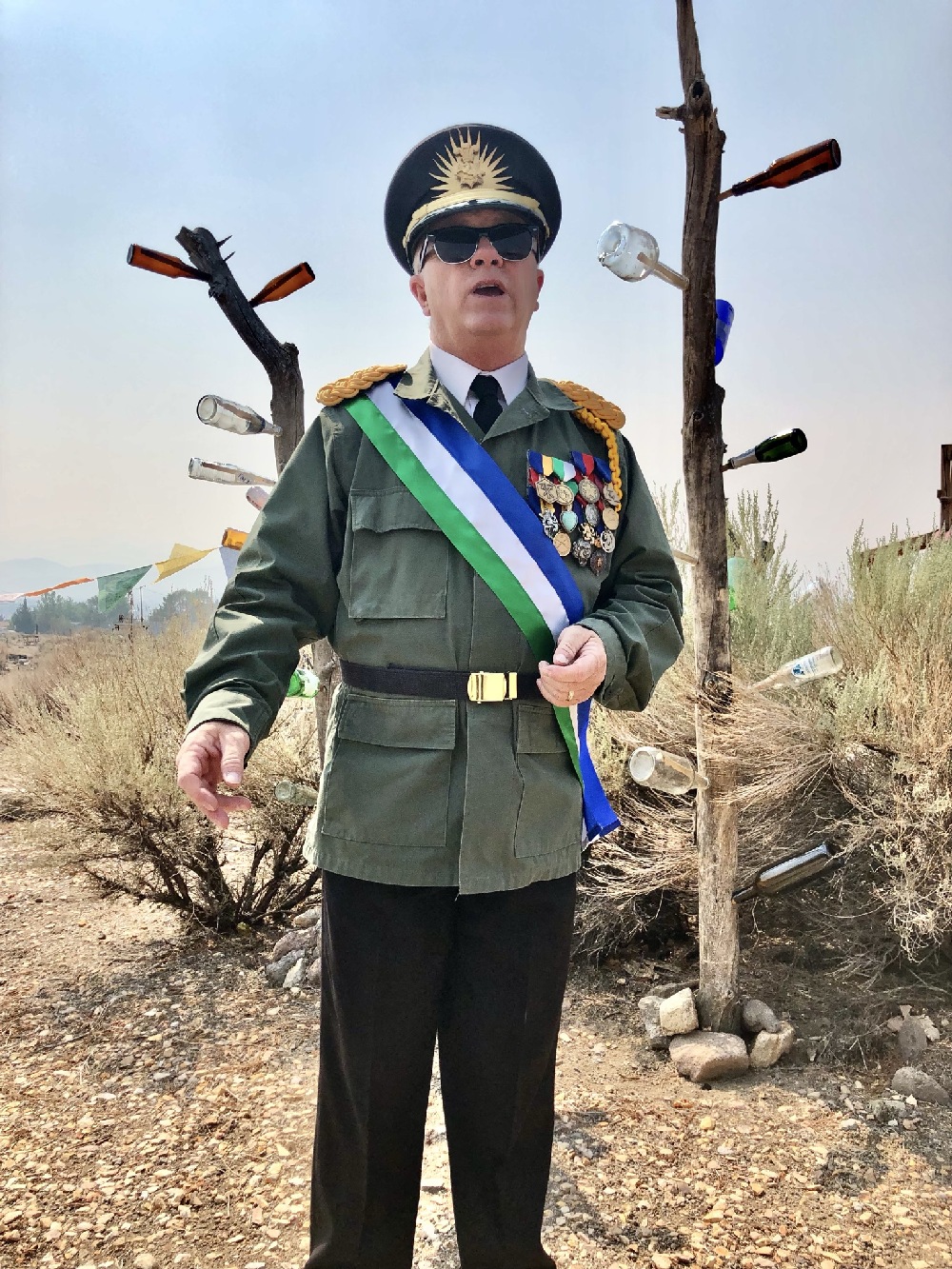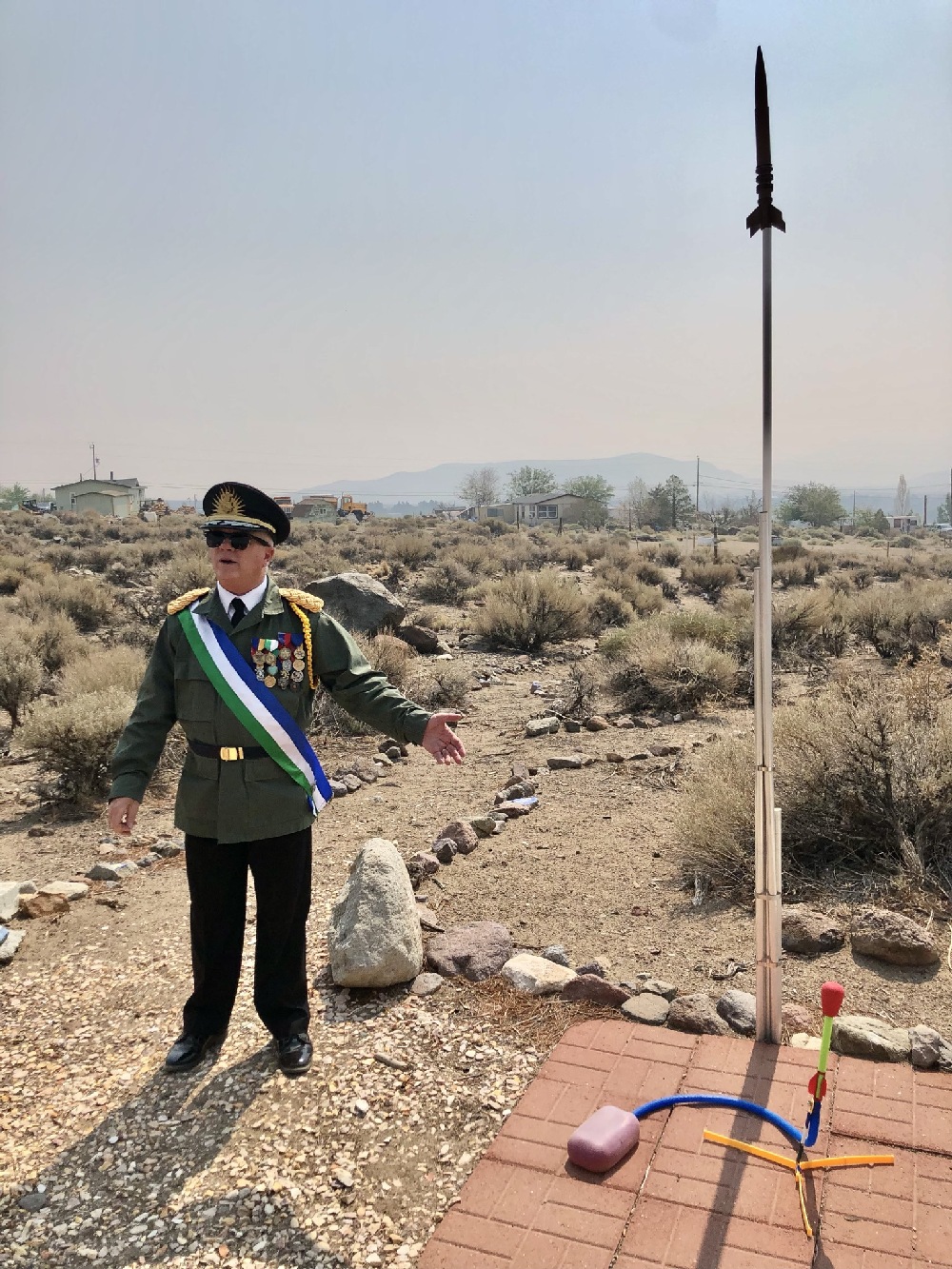 My Final Moments in the Country
After the tour was complete, I asked permission from His Excellency to spend a few minutes taking more photos and video, to which he happily granted approval. I spent the next five minutes on my own, taking closer looks at some of my favorite features of Molossia. Polo reminded me that President Baugh probably wanted to get out of that hot suit (it was over 100 degrees) and that, as a courtesy, I should probably wrap it up, so I did. But not before buying some official Molossian postcards and stickers from the general store. Hey, you gotta support your favorite dictatorship, right?
We said our goodbyes as we exited customs and immigration and crossed back over to the USA. We returned to our rental car and watched Molossia disappear from the rearview mirror as we headed over to Virginia City for lunch. What a fun time in Molossia! The country's layout and attention to detail were fantastic. Kudos to His Excellency for building such an incredible nation. Meeting and spending time with the president was just the cherry on top. It was all so fun.
I've left many details out by design. Part of the fun of it all is the mystery surrounding this micronation and I don't want to ruin it for you. You should really try and make it out one day. At very least, explore their official government website HERE. Who knows, it may inspire you to create a micronation of your own. For me, that was indeed one of the repercussions of visiting…hold my beer.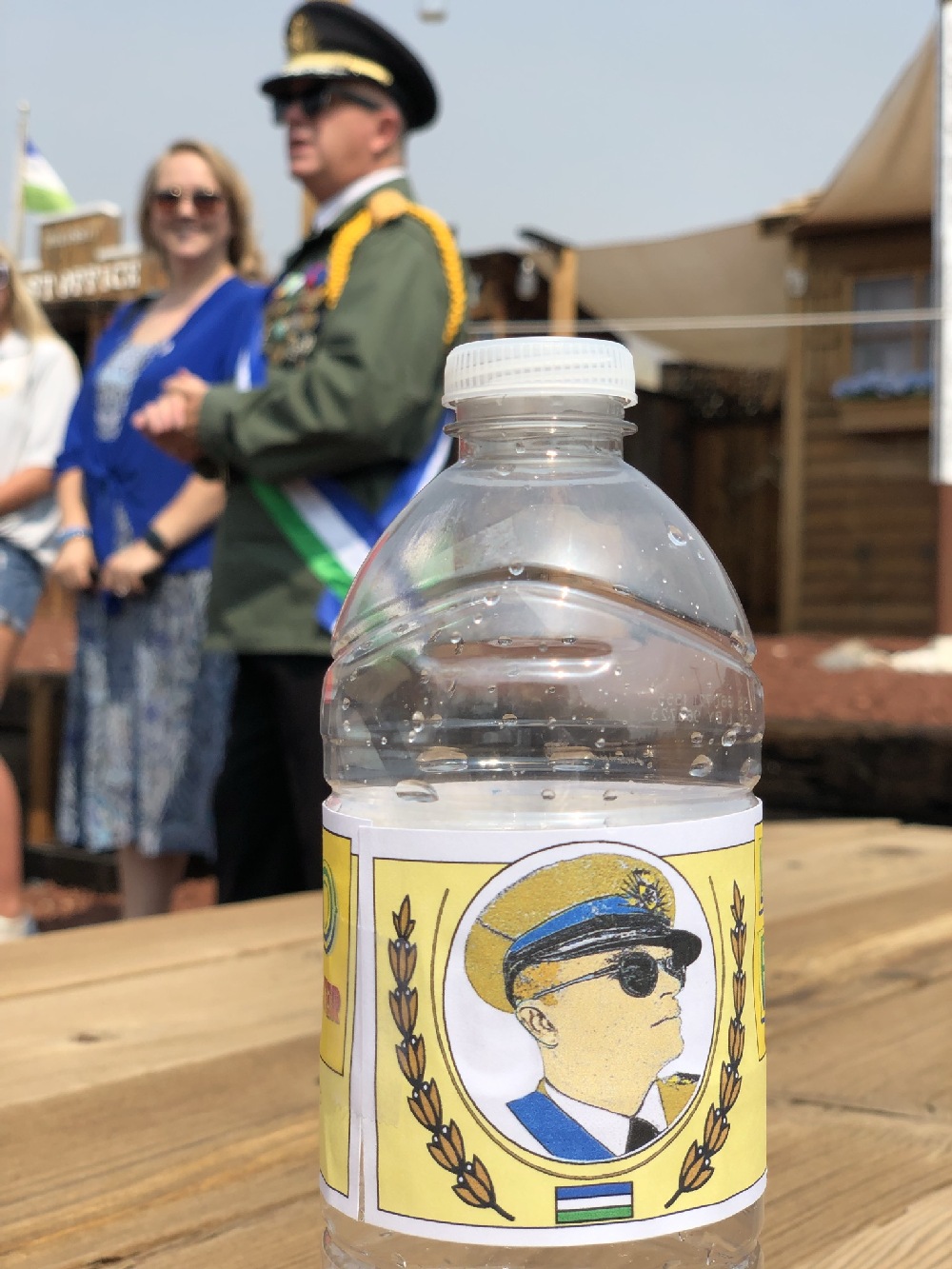 The United Territories of the Sovereign Nation of The Republic of Slowjamastan
Here's your reward for reading through this entire blog. I am not making it public until after 2022, so consider yourself one of the very few lucky people "in the know" about these plans. Just yesterday (August 20th, 2021), I made an offer to buy some land. I am starting my own micronation. It's contagious. And weird. I know!!!
I'm barely getting the website up and running, but you're welcome to take a peek HERE. You won't hear anything else about my micronation until after 2023, when I finish all 193 countries and mine is ready to open. But feel free to bookmark the website and its social media counterparts and follow along as we build the nation. I will not mention it again until it opens in 2023.
RAMBLIN' TIP: While Molossia currently has no lodging available to the public, you can get a great deal on a hotel in Reno HERE.
This entry was posted in
North America