One of These Trips is Not Like the Others
It actually took me a second to get used to not seeing soldiers with giant guns and armored UN vehicles patrolling the streets. I'd been spending the last two years knocking out as much of Africa as I could handle on my way to 193 countries. There are 54 nations in Africa alone! I'd visited some other, more tranquil places, but managed to spend most of my time carving a sizable chunk out of the behemoth that is Mother Africa, and that meant visiting lots of unstable nations. Somalia, Burundi, Mali, Burkina Faso; the list goes on forever. I wanted to get some of the hard ones out of the way first. A lot of country counters (people attempting to visit all 193 nations) start with the easy ones. I'm doing it backwards: getting the tough ones out of the way first. I even managed to check off Libya (I've been told I was one of the first tourists to visit after the war).
I've added in a few more crazy ones, in different continents, like Iraq and Venezuela. All these are counties that, in general, tourists simply don't visit; many of them are marked "Do Not Travel" by The State Department. I'm usually on some sketchy plane with locals only; sometimes a handful of aid workers. And there are a million security checks; including searching vehicles just to get into the airport parking lot. It's all part of the cost of visiting every country in the world, and a condition that I don't mind, but I'd be lying if I said it didn't stress me out a little bit.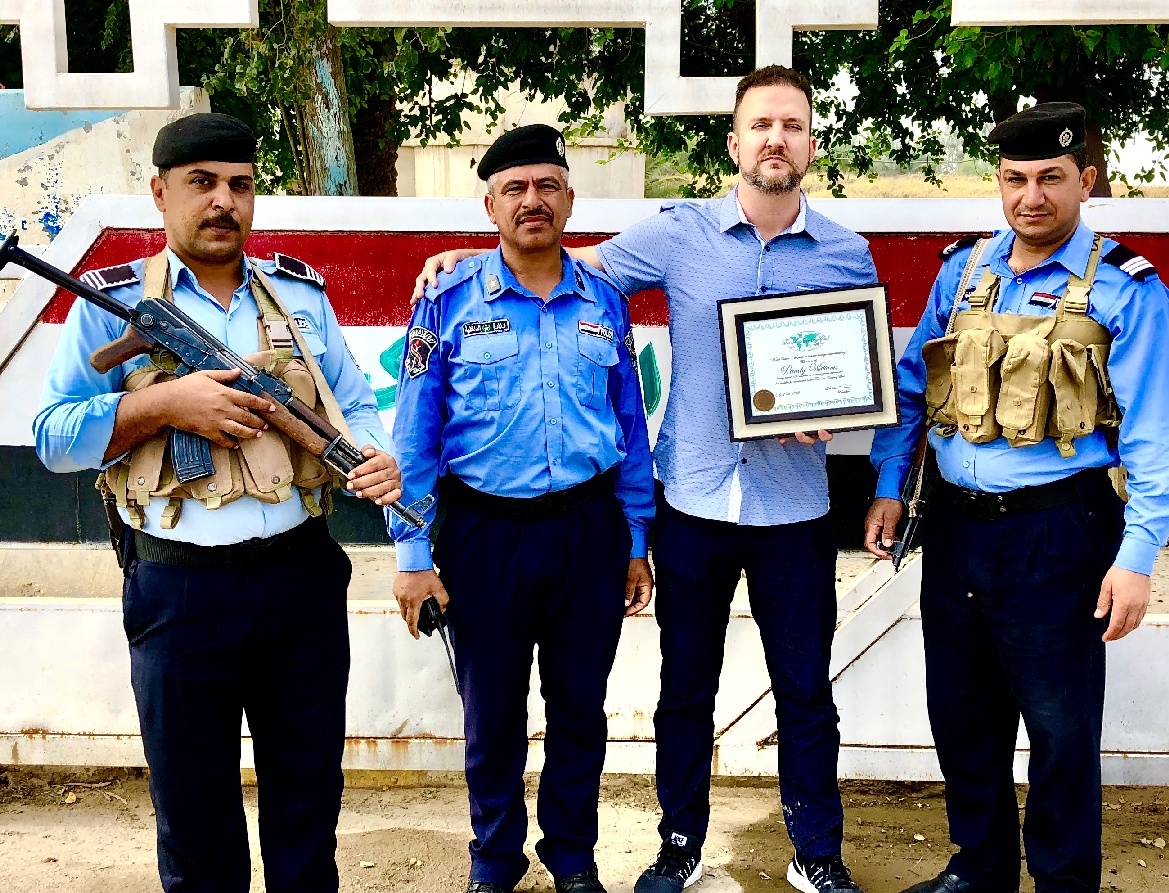 So The Maldives was nothing less than an absolute treat for me; the experience being the polar opposite of visiting a country like Somalia, in every way imaginable. But we should back up just a bit before we get to the good stuff. As with all of my blogs, one of my objectives is to help travelers looking for information on destinations. And unlike most of the countries I've visited, where you can check off the nation by just plopping down in the capital and exploring, The Maldives are a little different. Similar to Fiji, the Maldives are made up of a ton of gorgeous little islands, and that's where you want to ultimately end up if you're coming this far—the capital is the last place you want to stay.
>>> RELATED STORY: THE MORE BALLS THAN BRAINS TOUR – DANGEROUS VISITS <<<

Choice Overload
So which island to visit? The Maldives are made up of 1,200 islands, with 200 of them inhabited, mostly by
private resorts
. I got anxiety just thinking about starting to "island shop." So much to compare: services, amenities, price points, how to get there, etc. How to choose? Luckily, one of my good friends who is absolutely ten times the traveler I am (he once went to
Kazakhstan
for the weekend) had a recommendation. I'd take his tip and make a reservation at the
Kuredu Island Resort and Spa
, without even looking elsewhere.
Eric
's never steered me wrong, and in fact, given me a collection of solid gold tips over the years.
Kuredu
it would be!
This is the part where I mention that
Kuredu
didn't pay me for this write-up. Nor did they comp any rooms or services. I gotta get better at this "influencer" thing, 'cause I'm about to give them a ton of free advertising, but I'm doing it for you. There have been only a few times I make a big whoop about a hotel or resort I stay at, and it's usually because I really think you should know about it.
Where in the World
The Maldives is the middle of nowhere. Really. It's these tiny islands and atolls in the middle of the Indian Ocean, closest to Sri Lanka. This trip's routing would start me off in The Maldives (via a Singapore connect), then on to Sri Lanka (the obvious one), and then up to Bangladesh. India would've made the most sense for a visit to on this trip, but I'd already been. After Bangladesh, I'd head west to Bahrain, with a 20-hour layover in Kuwait, enough time to bop around and cross it off the list, too. I'd head home enjoying a nine-hour layover in London.
I was actually really excited about this itinerary and route. It would have me going entirely around the world in about ten days, as I'd begin my journey with a 17.5-hour flight from San Francisco to Singapore, business class, on Singapore Airlines. This would be the longest flight I'd ever flown in my life, trumping the 16-hour Sydney to Los Angeles ride; but I didn't mind! After all, it was business class, on an Asian carrier; this was going to be good. Best of all, total cost from SFO to SGN in biz: $24.70! I used 94,000 KrisFlyer miles, transferred from my Citi Thank You Points (thanks to great sign up bonuses from the Citi Prestige and Premier cards).
Nervous Nellie
My only worry was that I'd miss my 10:50AM departure from San Francisco. I could have played it safe and arrived in San Francisco the night before, but I opted to fly in from my home city of San Diego that same morning. One missed flight and the whole trip would've been blown. I mostly worried about fog—in both San Diego and San Francisco—but the morning flight was good to go and soon I was at SFO looking for my gate. And there it was: that big Singapore 777, sitting on the tarmac, ready for flight, ready for me.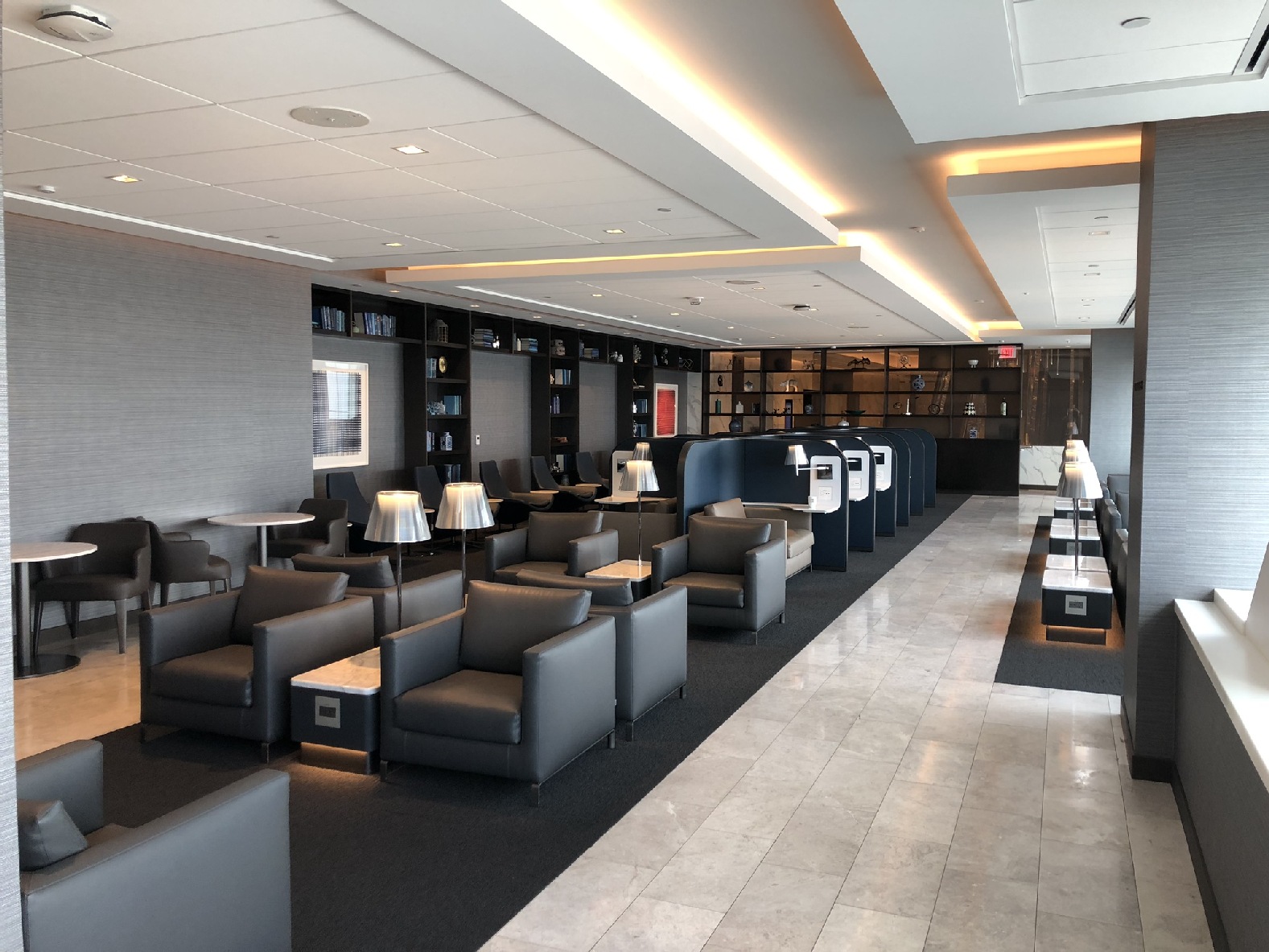 Fancy Flyer
It was my first flight on Singapore Airlines, and it was very nice. The service was fantastic and I had a giant TV screen in front of me. I didn't love the food. It was very nicely prepared, just no choices that tickled my fancy much, although the cherry flan was yummy. And the lie-flat beds were the kind where the seat back flipped over, making it inconvenient to go back and forth from chair to bed without a big rigmarole. I do realize this paragraph alone makes me sound like a privileged douche-nozzle; and I don't mean it come off this way. Rather, I've had requests from readers—the ones who are professional mile/point collectors and flyers—to expand a little more on the flight experience itself, so there you go! Favorite airlines so far to fly business and first: Asiana and Qatar.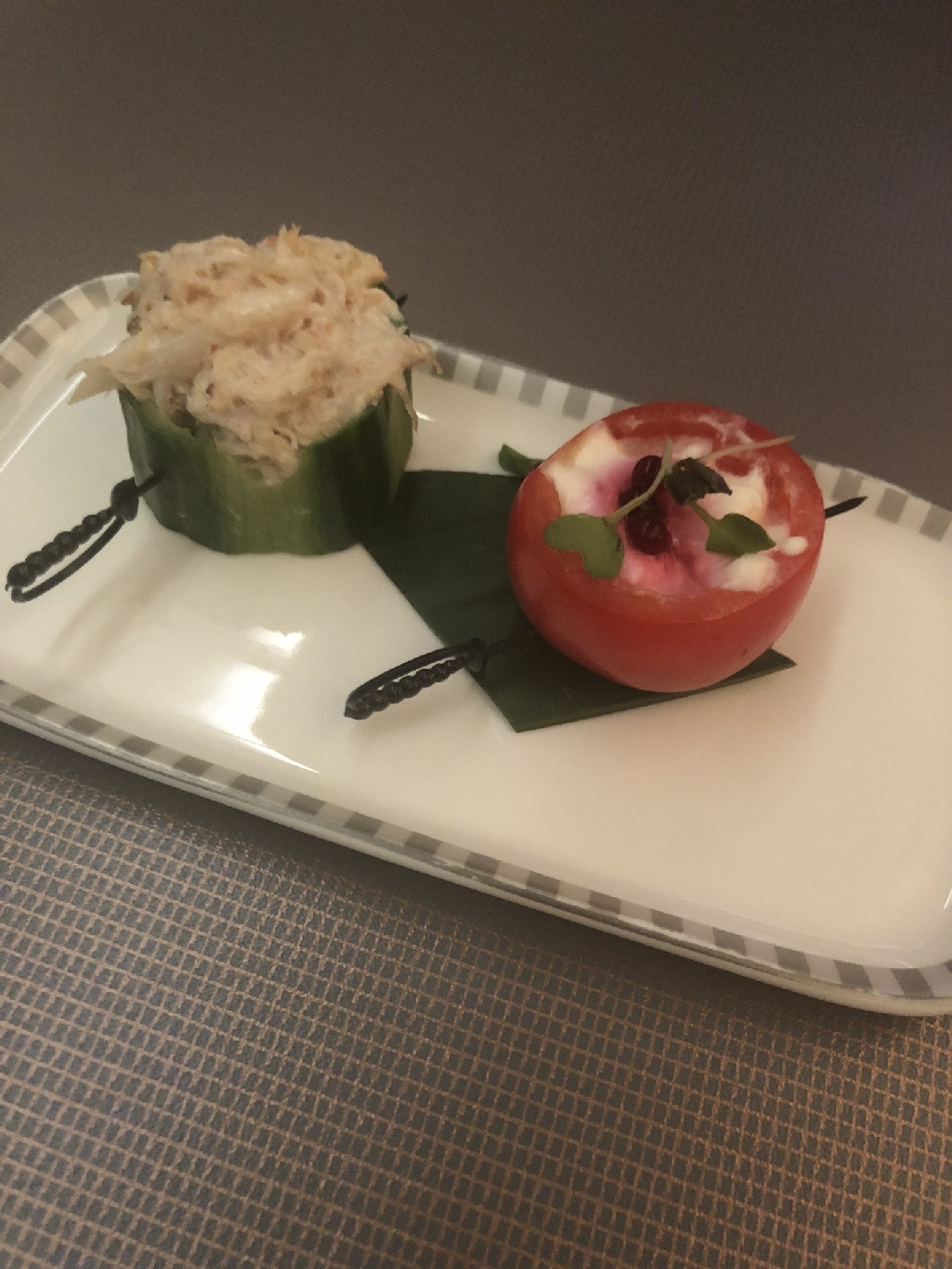 The Other Side
18 hours later I was in Singapore, with not even enough connection time to use the lounge. But that was okay. One reason I liked this flight was because it was so quick, considering its length–the connections were efficient. I wolfed down my in-flight dinner on the Singapore to Malé (Maldives) flight and slept most of the way. I was exhausted and probably still had some drugs (sleeping pill) in my system. By the time I landed in Malé I wasn't very coherent. Even in business class, it had been a long journey: flying for 24+ hours takes a lot out of you.
It was past 11PM, way after the cutoff to take the sea plane to Kuredu, so I'd be bunking in the capital tonight. The island resort doesn't give you details on getting there from the main island until the evening before. Upon arrival at my hotel in Malé that night, the staff informed me I'd be taken to the airport at 5:15AM. I was both bummed I wouldn't be getting a full night's sleep but excited I'd be at Kuredu so soon and have almost a full first day there (I'd only booked two nights). I think I succeeded in clocking in about three hours sleep, and in what seemed like a blink of an eye, I was headed back to the airport to catch my seaplane.
Pineapple Express
In all my travels, I'd never flown in a seaplane before, so this itself was a kick. There was a special "sea plane terminal" a mile or so away from the airport. After checking in with the Kuredu kiosk (there was almost 100 different resort kiosks all lined up), it was over to a bus, to the special Kuredu lounge (a few minutes away), then finally to the seaplane terminal. The departure was a little more complicated then I was used to, but very well orchestrated by the staff. Finally, I was walking down a wooden dock with floating planes on each side of me.
I loved that the pilots wore shorts and flip-flops. We were officially on island time. Flying in the Twin Otter DHC was a thrill and I felt just a little more at ease than in a regular plane: when you're in a seaplane, you can't run out of runway! And I figured if you had trouble while in the sky and were able to make it down to the water safely, at least you wouldn't sink. I imagine you'd just float until a boat picked you up!
The ride was smooth and the views were fantastic! All that clear, emerald-green water down below just looked stunning. We passed over a ton of resorts before our descent down to Kuredu Island. Four planes and two days later, I'd finally made it to my destination. I was so ready to relax.
Bed and Breakfast
Kuredu received a ton of points off the bat for that early check-in. By 9AM I was in my room relaxing. Now that is awesome! There's nothing worse than having to camp out in the lobby until check-in time when you arrive somewhere on an early flight. Many times I'll even reserve the room the night before, just so I'm able to get my key when I arrive. I was elated that Kuredu got me in this early, and soon I was stuffing my face at the bountiful breakfast buffet at one their half a dozen restaurants.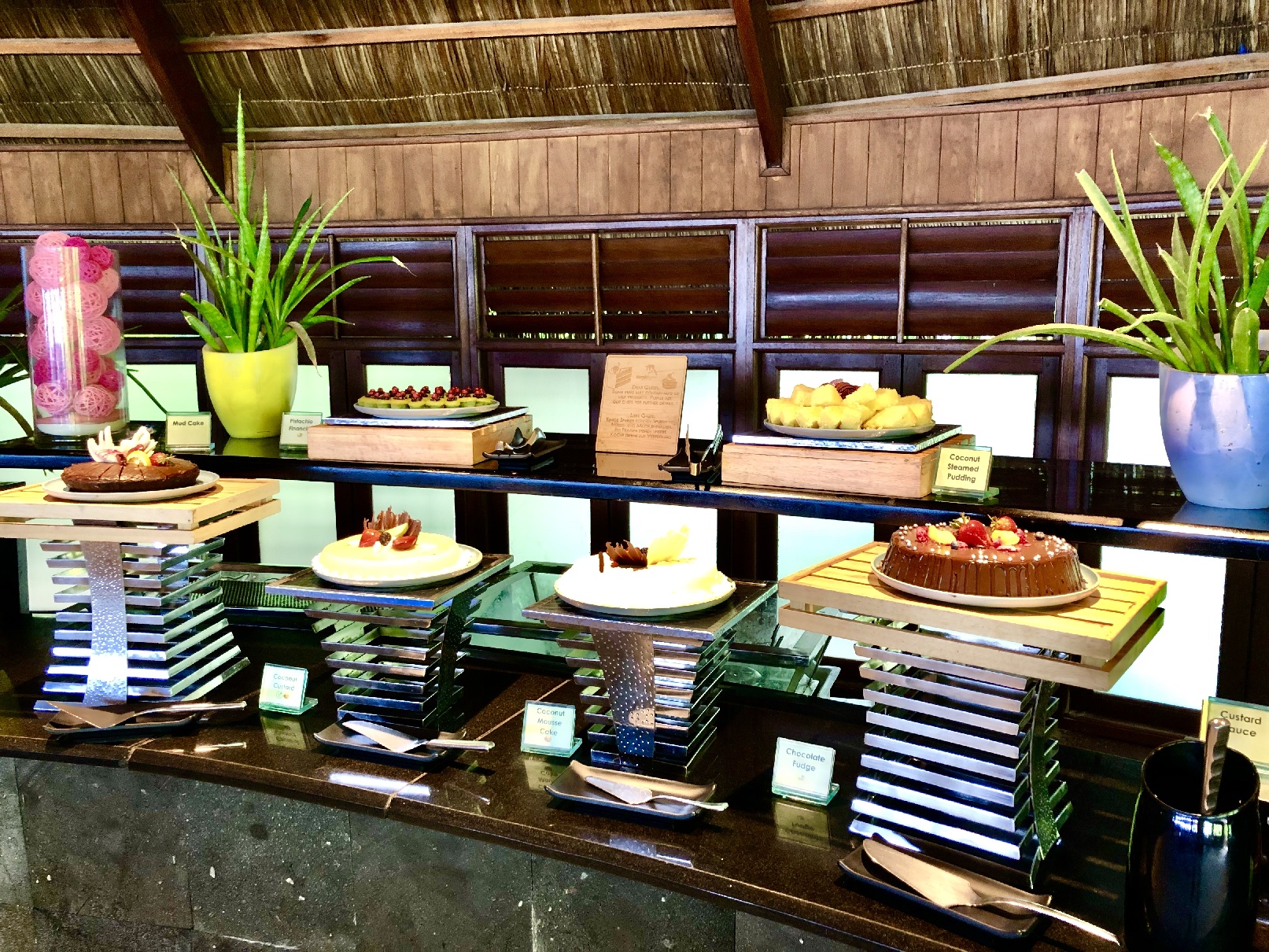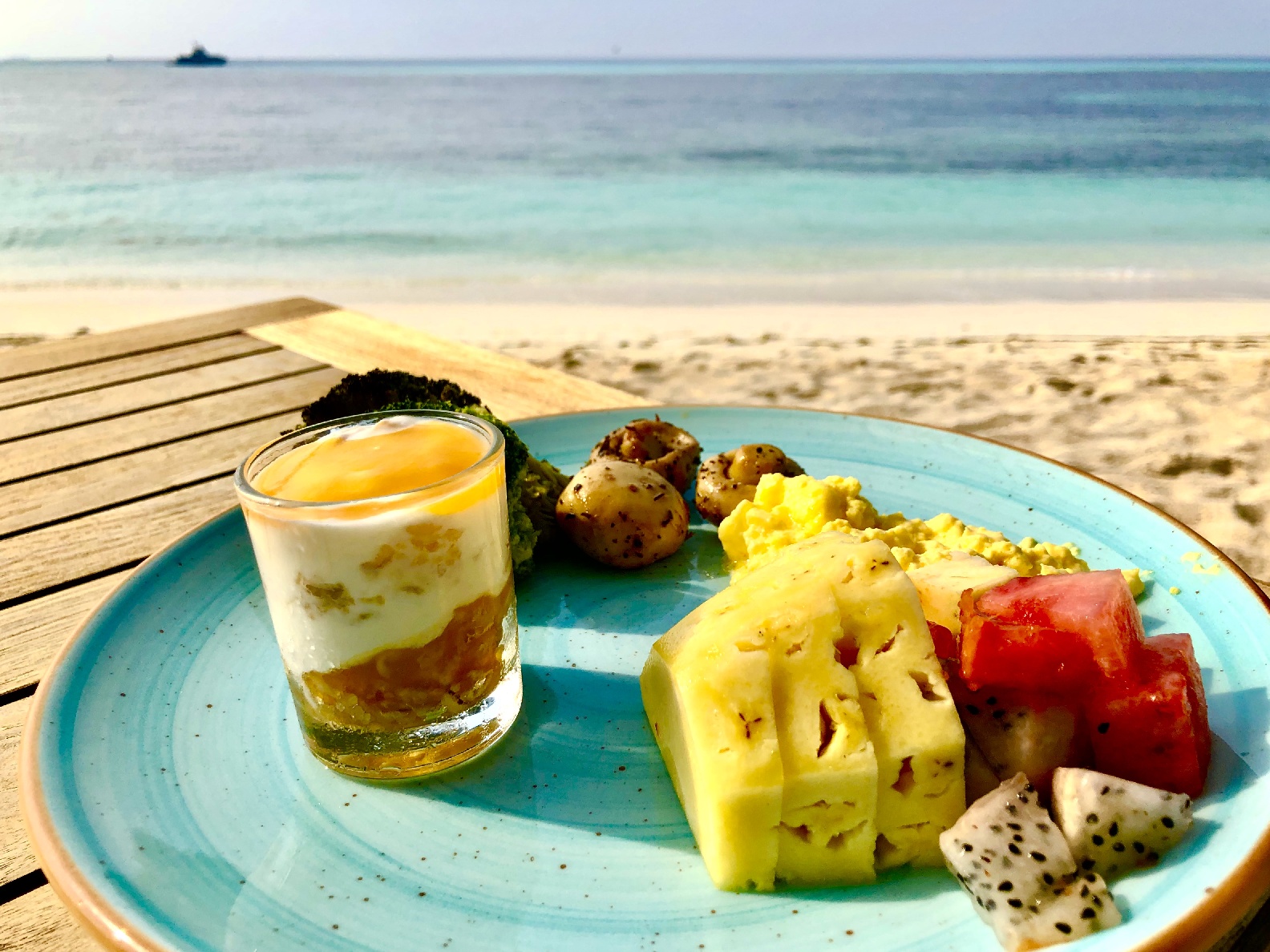 Sand in my Toes
The first order of business was to walk this long, narrow stretch of sand that seemed to jut out into the turquoise waters forever. The strip of white sand looked liked something out of a movie, or a commercial for Calvin Klein cologne. It was absolutely surreal, and best of all, not crowded. Only a few others were enjoying the walk out to the end. It had been a long journey, but I had found paradise.
Under the Sea
I couldn't wait to snorkel, so it was back to my room to change into my trunks and hit the water. Kuredu had a "house reef," accessible by walking out to the jetty—the same place the planes docked—where you could climb some stairs right down into the water. I was advised to swim past the red buoys quickly: I was passing (swimming through) an "active runway!" I heeded the warning. Soon I was snorkeling over gorgeous coral and sea life. This was what I came for! I spent about an hour or two in the water and then grabbed lunch: another robust offering of all kinds of food.
Sleeping Beauty
Back at the room, which sat above the crystal-clear water, came my first fail during this trip. I succumbed to a sudden food coma, and what I hoped would be a 40-minute snooze, turned into a full-on four-hour deep sleep. When I opened my eyes to see darkness, I cursed! I'd slept an entire afternoon away.
Not gonna lie, I was a little disappointed in myself. I'd wasted a walk on the beach, views of the sunset, a pre-dinner swim, dinner…and who knows what else. It was now well past 8PM and pitch black outside. Luckily I'd packed sleep medicine, otherwise I would've been awake all night…so I pounded a pill and was back in a deep slumber in no time, waking up before 5AM, which was fine; now I'd be able to enjoy a full day on the island, from sun-up to sundown. I'd packed in a good 10-plus hours of sleep and would not be wasting another minute snoozing.
RAMBLIN' TIP: I always pack sleeping pills. It's so easy to get turned around when you travel, and then stuck in a backwards sleep cycle, where you are up all night and sleep all day. It's terrible! I vowed never to let that happen again, and now always travel with sleeping pills to help get me on track. I love over-the-counter Unisom (link to purchase here), but you may want to check with your doctor and see what works for you best.
Room with a View
The elephant in the room: I guess we have to talk about this amazing room sooner or later. Kuredu offered a handful of lodging choices, but I had my heart set on staying in one of those over-water bungalows. I'd only experienced this once, over ten years ago on a stop in Tahiti. It was amazing then, and I knew it would be amazing now.
The room was very nice but the views were what made the whole thing just spectacular! The wooden room had big sliding doors that led out to a big deck with comfy lounge chairs and a set of stairs that led right down into that emerald water. It immediately made me wish I had more time on the island: I dreamt of spending two straight days in my room–going nowhere, taking naps on the deck and eating all three meals via room service. I'd love to stay here and write a book! I would enjoy the room and its water access for a bit, but alas, I only had one full day on the island–today–and I wanted to see and experience everything. It was time to explore.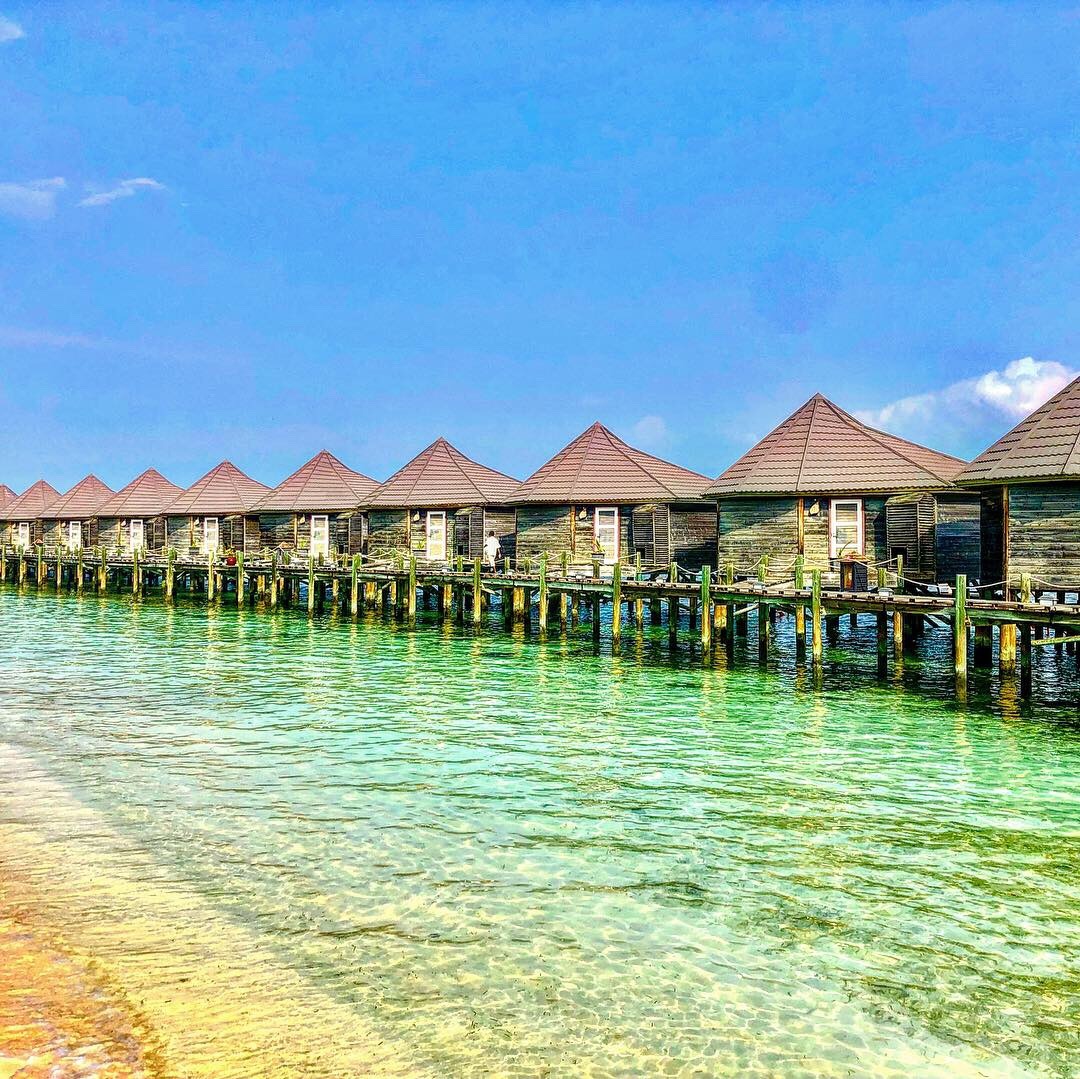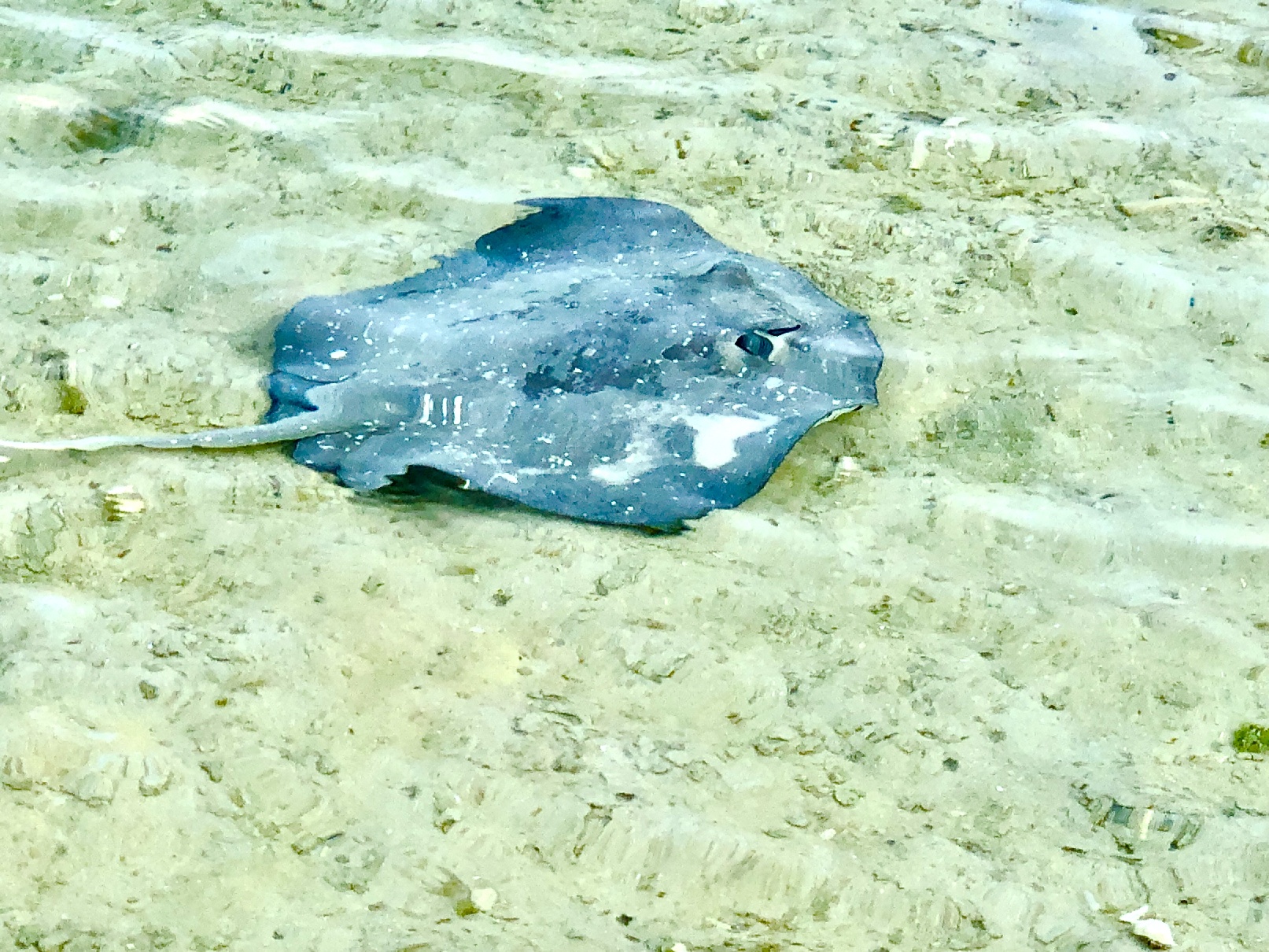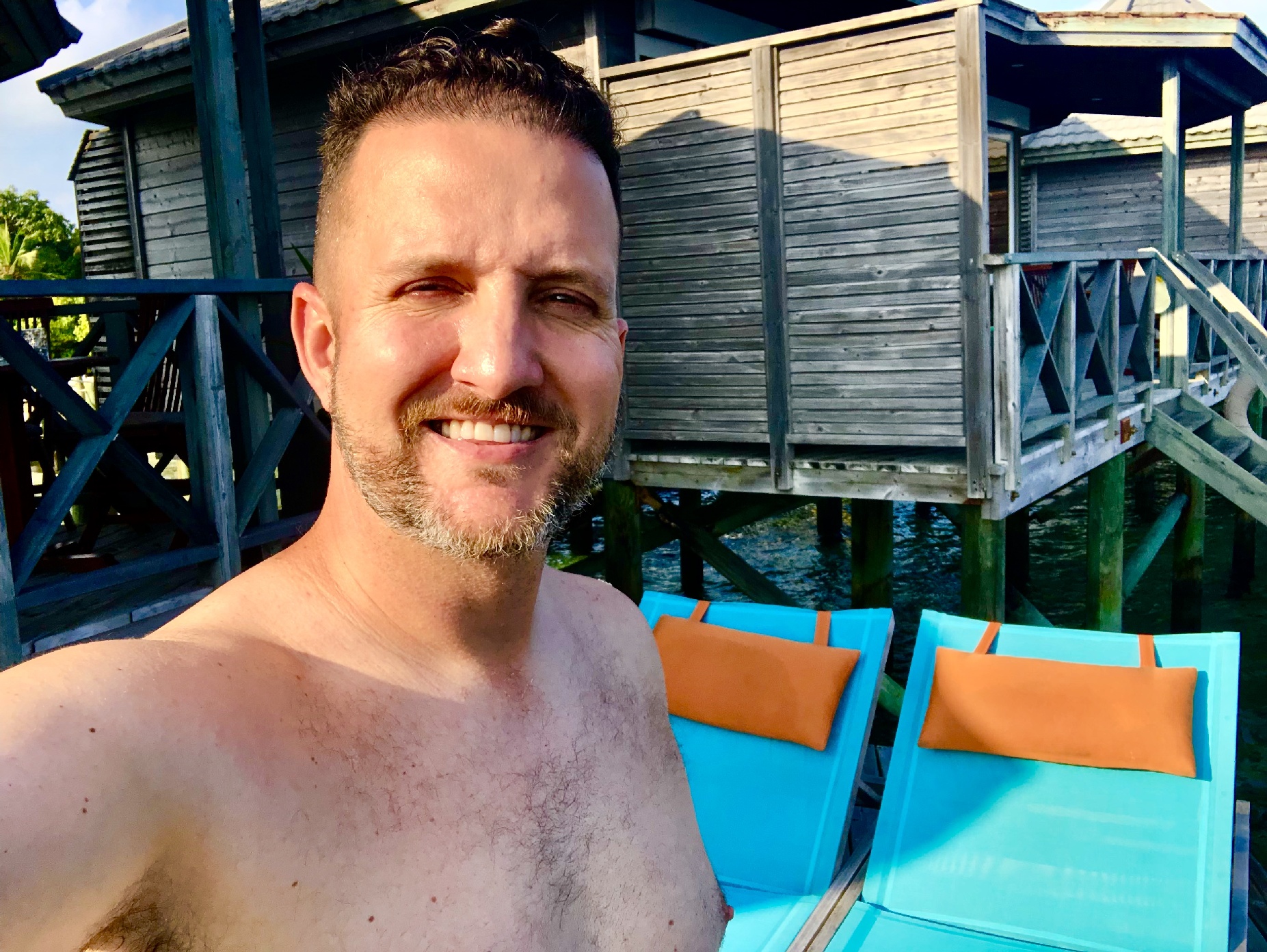 Fantasy Island
Day number two and tt was still dark by the time I'd arrived at the island's main restaurant on foot (the restaurant closest to my room wouldn't open til seven.) I was dreading walking into big spiderwebs (and spiders) this early in the day, before the walking paths have been cleared by other tourists, but thankfully not a one! The sand roads and trails were very well lighted. The caramel-complected workers in abayas did a wonderful job keeping the island tidy. I was amazed at how they were able to keep the walking paths free from debris from the trees above–seemed like there was a constant sweeping of leaves, almost 24-hours a day. The place was anything but neglected and seemed to be as well taken care of as a Disneyland park. I noticed and appreciated this.
RAMBLIN TIP: If you have arachnophobia, beware of big (and many) spiders, in places like Tonga and Fiji. I had a run-in with the biggest spider I've seen in my entire life, inside my room, at a fancy resort in Fiji…I almost died! I'm happy to say I did not see even one spider at Kuredu, anywhere! They always seem to ruin my day.
I enjoyed another full breakfast buffet with lots to choose from as the sun crept up over the sea's horizon. I'd missed dinner the night before so I was starving. After I filled my belly with multiple plates and carafes of coffee, it was off to explore the island. Over the next couple of hours, I successfully logged in a trek around the entire island, exploring its beaches, tide pools, concrete (swimming) pools, trails and lots of cool marine life. I clocked in over 10,000 steps by 9AM!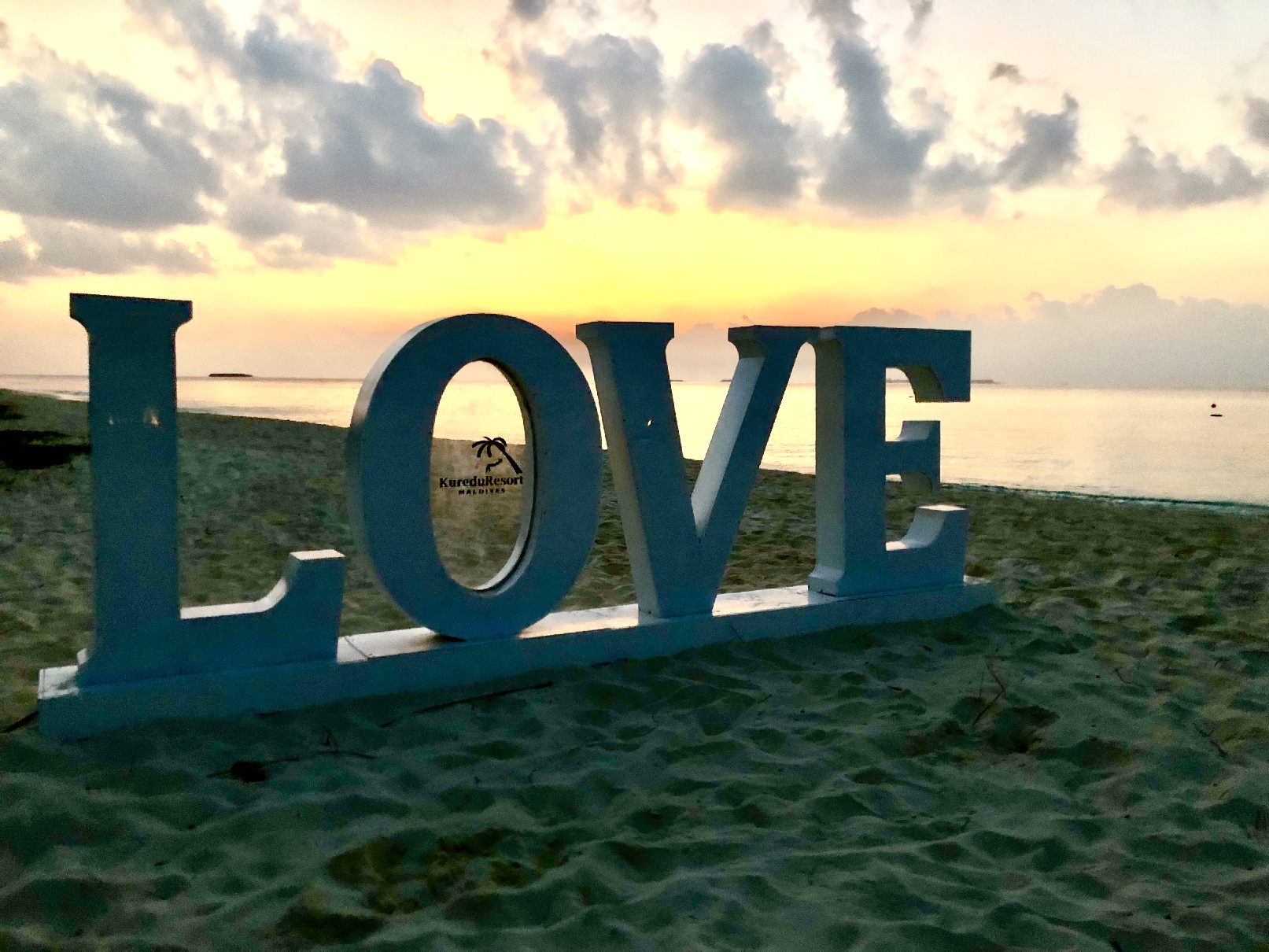 Baby Shark
I enjoyed having the whole island to myself so early. At 6:30AM, most of the island was still sleeping. Who wasn't sleeping? The sea life! One of my favorite parts of staying on Kuredu was how close I was able to come to so many species of sea life, even on foot, as I peered down into the water. Besides the many types and colors of fish, I often saw rays–big and small–but what impressed me most were the little sharks! Yes, sharks! These guys were so tiny and adorable, and I couldn't believe they swam almost right up to the sand, cruising along in just inches of clear water. I couldn't get enough of these little cuties. I just hoped Mama Shark wasn't around.
No doubt the sharks were one of the highlights of my stay here. But what I saw next would completely blow me away.
I Like Turtles
The day before, one of the workers tipped me off that there was a turtle's nest in the water outside of room 230. I wouldn't waste this opportunity, and after exploring the island and resting for a bit in my bungalow, it was off to find room 230 and go for a dip. Snorkeling gear in hand, room 230 ended up being miles away, and by the time I made it there I could feel the sun searing my back as the straps of my flip-flops started to etch rivets into the tops of my tender feet. I finally reached room 230 and made a beeline out to the water to see what I could find.
The sea floor was almost bare, as a feeling of disappointment began set in. I realized I had unreasonable expectations: the bay was massive, how in the world would I be able to find a turtle's nest in such a huge body of water? I'd walked all this way in vain. But not a minute or two after I'd begun my swim did I look down to see an enormous turtle sitting on the sea floor. I'd encountered a handful of "regular-sized" turtles in my life (Barbados, Brasil, etc.) but never one this giant. This guy looked like he belonged in the Galapagos; I couldn't believe my eyes!
He was about ten or twelve feet below me, resting on the sand floor. I swam down to get a closer look. I could almost touch him! I hovered over him for awhile, and to my surprise, he soon started swimming up towards the surface of the water. He needed air. I paddled fast, trying to keep with him, as he poked his head out of the water and into the air for a big breathe. Wow, his head was bigger than my fist! I was close enough to see all the details, colors and creases of this dude's neck, face and eyes, and he (she?) was incredible!!! As he ducked back down into the water and continued to swim, I was doing my best to keep up, and was semi-successful. I was actually swimming with a giant turtle! I felt like the luckiest guy on the island. I was even able to reach out and touch his shell. There was a moment where I thought about grabbing onto the font of his shell with both hands for a ride–but dismissed that idea quickly; I imagine that would be considered "harassing marine life," and I never ever want to be that guy. One of the coolest parts was watching this weird, flat shaped fish, that seemed to be almost attached to the top of the turtle's shell. It was the one going for a ride on the turtle. Later I found out the fish is called a sharksucker or remora. Very cool and the one time I wish I'd actually had an underwater camera with me.
A Three-Hour Tour
I spent the remainder of the day–most of the afternoon–aboard a boat that took me and a few other tourists out to a couple reefs for some snorkeling. The trip out into the sea was super relaxing and we hit a couple of really great spots with abundant sea life. I'm not sure it matched the coolness of spending some one on one time with that giant turtle though, but it was nice to be out on the water.
Hard to Say Goodbye
After my reef safari, it was back to the room to get the salt off me. I enjoyed a hot shower then headed over to the restaurant for my last dinner on Kuredu, at a table right on the sand. Great food, the sea breeze and a candle on the table: this was true paradise. I crashed out at a decent hour for I would have to be up by 4:30 the next morning for my journey back to Malé and on to Sri Lanka.
In the A.M. it was breakfast before dawn, checkout and then a seaplane back to the main island. I hated leaving. The Maldives had got their hooks in me.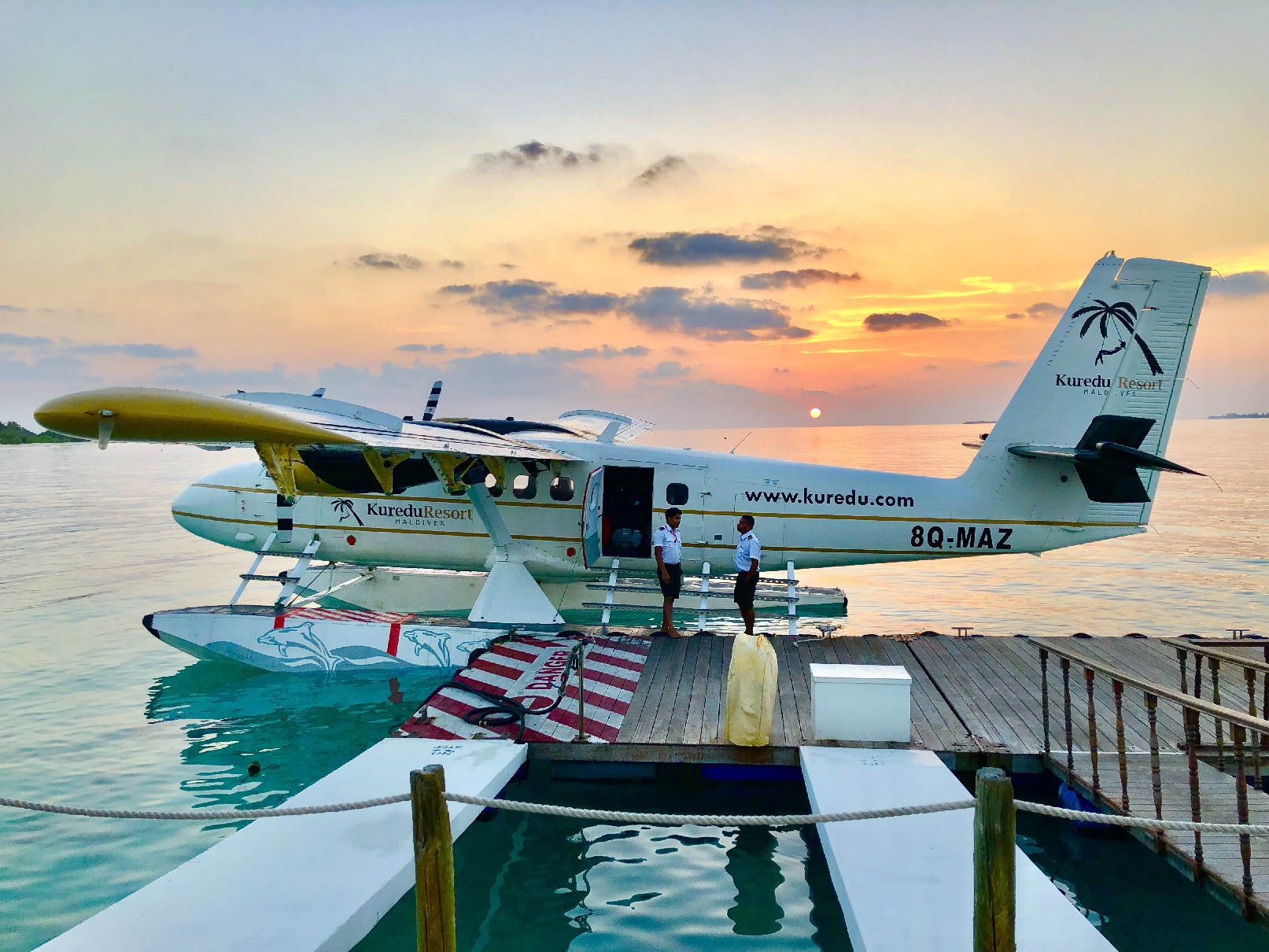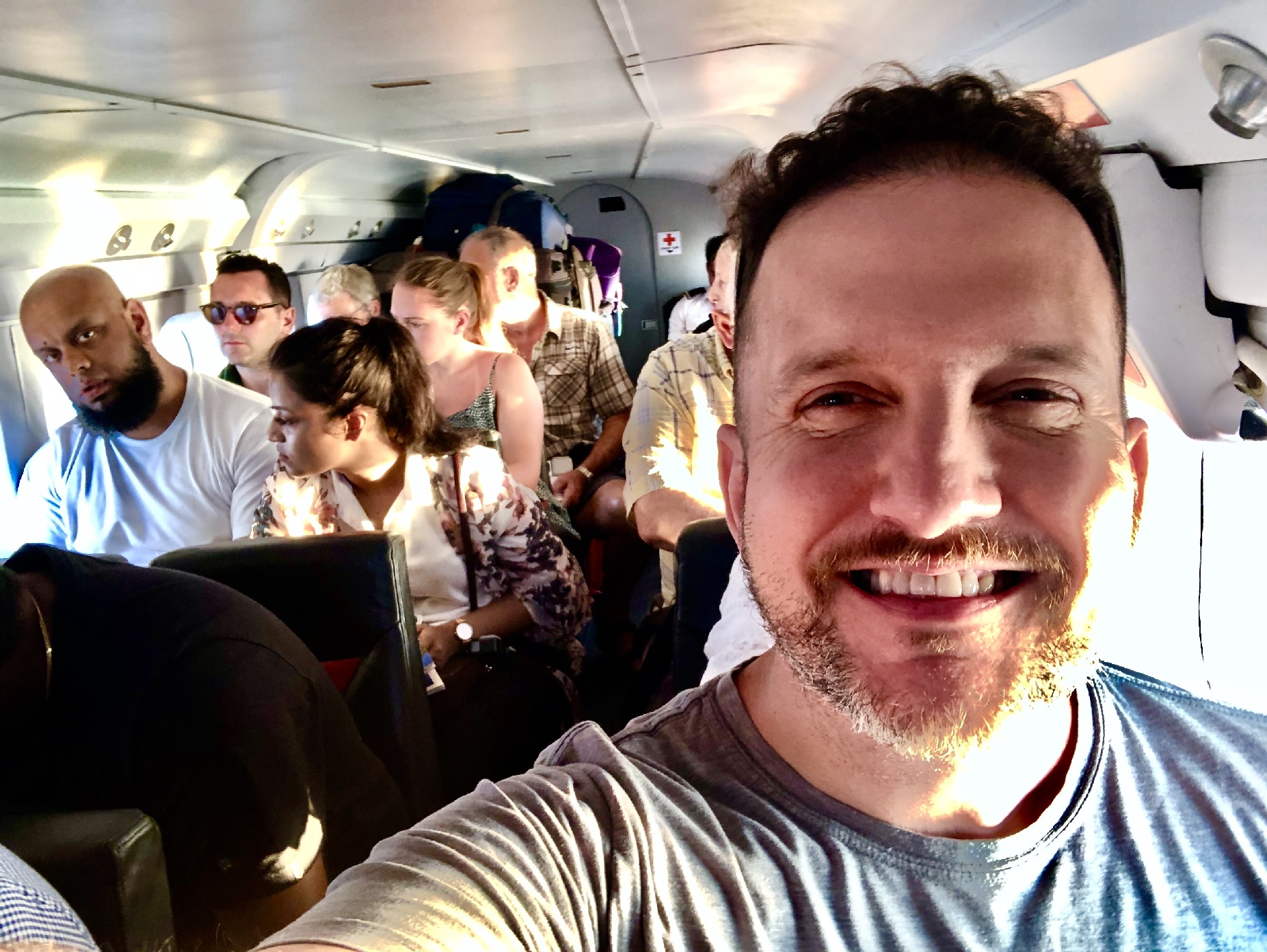 But Next Time…
The only thing I missed out on was getting to see and experience true Maldivian culture. While Kuredu Resort was nothing less than awesome, it was pretty much mostly an island of "imports," including the people that worked there. No doubt, I loved meeting all the staff members and finding out where each person was from: lots brought in from Bangladesh, Nepal and Sri Lanka–all countries coming up soon on my list. The blonde girls in the dive shop were from Austria, the UK and South Africa. I loved explaining to the golf cart driver that I was on the way to Colombo, telling the guy making my omelette that I'd be in his home country of Nepal in December, etc. But I wanted to learn more about the natives of the Maldives. Such an interesting island, in the middle of nowhere. Where did its people originate from, what did their language sound like and their food taste like? If I come back, I'd like to spend a little time on the main island exploring, and visit a "local" island or two. While these resort islands are spectacular, they are all "manufactured." No complaints about this, but next time I'm going deeper.
And Now…the REST of the InstaStory!