The Z's Have It
Zambia and Zimbabwe would be my final two mainland African countries. There was no particular reason why I saved this southern cluster of countries for last – it just worked out that way. Botswana, Angola, Zambia and Zimbabwe would all be visited on this trip. Breaking my usual solo-travel m.o., this time, my buddy Dave would join.
We'd see Victoria Falls on this journey, staying one night on each side of the border: The falls and the Zambezi River separate Zambia and Zimbabwe. We'd fly into Livingstone, Zambia and out of Victoria Falls, Zimbabwe. This was a quick way to see two countries in a short amount of time.
For reasons unknown, Dave and I received a mystery upgrade to business class on the two-hour Airlink flight from Johannesburg to Livingstone – what a nice surprise! After landing, we exchanged currency at the airport and hailed a ride over to the nearby Protea by Marriott. The sun was shining and the temperature was just perfect. I'd really been getting lucky with the divine weather lately.
You can check out hotels in Livingstone HERE.
Places to go, People to See
Once we checked in, it was over to the excursion desk to book some activities. Luckily, everything we wanted to do was available. I'd really taken a risk by not booking our excursions in advance; I just really wasn't sure what we should do and when we should do it. I wanted to get there first, but in hindsight realized what a disaster it could have been if everything was booked up and sold out. Thankfully, we weren't in high season. We ended up locking in a river cruise for later that day, a 7AM micro-light flight the next morning, a tour of the falls in the midday and we'd finish out tomorrow by seeing the famous white rhinos, before getting a ride across the border to stay in Zimbabwe for our final night in Africa. The agenda was jam-packed!
First, we eat. Our driver took us into town for a bite. Livingstone is a super-small town, extremely laid back, clean and quiet. I explained to Dave—much like our visit to Botswana—that Livingstone was definitely "Africa Light." This region was nothing like so much of the Africa that I knew: loud, chaotic, dirty and even a little scary. I recall my first mainland African country, Mali, where the roads were gridlocked with traffic and you saw soldiers with guns posted up on every other street corner. And so much noise – whether it was loud music, motorbikes or people, or all three at once…mix in the wild markets and the call to prayer for good measure, and West (and many other parts of) Africa can easily over-stimulate even the most seasoned traveler's senses. But Livingstone? This was an African version of Mayberry. 
>>> RELATED: The Madness of Mali <<<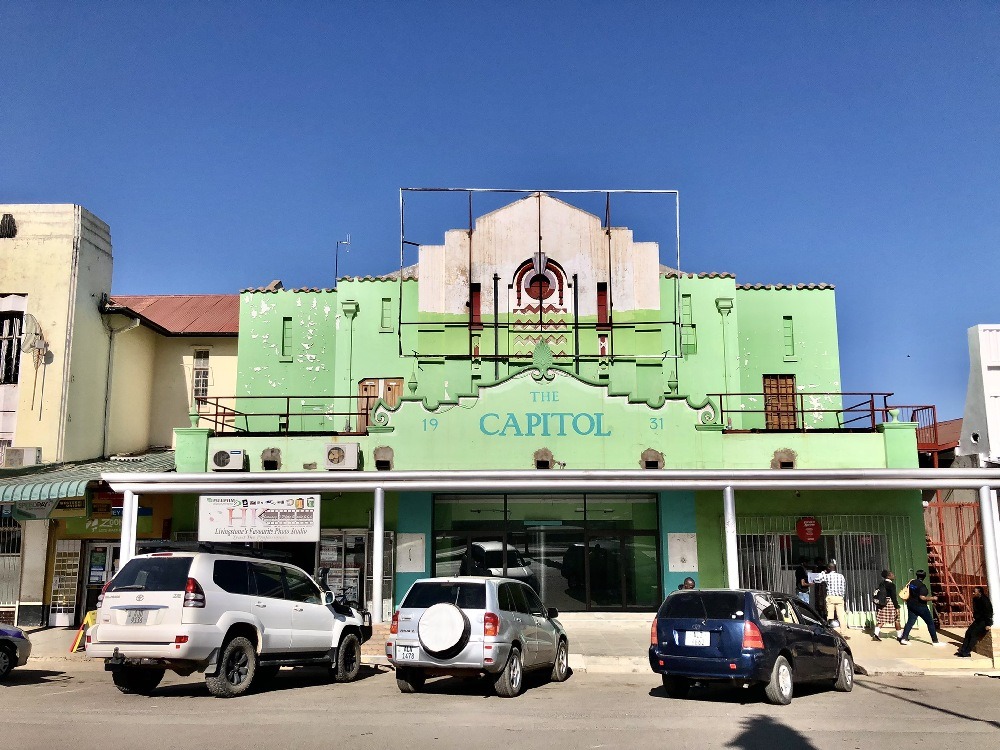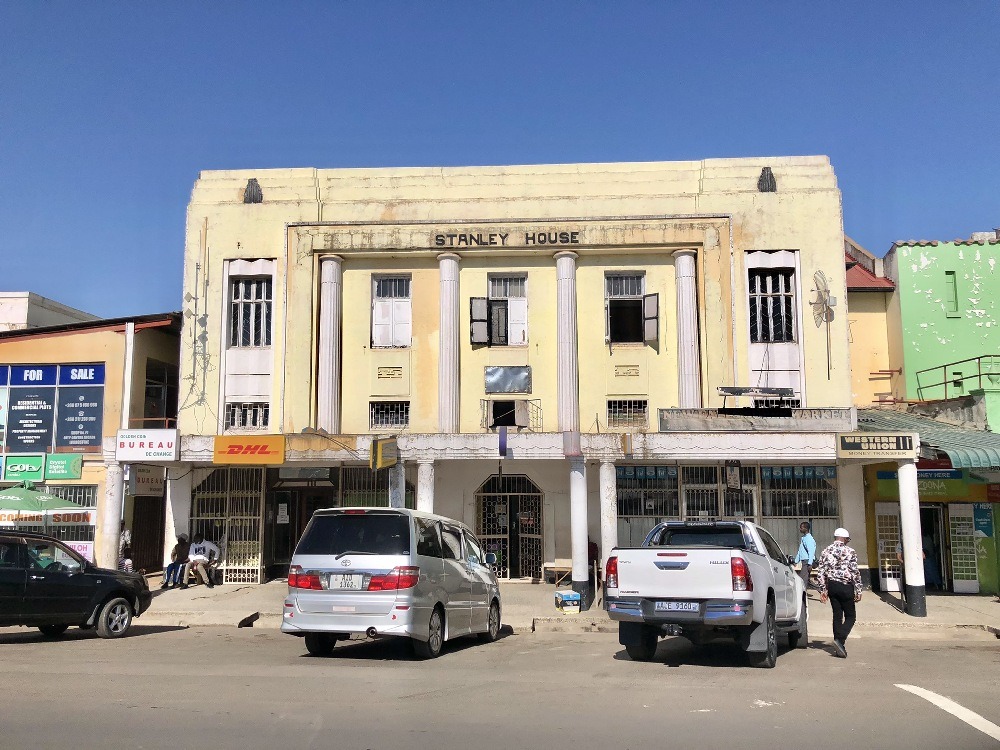 I'm on a Boat
Our sunset river cruise was fantastic. We shared a small boat with a family from San Francisco as we sipped cold drinks while zooming up and down the banks of the Zambezi. We saw tons of crocs—often camouflaged very well—water monitors, and even elephants. But what I was most excited about seeing were the hippos. You can see them your whole life on TV documentaries, but when you witness them in person, in the wild, it's just incredible.
We pulled up to an island to stretch our legs. Our guides first needed to verify there weren't hippos on the island – if there were, we'd risk being trampled. Apparently, that's how a lot of people die. If you're not run over by a hippo stampede on land, you can also suffer a horrible death from these hippos in the river if you're not careful. Since I was a kid playing Hungry Hungry Hippos and watching Barney on TV (he's a hippo, right?), I've always thought of hippos as just cute, round, lovable teddy bears of the river, but this is not the case. They will not hesitate to murder you! The animal that kills the most people on the planet every year is the hippo (they're number two if you count mosquitos.) Dave and I went back and forth on how much money it would take for one of us to try and swim across the river. The answer: no dollar amount! You can't spend the money if you're eaten by a croc and/or hippo.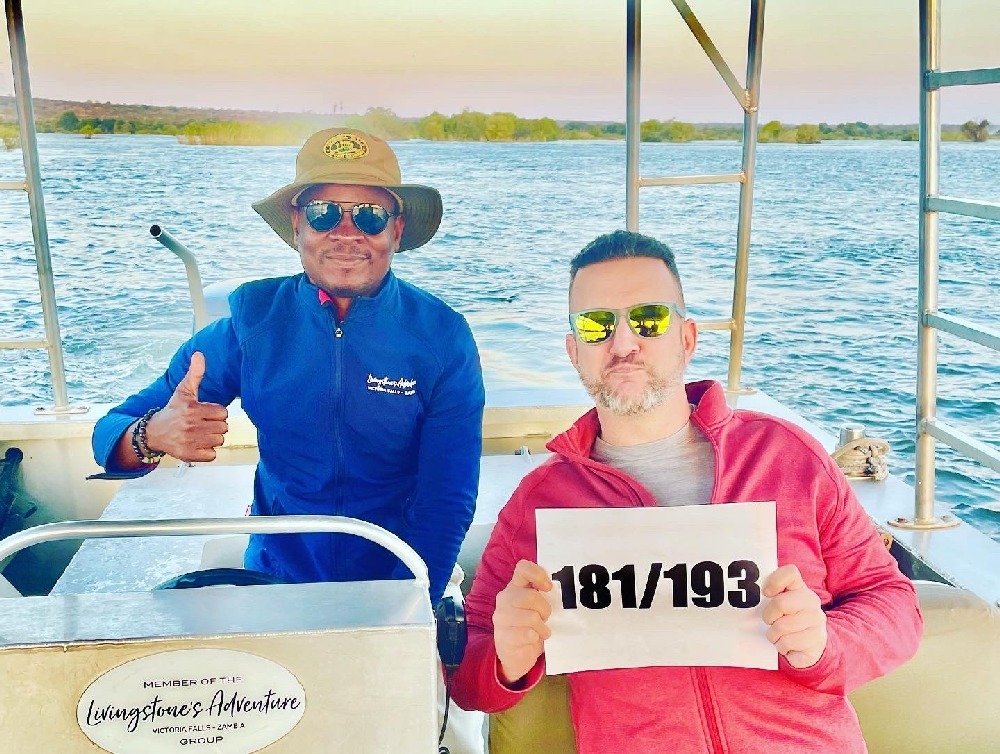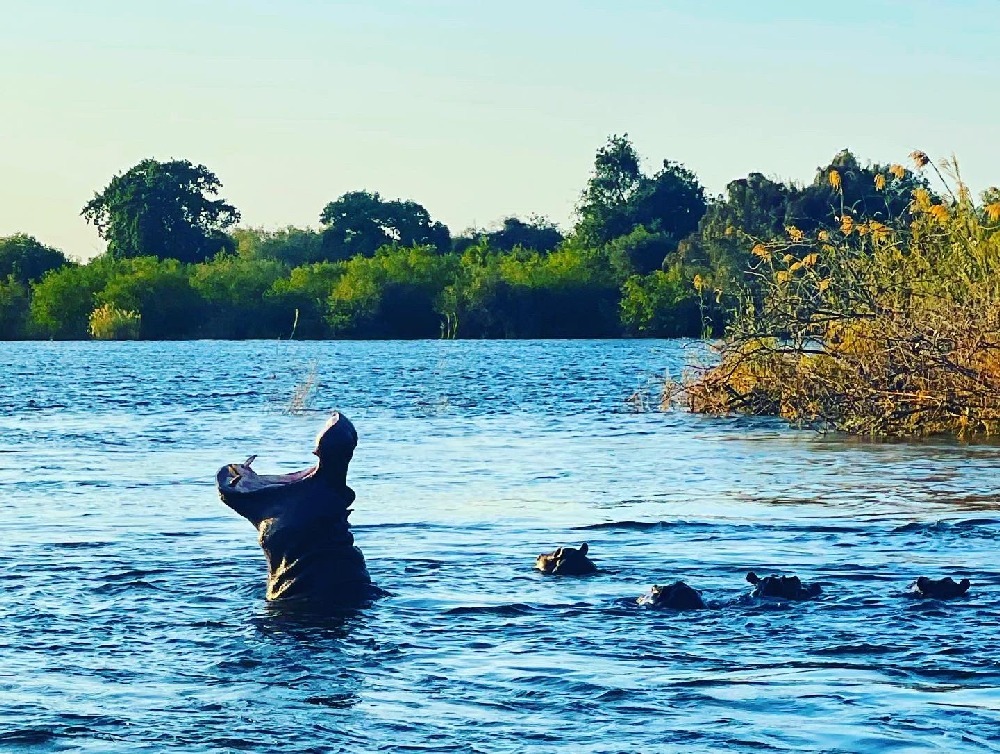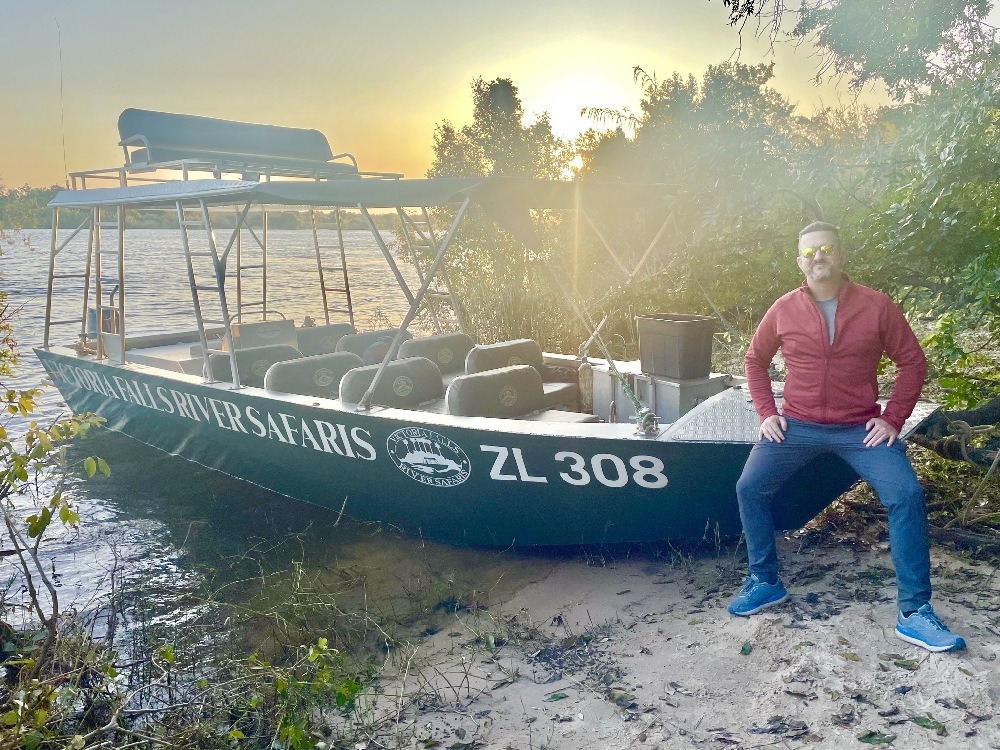 Just Plane Crazy
After slaughtering about 30 mosquitos in our room it was lights out. We woke early the next day to do something that scared the poop out of both of us: a microlight flight. Microlights are basically hang gliders with two chairs, a propeller and a lawnmower engine attached. It sounded like such a great idea yesterday, but now that we were actually there, on the dirt runway, about to get strapped into a contraption that looked like it came straight out of Inspector Gadget, both of our stomachs dropped. If the hippos didn't get us, the microlight would! We joked about the potential of barely surviving a horrific microlight accident, only to be eaten by a hippo as we crash-landed into the river.  We teased and prodded each other about who was going to go first – I pushed Dave in front of me and volunteered him. Soon, he was up, up and away, and disappearing into the clouds as I was giggling. But the joke was on me when I realized there were two microlights on standby and I'd be up just minutes later…Only I watched in horror as my pilot's attempts to the start his machine (with a pull-cord, just like a lawnmower) were unsuccessful. He must have given it a dozen yanks before it finally turned over and started. This did not give me confidence. To make it worse, my pilot "looked" a lot less like a pilot than Dave's: Dave's captain resembled one of those seasoned, veteran American Airlines officers, while mine was a dead ringer for our waiter last night in the restaurant. Dave: 1, Randy 0.
But my pilot ended up being pretty awesome. We taxied down that dirt runway faster and faster, and then, with a tilt of the bar connected to the wings, my captain pulled us up, right into the sky. The first 90 seconds were probably the scariest, but once I caught my breath and calmed down a little, it was smooth sailing. I don't remember a bit of turbulence but in the back of my mind I never stopped thinking about what would happen if a giant gust of wind decided to rip its way through our flight path. At least there would be a valiant story behind my death – a cool way to go out.
Seeing the falls from the sky was simply awe-inspiring. I was surprised at how high up we were and a little disappointed we weren't down closer to falls. For some reason I'd imagined we'd be flying a lot lower and closer to the action, but as long as we were safe, I was a happy boy. Passengers are not allowed to take cameras or phones on the flight – this was a strict rule. You couldn't even have a phone in your pocket. If you let go of any loose item, it would surely get eaten up by the propeller behind you and maybe even cause the aircraft to go down. I happily obliged, though it would've been cool to take photos or video of the beauty below. The microlight itself had a GoPro attached to the end of one of the wings. I enjoyed the whole experience immensely, but boy was I happy to be back on the ground. I had cheated death once again!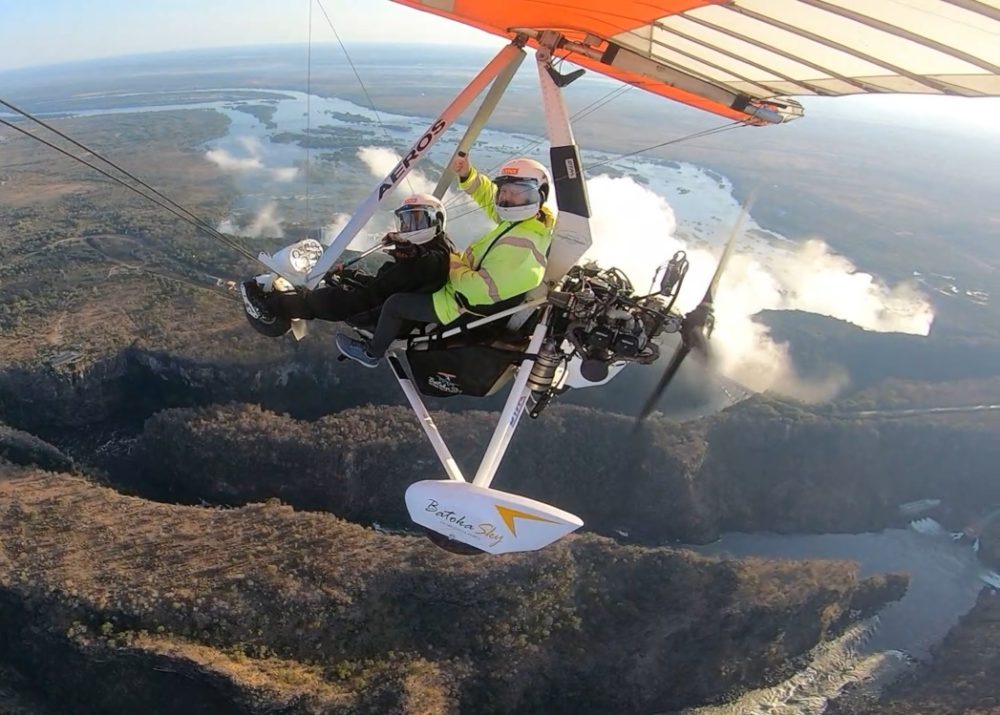 Don't go Chasing Waterfalls
Next, we took a guided tour of the falls. We'd flown over Victoria Falls, but now we were literally in them, and it was spectacular. If we did it all over again, I would probably not have booked an actual "tour" of the falls – I would've gone unguided. You don't really need a guide to take you around the paths and bridges – it's all self-explanatory. I do recommend you buy or rent a good raincoat, unless you don't mind being completely soaked. Don't even think that the disposable raincoats they leave you in your hotel room will suffice. Even with the professional raincoats our driver and guide King David provided us, we were still almost completely soaked.
RAMBLIN' TIP: I booked the Protea by Marriott because I'm a Bonvoy member, but you should know there are so many much cooler hotels in the area, many that sit right on the river. Check out a list of hotels HERE.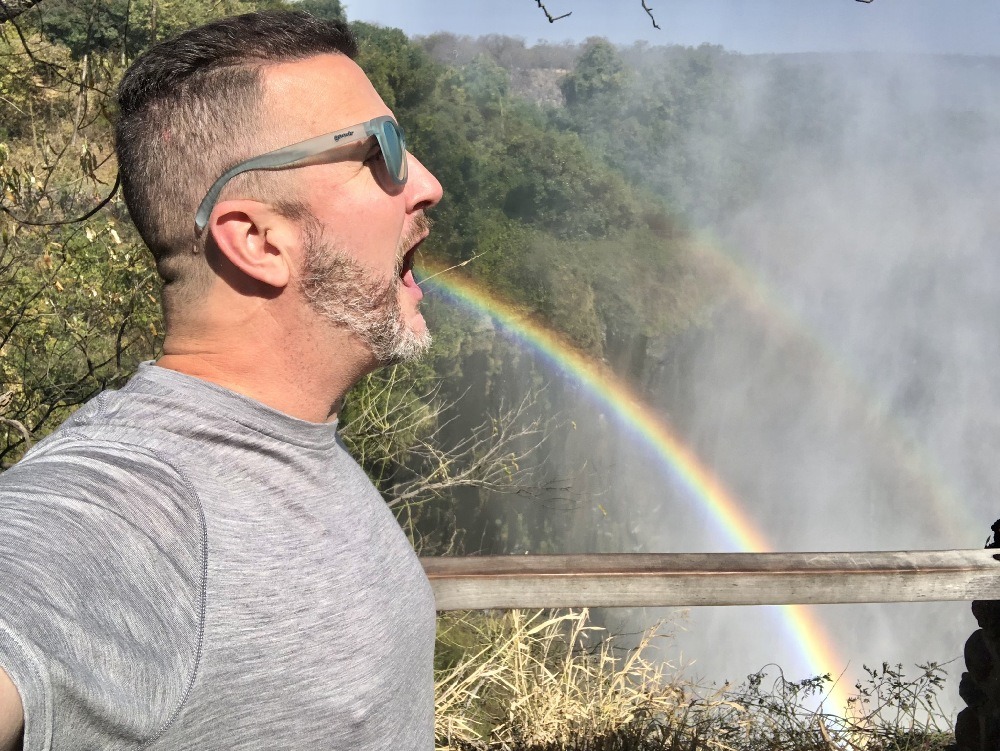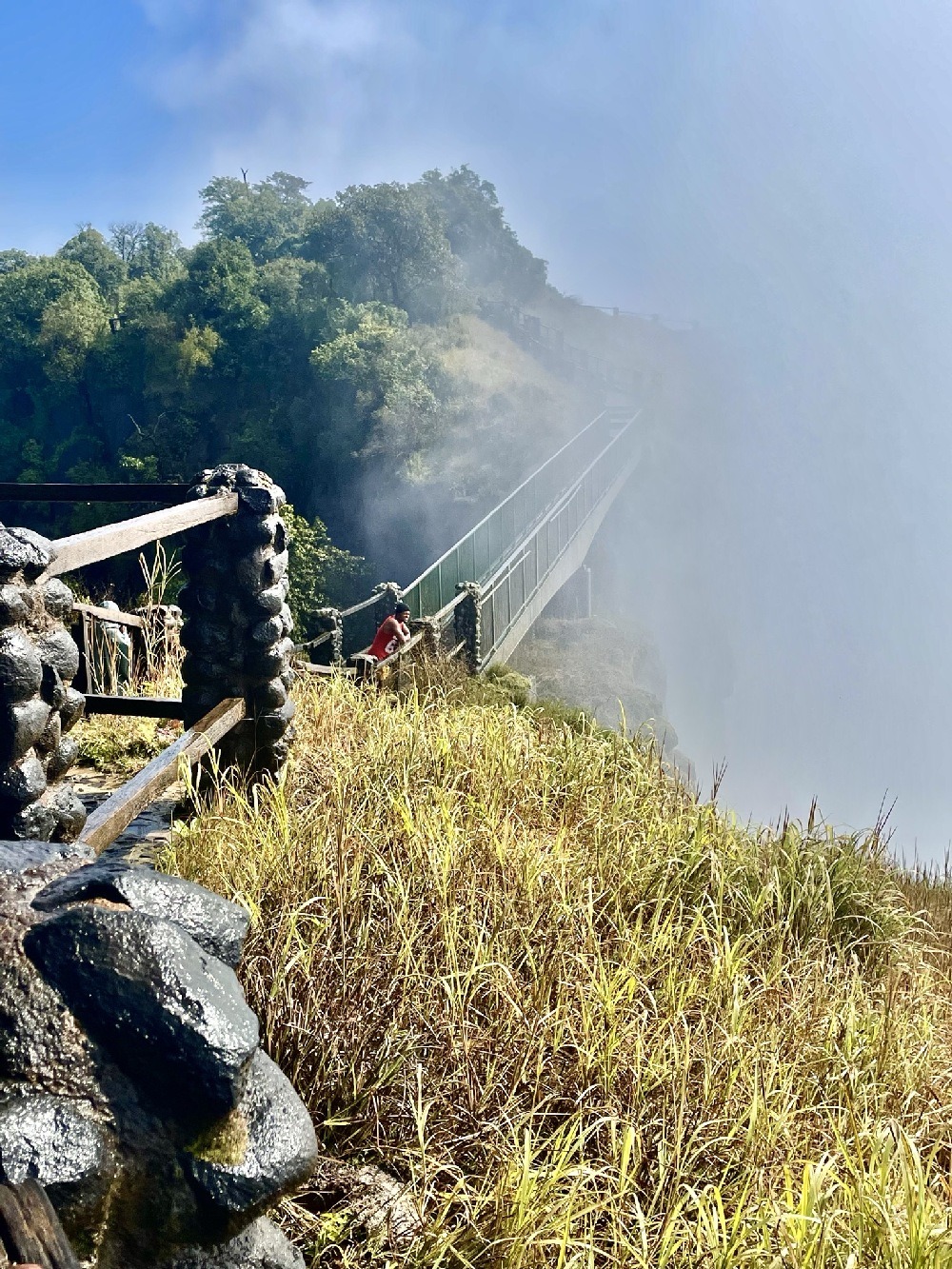 RAMBLIN' TIP: I recommend wearing sandals or flip-flops to the falls – anything but sneakers. Our running shoes got completely drenched, as if they were submerged in a lake for ten minutes. And while I am vehemently against Crocs, at that moment, I would've probably swallowed my pride and slipped my feet into those monstrosities instead of going in with my absorbent tennis shoes. 
After lunch at the falls and blow-drying the soppiness out of our shoes back at the hotel, it was time for the final excursion: the rhino walk. This tour included driving to a special park, boarding a jeep, taking a game drive and then finishing with an up-close look at a group of white rhinos. Spoiler alert: They aren't "white" at all. The name comes from a broken translation of "wide," pertaining to these particular  rhinos' wide mouths. I wouldn't have been able to tell these special rhinos apart from the normal ones, but apparently the "white" rhinos are super rare and in constant danger of poachers, hence the armed guard. I know Dave felt pretty bad-ass walking along side the Kalashnikov-sporting solider in fatigues.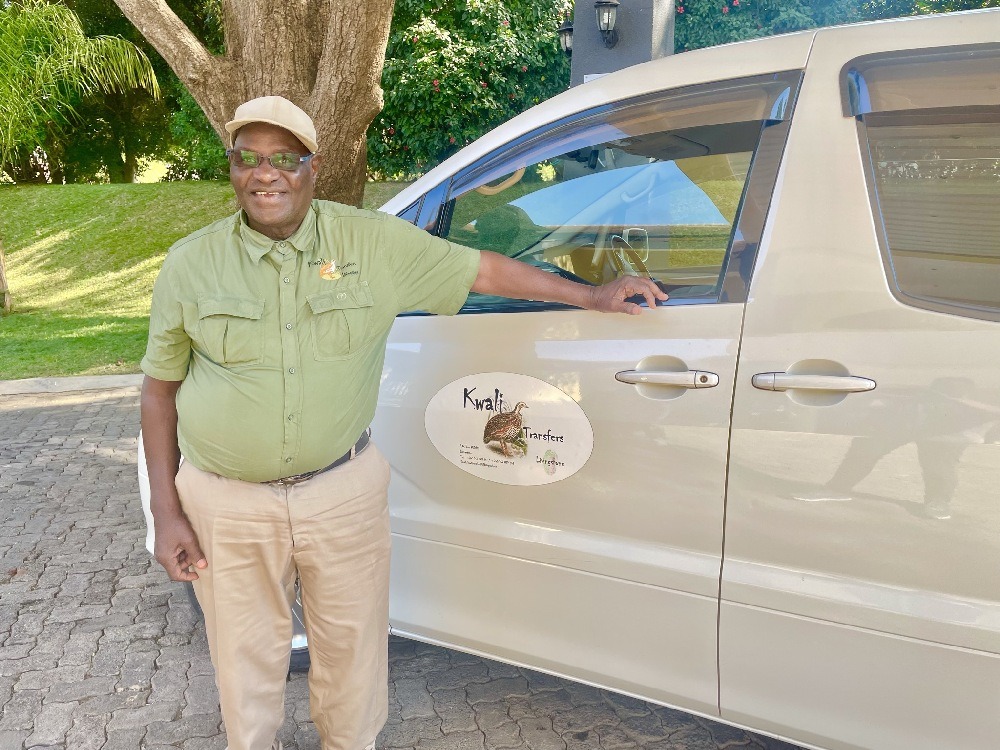 Zee Ya Later!
We got back to the hotel just in time to grab our bags and jump in our van to the border. 15 minutes later we were crossing the bridge over the Zambezi and getting stamped into Zimbabwe. If you're keeping track, Zambia was country number 181. See you in 182.
Find a hotel in Livingstone HERE.
This entry was posted in
Africa