New Year, Who Dis?
I'd ring in the New Year (2023) from Palau this time (even though I'd be snoozing by 9:30PM). Before I get started on Palau, I thought it would be fun to recap my New Year's by location over the last few years:
2022: Comoros
2021: São Tomé e Príncipe
2020: Pakistan
2019: Spanish Morocco (Ceuta)
Number of countries above where I was awake for The New Year: Zero! Zzzzzzz.
One With the Show…
Palau would be the ninth country in an 11-nation, end-of-year mega journey through The Pacific. And while I was discovering that all Pacific islands are not the same, Palau would fill the slot of an island that was not too desolate and back woods (lacking basic services) and not too touristy and commercial. Days earlier, I'd spent time in places like Kiribati and Bougainville, which, while stunningly gorgeous, didn't even have one nice hotel or restaurant. And on the complete other end of the spectrum, there was Fiji, which was a little too "Disneyland" for my liking: There were more toddlers than adults at the resort breakfast buffet there! But Palau seemed to be right in the middle. With great infrastructure (smooth roads, etc.), supermarkets, comfortable hotels and a handful of nice restaurants, if this was the "Three Little Bears" edition of island hopping, Palau would be juuuuuust right.
They See Me Rollin'
A lush paradise with some of the best diving in the world, Palau is a destination where you best book some excursions. There's not a busy urban downtown area to mill around and you'll need a boat, ATV or plane for most activities on the islands. Still groggy from my 3AM arrival, day one consisted of a short ATV excursion.
It was my first time taking an ATV up and down such treacherous landscapes, and more than a handful of times I thought we were going to tip over, but we didn't – thanks to my instructor in the backseat, who gave me specific instructions on how to drive: when to turn, when to gas-it, when to brake. Seems like self-explanatory stuff, but it really wasn't: We went through some really tough areas, including steep, steep hills and water- and mud-filled gullies. I was white-knuckling it half the time and, while it was fun, I was happy when it was all over. This was not for the faint of heart!


Don't go Chasing Waterfalls
After the ATV ride, it was a hike down to Ngatpang Tabecheding Waterfall. The hike was nice, and when we reached the falls, we crossed over the top by holding onto a rope while the water rushed over our calves. One wrong move and it would be over the falls! Yeah, I totally could've died here, too. But I didn't!
Dinner that night was lobster sashimi at Tori Tori. Really good…and really expensive! Palau uses US currency and I'd soon learn the country is part of a special compact with the US, making it very American in many ways. Most of the imports at the supermarkets were from The States and Palau even has the US Postal Service installed here. The compact also includes The Federated States of Micronesia and The Marshall Islands, which both were next on my itinerary, respectively.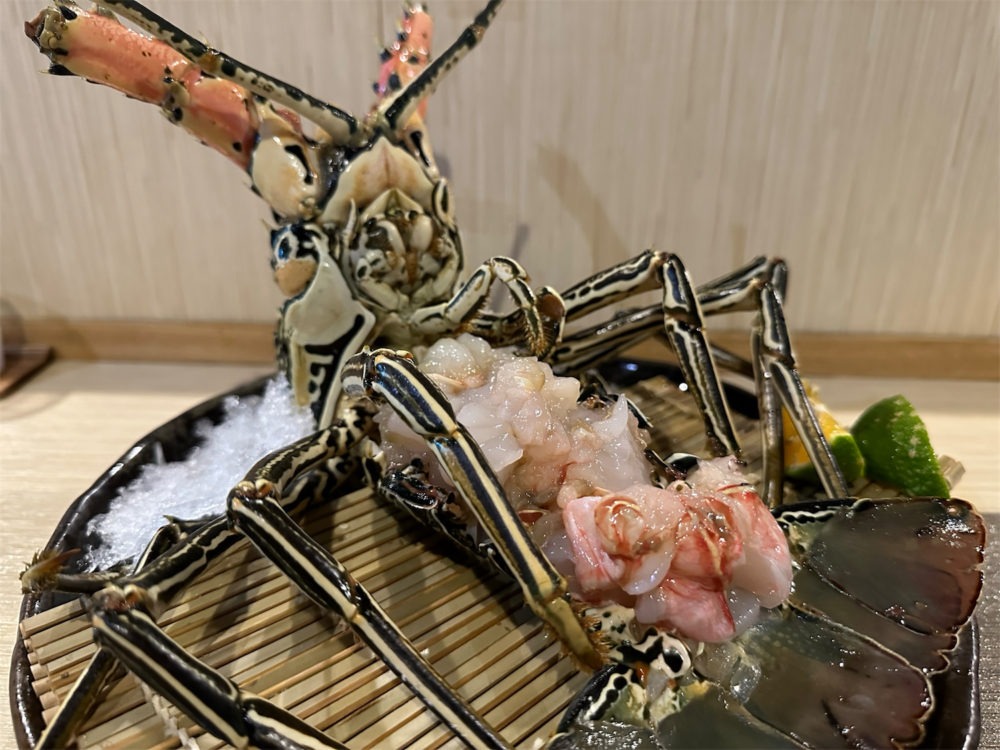 Day Two
My second and final day in Palau was spent island hopping and snorkeling. Words cannot express just how wonderful the waters are here – probably the best diving and snorkeling in the world.
We spent the day going from island to island and spot to spot – each different from the last and magic in its own way. Milky Way Lagoon is just that: a blue/green "milky" inlet with pure white mud on the sea floor. I could've spent the day there.
Another favorite was an area called Shark City, where I snorkeled among dozens of sharks! And no, I was not in a cage. Good thing these were small sharks and they didn't bother us humans one bit. Check that one off the bucket list.
There were a few other spots we stopped to snorkel, including an area with giant reefs and the most amazing coral I've ever seen. Besides the crystal clear water and stunning scenery below, I loved that the waters were so calm – like a lake, really! It made it really easy to just float and relax the entire time. Just perfect!
Speaking of lakes, sadly, the most famous attraction in Palau, Jellyfish Lake, is not anything like it was. Due to climate change, there just aren't many jellyfish there anymore. The tour company did not recommend it, so I did not make a stop there, which requires an additional state license (just a fee and formality). Who knows if the jellyfish will repopulate.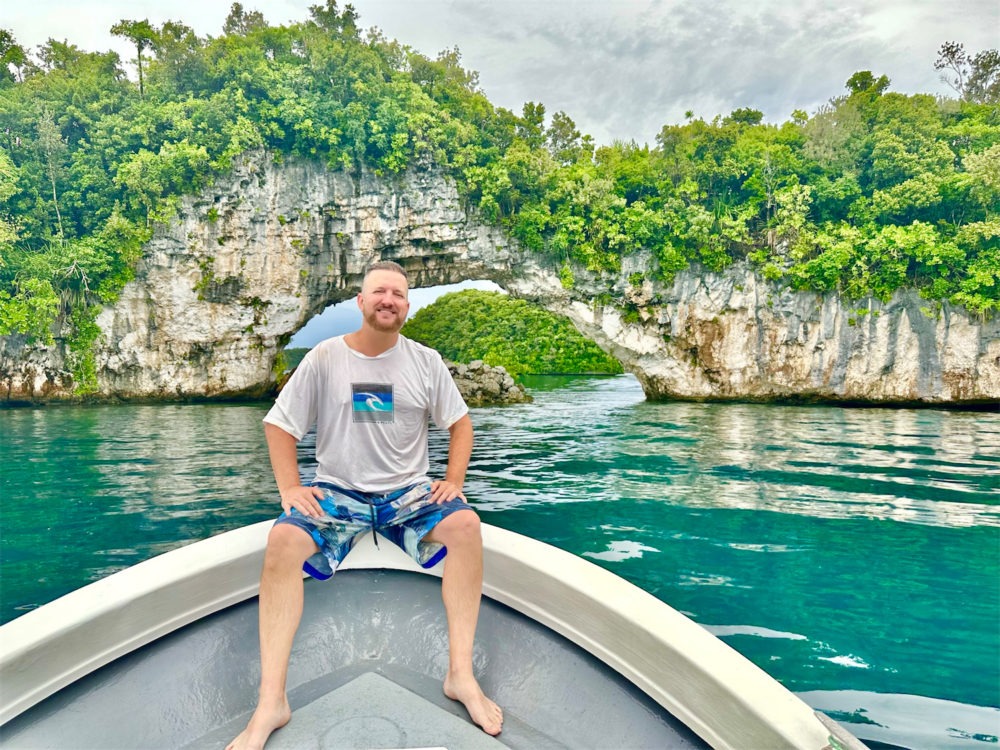 Parting with Palau
Unlike some of my other stops this trip, I wasn't ready to leave Palau. There was so much more to see and do, including many WWII sites and that $200 scenic flight over Palau – I really wanted to do that! I can't tell you just how much I recommend Palau if you're looking for a wonderful island adventure – one that's not over-touristy like Fiji or Hawaii, but not quite as off-the-beaten path (and missing amenities) like Kiribati and others. I'm telling you, Palau is the move!
>>> RELATED: Yo Quiero Kiribati – Beautiful Island, Ugly Hotel
I must shout out my friend Adam Hickman, who put together this amazing Palau "Top Tips" blog, which really helped me plan out my trip here. What a public service! Thanks, Adam! See Adam's Palau page HERE.
Oh, almost forgot. I stayed at The Palasia Hotel and liked it. It wasn't fancy, but it was more than adequate and the perfect location, right next to restaurants and supermarkets. You can check out The Palasia HERE.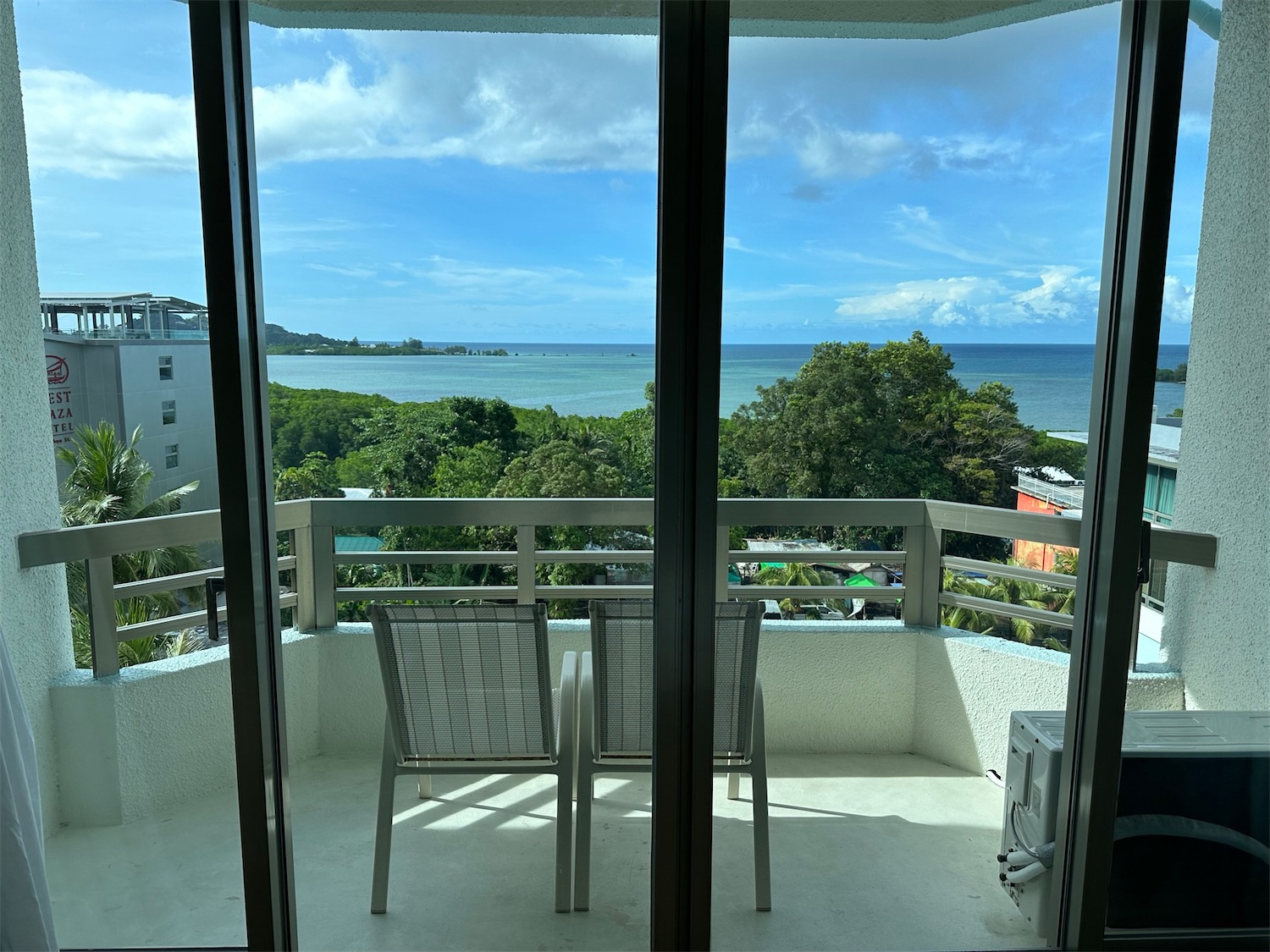 This entry was posted in
Oceania