Extreme Layover
I would've booked a longer stay in Riga, however at the time (October 2020), Latvia was the country on my itinerary with the strictest entry requirements, shutting out even many of its European neighbors. I figured if I'd get any hassle trying to enter the country, that officials might be a little more lenient with someone simply "passing through" on a layover. My ticket from Lithuania had me landing in Riga at 6:35AM and wheels up for Helsinki that same day at 11:35PM. I pretty much had a full day to run around and enjoy Riga…that is, if I'd even be able to leave the airport.
Midnight Express
Thankfully, my only obstacle was a lone-worker stationed at the exit of the terminal who stopped me to ask where I was from. "Slovakia," I murmured, as he waved me through. Whew, that was a close one!
It was still dark and nothing was open at 7AM, so I opted for an early check-in and morning nap before waking at 10 to get out and see the city. First stop was breakfast at Domini Canes, where I enjoyed an awesome omelette with salmon and toast. What a great presentation! It was just the meal I needed to give the me the energy for a day in the city.
I immediately caught the vibe in Riga. While geographic neighbors to Lithuania, Riga seemed just a little bit more alive than Vilnius. It was just a smidge rougher around the edges and just seemed to have a little more character. I spent the few minutes left of the morning traversing parks and passing by monuments. Riga is a gorgeous town and the fall weather was perfect – just mildly brisk.
Market Watch
I headed to Riga Central Market which was quite a sight. Most of the vendors and stalls were housed inside a collection of giant curved buildings that resembled airplane hangars. Goods were arranged and organized according to category: The meat in one section, fish in the other, produce, grains, and so on. I noticed all the butchers were female. The absence of masks concerned me a little. I wore mine.
Gotham City
Leaving the market, I couldn't help but see a giant and old, magnificent skyscraper towering above the neighborhood. Its sharp lines and copper colors drew me closer – it looked like something out of Gotham City and I just had to take a closer look – I had nothing else to do! How pleased I was when I discovered you could buy a ticket to ride the elevator to the top-floor observation deck. I'm in!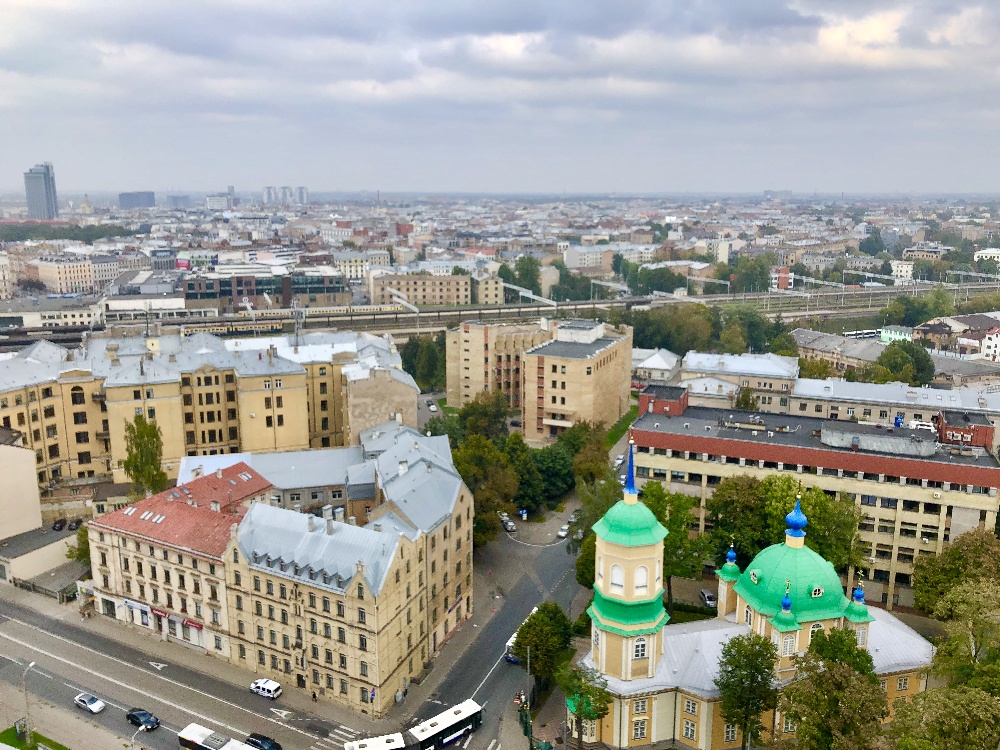 Buildings, Statues, Bridges, Castles, Cake and Lemonade
I spent the rest of the afternoon meandering around the old town, admiring all that was laid out for a tourist like me to see. I was still recovering from the recent transatlantic flight, so I took it easy, stopping to rest on park benches, enjoying a pastry and coffee in the square and eventually being pulled in to The Cuba Cafe for a raspberry-vanilla lemonade.
Night Moves
Back at the hotel while resting up for my 11:35 flight to Helsinki, a fellow traveler-friend from Facebook sent me a message that he, too, was in Riga. 20 minutes later we were ordering Latvian cuisine at a local joint called Valtera. Thumbs up for this place, who sources all local ingredients for their ever-changing seasonal menus. I had the best ceviche of my life before the main course of venison filet arrived. I had to skip dessert and ask for the check – it was time to say goodbye and grab my car to the airport. #151 was a winner!
This entry was posted in
Europe
,
Extreme Layovers