My Name Is…Too $hort
First let's get this out out of the way: The Philippines is one of those countries you cannot be satisfied spending anything less than two or three weeks in. For those familiar with my traveling style of popping into a country for one to three days and bouncing—yeah, that works well for me in most countries. I've left countries like Chile, The Bahamas, Suriname and Taiwan, thinking that I'd seen and done enough; feeling more than fulfilled with the things I accomplished in just a couple of days. But the Philippines…no way. Even before I arrived, I'd learned that there are just so many "can't miss" places, including some of the world's best islands and beaches. And here I was, just dipping into Manila for two measly nights. I new I'd failed before I even started, and that a second trip back, for much longer, would be in my future.
The People of The Philippines
I wonder if it's possible that I'll ever visit a country with friendlier people than those of The Philippines. I'm not sure how to even put into words how loving Filipinos are, especially towards Americans. Their hearts are full of love and they are the most caring, hospitable people I have ever interacted with. And I say this with only two days experience! I was truly overwhelmed with just how cool Filipinos are. I certainly left with a fuller heart. I've also never visited a country where Americans are more loved than here. I had heard that Filipinos truly treat Americans like celebrities, and I now that I've been, I can confirm this. Everyone was truly so kind, warm and welcoming to me. It was such a great feeling experiencing such constant, positive vibes from strangers on the street. It's really hard to put into words; you've got to visit for yourself.
Day One
I arrived at 8PM on a Saturday night and was at my hotel by 9. I splurged on this one—spending more than I usually would, on a one-bedroom suite in at the New World Hotel, in the swanky area of Makati. I was beat from the travel, so after one beer at the lobby bar, I headed up for some much needed Zs. My room was nice except for the air conditioner, which had only two settings: OFF and ARCTIC BLAST. No in between. Why???!!!
RAMBLIN' TIP: Find a great hotel for an amazing price in Manila HERE.
I was up the next morning for my only full day in the Philippines. After breakfast at the hotel I grabbed a cab to The Mall of Asia, where I enjoyed strolling through the massive expanse of shops and restaurants, until I came out of the other end and met the bay. I walked along the water past a Ferris wheel and various other carnival rides. It was hot and sunny; I lucked out—it had been raining cats and dogs for weeks leading up to my trip; I was so fortunate to score a sunny day.
But First, Let's Take a Selfie
Walking back through the mall again, I was reminded at how awesome the people are. I found myself in a huge, all-electronics wing of the mall. I whipped out the phone for a selfie and before I could take two pictures, the whole crew at a cell phone shop was posing right behind me. Fun people!
Stroll Through the Park
Next stop was the famous Rizal Park, where I strolled alongside palm trees and flags and snapped photos of monuments. The Filipinos sure are a patriotic people. They have lots of national pride. I asked one lady her opinion of the current president, Rodrigo Duterte, which she responded, "I didn't vote for him, but he's our president now, so I support him." Wow! I couldn't but think, we sure could use some of that unity here in The United States.
They See Me Rollin'
I've ridden in a Tuk-Tuk and a Chicken Bus…but never a Jeepney. There's a first time for everything, and this was it. Picture a stretch-Jeep, with bench seating inside and no seat belts of course – that's a Jeepney, and they're everywhere in Manila. Many of them are decked out in shiny chrome and have their own names, as boats do. Jeepneys are the common mode of transportation in Manila, and I'm guessing elsewhere in the Philippines. Which brings me to the traffic situation: the worst! In fact, people warned me about it before I even arrived. There's no real public transportation system in Manila. I saw a train/tram/monorail thingy, but apparently it doesn't go many places. It's gridlock almost all the time in Manila and can take an hour to drive two miles. I was told that when Filipinos are describing distances, they don't do it in "kilometers," but rather "hours." Oy vey!

Old Town Road
So yeah, I took this Jeepney contraption from Rizal Park over to the historic walled district of Intramuros, where I spent a good hour bumming around. I enjoyed the neighborhood and all its charm: old stone walls with moss and vegetation filling in the cracks, canons, a moat, more monuments, a little museum, and some nice views of the river. After I explored the neighborhood and grabbed a bite and cabbed it back to the hotel, where I chilled the rest of the night. I finished up day one sipping a Singapore Sling in the lobby bar listening to a really good lounge singer belt out some Carol King. I love this place.
Day Two
Sadly, day two was my final day in The Philippines. I spent most of the day being angry that I would be leaving that night, and plotting my return. I even discussed apartment rental prices with my Uber driver. I could totally live here.
I had two appointments at radio stations today. You may or may not know, that my day job is a radio DJ. I host an internationally syndicated radio show–it's a love songs and dedications program called Sunday Night Slow Jams. So I love visiting radio stations in foreign countries–just to see the studios and meet other radio DJs; sometimes even to pitch my show.
>>> RELATED: Ramblin' on the Radio – My Visits to Foreign Radio Stations
I first headed a station called Magic 89.9FM to meet up with Program Director Andrew Santiago. That's when I got an even better understanding of Filipino hospitality. Not only was Andrew kind enough to give up some of his valuable time on a busy Monday, but he even invited me to sit down and enjoy coffee and pastries with him. How nice! We had a great time talking radio and it was cool to see the Magic 89.9 studios, as well as their two sister stations. Andrew even drove me to my next appointment…what a cool dude!
Next, it was over to Wave 89.1FM. This station actually airs my show! I can't tell you how awesome it is to be on the air in Manila. Big shout out to Nelson "Sarge" Capulso for having me on. You can catch Sunday Night Slow Jams every Sunday at 10PM on Wave 89.1FM. It was great to see Sarge in person, and the station. I even went on the radio with the midday DJ, Dash. We talked about Slow Jams, my trip to Manila and I gushed about how much I loved The Philppines. So fun!
It's so Hard to Say Goodbye
After my awesome visits to the radio stations, I grabbed an Uber back to the hotel and packed for that night's flight out. I can't tell you how sad–downright angry–I was to be leaving so soon. The Philippines is one of those countries I not only must return to visit, but it's one country I would actually consider living in, or at least staying for months. Philippines, I'll be seeing you soon. Leave the light on for me.
Wanna see some quick video clips? Here are my Insta-Story from day one:
Guess Who's Back…Back Again (2023)
Anyone who knows me will tell you I don't shut up about the Philippines. Since my first stop there in 2017, I haven't been able to get "The Peens" out of my head. Truth be told, I would've returned a lot sooner, but wanted to finish 193 first. Well bonus for me, as I'd have to go through The Peens on my latest trip and effort to finish The Pacific, which included a Manila layover if I wanted to get from Papua New Guinea to Palau. It was the only way. Sigh. Are you thinking what I'm thinking? Yesssssss, book an extra, extra long layover. Well if you insist!
I don't think I could've been any happier to arrive in Manila this time. Not just because The Peens is one of my all-time favorite places, but I'd just spent two nights in a very third-world location – a town with absolutely zero amenities. While I was happy to visit Buka, in the autonomous region of Bougainville (inside Papua New Guinea), I was not happy about the guest services there, or lack thereof. No TV, no internet and a sketchy lodge with cockroaches. I couldn't even find one restaurant or café in the entire town. Look, I'm not trying to cry the blues, but you learn a lot when you travel. And for me, I've learned I really have a hard time enjoying myself if I can't, at the very least, get a decent hotel room. I don't need anything fancy, but clean white sheets and WiFi are the bare minimum. Anyway, I'm not here to rip on Buka at all – but I wanted you to understand just how unbelievably stoked I was to be in Manila: because it's one of my favorite places in the planet, and I'd be going from a hut to a gorgeous and luxurious hotel room atop a modern high rise in a big city. I was soooo ready!
>>> RELATED: To Buka and Back: Visiting The Autonomous Region of Bougainville 
Two Nights
The moment I stepped onto the curb outside of the airport, I felt the warmth of The Philippines – not just weather-wise, but the people. I'd asked a female police officer for help finding where to catch an Uber and her genuine kindness and willingness to help warmed my heart. It's hard to explain, but it's just different here.
Checking into that gorgeous hotel with its big, white fluffy bed, TV with lots of English channels and a view of the city…big sigh. I was just so grateful to be here.
I'd start each day being a fat boy at the Sheraton's top-floor buffet. Keep in mind, my diet for a the last couple of days consisted off village food (no offense, villagers) and off-brand cookies and crackers bought from dusty Chinese trading posts in Buka. I couldn't even find coffee (beside instant) in Buka. So this buffet? I was going in!
RAMBLIN' TIP: So many great and inexpensive hotels in Manila. Check HERE!
Dora the Explorer
I had just about 48 hours in Manila and I have nothing epic to report – just a really nice time, exploring a really nice city, with really nice people. I packed in the most action on day one, starting with walking Quiapo Market. I enjoyed the market, but even more so, the adjacent Islamic neighborhood. Next, a Jeepney ride over to spend some time at The National Museum of Natural History – all these of these were new places for me. Then, a familiar favorite: a stroll through Rizal Park.
My lunch at the mall was very un-Filipino: kebabs and rice at Arya Persian Restuarant. What can I say, I was in the mood for mediterranean. I did try something new (and Filipino) though: dalandan juice. Dalandan is a sweet orange, and I would keep forgetting its name and referring to it as dang-a-lang. But man, it was good! But that was about it for my Filipino food experience this trip. I'm just not ready to try balut yet (halfway formed bird in the egg, yuck!).
I capped off the day with a terrific massage at the spa across the street from the hotel. It was fantastic and put me to sleep!
Ooh, here is where I'll brag about my hotel's location this time: I absolutely loved the Malate neighborhood! It was buzzing with excitement and so much to do and see. It felt a lot more local and "real" than the place I stayed last time: the business district of Makati. Makati was nice, but it'll be Malate from here on out. Such a bullseye.
Dot Your I's and Cross Your Teas
Without a doubt, my biggest score on this entire was my absolute favorite Indonesian iced tea at 7-11. I'd found Teh Pucuk Harum years ago in Jakarta and my life would never be the same. I'd searched all over the internet and in different countries to see if I could find it outside of Indonesia, but no luck. Since Indonesia shares an island with Papua New Guinea, I thought I might find it days earlier in PNG, but no dice. I only stumbled upon it in Manila because I'd Googled it. I even looked for it first and must've just completely missed it. But once Google confirmed this jasmine tea from heaven was available in Manila 7-11s, I rushed over to to my nearest store, and BOOM! I was nearly in tears as I tore off the cap and inhaled my first 10 ounces.
>>> RELATED: Ramblin' Randy "Best Of" – Best Iced Tea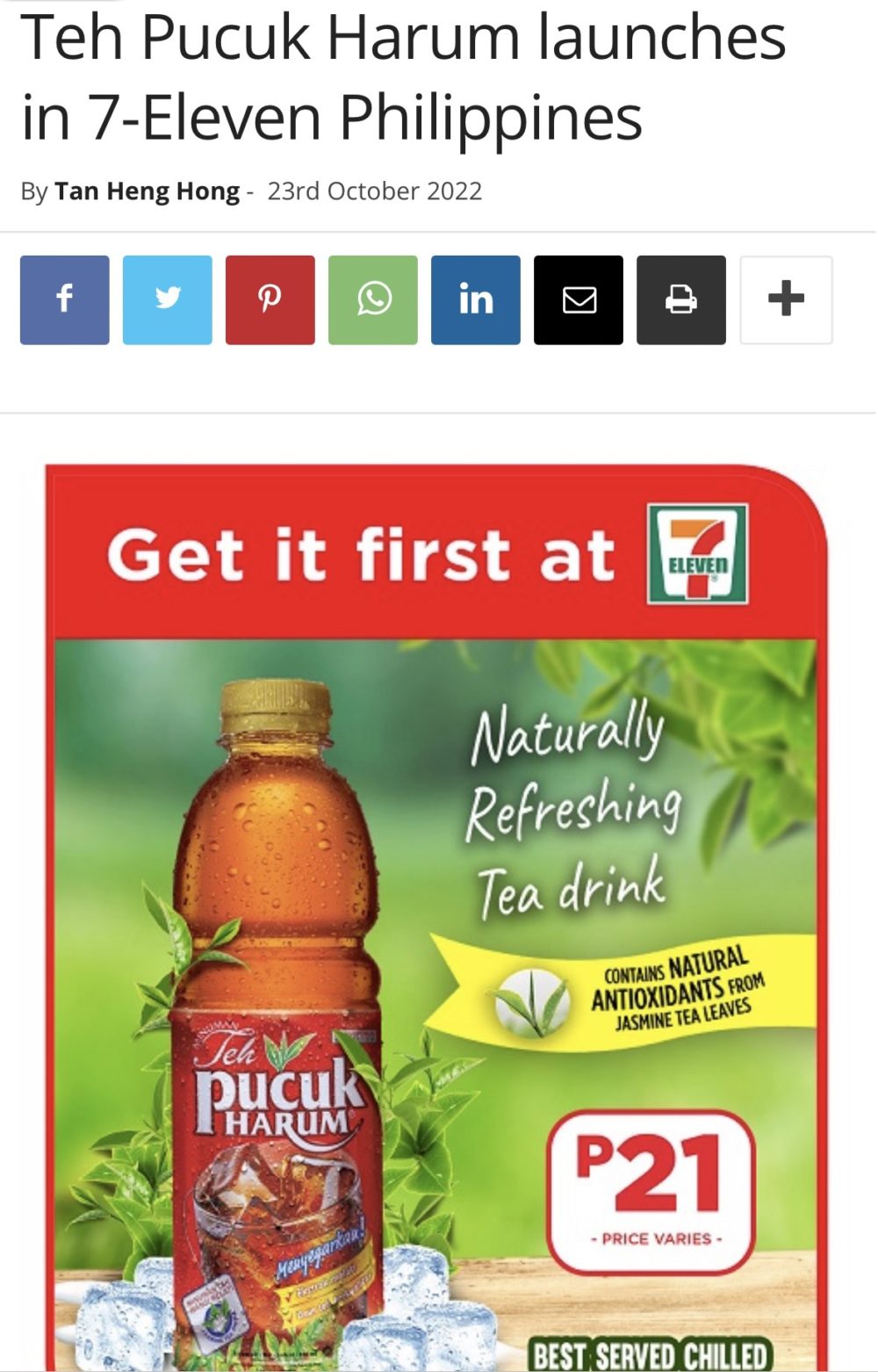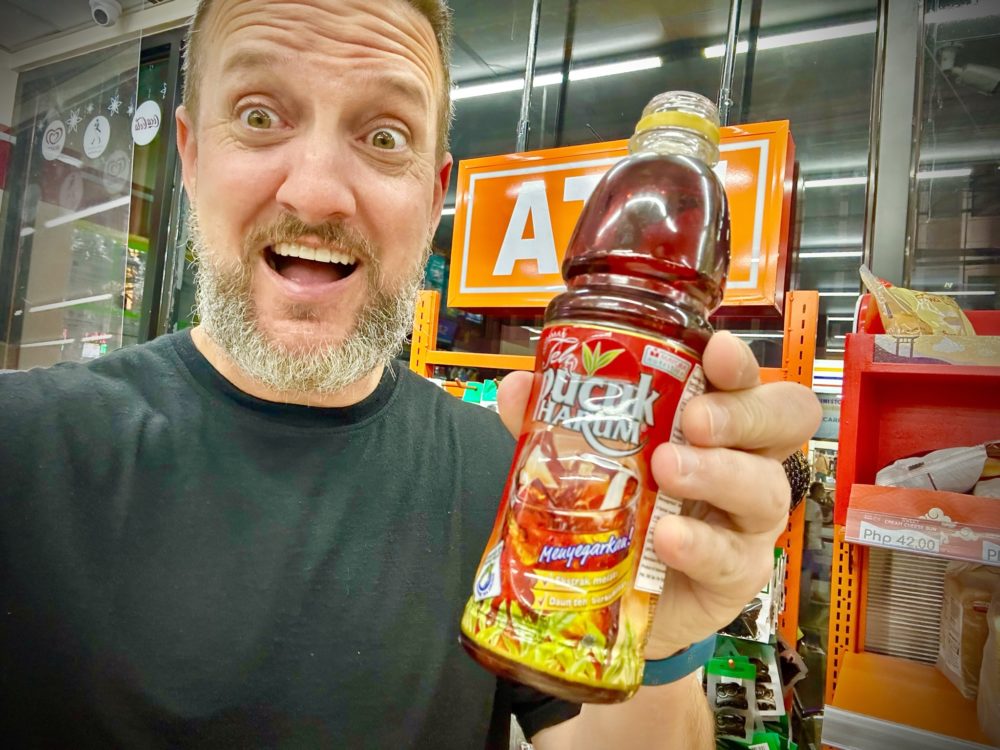 The Thrilla in Manila
Day two was an absolutely lazy day. I slept in late and didn't leave the hotel until after noon. No regrets. After Buka I was just soaking up every last drop of that hotel room – I still had a couple "questionable" destinations ahead.
That final day's itinerary included getting a haircut, Korean BBQ and another amazing massage. After sundown it was time to head to the airport and hit country #190 – Palau. Oh, Manila, how great it was to see you again! Warm, friendly, exciting, relaxing and comfortable sum up my feelings about Manila. I've already booked a trip back next December, this time (finally), longer – and a few more cities too (Cebu, Davao, etc.) Check back for the story, December 2023!
This entry was posted in
Asia