The Start of Something Special
My summer trip to Europe in 2015 was actually one of the events that first sparked my love for extreme travel. I checked off seven countries in less than two weeks. It was my first time seeing so many nations in a short amount of time and I absolutely loved it. I enjoyed being able to see so many different countries and cultures, hear so many different languages and taste so many different kinds of food, all at such a fast pace. It was exhilarating. It was at this moment when I realized that maybe seeing every country in the world was indeed possible.
But because this trip was at a time in my life before I traveled seriously, I took zero notes and–if you can believe it–just a handful of basic, lame selfies in Amsterdam…a far cry from the hundreds of images from each country I capture nowadays! I had a nice time but I am only writing about the trip now–five years later–so the details on all of my specific activities are very blurry blurry.
Extreme Layover
My Amsterdam stop was actually a layover, on my way from Luxembourg to Prague. I'd land at 3:35PM and it was wheels back up at 9:05PM. This was just enough time to hop on that convenient train and run into the center of town for a beer and some waffles, in and out! My recollection is blurry and the details are sparse…but I remember having a great time! I may or may not have taken a stroll through Amsterdam's infamous red light district.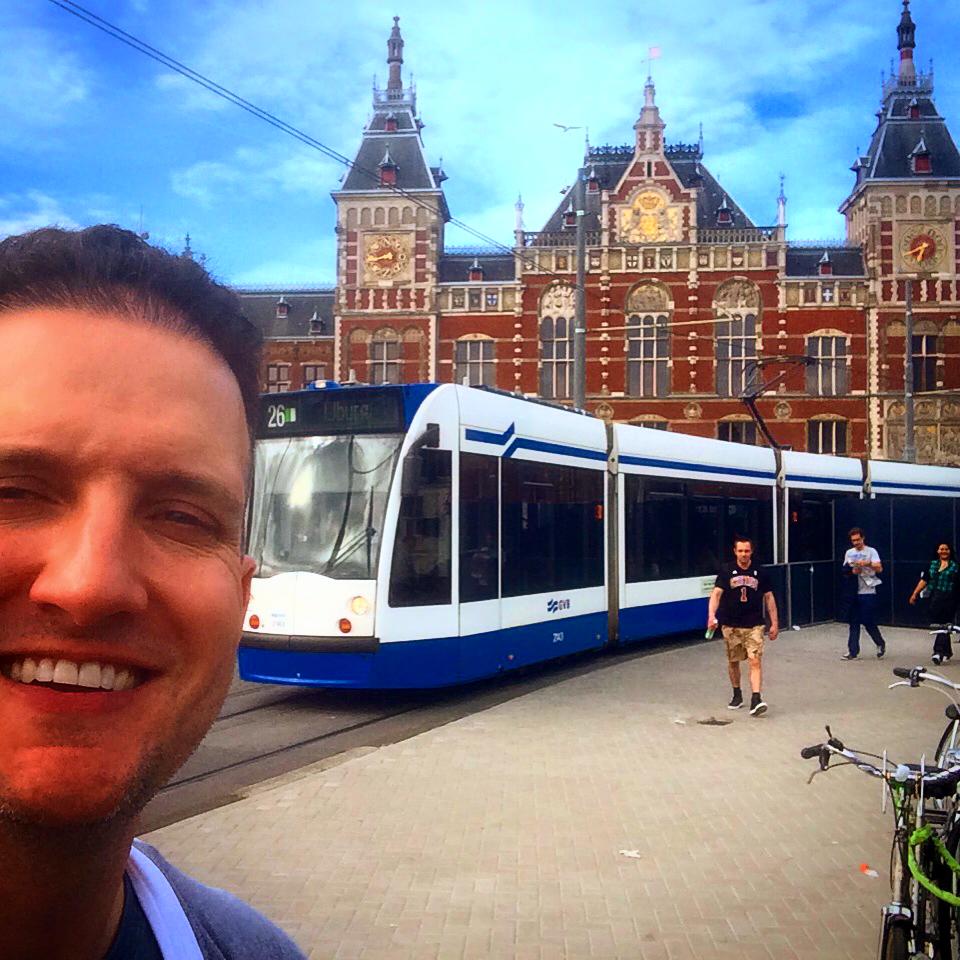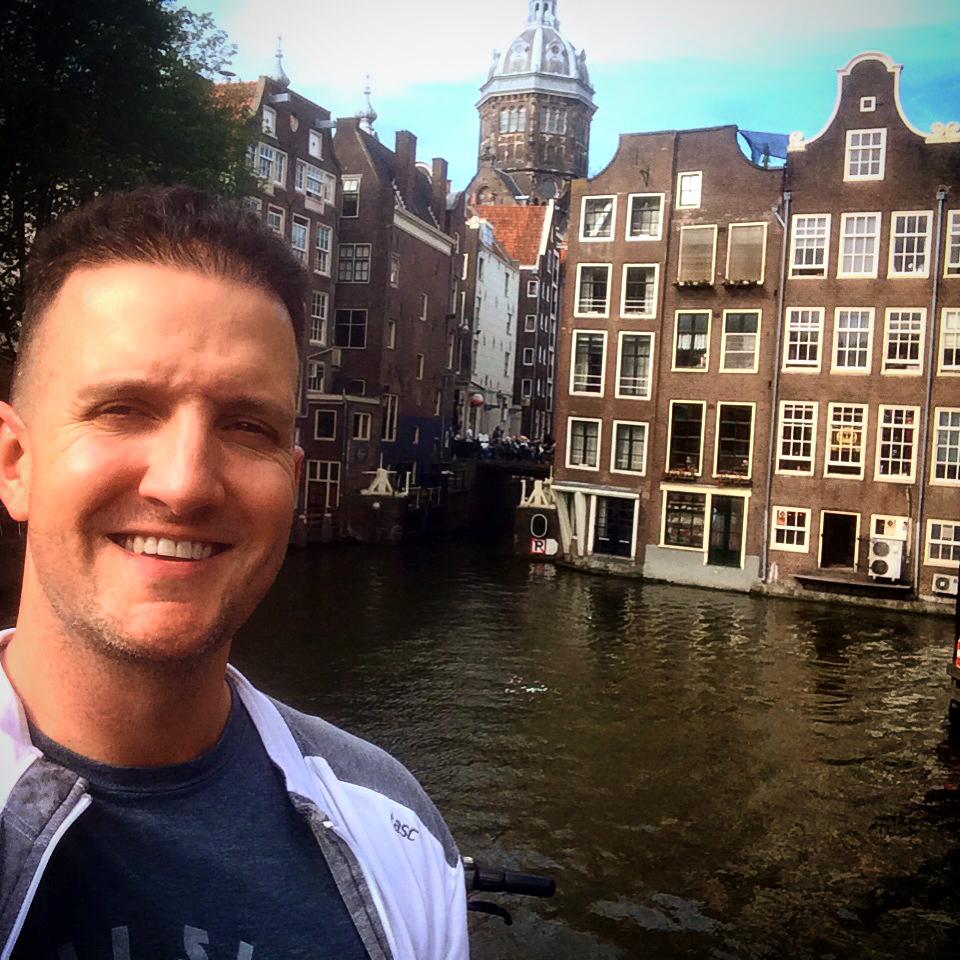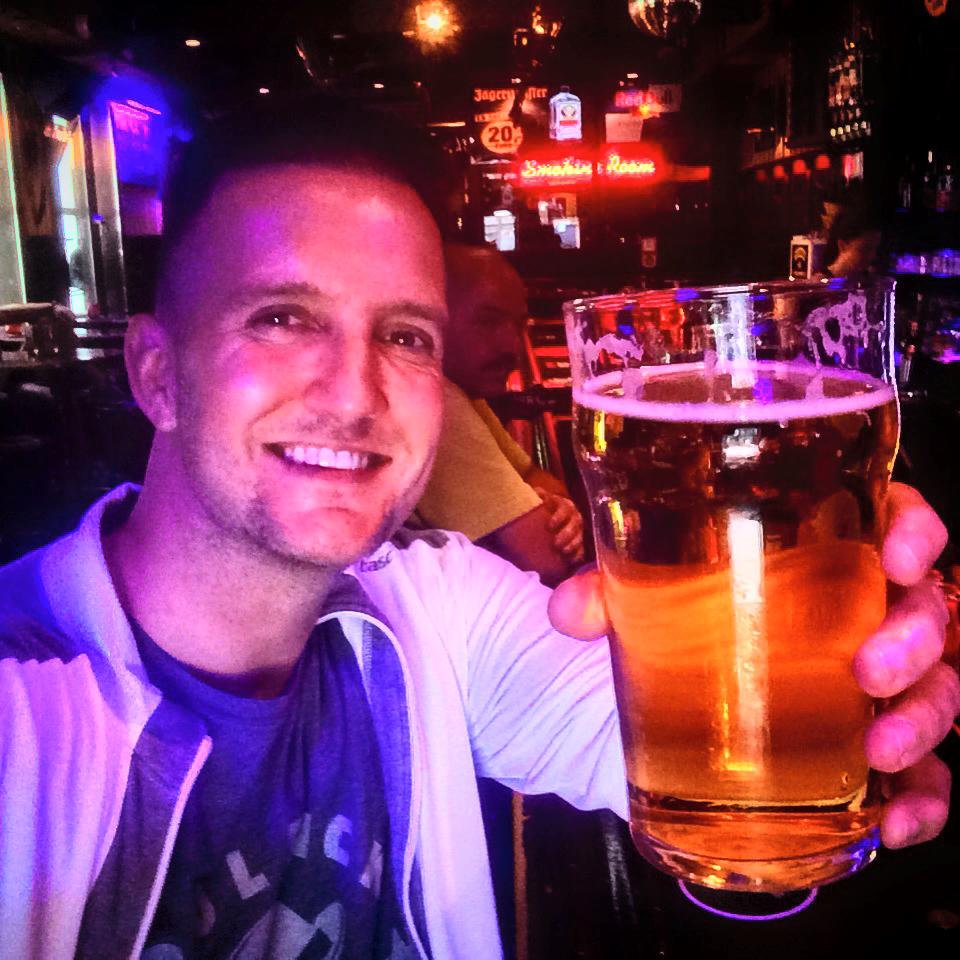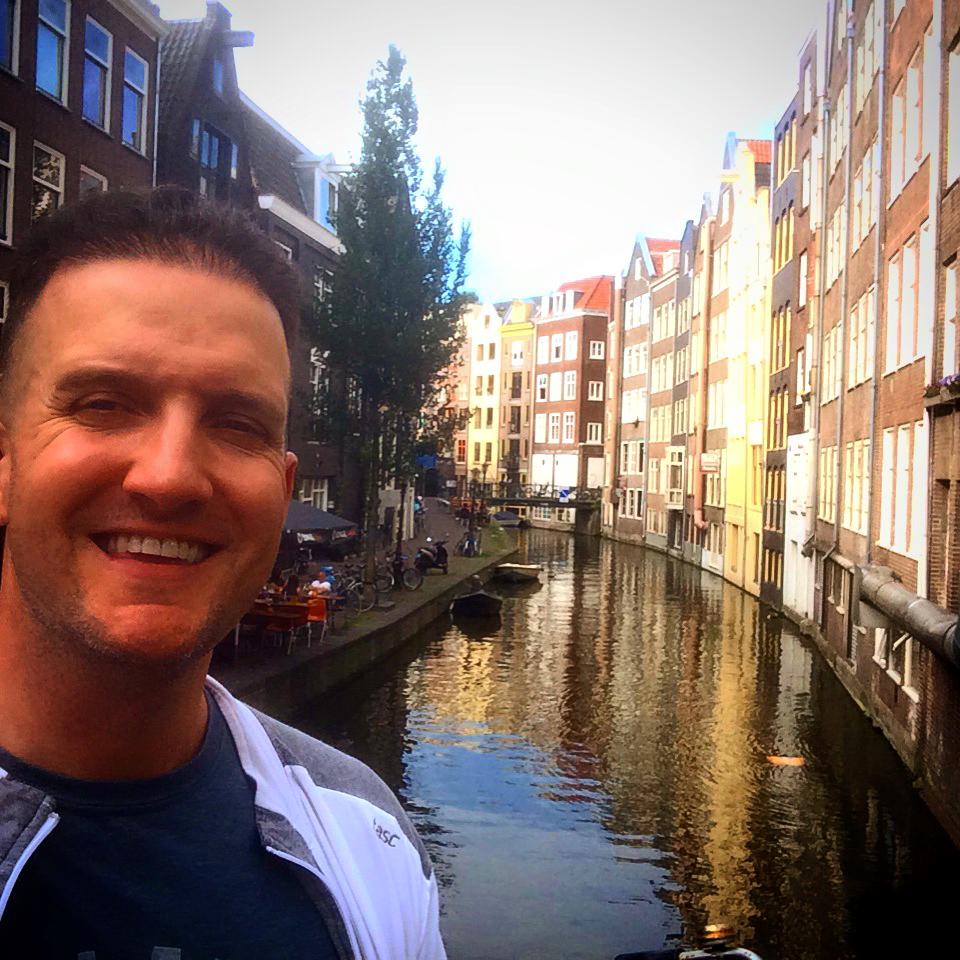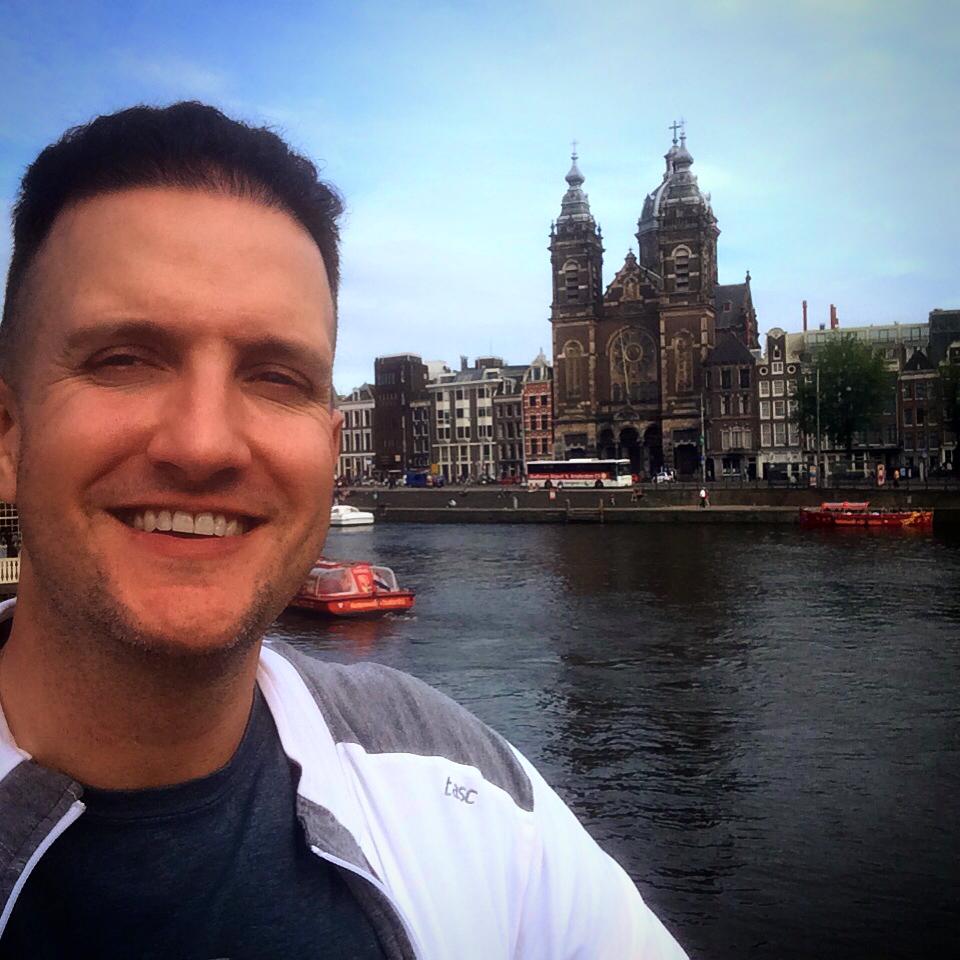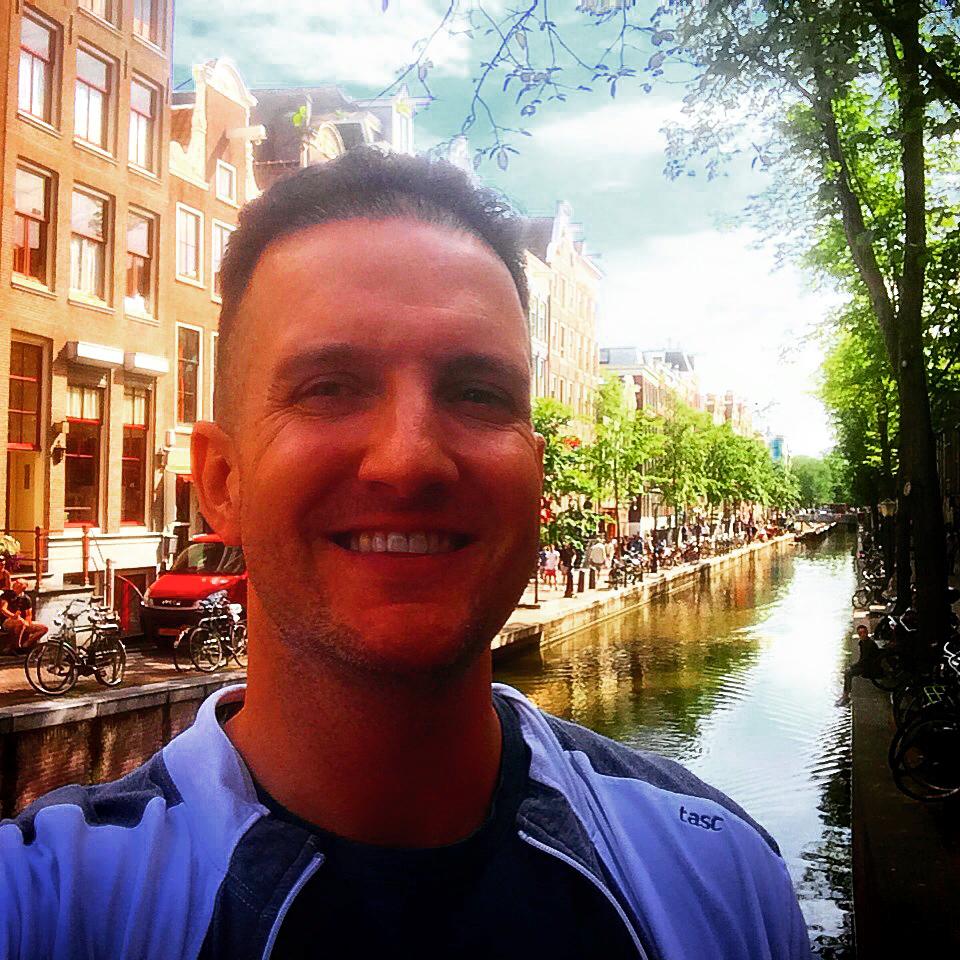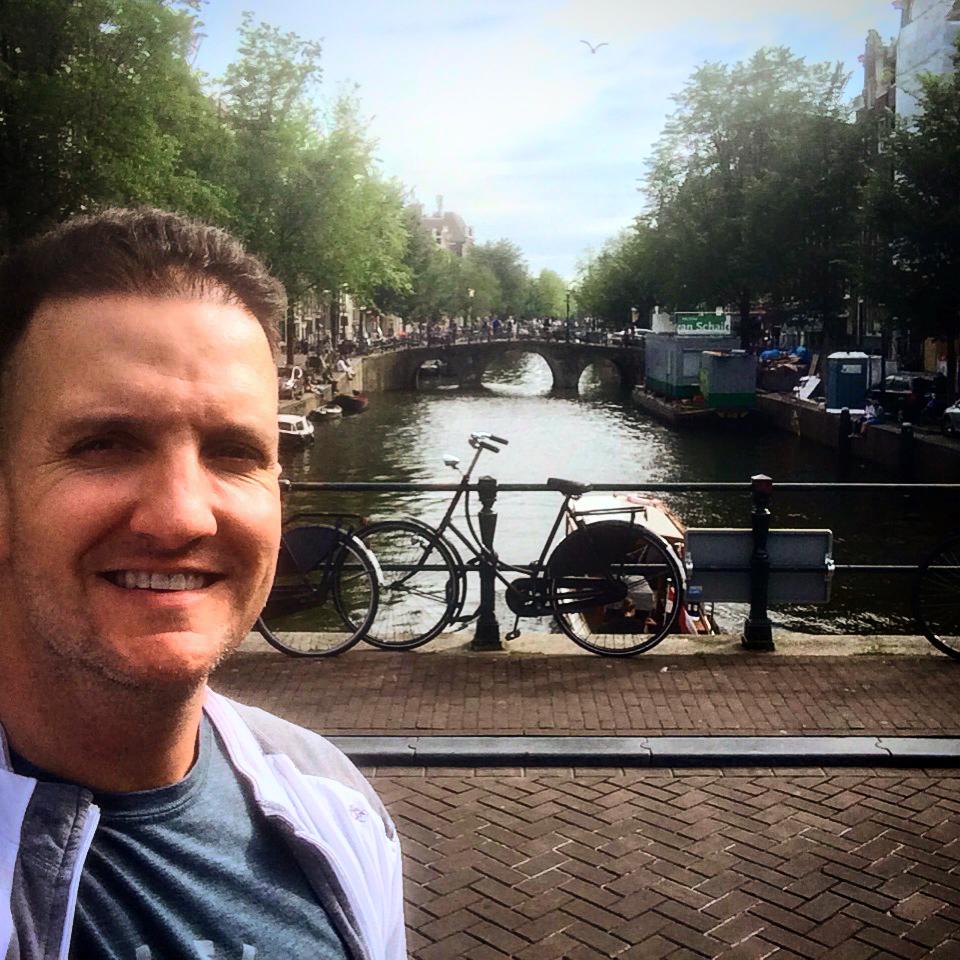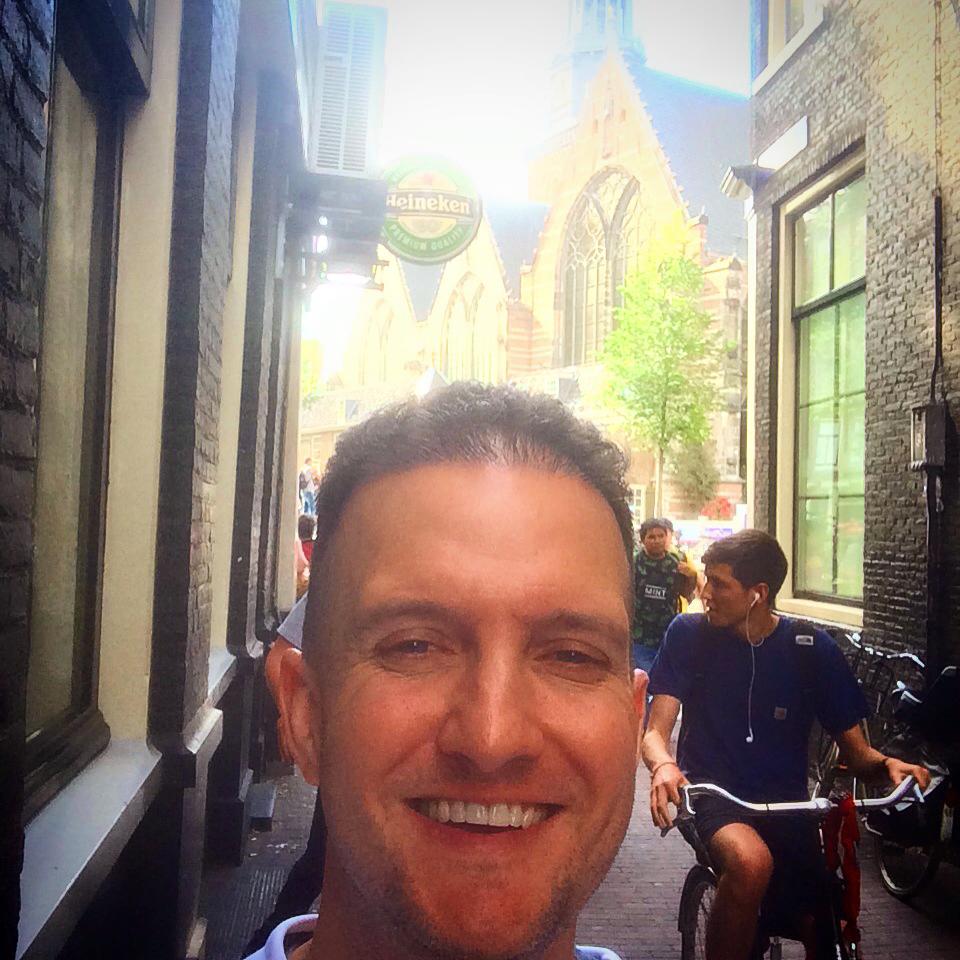 My time in Amsterdam went quick! I enjoyed strolling along the canals and through the alleyways. Lots of tourists, but that was no surprise. The beers were strong and the waffles were tasty. Amsterdam is definitely a place I will come back to, that's a promise!
2020 The Return!
Well I'll be Amsterdammed, here I was, back in the city five years later during another connection. This time it was a six-hour layover via AMS from Tallinn to Bologna, so you know I had to dip into the center really quick for a beer and waffle. A lot's changed in five years and I could tell that my travel savvy-ness had improved since my last visit. I arrived prepared, dropping my bag off at luggage-storage, grabbing a train ticket, and then a seat – I was at Amsterdam Centraal in no time!
Just about 30 seconds after I ascended up onto the street from the train station, I was met with a torrential downpour which slowed my pace a little. But after a couple breaks under some awnings to wait the rain out, the fast moving storm had blown right by us and things began to dry out. Though this stop in Amsterdam was certainly uneventful by all definitions, it was pretty amazing to see the town so dead. Corona-virus had the place virtually empty – barely a tourist in sight. My bartender at the first stop explained to me that even the local hotels were shuttered. That was fine with me, I enjoyed exploring the streets and alleys of Amsterdam minus the crowds. What a different scene than last time, when the sidewalks were packed with tourists on foot and bicycle!
Caution: You are now entering the selfie zone. (I got a little carried away!)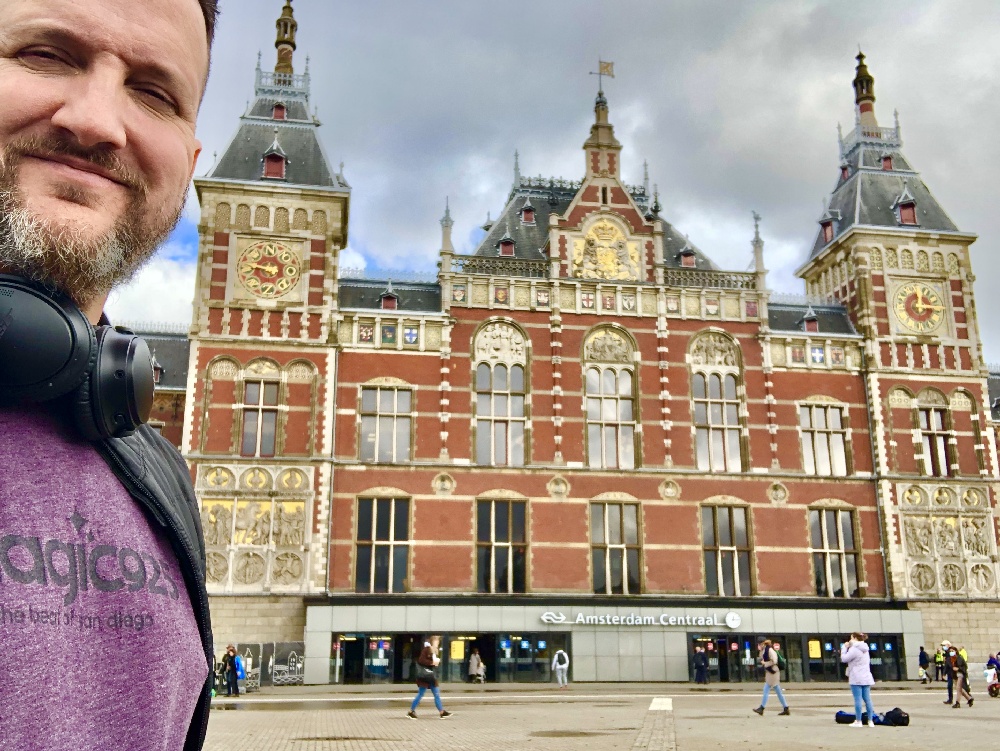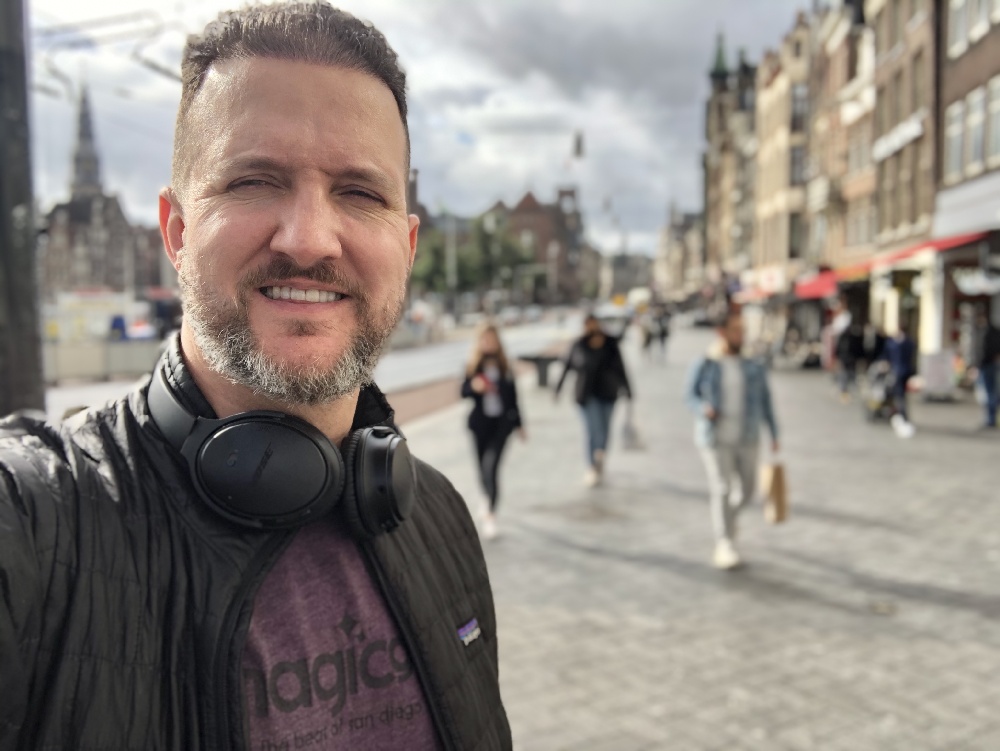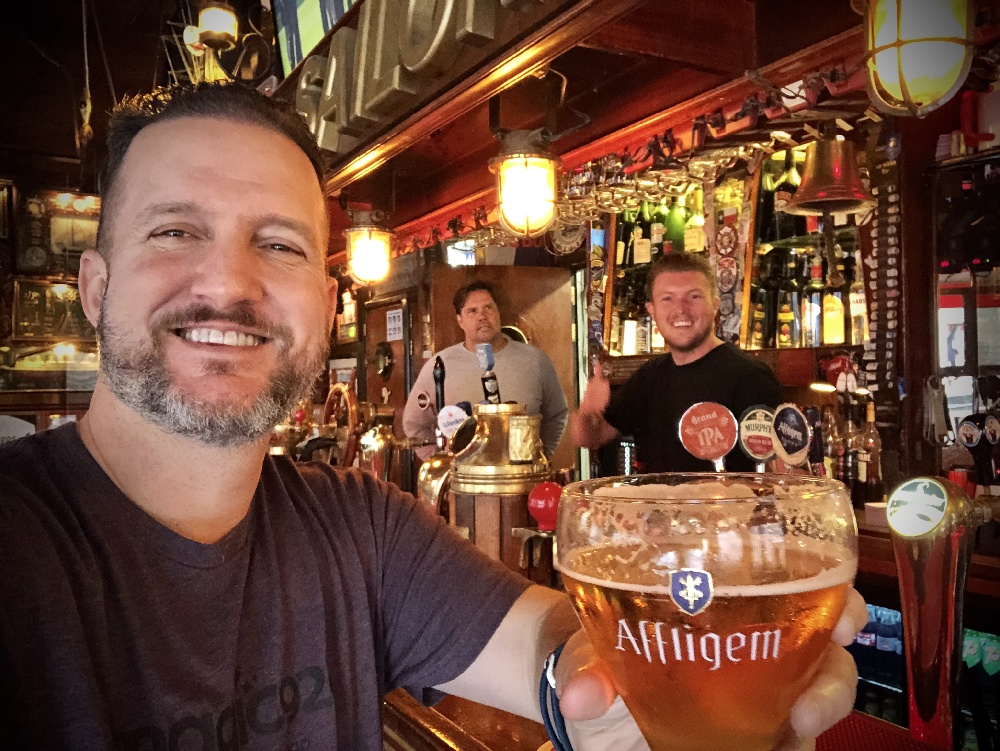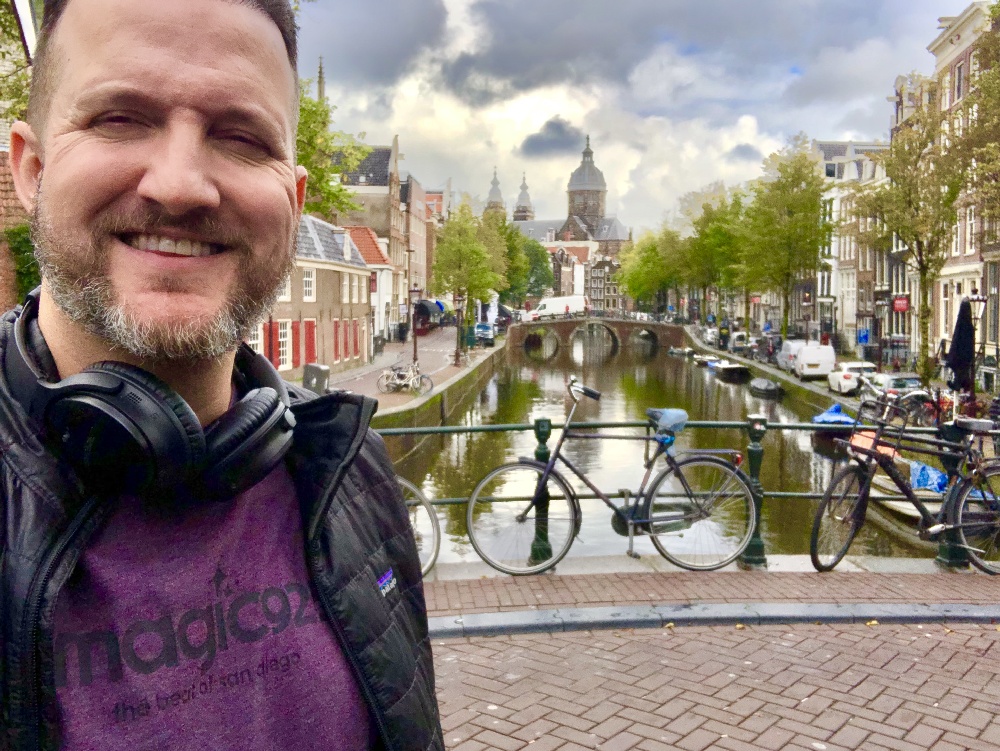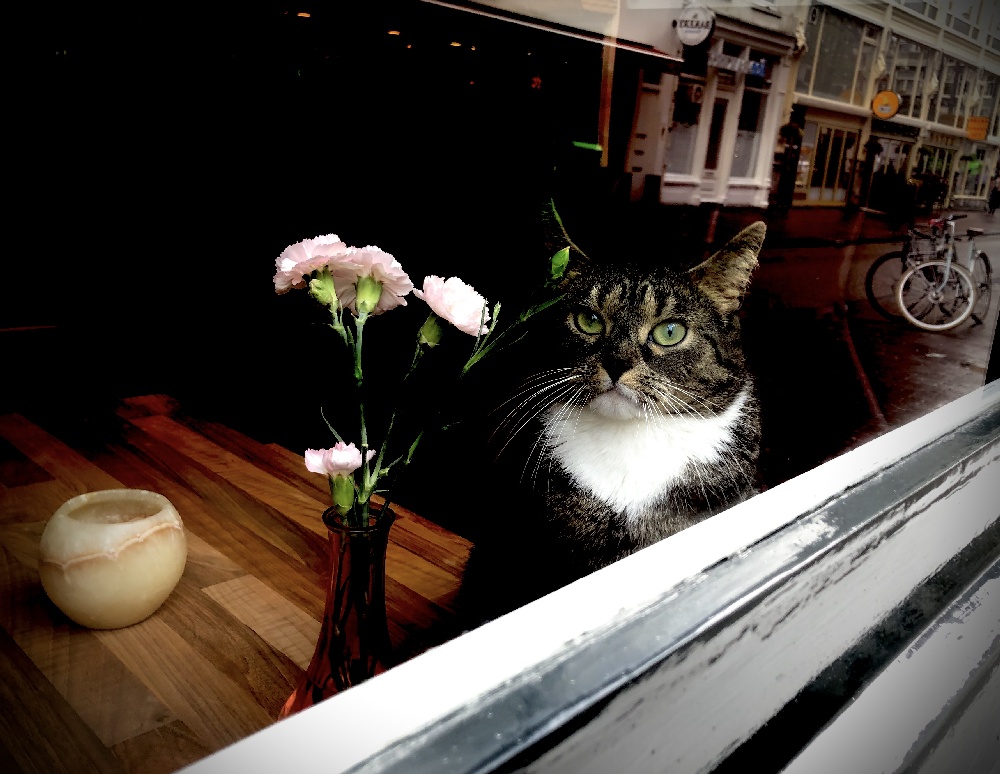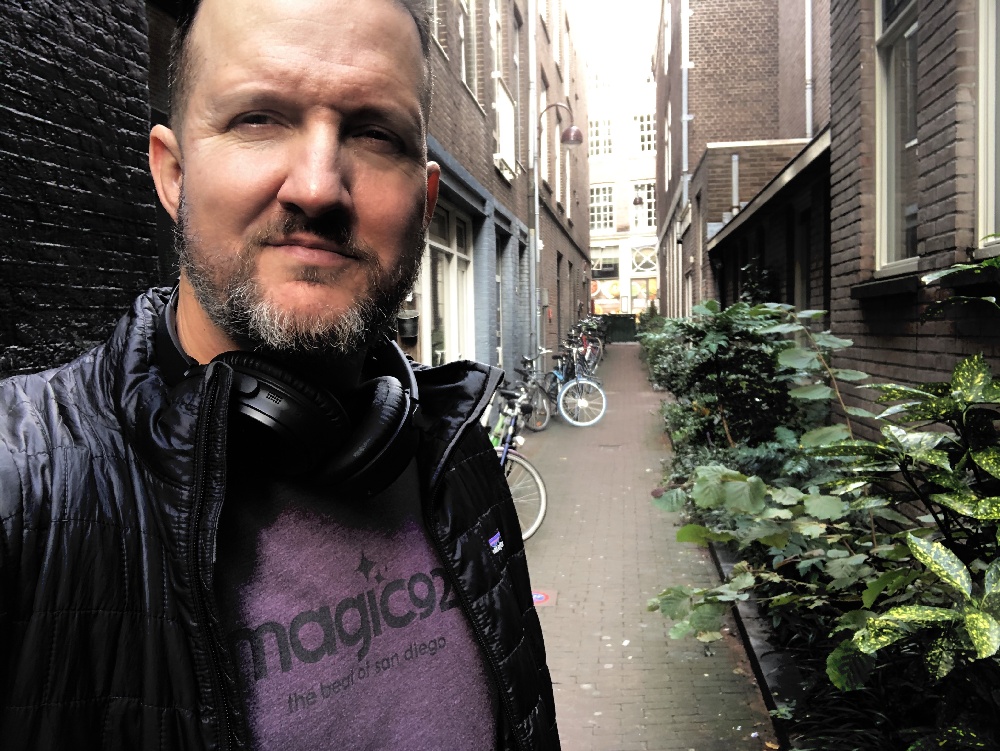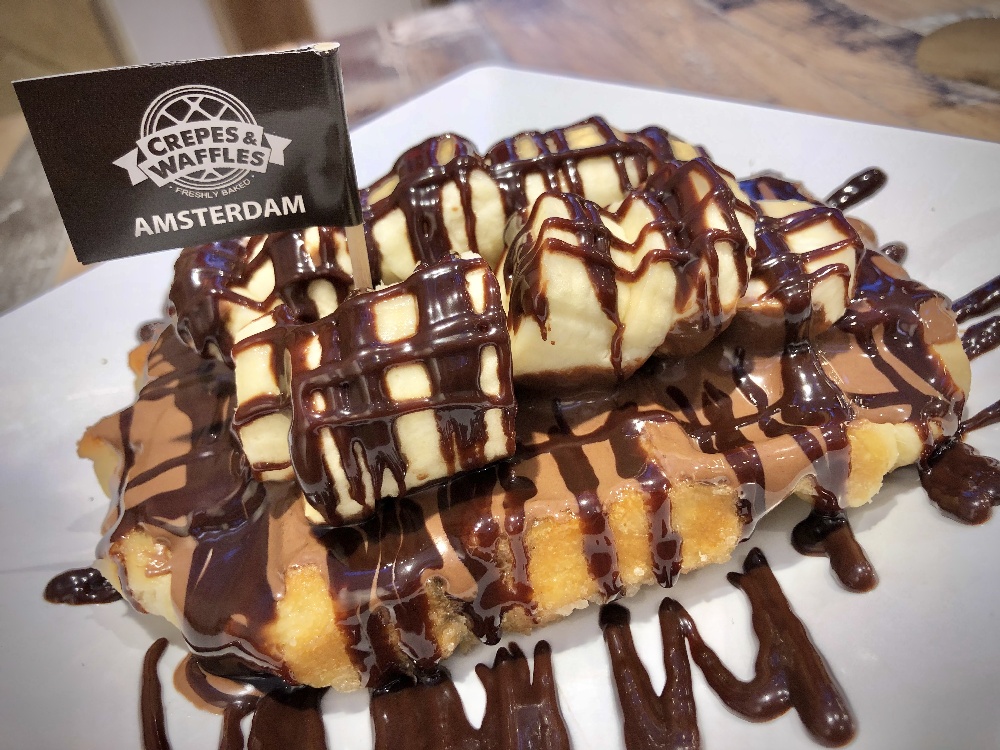 Welcome Back, Rotter
2023 and I was headed to Belgium to attend a conference. I decided to fill out the week in Europe by renting a car and book-ending my meetings with road trips to Holland and France.
After my first night in Brussels, I picked up my rental car and hit the road. Rotterdam would be my first stop.
I wish I would've remembered my Surinamese radio friend, Quintis Ristie was from Rotterdam. It wasn't until I was physically walking the streets of the city when I remembered that's where he was from. I sent him a message, but sadly we didn't connect until after I was long gone. I love that guy and I remember his enthusiasm for Rotterdam, and now I was here!
I wouldn't stay long. I couldn't stay long. I wanted to be checked in to my hotel in Amsterdam before sundown, so I spent just around 90 minutes bopping around Rotterdam, but that hour and a half was certainly productive.
My first stop was the futuristic-looking Markthal, a residential and office building with a big market hall underneath. If you're a regular reader to my blog, you know what a fan of markets I am, and this one was different than any I'd ever experienced. The giant, upside-down U-shaped structure of metal and glass was filled with offices and residences on the outside and food stalls in the middle of the "U." It looked like something you'd see in Singapore or Dubai. I stocked up on cookies for the road trip before heading for The Cube Houses.
>>>RELATED: Goooooood Morning, Suriname!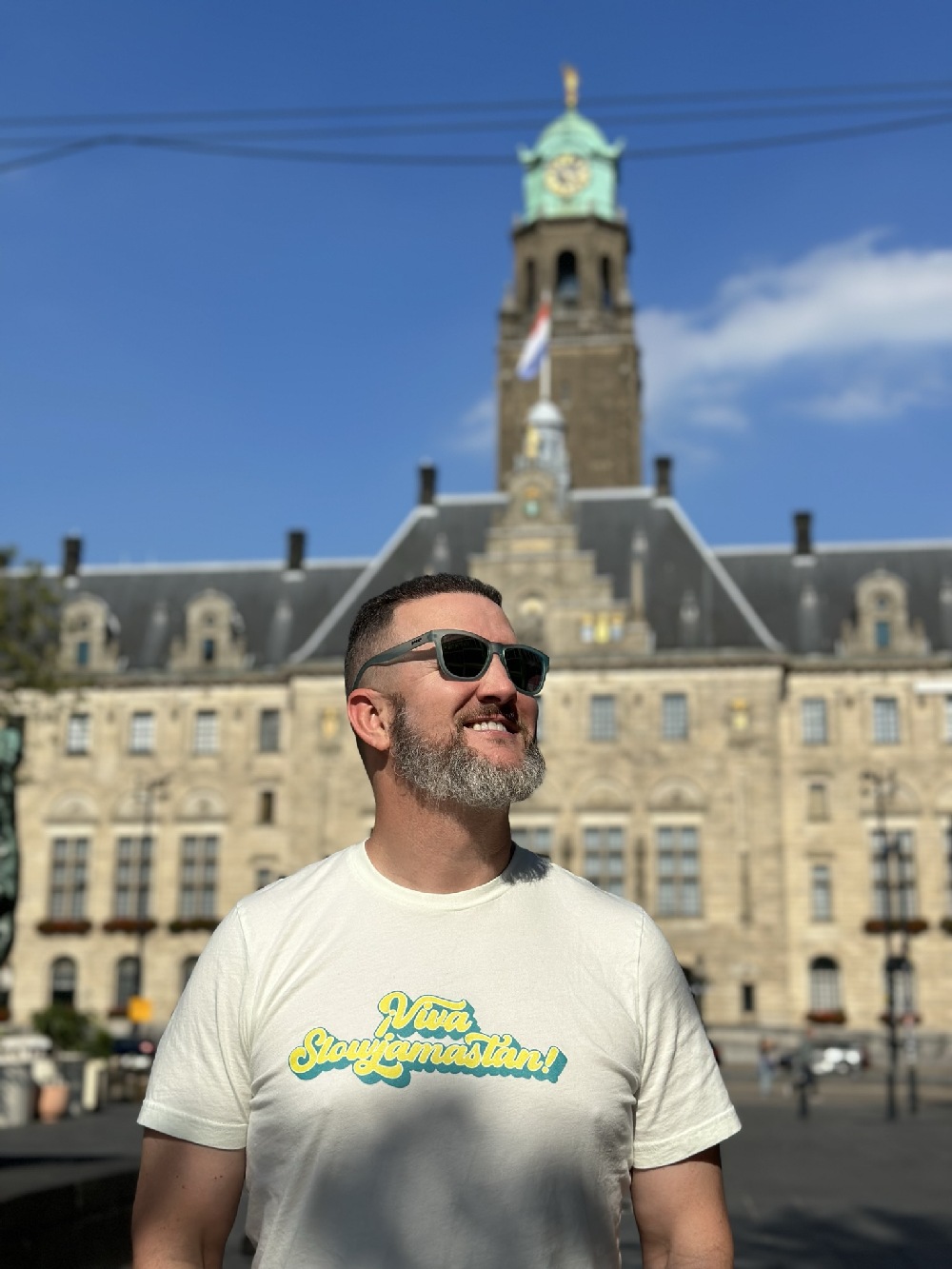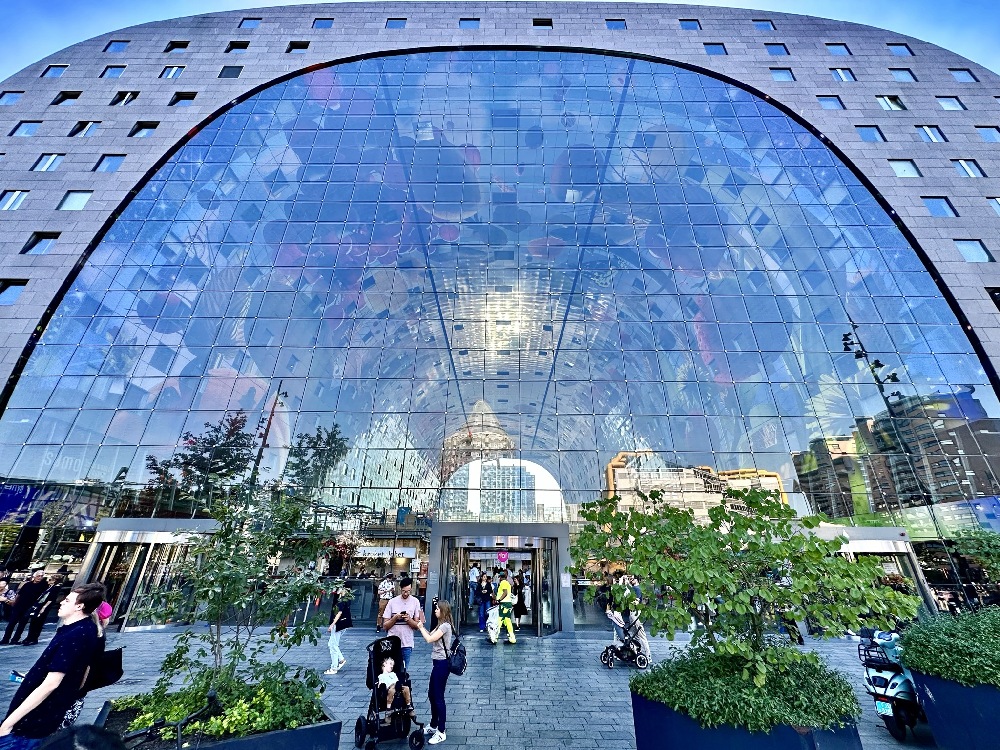 Rubik's Cubes
The Kubuswoningen, also referred to as "Cube Houses" (and so much easier for me to say), is a cluster of structures designed in the form of inverted cubes, constructed in the 70s and 80s under the visionary guidance of architect Piet Blom. Every cube is gracefully tilted at a 45-degree angle, seamlessly connecting with its adjacent cube, forming a symbolic forest-like arrangement. The hexagonal pillars that support these cubes are intentionally positioned asymmetrically, evoking the image of tree trunks and giving rise to a futuristic woodland aesthetic. You can check out the museum there and even stay the night in your very own cube at Stayokay Hostel Rotterdam.
Reserve your stay at Stayokay Hostel Rotterdam HERE.
And we Take a Little Piece of Amsterdam
"Little piece" being the operative word here. There wouldn't be much time at all in Amsterdam on this run, as I'd have a drive back through Belgium and into France the next day. What I did find this time, were some of the best tacos I'd ever eaten, anywhere. And in Amsterdam…who would've thought?
Strangely, I had a hard time finding somewhere to eat after arriving to the hotel for my only night in Amsterdam – The College Hotel was not in or near the center of town. After traversing the the Oud-Zuid neighborhood for what seemed like an hour, I conceded to dinner back at the hotel. I had no idea I was in store for such a treat.
Mondi is a multi-location Caribbean restaurant that included a branch at my hotel. I did not expect the tacos I ordered to be so dynamic and divine, or surely I would've photographed them before their one-way journey into my mouth. But by the time I finished my third and final, the hairs on my arms were at attention and my heart was aglow as I realized I just might have tasted some of the best tacos in all of my travels. Did the tacos at Mondi rival my all-time favorites from Taco Nazo Real, hidden within the backstreets of Nogales, Sonora, Mexico? Possibly. But these would be in a whole different category. The "Karni" tacos were comprised of a Caribbean style beef stew, spicy mayonnaise and a thin slice of cucumber (or was that pickle?). The synergy of flavors really made my taste buds dance. I will absolutely return to Mondi the next time I'm in town. You can (and should) gawk at their menu HERE. I wish I'd taken photos of the plate and my surroundings, I just wasn't expecting this! But isn't that the best part of traveling?
The next morning, it was up and at 'em, heading to the center of town to enjoy a walk along those famous canals and in-between all that classic Dutch architecture. I didn't really see anything I missed the first two times, although I should note I had an amazing quiche and bought some small jars of the most delicious lemon curd and passion fruit jam I've ever tasted, at the family-owed De Bakkerswinkel. I highly recommend!
After breakfast, it was back to the hotel to pack and get back on the road. I should note that driving in Amsterdam was a little nerve-wracking with all the bicycles!
A note about The College Hotel: This was an old building that used to be a boarding school. Between the classic Dutch architecture, interesting atmosphere and Mondi, I'd say the hotel was a winner! You can book a room at The College Hotel HERE.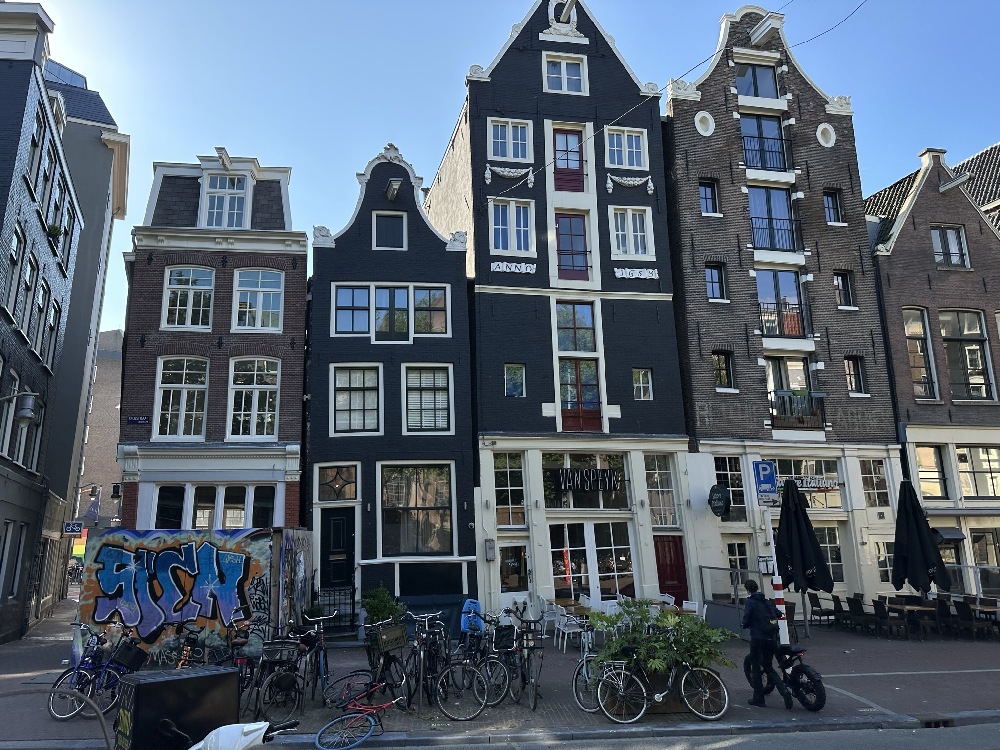 This entry was posted in
Europe
,
Extreme Layovers