A City Lost In Time
As I walked down the side streets of Cidade Baixa, it was hard not to get lost in the curves and sleek lines that was the crumbling hodgepodge of Art Deco buildings all around me. With their faded pastel colors fading in the sun before my very eyes, I wondered if the people here knew just how special their city was to a guy like me. Did they have any idea? At times I swore I was on Ocean Avenue, in Miami Beach, but the decay reminded me I wasn't. Magnificent structures rotted away, with little signs of maintenance or upkeep, while weeds made their way through cracks in concrete. Every so often I'd pass a building that was remodeled, with fresh paint and shiny new hardware, then realizing I might actually like the dilapidated houses better—they had more character.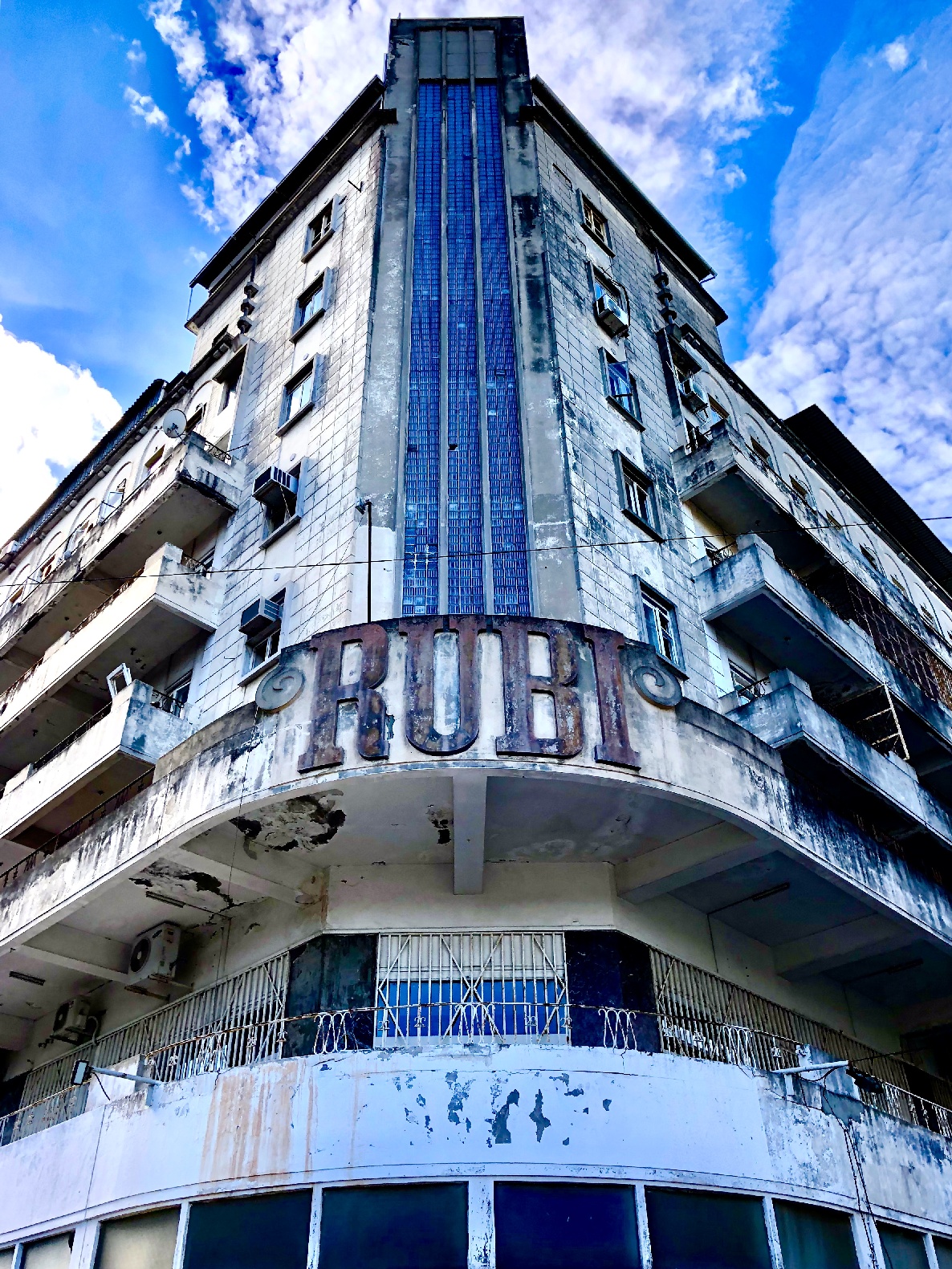 Maybe the old part of town reminded me more of Havana, a city, like this one, with such fabulous architecture just given up on, like an old Ohio steel factory after closing so many decades ago.
But neither Miami Beach nor Havana had storefront signs advertising, "O Rei do Chaves" or "Artigos Elêtricos." Walking down Avenida Vladimir Lenine, now I would swear I was in the city of Recife, Brasil, as I passed vendors manning carts of abacaxi and various other tropical fruits.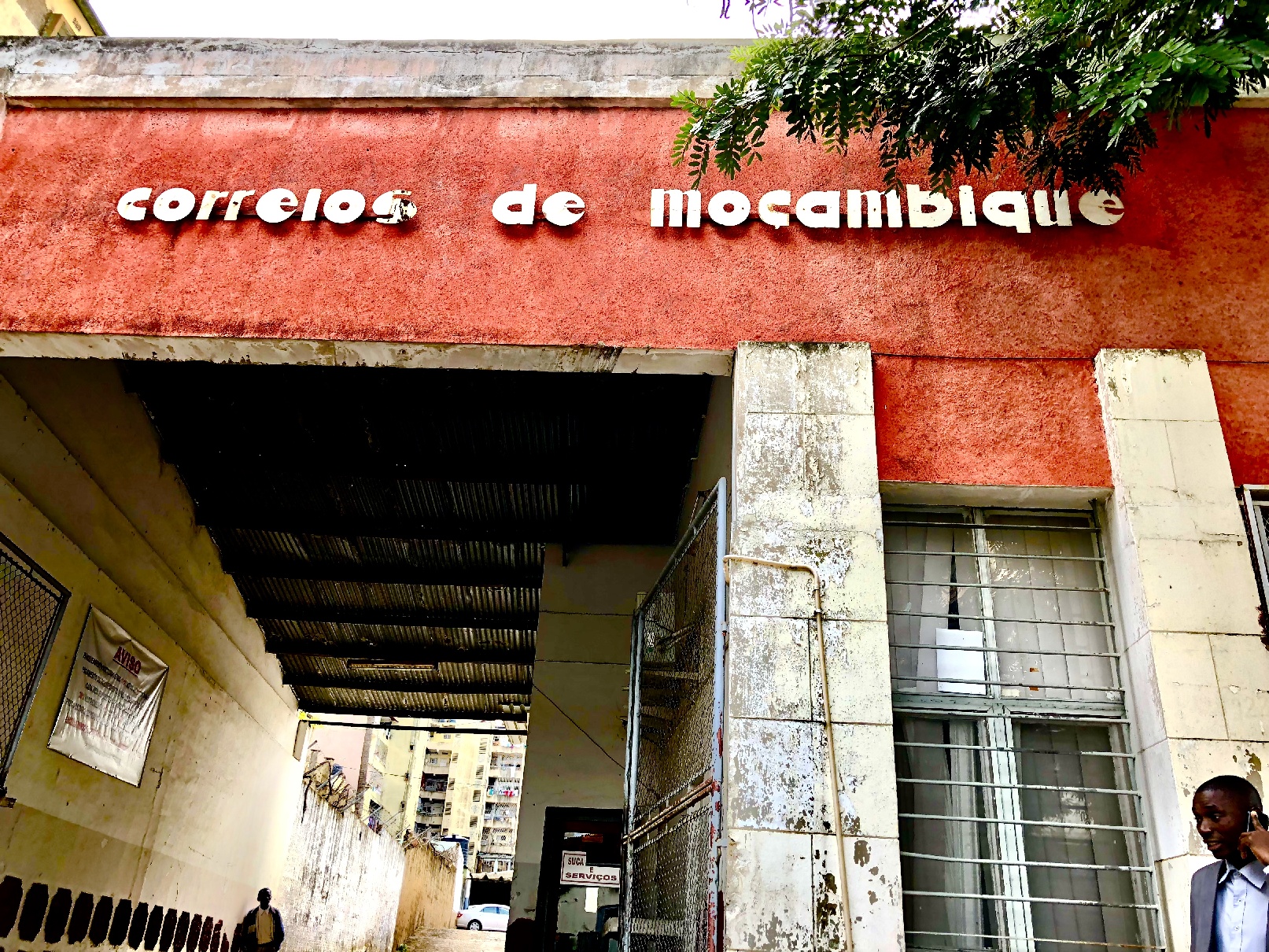 This Miami Beach-Havana-Recife mixed up gumbo of a town is Maputo, the capital of Moçambique, a country situated in Southeast Africa. Yes, Africa. Yet, besides the people, it was hard to find much of anything "African" anywhere in sight—at least on the surface—and even the people were speaking Portuguese.
Moçambique (formerly called Lourenço Marques) is one of six Lusophone African countries. Along with Angola, Cabo Verde, Equitorial Guinea, Guinea Bissau, and São Tome e Principe, Moçambique (pronounced "Moe-Sam-Beekie") was colonized by the Portuguese. Being an absolute fanatic of all things Brasil (see my blog on Brasil for details), including their language, it's no wonder Moçambique was the country I was most excited to see on this trip—and to see in Africa, in general. I'd always held a fascination with the country since learning about it in Portuguese class. It would be the third Portuguese-speaking country (besides Portugal and Brasil) I'd visit, and I'd look back on my days in POR 202 class thinking, "Did you ever in a million years think you'd ever actually be going there?!" Of course not!
Talking the Talk
Arriving in Maputo that night, my first glimpse of Portuguese was the "Bem-vindo a Moçambique" overhead, seconds after I exited the aircraft. Then, more, with the "saida," "recollagem de baggage" and "migraçao" signs. I could barely contain myself. Though I only was able to throwdown a "boa noite" and "obrigado" to the immigration officer (they typically aren't too chatty), once I was in the taxi I was able to spill a little more. The cabbie was curious how I knew Portuguese and was surprised I was American. He warned me to look out for police shakedowns. I felt a warm sensation come over my body when Agua de Beber came over the radio—the feeling I often get the first couple minutes of an unexpected Bossa Nova song. By the time we arrived at Palmeira's Guest House I'd slipped back into a comfortable rhythm of Portuguese. Though my vocabulary was limited, I'd close to nailed the accent again and my driver and I were volleying questions and answers back and forth with relative ease.
You Can Check in Anytime You Like…
A security guard unlocked the gate to the old but updated house on Patrice Lumumba Avenue before a young man came out of the dark to open the door and welcome me into the small reception area. My bags disappeared to my room before I could notice as Rui, the house owner's son, gave me a quick tour of the property, which included a common eating area, a charming garden and an "honesty bar": a small cove with snacks, drinks and a book to write down what you've taken. There wasn't a soul about and the lights had been dimmed. It was past 10PM and apparently everyone was tucked in for the night, and it was my turn now.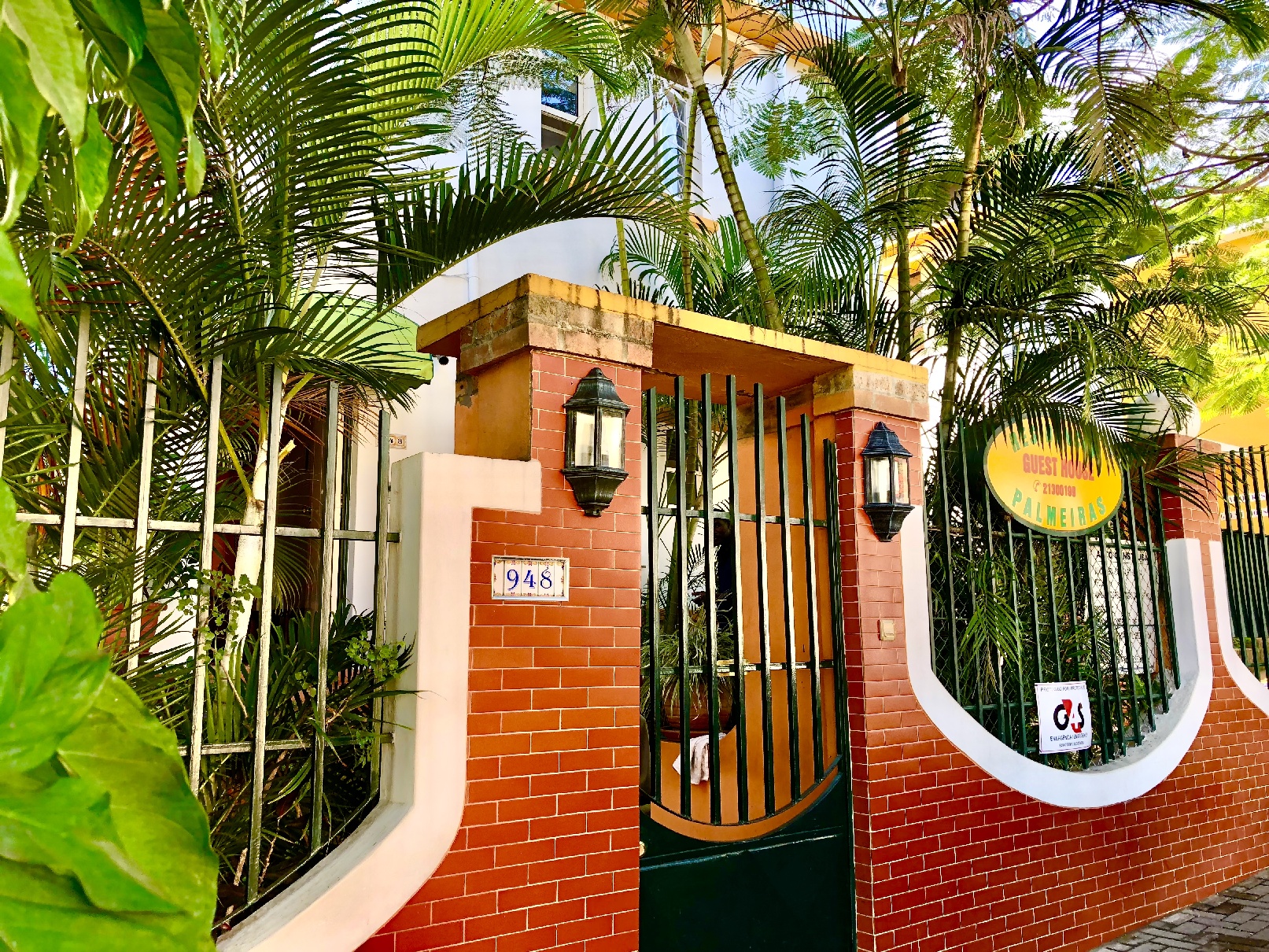 Unless you're committed to spending nothing but top dollar on accommodations while traveling throughout Africa, you just never know what you're going to get until you arrive. The American "1 to 5 stars" hotel rating scale does not translate to Africa and can be as different as comparing Dollars to Rand or Fahrenheit to Celsius. Booking rooms in Africa is always a roll of the dice, as the pictures are often disappointingly deceptive, and even familiar chain hotel brands aren't even close to measuring up to what you're used to; for example the Four Points by Sheraton in Lagos, Nigeria would compare to a Days Inn in the US.
That being said, every now and again you strike gold, and tonight was a full-on Eureka! the moment Rui opened the door to my quarters. I was both impressed and relieved at the chic suite with high ceilings and a fancy bed; impressed because I'd never stayed at a guesthouse this nice, and relieved because this would be the first night in a week I'd actually feel comfortable, maybe even pampered. From the heatless rooms in bitter-cold Lesotho and Namibia, where I slept under multiple blankets in my jacket; to the hut-looking structure in Swaziland that had no electricity and spiders (the worst!)…my last week in Africa was a little uncomfortable to say the least. But this!!! This room made me nothing less than overjoyed. Pure excitement and happiness took over, as I gushed to Rui how nice the room was, taking photos and video as soon as he left.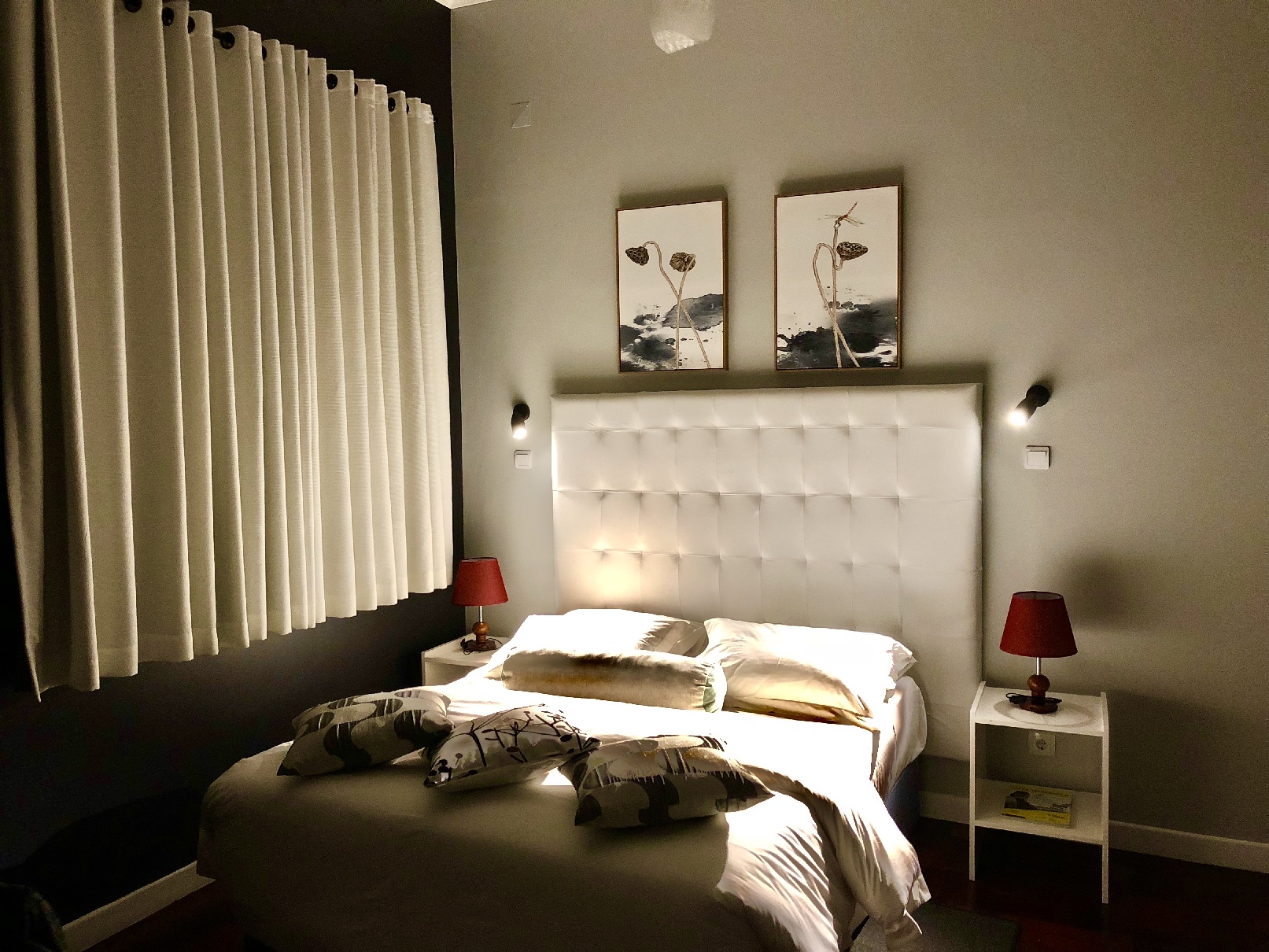 I took a much needed, first shower in three days and changed in to my jammies before embarking on a shopping spree at the honesty bar. I logged the evidence of me being a fat-ass in the little book, and wondered if people would judge me for grabbing two bags of Cheesy Bites, a bottle of natural fruit juice and a giant chocolate bar, all in one fell swoop. I didn't care. It was a great dinner in bed that night, and a solid six hours of sleep. I'd have only one full day in Maputo tomorrow and I didn't plan on wasting any time sleeping in…although the room was so nice, it was certainly tempting!
O Dia – The Day
I reveled in another hot shower that next morning, in the tiled bathroom that rivaled most Westins. Could it get any better? It did: the breakfast. Rui mentioned there would be a self-serve breakfast in the morning, so I expected the usual: a toaster and bread, fruit, cereal and maybe store-bought danishes if I was lucky. What I arrived upon was a spread that looked straight out of a Portuguese grandmother's gourmet kitchen. There was a beautiful display of pastries and homemade empanada-thingies. There were fancy meats and cheeses, yogurt, bread, cereal, coffee, tea and milk. And my favorite: a giant carafe of thick, fresh, mixed fruit juices—which included maracujá, as evident by the black seeds suspended in the bottle. I'd hit the jackpot in all aspects here at Palmeira's.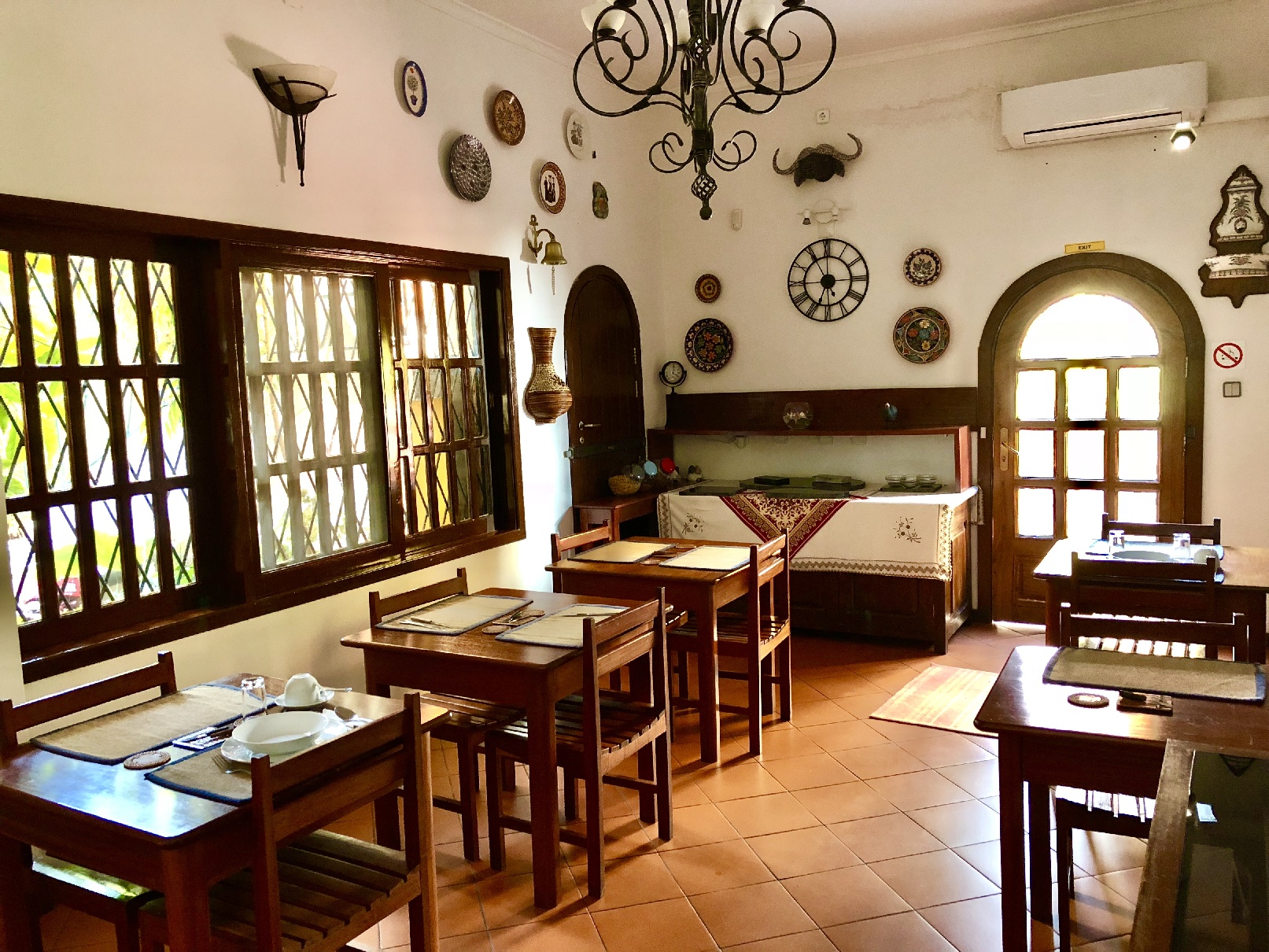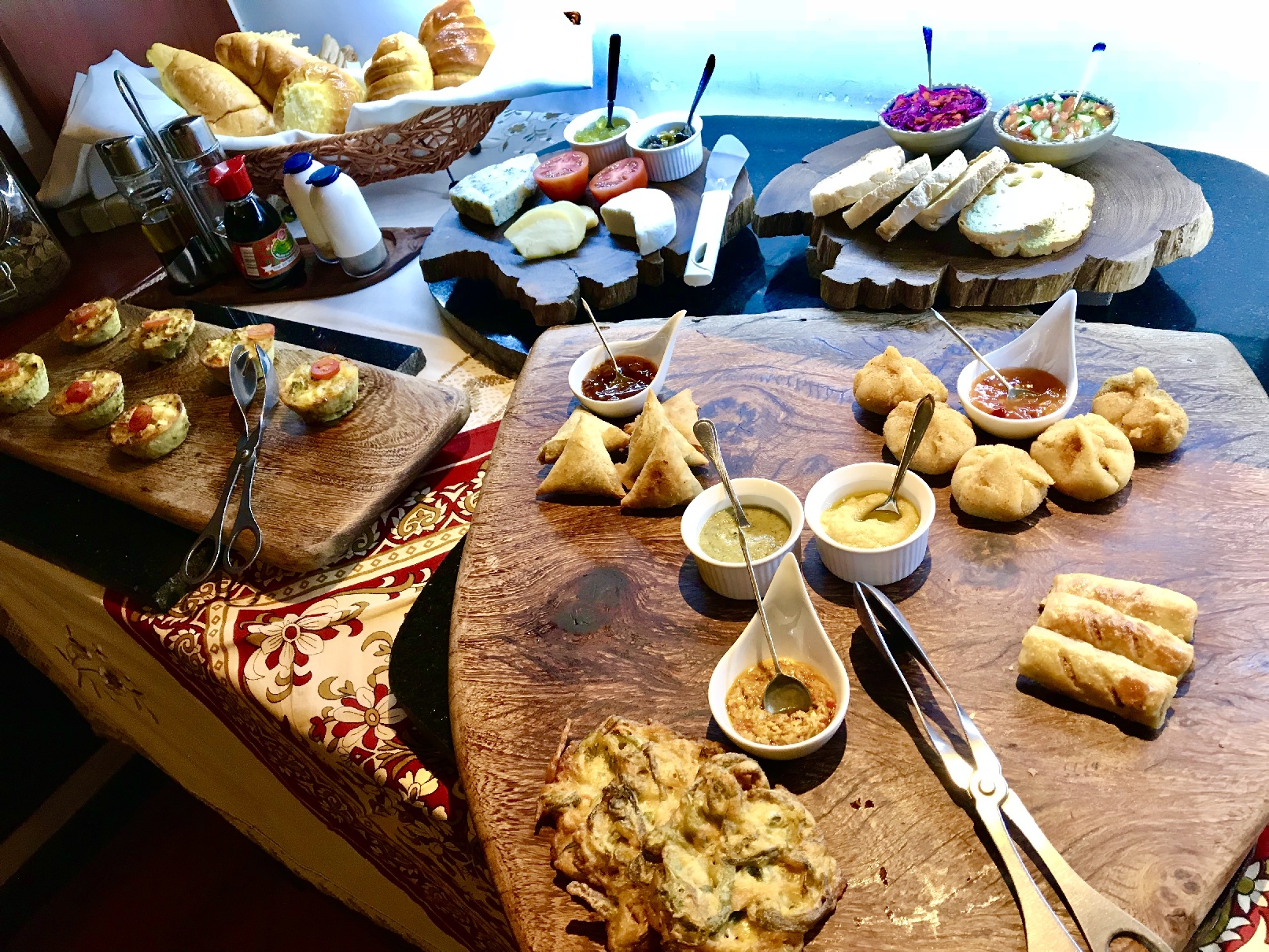 Perhaps the only thing that wowed me more than the room and the breakfast, was witnessing the dona da casa (owner of the house) enter the breakfast area to personally say good morning to each of her guests by name. Complete with hugs, kisses, and bom dias, Celia Rocha seemed genuinely happy to see her guests, and they were glad to see her; all while Moçambique's classic LM Radio played standards from an old wooden tuner on the shelf. Was this real life? Everything seemed like a scene of a movie—the beginning a foreign film—where everything was perfect…too perfect, all the way down to the soft rays or morning light coming in from the garden, and the old lady with the hairnet that shuffles in to refill the bread basket.
Celia knew my name too, as if she was expecting a long, lost friend, and invited me in to her office when I was done eating. I wrapped up my café da manha, then went to see Celia, but not after meeting the resident gato, who for the duration of my stay would claim one of the cushioned chairs in the garden as his own. Celia and I made some nice small talk in Portuguese before she unfolded a city map and began to circle and explain various points of interests. A few minutes later, I was on my way, not knowing where to start but excited to see where my feet would take me.
Oh, I should mention here that I am not being paid to mention or recommend Palmeira's Guest House, nor did I receive a free stay, or even a discount. I rarely even talk about the hotels or guest houses I stay in, and if I'm ever compensated or receive free lodging, I will disclose it. In this case, I just really, really liked Palmeira's that much! If you end up visiting Maputo, I hope you'll stay there yourself and tell me all about it. And say hi to Celia for me! Here's the link to book a room at Palmeira's.

Radio Waves
I hung a right and wouldn't you know it, not but five minutes into my walk I stumbled smack dab into Rádio Moçambique, which turned out to be the country's national radio studios and headquarters. What incredible luck, and super exciting for a guy who's been in radio since the age of 15. I always get a kick out of visiting radio stations in foreign countries–many of them very small and modest. But this place…Rádio Moçambique looked like The Pentagon of radio: a giant marble building with big glass and metal doors and an overhead sign that, like many of Moçambique's architectural features, looked liked it was from the 1960s or earlier. All of this combined gave me no choice but to stroll right on in and present my business card with hopes of an impromptu tour.
I practiced my best Português with the lady at the front desk, explaining I was a locutor pelo raádio e director de programação nos Estados Unidos (I'm a DJ and Program Director from the USA…can I check out your digs?!) Soon she handed me the phone and I explained my situation to a man named Charles, who spoke English. He was nice, but told me they really didn't have anyone on hand to give me a tour. I thanked him anyway, and soon was on my down the street to continue exploring. I hadn't gotten to the end of the block yet, when I heard someone calling for me. It was the lady from the radio station, telling me to come back. Charles made it happen—an "unofficial" and quick tour of the radio station. So exciting! He said photos weren't allowed, which was a bummer, but I was just to happy to get "in" at all!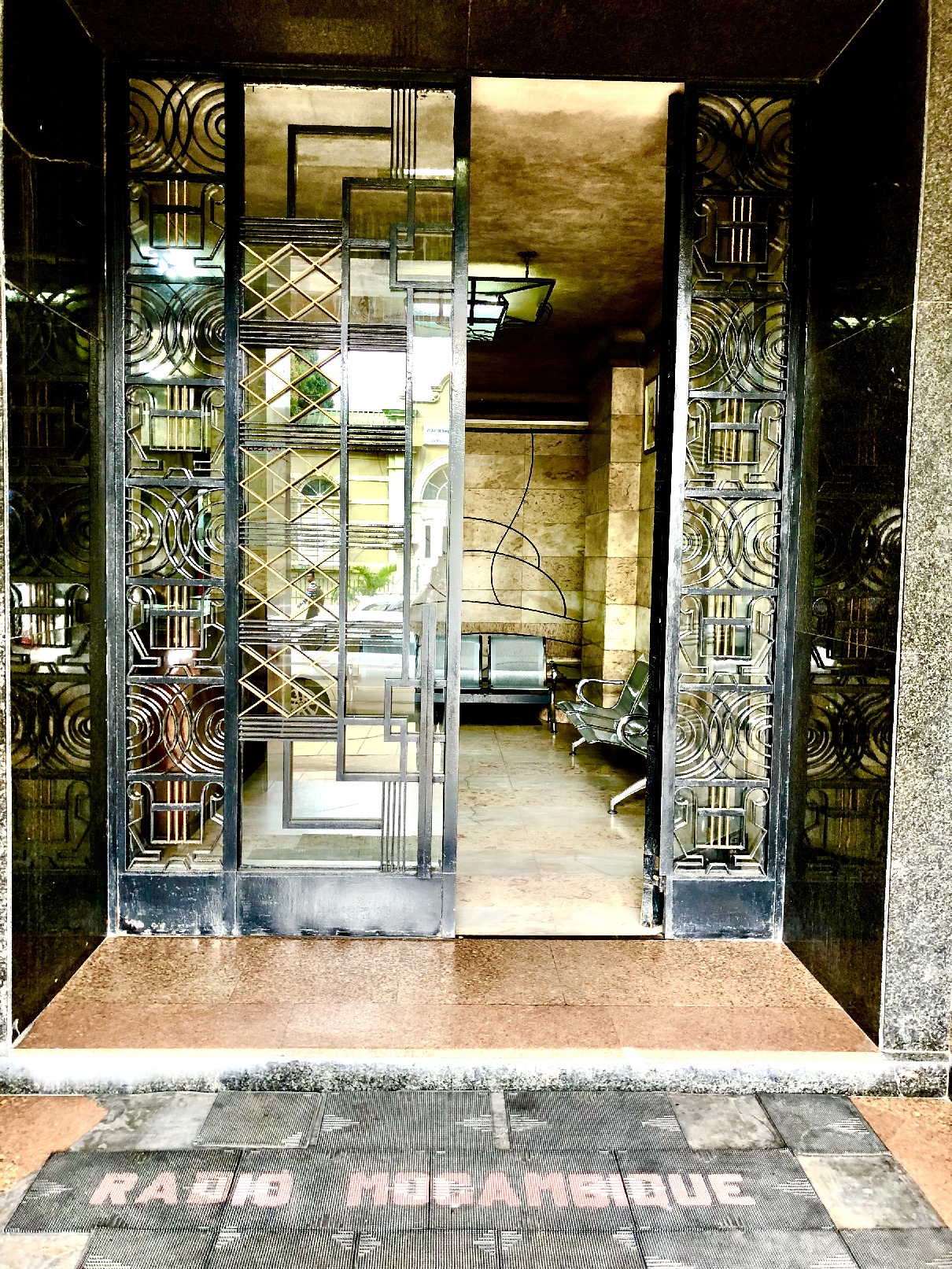 The place was just fantastic—like stepping back in time—and I did my best to burn the images in my brain since my camera wasn't allowed. We saw studios, a floor with antiquated radio equipment on display in glass cases and even an auditorium where live shows were recorded. Soon we were in a sound room recording an interview (with me as the subject!) They interviewed me for 10 minutes, and I hoped that I'd left a positive impression of the United States.
I felt elated walking down the street after my visit—accomplished—like I'd succeeded breaking into the White House. This was indeed, the White House, of broadcasting, after all. And I'd made it inside. I was only sad I was only able to grab one picture inside though; I certainly wouldn't have even thought of abusing Charles's trust by sneaking any other photos besides the selfie he gave me permission to snap.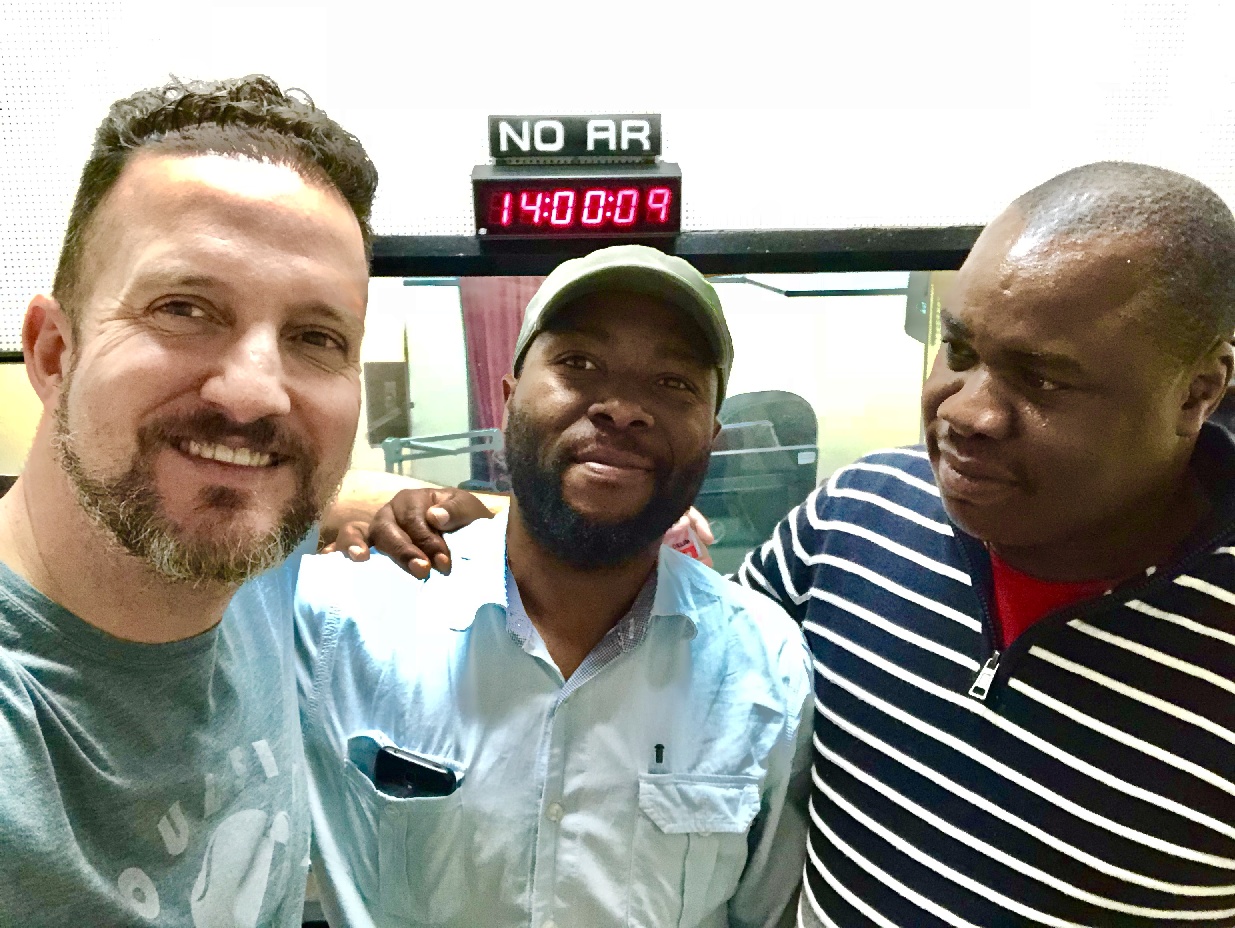 Bossa Nova
After the station, I spent the entire day romping around the city, marveling at all the old buildings. When I wasn't drooling over the Art Deco, it was all the traces of the 1960s that had me aroused. Be it the big slabs of odd-colored linoleum tile lining the entrances to business, the suspended placards reading "telefone publico" or the old school signs and lettering on the facades of street-front businesses, it all sent chills down my spine. This would be the closest I'd get to 1968 without a time machine and I was loving it. In fact, the only signs that we were indeed in the 21st Century were the cars on the street; take those away, and you'd swear you were 50 years back in time. And the reason for this town where time had stopped: after the Portuguêse handed Moçambqiue's independence back over to them in 1976 and split, "progress" just seemed to halt, as the country (at least aesthetically) became frozen in time, locked into a world of 1970s-and-before style, architecture and design. Of course newer buildings do exist, but the majority of the old district is like a giant time capsule that I was free to explore.
Made in China
I got lost looking for the train station, which apparently is a major tourist attraction and a must-see, and instead found myself on the outskirts of town walking under an enormous bridge being constructed by the Chinese. That's one common thread along most of my travels: the Chinese. They are everywhere…selling everything and building everything. Whether it's the dozens of mini-market shacks dotting the one main road of Nauru, or the new cross-country highway (and luxurious for Africa standards) in Kenya, the Chinese are building major infrastructure all around the world and setting themselves up for the future. It's not an exaggeration to say the Chinese will be running the world one day. There's just too many of them, and they are working their butts off in almost every corner of the world I visit.
After I realized I was going the going the wrong way, I did an about-face and headed back into civilization, this time running smack dab into the train station I was looking for in the first place. There was a ton of commotion and I soon figured out it was because the president was visiting. It didn't look like they were letting commoners in for whatever celebration was happening, so I moved on with my walk.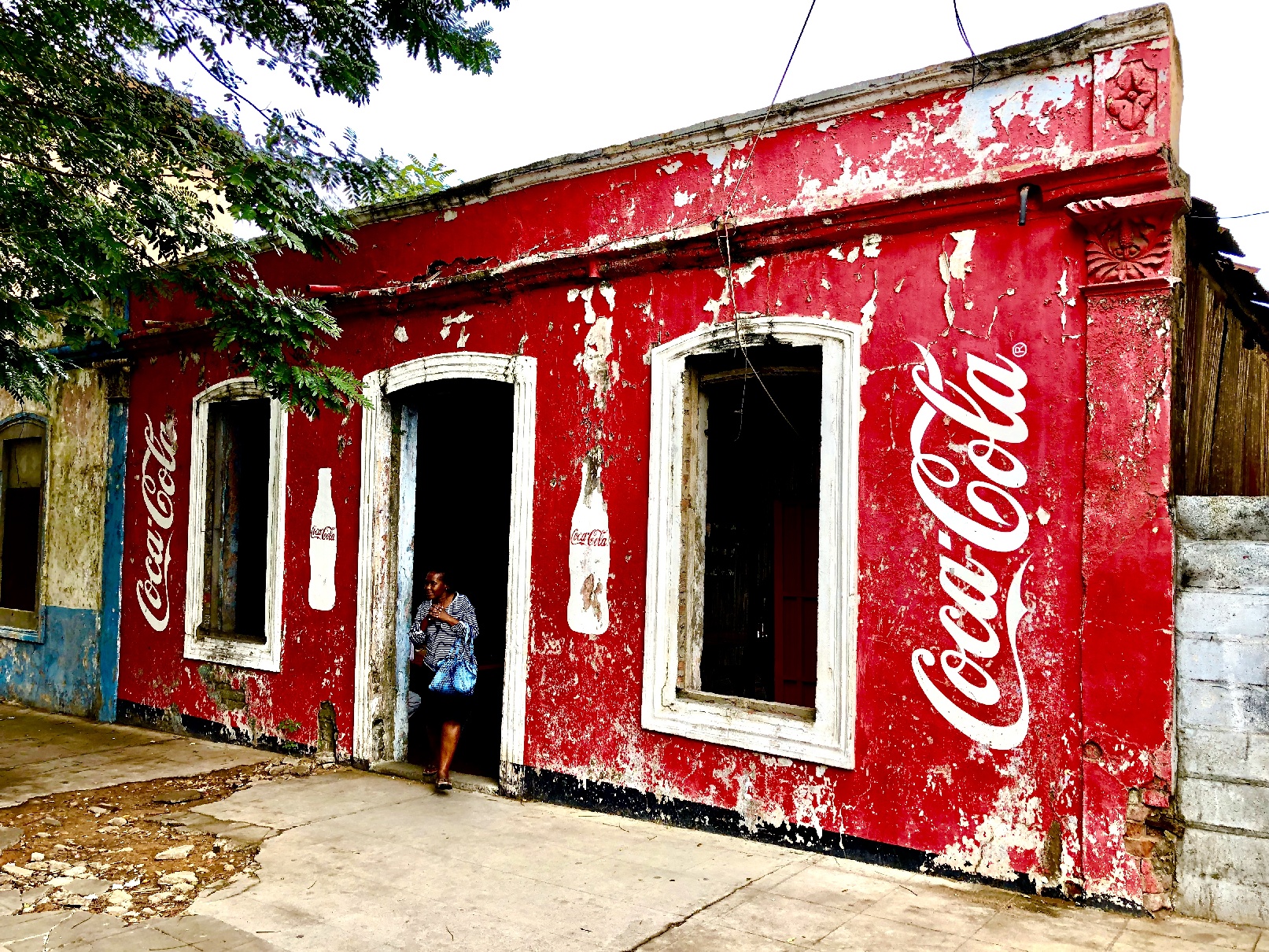 Almoço – Lunch
I was getting a little hungry and poked my head in to what I thought was a bakery, curious to try some Portuguêse pastries or cookies. It turned out to be a small, local diner and before I know it I was ordering a lunch plate. It wasn't amazing, but did the job. After my lunch, it was back on the road for more exploring.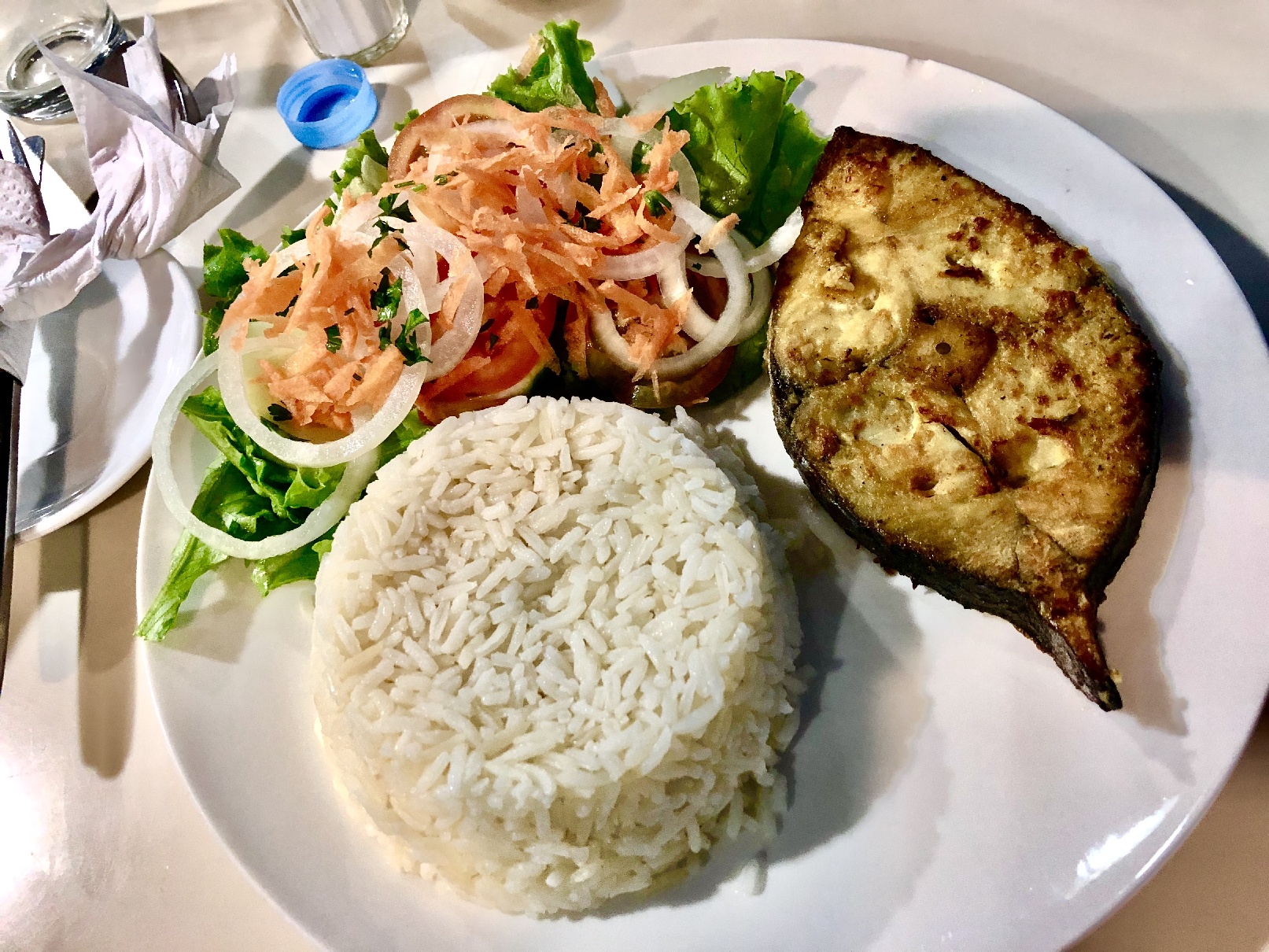 Red Light Special
One of my favorite parts of my walk was a little corner of town that looked like it might have served as the red light district after dark. Rua do Bagmoyo was a great street to stumble on, with old-time bars, hotels, strip joints, pool halls and clubs. All these establishments appeared pretty abandoned by day, but I had the feeling they'd come alive after dark. I imagined what this area looked and felt like back in the 30s and 40s!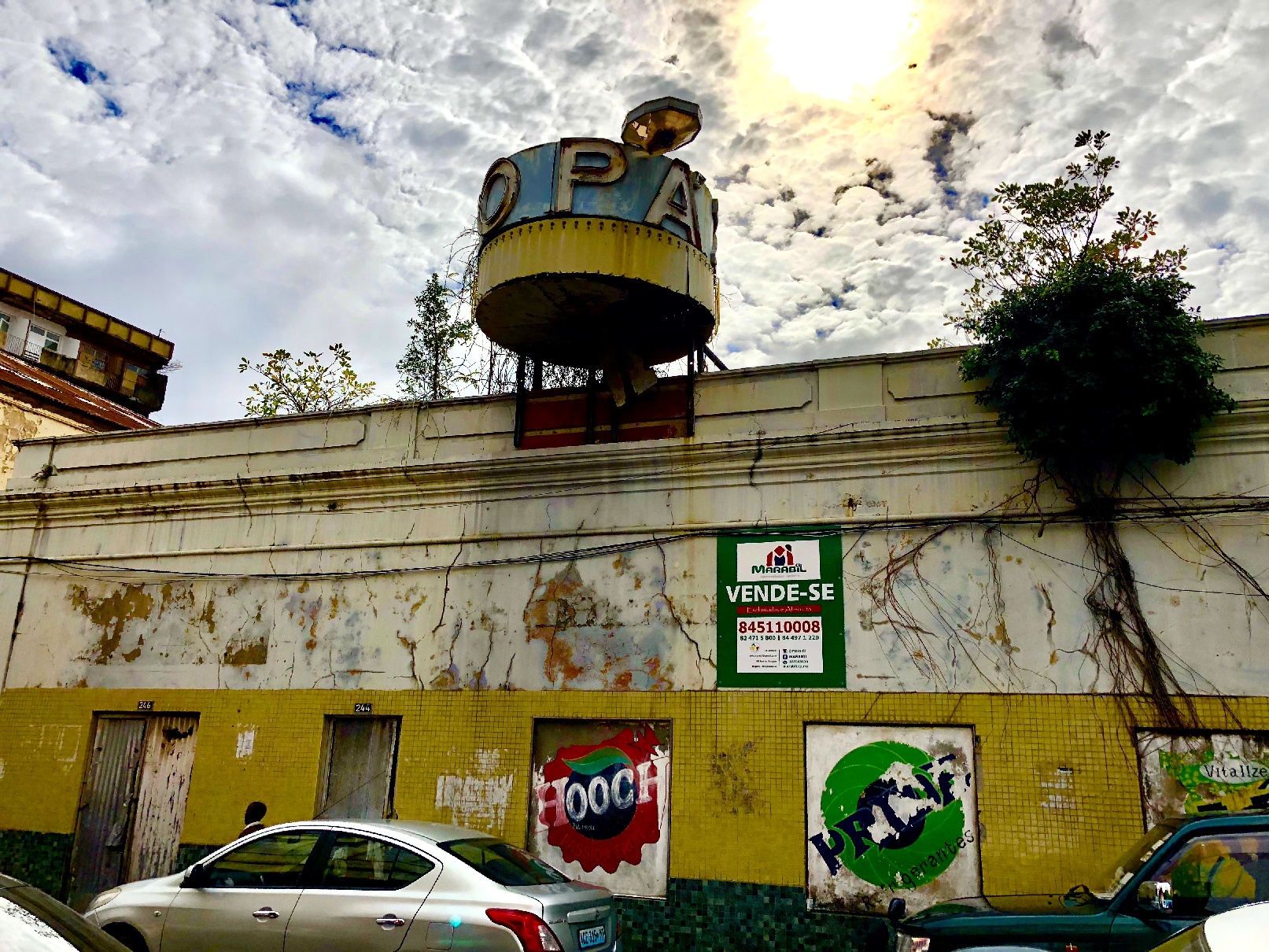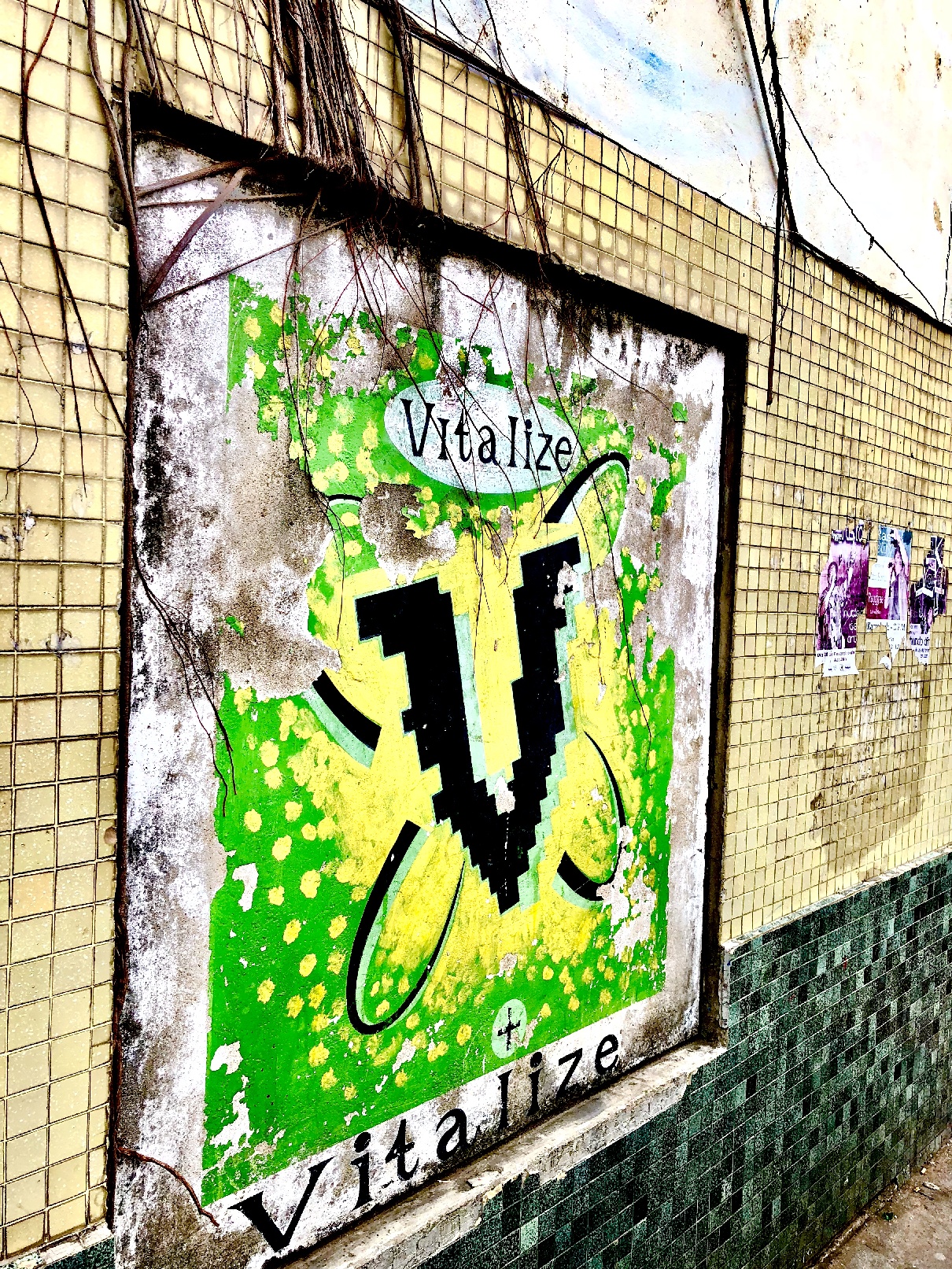 Jantar – Dinner
I headed back to Palmeira's before the sun set to relax and do a little bit of work, before meeting one of my fellow globe trotting travel-buddies, Debjeet, for dinner. Debjeet, also on a mission to see every country in the world, has been my Facebook buddy for over a year and we frequently trade travel advice. He lives in Johannesburg but was in Maputo for work. He took me to a great local joint called Piri Piri, where we had some tasty chicken and for dessert, mousse de maracujá (I've never said no to mousse de maracujá!) It was a great spot I wouldn't have found on my own. Thanks Debjeet!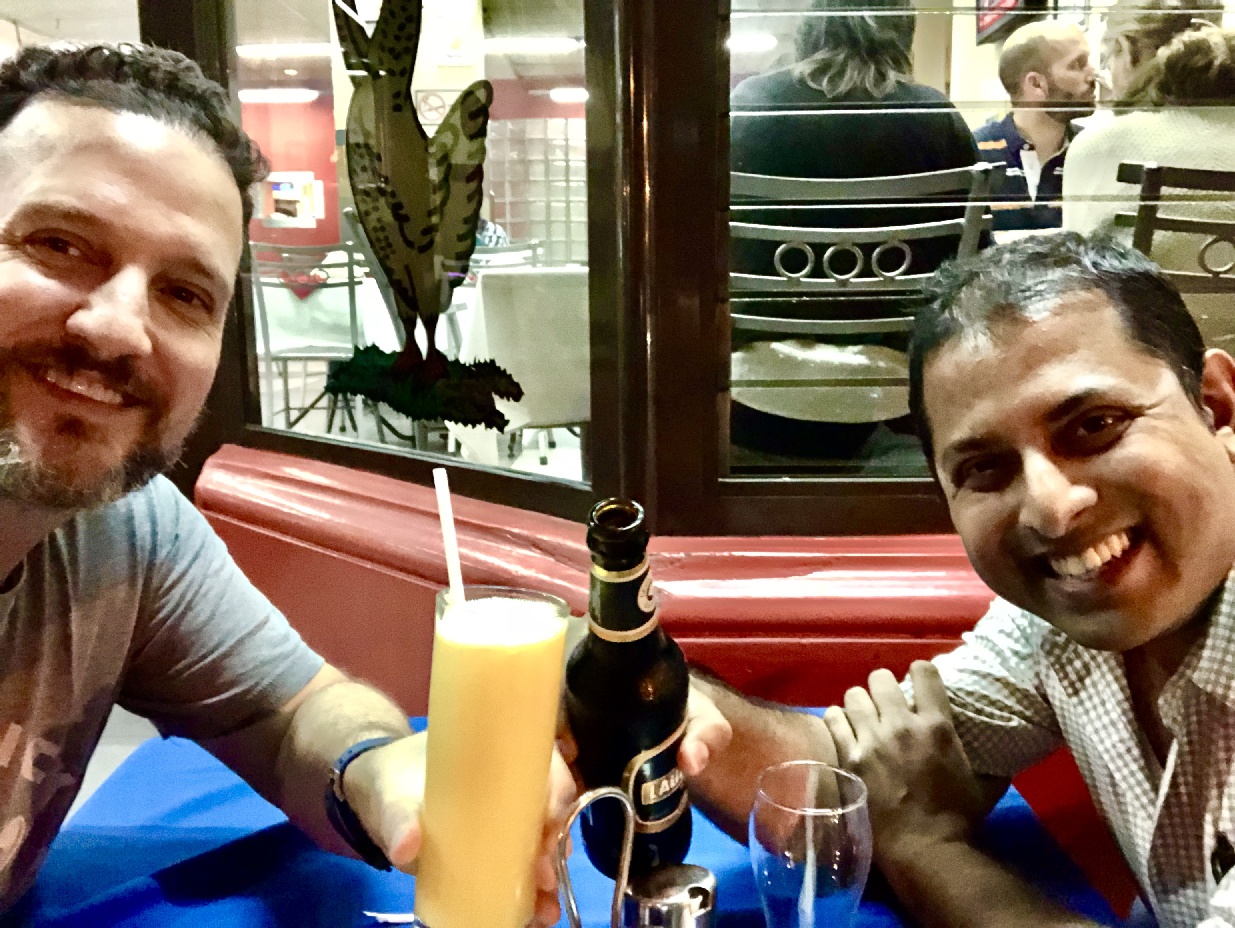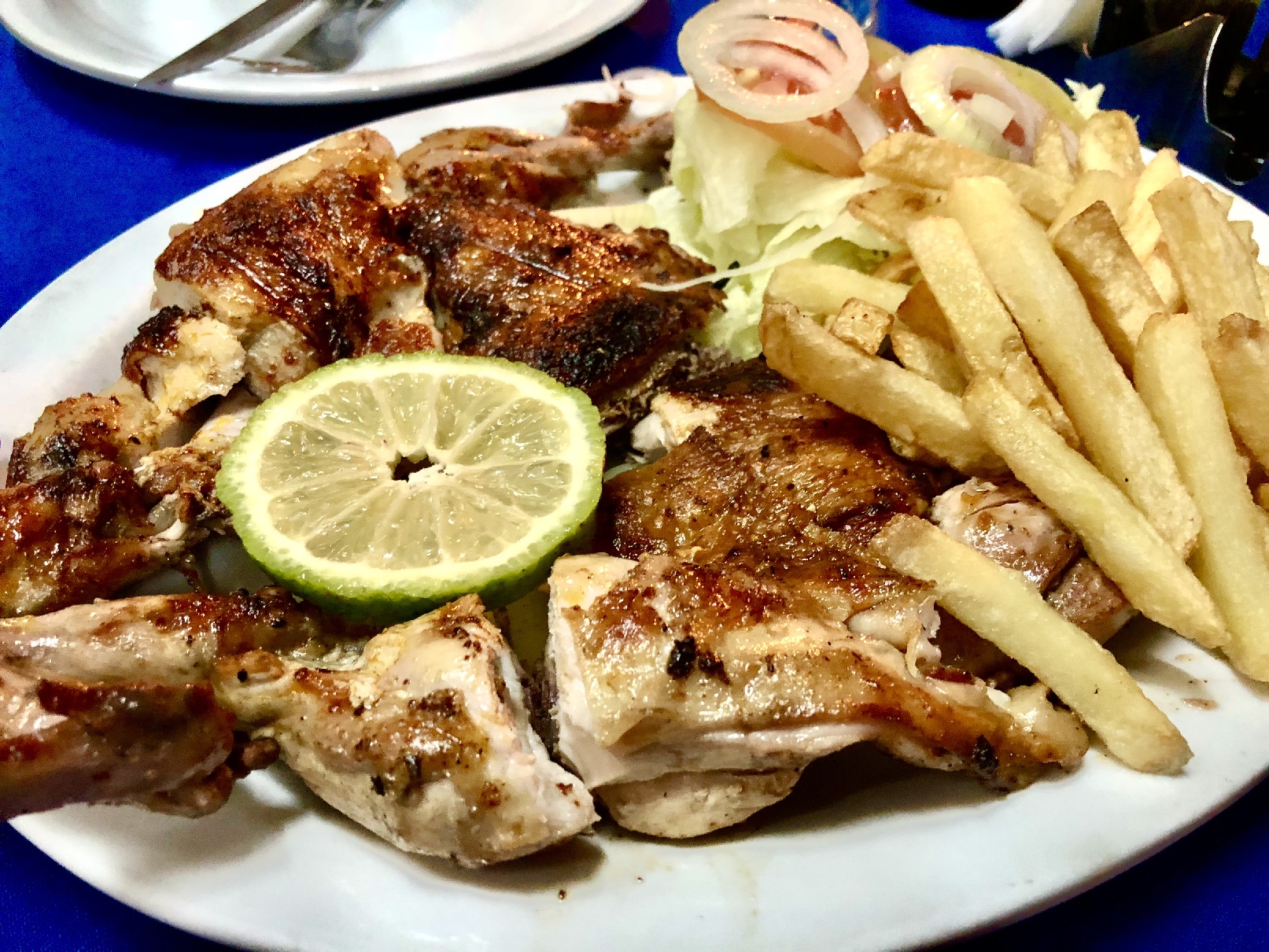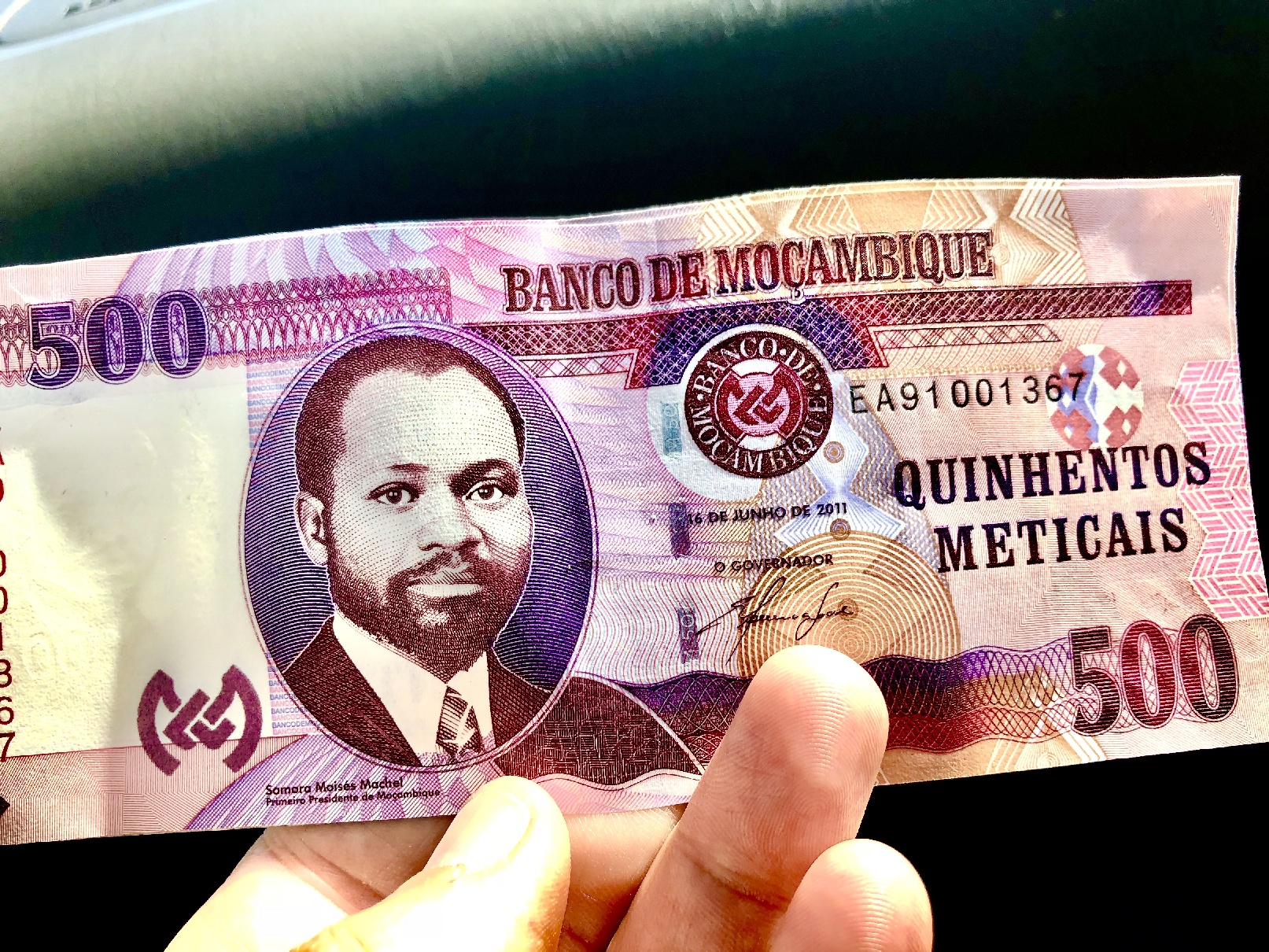 When I returned to my room to finally check email (I didn't get phone service in Maputo, except for WiFi), I was elated to see a message from a young lady back at Rádio Moçambique. Maria had arranged a "formal" tour of the building for me! I was to arrive at the station at 8:30AM the next morning and I couldn't be more excited. Maybe I could even take pictures this time? I had a great first day in Moçambique. Everything just seemed to be falling into place.
Dia Dois
I swear I could've slept until noon–my body sure needed it–but I had an appointment at the radio station! I had another wonderful breakfast at the guest house before I shot out the door to be on time for my morning tour. Maria met me in the lobby and the tour commenced. For the next hour I felt like a child at Disneyland for the first time, with my jaw wide open and the hairs on the back of my neck standing at attention almost the entire time. There was a surprise around every corner. I was officially inside a time warp, and besides a few computers, there was almost no indication we were in the 21st century. It felt like I was in a movie…some Leonardo DiCaprio flick, where all the men still dressed in black slacks and white button up shirts and the ladies wore dresses and everyone spoke to one another with respect and manners. This was just another normal day at Rádio Moçambique.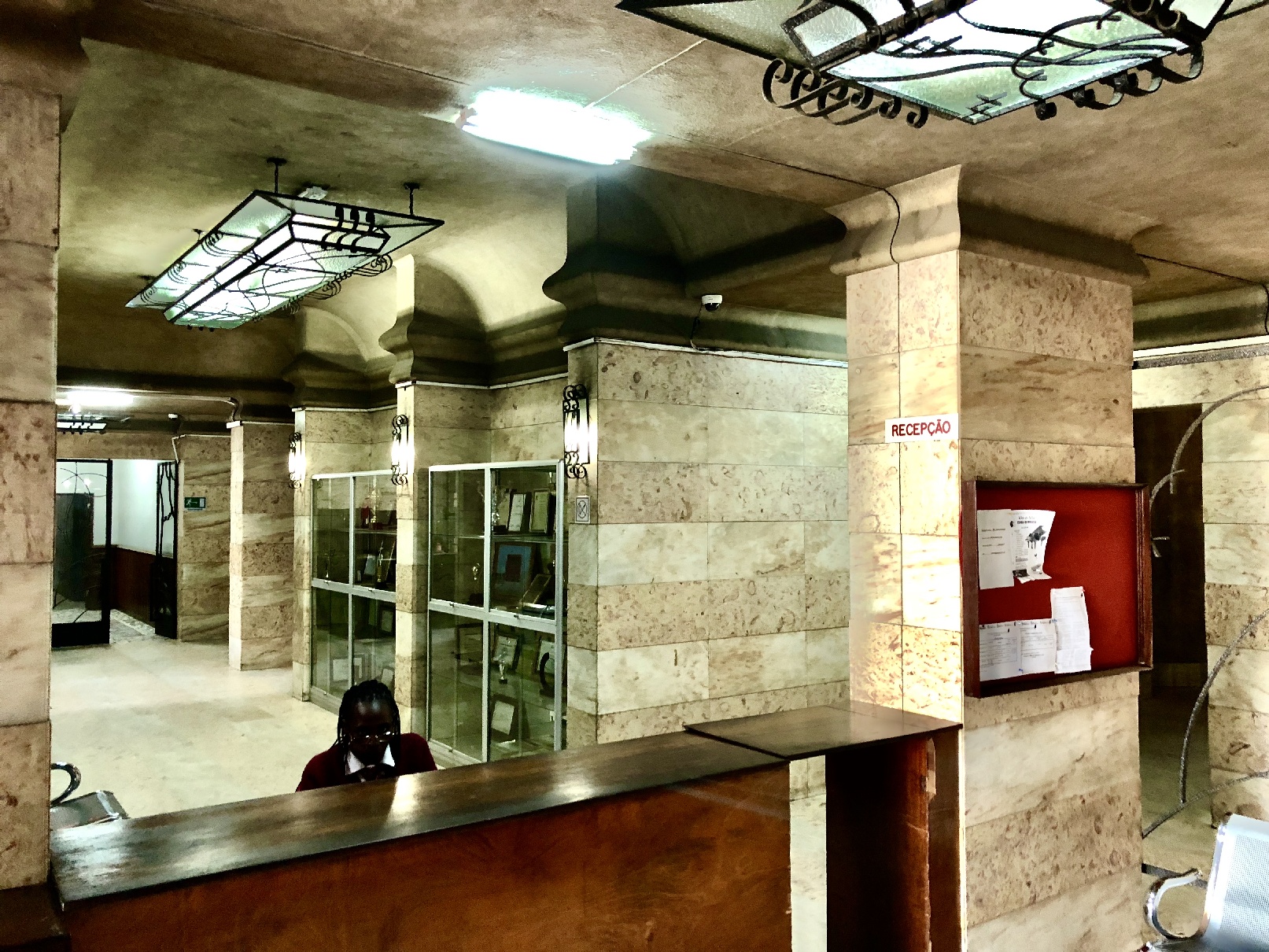 I loved every minute of my visit as I walked through the corridors of this gorgeous, old school building, with their 20-foot ceilings and marble floors and walls. The elevator didn't work, and I'd guess it hasn't been in operation for decades. The Art Deco lighting is still mounted on the ceilings and don't get me started on the studios. The original old school acoustic tiles were still in place, I opened and closed thick studio doors with the original hardware and curved windows, and the icing on the cake were those classic "On Air" lights, no doubt the original from day one, except in Portguese the red lights spelled out "No Ar."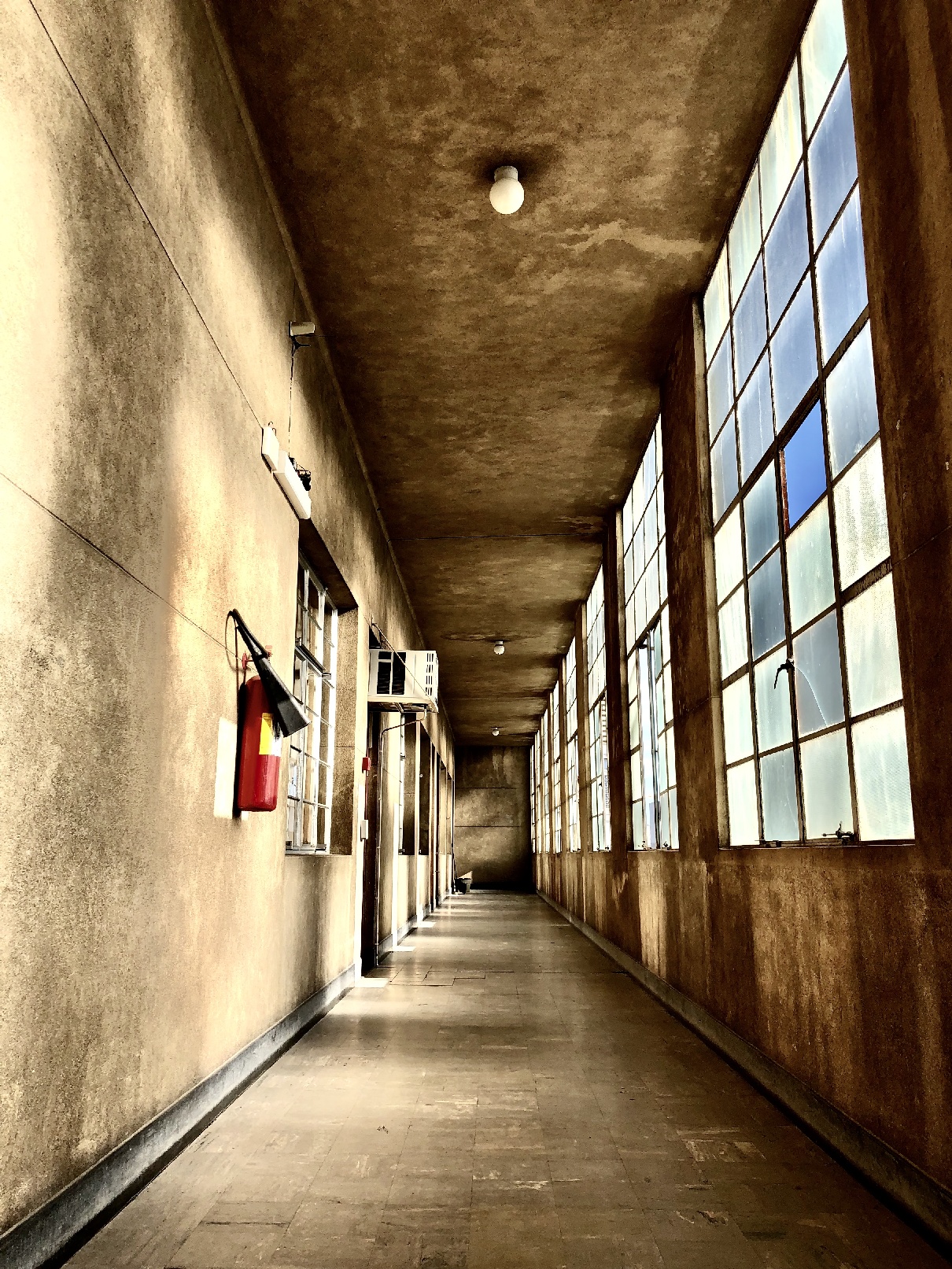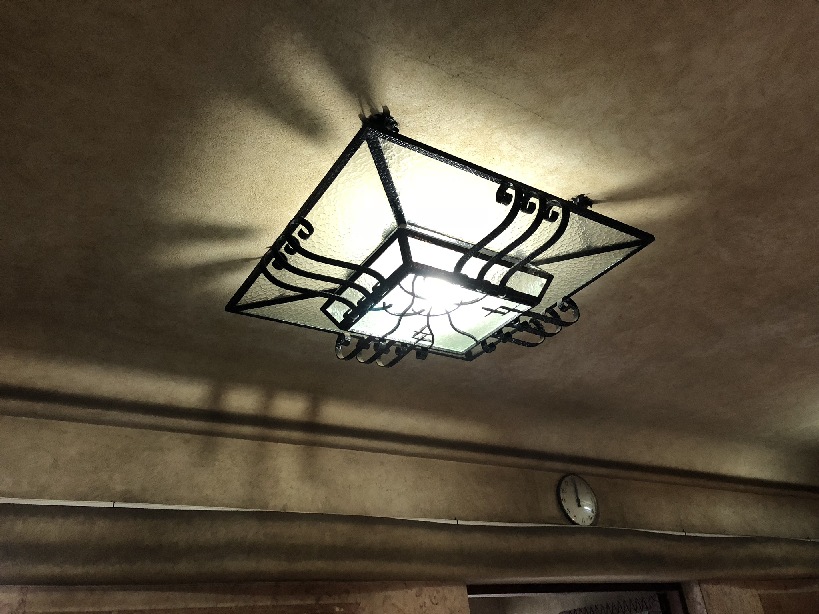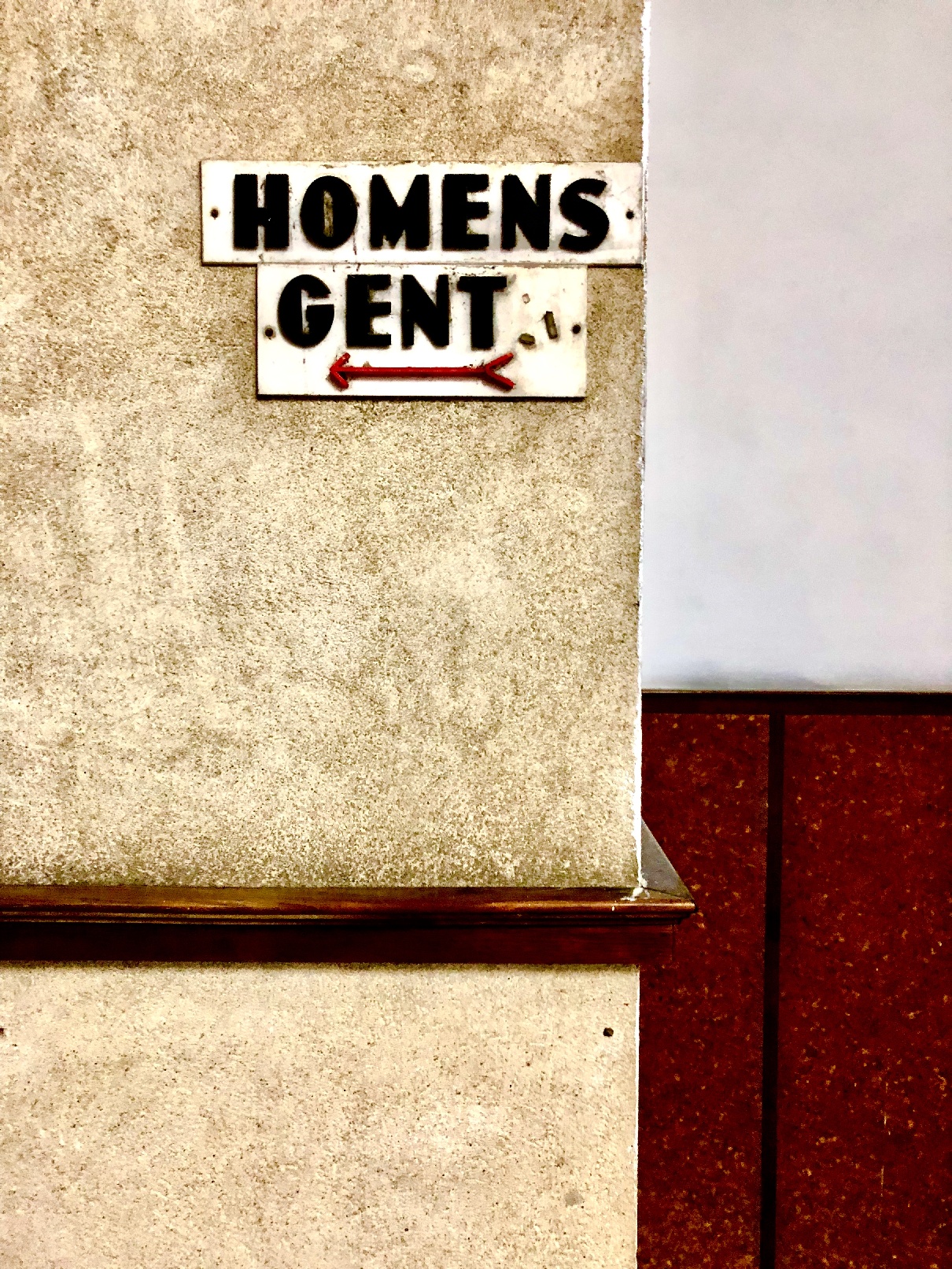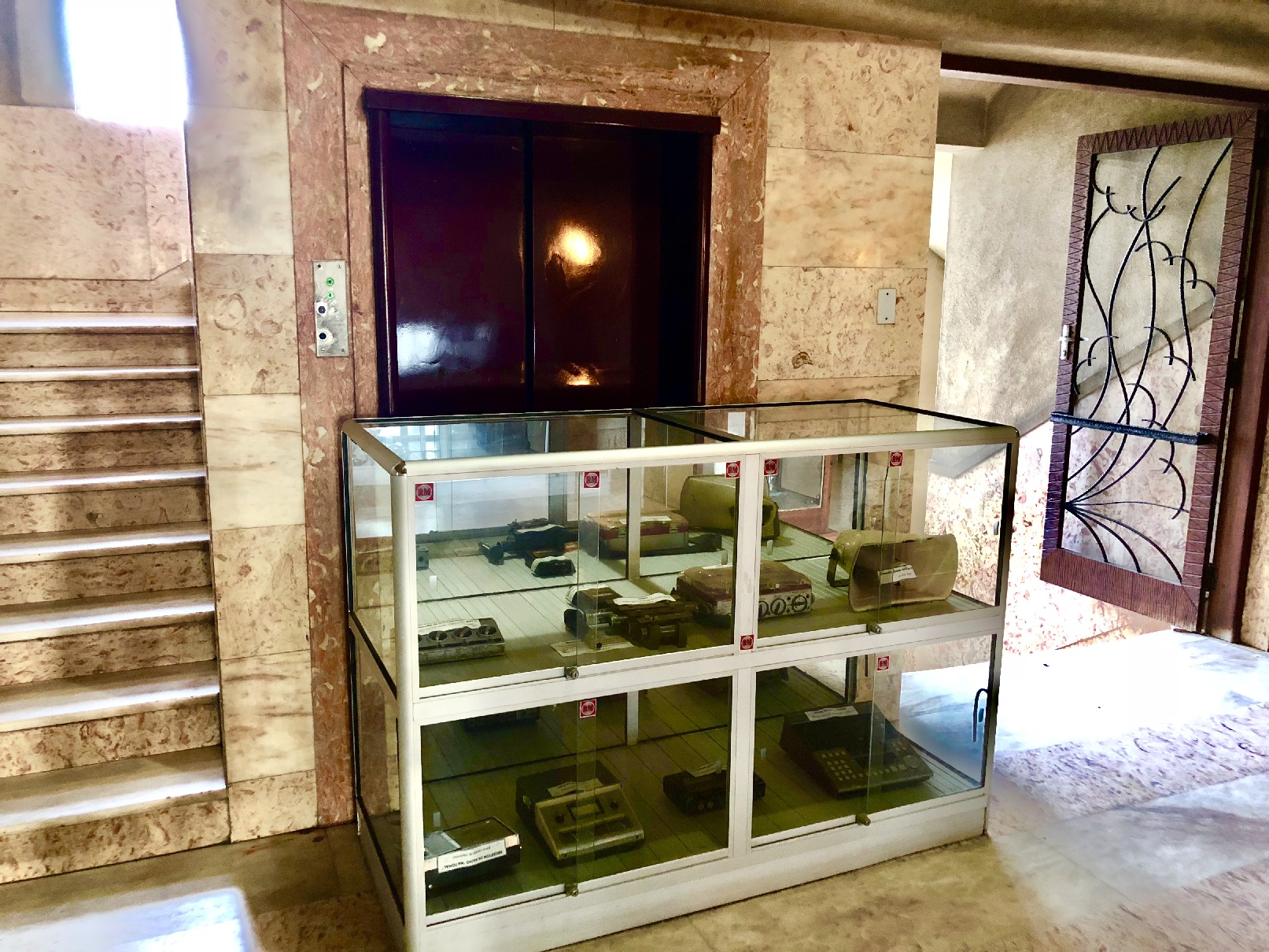 I got to see the "command center" where all of the building's broadcasts are distributed throughout the entire country. So many buttons! I was also shown musical recording sound studios and even a full auditorium used for performances that are broadcast live. This was one impressive broadcast center!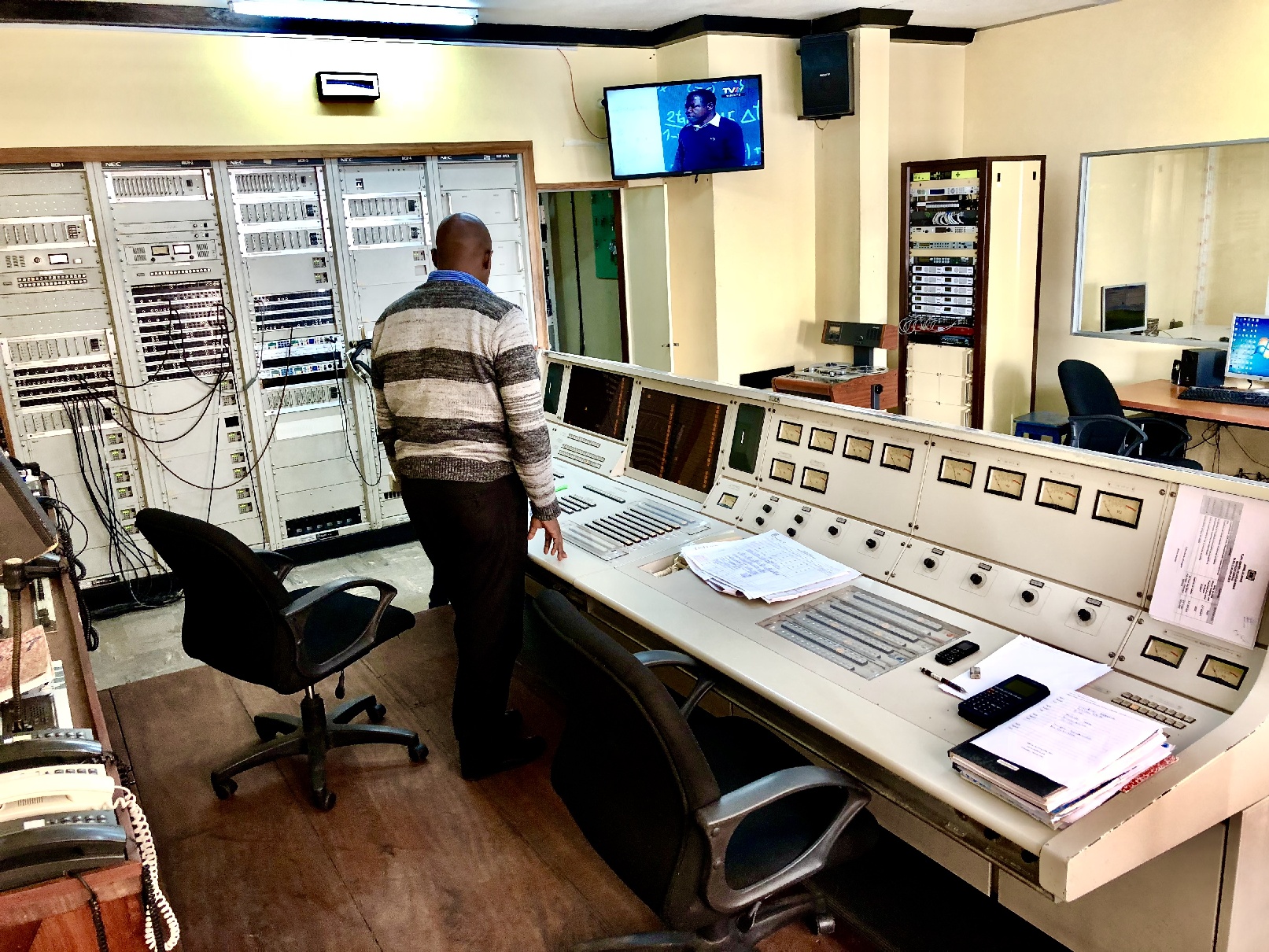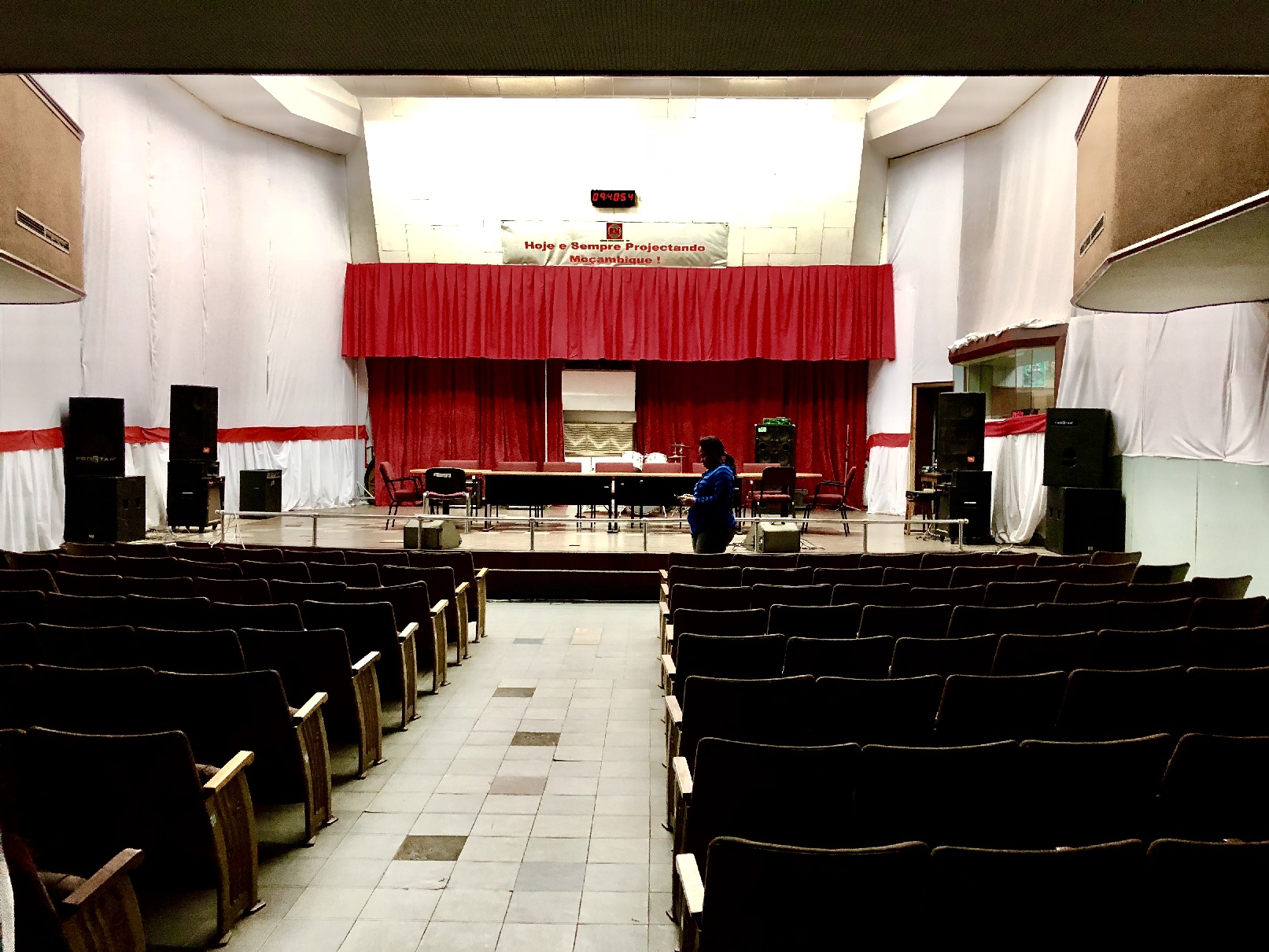 I got to tour the "discoteca" on the ground floor: an archive of CDs, tapes and lots of old vinyl, all sorted and cataloged as organized as The Library of Congress. Porfilio was the gentlemen in charge of this special vault of music and his job includes keep all the music filed and digitizing audio. I loved looking around and poking through the shelves of music–there must have been a million records here, all organized according to genre. This is one place that I can say truly respected the music.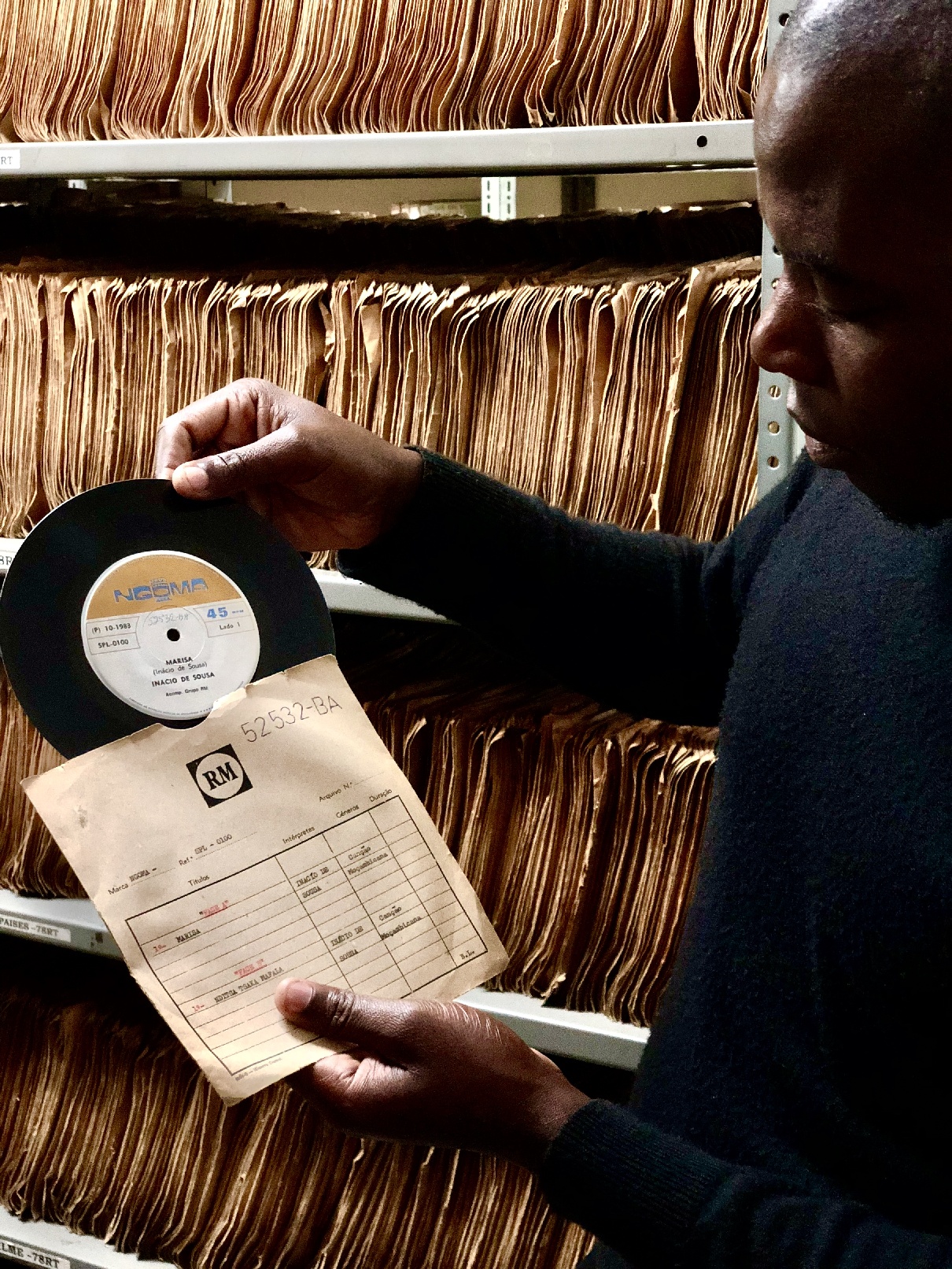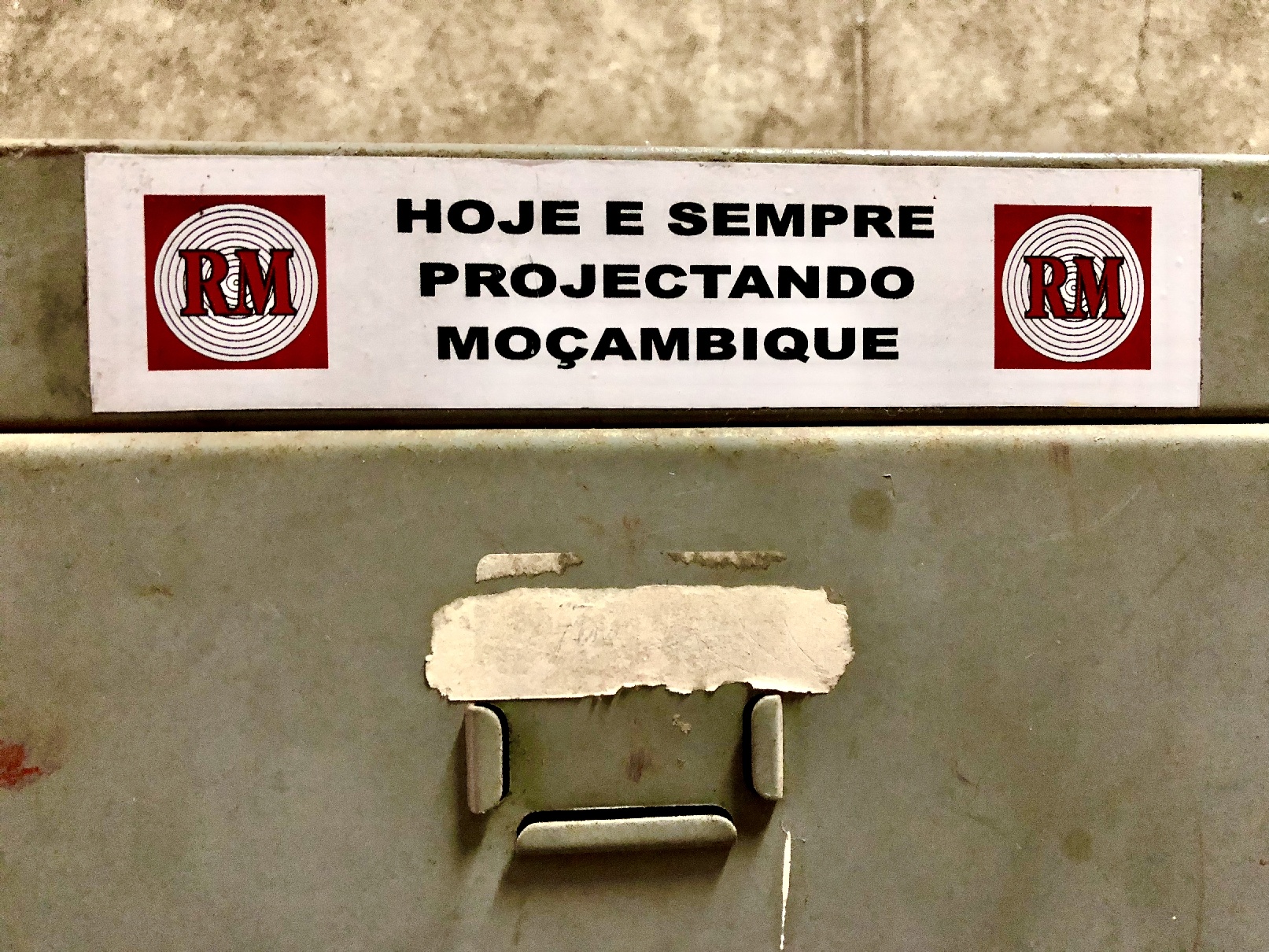 Can it get any cooler? I mean, these are the things that I thought might make Anthony Bourdain proud. Just when I thought it couldn't get any better, Maria walks me straight into the president's office. Here I am, sitting face to face with the Bob Pittman of Moçambique and frankly,  feeling very under dressed. Had I known I would meet Mr. Sadique, I would've packed a suit. He was nothing but super friendly and hospitable, as he broke down the very interesting story and history of Rádio Moçambique. What a journey this national radio center had been through, both pre- and post-independence. And I was learning it all from the president himself.
The climax was reaching the ballroom on the top floor, converted into office space, but they'd left the room's original design alone. This top-floor salon with its original parquet wooden floors and floor-to-ceiling Art Deco lighting fixtures was just absolutely gorgeous, and while it was a pity that most of the dance floor was taken up by temporary office walls, at least they'd kept the overall bones of the room in-tact. This was definitely my favorite area of the radio facility as I closed my eyes and tried to picture what incredible live performances must have taken place in this space back in the 40s, 50s, and 60s…men in three-piece suits, playing classic música Moçambicana while couples cut the rug. What history the very floor that I was standing on must have! The goosebumps wouldn't leave me until I was blocks away.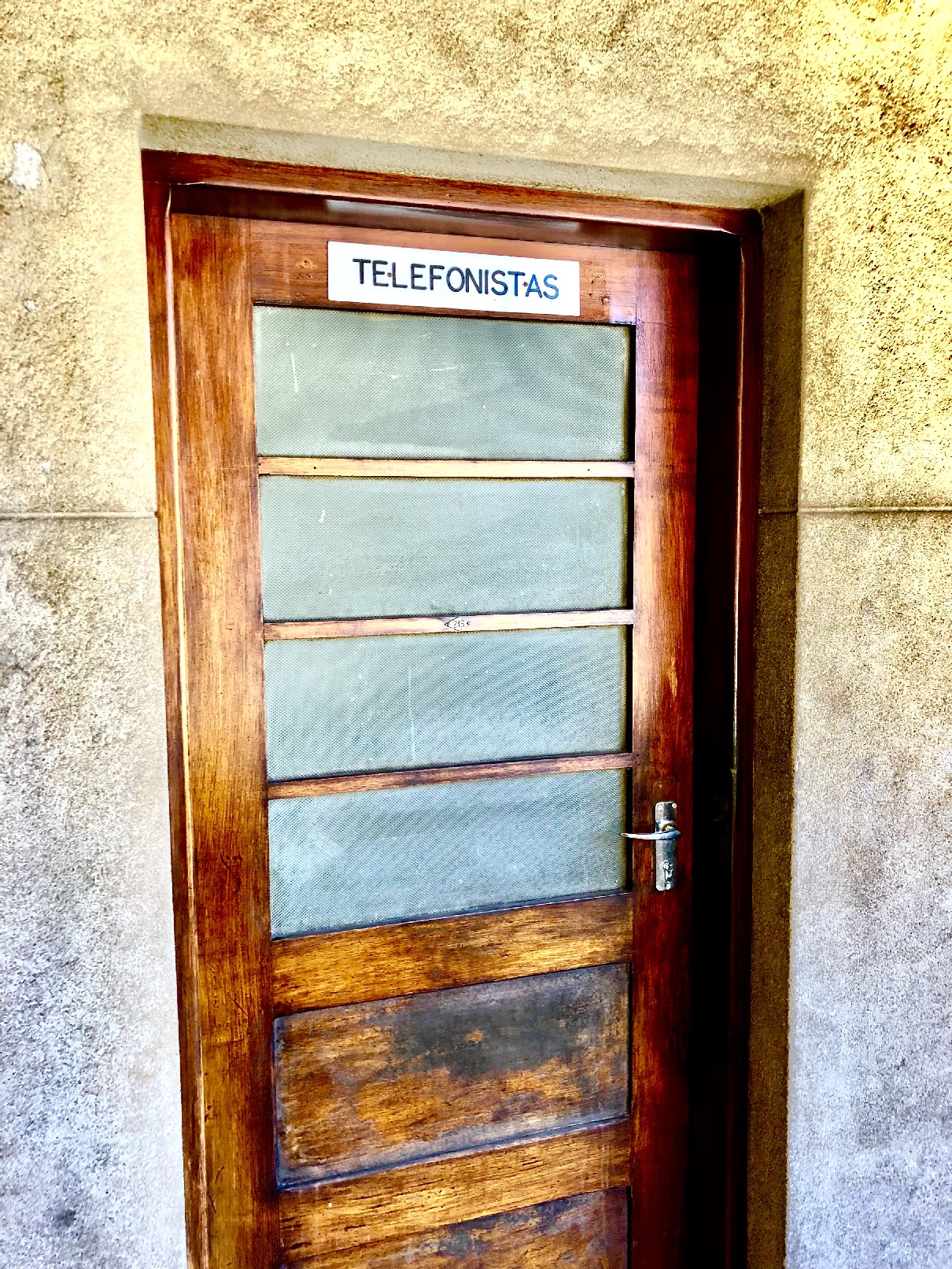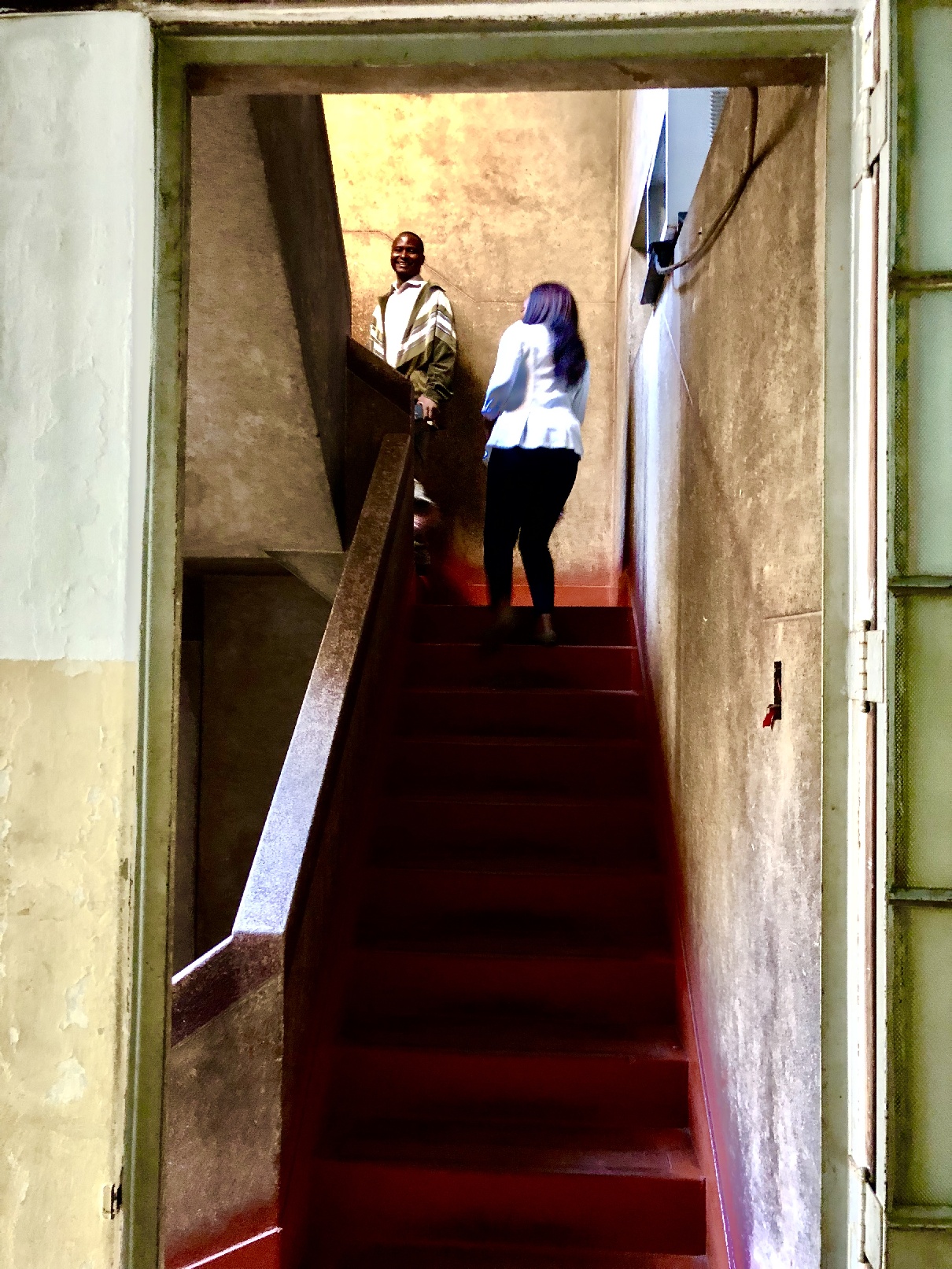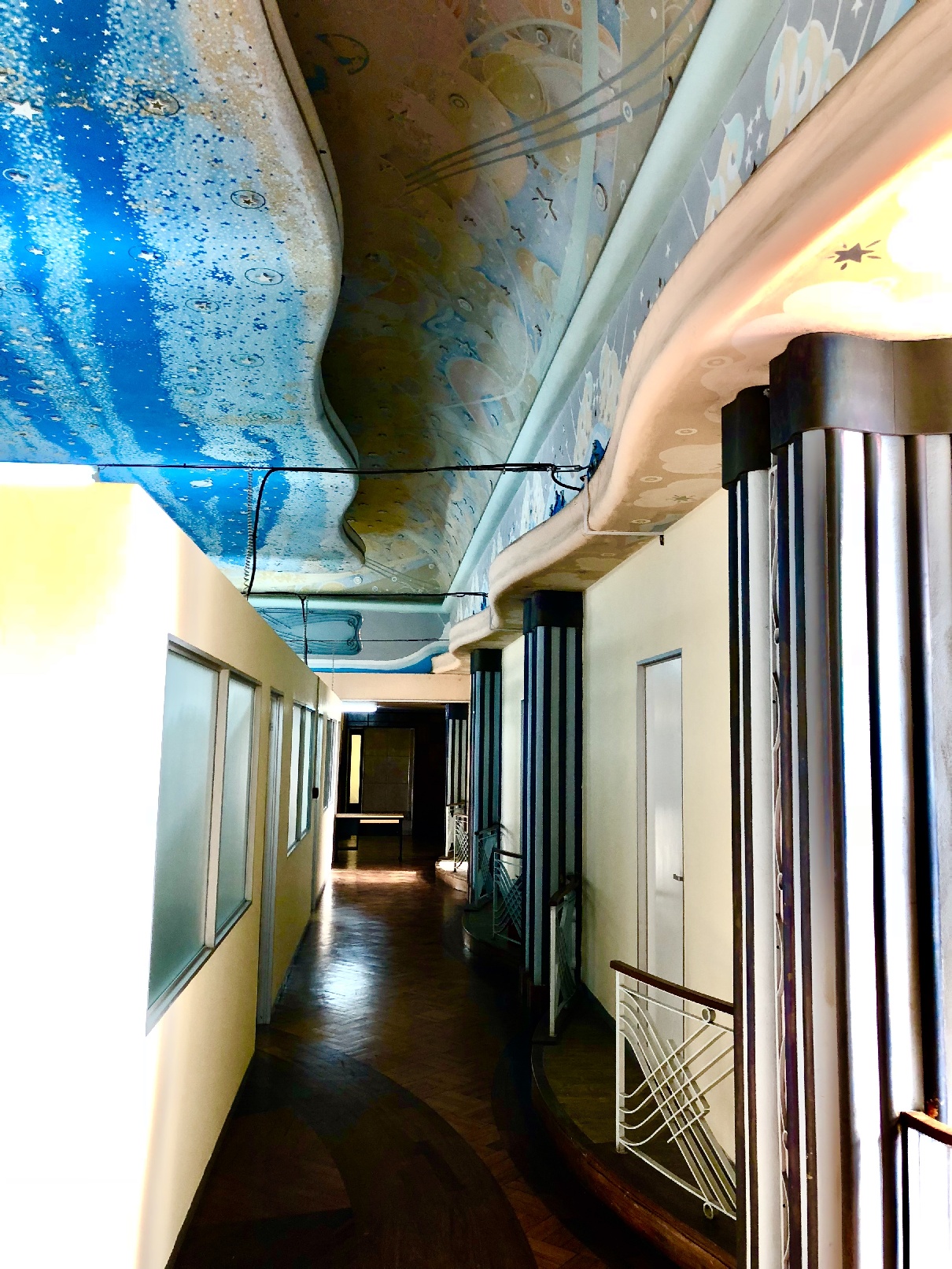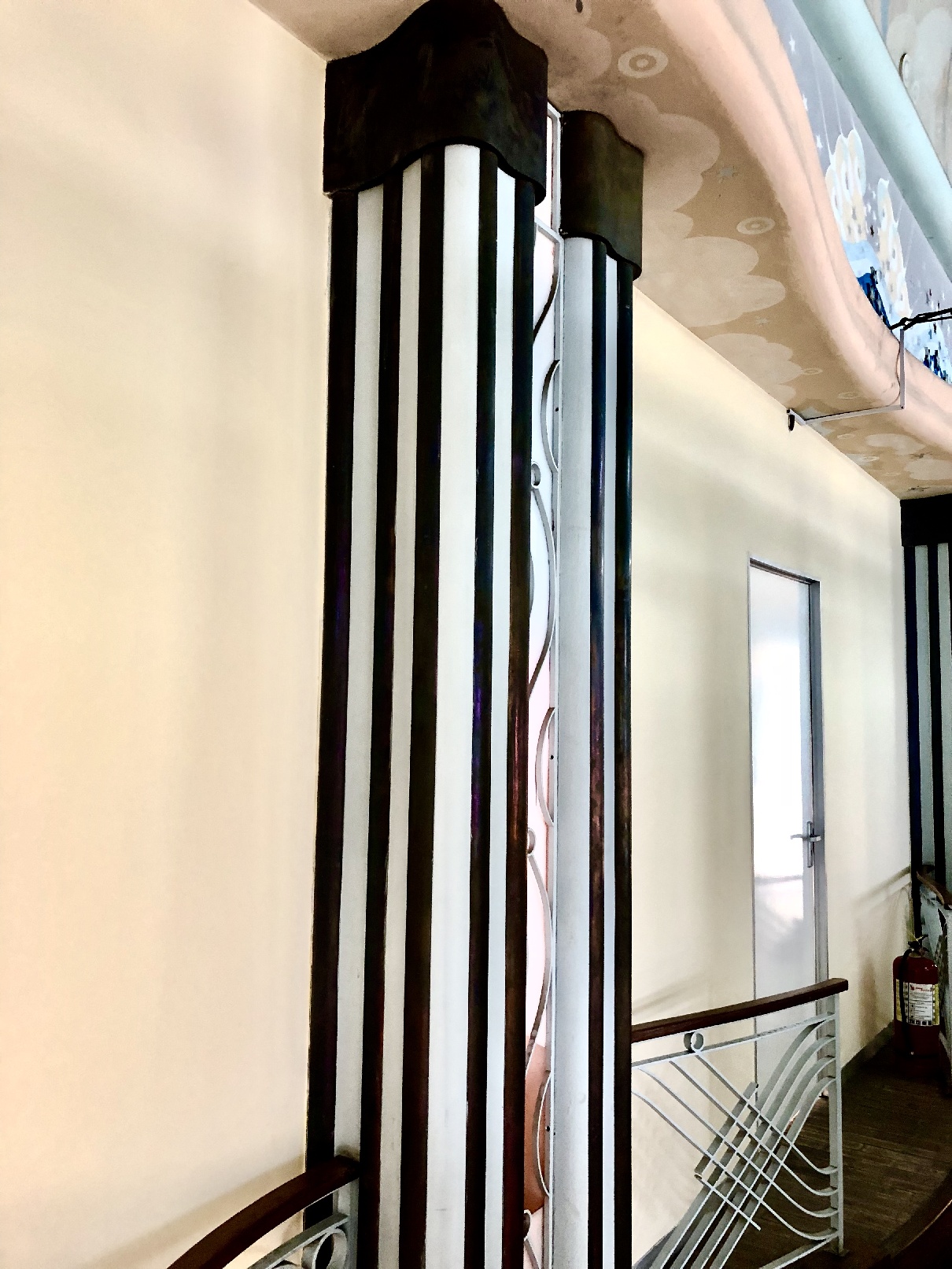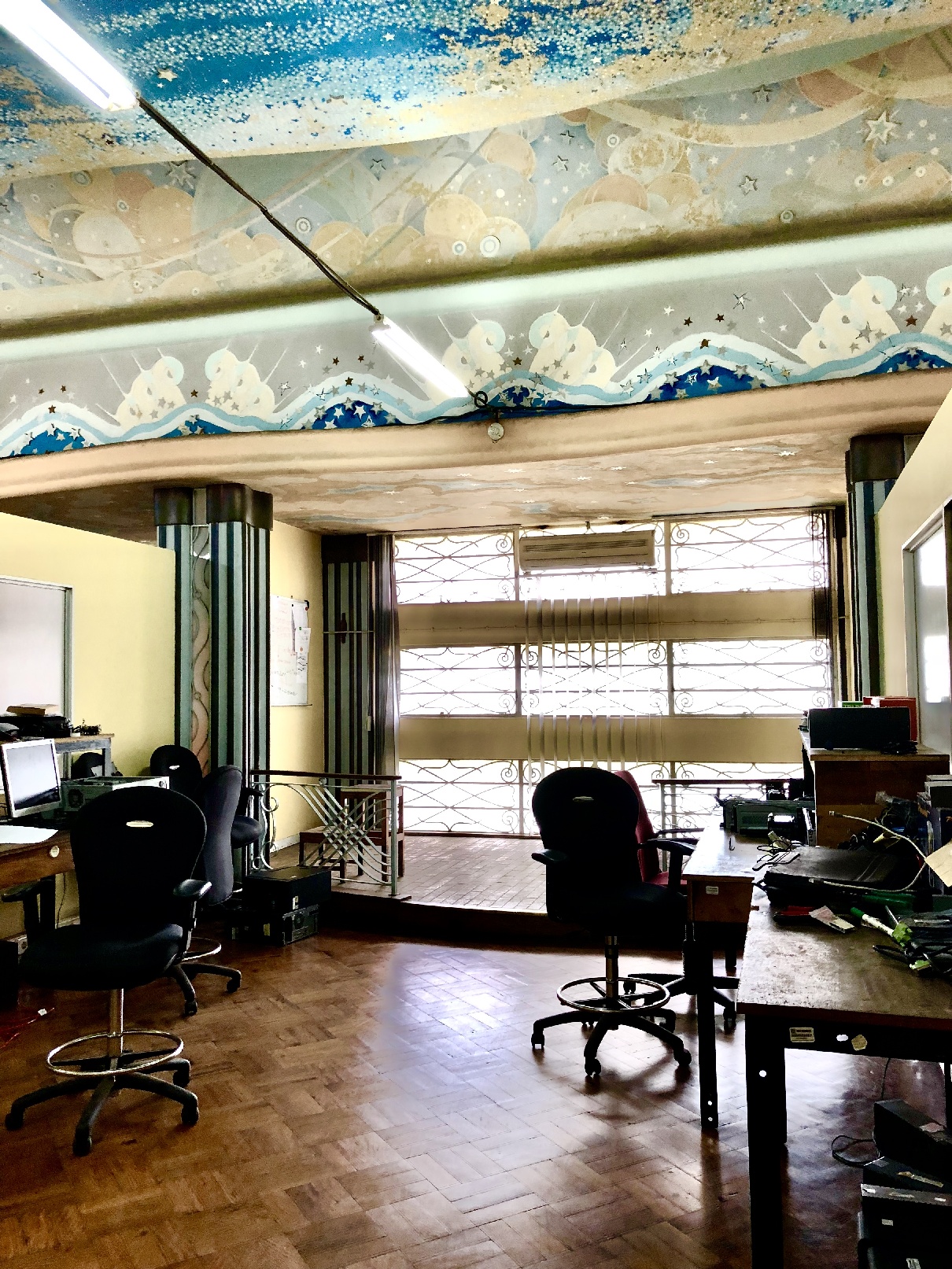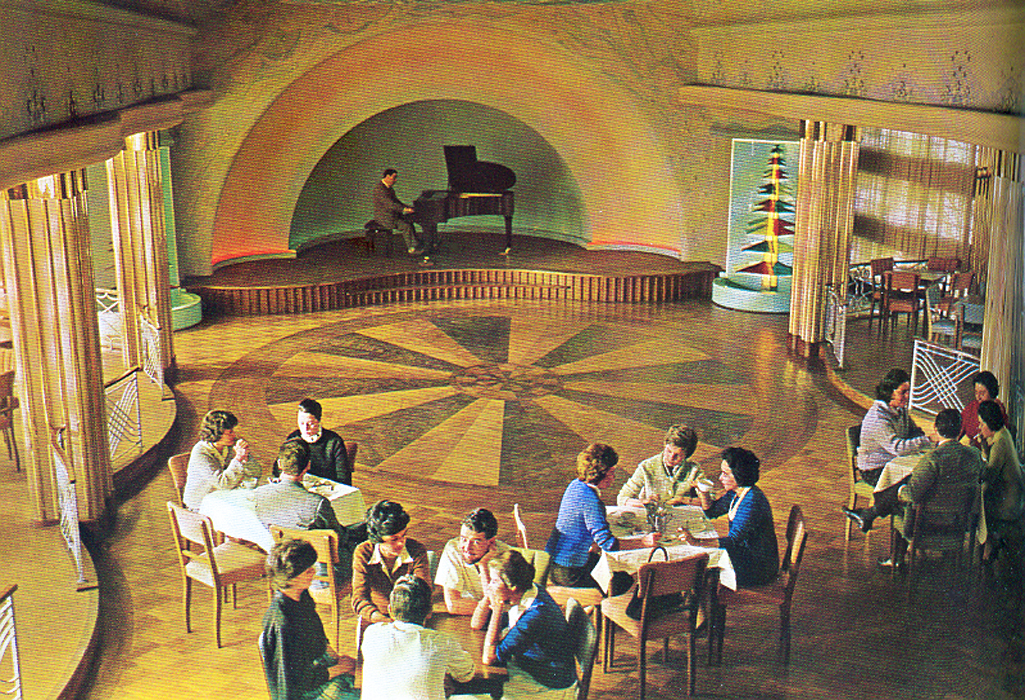 Update:
I received a nice note in January of 2019 from a gentlemen who blogs about old Maputo buildings. He enjoyed my photos of Radio Moçambique and wanted to share his. Check out his story and blog, House of Maputo, HERE. He also sent me a link this amazing video HERE. Wow!!!


Hot to Trot
On with my day, I headed down the street to see what else I could find, with just a few hours left before I'd have to return to the airport. I ran into some nice folks on the street, the big church, and Maputo's most important monument.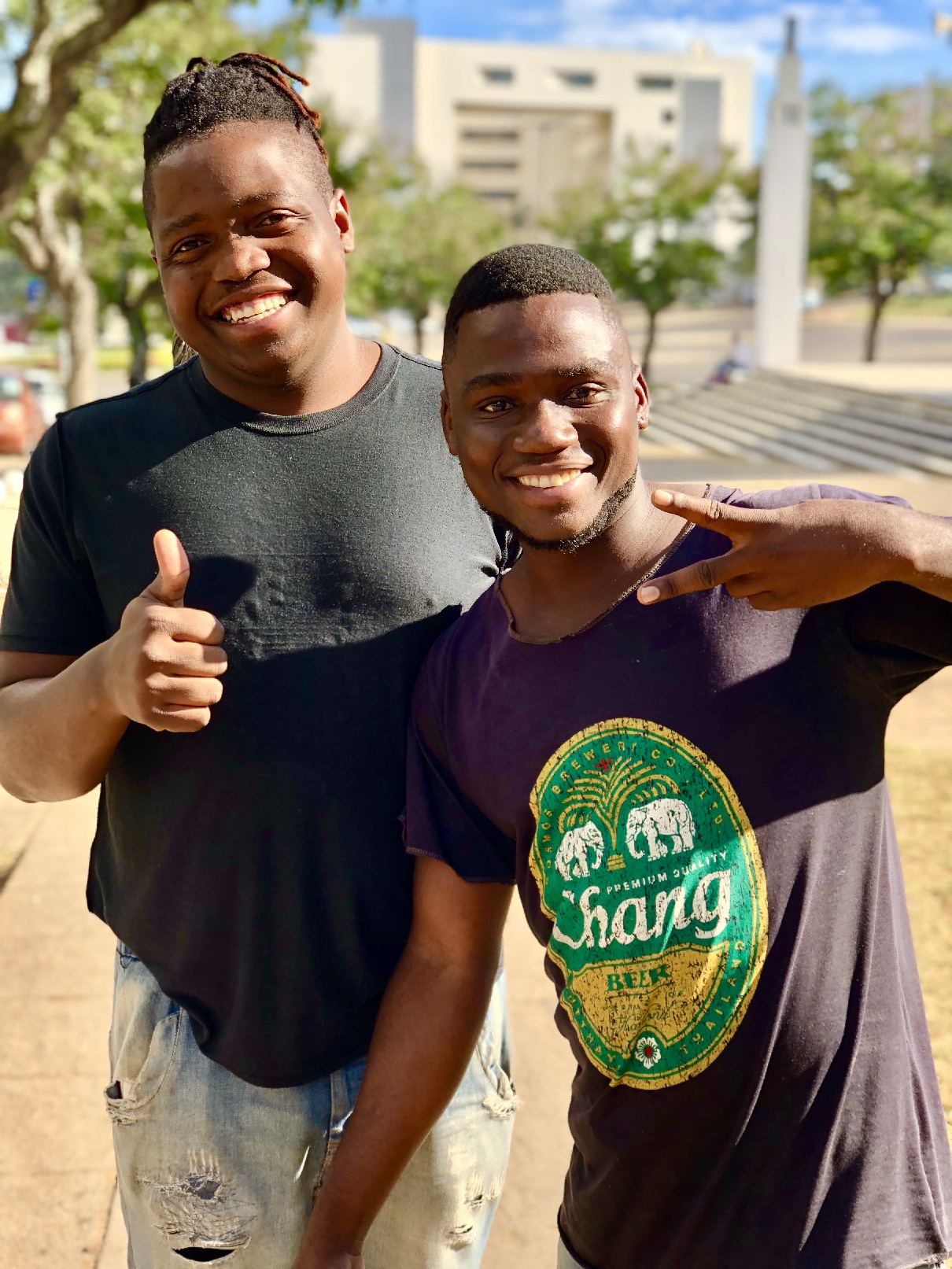 The Haunted Theater
I learned a long time ago, if you want to explore a cool building or property, just ask–the worst that can happen is you're told no. Just look at how I lucked out at Rádio Moçambique! So I decided to take the same approach at a beautiful theater that I happened upon, called Gil Vicente. This building was just too cool and too retro for me not to at least try. The door was open and a security guard was seated behind I desk in the lobby. "Sou turista, pode entrar?" I explained I as just a tourist who would love to have a look around. He said yes! I hope I didn't take advantage of his kindness, but I took the opportunity to explore every corner of this beautiful old theater, including the balconies, storage closets, the stage…even the roof! Like Rádio Moçambique, I imagined the history here must be pretty incredible; I couldn't imagine all the artists that must have performed on stage over the decades.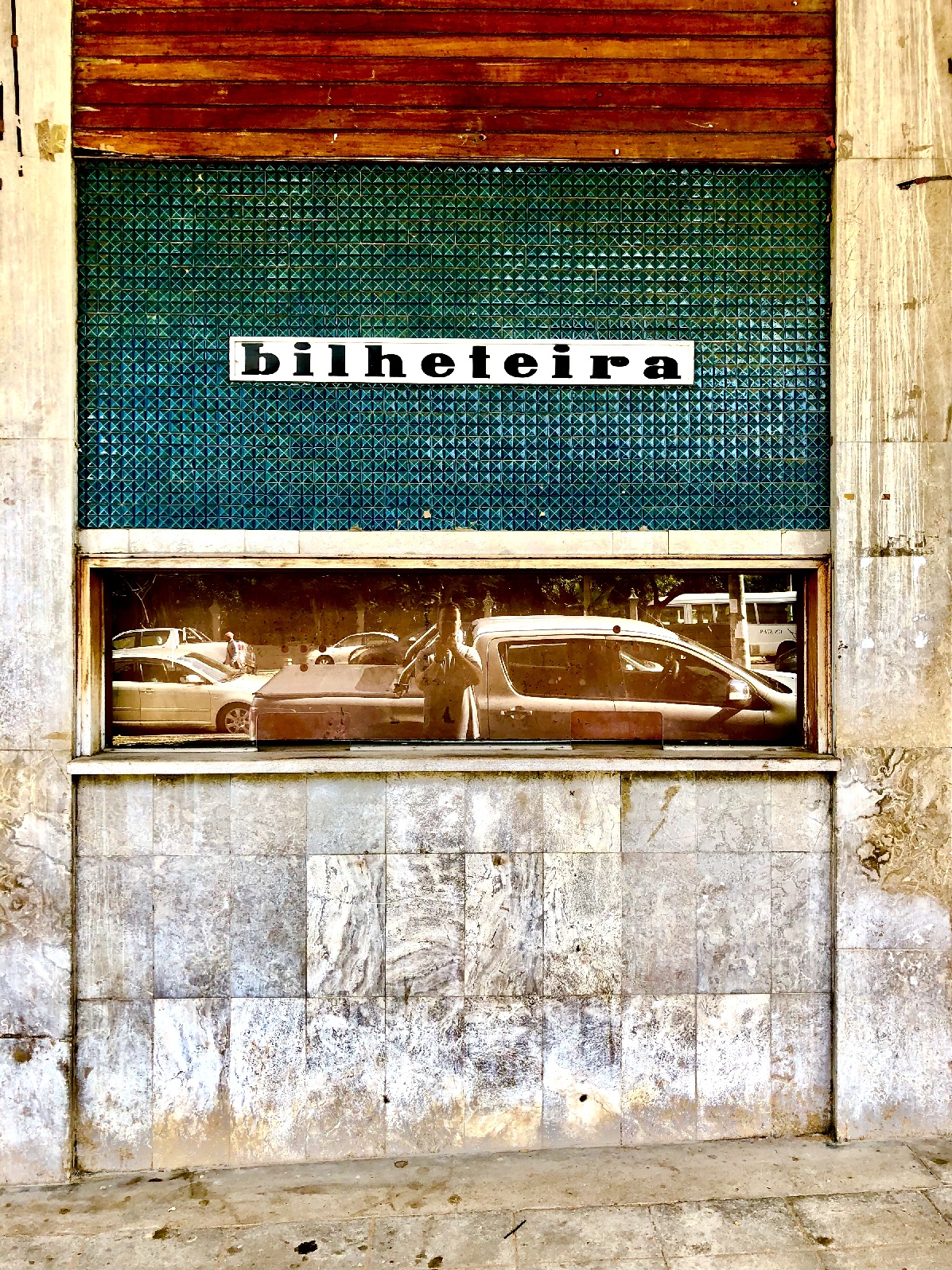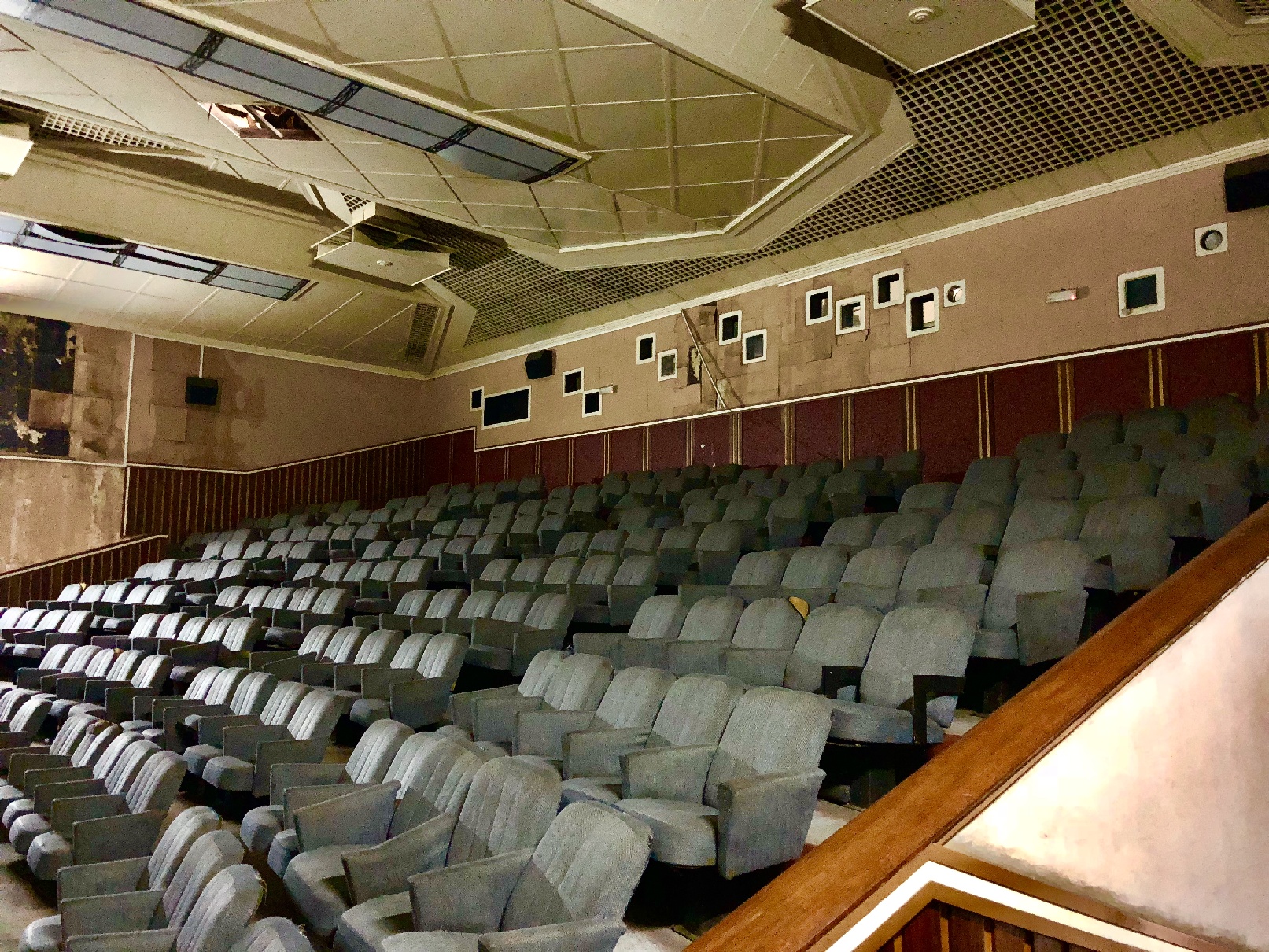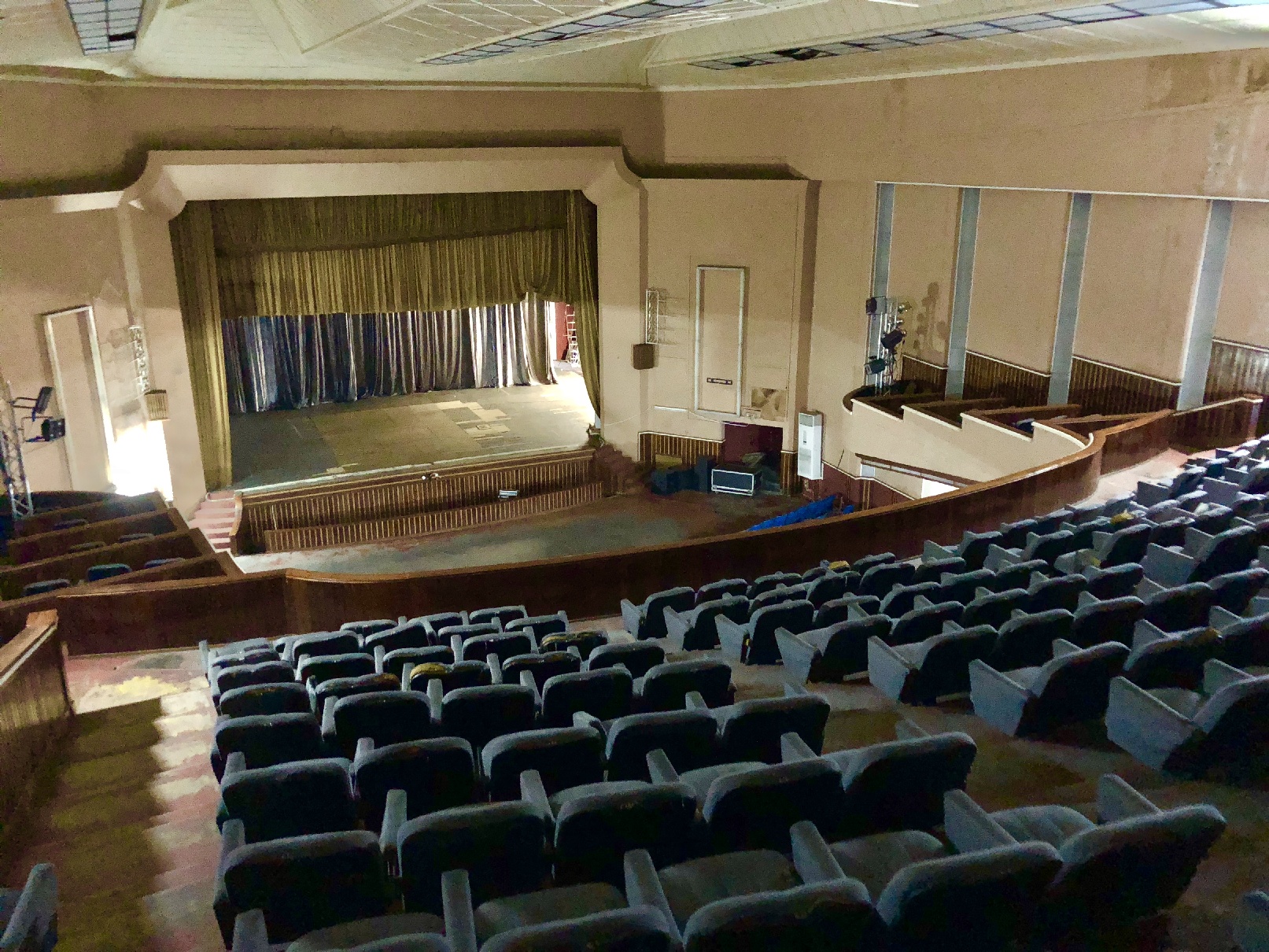 I was having such a grand time poking around; climbing the stairs and wandering through the balcony. I hoped I wouldn't fall through the floor, I didn't know what kind of physical shape the bones of this building was in. There wasn't a soul in the building, and contrary to how the pictures look (I lightened them), the theater was actually pretty dark. So imagine my surprise when I heard a piano start playing out of nowhere. Watch the video…
I would have loved to believe it was a spirit–some kind of a ghost–a performer from the past who had come back to haunt the theater by making the piano play itself. But I figured it was just someone else wandering the theater like me. Or was it???
C'mon Ride The Train
After the awesome theater experience, I thought I'd try my luck at the train station again. This time, there was no sign of the president and no problem entering. It was empty; just me and another tourist: a guy from Spain with a fancy camera. The railway station was just fantastic and featured informational displays about its history, including its construction and a timeline outlining its various phases and additions. Inside the building was a museum. I liked it a lot, but figured any rail fanatic would flip his lid here;  kind of like the excitement I experienced at the radio station. I'd wished my dad was with me.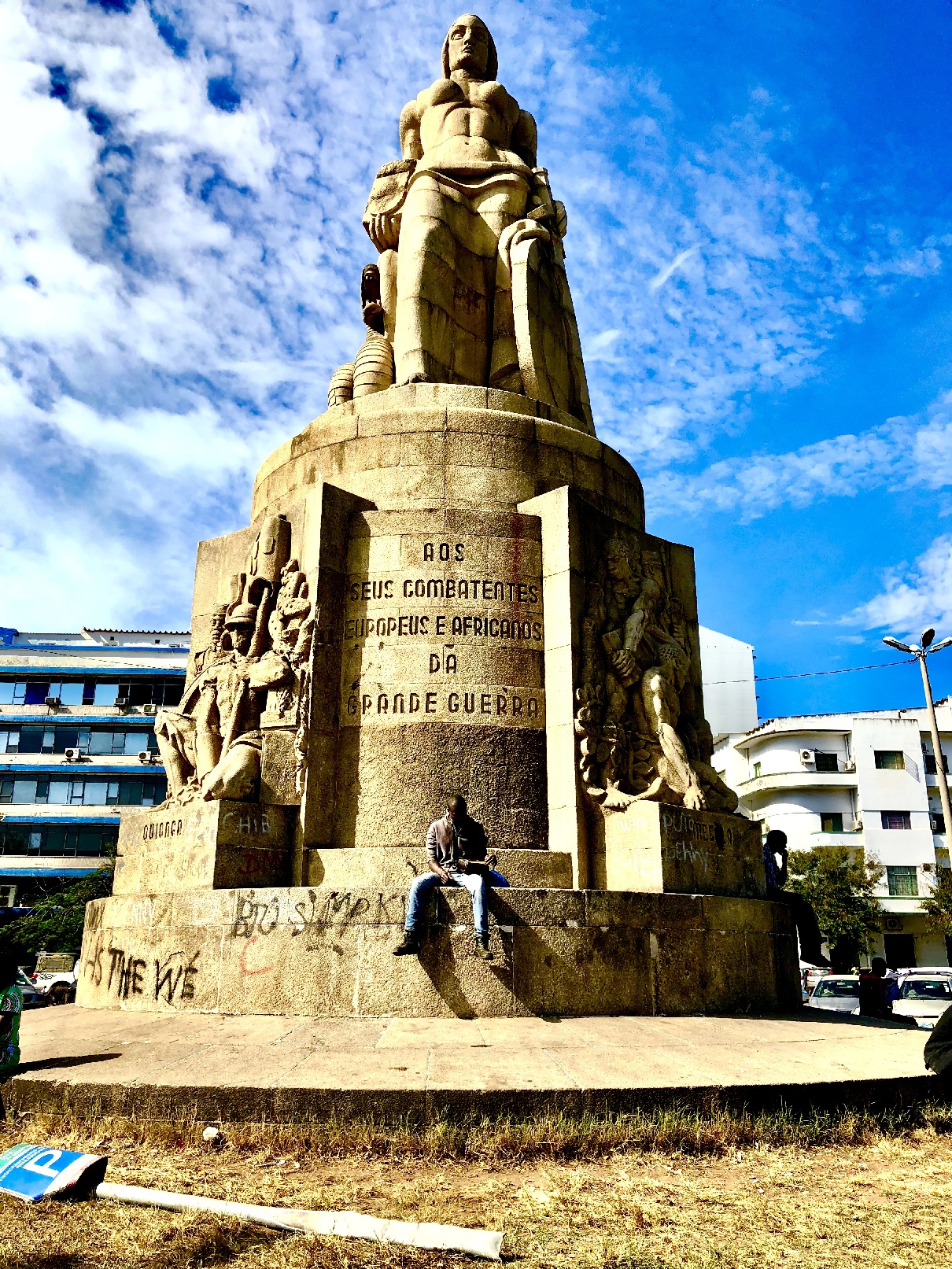 If I Only Had Mo' Time for Moçambique…
…but I didn't. My plane was leaving that afternoon, so I had to head back to Palmeira's, grab my bags and get going. This was my third time in Africa, and although a handful of countries on this continent seemed to all blend together with a sense of sameness, Moçambique would not be placed anywhere near  that category. I wanted to stay. I wanted to see more buildings, meet more people, and eat more food. I definitely wanted to ride the train. And I wanted to see more parts of the country. This is one country I'm definitely coming back to. Moçambique, you haven't seen the last of me!
Airport Theft and Other Dubious Stuff
I sure hate to finish this article on a negative note, but I always make it a point to tell the truth, good or bad, when I visit a country; you'll always get my unfiltered experience, including the bad stuff. So I must admit, I was really disappointed after my almost perfect trip to Maputo ended in the theft of a credit card at the airport. I'd packed one extra credit card in my suitcase, a bag which I normally carry on the plane. However, upon checking in for my flight at the airport, airline staff informed me I'd have to check my bag. By the time I landed in Uganda late that same night, I'd already received a message from my bank, telling me about some suspicious charges on my card. Sure enough, someone had attempted to charge over $10,000 on my Visa that was now missing from my bag. The charges took place in Maputo, so it was apparent that someone at the airport had broke into my locked bag, went through all my stuff, stolen my card, and then tried to charge up a storm. That's really too bad, and was the only stain on my record for Maputo, albeit a pretty big one. Although if that's the worst to happen to me in Maputo, I'll take it:
A week later, one of my buddies visiting Maputo was just minding his own bee's wax when he was apprehended by the police, thrown in a car, and threatened with bodily harm unless he coughed up $1,500 in payoffs. He ended up escaping and running to the American embassy, but what a scary situation! You can read Ryan's story HERE.
Apparently this is common: Debjeet told me he, too, has experienced countless run ins with the cops, all while simply walking the streets. In fact, it's happened so frequently to Debjeet, he know fights back–yelling and threatening to report the crooked cops. I'm not one to exaggerate, or even listen to the media's one-sided reports on danger; hopefully by now you know you this by now, but a quick Google and YouTube search will reveal just how common these issues are: tourists being routinely harassed and shaken down for bribes, far worse than any other place I've experienced. Even in Mexico, a country with one of the worst reputations for police shakedowns, this has only happened to me once, in my 100+ visits. It's a pity, because Moçambique sure is a special place. I hope the problem will be corrected soon, as this is a country not to miss!
And Now…The Rest of the (Insta)Story:
This entry was posted in
Africa