Road Trip!
July 2020 was a tough time for any American to be traveling through Europe. For all intents and purposes, Americans couldn't travel to Europe. And while the EU had opened its borders on July 1st, you were not permitted to enter on an American passport. Luckily, I'd been graciously given an "exception" by Hungary to fly into Budapest for a business meeting, which meant I would then be inside the EU. And just like the moving from state-to-state inside the USA, there is no border control in between EU countries (at least, pre-Corona). So the idea was, once I was in Hungary, I'd have the EU at my disposal and would be free to galavant about.
Here's where it got tricky: After Hungary, I actually exited the EU to see Ukraine, Belarus, Moldova, Turkey, North Macedonia and Kosovo. These are all non-EU nations. I still had the EU nations of Slovenia, Austria, Liechtenstein and Switzerland on this list, so I needed to get back into the EU. My plan was to fly back to Budapest using my existing permit, which would get me back into the EU, although I wasn't sure if that permit was good for multiple entries. And even if I made it back into Hungary successfully, from there I was a little nervous about trying to fly into any other EU airport–for fear of passport control–so I'd rent a car and make the drive through those last four countries before my flight home form Zurich. What could go wrong?
Almost every flight out of Pristina (Kosovo) was canceled but luckily the Budapest route wasn't. By 12:30AM I was back in Budapest, tucking myself in at the airport hotel (so convenient). I'd wake the next morning for breakfast at the hotel and then a walk over to the rental car desk to pick up the keys to my ride. I was on the road by 8:30 and despite a short traffic jam and a couple of wrong turns along the way (those roundabouts always mess me up), I'd crossed into Slovenia just shy of noon. It was time to get nervous.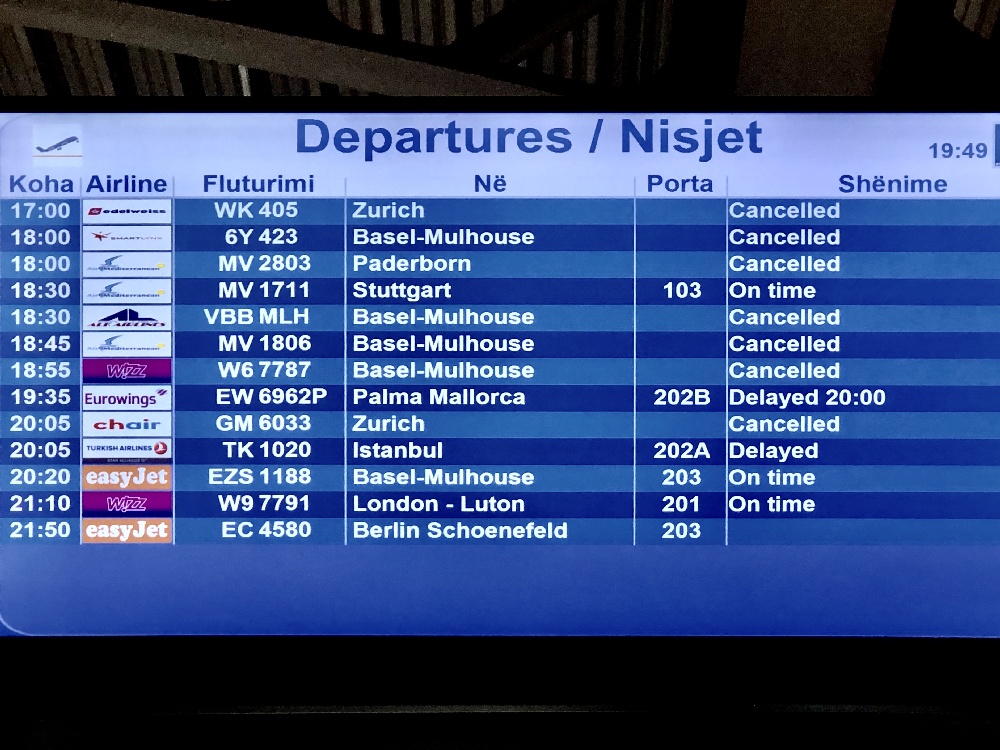 Ticket to Ride
Though I was allowed into Hungary with permission, I hadn't been given such an invite for Slovenia nor any of the other EU nations I was about to mosey on over to. Before 2020, moving from country-to-country inside of the EU was completely painless, but during the pandemic there had indeed been some regulating of borders. I had no idea whether I'd be able to cruise right on into Slovenia, or be sent back by a group of finger-waving border guards. Oh well, it's now or nothing.
As I passed the official "You are now in Slovenia" customary roadside sign, traffic was routed through the parking lot of a service station. I did know that highway "passes" where required on some EU roads, so I filled up as I gathered my thoughts, before going inside the station to inquire with the cashier. Sure enough, pass required. They call 'em "vignettes," and I'll take one, please! Now, let's just hope I can get past these pesky border officials.
In Like Flynn
As I approached the three officers in uniform I felt what it must be like to approach the counter of a liquor store with a fake ID. Visions of Locked Up Abroad episodes came to mind, and I pictured being carted off to jail after they discover that I'm "one of them." As I approached, suddenly they started waving their hands and shaking their heads in disapproval. How did they know I was American? Was it the way I looked? Had someone at the car rental place called ahead and tipped them off? They started yelling at me in a language I didn't understand. Is this how it all ends?
You can't imagine the giant sigh of relief when I realized they were just instructed me the proper way to display my new highway "vignette." Once I peeled off the back and stuck it on the inside of my windshield the right way, they smiled and threw up a thumbs up, as I rolled out onto the main drag and slowly accelerated. When I realized the officials were no longer in earshot, I let out a giant howl and blasted the radio. I'm in! Hello country #148!
Ljubljana for Lunch
I still have zero idea how to pronounce Ljubljana. My trick to remember how to spell it is by saying out loud, "El-Jubb-El-Jana," which sounds more Arabic than European. I had no room reserved for the night yet. I was flying by the seat of my pants–especially on this last leg of EU countries–so wouldn't book a room until I'd crossed each border and the coast was clear. I pulled over and enjoyed a brie pie at Pizzeria FoculuS while I jumped on WiFi to find a room for the night. By the way, this was my first brie pizza and it was spectacular.
After lunch I made my way over to The Union Hotel to check in, throw my bags down and have a quick rest before I'd head out to explore. I was so excited to be here!
RAMBLIN' TIP: You can book a room at The Union Hotel HERE. I recommend!
A Magic Kingdom
I was floored the entire time I walked the old city. It was so majestic, so clean, so colorful and so old. It was nothing short of a fairy tale and the best way I can describe it, is comparing it to Disneyland with all of its castles, spires, little bridges, cobble stone streets and lazy ferns. It was an absolute scene out a of movie and was simply breathtaking. How was Ljubljana not as famous as Paris, London or Rome? This place was a dream.
Climb to the Castle
I visited the big castle on the hill, 'cause that's what you do when you're in Europe right? But the Ljubljana Castle was different. Beyond its towering stone walls and towers that provided 360 views of the city, the castle's many exhibits were what made it special to me. There was a lot going inside the walls of this estate. From art exhibits, to one room with interactive fairy tale kiosks – it seemed every part of the castle housed some special presentation. This was a departure from 99.999% of the castles I've toured, where the rooms are bare and the only activity available is walking up and peering out of a little window before leaving. Major kudos to whoever is in charge of Ljubljana Castle – I really enjoyed every square foot of the property!
What Goes up Must Come Down
I loved exploring the castle! I've never been one to pass up a funicular, so instead of walking back down to town, I bought a ticket to ride the lift. This was the most modern funicular I'd ever seen – it was literally a glass cube! I enjoyed the views as we descended back into town aboard the quietest and most modern funicular I'd even ridden in.
More to Explore
Back into town I ventured through a park and over to Republic Square. I followed the sound of music to see a big stage and musicians performing sound checks for the night's big show. The music provided a spectacular soundtrack to such a beautiful day in Slovenia. I would've loved to attend the show that night, but had a really early day ahead with lots of driving. I'd call it quits pretty early.
Slo-Long, Slo-Venia!
What a gorgeous treasure of a town Ljubljana was. It was like a movie. I had a lot of driving to do the next day if I was going to make it to Liechtenstein by sundown.
This entry was posted in
Europe