Third and Final Stan (This Run)
As soon as I reached the immigration booths, I realized the people here were not the same as in the previous two "Stans." The lady actually looked Persian – nothing like the folks I saw in Uzbekistan and definitely not like Kyrgyzstan. I'd been told that Tajikistan has a close connection with Iran and that even Farsi was spoken here, and just two minutes in, this had already been confirmed. It was double-confirmed ten minutes later, as my cabbie enjoyed Farsi music on the way to the hotel. All Stans are not equal.
All this was a great learning lesson: Going into the trip I absolutely assumed the people of this entire region (all five Stans) would all look and talk alike. That couldn't be farther from the truth. I was learning that each Stan had a different identity, culture, history and yes, completely different looks.
This was my second flight this week (and ever) on Uzbekistan Airways and I again really enjoyed the flight. I loved how colorful the plane was, the service was fantastic (shout out to Karina and crew) and the matching china, a bonus.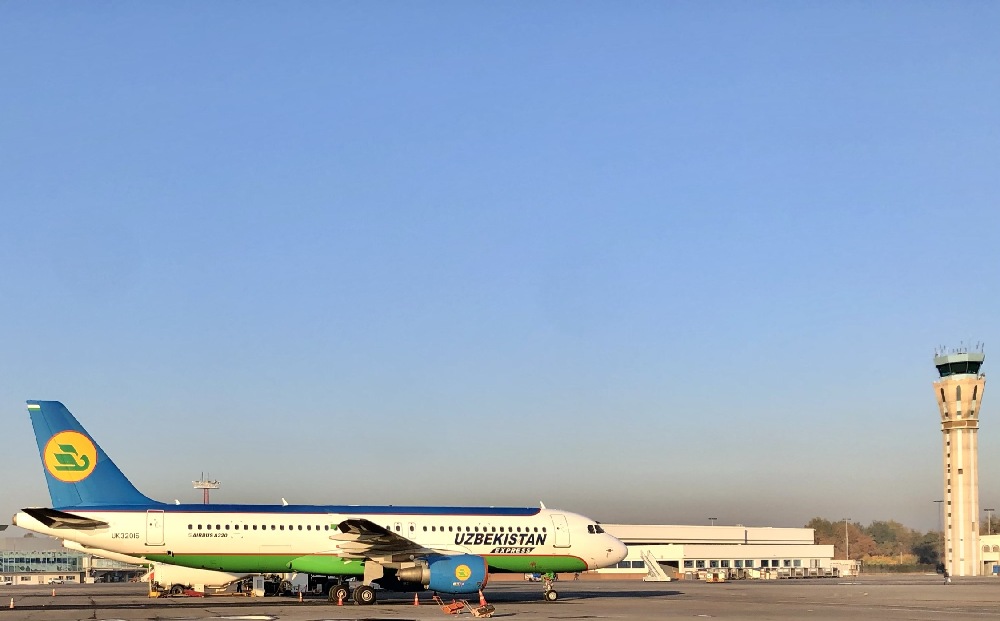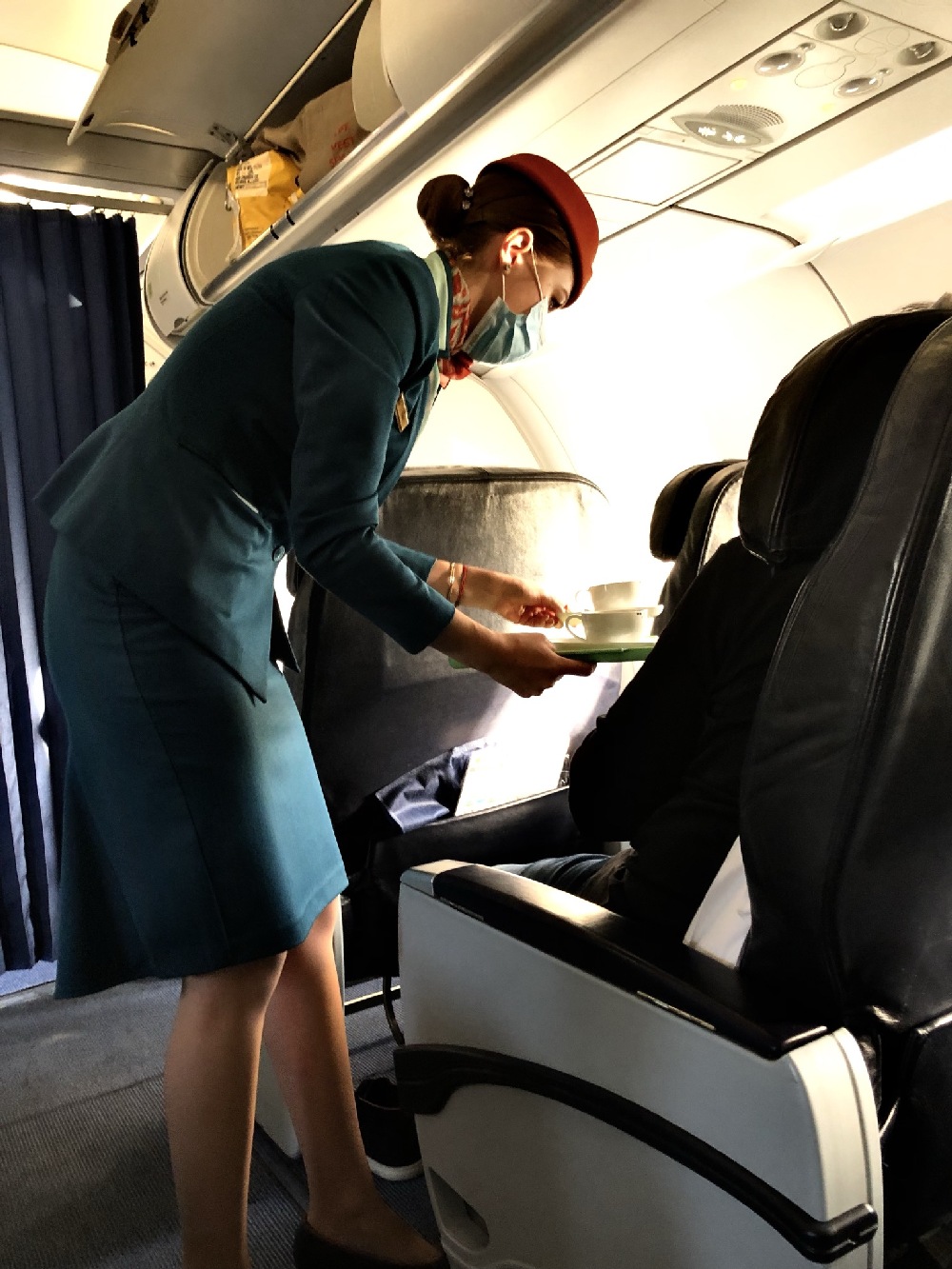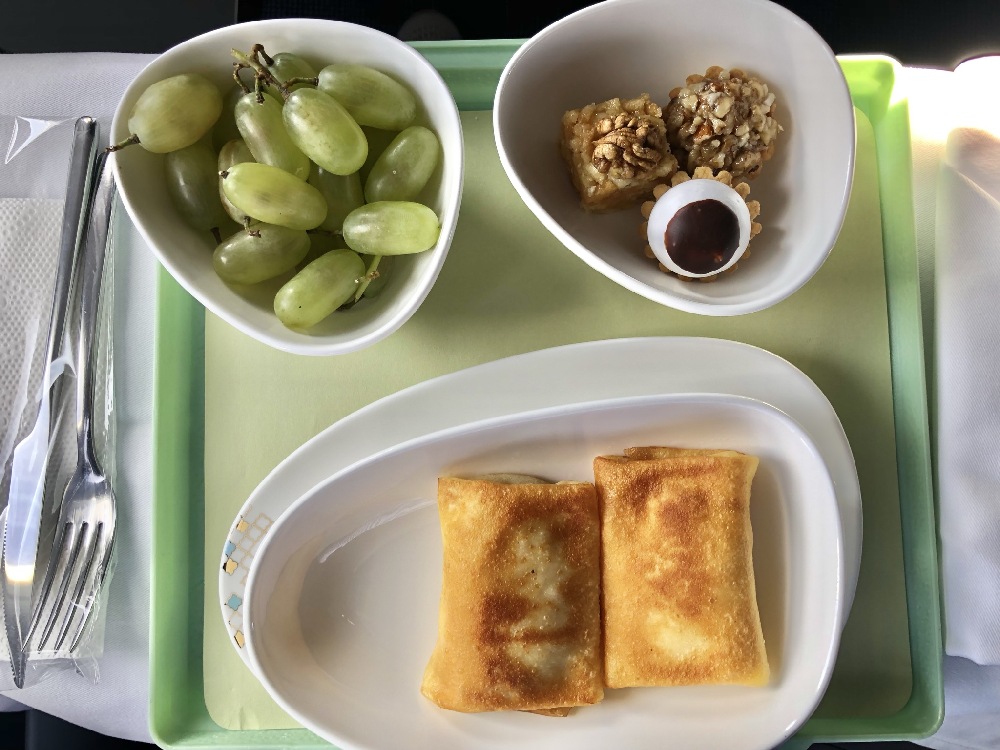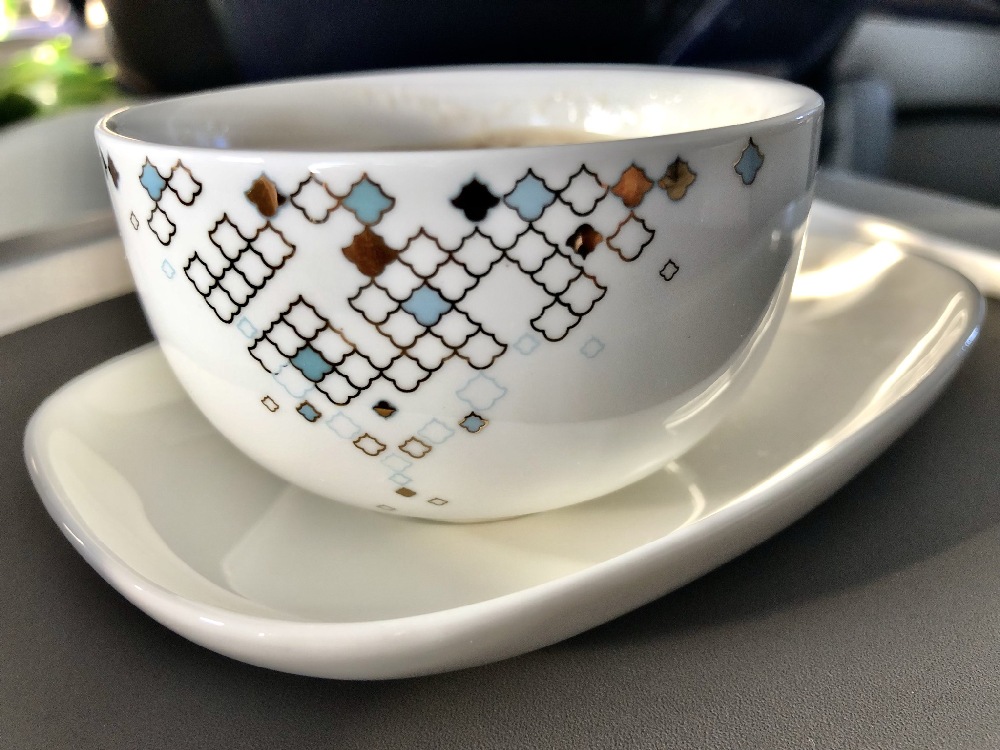 This Guy's Everywhere!
The second thing I noticed in Tajikistan–that was definitely different from the two previous Stans–were the photos/signs/banners/billboards/images of the president that were everywhere! You couldn't walk two blocks without seeing a giant Emomali Rahmon poster plastered over the front of a building. Gift shops sold photos and souvenirs adorned with his face, too. I didn't see one image of the leaders of Kyrgyzstan or Uzbekistan during my time there–couldn't even tell you what they look like–but billboards and banners of Rahmon were one of the first things I ran into in Dushanbe and a constant theme just about everywhere I ventured. We never get political here on RamblinRandy.com, so I will just casually mention that President Rahmon has held the same office since 1994 and you can do the rest of the research yourself. He sure is one handsome fella.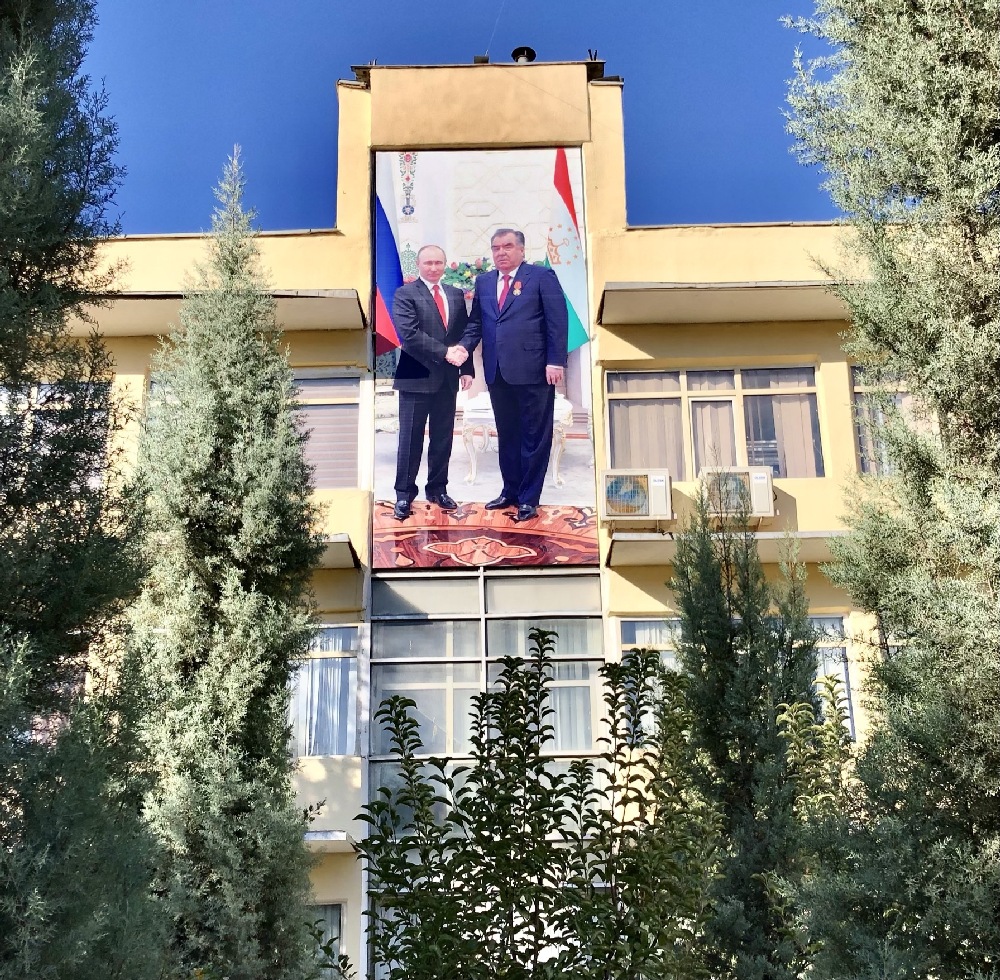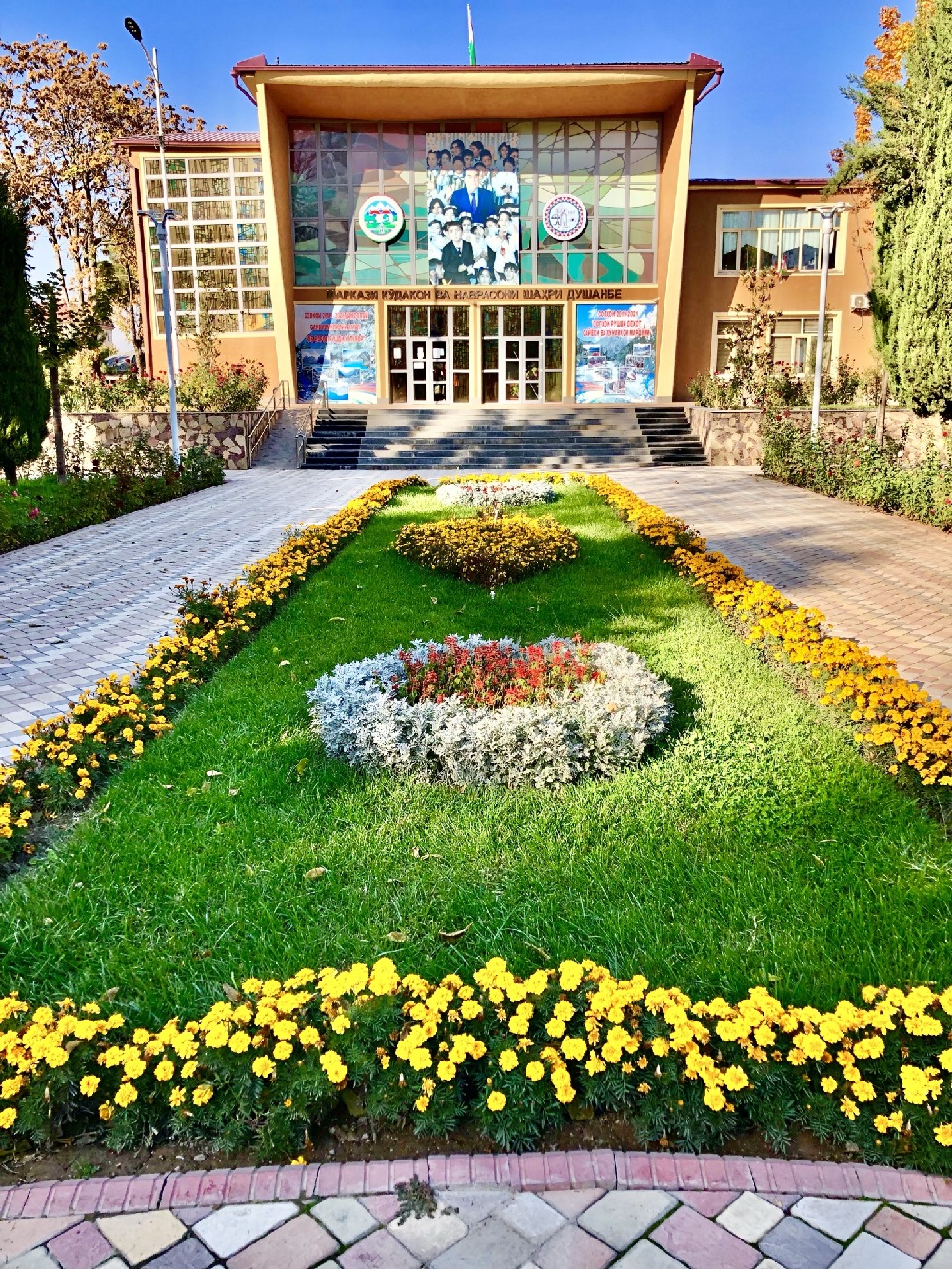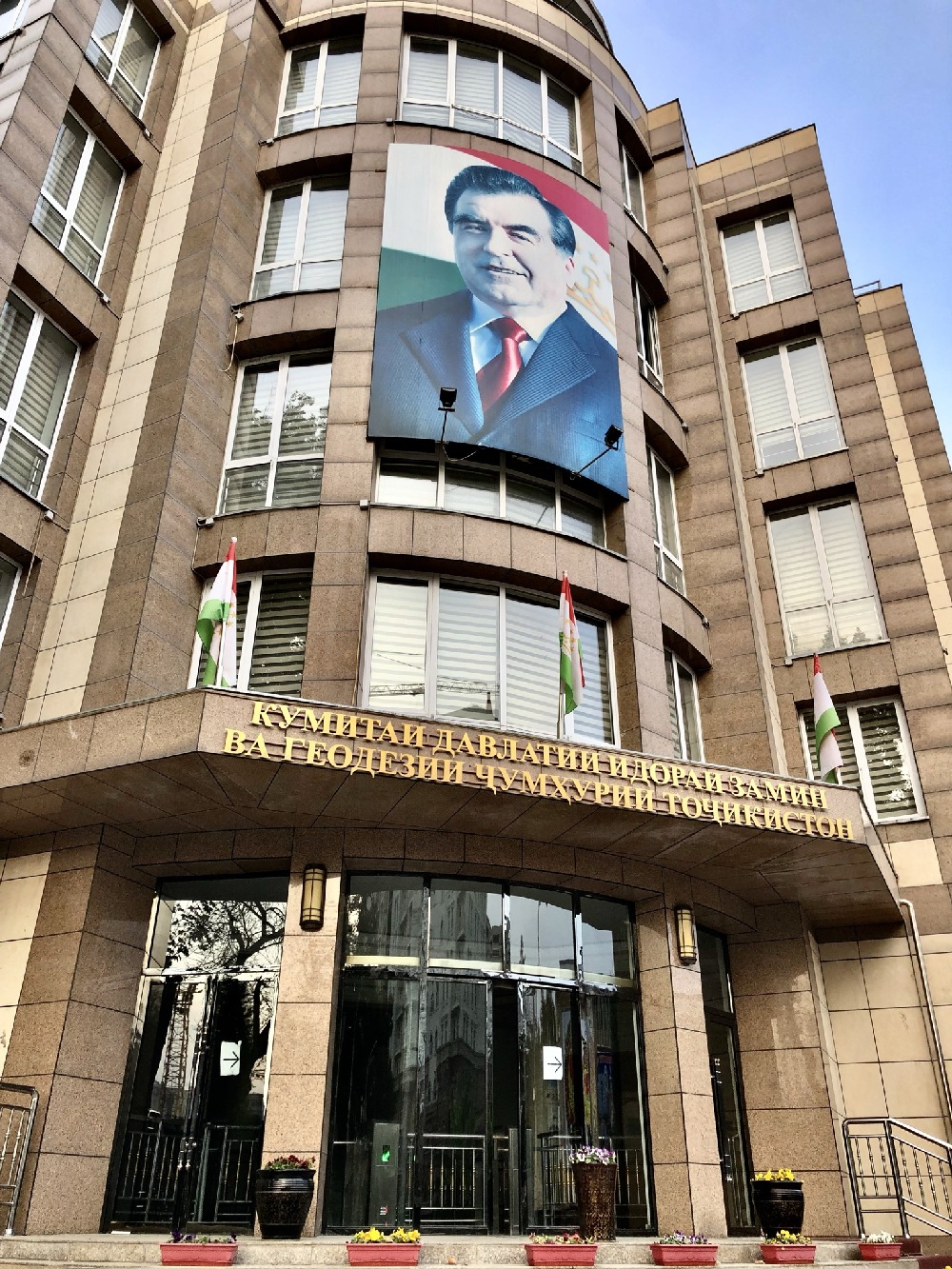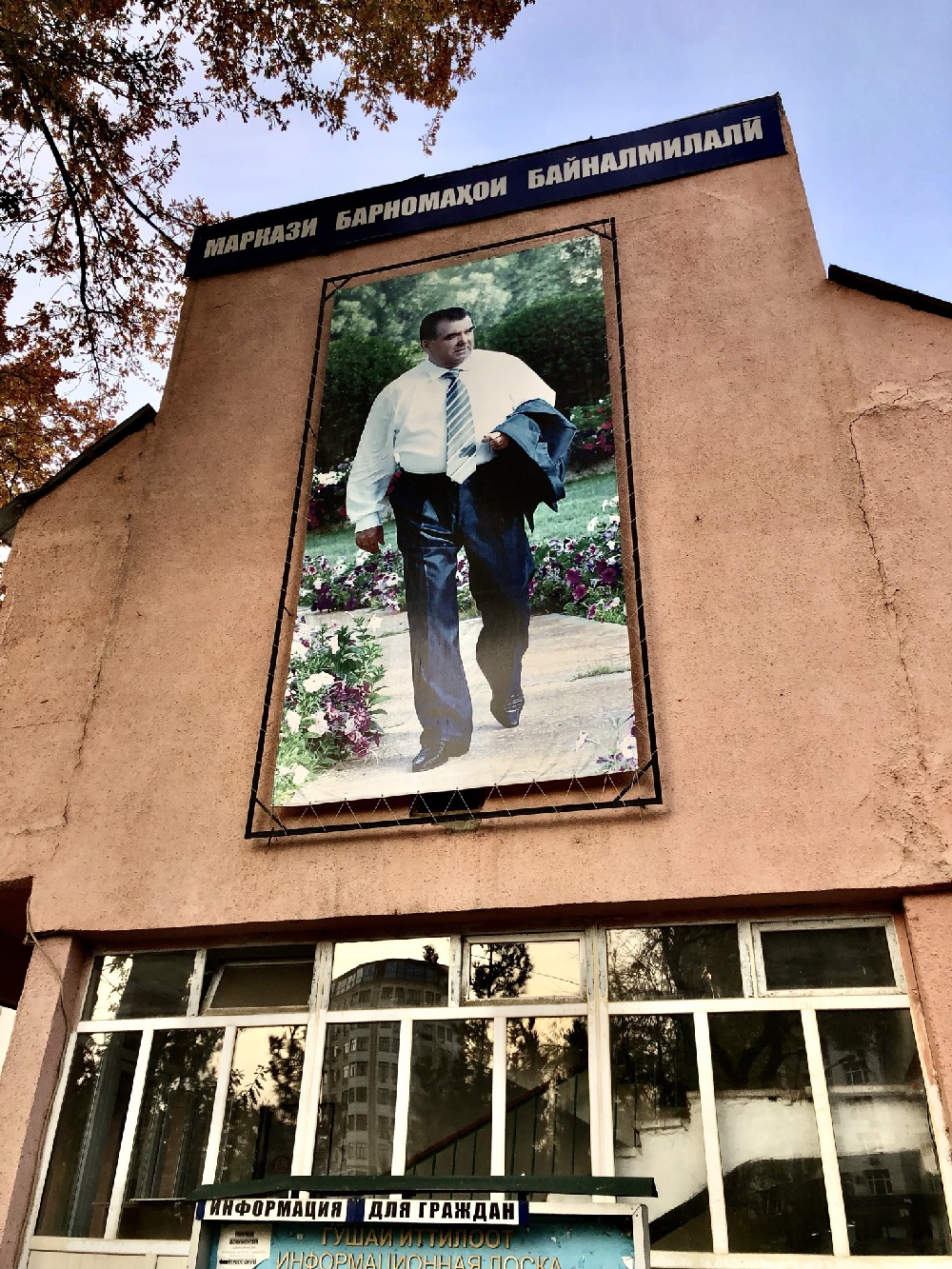 Swoop Doggy Dogg
The final major standout that I noticed were the haircuts of the young men here. Virtually every, single, solitary young man here (at least 95%) donned the exact same haircut: the 2009 Justin Bieber big "Swoop." You know, obscenely long bangs, swept completely and comically so far down, covering the entire forehead. The sheer amount of young men wearing their hair in this exact fashion (only theirs were jet black in color) was impossible not to take notice of. It was out of some kind of SNL skit.
I Have Questions: How long has this hairstyle been in fashion here? Since JB introduced it to the masses in 2009??? Or is it newer here? How was it chosen? Did they take a vote? And how long will it last? I need answers!!!
Upon further research (once I got home), I'd discovered that beards are illegal (or at least strongly discouraged) here in Tajikistan.
A 2016 BBC article was quoted: "Djovid Akramov says he was stopped by Tajik police outside his house, along with his seven-year-old son, last month – and taken to the police station in Dushanbe where he was forcibly shaved." WOW!
I would be remiss if I didn't mention that I did not see one person with a tattoo – both here in Tajikistan and the two previous Stans. Between all the images of the "dear leader" and the lines of conformity (haircuts, no beards and tattoos, etc.), there were definitely some subtle North Korea–esque vibes happening here.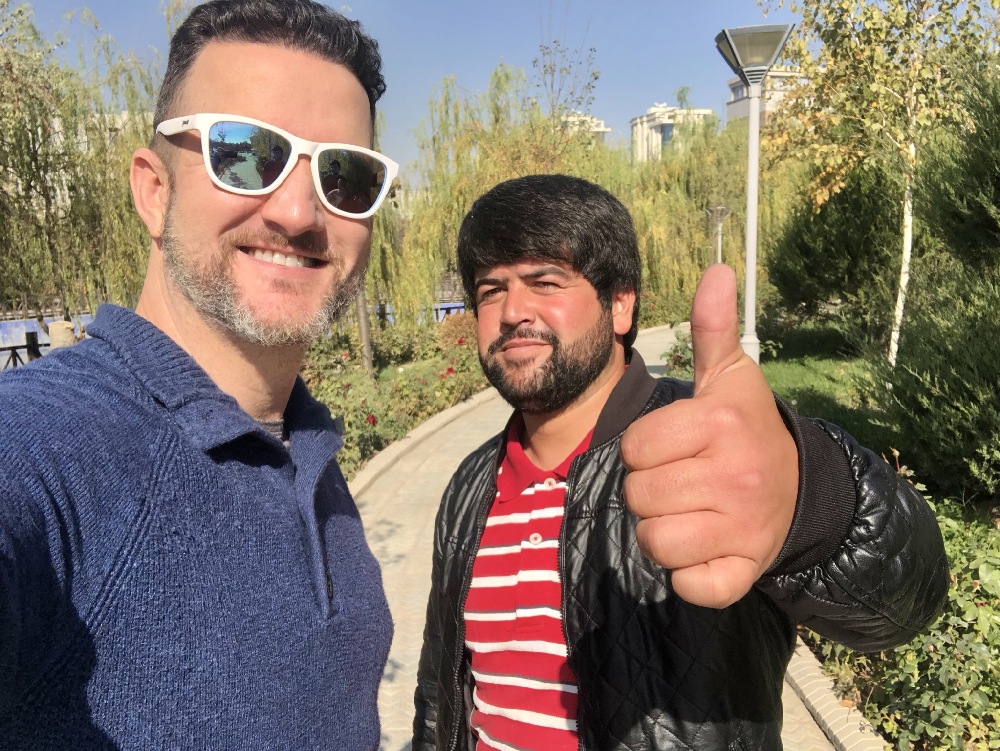 Day 1
Not five minutes into my walk through Flagpole Park did a stranger in the trees start snapping photos of me. This might have alarmed many, but the scene was familiar to me. The young man was a freelancer looking to earn money taking strangers' pictures. This is not uncommon in many parts of the world and it's an honest and respectable way to earn money. I bit. He showed me the images he'd captured and they were stellar. We spent the next 10 minutes together, as he coached me through poses and various stops at the park. He was a cool dude and I paid him appropriately.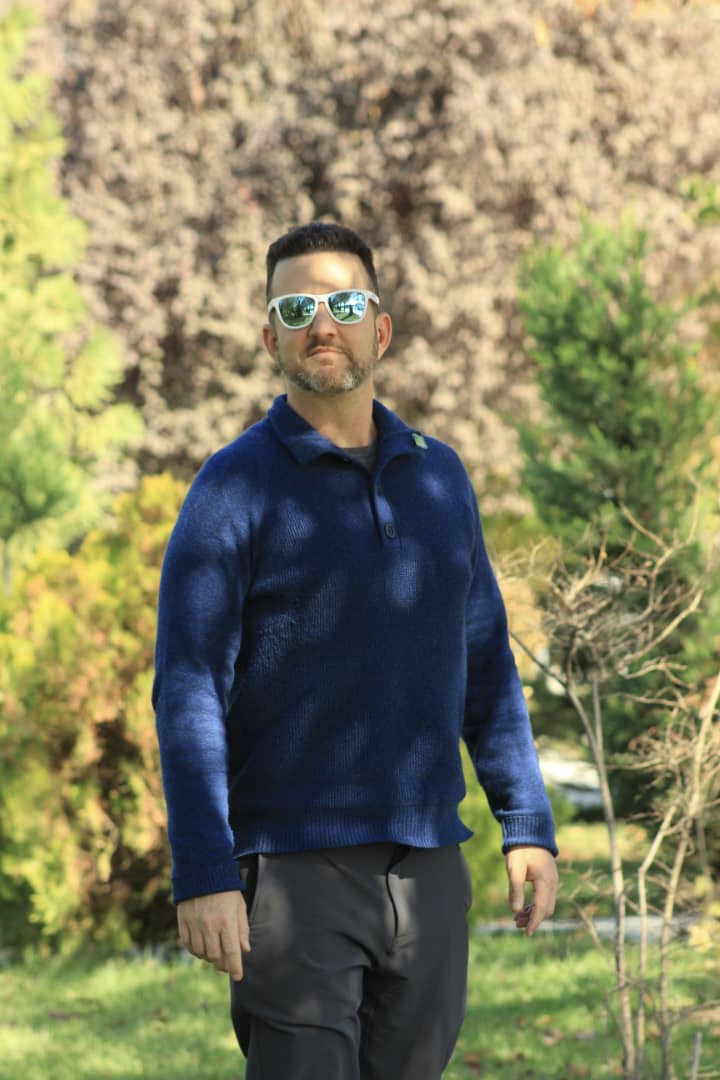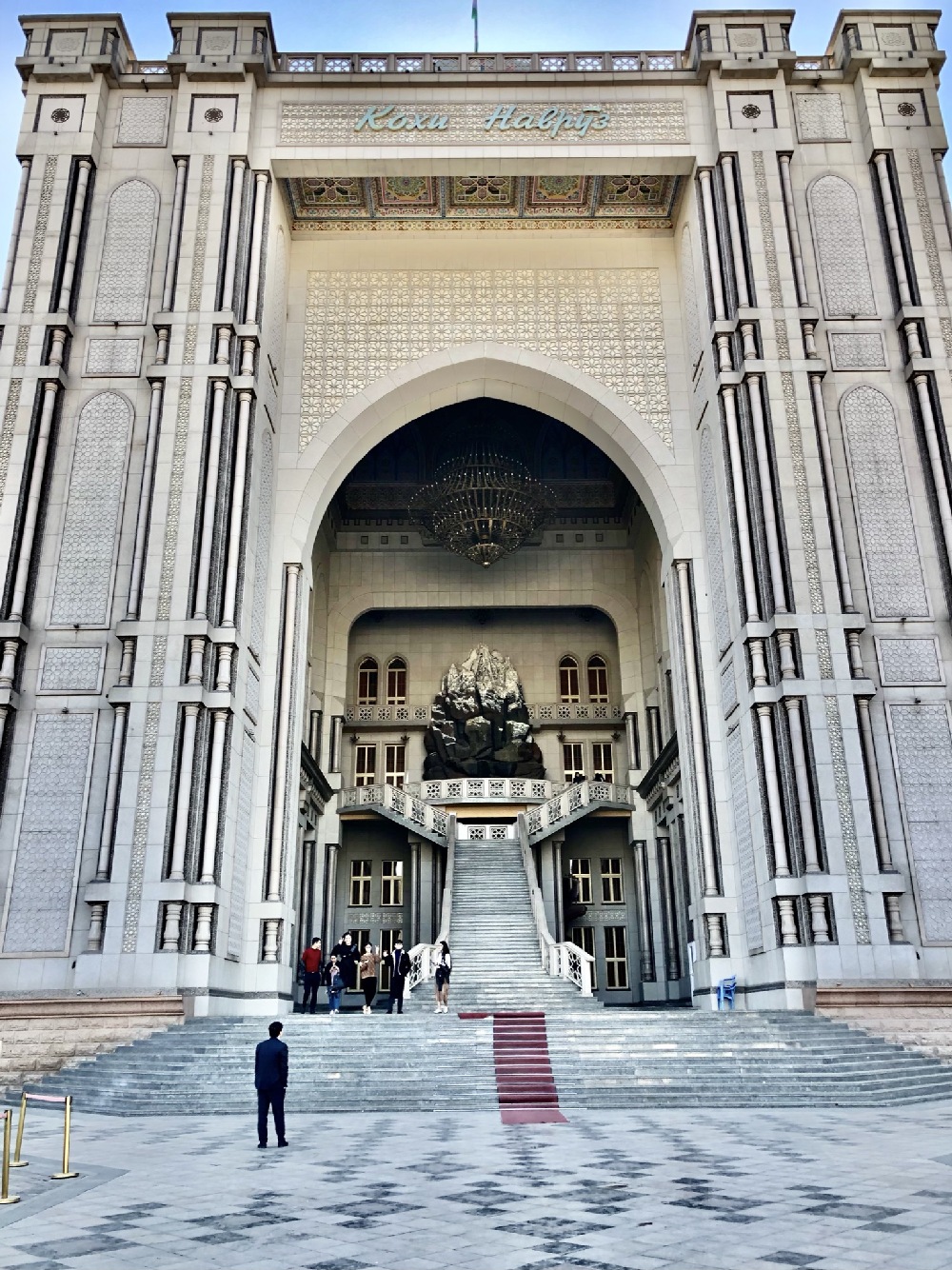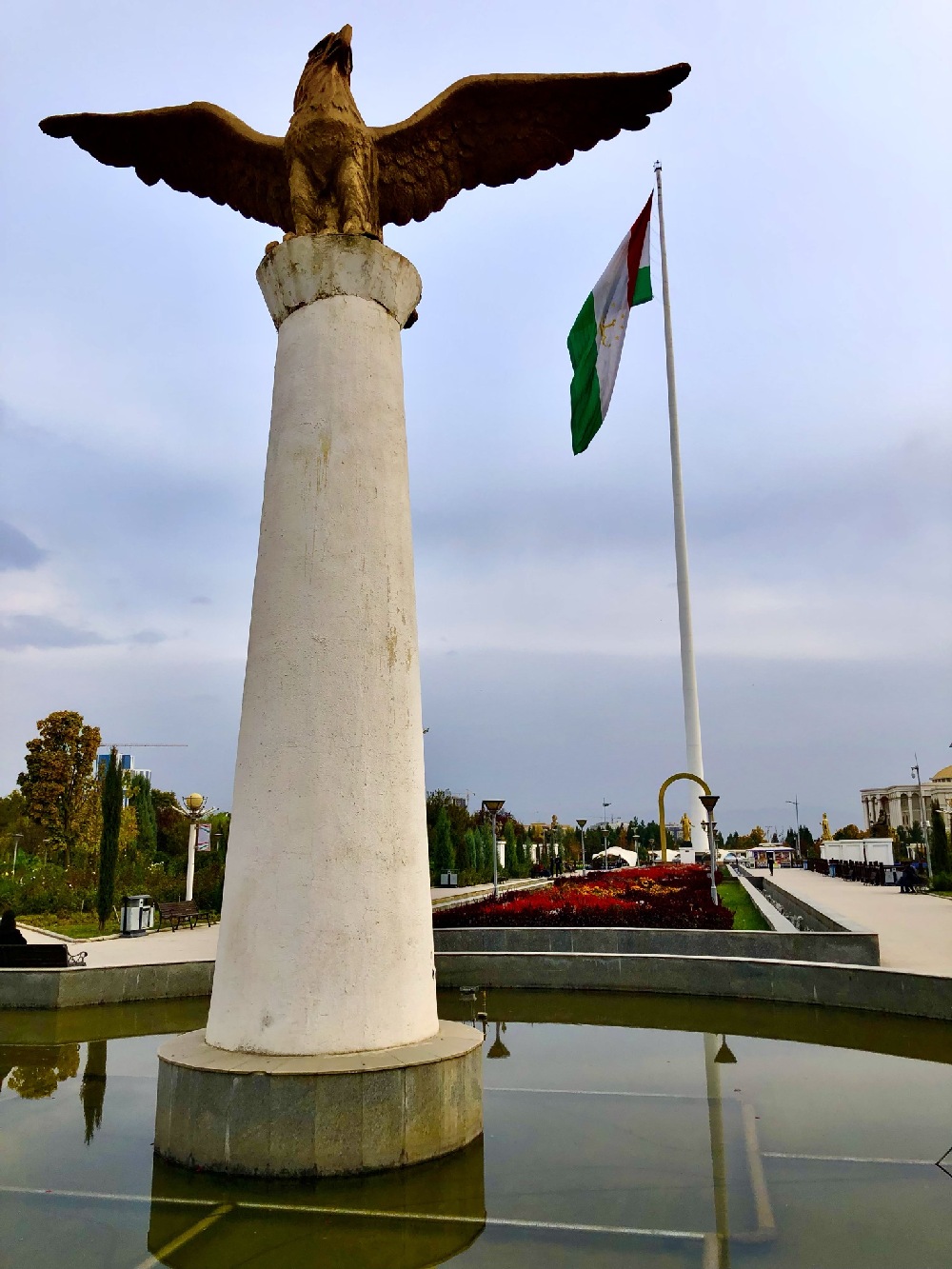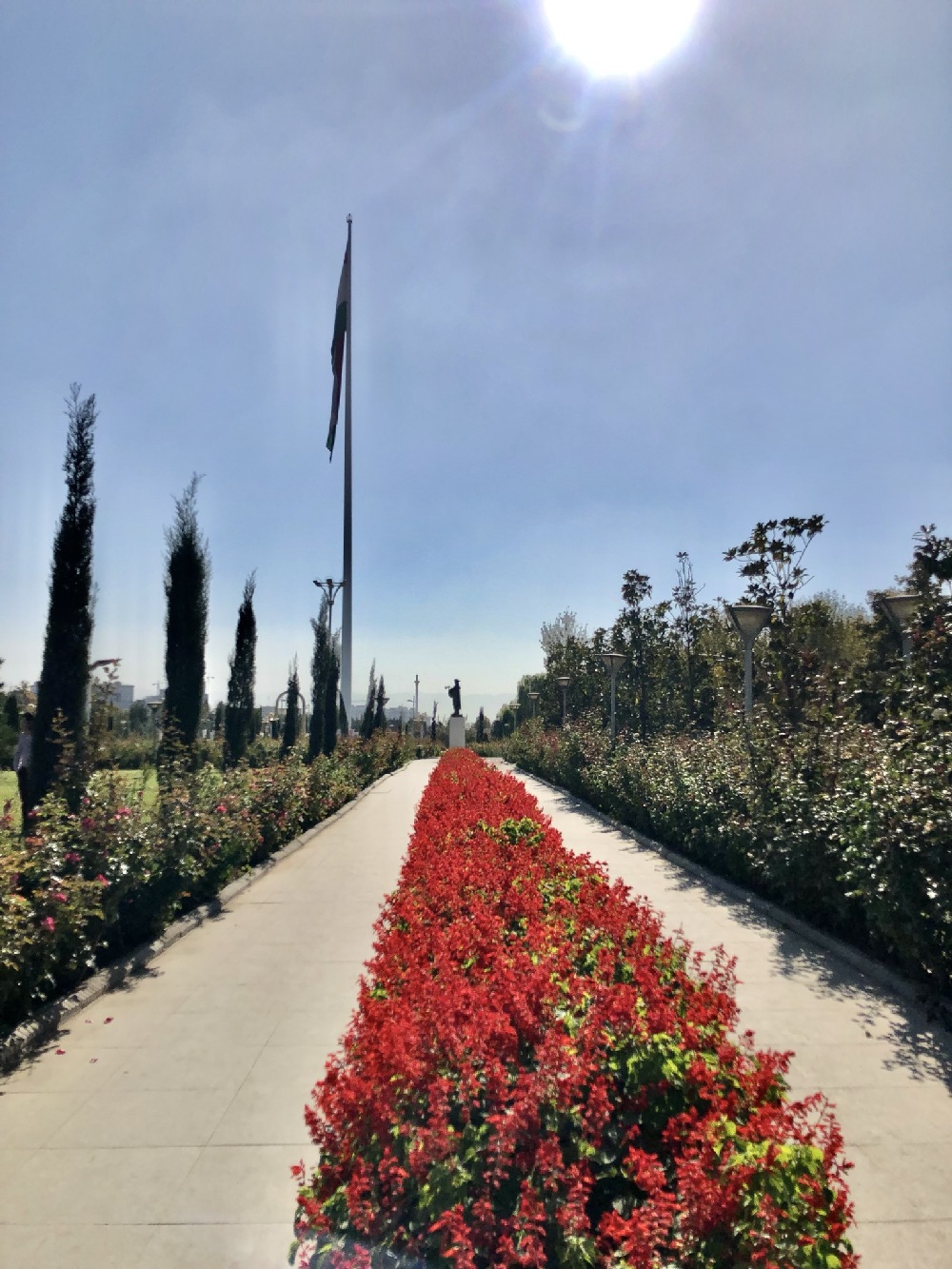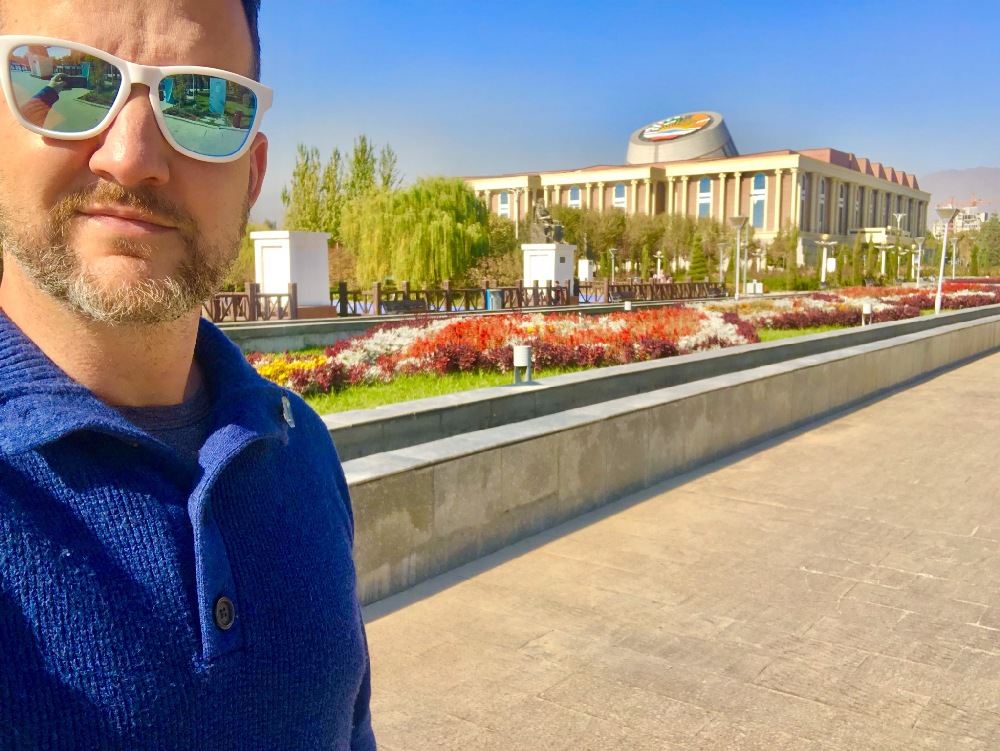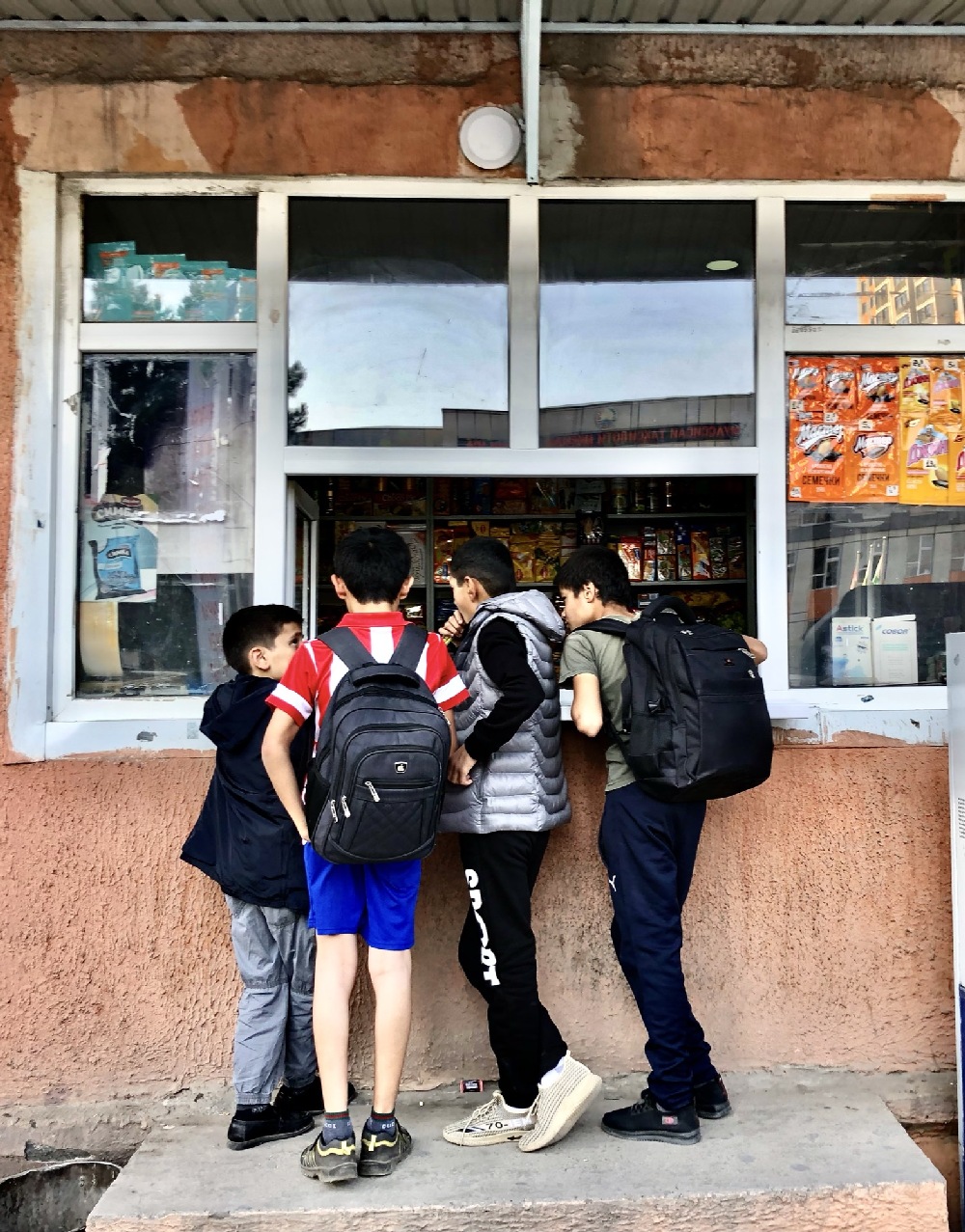 Supermarket Sweep
To date, Market Mehrgon is one of the nicest markets I've ever visited, anywhere. Located in the open center of a grand building on the north end of town, it was once of the best looking bazaars I've ever experienced. Everything was super clean and organized, the products were delicious and the people were really nice and welcoming. As I perused the aisles looking for the right moment to sneak a pic, vendors offered me samples and waved me over. One honey saleswoman asked for a photo together. As foreign markets go, this one is definitely one of my favorites and certainly one of the most memorable.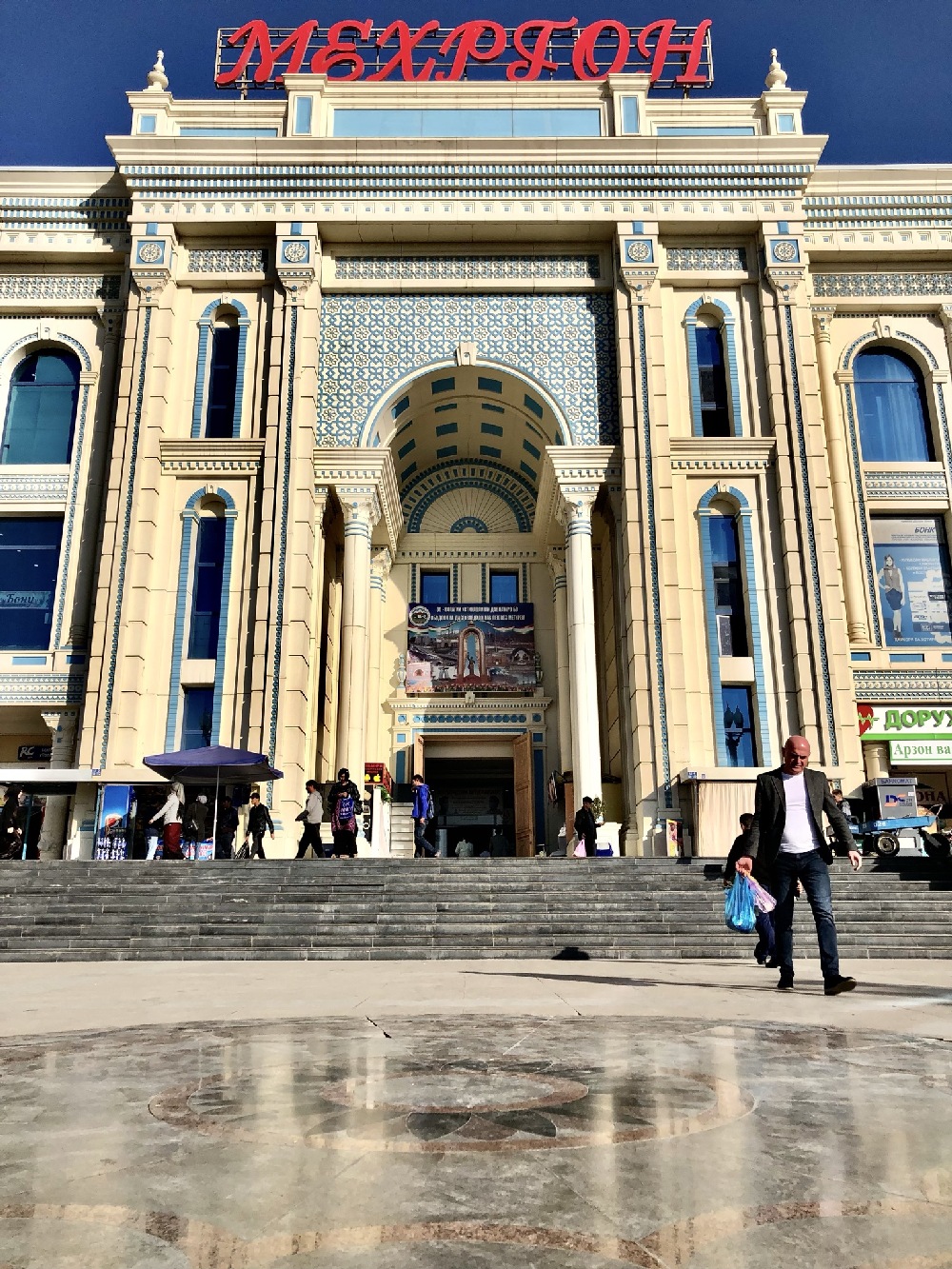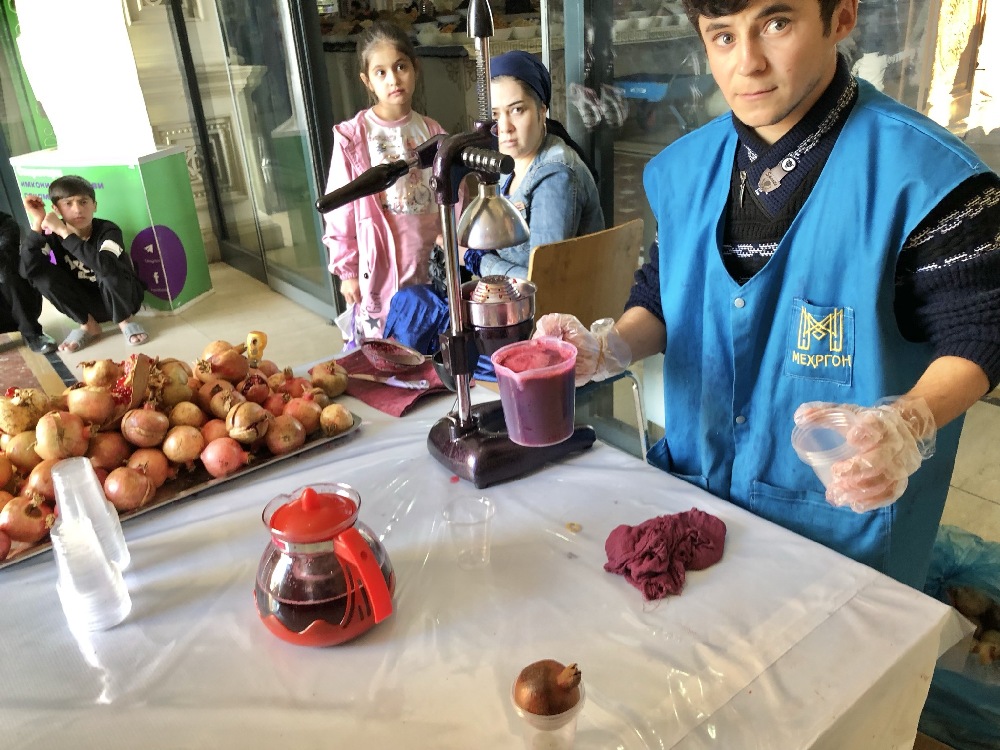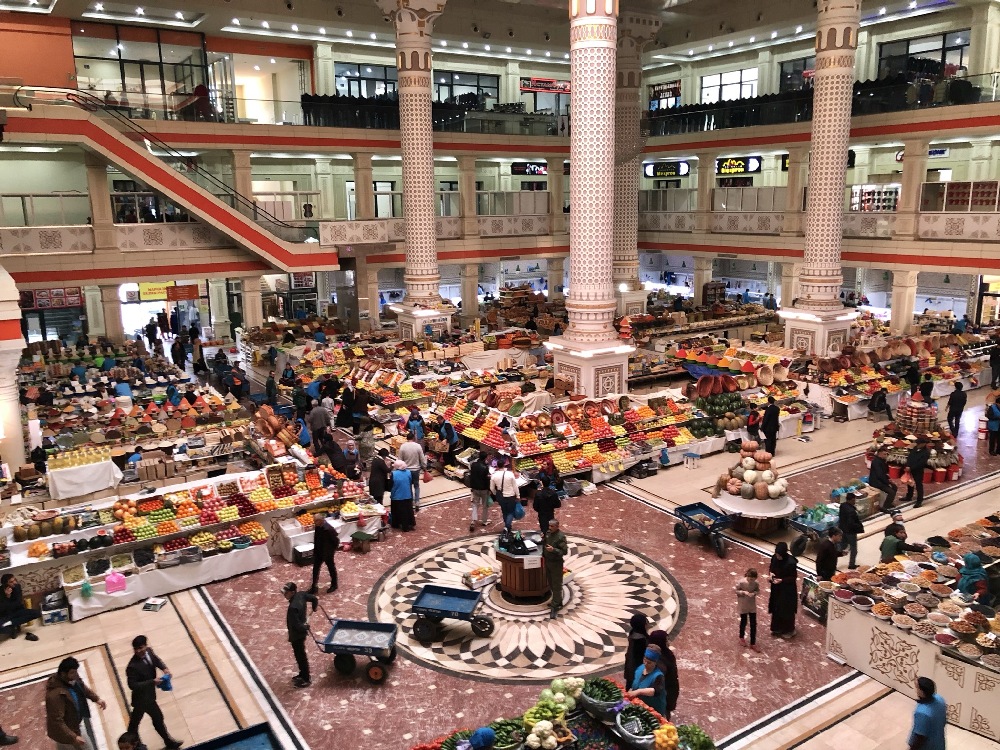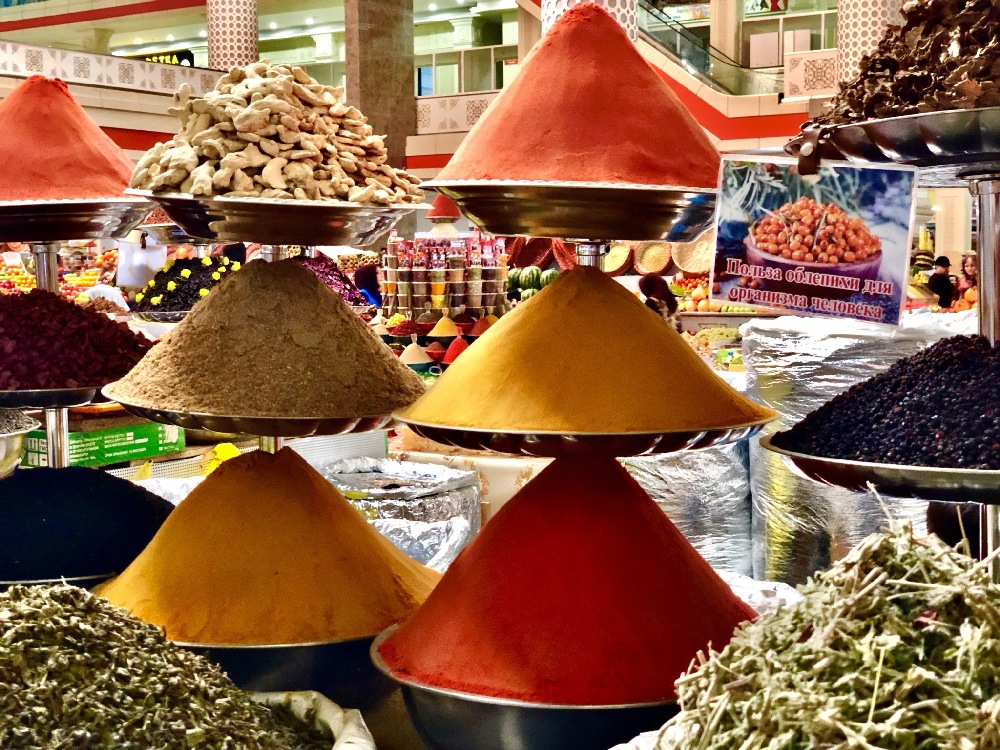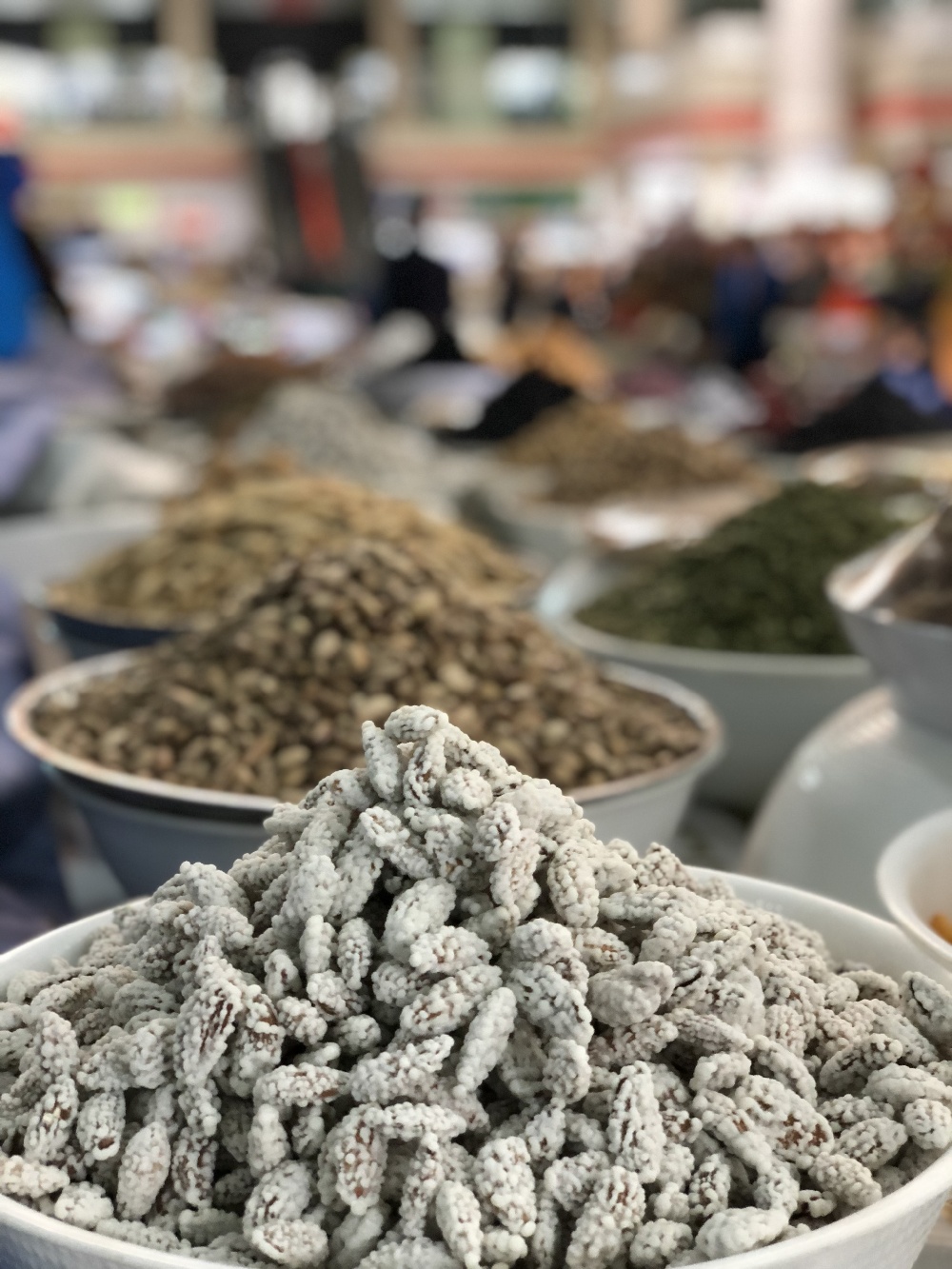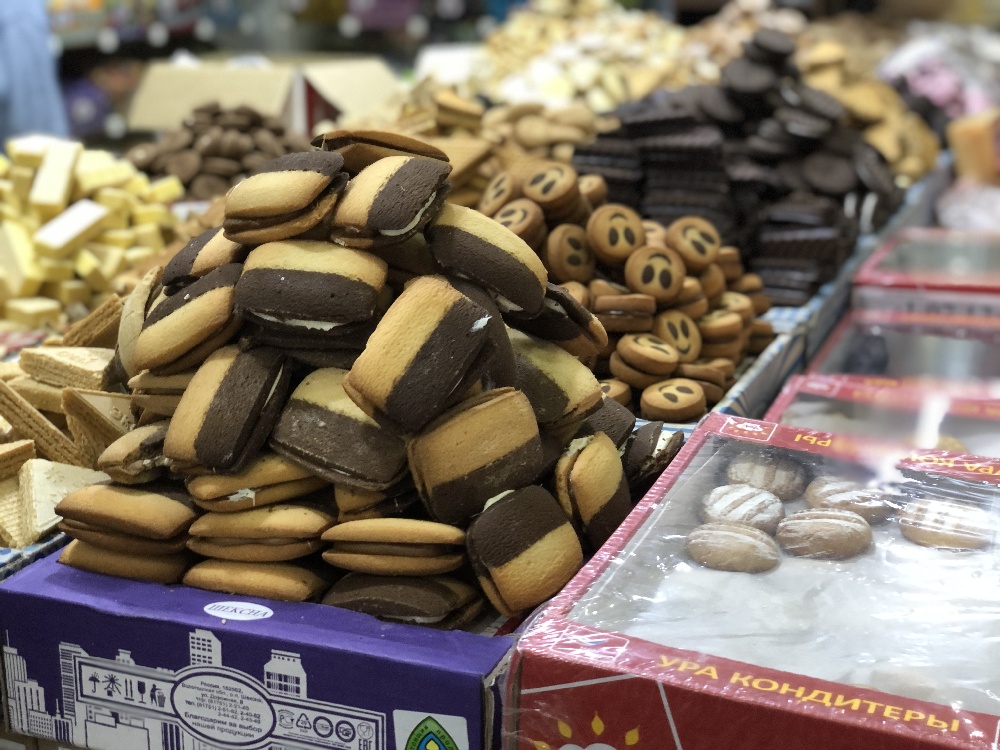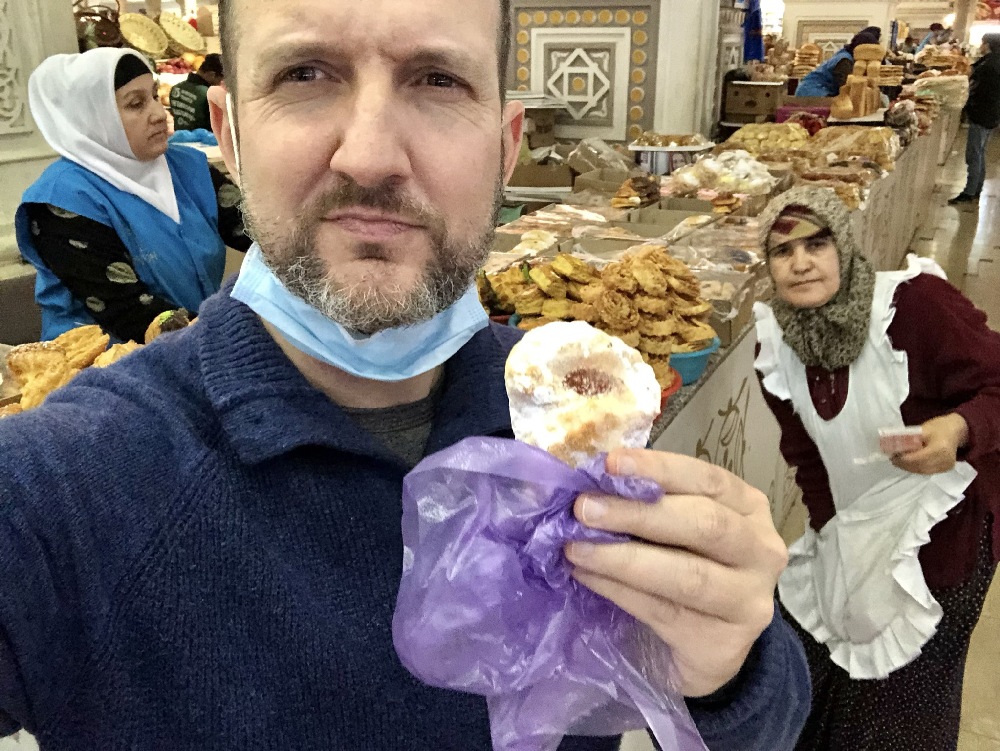 Shave and a Haircut, Two Bits
My hair was getting a little long on the sides, so I was happy to run into this corner barber shop. The charge was 20 Somoni, which equaled just USD $1.78. Wow! A great haircut for less than two bucks? Just amazing!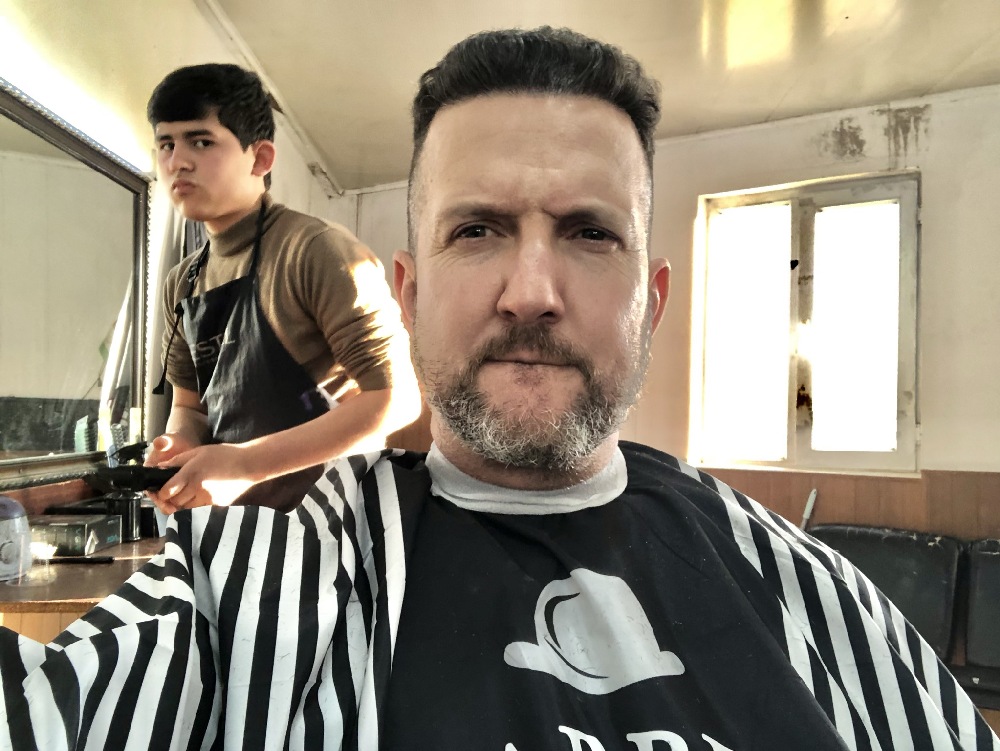 A Diplomatic Dinner
I put in a over 25,000 steps that first day and I was glad to finally be back at the hotel. While in the elevator with two blonde women who were obviously foreigners, I asked if they were from Germany. Every blonde stranger I've met along the way on this trip had been from Germany – those Germans are big travelers. They told me no, and that they were from Sweden and Finland and soon conversation ensued. Before I knew it, the three of us were meeting for dinner downstairs. Ten minutes into the table's conversation, I'd discovered that I was dining with members of European parliament. Too cool!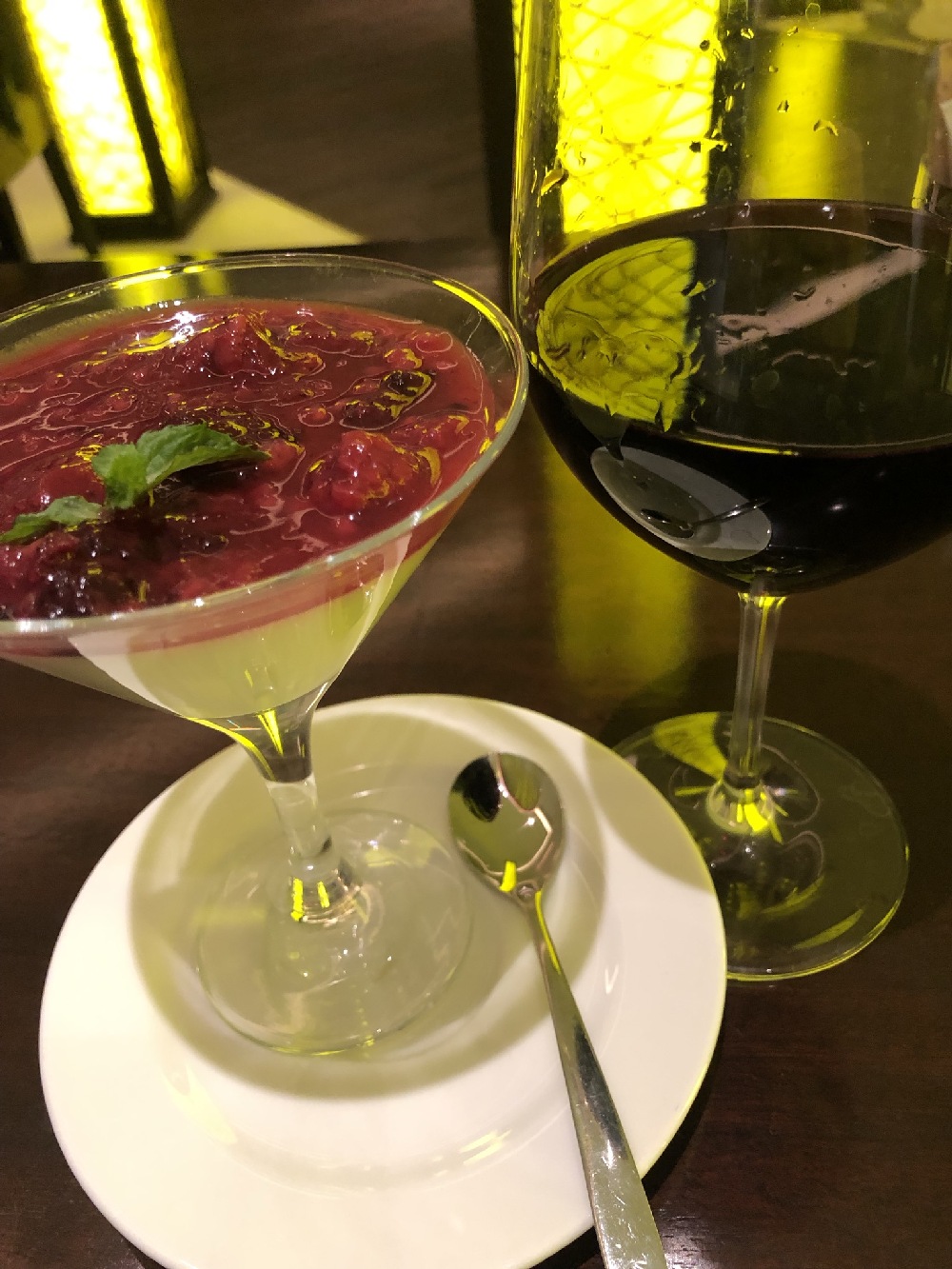 Day 2
I'd worn myself out on pretty much every big international endeavor to date and had finally learned my lesson: to pace myself. It's difficult to slow down with such short time in a country: You want to spend every available minute out and about, soaking everything in that you can since time is so limited. But that comes with risk of burnout and at the very least, sore and sometimes even injured feet. I'm no Spring chicken anymore. Today would be my rest day.
I finally left the hotel at 4:30PM in another attempt to track down plov – the regional rice and lamb dish that I'd missed in Uzbekistan. I'd planned on taking a cab across town to the restaurant, but ended up footing it instead, clocking in another 20,000+ steps by the end of the night.
RAMBLIN' TIP: The Hyatt Dushanbe was a sweet hotel, but over a mile from the center of town. I would've rather stayed closer to the action. You can find a great hotel in Dushanbe, at a great price, HERE.
Getting to Toqi Restaurant was certainly a trek–it was all the way past the market, which was a haul in itself–but the route ended up taking me through some quaint residential neighborhoods that I would not have seen otherwise, which was a treat. It was nice to get out of the big city with its wide streets and high rises, and find myself among simpler scenery. I passed kids playing a Tajik version of hacky sack, houses selling freshly baked bread from their windows and, for some reason, lots of people boiling and selling hot dogs. I really enjoyed the long, interesting walk to and from Toqi.
Sadly, Toqi too, was out of plov. It's definitely a daytime dish. I was a little disappointed I would not be partaking in plov this time around.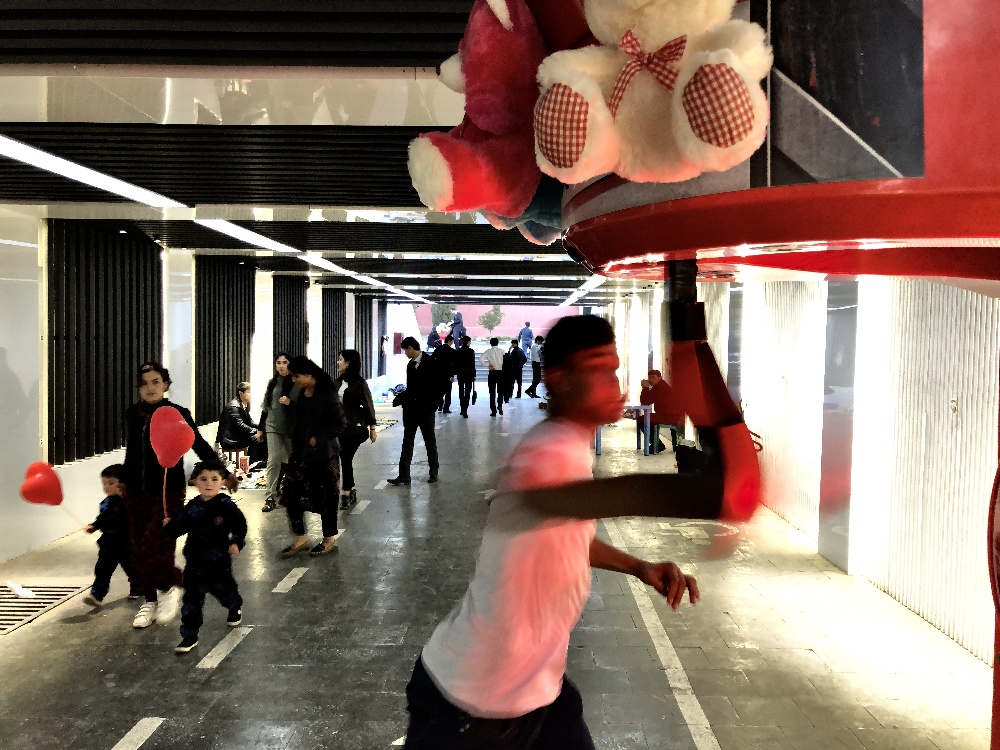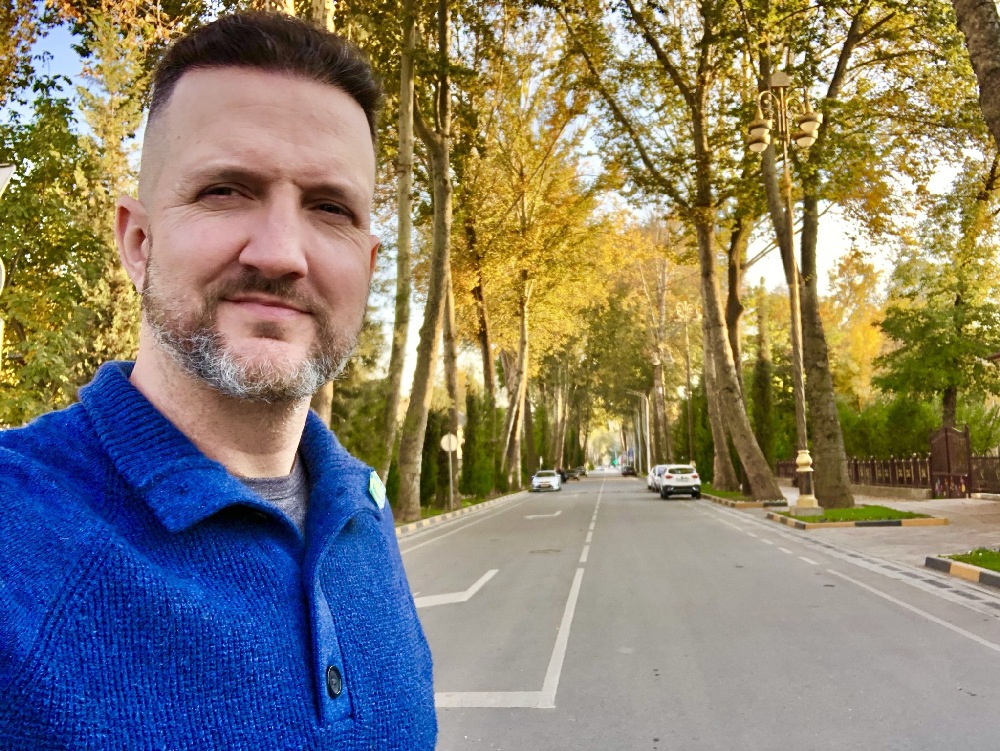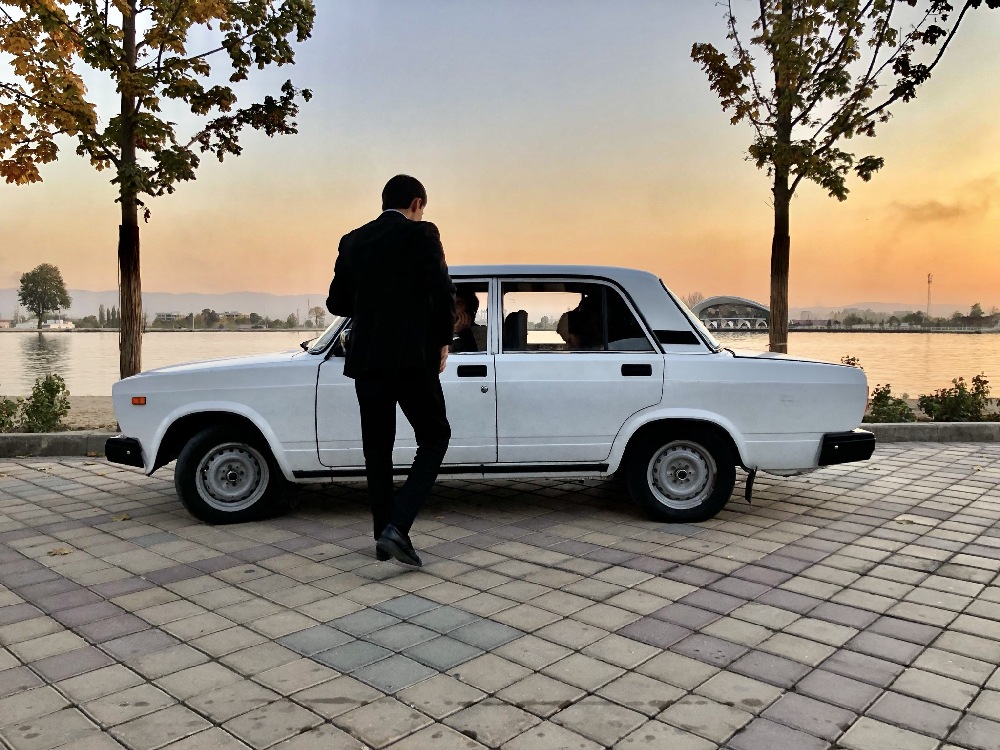 Disorderly Conduct
I try and voice very few complaints about my travels. One thing extreme world travel has taught me is patience. Many things we take for granted are often tough to find in other nations. Whether it's the roads, the internet speed, power grid reliability or simply decent retail and restaurant service, having these different experiences abroad is what has helped me grow, learn patience, and appreciate some of the things back home we rarely even think about. You will almost never hear me complain or whine on these reports, because I think the challenges and differences in other parts of the world usually only add to the experience, and if nothing more, give you a fun story to tell.
That being said, I was disappointed (and still concerned) on how poorly the Dushanbe Airport departure/entry experience was. Like many airports abroad, anyone even entering the building needed to first put their bags through the x-ray and pass through a metal detector. No biggie. But the problem here was that there was just one small entrance and a single x-ray machine in operation, and hundreds of people surrounding the door, pushing and shoving their way like an Indian subway car. 5% of people were wearing masks and there was absolutely zero personal space. I would have nothing of it, and waited (far off) to the side. I'd stand by until the crowd subsided, what's the rush, right? But that was the problem, the crowd never subsided. 30 minutes later I decided if you can't beat 'em, join 'em – if I didn't start pushing my way in with the human wave of bodies, I was going to miss my flight. So in I went, only to come out the other side 20 minutes later, unscathed, but certainly smooshed and smashed along the way, on both ends. (I felt violated!) Did I mention there was even a fist fight during the whole debacle. Big thumbs down. The least the airport could've done was to make sure there was an orderly line.
Tajikistan was #170 for me.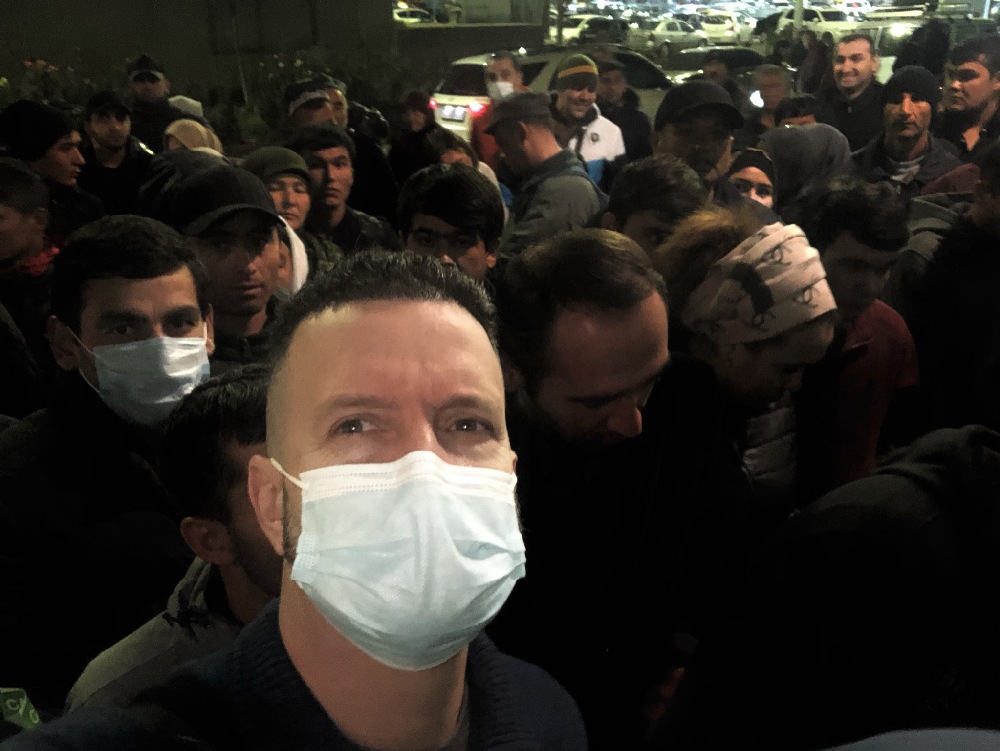 This entry was posted in
Asia