Locked Out
There are only a few countries in the world that are considered tough to get into. Contrary to popular belief, North Korea isn't one of them; they welcome tourists with open arms, literally rolling out the red carpet, as they put on a show for anyone in the outside world that dares to visit. (Recently, the U.S. outlawed going to North Korea, but other before that, it's been simple to go.)
Other counties have strict restrictions and protocols; for example, Turkmenistan requires visitors come as part of an official, licensed tour group. Iran requires all of your plans to be booked and executed through a state-recognized tour company, and even then approval is not guaranteed, as evidenced by my rejection. And Venezuela's rejection rate for Americans is said to be 85% (as of fall 2018). There are a handful of others that make it less than a breeze to visit, but then there's one country that stands alone, as one of the hardest to visit: Saudi Arabia.
You're talking to a guy that managed to slip into Libya on a business visa, arranged travel to central Iraq to tour Saddam's palace, and was able to sweet talk the Venezuelan consulate into letting me pop into Caracas for a visit. But for Saudi Arabia, I was stuck.
There were actually options, but none of them worked for me: the most common way to visit as a tourist is to sign up for an expensive and long group tour. These groups charge a ton and somehow obtain a business visa for your long trip. By long I mean a week or more—which may seem "normal" to most—but my quest to visit every country in the world while holding down a full-time job required shorter visits to countries. One or two nights were my average stops. I'd stay longer in just a handful of my favorite destinations, but Saudi Arabia was a three-nighter max for me. I reached out to handful of these boutique Saudi tour operators, and they weren't even trying to entertain my quick visit, scoffing at the thought of anything less than seven days with them.
I even went so far as to ask an American I knew working in Saudi if he and his company could arrange a business visa for me and he couldn't help; he said it would be too complicated and it would have to be for a legit business reason; in other words, pound sand.
I spent countless hours scouring travel blogs and found many in my same predicament, with no solutions. Some folks even tried to get in using the elusive "transit" visa, which allowed passengers connecting through Saudi Arabia to stay for 48 hours, but no luck; only stories of consistent and firm denials from the Saudi consulate.
I got the feeling they just didn't want outsiders in. I'd planned a December trip to both Saudi Arabia and Syria, and four months out I canceled both destinations due to not being able to wrangle visas. Those places would just have to wait.
Open For Business
But wouldn't you know it, shortly after booking one of the most complicated and expensive itineraries I've ever put together—totaling visits to a whopping 14 countries—the Kingdom of Saudi Arabia suddenly thrust their doors wide open to outsiders, offering tourist visas for everyone to attend a car race in Riyadh mid-December. I was so mad I could've screamed…why???!!!
It was too late for me to pivot. The race was right at the start of my mega-African trip—the trip with 14 countries, where I'd spend only one to two nights in each. The flights and hotels were booked, most of them non-refundable. There'd be no way to swing Saudi Arabia on this one. I was heartbroken. Who knows when this chance would come again? Maybe never.
Feeling Left Out
As December grew closer, the hype of the Saudi Arabia opportunity increased and spread to my fellow traveler friends like the plague. I belong to an amazing group in Facebook of like-minded travelers trying to get to every country in the world like me, and it seemed like the whole group would be in Riyadh for the race. They arranged group meet-ups, discussed how easy it was to get this special visa online, and exchanged info about each other's arrival dates. It was like watching all my friends prepare to go to an awesome party and I was the only one not going. I finally couldn't take it anymore. I was about to snap. I couldn't watch this happen from the outside. I dove head first into my itinerary and tried to see if even a day-trip into Saudi Arabia was possible. And I struck gold.
I couldn't believe the flights—in and out of Africa of all places—would work out. Africa's known to have some of the most inconvenient, inconsistent and sparse routing options anywhere in the world. Getting from point A to point B isn't only sometimes difficult and expensive, but it sometimes requires you to transfer through point Q. What should be simple, direct routes are often more nerve wracking and challenging than an AP calculus final. So I fell out of my chair when I found out I could easily overnight in Riyadh, without even disrupting my schedule.
My original itinerary had me starting in Egypt at 2:30AM. I'd get a good night's sleep, wake up to enjoy a full day touring the pyramids, market and city, then head to the airport at night to catch my 11:40PM flight on to Sudan. As incredible luck would have it, I was able to find an 8:30AM flight from Egypt to Riyadh, direct; then I'd leave Riyadh the next morning at 8:30 for Sudan, not missing a beat. With this change I'd forgo my day in Cairo, but I could come back to Egypt anytime; plus Cairo is a popular hub for getting to many African and Middle Eastern destinations, so it would be easy to find a reason to come back again.
I hopped online, applied for the Saudi visa, bought my race tickets (required for the visa) and purchased the new flights. I was actually going to Saudi Arabia and I couldn't be more excited.
My Egypt connection was fun. I left the airport for a shower at my hotel (which I'd already booked and was non-refundable) and a 5AM tour of the pyramids on horseback. I was back at the airport by 6:30AM and in the sky by nine heading direct to Riyadh. I'd have less than 24 hours here, so I hit the ground running.
Warm Welcome
The special "Sharek" visa I got had a few benefits, including a fast track line through immigration, which was so awesomely helpful. I started to stand in line behind the hundreds of foreign (mostly Filipino) workers that were shipped into Riyadh like cargo, to serve the Saudis. I'm glad I took time to look around, because that's when I noticed the special line for the race visa holders—and no one was in the queue! I handed the officer my paperwork, he took my fingerprints and photo, and I was in!
And, They're Off!
I dropped my bags at the airport hotel and grabbed an Uber to join the rest of my Facebook-traveling friends at the race. It was so nice to see the few dozen traveler-friends from Facebook, many for the first time in person. This is a special group of people linked together through one Facebook "extreme" travel page: a page where we all follow each other's quest to see every country in world, share our experiences, and more importantly, ask and give travel advice; stuff you normally can't just Google yourself, like how to sneak into Yemen, the best way to get a visa to Syria and who to hire as your driver in Eritrea. We all pretty much have been following each other's adventures for years but have only seen one another through photos. Now, we were all together, in person, inside one of the hardest countries to get into. This was definitely a rare, one-of-a-kind, uber-special occasion, and it was at this moment I realized I absolutely made the right choice. It would have killed me not being there and seeing all the photos of Facebook of everyone but me in Riyadh. I was so glad I'd made it and it was so nice to see everyone!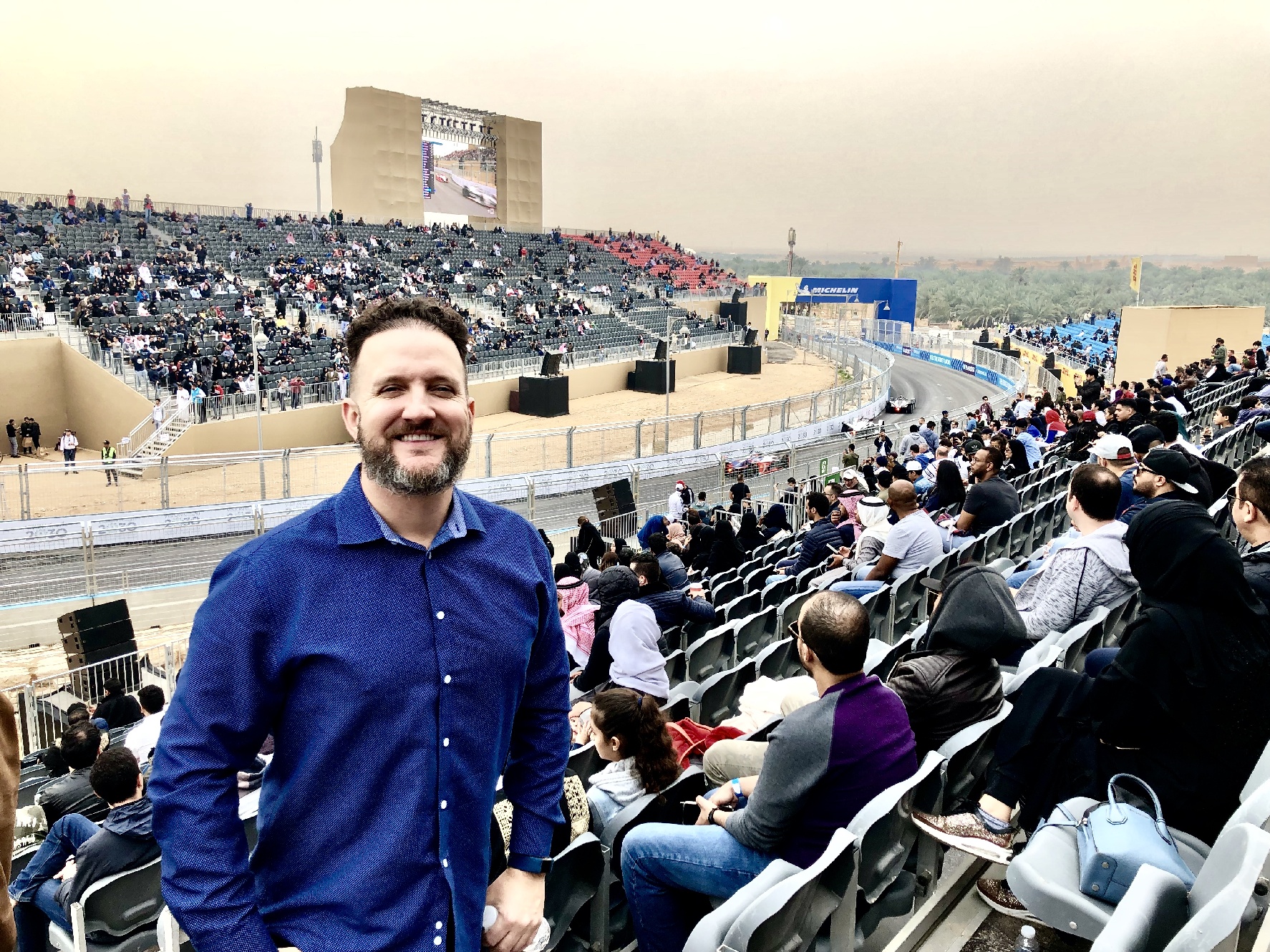 The race itself was cool! The Formula E features all electric race cars, and these ain't no Toyota Priuses! But in reality, I didn't come for the race. I don't think any of us did. So when Katelyn suggested we leave to see the city, there was no hesitation.
I'm Lovin' It
First stop: Kingdom Tower, a sleek 99-storey skyscraper, featuring a shopping mall, a Four Seasons hotel and an awesome skybridge at the top. Before we headed up to the tower, I stopped to get a quick bite at the food court. I was curious to see what local specialties the McDonald's had here. I'm totally serious: every country's McDonald's feature unique menu items, like the corn pie in Thailand and the Filet-O-Shrimp Burger in Japan. I couldn't wait to see what Mickey D's in Saudi Arabia featured and couldn't help but chuckle at the McArabia Chicken wrap. Score!!! I settled on a strawberry and custard pie, which was fantastic; fried like the old school McDonald's pies I had as a kid. The service was awful, but what are you gonna do? What I found most interesting was that there were separate lines for females and males to order food. Wow! Later I passed an H&M in the same mall with a sign at the door that said, "Families Only." That blew my mind. You're telling me, that as a single male, I'm not allowed to enter H&M solo? That's crazy talk!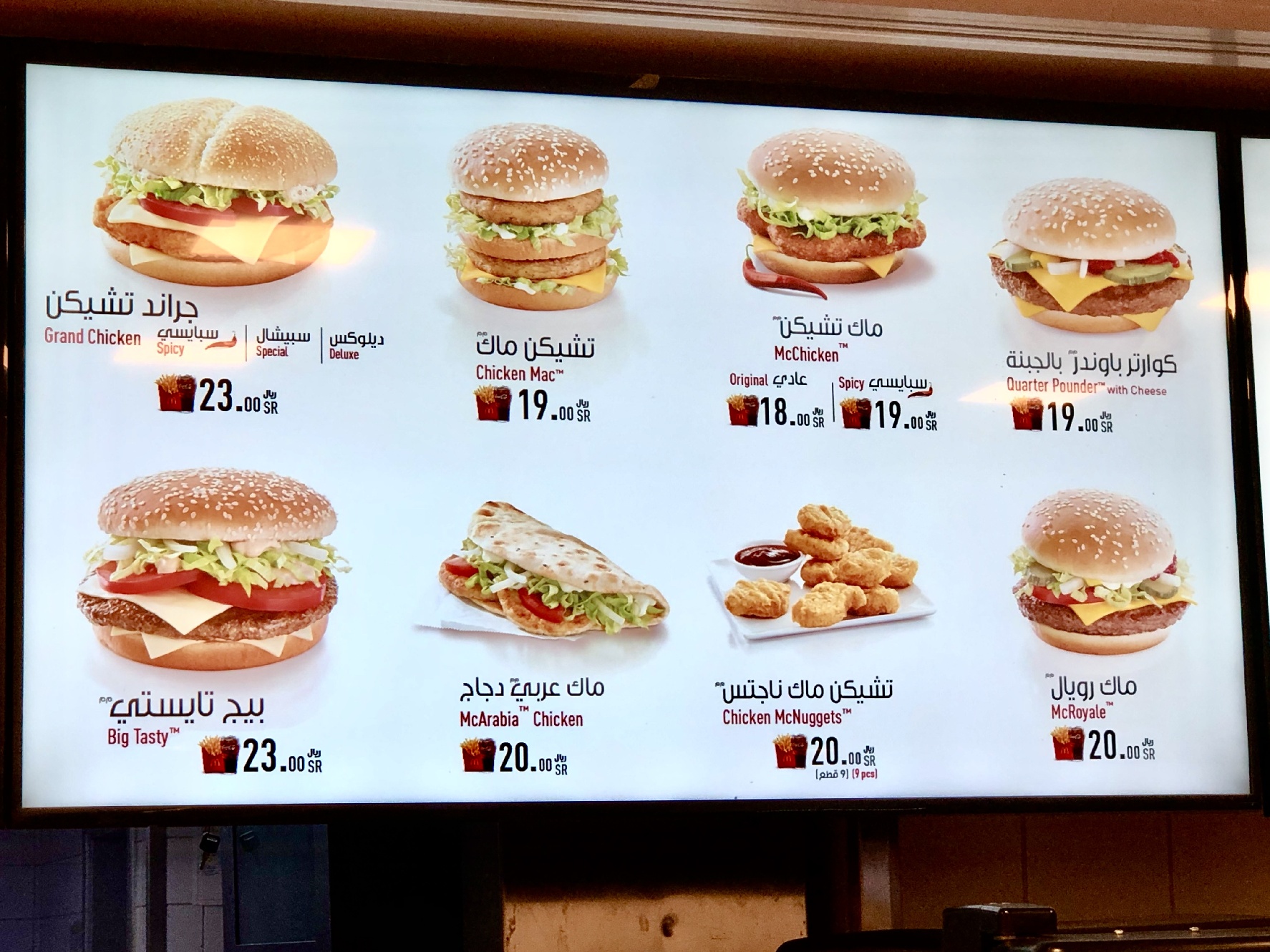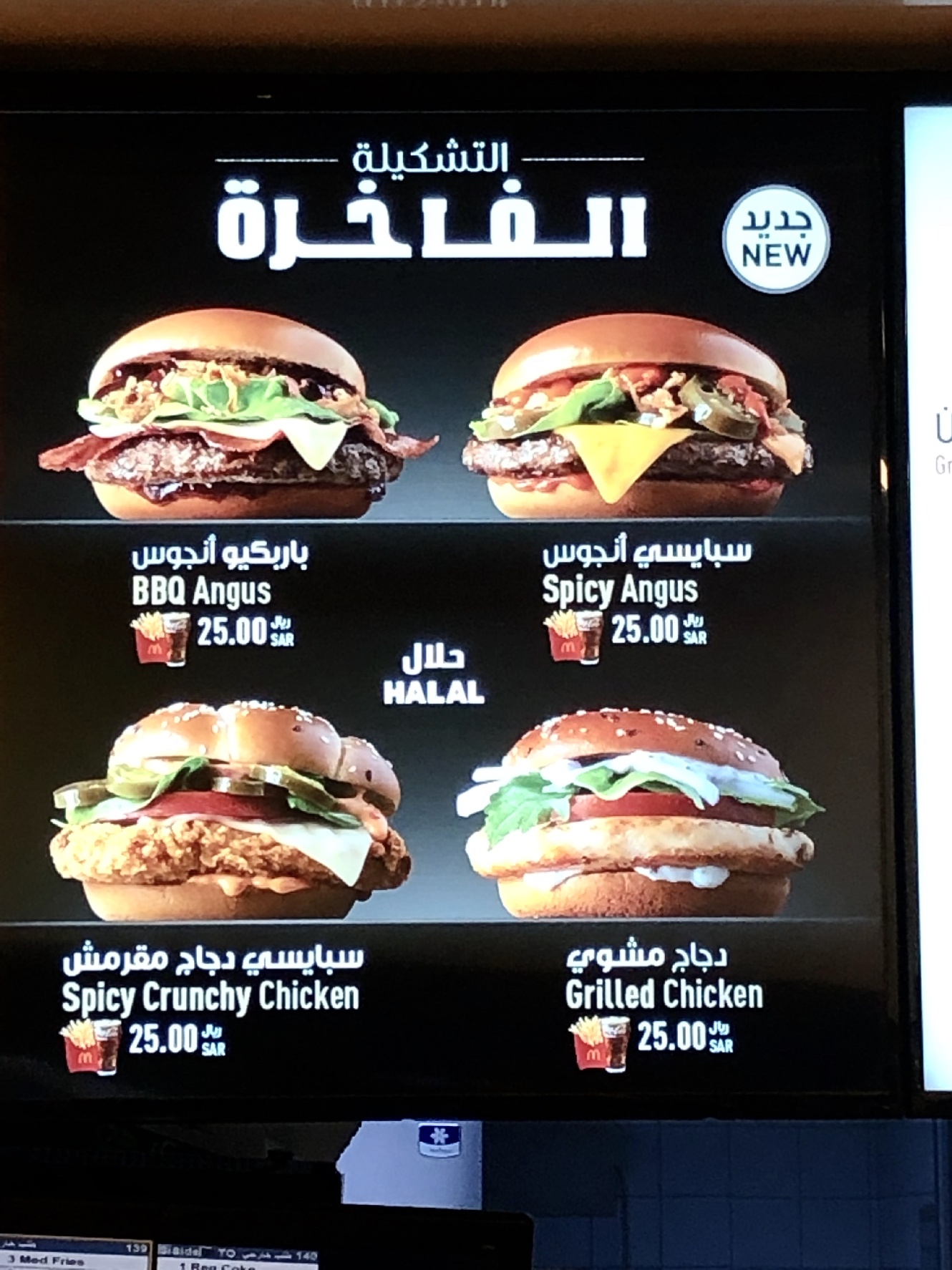 Let's Get High
But I came into Saudi Arabia understanding and respecting their rules and culture. In fact, I had to stop from giving some of my female friends at the race big hugs when I saw them—it's such the natural thing to do for most people, especially meeting a long, lost friend; huge hug right? But believe it or not, all this was part of the allure of coming to Saudi Arabia, and one of the big reasons I travel in the first place. As long as it's not hurting anyone, I have no problem diving in and being immersed in the cultures of other lands, even if it means no hugs and no solo visits to H&M.
We rode two elevators up to the top of Kingdom Tower and hung out up top for about a half-hour as the sun set. The horizon was pretty dusty, so visibility was minimal, but we could still see the lights below. We took turns leaning on the glass, which was slanted outward and made my heart skip a beat when I laid my back and head down on it. After descending, my friends went back to their hotel to freshen up for our group dinner, while I grabbed an Uber to Landmarks Park.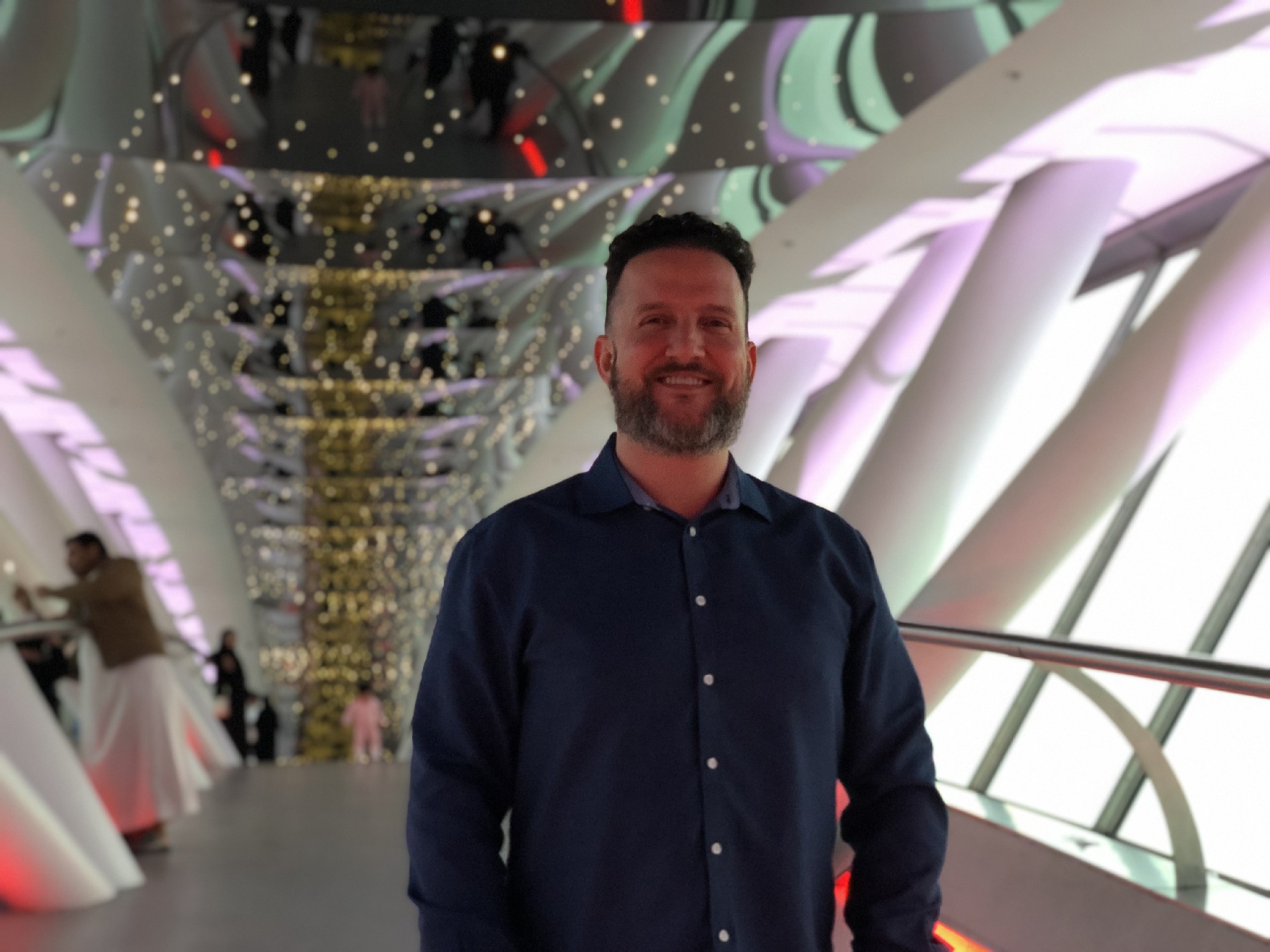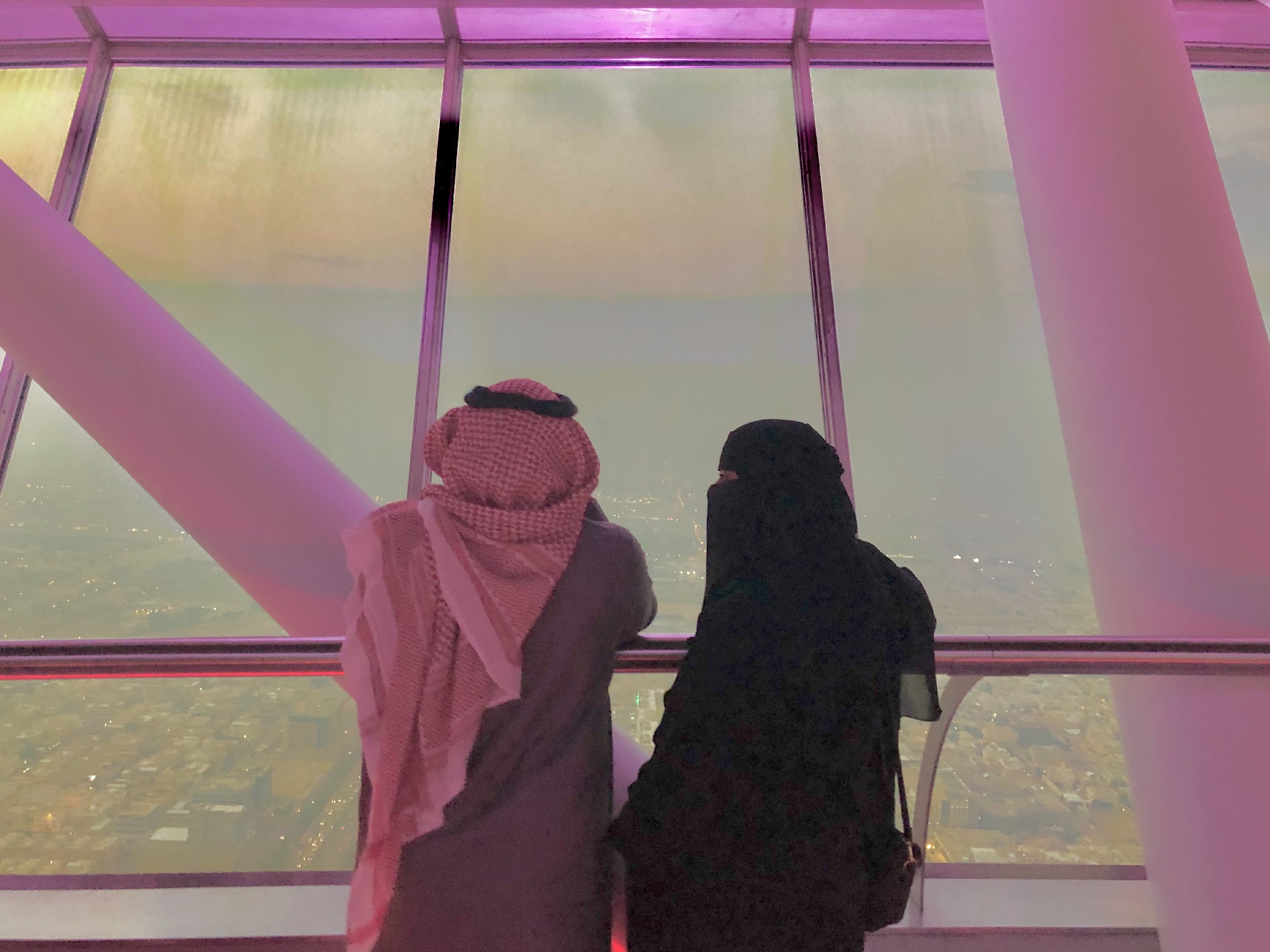 Landmarks Park probably most resembles a giant miniature gold course, but instead of windmills and castles, there are replicas of the world's most famous structures. There is also no golf. I saw replicas of the Eiffel Tower, the Pyramids of Egypt, Big Ben, Mount Everest and so much more. It was certainly a pleasant stroll, but I finally hit a wall. I'd been up for more than 40 hours and I was getting punchy. And it was getting cold.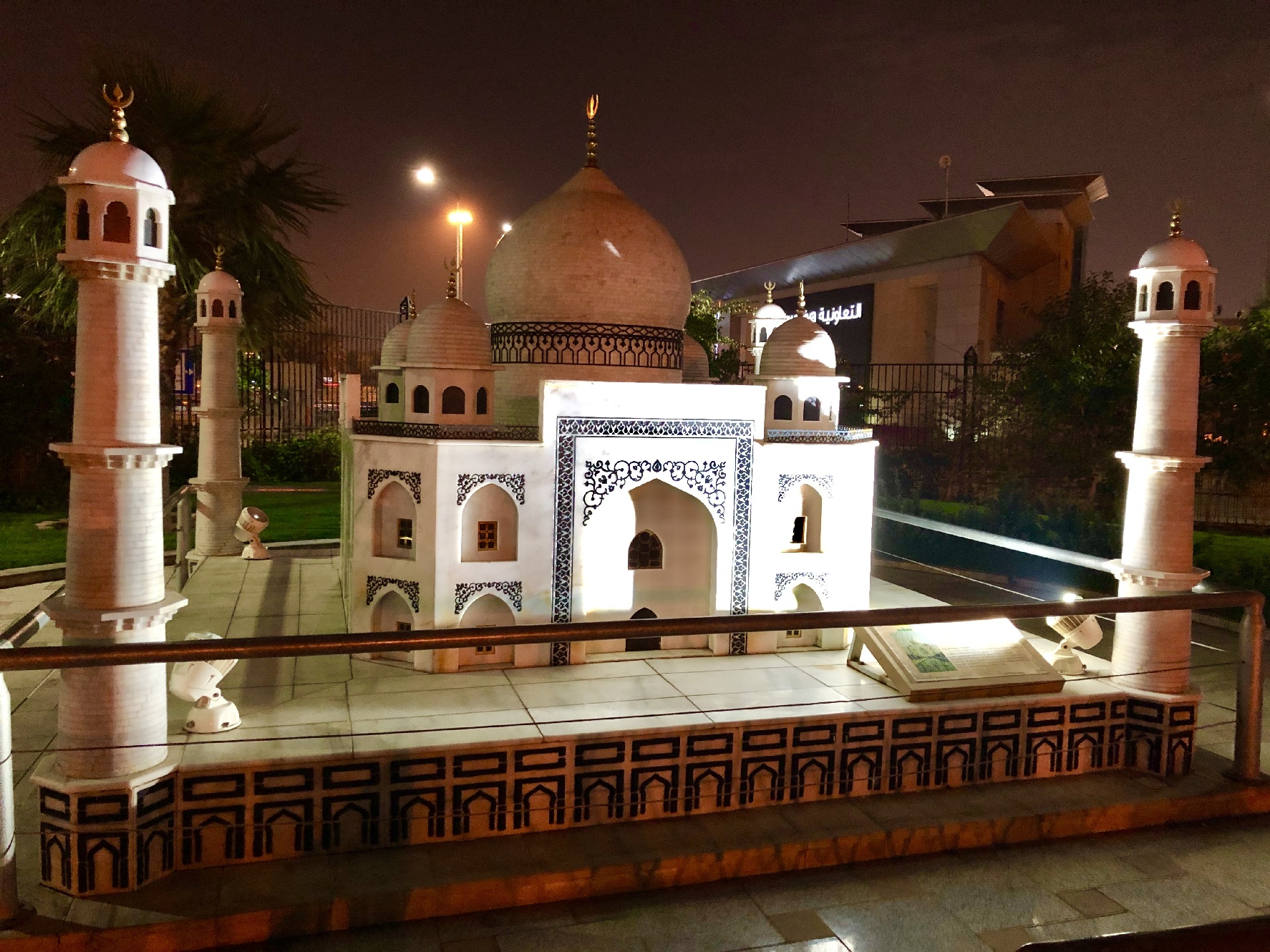 Class Reunion
I Ubered over to the Movenpick Hotel where dinner would begin at 7:30. I met Thomas Brackmann, the gentlemen who arranged the get together. He's a member of our Facebook group and he's also living in Saudi Arabia, so he was our official "host." Over the next 30 minutes, about 30 members of our Facebook group meandered in, and I did my best to remember names and places as I shook hands and talked travel with some of the coolest people ever.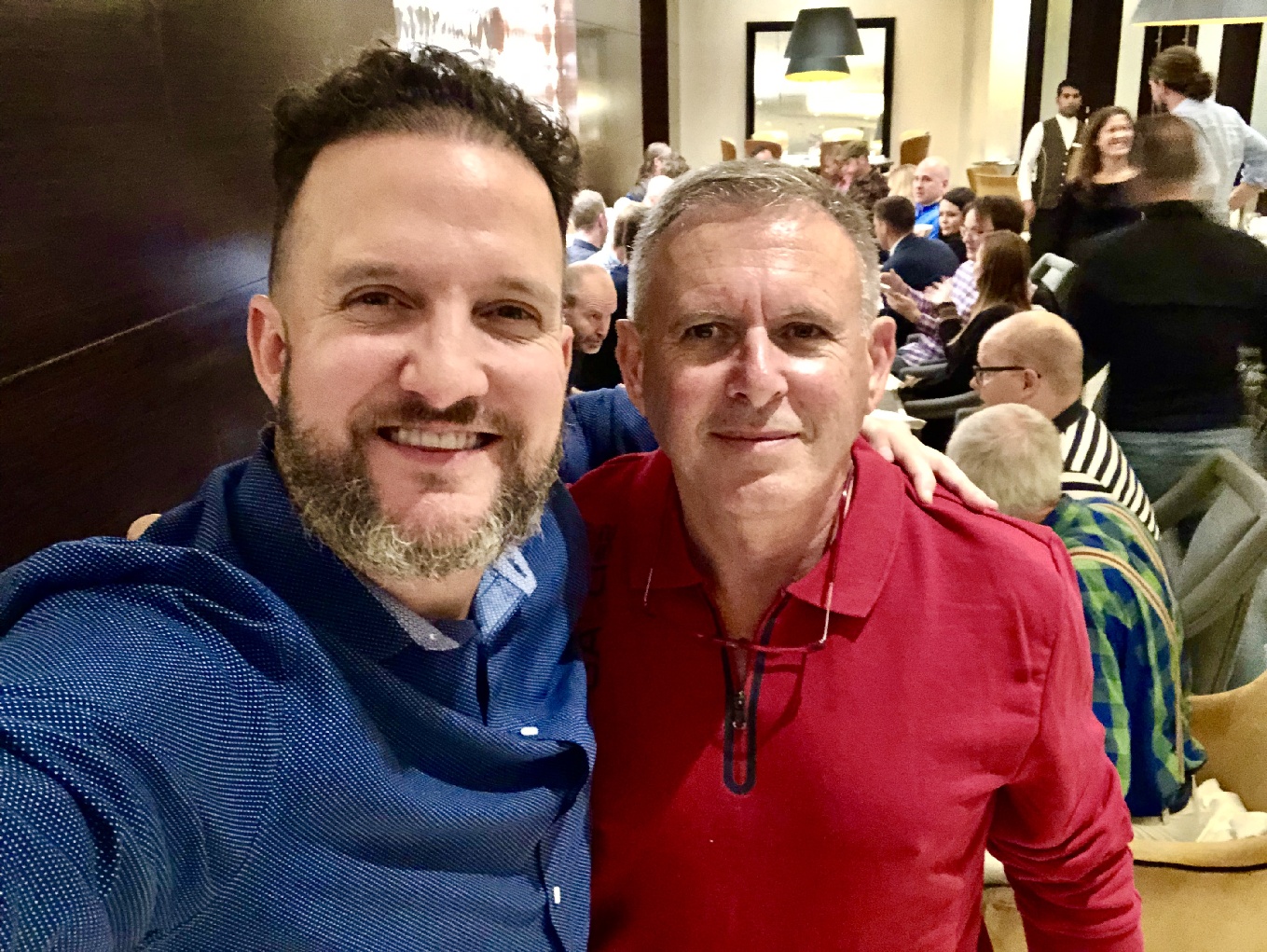 I'm Getting Old
I was the first to leave and not a moment too soon. I was so tired my speech was slurring and I probably wasn't the best conversationalist at this point. I hadn't slept in days. I said my goodbyes and ordered an Uber for the long ride back to the airport hotel. I didn't even make it to the hotel before passing out right there in the car. I think I snored.
I slept like a champ and enjoyed a lavish breakfast buffet at 6AM before I was off to the airport to catch my next flight to Sudan. I only wished I had more time in Saudi Arabia. I know earlier I mentioned that I didn't want to stay a whole week, but I think my quick visit here changed my mind. There was a lot to see and do in Riyadh, like "The Edge of the World," plus other cities and regions. Of course Mecca and Medina is here too. I wish I'd had more time to wander, and most importantly, interact with the locals, my absolute reason for traveling. My only real "hanging with the locals" experience was a brief moment at the race, where two curious young ladies asked me where I was from and how if I was there on the Sharek visa. They seemed happy to have guests in their country.
Thomas hinted that the country is going through a transformation, and will probably continue to "loosen up." Maybe the next time I'm in town I'll even be able to do some solo shopping at H&M.
Special thanks to: Thomas Brackmann, Scott Shelley and most of all The Kingdom of Saudi Arabia, for opening up for us travel freaks…beautiful country!
Up next…Sudan! This trip gets more exciting, I promise!
And now, the REST of the (Insta)Story…
This entry was posted in
Middle East