Japan was so dope. Everything I heard about Japan was true…times ten. One of the cleanest countries I've ever visited, and the people were some of the most respectful and polite folks I've ever come in contact with. I could definitely live here.
Here are a few pics and notes from the highlights of my trip. Nothing crazy eventful happened on this trip, but lots of nice scenery, great food, and lovely peeps.
I landed at Narita and took a couple trains to get to the neighborhood where I'd be staying. The first thing that I noticed that was very different were the cabs: old school looking Japanese cars, where the back door opened automatically for you when the driver pushed a button. The taxis were immaculate, inside and out–with white seat covers, trimmed in lace–like doilies–covering the backseat. The Sheraton Miyako was in a neighborhood called Minato-ku, which seemed like a pretty sleepy part of town, but was close to the train station. By the time I checked in to my room, I was starving and kinda pooped from the journey. I absolutely love me some sushi, and here I was in the sushi capital of the world, so I jumped on TripAdvisor to find a joint nearby. I decided on Sushitakahashi, which was a quarter of a mile away, and missed the place the first time I walked passed it. I'm glad I didn't give up, because I was about to have the best sushi of my life. Seriously.
When I finally found the place and slid open the bamboo door, it was like I stepped into The Twilight Zone. I was the only customer inside this tiny, authentic, locals-only sushi house. Just me, the sushi master, and a waitress. Only one person spoke English…and that was me.
The next hour I ate the freshest nigiri of my life, as the chef made me glorious sushi one piece at a time. His skillfully crafted art and wonderful cuts of fresh fish came alive in my mouth, as I savored every morsel. It was seriously the best sushi I've tasted in my entire life, and I've eaten an hundreds of sushi joints. I wondered (and hoped), would sushi be like this everywhere in Tokyo?
About 90 seconds into my walk back to the hotel, still marveling in the aftertaste of an amazing meal, a gentle tap on the shoulder startled me. It was my waitress, shyly returning the five-dollar tip I attempted to leave her. I made a bonehead move and didn't research Japan's "tipping" customs: you don't tip. She was trying to return money that she figured I'd left by mistake. Wow! It took a lot of hand-motions and facial expressions for me to convince her that the money was for her. She eventually gave in and accepted the money before bowing and letting me leave. Upon returning to my room (with WiFi) and looking up "how to tip" in Japan, I sure felt like a dummy when I read that tipping can actually be taken as an insult. Shame on me for not researching this before I arrived. You can read my detailed experience at Sushitakahashi HERE.
***RELATED ARTICLE: BEST SUSHI EVER – R DUB IN TOKYO***
I had fun walking around the Minato-ku neighborhood. It was very clean, quiet and seemed super safe.
Nighttime came and after a little rest at the hotel, I decided I better not waste time. I only had two nights in Tokyo, so off I went exploring. I took three trains before arriving at the Shinjuku district: this was where the party was supposedly at after dark. And a party it was!
I spent a couple hours roaming the incredibly intense streets of Shinjuku. It was like Vegas, so many lights, people, music, noise! I had to constantly fight off the Nigerian guys who wanted to "introduce me to girls." I ended up having half a bottle of sochu inside little bar on the fifth floor of a random building and chatting it up with some locals before heading back.

I was feeling like sushi again, so I stopped into a spot on the corner for a midnight snack. It was good, but it didn't touch the sushi I had earlier at Sushitakahashi. Not even close.
Up the next morning for my only full day in Japan–where would I even start? I took the train to the man-made island of Odaiba to poke around explore. The very first thing I ran into was the giant Gundam robot; man, he's huge! There was also a replica of our Statue of Liberty and a really cool flea market going on.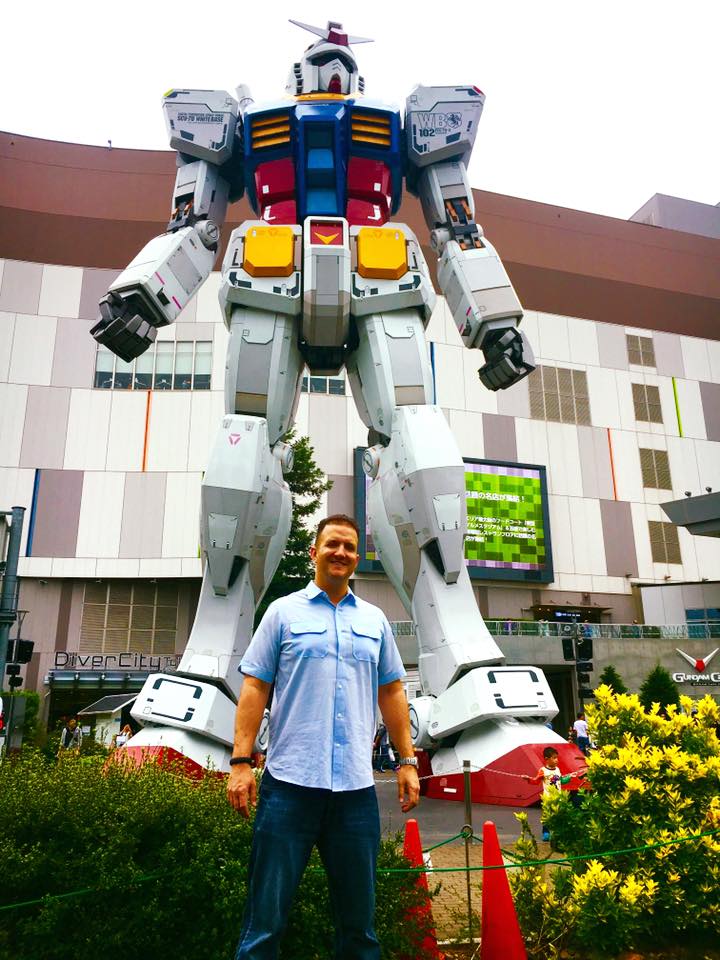 After Odaiba, it was back on the train to head to a Senso-ji Temple.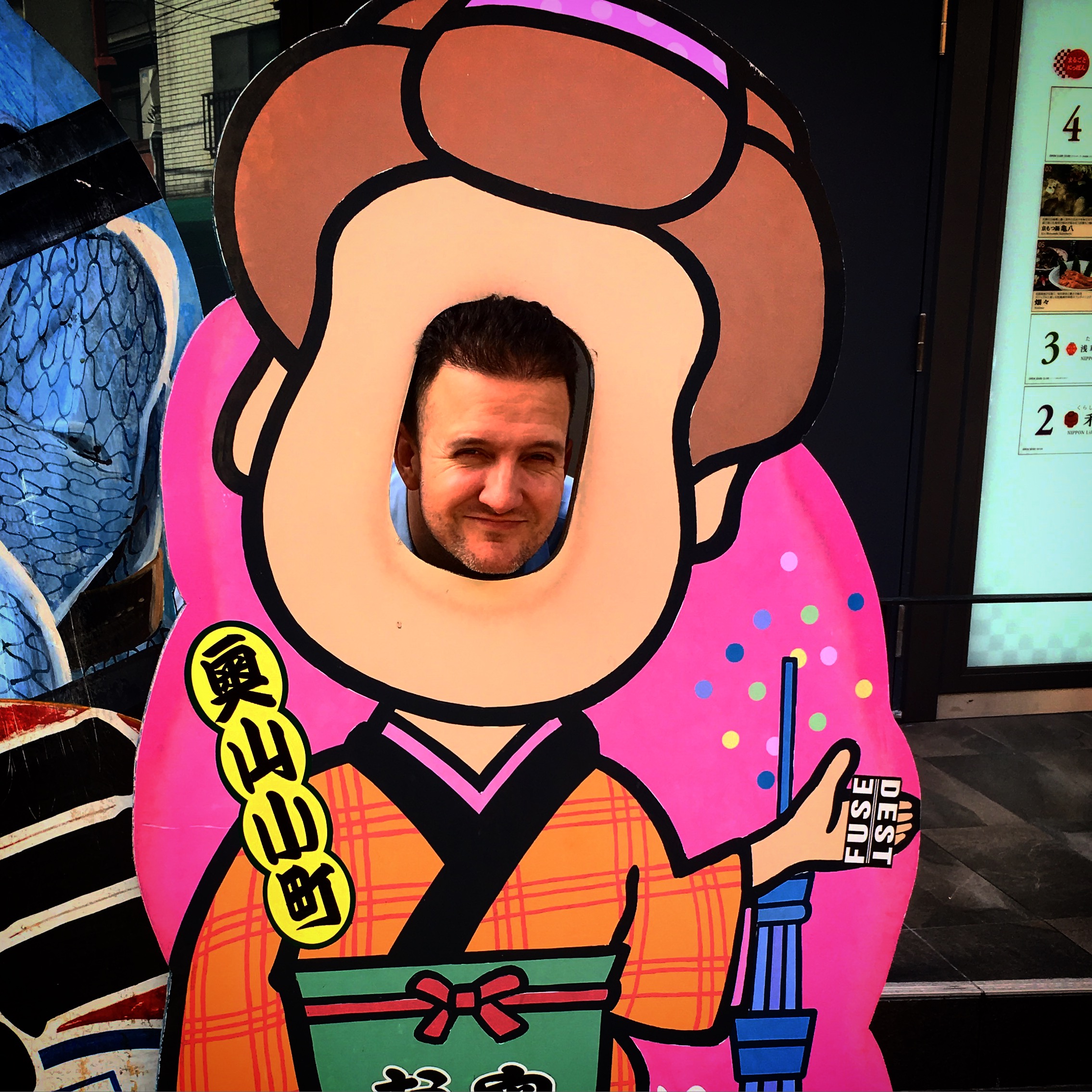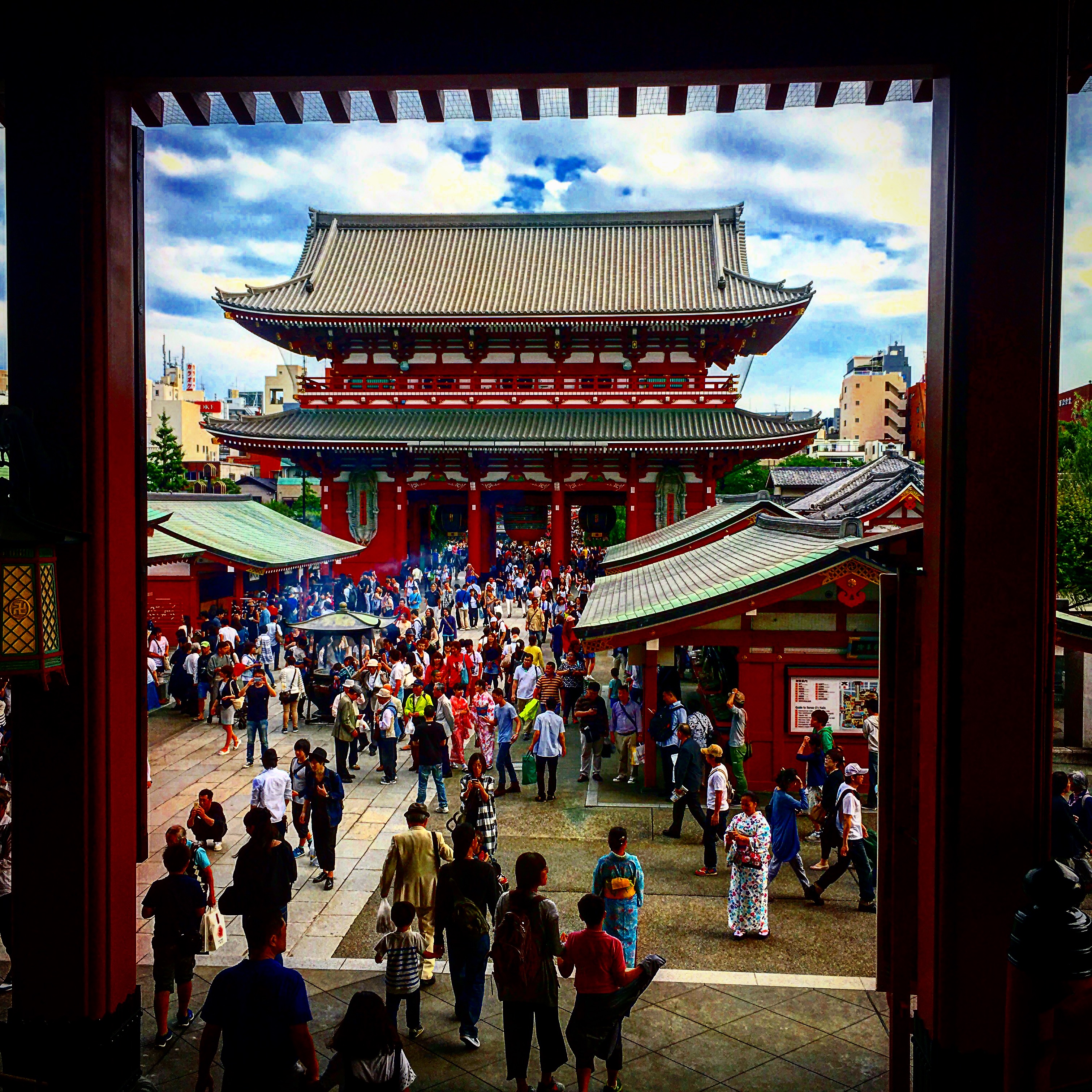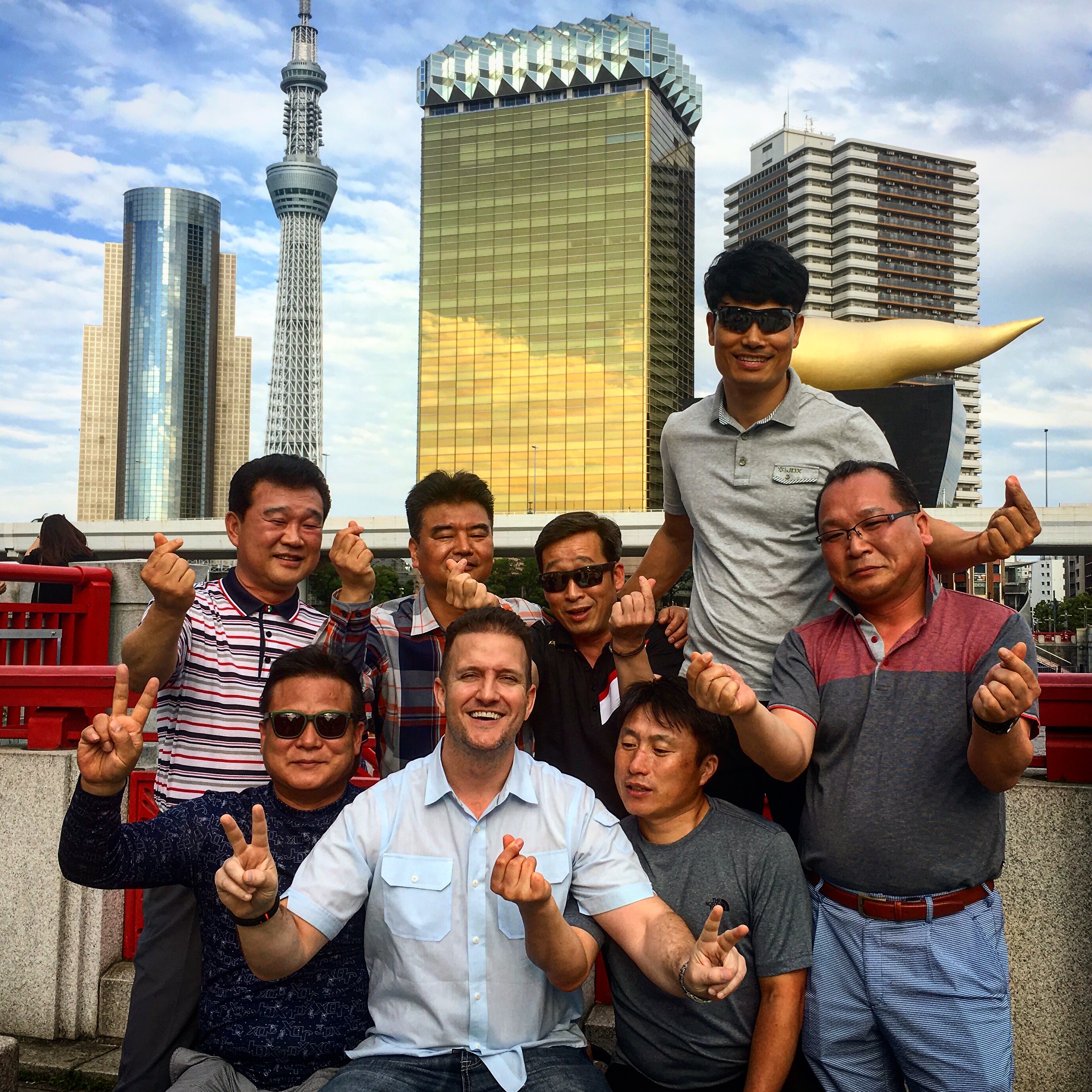 I was quickly running out of time on my first and last full day in Tokyo; it was so hard to choose what to do! I decided to hike it over to Tokyo Sky Tree to get a bird's-eye view of the city.
After the Sky Tree, it was back to my hotel to crash out for an early flight to Seoul the next morning.
I needed one month in Japan, not one day. This just wasn't fair. I could've spent weeks in Tokyo alone. So much to see and do and eat and go! I feel I've cheated you…and I definitely felt cheated having to leave after just a day!
One of the things I thought most odd, was how clean the streets and subways were–and yet how hard it was to find a trash can! What did these people do with their trash?
Of all the places I've traveled in my lifetime, the Japanese are some of the most respectful and polite people I've ever been around. It made me instantly up my game and I wondered at all times if I was doing something wrong, or rude. I was only there a day, but that was enough to leave me with such a wonderful impression of this country and its people.
This entry was posted in
Asia