Amateur Hour on The Ramblin' Randy Show
"May I see your visa please?"
I fought back any hint of smugness, as I answered with shortness: "No visa required."
I'd approached many an airline counter where the agent mistakenly told me I'd need a visa for flights into countries where there was indeed no visa required for Americans. The exchange usually ends with the agent calling a manager to discover she was indeed wrong, before finally handing over my boarding pass; sometimes an apology.
But this time, she insisted I needed to show a visa.
I pulled up the "visa policy map" on my phone to show her where it said Americans could access New Zealand visa-free. She insisted I needed a visa or some kind of "visa waiver" from the country. Sure as shootin', she was right. Crap! 183 countries down and how could I make this amateur mistake…again?  Though I'm usually on top of it 99% of the time, I will sheepishly admit this same faux pas happened for Seychelles and Australia! My heart sank as I dreaded the worst: missing the flight because I didn't have the right approval, or visa "waiver" or whatever.
Thankfully, less than five minutes later, I'd downloaded the app, paid the fee, scanned my passport and been approved. Whew, that was a close one! Disaster avoided! HERE is the info about the NZeTA, by the way, in case you need it.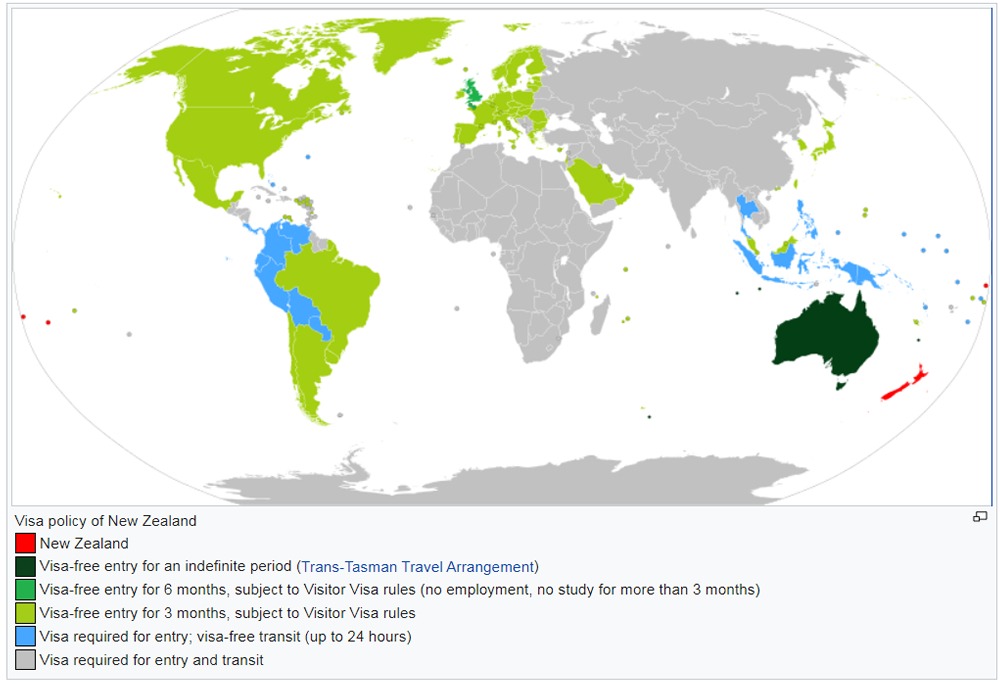 Tiny Bubbles
I was pretty jazzed about the quick route (considering the distance) to Auckland: San Diego to Honolulu with a quick, one-hour layover before connecting on to AKL. It doesn't get much better than that.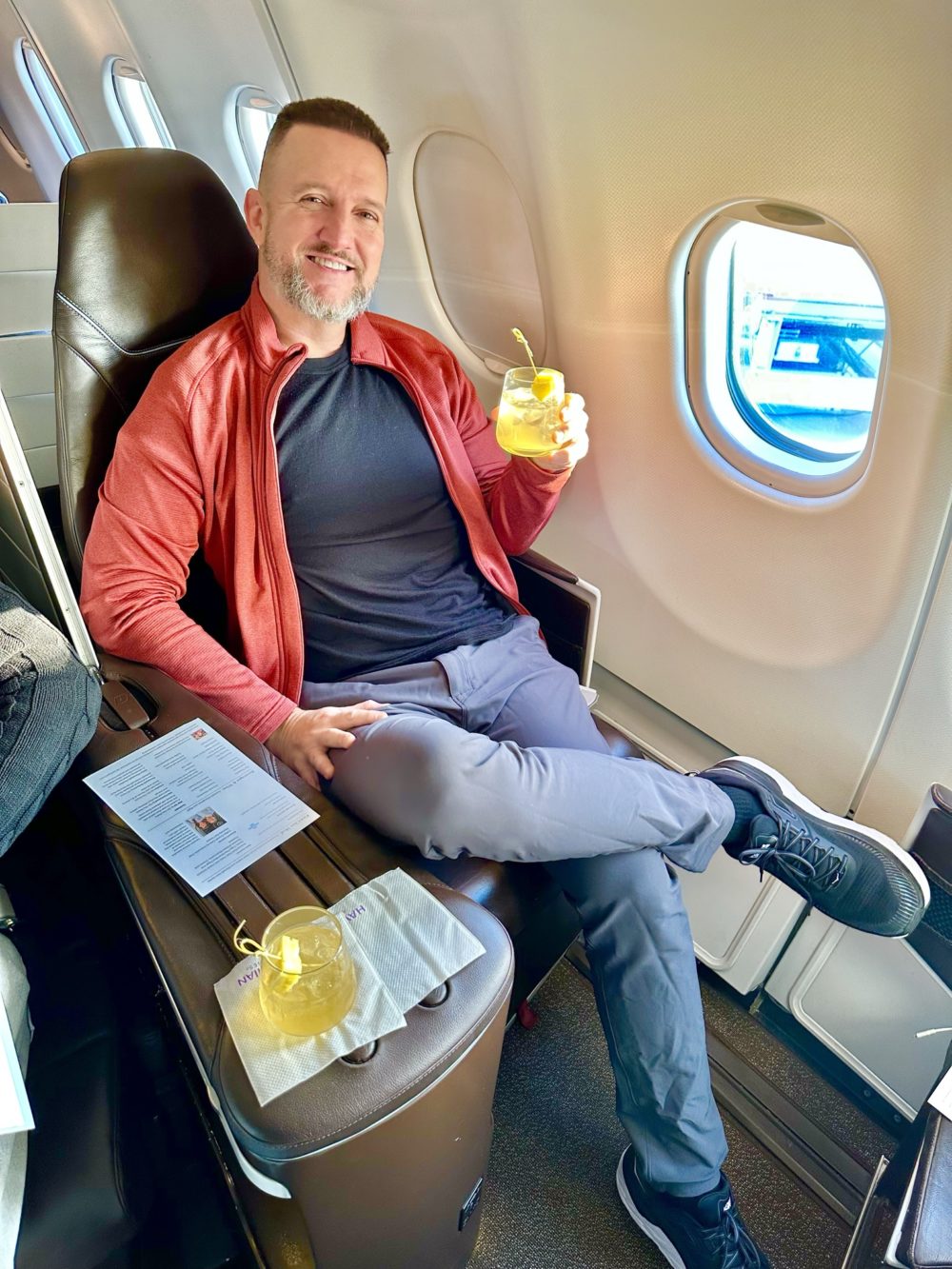 Business in Hawaiian Airlines was nice. I'd signed up for the airline credit card to get a ton of points, however, the big bonus of 60,000 miles was still not enough to get me all the way to New Zealand in business, in peak travel season. I'd transfer a ton of additional Amex points into my Hawaiian account to make it happen…more than I would've liked, but what can you do? I had just ten countries remaining to complete all 193, and nine of them were in The Pacific. I had no choice. I had to get there.
The food and service were solid and that Mai Tai at 8AM was good but too strong to finish. The entertainment selections were minimal, but I was able to knock out some Zs once I reclined the seat into a bed. All in all, a nice flight and a great way to get me all the way over to The Pacific to start this giant, 30-day trip.
I'd have three nights and two full days in Auckland, and as luck would have it, I'd enjoy two days of amazing sunshine that were tucked in between furious and constant rain on both ends. How did I get so lucky to have such a small pocket of divine weather squeezed in between wet and gloomy days? Color me thankful.
Day One
Day one started with a walk around the city. Downtown Auckland was surprisingly calm and quiet for a Monday morning. One of the first things I noticed (upon leaving the airport the night before), was the fresh air. I sucked huge breaths in and out. It was wonderful – like I was on another planet.
The roads were nearly empty and I don't remember hearing one car horn the entire trip. I grabbed a coffee at Chuffed before heading down to the water: a lively area called Viaduct Harbor. Full of bars and restaurants, I admired some beautiful berthed yachts – my thoughts on owning such opulent boats notably altered over the decades. Now, in my early (okay, mid-) 40s, voices of reason in my head with warnings such as, "Imagine the cost of fuel, upkeep and crew to run that boat…and the mooring fees" trumped any fantasied visions of actually cruising the bay on one of these floating palaces of my own. Good God, I wouldn't be able to afford the taxes alone! I am my Dad.
By the way, I booked a room at The Four Points by Sheraton, the only Marriott property in the entire city. You can check out my full list of discounted hotels HERE.
Over the Mountains and Through the Woods
After being acquainted with the city, it was time to get out into nature. First, I enjoyed the small hike (a stroll, really) to the top of Mount Eden for gorgeous city views all around. (You drive most of the way up, I'm not a mountaineer, I assure you). Then, it was an hour drive over the mountains, west, to arrive at Piha Beach. Temptation destroyed my diet early on, as I ordered a giant banana ice cream cone at the beach. If the "Real Fruit Ice Cream" signs on the way didn't convince me, the pink-colored stand with the menu on the orange surfboard would seal the deal. Spoiler alert: It was worth the calories.
Climbing, Hiking, Swimming
I hiked up Lion Rock in an effort to take in a different a view of the waves below and work off a few of those calories from the mega-cone. The climb was hard enough with shoes; I looked on in awe as locals climbed down on their bare feet, over pointy chunks of lava that coated the trail. I'm the definition of a tenderfoot. I'd never survive in the wild. Not even twenty minutes.
The Fall Guy
Next stop was Kitekite Falls. I took on more walking, then climbing, before I reached the giant waterfall and pool below. As I imagined, the water was ice cold. I didn't make it all the way in on my first attempt, screeching like a pansy. But after seeing a 14-year-old Japanese girl joyfully frolicking about in the water, submerged up to her neck without even so much as flinching, I knew I couldn't puss out. And just like the near-freezing ocean waters of California, once I was all the way in, it became semi-tolerable. It was a great dip, actually.
Taco Monday
After surviving on lollies, Burger Rings (a local junk food/snack), and banana ice cream, I figured I'd better put some sustenance in my belly. Dinner back in Auckland was in the tranquil Westmere neighborhood at a Mexican place called RagTag. This was my first proper New Zealand meal and it knocked my calcetines off! The raw fish tostada with pear salsa was delicious, the duck tacos were legit, but the hapuka tacos were the best fish tacos I've had in my entire life – and I live in San Diego and Baja California! RagTag's hapuka tacos officially earned the Ramblin' Randy Best Fish Taco Award. I can tell you this is a major upset to the taco world.
>>> RELATED: Best Fish Taco <<<
Next Day's Function: High Class Luncheon
On my second and final full day in Auckland, it was off to Waiheke Island, which is no relation to Waikiki (Hawaii). The 40-minute ferry over would be the first of many boat rides I'd take during this 30-day mini-sabbatical.
Waiheke was really nice–a fairy tale island, actually–but the headline here would be my meal at Mudbrick. This would go down as one of the best lunches in all of my travels. I was smashing records here in New Zealand! Get a load of their menu, HERE.
Back in Auckland, I'd sip a few mocktails on the 38th floor at Bar Albert. Amazing views of the city, all around!
VIDEO: Wanna see my video of the views from Bar Albert and so much more? Check out the New Zealand highlight reel on my Instagram: @rdub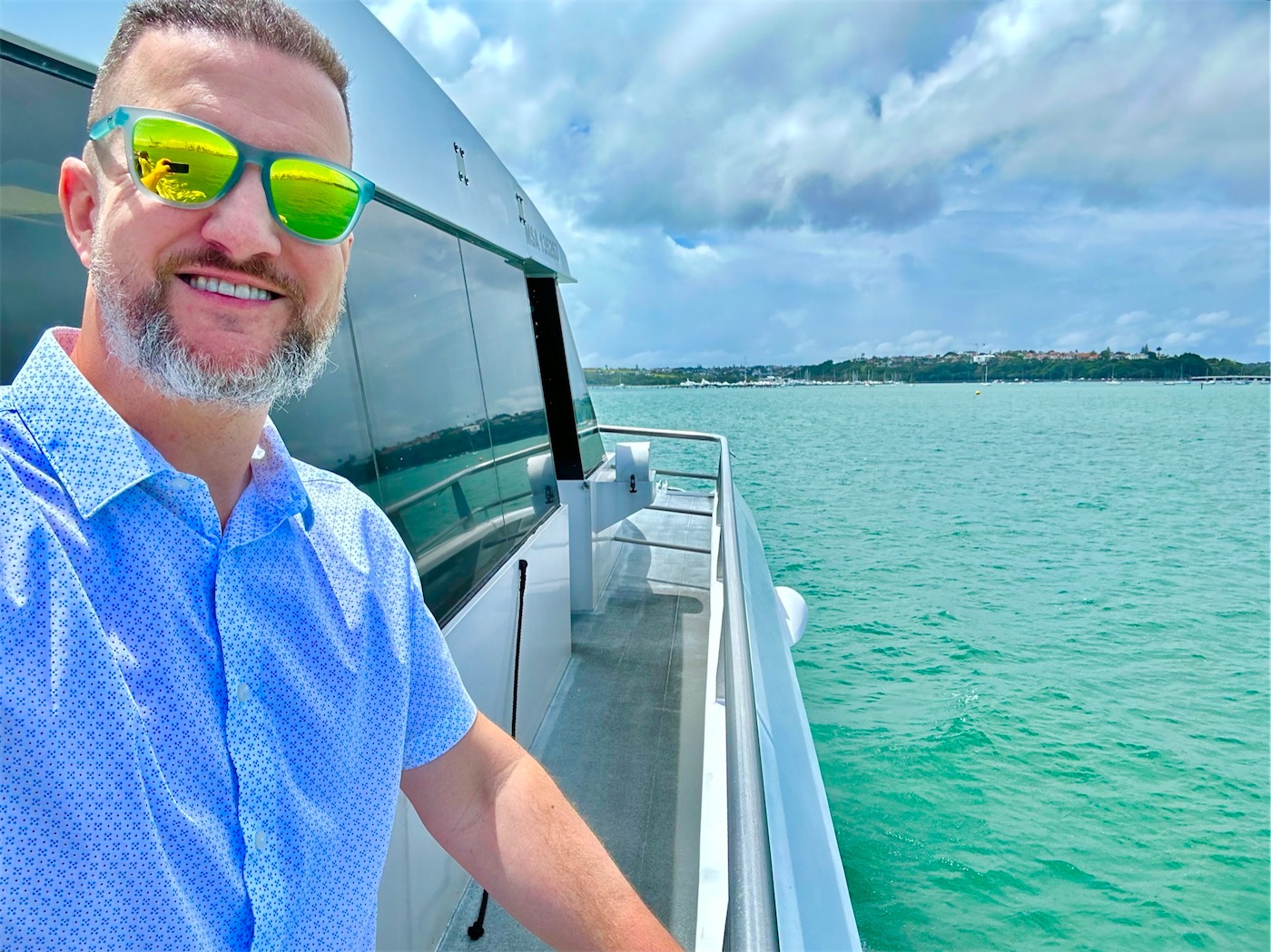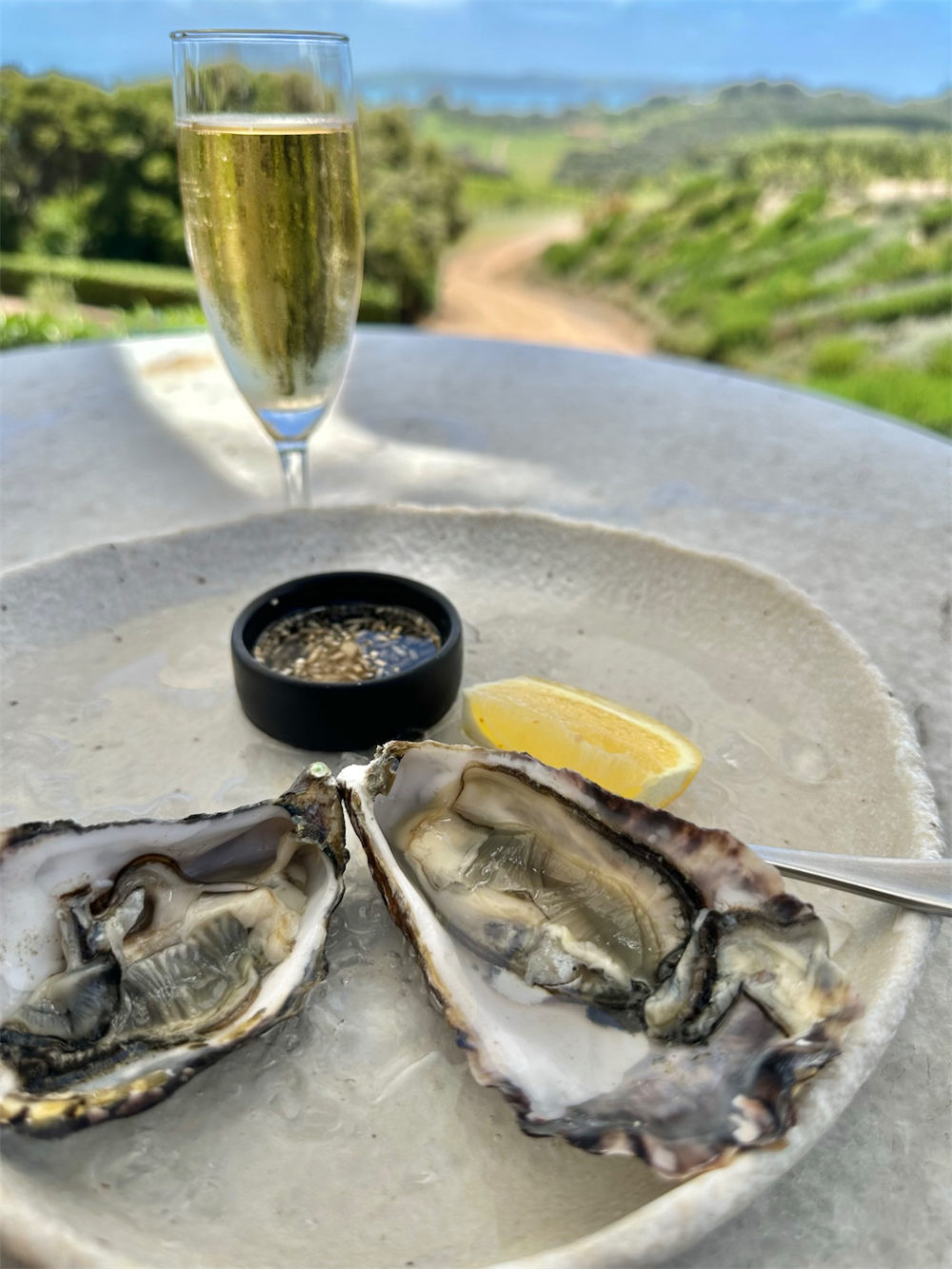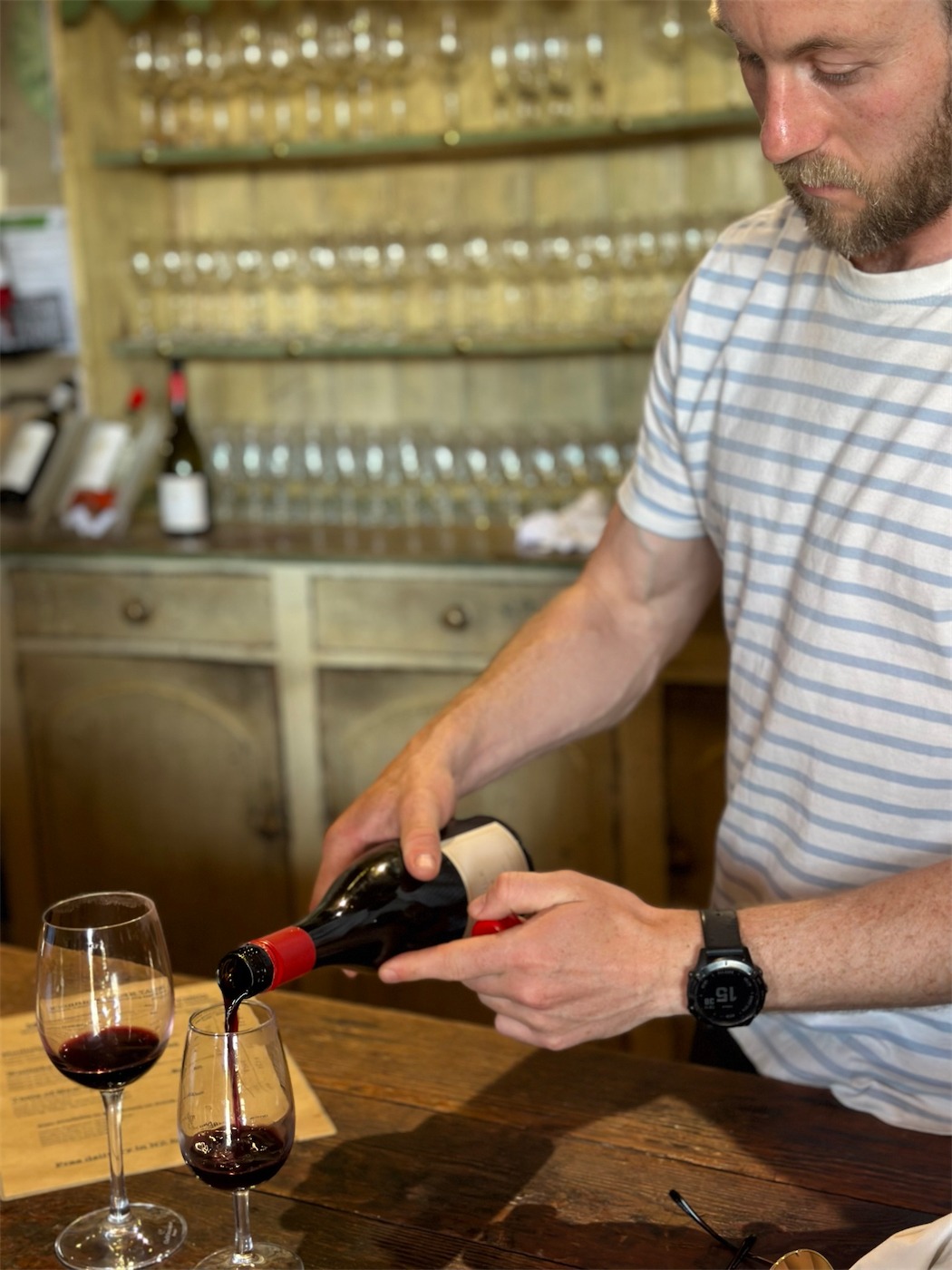 Adios, Auckland!
I was sad to go on day three. I had no idea I could put so many wonderful things in my mouth on this stop…who knew? The rain had returned as I headed to the airport that Wednesday morning. I was smiling and feeling so lucky that I'd caught two random days of sunshine.
I could live in Auckland, really I could. Clean and quiet, yet still a large city – there was coffee, sea and fish tacos! What more could I want?
Next stop: Vanuatu! See my Vanuatu report HERE.
This entry was posted in
Oceania