First Impressions
I'll never forget my first memory of Serbia and the first thing that caught my eye as the taxi barreled down the highway from the airport into town: Towering over the city was this massive gray building consisting of two towers and a huge circular disk on top that looked like a giant flying saucer. It was tall, massive, ugly and daunting. And I loved it. It was both futuristic and old school all at once. Once I'd checked in to my hotel, I Googled "Belgrade buildings" and immediately identified the cement monster as the Genex Tower or "Western City Gate." Looks like I wasn't the only weirdo who had a love affair with this weird behemoth of a building: Several bloggers had articles on the structure, including their self-explorations of it and even a "Genex Challenge," which had millennials climbing its 30 floors, backwards, on social mania. Well heck, now I wanted to see it. So I did.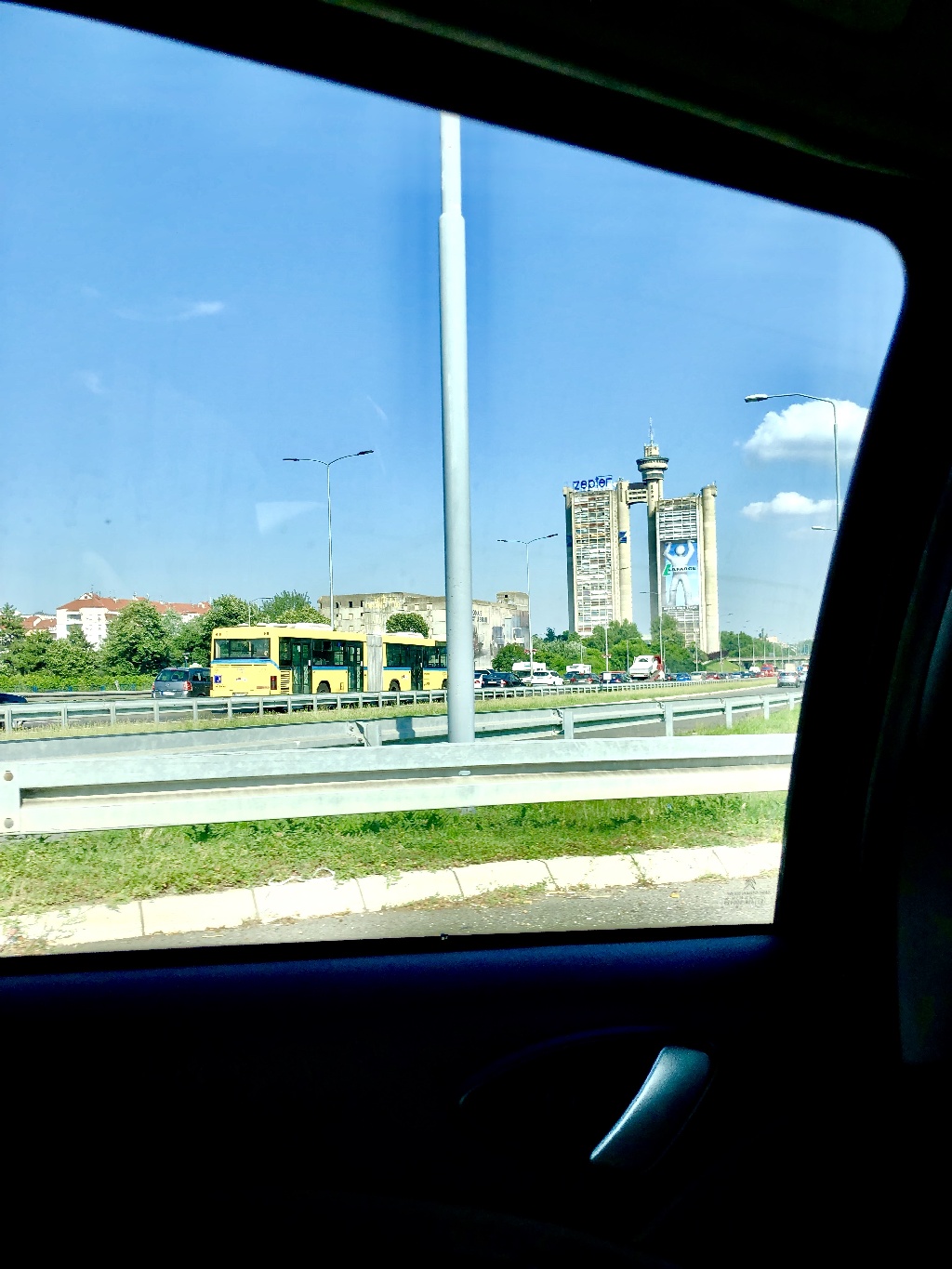 The sun was on its way down, so I opted for a cab ride to get their quickly; I didn't have enough time to get lost by gambling with public transportation; I could do that on the way back. 15 minutes later, I was on the other side of the Danube and being dropped off in "New Belgrade" at the entrance to the fabled skyscraper. I was here. And I was excited.
007
I did my best to stay low-key and blend in. I'd left the "tourist" area. I was away from the hotels, the restaurants and the flashing lights of Old Belgrade. I was in a "real" residential neighborhood and I wasn't quite sure the lay of the land yet, so I proceeded with caution, walking towards the building like I belonged there. At least I could pass for a local here, appearance-wise. Trying to do these things in Africa or South America unnoticed is almost impossible, as my pale skin draws stares from every direction; I stick out for sure. But my bloodline comes from Eastern Europe, so as long as I didn't open my mouth, you'd think I was a native. I'd totally pass for a Serb.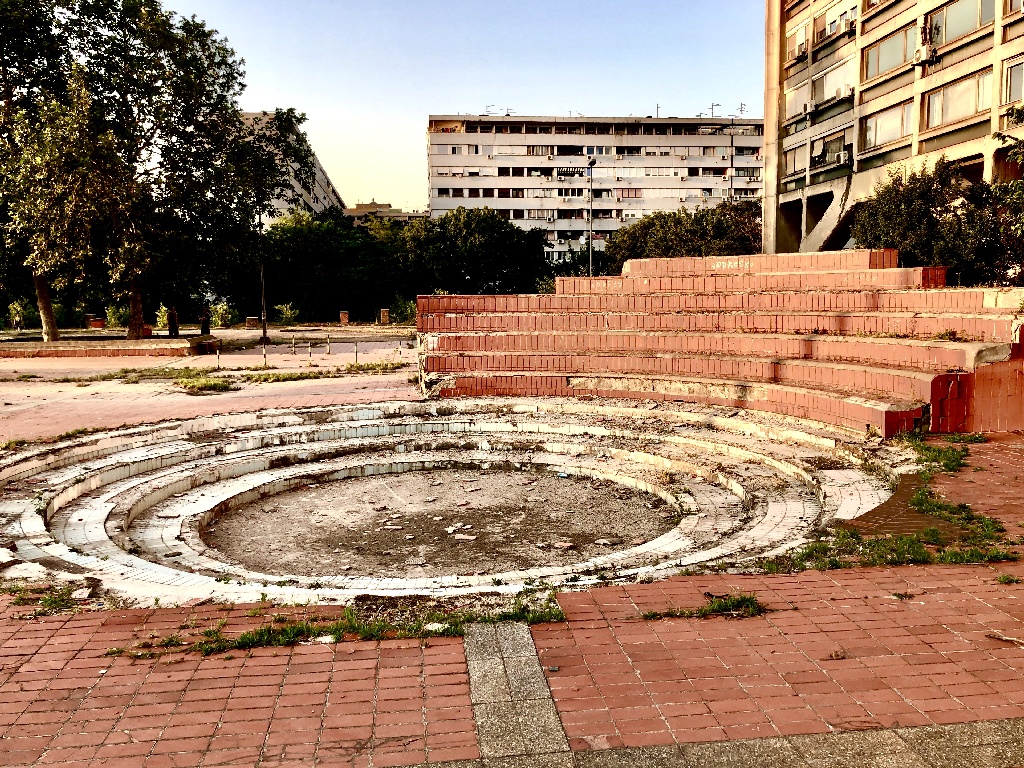 The Office
I didn't want to do much "lurking" around, so I headed straight inside. The left tower are apartments, the right, an office building. I'd read that the "apartment side" was occupied, with families living in flats; however I wasn't sure I understood what was happening on the right side: My quick research gave me stories of a giant import-export company called Genex that had since fell with the collapse of the economy many years ago. The offices were either all abandoned or there were only a few left in operation; and that cool little UFO tower was permanently closed. But I had to see it.
There was a man at the security desk that was absolutely not the least bit interested in my quest to explore the building. I gave him my business card and tried to sweet talk him into letting me at least explore some of the "office side," but no go. The language barrier was the first obstacle. His stone-cold attitude the second. It was quickly apparent this wasn't going to happen. Total access, to this side at least, denied. Damn.
So headed back out to explore the base of this beauty before attempting to enter the left tower.
Movin' On Up
Time to try and get inside the left tower. During my ten minutes assessing the outside of the property, I'd seen half a dozen residents come in and out. I wondered what barriers I might meet once I walk in the door: a guard? Doorman? Would someone need to buzz me in? Would I need a key? A secret code? Thankfully it was open sesame with open access right in. I strolled in like I lived there and made my way over to the elevator through the plain lobby.
Just my luck, a man joined me in the elevator. Had I been spotted already? He pushed 7, I pushed 30–the top floor–to which he noticed and made a funny sound, something like a Yugoslavian "Wow!" As in, "Wow, you're going to the top?!" Wait a minute…was this place haunted?! Was there something scary about the top? What am I getting myself into?
I spent the next 20 minutes curiously descending the building's 30 floors. Level by level, I climbed down each semi-spiral staircase, noticing the small differences and little details of each floor, which were almost all identical, except for the level numbers laid in the Linoleum and random special touches by the residents. Most landings were completely bare. Some were cleaner than others. Some had windows so dirty you could barely see out of. Others had welcoming flowers. To the left of each elevator was the entrance to the residences themselves, with rows of buttons to buzz each tenant. 99% of the names ended in –vić.
Enjoy the tour…and hold on to the handrail on the way down.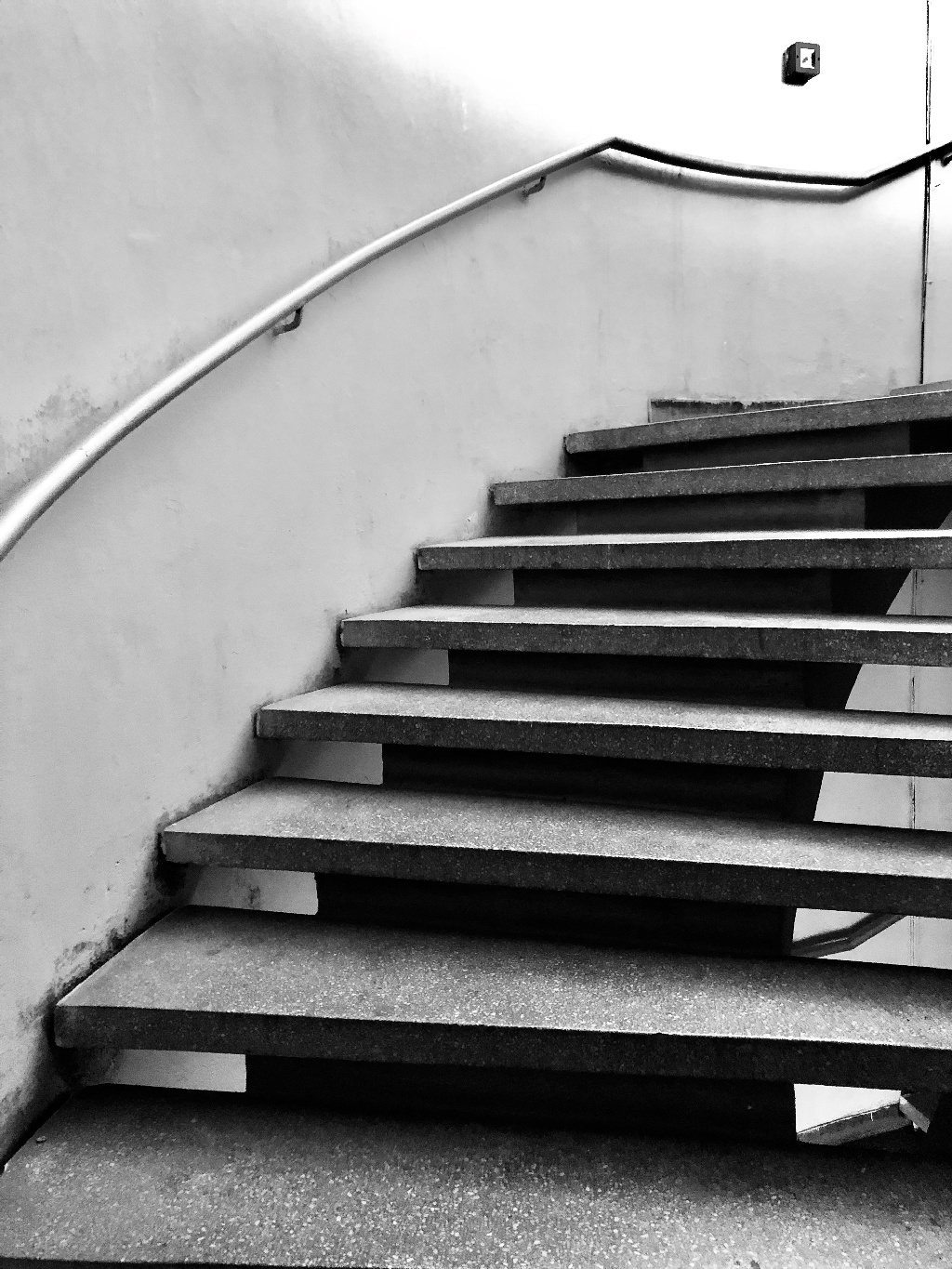 Nice Knowin' Ya
The sun was quickly disappearing and I thought I should too. I'd seen all I could (legally) see here on the property today. As I wandered off, I passed a local named Phillip who was setting up his drone for a sunset video tour of the building, which I thought was awesome. Looks like the building was indeed an attraction for weirdos like me who like old, strange buildings. I introduced myself to Phillip and gave him my card and asked if he could send me a link to see his footage…Still waiting, Phillip, chop-chop 🙂
My Video
Check out out my little video tour, here:

The Pioneers
I'd like to say that I was the first adventurer to trek the stairs of the Genex Tower as an explorer, but there were many more before me, and they have incredible blogs on the subject, including a guy who got access to the roof, and someone who rented an Airbnb inside the residential tower. Now that is bad-ass. Check these awesome articles out:
Life in the High-Rise: My Brutalist Holiday in Belgrade's Genex Tower
Article detailing one guy's Airbnb stay at the Genex Tower, including pictures of the residence. This is my favorite piece, as it also includes the fascinating history of the building.
An Actual Airbnb listing for an apartment inside The Genex Tower
Oh man, I wish I'd have known…I would've totally booked it! And this one is so nice!
Another Genex Tower Airbnb listing
Bring the whole family for a visit!
Genex Tower: Belgrade's abandoned UFO
Great photos, history and info from Balkans Cat.
Finally…the restaurant in the UFO structure!!!
I didn't film this. I found it on YouTube and…wow!

UPDATE: A reader named Jo just sent me this video…it's incredible, a must-watch!!!
Take a Tour!