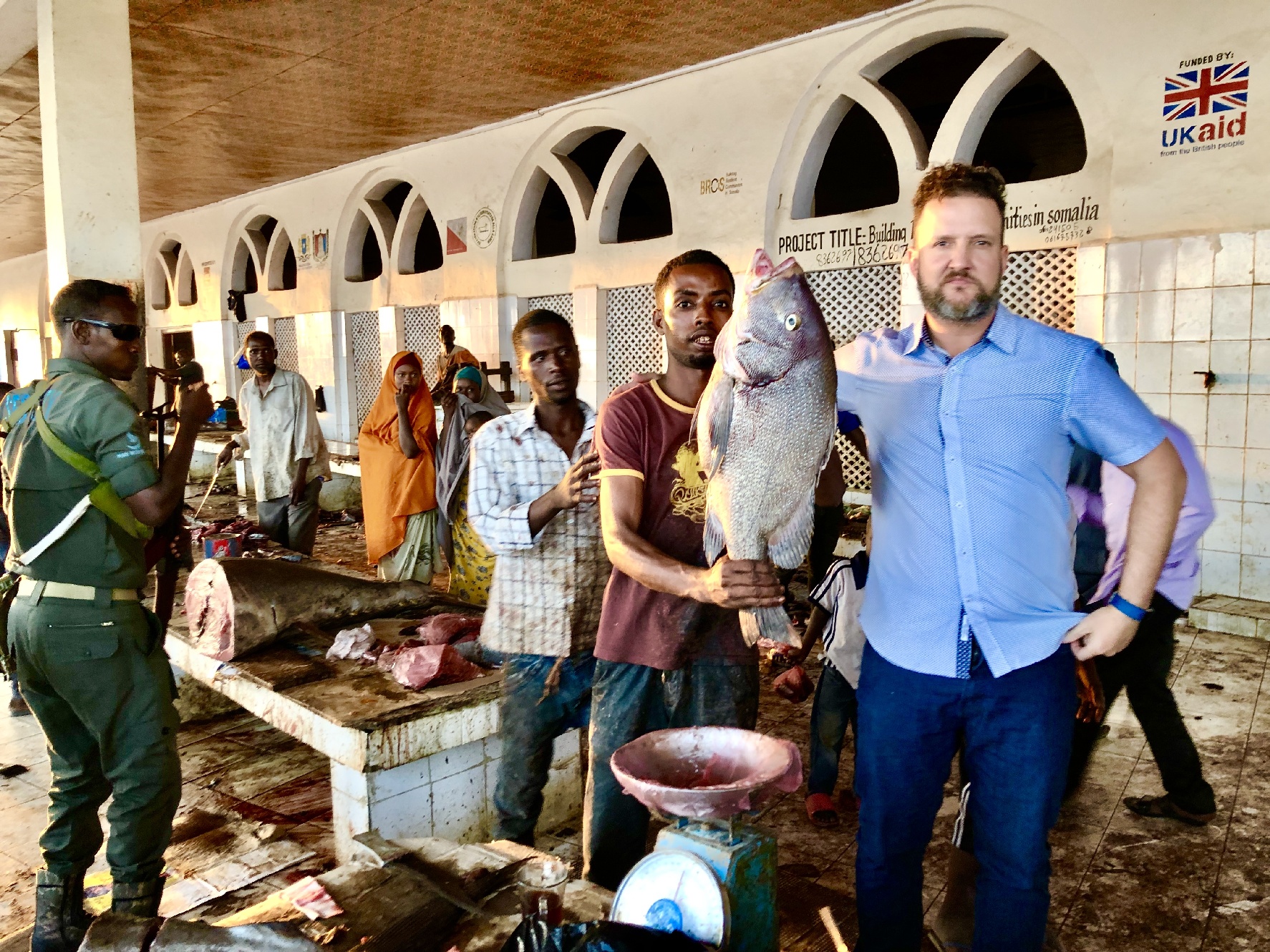 It was not until I was finally in the car when I had one of those, "Dude, what the f*** are you doing" moments, as I saw loads of dudes with guns on the side of the street and then a truck with one of those giant blasters.
More Balls Than Brains?
I've been pushing and pushing the envelope with my travel to risky destinations for some time now. The first place I visited that I thought was "shaky" was Haiti; and I ended up having a wonderful time. I'd go back in a second. All that fear for nothing! The people were warm and the accommodations were lovely (actually, the nicest Best Western I've ever seen!)
Next was Libya. Who goes to Libya??? This guy apparently. Though I was scared shitless going in, my experience in Tripoli was one of the coolest ever!…what a thrill!
Then North Korea, Venezuela and South Sudan. Iraq was my 100th country. As I ticked off this handful of nations that the State Department warns with capital letters, "Do Not Travel to," things seemed to get easier and easier, and I felt more comfortable with less jitters each time. Had I figured it out? I mean, as long as you do your research and, most importantly, hire a great fixer for your movement and security, you'll probably do okay, right? Keyword probably. There is always "chance," no matter what you are doing or where you are visiting. A bomb can go off in Paris as easily as it can go off in Lebanon. You take countless risks just leaving your house every day.
There are other things that factor in: like geography of a country and knowing which parts to visit and which parts to stay away from. The best example is Iraq, where it's a million times safer in a city like Najaf than in Mosul. Also knowing the right time to visit: is the country currently at war, what's happening politically and in the streets, etc. I certainly don't claim to be an expert in safety and security, but I hire those who are.
>>> RELATED ARTICLE: THIS CONCLUDES THE "MORE BALLS THAN BRAINS" WORLD TOUR <<<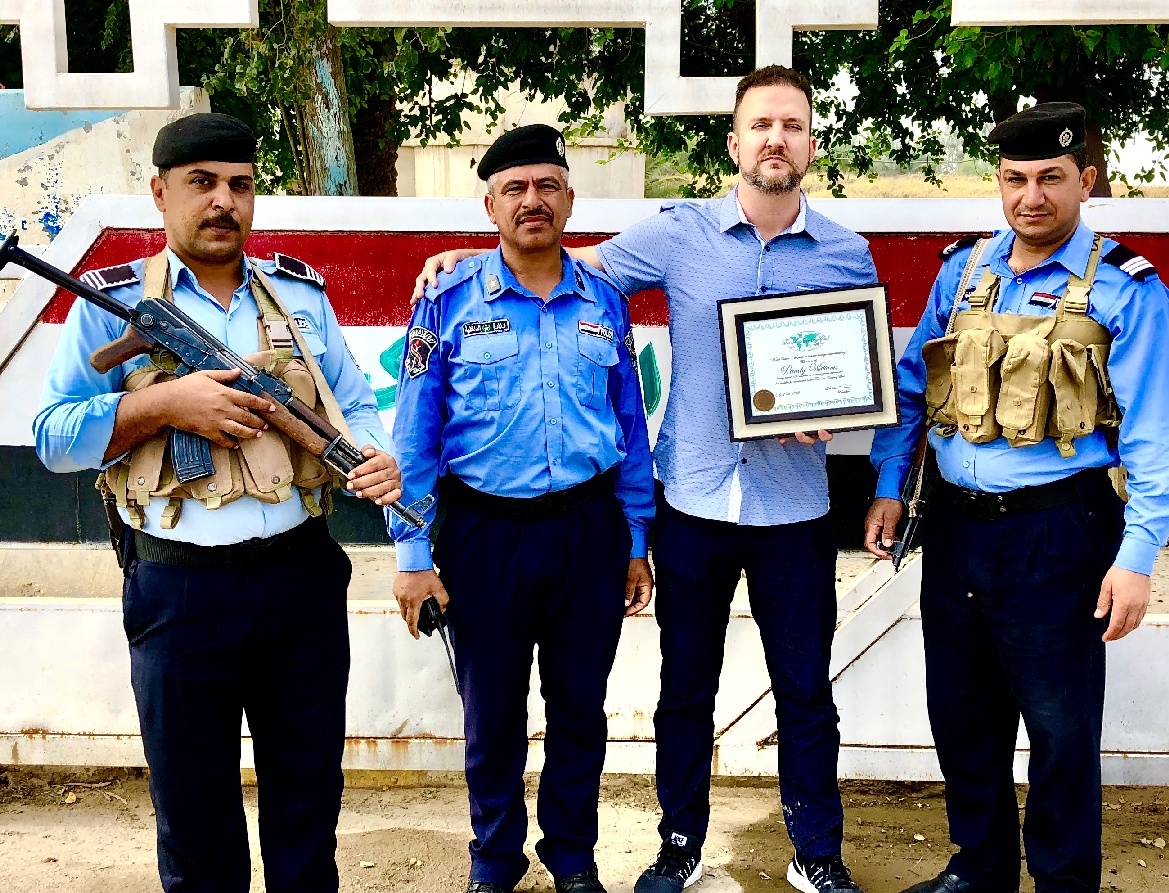 Last Stop
That being said, and with all this crazy travel under my belt, there was still one last country that still scared me to death: Somalia. The pure lawlessness and amount of suicide bombings that continue to plague the city—plus those movies like Black Hawk Down and Captain Phillips—made me super leery of even wanting to go.
Good news for travelers who yearn to see Somalia but want a safer route: There is an autonomous region of Somalia called Somaliland that is much calmer than Somalia proper. Somaliland to Somalia is what Kurdistan is to Iraq: a completely separate government, separate currency, its own borders and overall a much more relaxed and secure lifestyle.  So why didn't I just stick to Somaliland?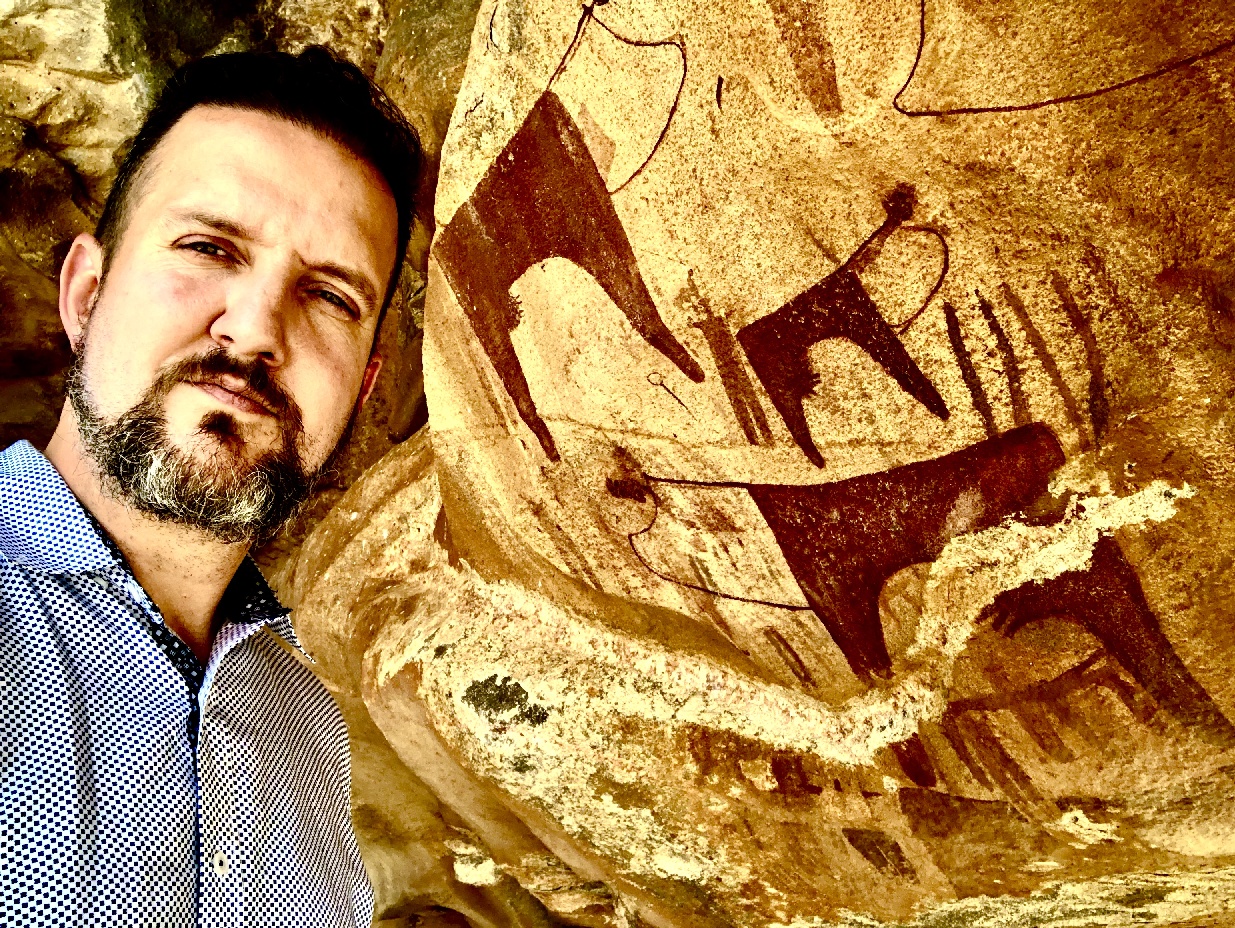 I actually had both Mogadishu (Somalia) and Hargeisa (Somaliland) booked for July of 2018, but two canceled flights in a row ensured that Mogadishu didn't happen for me. I was bummed, but at the same time, relieved. I'd had a great time in Hargeisa, and I certainly wanted to see Mogadishu, but I chalked it up as something that just wasn't meant to be. Big sigh. At least I tried!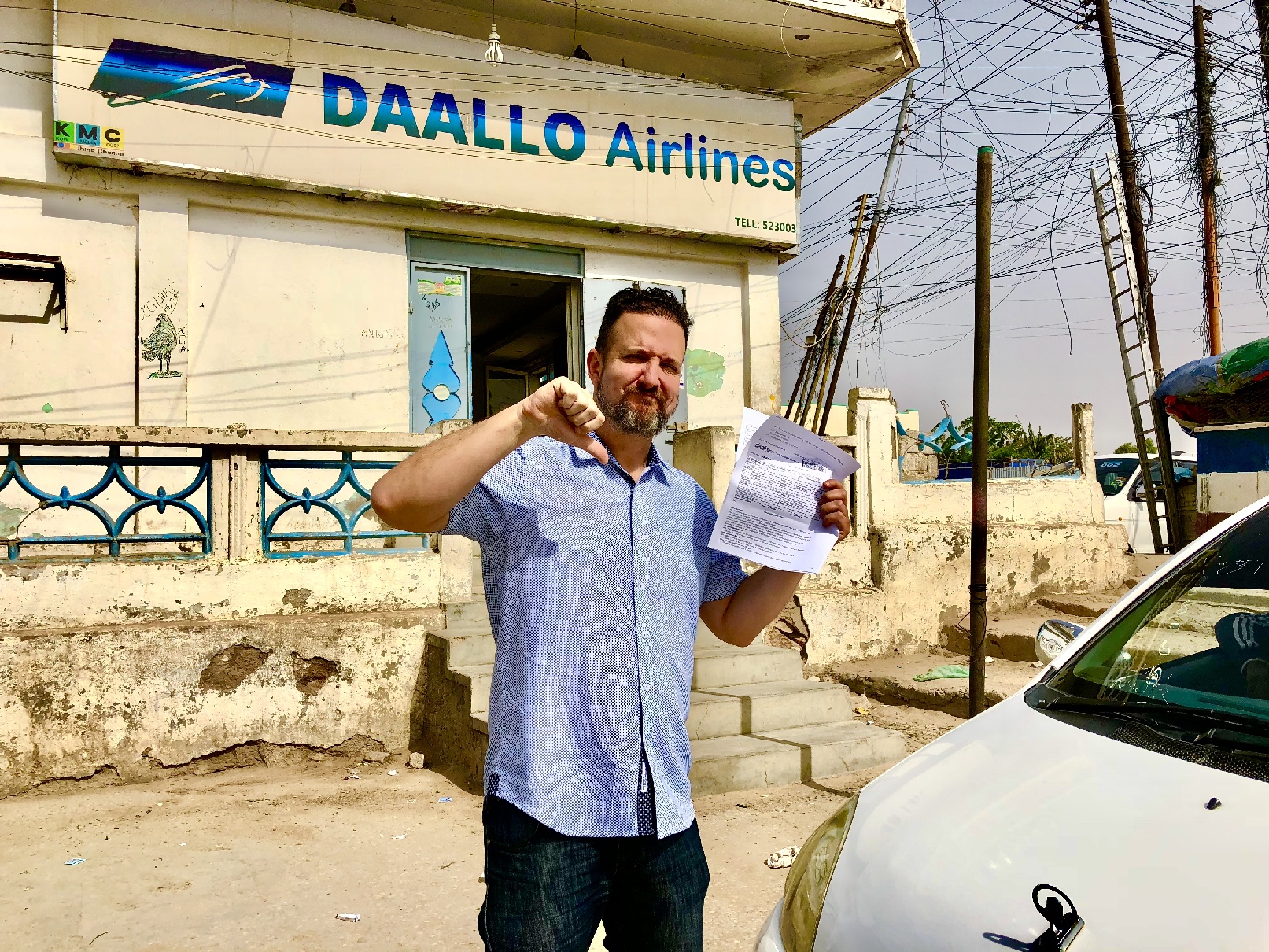 Leaving Well Enough Alone
But sometimes I'm just unable to leave lying dogs resting and the thought of visiting Mogadishu kept gnawing at me. After all, I'd already paid the $1,600 for lodging and security in Mogadishu, I might as well attempt the visit again. Plus, many pro-travelers don't even count Somaliland as an actual part of Somalia (although the UN does), so did I really actually visit Somalia on that one trip to Hargeisa? I assure you, I'm not one that cares what people think of how I travel, nor do I let others dictate my standards, but even the people of Somaliland were quick to comment on my YouTube video that "we are NOT Somalia." They were adamant about that. I knew I would be irritated if I'd not checked off Somalia-Somalia. So I'd make a second run at it in December 2018.
The routing was tough. I'd be coming from Eritrea, where I'd have to fly into Addis Ababa, Ethiopia, then transfer to Nairobi, spend the night there and then finally catch a direct to Mogadishu. And if that wasn't bad enough, I couldn't even purchase the tickets to Mogadishu online. African Express was the only airline that worked with my tight itinerary and they only accepted payment in person or via Africa's paypal system called M-PESA. I'd have to send one of my friends in Kenya money via Paypal, and then he would secure the tickets for me via MPESA. I always find it ironic that some of the places that are the least-desirable to visit, make it the hardest. But it was finally done. My tickets were in hand, malaria pills in my bag, and my last will and testament updated and left with a friend. I was going in.
RAMBLIN' TIP: It wasn't until I was actually on my trip, at the airport, when I learned that Ethiopian now has direct service from Addis to Mogadishu, which would have saved me so much time and money! African flight schedules and routes change often, and at the drop of a hat.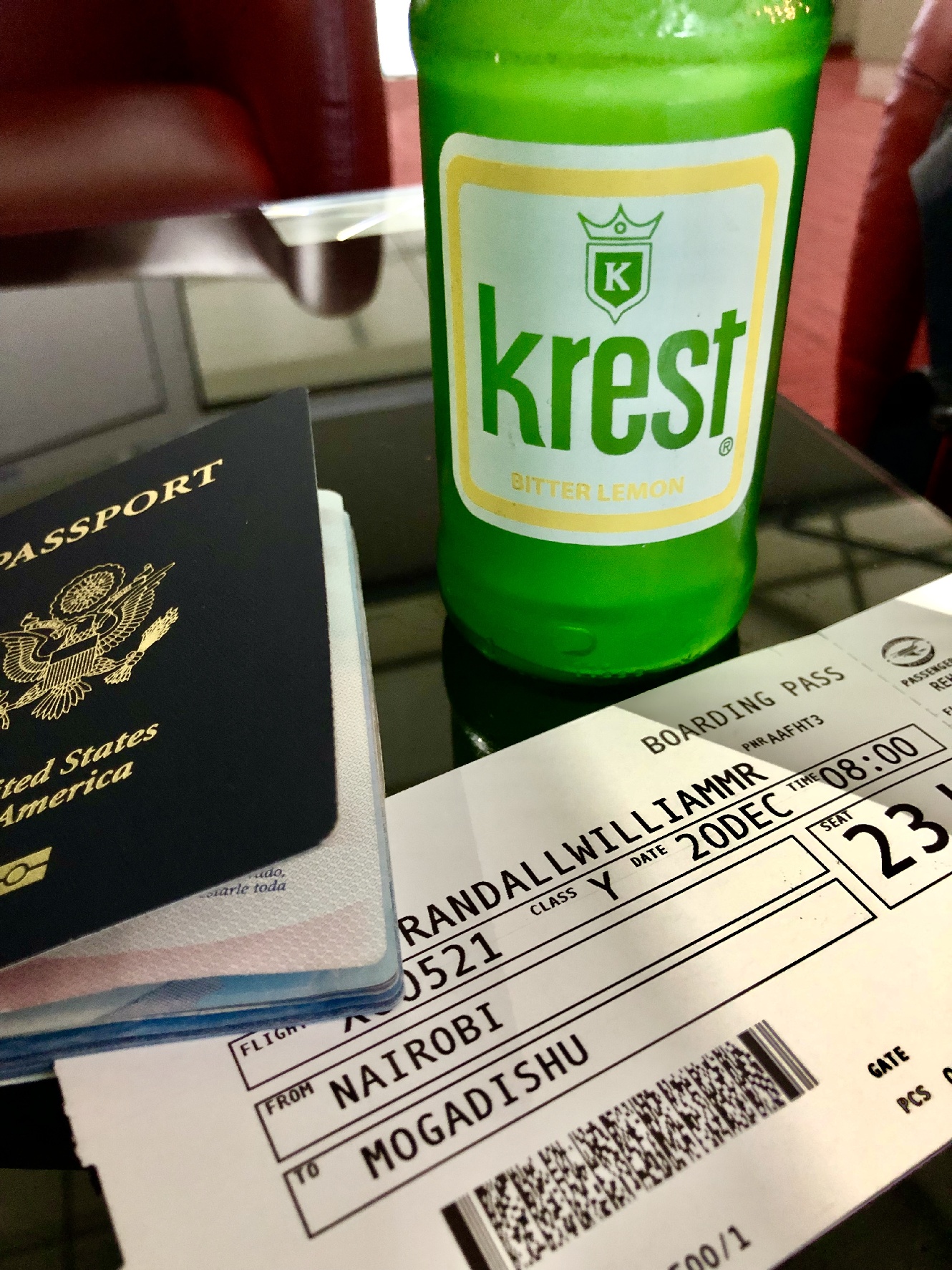 Mogadishu was near the beginning of this three-week, 16-country trip, which was nice—I wanted to get it over with so I could relax and enjoy the rest of my time traveling Africa. Not only was I worried about what might happen in Mogadishu, but I was also legitimately concerned that I wouldn't even arrive–that one of these flights into or out of Mogadishu would cancel, like before. Thankfully they were both almost right on time.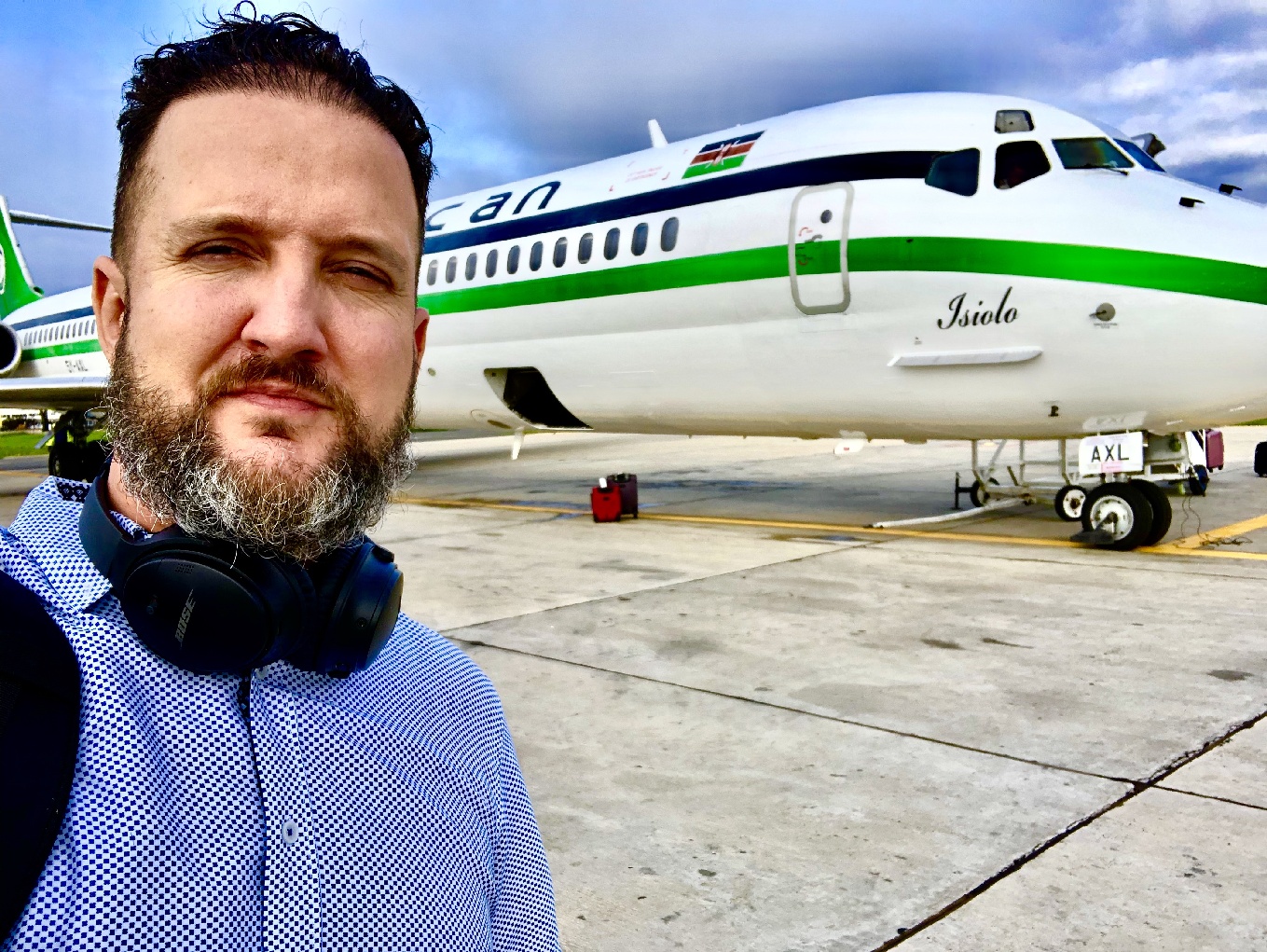 This Your Captain Speaking
I couldn't tell just how old the ancient MD82 was, but it certainly looked like it had seen better days. The safety placards were in Italian, giving me the sneaking suspicion that African Express had bummed this plane off another airline when they were done with it; a sort of aviation "hand me down." Boy, that made me feel secure! I soon noticed the Alitalia logo on the beverage cart, solving the mystery. My mind wandered as I pondered how exactly these airplane transactions worked. I mean, I assume Alitalia got rid of this plane because it was too old, had too many miles, and (*hard swallow*) they considered it unsafe. And then here comes African Express: "We'll take it!"  It's actually really concerning when you think about it. But I manned up, showed up, sat down, and buckled in. We're going to Mogadishu, kids.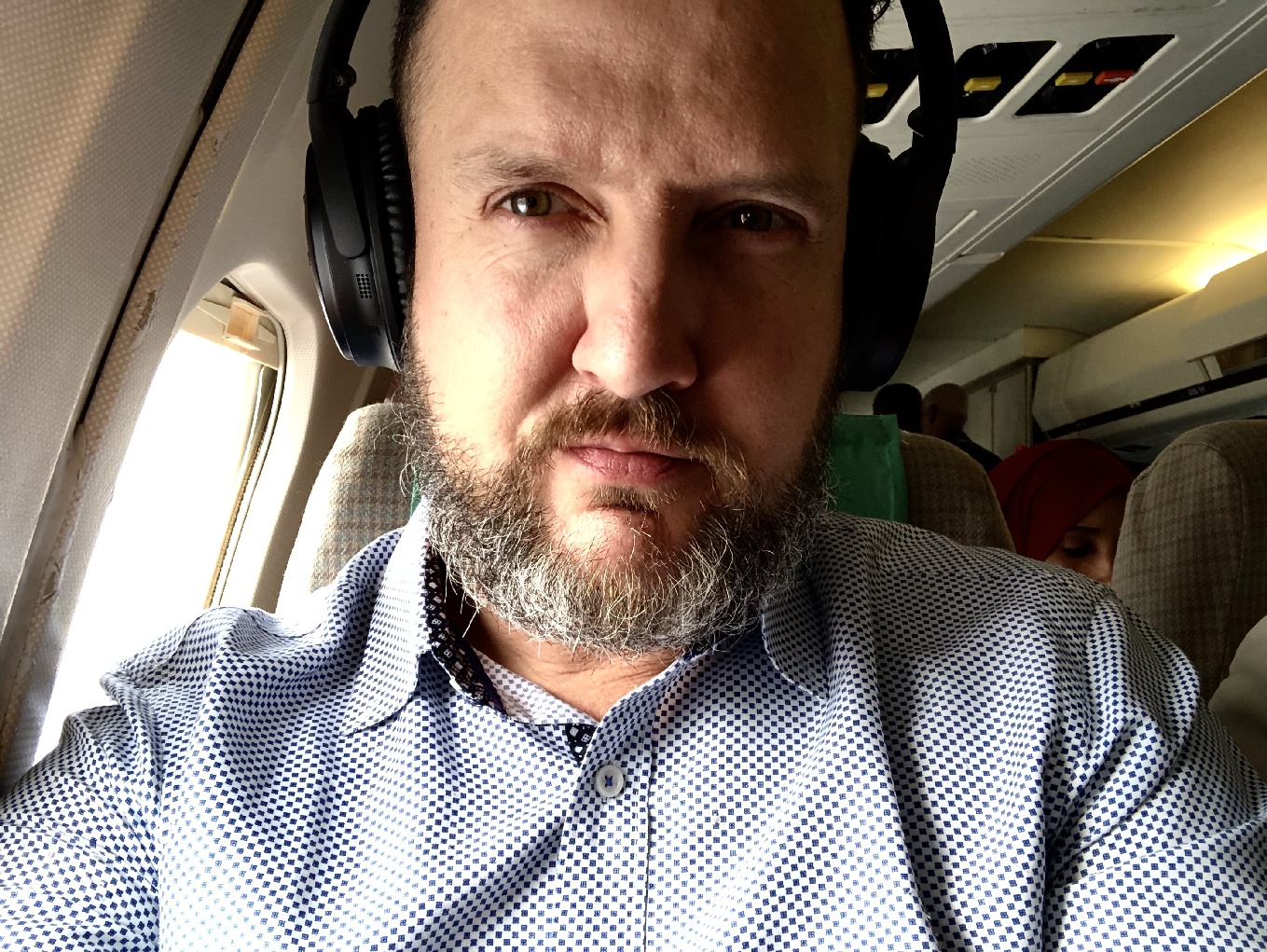 The Friendly Skies
There was only one other gringo on the plane. I wondered what his deal was. He was probably working in Somalia at an NGO, but maybe he was a weirdo like me. The 90-minute flight from Nairobi was uneventful, and though I would've liked to sleep through it after the previous night's two-hour "nap," my adrenaline wouldn't allow it.
There was one moment I will always remember, and it had to do with a few people who didn't know how to operate a seatbelt. A few stand-up comedians have had jokes in their routine asking why in the world flight attendants would ever need to actually explain how to operate a seat-belt to anyone. So I was actually enlightened when I learned there actually are people in the world that indeed need instructions on how to operate the seatbelt. Let me be clear, I don't say this in jest. This was a reminder to me, that not everyone in the world is as privileged as me (and most Americans), to fly, and fly often. I was happy to show the person next to me how to undo their safety belt after I noticed a look of mild panic on their face, as they tugged at the buckle to no avail. I showed them how to lift the flap to release the buckle, and you would've sworn I just taught this person the trick to long division. I thought the whole thing–as simple as it was–was adorable. I was happy to help, and even happier that I now actually understand why the airlines include "seatbelt operation" as part of their safety demo.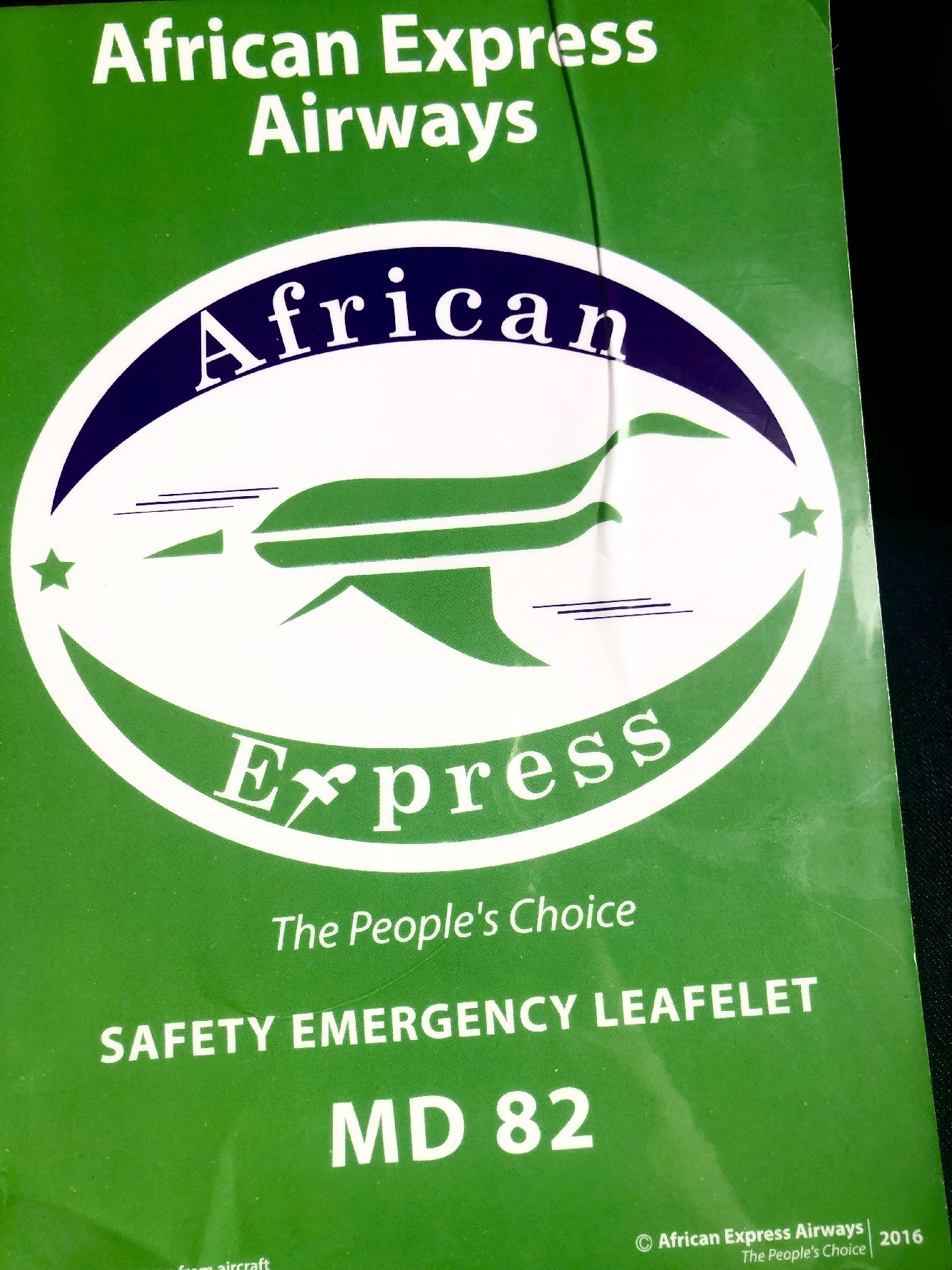 Welcome to Mogadishu
I was actually impressed with Mogadishu's Aden Abdulle Airport. It was a lot bigger and a lot more modern than I was expecting. It's no JFK, but it's also not wooden boards and tarps like the airport in South Sudan. I followed the other passengers down the tarmac and into the big mirrored building. I was coming in on a work visa (only because tourist visas didn't exist), so I had my story ready if I was questioned, but luckily I wasn't. The officer stamped me in with a hearty "Welcome to Somalia" and I was suddenly thrust into the sea of people at the arrivals area. My driver spotted me before I saw him and within two minutes we were heading out of the airport in a Toyota Land Cruiser with blacked-out windows.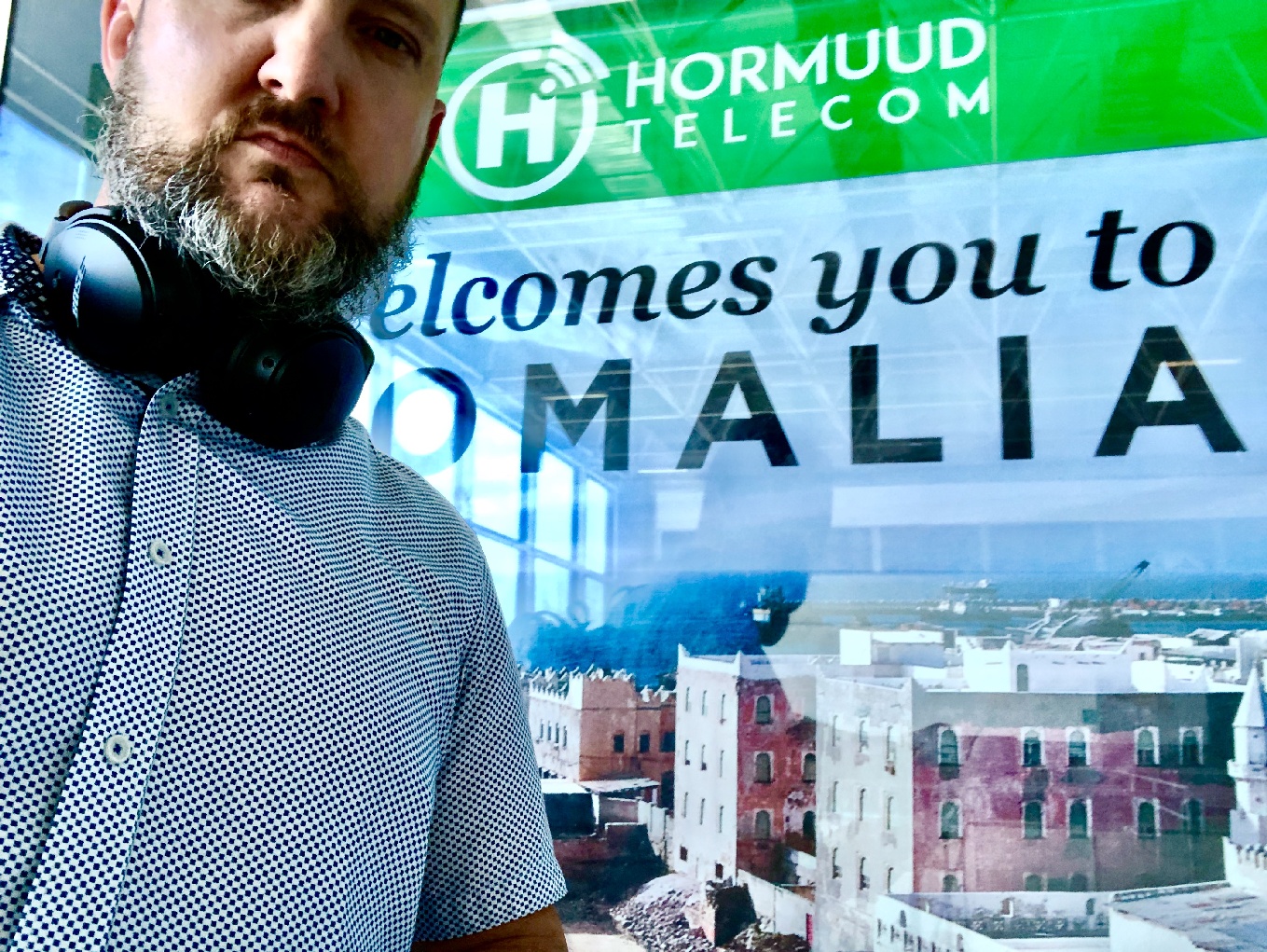 The Realization
It was not until I was actually in the car when I had one of those, "Dude, what the f*ck are you doing" moments, as I saw loads of dudes with guns on the side of the street and then a truck with one of those giant blasters. (In case you're wondering, that's the technical term: "blasters.") I just sat in the car, silent and stiff, as we stopped at, and then moved through multiple security gates. I couldn't tell if we were still in the confines of the airport, or were in the city, but before I could process much more we had arrived at my hotel, which was more like a fortress.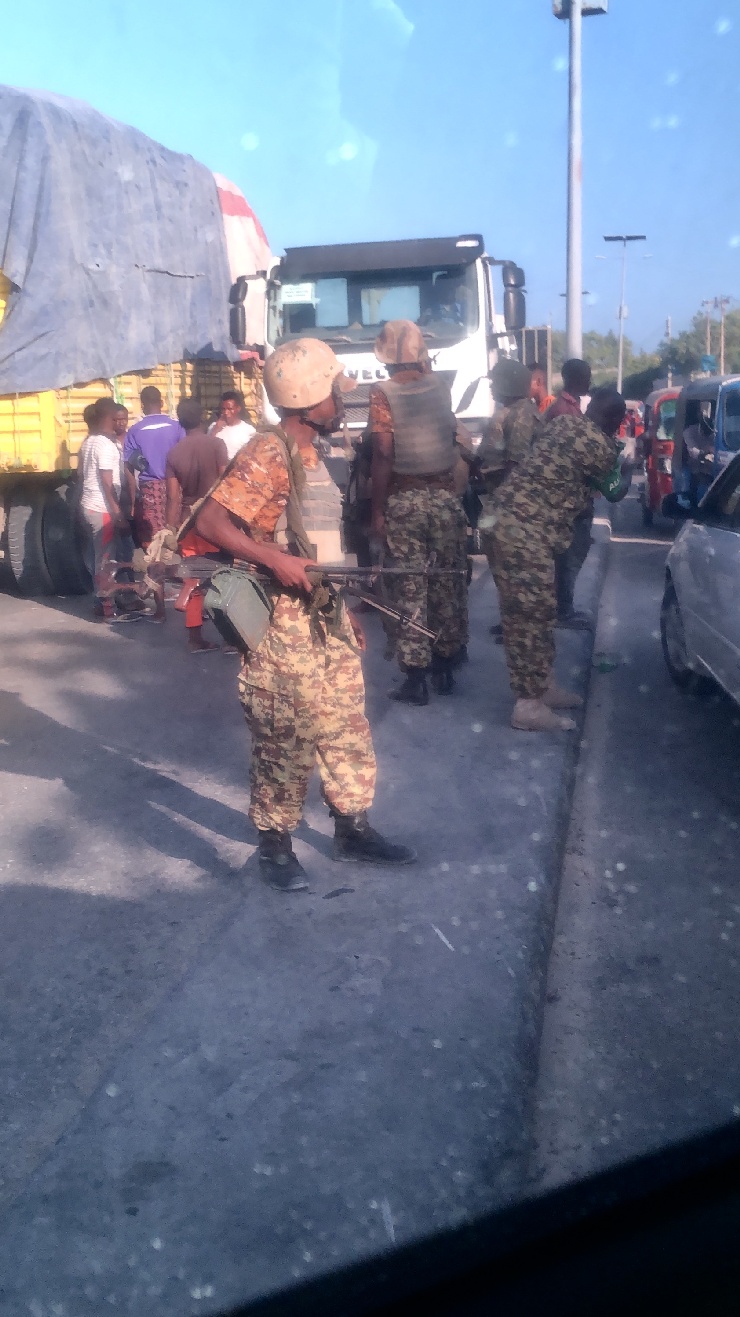 Fort Knox
The security at the Peace Hotel was insane and the place looked like it could rival The Pentagon as far as protection. It took us getting through three, giant, tall, steel gates just to enter the property. I was impressed when I saw the second gate, but once I saw the third, I was like, "Okay, these guys mean business." The three gates were all close together, one after another, sort of like holding tanks in between each one. We'd drive through the first gate and immediately see another giant gate, right in front of us. It wouldn't open until the gate behind would close, and so on. Incredible! Once we passed the last gate and it shut behind us, I let out a huge sigh of relief. Inside the confines of these giant, fortified walls made of steel and barbed wire, lay a tranquil little oasis, with trees, picnic tables, a restaurant and a reception area–a completely different world, sheltered from the madness that is Mogadishu. I checked in and was shown to my room, where I jumped on WiFi and let my family know I had arrived and was okay. Except for my mom. She would know nothing. I didn't want to give her a heart attack. As far as she's concerned, I was seeing giraffes in Namibia.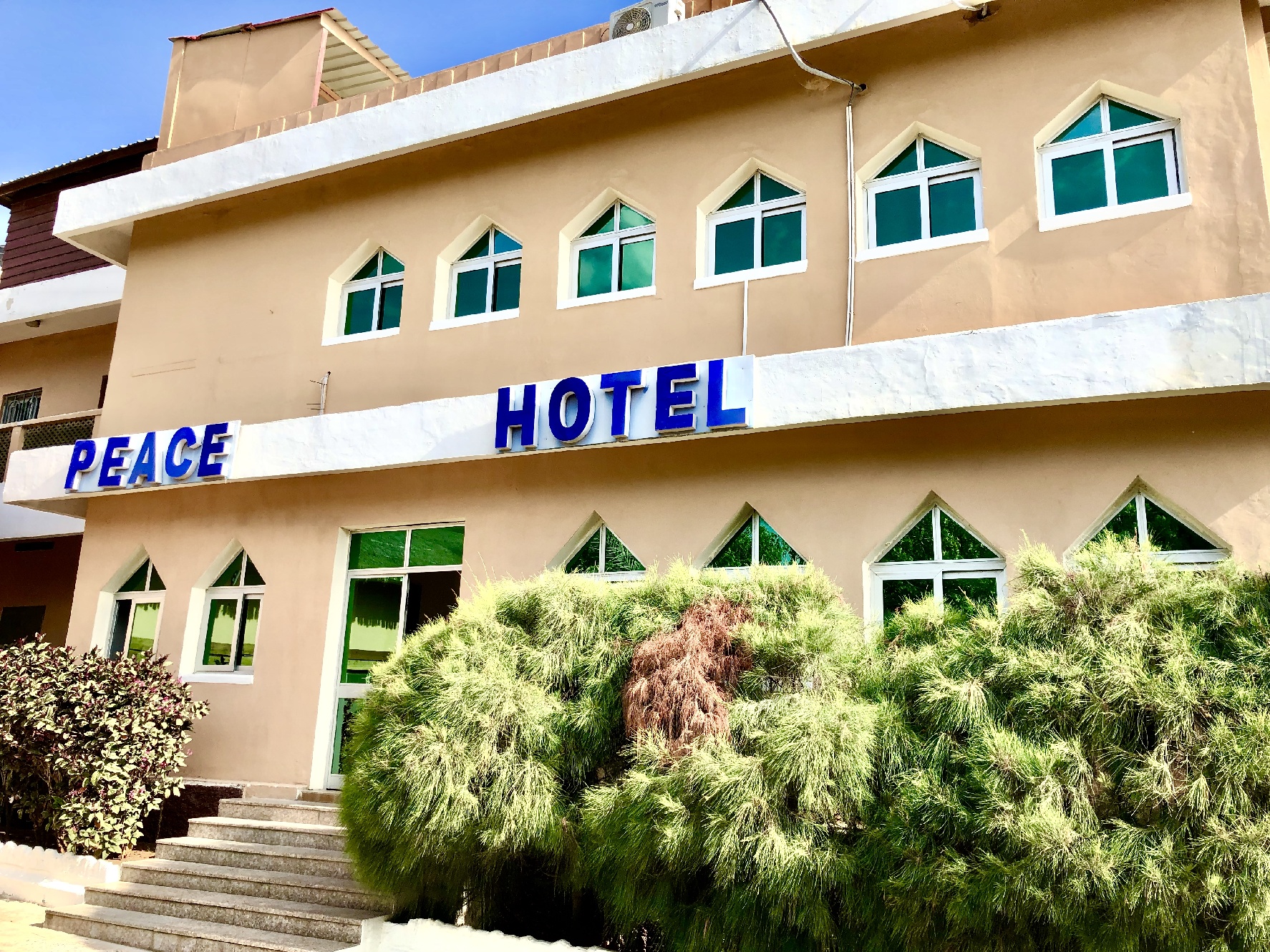 The Suite Life
They gave me a suite (Hey, thanks!), which featured a large living room with a long wooden table and chairs, couch and cable TV. The bedroom was simple, with a wooden bed frame and clean sheets. The toilet tank had a pretty bad, constant leak (literally, pouring, actually), but the water simply flowed to the drain in the middle of the bathroom floor. There was a pair of pink flip-flops on hand to use for the shower. That's an African thing, by the way. So many hotels I've stayed at have flip-flops for the bathroom. But what's grosser: being barefoot in a random African bathroom or wearing someone else's fungus-filled flops? It was six of one and half a dozen of the other as far as I was concerned. In case you're wondering, I never do the random flip-flops.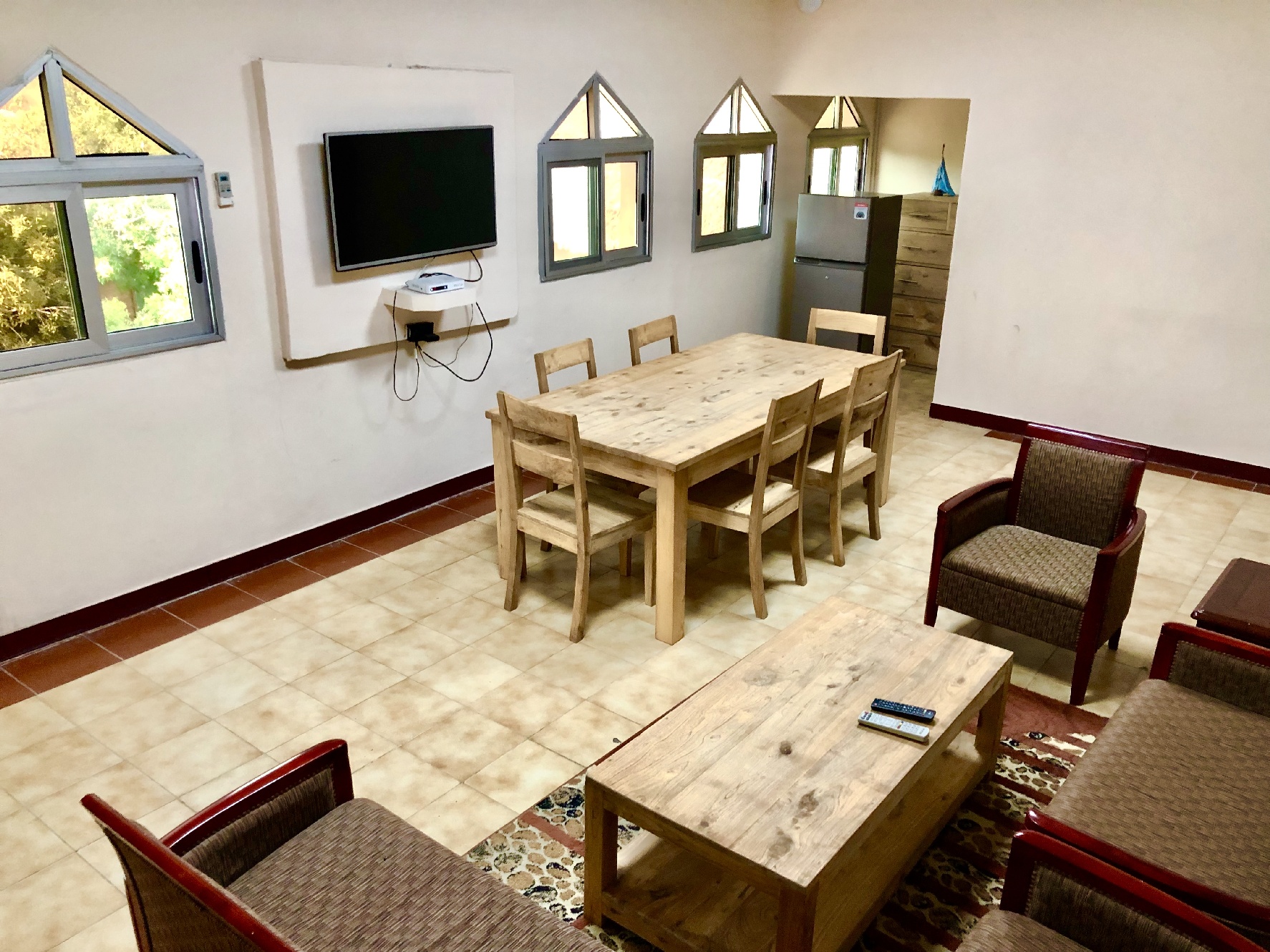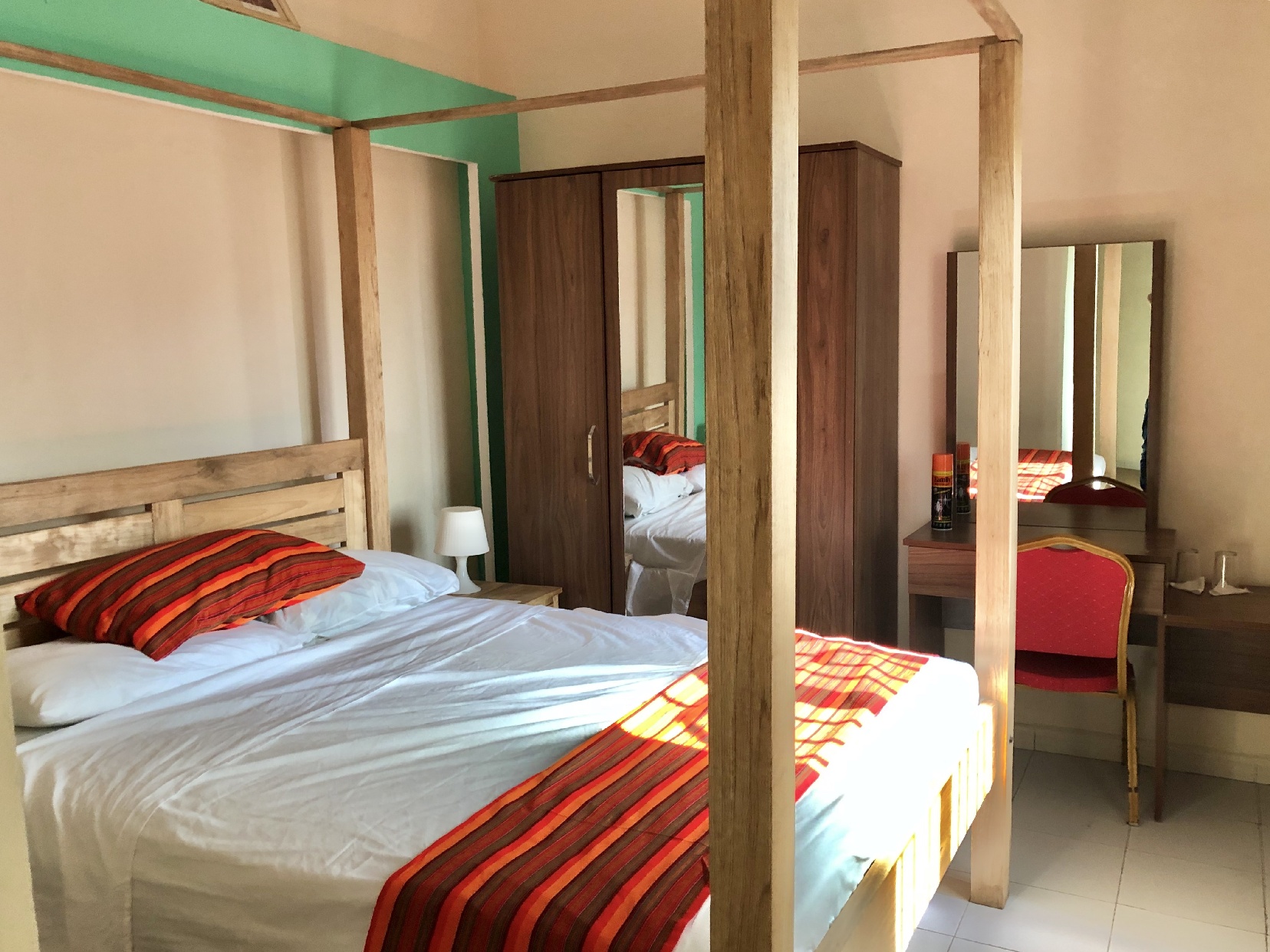 You Can Sit with Us
First on the agenda was lunch. Breakfast, lunch and dinner, at set times, were part of the boarding plan at The Peace Hotel. I went downstairs to the restaurant and got busy at the buffet, sitting with my new, and first Somali friends. Mas'ud and ZamZam were locals and Ayan was from Kenya. All Muslim, they were working for an NGO and at the Peace Hotel attending some training for their job. Mas'ud approached me first, introducing himself, and then the two ladies. They were all really nice and welcomed me to Somalia. I felt like the new kid on the first day of school, and it was nice to sit with them at the lunch table. We asked each other questions as we ate, ZamZam attempted to teach me some Somali words and we all added each other on Instagram. They were really nice kids, especially Mas'ud, who had a big smile and made me feel extra welcome. The conversation also somewhat calmed my nerves a bit.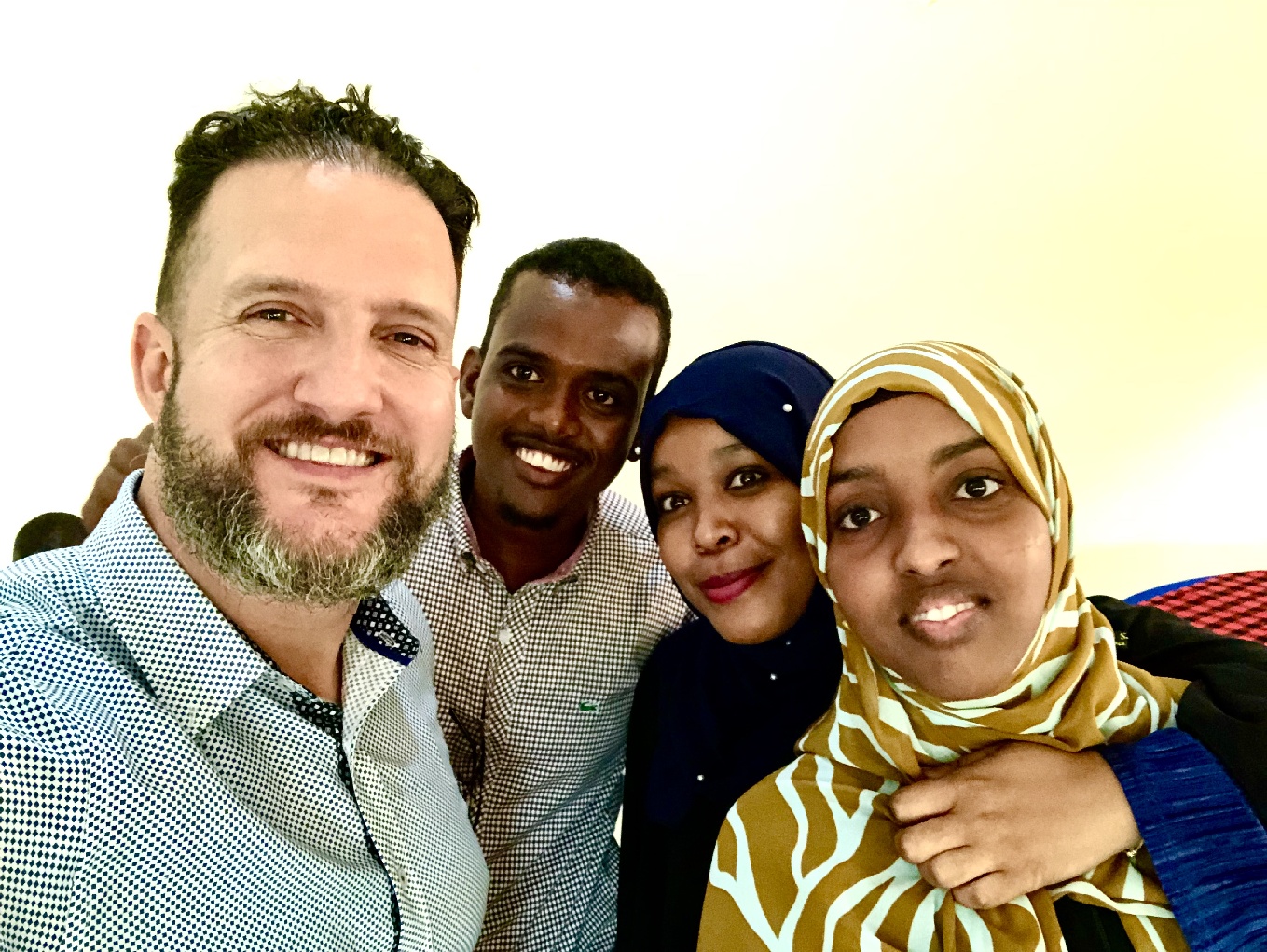 Safe and Sound
After lunch, I met Yousef, one of the guys helping run the Peace Hotel. He began my security briefing by showing me the two "safe rooms" in my building. These were square rooms with giant steel doors with huge latches. Inside were car batteries that would power the lights should the electricity be cut. I felt relieved that after all the gates, walls, guards, cameras and guns, I even had a safe room to cower in, should shit hit the fan. Now I wanted a safe room at home!
Next, Yousef took me to their command center, which was right out of a James Bond movie. For obvious reasons, I didn't take photos (I would never want to jeopardize their operation by publishing sensitive details), nor will I give out too many details on the specifics of this room. But I can tell you that their communications center included at least 50 live feeds from cameras inside, around and even outside the compound. Dozens of monitors hung on the wall, showing everything that was going on, including cameras outside the fortress that could be rotated and zoomed in and out. Yousef showed me things on the monitors that were a mile away—but you could see what was happening with such great clarity, including nearby roads, vacant lots and even the airport! They had the whole neighborhood on lock. It was fascinating and I wish I could've taken pictures and video. They didn't tell me I couldn't, but common sense and respect didn't even give me that option.
Another thing I learned that gave me great solace, was that the hotel itself wasn't just secure, but the entire area surrounding the property was locked down and a "safe zone;" meaning, there were checkpoints, gates and guards around the entire perimeter of the entire neighborhood, so a bad guy shouldn't be able to even get close to the first gate at the hotel, since the entire area was secured.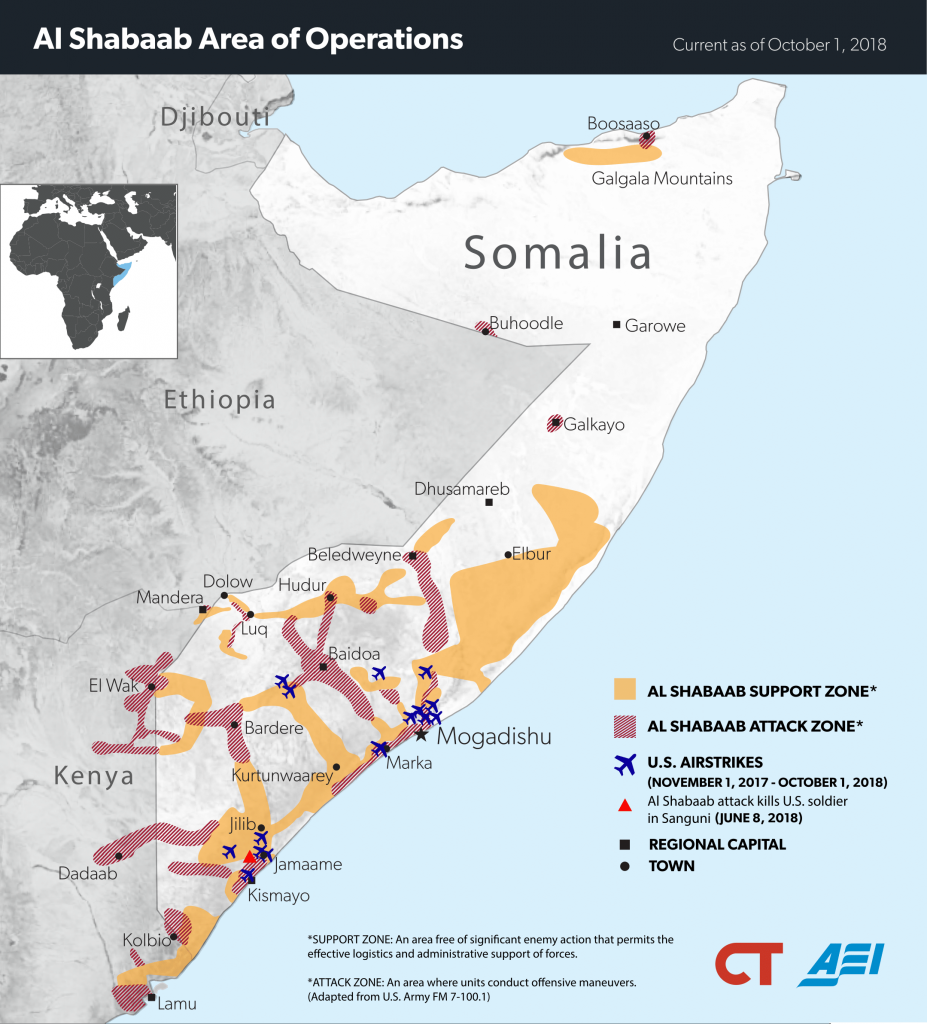 There were other intelligence details that I would so love to share with you, but won't. I'll just tell you this: I was extremely impressed with their operation at the Peace Hotel. The hotel was actually part of a company called Peace Business Group; they owned three hotels in Mogadishu and handled logistics for diplomats, politicians, business executives and a handful of crazy tourists like me.
After I realized just how fortified we were, inside this compound, in the middle of an entire "safe zone," I felt so much more at ease, and just about all my nervousness dissipated. For all intents and purposes, I was safer here in the hotel, than just about anywhere else in the world. Think about how many open, soft targets there are wherever you are in the world. Here I was, held up behind layers and layers of steel and barbed wire, metal detectors, dozens of guards with big guns, all inside an entire neighborhood that was secured and monitored…and if all else failed, I had a safe room for the last resort. Could I just stay here???
But I wouldn't. I'd booked an afternoon city tour. And the more safe and secure I realized my hotel was, the more dangerous the outside seemed. If they'd gone to all this trouble to secure this fortress I was staying in, how horribly bad and dangerous were things on the outside??? My mood quickly flipped, as Yousef said, "Okay, we go." Did we have to???
We Roll Deep
I'd never been in an armored car before. The door was as heavy as a bank vault's door and the windows must have been an inch thick. The glass made a dull thud as I knocked on it with my knuckles, barely making a sound. Yousef rode in front with the driver. Ahead of us was a truck with a driver, a guard in the passenger seat, and four men in camouflage, holding big guns, sat on the edges of the truck bed. Their eyes were constantly moving in every direction as we left the multiple gates of The Peace Hotel and descended into the city, leaving the green zone. I snapped photos and video through the blacked out windows. Yousef gave commands and received intel on his radio. This was intense.
I got nervous when traffic came to a stop. There had been a small collision involving a motorcycle and a truck, and the two vehicles were blocking the road as the drivers' argued about who was at fault. I quickly learned we must not remain sitting for more than a few seconds—that made us a target, just like so many movies I've seen. The bad stuff in these places always seems to go down when the target gets stuck in traffic…at least that's the setup in so many of these action films, one of which I was now starring in it seemed. The team was having none of that, as the guard jumped down from the truck to get the bike and the other car out of the way. They did it quickly and swiftly, acting as if they were "the authorities," and we were soon once again moving. Man, my heart had stopped—it was like the scene of so many films I've seen.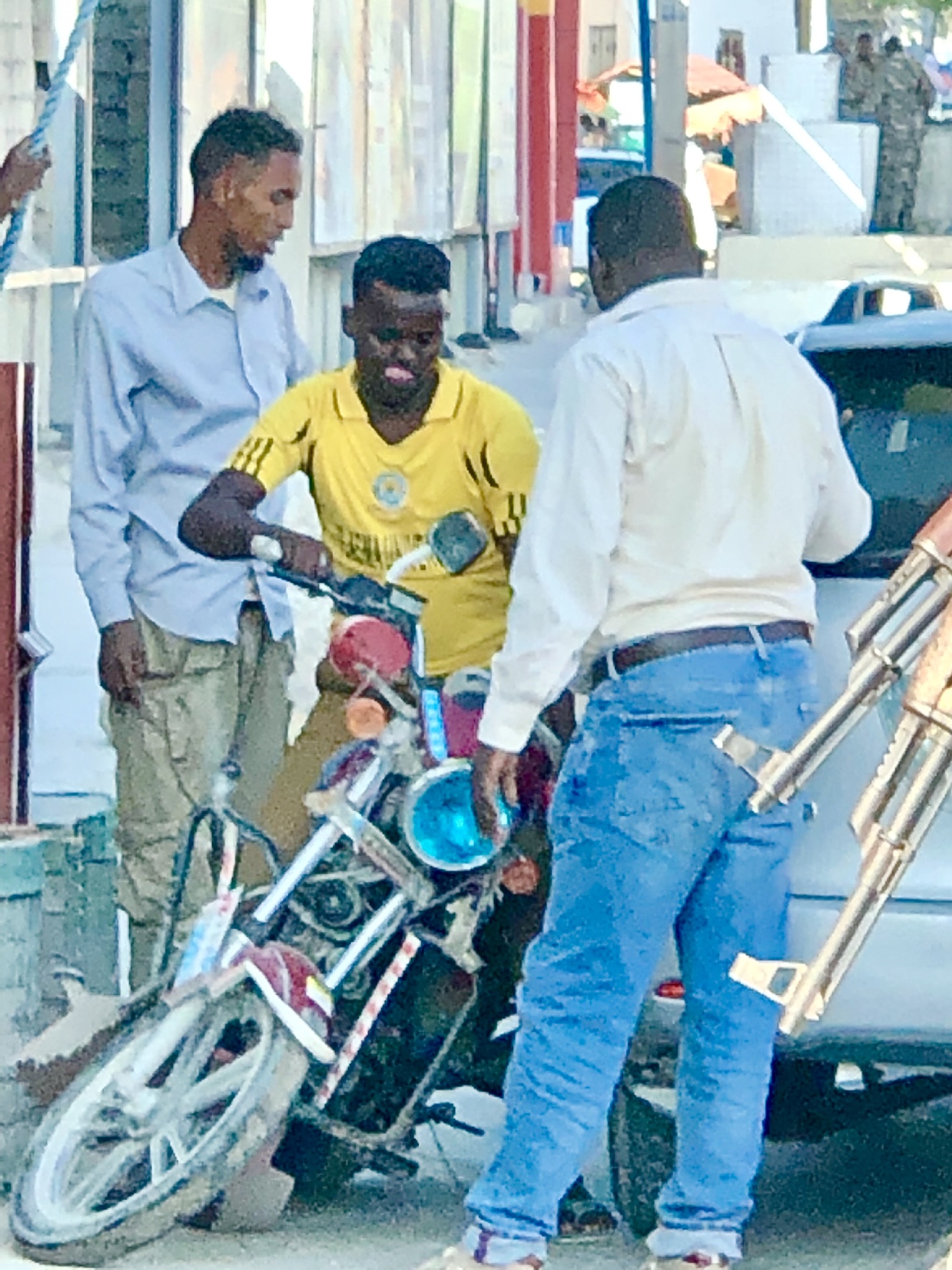 Soon after, we came upon another traffic jam, and it only took seconds for my entire convoy to jump the median and get the hell outta there. It was scary, exhilarating, and even a little fun all at once…it was all the illegal and aggressive moves you dream of pulling while stuck in rush hour traffic: pulling guns on and shouting at the dummies blocking traffic, speeding down the street in reverse, flying down the opposite lane and hopping curves: all the things that would get you thrown in jail in a second back home.  Woooohooooo!!!  Not gonna lie, I kind of felt like a bad ass. But I kept reminding myself that this is not a game. At times I felt guilty for putting these guys' lives at risk, just so that I could have an adventure, with no real "need;" just a desire to see some place I probably shouldn't. I was putting these guys in harm's way for my entertainment. I did realize this. But I was also supporting the local economy and putting food on these people's plates; the tour and accommodation were painfully expensive. So maybe it was a give and take. I don't know, I questioned it all. All I knew was that I was really appreciating these guys at the moment. My lives were in their hands.

Up on the Roof
Our first stop where I was actually able to leave the vehicle was the Safari Village apartment complex. These were the tallest buildings in Mogadishu. After clearing security to enter the property, Yousef took me up to the roof for a 360 degree view the city. It was just us and a collection of satellite dishes and antennas. The breeze was blowing and the sun was shining over Mogadishu. I was still in shock that I was actually here.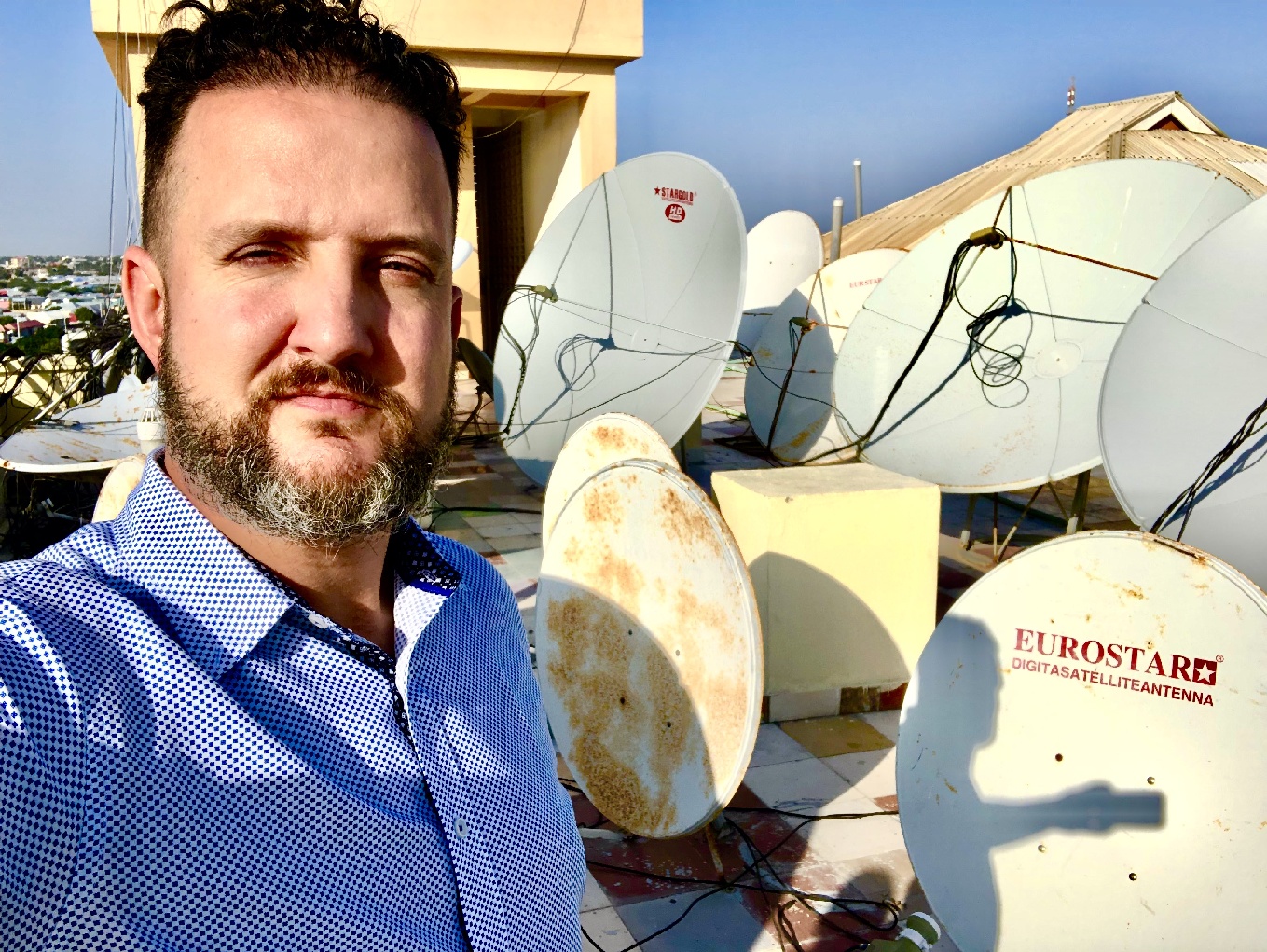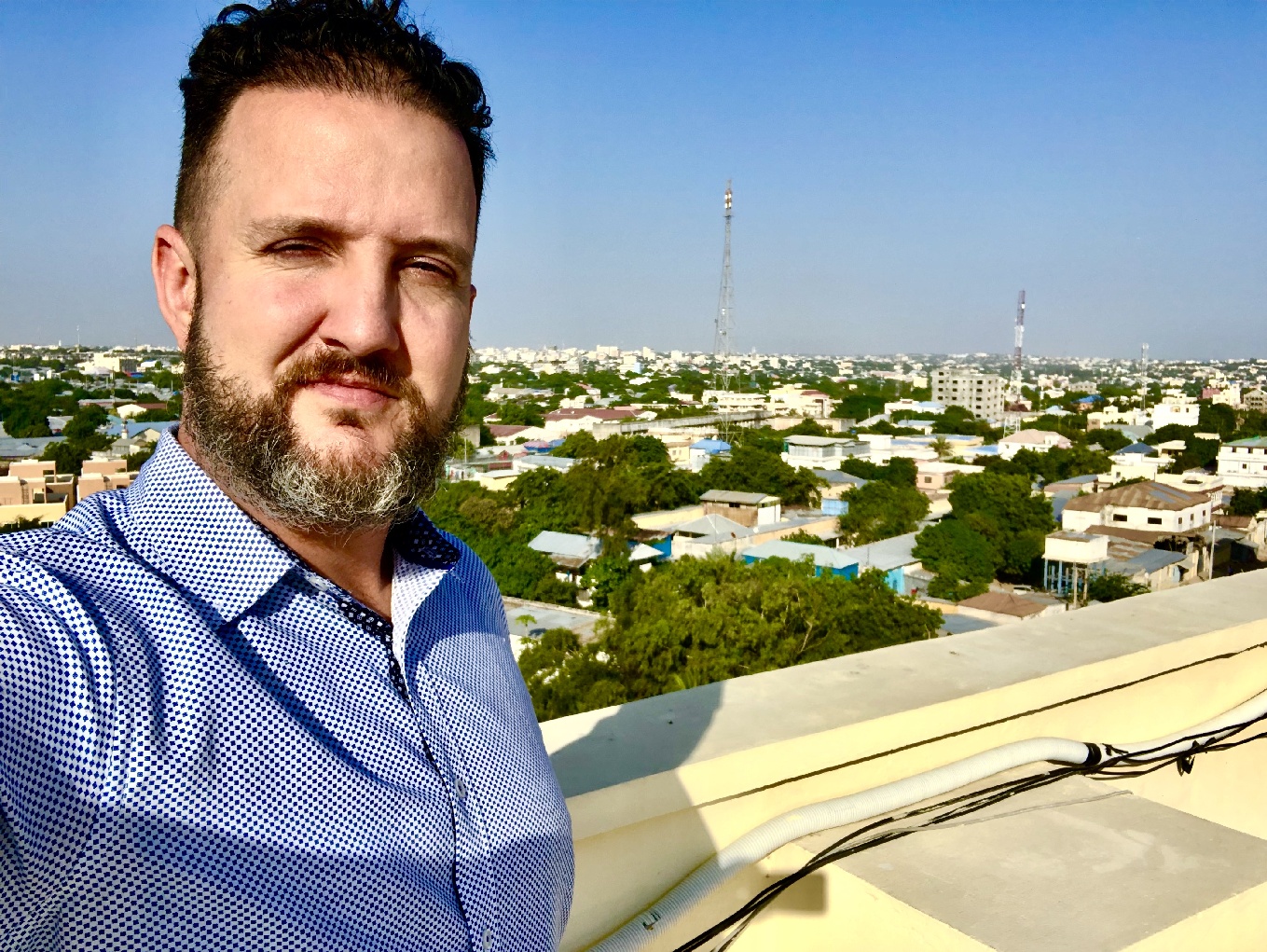 Sittin' in the Park, Waiting for You
Next it was over to Peace Garden. This was a secured park where families and friends meet to hang out, picnic, have tea, and get simply away from it all. It would be nothing special back in the states, but for Mogadishu, it was the place to escape all the madness.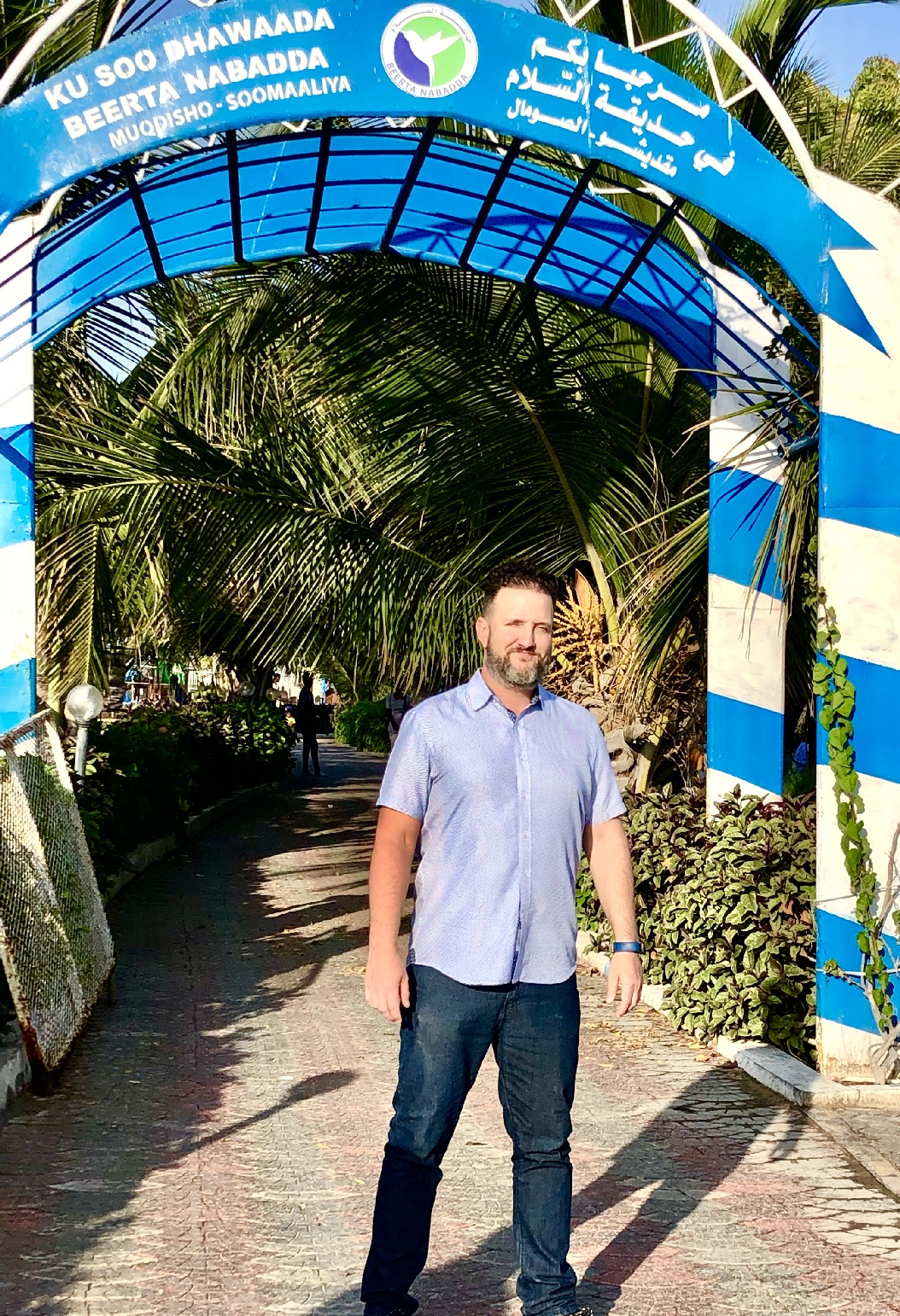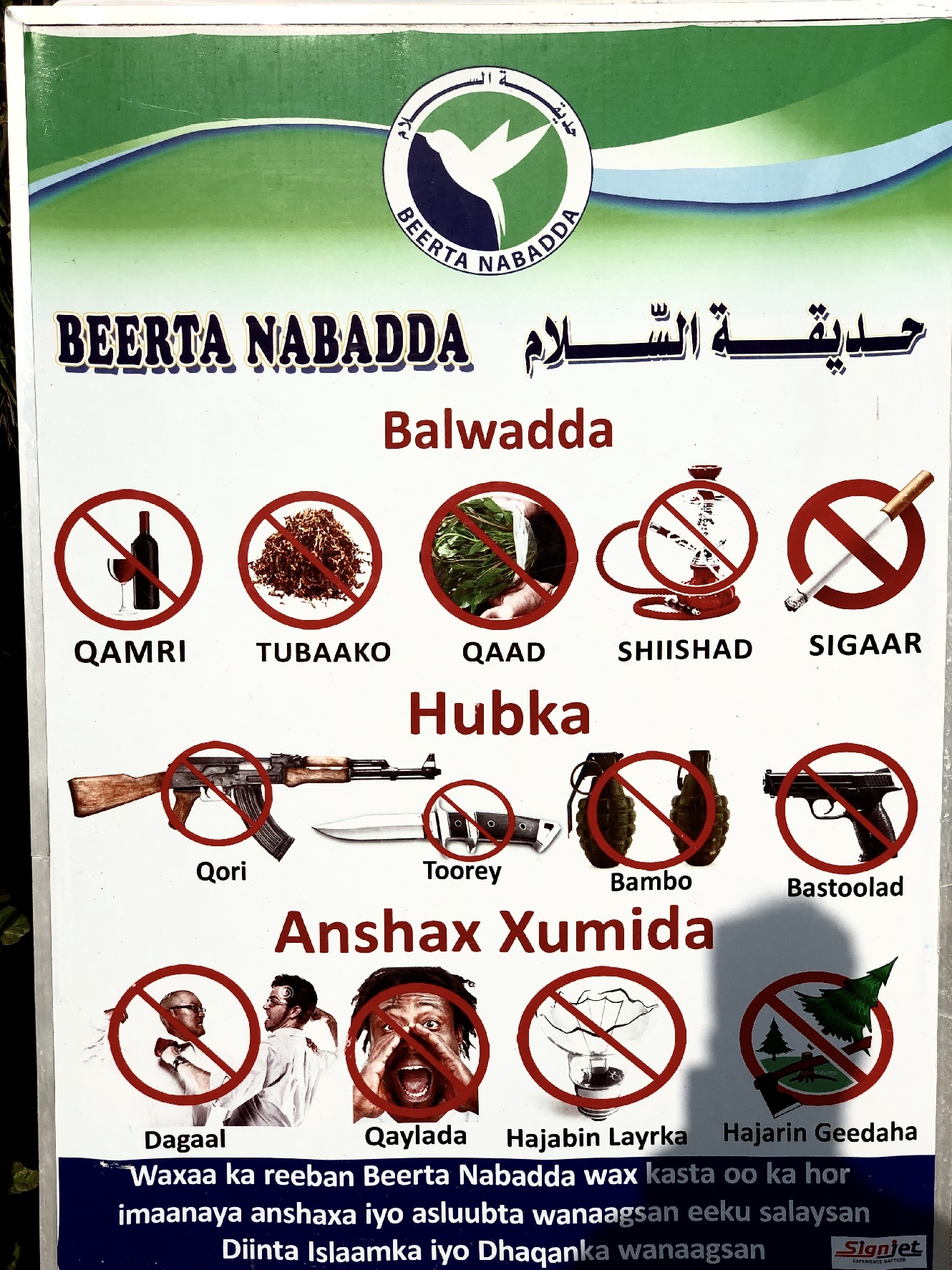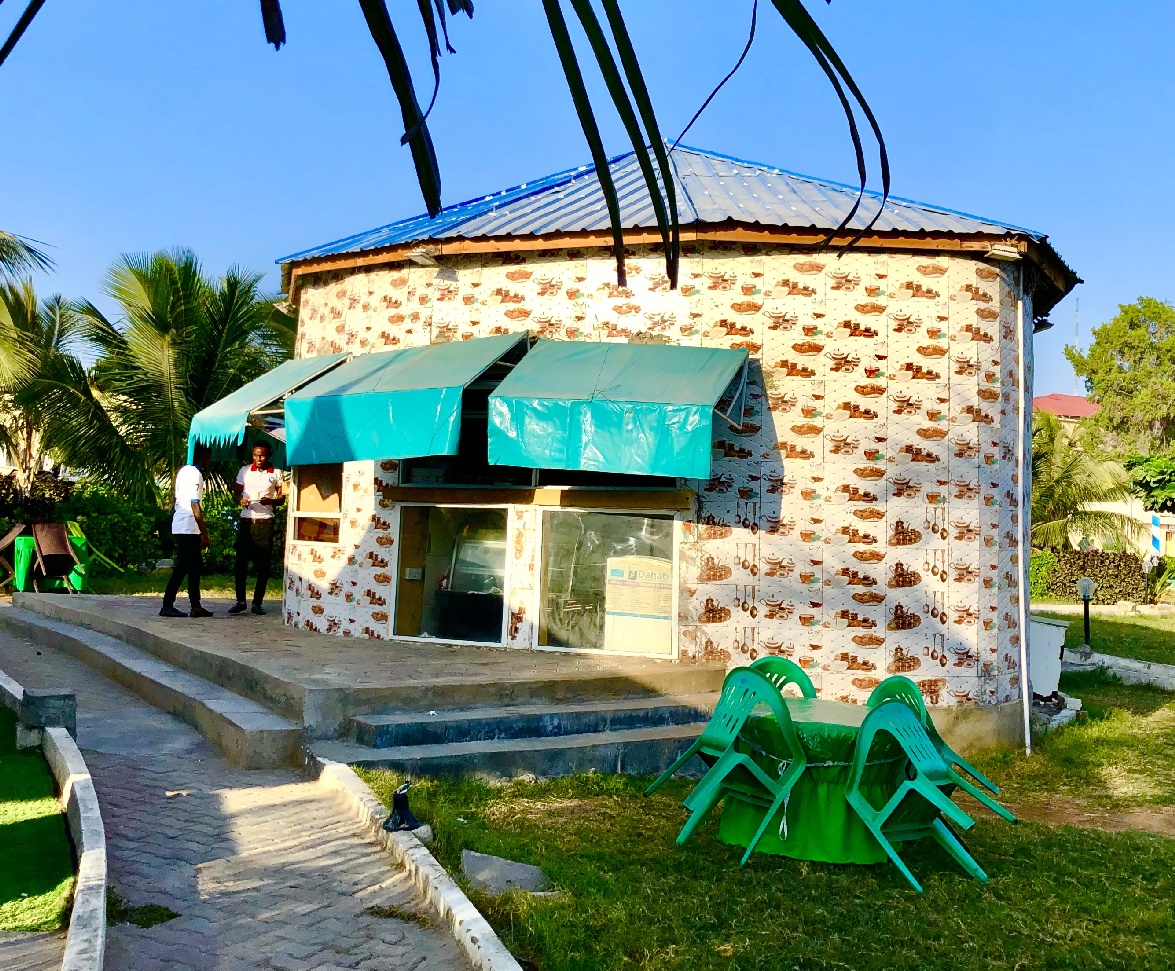 A Landmark Famous for all the Wrong Reasons
Back in the car, we passed the exact spot that Black Hawk was downed and that itself was surreal. I purposely did not watch the movie before this trip, but will, now that I have left. I wondered where the helicopter was now, and Yousef told me it had been disassembled and taken away.
I remember many years ago—as a younger man, much less mature and much more angry—wondering why we didn't just flatten these places during wartime. Destroy the entire country. Now, actually being to these places, on the ground and spending time with all the good people in these risky regions puts everything into perspective. I refuse to get into politics on this website, but man, how I pray this world could just get along. It's 2019, you think we could of all figured it out by now. Rant over.
We pulled up to a square, The Tomb of the Unknown Soldier, which featured a concrete obelisk. Yousef said we could get out. This made me so nervous, since this was my first time on the ground in Mogadishu, in the wide open, outside of any gated area or bulletproof car. My guards quickly spread out and secured the area, sweeping the area like SWAT agents. Onlookers started at me like "who the hell is he and what's going on?" I didn't know whether to make eye contact, to smile, wave, or ignore everyone. I felt kind of bad actually; like I was interrupting everyone's peaceful party just for my photo op. I had no idea what people were thinking, I just hoped they didn't hate me. They were just kicking back, enjoying their afternoon, and then here I come with my gang of guys with big guns. What a dick.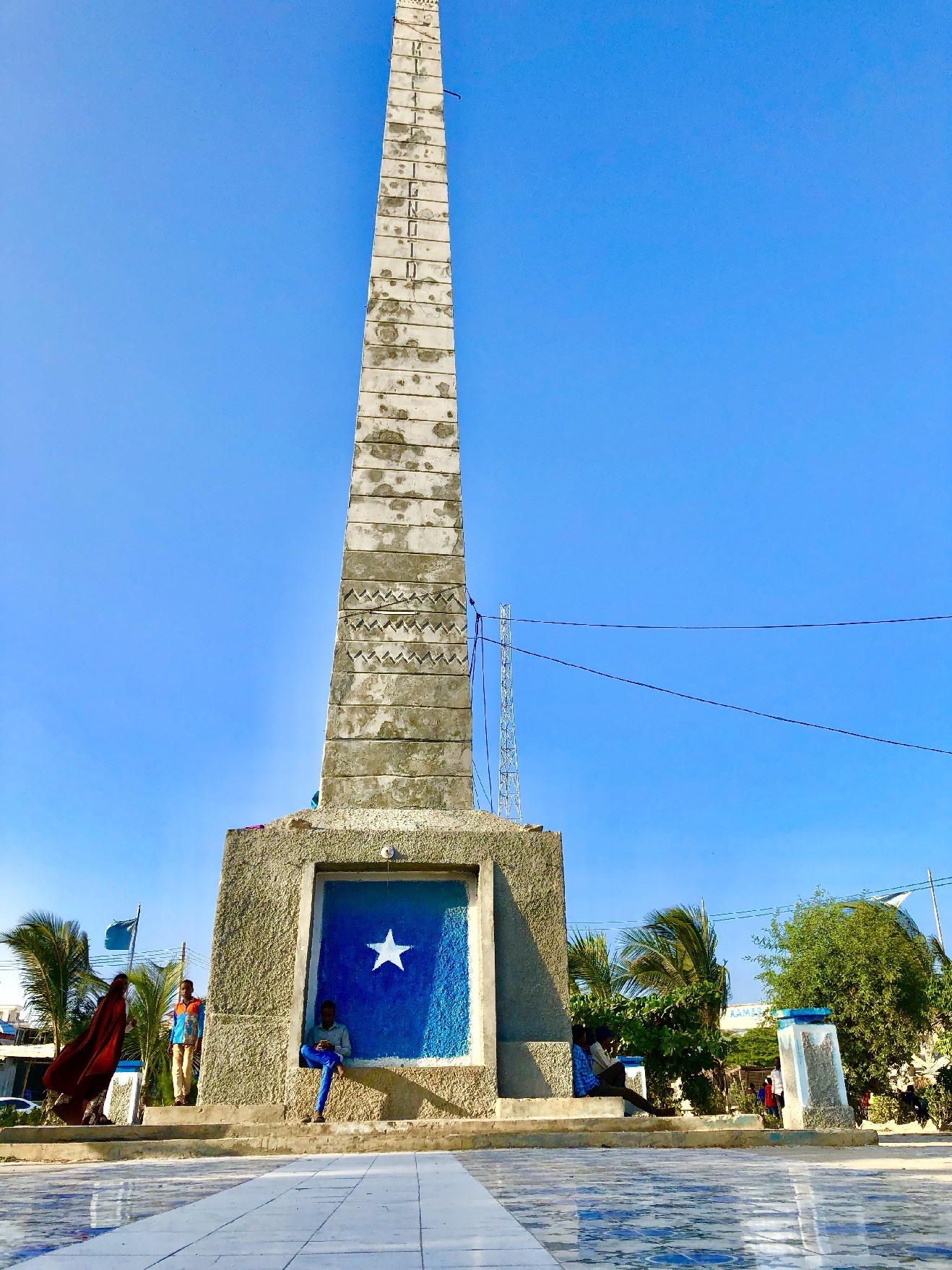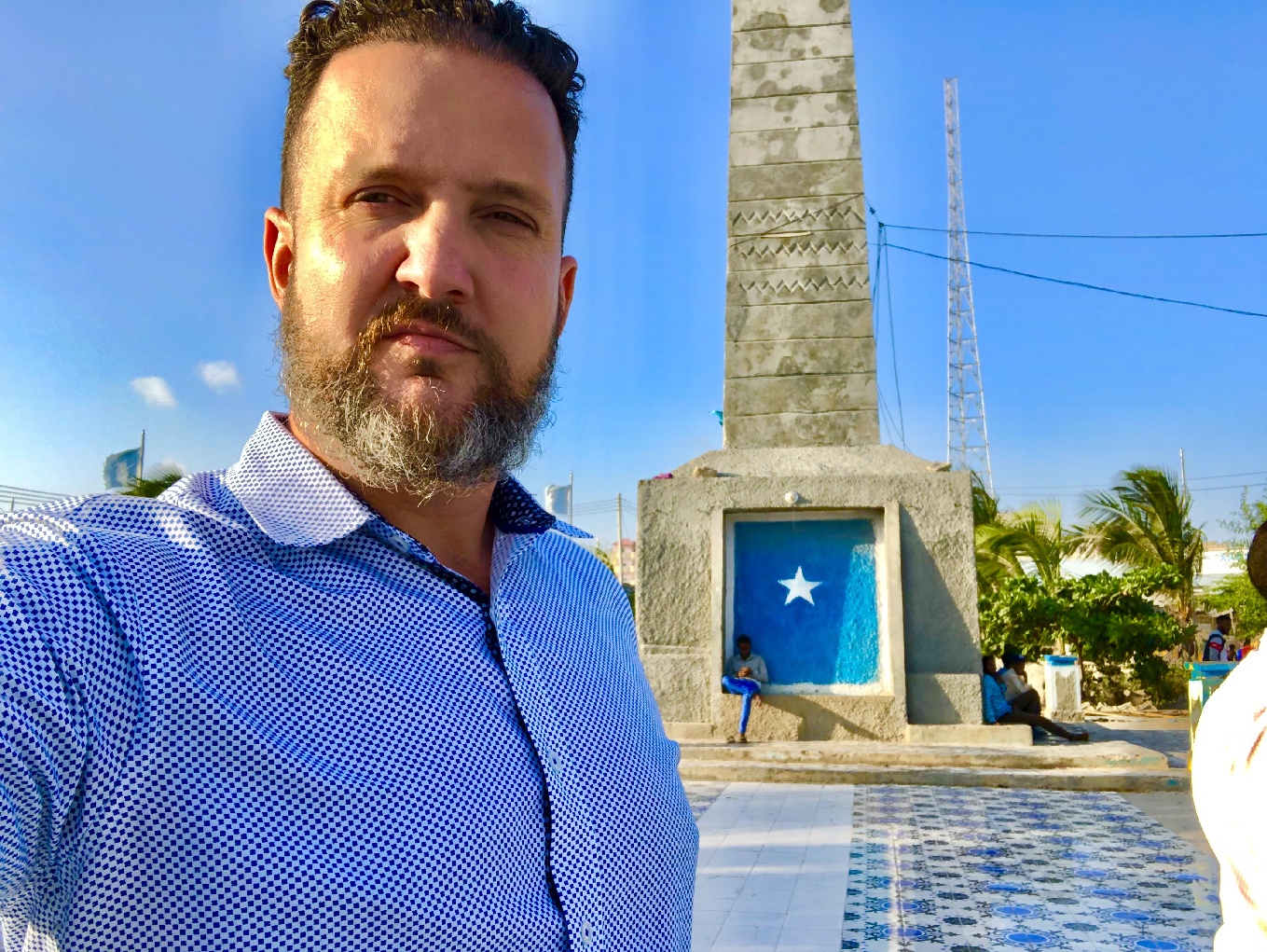 I felt even worse when one of the guards shooed a young man away as I sat down in front of the monument for a photo. I quickly insisted, "No, it's cool, you don't have to move," but the message from my guard with the gun had already been delivered, as the kid scurried off into the crowd. Ugh, I felt like such a privileged dick. Like, "Who the f*** is this guy??!!!" Man, I never wanted to be that guy.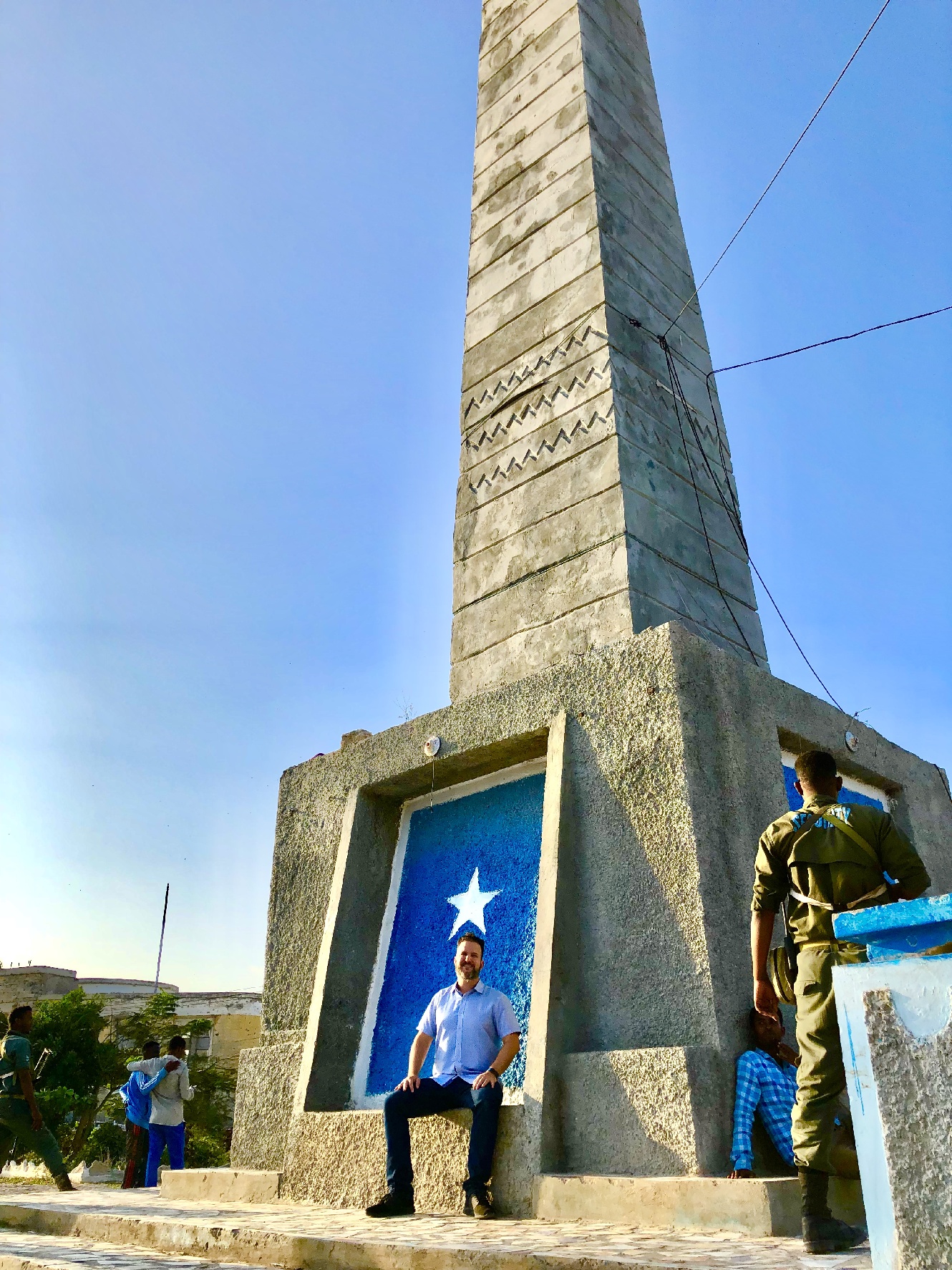 Socialite
Luckily, I made some friends at our next stop. Our convoy pulled up to the gate of the Dolphin Hotel. This was a big hotel, restaurant and bar, right on the beach. It reminded me of some of the older beach hotels in Puerto Peñasco, Mexico: concrete, painted white, Spanish style. We headed upstairs to the open air bar and restaurant to take in beach views, the sunset and enjoy the breeze. Like everywhere else here, most people stared at me with curiosity. A gentleman in a blue blazer approached Yousef and asked if he could take a selfie with me. Best thing ever. I always want to take pictures of the locals, but it's always pretty awkward asking strangers; some people take insult, like you're treating them like zoo animals, others think you're taking photos to sell them for postcards or a book. Taking pics with or of locals can be tough, so when a local asks me for a picture—well that's just a total score and license to take as many pictures of them as you like. And we did.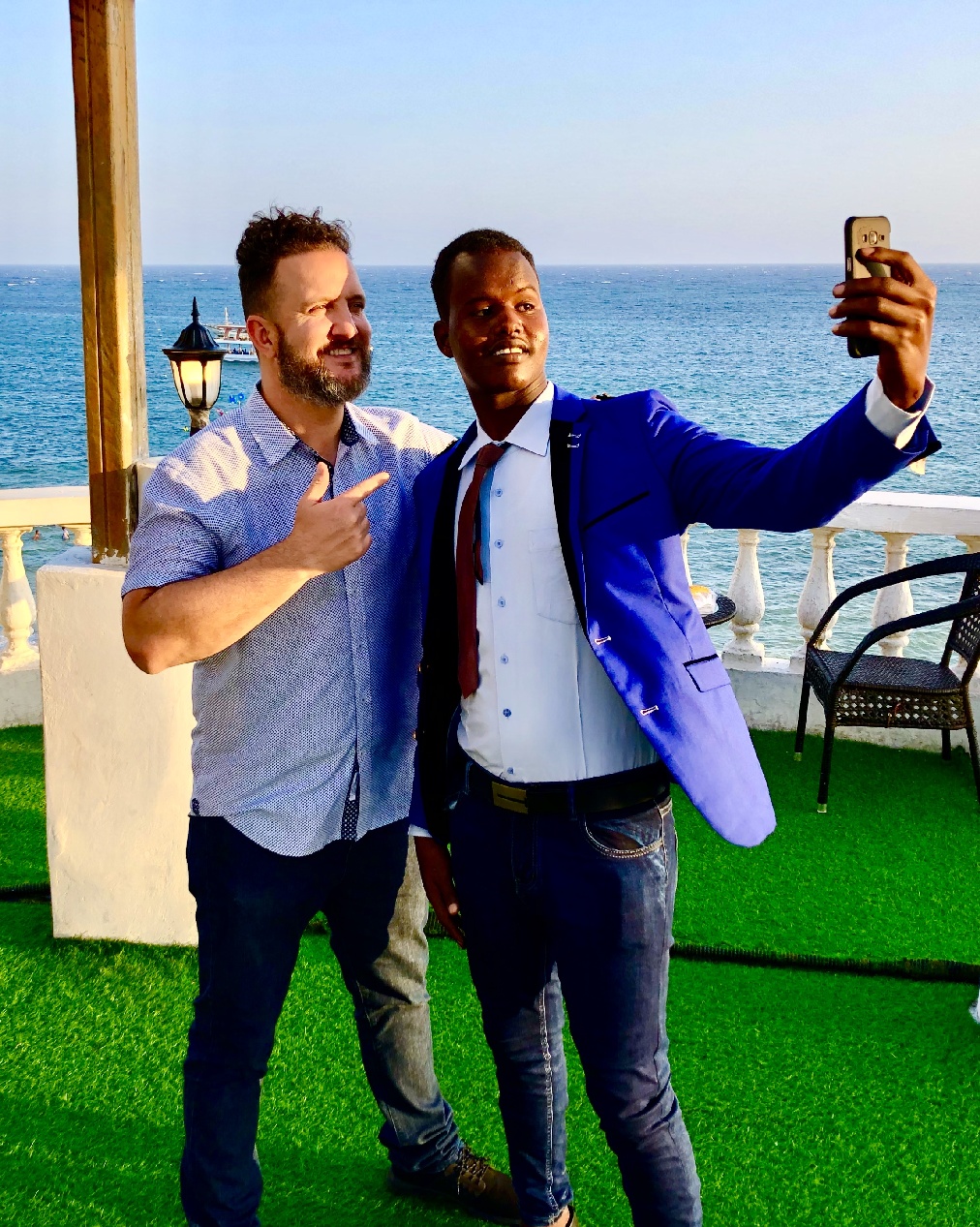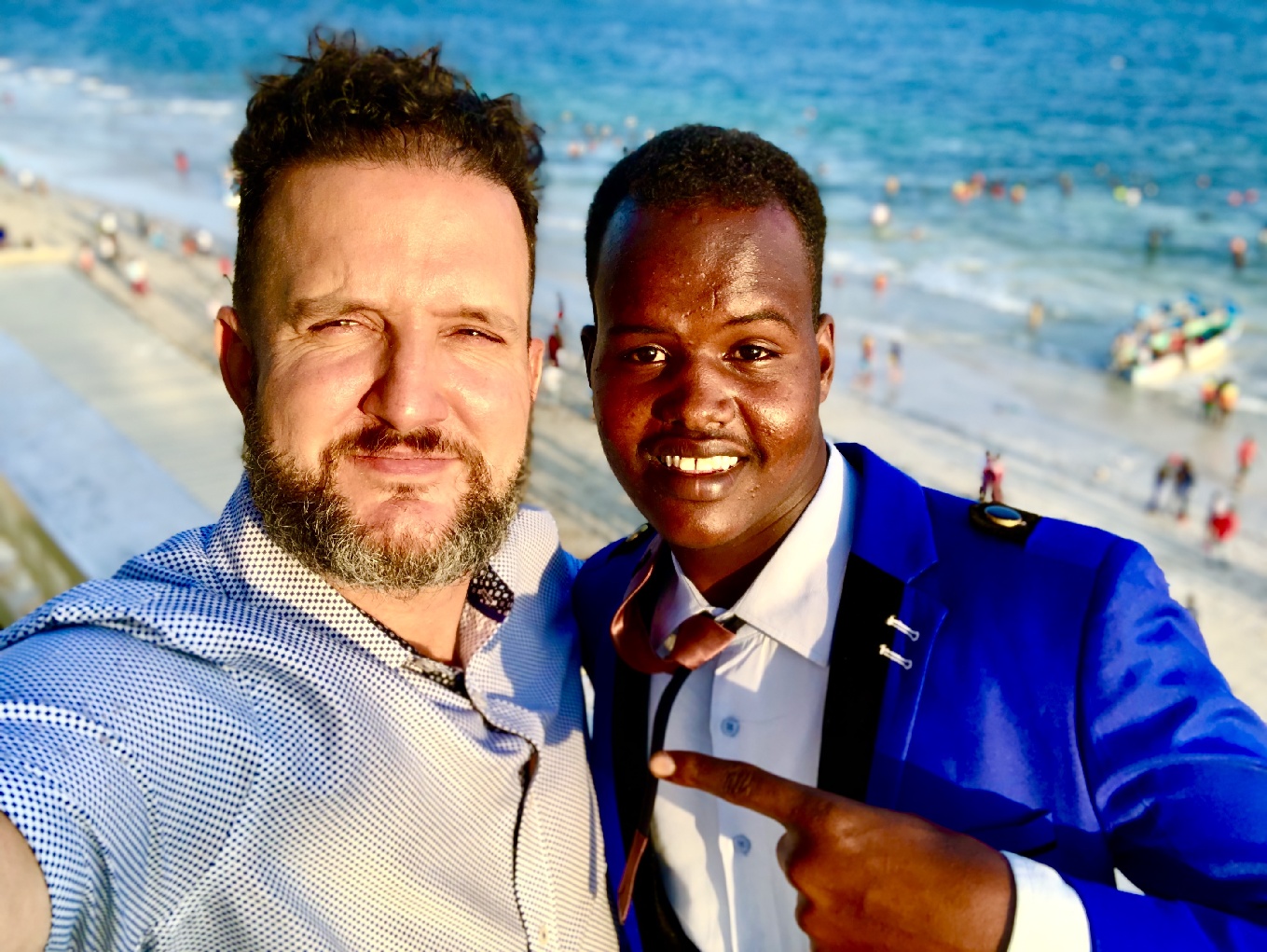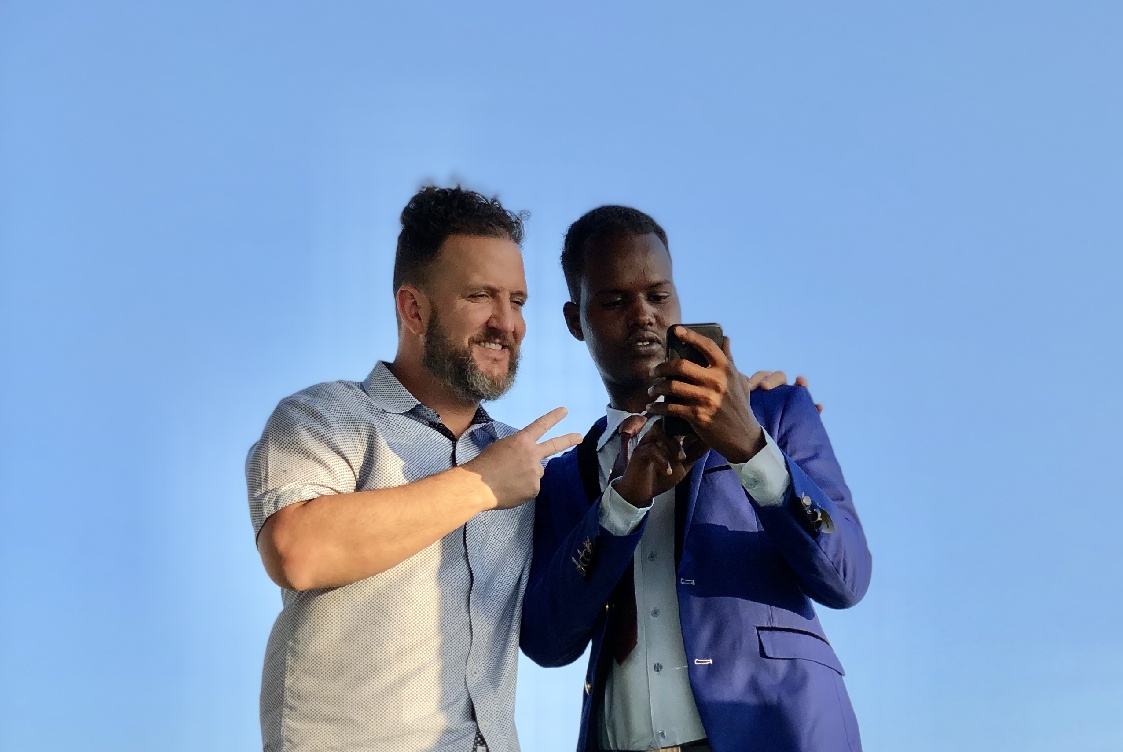 We then ventured downstairs, watching the beach goers at eye level. It was interesting seeing the women out in the water with their full abayas on. No swim suits. I was wondering what would happen if someone showed up with a G-string. Such a different culture here.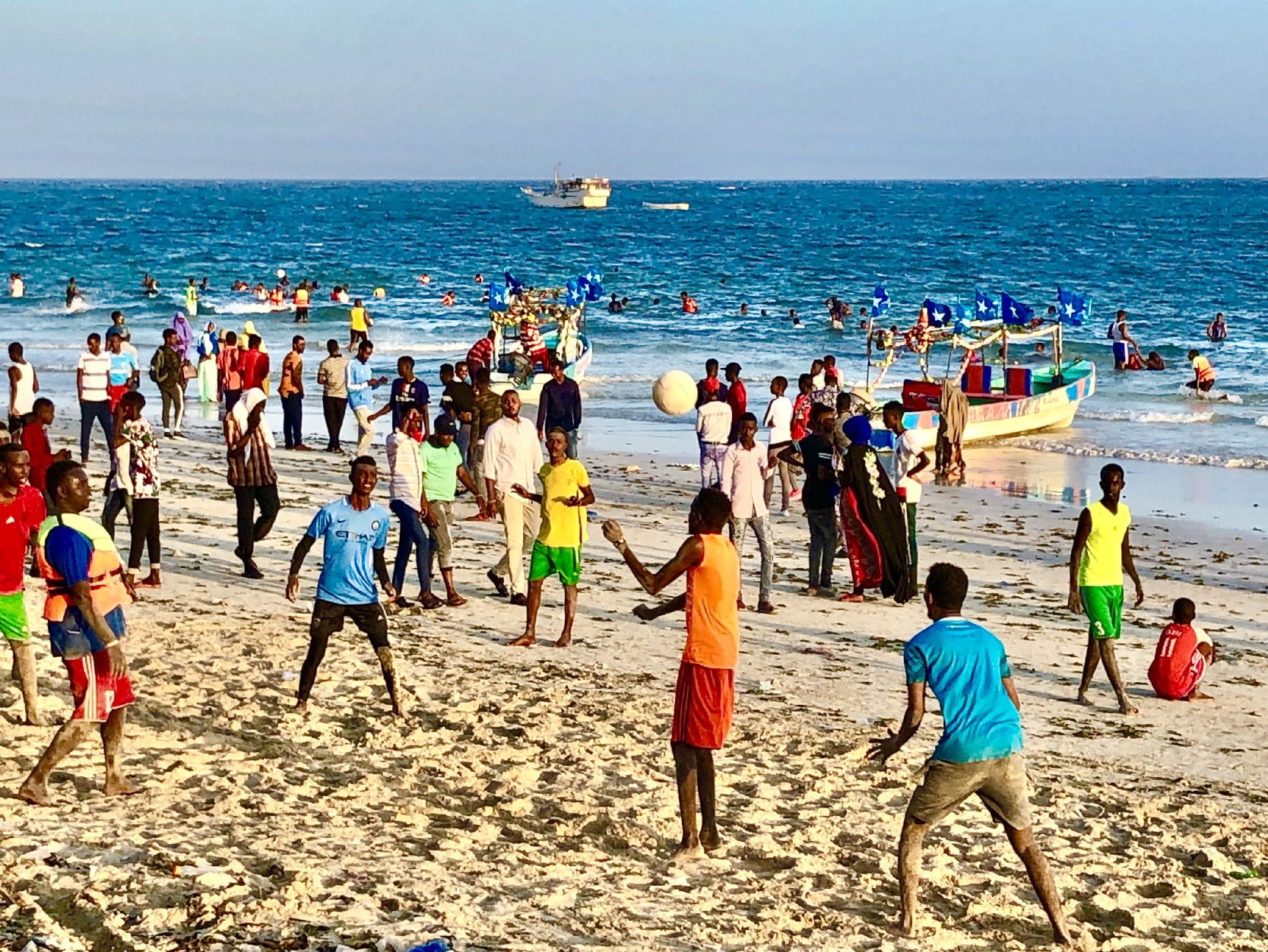 Glamour Shots
A booming business in Mogadishu is professional photographers. Young men with DSLR cameras roamed the beach, taking photos of customers for $1 each. The camera man would take the photo, collect his dollar, then send the picture to the client via Whatsapp. Certainly a smart way to make some money. I appreciate and respect anyone in Mogadishu (or anywhere else) making an honest living.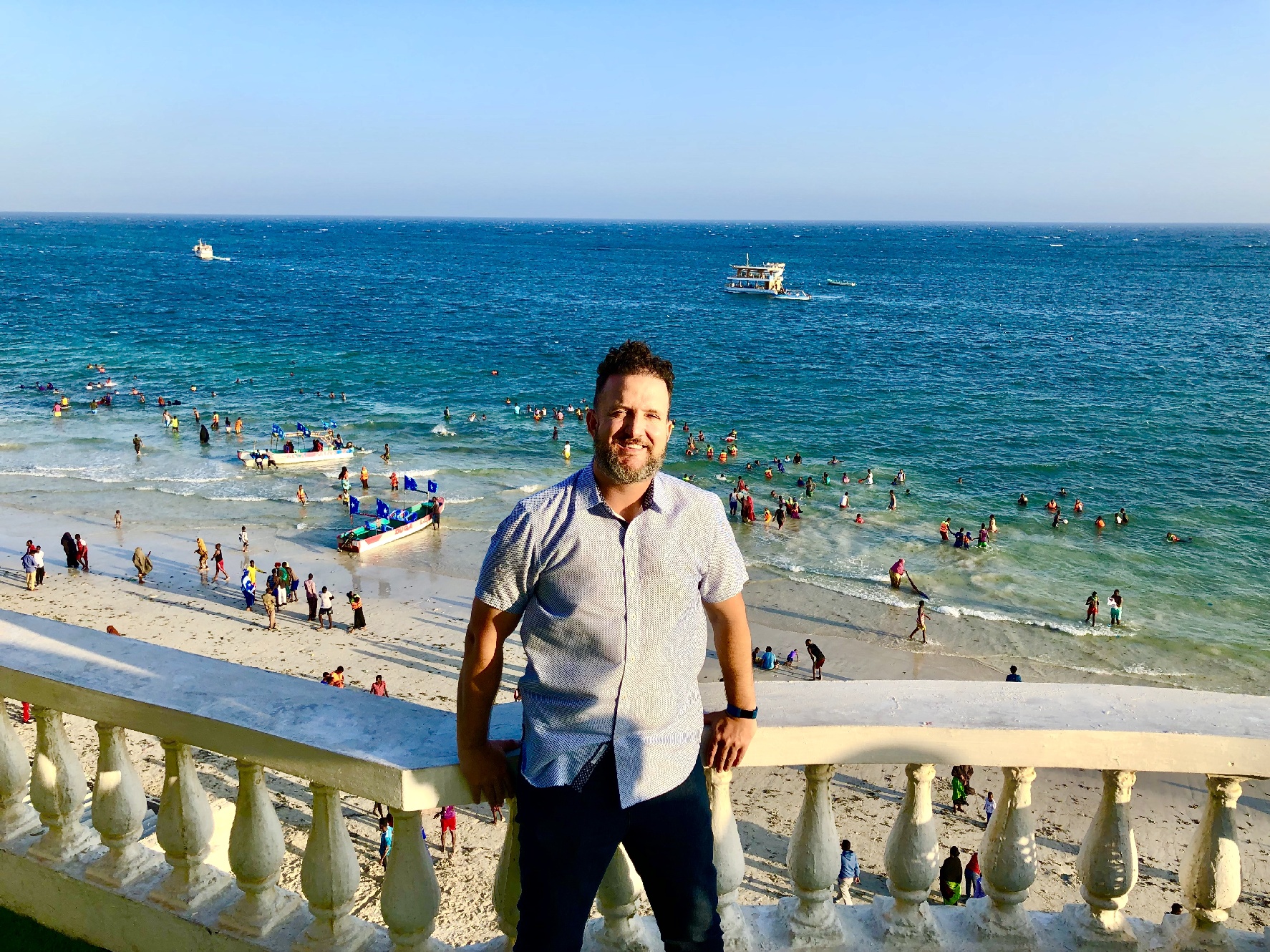 Next, it was over to the fish market. I'd read fellow travelers' blogs about the tenseness of that place; one friend literally got chased out of there. That made me a little bit nervous, but all went well. I stepped over bloody floors to see giant fish on tables and even got a couple cool snaps. Lots of people staring though, and this time they all had big knives in their hands, so there's that.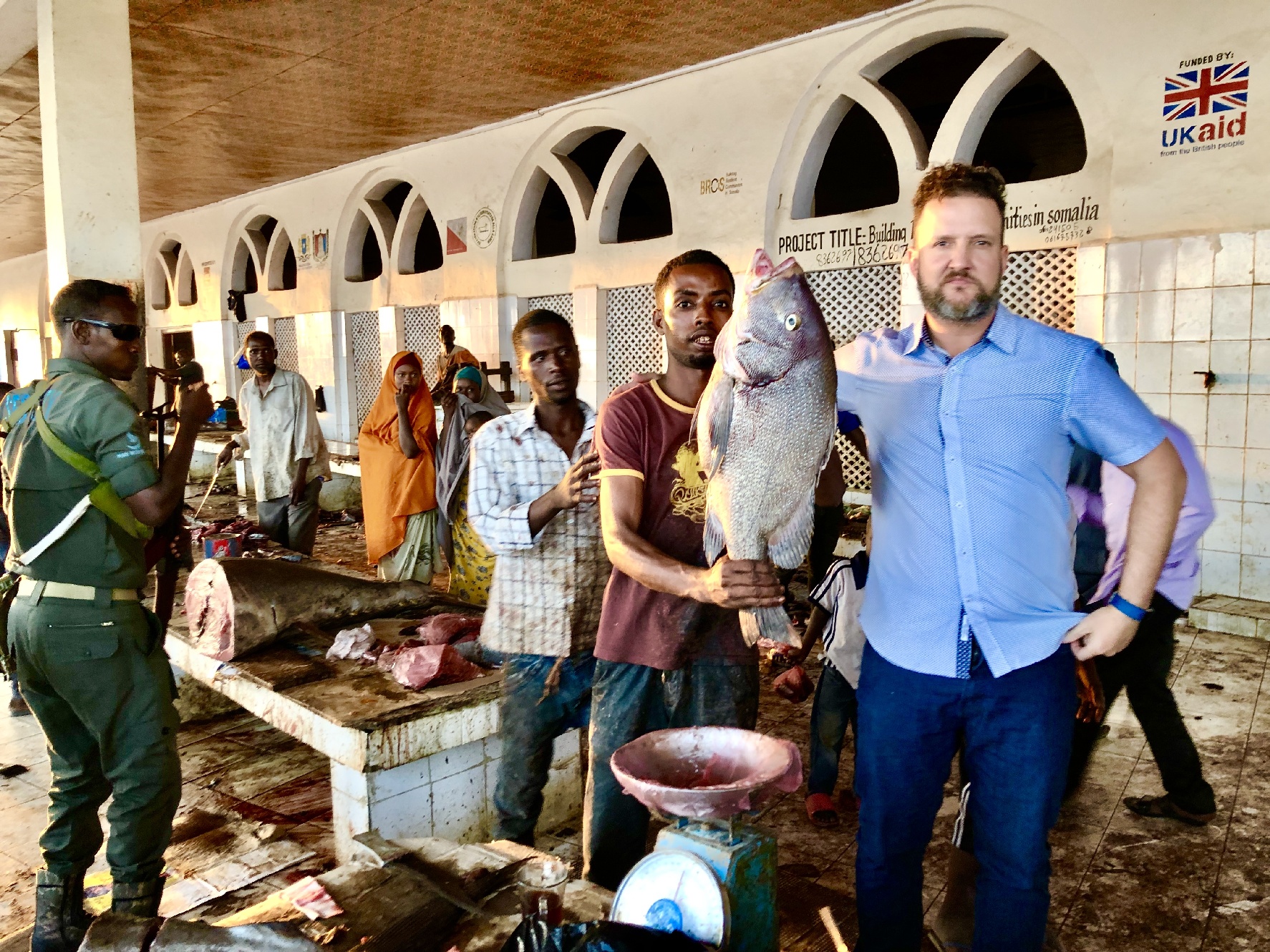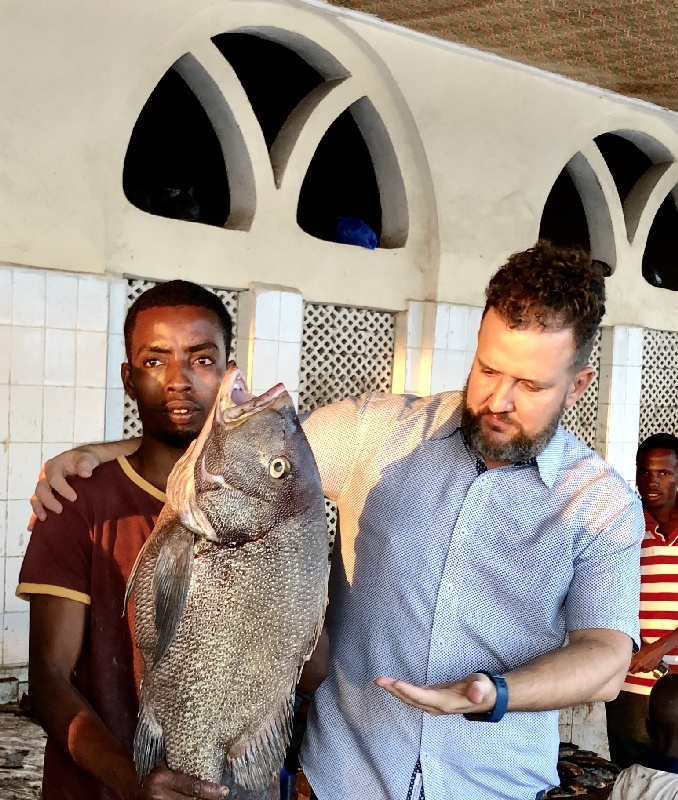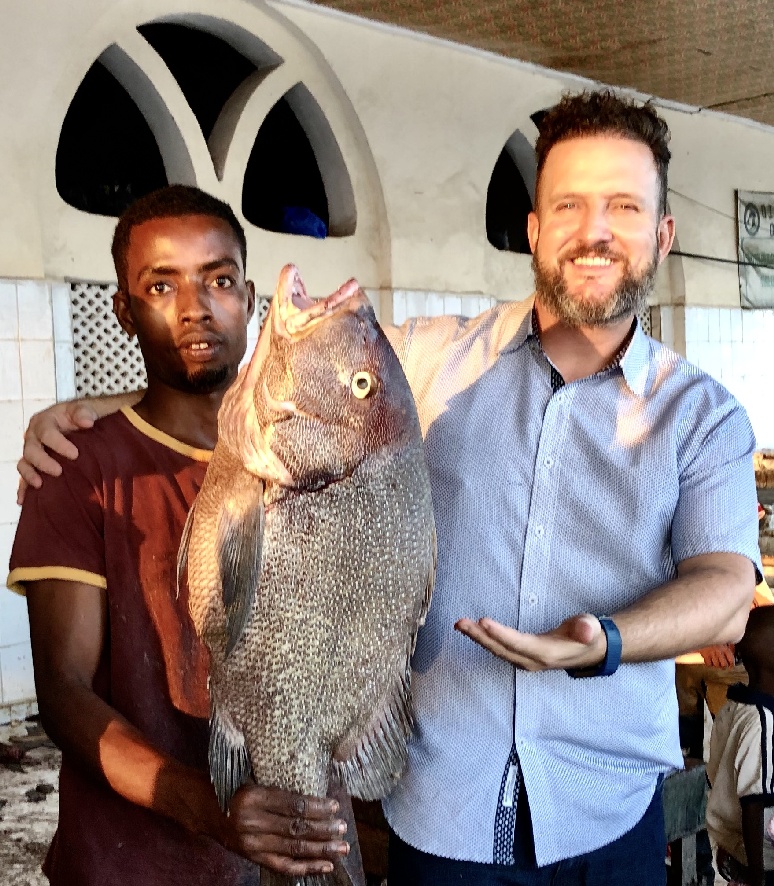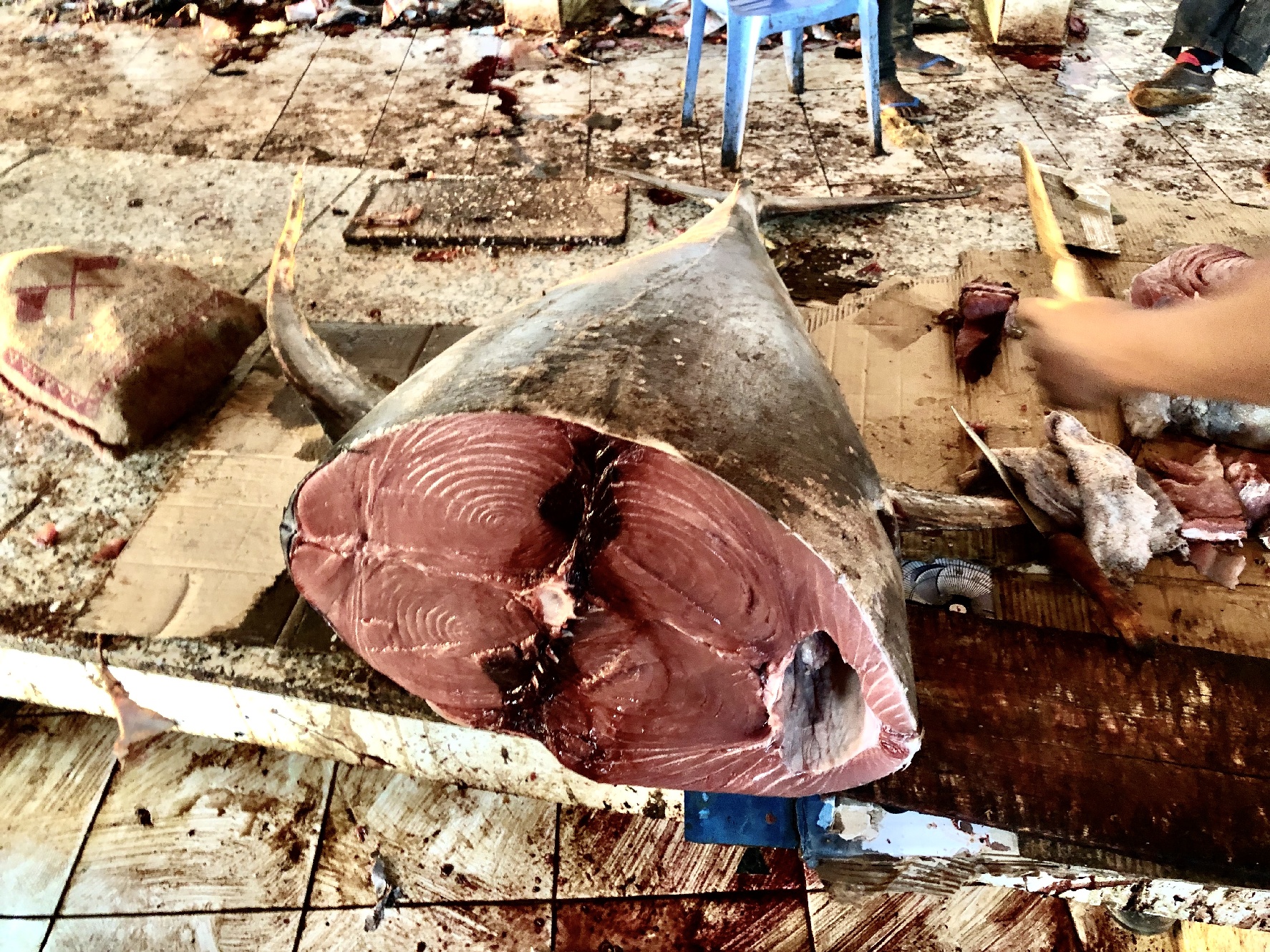 Wish I Could Wander
On the way back to the compound we passed so many kids, sitting on walls, walking the streets and playing soccer. The old, crumbling Italian buildings in faded pastels were such a sight to see too. If only it was safe to wander, Mogadishu would be a photographer's dream. There is so much beauty in its people and architecture. It killed me not to be able to spend time on the ground…which would probably really kill me. Hopefully one day the situation will improve. I was told it already is, actually. There's lots of new construction going up and new business booming. Let's hope for a bright and safe future for Somalia.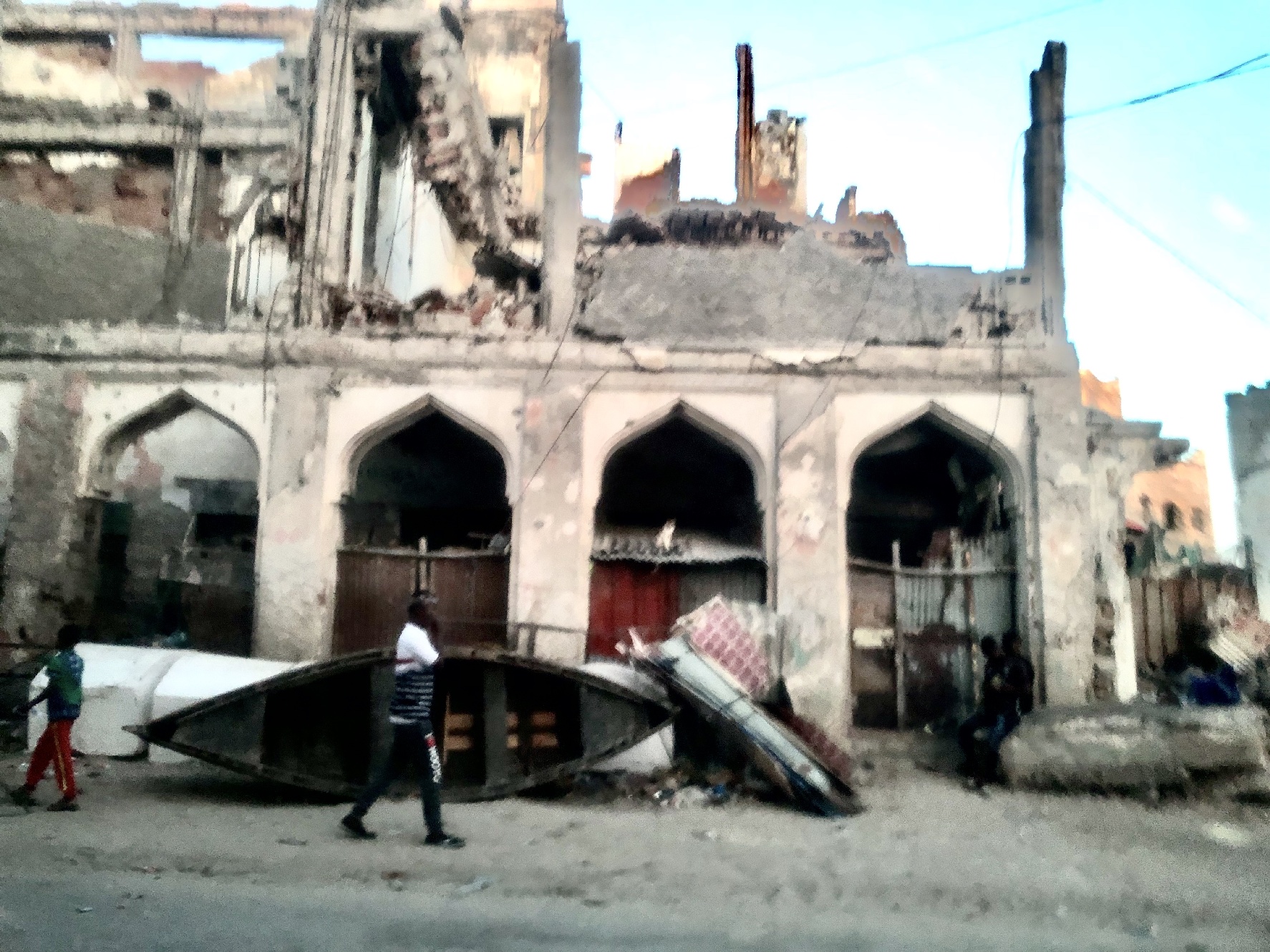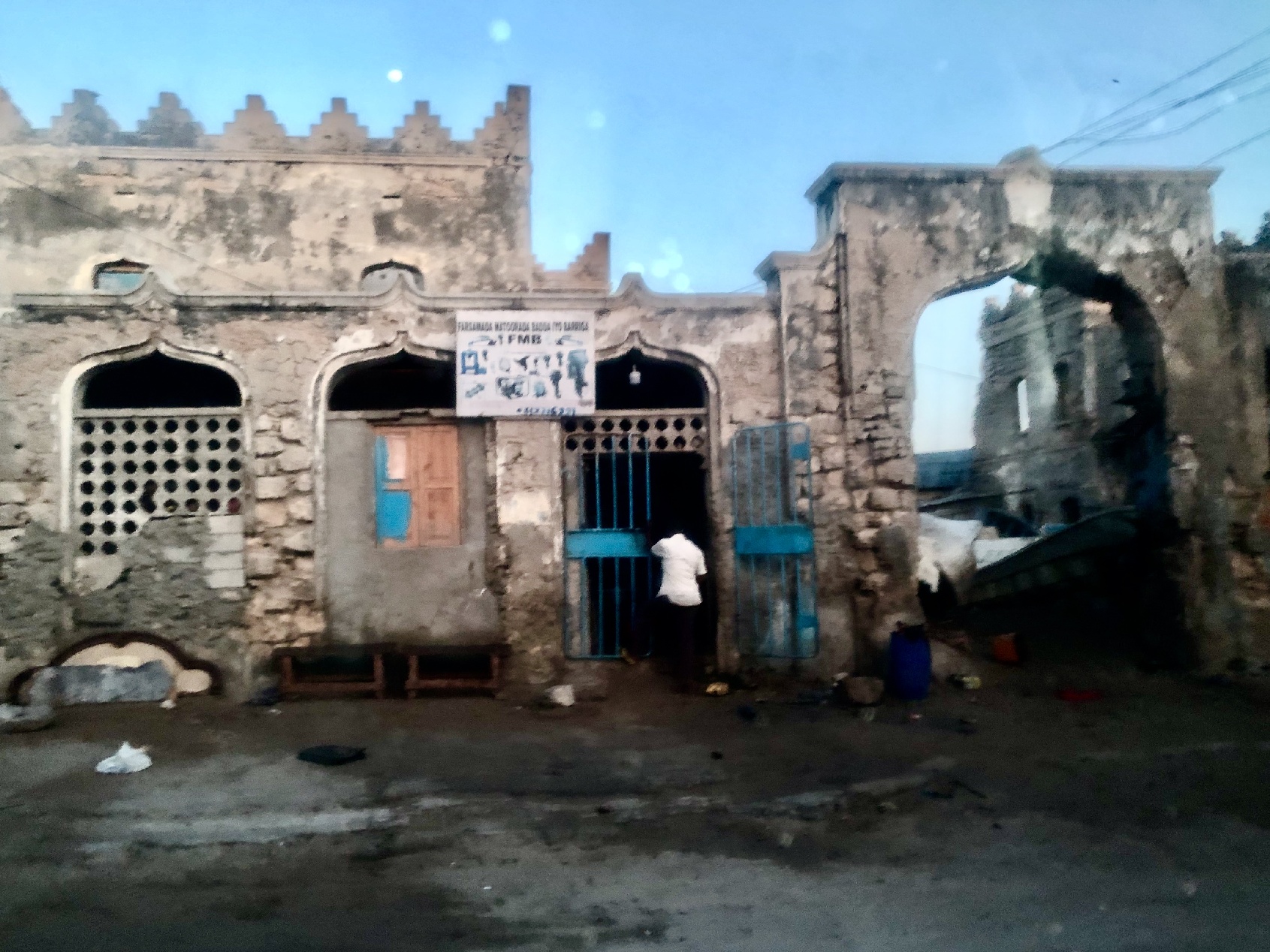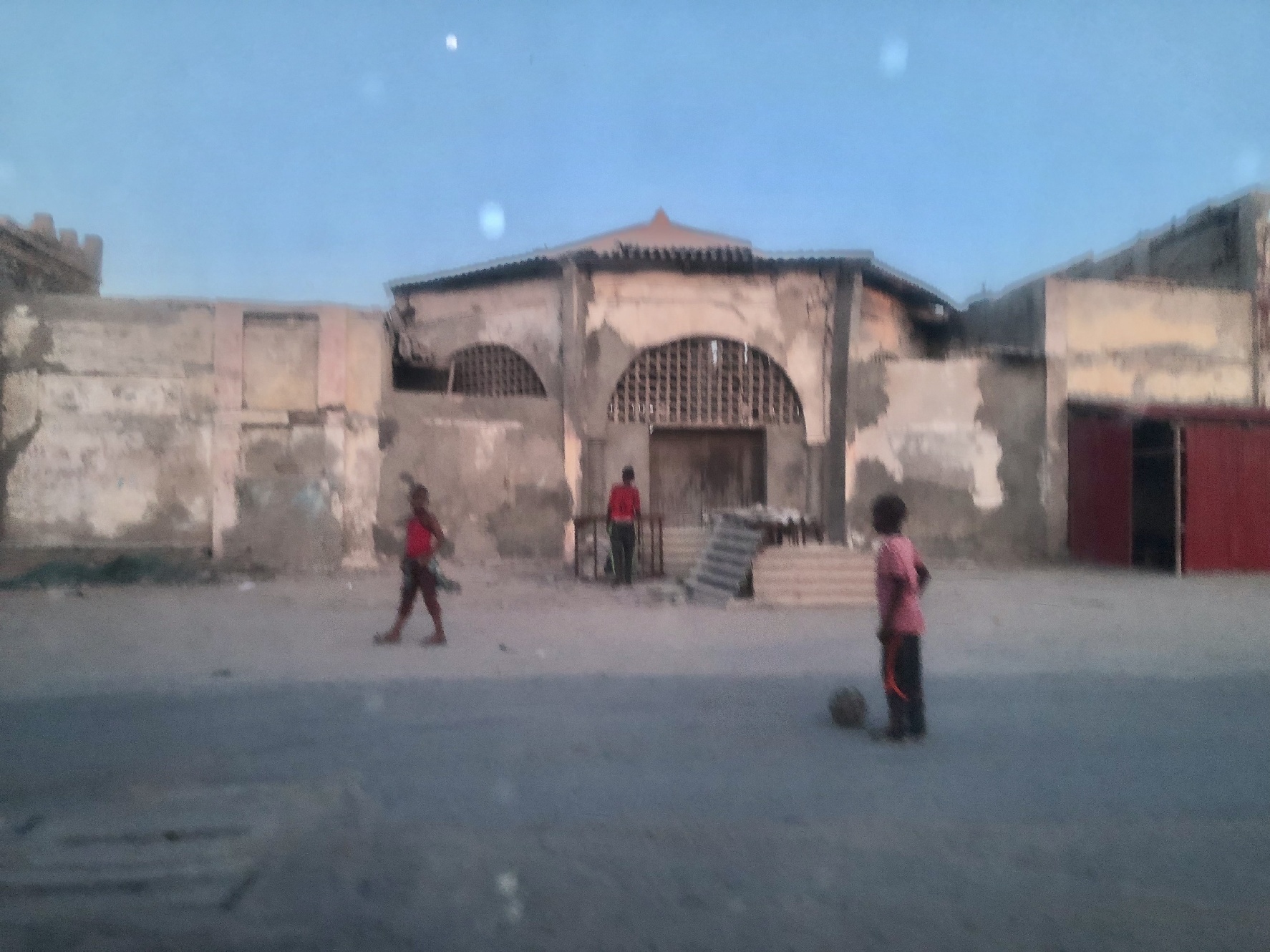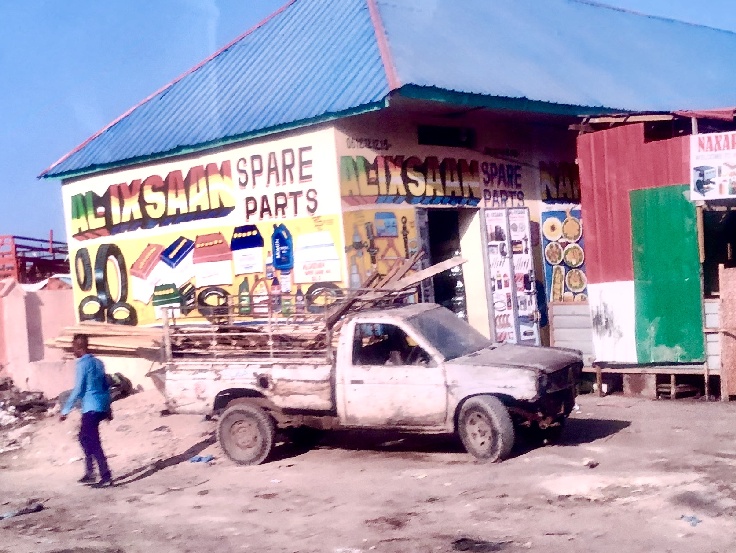 Meanwhile, Back at the Ranch
Dinner in the garden was nice, and I met the hotel manager, a Ugandan named Vincent Wandera. The receptionist was from Kenya, by the way. I found it interesting that foreigners were brought in for jobs. I witnessed the same thing in South Sudan and wondered why this is the case.
I slept peacefully, had breakfast downstairs including my first Somali tea. It was delicious! Then caught my ride to the airport at 9AM. My final challenge: I would just have to get back to Kenya and I was good!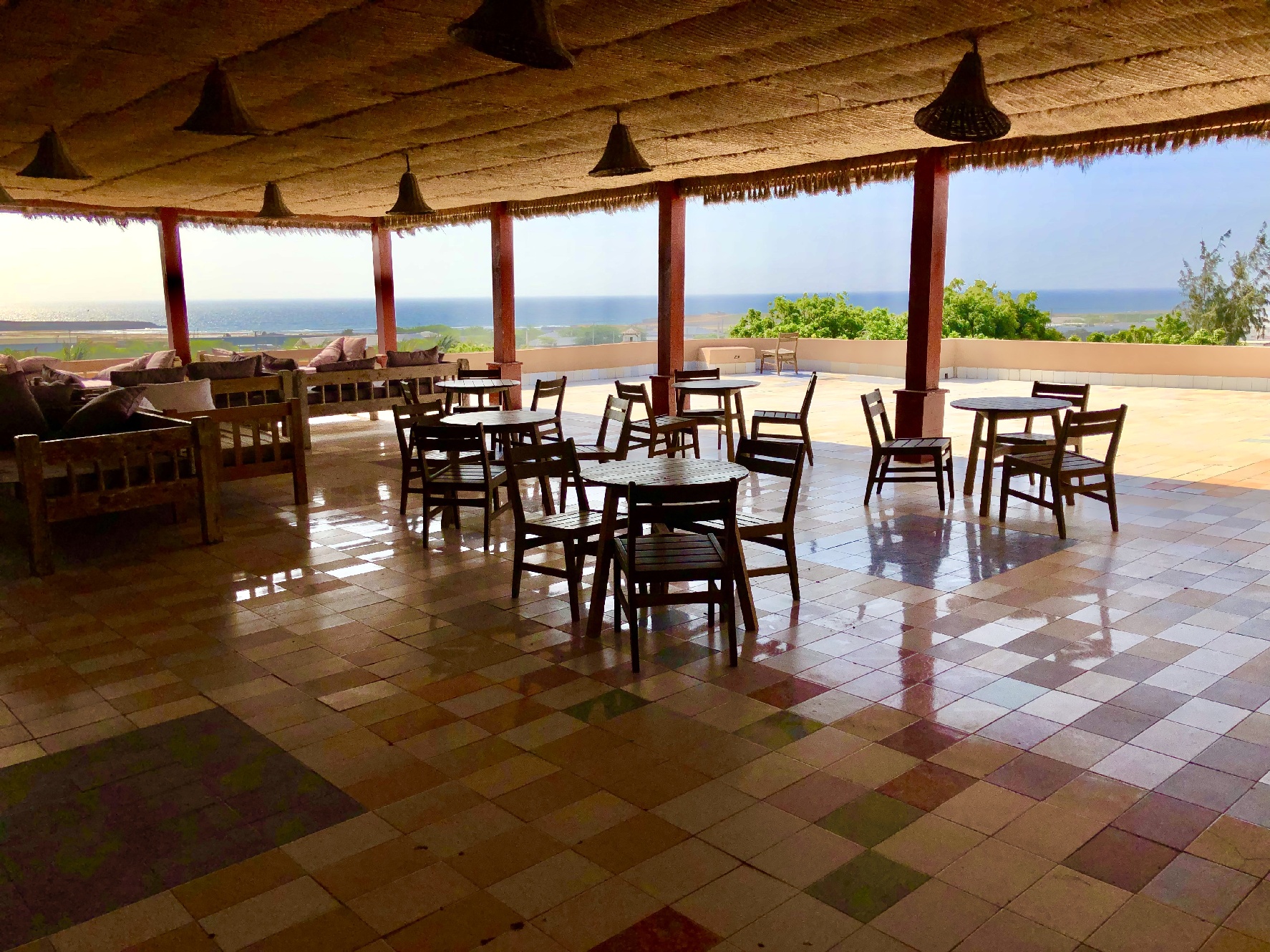 Somalis Behaving Badly
Really, the only drama I had during my entire stay in Somalia was at the airport on the way home. Man, lots of tension there!
First, let's talk about even getting in to the airport. Most (if not all) airports in Africa x-ray your bags before you can even walk in the front door of the airport, so I'm used to the added security, and I actually appreciate it. But I got nervous when the airport security demanded everyone leave their bags in an empty concrete building–unattended–while they were searched. The issue was that they made the passengers leave the building, losing sight of our bags. But there was no way I was going to let anyone rifle through my bag all alone, with that giant stack of cash inside. I, and others, made it known that we were not cool with this, and while the airport personnel dissuaded us from taking anything from our bags before leaving, I'll be damned if I was leaving an envelope with $1,200 in my luggage for the taking. Heck no. Another young lady was just as shocked and demanded she be able to remove her valuables too. Super weird that they didn't let the passengers stay while the bags were being searched; seemed shady to me. Soon we were given the all clear, and I rushed back into the building with everyone else to scoop up our bags, this time with a huge bulge of cash in my right pocket.
The drama continued inside the airport. The clown at the African Express check-in counter made me pay for my ticket…again. I had already paid; I had a confirmed ticket in my hand and the receipt. I came close to losing my temper and got assertive with this clown, telling him, "Look, this is a paid ticket!" I even showed him an email from the airline itself, confirming payment. I asked to speak to the manager. Nothing happened.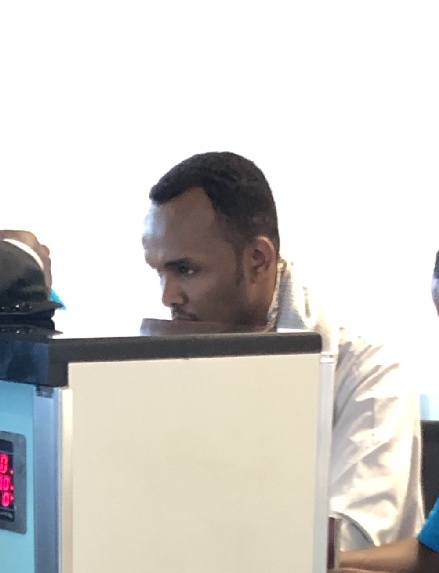 Keeping my Composure
Had I been about anywhere else on the entire planet, I would have never given in. But I was in Mogadishu. And I didn't particularly care to stay in Mogadishu. So finally, I threw the $190 at him, but demanded a receipt. I'd make sure African Express would make good on the money once I was back in Nairobi (they still haven't, by the way. Clowns.)
There was also a small scuffle in line. I couldn't tell exactly what happened, but witnessed lots of yelling, angry faces and then a small physical altercation…someone was pushed pretty hard; thankfully no punches were thrown. The argument soon dissipated. I don't know exactly what the deal was at that airport, but anxiety was high.
Our bags were searched a fourth time at the gate before we were led out to the tarmac for the most unorganized boarding process that I've ever experienced in my life…and you thought Spirit Airlines was bad! At one point, the line into the plane was even separated into females and males. I felt like I was in second grade again, where the boys and girls lined up for class in separate lines. What is all this?!
But through all the chaos, bag searches, ripoffs, and the general shit-show that was Aden Abdulle Airport, I kept an upbeat, positive attitude…even more positive than normal. For I had survived my time in Mogadishu. Just days later I'd even received a Facebook message from my friend Mas'ud, informing me that I was "lucky." I asked why, and he told me a huge explosion had killed dozens in the exact spot where I'd taken a picture; proving once again that life and death is just one giant game of chance.
I was glad I saw Somalia. Not only had I lived to tell about it, but I actually enjoyed my time in "The Mog." I saw some beautiful sights and met some wonderful people; friends who I still keep in touch with now that I'm back home. Yes, Mogadishu is definitely one of the most dangerous places I've ever visited, but I saw so much potential: from its beachy, breezy landscape to its wonderful hospitality and food and drink. Would I go back? Absolutely. I look forward to seeing Somalia improve and prosper over time. I hope it's sooner than later.
And now…the REST of the (Insta)Story:
I Have Weird Friends too…
I'm not the only one who vacations in places like Mogadishu. Check out the recent stories of some of my friends who've traveled there:
Ania: I was actually a little jealous of her experience. Looks like she got to explore a little more and spent some quality time with some of the locals. Check out her Mogadishu blog HERE.
Tudor Clee: Tudor has visited every country in the world and is a true inspiration; also a friend who's helped me with priceless advice. Check out Tudor's time in the Mog HERE.


This entry was posted in
Africa