This was not the itinerary most people choose when they go to Norway…in true Ramblin' Randy-fashion, my stop in Oslo was for less than a day.  I'm pretty sure most tourists come here to venture out of town to see the Fjords, take a boat ride, ski, or travel farther north to see the Northern Lights.  But me?  Just 22 hours, so I had to stick to downtown Oslo.
I was immediately impressed with Oslo's airport, which looked more like a mall than anything else–very open, like you were walking through one gigantic department store.  Tons of bars and cafés and even cars on display.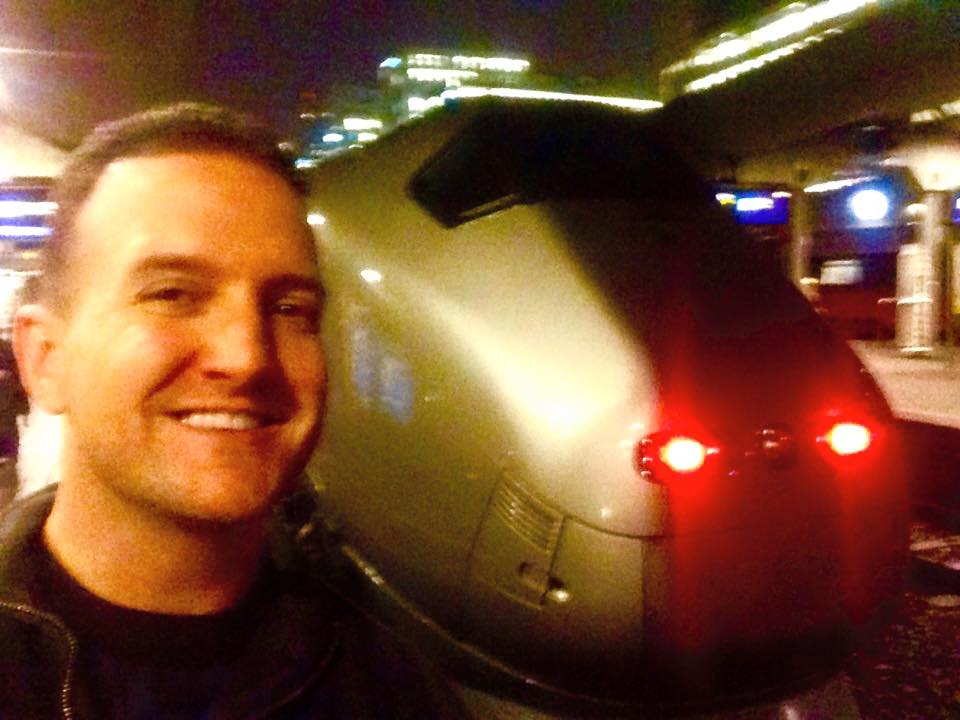 Travel into downtown was super simple, I loved it–the train (The Flytoget) leaves every ten minutes from the airport and buying a ticket at the kiosk was a breeze.  The train was awesomely modern and clean, inside and out, with big monitors inside the car with news, weather and airport updates.  20 minutes later I was stepping out of the central train station into a giant square lit up by giant neon screens all around.  A smaller version of Times Square.  And it was cold.  Damn cold.  And wet.
I scored by booking a hotel at Central Station.  The Comfort Hotel Xpress was literally right across the street from the train station.  This was probably the most modern hotel I have ever stayed in.  So modern, in fact, that you check yourself in when you arrive.  No reception!  Just a computer where you enter your info and make your own room keys.  Super futuristic.  I didn't have to talk to a soul to get to my room.  Kind of like the "self-checkout" at the grocery store.  I'm not sure if that's a good or bad a thing.  The hotel would be probably classified as "minimalist."  Not to many fancy amenities, and the room was basically a "cube," but everything was über-modern and immaculately clean.  I picked a good one!
With my limited time in Oslo, I felt it wise to start exploring right away, so I bundled up and took a stroll around downtown. There were tons of shops and a handful of bars along a wide pedestrian-only street, called Karl Johans Gate, for about a mile or so.  There were lots of people walking and shopping underneath white christmas lights in the shape of bells about every 100 meters.  Very festive.  I soon found myself downstairs, inside 3 Brødre, a Belgian pub, trying a cold Grimbergen.  A group of tipsy Norwegians introduced themselves to me and thought it was cool I was from California.  I was getting sleepy and hungry, so it was time to find food.
The restaurant selection didn't seem to bountiful.  Or I was too picky, not sure…but I wasn't going to go to T.G.I.Fridays, nor did I want fast food.  I finally found an interesting looking place called the Café Cathedral, where I indulged in the reindeer pizza.  Yes, reindeer.  The pizza itself was pretty amazing, but I should've got the pepperoni; the deer was way to gamey.  Yucko!  Luckily the amazing crust and cheese helped me suffer through eating Dancer.  Or Blitzen.
Still jet lagged and about to pass out, I headed back to the hotel and was out cold by 8:30PM.  Of course, that meant I was up at 2AM.  Grrrr.  I have go to stop this cycle.
By 7:30AM I was out the door wandering the still dark streets of downtown Oslo.  It was still dark as night until about 8:30AM when the smallest hint of sunlight began to make itself known behind the cloudy skies.  I decided I'd create the "R Dub Cappuccino Tour," since I really didn't have time for much else and it was bitterly cold.  The first stop was the winner: Steam Kaffebar served me the best cappuccino I have ever had in my life.  I stopped in to two more coffee shops before heading back to the hotel to checkout.  There may or may not have been cookies involved.  Downtown Oslo has some pretty cool coffee spots, that's for sure.
By 11AM I was back on the Flytoget, heading for the airport for my flight to Iceland.  Oslo was a cool city with an interesting vibe. Interesting architecture, great coffee and pleasant and low-key people.  I didn't hear even one car honk its horn while I was there.
This entry was posted in
Europe