Oman and Chill
If I could sum up Oman in one word: chill. Also: safe, calm, clean and nice people; these are the things that I loved about Oman during my two-night stay in December of 2019.
My original itinerary had me in Muscat for only a few hours: arriving from Kathmandu with just enough to time to leave the airport and have lunch in the old city before rushing back to the airport to catch the second leg over to Karachi. That changed after I quickly realized I had no desire to stay in Kathmandu for three whole nights. Nope; one walk around the neighborhood and I wanted outta there. Plus the fact that this original itinerary wouldn't include enough time in Oman to run into Yemen was nagging at me. I knew if I had just a little more time in Oman that I might be able to pull off a Yemen run. Next thing I know I was ducking out of the Fairfield Kathmandu two days before my scheduled checkout and escaping to the airport. I'd made an executive decision.
>>> RELATED ARTICLE: SOME KATHMANDU, SOME KATHMANDON'T <<<
You Fancy
The first thing I noticed was just how nice Muscat's airport was; it was pristine! I've never seen an airport so clean, quiet and modern. It felt like a 5-star hotel, complete with white marble, fancy lighting and all the luxurious accents you could imagine. And so calm and serene. No loud overheard announcements, noisy motorized carts; even the commuters spoke softly. Was I in a museum or an airport? It was like no other airport I'd ever been to, and I loved it. Sadly it's all I'd see of Muscat, as I'd connect for my flight to Salalah in just a few hours. I actually did have enough time to run into the city quickly, but didn't dare chance missing my next flight. I'd leave for Yemen in the morning and this flight to Salalah would be my only chance; I couldn't gamble.
It was my first time using SalamAir. Cool name, nice flight. Soon I was back on the ground, inside a taxi, and barreling through the desert night on my way to the hotel. The weather was amazing; it felt like those Tucson nights I remember so well, only without the lowriders and Mexican food. The cool ocean breeze collided with the hot desert air. Salalah felt good.
Since none of this was on my original itinerary, and I was paying for an empty hotel room for two more nights back in Kathmandu, I booked a pretty cheap hotel in Salalah. The good news was, it turned out to be a winner. I'm actually glad I bypassed the swanky, oceanfront Crowne Plaza, which, while really nice, was far away from the action. The Al Dyafah was just clean enough to be perfectly comfortable and ended up being located in just the perfect spot. I walked down the street to enjoy dinner at the Lebanese owned Al Tannour before sacking out for the night; it would be a big day tomorrow.
Yemen Express
The next morning I ate breakfast at the hotel, then hit the road. My guide, Wafi, was right on time, and by 8AM we were heading out of town, south; destination: Yemen. You can read my Yemen report HERE. It was a fantastic experience I will save for my Yemen page. On the way back, Wafi made stops at Al Marneef Cave and the Port of Salalah, before dropping me off at my hotel around five.
>>> RELATED: YEMEN – A TRIP INTO THE LEAST VISITED COUNTRY IN THE WORLD <<<
After a little rest, it was out to explore. I stopped at a huge grocery store called K.M. Trading, conveniently located right next to the hotel. Some people like touring museums in foreign countries; I love to stroll the aisles of the local grocery store. I loaded up on my favorite Mogu Mogu juice and a couple of fancy Arab Twinkies before continuing the night's adventure.
RAMBLIN' TIP: As you can probably tell, I scored big on my hotel this time. Clean, modern, cheap, and best of all, close to everything! You can book the Al Dyafa HERE.
I Love the Nightlife
Looks like the action was happening on As Salam Street. There might have been a busier area, but I didn't find it. It was interesting to see so many shops open this late; it was well after 10PM and the shoe stores, barbershops and jewelry joints were all open for business. I wanted some quick food so I popped into Quick Meal for the night's dinner. It was close to midnight when I got back to the hotel and I quickly passed out with a full belly.
Mosquerade Ball
I lazily lounged around the next morning, starting to feel the effects of two weeks on the road and way too many flights. I finally ventured out close to eleven to take in the Sultan Qaboos Mosque, which was just steps away from my hotel. Then I took some time to browse Salalah's Central Market, which was also right next to me. The market was divided into three main sections: beef, fish and fruits/veggies. Everyone was pleasant towards me and I was able to take a fair amount of photos with no objections; a few people even posed, others welcomed me. It was a nice time and a much different vibe than some of the markets in Africa where I'm treated like an intruder and yelled at for having my camera out.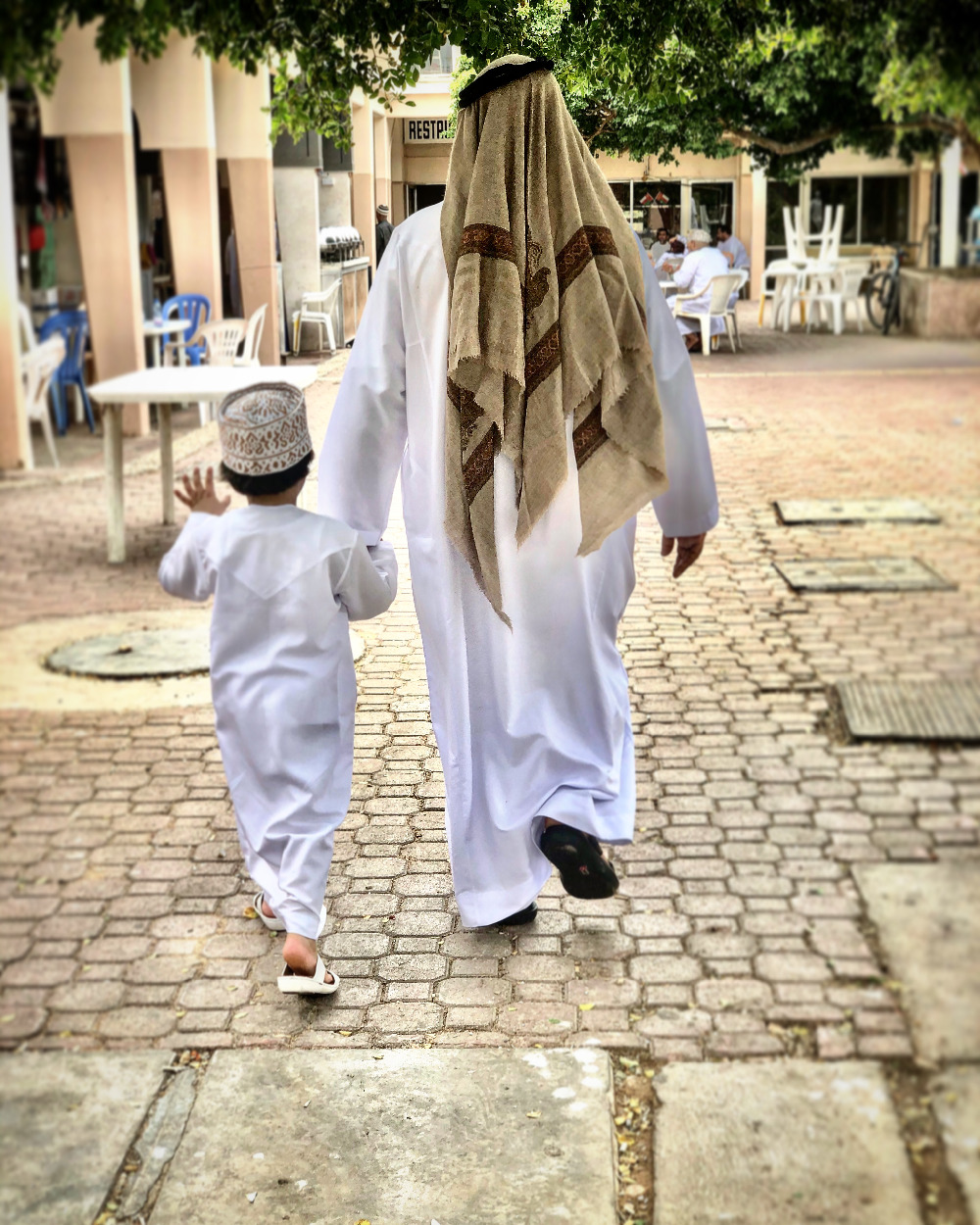 So Long, Salalah!
And that was it. I checked out around one and headed to the airport by cab. Salalah to Muscat, and then on to Karachi. I really got a good vibe from Oman. It's a wealthy, clean country—but not so "manufactured" and materialistic like Dubai. It's certainly one of the safer Middle Eastern nations, and I found it easier to navigate on foot and much more charming than places like Kuwait and Bahrain. Oman is a winner in my book, and a perfect pairing with Yemen. I'll be back.
And Now, the REST of the (Insta)Story…
This entry was posted in
Middle East