El Salvador is Spanish for…"The Salvador!"
My 2014 visit to El Salvador was part of challenge to visit all of the Americas before turning 40. Since this was during the days before my serious traveling–and before my travel writing–the details will be sparse. I wish I would've kept a journal back then, because my quick, two-night stop into the small town of Chalchuapa was just delightful!
The age of 40 was on my tail, so if I wanted to finish the Americas on-time, I had to be strategic about my routes. This particular trip would go from my jumping-off point of Tijuana to Guatemala, then El Salvador and on to Honduras before heading home. I'd do it all in twelve days, and truth be told, because I wanted to save the most time for the paradise that is Roatan, Honduras, my time in both Guatemala and El Salvador would be slim.
I don't remember why I chose the town of Chalchuapa versus San Salvador or any other place. I think I just wanted somewhere different, away from tourists and generally off the beaten path. I also liked saying the word Chalchuapa: It sounded a little like chalupa, and I like chalupas. What could go wrong?
My journey to El Salvador would start in Antigua, Guatemala, ironically a super-touristy town, albeit is a nice one. I was able to grab a luxury bus right into El Salvador pretty last minute. I was unable to book this ticket in advance–or maybe I just didn't try hard enough–but once I was in Antigua, my Airbnb hosts were great help getting it done. We were heading south by sunrise that Tuesday morning. I was exhausted, but thankfully, this was one of the most comfortable bus seats ever. They really know how to go all out with their buses in Central America. This would not be the case with my next bus.
While this particular bus route didn't pass directly through Chalchuapa, it would get close; leaving me at a gas station off the highway in the middle of nowhere. The coach driver promised me that Chalchuapa was nearby, and that I could catch a "chicken bus" to reach the center of town. The big bus pulled away, and soon I was left alone at a roadside service station with just two other people: the cashier inside and a man with a big gun minding the grounds outside. The cashier was helpful and soon I was packed into a local bus like a sardine and on my way again. This was certainly a different experience than the last bus: It was noisy, crowded, and full of commotion…but I loved every minute of it. A man on board helped me pay the fee and minutes later I was at my destination, exiting the still moving bus during a rolling stop.
You'd think I would've learned my lesson using hostels after Santo Domingo, but apparently I didn't. Thankfully Hostal Las Flores was both pleasant and clean. I remember having some trouble with the reservation upon arrival–I think these guys weren't to savvy with how Airbnb works yet–but it soon all got sorted. And don't let the term "hostel" fool you…I had my own room and bathroom.
It was afternoon by now and I was able to get over to see some awesome ruins that were located just down the road. Tazumal is a pre-Columbian Maya archeological site and was less than a ten-minute walk away from the hostel.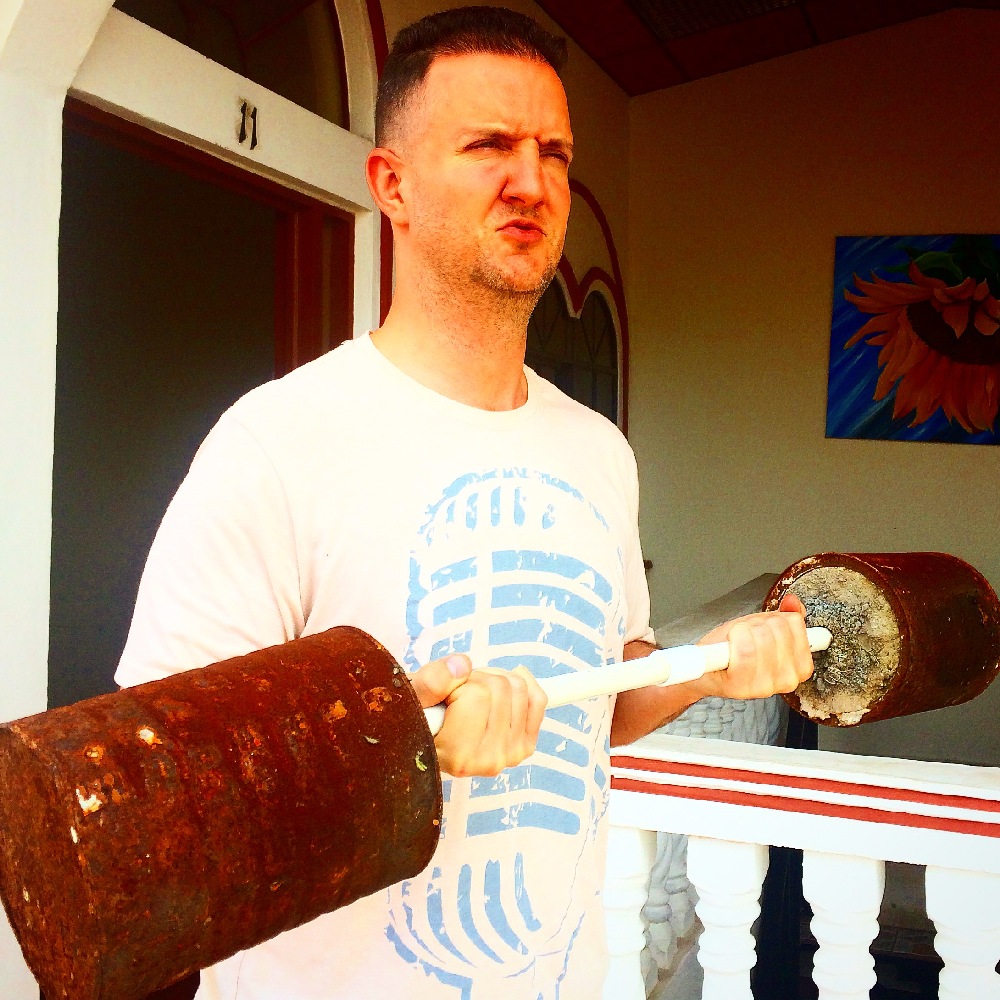 Amigos…How Many of us Have Them?
While I'm just now writing about this 2014 trip (it's 2020 as I blog this), and so many details are blurry, I do remember one thing vividly: and that's just how awesome my hosts at the hostel were. They offered to take me on a personal, day-long tour for my second and last day in town. Because of my poor planning, I would've been absolutely lost without them. Janeth was the owner's daughter (I think) and accompanied me and the driver for a day of sightseeing through some nearby, quaint little towns and the coup de grace: a dip into the hot springs at Termales de Santa Teresa. It was an awesome day.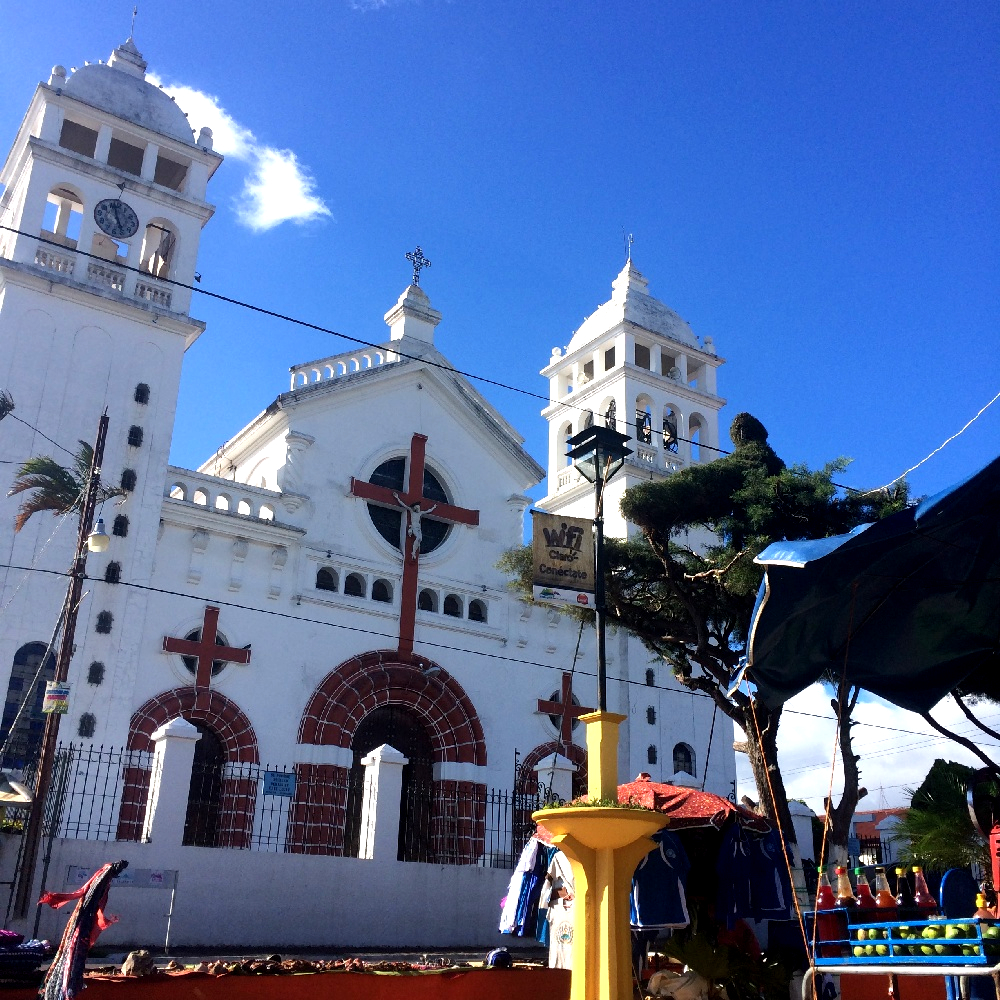 Happy Trails
The next morning, it was up early for a taxi and a 90-minute ride to the airport in San Salvador. I'd totally picked Chalchuapa on a whim; I might has well just thrown a dart at the map. Thankfully, it turned out to be a fantastic stop, really, due to the help and hospitality of Janeth and the staff at the hostel. I highly recommend both Chalchuapa and the Hostal Las Flores if you're looking for a smaller town with less noise and tourists and a nice place to stay. I have a feeling I'll be back to see more of El Salvador. Until next time.
Book your hotel in Chalchuapa HERE.
This entry was posted in
North America