So Short But So Sweet
My stop in Zurich was so quick but so awesome. It was the end of my very first multi-country trip: the kind of trip where I see a crap-load of countries in a very short amount of time…this was the first time doing that! This specific trip was actually paramount and the very foundation of my mission to see every country in the world. I realized, "Wow, if I can see seven countries in two weeks…I can probably see every country in the world if I put my mind to it." This was the first trip where I ran like crazy and checked off country after country with breakneck speed. And I loved it!
It started with a standby flight to Germany (nightmare scenario…it was not fun getting there!)…then a drive into Luxembourg, a layover in Amsterdam on the way to Prague, a flight to Slovakia, a train to Vienna and then one final plane to Zurich, before heading home. Wow! What a whirlwind! It was exhilarating.
Hot in Herrre
I arrived in Zurich in the afternoon of Friday, July 3rd, 2015. I took a train from the airport to Zurich's main rail station and then trekked to my hotel on foot, luggage in tow. It was only a 12-minute walk, but I was nearly dying in the 91-degree sweltering Summer heat. It was boiling. The hotel had a barrel (literally, a wooden barrel) in the lobby filled with cold apple cider. It tasted so good on such a scorching day.
I rested in my air conditioned room for a few minutes before heading out. I had no particular destination in mind – I was going to just head over to a nearby park and enjoy the scenery. Plans changed when I hit the Limmat River.
Here I am, just walking down the sidewalk minding my own beeswax, when I'm led smack dab into a gorgeous river, flowing right through town, in between cafés and bars. The best part was, there were mobs of people jumping off the bridge right into the water! It was a thing here. I wasn't expecting this, and I just had to partake! I ran back to the hotel to change into my trunks. I needed this river in my life!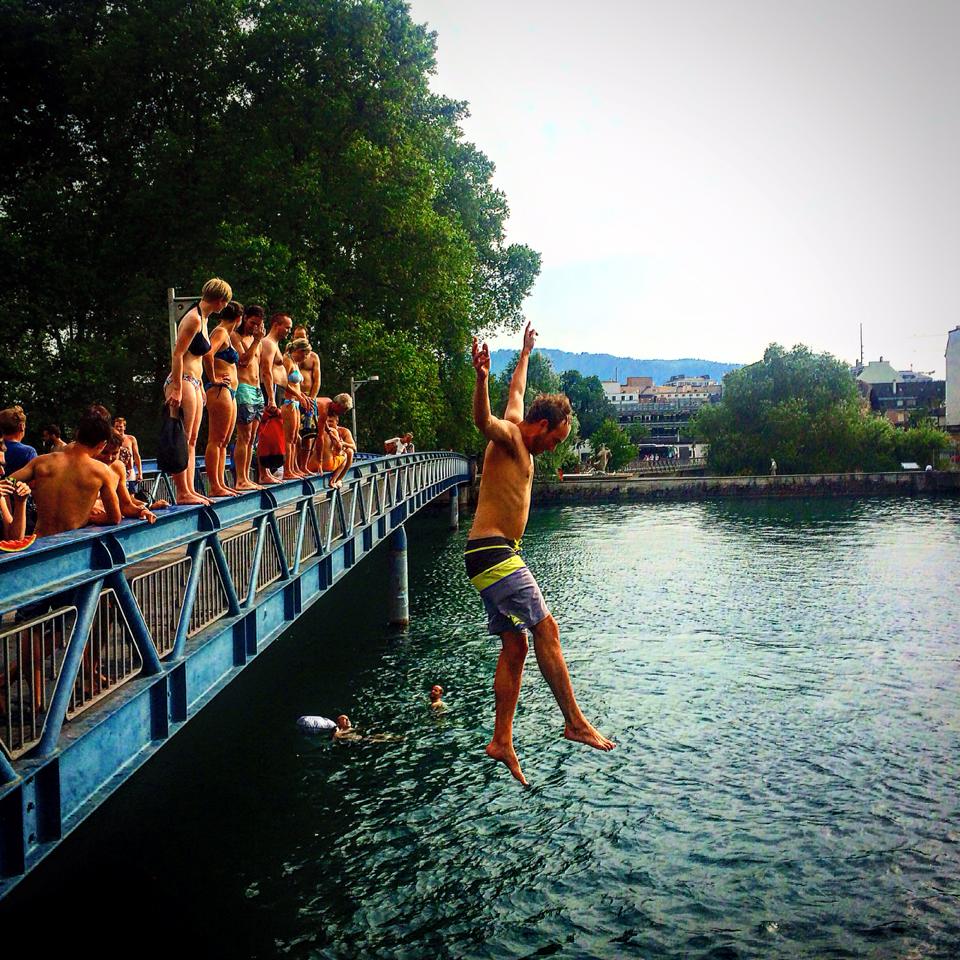 Wet 'N' Wild
Back at the hotel, I was now hotter than ever. I thought I was going to pass out. Two more cups of apple cider please! I put on swim shorts, then headed back to the river. I couldn't wait to get in!
I wanted a picture in the river so much. I mean, this was such an incredible scene – a truly local experience that I just happened upon…how could I not snap some selfies in this beautiful river? The only problem: my phone was not waterproof. Not even a little bit. This was 2015 and I think I had an iPhone 5. Luckily I also had a Ziploc bag…two of them. That would protect it right? Right??? Okay…here I go! I got up on the rail, counted one…two…threeeeeeeeeeeeeeeee!!!
The water was so cold, but felt soooo good on such a boiling-hot day! It was wonderful! I didn't realize how fast the river was moving until I was in it though…this thing was moving! I struggled to take my phone out of its bag without getting it wet. I had to get this selfie. And I did. Then I managed to get the phone back into the bags and zipped them closed tight, double-bagged again. It was tough doing all this at once: staying afloat while being rushed down a river, not losing my breath (I was treading water hard), all why trying keep my phone dry. But the attempt was futile. By the time I was able to make it out of the river–not more than four minutes later–my screen was going blank. There had been an aqua-breach.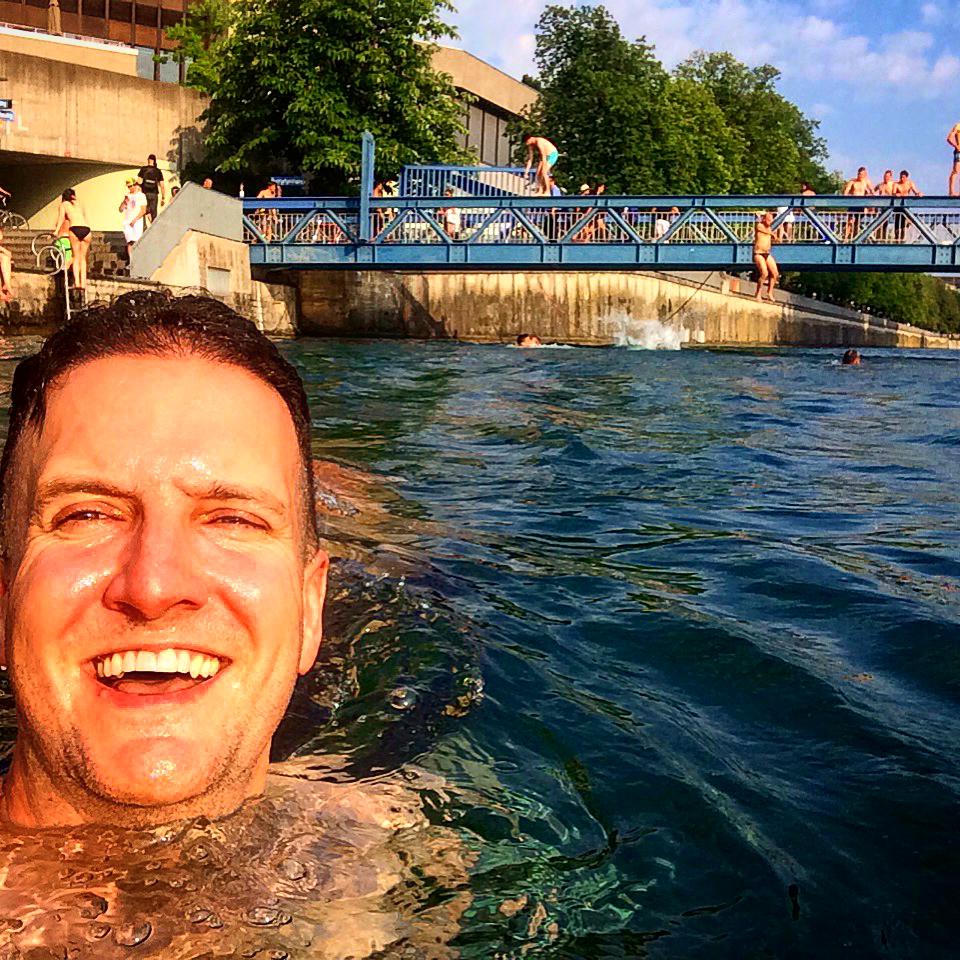 Apple Care
I ran back to my hotel and downloaded the three photos from the river before the phone went completely dark. Then, I did the only thing I knew to do: I hysterically ran to a nearby supermarket to buy a bag of rice. Well I'm here to tell you the ol' "wet phone in a bag of rice overnight" trick did not work – at least not for me. My phone was not spared and I'd be without it for the rest of the trip. Luckily, Switzerland was my very last stop on this trip, but it meant I'd miss snapping photos of all the other cool stuff I'd see over the next 24 hours. And I'd see a lot of cool stuff. Fail.
To be fair, I must admit that the jump and epic float down the river was just so freaking rad…maybe even worth losing my phone for. I've always loved a good tubing adventure. "Swimmable"/"floatable" rivers have always been one of my favorite things in life, in general. The fact that this one was in a foreign country, in one of the coolest cities ever, was just so damn refreshing on a hot day, and best of all, a complete surprise, made it all just so amazing. So incredible, in fact, that this particular bridge earned the Ramblin' Randy Award for "Best Place to Jump in a River!"
And NOW…The REST of the Trip
It totally sucked not having a phone for the rest of the trip. The next day was my only full day in Zurich and since I'm writing this blog five years later, I don't remember much.
I do remember taking a day trip on a train to Lucerne and that was pretty awesome. Lots of tourists there, but I enjoyed walking around and was back on the train to Zurich before sundown. One of my best travel memories ever was my return to the Zurich HB train station that night, where I witnessed a full orchestra set up and playing such beautiful music in the station. This was a train station–the last place I'd expect to see an orchestra! But there they were, playing for the passengers and a group of dancers Waltzing around the center of the station floor. I remember the hairs on my arms standing up. I felt like I was in a fairy tale standing in that old beautiful train station with the music playing. It was one of the single most special moments of my travel career. I sure wish I could've taken a photo…thanks Limmat River!
A few other cool memories – One: buying lots of delicious chocolate from the underground supermarket at the train station. Two: The people were really nice; I met a couple really chill girls there. So many good vibes in Zurich. And Three: A shout-out to whoever instilled such good manners for drivers there, specifically when it comes to respecting pedestrians. Zurich is the only city in the entire world (that I've visited), where the cars actually stop for you before you even think about crossing the street. Maybe I just got lucky, but I remember anytime I even got even near a crosswalk or a curb, cars would slam on their brakes to make sure they'd stop for me. Why, thank you!
Every Vacation Has its Last Day
I remember being so worried I wouldn't wake up the next morning for my flight home, not having a phone and all. I didn't trust that the hotel would give me the wake-up call I'd asked for (I've been burned so many times before). So I didn't get much sleep that last night in Zurich, and when I did wake up, I'd discover that I would not make it onto my original flight home – I was flying standby and the plane was completely full. Thank goodness I had a stash of United miles. This was the first of many times those miles would get me out of an emergency (and stranded) situation. Thank God! I quickly purchased the new itinerary and I was off to the airport and back home the next day.
Top 10
I loved everything about Zurich and Switzerland is one of those countries that I absolutely will return to, to spend more time. I can't wait to get back in that river, this time with my waterproof phone!
In 2019, BuzzFeed interviewed me and asked about my top 10 favorite countries in the world, and of course I included Switzerland!
This entry was posted in
Europe