First World Problems
With deaths literally in the hundreds of thousands (and climbing), millions of job losses, countless family businesses ruined and the global economy annihilated, it would be pretty insensitive for me to cry "woe is me" over cancelled vacation plans…it's the definition of champagne problems. I questioned whether or not I should even attempt to write an article "complaining" about not being able to take "pleasure trips" while the virus continues to ravage the world with immeasurable death and despair. But nonetheless, no matter the catastrophic conditions happening at the moment (or anytime), it's still just plain human nature and okay to miss things that you love when they're taken away. Whether it's ice cream, your favorite music artist, or in my case, travel – it's okay to miss the things you love and yearn to have them back.
Never in a million years could I have even imagined that the entire world would simply not be allowed to travel. This year has so far been absolutely crazy – a plot out of a 1990s Will Smith Sci-Fi movie! But here we are in 2020, and my wings—those precious wings that have taken me to 142 countries—were completely clipped. While I was (and still am) enormously thankful for my continued health and employment—I count my lucky stars every day and thank God—I still couldn't help being frustrated, disappointed, sad, angry and impatient at not being able to do the one thing I love most in life: travel. It's natural to not feel good about losing the ability to practice your passion.

You Can Plan a Pretty Picnic But You Can't Predict the Weather
When it comes to my grand voyages, I love the planning almost as much as the doing. It's not uncommon for me to have three, four…sometimes even five or six trips in the hopper. Often, I'm booking my flights nine or ten months out; sometimes the same day the schedule is opened up on the airline's calendar…yes, that far in advance. It's part of the fun for me, and I love the anticipation of it all. But sometimes, planning that far in advance comes back to bite me. There have been canceled flights, complete route discontinuations and even airlines that simply go out of business in during the lengthy time spans between when I booked the flight to takeoff – a lot can happen in ten months! In the case of 2020, all of my plans so far had been absolutely demolished so far.
I remember when the Corona was just starting to really ramp up, in late February. I had an absolute dream-trip planned for March 27. I can clearly remember my boss warning me, "You're not still gonna go on your trip are you?" Well duh, of course I was! I can't think of many scenarios where I would ever abort a trip: not a death in the family, a hurricane, nor a war (see Libya report)…Look, if the plane's still flyin' there, I'm gonna be on it. But weeks later it was clear that the planes weren't in fact flyin' there. Or anywhere. In a matter of days straight up pandemonium kicked in as millions of flights were canceled, planes grounded and international travel grinded to an absolute halt. This hadn't happened since 9-11; only this time, it would be for much longer.
While I was truly bummed I'd miss my end-of-March trip, the "closure" of it all actually helped. It was the "not knowing" if the trip was going to happen or not part that actually gave me the most stress. But once the airlines let me know they weren't flying and I saw the countries announce the closure of their borders, I accepted it as something completely out of my control and was able to move on. The airlines and hotels were very accommodating with their refund policies and I chalked it up as just a postponement and a surplus of vacation days from work that I could use later.
By the way, I know you're probably wondering about the trip in question…it was a pretty amazing itinerary: It started with a great flight (a quick, one-stop route) to Beirut, Lebanon; then a drive into Damascus, Syria; back to Beirut for a flight to Cyprus, then Malta, then Egypt, then home. It was the perfect itinerary – business class on the way there on Lufthansa, and home on British Airways First Class. Sigh. What a great lineup of places to see! Moving on.
Flattening the Curve
I was hopeful and actually downright certain I'd make my next trip: a June 25th journey to the Czech Republic to meet my long lost family members for the first time. The trip would include a handful of other new countries for me as well. It was mid-March and everyone was thinking we'd all stay home for two weeks to "flatten the curve" and then get back to business. As you know, two weeks turned to four, four to six, six to eight, and so on. Meanwhile, we all watched in sadness and horror as the numbers climbed, people died, and the economy plummeted. I was lucky I only took a pay cut at work, while seeing so many others lose their jobs altogether. What a mess. But we're all gonna get through it, right? Stay inside, work from home, wear a mask and wash your hands they said. But wouldn't you know it, on April 15th I received that cancellation from British Airways that the flight to both London and then onto Prague were canceled. Mother f*&#$@r!!! Another one bites the dust. My June-July trip was also toast.
If you're wondering about this one, it was Czech Republic, Kosovo, North Macedonia, Liechtenstein, and then home from Zurich. I'd spend the first week driving through Czechia to visit my relatives and see the village my where my great grandfather was born. I'd planned this trip over a year out and was really bummed about it being canceled. On the other hand, I didn't want to have to meet family for the first time wearing masks and practicing social distancing. What's fun about that? I'd want lots of handshakes, hugs and kisses! So maybe it wasn't a good time to visit anyway. Okay, no problem. But it was a problem…
Locked Up Abroad at Home
I was getting the jitters from staying Stateside so long – a literal "island fever" from not visiting any new countries. This was the longest I'd not left the USA and it was killing me. Boy do I sound like a spoiled prick here, but anyone else whose passion is travel will understand. Travel is life for me. It's what I need, what fuels me…what I live for. I was going a little crazy.
And while my flight from the US to Prague had disappeared, the flight home from somehow Zurich remained. I'd booked a return business class award (miles) ticket using Air Canada's Aeroplan program. I remember it being extremely difficult to find an award seat through Aeroplan, but finally made it work: Zurich to London to Vancouver to Los Angeles; in business, for 55,000 miles. I'd take a train home to San Diego from LAX. I waited until almost the last minute to contact Aeroplan, expecting a cancellation email anytime. I hesitated to try and cancel myself, thinking there may be a penalty or some other general heartache for cancelling or changing the dates…you usually have more options when it's the airline that cancels, so I waited for it. But just a couple days before this return flight would happen, no cancellations. The flight home from Europe was still happening. I dreaded calling and battling with the airline. I wasn't looking forward to being pushed around.
At Your Service
I was downright surprised and delighted at how amazing the gentleman at Aeroplan customer service was. The guy deserves an award. Not only was he friendly, calming and helpful, but he was full of great news. I could get a full refund of my miles and taxes, or move the date…as many times as I needed. This was such a relief. I decided to take my chances and just push the flight back…to July 14th. That ought to be enough time for the world to figure out this Corona thing, right? Right???
The Aeroplan story got even sweeter. Not only could they book me home from Zurich on July 14th, but the flight was moved from a two-stop, 46-hour journey, to a nonstop, 12.5 hour flight. Total score!!!
Gotta Get In
So now I have this return ticket home from Europe on July 14th…now, I needed to figure out how, when and where I get into Europe. EU was still off-limits for tourists, but I hedged my bets that I'd be in the clear by July. It seemed so far away, and after all, by now the curve was more than flattened. Sure enough, I quickly found a recent article online with June and July "opening" dates for a couple dozen European countries. I was in luck! After careful studying of this list and a search to see where my miles could take me, Budapest it was! The article said Hungary was opening up on June 15th, so I'd arrive on June 28th to spend a couple days in Budapest before taking a July 1st flight over to Ukraine, which conveniently was scheduled to open on July 1st! This was going to work out perfectly! Then I'd see Belarus, Moldova, the breakaway state of Transnistria, North Macedonia, Kosovo, Liechtenstein and then back into Zurich for the flight home. Spectacular! I'd be back gallivanting around the globe in no time. Not so fast.

Mo' Money Mo' Problems
The flights and hotels were set; I was ready to go! But it wouldn't be that easy. A fellow traveler emailed me to check up on me and see how I was doing with not being able to travel. I was happy to write him back with my grand itinerary and give him the good news. I even sent him a link to the article outlining the schedule of countries opening. He quickly wrote back with a buzz-kill, warning me not to trust that "unofficial" article, and that not only was much of the info in the piece false, but that there were different rules for Americans. Basically, he told me that the trip simply wasn't going to happen. I fought the temptation to be angry with him, even though the thought did cross my mind that he was just jealous that I was traveling and he wasn't. "I'm Randy-Mother-F*#$%ing-Randy," I thought…I make shit happen! But after a few hours of deep diving into Google and checking more official sources, I discovered that he was absolutely right. Looked like the article that I was quoting as the gospel, was targeted toward European travelers – basically saying that if you lived in the EU, these were the EU nations that would now let you in…this was not the case for folks living outside the European Union. I had indeed jumped the gun. Now what?
Mother May I?
I lucked out. Hungary, was not letting foreigners in at all–from anywhere–but there was one exception that I could apply for. I'd need to fill out an application, all in Hungarian, asking the Hungarian Police for permission to enter for business purposes. I went as far as to book a business meeting in Budapest, and then hire a translator on Fiverr to assist me in filling out the online application, which was not available in English. If I could pull this off, it would be the ultimate travel Hail Mary. I was hopeful but certainly wasn't counting on success here. It was a long shot.
Not only did I get an approval letter from those amazing Hungarians, but I received it in less than four hours…on a Saturday nonetheless. Absolutely amazing. I was in!
As the trip came closer I got more and more excited as reality sunk in. First of all, I was pretty much beating the system. I wasn't doing anything illegal at all—I told the truth on the application and was given an official permit to visit. I just knew that not many other people were doing this…I got lucky in finding a way in. I was also downright ecstatic that I'd be able to visit one of Europe's most crowded and "touristy" cities, without the tourists there! How cool is that?! Budapest is usually absolutely mobbed with tourists in the summer—huge crowds—and I was going to have the city to myself! I envisioned the scene in Vanilla Sky where Tom Cruise is all alone in Time Square. This is going to be awesome! I was counting down the minutes.
Too Good to Be True
All along, I was so worried the airline wouldn't let me board. Yes, I had this "letter," (all in Hungarian, by the way), that would get me into Hungary, but would that be good enough for Lufthansa to let me on their plane? Airlines have strict policies about who they can let on their planes when flying into other countries – they get fined a boatload for bringing someone into a country who isn't authorized to be there. It's why they meticulously check your visa before giving you your boarding pass to a country that requires it. It's not for your sake, it's for theirs! They get in big trouble if they transport folks without the proper documents. I was afraid they'd shut me down when I arrived at the airport. I mean, who's to say I didn't just make this letter myself.
Sure enough, the day before my flight, the website would not let me check in. Instead, I got a big pop-up saying "CANNOT TRAVEL – AMERICANS NOT ALLOWED IN." I called Lufthansa's 800-number and they explained I wouldn't be able to check-in online, and to just bring my documents to the counter for check-in tomorrow. My mind was not at ease. I kissed my mom goodbye the next morning and told her that maybe I'd see her in two weeks, or maybe in 12 hours. I really was still convinced I wouldn't be able to board. This all seemed too good to be true. It's a horrible feeling.
Go-Time
I got to the airport obscenely early and was second in line to check in. Wouldn't you know the Amadeus worldwide flight software went down and I just had to stand there for almost two hours before they got it going again. At this point I was less worried about my special permission to board, and more concerned that nobody in the entire airport (or world) was going to fly that day. It wouldn't have surprised me: Corona, straight into the civil unrest…now a worldwide airline software crash. At this point in 2020, not much else could surprise me. I was happy when I saw the dozen Lufthansa agents scurry back to their monitors. We were back in business. Soon I was handing Mariela my passport and special "letter." But wait for it…the adventure is just about to begin.
As expected, Mariela needed to call "someone" and verify I could get on the plane with this letter. It goes back to the part about the airlines being very careful who they transport to foreign countries. The heart attack came when Mariela told me I indeed could not board this flight…not because there was an issue with Hungary, but that I wasn't allowed to make the transfer in Munich. It was the Germans saying it was a no-go. My heart dropped into my stomach and the reality set in that I might be on a train back to San Diego in a couple hours. Everything would be ruined on this trip…every stop, airline ticket, hotel reservation and tour booking. All of it. The trip had ended before it began.
Kill 'Em With Kindness
I was panicking inside but remembered that you get more bees with honey, especially when it comes to airline agents. It's all in your attitude – they hold a lot of power most of the time and can make or break you, usually depending on how you treat them. I explained to Mariela very politely and calmly that I'd confirmed with Lufthansa numerous times that I could make this trip…that I understand the sensitivity of traveling these days and that I'd been working diligently with the airline and the Hungarian officials to make sure I'd be okay to travel today. I asked if I'd be able to speak to a manager, and she obliged. Soon, a blonde woman (I wish I remembered her name) was taking my paperwork and asking me to sit tight, as she walked away with my documents in hand and a phone pressed to her ear. It was in God's hand now. I wasn't expecting good news.
My a miracle, the woman returned and told me I was good to go and instructed Mariela to print both my boarding cards. She told me I still might have issue getting into Munich, which at the time I still didn't understand, but I was just relieved to be getting on the plane at all. I thanked her profusely and got over to the gate. The gate agents were strict in their social distancing of passengers, keeping us six feet apart and boarding one-by-one, but soon I was on a full plane, so the purpose was kind of defeated anyway.
I was sure I'd be able to transfer in Munich with no problems: you never have to touch customs and immigration (or passport control) when you're transiting internationally. But I was wrong about this one too. 142 countries and still making rookie mistakes.
Ramblin' Research
I spent a good amount of time on the 10+ hour flight on WiFi, trying to get some clear answers. I soon had an a-ha moment. I would indeed had to go through passport control in Munich. Here's why: both Germany and Hungary are members of the European Union. Munich would be my entry point into the EU, so I would indeed have to pass through immigration. It would be like if I was going from Shanghai to New York, but connecting in Los Angeles. Los Angeles would be my entry into the USA, therefore I'd have to pass immigration there. All of the EU countries are actually like "states" in this case; states of the European Union. Munich is my Los Angeles…my entry into the giant "country" that is the EU. So what's the problem here then? What's the issue with going through passport control in Munich? One big problem: Americans are forbidden to enter Germany. The timing could not have been worse: Europe's Corona cases had fallen and leveled off while the USA was going through a second wave that was absolutely exploding. All the headlines over the last 48 hours were about the EU opening for tourism on July 1st for everyone in the world except Americans. We were straight up shut out. One of the world's most powerful passports had went from almost first to almost worst. What a turn of events…and what an awful time for an American to try to get into Europe…the worst time in history.
I'm actually typing this article on the plane, just three hours out from Munich at this very moment. I'm worried, stressed, anxious. I don't know what is going to happen. After all my research and talking to a few friends during this flight, I've come to the conclusion that one of three things will happen:
1. The Germans will see my onward ticket to Hungary, along with my "permission slip," and let me pass.
2. The Germans will say No way José and I will be forbidden to go through passport control, thus not being able to continue on to Hungary. I will be allowed to stay in the international zone (before passport control) and find another flight to a neighboring, non-EU country, like Turkey or Serbia. Those two countries are allowing Americans, and once I get there, I'll be able to head to Hungary.
3. The Germans will be ultra-stinky and force me to get back on the Lufthansa plane and head directly back to Los Angeles. I just checked, and this plane turns around a few hours after landing in Munich to head back to L.A. This scenario would suck so bad!!!
I'm going to check flights out of Munich right now, to form a backup plan. Wish me luck. The next paragraph will be what happens…I have no idea how this will unfold. I'm excited…but nervous. So nervous!!!
Miracle in Munich
Holy crap, I am IN!!! Upon exiting the aircraft I got to passport control pretty quickly. "This is it," I thought. I just did it–like ripping of a bandaid–walked right up and said "Good afternoon"…even though it was 9:30AM. I didn't know what time it was, what day it was…I was in a cloud…so nervous. I think I picked the right officer to approach; I had my choice of windows. This dude gave off a friendly vibe so I picked him. You never want to get the grump and it's like roulette. I handed over my passport, and before he could say anything else, I said, "And I have a lot of paperwork…here's my permit to enter Hungary, I am transiting now." I stated this friendly but affirmatively – I pretended I knew what I was doing. I think he asked me one question: "Do you work with the Hungarian Police." I answered no, and that I was on business, departing back home through Zurich. Then I heard the big ker-PLUNK! Did he just seriously stamp me into Germany??? Why yes he did. Holy crap, I am in.
I toyed with the idea of jumping in a cab and heading into Munich for lunch but I didn't want to press my luck. It was a miracle I was stamped into Germany at all, I didn't want to get too bold, nor misuse Germany's trust.
Hungary Like The Wolf
I won't use this space to chronicle all the cool stuff I'll be seeing on this trip…I'll use dedicated country reports for that. Instead, I'll continue to use this article to explain and highlight some of the unique experiences as an American traveling through Europe during this time.
First, my arrival into Hungary. Even though I'd already been stamped in to the EU in Munich, therefore not being necessary to pass through immigration in Hungary, our entire plane was met with about six police officers, checking everyone's passport, making sure they belong here, a.k.a. live here. And then there was. I broke out my letter and in a few minutes I was on my way. No stamp, no visa, no paperwork. The officer simply took a photo of my letter and I was on the way. There was one other American with this same letter, but I think he was with his Hungarian family (they had Hungarian passports.)
I should also note, no temperature check here, nor in Germany, nor before I boarded any of the flights. Lufthansa did give us a health questionnaire to fill out of the way to Munich, but no one ever asked for it.
I headed to my airbnb in Budapest and am currently typing this paragraph at the end of night number two. I had a quick business meeting last night, then a 14-hour sleep because I needed it…hadn't slept in two full days. Today, was absolutely wonderful, as I explored the city with almost no tourists inside. As I mentioned, I'll type up a full trip report on Hungary later, for now, just a few shots of me enjoying the emptiness. Today was so awesome!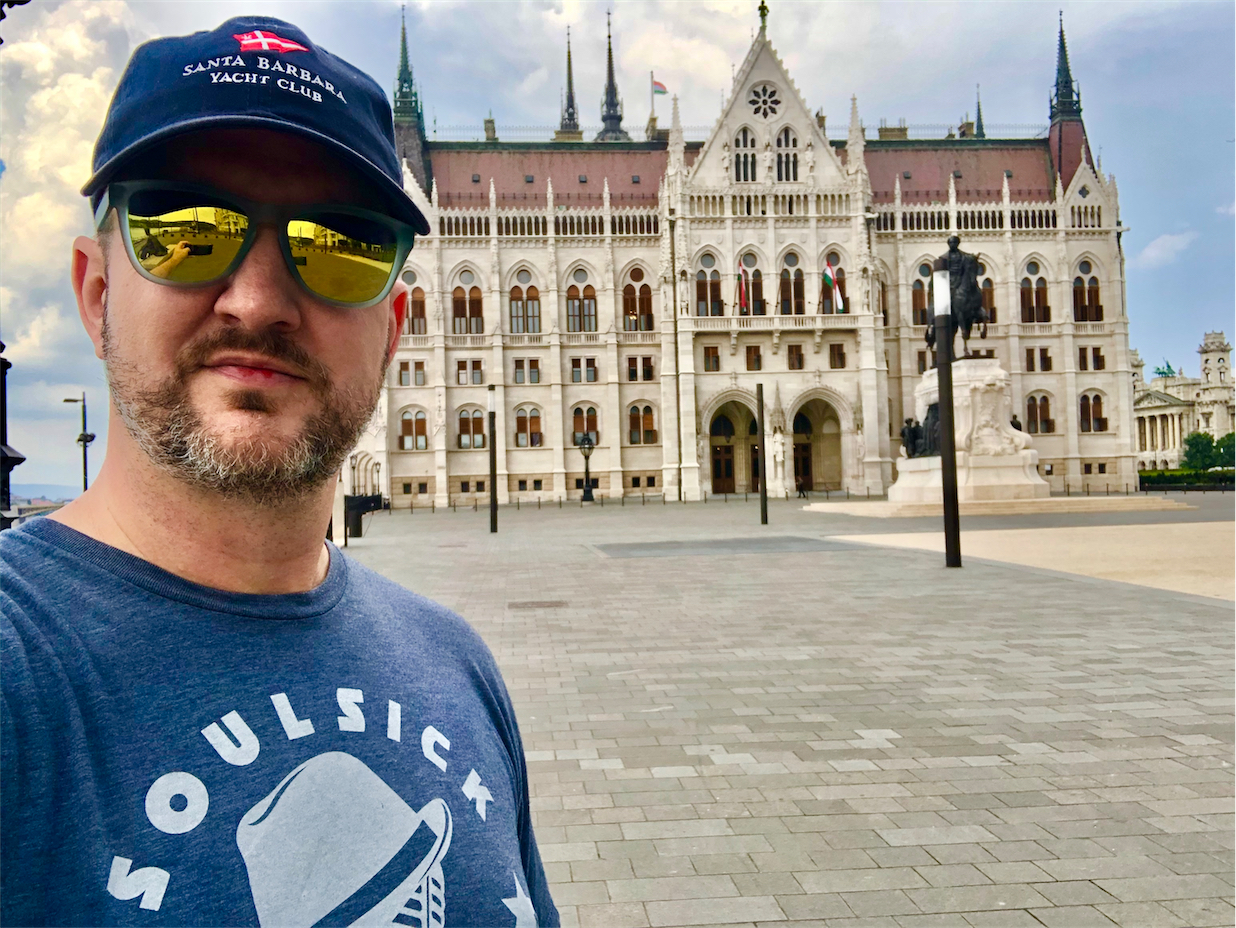 Take me to church.

Ethics and Stuff
Selfish of me to travel now? Maybe. I followed all laws (so far) and entered with permission from the government. I'm not a rule breaker but I do look for the loopholes. Always have, since I was in second grade buying the "good stuff" from the teacher's lounge at school: Oreos in the staff lunchroom, slipping the cashier there a fiver when she asked me if I was supposed to be in the cafeteria with the rest of the students during snack time. "Why would I want to be in there eating boring apple slices when I can get coffee and cookies here?"
As far as my safety and the safety of others: I'm following all social distancing guidelines, including wearing mask indoors and whenever I'm near people. I was tested for Corona before I left and I'll get tested again. My mom was so worried about me leaving, but I explained that I'm literally running away from the danger – leaving the country with the most increase in cases. It's much safer here.
To be Continued…I'm a Ramblin' Man
Knock on wood, I'll be entering a few more countries on this trip and will keep you updated here. Check back often for updates. Travel safe amigo.
Next Stop on the Stress Express
As you might expect, Budapest was awesome. Three absolutely awesome days in the city, almost to myself, was a wonderful once-in-a-lifetime experience. I was also relieved that the hardest part was over…until day two in Budapest, when I received an email alert from the American Embassy in Kiev.
So far, the Ukraine was open for business, free and clear for even an American like me. But the rules have been changing, almost everywhere, day by day and even hour by hour. My heart dropped to the bottom of my stomach when I read the brutal details on what my arrival and stay would look like two days from now in Ukraine:
The Ukrainian government has lifted the entry ban for foreigners. U.S. citizens will be allowed to enter Ukraine if they can demonstrate that they have medical insurance covering all expenses related to COVID-19 treatment while on the territory of Ukraine.
(NEW) The policy must include reimbursement of expenses related to the treatment of COVID-19 and be valid for the duration of the visit to Ukraine. It must be issued by an insurance company registered in Ukraine, a foreign insurance company with a representative office in Ukraine, or a foreign insurance company with a contractual relationship with a partner insurance company on the territory of Ukraine.
U.S. citizens entering Ukraine will be required to enter into self-quarantine as long as the Ministry of Health considers the United States a country with high incidence of COVID-19. The Ministry will review the list of countries with high incidence every three days and publish any updates on their website. Accordingly, U.S. citizens traveling to Ukraine should check the latest determination prior to travel and be prepared to self-isolate if advised to do so upon arrival.
(NEW) Currently, all U.S. citizens must self-isolate for 14 days upon arrival. When they enter Ukraine, they must have a mobile phone that will work on arrival and download a smartphone application "Diy Vdoma," through which the Ukrainian authorities will track whether they are complying with the quarantine. The Ukrainian government has stated that foreigners entering the country may also choose to take a COVID-19 test after they arrive in Ukraine, and if the result is negative, they would not be required to continue to self-isolate. Details on where the test may be taken and where the results must be submitted have not yet been published.
Well crap. Not only does it say I must "self-isolate" for 14 days, but I have to download a Ukrainian app to my phone so the feds can keep tabs on me. And my entire stop in Ukraine is only 24 hours! How is this going to work?
To add insult to injury, I'll now have to buy a third travel insurance policy just for this 24-hour stop. My regular health insurance covers travel, but before I left, I read that Ukraine will only let you in if you have a special travel policy that included Covid-19, so I got that additional policy. Now I'm reading it has to be a policy from a Ukrainian company. Good grief. I jumped online to try and find some insurance, which I did. Now I have to figure out the whole app and self-isolating thing. How was I going to swing that?
I spent my third full day in Budapest living like a local: learning the metro system and running errands – first, to a print and copy shop to print up some documents I needed for Ukraine (my new insurance policy, etc.), and then to buy a burner phone. I thought only criminals and spies used "burner phones" – in fact, I only know that term from watching crime shows. But now, here I was, buying my own. I wasn't sure how my visit to Ukraine was going to play out, but I didn't feel comfortable putting a Ukrainian government app on my personal iPhone. That's a negative. I hated wasting $150 on a phone I didn't need, but desperate times require measures.
I didn't get much sleep that last night in Budapest. I took a pill and was out by 10PM but wide awake by midnight and I wasn't able to get back to sleep. I had a lot on my mind. My 4AM taxi was on time and I was at the airport by 4:20. I'm typing this as I wait for my 6:15 flight to Frankfurt, where I will connect for Kiev.
I have a lot to consider. Do I go into quarantine and miss my tour of Chernobyl? Basically just sit at a hotel for 24 hours? Do I risk it and take the tour…leave the burner phone with the app at the hotel, so when the soldiers kick down the door, I'm long gone? Do I tell immigration that I haven't been in a "Red Zone" (USA) in the last 24 days, which is a lie? Honestly, I'm weighing all the options, but don't think it's smart to lie to officials, especially in a foreign country. I'm picturing myself in an interrogation room with guys yelling at me before they cart me off to jail…having to get the embassy involved and have my family post my bail. Ugh.
READ THIS: Here's the details on how this crazy app works. It's insane!
I did see one option today that might work for me, listed on a special Facebook group regarding the topic: One professional from Ukraine said if you bring results (negative) of a recent Covid test (72 hours or less), you can bypass all this nonsense. I just happen to have such a piece of paper. Pray for me. I board in 15 minutes. Finally, I read that you have 24-hours after arrival to "get situated" at your address before they start tracking you on the app…this might be my saving grace: I'm only in Ukraine for about 28 hours, so…catch me outside, how 'bout that?
Welcome to Kiev
Okay, so here's what happened. I was first off the plane. I wasn't sure it that would be my blessing or my curse. My heart was pounding…so many scenarios could unfold and I had no idea what I was about to get myself into. Immediately after stepping out of the airplane door onto the jet bridge I was rushed by four frantic officials in uniform. Crap! They were waiting for me – somebody must have tipped them off! Oh wait, it's just a temperature check. Whew! Okay, breathe…
I was also first in line at the immigration queue. It's now or never, let's pull off the Band-Aid and get this thing over with. I stepped up and smiled at the officer, forgetting my grin wouldn't work under this damn mask. I handed over my passport. Anna Nicitchencko looked like she was in her thirties and when she asked me to pull my mask down to verify my passport picture, that's when I hit her with the smile. It worked and she smiled back. Before she could give me the third degree about having a passport from a "Red Zone," I enthusiastically announced to her that it was my first time here, that I was so excited to be in Ukraine, and that I had brought her tons of documents! She asked for my insurance first, to which I replied I had three separate policies, including the Ukrainian policy that I'd just purchased. Then she asked where I came from: "Transfer in Germany?" I said yes, but my flight originated in Hungary, not America…I was in Hungary. It was not a lie. I had all of my other documents ready to go: my corona test, hotel reservations, and onward flight itinerary. And of course that burner phone. It was like I was an attorney with my big box of files, ready to present the evidence. What happened next I did not expect.
"Ker-PLUNK!" went the passport stamper. "Have a nice time," said Anna, as she handed me my passport. This could not really be happening? She did not ask where I was staying, how long I was staying, or mention anything about the app nor quarantine. I thanked her and got the hell outta Dodge, still in disbelief. It seemed too good to be true. Surely around the next corridor would be where the "Quarantine" officers were waiting for me, right? I kept walking, still in disbelief the whole time…through baggage claim…passing customs in the "nothing to declare lane," and finally out to the main hall where I saw windows and the front door. I marched right outside like I lived in Kiev, jumped into a taxi and enjoyed the sweet taste of freedom as we barreled down the highway towards downtown. I can't remember a time I was this happy. I don't how this happened, but it did, and I was sooooo grateful!
I arrived at the hotel and was trekking the streets by 5PM. I'll give full details on my Kiev stop on a dedicated trip report, but I can tell you this: Kiev was the one big surprise on this journey – the place that blew me away and exceeded all expectations. The vibe, the energy, the people, the parks, the monuments, the views, the river…I even rode the funicular. Kiev has so much to offer, and I did as much I could before sundown. I must have walked five miles…all on two hours of sleep, and don't forget a stomped around Frankfurt for lunch. I was wiped!25,000 steps later I was back at the room. Lights out for the big day tomorrow.
Friday was my Chernobyl tour, which was epic; then back to the airport. Interestingly, on departure the young officer asked me about coming from a "Red" zone. He literally said, "Red zone?" after looking at my passport, as if I was on the hook for something. I told him I came in from Hungary. He looked kind of confused, but thankfully just stamped my book and I was on that way. I'm typing this now from gate D-4, less than an hour to board for my next flight to #145. All reports read that Belarus is open for Americans and no quarantine, so I'm looking for a stress-free entrance…hopefully. More to come, stay tuned!
You Can Ring my Bell…arus
I found an awesome ticket to Chișinău, Moldova from Kiev, that included a 36-hour stopover in Minsk, Belarus. Score! Lucky for me, Belarus was wide open for Americans, with no quarantine requirement. I was really impressed with Minsk. What a beautiful town with great public transportation, lots to do, and friendly people. The weather was divine. Minsk was a wonderful stop!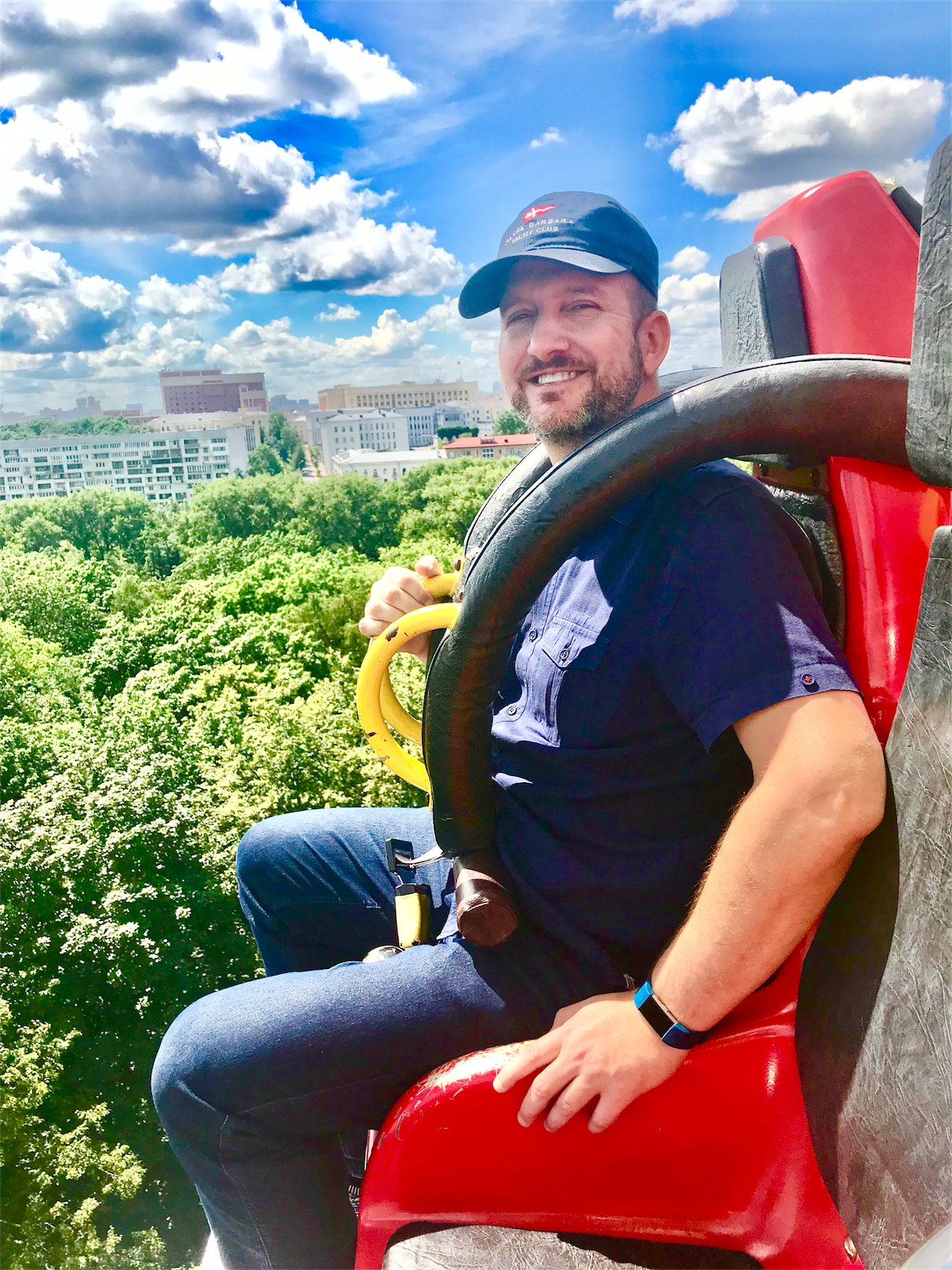 Belarus was a blast. The only two things that struck me odd was, one: The intense passport scrutiny at immigration. The officer literally took out a magnifying glass to inspect my passport book…both coming and going! Did they think it was fake? It felt really strange and I got weird vibes from immigration. My apartment host told me not to take it personal, and that's just the way it is…that Belarus is still a heavy "police" state. Number two: I was shocked to 90% of subway riders not wearing masks. To me that was crazy.
I was lucky to make it in when I did. A friend of mine arrived in Minsk from Kiev the day after I left (Monday, July 6th) and was ordered into a mandatory quarantine. That's crazy!!! I was so fortunate to come at the right time. The city has so much to see and I would've been so bummed to have to stay inside my hotel. Thank you travel gods for watching out for me!
Moldova, Moldova, Let Randy Come Ova
Moldova was one of the trickiest stops on this trip. I was on baited breathe to see what would happen after June 30th – the country was closed to foreigners until the end of June with no promises it would open in July. Sure enough, they extended the travel ban for all foreigners until July 15th, so I was crushed I might not be able to make it in on this trip – I had my ticket purchased already and everything. Thankfully, the border police were really good at communicating with me before my trip and even reached out with some advice and ideas on being granted an "exception," kind of like Hungary. Only this one was a little less structured: With Hungary, you filled out an official application on a government web portal. In the case of Moldova, I was simply instructed to bring the invitation for my business meeting and a letter from my employer. There was no application approval at all, nor was there a permit I could be granted. I just had to show up with my two letters and hope they let me in. I was a little nervous, but wouldn't you know it, the officer looked over my docs and stamped me right in. Holy cow, I was so happy this one worked out; it was all a little unbelievable!
Just a Small Town Boy
Chișinău was the smallest of all the cities I'd seen so far on this trip, and that was okay. I was able to see most of the sights that first afternoon, including some nice parks, a few monuments and statues, and a really hip "food mall" where I enjoyed sushi on the patio while the speakers pumped out classic 1980s Funk grooves. I complimented the cashier on his music selection – it was wild to hear deep cuts from Midnight Starr, The Whispers and D-Train in Moldova of all places! Where am I???
She's my Cherry Pie
Probably my favorite experience in Chișinău was finding this little bar that served only one thing: Moldovan cherry liqueur. I'm not even a "liqueur" kind if guy, but this stuff just looked too good to pass up. Inside the classic, yellow building with the cherries over the door, was a dimly lit bar with stacks of barrels behind it. Bartenders served the dark red drink in crystal glasses and spooned a couple fresh cherries from a bowl into each serving. Needless to say, the liqueur was phenomenal. I enjoyed sipping my sweet treat outside at my little table while I people-watched. It was a great first day in Moldova. Tomorrow, on to the breakaway republic of Transnistria. 
Trans-WHATS-tria?
Transnistria. A fascinating, breakaway republic, technically inside Moldova (depending who you ask), with its own border, government and currency. I couldn't wait to visit this bizarre place!
It was the morning of July 6th and I was on the road by 11AM. My driver was George. He was good company and I enjoyed checking out the Moldovan countryside. I had no idea if I'd be admitted into Transnistria during this pandemic, but I was going to give it the ol' college try. It was only a 45-minute drive, so if we didn't make it in, no big whoop.
Soon we left the Moldovan checkpoint on the way out. We were waved through and didn't even have to stop, as we passed the Dniester River. I got excited too quickly. I think we were indeed inside Transnistria, but we'd soon come up upon two Transnistrian checkpoints. We passed the first, and again I got excited; but the second would be trickier. A Russian solider minding the gate in a green captain's hat took my passport and disappeared into his office. He resurfaced ten minutes later, had some words with George and gave me my passport back. But it wasn't stamped. Though I couldn't hear the conversation between the officer and my driver, it didn't sound positive. Lots of head shaking and overall facial expressions that had "no dice" written all over them. George turned the car around in defeat and we headed back the other way. But it wasn't over just yet. We were sent on to another entry point by the officer…I was still hoping to be in Tiraspol soon.
We cruised through the backroads of the Moldova countryside which was an experience in itself. At one point we got caught up in a herd of goats! It was a gorgeous day and I was enjoying the views. Soon we came upon what looked like the main or central border – this was a hundred times busier than the first crossing, with a line of a dozen cars queued up for entry. We pulled over and George once again tried to work his magic with one of the officers. I saw a public bus pull up to the checkpoint and watched an officer board and check everyone's passport. I wanted in so bad. What was beyond that border? I had to see. But we weren't getting through this door. We were soon sent on to a third border checkpoint.
Third time wasn't a charm. This time George chatted with the Moldovan officers just before the Transnistrian border and they explained that it wasn't going to happen – a zero percent chance…Transnistria was simply completely closed to any and all foreigners. I wouldn't be going to Tiraspol this time.
Truth is, I was okay with that. I've gotten into every country so far and for that I was thankful. I got really lucky in Hungary, Ukraine and Moldova, so being denied entry into this extra "bonus state" (that didn't count as my 193 nation-count) was something I could live with. I took some photos of those gorgeous sunflower fields at the border before George and I headed back.
Early Departure
Since I wouldn't be spending the night in Tiraspol (or getting in at all), I decided to leave Moldova a day early. It wasn't that I didn't like Chișinău – I loved the place. But my original itinerary had me going to Istanbul: arriving late the next night, just to sleep at the airport hotel to make the next morning's early connection on to North Macedonia, with no "Turkey time" at all. But if I left tonight, I'd have one full day to enjoy Istanbul. I had George take me straight to the airport and I was able to score the very last seat on that night's flight.
Let's Talk Turkey
Turkey was wide open to Americans. I'd paid for and downloaded the e-visa before I left Chișinău. The new Istanbul airport was huge…I mean absolutely enormous. It seemed like it took me a half-hour just to walk from my gate to the exit, not including the immigration process. I jumped in my private shuttle and checked in with Mom on the phone during the hour-plus ride to Old Town. I scored a room at the Double Tree for $55. Amazing.
I enjoyed the next full day stomping all over Istanbul. This was my first time crossing over to the Asian side. I bought an "Istanbulkart" and used the crap outta their awesome public transportation, including the subways, trams and even the ferries! What an amazing public transport network…that card was everything! At the end of the day, I grabbed my bag from the Doubletree and made my way back to the airport. I'd stay at the airport tonight – the Yotelair Airside is located past passport control, right there in the international transit area. It was so awesome to be able to wake up and simply stroll over to my gate –  from my hotel to the gate was seven minutes. And I was already past immigration…this was so cool!
Check back for a full report on this Istanbul stop soon!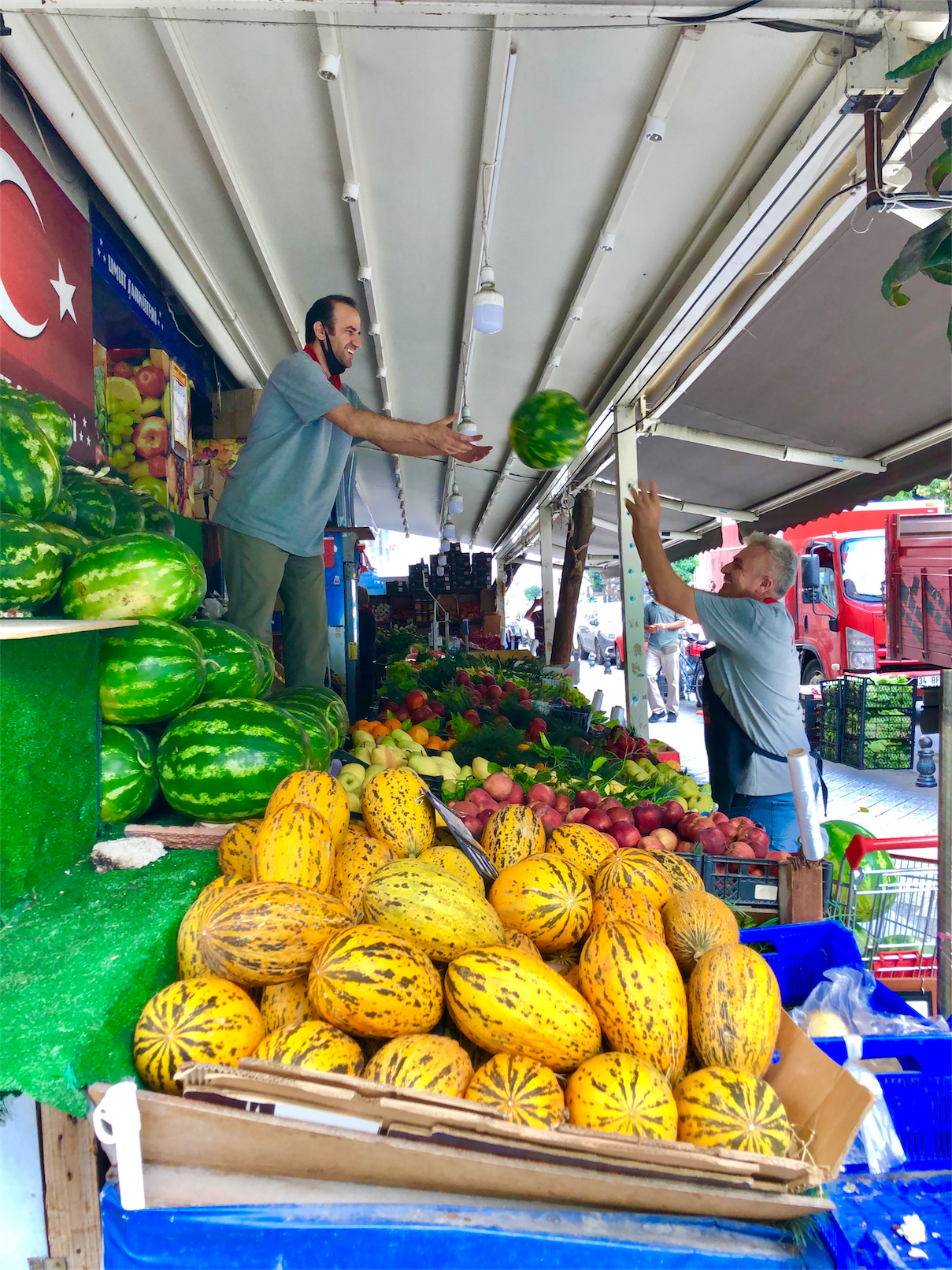 In North Macedonia, Born and Raised!
(If you didn't read that in the Fresh Prince of Bel-Air melody, shame on you!) No issues at all landing and getting stamped in to Skopje, North Macedonia. The biggest challenge was pronouncing "Skopje." I had a nice full day there, arriving at 7:30AM. I got to meet a fellow traveler and Facebook friend for dinner that night. Good times in Skopje for sure. Full report to come.
Planes, Trains and Automobile
Lately there's been so many different stories on whether or not a train was running from Skopje to Pristina (Kosovo). I visited the Skopje bus/train station that first day to inquire and they told me there was definitely "no train." I found it weird the monitors were indeed showing a train to Pristina at 4:10, but the guy at the counter insisted, "no tren, no tren!" I bought a bus ticket for 11AM the next day.
Well, there turned out to be "no boose, no boose!" as well. When 11:20 came around and my 11AM coach still hadn't pulled into its designated bay, I went inside the terminal to inquire. I had a weird feeling, especially because I was the only one waiting for said "boose." It didn't seem right. The lady at the counter confirmed, "No boose, no boose, border closed!" She refunded my ticket and I shot out the door to find a new ride. I didn't mind spending a little money on a private car, I was just hoping we'd be able to get through! "Border closed" didn't sound too comforting. Had my luck ran out? Would I be stuck?
30 minutes later, Muki and I were being stamped into Kosovo as his silver Mercedes rolled onto that beautiful new highway that got us to Pristina in another 25 minutes.
I enjoyed my 36 hours in Pristina, but quickly realized there weren't a lot of sights to see. Once I figured out this out, I concentrated on enjoying Pristina's main attraction: It's people. I spent most of my time walking to the few monuments that did exist (Newborn, Bill Clinton corner, etc.) and enjoyed sampling a handful of the thousands of cafés that seemed to be everywhere – literally, every few steps. I even toyed with renting a car the next morning and driving into Montenegro, but now I was just getting greedy. Instead, I took this time to wander, sip lemonades and really study the citizens of Kosovo. These folks have been through a war…I wish I could hear their stories. As with all the other countries on this trip, I'll work up a detailed report on Kosovo soon.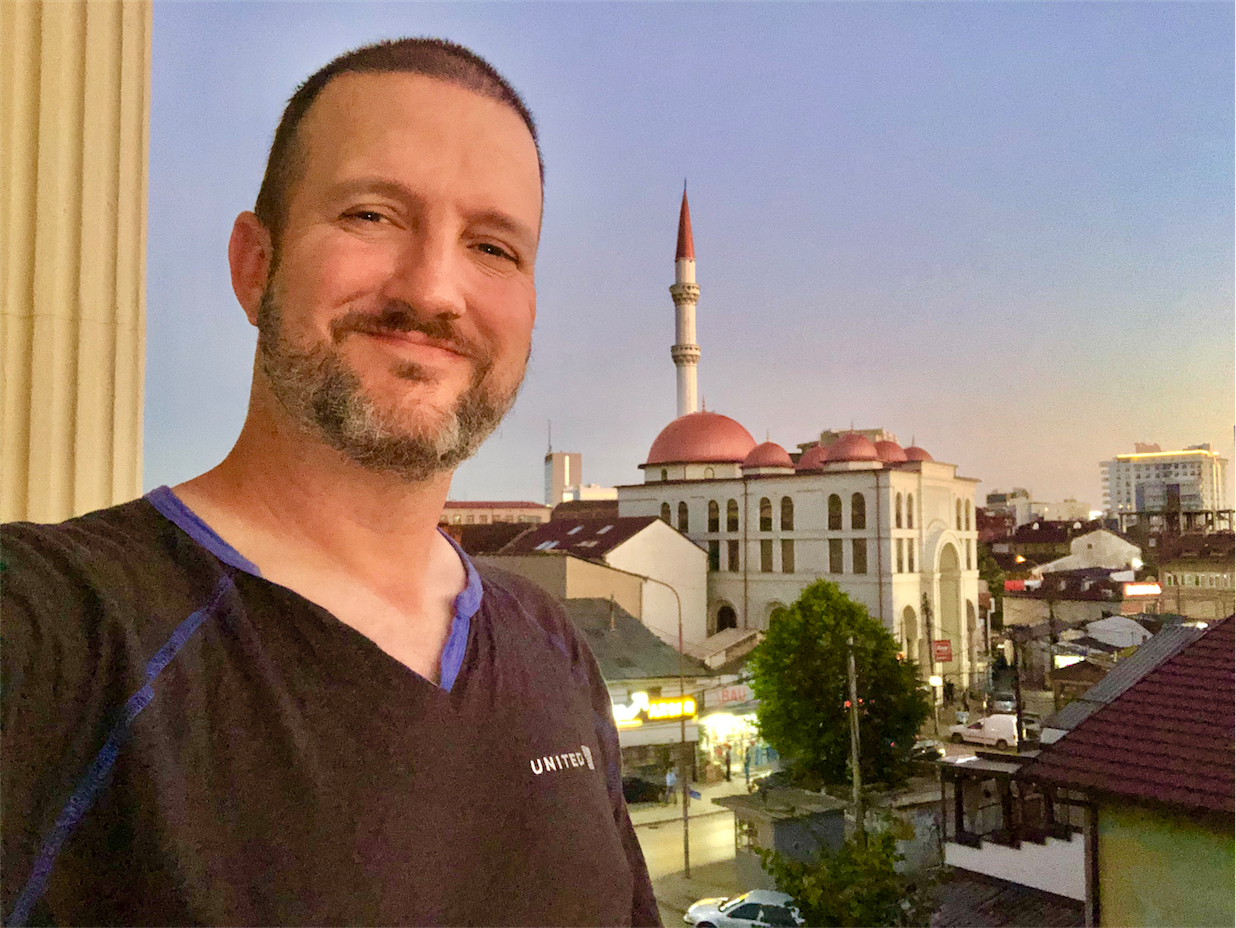 Back to Budapest
I had a few other countries on my list for this trip – I also needed to get to Zürich for my flight home; that was non-negotiable.  My only way back into the glorious EU was through Budapest, with my permit, so back to the 'Pest I went. I got in late, direct from Pristina on Wizz Air, and was in bed at the Ibis Budapest airport hotel by midnight. I'd have a big day tomorrow.
Road Trip
In the morning I loaded up the family Truckster (rental car) and was on the road by 8:30AM. I thought about flying to the next destinations but was afraid they might have passport checks and that I'd be refused entry, even though I was already in the EU. Usually if you're flying within the EU, the flights are considered domestics, but all bets were off this Corona season. I figured the land borders would be easier to drive through, but I was still a little nervous I'd be sent back.
Next stop, Slovenia. What would happen at the border here, I wondered. Would there be a gate, officers checking passports, would they make me turn around. So many variables. I'd researched and researched, but no concrete answers. All bets were off this summer. It was a horrible feeling, but a little exhilarating.
My hairs stood up I passed the sign that said "Slovenia," although I was far from out of the woods. The road was detoured into a gas station, where I parked and went inside to buy a toll pass. These stickers are mandatory for using Slovenian roads – I'm glad I did't skip this step. Immediately after pulling out of the service station, I was routed with traffic cones right up to a group of men in uniform. Crap, is this where it all ends? Something was wrong. I didn't have my sticker on correctly. They showed me how to affix it to the glass and then I was on my way. I let out a scream once I was a half-mile down the road. Hello country #148! I'd made it.
I arrived in the capital–a city whose name I couldn't pronounce–around 2:15PM. Ljubljana was absolutely wonderful and looked like Disneyland…an absolute fairytale city! I had fun wandering the old streets, marveling at the antique architecture and hiking around the castle. I highly recommend Ljubljana…even though I still can't pronounce it. Full report coming soon.
Austria, You're Up!
It was up and at 'em the next morning. I'd have a long drive to Zürich. Blessed by the travel gods once more, my entry into Austria simply consisted of an officer waving my car through. No conversation. I'd made it to Salzburg by 11. Although I'd already traveled to Austria (Vienna, in 2015), I was excited to be in a new city, and most looking forward to my first bite of Punschkrapfen. I'd first (and last) tried this sweet treat on my first visit to Vienna, and hadn't been able to get it out of my head. This rum cake covered in punch flavored icing is like eating a glass of rum punch…so amazing, and very unique to Austria. I'd been craving it hardcore for years…now I was finally able to have it in my mouth once again. Spoiler alert: I overindulged and left Salzburg with a serious Punschkrapfen hangover.
Bunch o' Borders
I'd been super lucky on this trip – getting into many places with a couple special exemption permits and a whole lotta luck. I was almost there, almost to Zürich. My GPS would route me in and out of Germany on the way to Liechtenstein, and thank the Lord, not issues crossing these lines either – just uniformed people waving cars in. I drove through the outskirts of Munich before leaving Germany and crossing into Switzerland. I actually couldn't keep up, and when I passed by a sign that said Welcome to Österreich, I wasn't sure where I was (I'd soon realize it was Austria again!) Then it was into Switzerland–no border check again, thankfully) and finally into Liechtenstein. I found lodging and enjoyed exploring the rest of the afternoon, night and then a quick hike up to the castle the next morning. Victory!!! What a trip this had been! Now I just needed to make it home.
To be continued…
This entry was posted in
Blog