So Close, Yet so Far Away
I can just kick myself for visiting Rome and not seeing Vatican City. What was I thinking?! And to think, I was actually "stuck" in Rome for three nights, yet it didn't even dawn on the 32-year-old me to just walk right over to the Vatican.
Years later, after I'd become a serious traveler—a traveler so serious, I'd taken on the mission to visit every country in the world—I'd shake my head in disgust at the thought that I'd spent so much time in Rome (three days is indeed "so much time" anywhere for me) and missed the Vatican. Not because I really wanted to see the Vatican, but because I was so close; right there, just feet away, and could've so easily checked off Vatican City, just by walking in! But now, another trip to Rome would be required, just to step foot in a nation I'd been only inches away from. First world problems I guess!
If I may be technical, while the Vatican is indeed classified as its own nation, it is not part of the common "193" list, which includes every "UN-member state" in the world. It is, however, included in the just as popular "195" list, which includes the two "UN-observer states" of Vatican City and Palestine. And if you're not confused yet, there is also a "197" list, which includes the UN 193 list, Vatican City and Palestine, and the disputed states of Kosovo and Taiwan. "193," "195" and "197" are the most popular and universally recognized country counts, but then there are lists like that of the Travelers Century Club, which counts 327 countries, but that list includes territories, regions and even places like Hawaii, Alaska and Puerto Rico for their count.
Anyway, back to Vatican City. Although it's not part of "my" list (I'm using the "193″), I still felt a desire to pin it on the map, so off I went! The Vatican was part of a six-country summer European dash I made in July of 2019, starting with Greece, flying into Rome to see the Vatican, a layover in Croatia on the way to Bosnia, then Serbia, and finally ending in Romania.
Mission: Vatican City
I'd have about 25 hours in Italy, so there would be no messing around. I was on a mission! I landed at about 10AM and headed straight into town to throw down my bags and get moving. The drive from FCO into Central Rome is a little long, but thankfully the traffic was moving well. I was grateful for the early check-in at The Sheraton Rome Central Park, and even more appreciative of their shuttle service, which dropped me off just feet from the Vatican.
I'm not sure what exactly I was expecting: maybe some kind of turnstile, gate, even a painted "line" on the ground to designate the Vatican's official "border," but before I knew it, I'd passed under a brick arch and suddenly I was just "here," "inside" Vatican City. No passport needed. A little unceremonious, but nonetheless, I was happy to be here!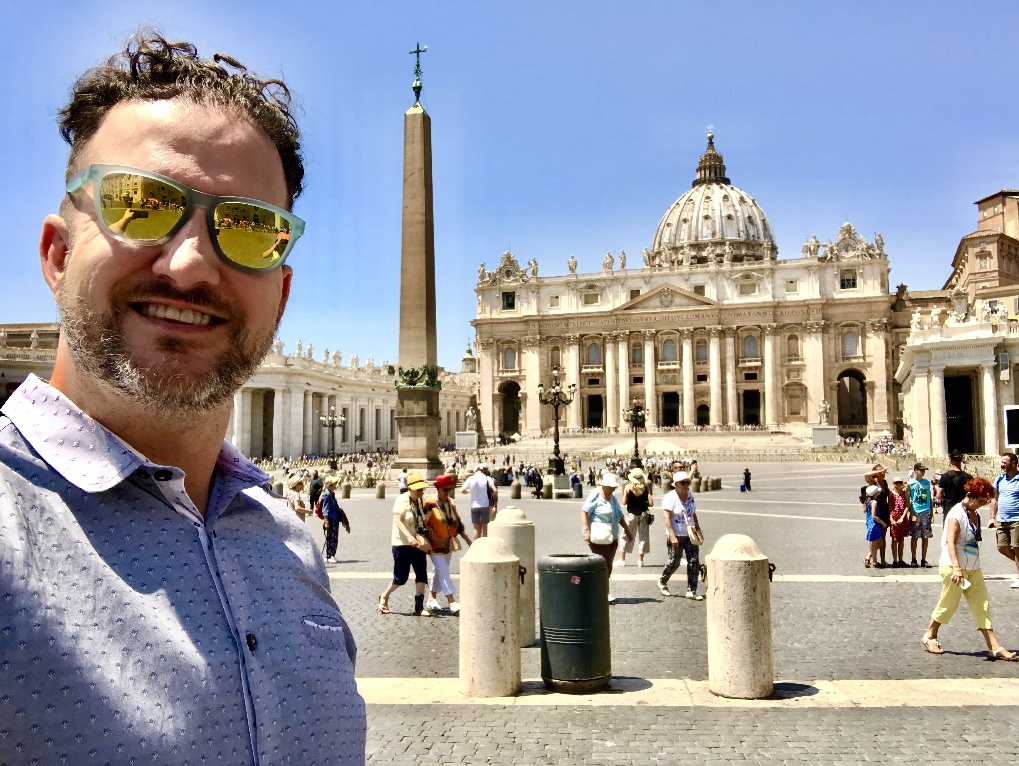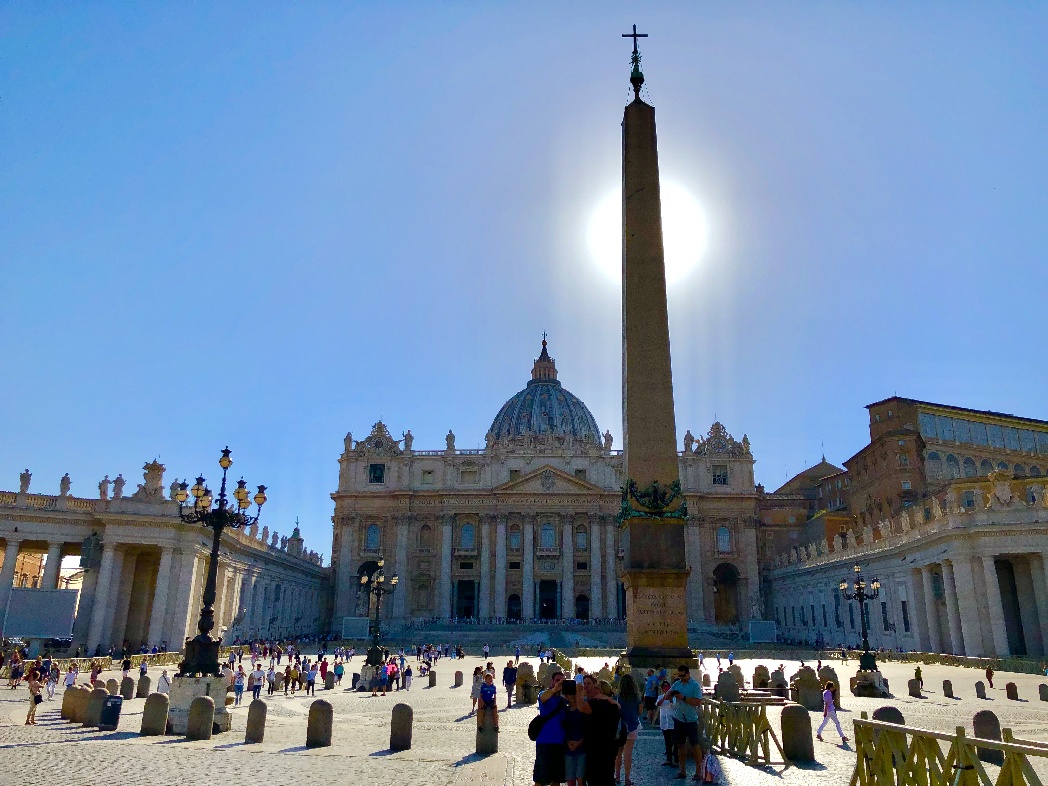 On Your Mark…
I'd heard horror stories about the lines to get into the buildings (The Cathedral, Sistine Chappel, etc.), so I booked a tour with GetYourGuide that ensured I'd be ushered right in. I spent the first 30 minutes trying to find the tour's meeting point. The program didn't start for two hours, but I wanted to make sure I knew exactly where to meet, ahead of time, rather than risk being late and missing the tour altogether. After I located the official meeting point, I took a walk down the street for lunch at Taverna Lino.
Rome was crazy hot, almost unbearable, so I spent as much time under the shade at the restaurant as I could, before heading over for the tour. I'm not sure how authentic this restaurant was, but the fuel was much needed; I was going to do a lot of walking today.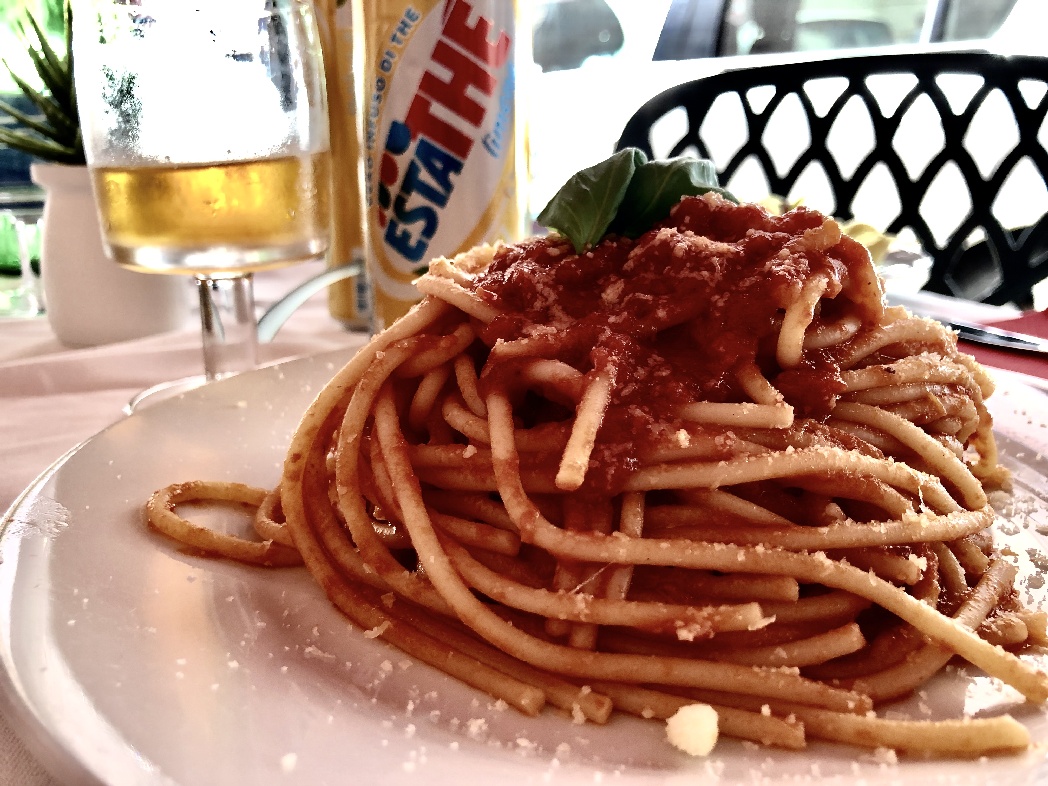 Award Tour
There were about 16 of us, and we all wore the provided ear buds and receivers (that looked like a little Walkmans) so we could hear our guide, who spoke on a mic. Michael or "Mickey," was one of the best guides I've ever had. This guy was a walking encyclopedia who knew absolutely everything about the Vatican, its history and all of its characteristics. More importantly, he disseminated all of the info in a very fun and easy to understand style, keeping me interested for the entire tour, even though there was just so much to digest. I definitely recommend this tour; you can see more info about it, and book it, HERE.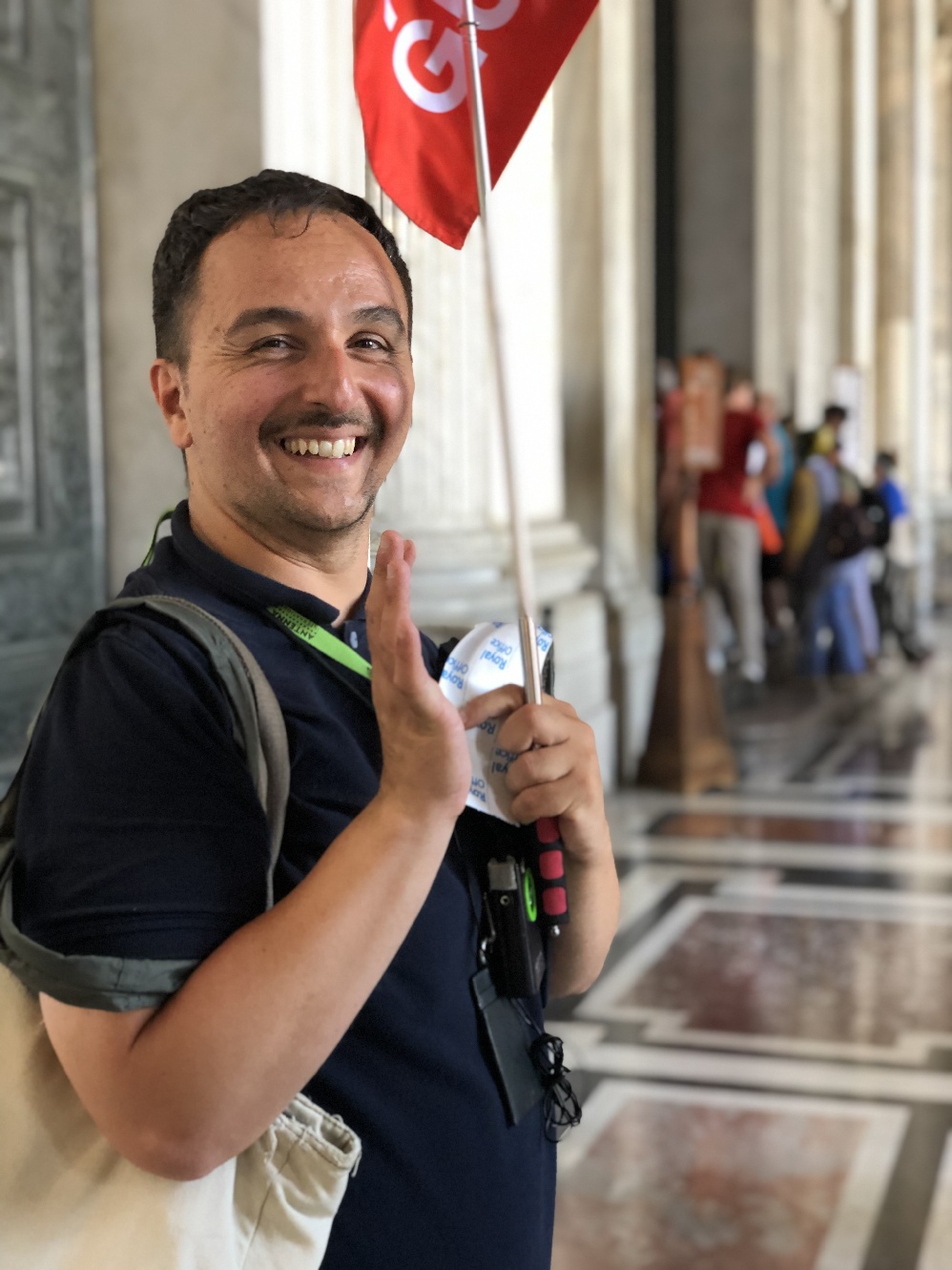 These Brooks are Made for Walking
For the next two and half hours, we walked up and down stairs, through hallways and across courtyards, learning so many amazing things, especially about Michael Angelo, who was at the center of this real-life lesson in art history. All the paintings, the sculptures and tapestries were amazing and something that no set of pictures or blog can ever do justice. It's something you have to see for yourself. My photos will not do this place justice, it's a must-see, in person. Nonetheless, here are a few of the coolest things I witnessed: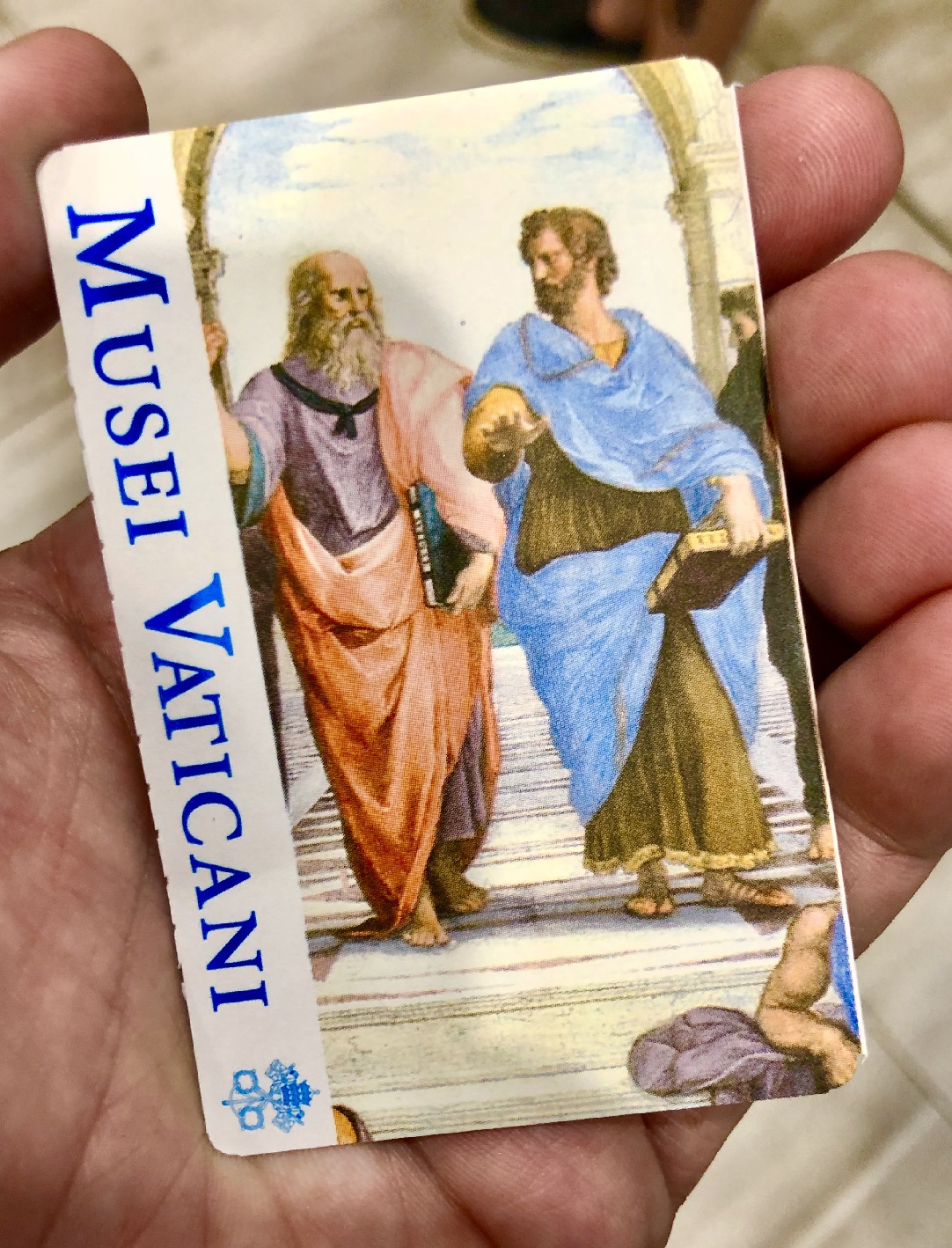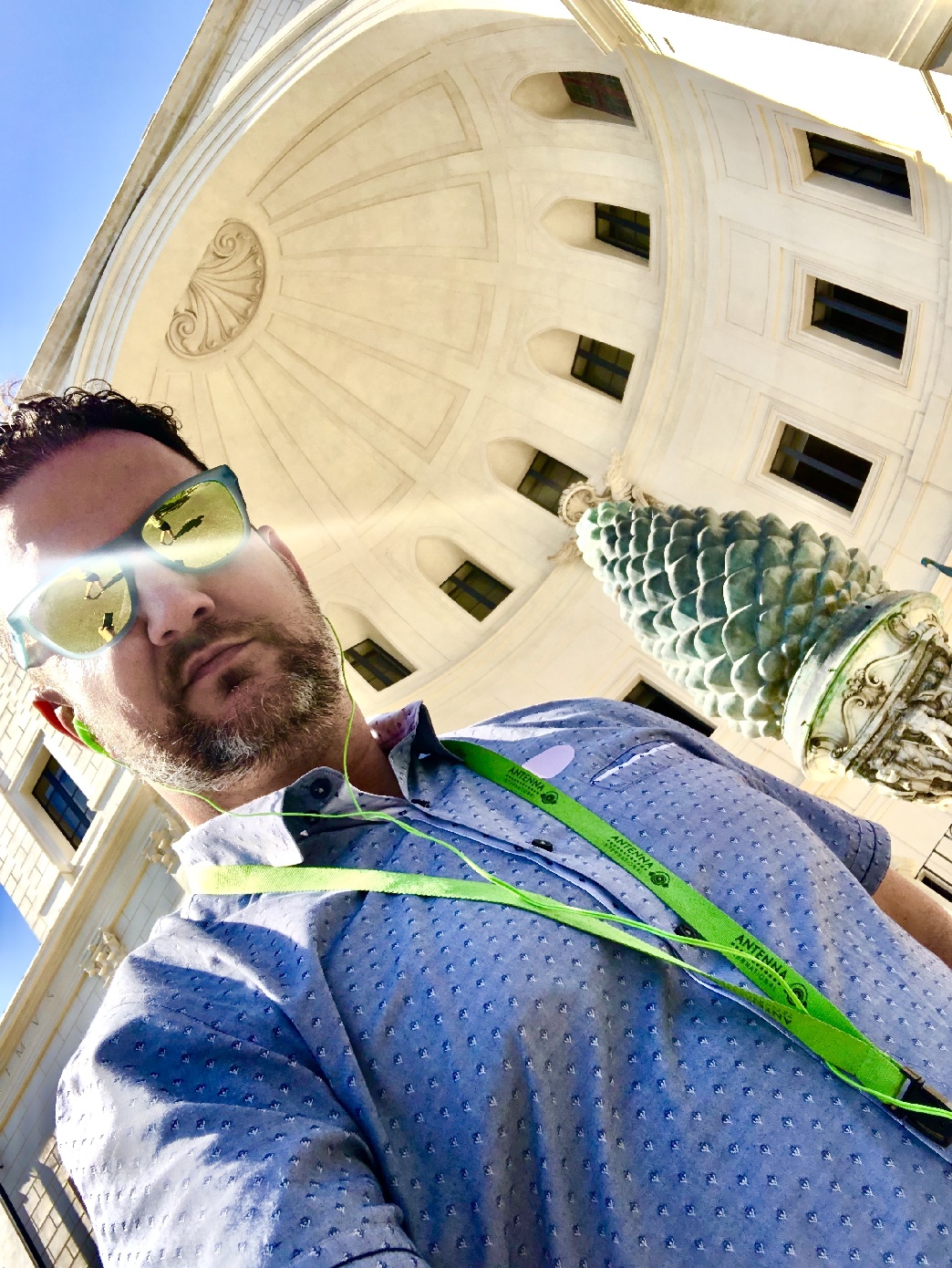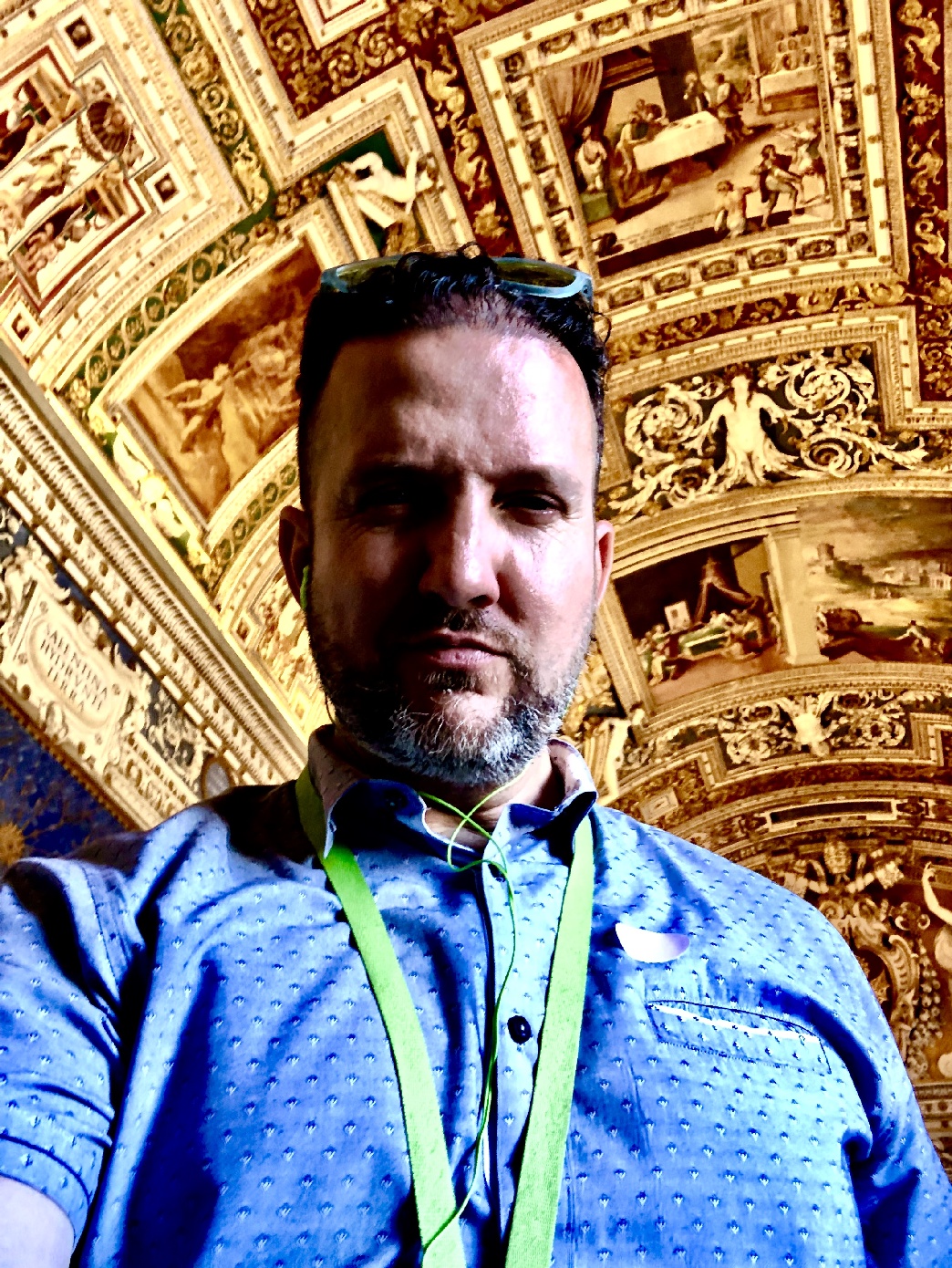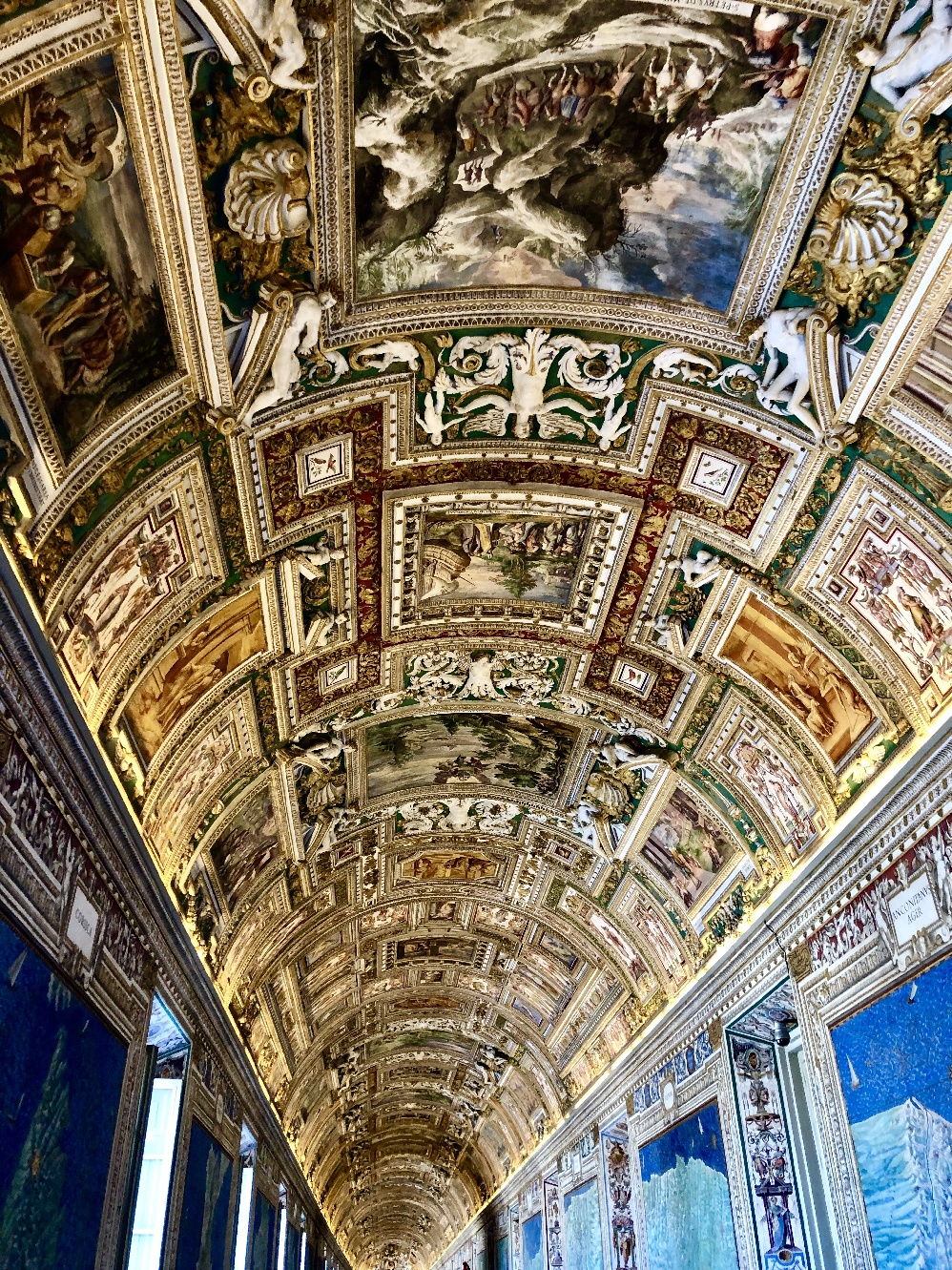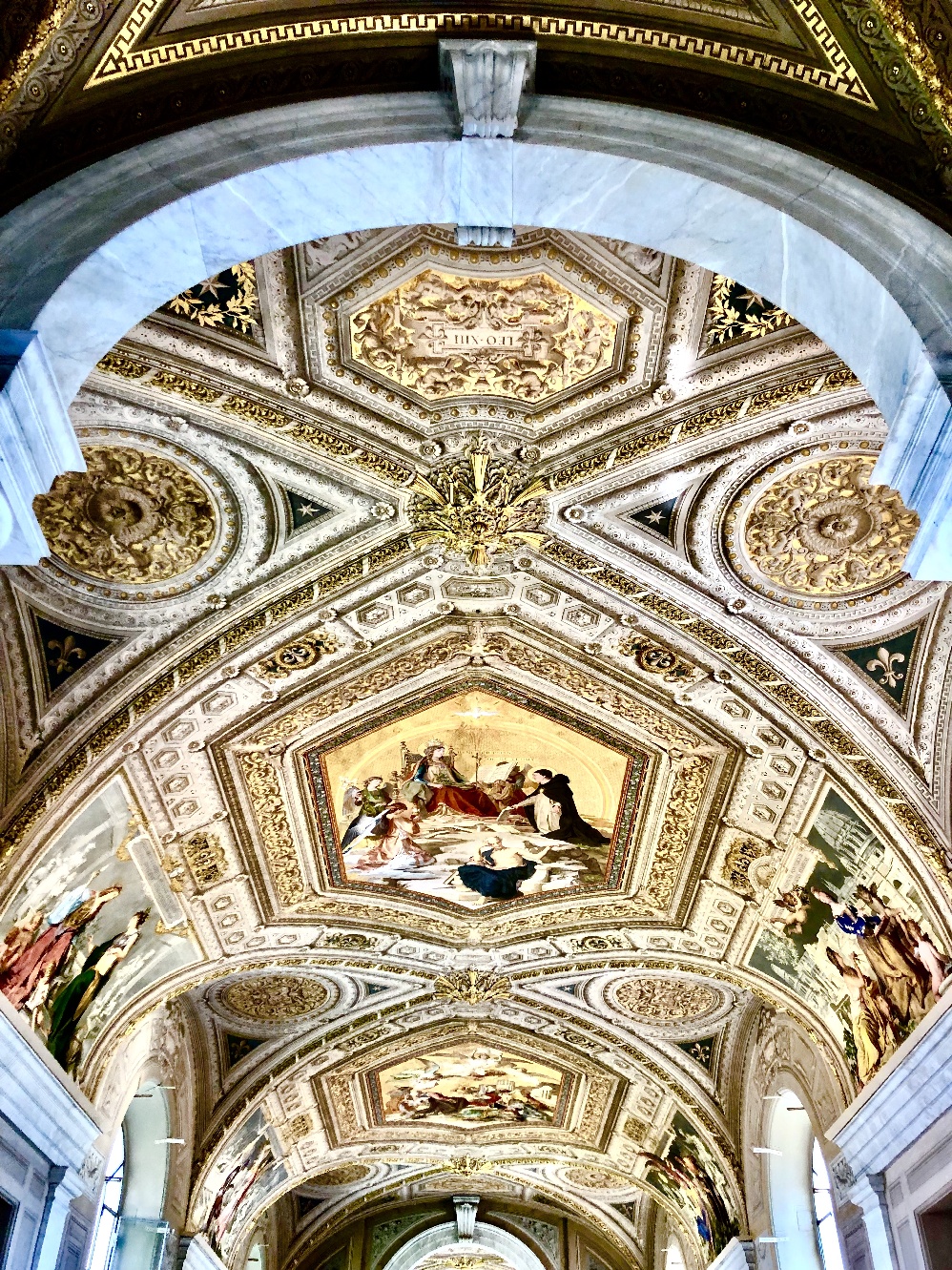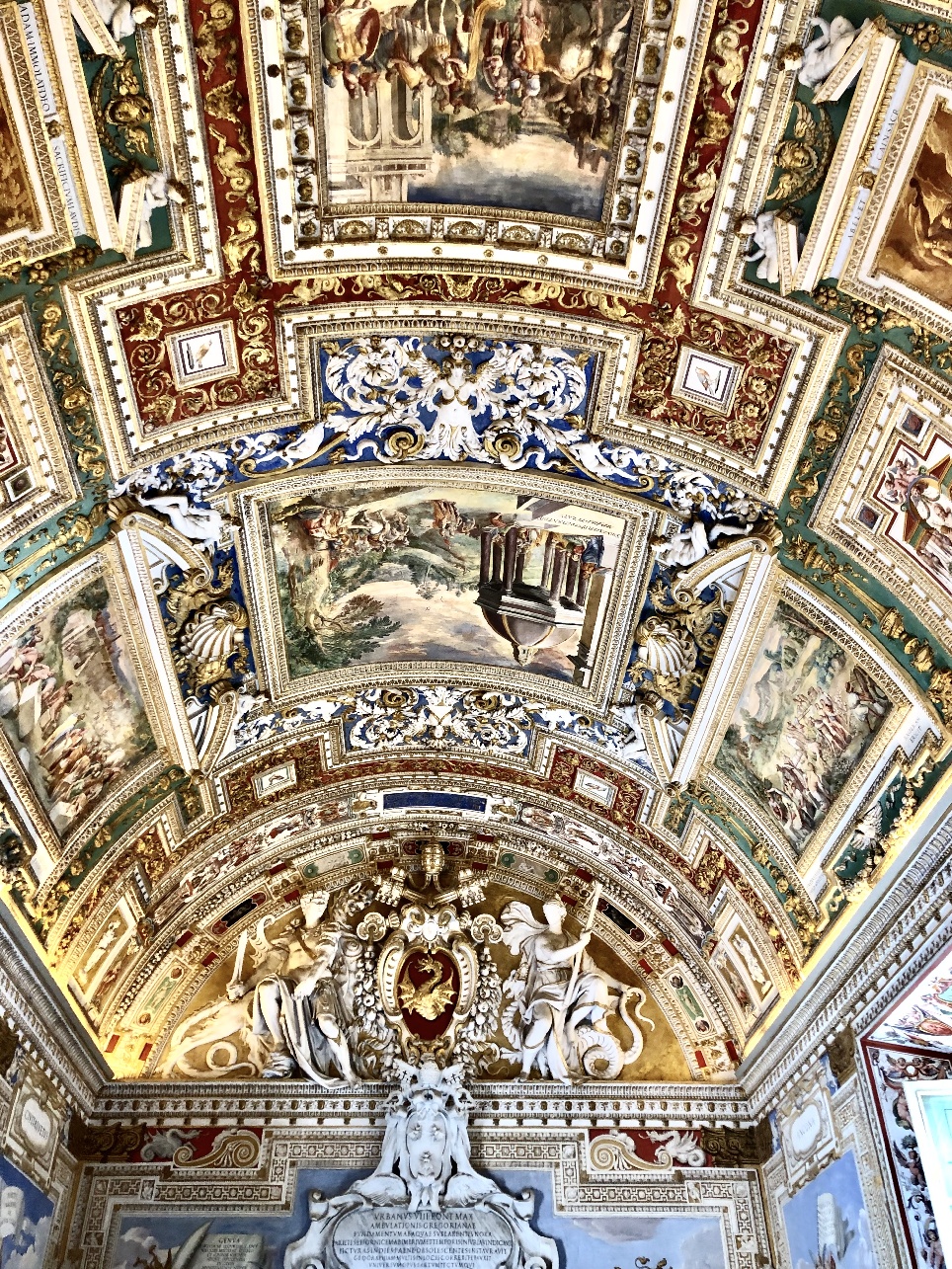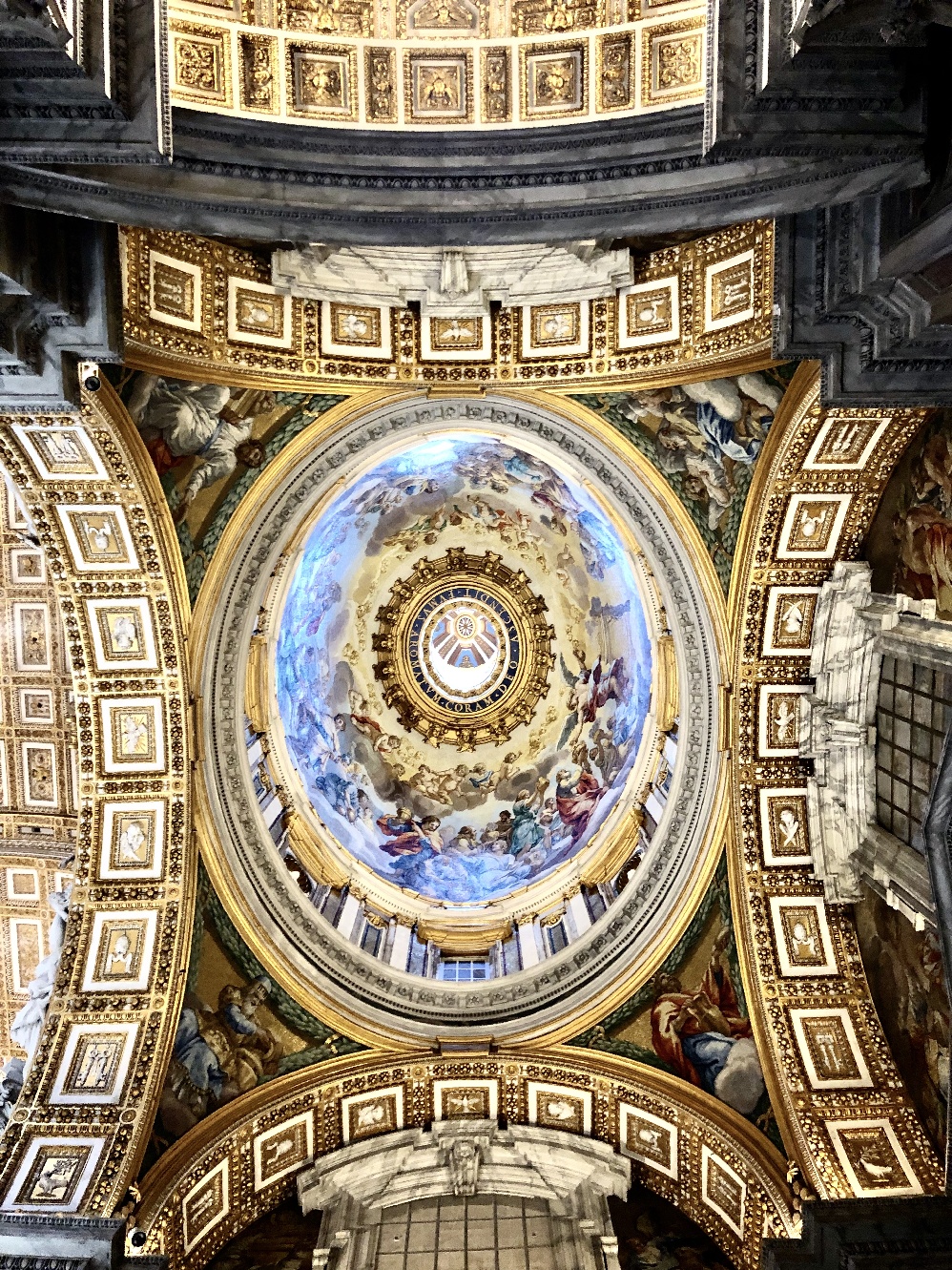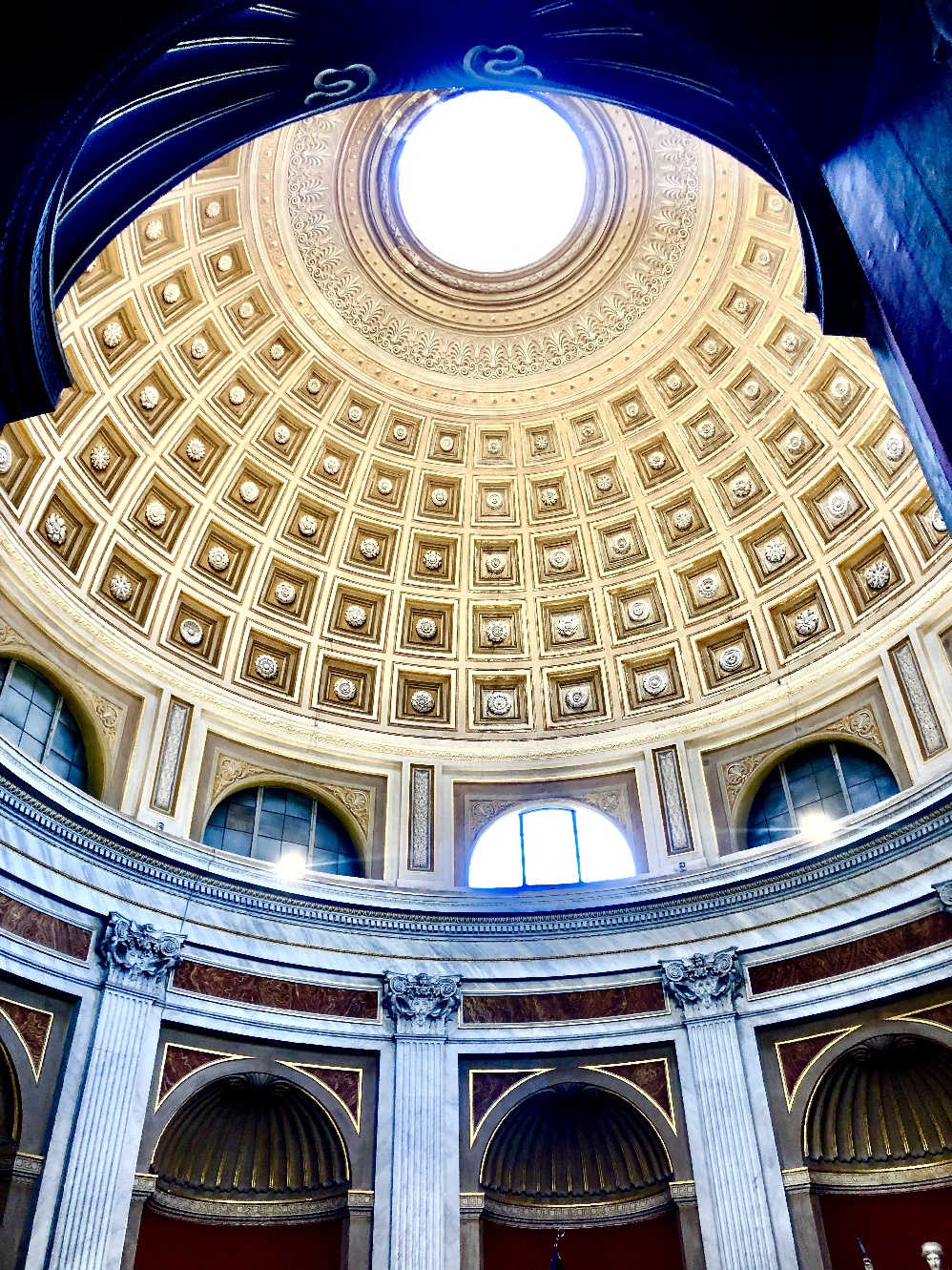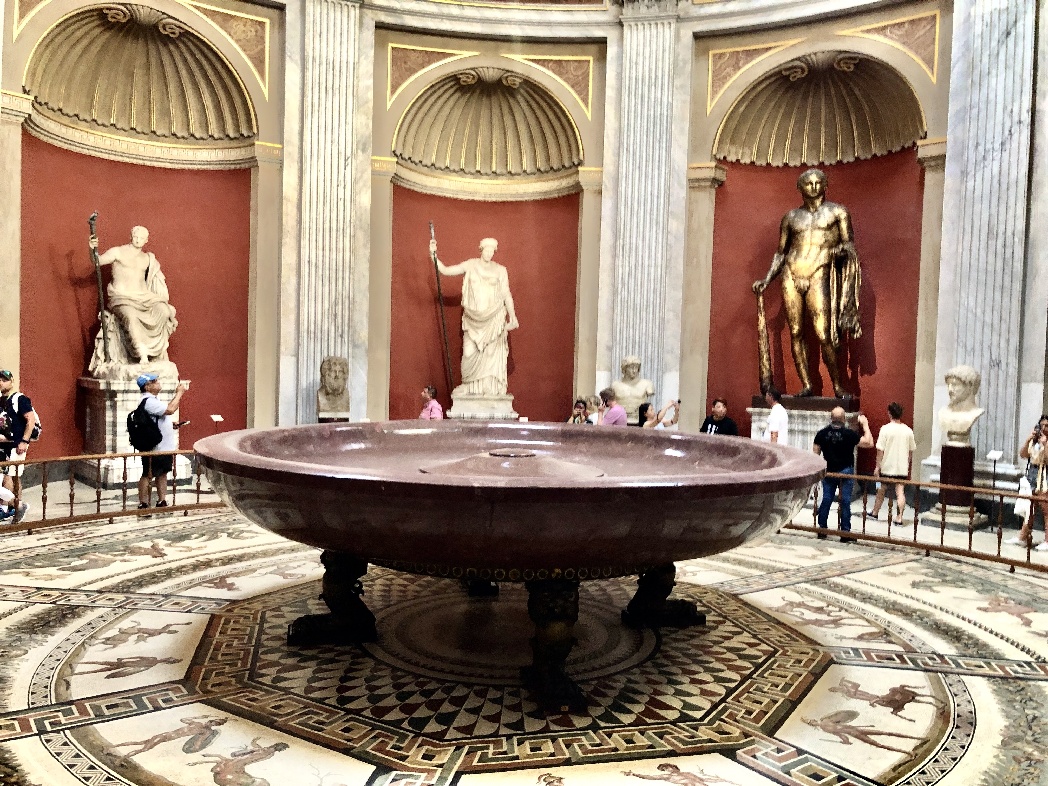 Massive Masses for Mass
One reason Rome has never been one of my favorite places–despite how many things are awesome about it–are the crowds. I mean, the absolute hoards of tourists that seem to fill every nook and cranny of the city. It's why I enjoyed the city of Genova so much: I felt like I was experiencing real-life as I saw only locals all around me. But a city like Rome? Fuhgetaboutit…you are surrounded by tourists at almost every moment. Some are cool humans, but many come from countries where pushing, shoving and cutting in line is the norm. It can be frustrating.
RAMBLIN' TIP: If you're gonna do the Vatican, do it right: book a tour. If for any reason, just to bypass that crazy line makes it worth every penny. I couldn't imagine waiting in that intense heat for hours! There are over 200 different tours of the Vatican, see them HERE.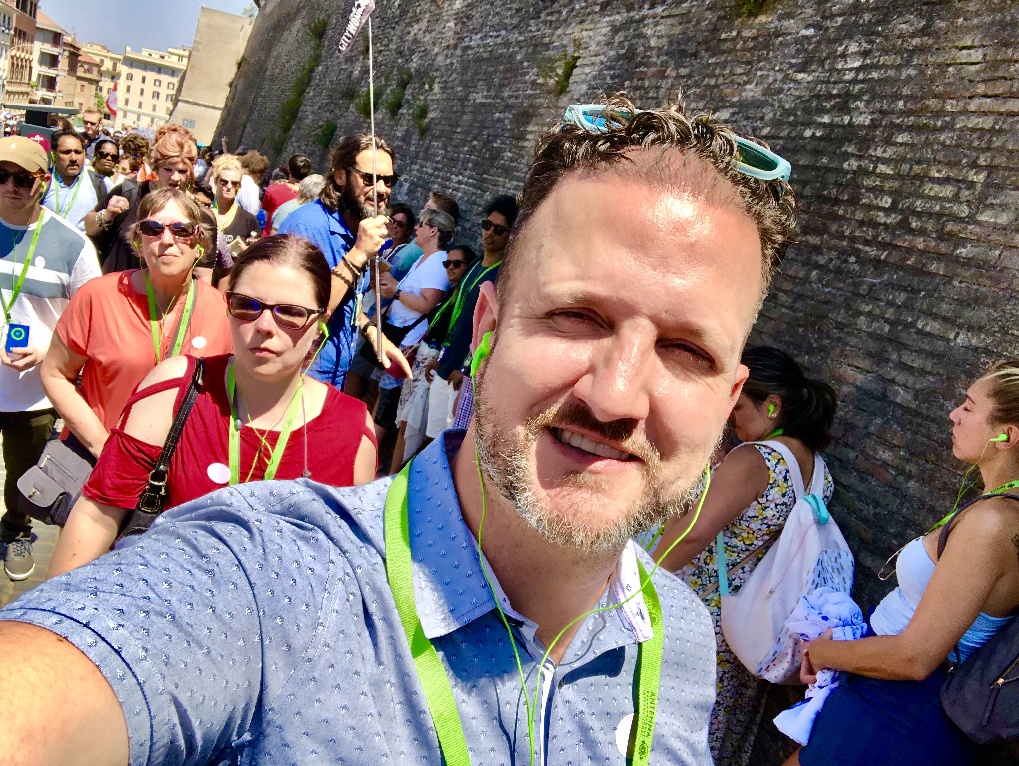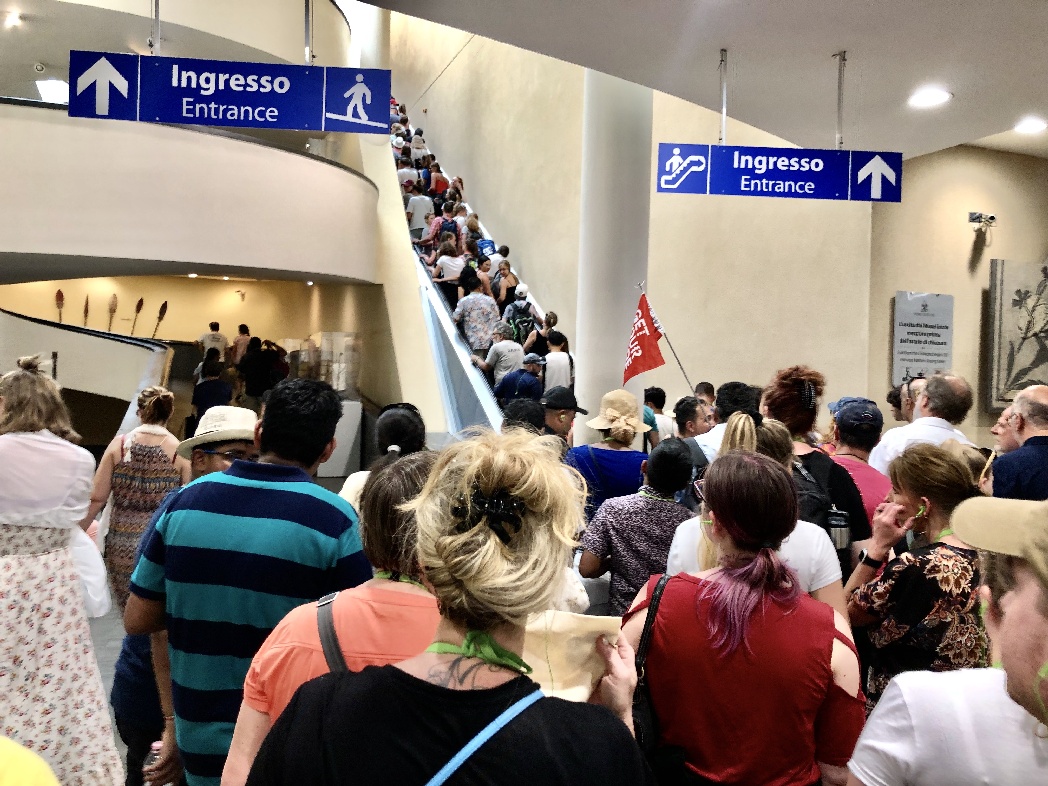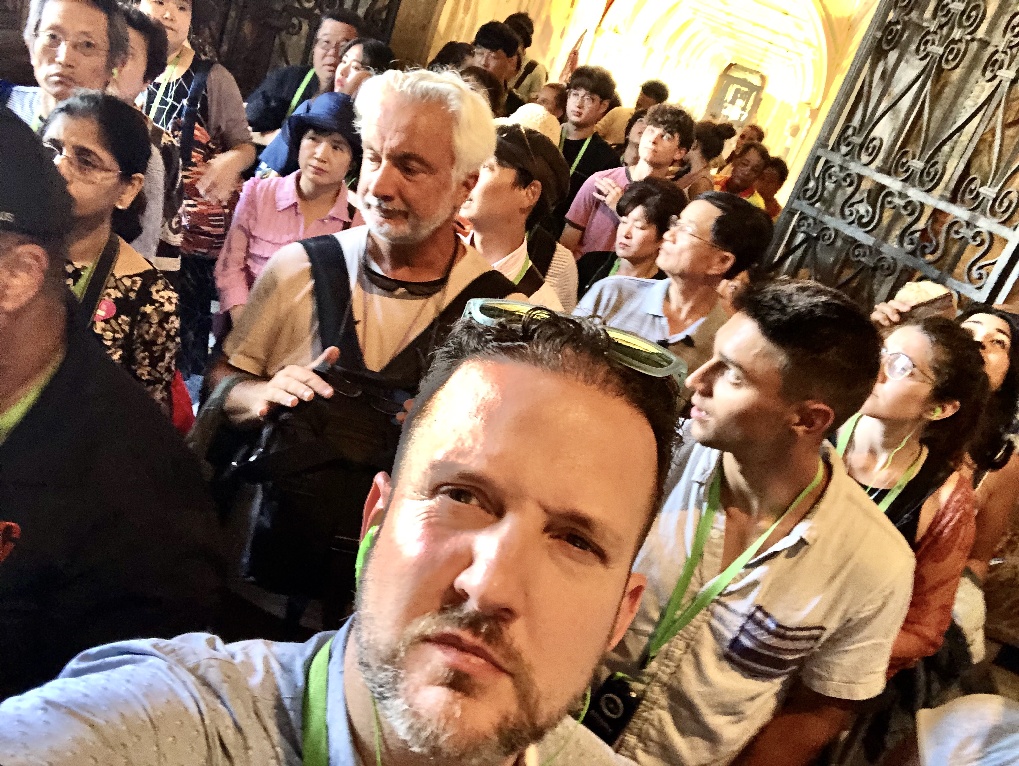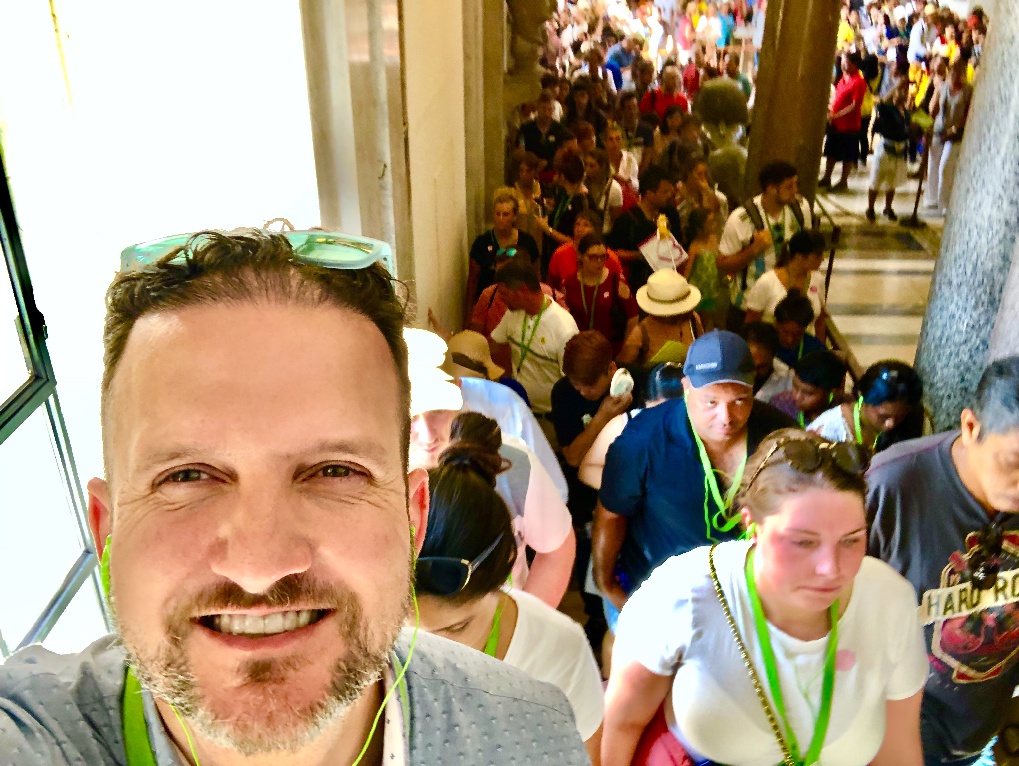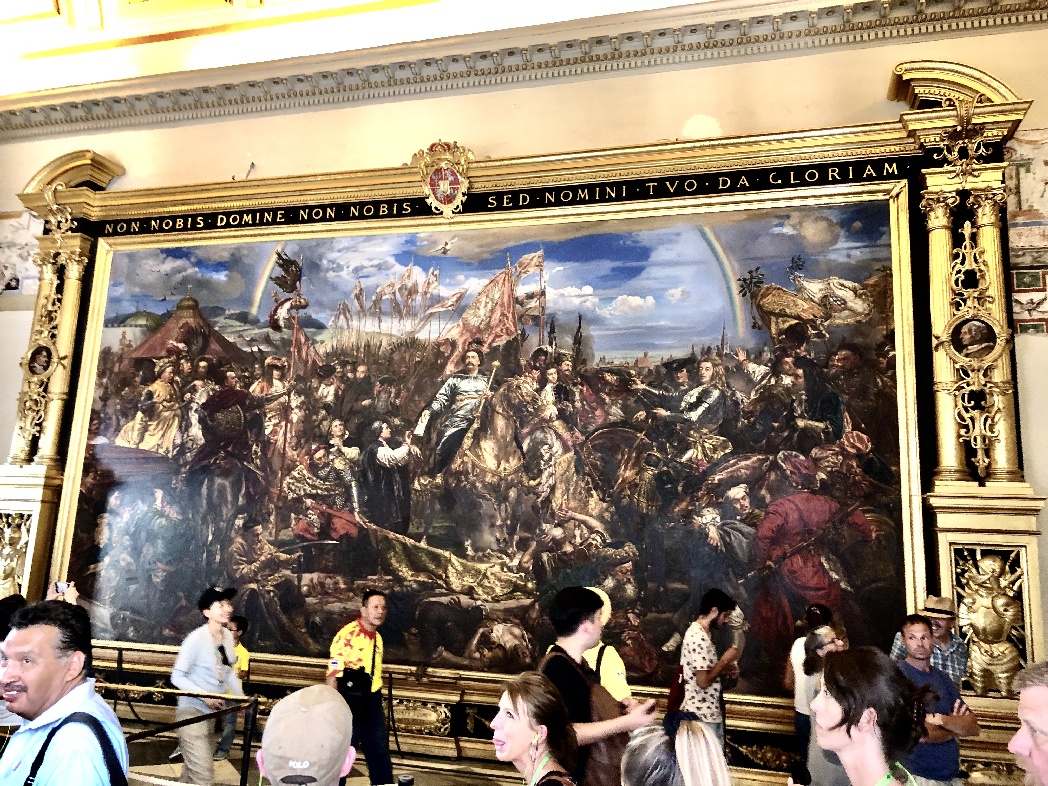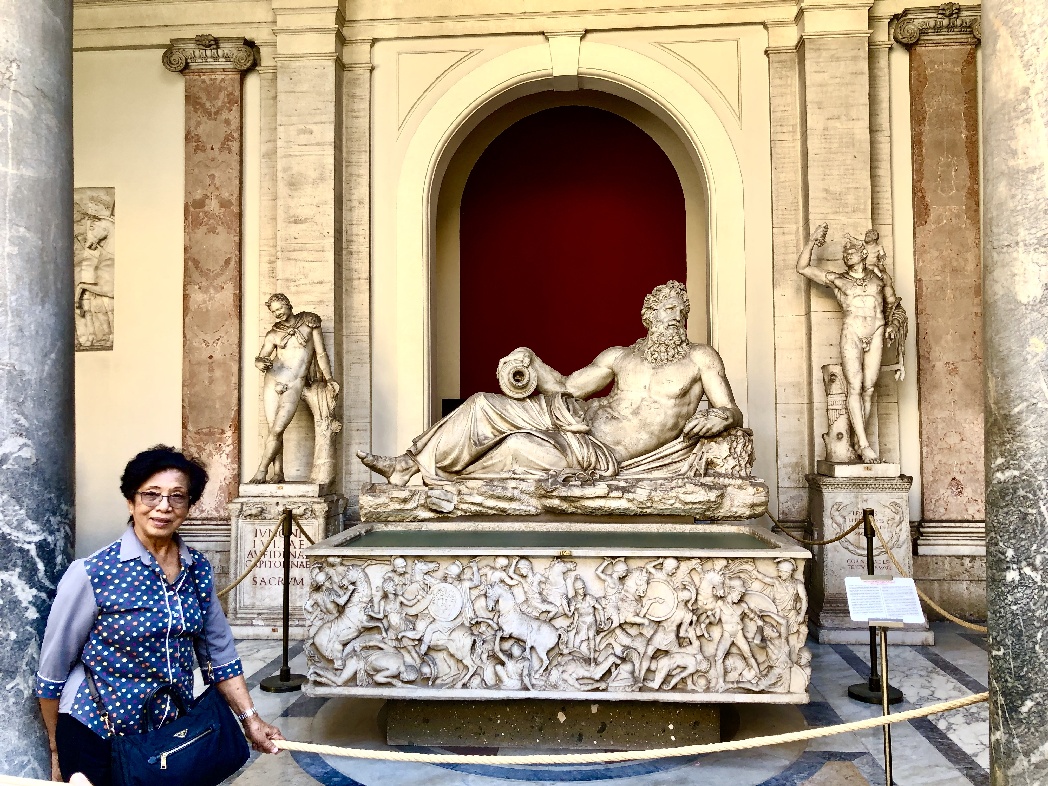 If you wanted a great picture of something, you really had to time it just right, otherwise, everyone and their grandma is going to be in the shot. Maybe the people that constructed the Vatican so many years ago could actually predict the future; maybe that's why they had so much of that amazing artwork painted on the ceiling! The ceiling shots were great because no one could get in the way of your "up shots." But anything else? Oy vey! There were always people!
No Photos, Please.
Towards the end of the tour, it was time to visit the famous Sistine Chapel, the climax of the entire lesson on Michael Angelo and the giant room that he was forced to paint. As expected, it was quite remarkable, but I was most entertained at all the schmucks who attempted to take pictures, even though it was clearly and expressly prohibited. You could photograph every other part of museum freely, but the Sistine Chapel was absolutely off-limits to cameras. The Japanese had bought all of the intellectual property rights to the room, enforcing a strict "no photography" policy. This rule was given to everyone at least a dozen times on the way in, yet half a dozen ass-waffles still insisted on trying to sneak photos. I thoroughly enjoyed watching people get busted by the very watchful security team inside the room, who looked like they were catching about only a fifth of the rule breakers. One girl was forced to delete the photos she'd just taken and I think she was trying to B.S. the guard by showing him pictures in a different photo album on her phone. He kept demanding, "Recent photos! Recent photos!" She just stood there looking very awkward. Minutes later, guys with DSLR cameras sneaked more shots. Am I a dick for enjoying watching these clowns get caught? I'm definitely a rule breaker, but only if it's not disrespecting anyone. I thought breaking the photo rule at a church was crass, but who am I? I eat food in the grocery store before paying for it.
The tour ended in St. Peter's Basilica, which was just so massive and beautiful in so many ways. Rays of sunlight beamed down as we took photos for Instagram that would make even the most popular influencer jealous. Mickey continued to educate his group before saying goodbye to us. He really was superb and the tour was worth every penny. Here's the LINK to book this same tour, or others, like the "early admission" and "after hours" tours…there are literally over 200 different tours of the Vatican to choose from.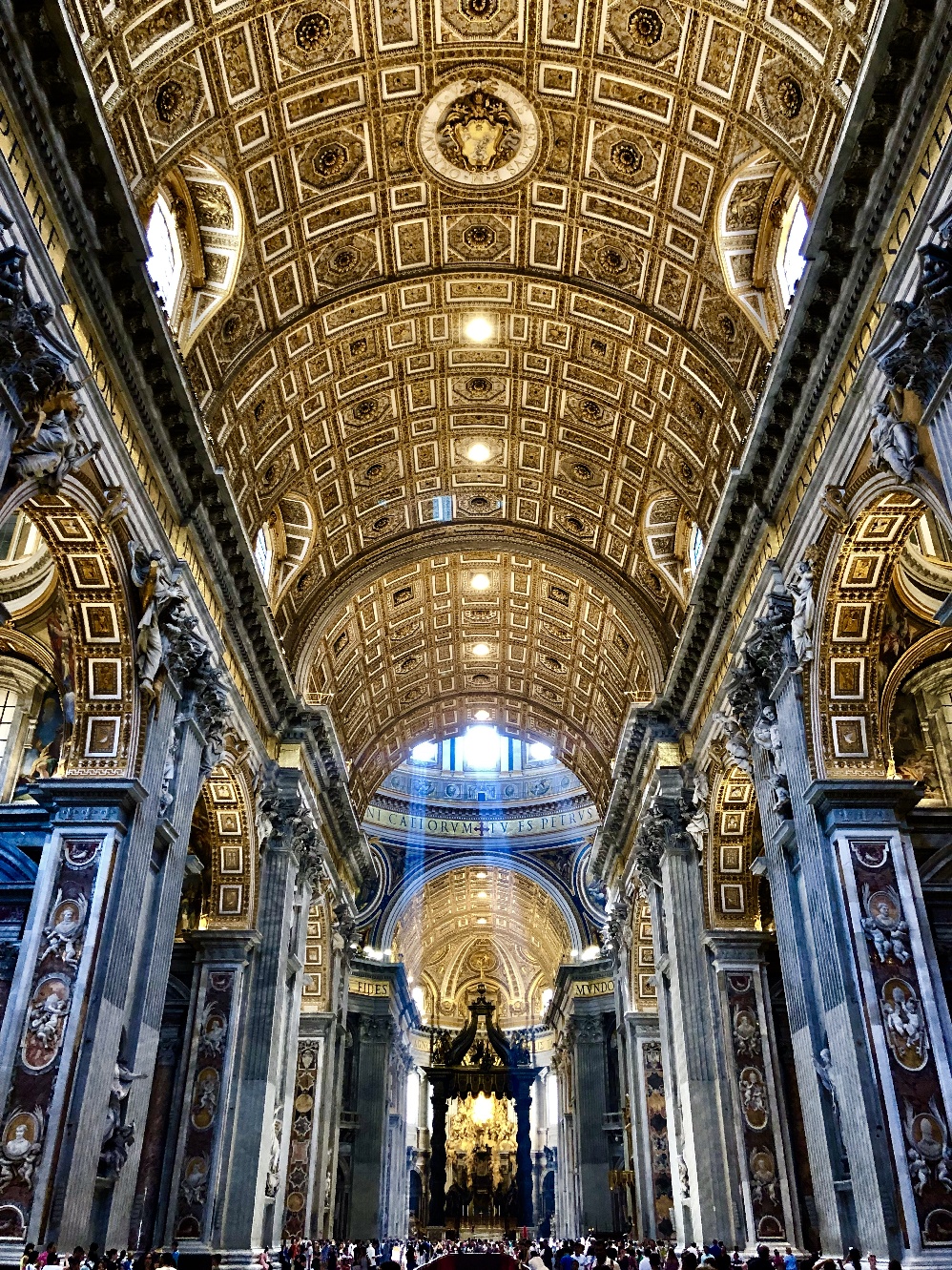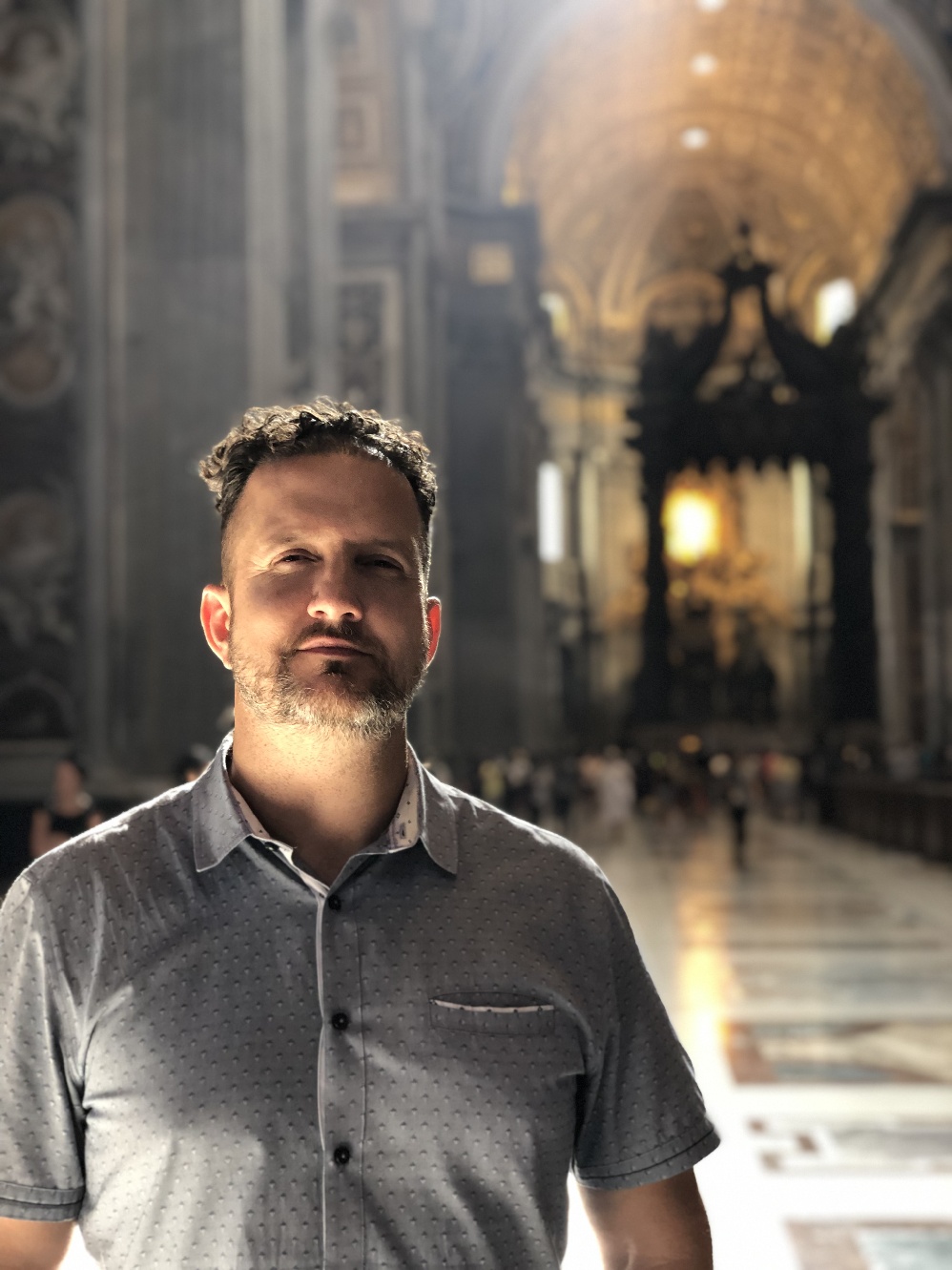 Heavenly Treats
All that walking worked up a little appetite, so I grabbed a cannoli and a fruit tart at the nearby Café San Pietro before heading back to the bus stop to shuttle back to the hotel. It was room service pizza for dinner, an early bedtime, and then out the morning at 11AM.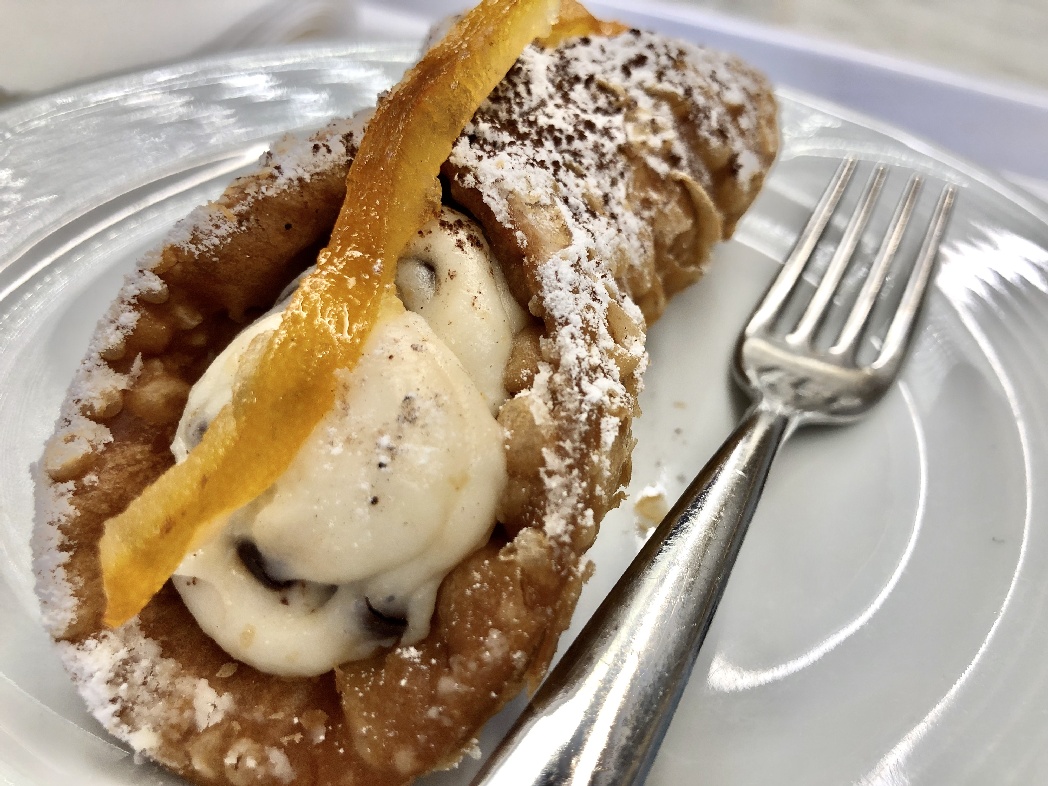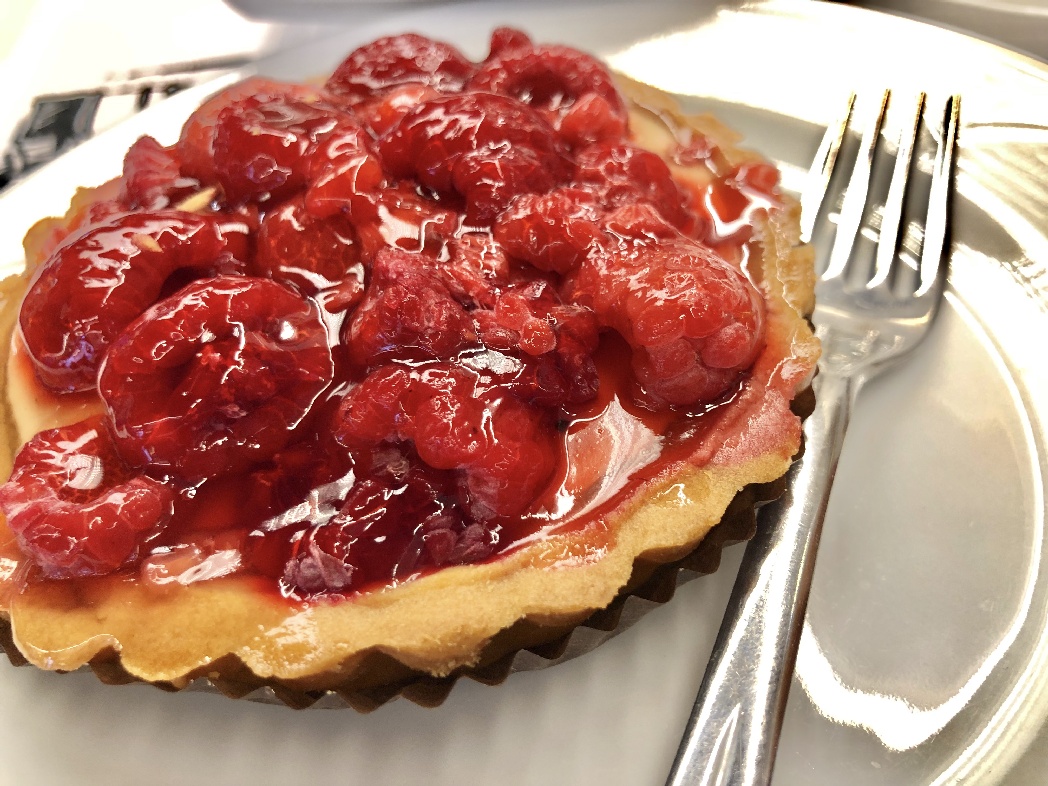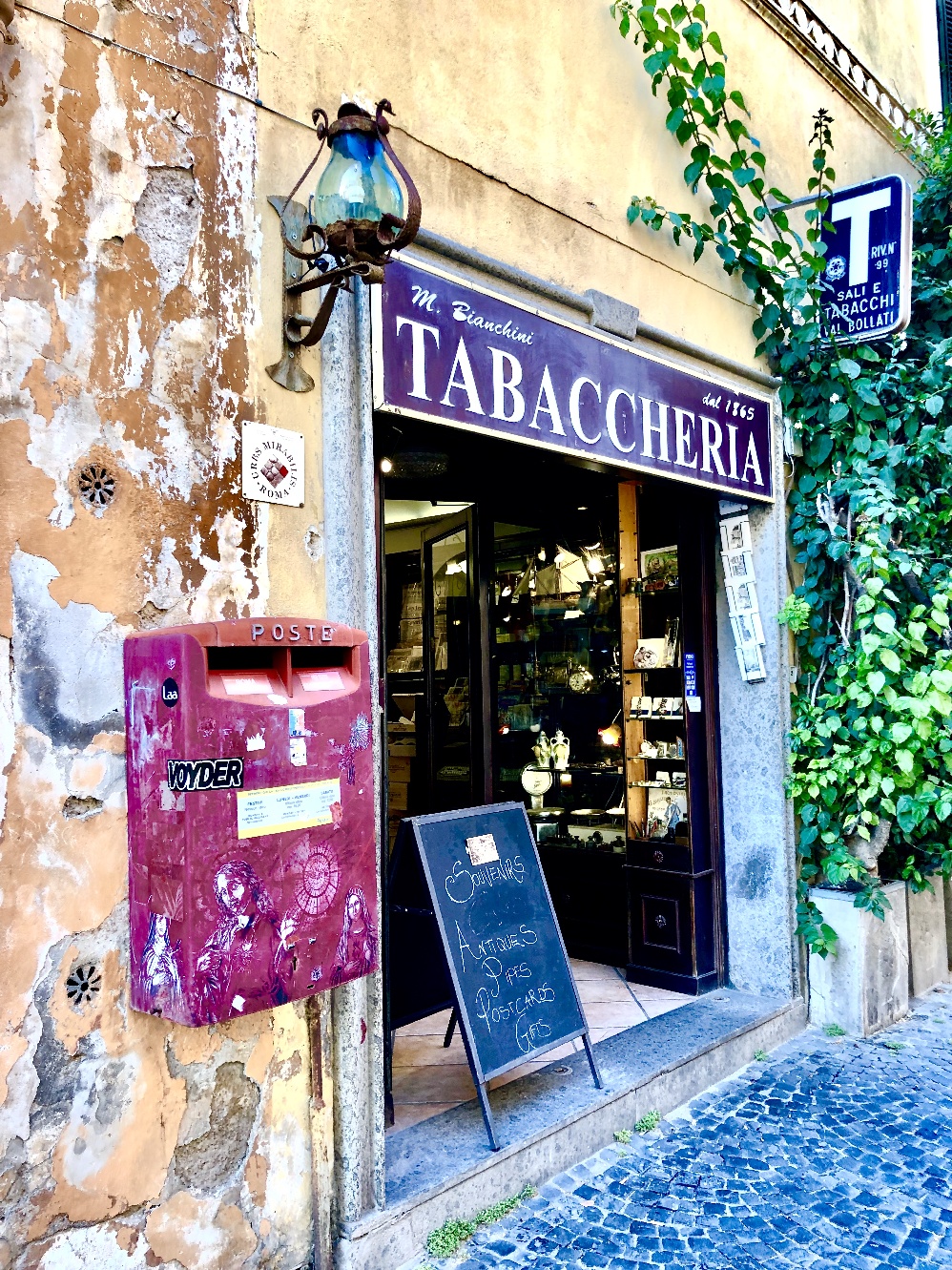 I liked Vatican City a lot, Mickey's tour was tops and I learned so much, and was relieved to finally check off Vatican City. Be prepared for crowds though. It's the only reason I don't love Rome—it's often absolutely mobbed; you are elbow-to-elbow with tourists, as far as the eye can see. My favorite places to visit are the ones where I am the only tourist; Rome was the extreme opposite. I enjoyed getting out almost as much as I enjoyed getting in.
And Now…the REST of the InstaStory:
This entry was posted in
Europe