They warned me to keep the window all the way up or all the way down, or the weight of the donkeys would shatter the glass! I don't think I purchased donkey-coverage insurance for the rental car, so I proceeded with extreme caution.
Last Minute
I tried for hours to make it work: a weekend trip that would include all three of the ABCs: Aruba, Bonaire and Curação…but no dice. I was unable to find the right combo of flights and schedules to see all three in a weekend, and it looked like I'd have to miss Bonaire this time around; until that is, I got to Curação. My buddy informed me of a couple small (really small), local airlines that had daily flights between the islands. 20 minutes later I had my ticket to Bonaire for the following morning. It would be one of the quickest country visits ever–lasting only a few hours–but how I could not? I was soooo close and it would bug me leaving the regiom, knowing I'd only seen the "A" and the "C" in the ABC Island group. Bonaire, here I come!
Divi Divi
The flight there was half the fun, a real adventure! I had no clue I'd fly in such a tiny plane, but I didn't mind. I've flown these little guys enough to shake my fear of them, and they're actually quite fun. The eight-seater Twin Otter was completely full; I realized how lucky I was to nab the last seat in this little tin can. The flight ended up boarding and taking off super-early…thank goodness I arrived at the Curação airport early; I didn't even have time to sit down at the gate. This bird was going, going, gone!
Arrival
Just like the lack of space on the plane, I was lucky there was even a rental car left for me. All the big franchises (Hertz, etc.) were sold out, but thank goodness one of the little guys had a vehicle for me; I had no reservation!
I had a nice stroll through downtown Kralendijk, which was really quiet; almost deserted. The Dutch-designed buildings on Kaya Grandi street were all different, bright, flashy and flamboyant colors. They looked very well maintained, as if they'd been painted last week. I ducked into a little café called Gio's for dessert, er, breakfast. They had all my favorite stuff, including cherry pie and lemon ice cream. What a fatty.
If you decide on a stop in Bonaire and can spend at least one night here, check out THESE HOTELS.
Donkey Kong
But the stop in Bonaire that made the entire trip worth it, was definitely the Donkey Sanctuary. On the island, there lives this giant resort…for donkeys! And there were hundreds!
In 1993 Dutch Nationals, Marina Melis and her husband Ed Koopman, established the sanctuary for sick, wounded and orphaned donkeys. The primary objective is to offer a sheltered, protected life to all  of the donkeys of Bonaire. They are provided with food, drinking water and medical care and have plenty of room and freedom. And lucky for me, they allow visitors! C'mon, let's see the donkeys!
Drive By
So here's how the visit works; it's actually really cool. You pull in to the property and park, then head into the office where you buy your entrance ticket and food for the donkeys. And what do donkeys eat, you ask? Carrots, of course! I bought six giant packs and headed in. The hosts at the sanctuary instructed me to just drive in–slow, of course–and feed the donkeys from my car. It was so awesome, but a little scary at the same time. These dudes smell the carrots and waste no time bum rushing your car! They warned me to keep the window all the way up or all the way down, but not halfway up, or the weight of the donkey's heads and necks would shatter the glass! I don't think I purchased donkey-coverage insurance for the rental car, so I proceeded with extreme caution. It was awesome!!!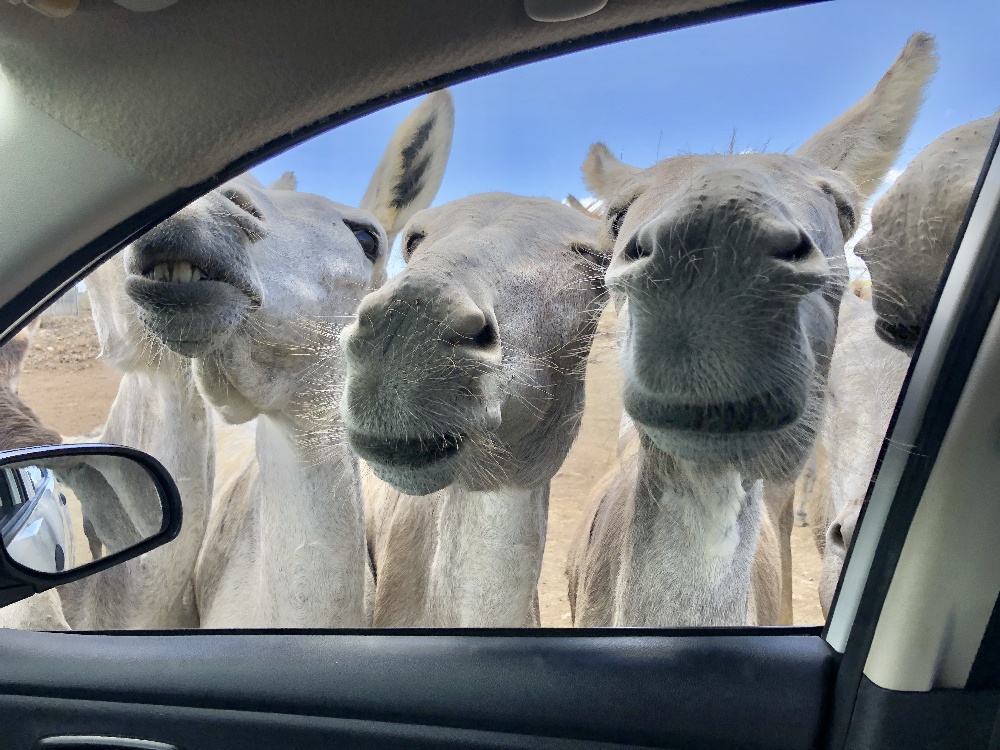 Life of the Party
It was clear that I was very popular in the donkey sanctuary. Hoards of donkeys crowded my car and at any given time, anywhere from three to five of them had their heads sticking through my open window looking for their treat. It was a lot of fun, but a little overwhelming, too! I was so afraid I'd hurt one of them with my car, or I'd lose a finger! Luckily, neither happened. I had a fun drive around the perimeter of the property and ran out of carrots way too fast. Next time I'm buying more!
A Special Friend
I did have a favorite donkey here. One of the hosts was explaining to me how the donkeys keep their hair and manes trimmed: they literally trim it off each other with their teeth. It's a social thing. But there's one poor little donkey here that drools…and doesn't have many friends because of it…thus his mane is long and nappy; none of the other donkeys come around to maintain it. How sad! So I made sure to give this guy lots of extra love and attention. You should too when you come here. Ask for "Scotty."
Back to Business
So I'm actually on the air in Bonaire every Sunday Night! Radio station 101.1 Mega Hit FM is one of my affiliates for my show, Sunday Night Slow Jams. So I was really excited to come to the island, listen to the station, and even visit, and meet program director, Ron Gijzen. I wonder if Ron would hire me to come work on the island? Bonaire sure seems like an awesome place to be!
Eat and Run
By the time I took a tour of the stations and had a coffee with Ron in town, it was time to go. Aruba awaited. Though I only had a few hours on the island, I absolutely adored Bonaire. I'd soon find out, it was the smallest and most peaceful of the three ABC islands (Aruba would be overflowing with tourists!). Bonaire is a place I absolutely want to visit again; to relax…maybe to retire! Its laid back vibe, quaint and quiet streets and absolutely gorgeous water would make anyone fall in love. I sure did.
And Now…the REST of the (INSTA)Story:
This entry was posted in
Caribbean
,
Extreme Layovers