One of These Things is not Like the Others
Martinique was a quick but worthwhile stop on the way home from tagging my last country in the Americas, St. Vincent and the Grenadines. At the time (November 2018), there was no direct flight to and from St. Vincent (except from New York which was out of the way), so getting there and back was a small challenge. The good news is, many times challenges offer chances to see other counties, and such was the case here. While I traveled to to St. Vincent through an overnight stay in Trinidad, returning home would have me hopscotching through Guadeloupe, Martinique and Miami. I was looking forward to all three, although neither of them are officially "countries," at least not in the "UN-193" definition. Both Guadeloupe and Martinique are "overseas departments" of France, and Miami…well Miami could well be its very own country, but it's jurisdiction is still the USA.
I had no idea what I was doing in both Guadeloupe and Martinique. They were both very quick, overnight stops and I'd had so many bigger trips planned before and after, I just didn't put much thought into either island. In the midst of planning visits to places like Iraq, Somalia and Saudi Arabia, where small details really matter, I'd just kind of sloppily pasted together this little trip through the Caribbean. But thankfully each destination on this trip would surpass my expectations.
In hindsight, I got lucky: I experienced two very different scenarios on islands that are easily comparable. In Guadeloupe I stayed an hour from the city, at a secluded hillside inn nestled in the jungle over the water; very calm, relaxing, serene and isolated. But in Martinique, I set up camp in the center of the bustling capital of Fort-de-France, and I couldn't be happier with my choice, albeit really a "guess." With as little planning as I did for this trip, I got super lucky, enjoying very different experiences on all three islands.
Don't Mind Me, Just Passing Through
I landed at at 2:30PM and would be out the next day at 4PM, leaving me just about 24 hours to explore. My hotel was less than 15 minutes from the airport which was a welcome relief after the hour, $100 USD taxi ride to and from my place in Guadeloupe. While I had a wonderful time there, Fort-de-France was a great change of scenery: a bustling town where I could set out on foot and explore to my heart's content.
There was only one small problem. It was pouring today.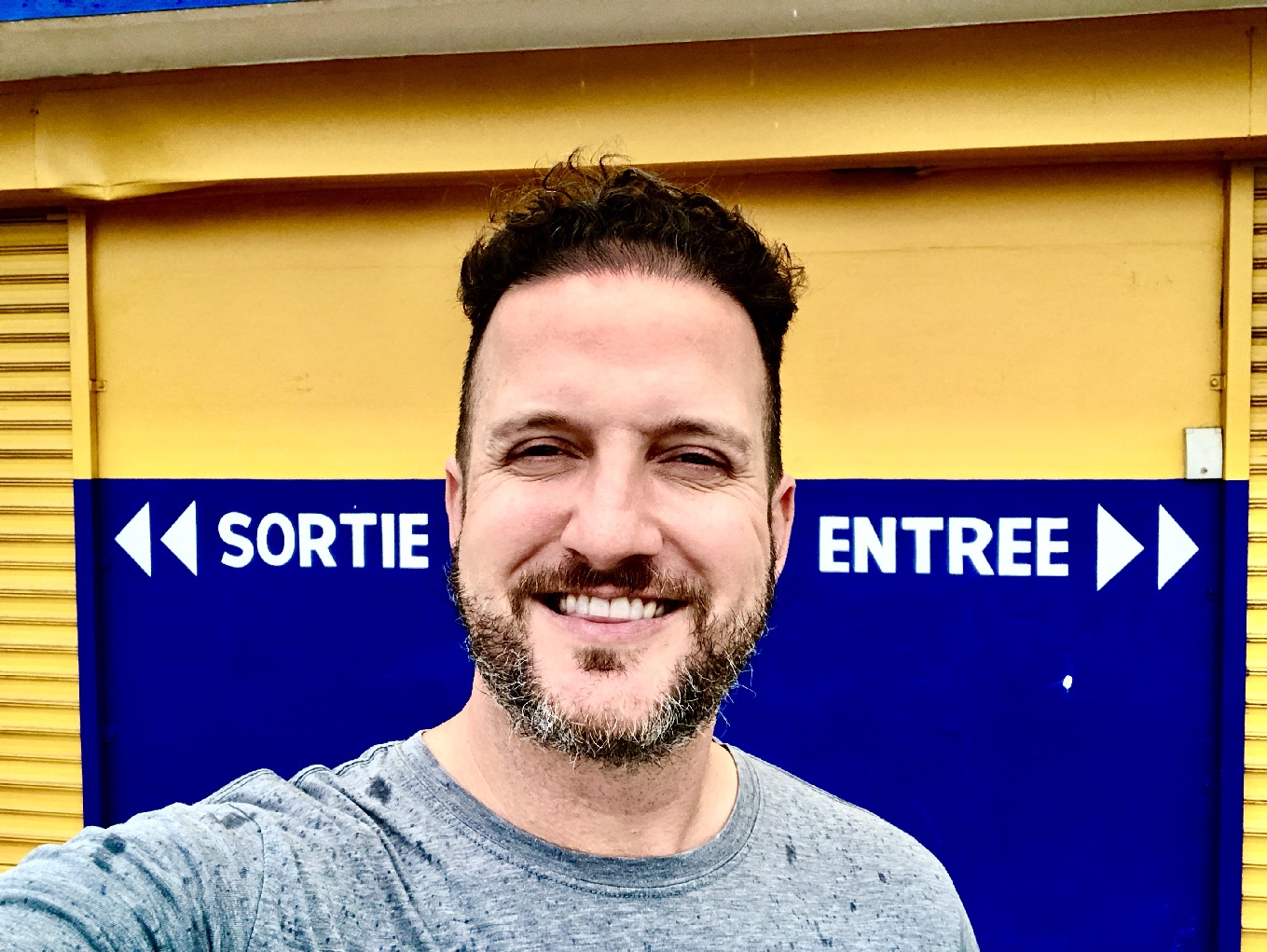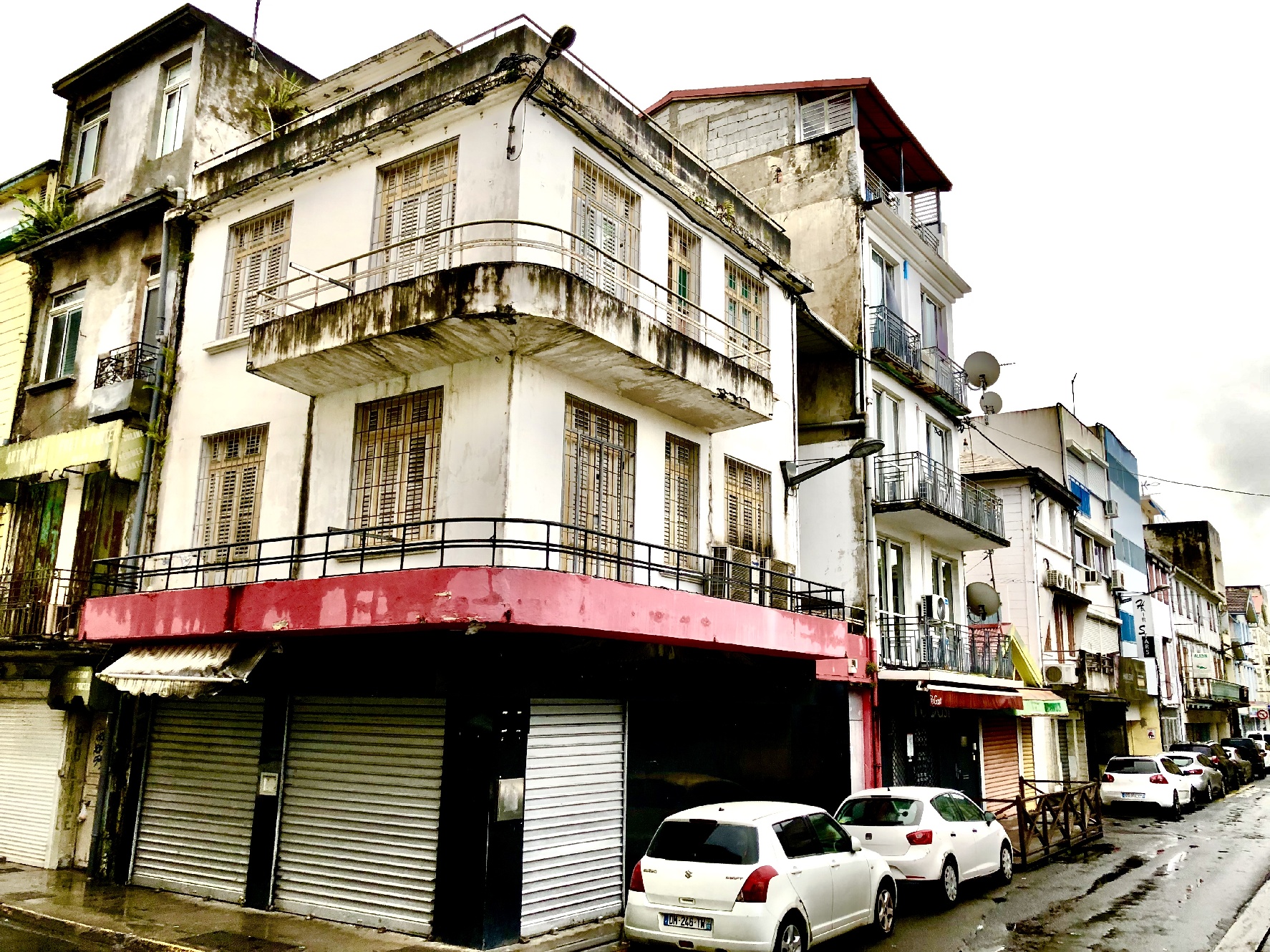 Blame it on the Rain
As you can see, a little rain couldn't stop me. I did hang out in my hotel for at least an hour, before venturing out. But the moment I saw the rain let up a little, I was out the door, with only about 90 minutes or so of daylight left. I poked around as much as I could before nightfall descended on the island. What a neat place!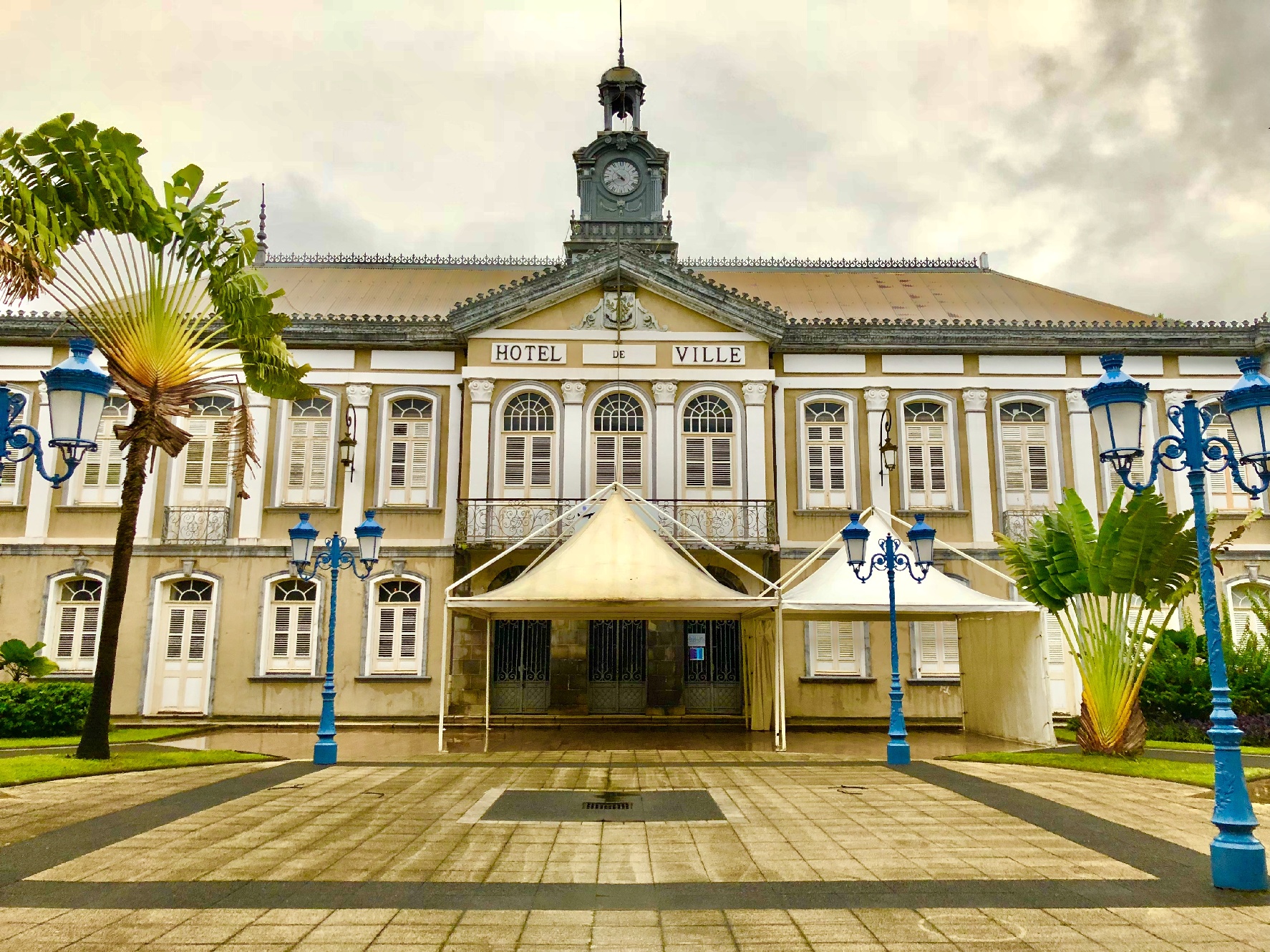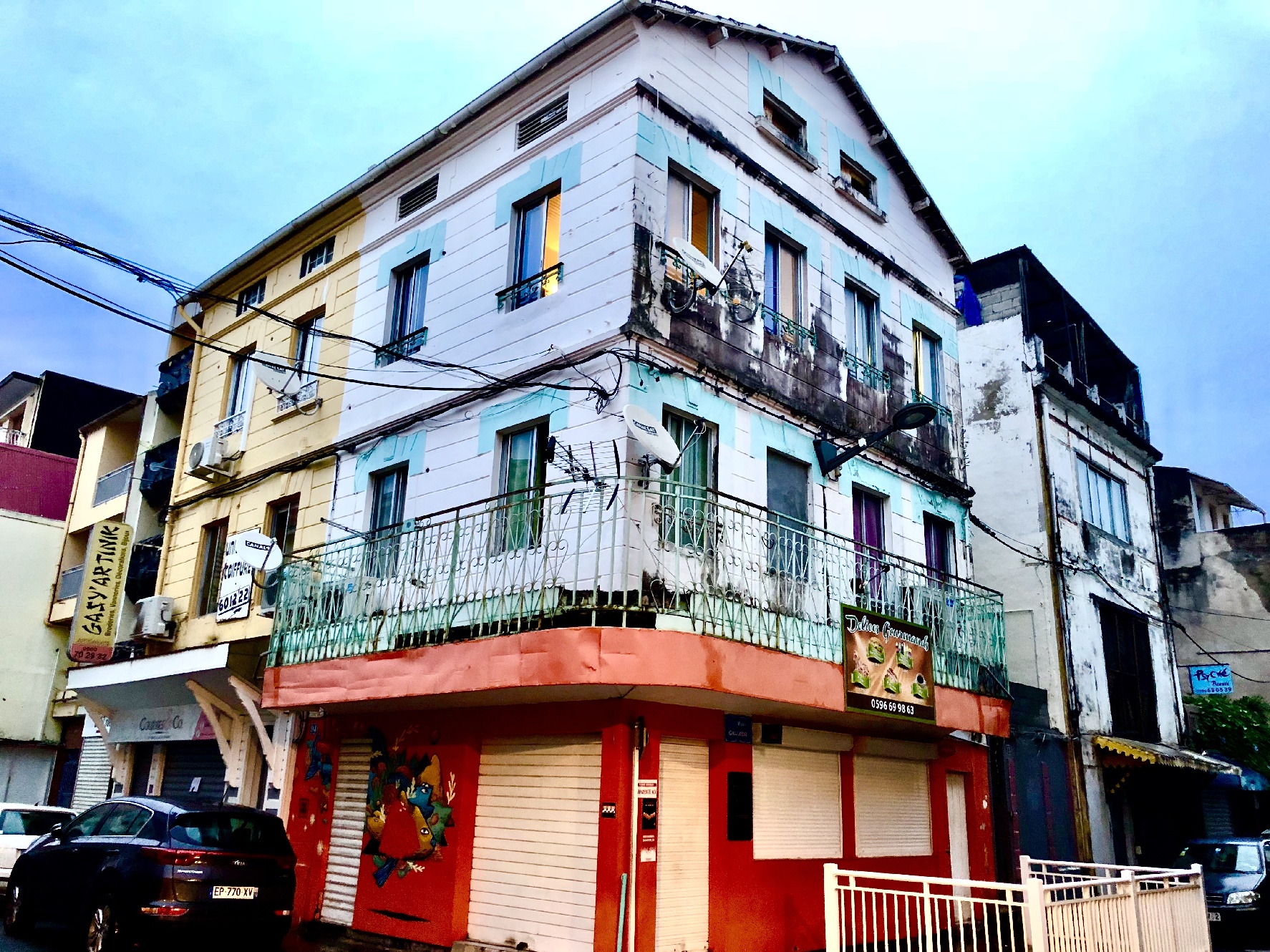 Fort-de-France is Fort-de-Fancy!
I did as much walking around as I could that afternoon, racing the impeding darkness. Fort-de-France is one cool city, built right up against the bay, and filled with classic French architecture every direction you look. I wasn't sure if this was generally a sleepy town, if the rain had driven people into their homes, or if the time of day regulated the crowd, but there wasn't much going on at 5PM on a Friday night. Stores were either shuttered tight or in the process of being closed up and only a few stragglers were left on the street. I planned on making an early morning return in hopes for sunshine, so I found myself dinner and reported back to my hotel for bed.
Early Bird
I was up and out on the town before 7AM. The sun was peeking through the clouds and the streets had dried. There would be a lot to see today, in a limited amount of time. I had my walking shoes on and I was ready to take on Fort-de-France. The early Saturday morning hours were calm, as the birds chirped and a few people meandered about on the streets. It gave me time to be almost completely alone with the city, to stop and admire each cool building and take a ton of pictures with no one in the way.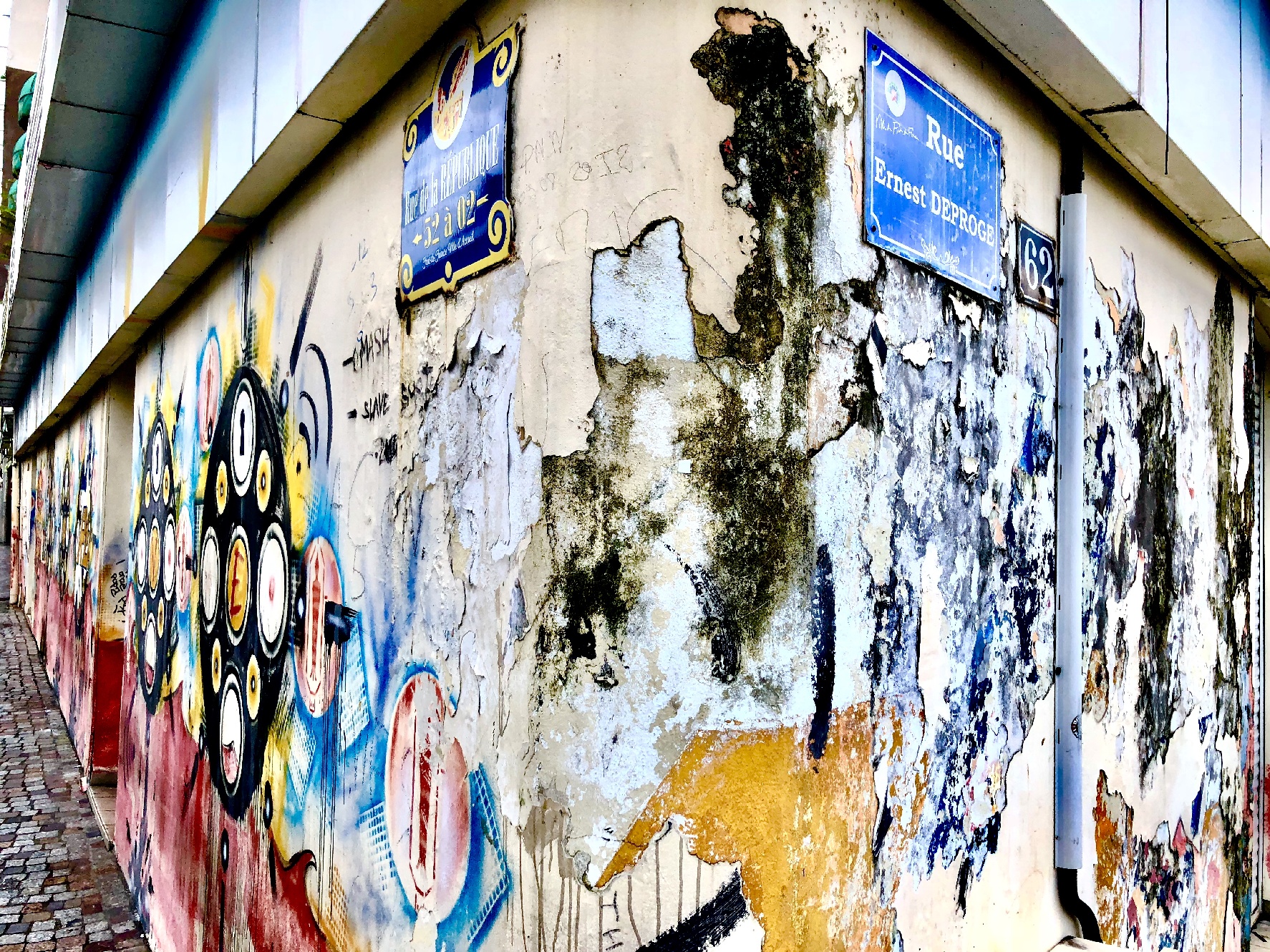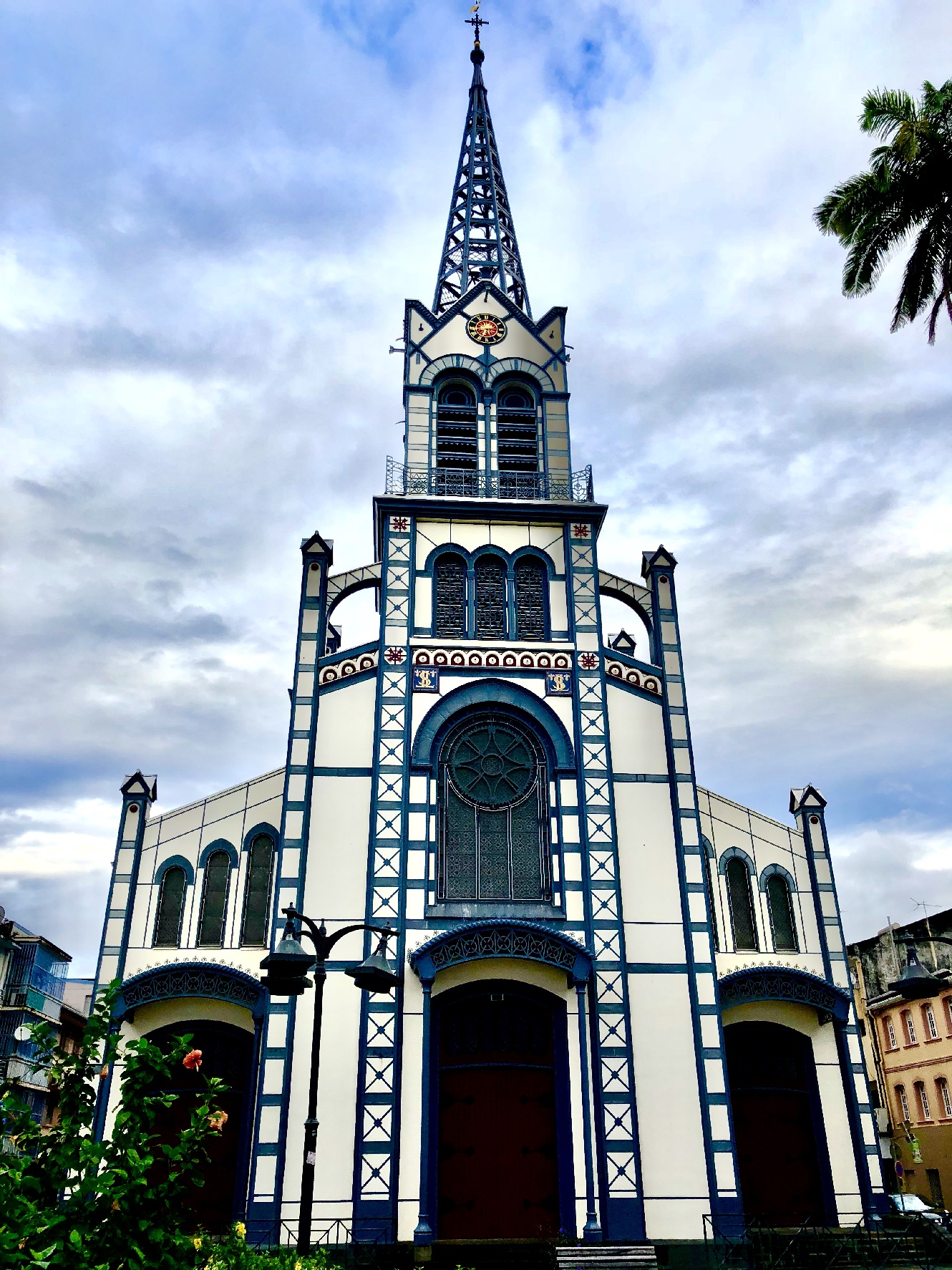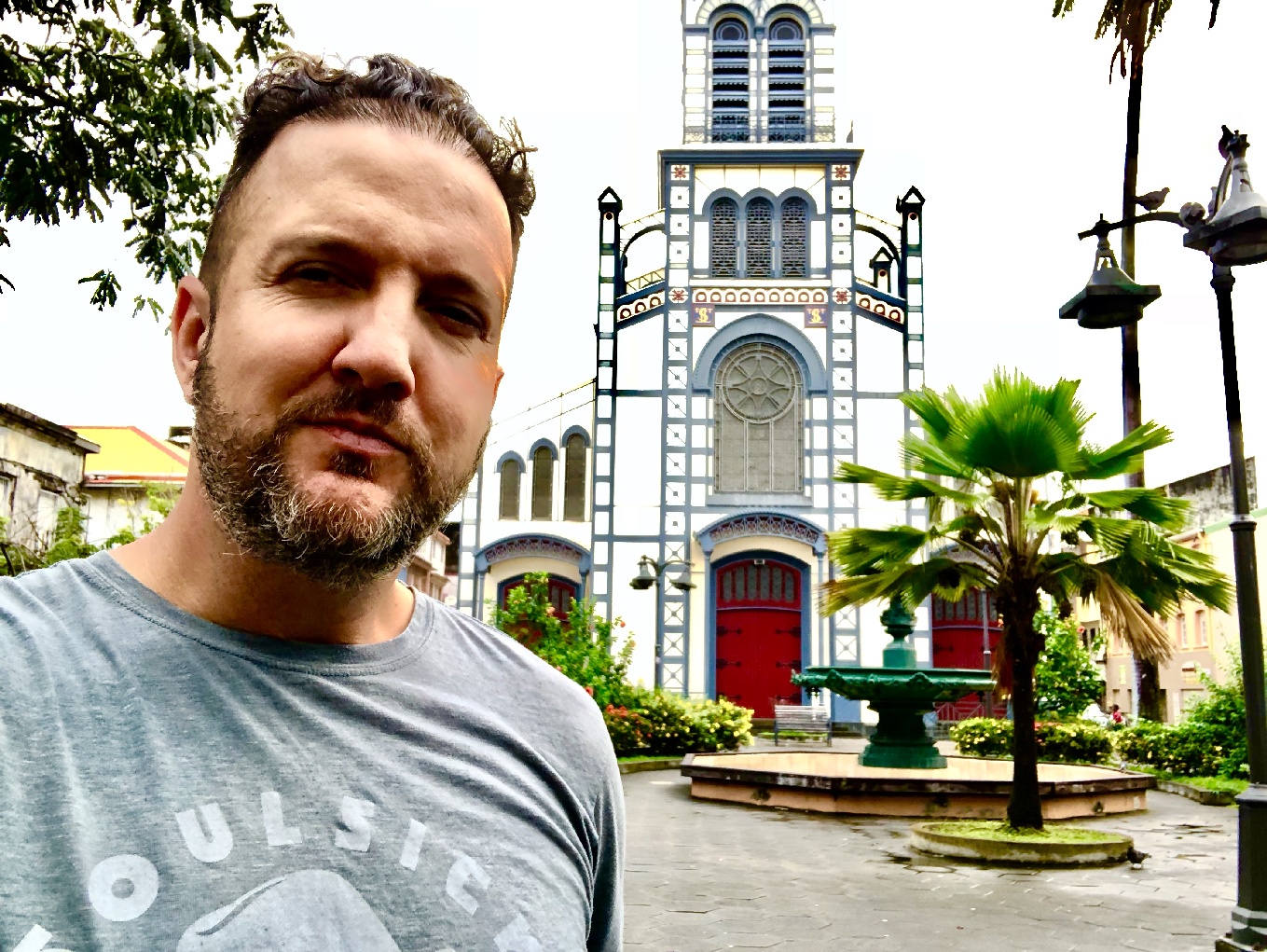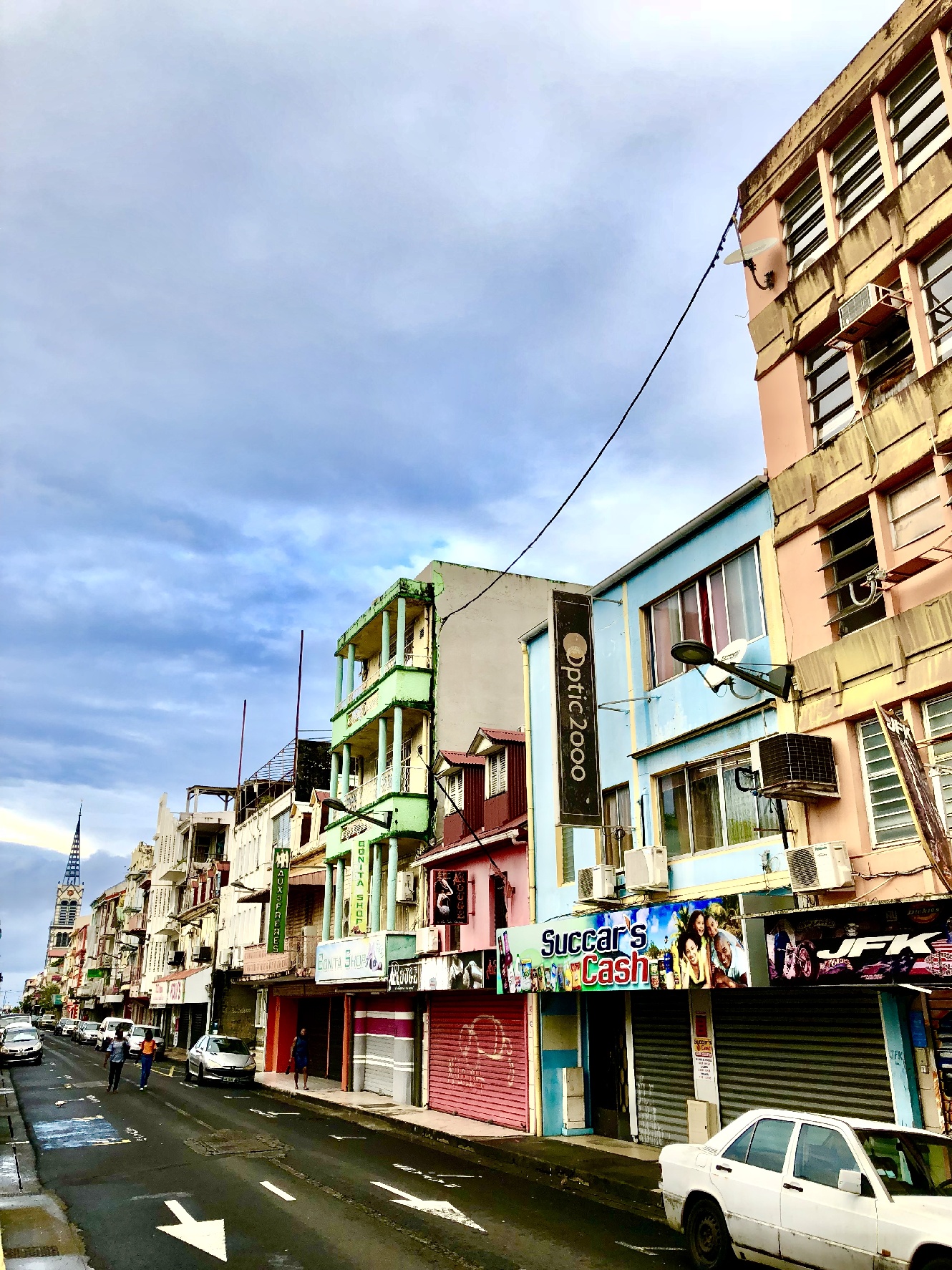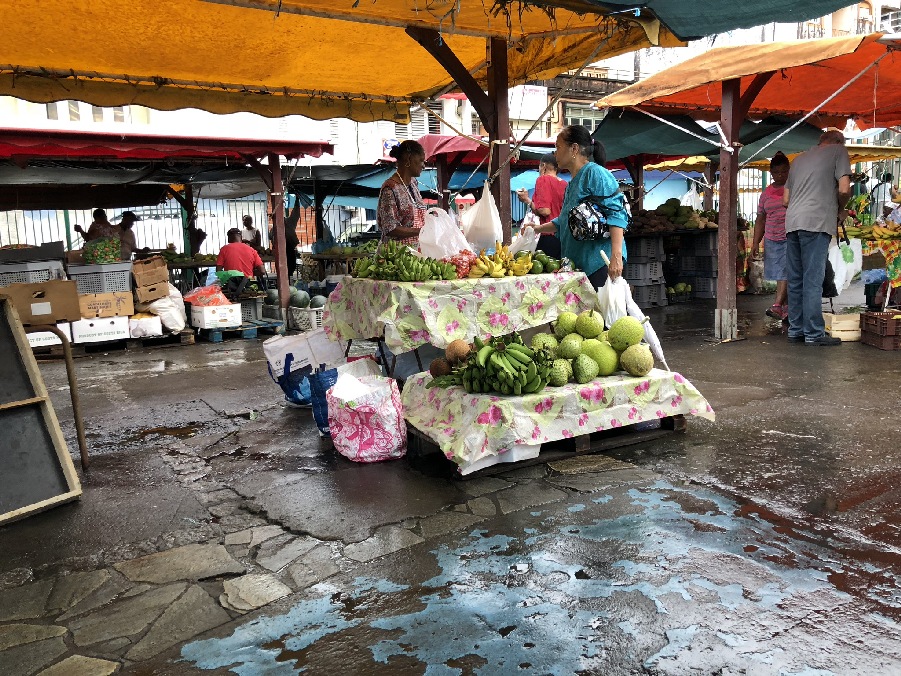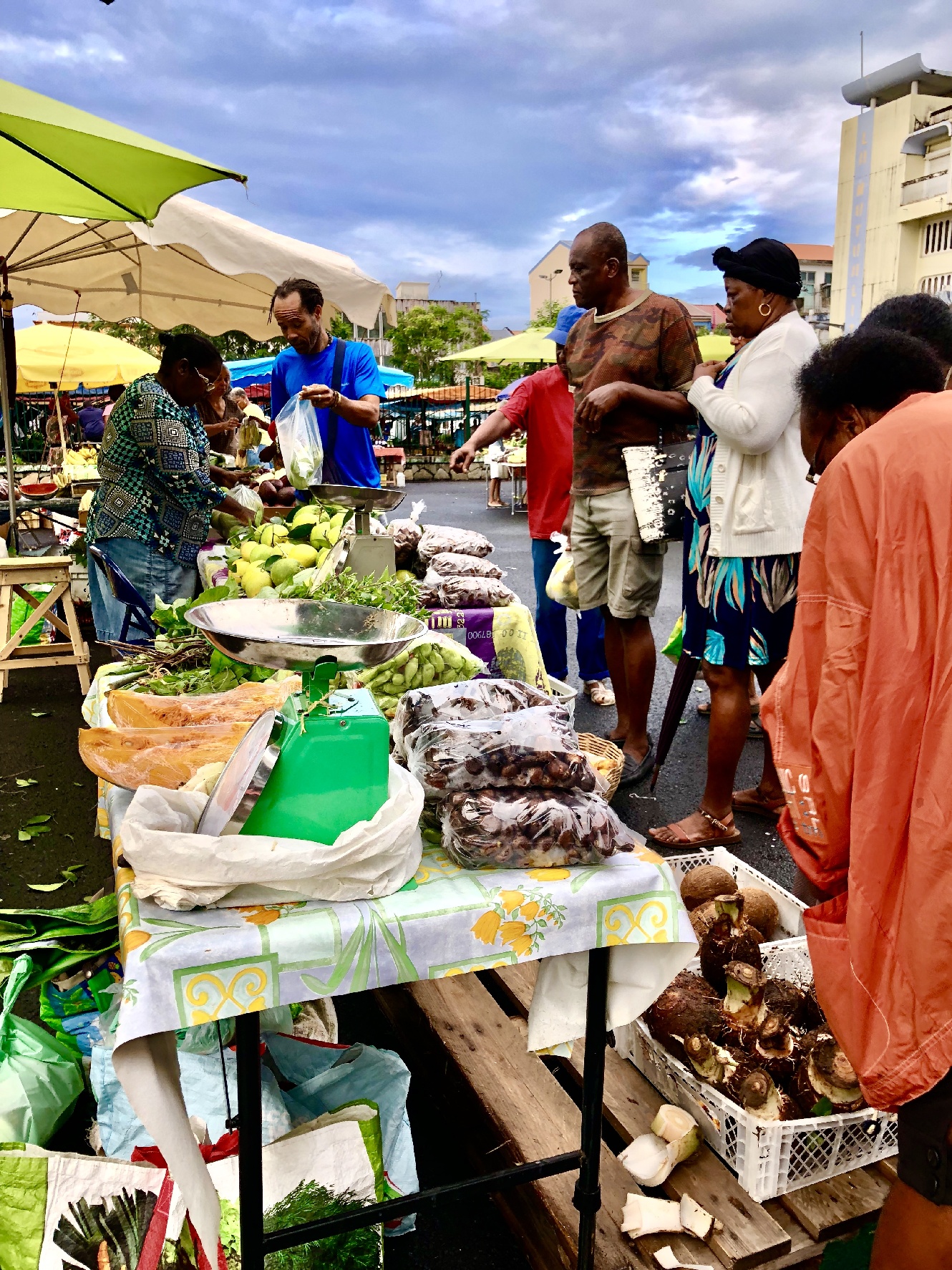 The Hills Have Eyes
I was hell-bent on venturing up to the hills which were nearby. Fort-de-France itself meets the green hillsides a couple miles in from the sea and the town seems to disappear into them. I wanted to know what was on the top, so followed the main road up, up and up!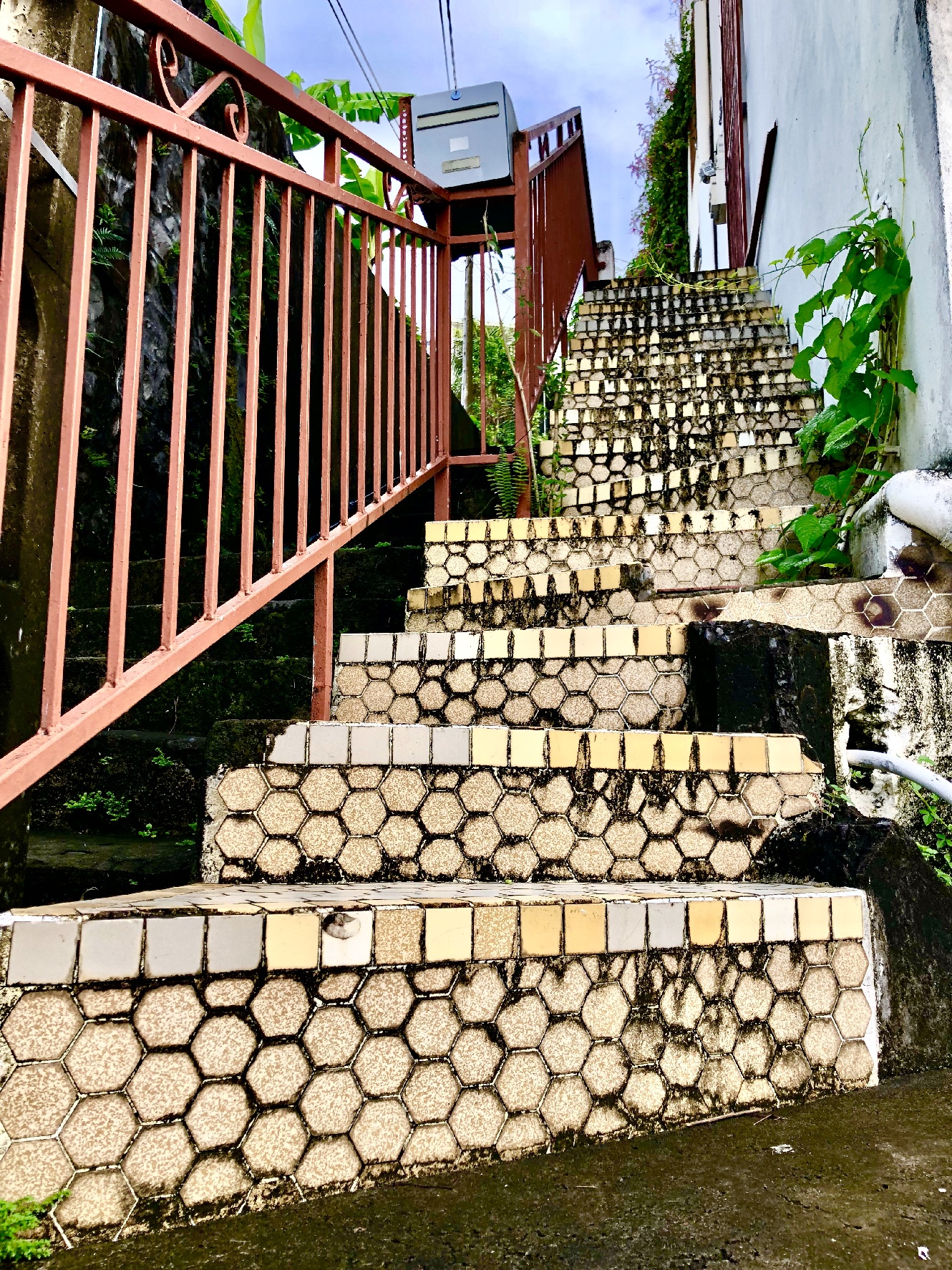 What Goes Up Must Come Down
By the time I descended back into town, Fort-de-France was beginning to come alive. The streets would soon be jam packed with people, shoppers, food and live music. It would be a busy Saturday and I'd be right in the thick of it.
But First, Coffee
After that five-mile hike I was starving! I was glad I fended off the temptation to eat something at the handful of little coffee shops I'd passed this morning, because when I stumbled upon Restaurant L'Imperatrice, I knew this was the place. First of all, the building was just spectacular. It was the kind of Art Deco that Art Deco fans like me salivate over. The café inside was like stepping back into the 40s, as I enjoyed my croissant and coffee and view of the street. What a perfect morning.
RAMBLIN' TIP: Stay at Hotel L'Imperatrice!!! After seeing this beautiful building and enjoying breakfast inside, I was kicking myself for not booking a room here, I would have loved to stay here! While my room at the fancy Simon Hotel a mile away was very nice, I'd book this place in heartbeat next time. It's location is perfect–smack dab in the middle of town–and I can't imagine how cool the rooms must be. How I'd love to sit out of those balconies and observe life in Martinique. Do let me know if you decide to stay here, I would love to hear about your experience. Link to book HERE.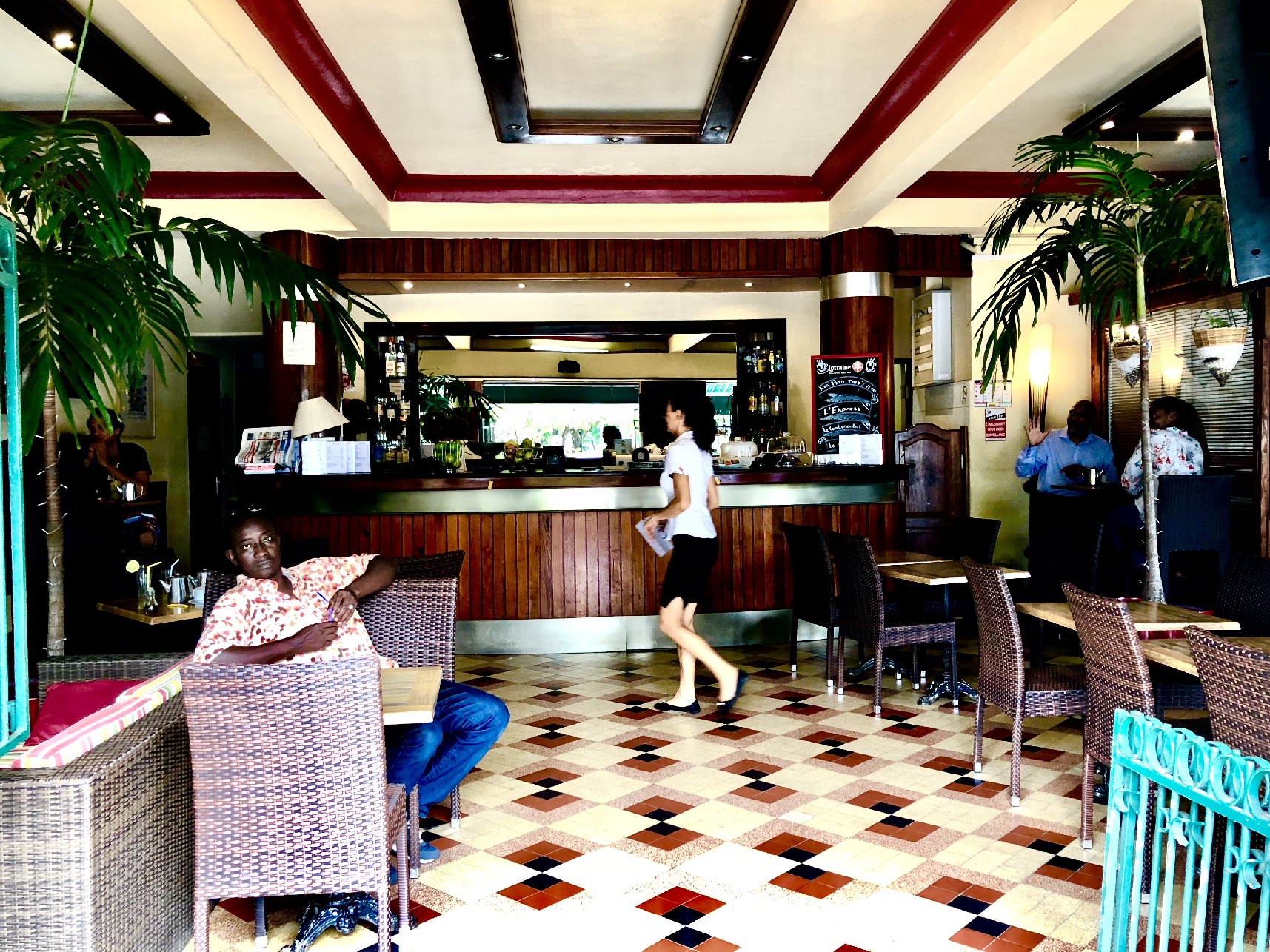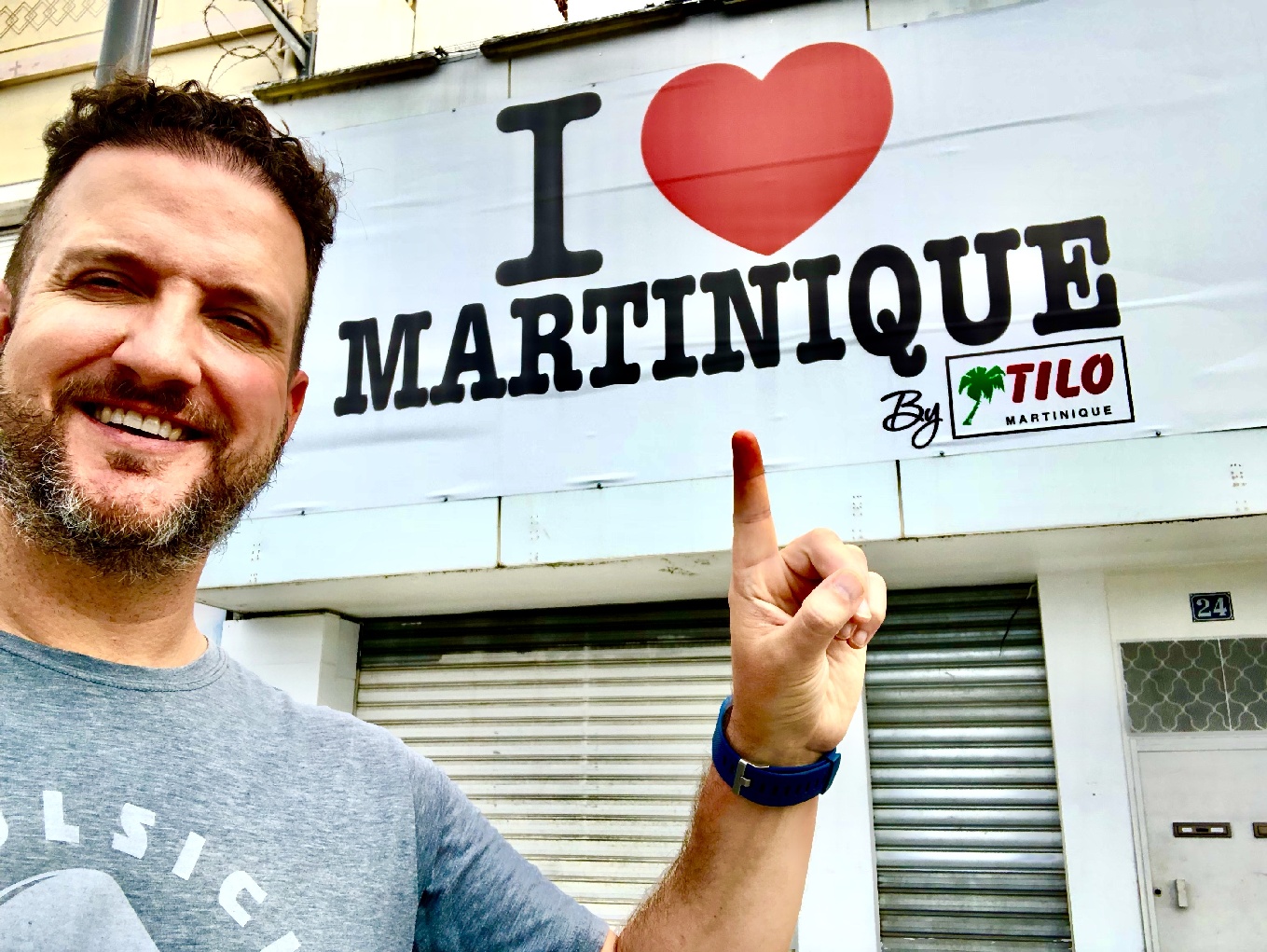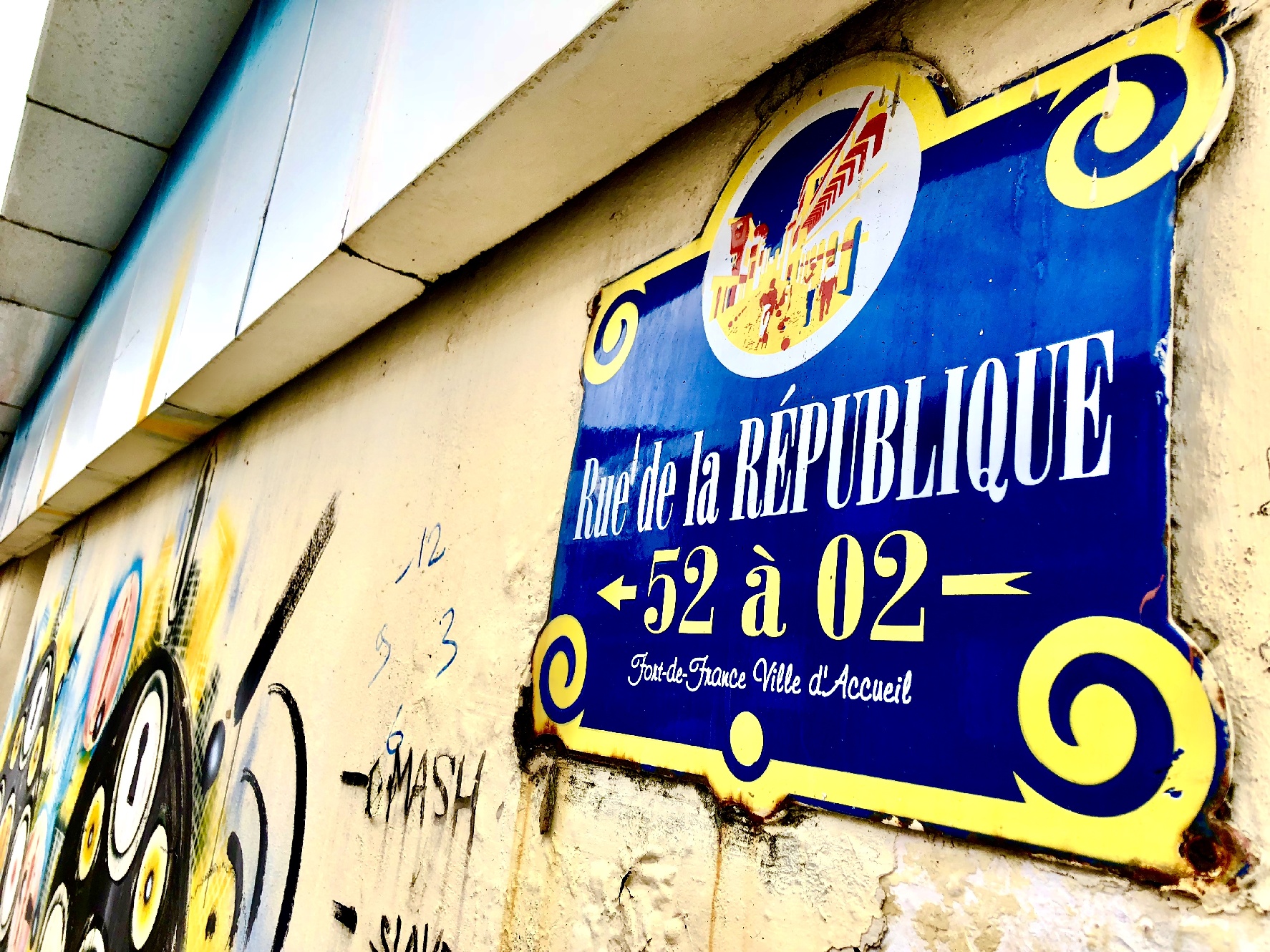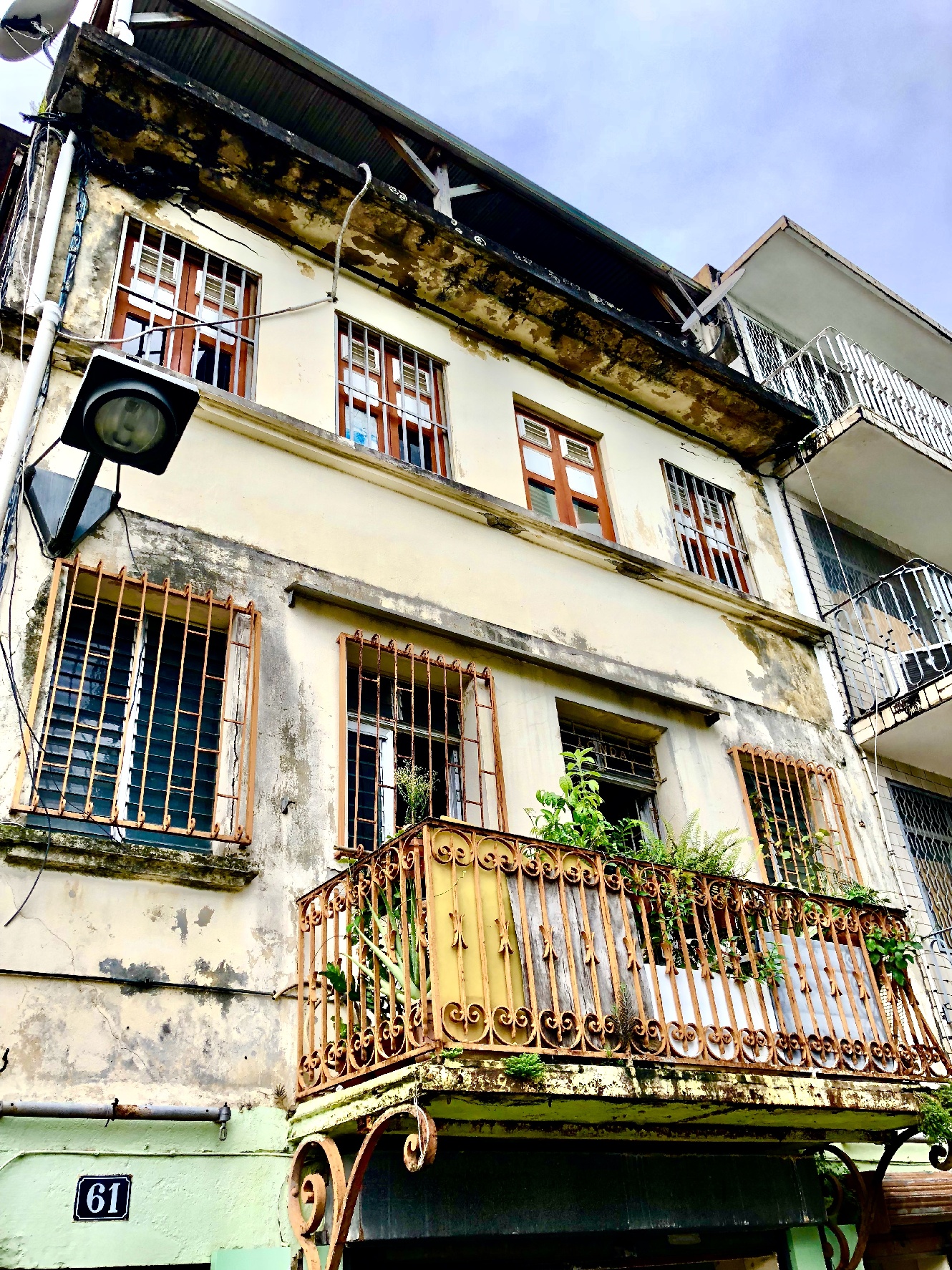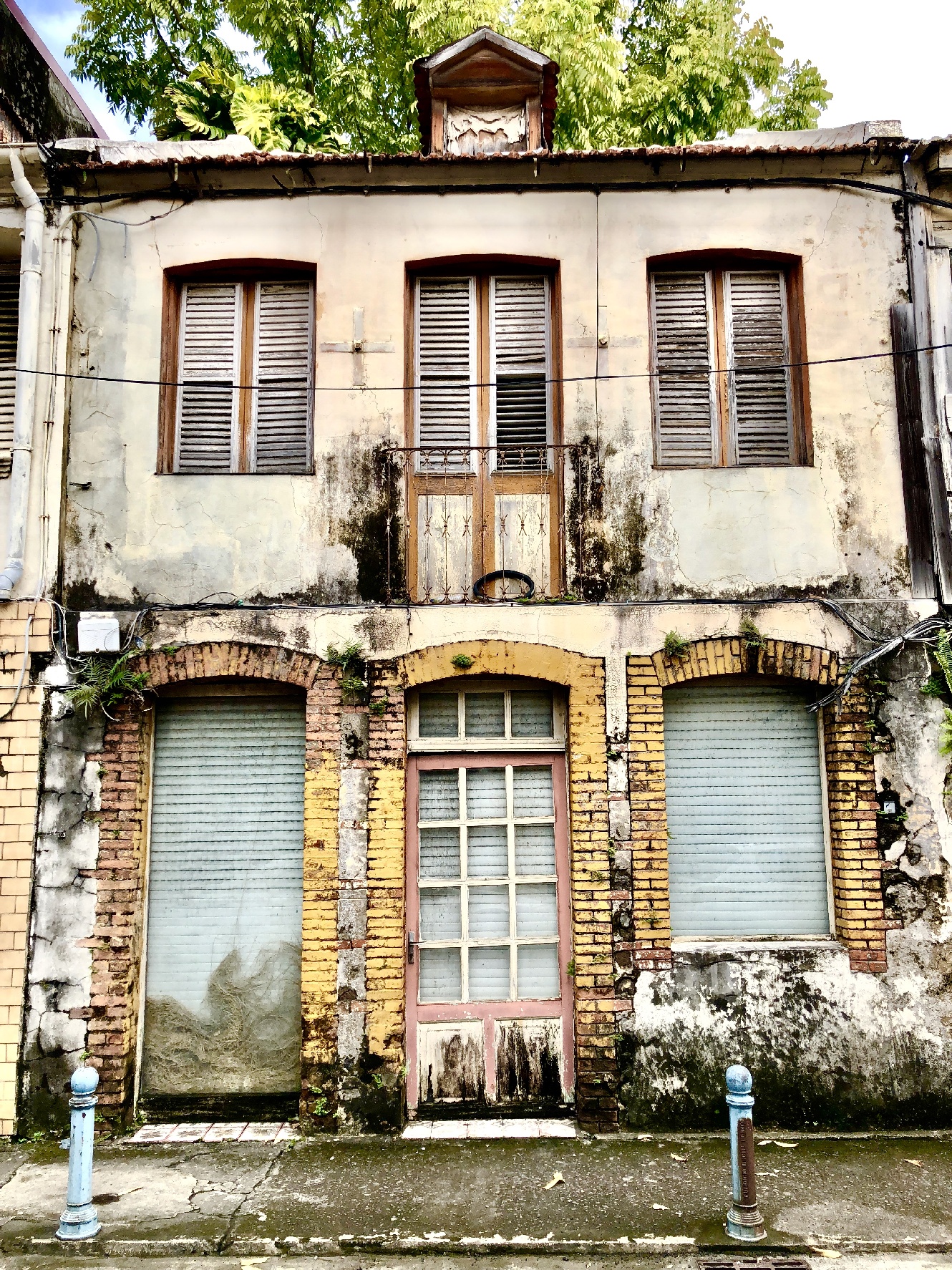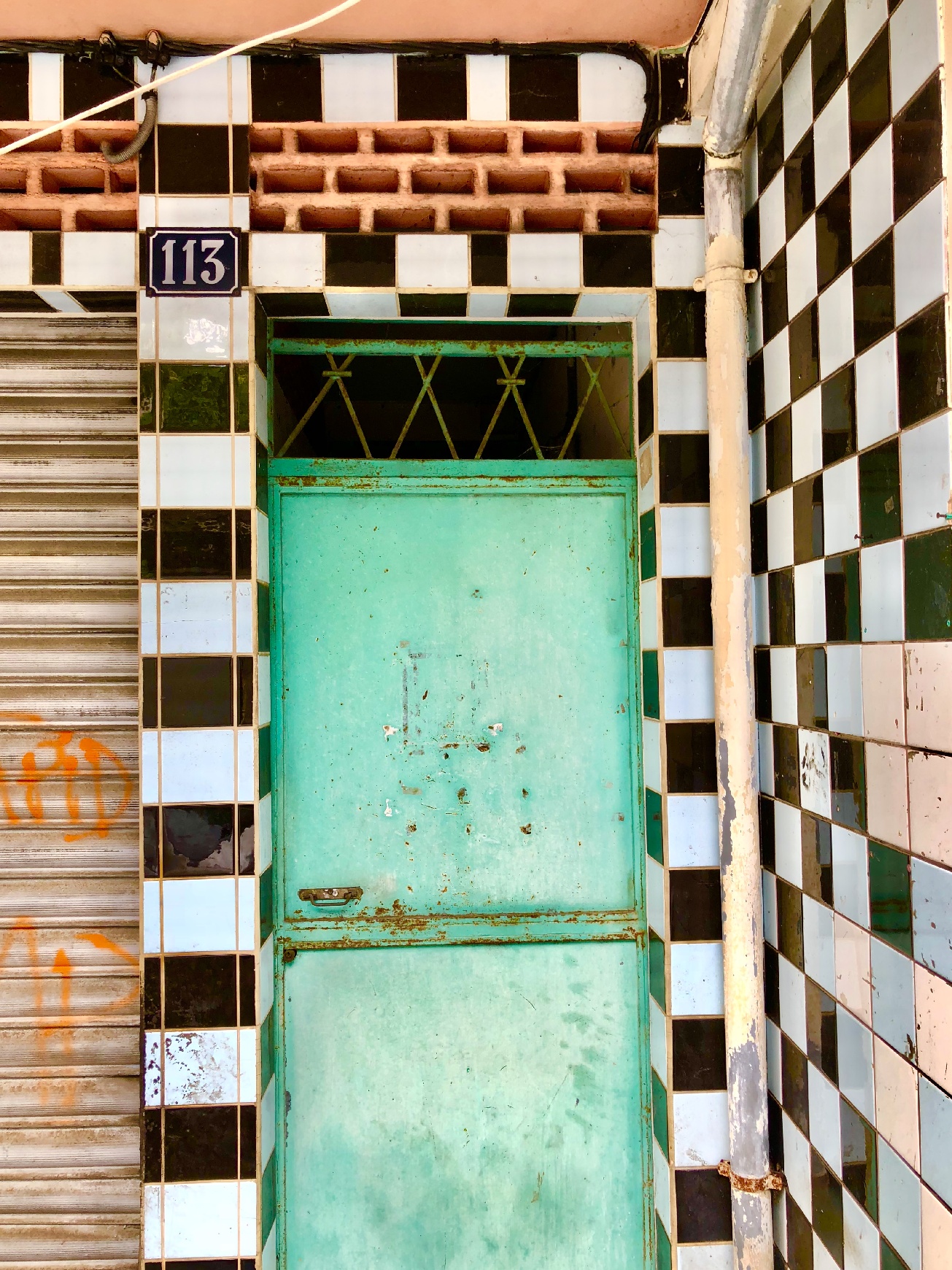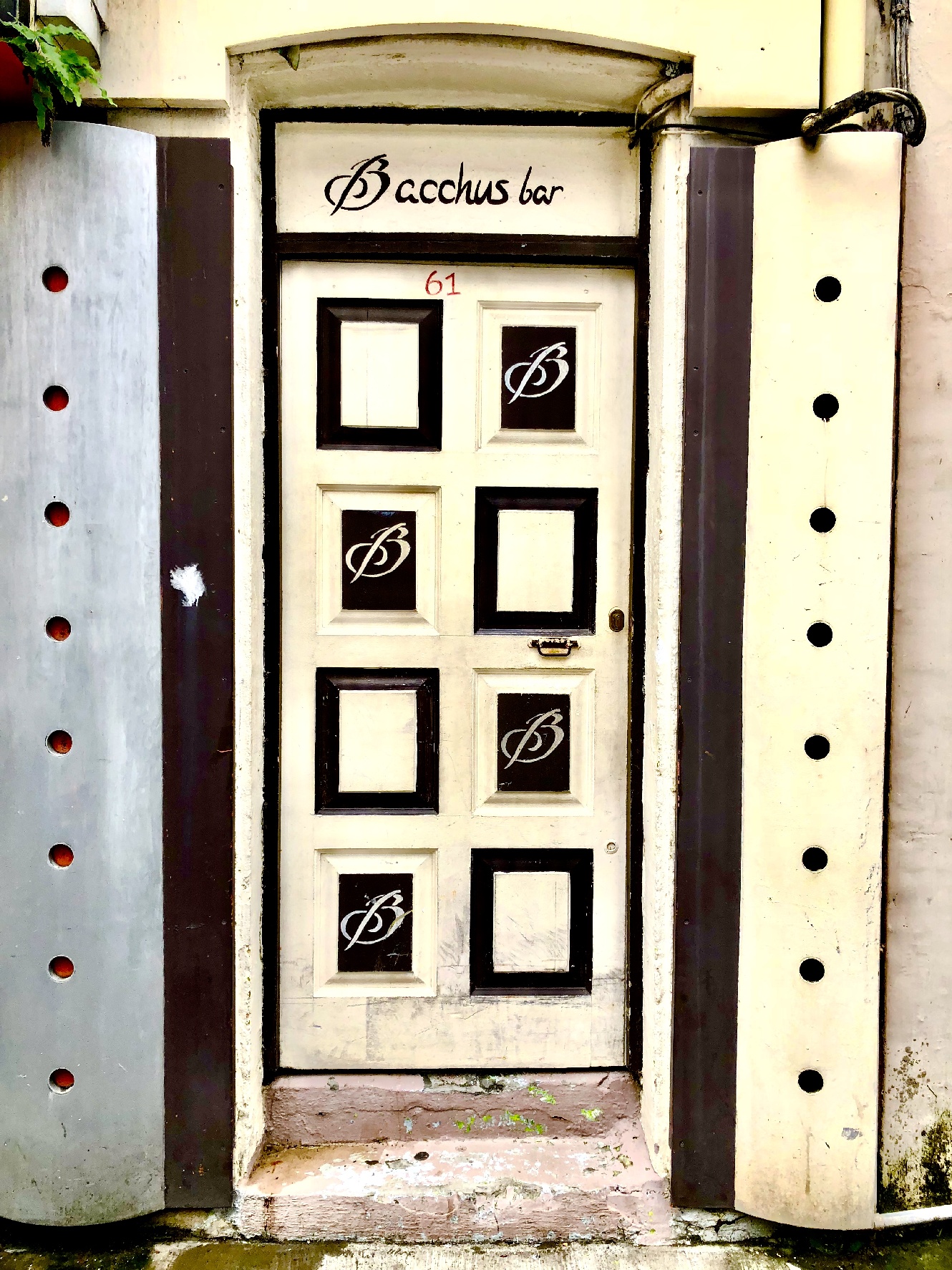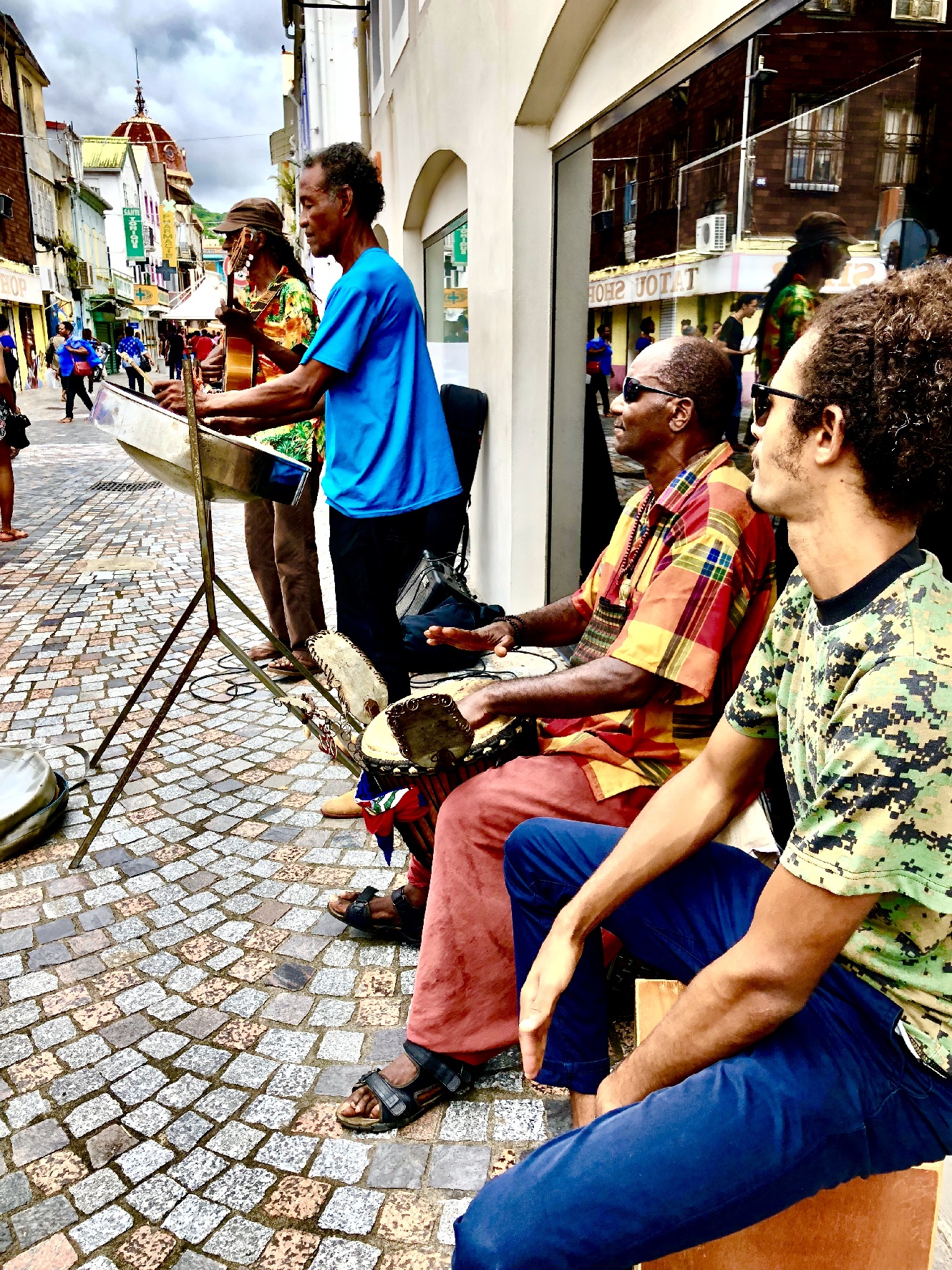 Every Vacation has its Last Day
It was approaching 1PM and time to get ready to head home. I packed my stuff and enjoyed an awesome lunch back at my hotel. I thought it was my first time having pamplemousse juice…until I realized pamplemousse is just French for grapefruit! Either way, it was absolutely delicious and garnished with fresh watermelon and cucumber. The carpaccio salad was just what the doctor ordered. The whole experience was pleasant, as I admired the sea ordered another juice. But yikes, they were $17 each! Martinique was sexy, but sure was expensive!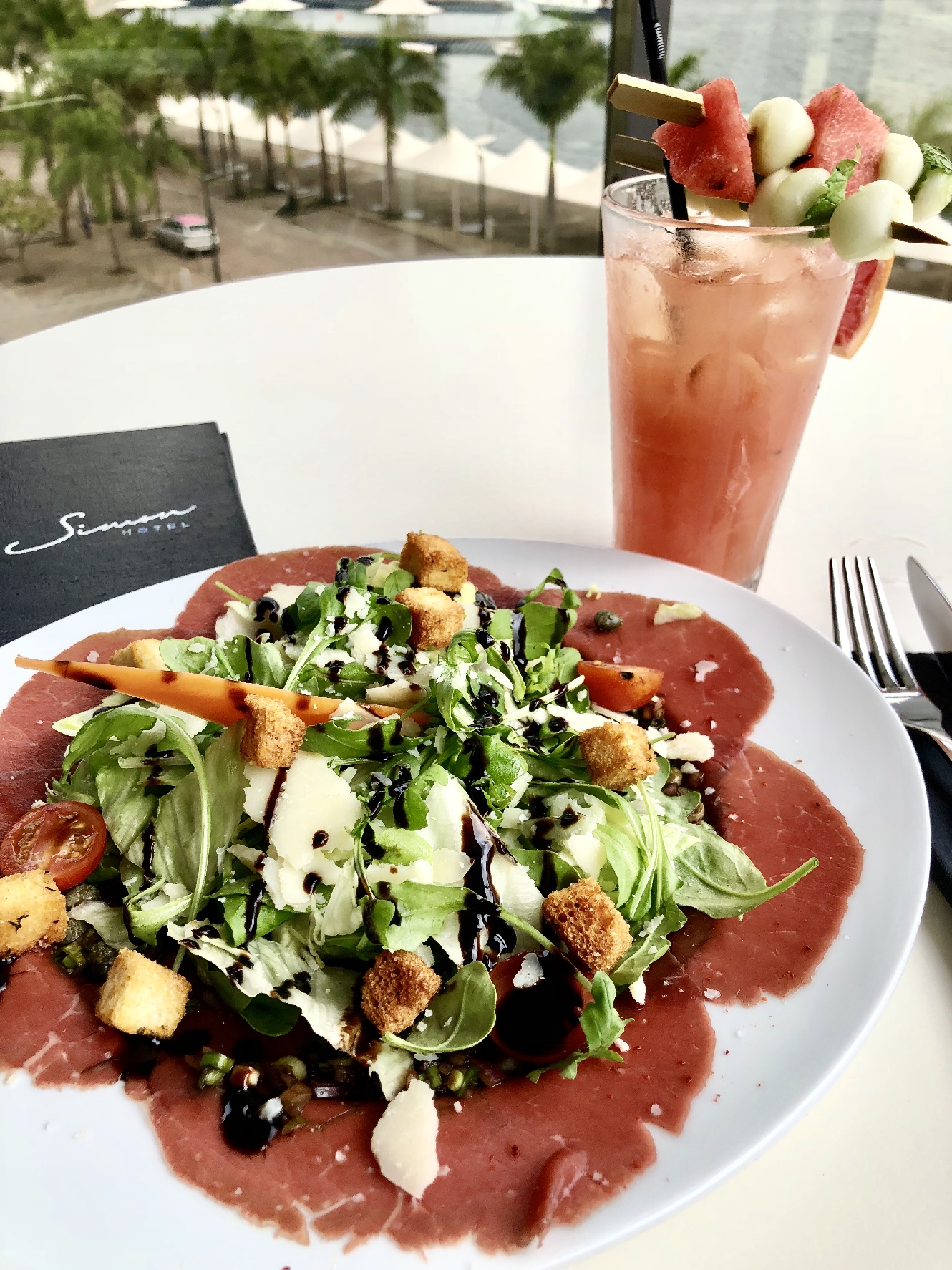 Au Revoir! 
As with so many of the places I visit, I wish I had more time in Martinique. I do realize there is so much more to do, see, eat and experience. For a guy who did very little research beforehand, I think I sure got lucky! I loved Fort-de-France, had fun exploring on foot (great exercise!), and stumbled upon some great meals, all while dodging the rain. I'm glad I took time to pop in.
And now…the REST of the (Insta)Story!
This entry was posted in
Caribbean