Singapore was an overnight layover. I was en route from Hong Kong to Australia and I was happy that my ticket included an overnight stopover. I love these multi-day layovers; they're like free, bonus trips. I landed at 1:05PM and would leave the next day at 9:45AM. Just enough time to check in to my hotel and see the city. I hit the ground running.
I jumped on a train from the airport and headed to my hotel to drop my bags. I had a lot to see in a small amount of time! And oh how I love cities that have trains that service the airport–why this isn't the case in America baffles and frustrates me to no end!
After one train change and some really helpful locals who made sure I got on the right line, I arrived at my stop, which was only a two minute walk away from my hotel. Of course, I walked the wrong way. After a mile or so I figured things out, turned around and headed to The Sheraton Towers. The hotel was super nice and I only wished I'd had more time to enjoy it, but I had to get out and see the city; the clock was ticking!
FUN FACT: There was a sign on the train that said "No Durians." What the heck is a durian??? I had to know! Apparently it's a fruit. A very, very, very stinky fruit. So many places in Asia don't allow them…'cause they funk up the area!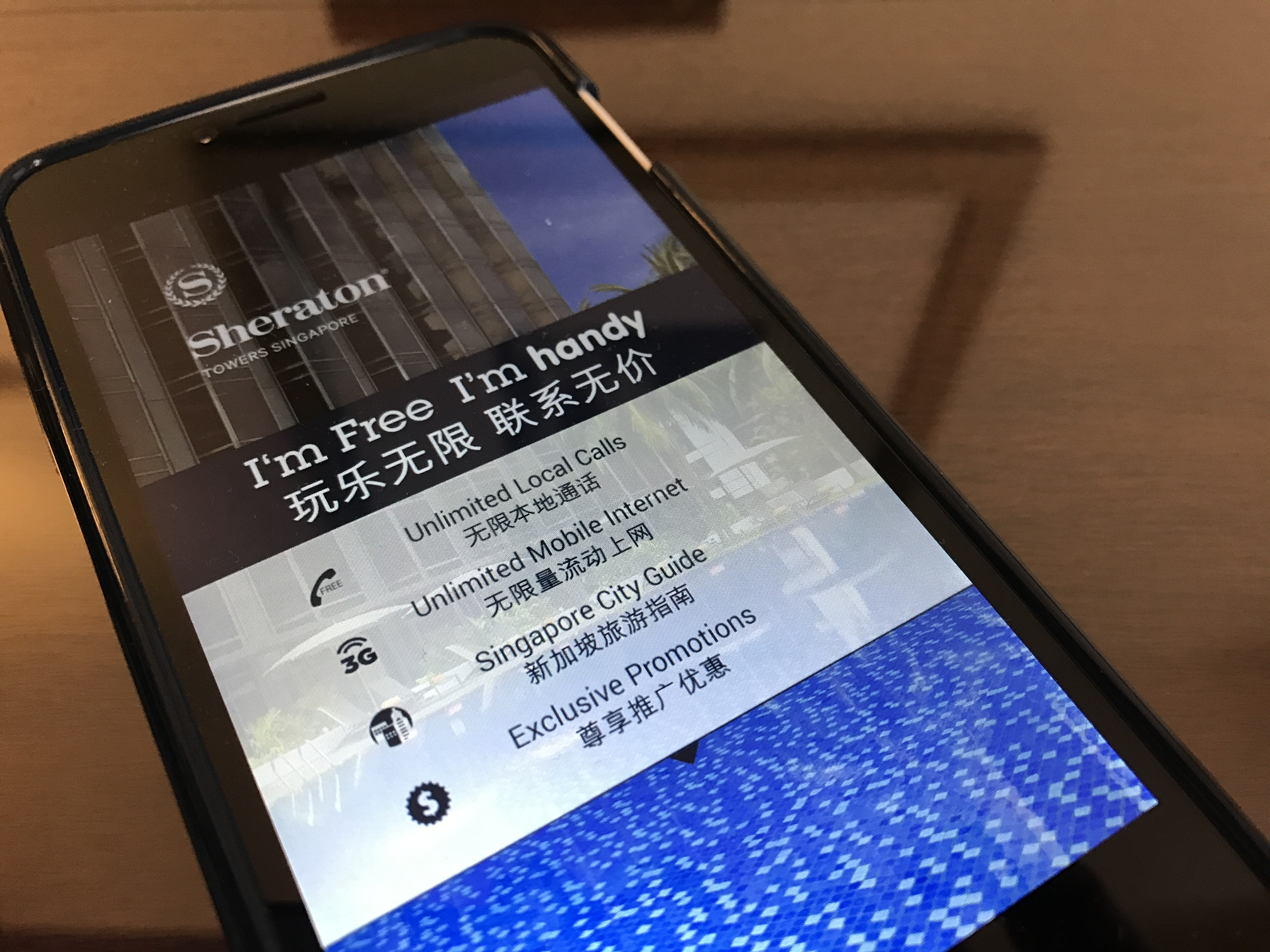 I jumped back on the subway and headed over to Marina Bay. I hadn't done much research on Singapore–the trip was kind of last minute–and I certainly didn't have a ton of time; so it was over to the most popular spot in the city to act like a tourist for a few hours.


My time putzing around Marina Bay was uneventful. It was hot as hades and I was exhausted from traveling so much in such a short amount of time. I walked through a huge mall and across the promenade. It really is a beautiful area and super clean. Amazing pieces of architecture surrounded the water at every end. Museums, hotels, restaurants, high-end shops, a fancy bridge and a ferris wheel were all part of a collection of modern structures belonging to Marina Bay. It was really well done and there were hardly any people around, which was great, because I hate crowds.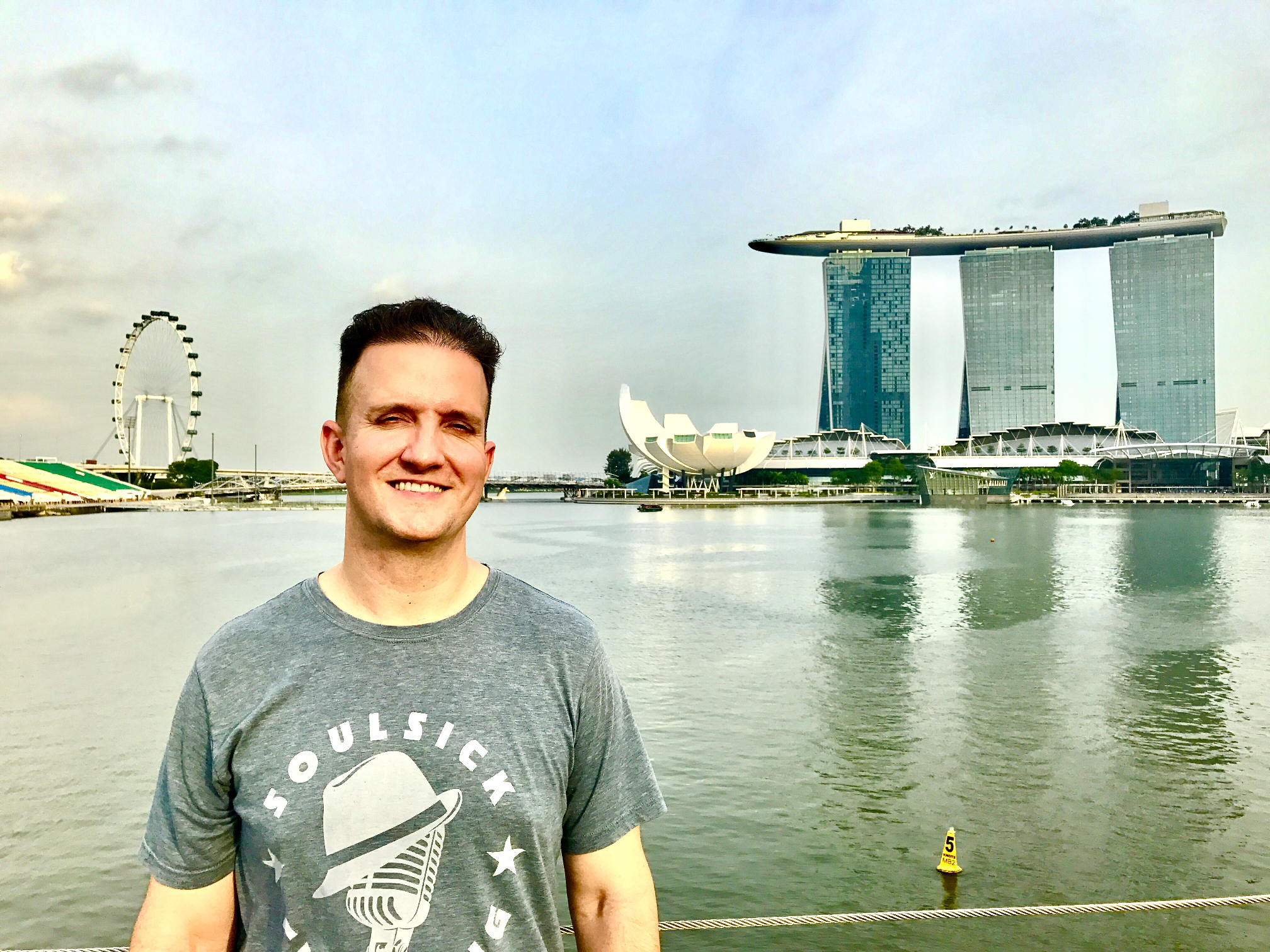 The Singapore government spent $35 million to complete the 3.5 km Waterfront Promenade around Marina Bay. It includes an eco-friendly visitor centre and The Helix bridge, linking Bayfront to Marina Centre where the Youth Olympic Park is located. The Promontory at Marina Bay is used as an event space for activities like theaters and carnivals.
The building I was most impressed with was the Marina Bay Sands. Billed as the world's most expensive standalone casino property, the Sands cost 8 billion to construct, including the price of the land. You can't help but notice this towering set of three giant buildings topped with this space-ship looking surfboard/banana shaped cap. I had to get to the top!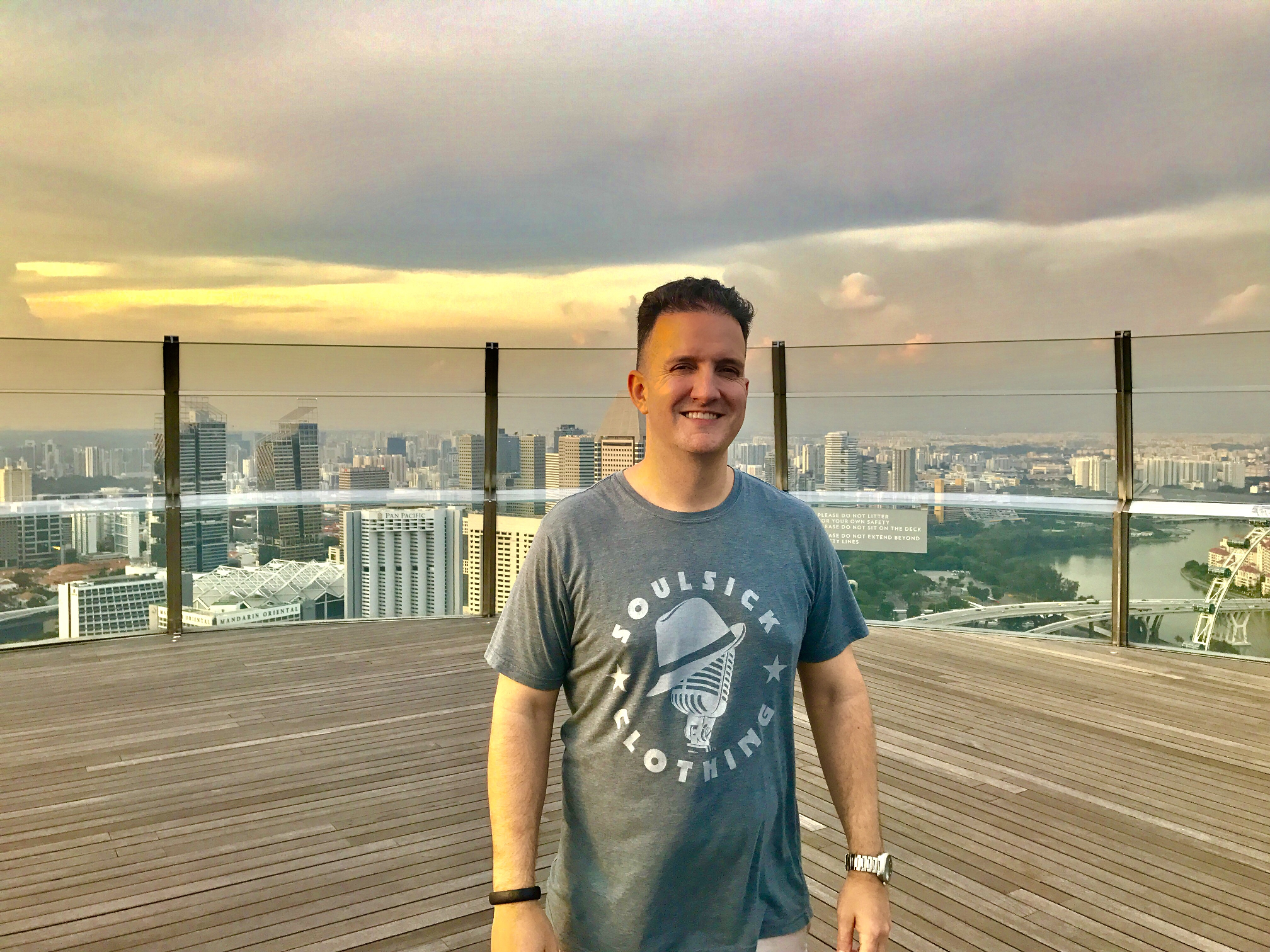 Up top, the 1.2 hectare tropical oasis is longer than the Eiffel Tower is tall and large enough to park four-and-a-half A380 jumbo jets! It extends to form one of the world's largest public cantilevers. The park features multiple restaurants and bars and rows of palm trees lined up along the world's largest rooftop infinity pool.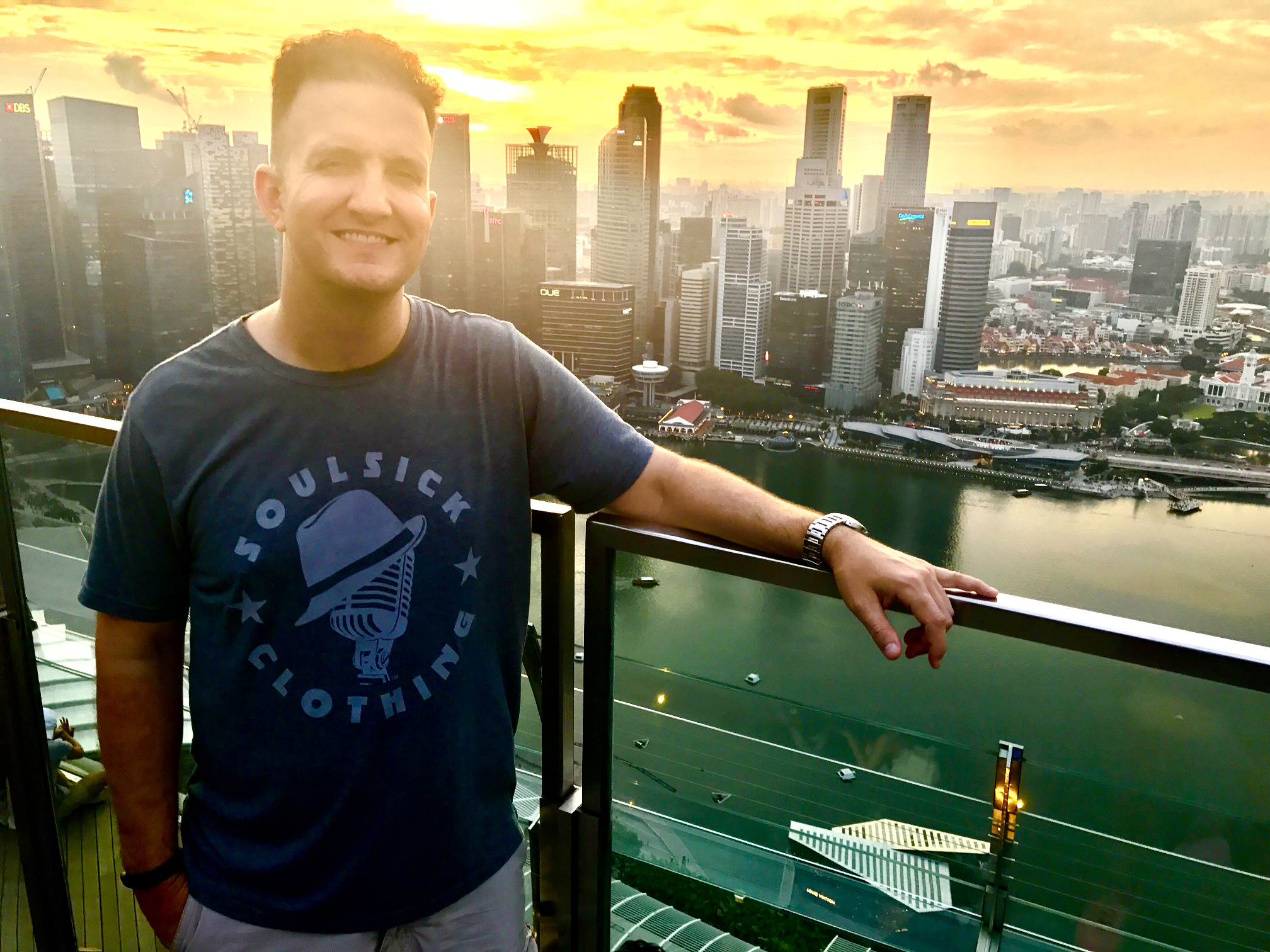 A ticket up to Sands SkyPark on the 57th floor costed me $22, but unfortunately only hotel guests have access to the pool. Man, I would've killed to take a dip in that infinity pool! How I wished I would've booked the hotel!

I had a nice time chilling out at the top, as I sipped my beer and watched the sunset. It was pretty awesome, and it was finally cooling off, so I really started to enjoy myself.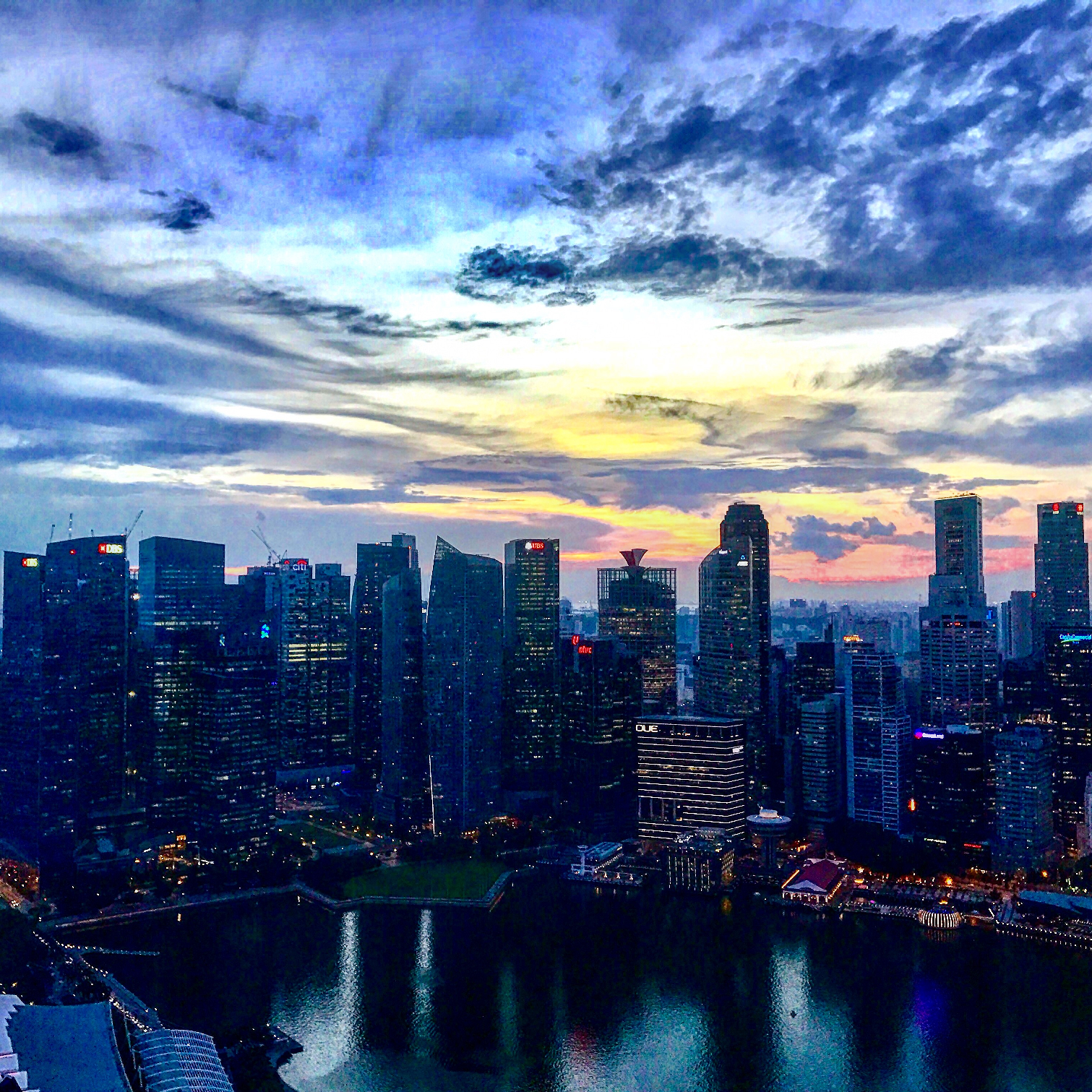 I enjoyed my beer at the top of the Sands so much, I awarded it Best Rooftop Bar in my Ramblin' Randy "Best Of" series.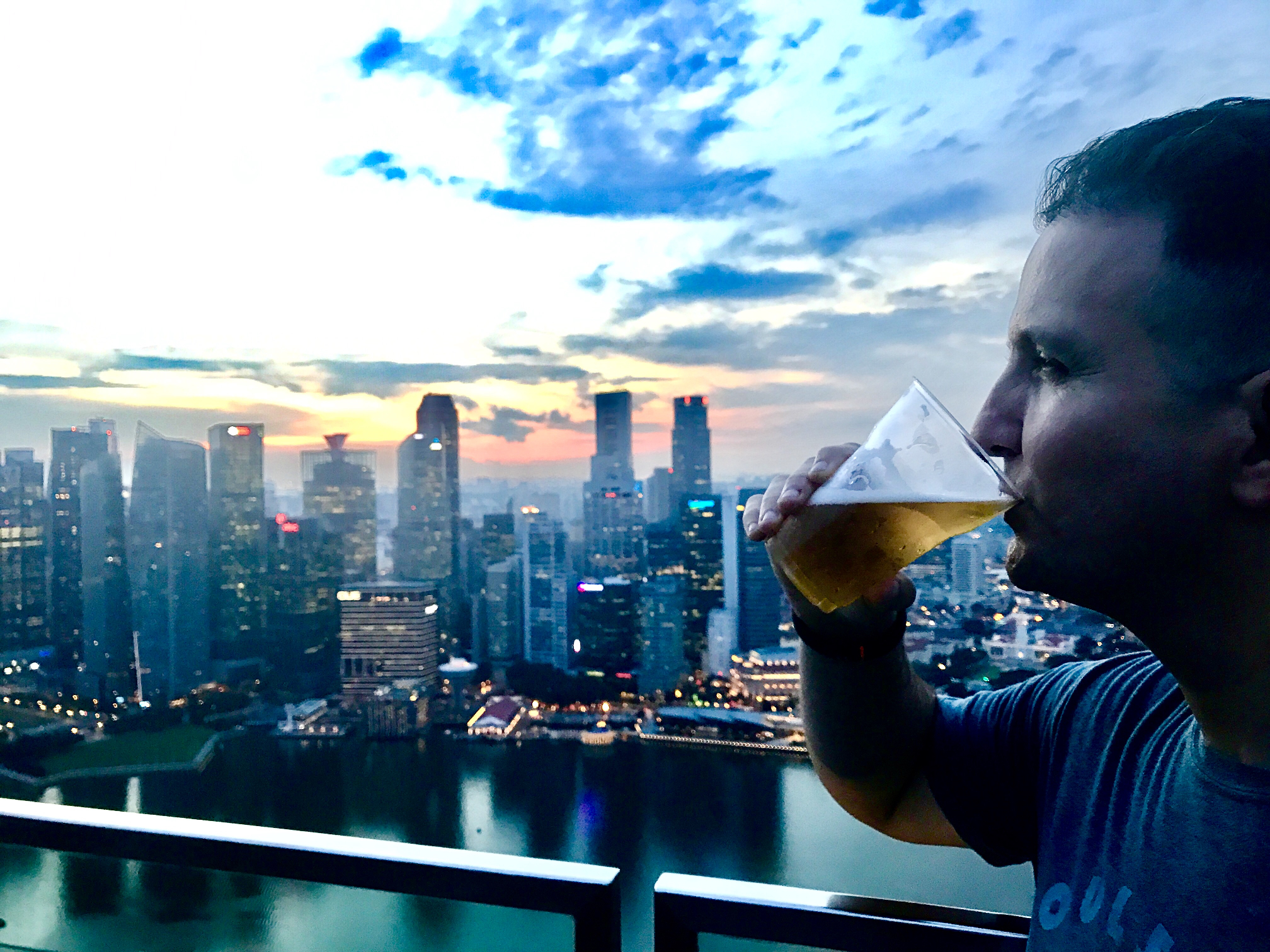 After a nice visit to the Sands, I was done. I headed back to the hotel, ordered room service and passed out. Lame, I know.
It was up early the next morning and on the train to make my morning flight to Brisbane.
Singapore was great: clean, great transportation options, beautiful scenery, nice people. Like so many other stops, I just wish I had more time to explore, and more stories to tell you. It was a pleasant, yet uneventful trip.
My only advice for you, if you can swing the cash, is to reserve a stay at The Sands. There's nothing like it, and being able to swim in that awesome pool, high in the sky, would be a once in a lifetime opportunity! I'm so bummed I missed it!


This entry was posted in
Asia
,
Extreme Layovers