Stepping Out of my Comfort Zone
There are a handful of countries on my "danger" list, and Haiti has always been one of them. I can't give you one specific reason, but I've always heard it was a dangerous place. I know it's a very poor country, and have heard from various people that white people aren't liked very much there. Over the years I've just heard enough bad stuff about Haiti to keep me far, far away. I even once visited the Dominican Republic—located on the same island of Hispaniola—and never in a million years would I had ventured across the border to see Haiti. Of course, that was years before I caught the travel bug—today I'd never pass up a chance to hop over just about any nearby border…I have since kicked myself numerous times for not seeing Haiti while I was so close it.
Over the past two years I have been on a quest to see every country—dangerous or not—so that means I have to cross off Haiti sooner or later.
Just weeks ago I was able to cross off nine new countries, seeing some fantastic islands in the Eastern Caribbean; and it occurred to me that I was just four countries short of knocking down all of the Caribbean countries: Left were St. Vincent, Jamaica, The Bahamas and that infamous Haiti.
A business meeting required me to be in Miami, so I figured I'd use that opportunity to knock down one of the Caribbean countries I had left to see. These days I have been more adventurous than ever, and it's the off-the-beaten-path, questionable places that get me excited more than anywhere else, so Haiti, you're up!
I'm totally out of vacation time at work, so this trip will have to be quick. I took the red-eye from San Diego to Miami on Friday night.  Barely slept a wink. MIA to Port-Au-Prince at 9AM and by 11:30AM I was taking in all the sites and sounds of a wild and chaotic Port-Au-Prince.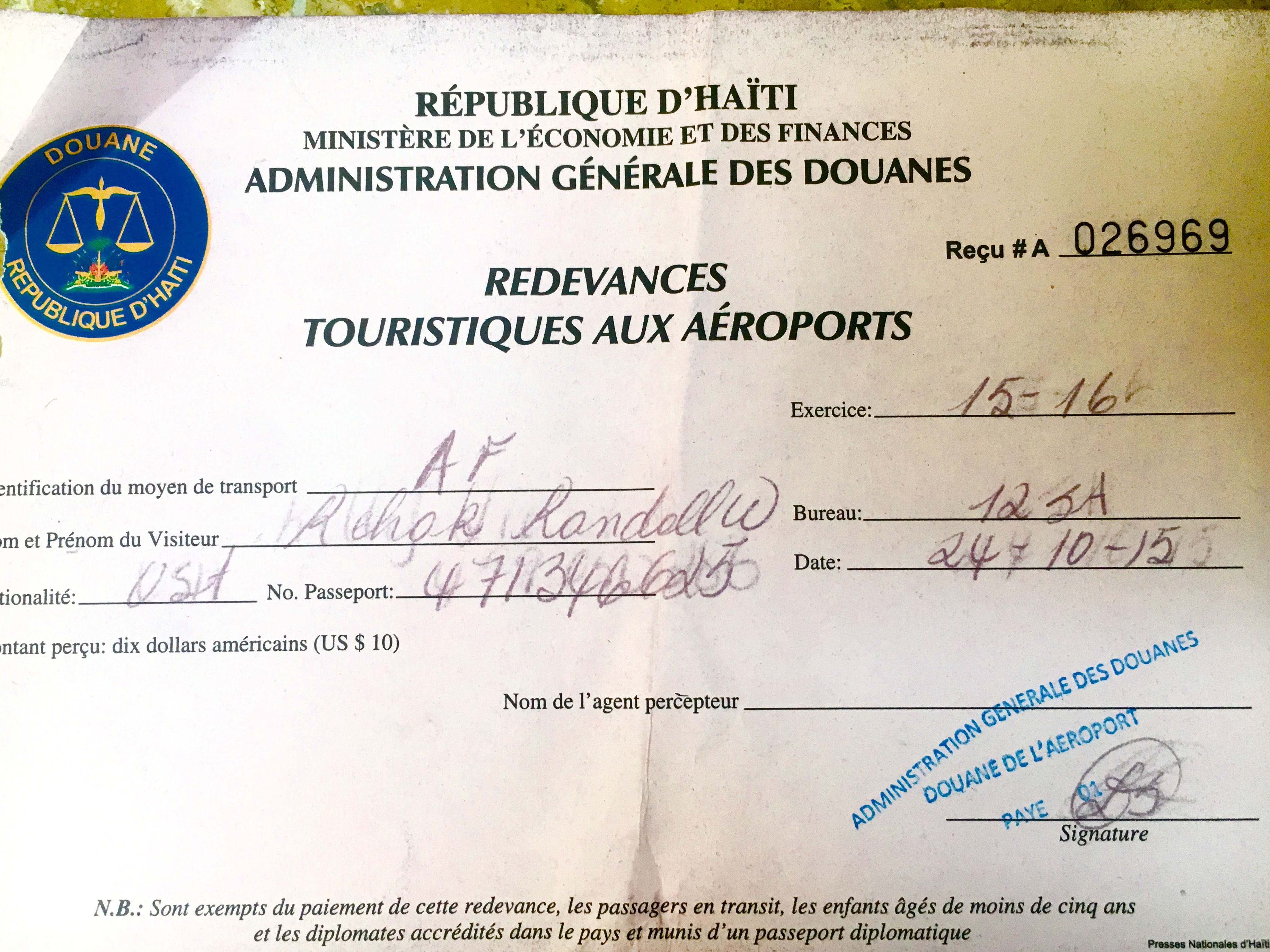 The Wheels on the Bus
The first thing I noticed was the public transportation. Here in Haiti this consisted of pickup trucks where the beds were extended upward on the sides with bars, creating a make-shift little "bus." It almost looked like a "people-cage," with 6, 8, 10 people packed inside the back of the truck. Some pickups had these bars on the side and then added a camper shell on top for a roof. Many were painted with fantastic colors and designs. About 20 cents to ride, and you pay as you get off. People were jumping on and off, and I kept thinking how uncomfortable and hot it would be if you were all the way inside, smashed in between people. It made me thankful I was in my luxurious air-conditioned van.
And election posters and billboards everywhere! Turned out there were 58 candidates running for president. And the election was today—which added to my list of "worries" visiting Haiti. In these unstable nations, it's election day when things go buck wild—demonstrations, riots, violent outbreaks, etc.   I'm in Haiti why?
One thing I didn't dig was the garbage. There was tons of trash, everywhere. You couldn't escape it. I wondered if "the garbage man" even existed there. I remember specifically peering out into the street from the car window and seeing just layers and layers of plastic bottles, all flattened and turned to the color of dust over time; just layers and layers and layers…there must have been millions, all around. It was mind blowing.
I checked into The Best Western Premiere, in the neighboring town of Petion-Ville. It's a beautiful, new, very modern hotel. I was pretty impressed. I needed desperately to nap–so I did–and was up to meet my tour guide, Jaqui, for a drink at 5:30 to discuss tomorrow's tour.
On the Ground
Jaqui was such a pleasant woman. White, older, an ex-pat from England; she'd fell in love with Haiti in her 20s and today it was her home. She owned the tour agency and we chatted for about an hour. She put most of my reservations about Haiti to rest and spoke wonderfully about the country and its people. She assured me that most of the misconceptions I had heard about Haiti were just that—misconceptions.
She also told me that it would be fine for me to walk to the park by myself before sunset, so after our chat I ventured out. The park was about five minutes away. It was jam packed with people just hanging out. An old helicopter served as a monument. I was the only gringo in sight. Although I got some stares, no one bothered me at all. I headed back to the hotel in time for sunset, passing wild pigs, people urinating in the street, and thousands of election posters.
Dinner at the hotel was good—Creole goat was very tasty, however the rice tasted like dirt. I passed out that night, still exhausted from not getting any sleep the night before. I woke once, in a trance, and looked out the window to see the most amazing view of the stars I had ever seen in my life. I could see the big dipper, brighter and clearer than I had ever seen before. I still don't know if it was a dream or real life, but either way was it absolutely mind blowing.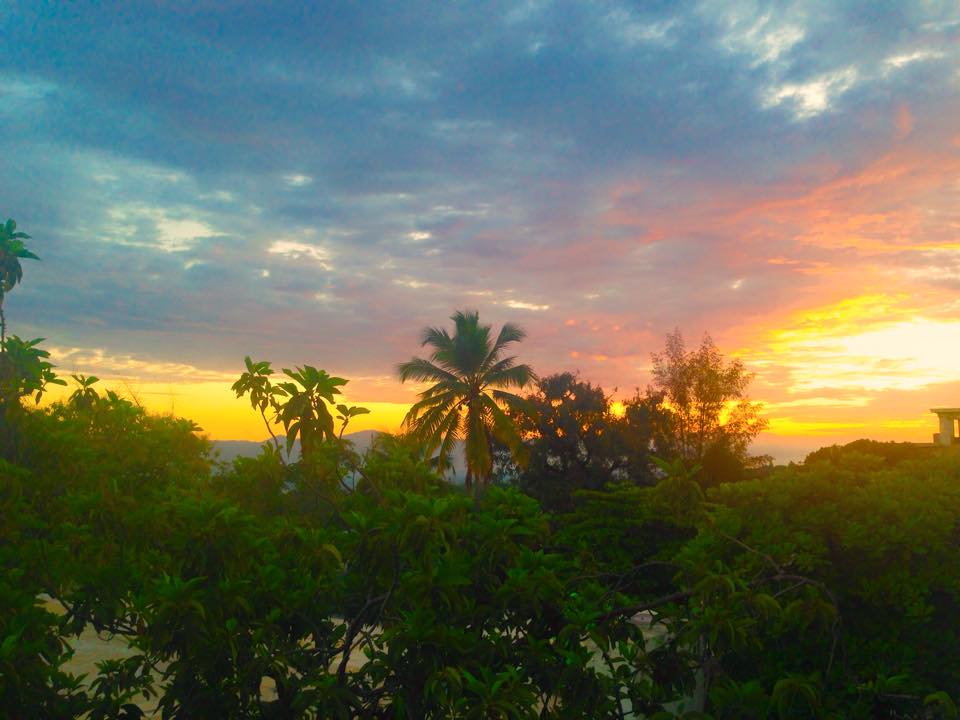 Road Trip
Up the next day for a 7:30 tour. Jaqui and her driver Geffre drove me to Jacmel, a really cool little town about 2.5 hours away. I got to see a little more of Port-Au-Prince before our ascent up into the mountains. Haiti consists of a ton of mountains, so it was a windy, curvy, long journey. We stopped to admire the view on the way up and Geffre served up Haitian coffee from a thermos out of the back of the van. It was good, and the views were spectacular.
Once back in the van, we were soon stopped dead in our tracks by a big old school bus that was parked across the road, as if it was a blockade to stop traffic. I immediately thought it was some sort of road block and thought, great—this is where I get kidnapped! It turned out to be just a bus that got stuck trying to turn around. It was filled with voter en-route to the polls. It took about 15 minutes for the bus to get un-stuck, and I found it interesting to watch as a half dozen folks helped get the bus moving. And the journey continued.
Quiet Walks
Jacmel was a cool little town. Being election day, things where quieter than normal. Jaqui passed me off to the local guide, Michele, who met us at the historic Florita Hotel and started his tour with a walk through that building. Built in the 1800s, the Florita used to be an actual house before it was converted into a hotel. This place was old school: old wood floors, tall ceilings, beds with mosquito nets and big tall windows without screens. I would have loved to stay there. It didn't look like it had been updated at all except for the wi-fi transmitters, which sat on top of concrete pillars.
We walked around Jacmel for about an hour and saw some neat things. Tons of mosaic tile work everywhere, including stairs and a mosaic tile boardwalk built by the Venezuelans. I learned that Venezuela is one of Haiti's closest allies—I saw Simon Bolivar's house and the park where a Haitian artist designed the Venezuelan flag.
Michele took me to see Rose Marie Lamour's house which also served as her art display. She's a famous Haitian artist and I was even able to meet her and see some of her work. I wonder if she didn't like me because I didn't buy anything? I always wonder these things. I stopped in to a couple of other shops too, which sold papier-mache work—one of the things Haiti is known for.
Little Dipper
We walked by a polling center to see the line of people waiting to vote, an old market who's fences and towers were made of metal from Belgium, a cathedral, and some other historic buildings. Then we headed back to meet Jaqui and get back on the road.
Next stop, a little beach area where I drank fresh coconut water straight from the fruit and took a little dip. The water was very warm—almost too warm, and also pretty clear. I wished I had brought my snorkel gear! Some kids said hello and introduced themselves to me, and I also met the first white person I've seen that weekend, since Jaqui—a middle aged lady from Canada who was visiting with her Haitian boyfriend.
On to lunch, we drove to the nearby Hotel Cyvadier to have lobster overlooking the bay. The Cyvadier was a lovely little hotel—although the buildings looked more like a 1970s motel, it was situated overlooking a beautiful bay. There was a small pool, bar, and an open air restaurant perched right on the cliff. The setting was out of the movies and the food was wonderful. I ordered my favorite Caribbean soda, Champagne Cola.
I Hait to Leave so Soon!
After lunch it was straight to the airport to catch my flight back to Miami. The immigration officer handling my exit searched my bags and discovered the four Sunday Night Slow Jams CDs I had packed and asked if he could have one. Had it been anything else, I would've been offended—but you know how much I love to spread my Slow Jams. Hey, maybe he knows someone in radio on the island and can get my show on the radio there. Wouldn't that be dope! It's happened before.
Shout out to AirFrance…it was a great flight to and from Miami, and the fact that they give you a meal on a short two-hour flight really made me like them.
This entry was posted in
Caribbean