NOTICE: This "Extreme Layover" took place at the old Istanbul (Atatürk) airport. Go HERE to read about my layover at the new airport.
I love free (long) layovers, especially connections in countries I've never visited: it's like a free trip, where I can leave the airport, grab a meal, soak in some of the local life, and then hop back on my plane. When you're trying to visit all 193 countries in the world–soon–layovers like this save you time and money and get the job done. Of course I do feel a little cheated, not having enough time to really relax and leisurely poke around. But if I like what I see on my stopover, I can always come back…and often I do; such was the case with Panama.
So I was thrilled when I my flight from San Francisco to Tbilisi, Georgia included a stop in Istanbul just long enough to run into town for a sunset walk and a traditional meal. I'd land at 5:15PM and leave again at 11:55PM, so the layover was just perfect for a dinner in town.
This would be the start of an incredible seven-country journey that would include my 100th: Iraq. However, it was just my luck that Turkey and America started beefin', and shortly after I booked the trip, and in the blink of an eye all Turkish visas for Americans were halted. Long story, but something happened at a Turkish consulate with an American being detained: this guy was accused of having ties to the people responsible for the recently attempted coup in Turkey. So the the U.S. was like, "Oh hell naw, then we're gonna stop issuing visas to Turks who want to visit America." And then Turkey was like, "Okay smart guys, then we'll do the same." Hence the diplomatic standoff that hurts no one but travelers like me. So now I have this awesome ticket with a stopover in Turkey, and I'm relegated to the airport lounge. Of all the times in the last hundred years, why now???!!! Sigh, so frustrating. I planned everything down to the exact hour, to make sure Iraq would be my 100th country, but now if I wasn't able to leave the airport in Turkey, the whole count would be disrupted! Iraq would become 99. Boo.
Lucky for me, tensions soon eased and there were reports of "limited" tourists visas being issued to Americans by Turkey. Of course the whole thing had to be a pain in the ass, requiring an actual personal visit to the Turkish Consulate in Los Angeles to submit my paperwork, passport and of course payment. But I live for stories like these, and honestly, it kinda makes the journey that much more rewarding, so I obliged, and days later I'd show up for my appointment at the Turkish Consulate on Wilshire Boulevard to ask nicely if I could please "come in" their country.
A quick note on the service at the consulate: I'd submitted my paperwork on a Friday (you have to leave your passport behind, with a prepaid envelope so they can send it back with your visa) and the very next day my passport was sitting in my mailbox. Meaning, they'd processed the visa and put it in the mail that very same day, which is extraordinary! Sadly, they got the dates wrong, so I had to send the passport back–this time I didn't have to physically drive there myself–and they corrected the dates and sent it right back to me. I was now "Turkey Approved!"
The irony of this whole thing, is just weeks later, they re-instated the simple eVisa system, allowing people to apply online and get instantly approved; no need to submit passports or photos, just type in your info and print out the eVisa, for a lot less cheaper, too! But alas, when it comes to booking travel, I have the patience of a two-year-old. I want things confirmed, now, so I can rest easy that everything is sorted.
Okay, on with the show! This trip seriously could not have come soon enough. I hadn't traveled internationally since Thanksgiving, and this journey would commence at the end of March; three months stateside was starting to give me island fever. The days leading up to this trip went just so excruciatingly slow–I couldn't contain myself–but finally, it was time.
I left work early that Wednesday to arrive at San Diego International Airport for a flight to San Francisco on United, where'd I'd board Turkish Airlines to Tbilisi, with that stop in Istanbul. It seriously felt like I was a kid going to Disneyland for the first time. Travel had became a drug for me, and the more I traveled, the more I needed to travel. I needed my fix; I was having some serious withdrawals!
Thankfully, my flights were on time and I made my connection in SFO. Soon I was soaring above downtown San Francisco on the way to Turkey, in my comfy business class seat, paid for with miles of course. I was on my way!
This was my first time flying Turkish Airlines, although just months ago, the company published one of my works in their in-flight magazine, which was such a thrill for me. I was happy to be trying out Turkish on this milestone of a trip and I thoroughly enjoyed the flight. The seats were comfy, the service was good, the food was delicious; but probably the nicest touch was their "candlelight dinner high above the clouds" presentation, which included a flickering candle (faux, of course) along with a delicious multi-course meal. Just that little sentiment (the candle) went a long way and made this journey feel extra special.
I ate, I watched movies, I slept. But chill time would soon be over. We'd landed in Istanbul, and the first stop on this whirlwind twelve-day, eight-country adventure had begun. My fast and furious travel mode had suddenly kicked into gear, as I passed through immigration and headed straight for the train(s) into town. I'd only have a few hours and needed to make the most of it.
It took two trains to get into town, but overall it wasn't too much of a hassle. I loved that the first train left directly from the airport, something that seems very common in so many other countries, but is rarely the case at home (USA). My carry-on (backpack) was with me, while my roller-bag was checked all the way to Tbilisi. I wore a light jacket, as the air was brisk. A little over an hour after I'd landed, I was exiting at my final stop and walking towards the Hagia Sophia.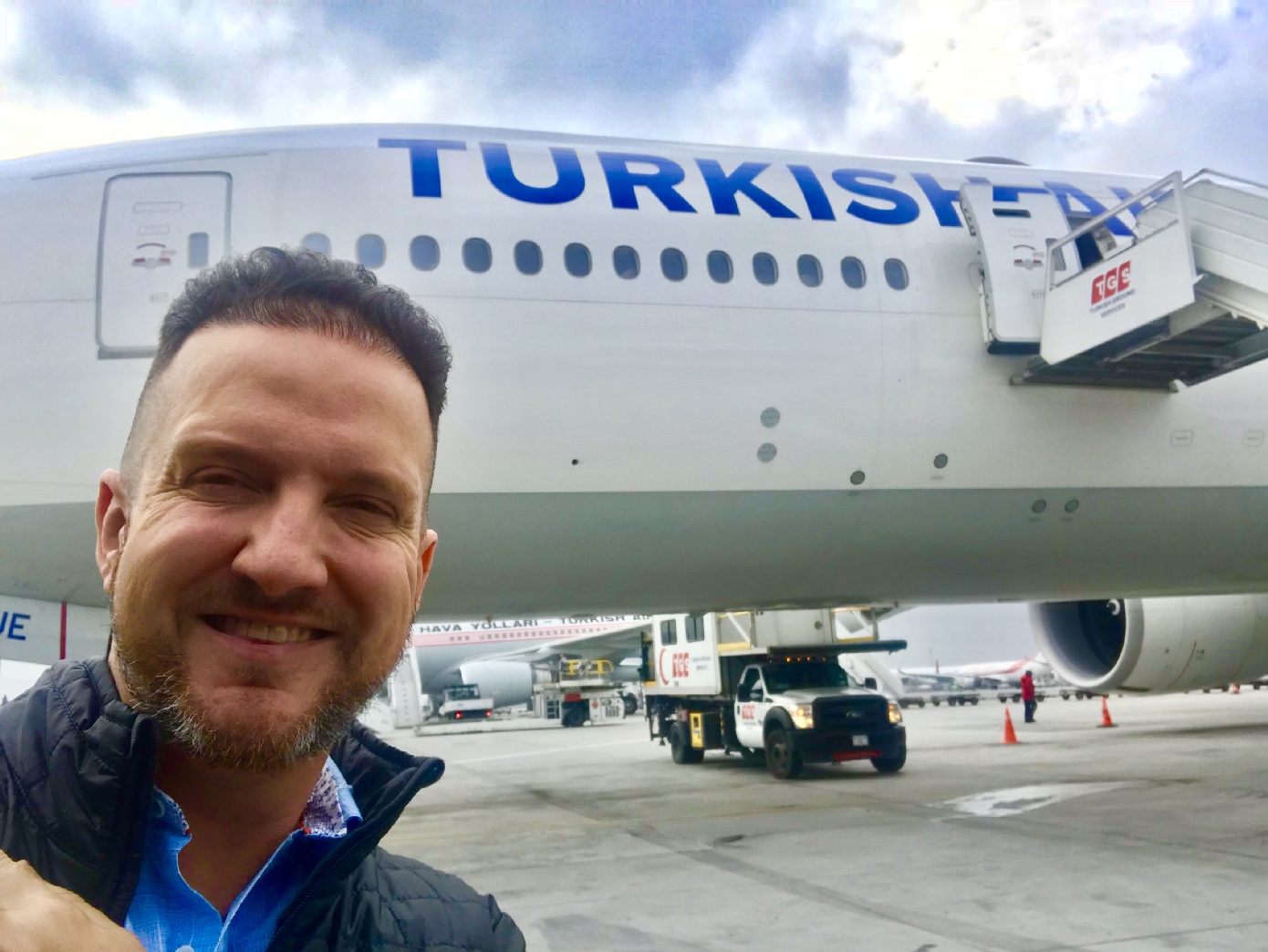 The museums were closing as I arrived, and the famous Blue Mosque was under renovation, but I didn't mind seeing both from the outside. Reports had told me that the last couple days in Istanbul had been very wet, so I was just thankful that this evening was dry. I meandered around town for an hour or so, trying not to trip over curbs and unlevel cobblestones. Between snapping pics on my phone, being a little drowsy from the overnight flight and being very excited for country #95, I don't think I was 100% "with it" at first, but soon acclimated.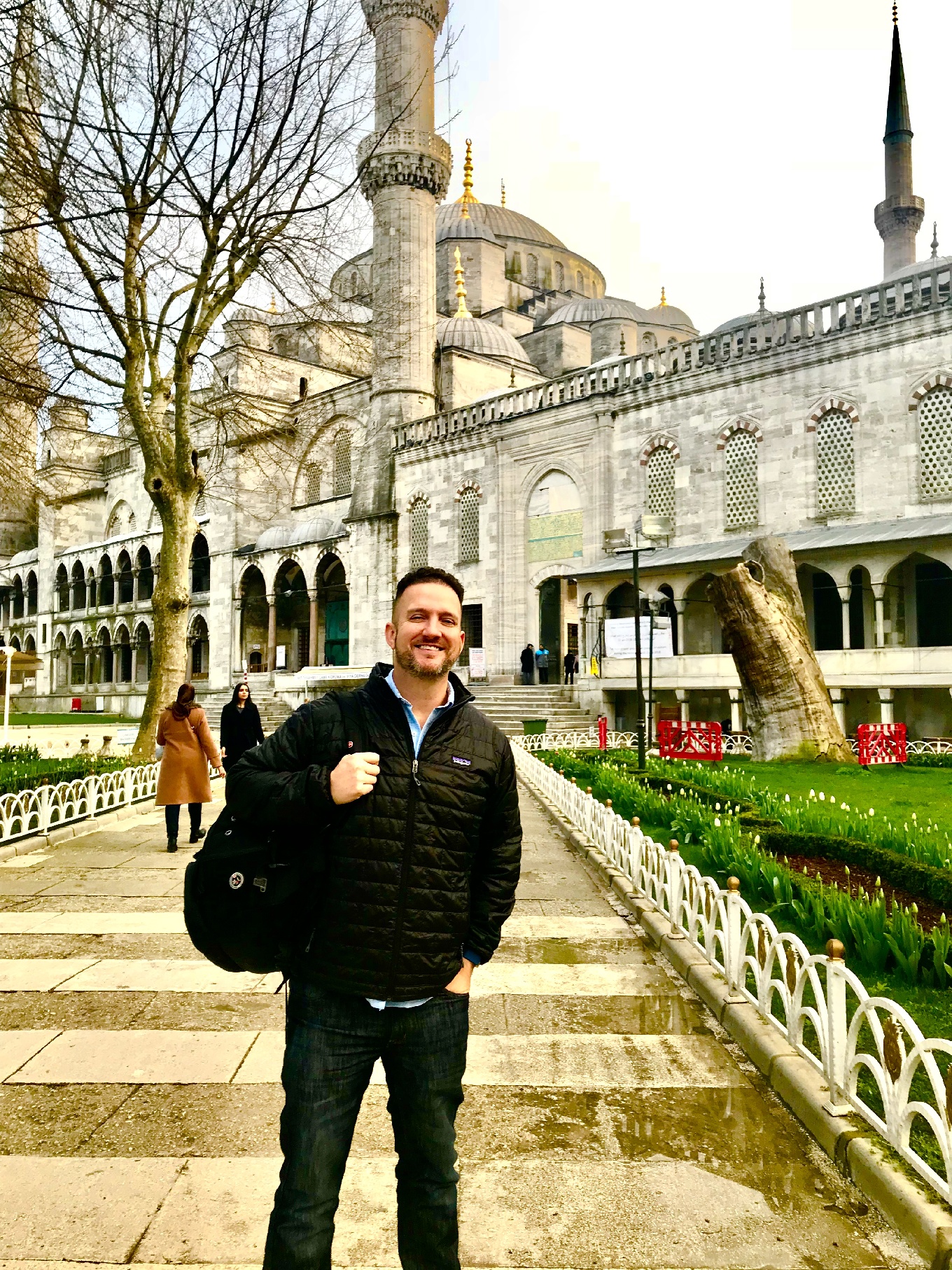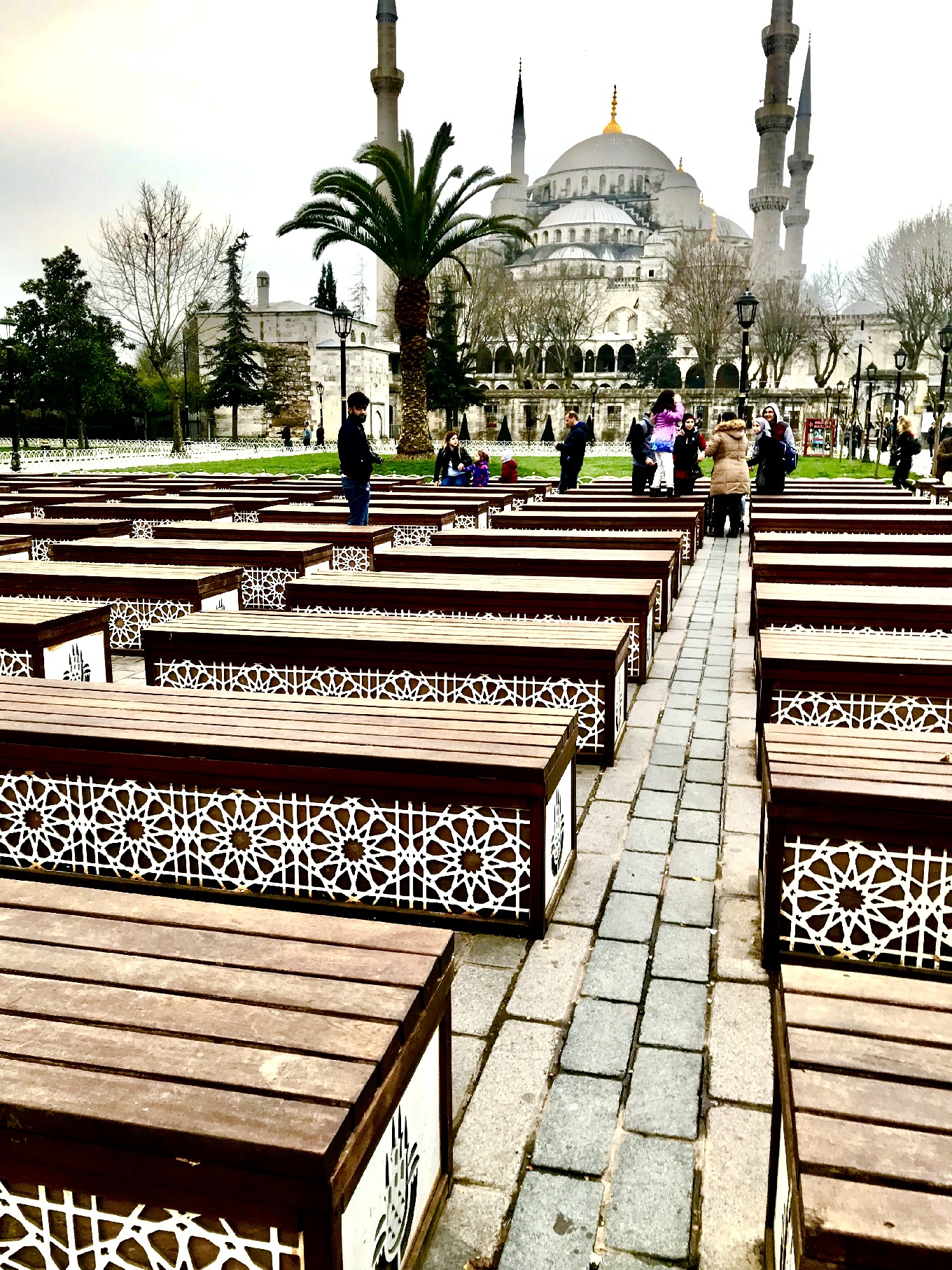 I usually travel solo, but on this complicated trip–which included some riskier destinations like Iran and Iraq–I'd meet up with fellow traveler Katelyn Jarvis in Istanbul to begin. We both grabbed dinner at a place called The Han. I ordered spinach and cheese Turkish Pancakes, sipped some mint tea and had my first taste of kanafeh for dessert. We sat on the floor, on top of pillows laid out over ornate Oriental rugs. This place was either super authentic, or a cheesy tourist trap; I couldn't call it. But I loved the food, and the service was excellent. After our meal the staff insisted we take a seat and relax while waiting for our Uber. Nice folks. I recommend the Han, and it's right there, in the middle of everything.
Sadly, I had but about seven minutes to enjoy the Turkish Airlines business lounge at IST; I'd heard it's one of the best. The multi-level club featured some far-out architecture and design and included a miniature race car (toy) track and a putting game. It's a shame I didn't have more time to enjoy it I'd have to board for Tbilisi.
I certainly look forward to coming back to Turkey to explore more of Istanbul (it has both a European and Asian side, straddling two continents) and to visit other towns like Bodrum and Cappodocia. I am by no means happy checking off Turkey with a simple layover, but I sure did make the most of my stop here. I hope you find some of this info helpful, and that it may sway you into leaving the airport next time you have to transfer through Istanbul.
NOTICE: This "Extreme Layover" took place at the old Istanbul (Atatürk) airport. Go HERE to read about my layover at the new airport.
This entry was posted in
Europe
,
Extreme Layovers