Preface
Africa is more than huge. It's humongous. It's an absolute behemoth for someone trying to visit every country on the continent. There are 54 of them! But despite the obvious challenges of time, distance and cost, there are a handful of countries in Africa that are either tough to get into as a foreigner, extremely dangerous, or both.
Take Libya, a nation without a unified government, that, until recently, simply did not issue tourist visas. My only way in was through a business visa as employee of Panasonic's West Africa division. Spoiler alert: I've never worked for Panasonic a day in my life, nor have I held any job in West Africa.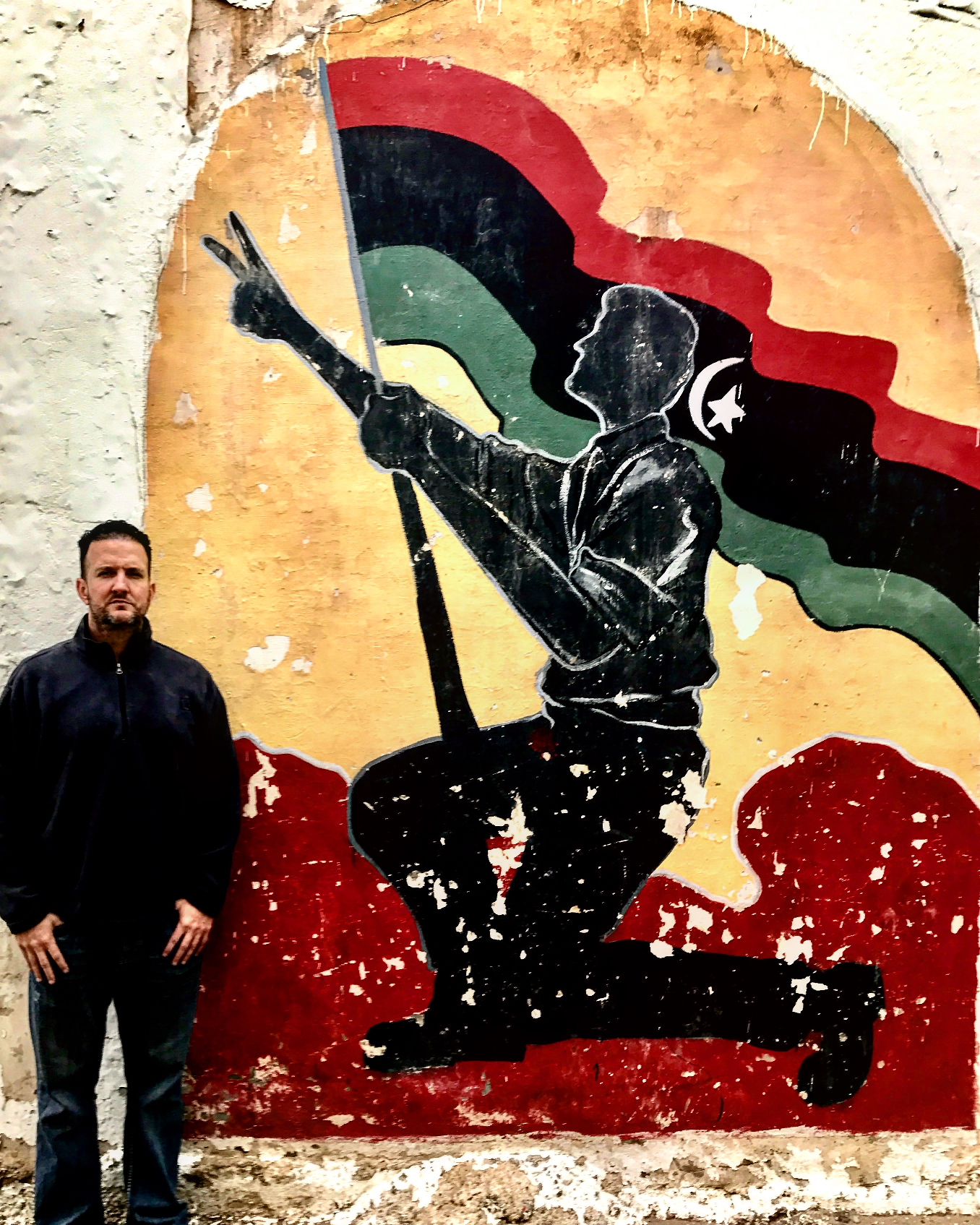 Equatorial Guinea (the only Spanish-speaking African nation) makes it extremely difficult and bureaucratic to get into for most (Americans exempt, thankfully). Dozens of other African nations require visas in advance: You have to physically send in your passport and docs to African embassies in Washington. And many of these nations require an invitation letter from your host – something not easy to get if you're coming in as a tourist with no local contacts. If you're lucky, your hotel will prepare such letter.
Then there's the downright dangerous places like South Sudan, a country I visited back in 2018, smack dab inside a civil war. Don't mind me – I'm just here to look around.
Perhaps the tensest travel in my globetrotting career was Mogadishu, Somalia, where bombs go off all over the place, frequently, courtesy of those fun-loving rascals from Al-Shabab. They even employ a network of young kids who act as informants, sending text messages back to base whenever they spot a foreigner in town. It was a wild 36 hours there, complete with my own armored car and six Kalashnikov-carrying bodyguards. Full disclosure, I actually loved visiting all of the aforementioned countries, Somalia being a place I'd really like to return to someday.
Aside from the danger, there is much beauty to be experienced in all of those places I mentioned.
 >>> RELATED: The More Balls Than Brains World Tour – My Most Dangerous Trips
There are many more "sketchy" and harder to visit places on the continent, including Central African Republic, Republic of Congo, Mali, Niger, Nigeria, Sudan, etc. Really, the "red" list is never-ending depending on who you ask. The U.S. State Department currently classifies six African nations as Level 4 "Do Not Travel" and another seven as Level 3 – "Reconsider Travel." But if I paid attention to those warnings, I'd miss half the world.
By the way, here's an amazing and super easy-to-digest breakdown of the African countries with warnings from The State Department. This is a great (and quick) read, and I recommend it: Business Insider's "The risk of traveling to every country in Africa, according to the US State Department." So worth skimming through, to give you an idea of the challenges across the continent.
I bring up all these "tough" countries as a preface to my Seychelles blog for a reason. I've noticed that most other travelers attempting to see every country in the world (there are dozens of us – I'm not the only crazy one) go for the easy ones first and leave the difficult countries for the end. That's natural I guess, but for me, I wanted to get the scary ones completely out of the way first, so I could then go on to enjoy the fruits of my labor at the more vacation-y and island-y destinations, like Seychelles, Maldives (Asia) and Mauritius.
So now you can fully understand the way I felt—the feeling of satisfaction and gratitude—as the boat pulled into the idyllic paradise that was La Digue Island in The Seychelles. I was now arriving at one of the most sought-after destinations for holiday travelers in the world and I'd waited for this moment for years. I'd not only take in this paradise for what it was, but I'd also take a good look back at the many uncomfortable and risky (albeit rewarding) African countries I've experienced and endured over the last five years on this crazy attempt to see every nation on the planet.
>>> RELATED: My Mission (Read THIS!)
The Journey
The Seychelles is by no means dangerous whatsoever, and with no visa required, entry was easy. What was a little challenging was getting there – it's just super far away. Add in a couple unforeseen circumstances, and I was lucky I made it there at all! The fun began at 7AM on the tarmac in San Diego with a broken plane. We sat on the runway for over an hour while they jump-started the engines due to a "stuck" valve. That didn't sound good. By the time I landed at JFK, my two-hour layover turned into just over an hour. I had to literally leave the airport building (completely exiting security) to get to a whole different terminal (and go through security again), barely making the flight to Paris. It was a real nail biter for sure and I'll spare you extra details about what a hassle getting on that connecting flight was.
My 11+-hour layover in Paris that was supposed to include lunch in town, turned into an airport stay because of a four-hour queue at immigration. What a disaster! It looked like the line to a Justin Bieber autograph signing at Wal-Mart. I imagined it could've been just as hard getting back in to the airport, so I took no chances and loitered inside the confines of the Air France lounge for the day. When all was said and done, two days later I was landing in Mahé, Seychelles to begin four awesome days on a tiny island. It would definitely be worth it.
From Mahé, I took the CatCocos ferry to La Digue Island. The boat departed three hours after I'd landed and the ride over took about 90 minutes. I would've enjoyed it more if I hadn't been traveling for two days straight. At this point, I was just tired of "moving." I needed to be stationary for bit. I was not of sound mind and body at this point and would've probably bought into a time share if it included a nap on a real bed right there and now.
RAMBLIN' TIP: Jokes aside, please never buy a time share!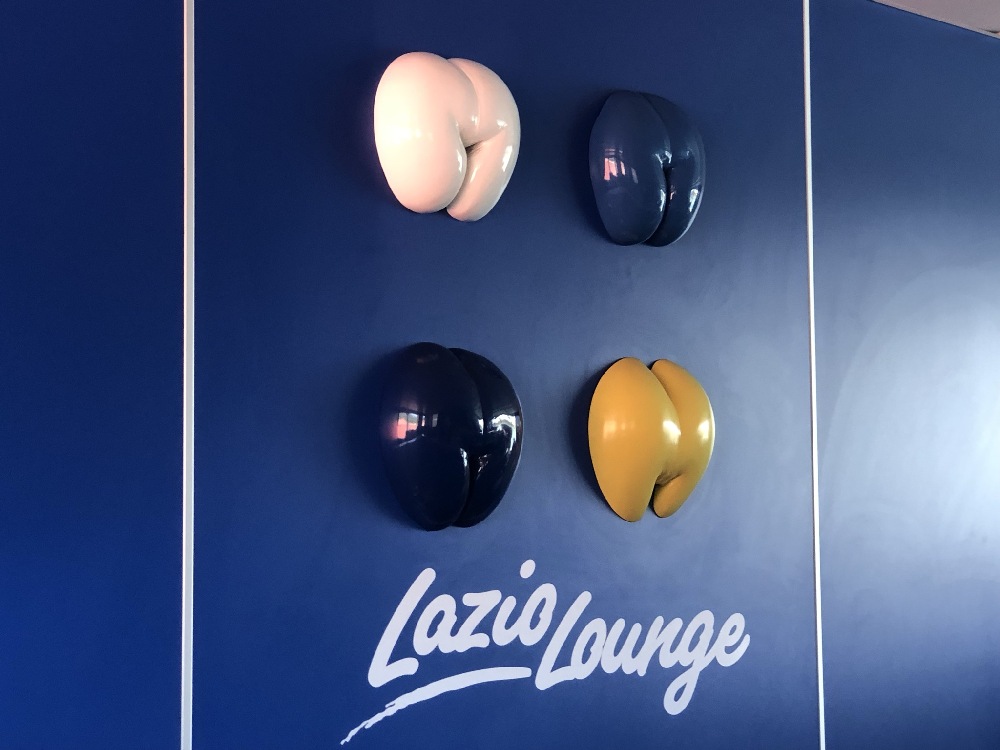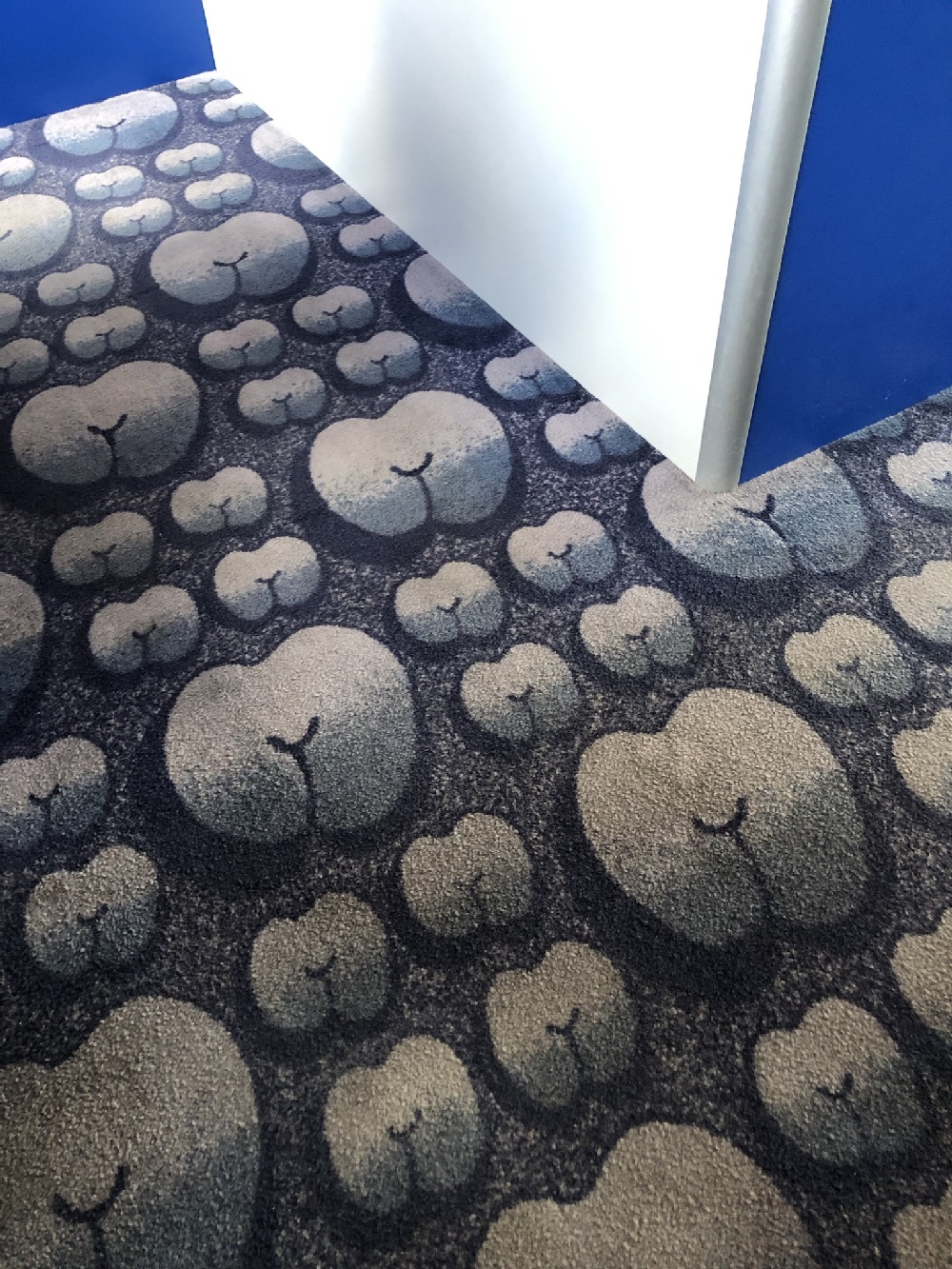 Night Moves
I wasted away my first afternoon on La Digue in a deep slumber – my body and mind needed it. It was while trying to go back to sleep at a little after midnight when I heard a tiny rustle in my room. I lay perfectly still to see if I could figure out where it was coming from. When I'd narrowed it down, I quietly sat up and turned on my phone's flashlight to catch a mouse sitting on top of my room's wastebasket. By the time a maintenance worker arrived to get it out of there, the little guy had made his escape through a hole in wall behind the headboard – at least, I'd hoped he did. It was quite difficult to go back to sleep, wondering if the little bastard was hiding somewhere inside the bed frame. I wouldn't put it past him and slept extremely lightly with fears of a rodent climbing up my pajama leg.
Shortly after sunrise I walked into the center of town to find a new hotel. My search was successful, and to my surprise, that first hotel refunded all of my money: $1,500 for three nights, including the one night I did sleep there. The assistant manager was very empathetic and responsive, so it would be wrong of me to shame them publicly here – but I will say for the price ($500 a night), the place was very run down and dirty. Such a shame.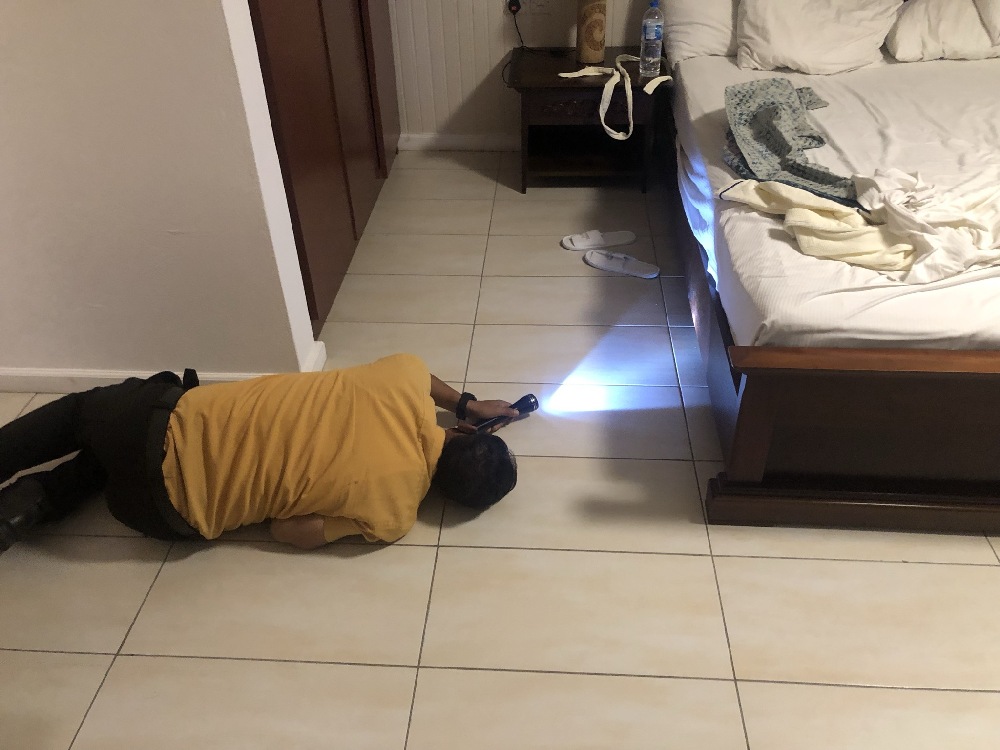 The Winner
There aren't many super nice places in La Digue, simply because of its size. And after my first error in picking a hotel, I wanted to be absolutely sure about my next spot. I couldn't miss another night of sleep in a clean location and photos online can be so misleading. Luckily I was already here and could physically "inspect" any room before making a decision. The three ultra nice/fancy/expensive resorts were sold out, but luckily a charming little boutique hotel called Le Repaire had one room left.
The property was night and day compared to the last – immaculate, really. Le Repaire was either brand new, or just really kept up well. The room was spotless, without so much as a scuff on the wall, with modern décor and fixtures. I grabbed a deluxe room on the second floor with a nice-sized patio that looked out over the pool, the patio-restaurant and the beach. Renny at the reception was just super-friendly and helpful as well. And while this place certainly wasn't "cheap," ($357 a night), it was noticeably less expensive than the dump I'd just left. I'd actually save money staying at the nicer place, go figure! And finally, their indoor/outdoor restaurant downstairs was just perfect – great food and friendly servers (shout out to Dylan from South Africa). I watched brightly colored orange birds hunt for crumbs while enjoying my meals and the gentle sea breeze. I was not paid, comp'd or compensated in any way by the hotel to write any of this – I was just really impressed with everything about Le Repaire and absolutely recommend it. I stayed in the Voultenye room, by the way, in case you want to book the same room. (The rooms are all named, not numbered). You can book a room at Le Repaire HERE.
I'm an Island Boy
The next three days at La Digue were just lovely, without too many stories to tell. It was just the type of uneventful island relaxation that I needed, and that I receive so rarely. I rented a bicycle for two days and enjoyed riding around on the few roads that existed on the island. I probably saw less than five cars the entire time, not counting the open-air shuttles, vans and golf-carts some of the hotels use to transfer guests to and from the jetty among other places. There are no stoplights on this tiny 10-square kilometer island. Most of the land is thick, lush jungle that steeply towers above the shores, like a giant wall of green. There were groupings of enormous, tropical spiders with long, striped legs, congregating on massive webs strung between power lines on the road. I think I would have had a stroke if I ran into one! Luckily, no close encounters with the spiders on this trip. I'd take 20 mice in my hotel room over one of those evil spiders.
You'd miss downtown La Digue if you blinked. It was the definition of quaint, with a few restaurants and mini-markets, a post office, bicycle rental lot, bakery and an Italian (imported foods) shop. The jetty, dock and respective office was also right there on Main Street.
My favorite restaurant and place for cool drinks was called Fish Trap Restaurant. It has a great island vibe, with tables just feet from the calm waters ahead and a really fun menu. The cherry soda with vanilla, ginger and mint leaves was my favorite. I chose the octopus curry for lunch and was not disappointed.
I enjoyed watching the island's rush hour commute: a mix of locals and European tourists on bicycles. Loud car horns were replaced with the gentle rings of bike bells. Speaking of bicycles, I asked the hotel manager if it was okay to leave my bike unattended on the island – it did not come with a lock. He assured me it'd be fine anywhere. La Digue had a Mayberry-like quality about it and I took it all in.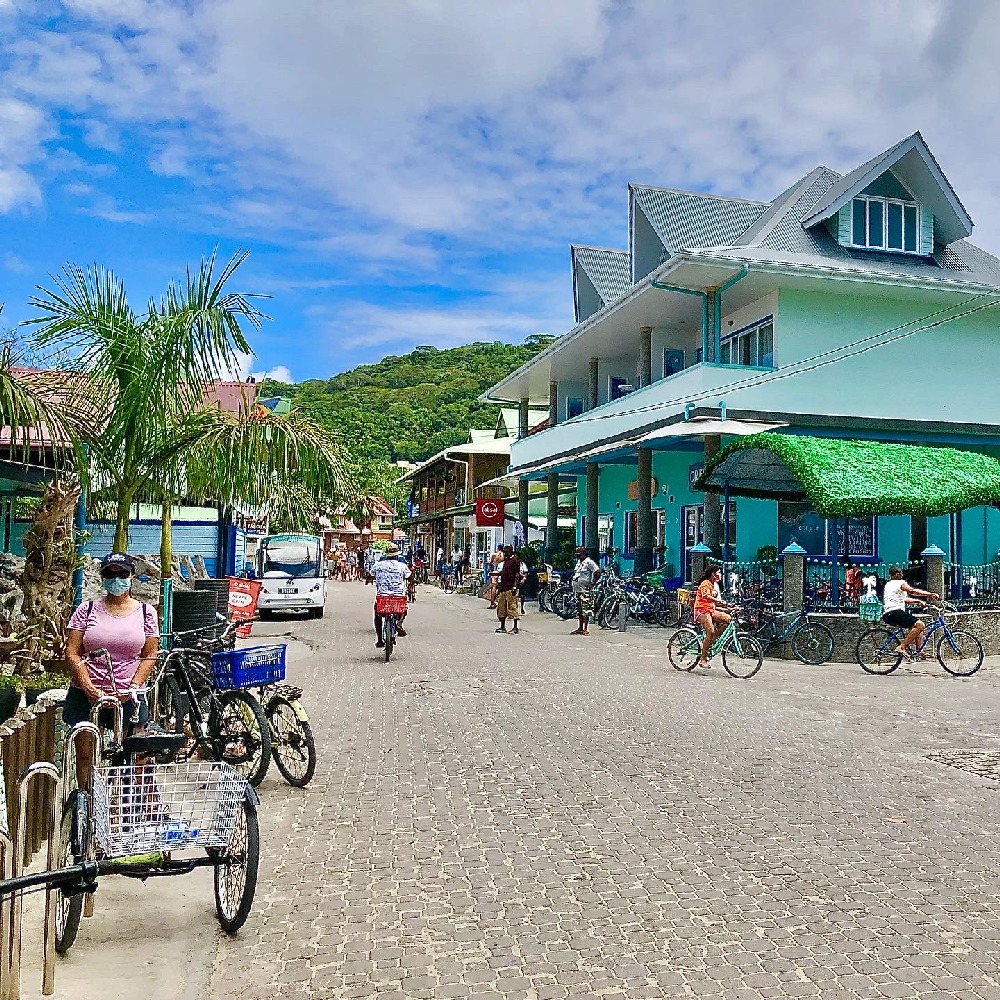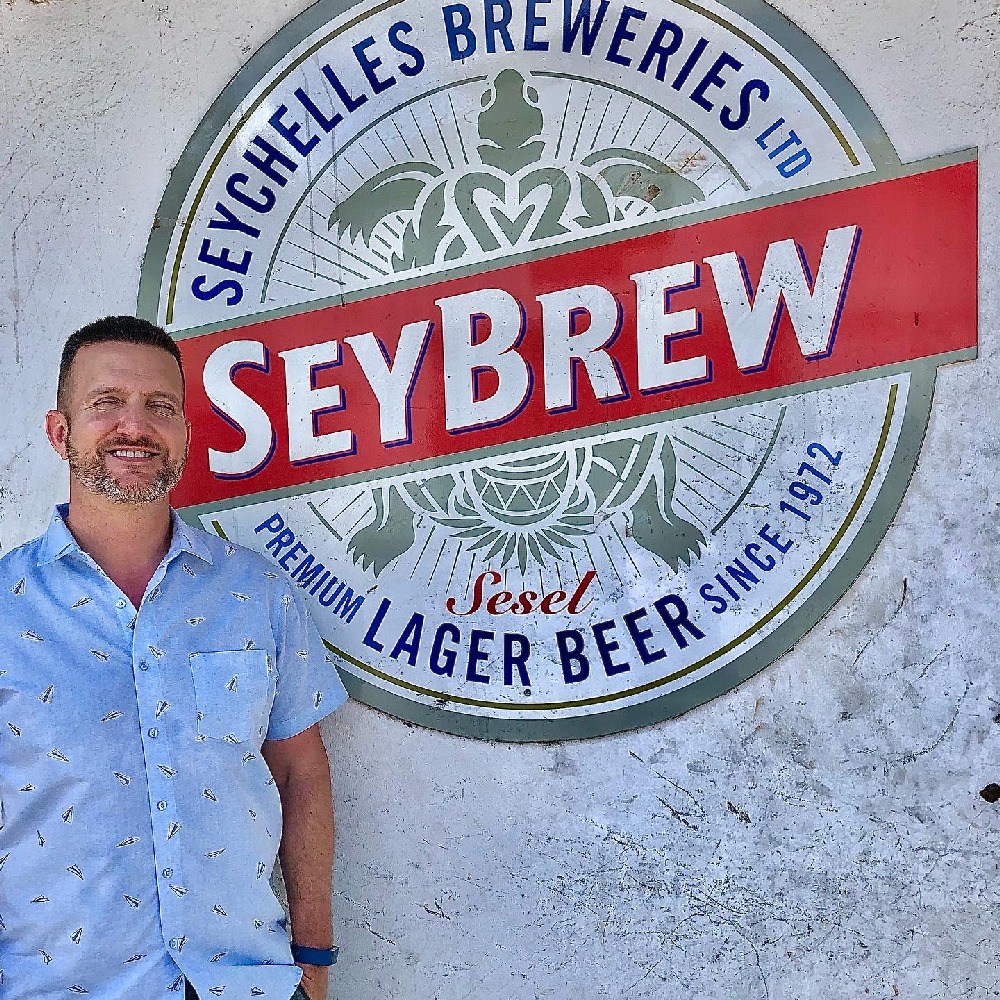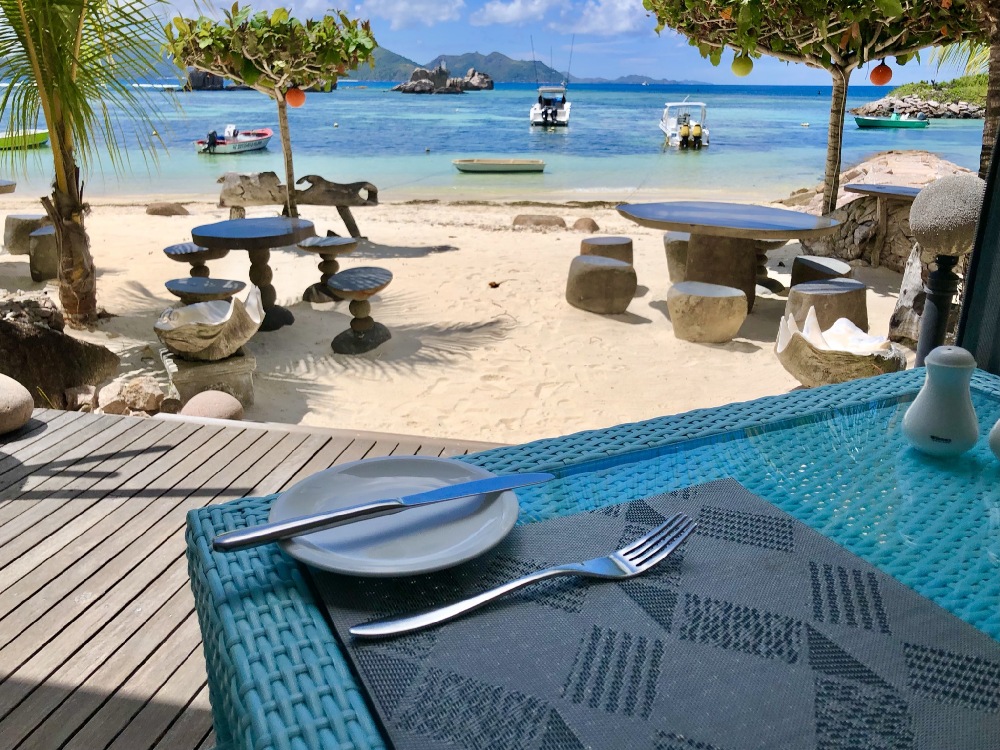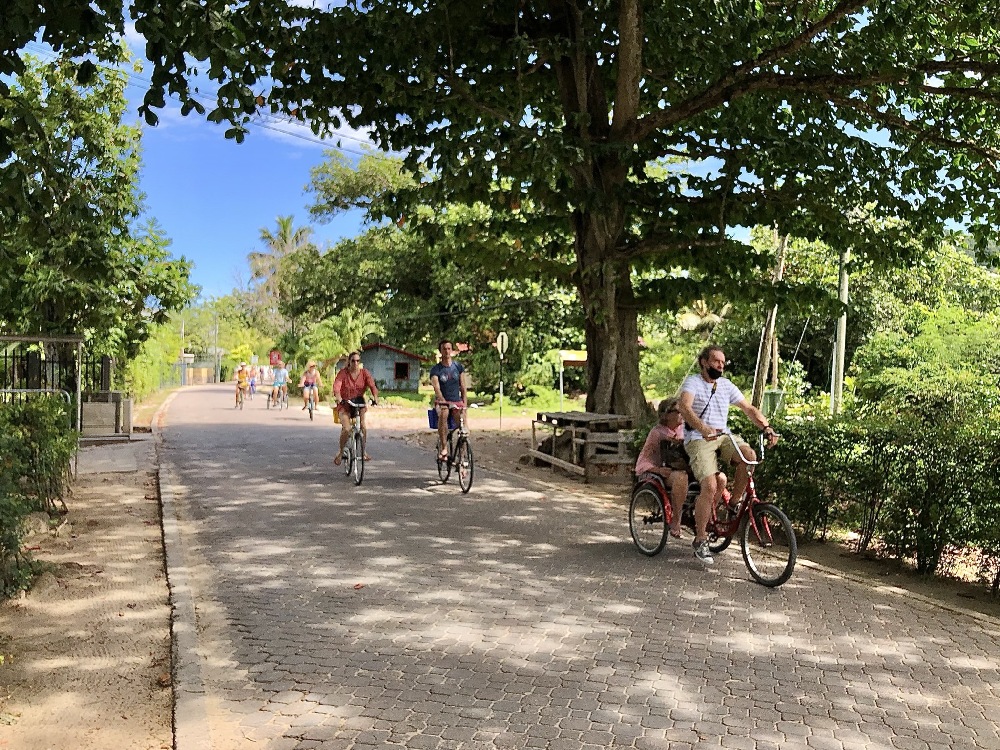 RAMBLIN' TIP: If you rent a bike in La Digue (and I don't see why you wouldn't) – pick a beach cruiser vs. a mountain bike. They are much more comfortable! Better yet, do some intel before you arrive and reserve an eBike or eTrike. I saw a few of them on the island an immediately wished I'd secured one.
Beach-Beat
No doubt, The Seychelles has some amazing beaches, all within reach by bike. Source d'Argent with those giant boulders is absolutely stunning and like no place I've ever visited. There were a lot of rocks in the water, so it wasn't great for swimming, but definitely a must-stop.
My favorite beach, a recommendation from Dylan at Le Repaire, was Grande Andse Beach. Getting there was half the fun: a bike ride straight across (not around) the island. I rode the well-maintained concrete path most of the way, passing some residential neighborhoods and a few guesthouses, before the windy road really got a little steep and put me right in the middle of the jungle. The final stretch was a dirt/mud path, but I had no problems on the bike. Before I knew it, I'd poked my head through the opening of greenery to walk out onto the type of beach you'd see in a movie. A large bay with white sand and some of the most gorgeous and clear sea water I've ever seen. I could've stayed all day at Grande Anse, but hours later when I felt the sunburn setting in, I knew I should probably wrap it up.
Sadly, I couldn't find a couple other spots on the map. The trail there got smaller and smaller—I could barely fit my bike through the brush—and then the path completely disappeared into a dead-end marsh. Later that night at the hotel, Dylan explained the turn-off on the trail is easy to miss. I'll try again next visit – there are some snorkeling spots I wanted to get to.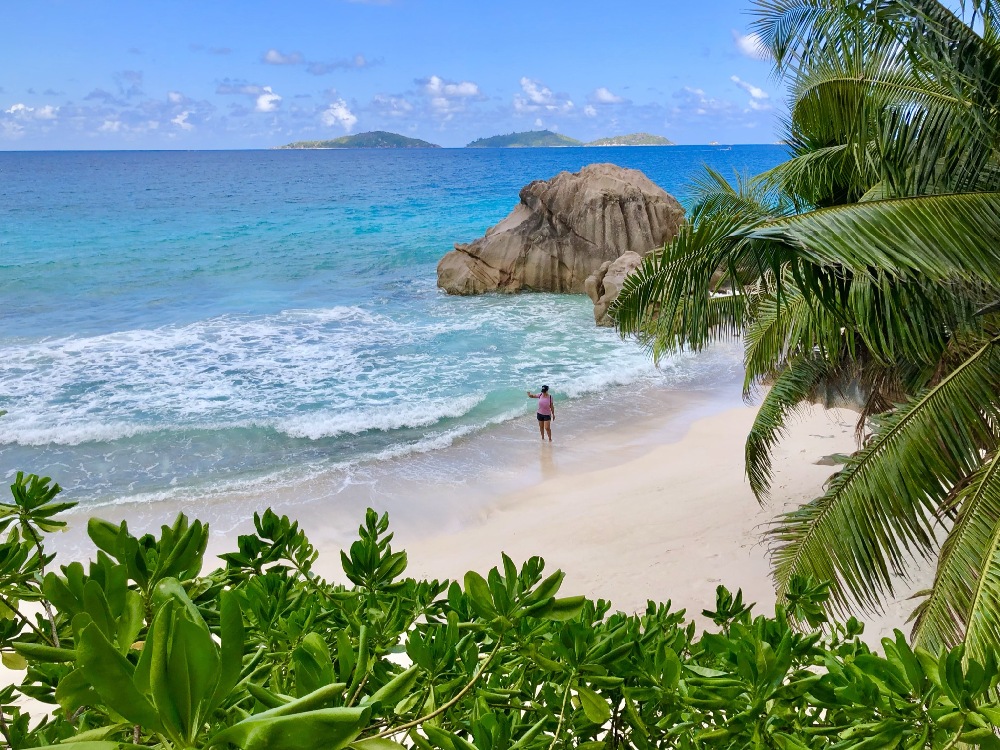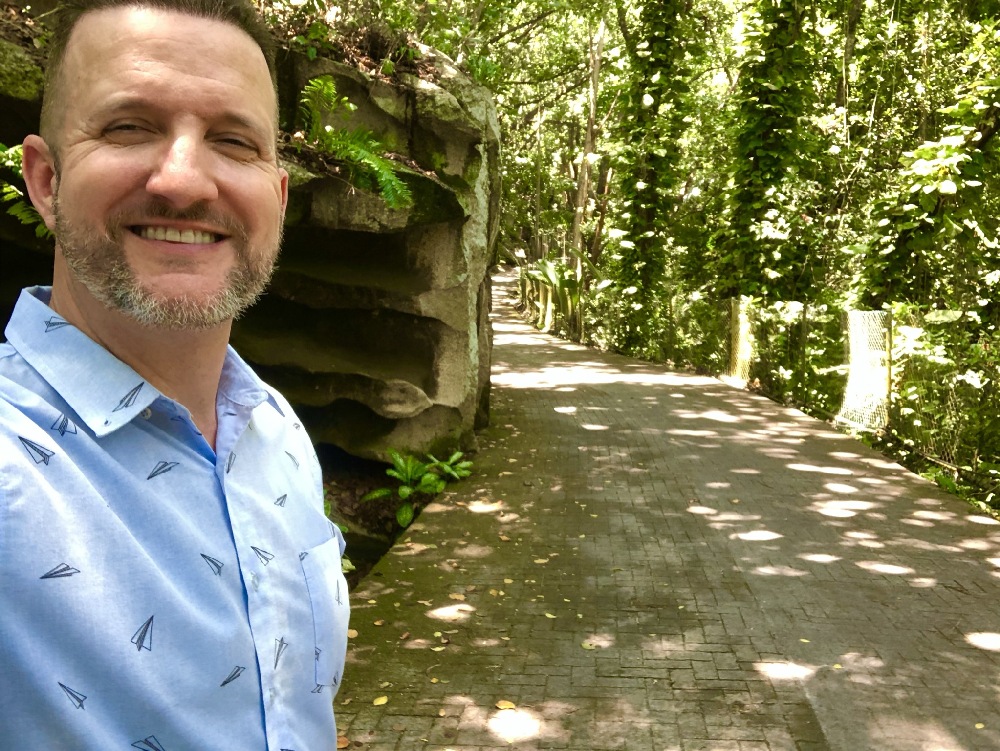 Hey Ma, I'm in Mahė!
I spent my last two nights in the capital of Victoria on the main island of Mahé. Victoria holds the title as "Smallest African Capital" and I certainly understood why. I absolutely adored this city, which is more of a town – and a small one at that. Victoria is a grouping of buildings bunched up together and squeezed in between the shore and towering green hills in all the other directions. What I found most odd about Victoria, was its lack of hotels. There were only a couple to choose from online, and only one of them was even close to the center. And zero chain hotels: not one Holiday Inn or Hyatt. My only guess is that most visitors to The Seychelles come to stay at beach resorts far away from the capital. But still, I figured there would at least be one big hotel downtown for business visitors. Super strange.
I ended up renting a full apartment. The Quadrant Luxury Apartments were right in the center and I couldn't have picked a better place. After the disaster at that first resort in La Digue, I arrived in Victoria hoping and praying that this apartment wouldn't be a dump. Thankfully, not only was it absolutely immaculate, but it was spacious, modern and just so darn comfortable. The flat was on the fourth floor of a big yellow building in the center of town, with commercial units on the ground floor and offices on the second and third. The unit was just perfect, and included a full kitchen, living room and big patio with views of the town and sea. The building's manager (or owner?) Clara was a delight.
RAMBLIN' TIP: Book an awesome apartment at The Quadrant HERE.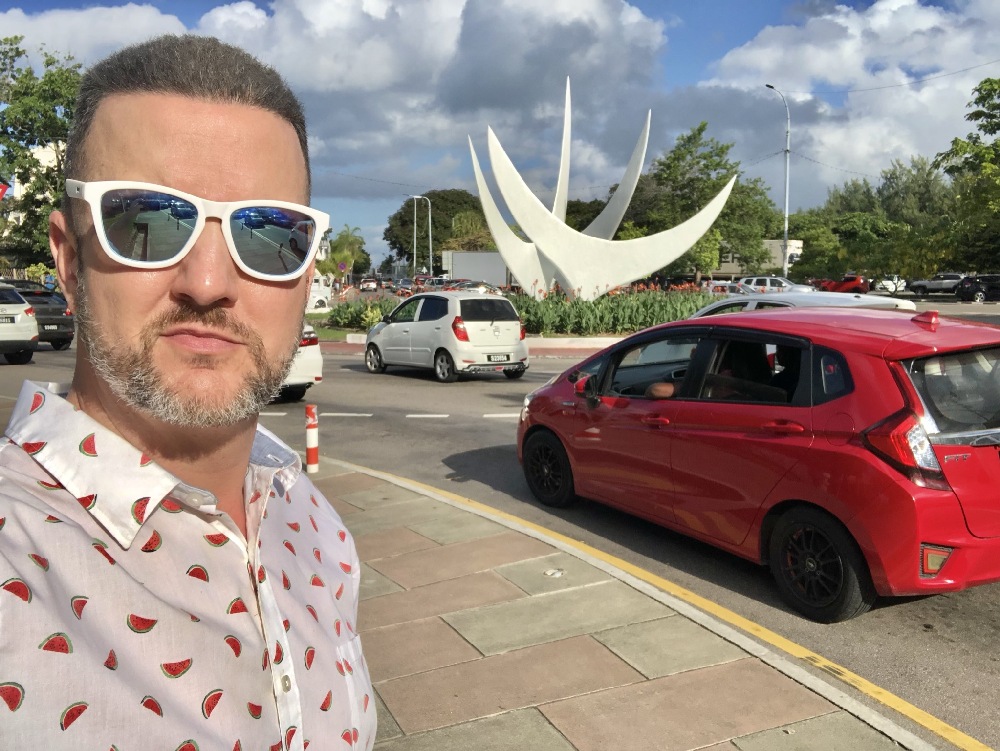 Man About Town
I thoroughly enjoyed my 36 hours in town. Victoria was extremely easy to walk. Its geography was interesting: Residents (and visitors) walked in and out of private lots, over little bridges and through parking garages to get to where they were going. Even a staff member at the apartment gave me directions to the supermarket by pointing down at a building and instructing me to follow the people passing through its doors to get the other side. Super interesting.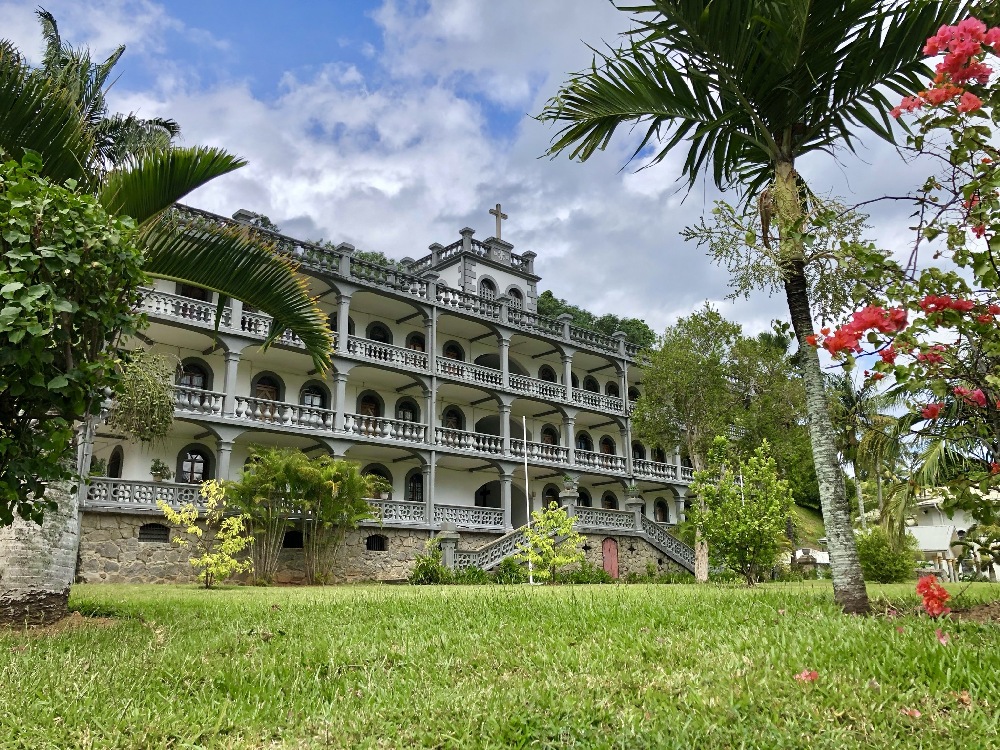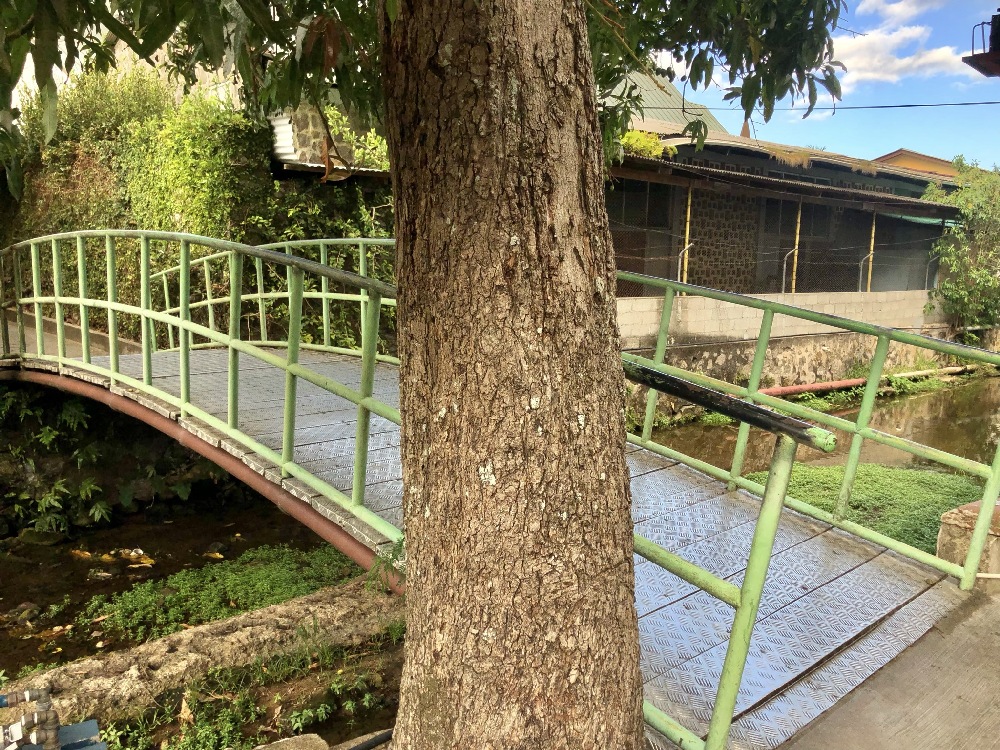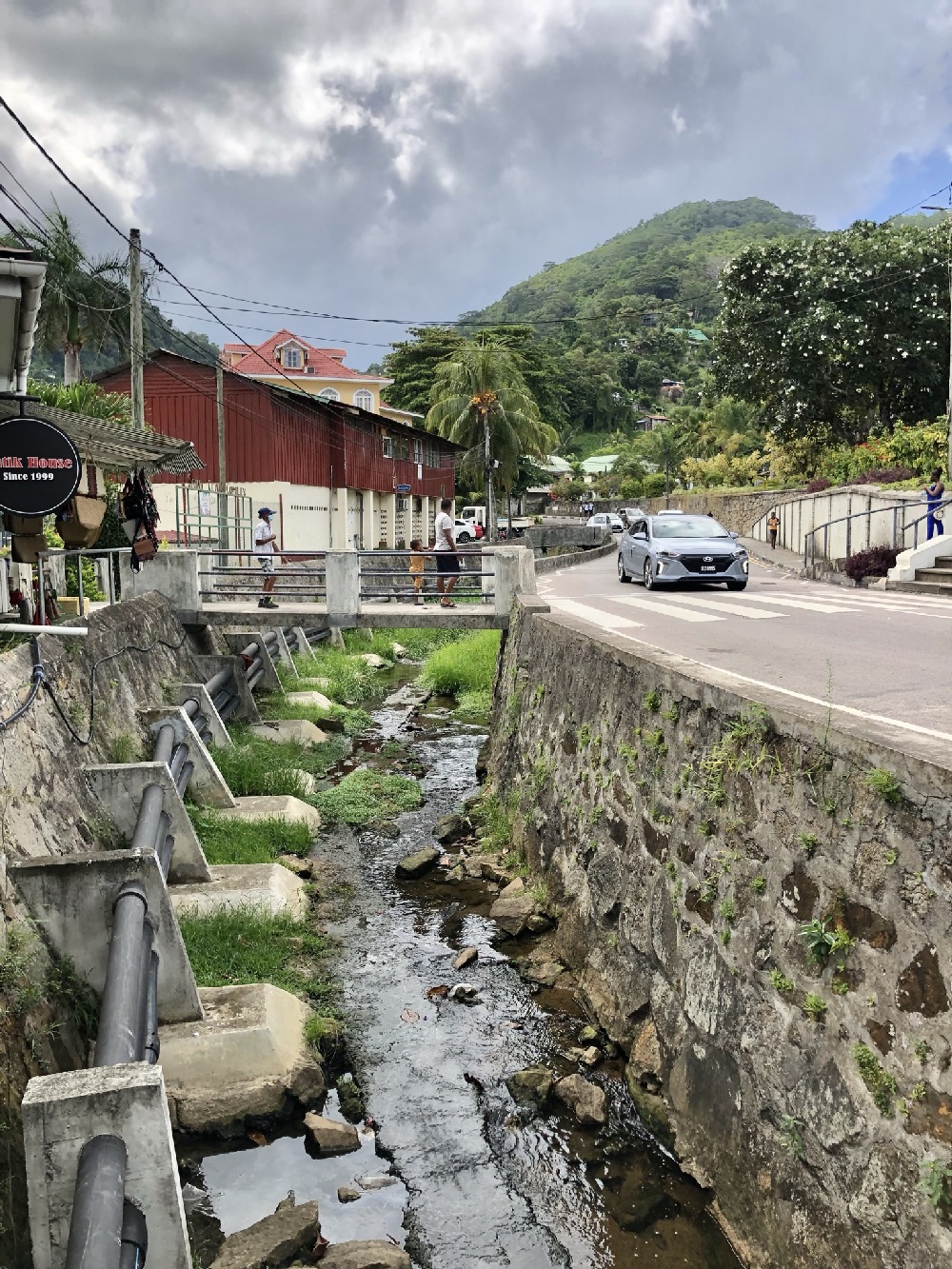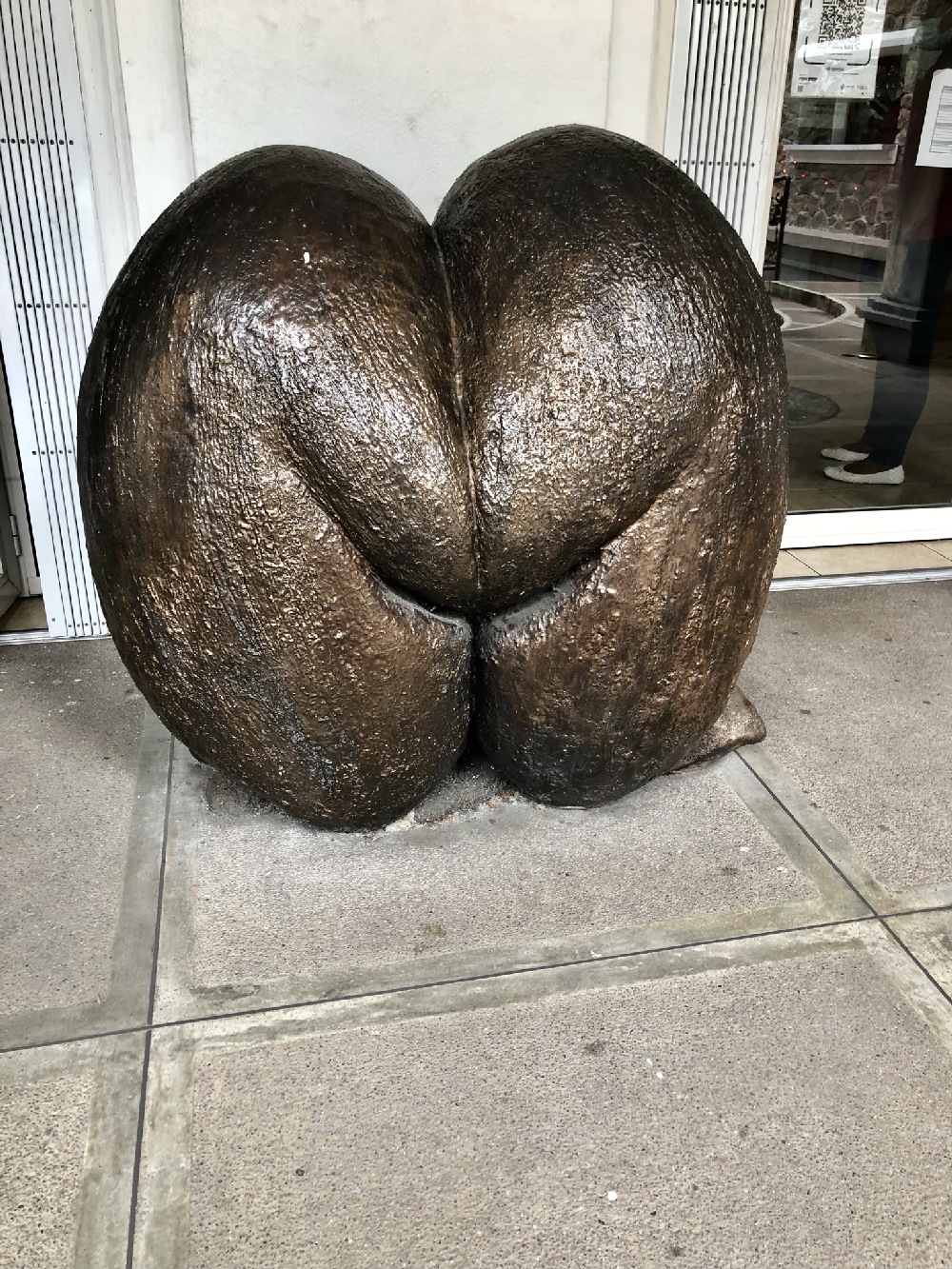 Diners, Drive-Ins and Dives
Like the lack of hotels, restaurants seemed scarce too. It was hard to believe that this capital city was without a McDonalds or KFC – not that I was looking for one, but I found it strange they didn't exist here. In my time here, I only encountered two or three places that looked inviting. I was recommended Dolce Vita by Clara and it was a fantastic pick. The Italian-owned café featured a robust menu of Italian, American and local dishes. I enjoyed my second plate of octopus curry the first day and a delicious pizza the second night. I inhaled the best cherry milkshake I've ever had. Dolce Vita was a winner. I'm sure there are other nice places, but I lacked the time to find and try them.
Supermarket Sweep
I enjoyed a trip through the market, a visit to the famous Victoria Clock Tower and into a souvenir shop for gifts. The supermarket was fun to browse also. Victoria was super chill and super clean. The people were pleasant and the weather was just divine. Mark down Victoria on the list of places I'd runaway to if I ever needed to up and disappear. It's a nice city and I recommend you stay for at least a night when you come to The Seychelles.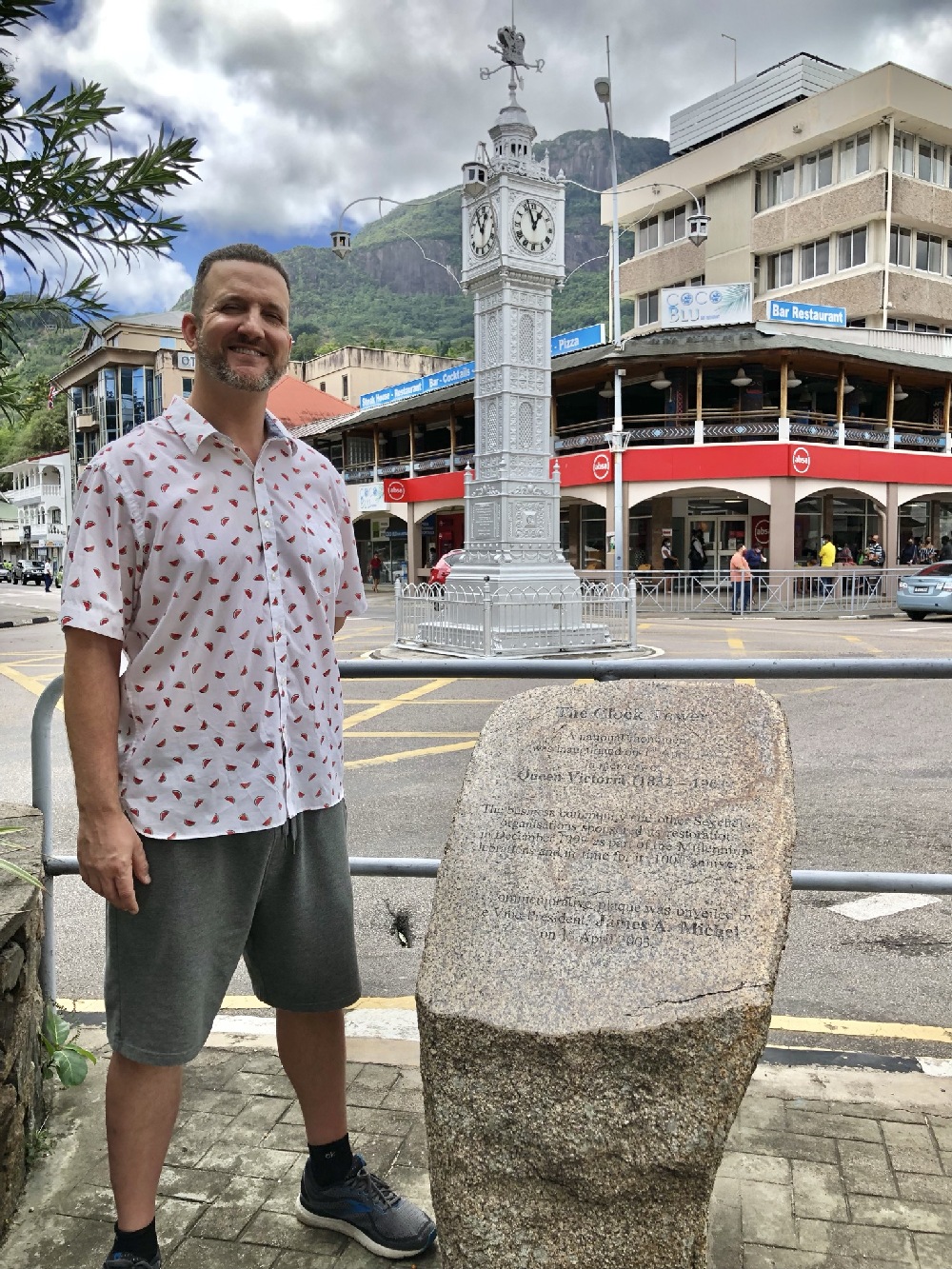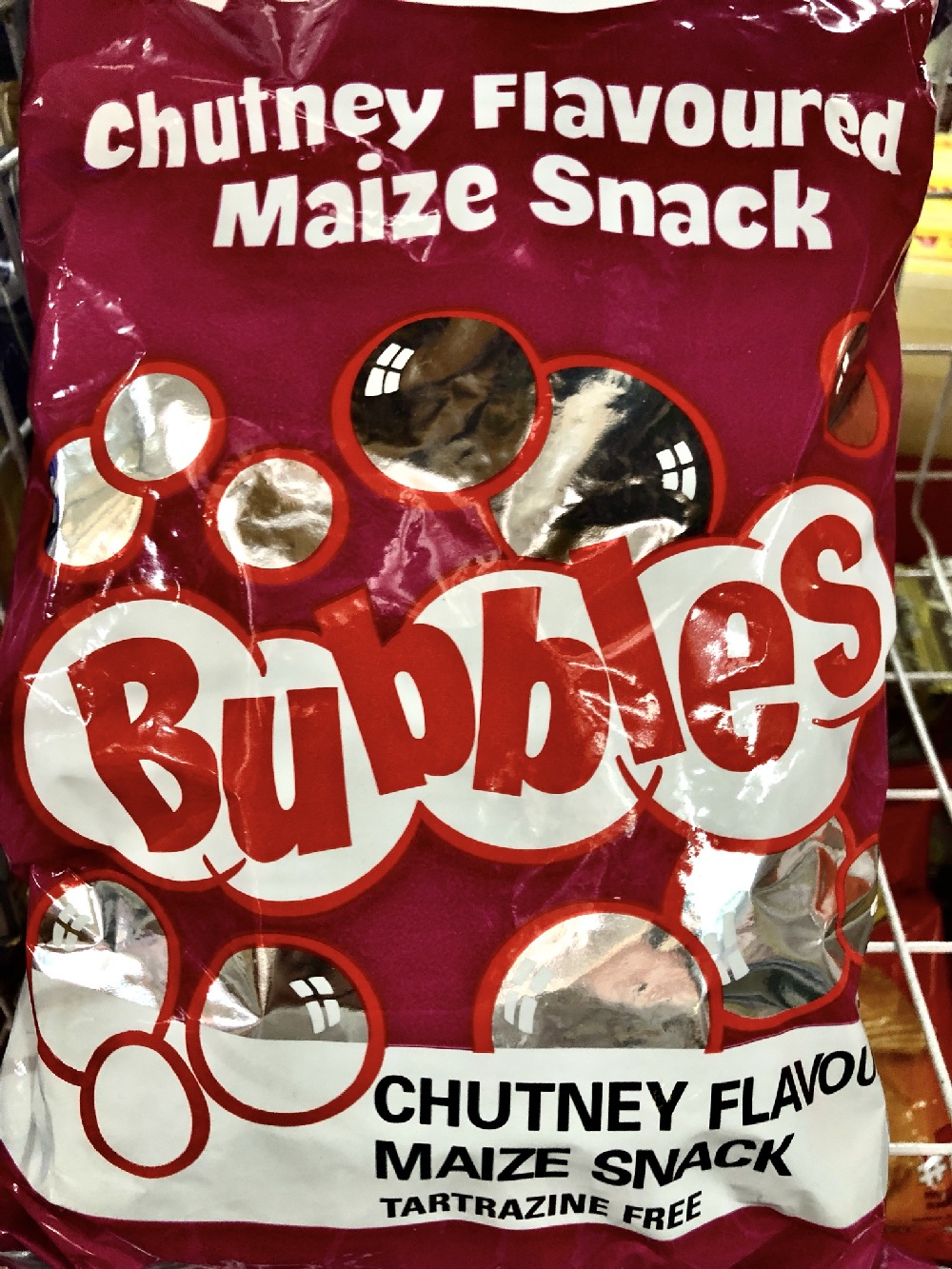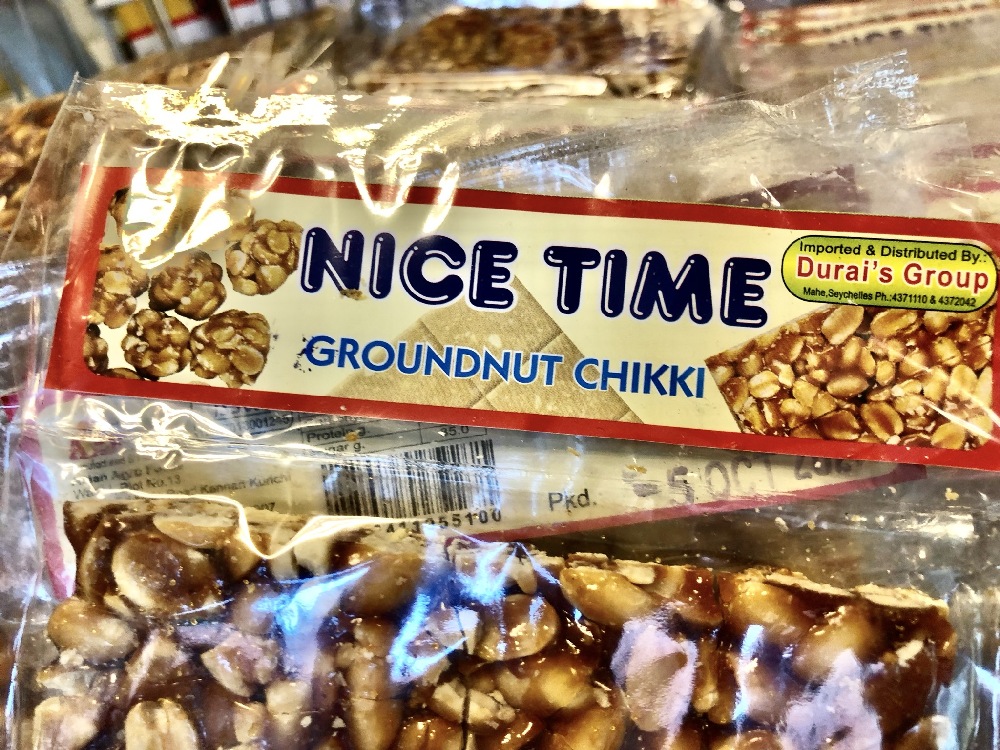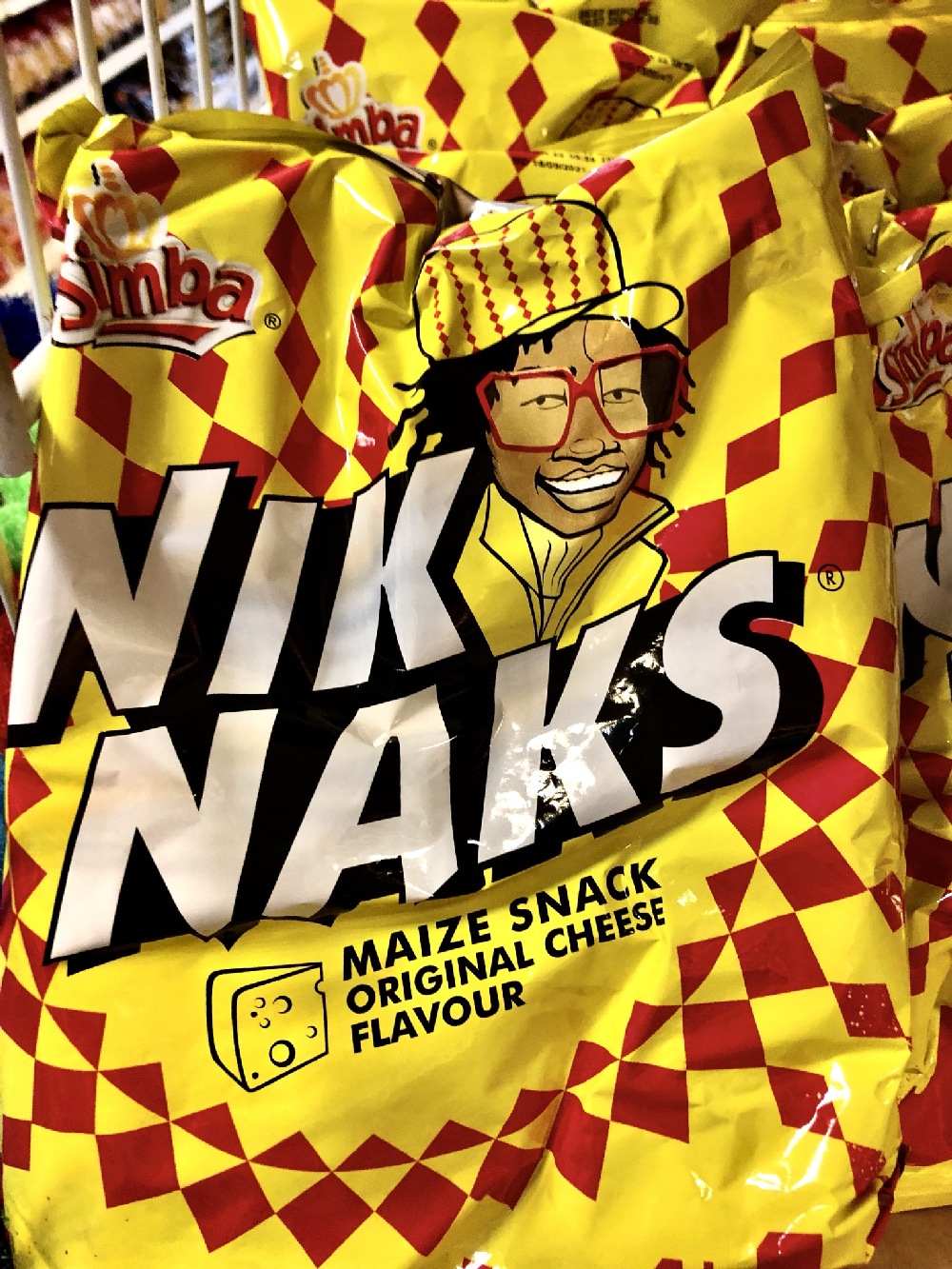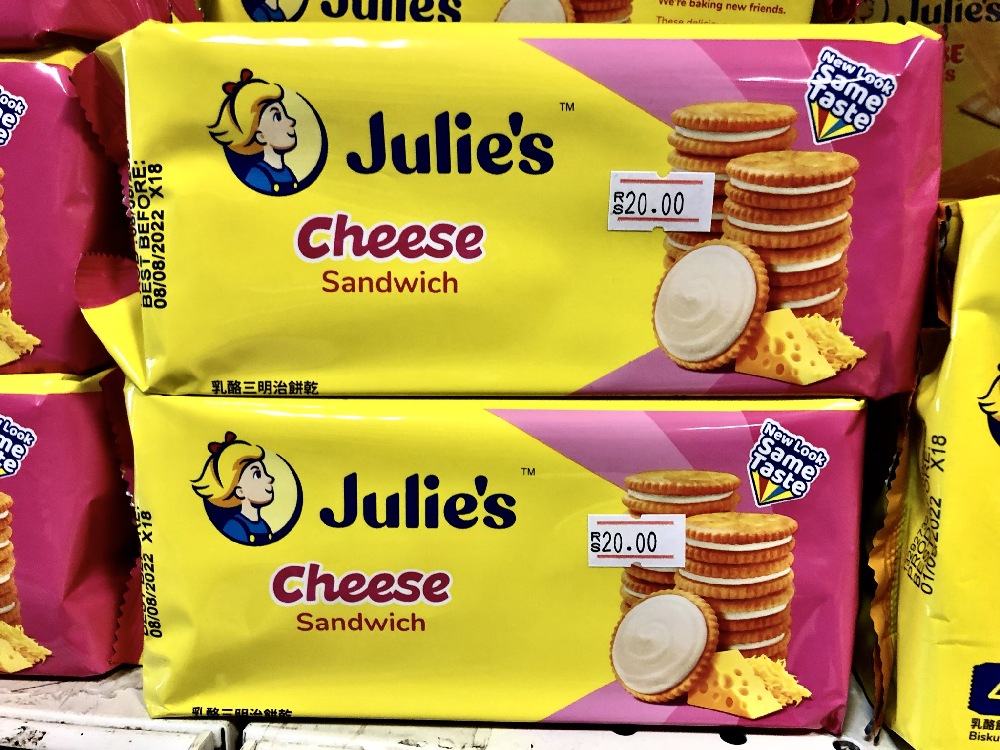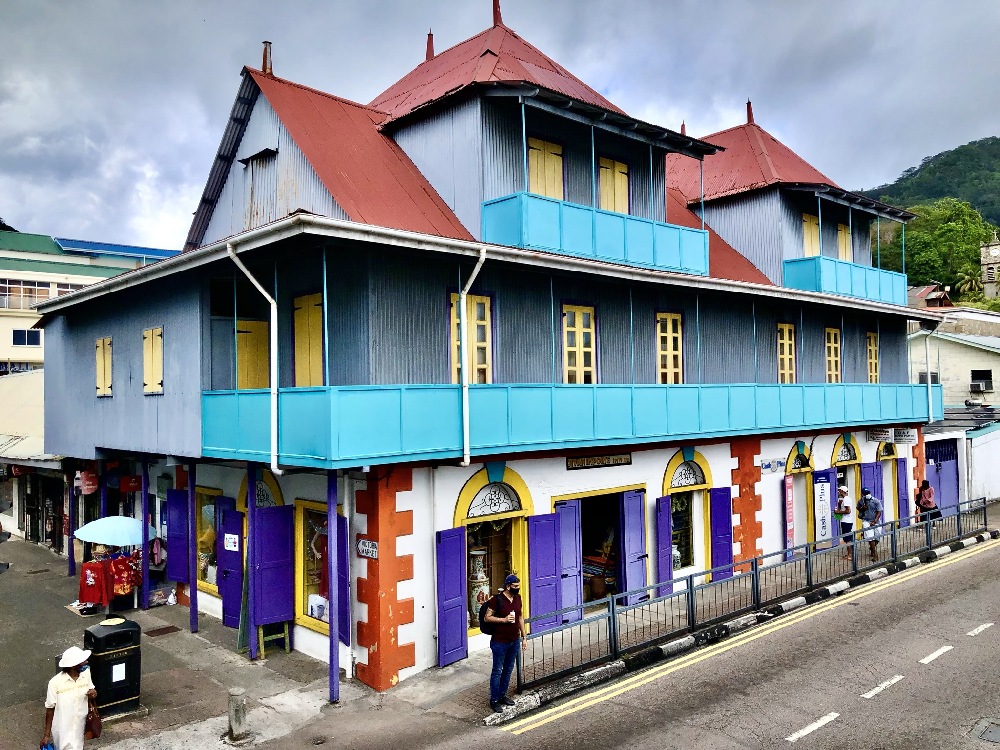 So-Long Sey-Chelles
A reader commented on my social media: "You usually stay in countries one or two nights – but I notice you're in the Seychelles for much longer." This was both by design and due to the lack of flights. I can't remember the last time I stayed in one country for five whole nights! I've probably done this only three of four times and I've now been to 171 countries! But this a place definitely worth of a slower pace. I didn't brave Haiti, Somalia, Venezuela and the dozens of other Level 4 countries just to rush through a paradise like Seychelles. Truth be told, had the flight schedules been a little more friendly, I would've probably stayed just three nights. My Tuesday morning flight to Mauritius even got pushed back a day, giving me five nights instead of my original four on the itinerary. But I didn't mind. In fact, a few times I even dreamt of getting stuck here. The Omicron variant was discovered while I was in The Seychelles and I'd be lying if I said I didn't secretly wish Biden would've banned all Americans in Africa from returning home until the new year. I would've happily complied!
This entry was posted in
Africa