Nepal? No, Pal.
I've never wanted to leave a place quicker than this. Even before returning to the hotel from my initial, introductory "walk around the neighborhood," I'd conceded defeat. I wanted outta here on the next flight. There's no way I could remain here for three whole nights and not have a sour attitude.
Hello Moto
My biggest complaint about Kathmandu was the motorcycles. Not that I have anything against bikes, I just don't particularly enjoy walking among thousands of them. It was hard for me to grasp why the narrow (what I thought were pedestrian) passages of old Kathmandu were filled with gobs of loud, obnoxious motorcycles among the crowds of people on foot. Guys, one or the other, please: Either it's a street or a sidewalk, please pick one! I realize I probably sound like an arrogant, ignorant and privileged American; and that I should know that "streets in old cities are narrow, dumbass, that's just the way it is." And yes, I totally get that. However, 138 countries in and I have never been so frustrated in my life taking a walk; I've never seen so many motorcycles mixed in with so many pedestrians, in such cramped quarters. It seemed at any time you were going to get clipped in the back (or the front) by a motorcycle driving among the crowds. What's fun about that?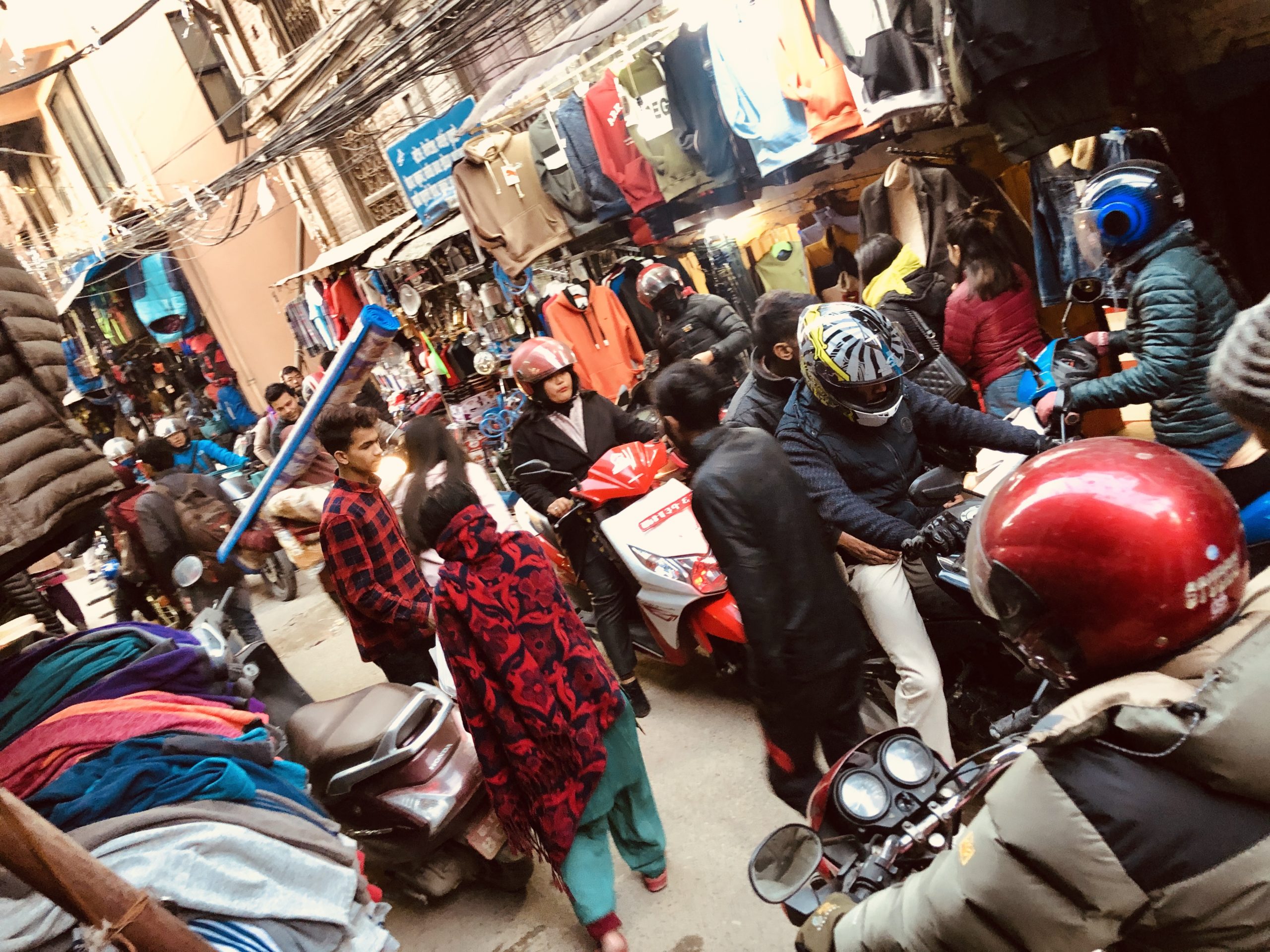 City Boy
Oh, and I'm not one to run from a busy city. I actually love chaos; the more the better. It's why I rate Old Dhaka (Bangladesh) as one of my favorite places in the entire world! I adored the packed-to-the-gills Dantopka Market in Benin, and being sandwiched in-between the busy rush hour commuters on foot in Bogota was exhilarating. Maybe the big difference here in Nepal–besides all the bikes–was that I was among gobs of tourists. You find out a lot about yourself when you travel, and perhaps I love big crowds, but only when they are locals; only when it's authentic, and only when I'm the lone Gringo in sight. Color me selfish.
I quickly learned that Kathmandu is a paradise for two kinds of people: hippies and trekkers. I am neither. Deservedly, along with such a huge number of tourists come the large amounts of hustlers trying to get you to buy stuff. From guides, to taxis and even drugs, I was constantly targeted by local "vendors" as I tried my best to just enjoy a simple walk in a brand new city. I do realize these folks are just trying to make an honest living (well, except the drug dealers), but I just wanted to explore and learn on my own, without being pestered every ten steps. It's another reason I enjoy less "touristy" cities: I like to mix and mingle with the locals that don't necessarily have agendas to make money off of me…Like that one time in Jordan; being invited in for tea at a tailor's shop in Amman. The man had nothing to sell me, he was just curious to talk to an American. We had a nice time.
Missing the Vibe
But back to Kathmandu. I wanted to love it so much, I really did. As I walked through the Thamel district, dodging motos and saying no thank you to men offering me weed and mushrooms, I tried so hard to look for things that would inspire me. I did love seeing the locals selling grains, nuts, vegetables and fruits on the side of the street, but it was too packed to stop and take it in. I did love the old buildings and funny little hats worn by the older men. And I certainly loved some of the hospitality I'd received, mostly from the staff at my hotel, who'd put their hands together and give me a sincere, namaste each time they saw me. But I just couldn't get past the overriding frustrating and stressful vibe of the city. Something about the town (or me) was blocking me from enjoying the experience. I'd made my mind up before I even got back from that first walk: I would not be staying here two more nights.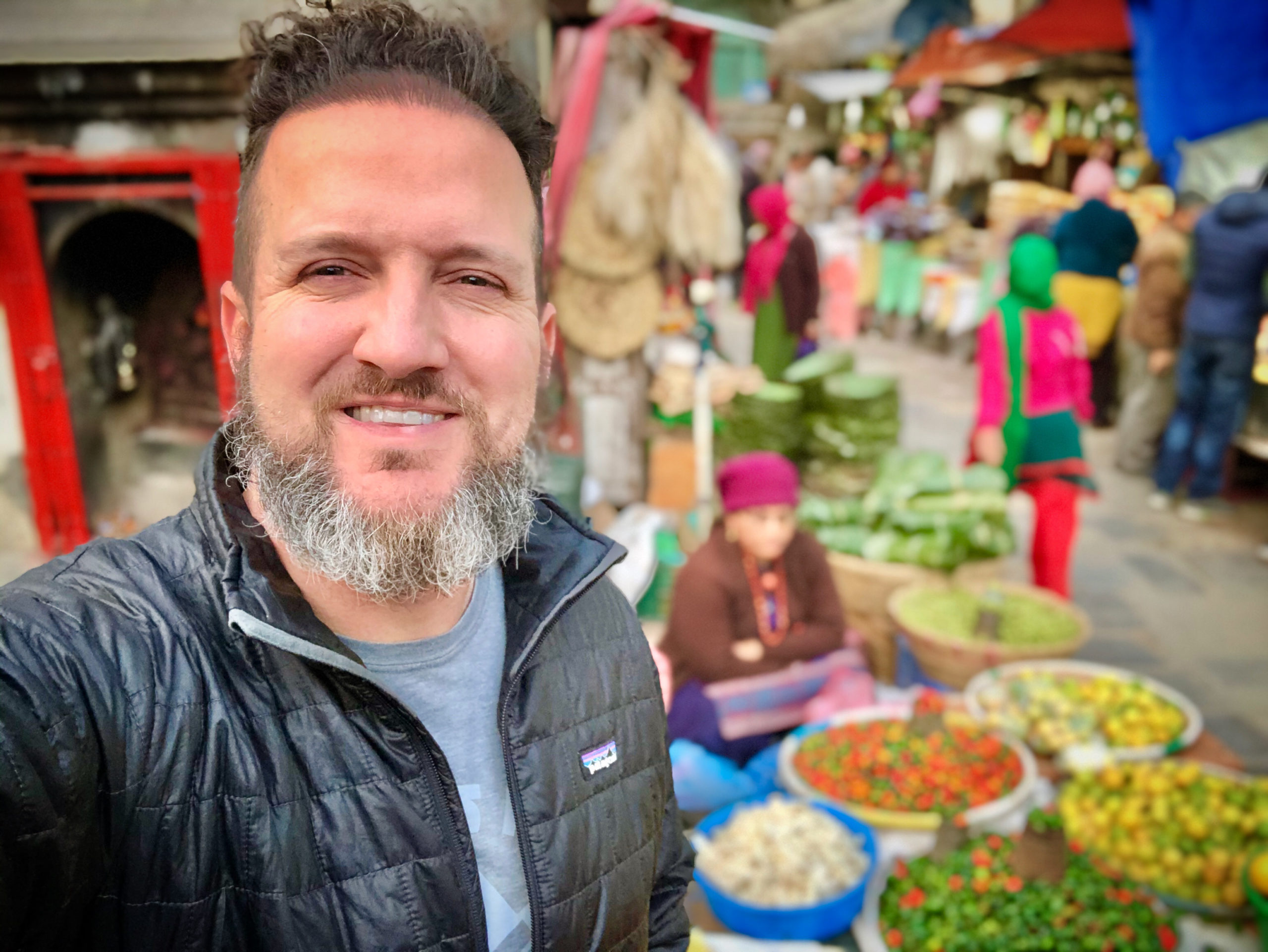 Wanderlust While Wandering
A rash decision? Absolutely; but two full days is valuable real estate when you're on a mission to see every country in the world. And in (recent) hindsight, I would've cut my Laos trip by a day, and maybe even trimmed my wonderful Bhutan visit by one or even two days, giving me more time to pack in more nations on this journey. My original itinerary had me arriving into Nepal early Thursday morning and leaving to Pakistan (via Oman) on Sunday morning, giving me much more than two full days in the capital. But I'd quickly decided one night was plenty, and jumped online back at the hotel to try and work some booking magic.
To be completely honest, maybe part of the reason I gave up on Nepal so quickly, was that deep down inside I wanted to see Yemen on this trip. I was bummed I'd be so close to Yemen (during my quick stop in Oman) but not have time to visit…bailing on Nepal early would mean I might actually be able to squeeze in Yemen. The world's least-visited country has such an allure for travelers like me. Luckily, thanks to Oman Air's easy and flexible ticketing, I was able to re-work my flights without being charged more. I actually pulled off a major score, changing my ticket from Kathmandu to Karachi via Muscat, to a one-way business seat to Muscat the very next morning. From there, I'd catch a domestic SalamAir flight to Salalah, Oman and make the day trip into Yemen on Saturday. I'd head back to Muscat (SalamAir) on Sunday and then catch a Thai Airways plane on to Karachi. Sure, it would cost me a few dollars—with new airfare and hotel rooms—but it was worth it for a chance to see Yemen; and one of the things I hate the most, is being so close to a new country and not popping in. Within an hour I had the new plans confirmed, including a deal over Whatsapp with a fixer who'd bring me into Yemen. Maybe this was all meant to be.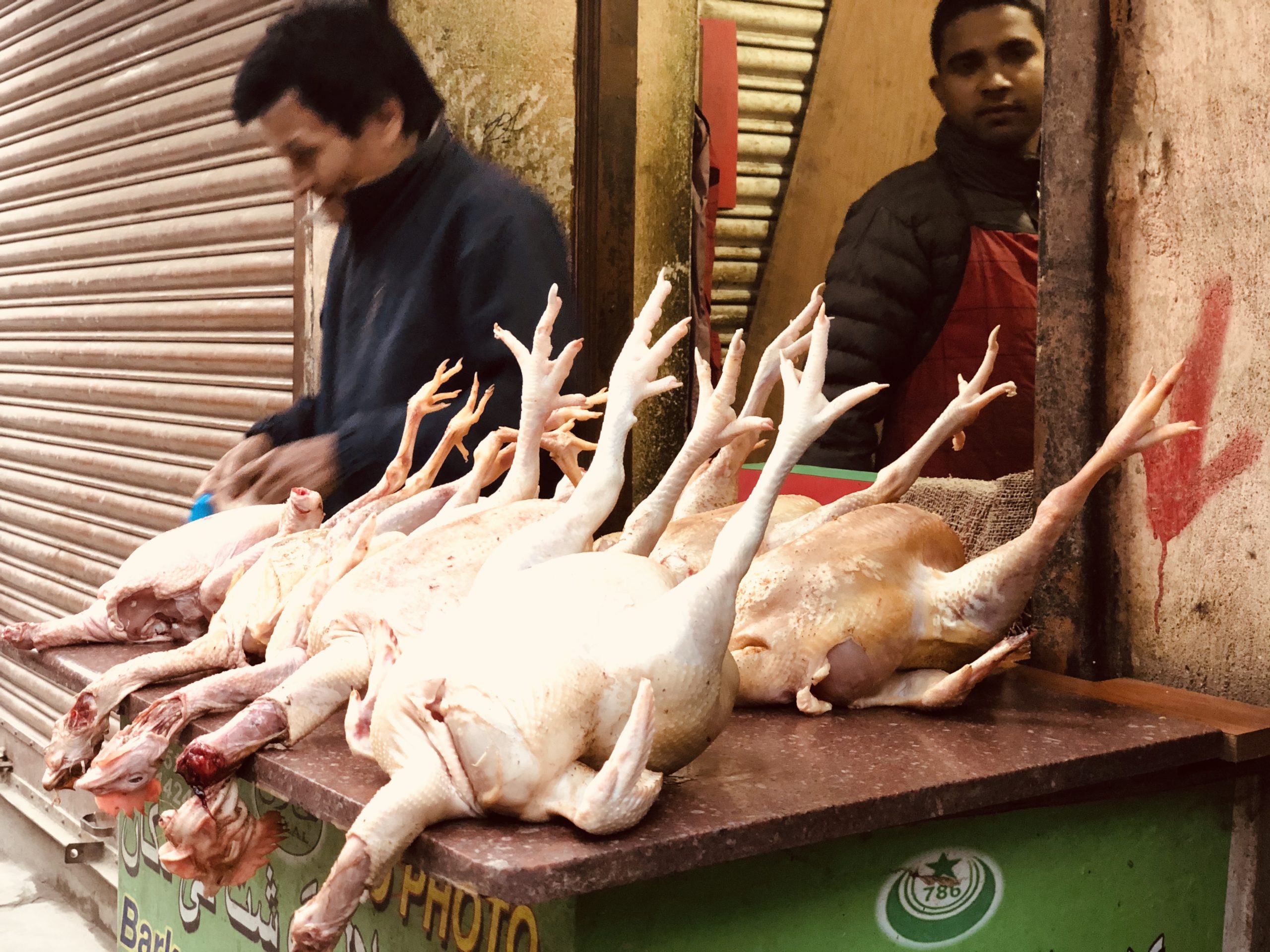 Nepalitics
Did I give a fair shake to Nepal? Absolutely not. I know better than to ever judge an entire country by a single walk around the block. (By the way, I did take another walk after dinner, hoping the choppers would've died down long after rush hour, but it was still a mess.) I am sure Nepal has a lot to offer, and I have often been judged for visiting just the "capitals" of countries much too often. Nepal is a trekker's paradise with a million and one activities to partake in. So before you judge me for splitting so quickly, know that I do realize that I was the problem here. My decision to stay in the capital, mixed with my disdain for an overpopulation of motorbikes in the center, mixed with my temptation to see Yemen, all made for the perfect recipe for exit. Had I stayed, I'm sure I would've enjoyed a trek up Swayambhu Hill to see the wild monkeys, tea at Durbar Square; and I was even invited to speak at a school…that would've been so much fun! I'm sure I would've figured a way to enjoy Nepal. In a way I feel I have failed as a traveler, as I left in defeat. The only other time I've ended a trip early was during a 2008 trip to The Dominican Republic, and an attempted early exit from Italy once. Long story, a girl was involved.
The next morning I said my goodbyes and got the heck outta Dodge. It was on to Oman and Yemen.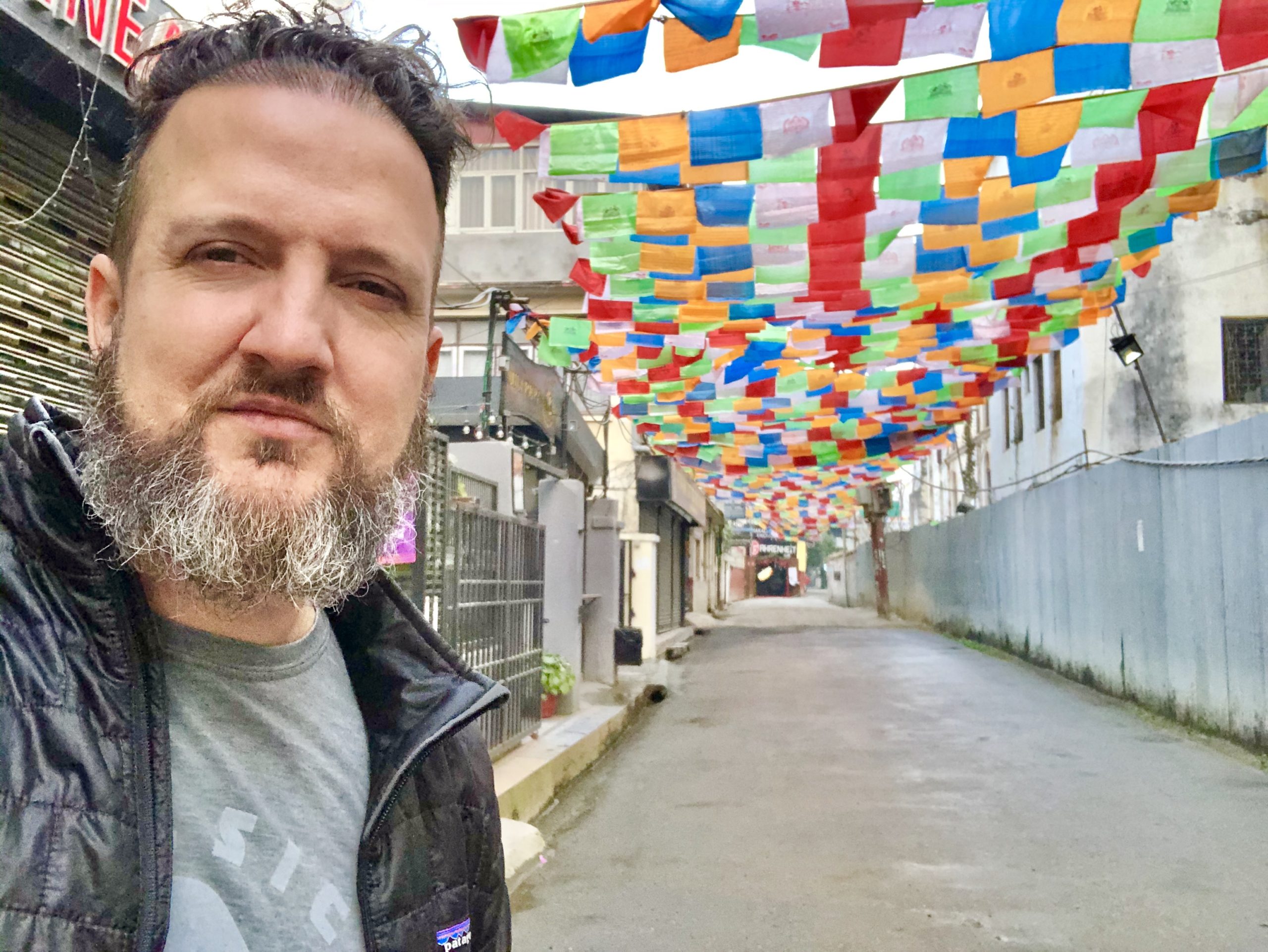 RAMBLIN' TIP: Always bring any old (valid) visas, even if they sit in expired passports; you never know when you might need them. Had I brought my old passport with me on this trip, I could've taken a nonstop flight to Tibet with the still valid Chinese visa in my old book. I still probably would've chose Oman and Yemen, but it wouldn't have hurt to have the option.
You Take the Good, You Take The Bad
I could never leave a country without counting my blessings for the new experience (good or bad), and also making a list of the things I did like. I've learned to always look for the good in everything, even if it's just a lesson.
First, I have to rave about the hospitality at The Fairfield Inn by Marriot in Kathmandu. This is not a sponsored blog and I did not receive any compensation nor even a discount for mentioning them; the place was just that good. The staff was absolutely amazing in every way and their hospitality rivaled that of Thailand and the Philippines. From my super early check-in to Chef Dapeek at the breakfast buffet who personally came to my table to bring me custom-made omelets and waffles, the Fairfield Inn was a great choice and filled with wonderful humans. I really can't say enough good things about the property, most having to do with their staff.
Less than 1,000 feet away, I enjoyed two meals at a restaurant called Fire and Ice. Go ahead and scold me now for not enjoying Nepali fare while I was in town, but after being secluded in Bhutan for six days, I was dying for some American food, or in this case, Italian. I had a great pizza for lunch and came back for a killer bowl of spaghetti Bolognese for my one and only night in Kathmandu.
Oh, and I did dig the little hats they wear in Nepal; I've seen them nowhere else in the world.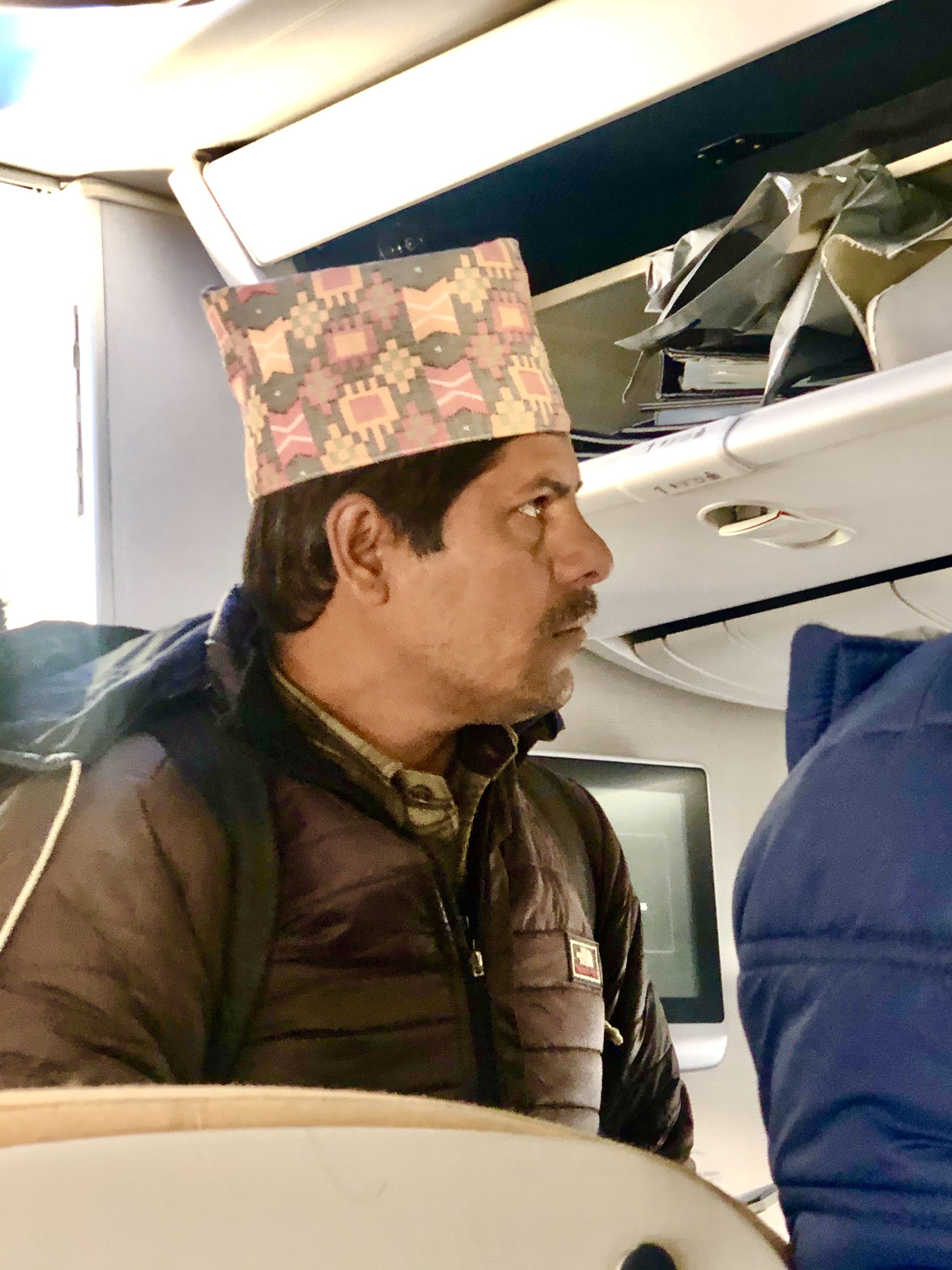 Different Strokes
If there's one thing I learned on this trip, it was the reinforcement of the idea that we are all different, and this includes our travel styles and preferences. While friends and colleagues have warned me that places like Bangladesh and Venezuela were their least-favorite places, those two countries actually made up part of my top ten list; places I absolutely adored and cannot wait to revisit! Contrarily, I'm sure Nepal easily tops the list of many others. When you're able to realize and understand that we're all different, and we all like and dislike different things; different music, food, places, etc; it makes it easier to deal with the rare, less-than-awesome visit to a new destination. A reminder to keep your expectations low, and enjoy the surprise of falling in love with a new place.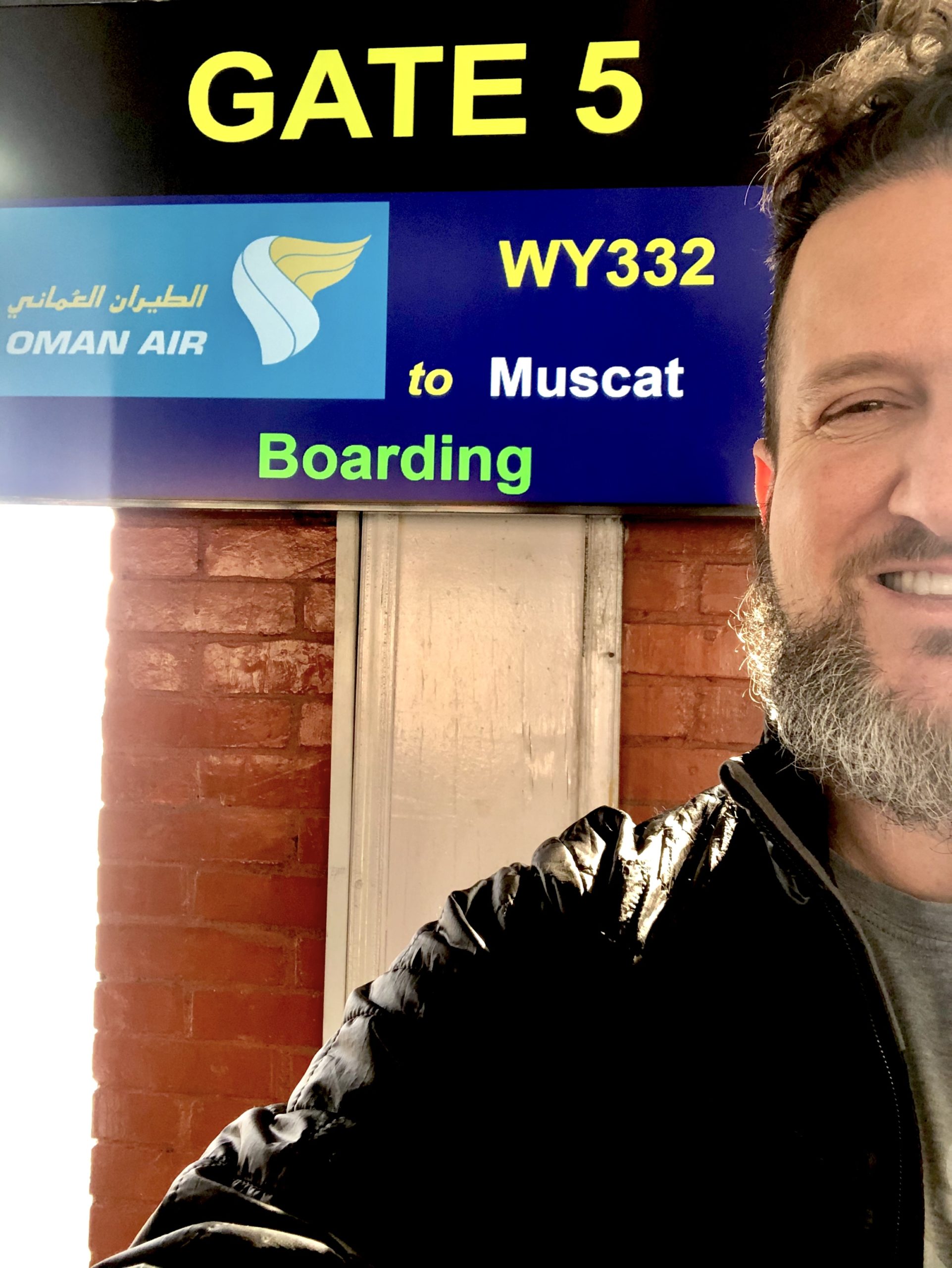 And now, the REST of the (Insta)Story…
This entry was posted in
Asia