IMPORTANT NOTE: This article is part of a 14-chapter series on my trip to Africa. Qatar (which is in The Middle East and technically belongs to Asia) was the last country I visited. I flew Qatar Airways from Tunisia to Miami, which included a long layover in Qatar. Qatar was the fourteenth country of fourteen nations I visited in December of 2016. It's best to read the chapters in order, as they build on one another. To see countries number one through thirteen, please go HERE. It's best to read the stories/countries in order.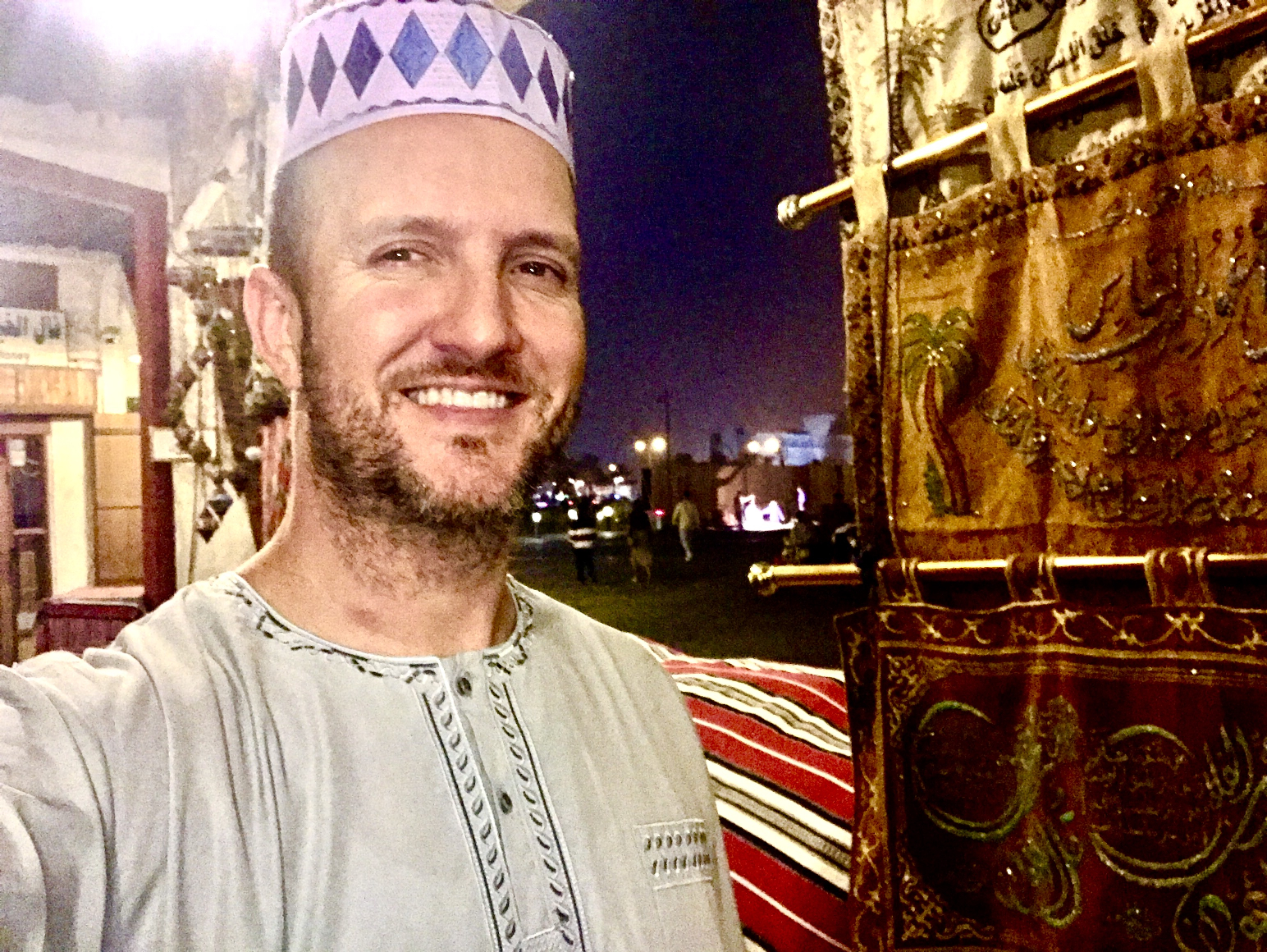 Ridden Hard and Put Away Wet
Holy crap, I was tired. I was mentally and physically exhausted.
I'd seen fourteen countries in less than three weeks, been on about twenty planes, spoken three languages, in four continents, and checked in and out of too many hotel rooms to count. I'd been inside nations going through civil wars, others on the verge of coups, others where Boko Haram and other extremist groups ran rampant. I'd seen more machine guns and heavy artillery than in an Arnold Schwarzenegger movie, slept little, walked a lot, and eaten strange. I was absolutely beat down.
To make things exponentially worse, I'd just thrown out my back. Only those who have experienced a blown out lower back knows how tough and debilitating it is. You're pretty much crippled.
I'd been carrying a very heavy backpack throughout Africa for the past two weeks, and my back finally said no more. Early that morning while leaving my hotel room in Tripoli, I made the fatal mistake of not "lifting with my legs." I instantly felt that familiar pain: like a knife piercing into my back and twisting. I knew my back was done. So when I landed in Qatar, I was pretty much useless.

I was just in Qatar for a layover. The kind I like: a long one; a stopover that would give me enough time to explore. It was an overnight layover, in fact: landing at 10:25PM, out at 8:15AM the next morning. I reserved a hotel room so I could sleep, but not without seeing some of the capital first.

I stayed in the tourist area of Doha called Souq Waqif, which is Arab for "the standing market." This is the place where folks buy and sell traditional garments, spices, handicrafts, and souvenirs. It's also home to dozens of restaurants and Shisha lounges. Souq Waqif dates back at least a hundred years, and was renovated in 2006 to conserve its traditional Qatari architectural style.
Sadly, besides some restaurants and a few souvenir stands that were wrapping things up for the night, everything else was pretty much shut down. After all, it was close to midnight by the time I landed, went through immigration, took a cab into town and checked into my hotel.
I'd walk around for about 45 minutes–like the cripple I was–before heading back to my hotel for a few hours of sleep. It was back to the US tomorrow. I was so tired. And I hurt.

It was a shame I couldn't spend a whole day in Doha–I would've liked to experience the country in the light, browsed the market, took a boat ride, and ventured into the city. The downtown area, on the other side of the bay, was massive. It looked like what would happen if Las Vegas and New York City had a baby together: endless giant skyscrapers, many of them lined with colored lights. It was beautiful, and I was disappointed I didn't have time to see it. I definitely want to make it back to Qatar, but at the moment, I just wanted to go home.
Oh, and I bet you wonder what's up with this ridiculous outfit I'm wearing. Believe it or not, it was all absolutely normal in this region, and I actually blended in, perfectly. No one even batted an eye.
I became intrigued with the boubou the moment I landed in Dakar two weeks ago. These long, night-gown looking shirts with cool caps are super common in West Africa and some are quite colorful. The longer I was in Africa, and the more people I was wearing them, the more I wanted one for myself. I finally asked my guide in Mali if it would be acceptable for me to buy and wear a boubou. Were they reserved for Muslims only? The last thing I wanted to do was disrespect a culture and religion. The whole cultural appropriation thing came to mind. But my guide insisted that it was a "West African thing," and I'd be completely fine rockin' a boubou. So we bought one!
But just because I bought one, didn't mean I was brave enough to wear it, right? I kept it neatly folded in my suitcase almost the entire trip until the end. By this time, I was completely out of clean clothes (my jeans were stinky and filthy). I was extremely exhausted. I'd thrown out my back. I was a mess. Putting on this hospital gown-like robe as I got ready for the long journey home provided a little relief. I felt like a cripple, I'd might has well dress the part!
I woke up at the crack of dawn, put my boubou back on, and shuffled out onto the street like an old man to find a taxi. I was in bad shape.
The airport in Doha was one of the nicest I'd ever seen, and the Qatar Airways business class lounge was just insane. It was bigger than most of the airports I'd traveled through over the last few weeks. I wish I'd felt better; I would have had more fun exploring the quarters, but I just wanted to get in my airplane seat and rest. Walking with that heavy backpack was killing me.
Despite my injury, the flight back was incredible. Besides the amazing lay-flat business class seats and big, personal TV screen; the food on the flight was impeccable. I was able to order whatever I wanted, whenever I wanted. There was no pre-set "meal time." You wanted something, you just asked for it. I stayed full on a steady supply of tasty, fruity muesli and fancy cheese and cracker plates (the brie was so good!). And I probably drank a total of two dozen glasses of lime juice with mint leaves. Sooooo good. The amazing food and exotic looking flight attendants helped take my mind off the pain. I was actually pretty comfy in my boubou.

While I looked totally normal in my African outfit while "in" Africa and the Middle East, once I set foot in America, it was a different story. I could feel the stares as I walked through the airport on the way to customs and immigration. But ask me if I gave a care! I'd been wearing my boubou for two days now, and I think I liked it! It was super comfortable, light and airy. I was diggin' it, I can't lie. But US Customs and Immigration wasn't.
This was actually pretty funny–straight out of a Curb Your Enthusiasm episode. I guess I was asking for it: a Gringo coming back from Libya, with a new beard and an Islam outfit. Red flag!
Global Entry was actually down (the automated system where members can breeze through immigration via a kiosk), so I had to approach the podium and actually "interact" with the immigration agent in person. Nothing short of hilarity and hijinks ensued the moment I stepped up to the officer.
Officer: Where are you coming from?
Me (in my fun outfit) : Qatar.
Officer: Have you been to any other countries on this trip?
Me: Well, as a matter of fact, yes I have! (In my Jim J. Bullock voice). You ready???
Officer: Yes.
Me: Brasil, Cabo Verde, Senegal, Burkina Faso, Mali, Togo, Ghana, Ivory Coast, Morocco, Mauritania, Algeria, Tunisia, and Libya!
I seriously felt like Yakko from The Animaniancs, singing "Nations of The World!"
Man, once I got to "Libya," the officer perked up somethin' serious. He spent the next five minutes trying to comprehend why I was in Libya. Why did I go, what was I doing there, what did I do there…and again, "why" was I there? I was totally cool with him–I didn't give him any attitude, just told him the truth, explained my goal of seeing every country, etc. He still had trouble understanding why I chose Libya, now. I wondered if he also knew how sketchy some of the other countries were. He seemed to be fixated on Libya. After a few more questions and asking for my business card–which I gave him–he sent me on my way.
But then I got swooped up by another agent while grabbing my luggage from the carousel. I wondered if the first agent had radioed ahead ("Look out for a guy in a robe and a fez"), or if the officer at baggage claim spotted me on his own. Either way, I was taken aside and asked more questions. One of the most entertaining probes was when the agent asked, "How long have you been Muslim for?" Of course I explained I wasn't. He was very confused.
He did search my bag. A few minutes later I was on my way. I found the entire thing pretty entertaining. I wasn't insulted or irritated. I'd probably have an issue if I wasn't singled out. I imagine the whole thing must have looked pretty weird in general. But damn, that boubou sure was comfy. I think I'll wear it out again on a trip. I just hope I'm not on some Homeland Security "list" now.


This entry was posted in
Middle East