IMPORTANT NOTE: This article is part of a 12-chapter series on my trip to Africa: Tunisia was the twelth country of twelve African nations I visited in December of 2016. It's best to read the chapters in order, as they build on one another. To see countries number one through nine, please go HERE. It's best to read the stories/countries in order.
Fair warning, this blog is going to suck…my trip to Tunisia sucked! Not because Tunisia isn't an awesome country, but because the only parts of Tunisia I saw were the airport and my hotel.
I'll spare you the mundane details, but long story short, between just not having any time and also being absolutely exhausted at the end of this two week, 14 country trip, I didn't get to see any of Tunis…so sad.
The great news is, that I got one of the most amazing hotel room upgrades of my life…and I also worked up enough courage to put on and wear my new African boubou and cap in public. That itself was an experience!
Okay, let's talk about this ridiculous outfit I'm wearing. Believe it or not, this is absolutely normal in this region, and I actually blended in, perfectly. No one batted an eye.
I became intrigued with the boubou the moment I landed in Dakar two weeks ago. These long, night-gown looking shirts with cool caps are super common in West Africa and some are quite colorful. The longer I was in Africa, and the more people I was wearing them, the more I wanted one for myself. I finally asked my guide in Mali if it would be acceptable for me to buy and wear a boubou. Were they reserved for Muslims only? The last thing I wanted to do was disrespect a culture and religion. The whole cultural appropriation thing came to mind. But my guide insisted that it was a "West African thing," and I'd be completely fine rockin' a boubou. So we bought one!
But just because I bought one, didn't mean I was brave enough to wear it! I kept it neatly folded in my suitcase almost the entire trip…until Tunisia.
Tunis was my last stop in Africa. I was completely out of clean clothes (my jeans were stinky and filthy). I was extremely exhausted. I'd also thrown out my back. I was a mess. Putting on this hospital gown-like robe as I got ready for the long journey home provided a little relief.
So let's talk about my upgrade. It's one of the many perks of staying loyal to one hotel chain, instead of spreading your business between many brands. If you stay in hotels at least ten nights a year, it really pays off to pick one hotel brand and stick to it. You can rack up some serious points and bonuses if you have enough nights with brands like SPG, IHG, Hilton, etc. It pays to do some research and find out which program works best for you, your travel and your goals.
If you go with SPG, contact me first, for a referral…extra points!!! Send me a note HERE.
I chose SPG, and with all my travel was able to gain platinum status. With platinum comes some crazy amenities and bonuses, like instant upgrades, every time, based on availability. This includes suites!
Enter, The Diplomat Suite at the Sheraton Tunis…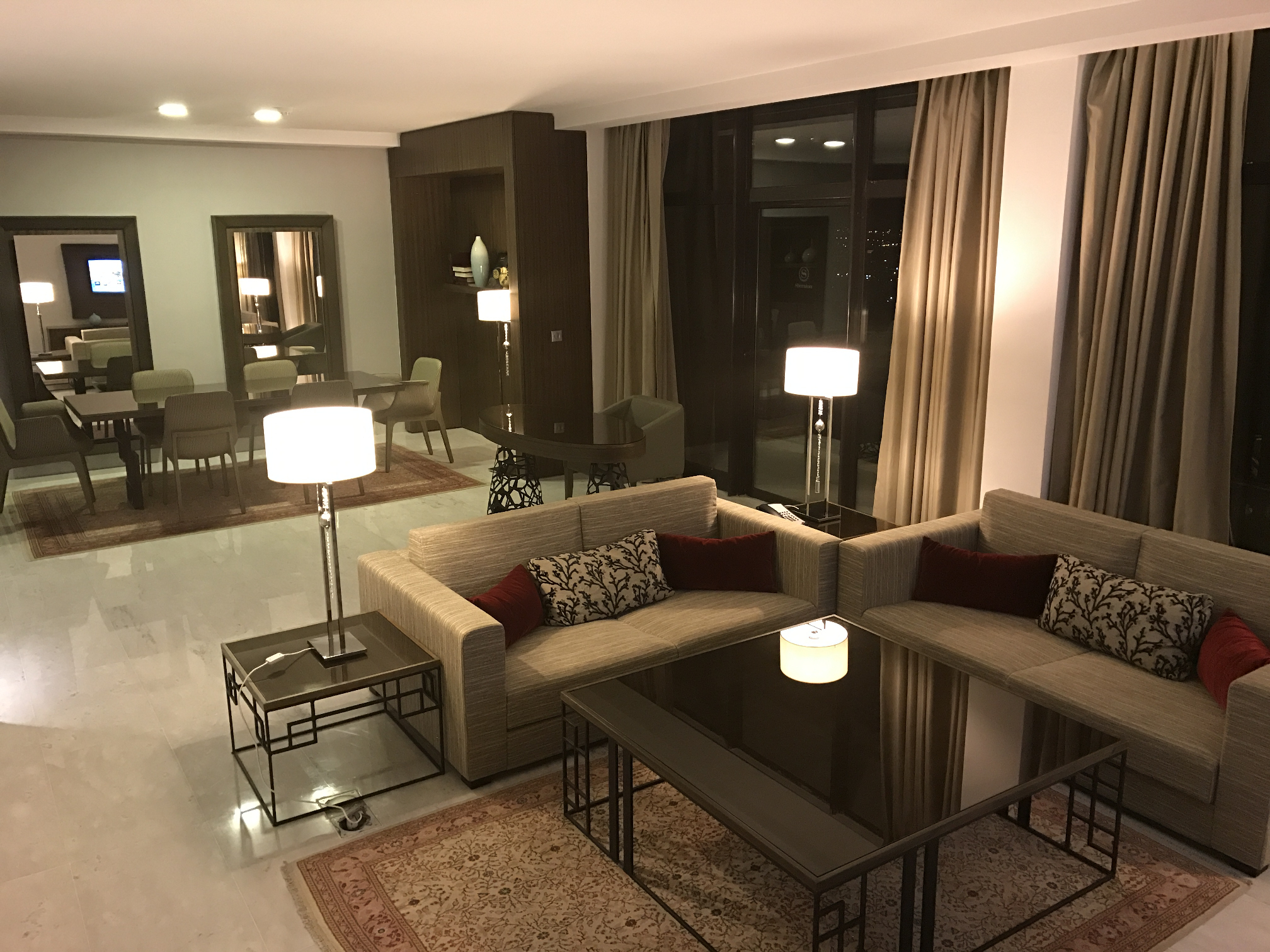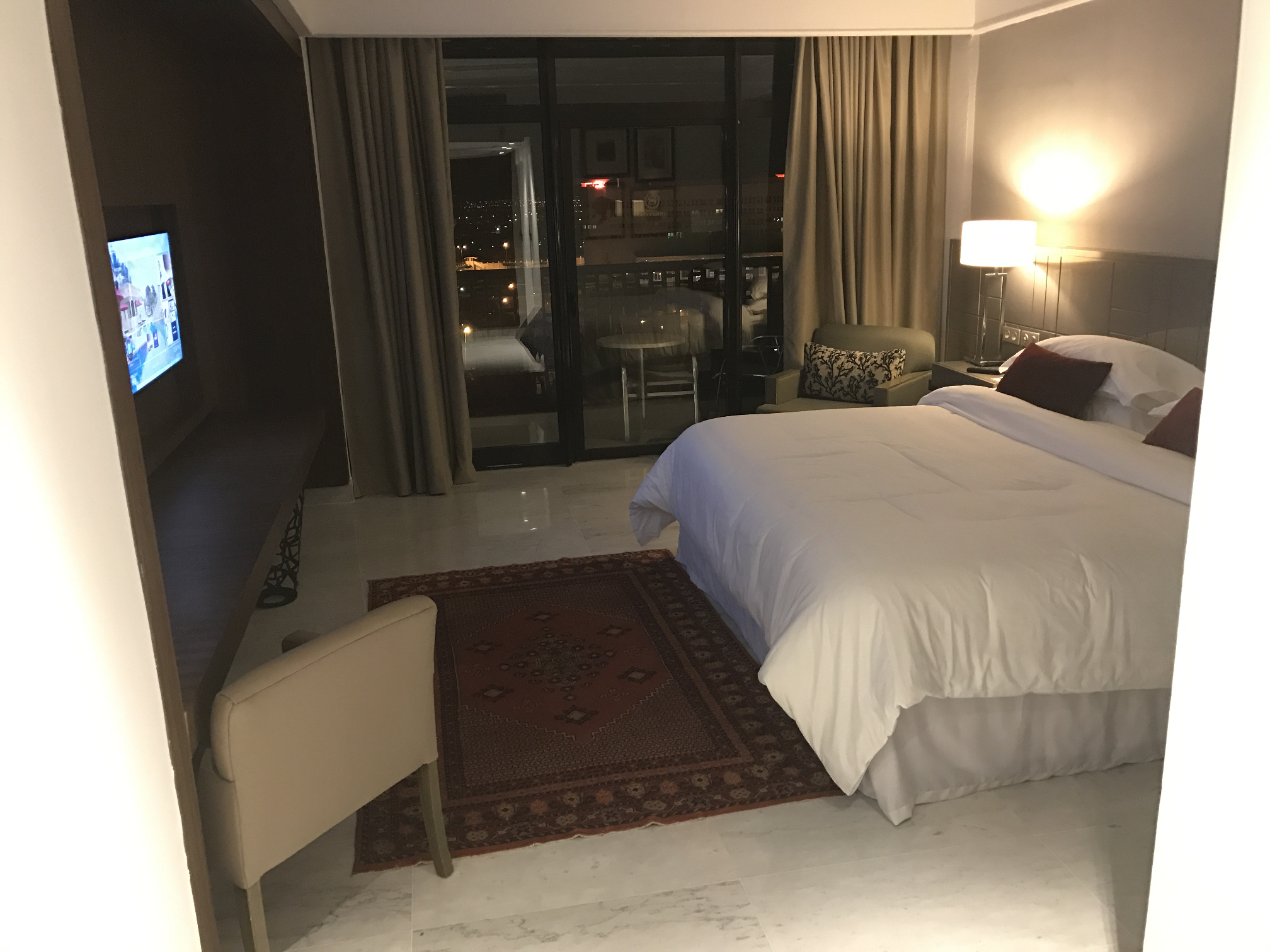 The suite was insane!!! I only wish I had more time there. I actually had it for two nights, but ended up going to Libya between the two nights. So sadly I only slept there one night–flew to Tripoli the next morning and stayed the night there–then flew back to Tunis to basically use the room to shower and change, before leaving for the airport. Time to go home!
Here's the video of my room, check it out!
I definitely have to return to Tunis. This stop almost didn't count…I didn't get to the market, or even eat outside of the hotel!
UPDATE: I MADE IT BACK!!! June, 2021 – back to Tunis! And this time, it counted! See my triumphant Tunis return HERE!


This entry was posted in
Africa