Grouch
First a disclaimer: I was one cranky muhfugga when I was in Copenhagen, so this report may be a little bit biased. I hadn't achieved a full night's sleep in almost a week, since arriving in Europe; my body clock was refusing to adjust and day number six was just about my breaking point.  I had an eleven-hour layover in Copenhagen–which would normally be glorious–but my body and mind were both in the process of shutting down, and since this was just a layover, I had nowhere to lay my head and recharge.  It was a tough day.
RAMBLIN' TIP: Pack sleeping pills in the event your body clock refuses to adjust to the local time. There's nothing worse than not being able to sleep, and many countries don't sell over the counter sleep aides. Go here for 50 Travel Tips.
Okay, on with the recap.
One of These Things is Not Like the Other
The first thing I noticed when I arrived in Copenhagen, was that this place was not as clean and immaculate as the previous three countries I had spent time in earlier in the week.  The airport and train stations looked older and outdated, a little dirty, and included a small cast of shady characters mixed in with the normal folk.  Normally, I wouldn't have even noticed this, if it weren't for the fact that the Dublin, Reykjavik, and especially Oslo airports were all so futuristic and swanky.
There was a pretty long line to purchase tickets for the S-Train, but about 30 minutes later I was cruising from the airport to Central Station, still fighting to keep my eyes open.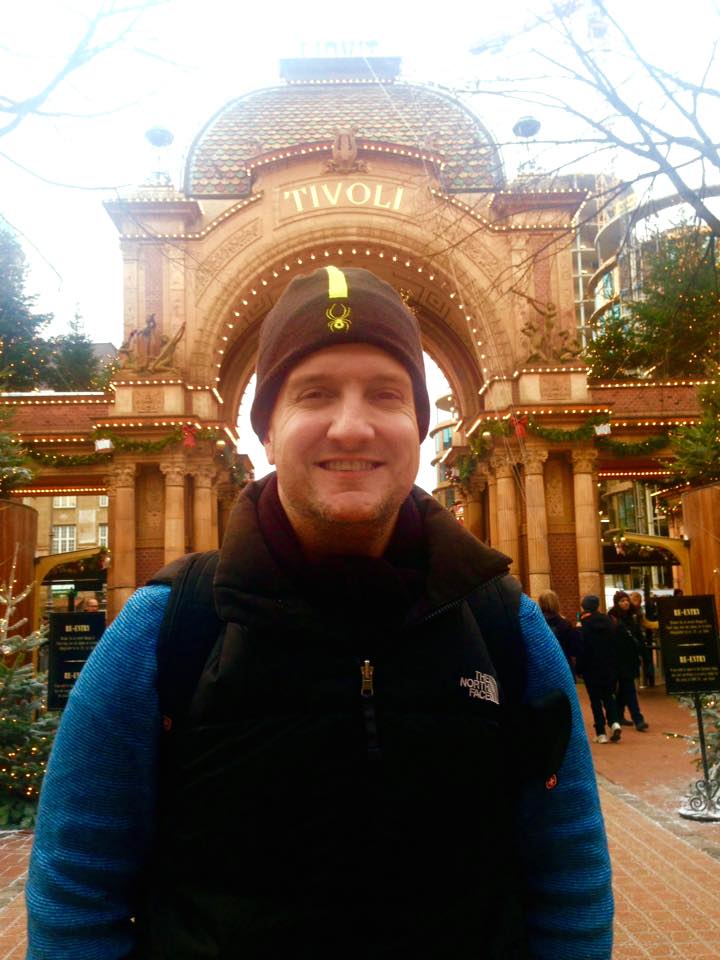 As soon as I exited Central Station, there it was: Tivoli Gardens, the amusement park I had heard so much about. I paid the admission and spent the next few hours going back and forth between the cold outside and warm coffee shops inside. I couldn't stand the bitter cold for long, but after about ten minutes inside the warm cafés, I really got drowsy and feared I was going to pass out in my cappuccino.  I bounced back and forth, in and out, numerous times.
The park was all done-up for Christmas and really looked beautiful. Christmas trees, large and small, everywhere. A giant wooden reindeer, 100 feet tall. Christmas music echoing throughout the property and tons of tiny shops selling holiday decorations, mittens and hats, souvenirs and hot chocolate.
I tried an amazing drink called Gløgg, which is a traditional Scandinavian winter drink, served hot, and it is typically made with red wine and a spirit (e.g. cognac or rum) mixed with sugar, raisins, almonds, clove, cardamon and cinnamon.  I had a "virgin" Gløgg and it was one of the best beverages I've ever had–tasted like hot apple cider, but with tons more flavor and zest…and zing!  It warmed me up too.  Later I tried one with alcohol and couldn't even take two sips (yuck-o), but I guess it's pretty popular, so try both the one with and without liquor and judge for yourself!
Despite having a few more hours available to explore Denmark, I made a quick stop into City Hall where the World Clock is located and then caught the train back to the airport.  I paid $32 to get into the premiere "lounge," where I slept for a couple hours.  I was done!  Soon I was back on a plane and off to the next stop.
Definitely not a fair assessment of Denmark, this I know!  The country deserves an awake and alert Ramblin' Randy.  Next time, I promise!
This entry was posted in
Europe
,
Extreme Layovers