Hang Time
My average stop in a country is somewhere around 1.3 nights per nation, so three full nights in Montenegro would be somewhat of a luxury for me. We can thank the fine folks in Bulgaria for turning me away, opening up some extra time for country #155. I'm actually glad it worked out that way. Montenegro is not just a "capital city" stop.
>>> RELATED: BULGARIA OF BUST <<<
Yeah, let's just talk about that now and get it out of the way. I'm definitely guilty of "capital stops" – often flying in and out of a country's capital city without exploring its outskirts, other regions or even different cities. For the most part, regardless of the critics' finger wags, I actually enjoy seeing capital cities. Jakarta, Tokyo, Bogota, Tripoli, Algiers, Montevideo…these are all rad cities and make for phenomenal stops, even if you never leave the city limits. The capital of Montenegro, however–Podgorica–is absolutely a must to get away from, ASAP. I was given stern warnings from enough of my well-traveled colleagues and friends and heeded them, using the capital just to sleep after my 8:00pm arrival. It'd been a tremendously long day of travel, going from Bologna to Amsterdam, then Amsterdam to Sofia…I'd been denied entry at Sofia, flown to Belgrade and then onto Podgorica. I would not be participating in any Montenegrin nightlife tonight. It was a quick meal at the hotel restaurant and then lights out!
>>> RELATED: MY TRAVEL STYLE EXPLAINED – THE BUFFET <<<
RAMBLIN' TIP: I stayed at the Ramada by Wyndham Podgorica. I liked it for the normal reasons (clean, modern, centrally located)…but loved it because it was connected the city's mall. Very convenient. You can see and book the Ramada HERE.
As you read on and wonder how to pronounce half of these cities – no pressure. I've been to these places and am still not sure how to speak their names correctly. And "sounding it out" does not work in this case, I assure you!
Capital Offense: City #1 – Podgorica 
I soon realized that all the advice I had been given about not staying in the capital was absolutely, unequivocally correct and precise. I actually would have been mortified if I'd only spent time in Podgorica without seeing anywhere else. No offense, the town is fine, but there's really nothing there to see. All of the nation's beauty and assets lie outside of the capital. But I was here anyway, so I'd rise early to walk the neighborhood before heading off to explore the country. Let's take a look at Podgorica!
Caution: You are now entering The Selfie Zone.
On The Road Again
After a nice walk around the capital and breakfast at the hotel, I grabbed a cab to the airport to pick up my rental car. Soon I was off, leaving the city and cruising into the beautiful Montenegrin countryside. I'm always a little nervous driving in a new country for the first time. Luckily, you drive on the right side of the road here, and compared to madness of driving in Italy just days earlier, traffic in Montenegro was a breeze. It was my first time driving the Czech-made Skoda (vehicle) too, which in itself was kind of cool. I'd never driven one before and my background is Czech, so kinda neat. I was connecting with my culture!
RAMBLIN' TIP: If you're renting a car from AVIS at Podgorica Airport, keep in mind there is no office or booth at the airport. This really confused me. An employee will actually pick you up curbside. I was very confused at first, and the people at the car rental counters inside the terminal were not very helpful.
Radio Free Montenegro
I'm excited to announce the Ramblin' Randy Award for Best International Radio Station goes to (drum roll) Radio Skadar 107.9 in Beri, Montenegro! While it's listed online as an Alternative station, that's not the kind of music I heard on my Sunday morning drive through the mountains. They were playing one of my favorite genres of music: Chill, or "lounge"-Electronica. It was an infusion of jazzy-groovy-electronicy and even tropical beats and rhythms. No commercials, no interruptions – just this dope music that I blasted at full volume as I ascended into the hills of Montenegro. I was actually a little depressed when the signal finally faded into static. This station was amazing and no doubt earned the award for Best International Radio Station. You can check out all my "Best Of…" awards HERE.
LISTEN to Radio Skadar 107.9FM HERE.
RAMBLIN' TIP: I implore you to listen to local radio when you visit different countries! It's part of the culture: the music, the DJs, the commercials, etc. It's a whole 'nother level of the culture, and I recommend you find a radio and tune in, whether it's in your hotel room while getting ready or a road trip in your rental car!
City #2 – Cetinje
My first stop after leaving the capital, less than an hour away, was the town to Cetinje. What a nice first stop to stretch my legs and have a look around before moving on to that night's destination. Cetinje is considered the cradle of Montenegro's civilization, as it was founded in 1482 by the Montenegrin ruler Ivan Crnojević and is the country's former royal capital. The highlight of this stop was a stroll down the town's main street, Njegoševa ulica. This part-pedestrian street boasted big, beautiful old buildings on each side. Some of the historic residences had placards on the fences explaining the building's history. Embassies, an old school, lots of fancy residences and even a palace can be seen while walking down Njegoševa ulica. The sun was shining and the temperature was perfect. What a beautiful day in Cetinje!
As I turned the corner, I passed a couple outdoor cafés that were absolutely jam packed. It looked like an event was happening – lots of activity, laughter, conversation. It was lively. I'm not sure if these were tourist or locals…or local tourists, but there was definitely a party in Cetinje this Saturday afternoon. After walking the main drag, I ended up at the old stone Court Church before heading back to my car for a sweet surprise.
No Parking on the Dance Floor
I enjoyed my stroll through the town of Cetinje. I even received a special greeting/welcome letter from the city when I arrived back at my car. How nice they were to leave me a little love note under my windshield wiper. Ugh. Parking ticket. Expensive one, too! 60 Euros. Yikes! Gee, thanks Cetinje!
City #3: Kotor
I would overnight in Kotor for night number two, and what a great choice this was! I will never forget, after that 45-minute drive through scores of  (semi-) treacherous mountain curves, finally coming out of that tunnel to see sweeping views of the water and valley below. It was one of the most picturesque scenes I've ever ever witnessed in my entire life, making me immediately forget about that darn parking ticket that had given me stress the whole drive over. I immediately pulled over to take in the stunning views. I could've stayed there for hours – it was like nothing I'd ever seen and no pictures can ever do it justice. You must see it for yourself.
Big, Beautiful Wall
I did little (pretty much zero) research in advance on these cities by design – I wanted to be surprised…and boy would I be with Kotor! I didn't even realize the old town was a completely walled-in city until I arrived at the main gate. Holy cow, I had no clue! I was blown away at what I saw – on the outside, with the big walls, cannons, and arched entryway. And once I stepped inside – wow! It felt like a real-life version of Disneyland. There's a reason I purposely do little intel on many of my stops: Being surprised like I was today when I arrived in Kotor is one of the best highs ever! If there was any question where I'd be camping out for the night, all doubts were erased the moment I stepped foot inside Kotor. I had to stay here, inside the walls if possible.
Plenty of Room at the Ho-tel As-tor-i-a
I was only a few steps inside the walls of this old city before I found an outdoor café to sit and have lunch, and more importantly, to pull up WiFi so I could find a place for the night. Little did I know, I was already dining at the restaurant that belonged to the hotel I would stay at – I was eating a lobster wrap just inches from the front door of the Astoria Hotel.
There were close to dozen places to choose from within the confines of those old stone walls, and while not the cheapest, The Astoria spoke to me. After my meal, I popped inside to order a room. The lady at the front desk was extremely pleasant and assigned me to her favorite room with a view over the walls and of the water. But I wouldn't stay inside too long. I had some exploring to do!
RAMBLIN' TIP: You can book the Astoria HERE.
The Water Boy
As much as I loved the walled city, I wanted to take a walk along that beautiful water before sundown, so I set out for a walk around the bay. The weather was just perfect and I enjoyed my hour-plus stroll along the water. I was hoping I'd find a spot to swim, but I didn't see anyone in the water without a boat. The jury was out on whether or not the water was warm enough to swim. At one point I walked down to the edge to stick my hand the water to see for myself. Pretty chilly. I wouldn't be swimming in Kotor. That would be a shame: There are plenty of boat tours that take customers to some pretty amazing places to swim, including islands, secluded bays and even caves. I loooove to swim in beautiful waters (Caribbean, Greece, etc.) so not being able to swim in such gorgeous waters did bum me out just a bit. The water looked heavenly.
Night Moves
I knew I wouldn't have much time in Kotor, so after a rest back at the hotel, I ventured out to explore the alleys of the walled city. Most shops were shuttered. With the exception of a few hole-in-the-wall-bars (and I mean that literally), there wasn't much going on, and that was fine with me. I enjoyed the quiet time and the mystique of the dimly lit stone passages of old Kotor. I passed a sign that with an arrow that directed hikers to the trail that would lead to the fortress – I made note of it for tomorrow's trek. It had been a long day and soon I was off to bed.
Bells Biv Devoe
The next morning I had one of the nicest complimentary hotel breakfasts ever at the Astoria. Instead of a buffet, you choose from the menu, and they let you order multiple items. The English breakfast was really good, but the pancakes with fruit inside were phenomenal! I really picked the right hotel this time and that huge breakfast gave me the fuel I needed for the long and steep hike up to the fortress.
As I made my way to the trailhead, I couldn't help but notice just how loud those early-morning church bells were. I was already awake, so I didn't mind at all – but I can't imagine how anyone sleeps late around here. Those bells are loud already, but add in the acoustics of all that stone everywhere – and they clanged louder than I've ever heard any bells, anywhere. BOOOOOOOOONNNNNNNGGGGGGGG!!!! BOOOOOOOOONNNNNNNGGGGGGGG!!!! BOOOOOOOOONNNNNNNGGGGGGGG!!!! I don't know how the residents haven't outlawed those early morning bells by now. Wow.
Hikers Gon' Hike
Tummy full and head wide awake from the combo of coffee and jarring church bells, I made my way over to the entrance to the hiking trail. I guess it's not really considered a "hike" if actual stairs are involved, but either way, this would be a workout. The two-plus-hour trek up to the old fortress would be much steeper and longer than I imagined and would be my best workout for this entire trip, erasing any guilt I'd worked up for eating those sweet, juicy pancakes. As you'll see, I stopped for many photos along the way and would soon even meet some new, affectionate friends.
The Kitties of Kotor
I wouldn't say I'm necessarily a "cat guy," because I love all animals. There have been various cities where I've seen an abundance of dogs or cats (never both at the same time), but Kotor was definitely overflowing with pussy. I was first greeted by a couple cats at lunch yesterday, then, saw them all over the walled city during my walks, and even noticed that the souvenir shops sold t-shirts and other merchandise donned with "Kotor Kitty" logos, text and pictures. The town was infested with cats and seemed to embrace it. What was different here–than some of the other catropolises I've been to–is just how friendly the kitties were here. I wasn't surprised when my furry friends at lunch yesterday were affectionate – after all, there was lobster involved…but the fact that two strange cats who'd never met me, jumped right into my lap during a break on the hike just floored me. I had no food, and they were okay with that – they just wanted their necks rubbed! How cool!
Onward and Upward
After the cat-break, there was still much of the mountain to climb. I quickly realized I would've never been able to fit this hike in close to sunset yesterday, and was glad I waited until morning. With every twist and turn, a different view came into perspective, all the way until the top, when I finally reached the old stone fort. The path wasn't crowded either. During the entire two and a half hour hike, I only passed two other parties. Long, quiet hikes are always a nice reset from the crowded streets, markets and airplanes that come at me a mile a minute when traveling this fast. It was great to be completely alone with nature (and a couple of cats) for a few hours.
RAMBLIN' TIP: Unless you're dying to see and the capital and/or Cetinje, don't do what I did – no need to fly into Podgorica. You can choose to arrive into Tivat, instead, which is right next to Kotor – then, begin your journey down the coast.
City #4: Budva
Next up on the Ramblin' Randy Montenegro Express: Budva! The coastal city, just 30 minutes south of Kotor, features a walled-city of its own. Though not as spectacular as Kotor, it's still really cool, with high stone walls and plenty of shops, restaurants and treat stands inside. I liked Budva a lot, but after visiting, I was happy I'd chosen Kotor for my overnight.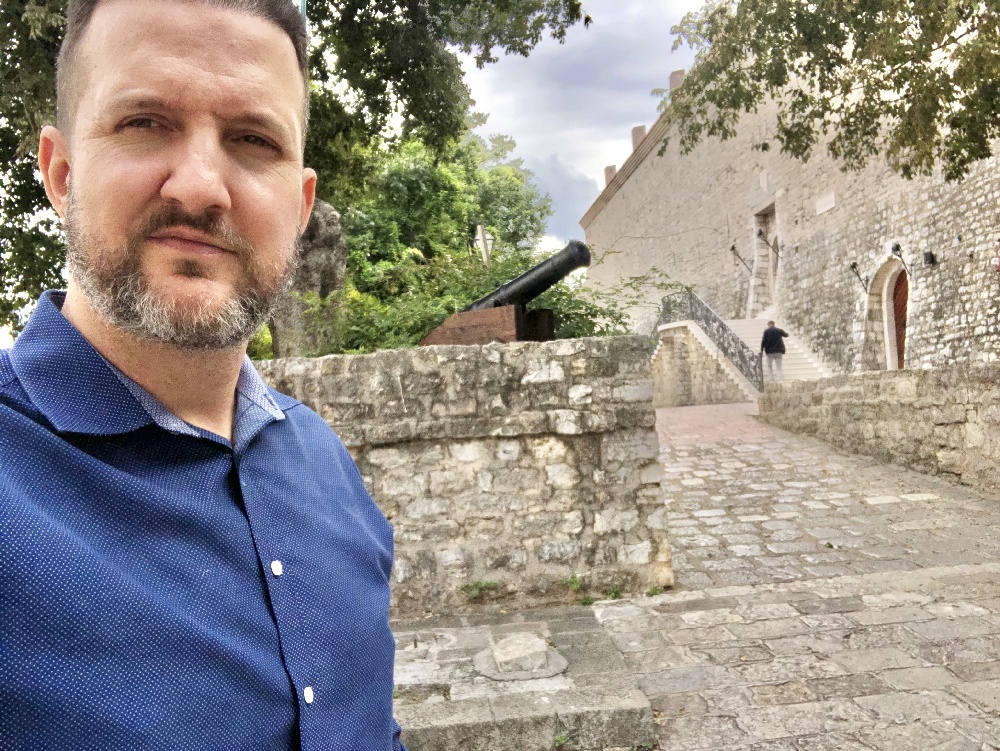 When I Dip, You Dip, We Dip
It kinda killed me a little inside when I realized I wouldn't swim in those beautiful Montenegrin waters of Kotor. So when I looked over the old stone wall to see people swimming off the beaches of Budva, I took it as a sign. Truth be told, I totally would've taken the plunge in Kotor had I seen even one other person swimming, but I didn't want to be the one swimming in the bay all by myself like a loser. Not that I mind doing things alone, but if not one other soul is in the water, well that's literally the beginning of how many horror movies starts, so it's a pass for me. But here in Budva, there were two small beaches on each side of the walled city, right outside, with bathers.
I bought a towel at one of the gift shops and stripped down to my undies. I didn't care, I didn't know any of these people! The water was just perfect, actually – super refreshing and not too cold at all. I would've loved to be able to camp out for hours here, or better yet go in with snorkel gear. I had a nice dip and it was somewhat a relief to simply get the swim out of my system. I would've gone home sad had I not experienced at least one plunge.
City #5: Three Montenegrins Walk Into Bar
After I toweled off, it was back on the road again, for an hour drive along the coast and up and down the sides of mountains as I headed to the town of Bar for lunch. The least eventful of my six stops, Bar was certainly pleasant. I really didn't stay long, so I'm sure I missed a few of its offerings. I enjoyed seeing that huge, white cathedral and refueling (my car and belly) before moving on.
City #6: Ulcinj
Ulcinj was another half-hour south. During lunch in Bar, I'd searched for and reserved a room for the night. I'd learn a completely different way to travel during the pandemic, leaving both flight and hotel reservations to the very last minute. Actually, that was a little tougher to do with my flights, as I couldn't wait too long, or risk a sold-out flight (some flights only ran once a week!) Hotels were much easier. Normally, I'm such a planner – assembling complete itineraries sometimes as far as 11 or 12 months out. But when the pandemic came, that meant having to work tirelessly to get refunds on literally dozens of flights and non-refundable hotel reservations. Try getting your money back from a reservation booked via SCAT Airlines from Kazakhstan to Ulaanbaatar. I'm not even joking. It was a mess. Anyway, that's why on both of these mid-Pandemic European trips (my first one was in June), I'd left almost every reservation to the very last minute. It was actually kind of fun flying by the seat of my pants.
RAMBLIN' TIP: I always book flights directly with the airline and I recommend you do, too. It's always the best route if something goes wrong or you need to change. While I'm a die-hard Marriott member, lately I've been using booking.com a ton for hotels. You can find some great deals, the selection is the best there is, and many hotels feature very liberal cancellation polices. The website and app is super easy to use. Okay, there's my plug for booking.com!
After entering Ulcinj proper, I was routed through what looked like the main street, downhill towards the water and then into a parking lot right outside the town's walled city. Oh, goodie, another old walled city – this was another sweet surprise! I didn't know one iota about Ulcinj, just that it was the last major town before the Albanian border, so I chose it based solely on its geographic location. I hiked up some stairs, into the old city and made my way to the apartment I'd booked for the night.
Re-Dip
I checked into my room—a small apartment this time–before heading out for another swim. While looking for the beach access, I met the owner of the restaurant next door, Alberto. He was the son of the man who owned the apartment I was staying in – these were all family businesses. He insisted I take a shot of Montenegrin moonshine with him before he showed me how to get to the water. He poo-poo'd the idea of me walking all the way out of the walled city and down to the beach, and instead showed me a short path that would lead down to a concrete landing with steps built right down into the water.
When I arrived, I asked the only other person who was down there how the water was, and the nice young man showed me the safe parts (versus where the rocks were) and even displayed an award-winning dive into the water for me! I was not that bold, and proceeded to work my way into the sea like a timid and semi-crippled 90-year old man. The water was pretty rough and there were rocks all around. I didn't last long. It didn't feel right and I didn't want to press my luck. I worked my way back up out of the water carefully (in other words, like a timid and semi-crippled 90-year old man) and toweled off. I ended up leaving the wall city, towel in hand, to explore the beach next door, but it was a little rocky for my tender feet and there was some trash strewn about. I'd already had a nice swim in Budva – I decided it was best to just quit while I was ahead.
See Food Dinner
After getting back from my trip to the beach, I rested for a bit before heading next door for dinner. Alberto prepared me a grand plate of fresh sea food and offered me more alcohol than I could ever handle – more moonshine and a big glass of wine. I was given a small plate of fresh fruit for dessert. I was the only customer for most of my time there, until a group of four came in for drinks as I was finishing up. After dinner I must've walked two miles in search for gelato: first around the walled city, and then out and down into town. My expedition failed and I returned to the room sans ice cream. It was probably for the best. I'd be out early the next morning to cross into Albania.
Magnificent Montenegro!
Turned out it was a good thing that I was turned away in Bulgaria. That extra day was really put to use! I don't know if I've ever visited six cities in one country – for sure not all in one trip! Montenegro is a small country, so it's easy to see a lot of different cities and regions by car, as evident in this article. The people were nice, the views were spectacular and the history was incredible. The food and accommodations were inexpensive, but the parking ticket, highway robbery! The rental car was a little steep, too – it was the Albania drop-off charge that made the price high. Either way, the journey through Montenegro was worth every penny and I look forward to coming back in the summer for more swim time.
This entry was posted in
Europe