The good news: Rwanda was clean, beautiful, organized and safe! What an awesome country that has a lot to be proud of.
The bad news…I didn't get to see much of Rwanda. At all.
I flew into Kigali and immediately headed south for Burundi for the night. By the time I arrived back in Rwanda the next day (to spend my one and only night there), I was mentally and physically exhausted, sore and the food poisoning I acquired in Burundi was kicking in and would soon put me on my deathbed. I wish I had more stories about Rwanda for you. I feel like I've failed you!
I was able to get over to the number one radio station in Kigali. I met with the Program Director there–John Wilkins–who gave me a tour and introduced me to the staff. It was really cool for a radio nerd like me. I work in radio full-time, so I love to see radio stations in different countries. Thanks John!
>>> RELATED ARTICLE: RAMBLIN ON THE RADIO(S) – RADIO STATIONS AROUND THE WORLD <<<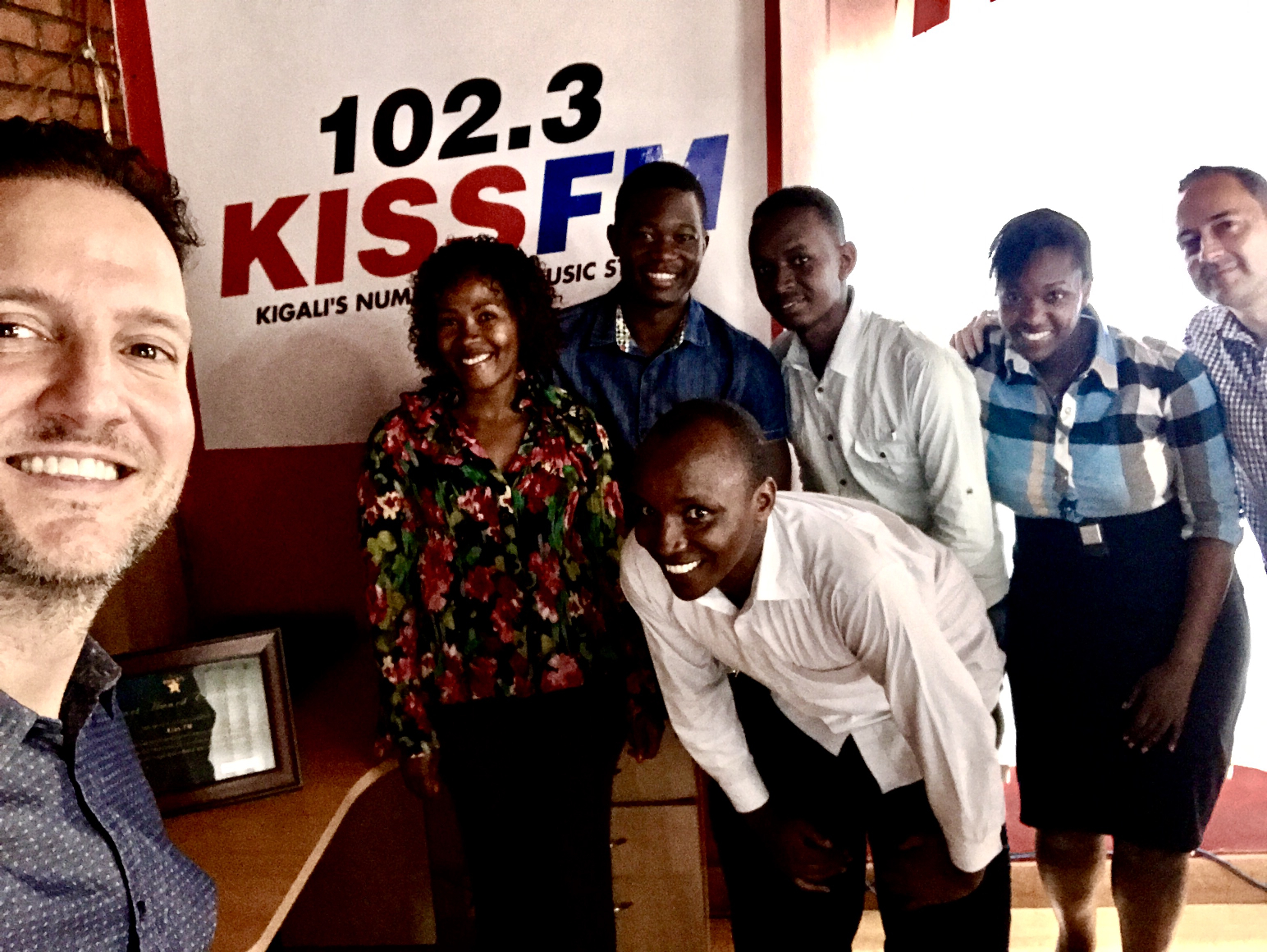 After the station visit, I grabbed a coffee downtown and then explored the city center on foot. I was on a quest to get a massage; all that driving and multiple planes had me hurting. I found my way over to Kigali City Center, which was Rwanda's version of a mall. It was five or six stories and pretty interesting: an old building, nothing like the malls we know. It was in the shape of a square; the middle was open and the storefronts framed the inside of building (picture the inside of an Embassy Suites, where all the rooms open up to the center).

I wandered around the shopping center for at least a half-hour, looking for this massage place, but had trouble finding it. That was okay though, I enjoyed exploring the City Center. I made my way up to the sixth floor, which turned out to be nothing but stalls and rooms with hundreds of people making clothes: tailors, sewing, stitching, cutting and making dresses, pants and shirts. I had no idea what was happening, but it looked cool. Something the average tourist would never see. I caught a great view of the city streets below through an open window.
I finally found the massage parlor, although it wasn't the one I was looking for. Add to my disappointment, my masseuse was a dude. Grrr, I can't win! To be fair, it was a damn good massage. If he had been a she, it would've been a 10! And it was cheap…I think it was something ridiculous like $15 for an hour Swedish massage. I tipped the guy $40 and he seemed super appreciative.
Last stop was a meet up with a friend of a friend. One of my travel buddies introduced me to his good friend Dadi. Dadi and I met for dinner at a restaurant right there at the City Center and exchanged some good travel stories. Unfortunately, by this time my stomach was really rumbling–like, majorly…something awful was about to happen, I could tell. I had to wrap up dinner quickly and race back to my hotel room before all hell broke loose. I arrived at my room without a second to spare and spent the next 16 hours getting rid of whatever it was that got me sick in Burundi. It was a rough night.
Luckily my flight didn't leave until early afternoon the next day, so I had a little bit of time to try and nurse myself back to a condition to get on a plane. I'll spare you the details, but I made it out without sh*tting myself. Thanks Rwanda.
—
If you go:
There's so much I missed, and I'm actually embarrassed with this article. There's lots to do in Rwanda including checking out the Kigali Genocide Memorial Centre. If you have a little time, take a trip outta town to find and watch gorillas in the wild. So much cool stuff to do, and Rwanda is a beautiful country with great people. By the way, I stayed at the 5 Swiss Hotel, and I recommend. It's a nice place for a good price.


This entry was posted in
Africa