Getting There
My hotel (okay, resort) was a little over an hour away from Sir Seewoosagur Ramgoolam International Airport and in the opposite direction of the island's capital and most populous city, St. Louis. It too, was almost an hour away. The airport here really was in the middle of nowhere. Perhaps that was the plan: to build it midway between the capital and all the resorts on Le Morne Peninsula. I immediately regretted bypassing the city after flying over it on the way in. It looked big and full of adventure. But this trip was one of pure relaxation, consisting of five nights in The Seychelles and two in Mauritius, completely inside the confines of a luxurious chain resort on the beach, which we'll get to momentarily.
>>> RELATED: SALLY SELLS SEA SHELLS ON THE SEASHORE IN THE SEYCHELLES
First, some of the formalities, in case you're planning on visiting while the pandemic continues. Hopefully, when you're reading this, Corona Virus is a thing of the past. But while I write this (December 2021), I wonder if this bullsh*t will ever get wrapped up.
I traveled to Mauritius in late November of 2021, just a few months after the country finally opened back up to tourists. As of this article, I've visited over 40 countries since the pandemic and none of them required even half as much "stuff" as Mauritius did to travel there. Their prerogative, but damn – I literally opened up and entire attaché of documents and spread them out over the airline's check-in desk. It looked like I was applying for a mortgage! They wanted everything! But once I was cleared for take off, It was a nice, quick flight from Mahé on Seychelles Air – a new airline for me, and that's always fun. Just over two hours later, it was so nice to be on the ground, hear that stamp go ker-plunk in my passport, get through immigration and make Mauritius "official." #172!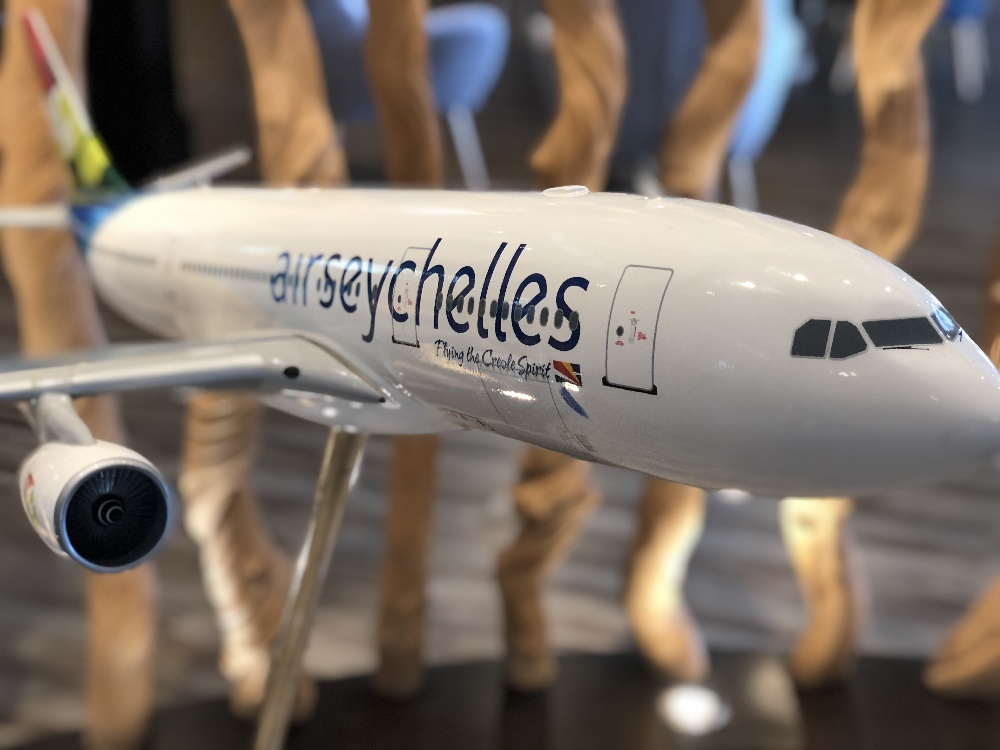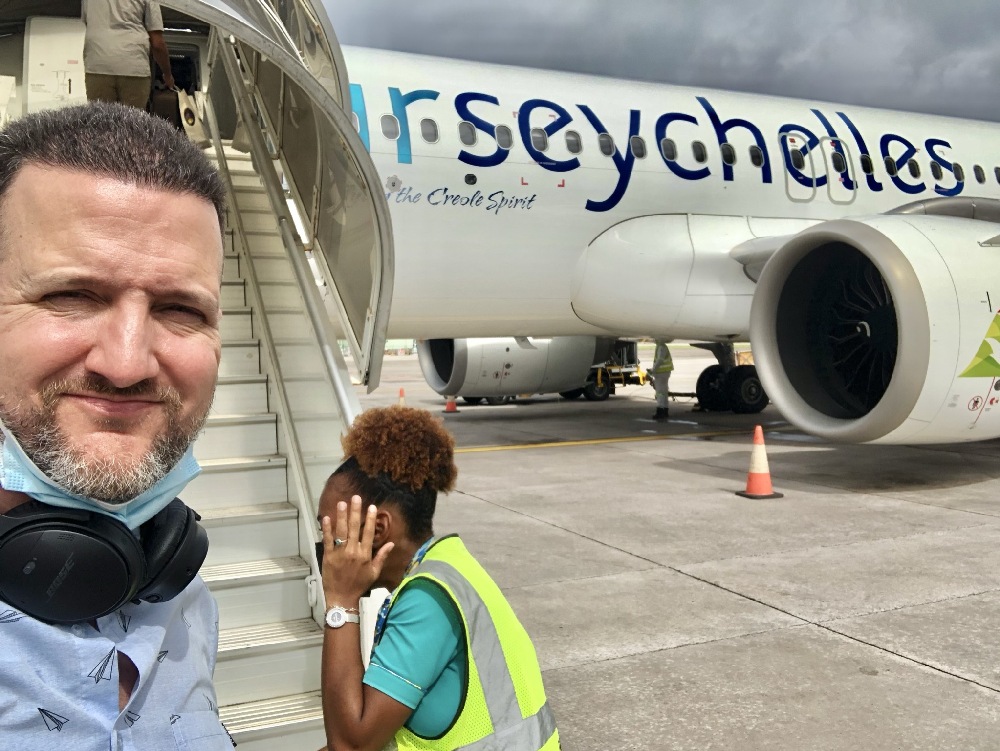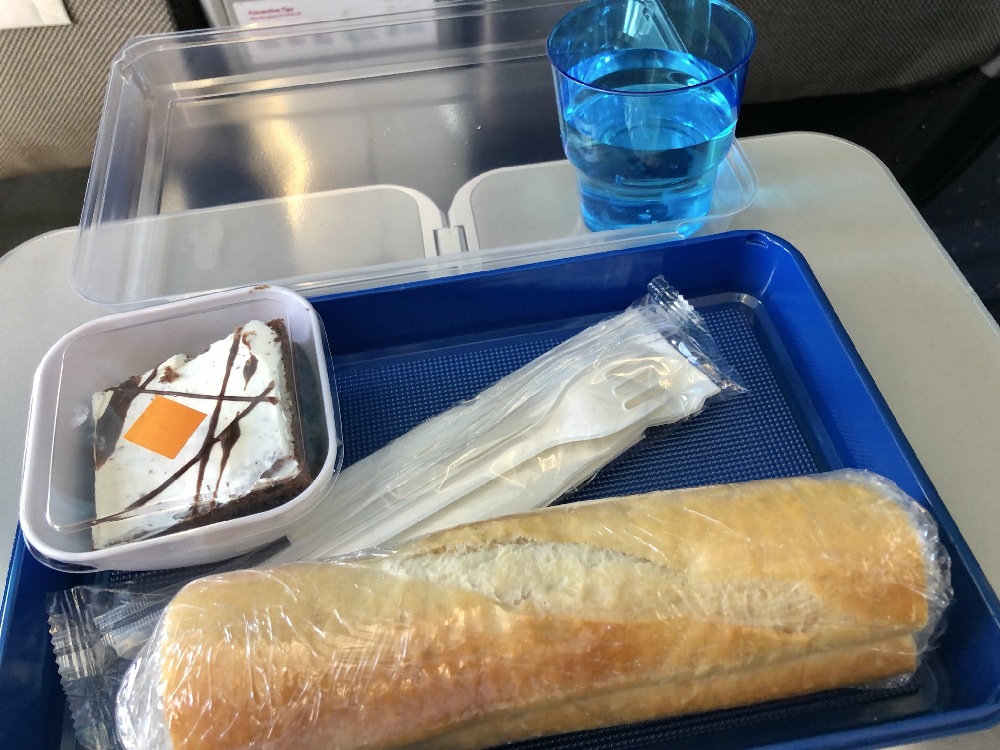 Island Express
As my taxi exited the airport, we drove first through huge fields of sugarcane before rolling in and out of a handful of small villages. For the most part, the scenery was uneventful. We passed a few roadside fruit stands and a half-dozen dogs sleeping dangerously close to road (literally, right on the asphalt of the non-shouldered highway). There were three or four small, one-lane bridges that used stoplights to regulate the traffic's direction. I perked up at the sight of a handful of small but oh so colorful Hindu temples – just like the ones I remember seeing in Myanmar and Sri Lanka. Made sense – 67% of the population here are Indo-Mauritians (of Indian background). The Portuguese, Dutch and French all came to this uninhabited island over the centuries, but the Indians were the ones to set up some serious (and long-term) shop! I'd say over 90% of the people I interacted with (admittedly, mostly hotel staff) were Indo-Mauritians, as was my taxi driver, airport staff, etc.
The second half of the drive was along the coast and almost a little too curvy for comfort, but I managed to keep my eye on the horizon and avoid carsickness. The music helped. For the duration of the ride, I can say with sincerity I really enjoyed the driver's sound track: an AM station that played classic (60s/70s?) French music. There were a few Creole (Mauritian) classics mixed in and even one really old Elvis track…and a female DJ that just spoke just enough beautiful French in between records. "Radio Maurice" is 684mhz on the AM dial, FYI, if you ever take this drive – do request this station! The 65-minute trip to the resort (and back to the airport three days later) would be the most culture I'd get on this entire stop. That's not a complaint, just an observation. If you've read even one or two articles on this website, you know "resort travel" really isn't my thing at all. I was making an exception here. Now and then, you gotta treat yo' self.
The Suite Life
I will say that this resort was an experience. I'm not used to this kind of travel, so it actually was kind of special. Let's start with the room. My Marriott status got me upgraded at the JW Marriott Mauritius. The Manor House Spa Suite was without a doubt one of the top-ten nicest rooms I've ever enjoyed. (Nothing will beat The Royal Mansour in Morocco!) My favorite parts of this enormous room were its grand patio with day bed and multiple sofas, overlooking the pool and ocean; its enormous bathroom with a shower the size of a small bedroom; and these digs even featured a giant "massage" room with two massage tables. Just insane! There was a bottle of champagne, a gourmet chocolate bar and a box of macaroons waiting for me on the marble countertop. But the best part: The suite came with its own butler. "Garry" was at my beck and call, on-hand the entire time for anything I needed. I didn't even know what to do! What the heck would I use a butler for?
You can book a room at the JW Marriott Mauritius HERE!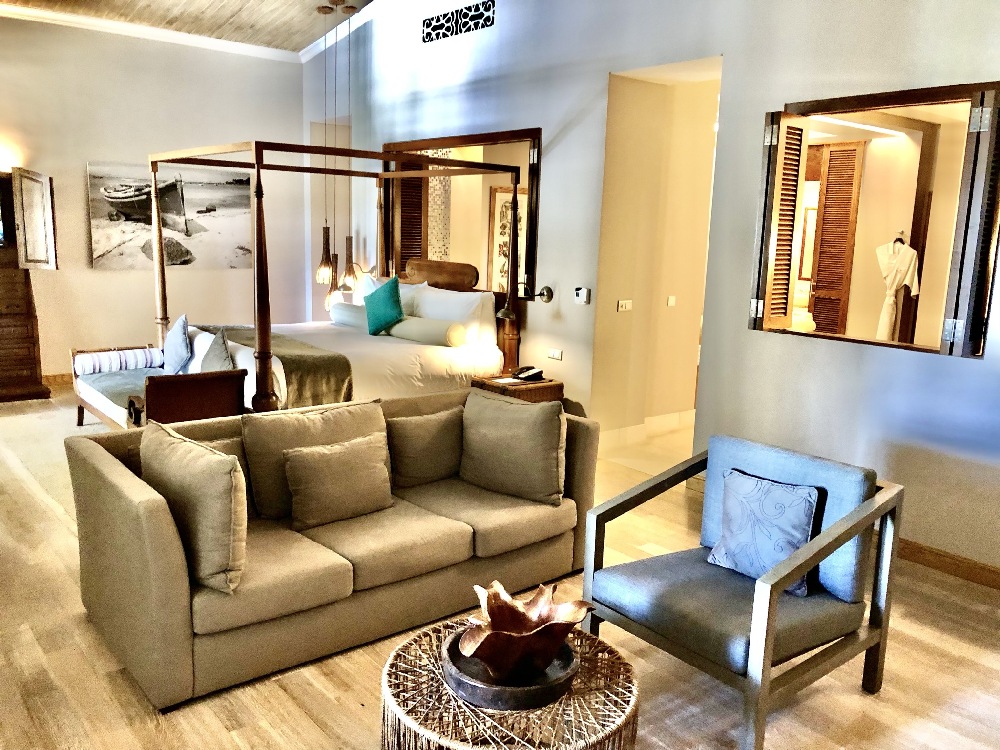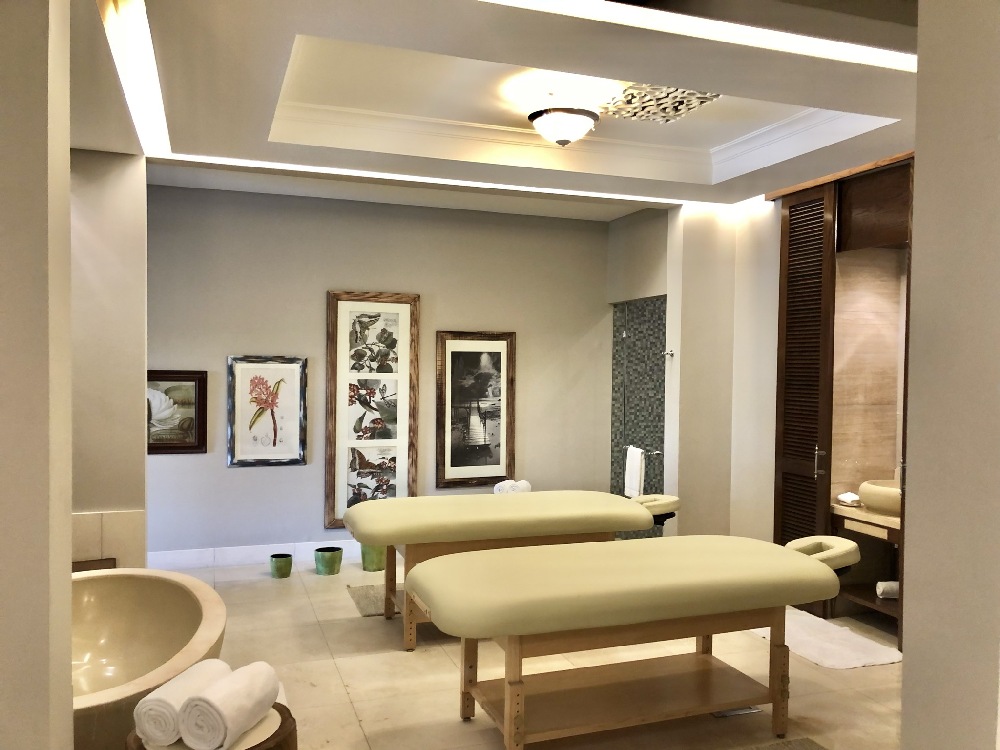 The resort also featured a game room and spacious library. I especially loved the giant, curved, wooden staircase from the lobby to the second floor of the manor house. Teak maybe? A gorgeous, wide mural of a painting sat behind the big, beautiful wooden and marble semi-circular bar with all the expensive liquor and Cuban cigars one could wish for in-reach. The whole resort reminded me of a giant, colonial plantation, with lots of wood and old-world touches, mixed with some modern ones, too (the pool, the water features, etc.) It was a special hybrid that just worked for the setting.
RAMBLIN TIP: Try and stay loyal to one hotel brand. If you stay enough nights, you'll rack up some great rewards and perks, like late-check outs, room upgrades and more. I'm loyal to Marriott, but there are a handful of groups to choose from including Hilton, Hyatt, Wyndham and IHG. Even the budget brands have loyalty clubs. Do some time to study each chain's programs and how they can benefit you. Find my invaluable 50 Travel Tips article HERE.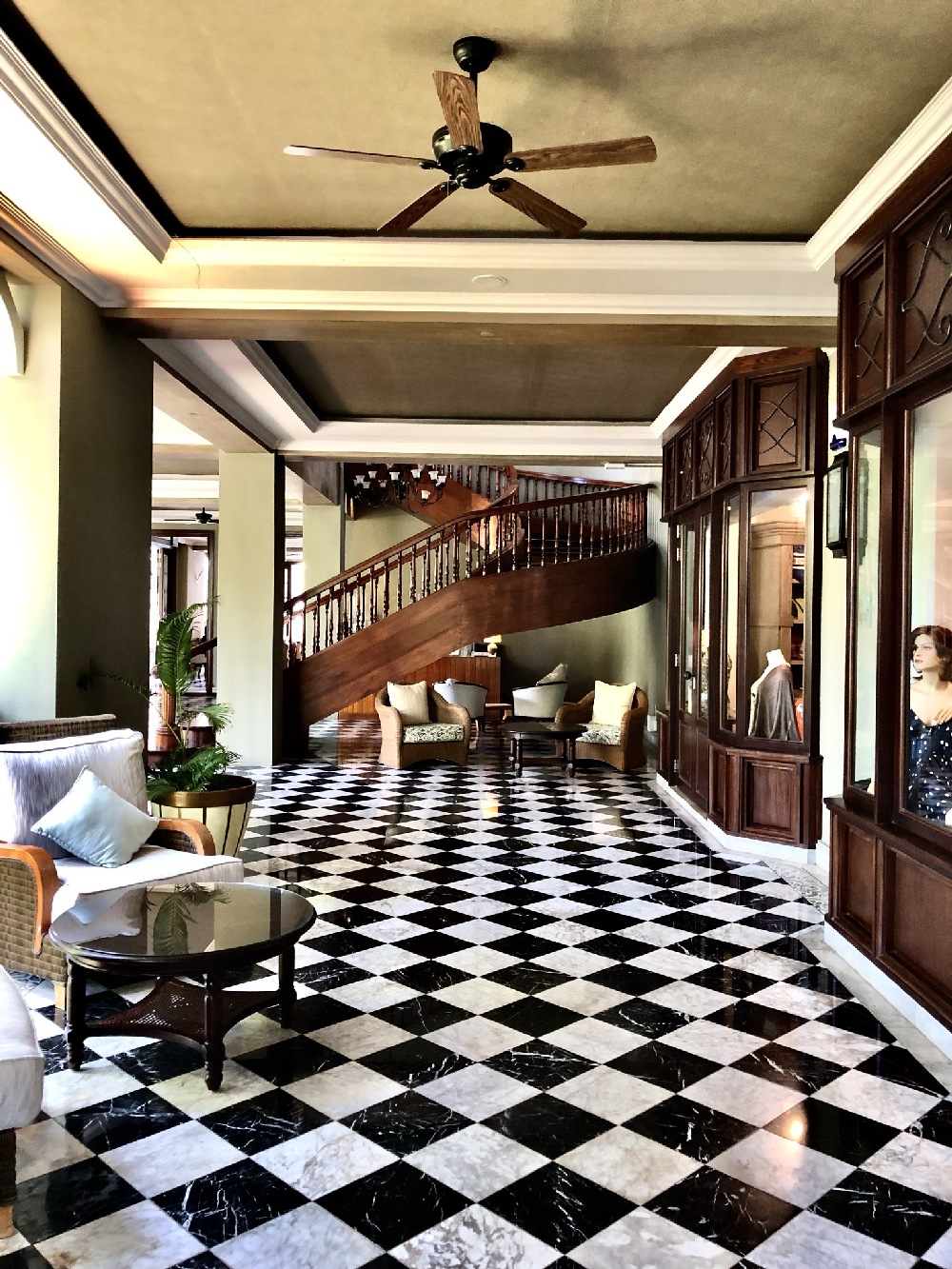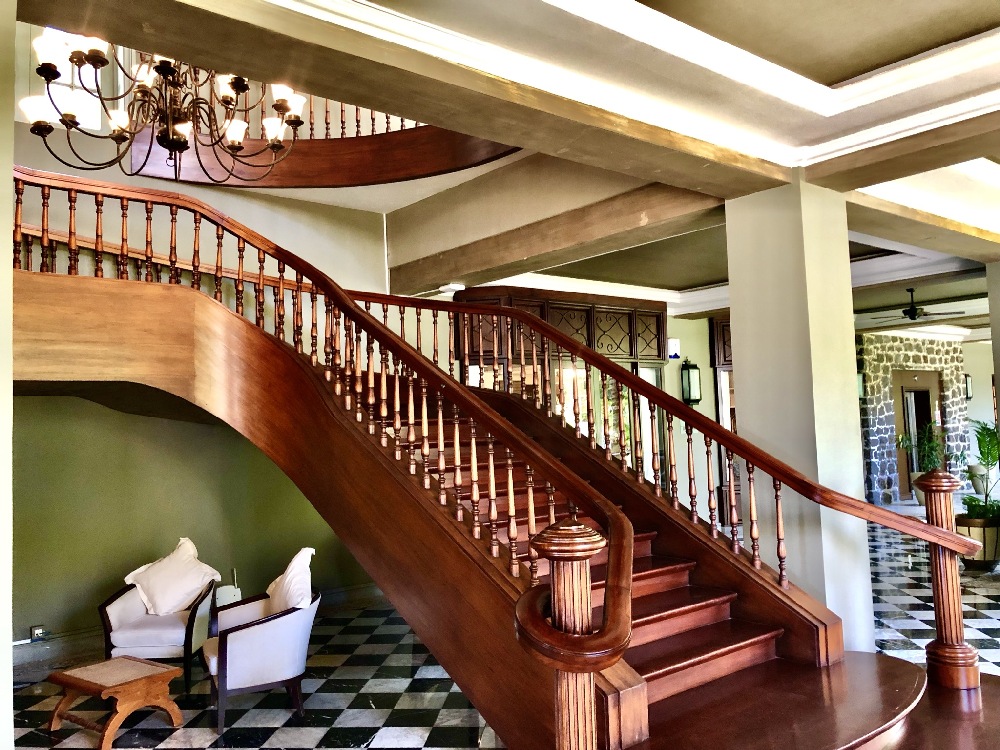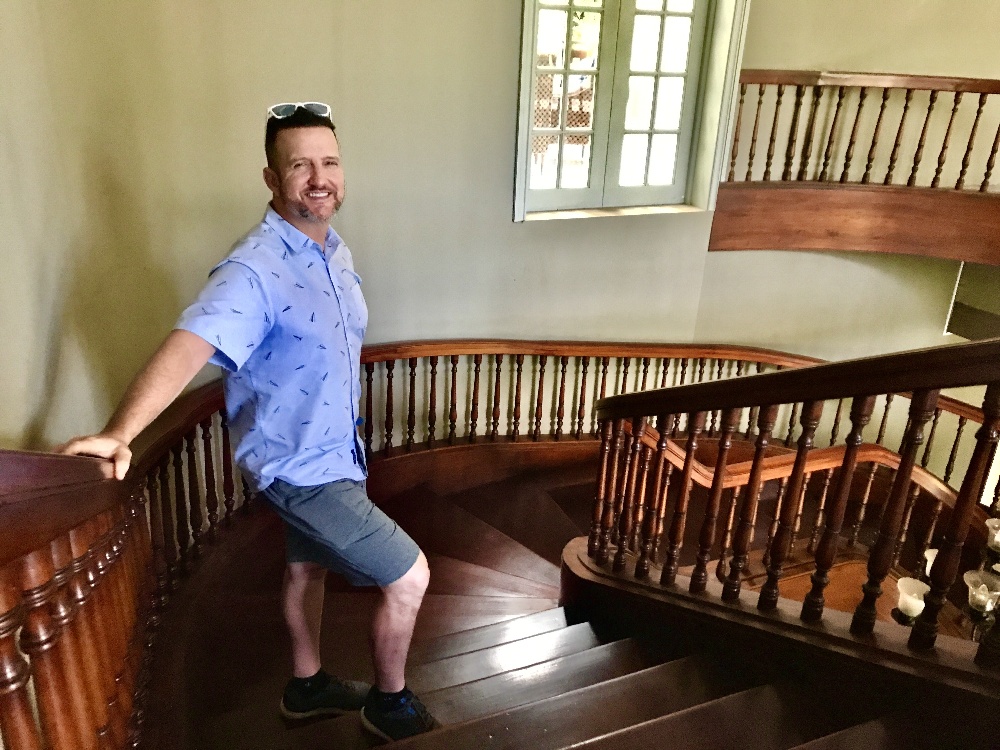 Wastin' Away Again in Margaritaville
As you can guess, no crazy stories or even insightful anecdotes over the next three days to share. If you're looking for stories of adventure or enlightenment, pop over to my Togo or North Korea blogs. I enjoyed sipping Mojitos in shaded cabanas by that huge pool, whose water was at the perfect temperature. The beach was nice and not crowded at all. I'd walk to the very end of the peninsula numerous times and marvel at the kite surfers who'd take flight with ease. Some of those guys looked like they were 100 feet above the water! It's a sport I'd try if I had 5% of the core strength and coordination of these pros. The sea was only semi-clear and not nearly as nice as my previous stop in The Seychelles. Bring swim shoes if you come – lots of sharp coral and rock on the shallow floor, spaced out and hidden like little land mines. If swimming and snorkeling is your thing, I suggest an excursion out to nicer waters. There's something called the Underwater Waterfall that I was told about, though I didn't have a chance to visit it myself and not sure I fully understand what it is. Don't get me wrong, the beach here was nice, with that gorgeous backdrop of Le Morne Brabant Mountain towering over the peninsula. I would've hiked that monstrosity if I had a few more days here, but wasn't in the mood to break my three-day "meditation" with a grueling and very steep trek. Maybe next time.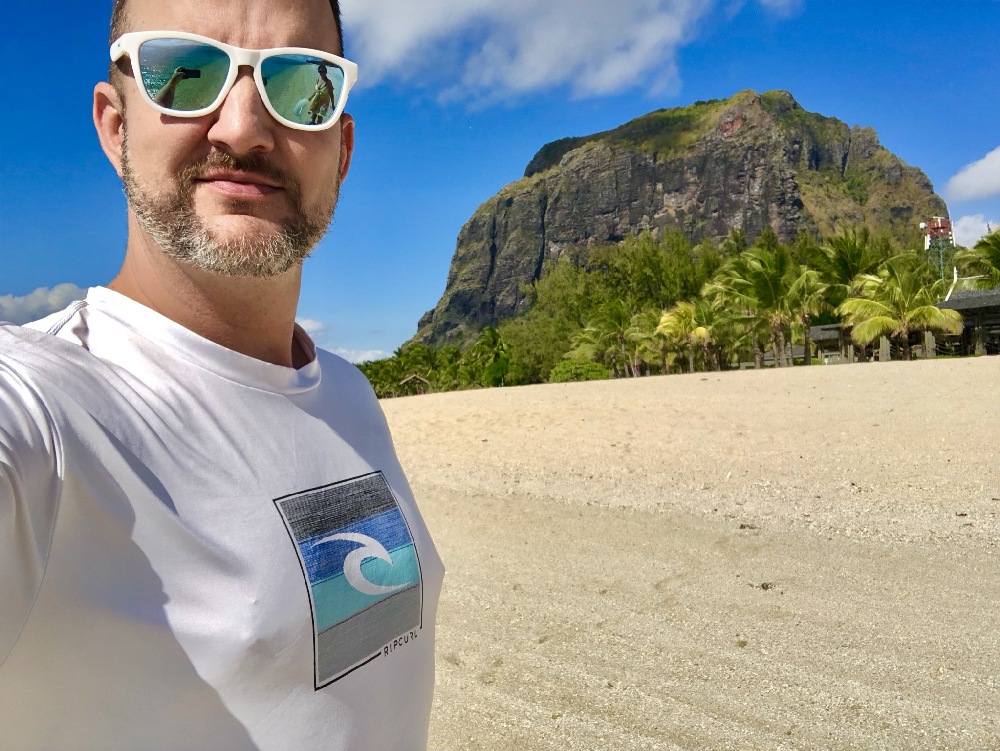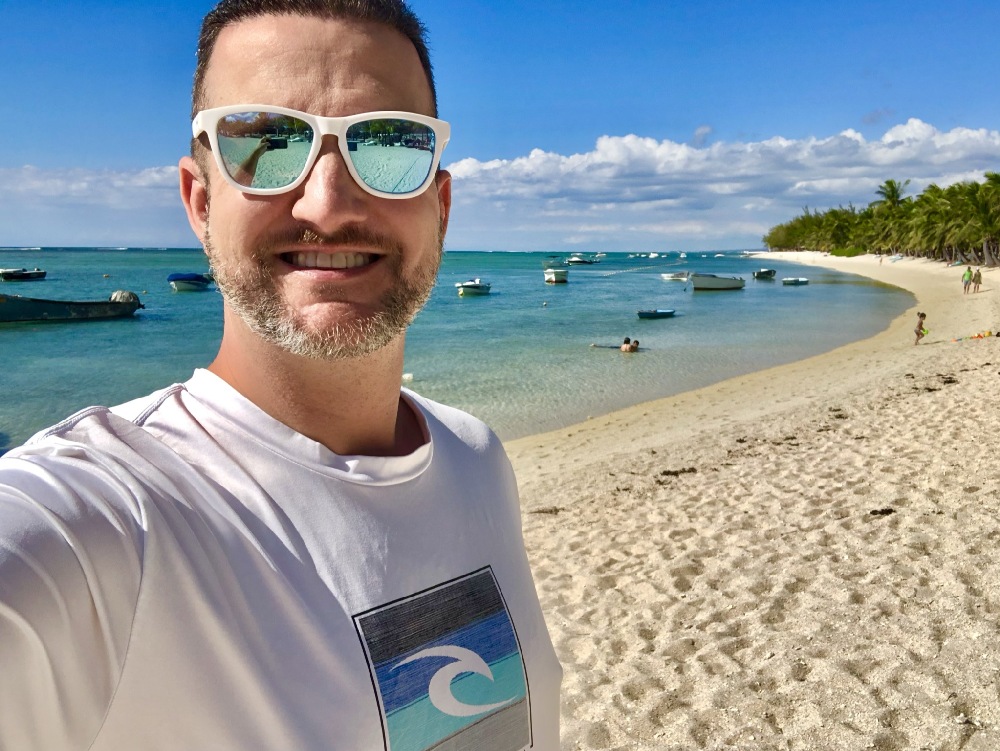 Good Drink, Good Meat, Good God, Let's Eat
The food here was good. On the first night I had a big bowl of spaghetti like little boy at The Boat House Restaurant. On night number two, sushi at Atsuko. The name of my favorite roll escapes me now, but it had rare cuts of steak inside – so good! For breakfast, I enjoyed the buffet both mornings, which was a solid seven out of ten – lots of options, including dim-sum and some local fare. I would've liked to have tried The Floating Market restaurant, but it was booked solid. That place looked awesome and I bet the food was too, its website describing its fare as, "a discerning blend of Thai, Malay, Vietnamese, Indonesian and Singaporean flavors." Yum.
Less Talk, Maur-itius
I may make it back to Mauritius in the near future, if for no other reason than to get to Madagascar. Madagascar was on the original itinerary of this trip, which was designed as a Seychelles-Mauritius-Reunion–Madagascar hop, but sadly flights to Madagascar suddenly disappeared. It gnawed at me that I was so darn close to Madagascar—just two hours away from one of the hardest-to-get-to and farthest places from home—but simply couldn't go. The MRU to TNR route was an easy and common one, but simply shut down recently due to the pandemic. What a shame! But, that does give me reason to return to Mauritius, and when I do, I'm planning at least two nights in the city.
FUN FACT: Mauritius is the absolute furthest country you can travel to from my home in San Diego, California. There is no point (on land) further away. There's a website that will you what the furthest point is from your home and you can find it HERE. Pretty cool.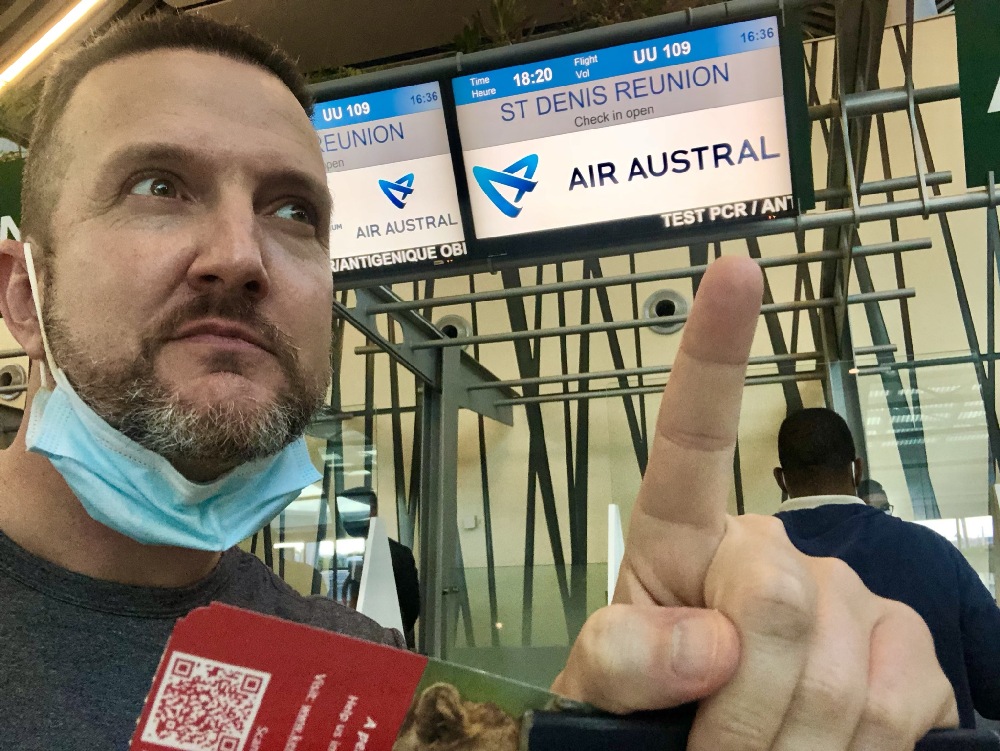 This entry was posted in
Africa