If I'm lucky, on my trips that include visits to multiple new countries—almost all my trips—one of the countries I'm least excited to see will pleasantly surprise me and exceed all my expectations of it. Such was the case with Cambodia.
I didn't study or research Cambodia at all. I was too excited for Thailand, for it was the country I've waited decades to see. So when I arrived in Cambodia I had no clue what I was in for; I just knew I'd look at some old temples and see what the little town of Siem Reap was about. Boy was I wrong.
Even the name seemed unappealing. "Siem Reap." Sounds way to close to "Grim Reap," as in "Grim Reap…er" Yeah, that's somewhere I'll feel safe. But that notion couldn't have been farther from reality.
While being shuttled to the hotel from the airport, I enjoyed seeing local life, as I passed by little markets and bypassed tuktuks. After a short nap at my hotel, I was riding in the back of my own tuktuk, straight into town for a stroll at dusk. As my driver pulled up and dropped me off at the entrance to Pub Street, I immediately dropped all of my preconceived and frankly just way-off visions of this new city. I'd pictured dirt roads, huts and banana trees; but instead, here I was under glowing lanterns, flashing lights, walking down tourist-lined streets, with live music and a party in every directions.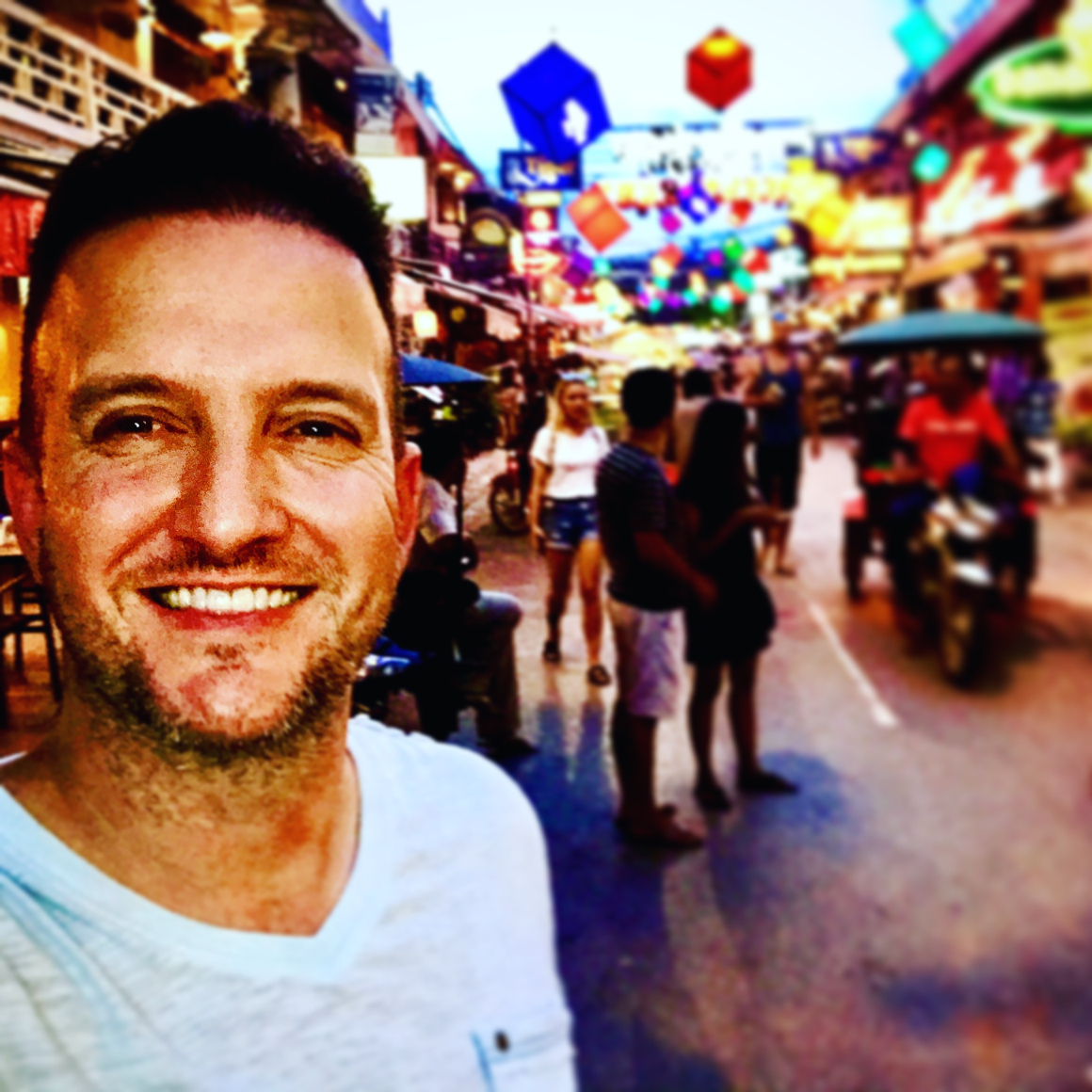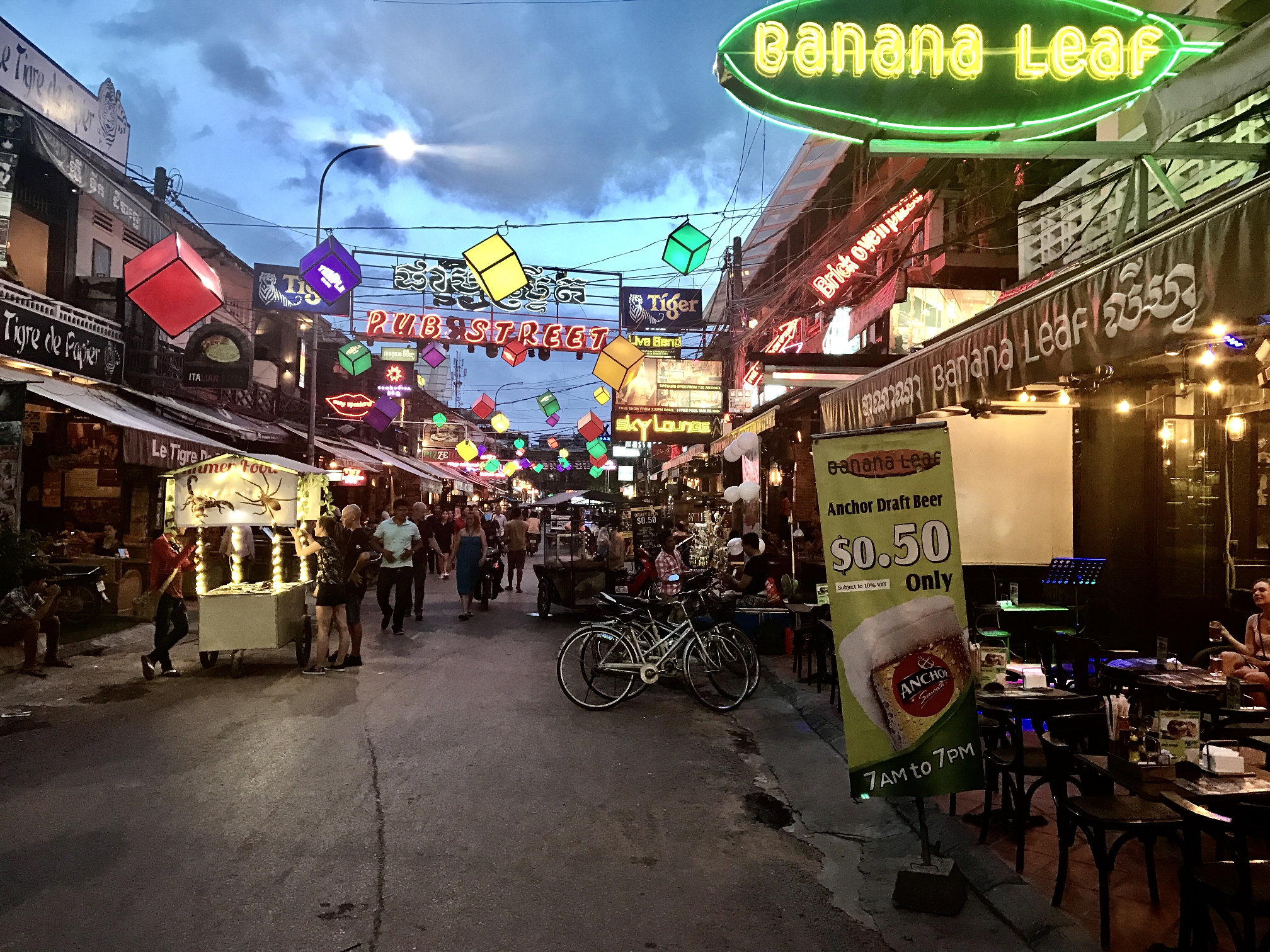 What did it taste like? Nothing really. Just crispy, burnt soft-shell something-or-other. Luckly it wasn't chewy nor did it contain any parts that didn't quickly disintegrate in my mouth. It was all over pretty fast as I headed to the nearest bar for a beer to wash down the remaining scorpion crumbs stuck in my teeth. Really, it wasn't that bad. What I could not have done, for anything, was try the giant roach-like "waterbugs" that were on display next to the crickets. No way, no how. I'm still having nightmares at just the sight of them.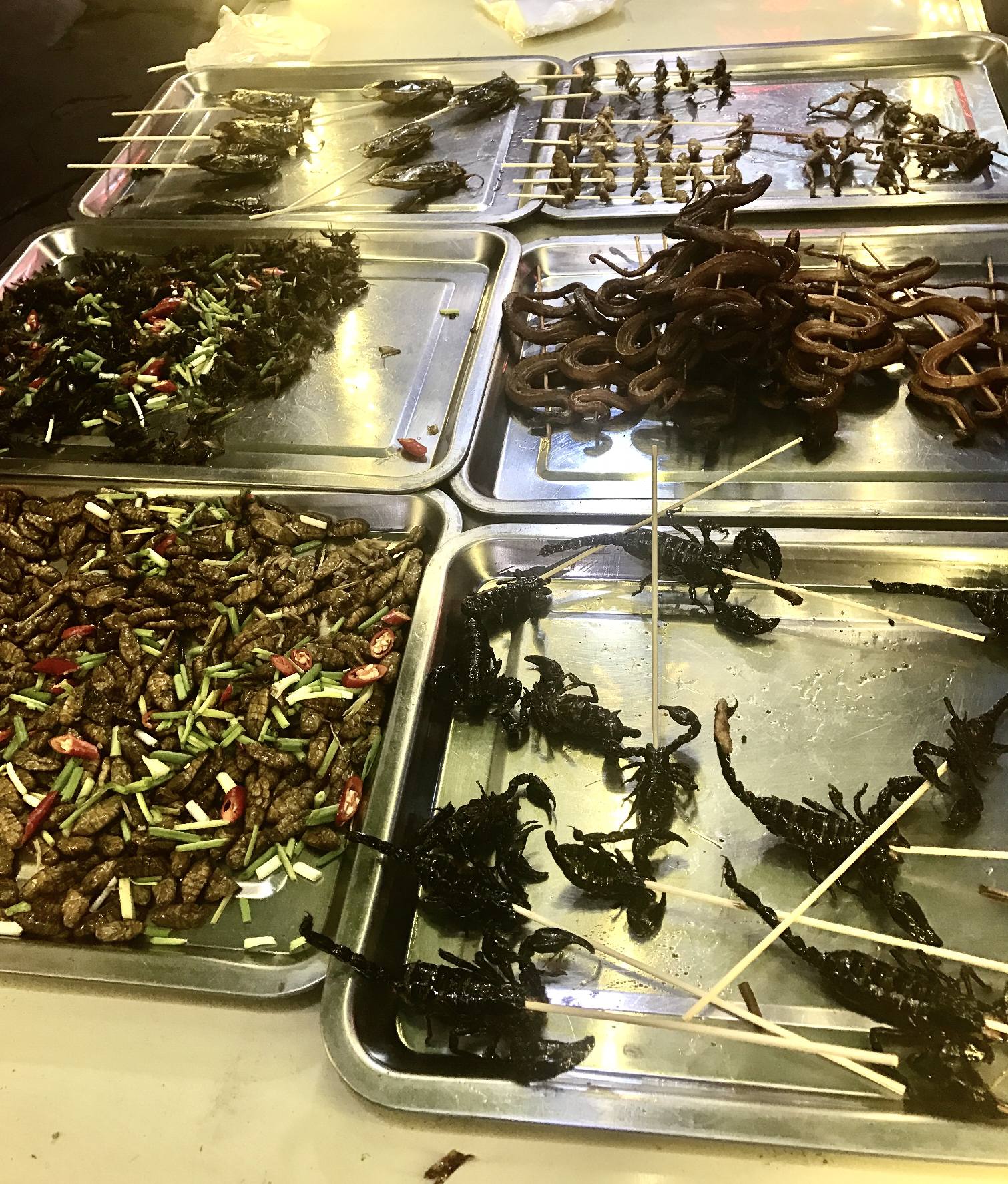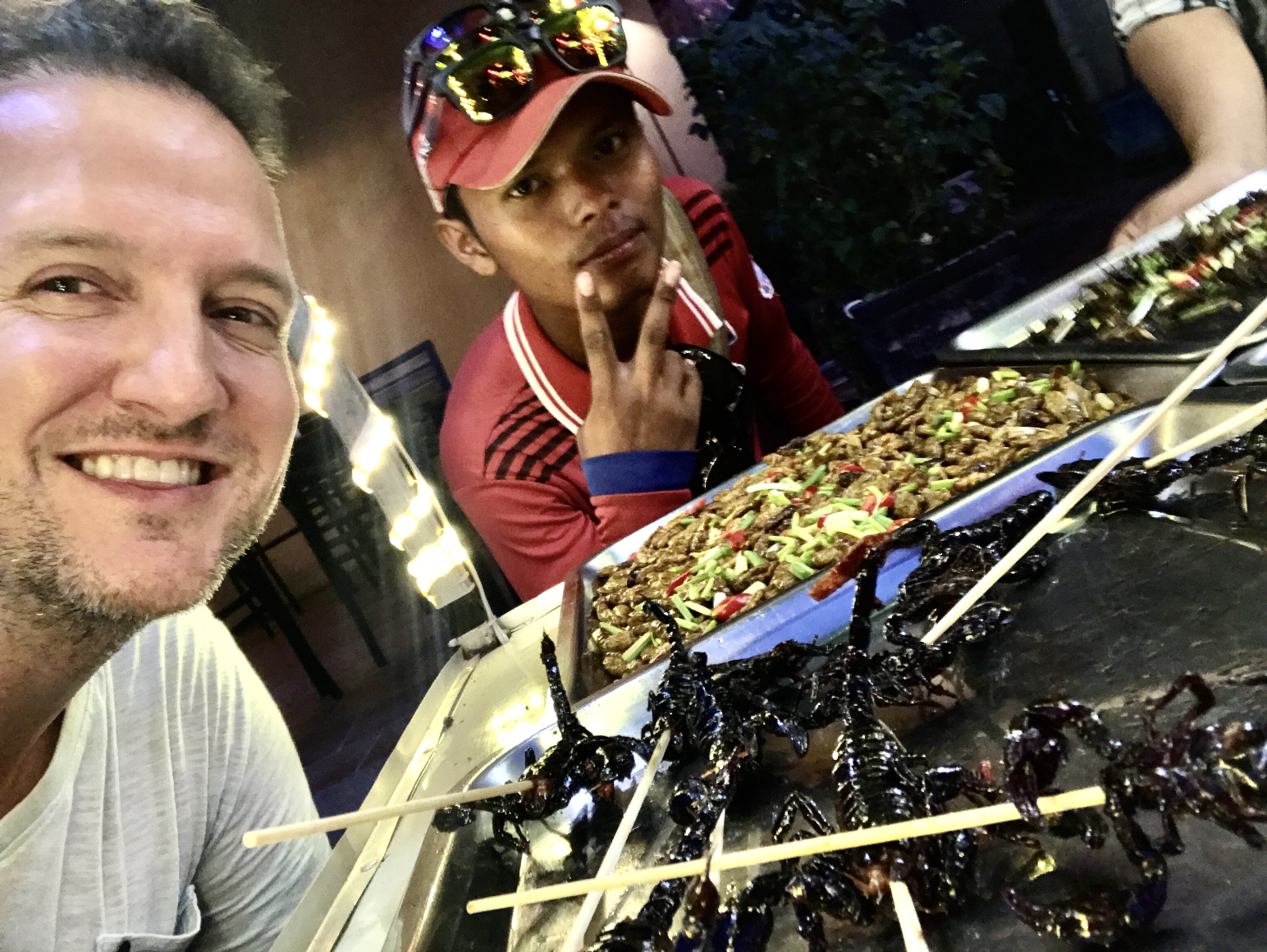 Speaking of bugs—and as a guy who detests creepy-crawlies—there are a lot of bugs in Cambodia; probably the most I've seen anywhere. Thankfully I didn't have many run-ins with spiders—besides a couple small ones getting a little too close—but man, these small black crickets were everywhere, including on me.
I spend the next hour or so exploring the district. I passed through the night market—a glorified souvenir mall—and then on to enjoy an hour-long foot massage at one of the hundreds of massage parlors in the area. Everything in Cambodia was incredibly cheap. The hour long foot treatment was just six bucks!
Fun Fact: They accept (and actually prefer) American currency in Cambodia. I should have researched that—it would have saved me a lot of hassle and exchange fees!
Then, just when I was about to call it quits and head back the hotel for some much needed sleep (I had a 4AM wake up call to see the temples), I met Bunny.
Bunny (who is a dude, despite the name), is a Siem Reap tuktuk driver that in about 30 seconds sold me on a ride with him to tour the local scene. Apparently where I had been exploring was just the "tourist" area, and if I wanted to see a real glimpse of Cambodian nightlife, Bunny was the guy. And he indeed was.
It was no longer than three minutes that we were completely away from any sight of blonde girls in Birkenstocks and henna tattoos, and cruising down the local strip. Completely different than Pub Street, this strip was void of pedestrians, scorpion-stands and souvenir peddlers. Instead, on each side of the street were large outdoor clubs and bars, with music blaring under green neon lighting. We stopped at one, name unknown to me, and Bunny and I enjoyed a couple Angkor beers while listening to some pretty awful Karaoke. But I wouldn't have wanted it any other way. There was not another foreigner in sight, and Bunny seemed proud to be able to show me how Cambodians enjoy the night.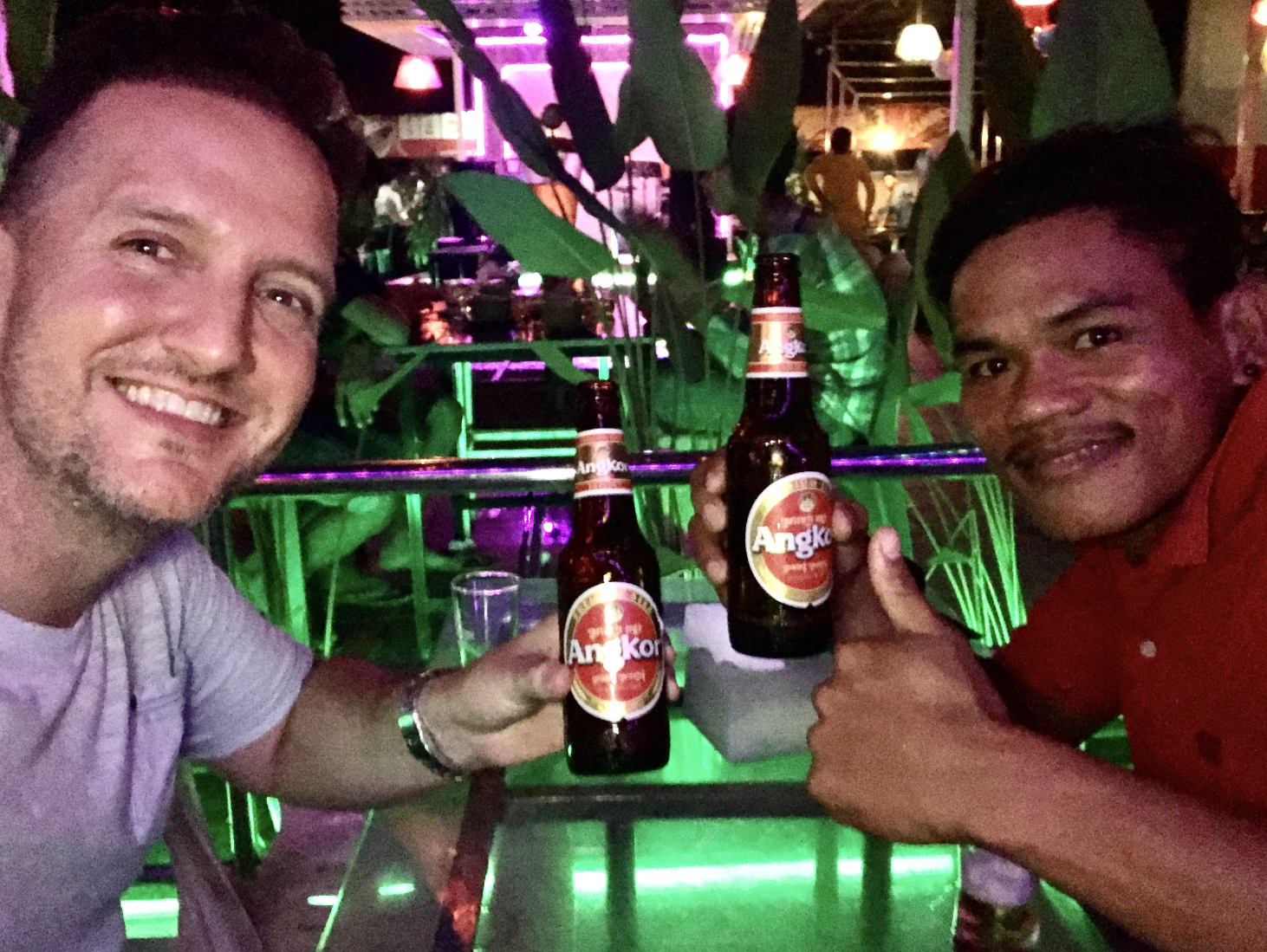 After a couple cold ones, it was off to stop number two. Another "local" Cambodian bar, this one was filled with young, good looking ladies, and I was the only guy in the whole place. Every woman in the bar smiled at me; the kind of scenario dreams are made of. But it only took me about one millisecond to realize why I was getting so much attention. No, it wasn't my dashing good looks and stunning dad bod. These were all working women. Yikes!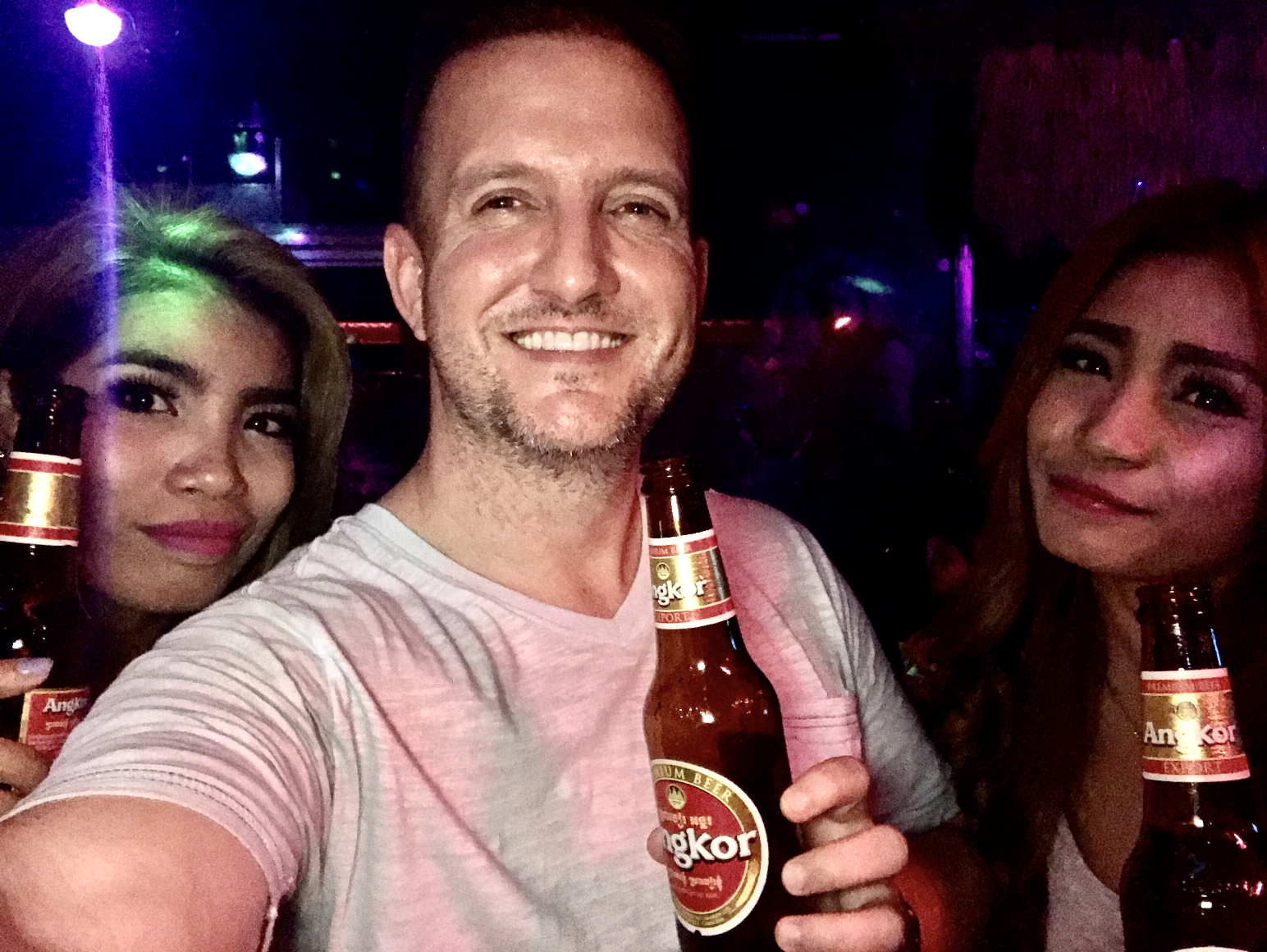 But that didn't stop me from having a couple drinks with Bunny and shooting a few games of pool. Bunny was very good by the way, I was no match for him. It was getting late, I'd had my limit of beers, and my wake up call was just a few hours away. It was time to call it a night.
Ankgor Whaaaaaat???!!!
I don't do well on poor sleep, so waking up at 4:30AM after going to bed after 1 was tough, but I powered through. It was off to see the famous Ankgor Wat, and it was everything you'd think it be: massive, huge, haunting. We'd started so early so we could catch the sun rise up behind the temple, which was certainly marvelous. After photos of sunup, we explored the grounds for about an hour before returning back the hotel for nap. The rest of the tour would continue at 9:15AM.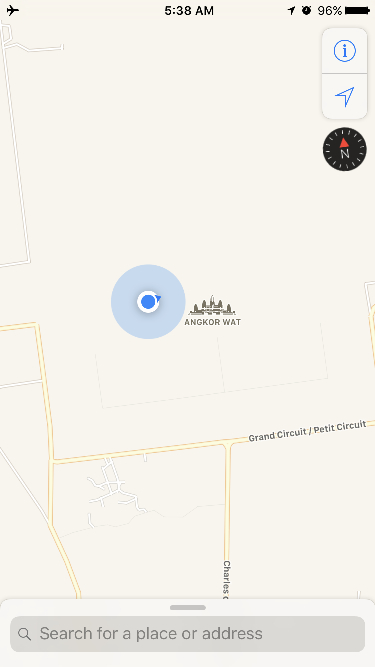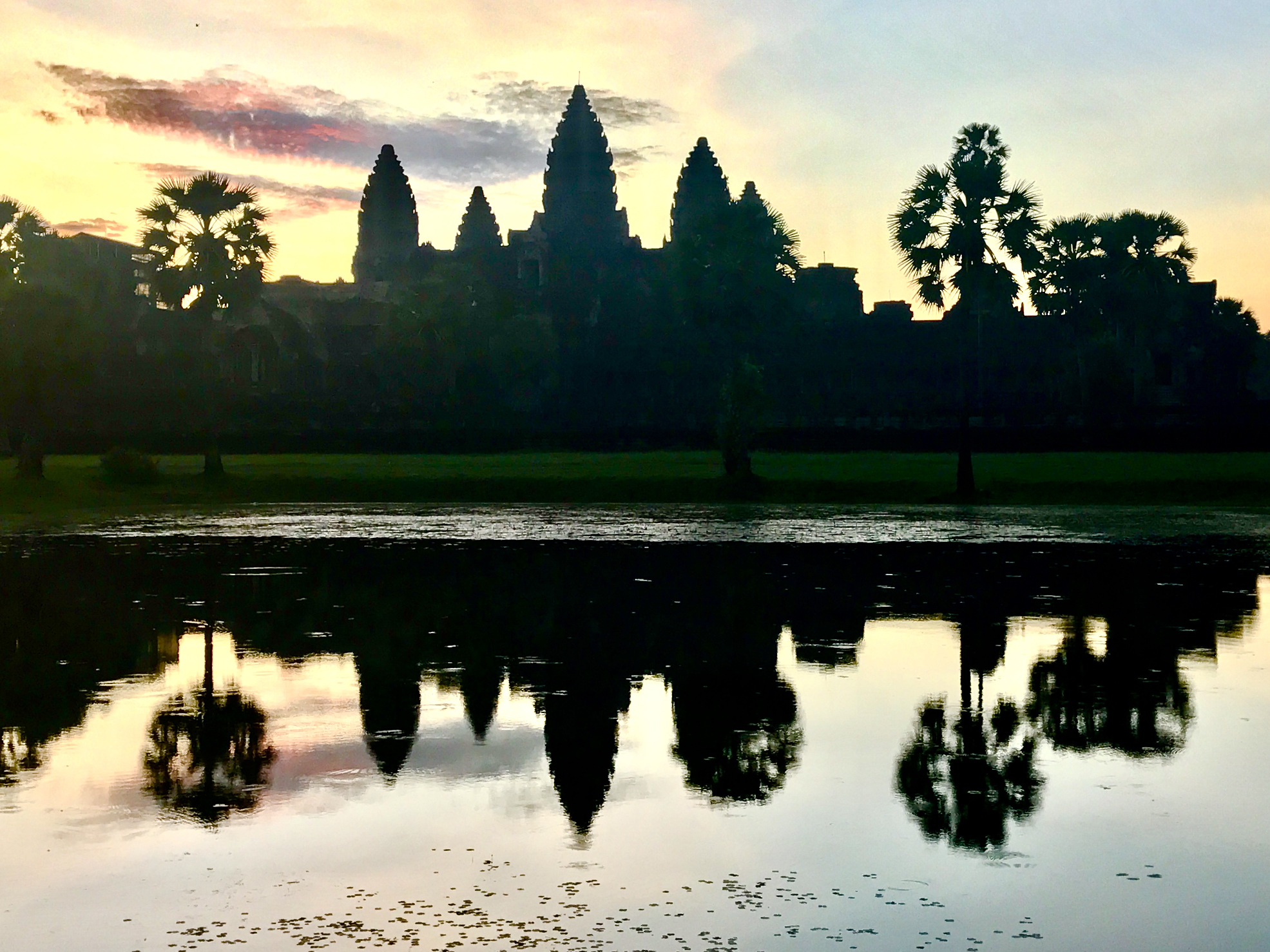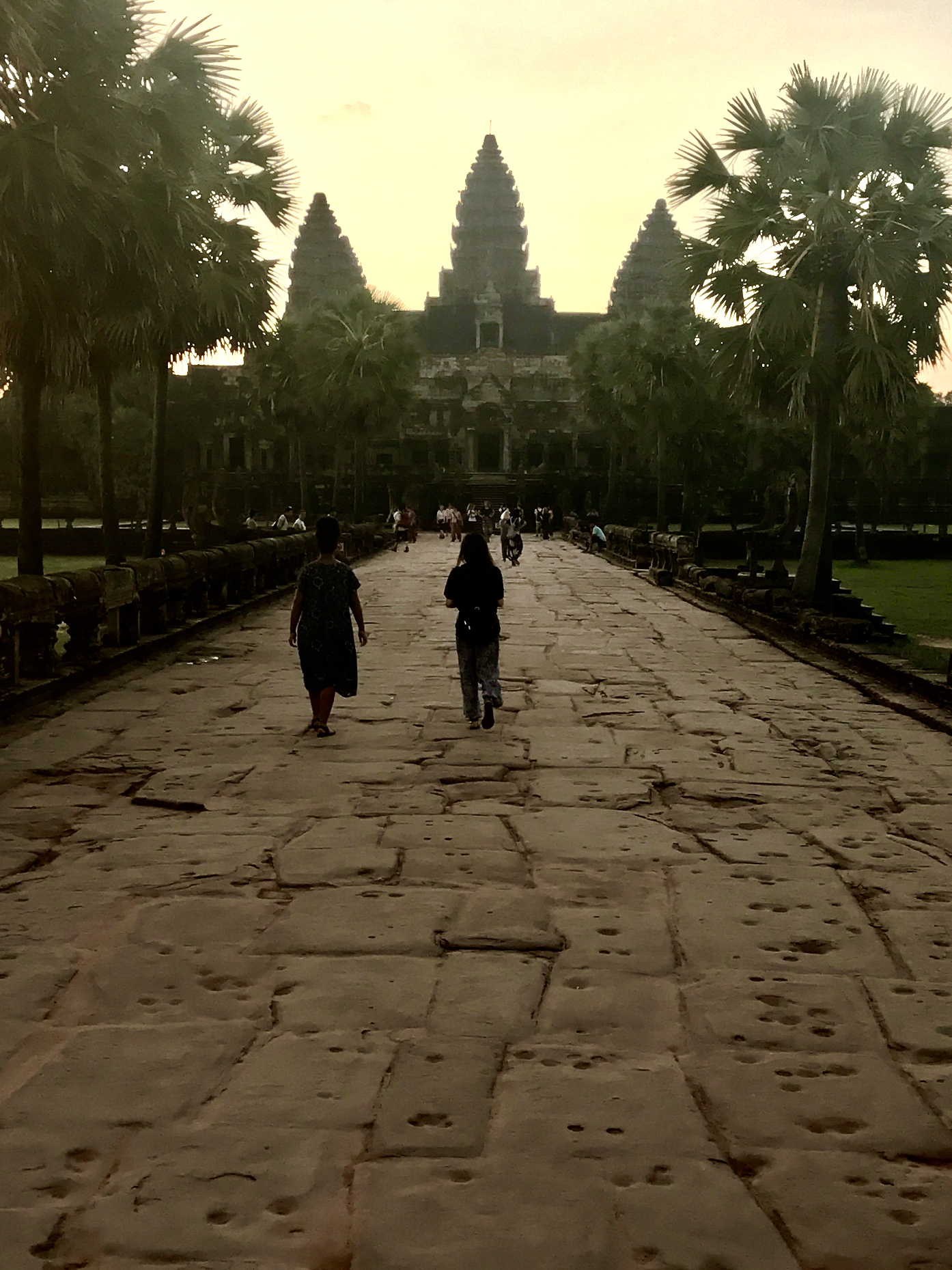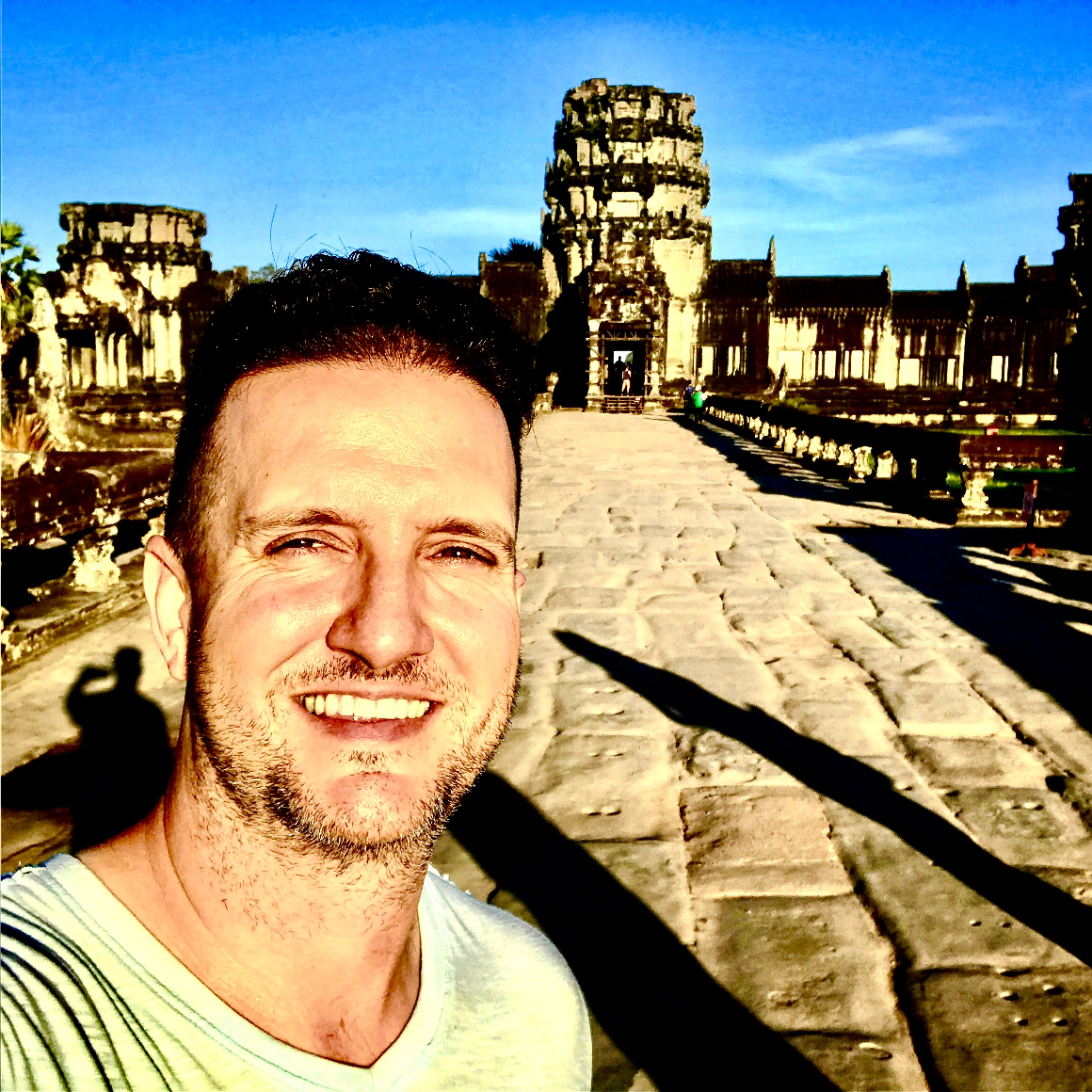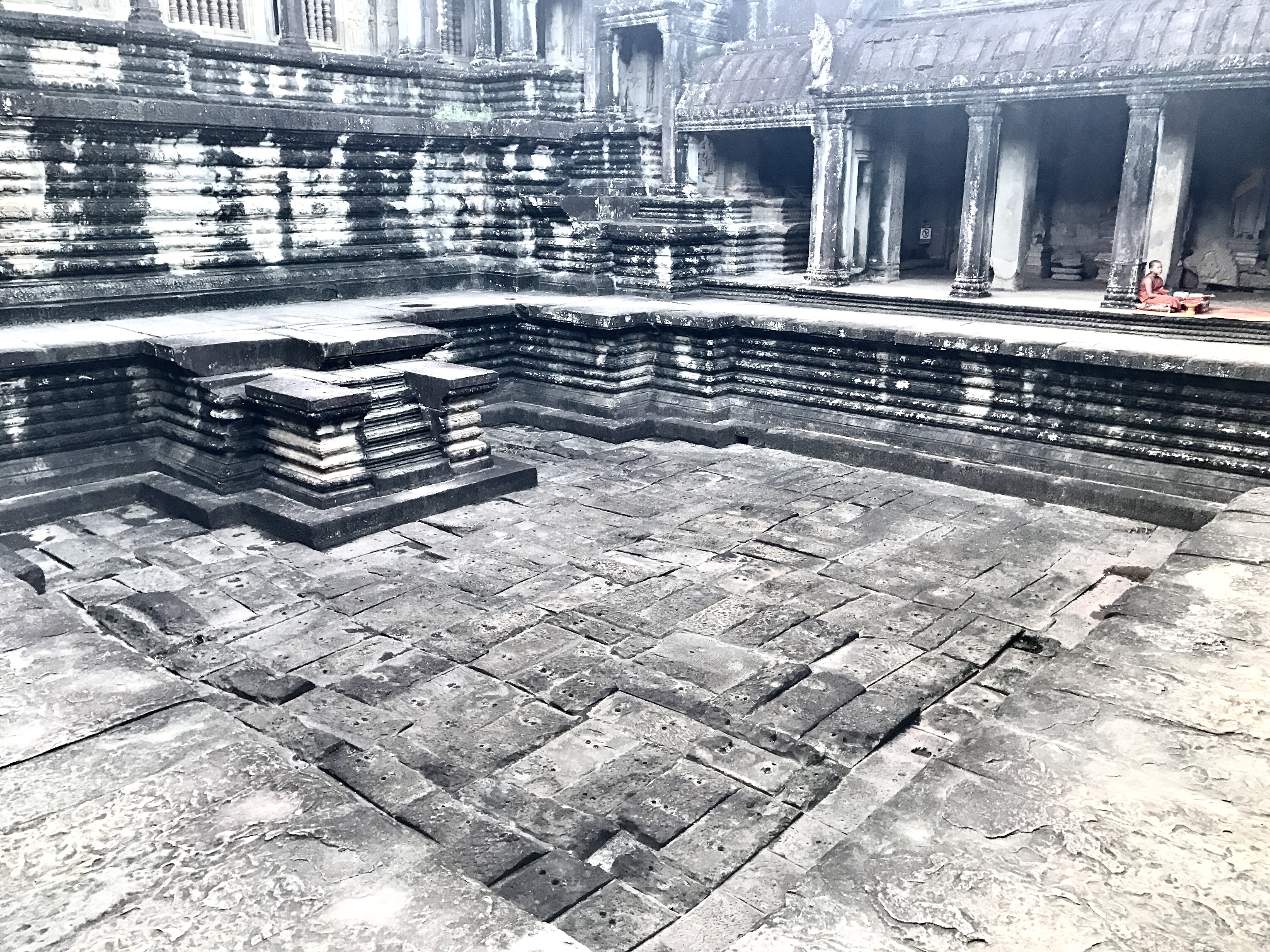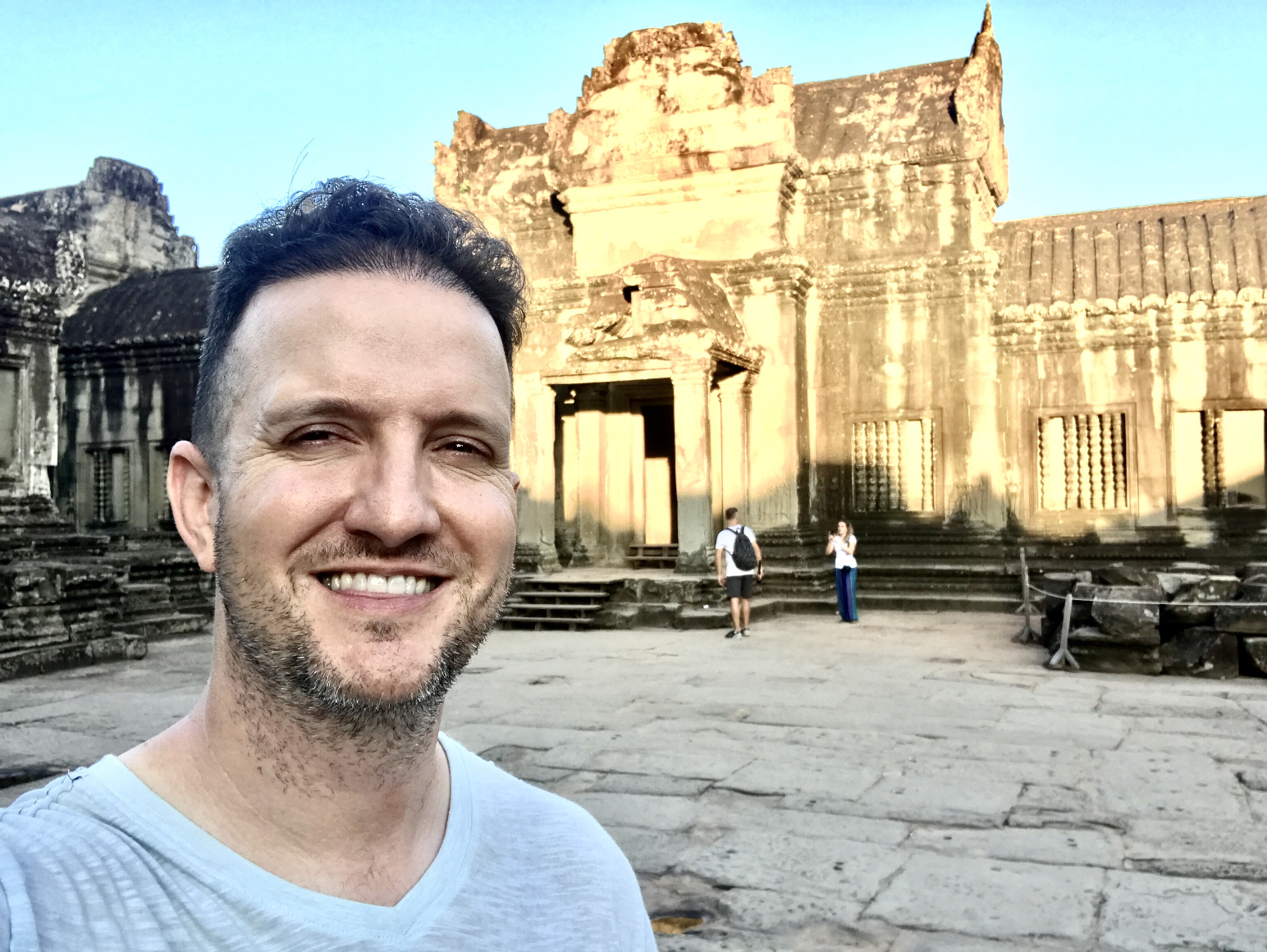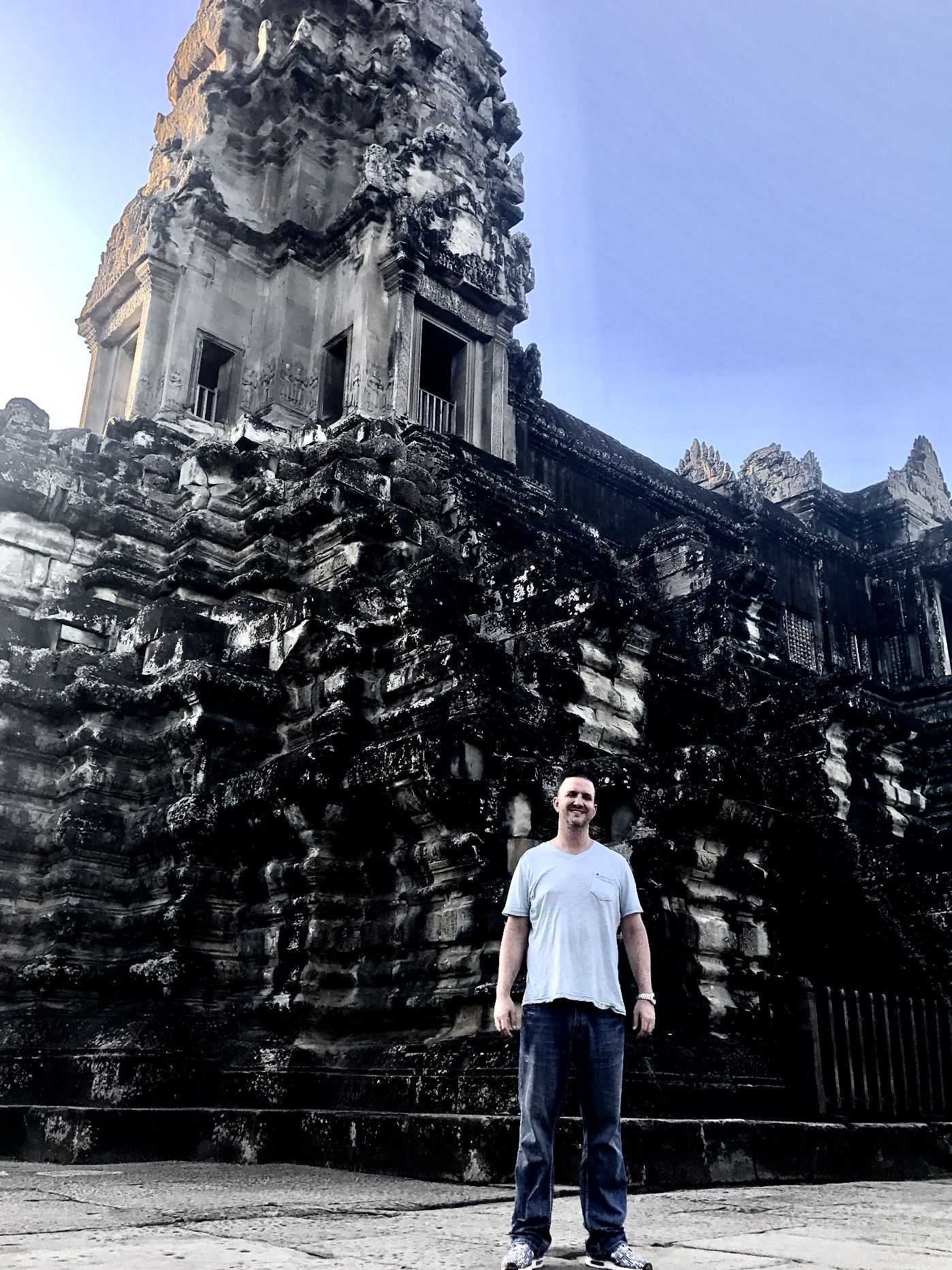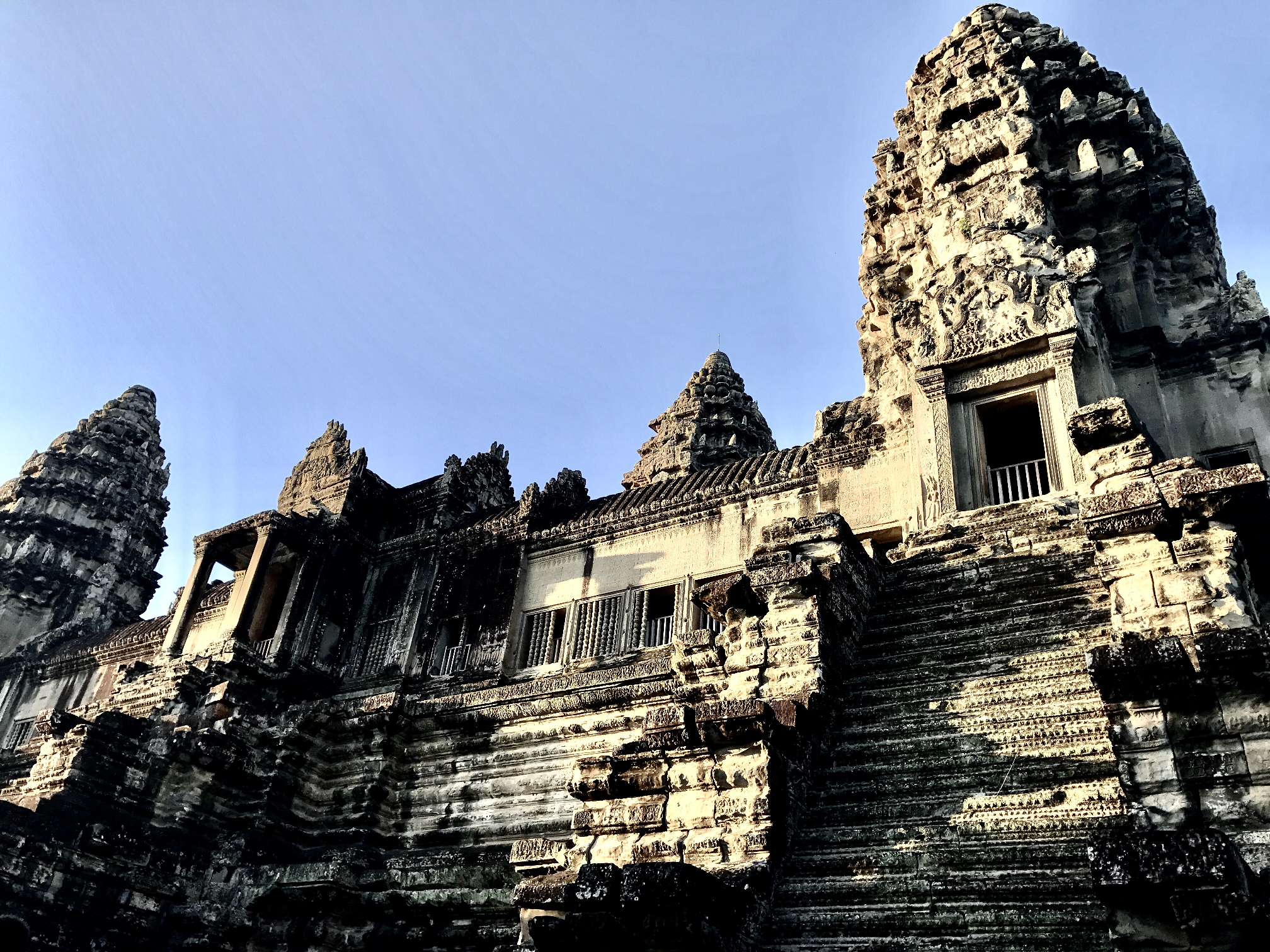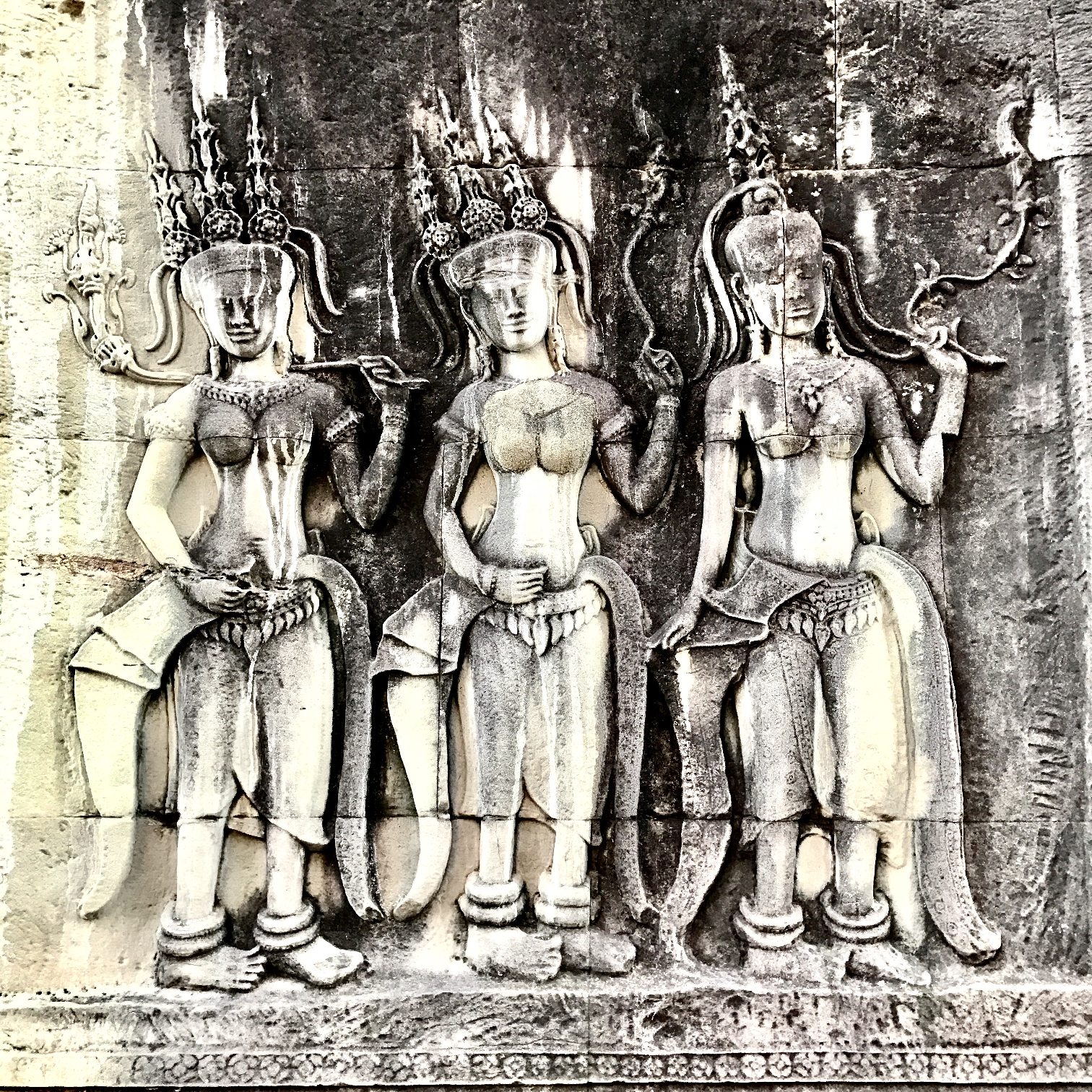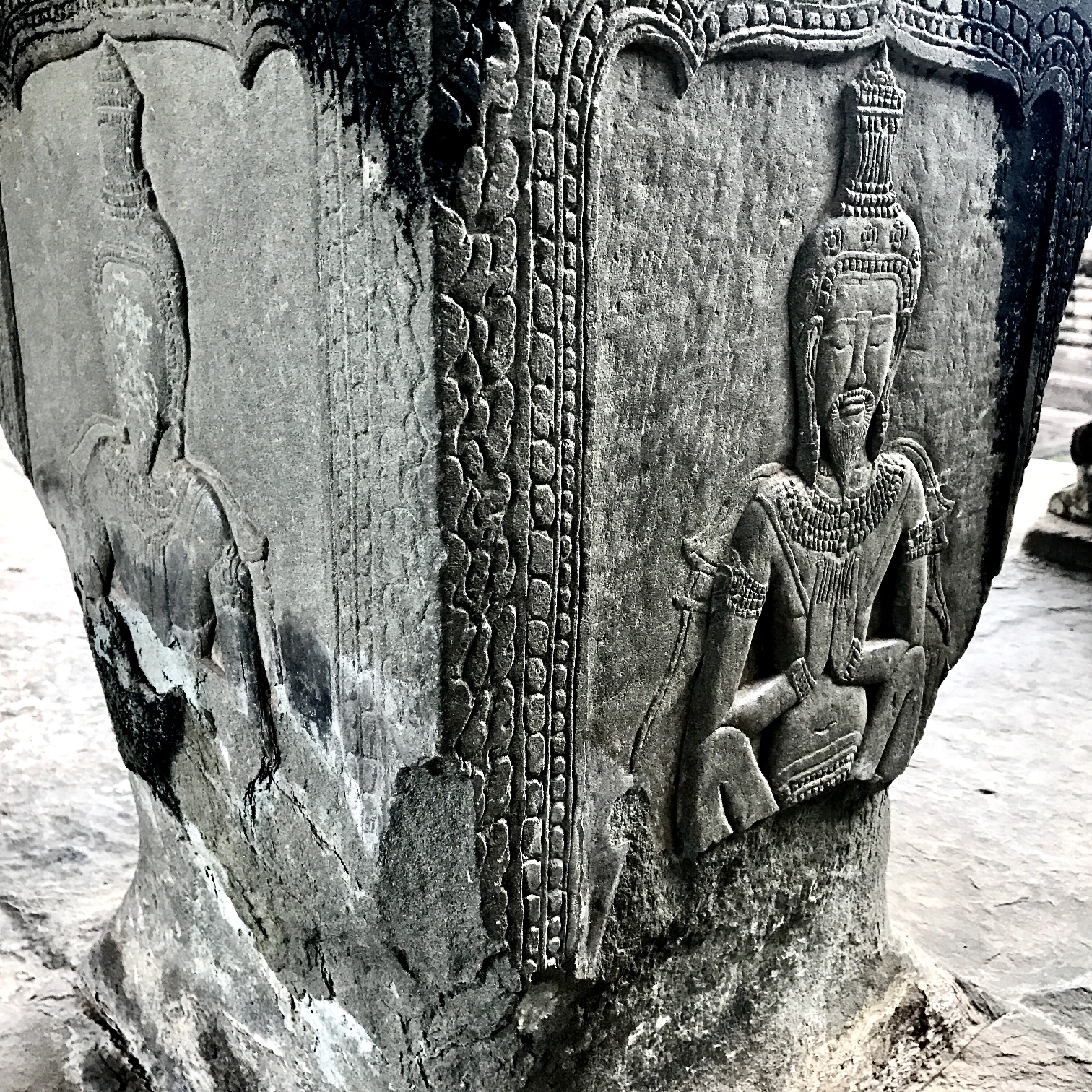 Still groggy at 9:15AM, I stumbled back out to our car where my driver and guide spend the next couple hours showing me Ankgor Thom and Ta Phrom, both absolutely fantastic, though capturing good photos without including the massive swarms of Japanese and Chinese tour groups proved challenging. You may recognize Ta Phrom from the movie Tomb Raider. Here are some of my favorite shots.
The temples were stunning and I got lots of exercise going up and down stairs and must have sweated away at least five pounds of water weight. It was hellishly hot and the sun was unforgiving.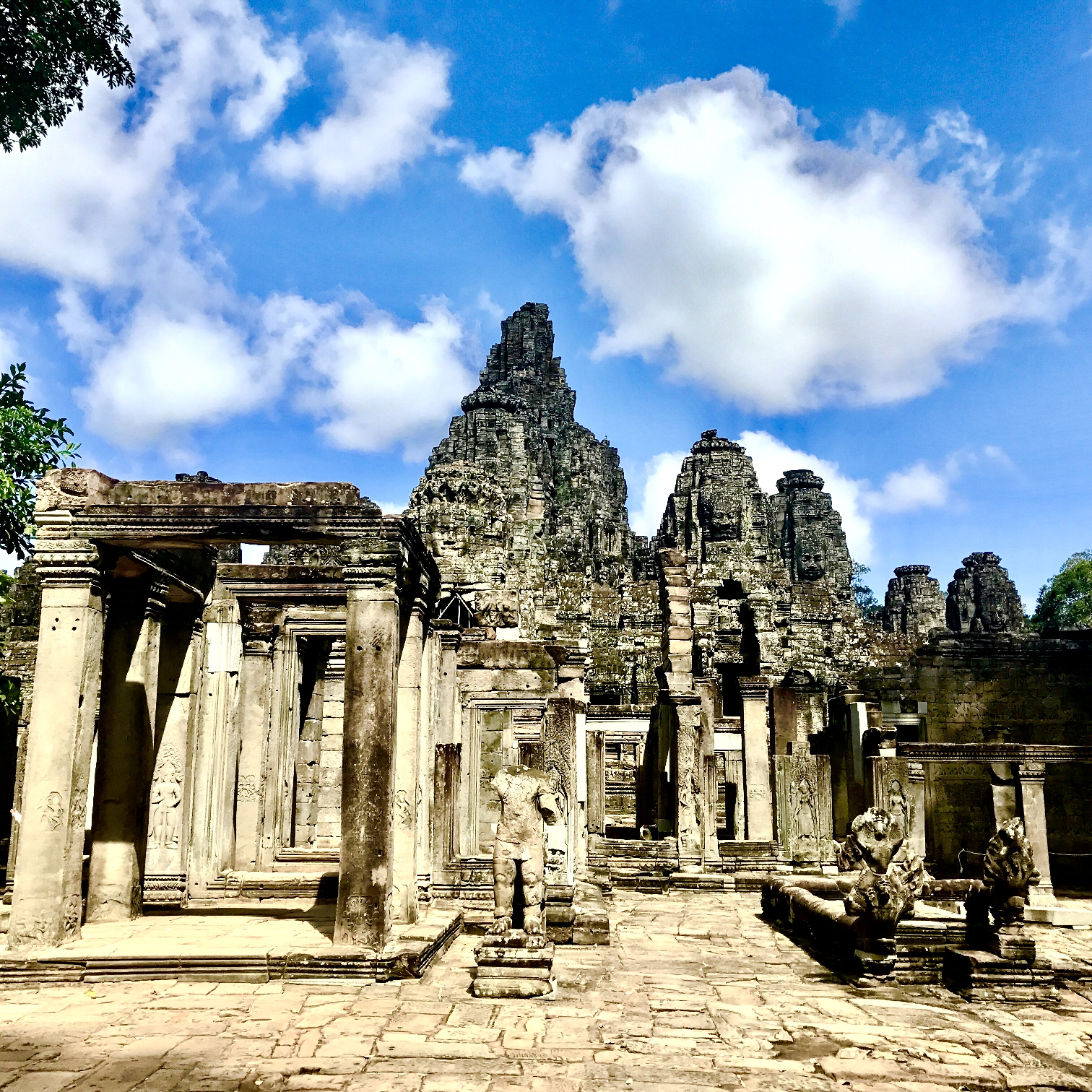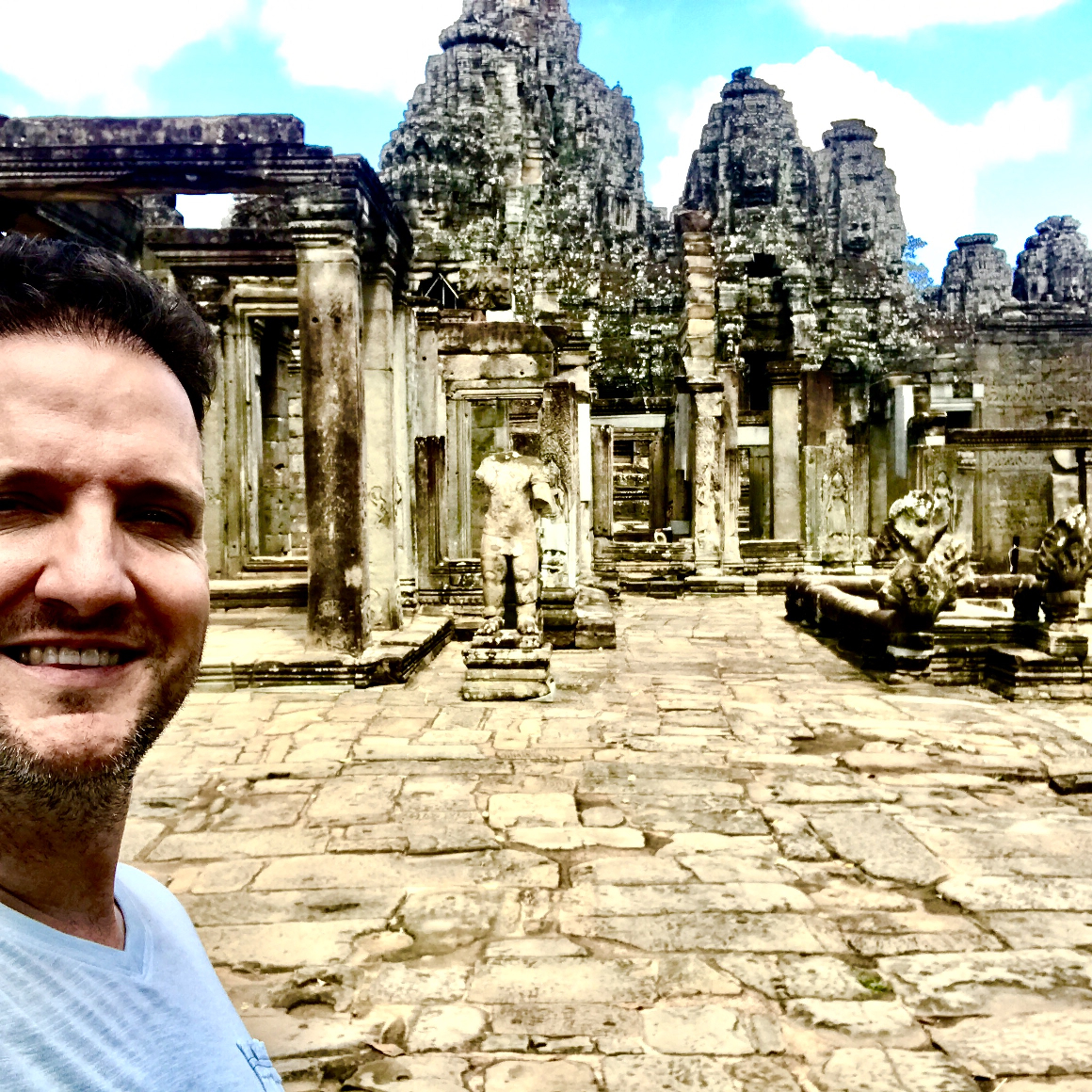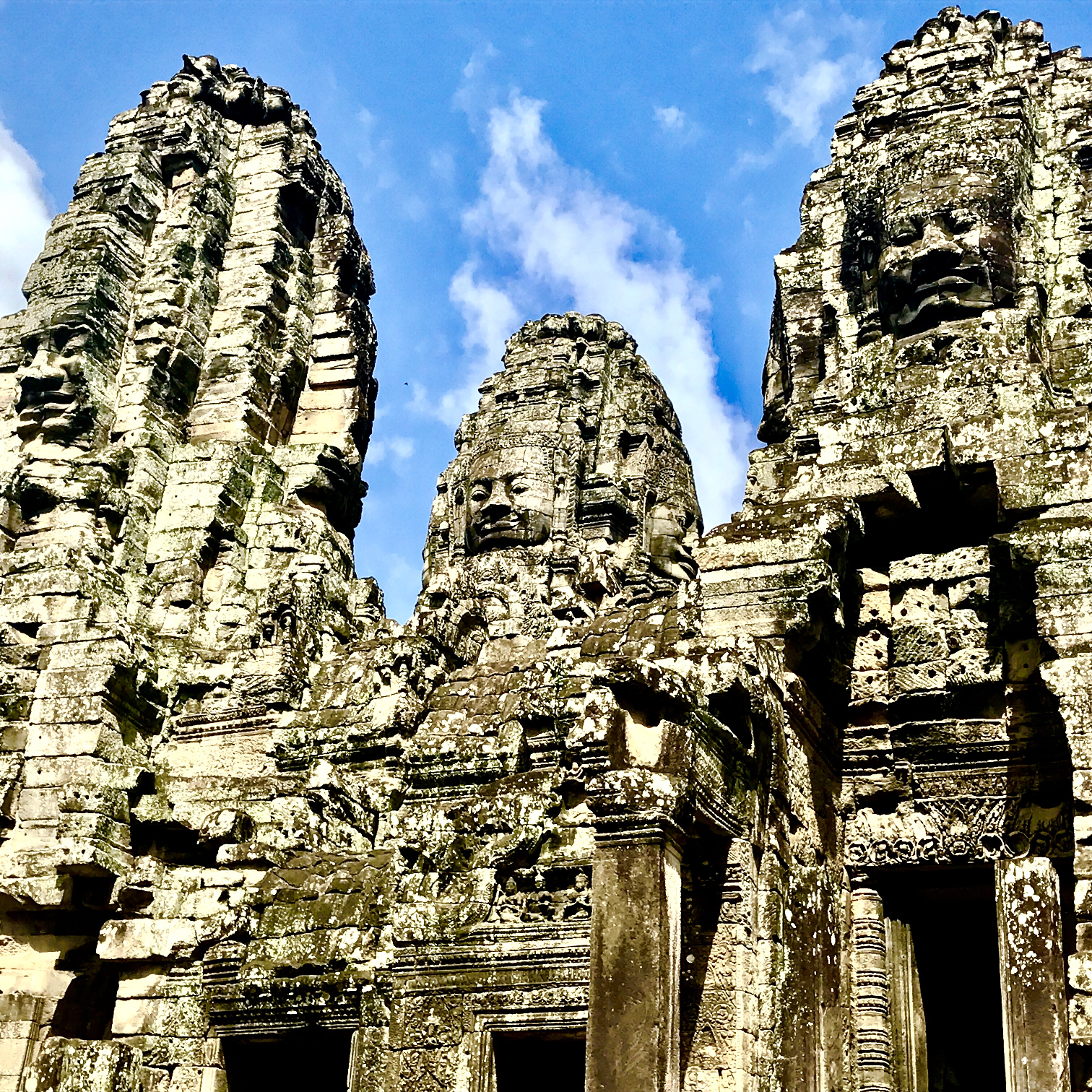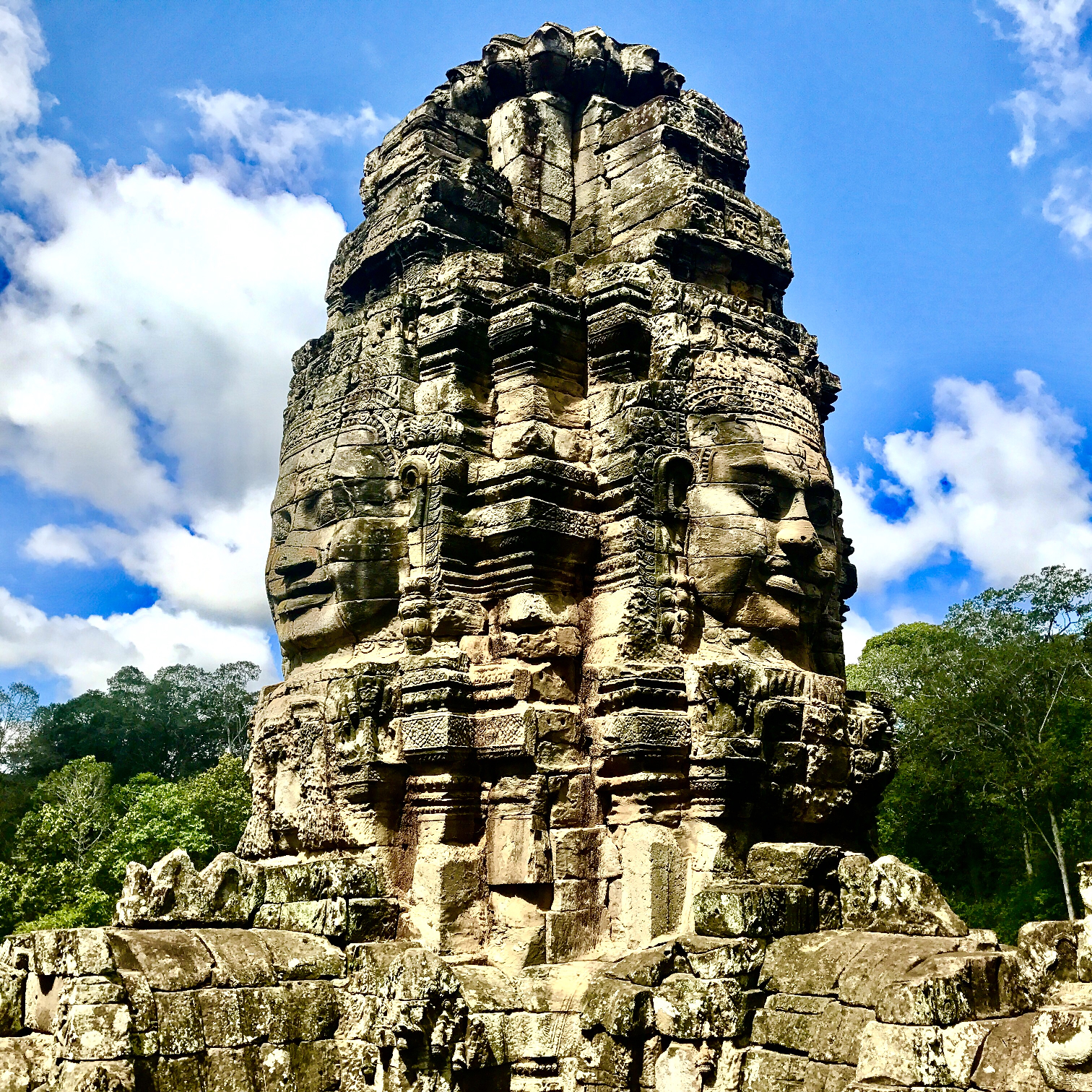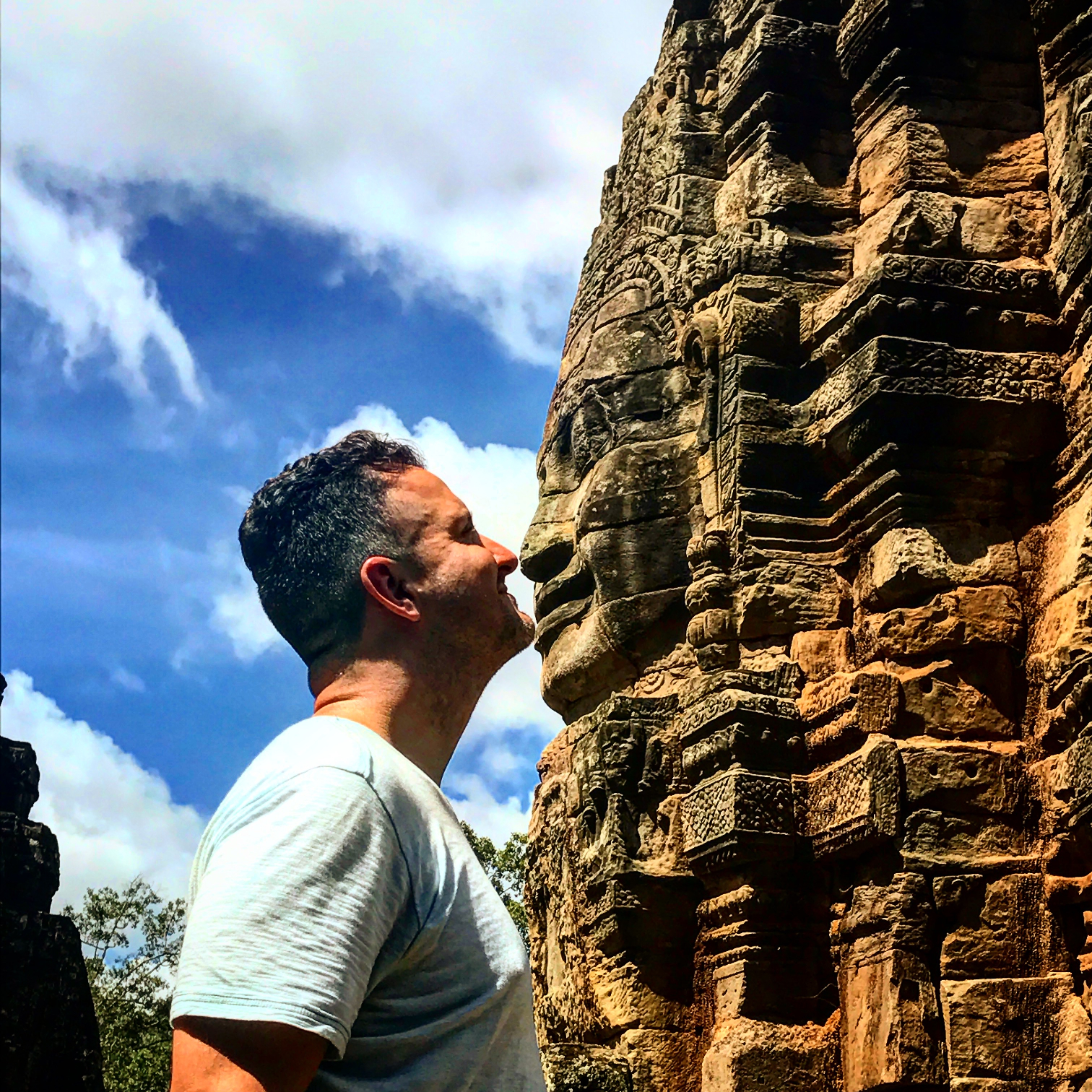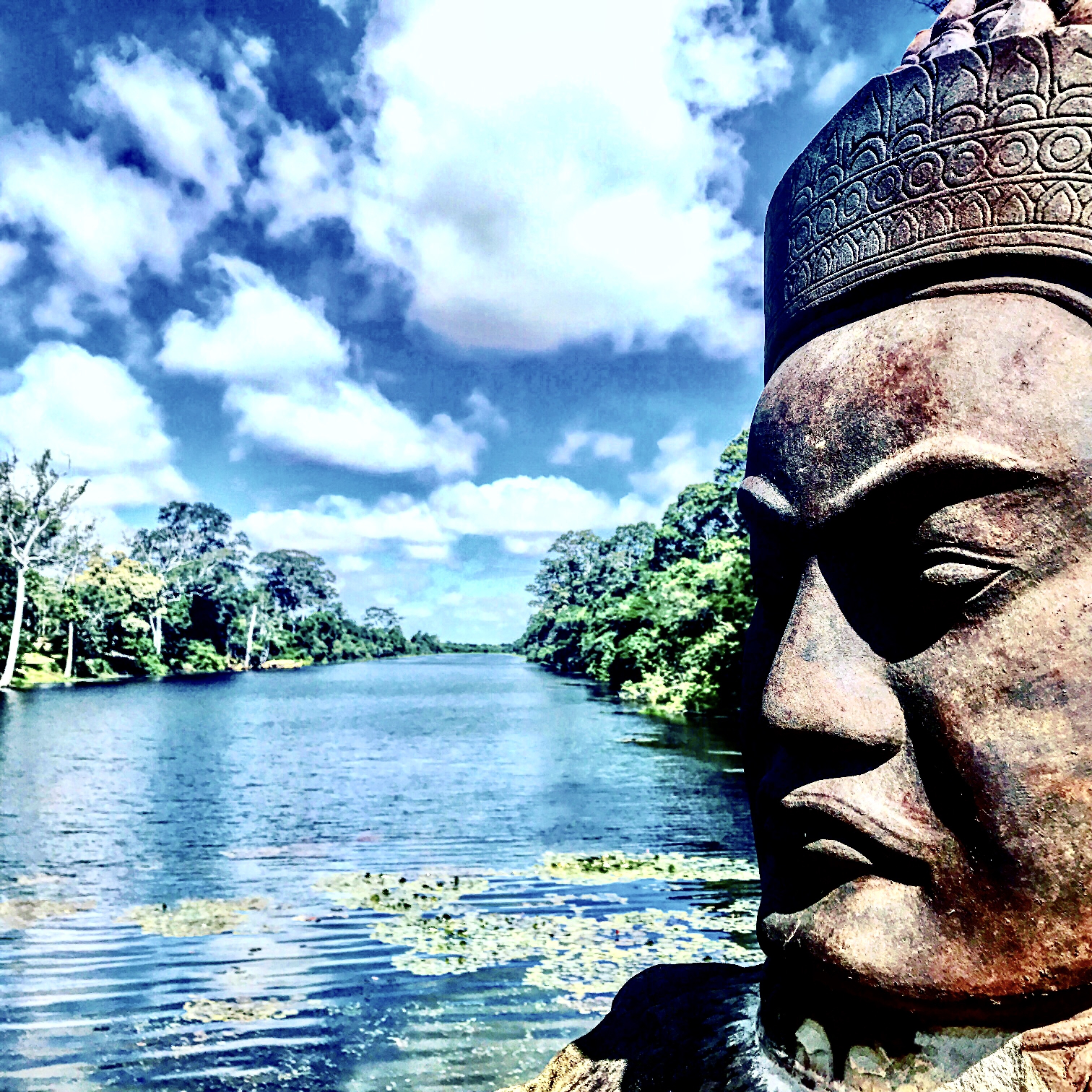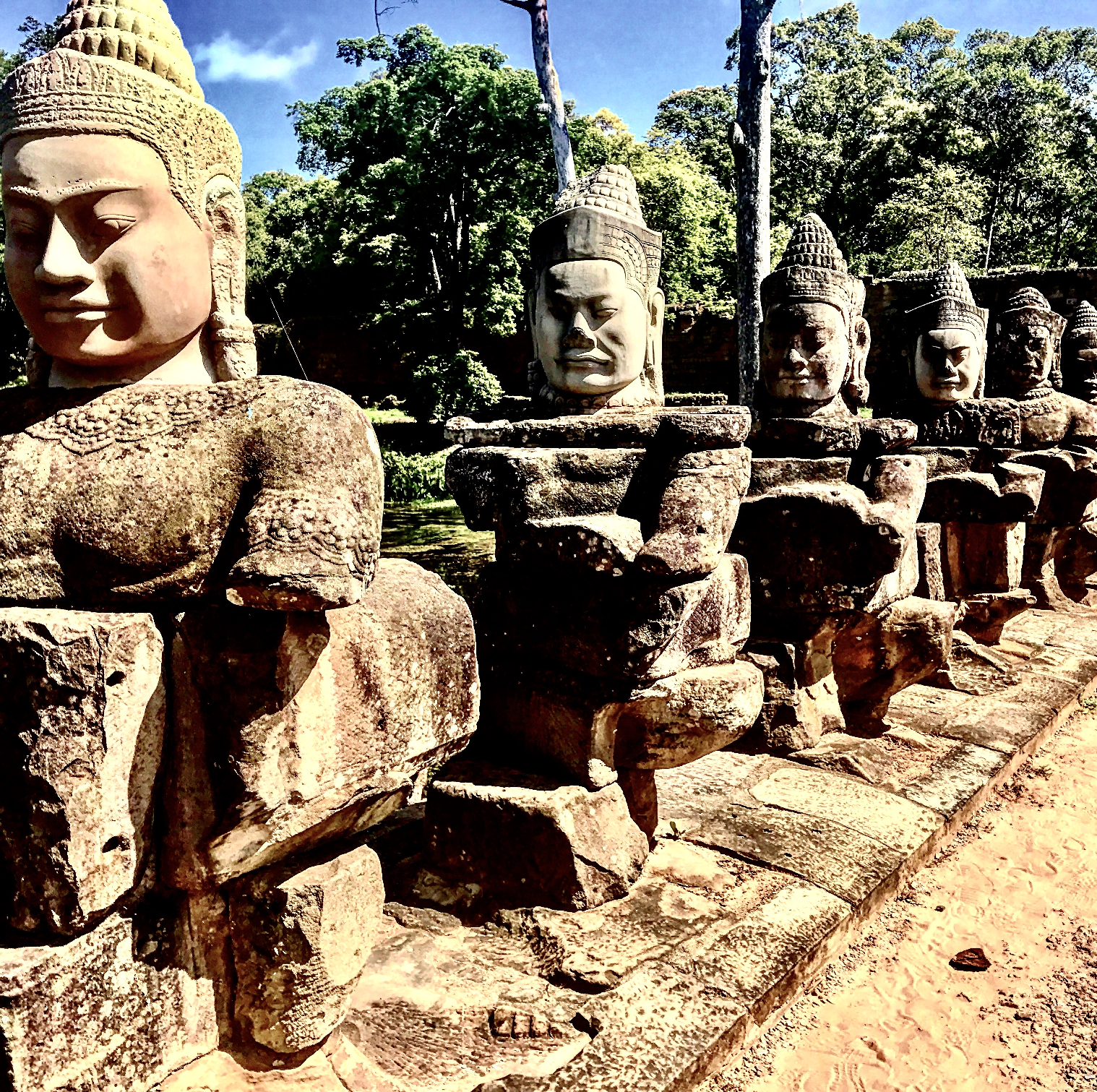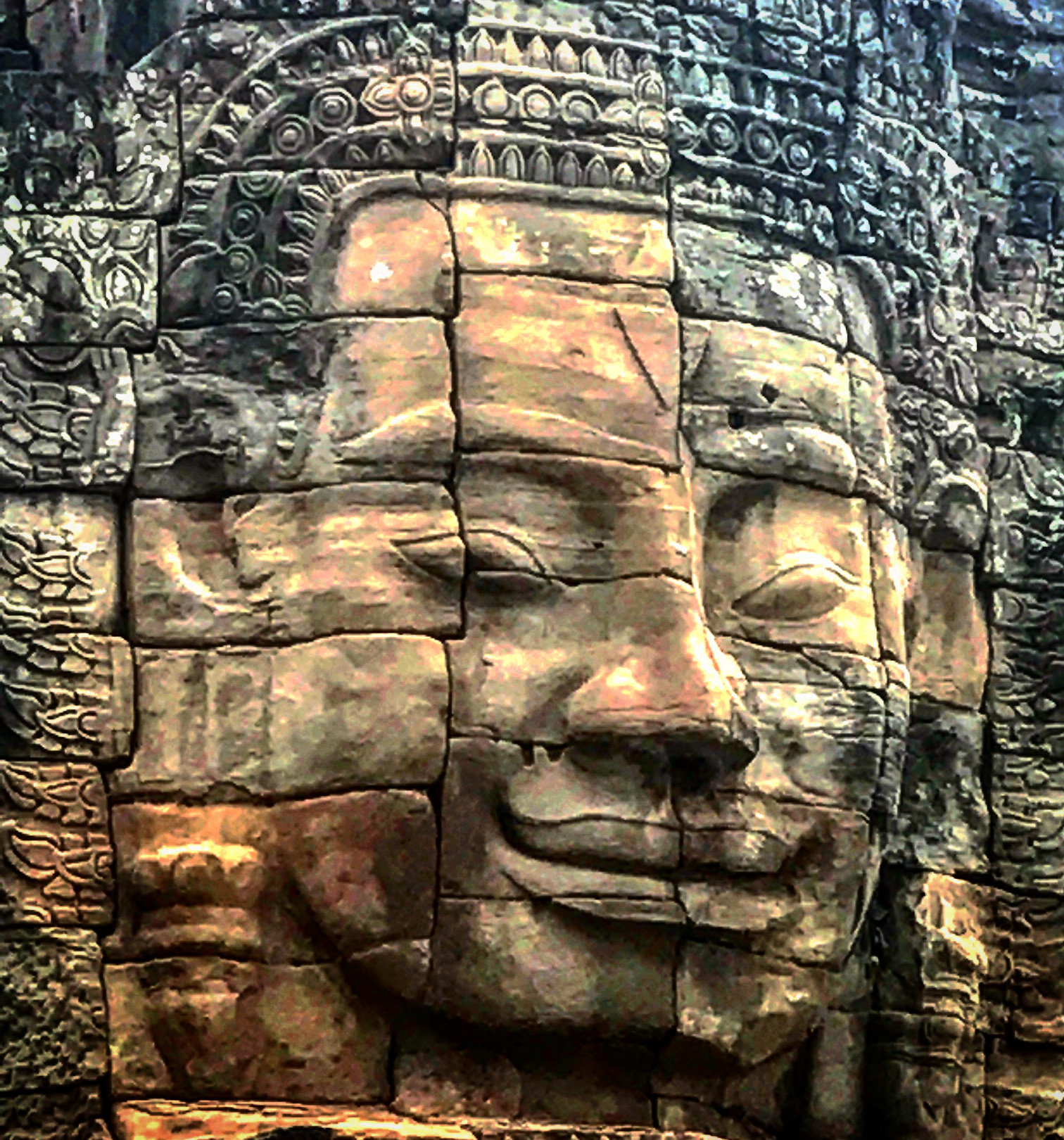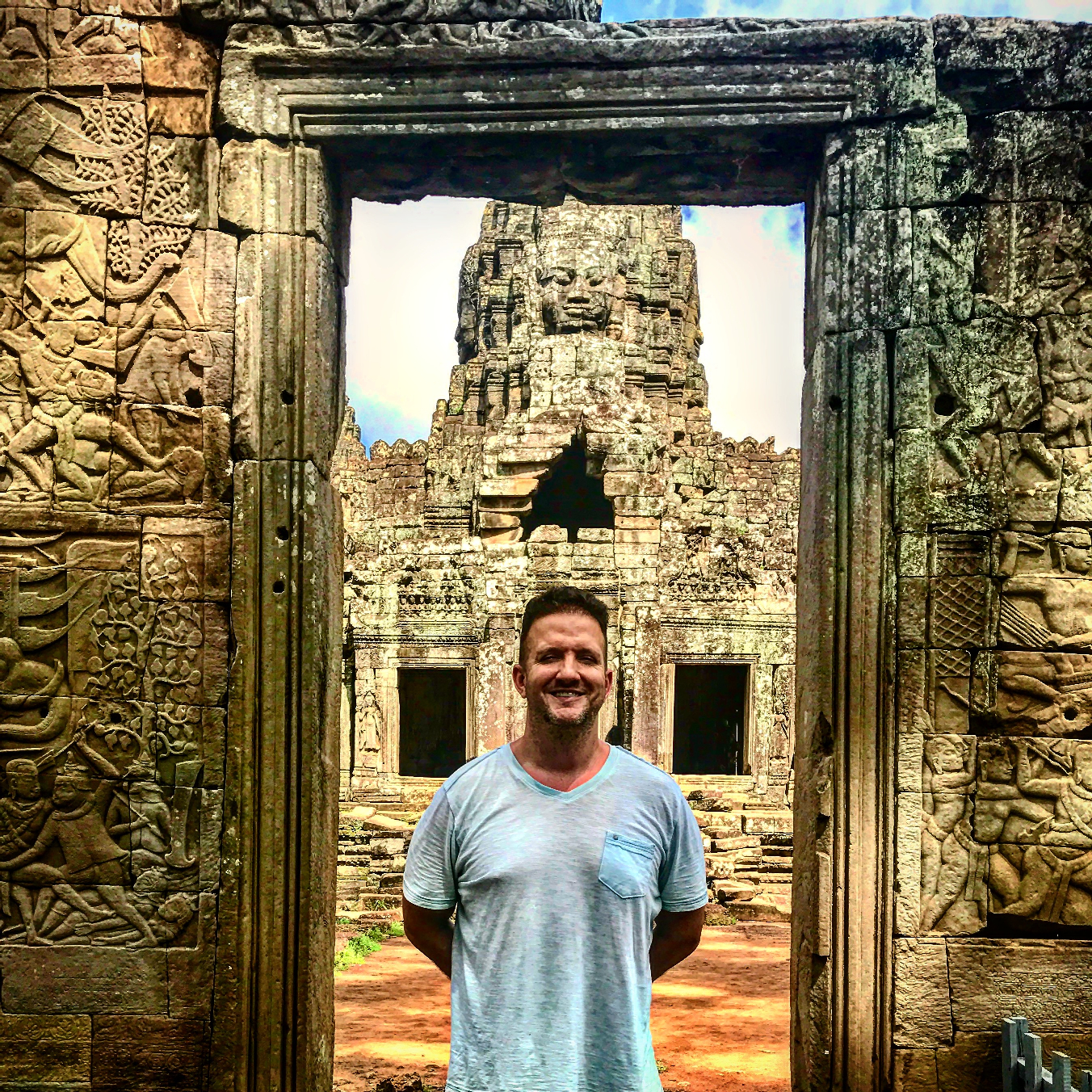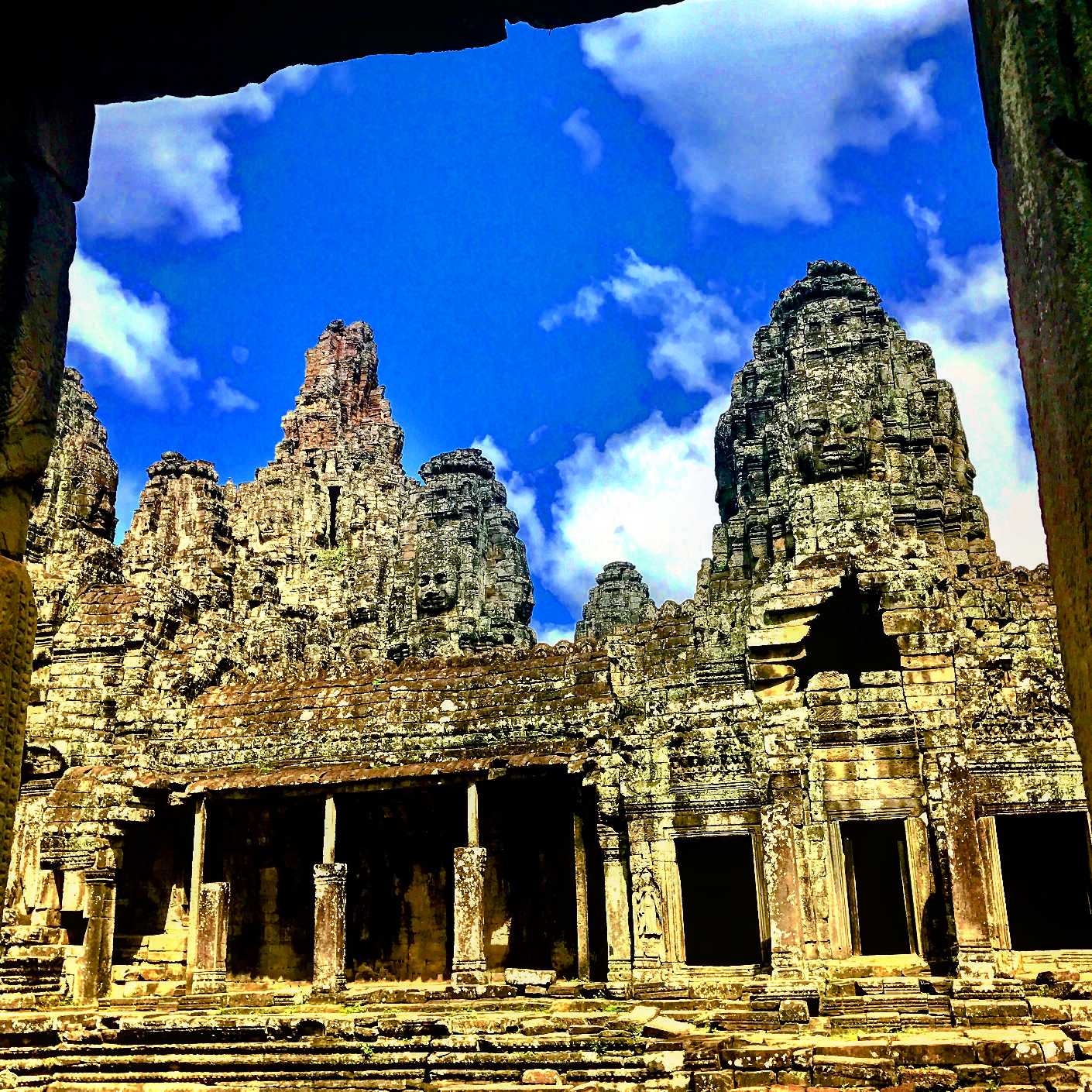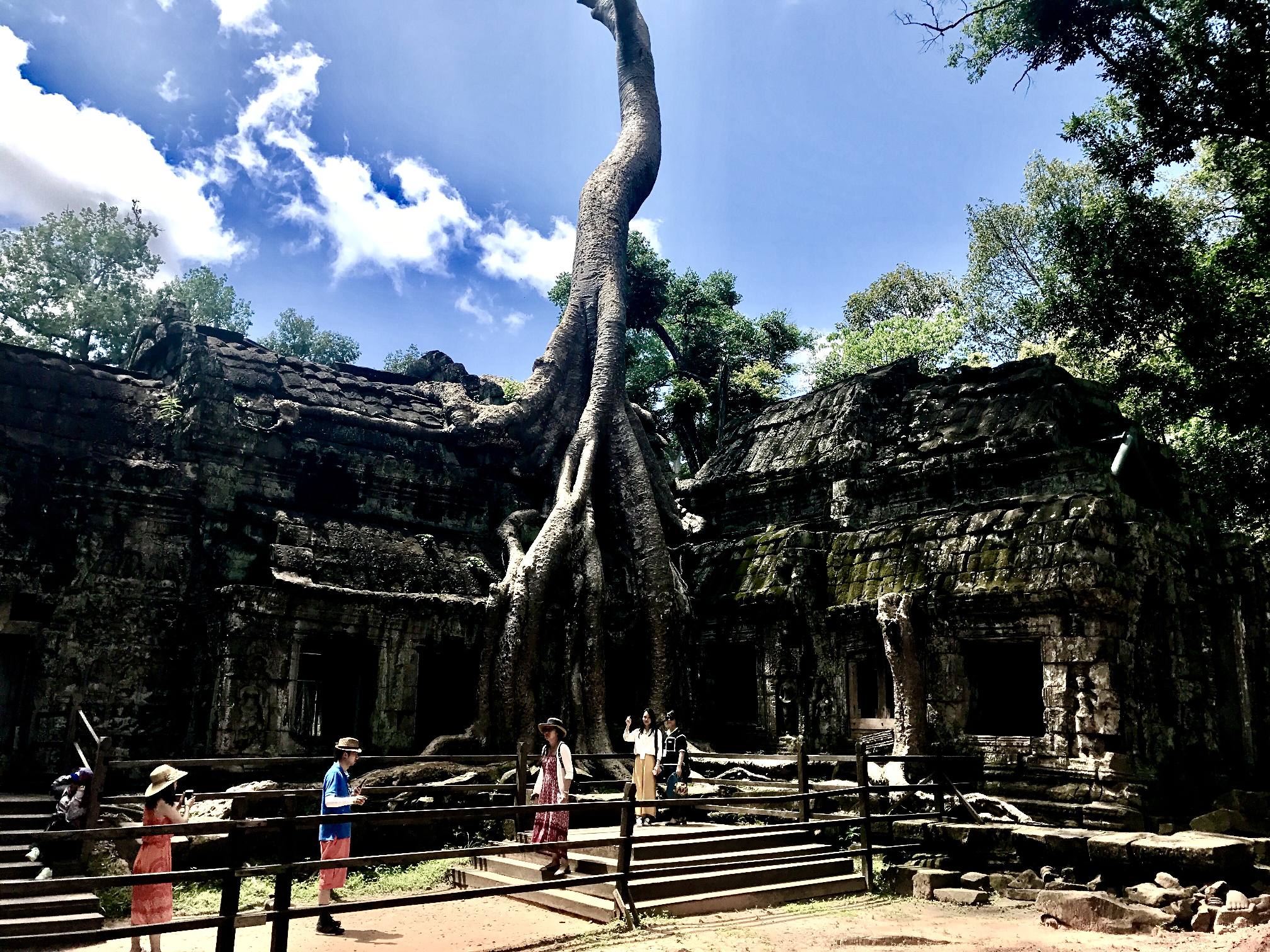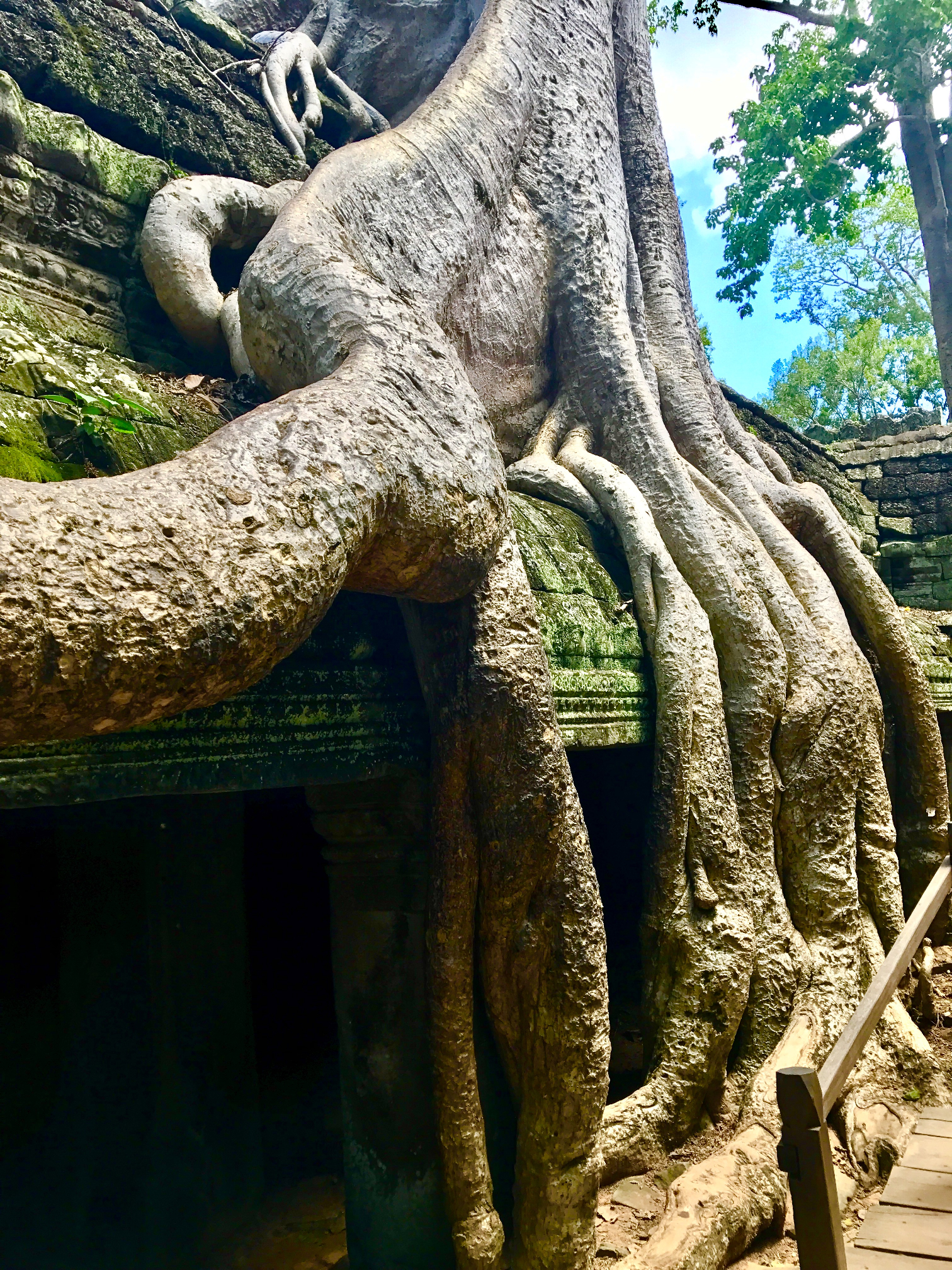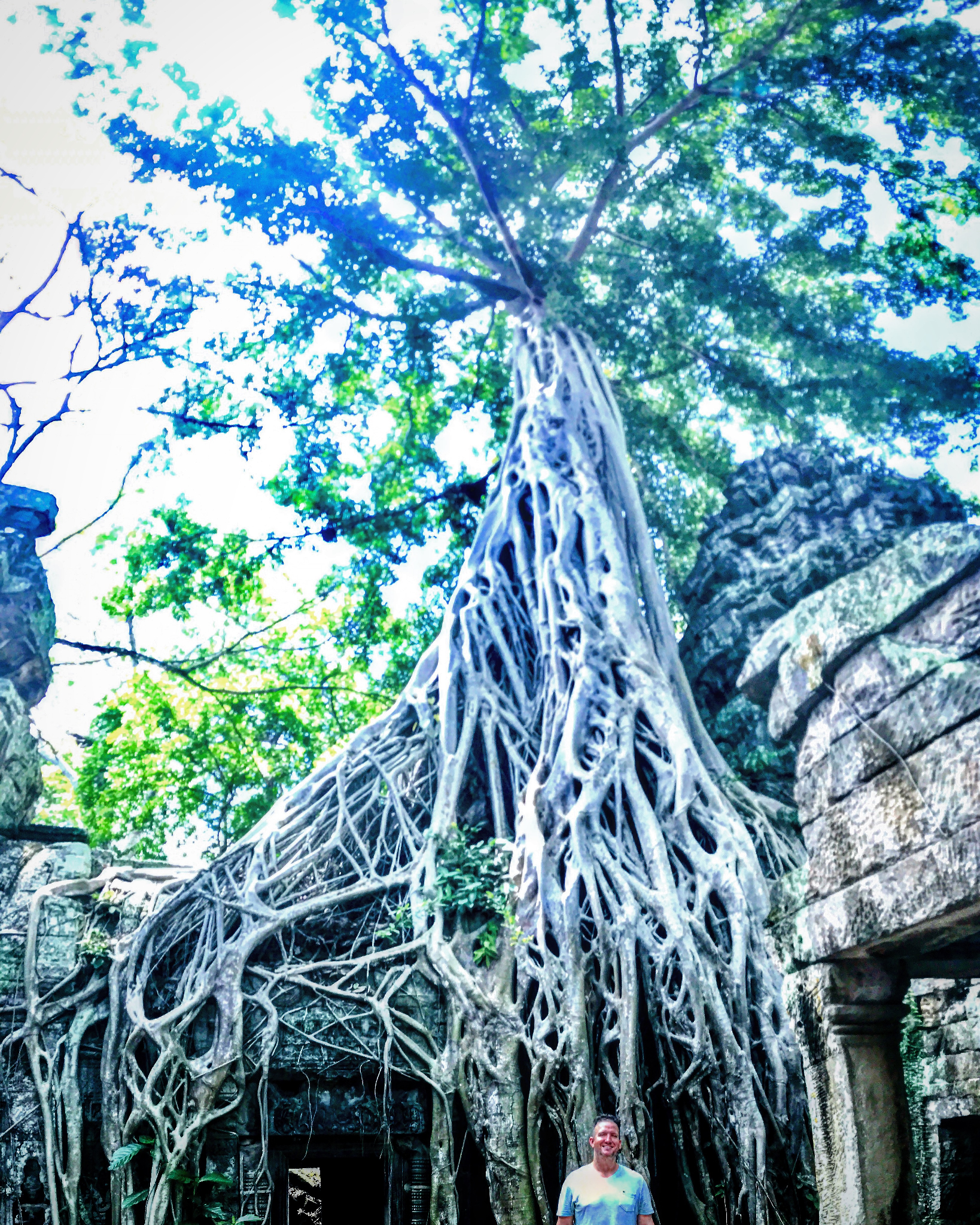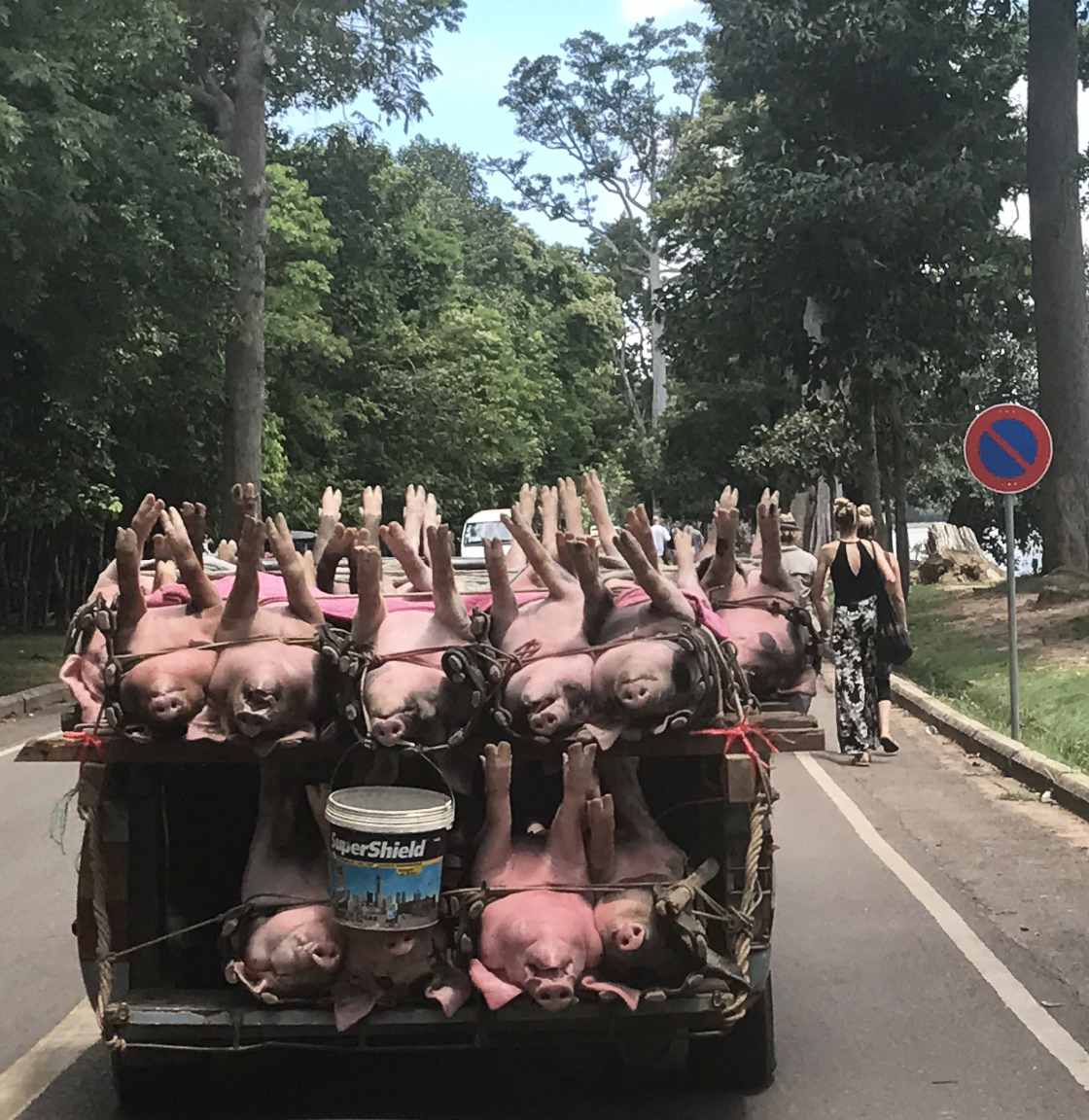 A couple other neat things I saw were dozens of monkeys running around—one who chased me while exposing his teeth, which scared the bejeezes out of me. I didn't want to die from a Cambodian monkey, that's not sexy. I also saw a few tourists riding elephants. And driving back to the hotel, a sight that made me very sad: a flatbed truck filled with two layers of live pigs, strapped tightly to the truck's bed with their feet in the air. The scene was nothing short of animal torture and seeing the pigs squeal under the baking sun broke my heart. I wanted to buy them all and set them free.
I arrived back at the hotel with five hours of chill time left, which was very much needed. Now's the time I need to give the Le Meridién Angkor their props. What a fantastic hotel, in every way. The rooms and grounds were magical. My room as just $80 and my SPG Platinum status got me a sweet suite. Finally, the service: impeccable. Such a wonderful staff that went out of their way numerous times to make sure I was comfortable. I don't brag on hotels much—I don't make it a habit of giving companies free advertising—but the staff here was just wonderful!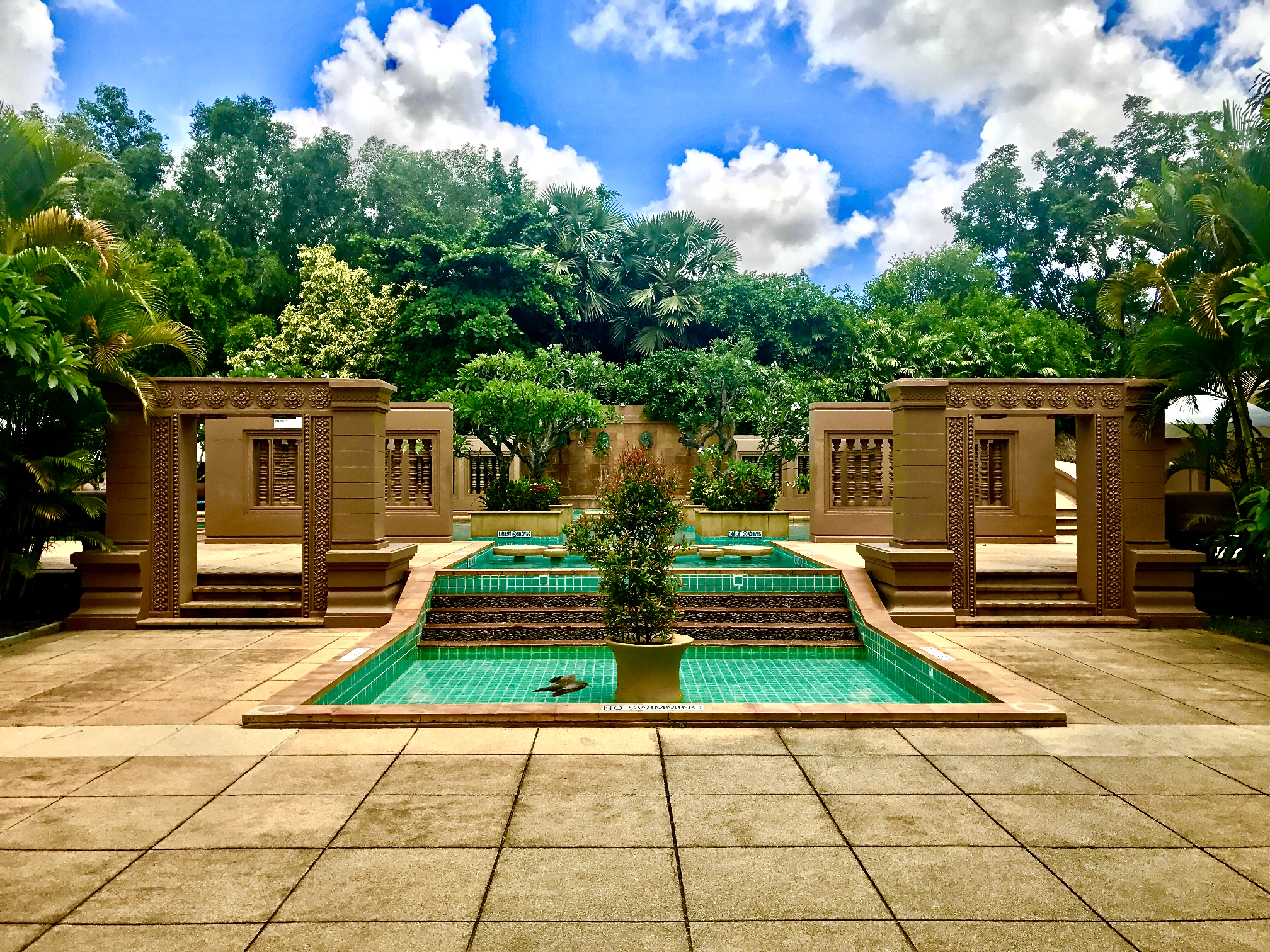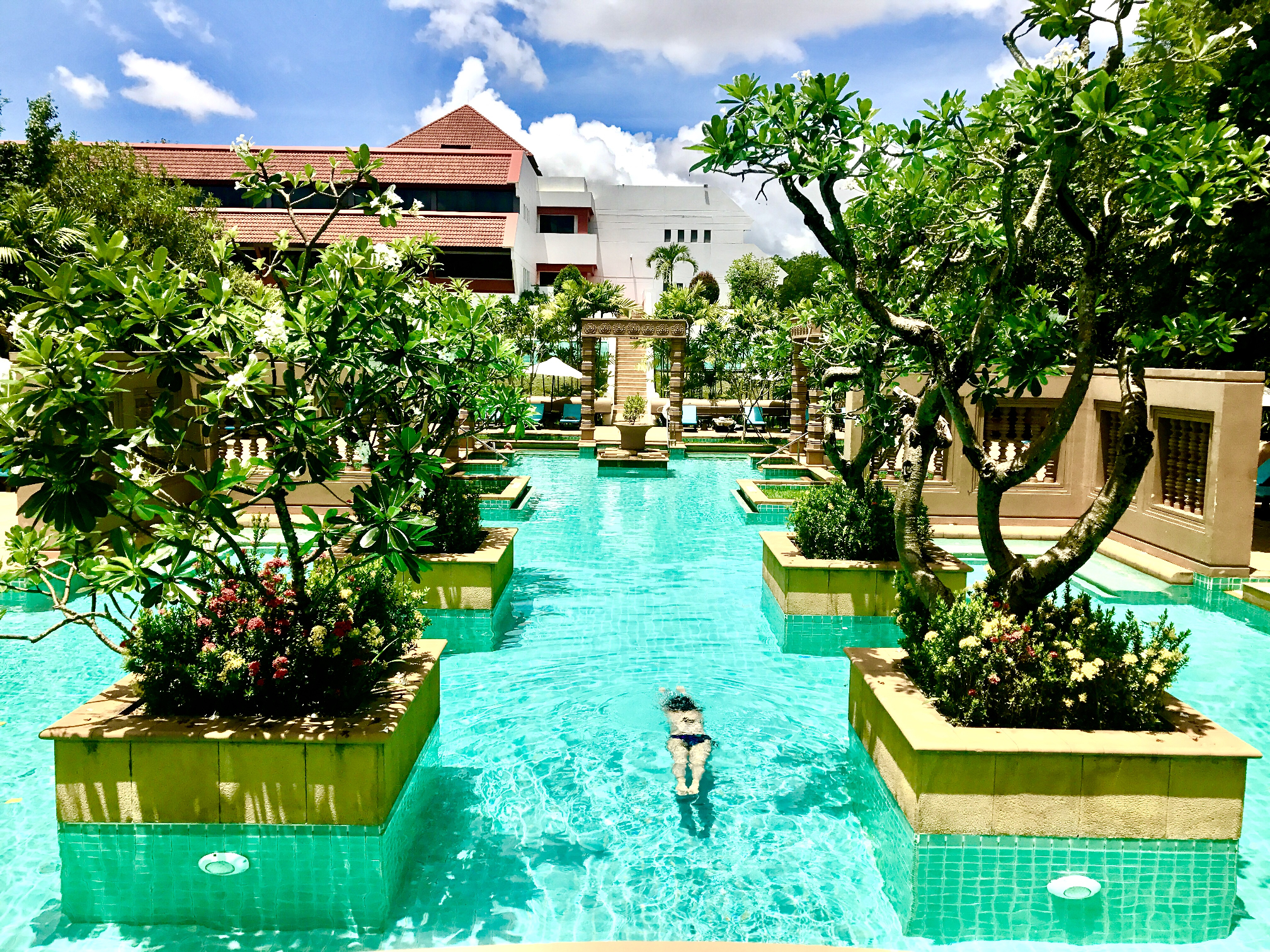 This entry was posted in
Asia