Italy, We Have a Problem: About This Blog Entry
It's hard for even me to believe that there was a time in my life when travel didn't excite me. But there was.
There was actually a period of my life, when I would travel–mostly cruises, with my family–that I didn't have that travel "bug;" that unquenchable thirst for exploration, to see it all, as much as I could. I didn't dislike traveling, but I think I didn't carry even ten percent of the enthusiasm I have today, because the travel was simply too organized. Piling off a cruise ship with 1,000 other American tourists and getting on a bus to see the main square for three hours never really did it for me. Of course, I'd soon discover my true passion for travel: going solo to off-the-beaten-track places to see things most have never even dreamed of…and well, you know the rest of the story.
Anyway, my trips to Italy were waaaaaaay before I had discovered my love of travelling. And it might have actually been Italy itself that prevented me from getting excited about travel for a while, for it was Italy where I'd first encountered those gobs of tourists all jammed in together, around sights like Trevi Fountain and Piazza San Marco. I got the impression that maybe every place outside of the US would be like this: mobbed with foreigners, all crammed in tightly, fighting for a photograph of some statue. I remember seeing groups of annoying high school students on class trips together, and hoards of humans in group walking tours. Just too many tourists. It was for this reason, that I wasn't quite yet bit with the travel bug, and unfortunately the reason I didn't take many notes on these trips. In fact, some of my visits to Italy weren't even enjoyable. I'll explain more below.
With no detailed notes from these trips to Italy, I did my best to parse together just a smattering of random memories to blog about below:  experiences for 10+ years ago that may or may not be helpful nor detailed. But here goes.
2008: Trip #1
Italy was only the seventh country I'd ever set foot on, so when it came to travelling smart, I had absolutely no idea what I was doing. I  started in Milan, staying with a friend of mine from Brasil who had a small apartment in a residential neighborhood. I'd taken too many Tylenol PMs on the flight over, and the medicine's half-life stayed lingering in my body. This caused me to sleep for about two-days straight. My friend was not happy about that. I was a horrible guest. The original plan was that she'd join me in Venice, but we ended up not getting along at all in Milan, and there I was, suddenly leaving Milan on the train all alone.
Venice the Menace
The three-hour train ride to Venice was nice, except for the part where I'd forgot my paper tickets back in California. For whatever reason, back then you had to be
in
possession of the physical paper tickets. I ended up having to buy new tickets. Like I said, it was total amateur hour. I was not a well-seasoned traveler.
As for Venice. I had a terrible time. In hindsight, I'm not even sure why, but I just didn't enjoy it for whatever reason. Though today I absolutely adore solo travel, I think Venice is one of those places meant to experience as a couple. Maybe I was just too young to enjoy it by myself? Maybe I was still sour that Gabriella and I had fought? I don't know, but I just remember being "over it" after the first night. The jet-lag/insomnia didn't help. Can you believe I actually called the airline and tried to book a flight home early? I just wanted outta there! I certainly was a different person back then, and if I had a chance to do it over, I would've found more things to enjoy, or more realistically, hopped on a plane to see a neighboring country. I was just so young and naive at the time. Honestly, I didn't know what I was doing, but I had to get outta Venice.
So maybe Venice didn't get a fair shake. I was young, dumb, and a little lonely. Everywhere I looked I saw couples, families, and friends having the time of their lives. Truth is, Venice was absolutely stunning in every way: the old buildings, the curvy cobblestone paths, the canals, gondolas…really, it was breathtaking. I wished I was there with my girlfriend. But she wasn't there. So I decided to bail.
Next Stop: Verona
This particular trip was over ten years ago, and the memories a little fuzzy, since I didn't write any of the details down at the time. But if I remember correctly, I had a few more nights booked at the hotel in Venice, which I decided to forgo. I hopped back on the train and made my way back to Milan where I'd fly home from, making a couple stops along the way, the first was in a town called Lazise.
I think I originally picked this town because it had a water park. You can tell I had my priorities in line! This was all before we had internet on our phones and I remember getting off at the train station in Verona and just wandering into town like a true backpacker, in search of shelter; no reservations. I don't know how I got so lucky, but I did. I found a room at the charming Maison du Port, a cool little guest house with a cheerful owner and a couple of nice cats.
The guesthouse was situated next to a vineyard and the scene here was a nice break from the bustle of big cities like Milan and Venice. There weren't many people around and I remember enjoying a glass of wine while relaxing and gazing out the window onto the grape fields while a summer shower came down. I remember trying to ask my housekeeper for directions and letting some Portuguese leak out by accident. She soon revealed she was from Brasil, and we had a nice chat.
I had a fun time at the water park. I was there in my trunks, all alone, like a loser, but I had fun. One of the attractions at Gardaland was this series of little pools along the hillside, connected with slides. You'd plop into one of the pools, float around a while, and then the rapids would push you down the slide and into the next pool. It was a fun time, but it sucks going to the water park by yourself like some weirdo. I remember being on the tram and these Italian kids singing some weird song. Lord, what did I get myself into!?
These Boots are Made for Walking
The next day (or two, I don't remember), I spent on foot; I must have walked miles. And I really enjoyed myself. This was before GPS, and I had no map. I just walked…and walked…and walked and walked, stumbling across beautiful old houses, trails, and finally into the neighboring town of
Lazise
, where I strolled along the banks of
Lake Garda
. There were tourists here, but nothing like the major cities of Italy. Lazise's relaxed pace and chill attitude was a nice change from Venice, with just enough to see where I wasn't bored, but wasn't overloaded with annoying crowds. I picked a nice spot to get off the train.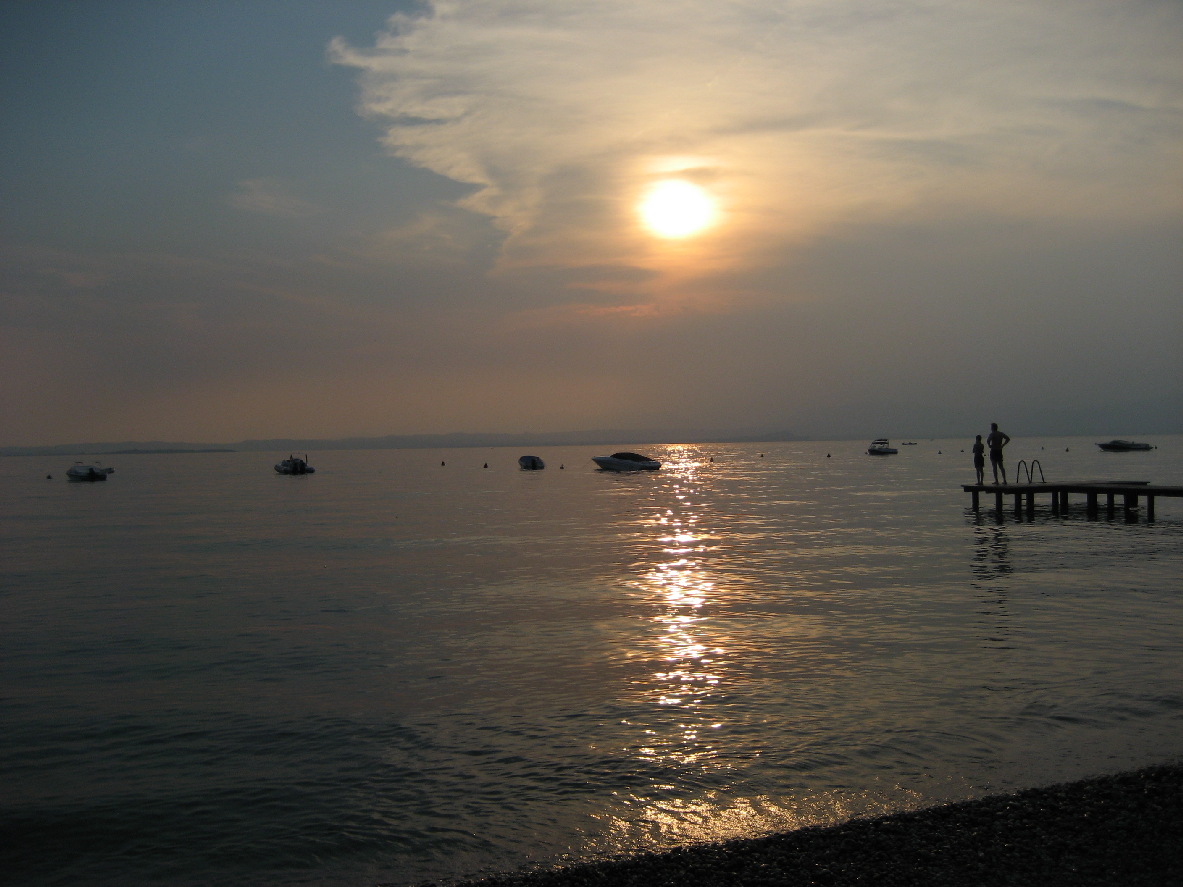 Genova
I don't remember how I got to Genova (Americans spell and pronounce it Genoa), but I did. I'd spend one afternoon walking around this port city, sleepover, and then take an early morning train back to Milan for my flight home.
I actually dug Genova. It was a bigger, more industrial city, with very little tourists. Like the last stop, I must have walked many miles, all around Genova–a port city built up on hills with spectacular views of the water. I enjoyed trying to blend in with the bustle of real "life" in this busy city. No gondolas or souvenir shops here–at least I didn't see any. Genova was full of real people, doing real things–industry, commerce, even a few side streets I didn't feel to safe walking down…now that's what I'm talking about!
And actually, now that I think about it, that one day in Genova probably gave me my first taste of really exploring a foreign city that was off the beaten path–a place where tourists don't normally go–and I liked it. Perhaps that was when the first seed was firmly planted in my head and my heart: my first experience of jumping head first into a place many haven't heard of, most didn't go, and a place where I could just wander and get lost in everyday things, rather than touristy museums and attractions.
Funiculì, Funiculà
My most vivid memory of my day exploring Genoa was the funicular. This was a genuine, non-touristy, old metal and wooden car that climbed up into the steep hills of the city. I boarded the funicular with no idea where it would take me and I even got a surprise at the end…just watch!
2009: Trip #2:
My mom and I planned an amazing cruise in 2009. Oh, gotta run…back for more later…
This entry was posted in
Europe