My trip into the tiny nation of Burundi had the makings of a plot from one of those thrillers on the ID Channel; that, or a really bad Ashton Kutcher comedy. A story where a police chief of a small, unknown African village befriends an unsuspecting American tourist, and then, well, hilarity ensues.
I was on another one of my "let's cram as many countries as I can into 10 days" tours. I landed in Kigali, the capital of Rwanda, where I would meet my driver who'd take me straight into Burundi. Its border lied just an hour and twenty minutes south and I thoroughly enjoyed the drive down. Rwanda was super clean, developed and seemed friendly and safe. All good vibes. However, as soon as we arrived at the border, the mood changed.
I should have known something was up when my driver explained to me that he wouldn't be taking me past the border. Instead, I'd change drivers and cars when I crossed over; something about being difficult to take the car across the border. Looking back, this should have been my first tip-off that the nation of Burundi may not have been a place extremely welcoming to foreigners—especially when the driver from neighboring Rwanda chooses not to enter.
Rwanda immigration stamped me out and Burundi stamped me in. No sooner had I been handed my passport back from the window, than a group of curious Burundian police officers surrounded me and my car. They wanted to inspect my bags–which I guess was pretty normal–but they seemed to really take their time about it. Even after the search, we all kind of just stood around for a while, which I didn't understand. I was ready to get the show on the road, but there seemed to be an awful lot of conversation going on between the officers and my driver, none of which I could understand. I was beginning to get the impression that my arrival had quickly turned into some kind of "event." What could they all be discussing?
To make it even more weird, there was no one else crossing this border. I mean, no one! Every other land border I've crossed in my life had been jammed; packed with cars, semi-trucks, people on foot, taxis, vendors. But here, I was the only one. It was The Twilight Zone, African edition.
About ten minutes later, it looked like we were finally ready to roll, but with a surprise addition. One of the officers, who seemed very intrigued that an American was visiting his country, informed me that he'd now be our escort into the village. Awesome, right? Almost. Right before leaving, he told me I ought to buy the crew at the border some beers, and I'd need to slide over $2000 Burundian dollars (about USD$2). I figured that was a small price to pay, especially since I'd have my own police escort into town, so I complied without hesitation. But it was weird. And now we were off.
The back of the 20-year-old Toyota had a decal that read "Tigre Express," and on the front windshield, an "Allah Akbar" banner. I noticed a stark difference between the Rwandan and Burundian sides of the border. Once we entered Burundi, I saw almost zero cars on the road. In fact, many of the locals were actually sitting on the highway, conducting personal business, chatting, chilling. The driver would honk the horn and the people would scurry off the road, surprised at seeing an actual moving vehicle. Really, the two-way highway looked totally abandoned and unused.
As we made the hour drive to the village of Kirundo, the officer never stopped talking. He was excited to tell me all about his country and kept insisting he'd be my guide/protector/security for my stay. He spoke broken English with an accent that sounded true to the stereotype from the movie Coming to America. I couldn't quite get his name right, but it sounded like Festus. Maybe it was Fatiste? I'm not sure, so we'll go with Festus. He claimed he was second in charge to the chief, and brought up this "chief" several times during the drive. Festus made it a point to let me know he was letting the chief know that an "American" was visiting, and later mentioned to me that I'd meet the chief and could give the chief a "gift" when I saw him. A gift? Uh oh.
We passed a handful of police checkpoints along the way and stopped for gas at a roadside stand that sold petrol from old two-liter beer bottles. Soon we arrived in town and the officer personally checked me in to the Rama Hotel. The Rama would be a one-star property in the US, but was top of the line for the tiny village of Kirundo.
Festus and I enjoyed some beers and conversation at the hotel, and I was excited that he was comfortable enough for me to break out my iPhone and snap some selfies. I even got some video of us toasting, which I knew would be awesome for Facebook. Remember, in most of these African countries (actually most all countries), taking photos of military or police is strictly forbidden and can get you in hot water. I thought I was really getting away with something grand, as I Snapchatted the two of us goofing off and carrying on. He again mentioned a "gift for his chief," and I had a feeling this whole experience would not be free. I paid for the beers of course, and then we were off to tour the village.
Kirundo was actually pretty cool. Many of the streets were cobblestone, and while poor, the town was pretty clean. Festus would have the driver pull the car over every couple of blocks and have me get out of the car with him so he could show me off to the locals. It felt kind of like he was saying, "Hey, look at me—I brought an American to our town!" Small, curious crowds would assemble around our car, looking at me like they've never seen a gringo before. I had the feeling the people really loved me…or I was going to die. I couldn't tell which one.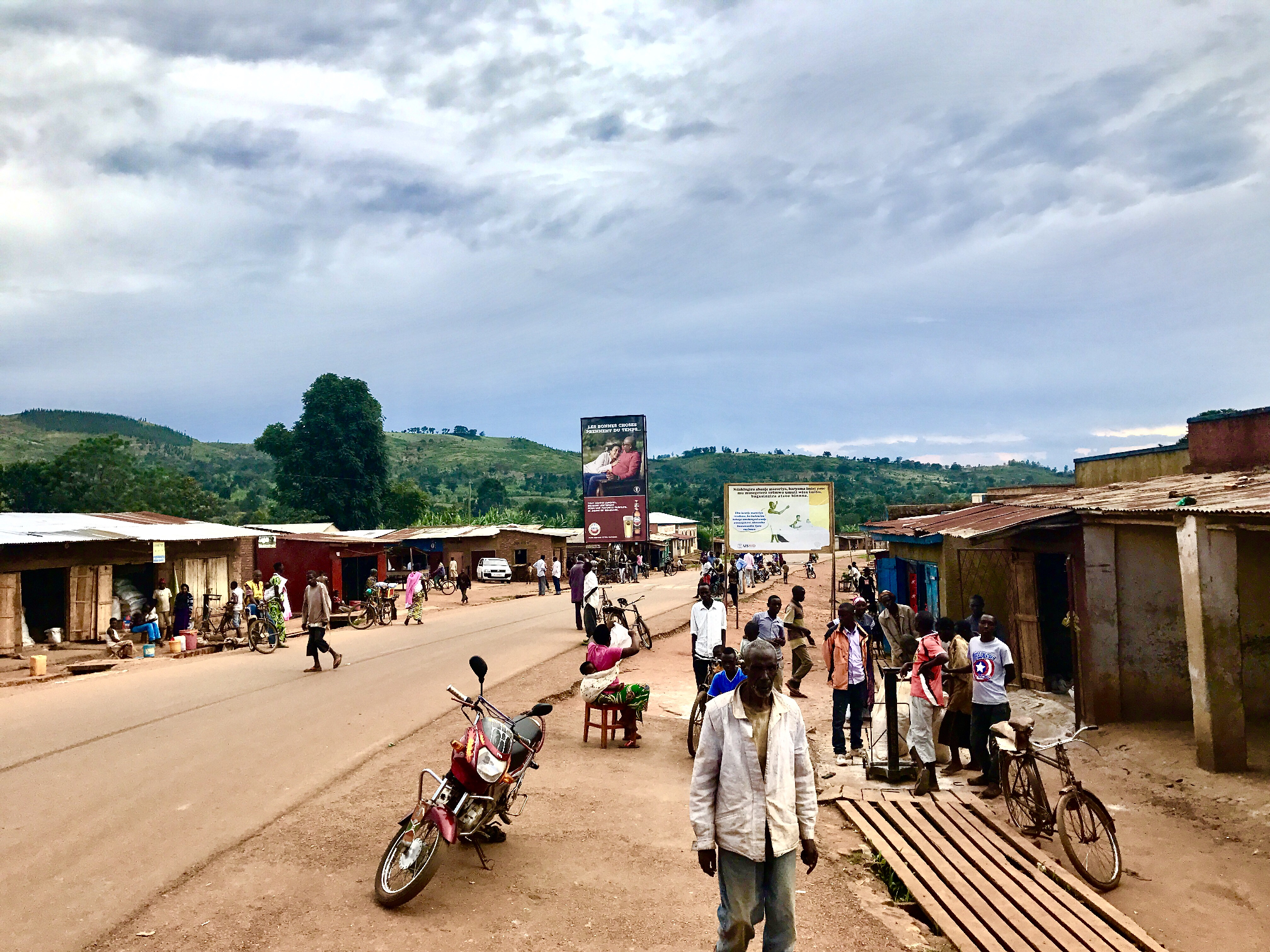 Most people were very friendly, smiling and waving; especially the kids. Others stared at me with great confusion in their eyes, as if they had no idea what someone like me could possibly be doing in their town. We passed a building/shack were young men and boys were packing bags of flour. One of the boys came close, and I wished I would have taken a photo; he was white all over, covered in flour dust. One English speaking young lady wasted no time introducing herself to me, asking for my number and taking a seat in the backseat of our car. Festus quickly booted her out and shooed her away, sternly lecturing me that the girl was a thief and if I wanted to "f*ck a girl" that night, to let him know and he would arrange. I assured him that was not on my agenda.
We made our way about town, stopping at a small plaza with a monument before Festus showed me the town hospital, from outside the gate. Actually, all I saw was the gate, but for some reason this was something Festus thought I should see. He'd continue to have the car stop every few minutes, showing me off to more locals as we rolled up and down the streets of Kirundo. I couldn't help but notice a random soldier in fatigues patrolling the streets on foot, stiffly holding a giant gun in front of him, as if he were keeping something bad from happening. What was this town on alert for?
Then it was down to the see the lake, where we had to maneuver down a small and very bumpy dirt road to reach the banks. It was sunset and the scene was gorgeous. Two small, handmade boats and their pilots cruised up to say hello and for whatever reason, Festus explained I'd now owe them $2,000 Burundian dollars each. What the heck?
After a cruise back through town, still stopping frequently so Festus could show off his prize (me), we arrived back at the Hotel Rama and found ourselves in a small club towards the back of the hotel. It wasn't much of a "club," but there was a bar and some flashing, colored lights—so technically, had there been anyone else there besides us, and a DJ, I supposed you could start a little party. Festus and my driver took a seat at the bar and we were shortly thereafter joined by three of Festus' cronies: officers from his squad. And guess who was buying the beers? Luckily, they weren't big drinkers; I imagine if this scenario was playing out in Mexico, we'd be drinking cerveza til dawn.
But that pesky "gift for my chief" did come up again, and this time with a much more serious tone. Festus got super close to me and suggested I "go get the envelope." Jeezus, I had to pay the piper $120 USD–ouch! But what were my alternatives? I later talked to some fellow travel pros, and they had all kinds of ideas on how I should've/could've/would've gotten out of this, but in the moment, I just wanted to get outta there. I fetched the dinero and excused myself to bed.
Luckily I was not dragged out of bed, hogtied and kidnapped in the middle of the night, as I feared. I actually slept okay, had an omelet at the small kitchen downstairs for breakfast (which would later gave me horrible food poisoning), and waited for my driver. We had an 8AM pickup time, and of course Officer Festus was joining us. I first thought this whole "police escort" thing was a blessing, but it was turning into a curse. I just wanted outta there.
To make it worse, my driver was super late. He finally showed up over an hour past our meeting time, accompanied by Festus, who today was sporting a bloody lip. He blamed a motorcycle spill. I had my doubts. Festus' crime-fighting partner, whose name escaped me, joined me in the backseat.
The drive outta there took forever and the intensity and anxiety increased ten fold. Immediately exiting the village on the highway, there was a rope strung across the road with rags tied to it and soldiers stationed on each side of the road. Sigh, of course we pulled over and we all had to exit the car as some elaborate conversation ensued, as if we were negotiating the transport of plutonium across state lines.
Festus told me to present my passport to "The General," a 40-something gun-toting man wearing a beret and a slew of patches on his sleeves. He slowly leafed through my extended-passport (which contains extra pages), examining each page as if he were looking for something that would indicate I was a spy. When he got to the last page, he started over at page one and repeated the entire process. Then, with glaring suspicion, he asked me why I was visiting Burundi, why I came to Kirundo, and why just for one night. I gave him my normal answer: "I'm trying to see all the countries in the world," which clearly he didn't understand. He went through my passport again and then asked me the same questions. It was so quiet you could hear a pin drop, while the other officers looked on and a few villagers who were walking with their baskets stopped to stare at us under the midday sun. After I'd answered all his questions, he gave me a stare that seemed to last ten minutes. Nobody moved or said a thing. No one even blinked. It was a scene right out of Locked Up Abroad. Finally, he handed me back my passport and said farewell. We all got back in the car and the rope was lowered so we can pass. Not before leaving another "gift," though. This was becoming a very expensive route!
I cursed inside every time we hit one of those "roped-off" checkpoints; there were five in total before reaching the Rwandan border. I thought we were never going to get there. Every time we rounded a bend I hoped and hoped I'd see the border, but just more road and another checkpoint. To make it worse, the window crank on my door was broken, so I was afraid the officers would think I was being defiant by not rolling my window down, when all the other passengers did. I was the only asshole in the car not rolling his window down at the checkpoints. I was afraid it would upset them and that they were thinking the worst, like, "Who does this guy think he is?" So I'd open the door, but then worried that doing that was even worse: a threat to the officers, like, "Why is he getting out of the car?!" I couldn't win!
90 minutes later we finally arrived at the border and I don't think I've ever been so happy to get out of a country. When Festus requested I give another "envelope" to his deputy for accompanying us, I almost said "Get the f*ck outta here with that," but alas, I sighed and shoved a final twenty in his hand and just got the hell outta there.
—
If you go:
I would not recommend traveling to Burundi by land, as I did. Flying into the capital with other travelers would probably be a safer bet–you're with many other visitors, in a big city–versus being "the only one" crossing by land…it was literally deserted and the spotlight was definitely shined brightly on me! It's important to note that I'd even hired a tour service for my trip into Burundi, I wasn't just exploring alone. I used Burundi Safaris and Souvenirs. I was disappointed that they didn't do a better job fighting off the shakedowns for cash. It didn't even seem like they tried.
I can't lie: part of this experience was actually very cool! I mean, who can say the "police" of a rogue nation put their arms around you and rolled with you the entire trip?! Beers and selfies with African soldiers in uniforms–pretty epic right? That part was.
But the part that had me nervous were the bribes and just overall not knowing how far it would go. All in all, I probably spent about $300 "taking care" of my "security" service, which was worth the experience itself. But all the time I was preoccupied wondering, "just how far will this go?" What's to stop them from asking for $1,000, $10,000, $100,000??? I imagined the police jailing me until my family could wire them copious amounts of money for my freedom; pinning some bogus charge on me, just to make some money. Things just didn't seem right, from the moment I arrived; and got more unsettling every moment. Part of me really liked Festus. Maybe the language barrier made it hard for me to get comfortable, but it was certainly the numerous requests for money that soured me. I don't know his circumstances. I do know that those officers make a terrible salary, and sadly, depend on getting money the wrong way in order to survive. I believe everything happens for a reason, and I hope he and his buddies were able to use my cash to help their families; my bets are on this. If Festus is reading this, dude, it was really cool hanging with you…just a little scary, because of the reasons mentioned above.
It wouldn't be fair if I didn't note the absolute beauty of Burundi. The countryside was spectacular, and so many of the people were very gracious and friendly. Unfortunately, the "police encounters" overshadowed most everything else. But Burundi is a country I would love to return to, stunning in many ways!
So long Festus! Thanks for the memories.
UPDATE: April 14th, 2017
Since publishing this article, I have been overwhelmed at the immediate response, kindness and concern from Burundians–many of them checking up on me, personally apologizing for the incident with the officers, and even inviting me back to visit again. Some have gone further to take time to explain to me the tense situation and sensitivity/paranoia along the Rwandan border.
I want to underscore that I do believe this to be the real Burundi: a nation filled with wonderful people, beauty and kindness. I've traveled to 82 countries on this earth–and plan to see them all. So I've traveled enough to know not to judge an entire country by one isolated incident. I wanted to say thank you for all of your comments and well wishes (you can see them HERE on my Facebook page and below in the comments section), and I do recommend my followers and readers pay a visit to Burundi, just not using that particular border. Thank you and God bless all my new Burundian friends.
This entry was posted in
Africa