As I looked out the window of my taxi, I was astonished not only by just how many motorcycles were on the road, but how close they were all driving together—like a giant school of fish. The bikes couldn't have been more than two inches apart, and they were zooming! Braking, accelerating, turning and weaving. How they managed not to crash into each other was beyond me. I kept thinking there was no way that I'd ever drive a motorcycle in Ho Chi Minh City, no chance.
It looked to me like the motorcycle-to-car ratio was at least three-to-one. For whatever reason, the preferred method of transportation in Saigon was the motorbike. This made walking through town a hassle. Even crossing small side streets sometimes took several minutes. The big streets…forget about it; you literally just had to start walking through traffic if you wanted to get to the other side, or you'd be standing on the curb for hours waiting for a break. Crossing the streets in Ho Chi Minh was a real-life game of Frogger. I love exploring cities, but the moto-traffic made it almost impossible.
I had just one full day in Ho Chi Minh and I jammed it full of all the things a tourist should do. Nothing super eventful to report, but I enjoyed the city, even though crossing the street was uber-frustrating.
Here are few photos from my day in Ho Chi Minh.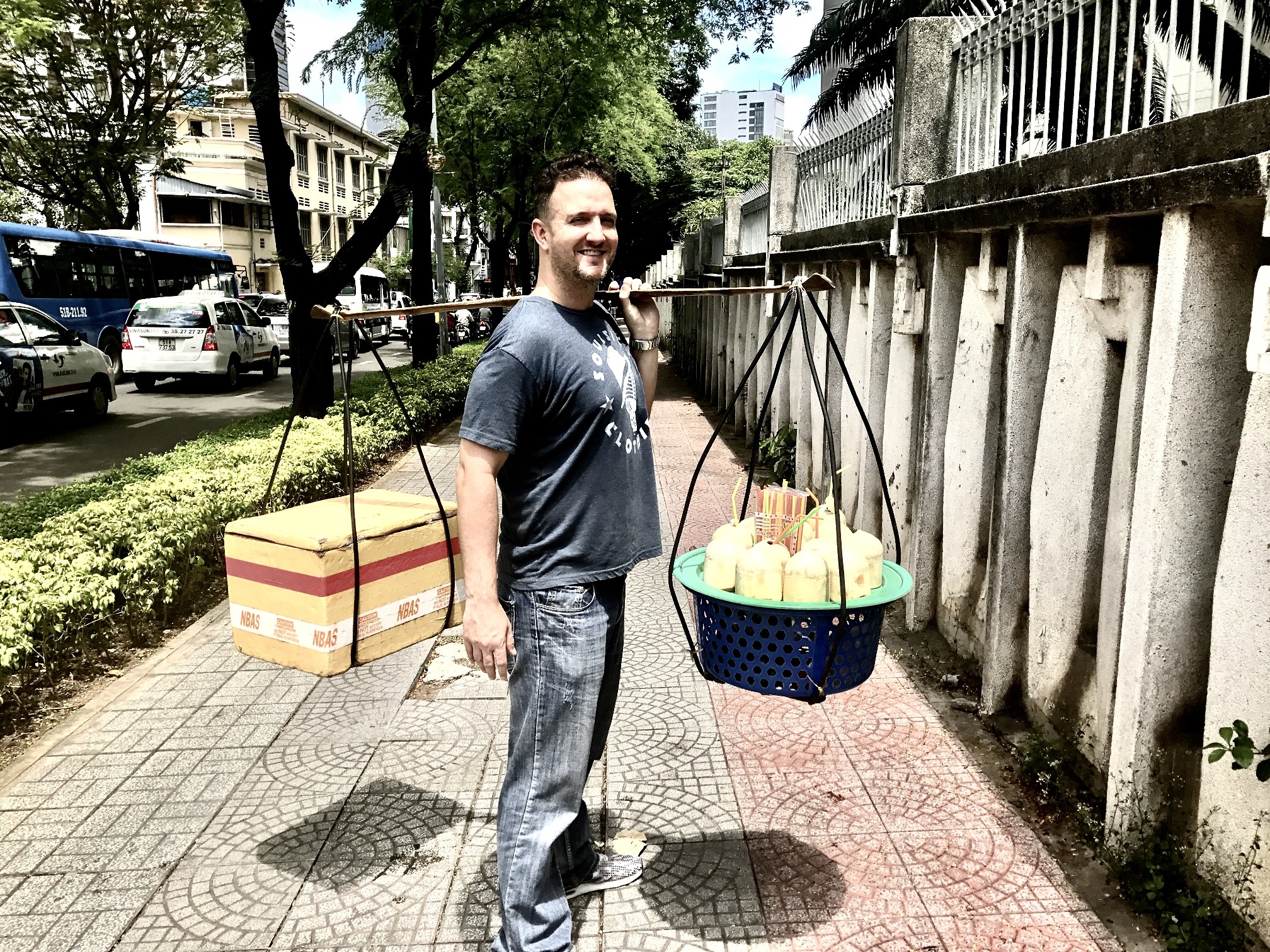 Besides the trouble crossing streets, it was so uncomfortably hot. I grew up in Arizona, so I can take the heat, but Ho Chi Minh City in this season was miserable. It didn't help that I was wearing jeans like a dummy. Swamp ass for days.
I tried hitting all the major "spots," including the Saigon Central Post Office, Independence Palace and the Ho Chi Minh City Museum. I thought it was interesting that there were Coffee Bean and Tea Leaf stores all over Saigon. It was a great resting spot to cool down, have an iced tea and rest my aching feet. I'm such an old man!
Next stop was the War Remnants Museum: an entire museum dedicated to showing off U.S. military vehicles, weapons and equipment captured during the Vietnam war. I always feel weird about going to these kinds of exhibits. After all, they were the enemy. They killed so many our people (as we killed theirs) and now they've got our stuff on display…and I'm paying to see it??? It definitely sat a little weird in my conscience (and even stomach), as I browsed the aisles and aisles of U.S. property: tanks, helicopters, jeeps…even soldiers' personal items. I visited the same kind of attraction in North Korea last year; their museum even included a captured U.S. warship. Crazy!
After some time at the museum, I headed back to the hotel for some chill time and afternoon tea. There was just enough time remaining in the day to take a ride up to the Skydeck at Bitexco Financial Tower to enjoy the sunset. At 68 storeys high, the Skydeck boasts stunning view of all sides of the city. I added Bitexco to my growing list of ultra-high towers I've visited, which included Tokyo's SkyTree and Taiwan's Taipei 101.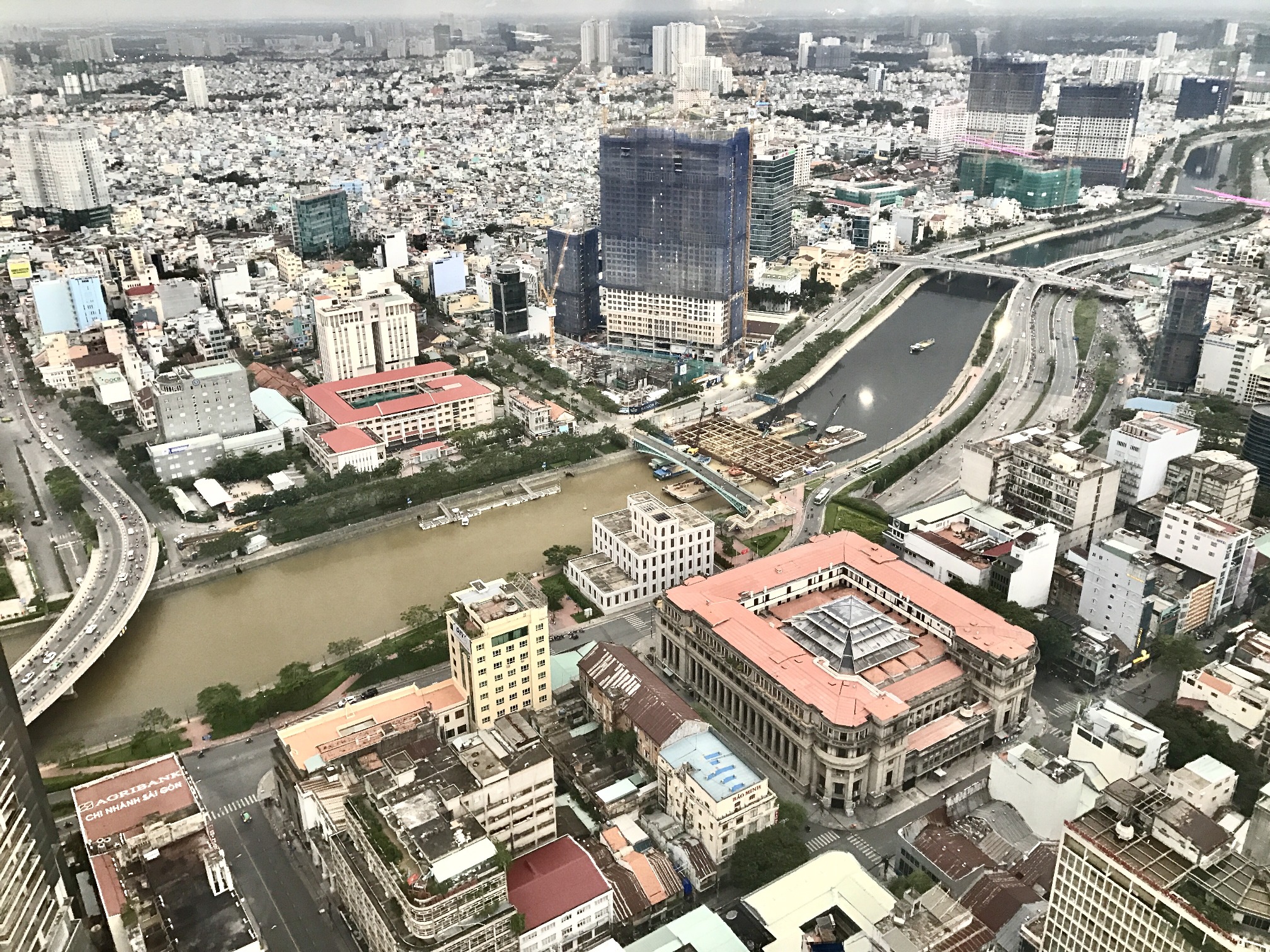 I chilled on the Skydeck until dark, admiring Saigon from above, before heading back to my favorite new spring roll joint for a quick dinner. Then it was back to my room where I swallowed a sleeping pill to knock me out early–I had a 3AM wake-up call and needed my beauty sleep. Taxi the next morning to the airport where I purchased the stereotypical "lampshade" hat, and I was out.
I liked Vietnam a lot. I know I cheated myself by only planning one day in Saigon. The country has so much more to offer and I plan on coming back for much longer.
[bdotcom_bm bannerid="4821″]
This entry was posted in
Asia