Bus Stop(ped)
I waited until 11:20AM before walking back into the Skopje Central Bus Station and inquire about the 11AM bus to Pristina that I'd bought a ticket for the day before. I'd been sitting by myself at the departure bay since 10:30 with no sign of the coach.
"Border closed, no boose," explained the lady behind the Plexiglass. Well that sucks. I was less concerned about the lack of boose and more worried that a closed Kosovo border would mean no entry for me. I stepped out of the station to find a group of cabbies and asked who'd like to drive me to Pristina. A guy named Muki with a silver Mercedes Benz raised his hand. I was sure I'd been overcharged for being an English-speaking foreigner, but for American standards, $60 was a bargain for the luxury and speed I'd be receiving.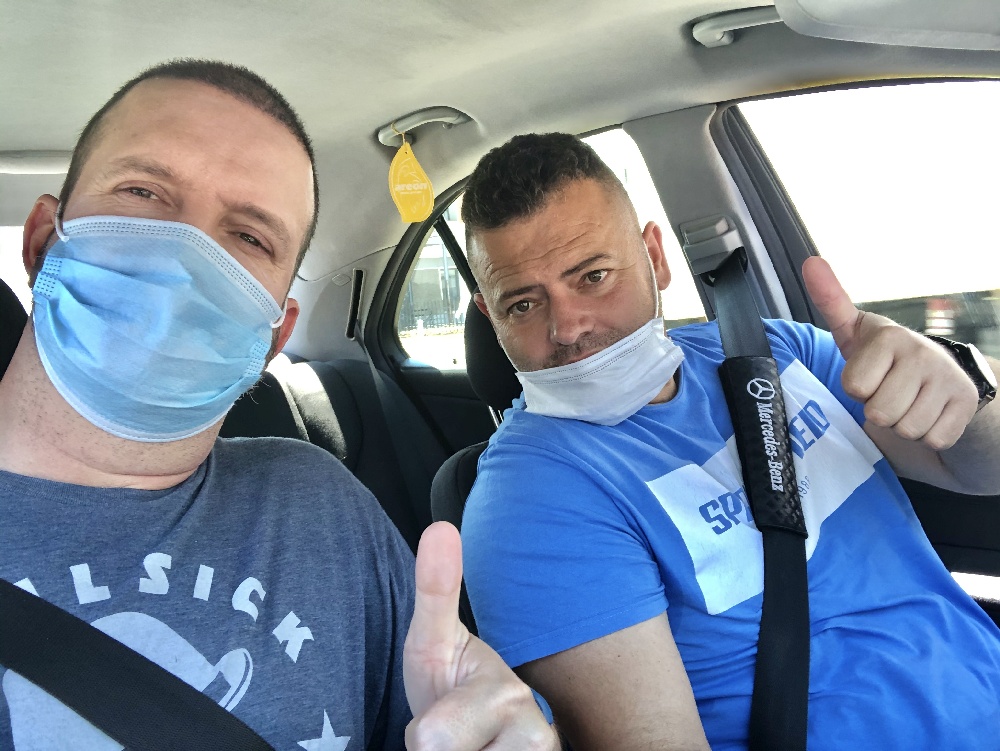 Life is a Highway
Once we were out of town and Muki pressed his foot to the floor, I realized that missing the bus was probably a lucky break for me. It would've taken hours to get there by a cramped, slow moving bus – it was much more comfortable and quicker in that Benz as we careened down the highway at 80mph. Plus, I figured I had less of a chance catching the Corona in a private car than on a bus filled with travelers. I was still a little worried I'd be denied at the border, but 45 minutes later we were indeed stamped in with no issues and now officially in Kosovo. I don't really count Kosovo as part of my "193"—it's not one of the 193 fully recognized UN nations—but certainly is part of the second-most popular list: "The 198." The 198 count consists of the 193 plus five partially recognized countries: Taiwan, Palestine, Vatican City, Kosovo and Western Sahara. I'd now hit four out of those five, with only Western Sahara left.
The roads were noticeably nicer as soon as we crossed into Kosovo, utilizing a brand new highway, which included the longest bridge in the country. The 5,733 meter raised portion of the highway cut through the windy hills like a knife through hot butter. I was quiet impressed with how nice the infrastructure was. We were really zooming now.
Train was once an option for this route. After scouring travel blogs on the subject, there seemed to be contradicting stories on whether or not you could still travel from Skopje to Pristina via train. Even the clues at the train station themselves seemed to give different answers: the monitor read "Pristina Train 4:10PM," but the guy in the window was quick to say, "No tren, no tren." Add me to the hundreds of others in the travel message forums wondering about a train to Kosovo. It certainly was a moot point now, as we arrived at my hotel in downtown Pristina just a little over an hour after leaving Skopje. I was so happy to have been able to find a ride on such short notice – on no notice, really. Thanks Muki!
You Fancy, Huh?
I think I was the only guest staying at the Hotel Begolli. I started this 12-country European adventure in late June 2020, just as Europe was beginning to slowly open to tourists, while slamming their doors shut to Americans and others coming from "Red Zones." (You can read more details about how I even got into the EU during this crazy time HERE. It was no easy feat.) The hotel was small, but surprisingly ostentatious. Not the kind of luxury you'd see at a Four Seasons, but rather the décor and design of an affluent Armenian (or Persian) living in Glendale: chandeliers, gold-painted pillars, crown molding, detailed wallpaper, red carpets and big puffy leather sofas with overly lacquered wooden legs and armrests. I actually really liked the place, especially the little balcony with views of the neighborhood rooftops and minarets. The call to prayer never sounded so sweet. I usually book Marriott properties, but this time I was on a budget, gambling my comfort and safety with a mix of small hotels and apartments. So far I'd been lucky, and I was definitely not expecting such a nice place in Kosovo. I rested for a bit and then was out to explore the town by 2:15PM.
First stop was a currency exchange booth to get rid of these Macedonian denars. I've made the mistake of forgetting to change out my currency before I leave a region and then being stuck with it…not this time. I asked for local "Kosovo" money and they guys behind the glass informed me that Kosovo currency didn't exist: we use Euros here. I was already learning!
Paging Mr. Ganoosh…Mr. Bob A. Ganoosh
Next stop: food. Tucked away in a little side alley was a place I read about called Baba Ghanoush. It took me a second to find it, but I finally did – and enjoyed a hearty chunk of freshly baked bread and a pot of baba ghanoush. I rounded out the meal with a falafel wrap while I enjoyed some beautiful piano music played by another patron and watched three cats in the alley frolic with each other and fight over food scraps. Belly full and fueled up, I was ready to continue my exploration.
First stop was the Kosovo National Library, famous for it's unique architecture. And yeah, it was pretty weird. I snapped a few pics before continuing on my way.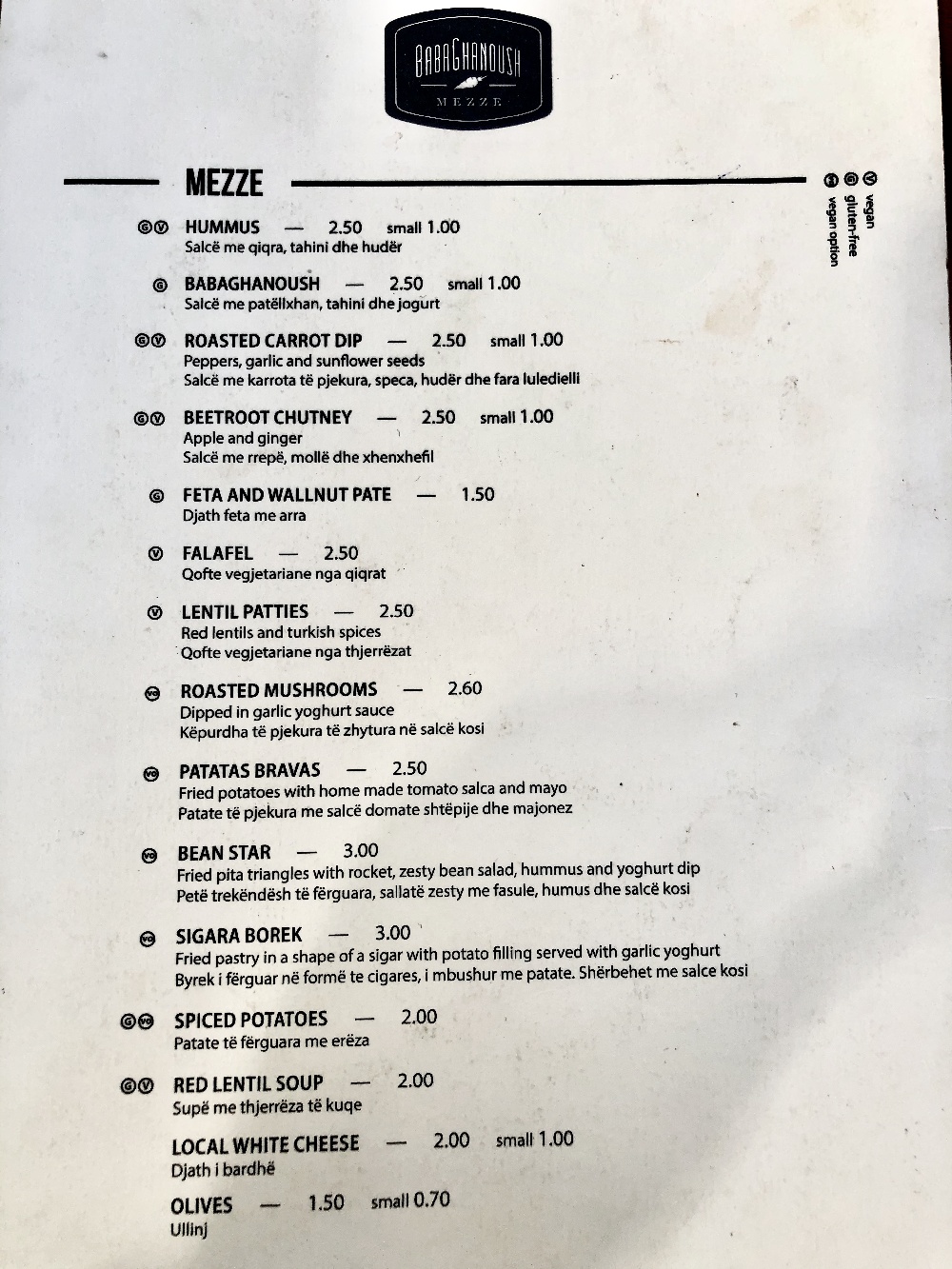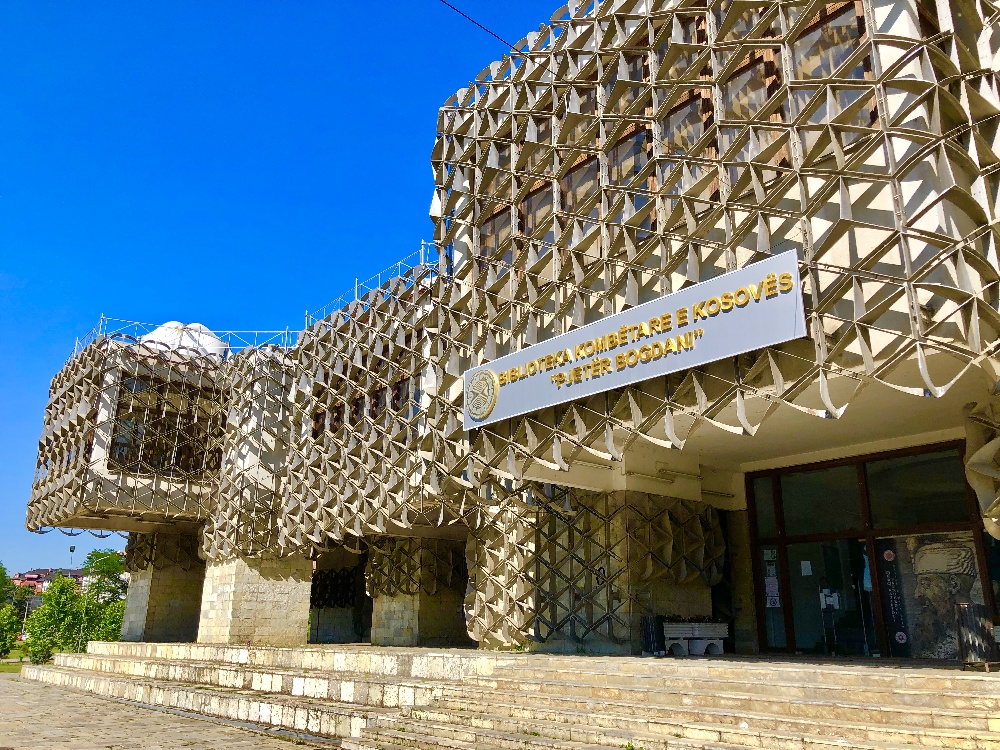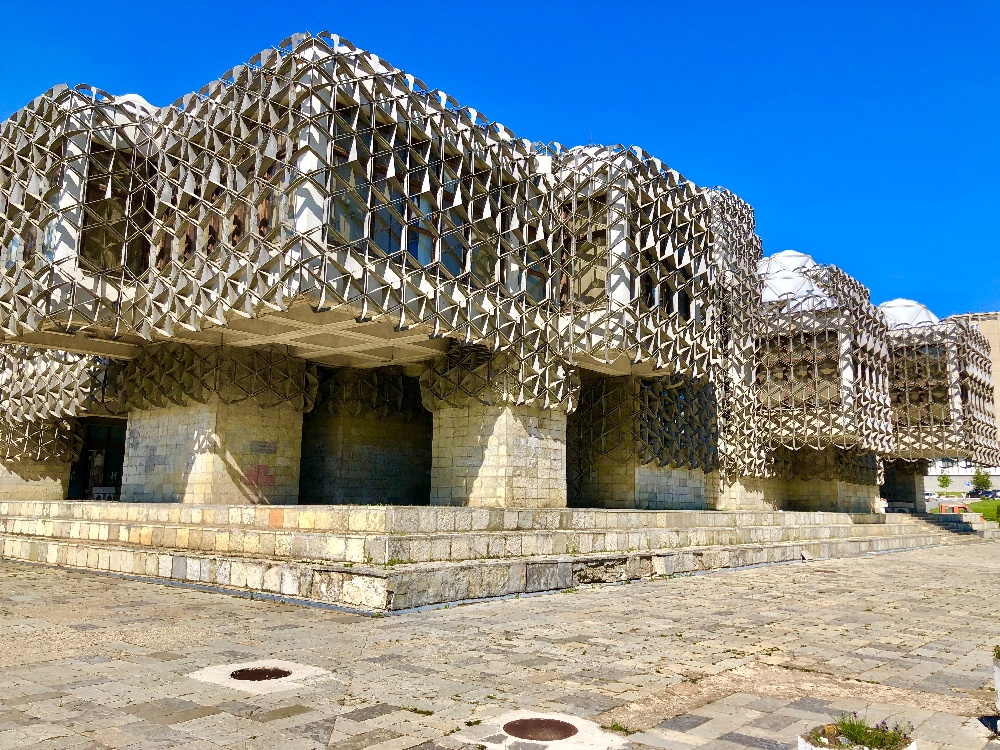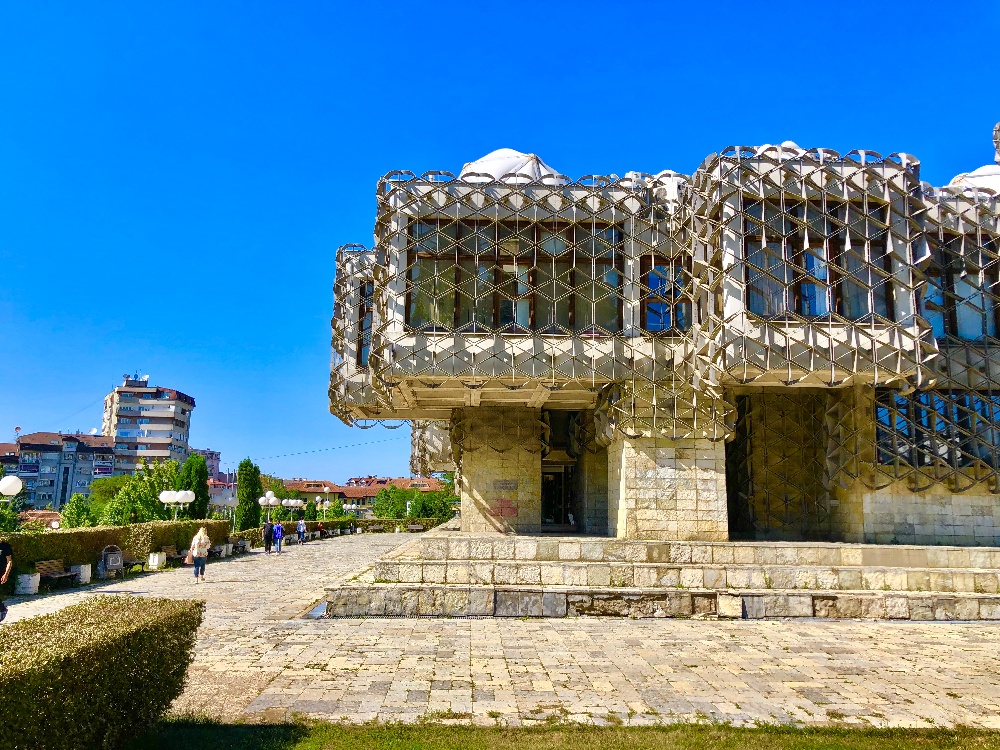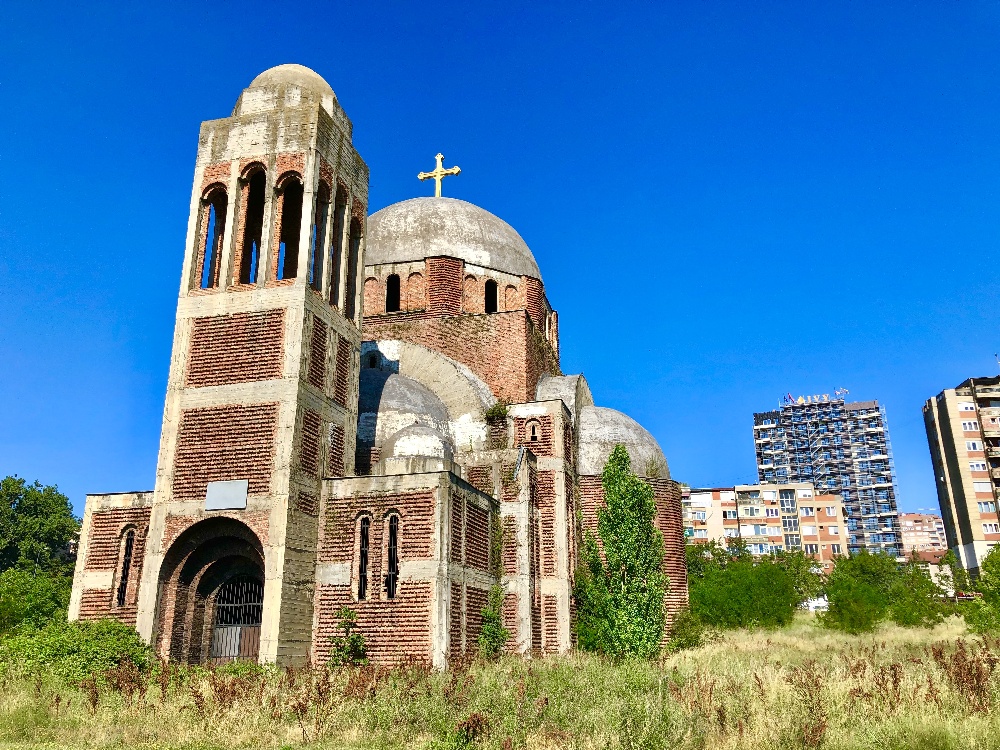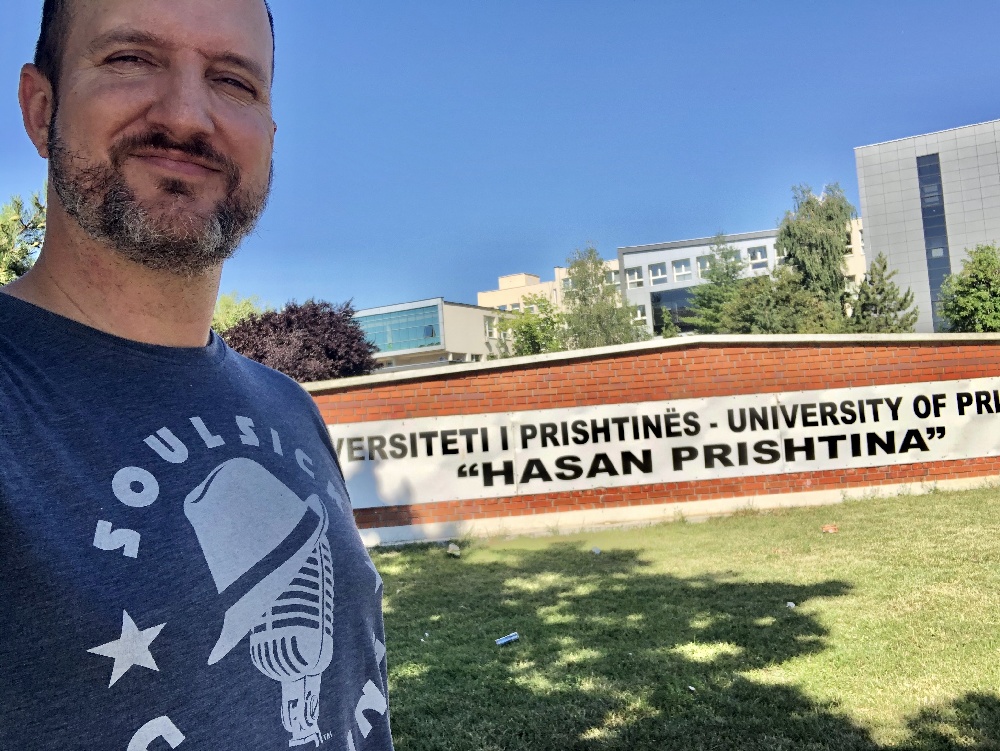 Don't Mess With Bill
Next stop was the Bill Clinton statue. Not that I'm necessarily a fan—I actually never talk politics here—but I thought the Bill Clinton monument was just something so random, I had to see it. And yup, sure enough, there he was: Slick Willy givin' the wave, with a giant banner draped down the wall of a high rise right behind. To be fair, I saw Trump propaganda, too! Kosovo loves the USA for helping them win their independence. And it's always nice to be in a country that loves you back!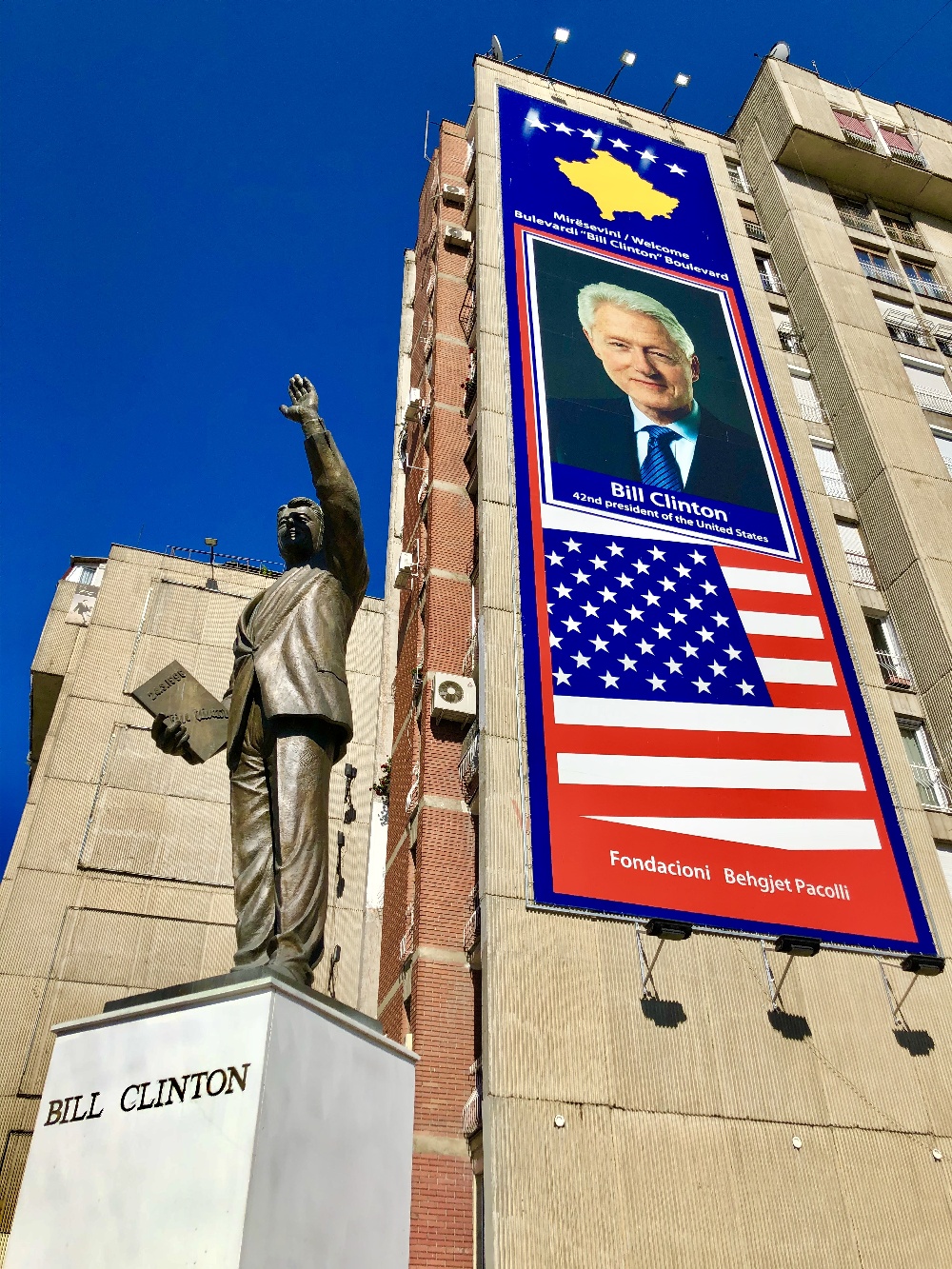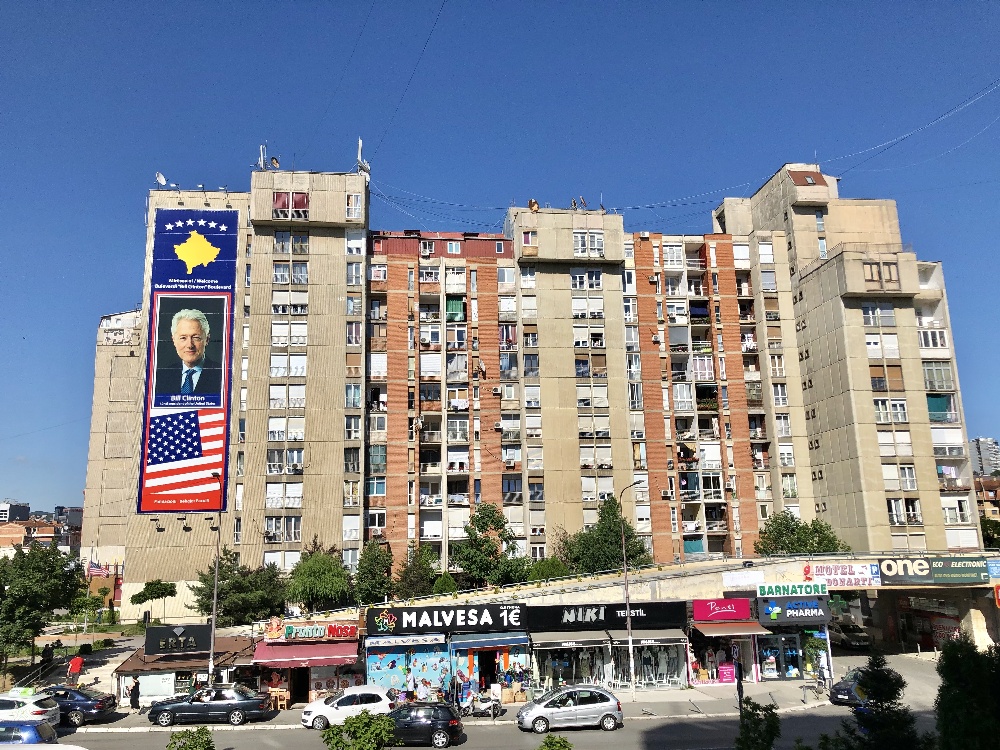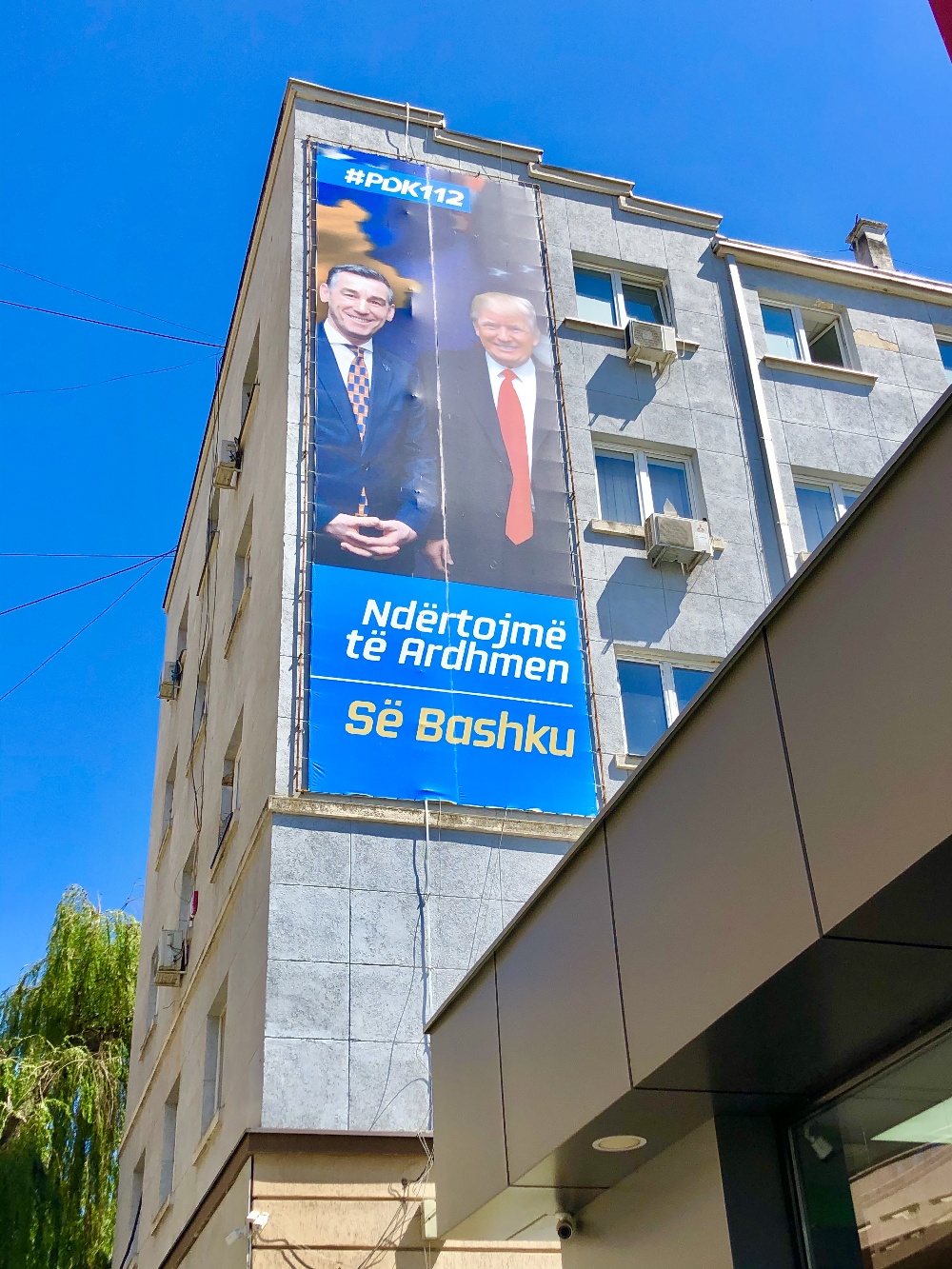 Coffee Talk
I'm not sure where in this article to tell you – so I'll just get it out of the way now. There's not much to see and do in Pristina. That's not a horrible thing. This stop would offer plenty of rest and relaxation in the room, downtime at the many local cafés and really allow me to appreciate the local people – they are really the attraction here.
I guess we should talk about the cafés now, too. They are absolutely everywhere! From chic, cool hipster joints; to simple tea houses where the old men congregate to play chess and tell stories, to the Starbucks-esque chain of cafés called Prince Coffee, I think I saw a coffee shop on every block…really! Sometimes two, three and four cafés right next to each other. It seems that meeting with friends for coffee or tea is the thing to do here. And since there wasn't much else for me to do, I made at least four of five stops into various coffee shops during my less than 36 hours here. The first one was the aforementioned Prince Coffee for a hibiscus tea after saying hi to Bill Clinton. Unfortunately, I did end up missing the pants-suit emporium called Hillary that exists here…seriously.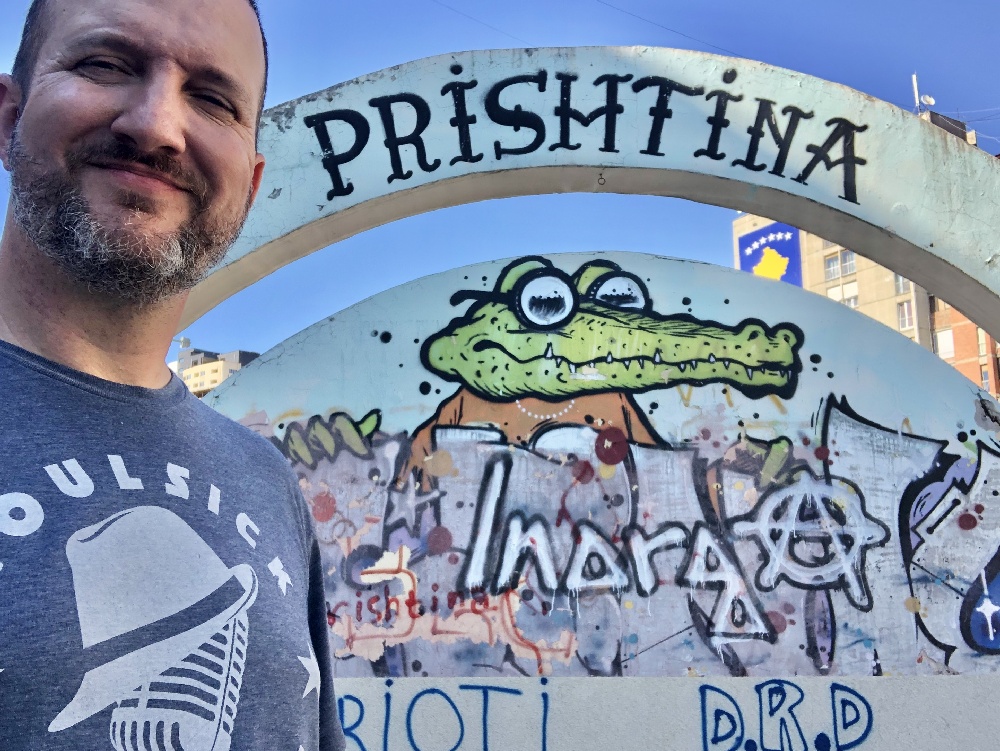 Follow the Crowd
Next, I wandered into an outdoor mall. I tried a new Coke product I'd never seen before: Coca-Cola with Lemon, before strolling up a pedestrian street called Sheshi Nene Tereza. This wide, tiled walking street would soon become my favorite place in Pristina. It's where you'll find shoppers, families, students…everyone really, strolling along between numerous outdoor restaurants and cafés (Yes, more cafés!) and find street vendors peddling everything from corn on the cob, to lollipops and Nutella crepes. It's just a good vibe, and I probably passed through this walkway at least five times in the little time I was in Pristina. This time I hit up another Prince Coffee location for an iced latte before heading back the hotel. I'd seen all I needed to for that first afternoon, and frankly, I didn't think there was much left. Plus, there were rumors of a 9PM curfew because of Corona. I was happy to get back to the Begolli and chill.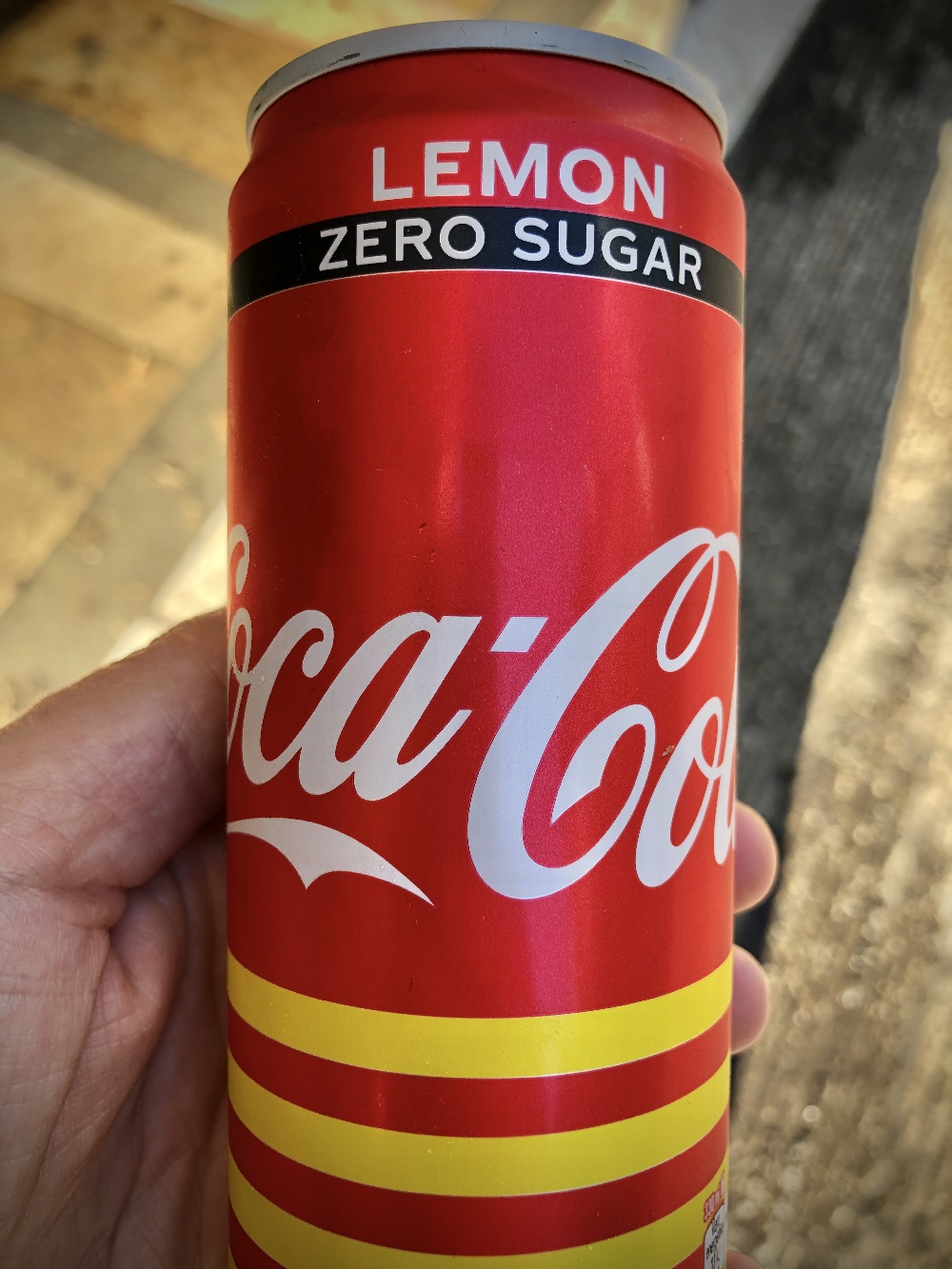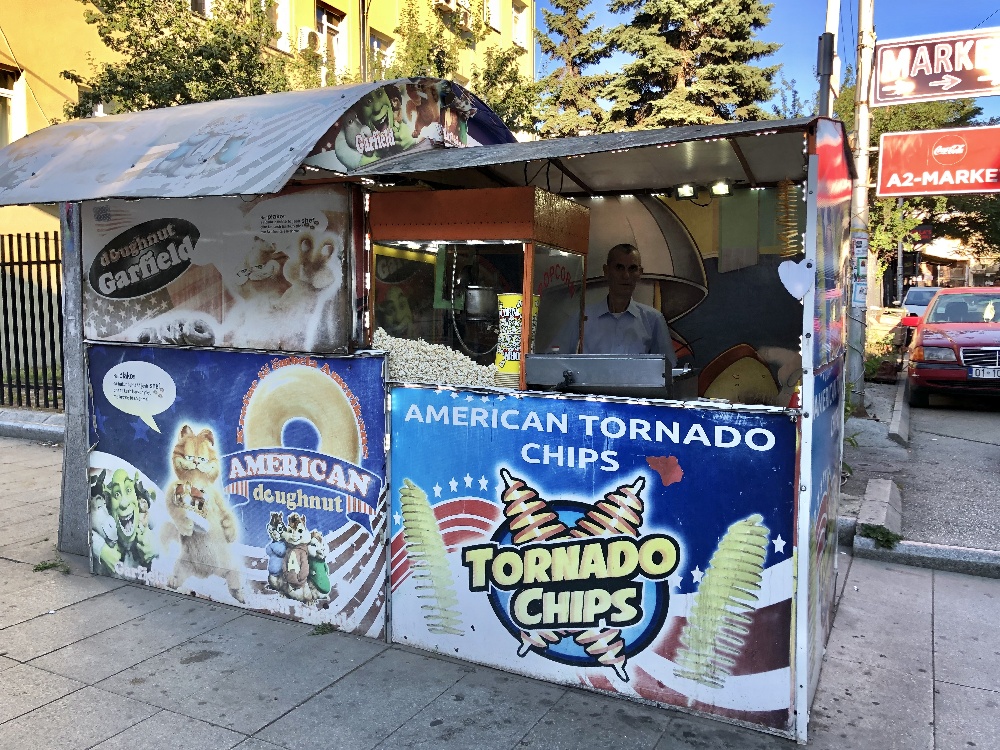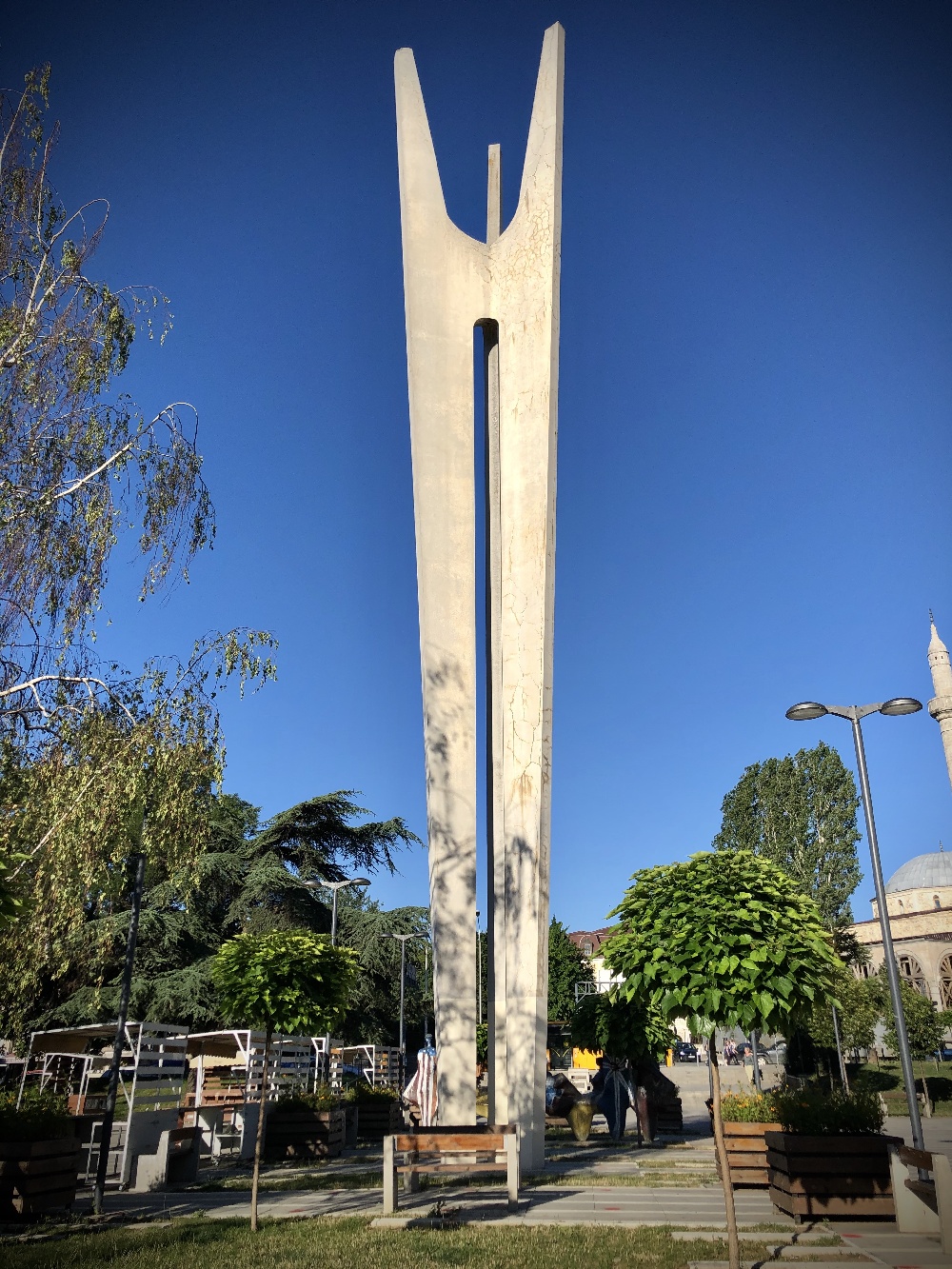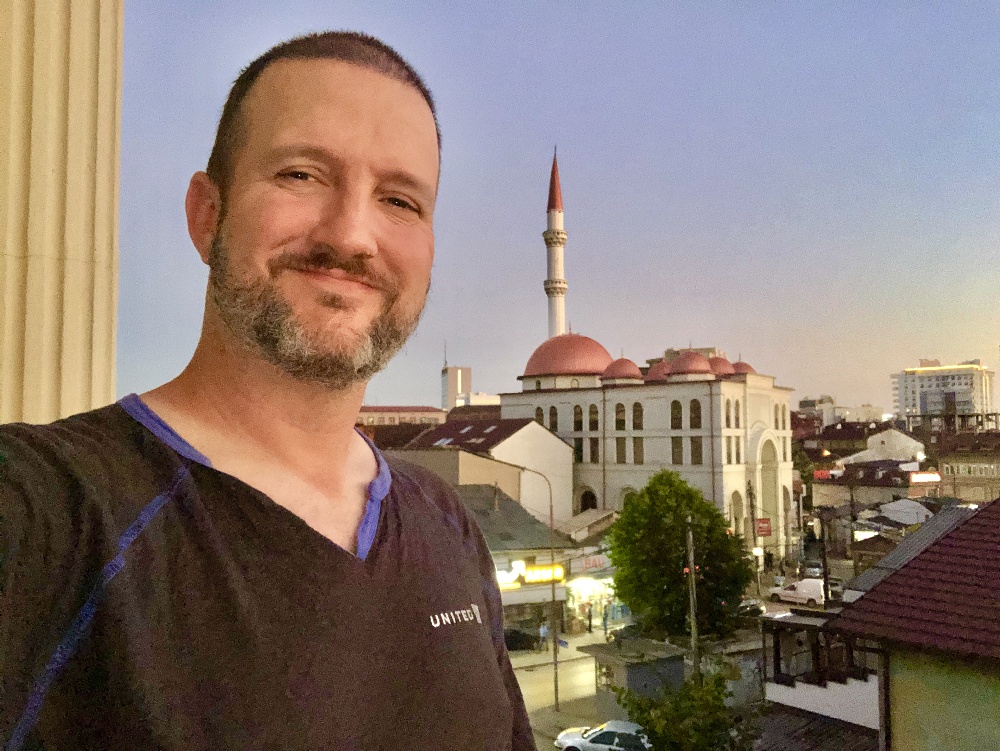 Day Two
I spent a good amount of time looking at the map, debating whether or not to rent a car in the morning and make a run for the border; to cross into Montenegro for lunch and head back to Pristina before my 10PM flight. It was tempting, but I wasn't even sure they'd let me in to Montenegro, so decided to make the most of my second day in Pristina – see a few more sites, but most of all take it easy. Plus, I think Montenegro deserved more than just a hop across the border; when I go I want to enjoy the coast. So Kosovo it is today!
First stop today was the Soma Reading Room for breakfast. This hipster library/living room/restaurant had a cool vibe, but it was too bad they weren't serving breakfast (even though it was morning)…something about the pandemic, according the waiter. I had coffee and a club sandwich before moving on.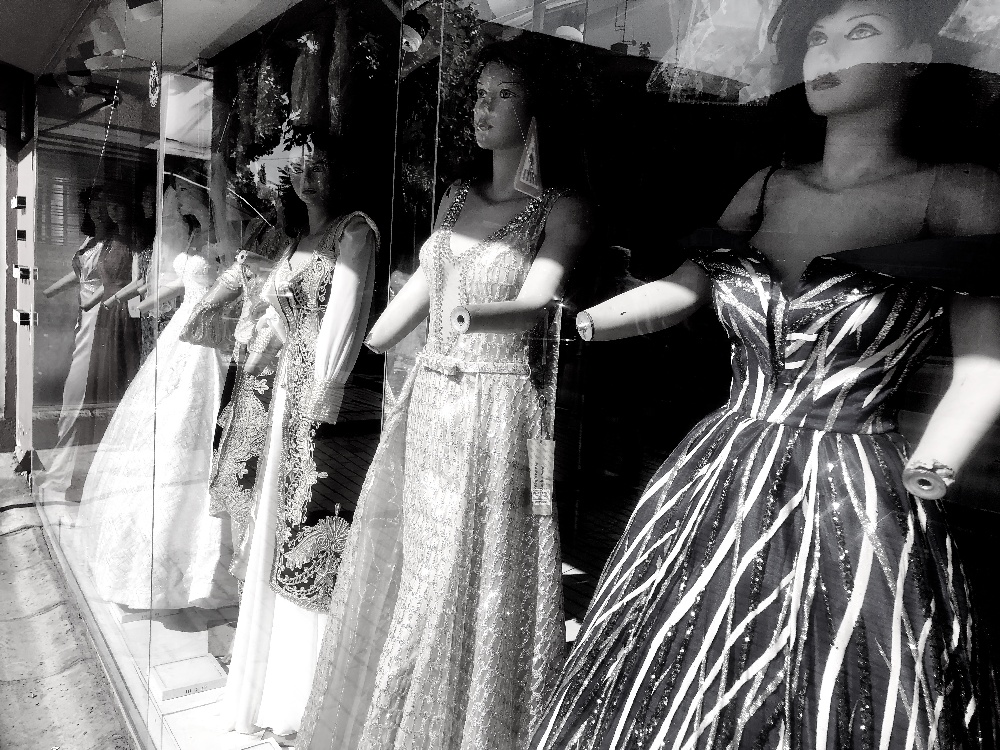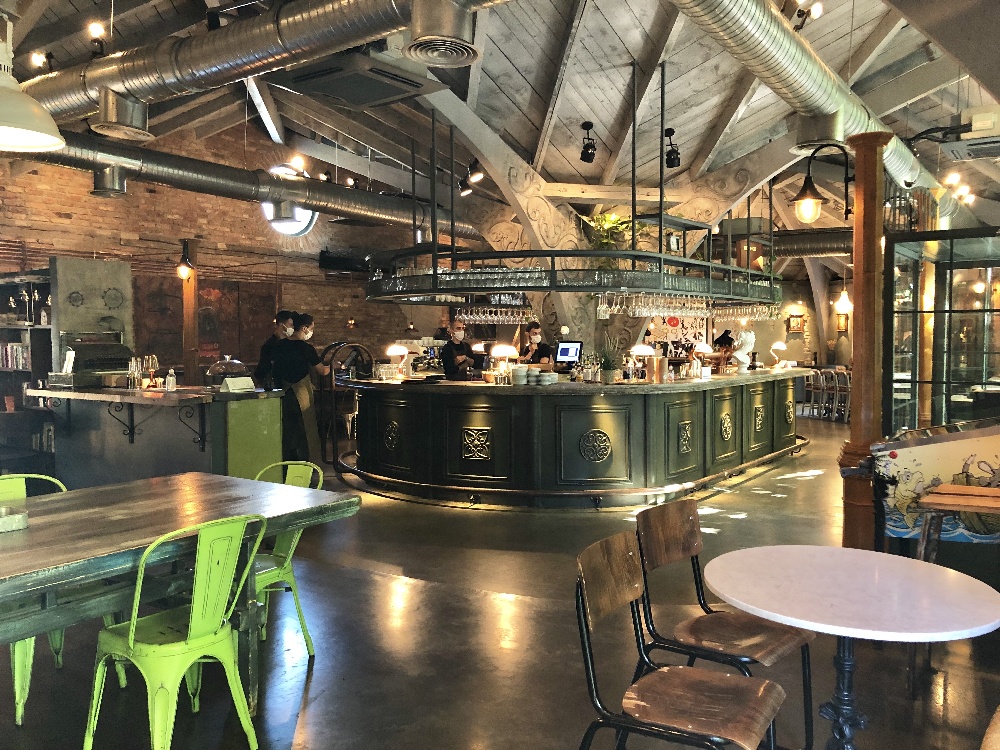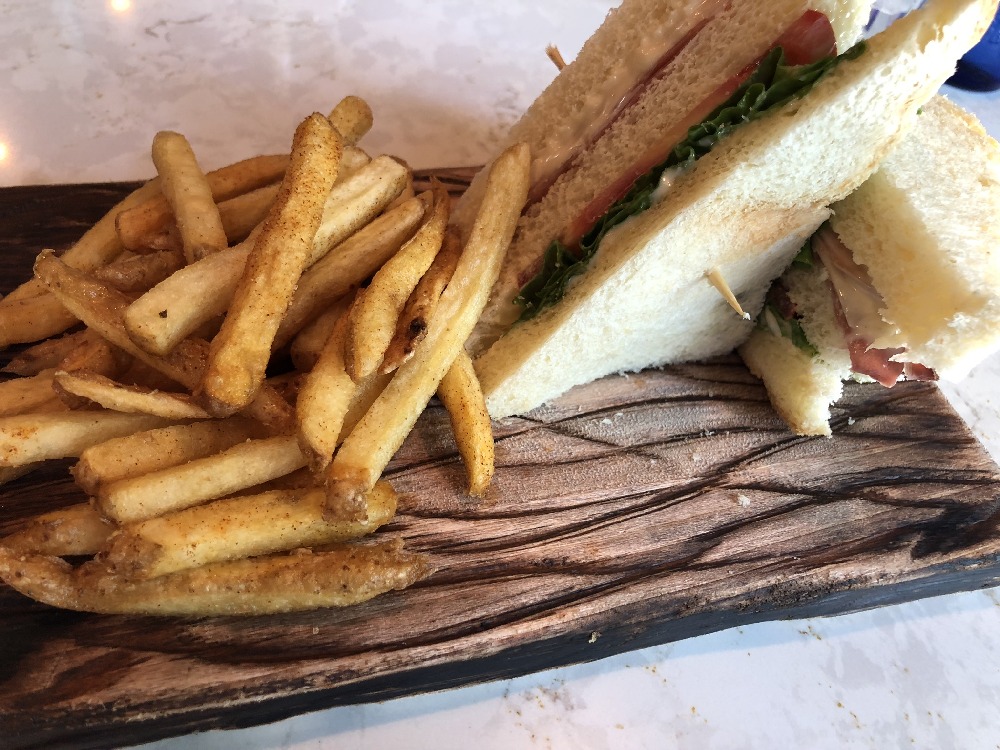 Monuments, Lemonade, People
Next I hit the famous NEWBORN monument and took a stroll by the giant Palace of Youth and Sports. Not long after, I found myself wandering into that fantastic pedestrian path Nene Tereza again. By now I realized this was going to my favorite place in Pristina, so I took some time to relish it. I soon found a seat at Margo Garden Bar, lured in by the enchanting Bossa Nova music being played over the speakers. Honestly, any place will get my business if they are playing Bossa Nova. A restaurant could be serving fried pelican testicles, but if they're pumping some Jobim or Gilberto through their sound system, I'll take a table for one and a bowl of bird balls, please! Lucky for me, no pelican private parts here…this was a lemonade lounge. I love lemonade! They had food, too…but I'd just ate, and they had me at lemonade. They had all kinds; I chose the classic. I enjoyed sipping my citrus drink in the shade and people-watching. There may not be a lot of sites and statues in Pristina, but once I turned my attention to the people of Pristina—young and old—I started to really enjoy the place. These folks have been through war, and to see them living their best lives today, is a special treat that most will never get to observe. All I knew about Kosovo was what I saw on the news as kid (war). It was neat to see the people of Kosovo living their lives: working, playing…sipping lemonade.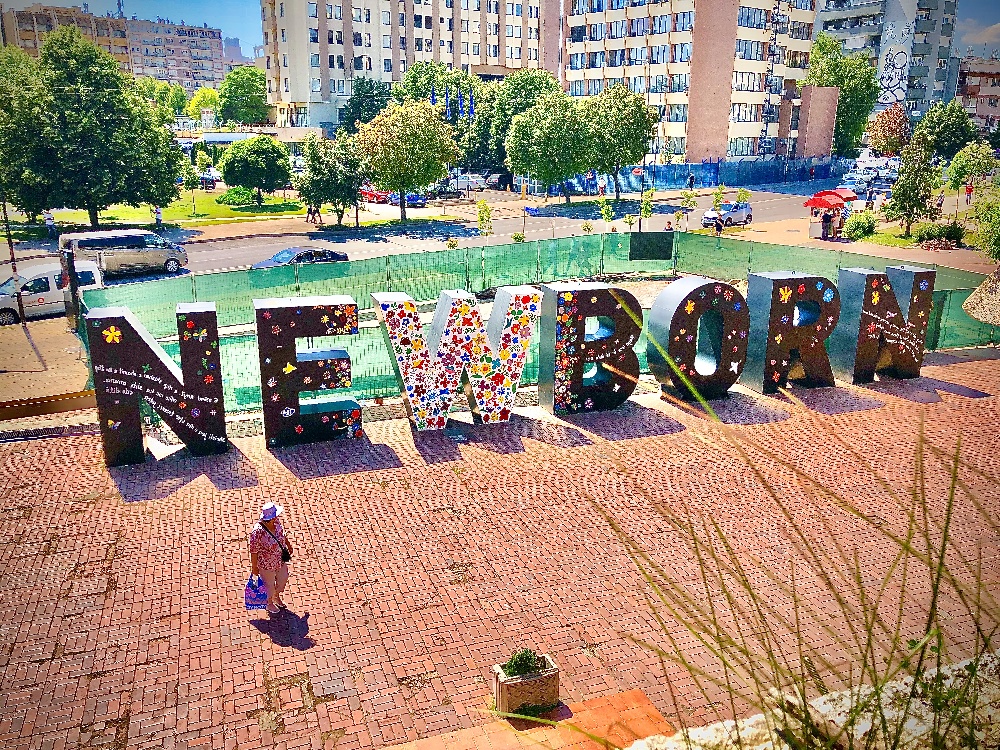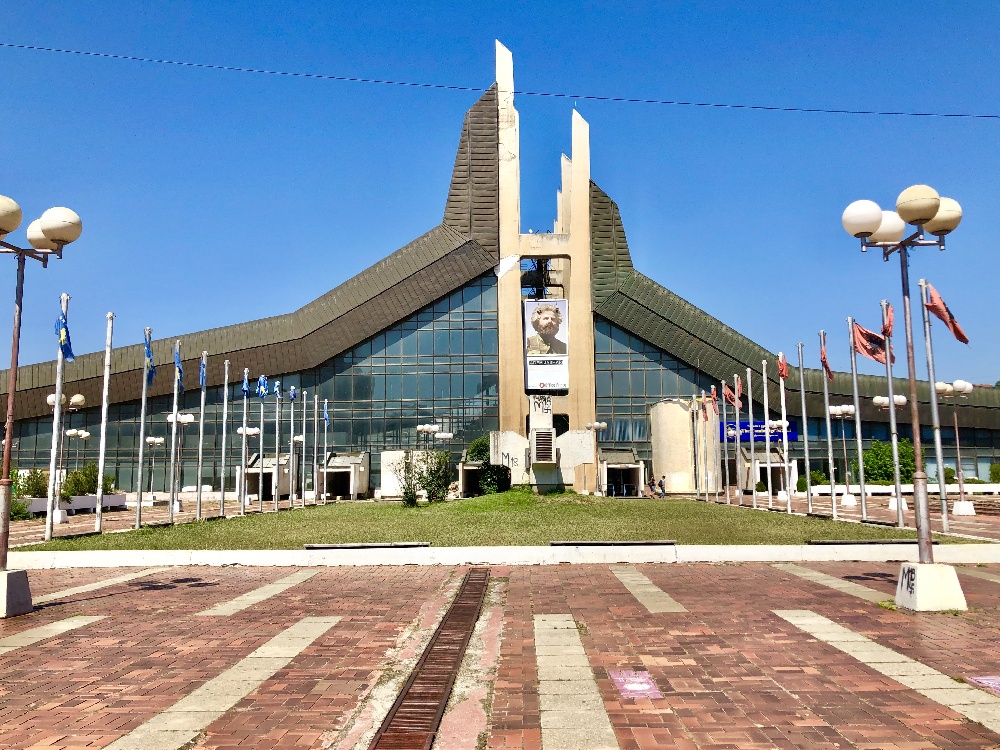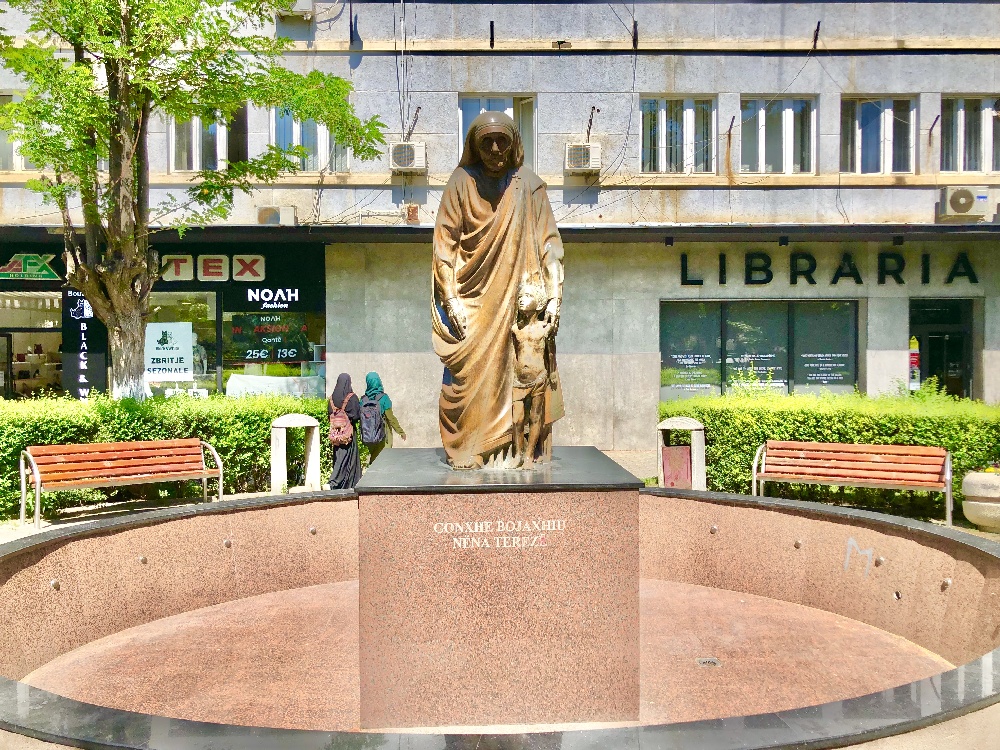 El Chico Del Apartamento 197
I took a quick napper at the hotel, then got back on my feet. I'd read about a coffee/food spot called Apartment 197, so thought I'd give it a shot. It was two miles away, which I didn't mind: It would give me a chance to see more of Pristina, plus work of some calories before the meal. My GPS took me through all kinds of interesting paths – places I would've never seen on my own: first, through the hills of he residential outskirts of the city where I passed car repair shops, supermarkets and other various everyday outlets. Then, my phone's directions led me though a trail that literally cut through a high-rise housing development. I did a double take at the map to make sure it wasn't leading me into someone's private property. It was neat to see where the residents of Kosovo lived – tall brick buildings with balconies and sidewalks that twisted in, out and around the towers. Soon I was back in civilization, and busy boulevard called Rruga B (B Street). I enjoyed a crunchy chicken sandwich at Apartment 197 and one of the best fruity-iced tea-concoctions that I'd had. My diet was quickly slipping.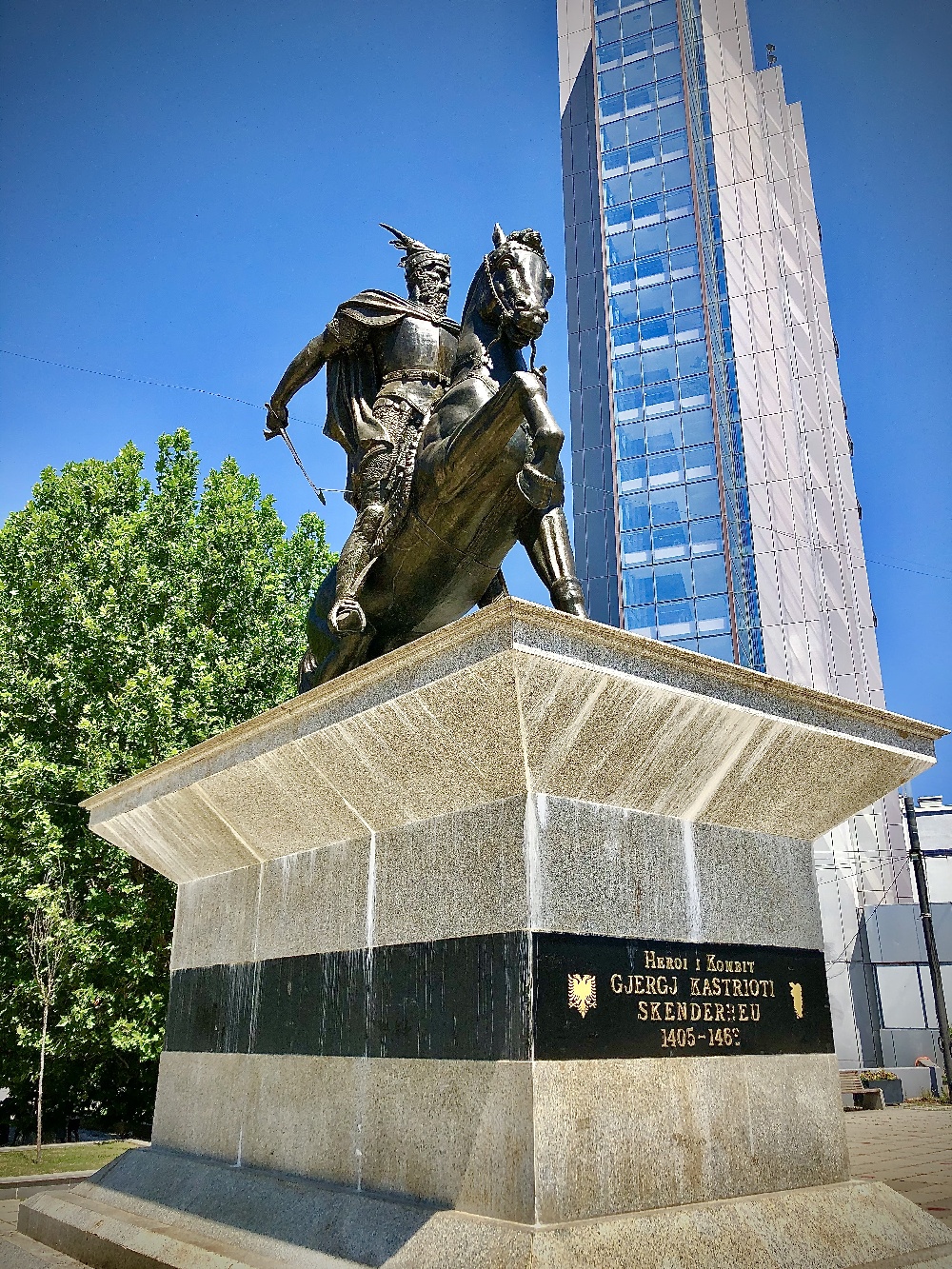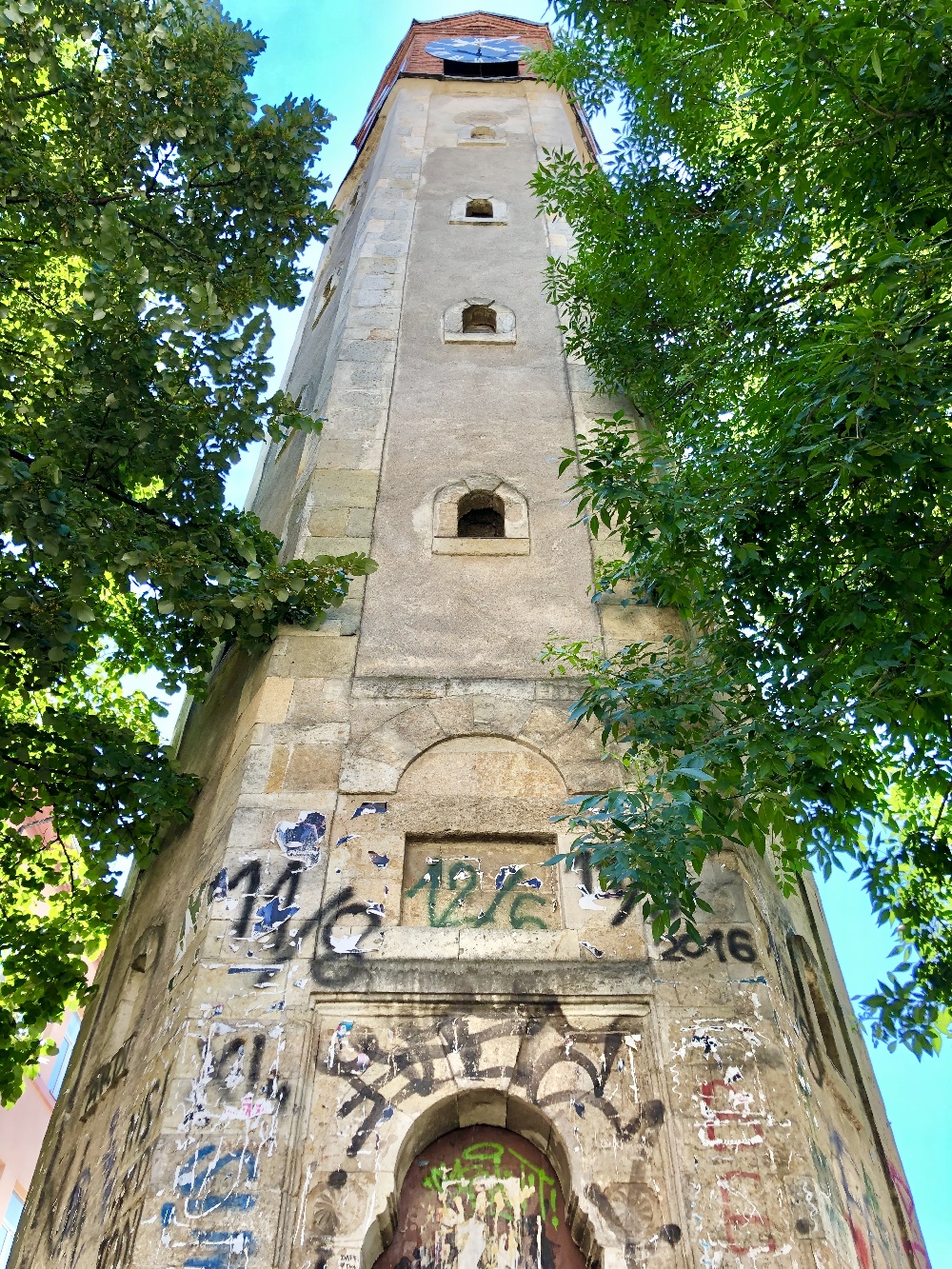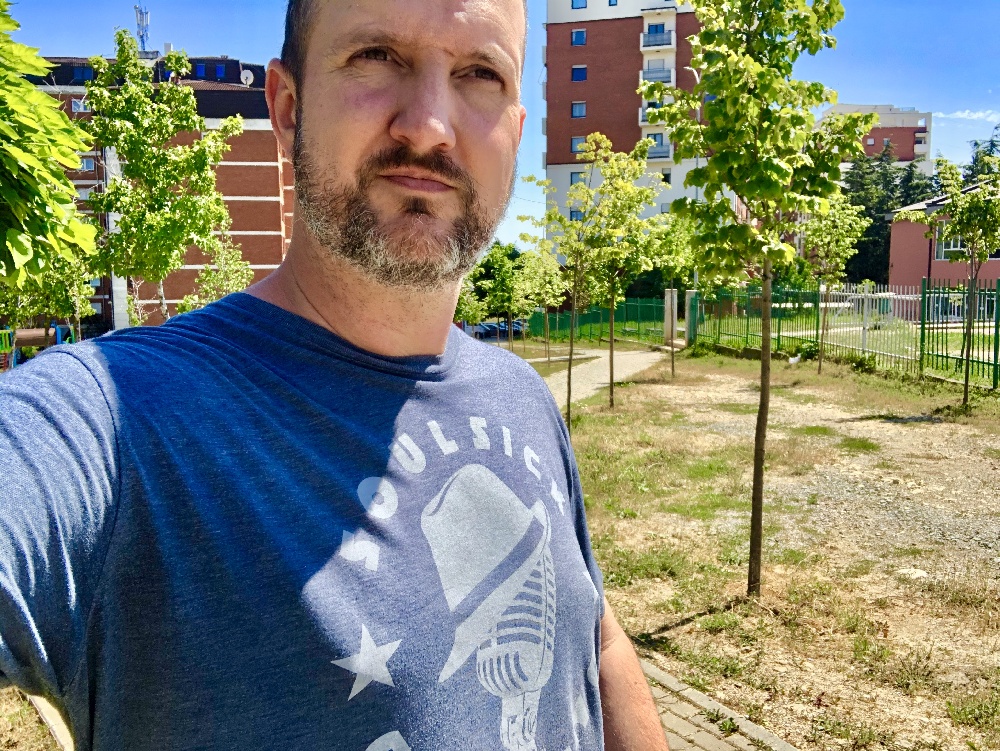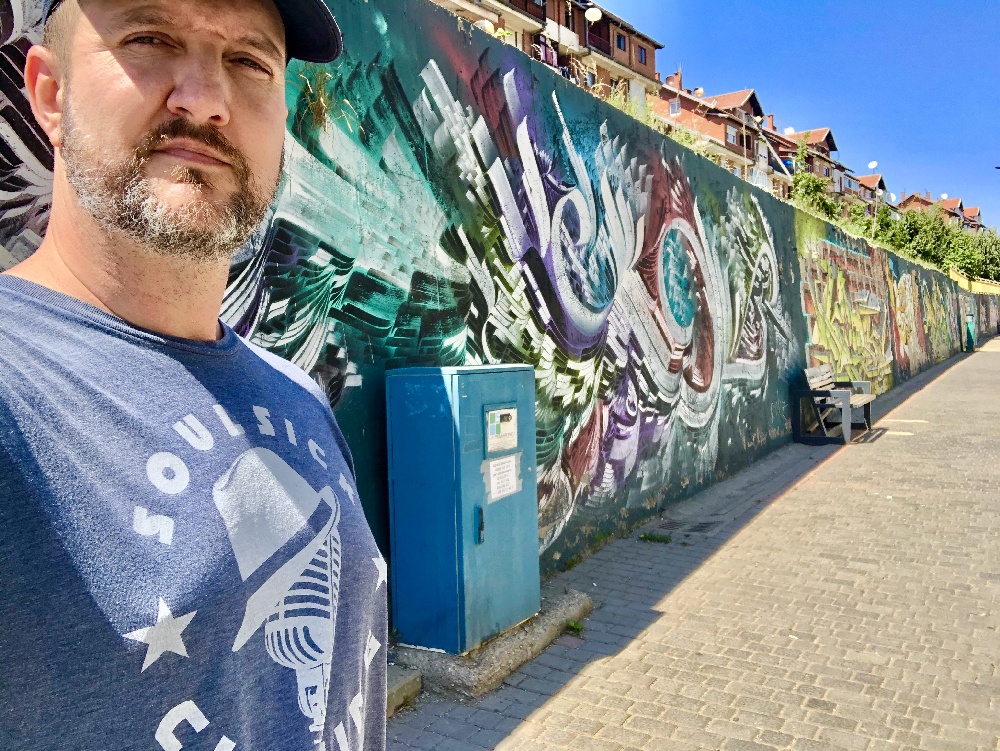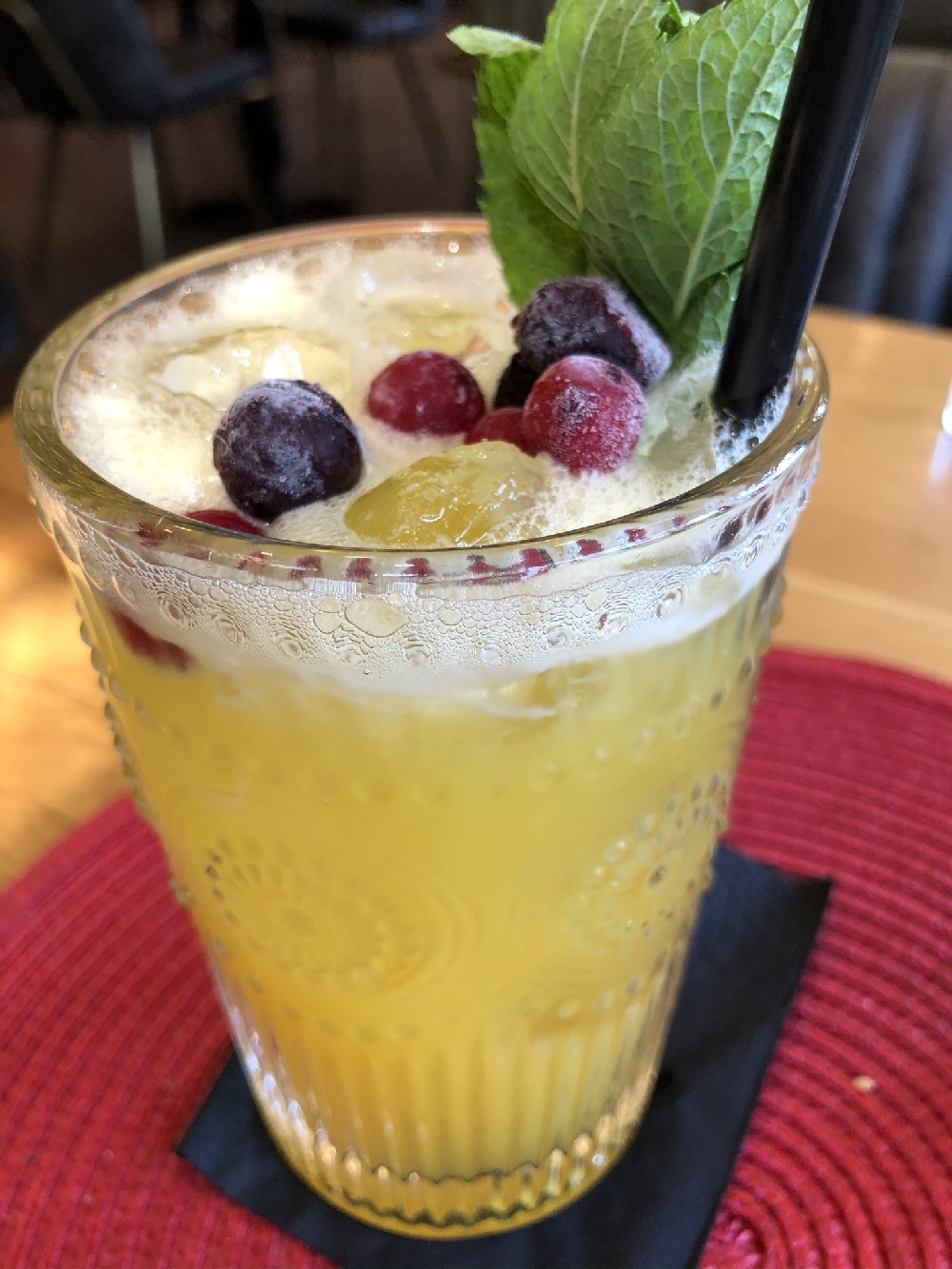 When Life Gives You Lemons
The two-mile walk back to my hotel had me stopping through the bustling Sheshi Nene Tereza once again. I stopped for a second lemonade at Margo Garden Bar to enjoy my last time on this trip. Then it was back up the road, through the bazaar of produce, cigarettes and shoes, and back up to my room to shower and get ready for the next flight.
I enjoyed Kosovo. Sometimes you need a stop where you can just chill, relax and have a lemonade…or three.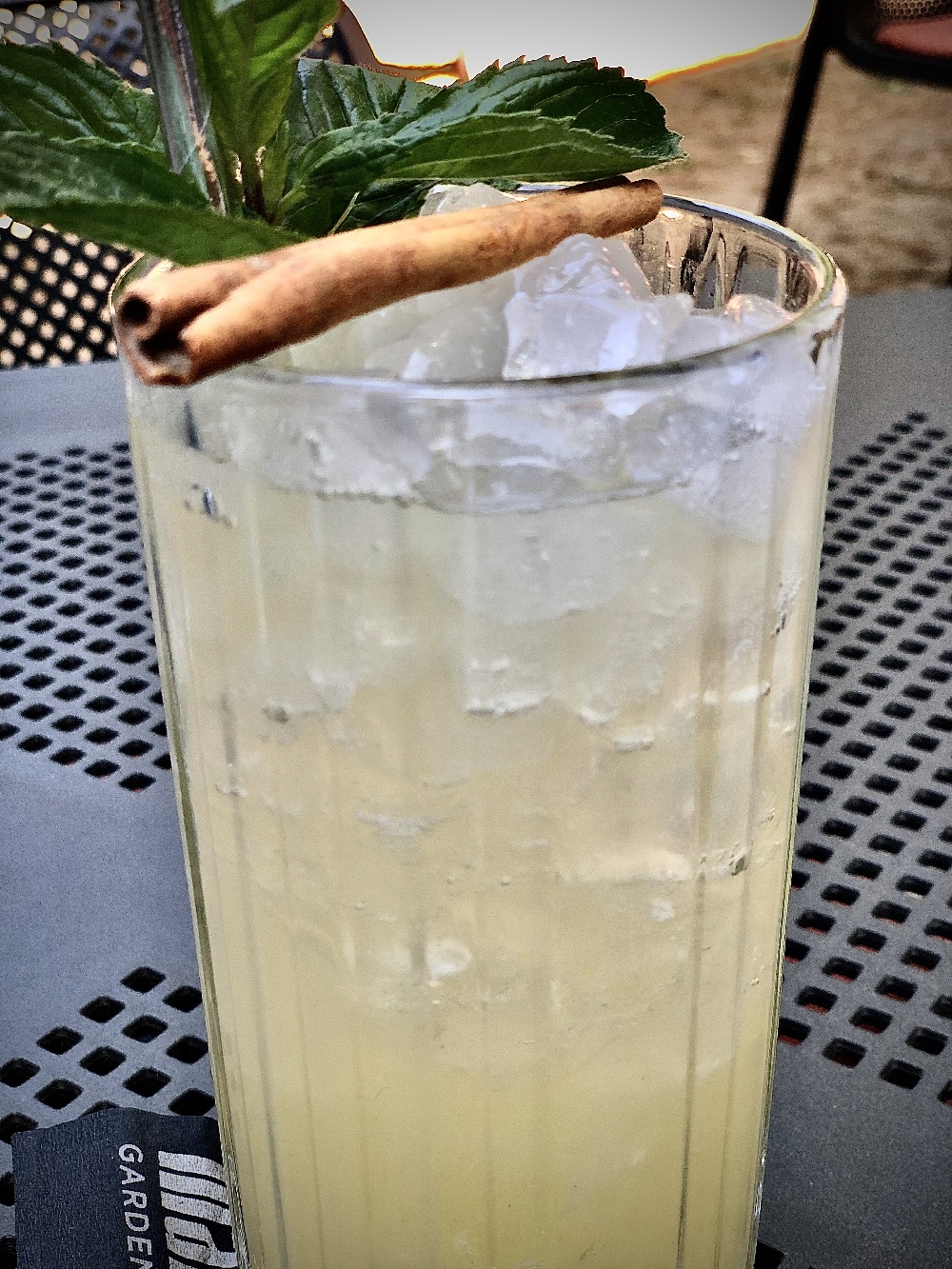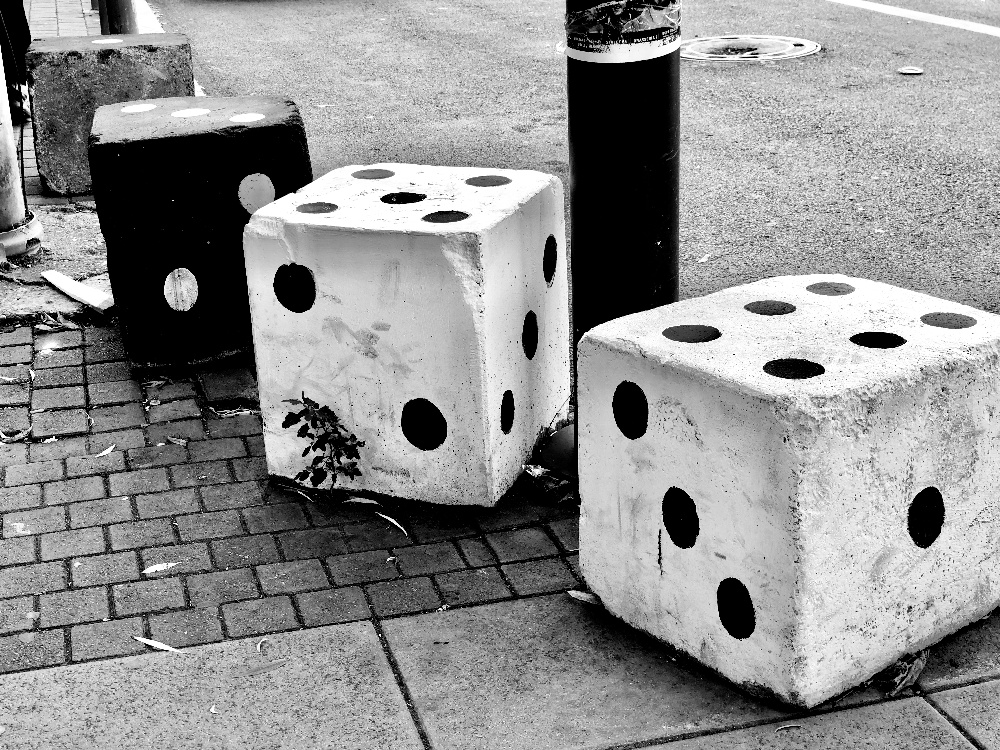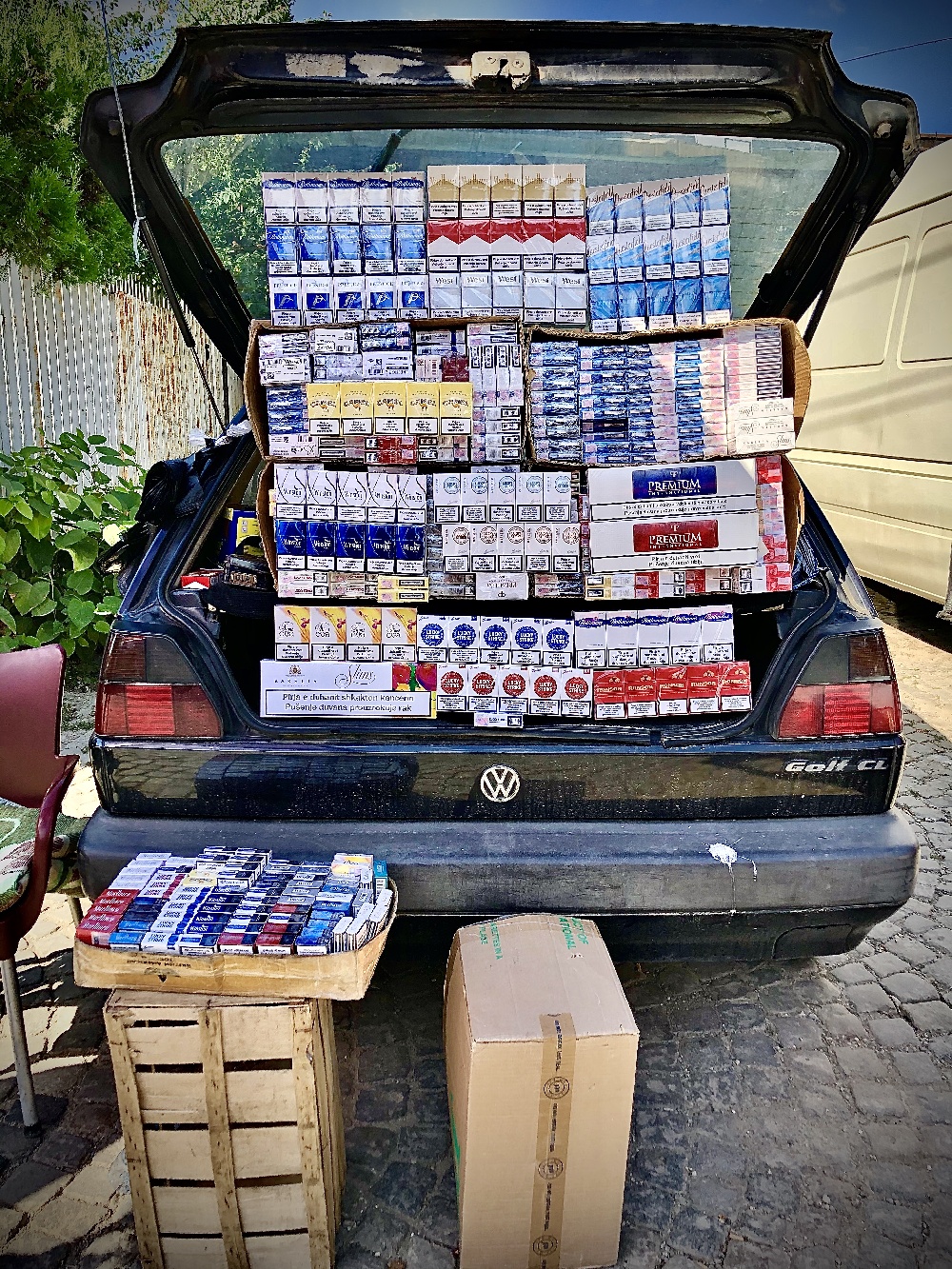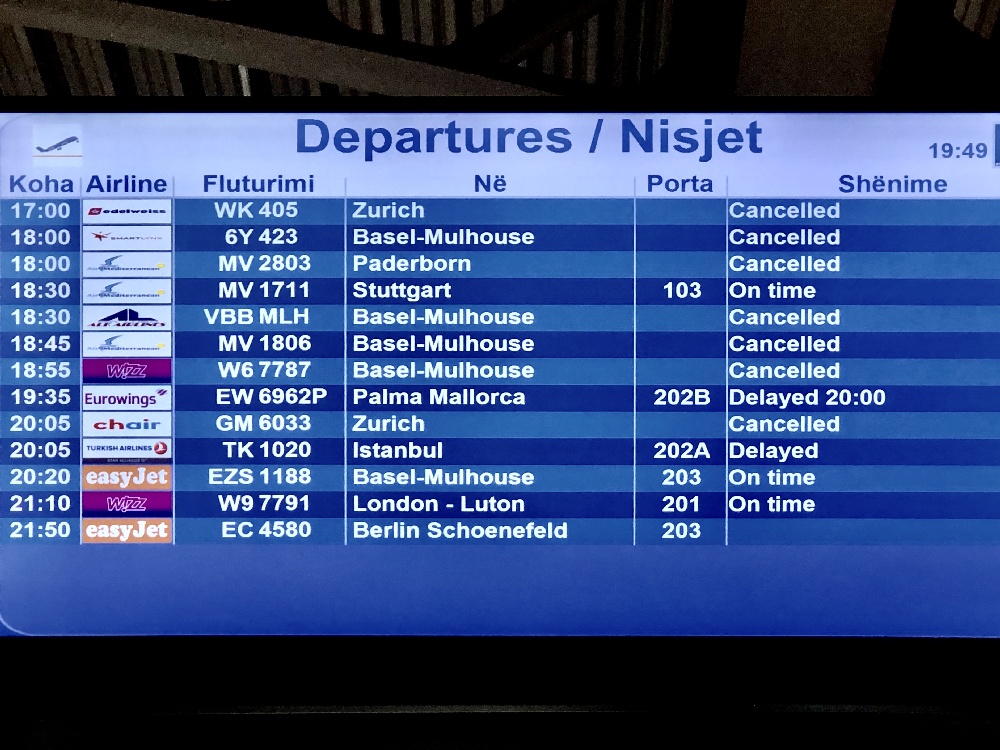 This entry was posted in
Europe