She's Got That Vibe
Ever since I started traveling frequently, I've noticed one thing: I'm usually able to get a "vibe" about a new place from very the instant that arrive: within the hour, sometimes even after the first few minutes after stepping off the plane. Good or bad, or sometimes in-between, it doesn't take my brain long to form a sometimes even premature opinion about a new city or country. I just get a "feeling." Sometimes I'm proven wrong as the trip progresses, but usually I'm right.
Ecuador was one of those countries that just felt right the moment I walked through the airport and hopped into my cab. Immigration and customs were nice, my cabbie was super friendly and talkative, good music on the radio, the streets were clean, and some of the first signs I saw were advertising asada and fruit salad–I love asada and fruit salad!
The check-in at the Sheraton Quito was fantastic; they had fruit juice and cookies waiting for guests on arrival, and a fresh tropical fruit plate was even waiting for me in my room which was a nice midnight snack before I crashed out. I had just 48-hours in Quito and I needed some sleep if I was going to be productive.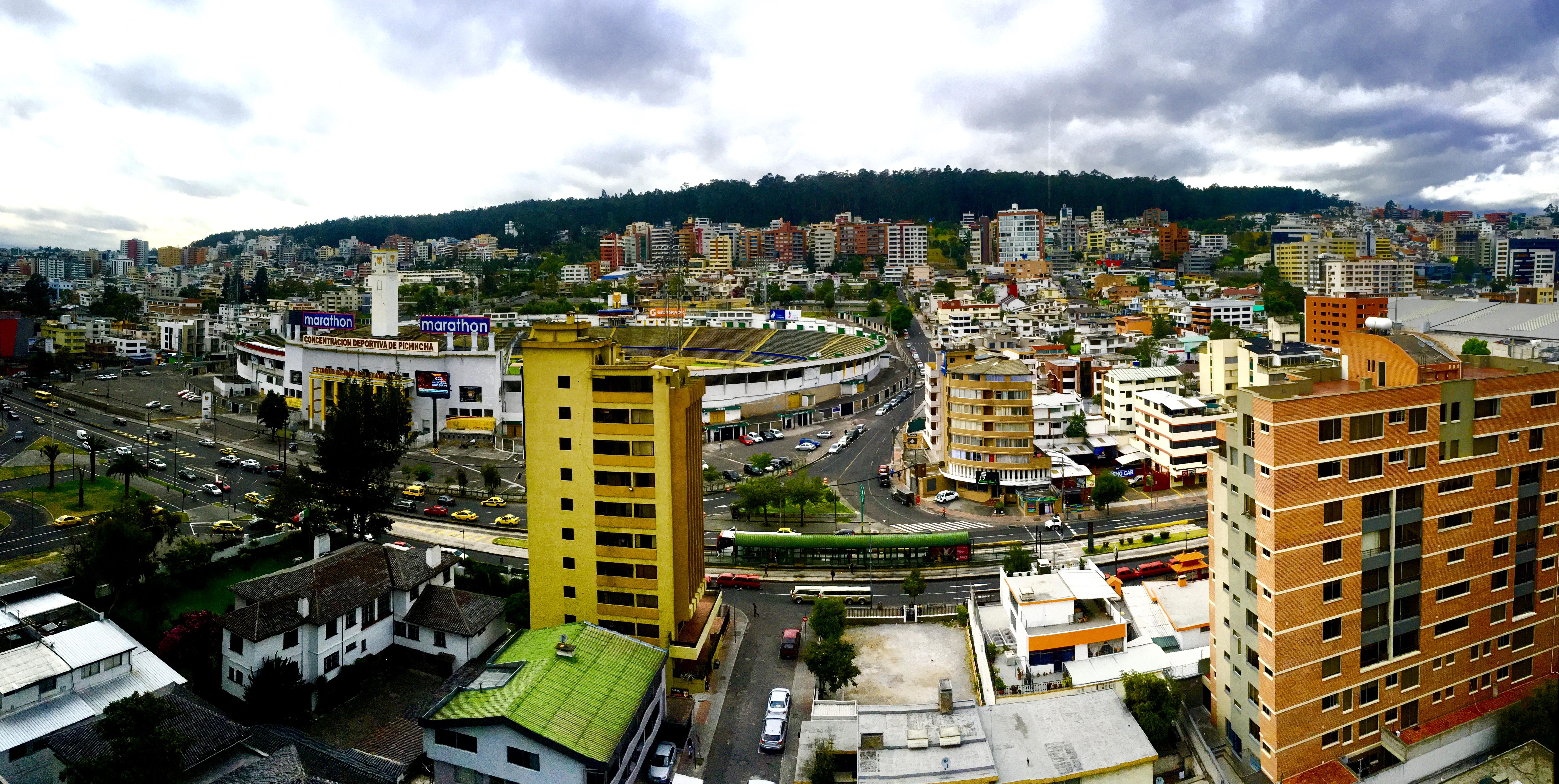 Take Me to Church
After a great breakfast on the Club Level of The Sheraton Quito, I grabbed a cab to the historic section of town where I was dropped off at the Basílica del Voto Nacional, the largest neo-Gothic basilica in the Americas. Normally I don't go gaga over churches–you get bored of seeing them all the time when you travel–but this one was pretty bad ass. Please enjoy the pics.
Tower of Terror
After wandering around this beautiful church for a bit, I noticed some folks looking out from the tower, so I paid the two-dollar entrance fee to ride the elevator up to the top and enjoy the view. Bad news: no elevator. Stairs? Nope. Scroll down.
This looks like a special entrance that only the construction workers would use to access the tower. Wrong. It's the main visitor's entrance, the only entrance. And let me assure you that this was one of the most rickety, unstable-feeling, wobbly bridges I'd ever crossed in my life! It did not feel right! The bridge leaned from side to side–after all, it was balanced on top of a triangular roof! And the rope railings were attached to small boards nailed into the bridge, many of them very loose. If you leaned on the board, it would surely snap off!
But the bridge would be the easiest part. What was in front of me was just the first of a succession of very steep ladders.
They may look like steps, but look how small the rungs are…that's a ladder right there. Nice chicken wire below the ladder rungs; my fat ass would go right through that chicken wire if I made one wrong move!
One rickety bridge and three steep ladders later, and I was up! And what a gorgeous view it was from the top! A 360-degree view of all of Quito. Definitely worth the trauma.
Get Your Stroll On
After about an hour at the church, I strolled down Venezuela Street and stopped for a bit at Plaza de la Independencia.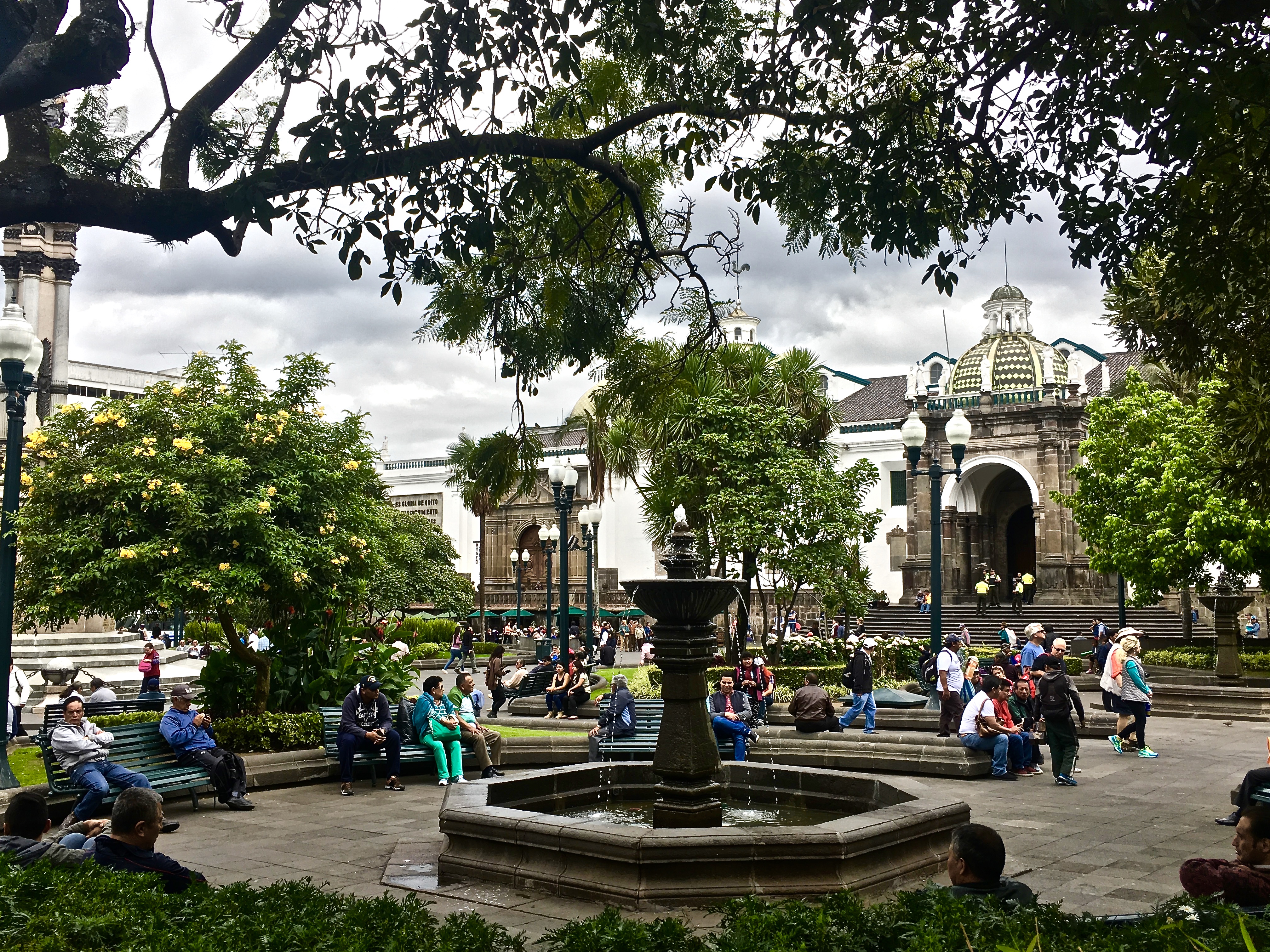 The giant square was buzzing with activity: from shoe shiners, to ice cream vendors, and lots of little cafés and shops…there was also a very established presence of "tourist police," which made me feel even more at ease than I already was. With lots of green grass, manicured landscapes, monuments and fountains, Plaza Grande was one of the nicest squares I've ever spent time at. There was even free public WiFi. Wow!
Let's explore some more, shall we?
Hungry from all the walking and climbing, I stopped by a small, local restaurant–which name I forgot–man, this place was tiny! I think there was only one dish on the menu: lunch, consisting of some type of creamy soup, a plate of rice and meat and a small dish of fruit salad (did I mention fruit salad is big here?) My surprise was when the bill came: $2.75. I had to have the cashier repeat it twice, it didn't register the first two times; $2.75 for full meal??? Incredible.
Stair Master
Oh, I guess now would be a good time to tell you about my addiction to stairs. Especially random, urban stairs. I love them. I don't know why, but I always feel the need to climb them, especially when I don't know what's at the end. Probably a dangerous habit, but hey, how else am I going to burn off that pan dulce. Vamanos!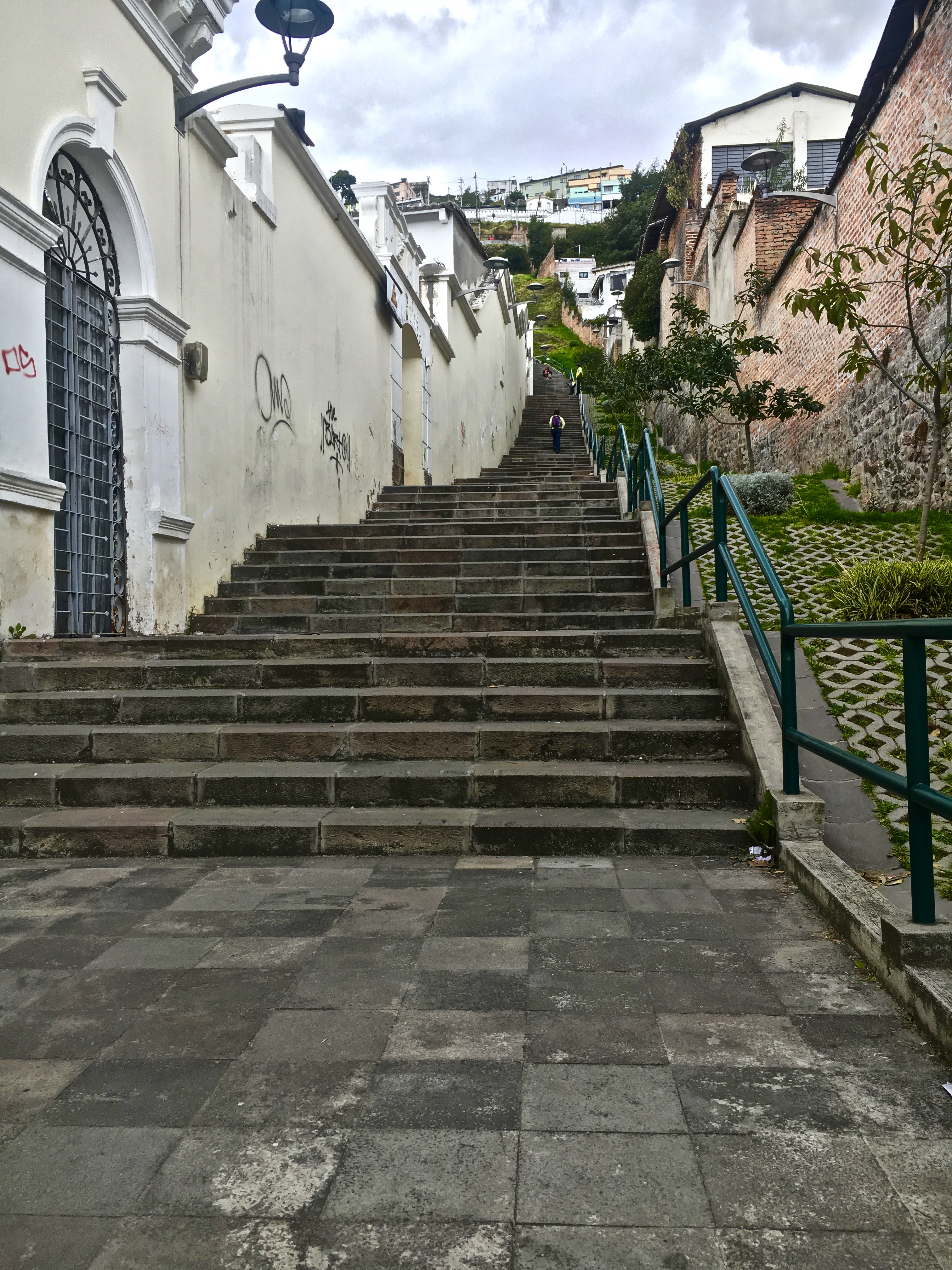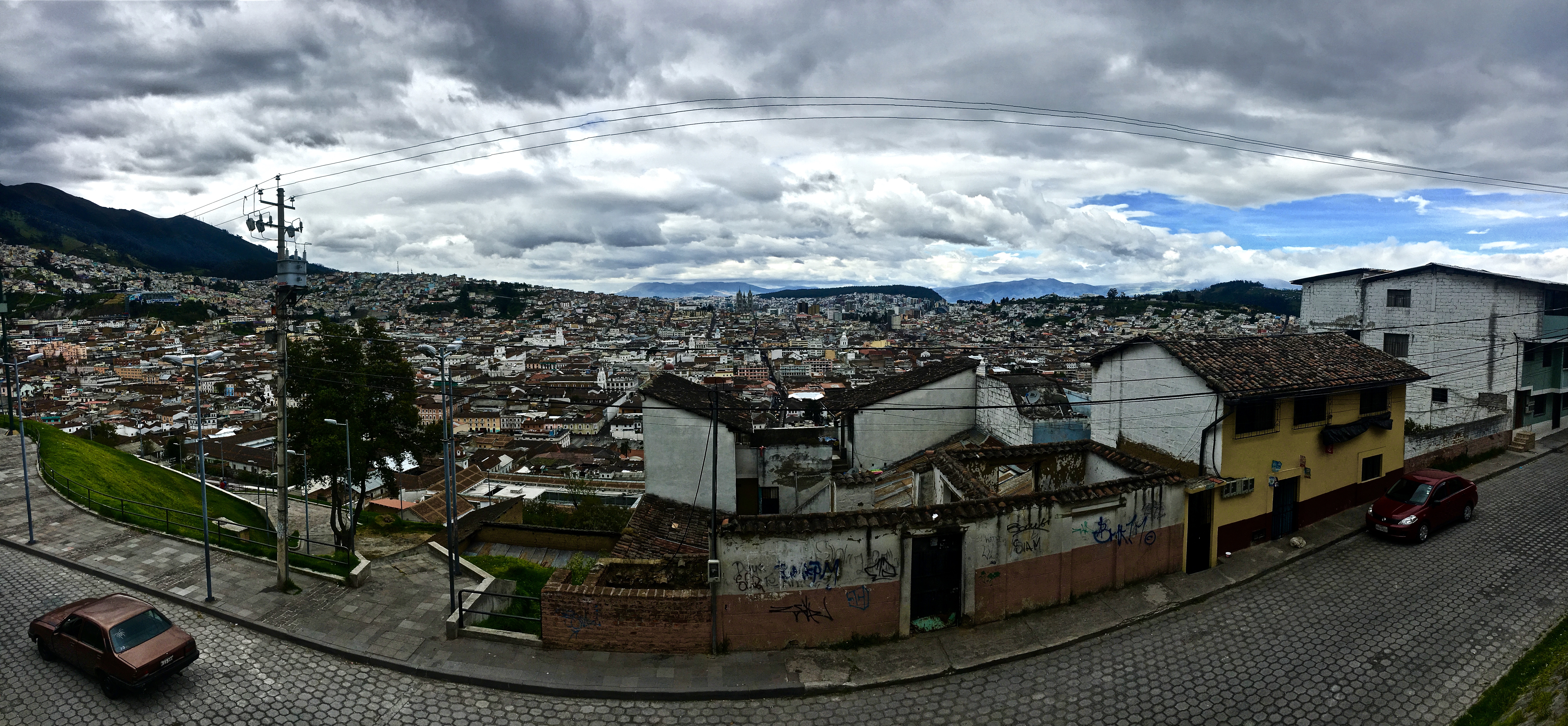 Sittin' in the Park
I was enamored by this park which seemed to be just hanging off the cliff, overlooking the city. How nice that these kids can get away from the hustle and bustle of busy street life and play. So close, yet away from it all.
It's better with sound, here:
Like a Virgin
At the top is the Virgen de Quito. You can go inside, and up to the tower, just below the globe. Luckily, stairs get you there; no shady bridges and ladders this time There's also a small museum inside, which explains the construction of the giant statue.
The fun doesn't stop at the virgin though! El Panecillo is a 200-meter high hill that, along with the virgin, features a big grass area, a restaurant overlooking the city, and a dozen shops and kiosks selling all kinds of good local food and drink. These are the surprises that really make my trips memorable.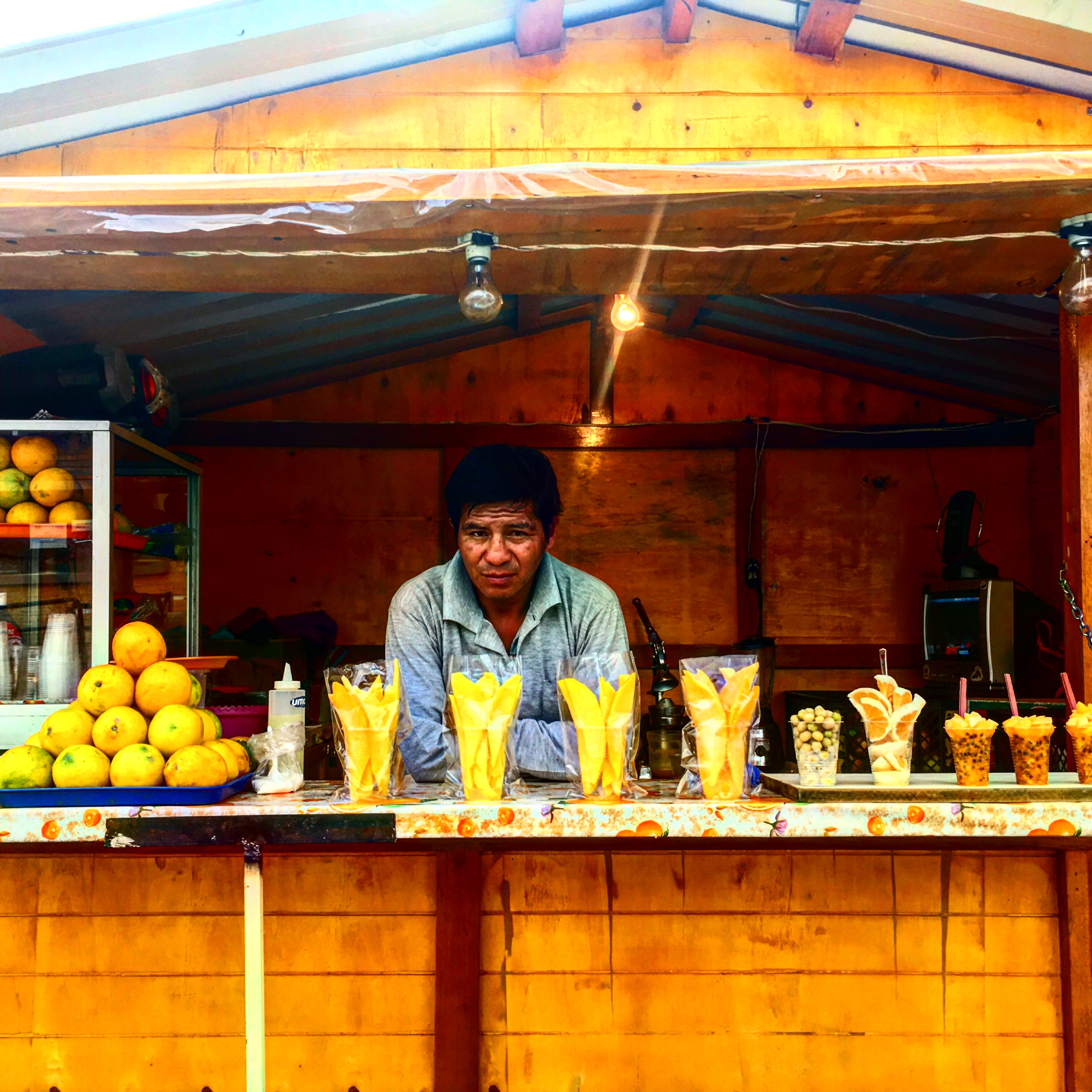 What you didn't see was this puppy giving this little boy a kiss on the face before settling in on his lap. So precious!
After sightseeing, I crashed early at the hotel. Chuck Norris was on the Ecuadorian cable TV. What a nice first day!
Pedro Pan
I awoke early, chilled for awhile, and had breakfast at the hotel before cabbing it over to catch the teleferico up to the mountains. My cab driver, Ronnie, ended up becoming my guide for the day. He was super cool and very kind–like everyone I ran into so far in Quito–and drove me all over town for a fun day of touristy-activities.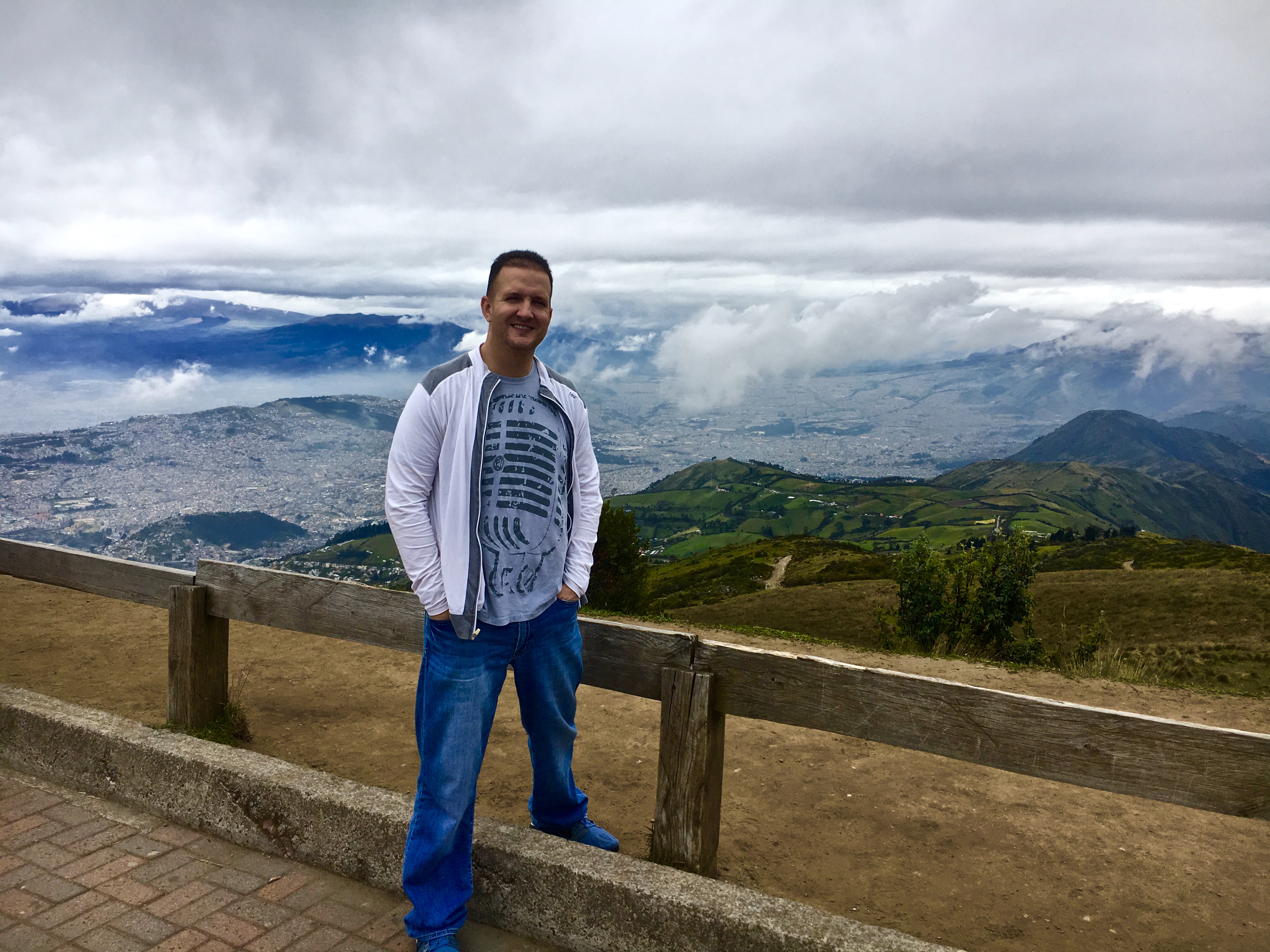 Geography Class
Next, we were on our way to La Mitad Del Mundo: a.k.a. the equator, stopping first at Pululahua Volcano. I wasn't too excited about Ronnie's recommendation to visit a volcano–once you see one, you've seen 'em all–but was pleasantly surprised when we arrived. This was not what I was expecting.
Planned Community
What was so spectacular about Pululahua, was that this is the only volcano in the world that is active, with people living on top of the crater! The farmland, fields and houses you see below–this is all sitting on top of an active volcano, inside the crater. I'm not sure how it all works, and how the crater got filled and can support that land, but there it is! Fascinating, and what a breathtaking view. We had coffee at the overlook before heading over to the equator.
My sources tell me that the giant La Mitad Del Mundo park and exhibit is not actually on the equator, but off by about 250 yards. So here they built this giant attraction, just to later find out with more sophisticated GPS tools, that someone goofed! According to the experts, you can visit the actual, correct equator at the Inti Ñan Museum…so that was our first stop!
Drain-O
Claudia was our guide at the museum, and while museum tours aren't usually my thing, this was actually pretty damn interesting. Among the things we saw was a display of how water drains in different directions depending on what side of the equator you are on. Really cool!
The coolest part was seeing the water fall straight out of the drain while it was directly over the line. I'll probably never see that again!
Equators Gon' Quate
Next stop was the "major" equator exhibition, La Mitad Del Mundo, which was a pretty grand park–much bigger and flashier than the quaint museum we just came from. Although the giant monument at La Mitad was cool, I preferred Inti Ñan.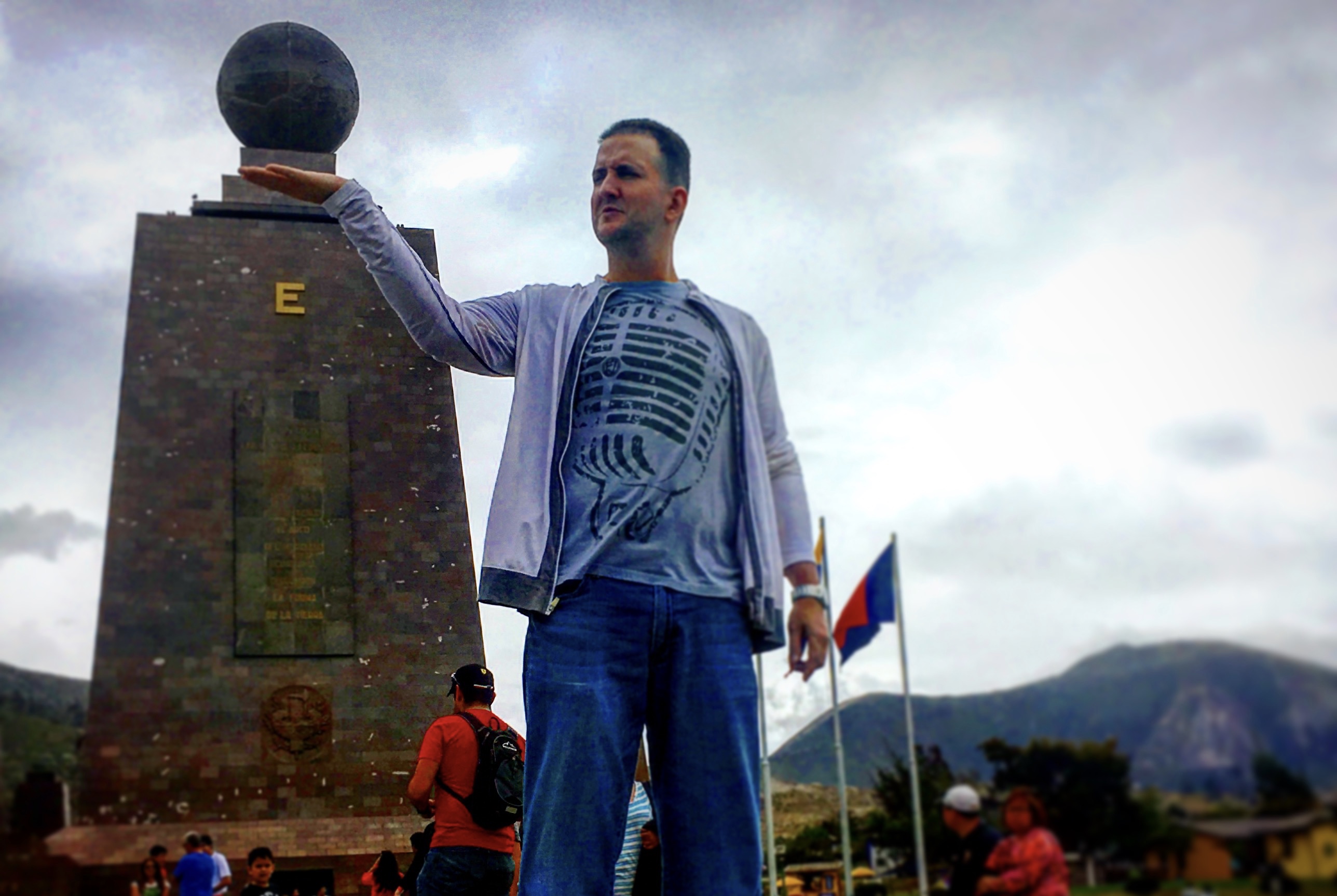 From Quito, With Love
Back to the hotel we went, and was it weird that I had Quizno's before my afternoon nap? It just sounded good.
I have many takeaways from Ecuador, but without the doubt the biggest, is the people. I don't remember ever being taken such good care of anywhere else; with such kindness, attention, hospitality, and honesty. Almost everyone I came in contact with was overflowing with kindness, modesty and appreciation. Maybe it's because they are taught that tourists are valuable for the economy here, or maybe it's just the sincere way of life here. Whatever the reason, I felt well taken care of during this entire trip–like I was visiting a long lost aunt, who just wanted me to enjoy myself, be safe, and even learn a little.
I'll leave Ecuador tonight with fond memories of the beautiful sights, and even fonder memories of the people, who are even more beautiful than any church or monument I could ever come across.
This entry was posted in
South America