The teardrop tattoo underneath his right eye was the only warning label I needed; it was clear that I was dealing with an unstable character. How did I know he wasn't wielding a knife, razor blade, or hypodermic needle inside his pocket or under his shirt…or even something more dangerous?

Places Unknown
First of all, let's address the geographical elephant in the room: The Guyanas: Suriname, Guyana and French Guiana. I've been intrigued and somewhat obsessed with those three nations since I was a high school Spanish student. We were given "map" handouts of South America and had to know every country except these three, plus Brasil…the idea was to learn about all the Spanish speaking nations of South America, so these four were left out on purpose: no habla español in these places. Of course, everyone knows about Brasil, famous for things like soccer, supermodels, that giant Jesus Christ statue and The Girl from Ipanema…but what about those three little countries at the very top? No one ever said anything about them…they were paid no attention; literally ignored…and that made me curious.
Hashtag Goals
Long before I could even dream up this crazy quest to see all 193 countries on earth, my focus was on The Americas. My first travel goal was to visit all of North and South America (mainland) before turning 40. It was in my twenties when I'd developed an intense love affair with Latin America, even leaving everything behind to move to Brasil by 30 years old. And if Brasil was my wife, then the other countries in Latin America were all my girlfriends: Panama, Argentina, Uruguay, etc…I would romance and love them all.
>>> RELATED: THE BRASIL STORY…DETERMINATION AND A DREAM <<<
Go Time
My first attempt to see The Guyanas in 2013 was thwarted by a canceled flight from Belem, Brasil into Suriname. But I wouldn't give up. Before the year ended I gave it a second go, this time traveling through Trinidad and successfully making it in. After a couple days exploring Suriname, it was time to visit French Guiana. There was one challenge: the flight schedule. There were so few flights into Cayenne, that my only option was to either stay for six hours or four days…there was no in-between. And I didn't have four days: my next flight from Paramaribo to Georgetown was in three days! So a six-hour stop it would have to be. I'd arrive at noon and be flying back to Paramaribo by 6PM. It wasn't ideal, but it was my only choice if I wanted to see French Guiana.
One Strike, You're Out!
I couldn't figure out why I was having a hard time finding a cab out on the curb at the airport. Every other city I've traveled to had a never-ending line of taxis right outside the arrival terminal. But here in Cayenne, nothing. I started to panic, as I only had about three hours to see the country. Five minutes turned into ten, and ten into fifteen. Not one cab, and no one spoke any English. What was happening? I even considered walking, but this airport was smack dab in the middle of a jungle. Would I spent my entire time here at the airport? This couldn't be happening to me!!! Just when I was about to resort to asking a complete stranger for a ride into town, a taxi magically appeared. I quickly secured the car and soon I was heading into town. The driver spoke almost no English, but I was somehow able to decipher from his words that there was some sort of gas or fuel strike going on at the moment, which was the reason for the lack of taxis…gas stations were shut down! I'd been lucky to find even one taxi, but then came the question: How was I going to get back to the airport??? I'd just have to figure that out later.
I See London, I See France
I guess this is where I should bring up the fact that I was actually in France. Oh, yeah, you didn't know? I was now in France. But also in South America. Confused yet? French Guiana is actually not its own official nation…it's a "department" of France. Not only do they speak French here, cook French food and construct buildings using French architecture and design…but here they spend French money (Euros) and even their license plates are issued by the French government. For all intents and purposes, I was actually in France! Wild, ain't it? And to be in South America at the same time…in the Amazon???!!! Just insane…and cool. Insanely cool.
Man About Town
I only had a couple hours. I'd need to be back at the airport on time, or I'd be stuck here for four days, and miss my next trip: a flight to "regular" Guyana, from Suriname. With the fuel strike I didn't even have a plan on just how I'd get to the airport. This whole thing was turning into an adventure.
My walk through town was pleasant. Downtown Cayenne was quaint, quiet and very charming. I walked down narrow streets with old school French-style buildings on each side of me. I could have sworn I was in Europe, with the street signs posted on corners of buildings, small, wrought-iron balconies, wooden shutters and window boxes filled with flowers. Where am I??? I especially got a kick out of being here, because Cayenne is such a rarely traveled-to place. This was my very first trip going to someplace relatively unheard of; that would soon turn into my favorite travel niche. None of my friends had even heard of this place! In fact, the only reference I ever remembered this country being a part of, was the classic 1973 movie Papillon…which, by the way, is a must-see.
I continued to make my way through town, on foot, until I came to a scenic park, on the edge of the sea. I noticed the clouds starting to roll in. The sea was rough. A storm was coming.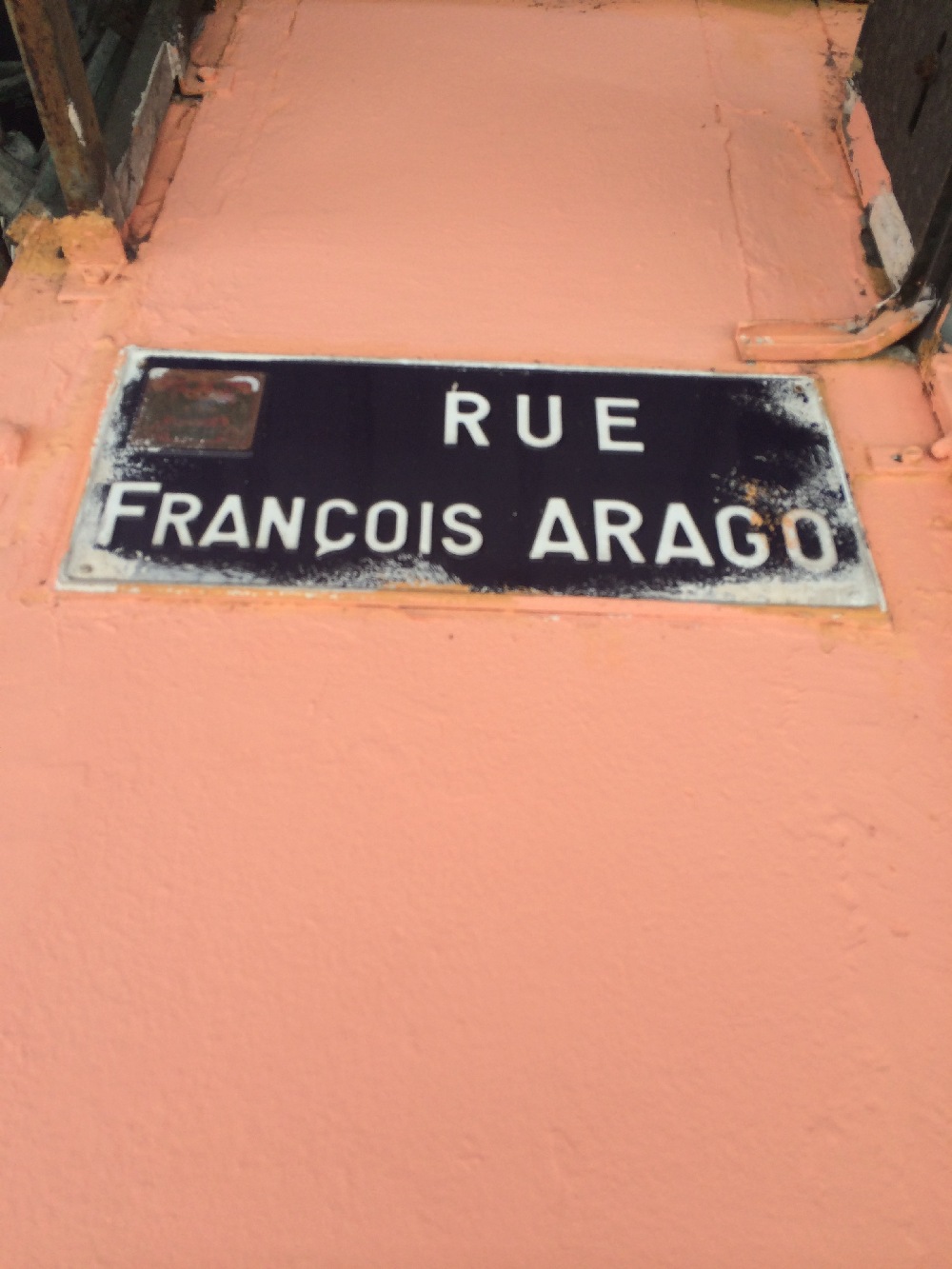 The Incident
My friends and family often worry about me when I travel, especially Mom. Kidnappings, plane crashes, suicide bombs, etc…crazy stuff out there. But the reality is that I'm more likely to get hurt in my own town, that anywhere else; in a car accident. You see all the horrible things on the news because they are rare; they don't happen much at all, so when they do, the media shines their spotlight directly and brightly on these horrible events. Traveling so much these past ten years has really opened my eyes…and heart. Even places like Libya, Somalia and Iraq are filled with amazing people, just trying to survive and provide for their families like you and I. Of course, it's those "sketchier" countries that I'd expect a bigger chance of trouble in…I wasn't worried about a place like French Guiana. Little did I know it was here where I'd walk right into trouble.
>>> RELATED: THE MORE BALLS THAN BRAINS WORLD TOUR <<<
The ominous thunder boomed above me as the sun quickly disappeared behind a very dark sky. There was a mean storm brewing and I figured now was a good time to head in for lunch, indoors. I'd seen the town, the parks, even the sea…a nice lunch would be a good wrap-up to my stop here, then I would find a way back to the airport. I soon noticed I was the only one on the street; there was not another soul in sight. It felt weird.
All of a sudden, I came across a pile of household goods just sitting in the middle of the narrow street: a broken chair, a radio, pieces of a fan. The random articles were pretty banged up and I found it odd they were just laying right there in the middle of the deserted road. It didn't take me long to have an "ah-ha" moment and realize these effects were tossed out of a window above. And wait…I know what happened…I know exactly what happened!!! Some poor bastard must have got caught cheating…and just like in the movies, the angry wife tossed all of his belongings straight outta the third-story window! This was hilarious!!! I'd watched this scene a hundred times, in movies and TV shows, but had never seen it in person…I guess it actually does happen in real life! I quickly reached for my iPhone to take some photos of the pile of stuff in the street that told this funny story–I thought this would just make the best Instagram post ever! Hahaha! I failed to notice the angry man–the cheater–standing right there as I snapped away, giggling.
RAMBLIN' TIP: Avoid walking down empty streets and desolate areas!
Kick His Ass, Sea Bass!
Boy was he was angry, for obvious reasons. Here he was: he'd just been busted, kicked out of his house, and had all of his belongings thrown out of the window and now sitting in the middle of the street, smashed to pieces and about to get rained on. And now this clown (me), was making a joke out of it all and documenting this embarrassing scene to post on social media for the whole world to laugh at. I probably would've wanted to kick my ass, too. He wasted no time getting up in my face and threateningly asking what I was doing.
"What are you doing??!!! Why are you taking these picures???!!!"
I had no correct answer.
"Uhhh, sorry about that," I stammered, as I backed way, the man still coming closer to me.
He kept demanding answers, getting closer and closer in my face. I kept apologizing and backing away. It was obvious he was ready to fight, and I really didn't want to. His size wasn't the problem; He was actually a scrawny little guy…but the teardrop tattoo underneath his right eye was the only warning label I needed; it was clear that I was dealing with an unstable character. How did I know he wasn't wielding a knife, razor blade, or hypodermic needle inside his pocket or under his shirt…or even something more dangerous?
With every second, the man became more and more angry with me. My ego would not let me run away like a pussy, but I certainly was almost jogging backwards, as he kept lurching forward towards me, again and again. Each time he'd lunge at me, I'd take a step backwards, with my hands in front of me, giving off an "It's cool, it's cool" motion. I told him, "I'm just a tourist, taking pictures of everything I see," but he didn't buy it. He knew I was making a mockery out of his situation, and he was ready to take his anger out on my face. I kept thinking that he could just stab me right here, and there would be no one to help; no witnesses to even report it. Or at very least, if we got into a tussle, there'd be a chance we'd both be thrown in jail by the local police until everything was sorted, and I couldn't miss my flight! There weren't many winning scenarios, and it was obvious this guy was not a "let's talk it out" kind of chap. By the grace of God, things finally deescalated with him warning me that he'd "find me later," and that I wasn't off the hook; he'd be looking for me. Thankfully, I'd be in the sky very soon, and the moment I rounded the corner–trying my best to make my escape look casual–I made an actual "run" for it; but not until I was completely out of sight from "Pierre:" I wasn't going out like a punk.
Soon I was back in the main and somewhat populated square, feeling much better that I was around people. I breathed a sigh of relief and took a seat inside a restaurant. Lunchtime.
Le Bistro
Les Palmistes restaurant was housed on the main floor of a big, yellow building with green shutters and wrought iron balconies wrapped around the second floor; a dead-ringer for Disney's Café Orleans, but this was real life! This wasn't a "themed" restaurant…this was just how things were in this bizarre French exclave of South America. I loved it!
I ordered this big, crazy tropical drink that included a big fluffy marshmallow, to help calm me down from the earlier ass-kicking threat. To eat, I asked for the house special. I don't remember the name of the dish, but it was fantastic: a giant plate of salad and fish. The fresh baked French bread on the side was a perfect compliment to the meal. This place was legit and the perfect ending to my afternoon adventure.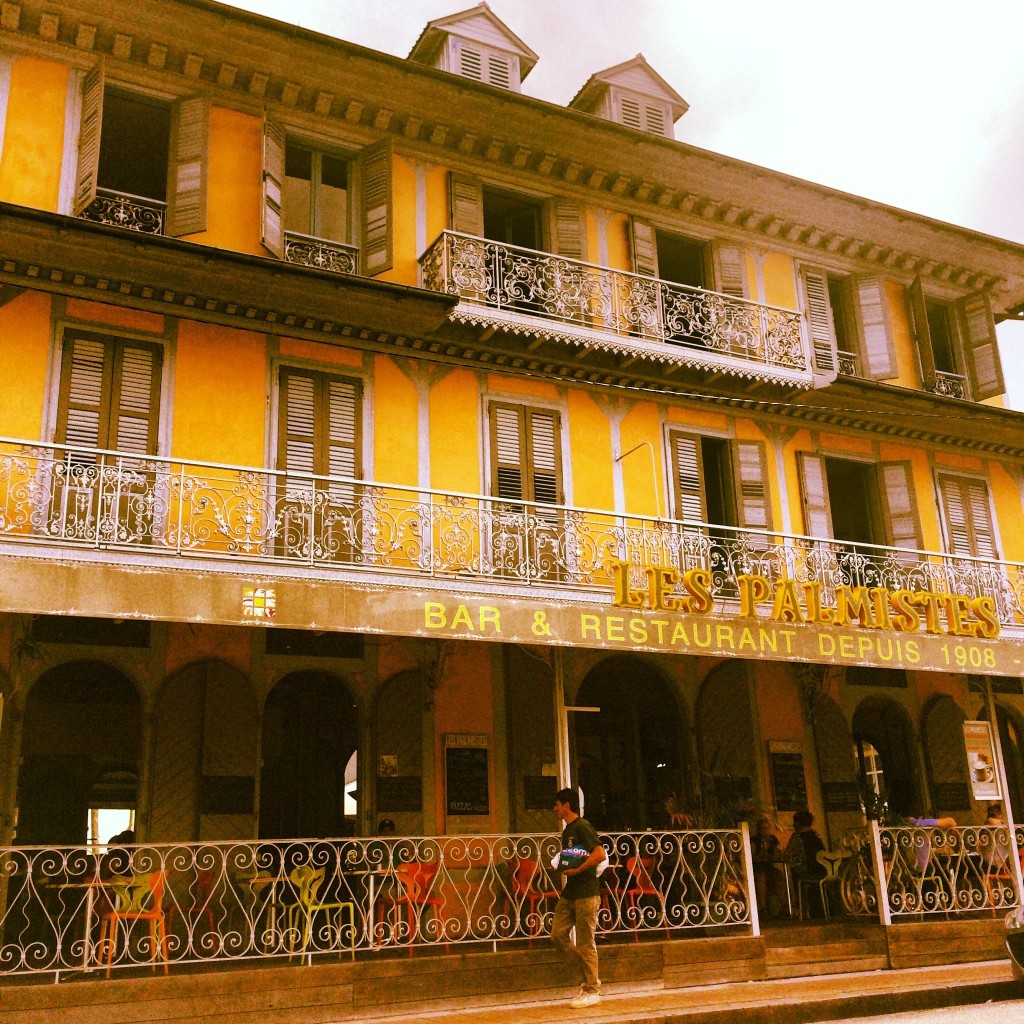 Aight, Imma Head Out.
By the grace of God, I was able to find a taxi nearby, and get my butt back to l'aéroport! This was one time I was actually glad to be leaving soon. I thought French Guiana was one of the neatest and most bizarre (in a good way) places I've traveled to, to date, and I'd love to come back one day…and maybe even have a beer with my new friend. Pierre (I'm guessing that's not really your name, I didn't have the pleasure of a proper introduction), if you're reading this, I do hope you patched things up with the mademoiselle.
P.S. Hey! Why not check out other territories of France that I've visited? Like Martinique? And Guadeloupe? Explore!
This entry was posted in
Extreme Layovers
,
South America