IMPORTANT NOTE: This article is part of a 12-chapter series on my trip to Africa: Mauritania was the ninth country of twelve African nations I visited in December of 2016. It's best to read the chapters in order, as they build on one another. To see countries number one through eight, please go HERE. It's best to read the stories/countries in order.
Land Of Mystery
Mauritania was a country I found when searching Google for the "least visited countries in the world." There it was, at number 13. I'd never even heard of Mauritania, and the little I found online just added to the intrigue. I think I insulted a Mauritanian who took offense to me calling the country "mysterious" on Instagram, but it was mysterious to me. Everything about Mauritania was an unknown that I was dying to delve into and experience myself.
I arrived past midnight from Morocco and by the time I got my visa and my guide Lemine dropped me off at the hotel, it was almost 2AM. I passed out.
The next thing I know I was being awakened by donkeys and roosters. I looked out my window and saw that the lodge I was staying in was right next to a camp. Not sure that's what you'd call it—but it was a little area of makeshift houses without real doors and windows. This little hotel was probably the most "real" lodging I'd experienced so far on this trip of 12 African countries. Funny, because just the night before I was at the fanciest one of the journey: The Sheraton Towers Casablanca, which was ultra swanky and luxurious. And now, just hours later, I'm in a tiny guest house on a dirt road next to wooden shacks. If there's one thing one must be able to do when traveling, is adapt.
Day One
"Breakfast" consisted of croissants, a banana and black coffee; on the second floor terrace. Then it was off with Lemine to see the capital, Nouakchott. It took me months to memorize Nouakchott's spelling, by the way—but I finally got it down.
Mauritania was very tranquil compared to most of the other African countries I'd seen earlier in the month. Besides the very center of town where traffic seemed to bunch up, we drove down a lot of dusty, barren roads. Mauritania is part of the Saharan Desert and that meant sand everywhere, including in the back of my throat by midday. I figured that's why many of the men here wore scarves covering most of their face, leaving just their eyes in view. This was the kind of gear I'm used to seeing Al-Qaeda wear, while toting their AK47s on the evening news. Yup, this trip was a lesson in prejudices and generalizations for me. Growing up as an American, the only time I'd see people who looked, dressed and spoke like this, was in movies about terrorists, or on news reports about rebels, kidnappers and general all around "bad guys." I had to keep reminding myself that this was an entire culture of good people that simply practiced a different culture, dress and lifestyle than me; not necessarily made up of the caricatures and criminals that I've been presented on TV for my entire life. I did the best to shake off the decades of imagery and plot lines I'd been fed over the years. I imagined that maybe there was a foreigner visiting the U.S. for the first time, and that maybe he had the same kind of fears I did: that he had maybe watched American gangster movies his whole life, and thought all the US was about was crime mobs, gangs and drive-bys. Every second in Mauritania was enlightening.
Our first stop of the day was the city's Mosque Saudique, where we snapped a couple photos and then headed to the market. The market was cool, and like the streets of Nouakchott, a tad more relaxed than the chaos I'd seen at my previous stops in Africa. We stopped to ride the elevator to the top floor of the Al Khaima building and take some photos from the tenth floor balcony before moving on. At a crafts store we met up with another gentleman on tour with us, Hasan, and then the three of us headed to lunch.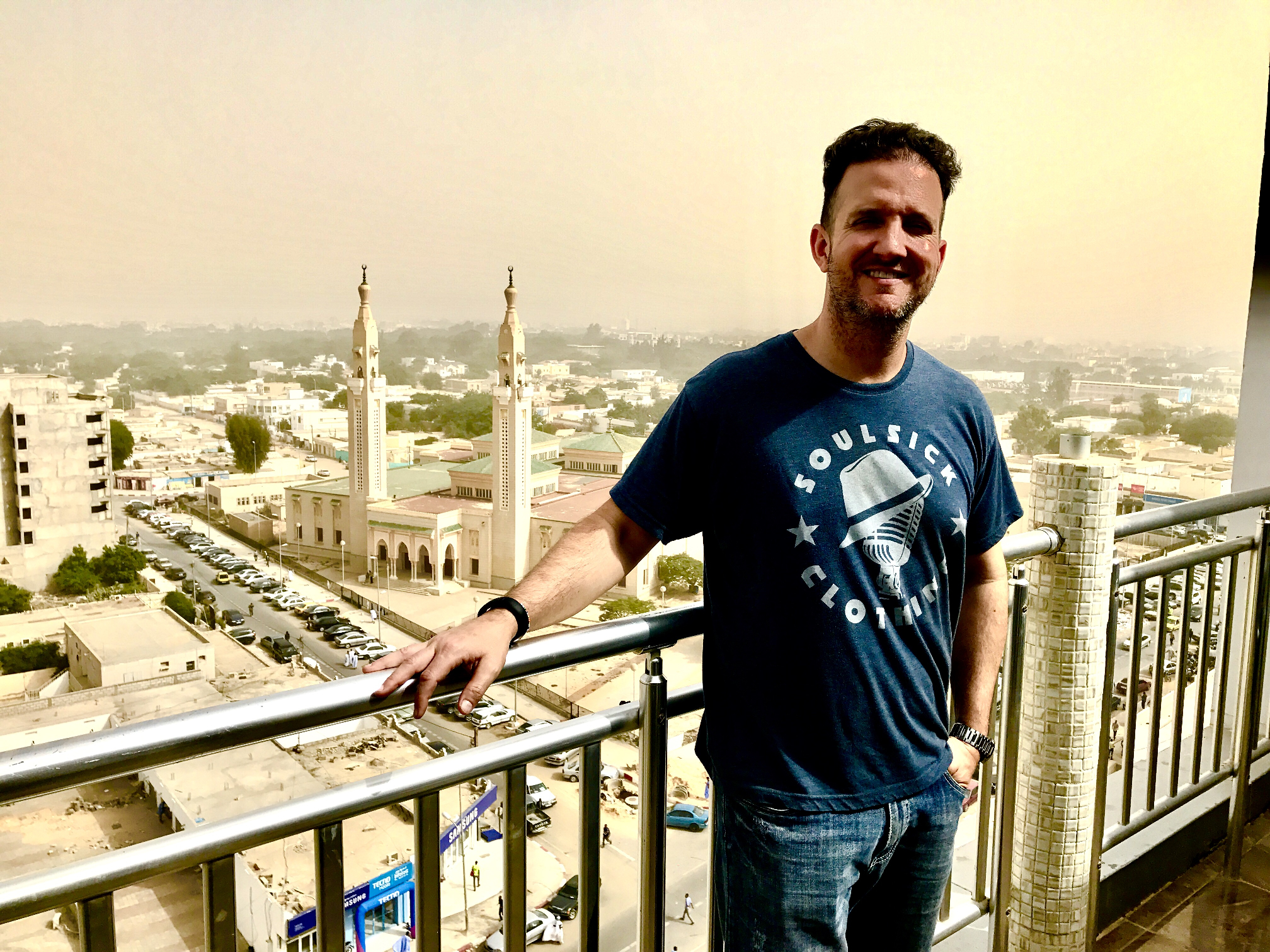 Friends: How Many of Us Have Them
I'd lucked out on this trip: not only was Lemine an outstanding guide, but his other guest, Hasan, ended up becoming a good friend of mine. Hasan's story was pretty incredible. He was originally from Syria, had moved to Russia and spent decades there, but was now living in Algeria. I was taken aback when he told me that he still had family in Aleppo. He told me of a meeting between him and his son at the Syrian border; and that Hasan wasn't allowed to come in, and his son couldn't leave. This was the kind of stuff you hear about on the nightly World News, and here I am, cruising around the dusty streets of Nouakchott, hearing it first hand. Unbelievable!
I came to know both Lemine and Hasan very well over the next 48 hours, and both were stand up gentlemen. Lemine was just an all around cool cat: a family man who took his work, religion and work very seriously. And Hasan must have been one of the most considerate people I've ever met in my life. He bought Lemine and me Snickers bars and mandarin o