IMPORTANT NOTE: This article is part of a 12-chapter series on my trip to Africa: Morocco was the eighth country of twelve African nations I visited in December of 2016. It's best to read the chapters in order, as they build on one another. To see countries number one through seven, please go HERE. It's best to read the stories/countries in order.
Extreme Layover
I awoke to a Charlie Chaplin film being shown on the overhead monitors; I thought that was cute, and very random. I'd slept for more than half of the four-hour overnight flight from Abidjan, Ivory Coast to Casablanca, Morocco. Morocco was actually a layover—I'd have 14 hours in Casablanca before the second leg of my journey continued, to Nouakchott, Maurintania. A couple Looney Toones programs played before we touched down at around 6, still dark but I could see the first glimmer of dawn on the horizon.
My cabbie Harris, who looked like a genie but wearing street clothes, sped down the highway in our Mercedes taxi as I looked out the window feeling grateful to be in a developed country again. I'd spent the last 10 days in countries where people lived in huts and walked down dirt roads. It was a cool departure from real life but started to wear on me. You really take things like traffic signals and pavement for granted, until you're in West Africa for a two weeks.
Harris dropped me off at the Sheraton Towers for breakfast and a nap. He overcharged me but I was too tired to argue. I awoke around noon and headed right out to explore. There was no time to shower.
I again marveled at being back in a big city with real infrastructure; here there were sidewalks and skyscrapers, wow! I felt like I'd been out in the sticks forever. I also noticed the people turned from Black to Brown and I heard more Arabic than French. This was Northern Africa, a whole different ballgame.
Funky Cold Medina
My first stop was into the Medina where I was immediately greeted and semi-held hostage by a man who wanted to show me around. I thought I'd learned my lesson in Cape Verde, but he was so insistent—close to begging—so I ended up letting him usher me into a couple stores. He first led me upstairs to a watch store, and then when it was apparent I wasn't going to buy a timepiece, it was up some stairs and into another shop that sold traditional Moroccan art, including Berber rugs. The owner explained that a lot of the other stuff in the market was from China, but his stuff was authentic. He began to have his assistant unroll rugs and begin a grand presentation, and when he offered me to drink tea with him, I knew I had to get out of there! I told him I'd come back later with my wife, who was still at the hotel. (There is no wife by the way). He made me take his info, and then I got outta there–and the Medina–as quickly as I could, as if it were a burning building. It was obvious I wasn't going to have any easy time window shopping here.
RAMBLIN' TIP: If you're a guy traveling alone, you can always blame the fictitious wife…for anything! You have to "check with her first," or she told you "not to buy anything else," or she "wants me to wait for her," etc. I joke and remind aggressive shopkeepers that, "she's the boss," and that usually does the trick.
Let's Go to The Mosque
I rambled on for about 15 minutes until I reached the Hassan II Mosque. I turned the corner and saw it's 689-foot tall minaret towering over the shoreline (tallest in the world, by way). It was massive. As I got closer, the detail came into focus. The mosque was truly magnificent. I spent a good forty minutes admiring the grounds, quite a work of art. Situated right on the sea, the sun gleamed off the tiles like gold. The breeze felt great and the sound of the waves crashing perfected the scene.
The Wanderer
I didn't have anything else on my list for the rest of the afternoon, so I decided just to explore the city. My flight would leave at 8:45PM, and I'd made arrangement with my genie cab driver to be out in front of the hotel at 6 for a ride back to the airport. After over a week of being in countries where I couldn't/shouldn't wander freely, it felt so liberating to be able to walk around freely like a normal person.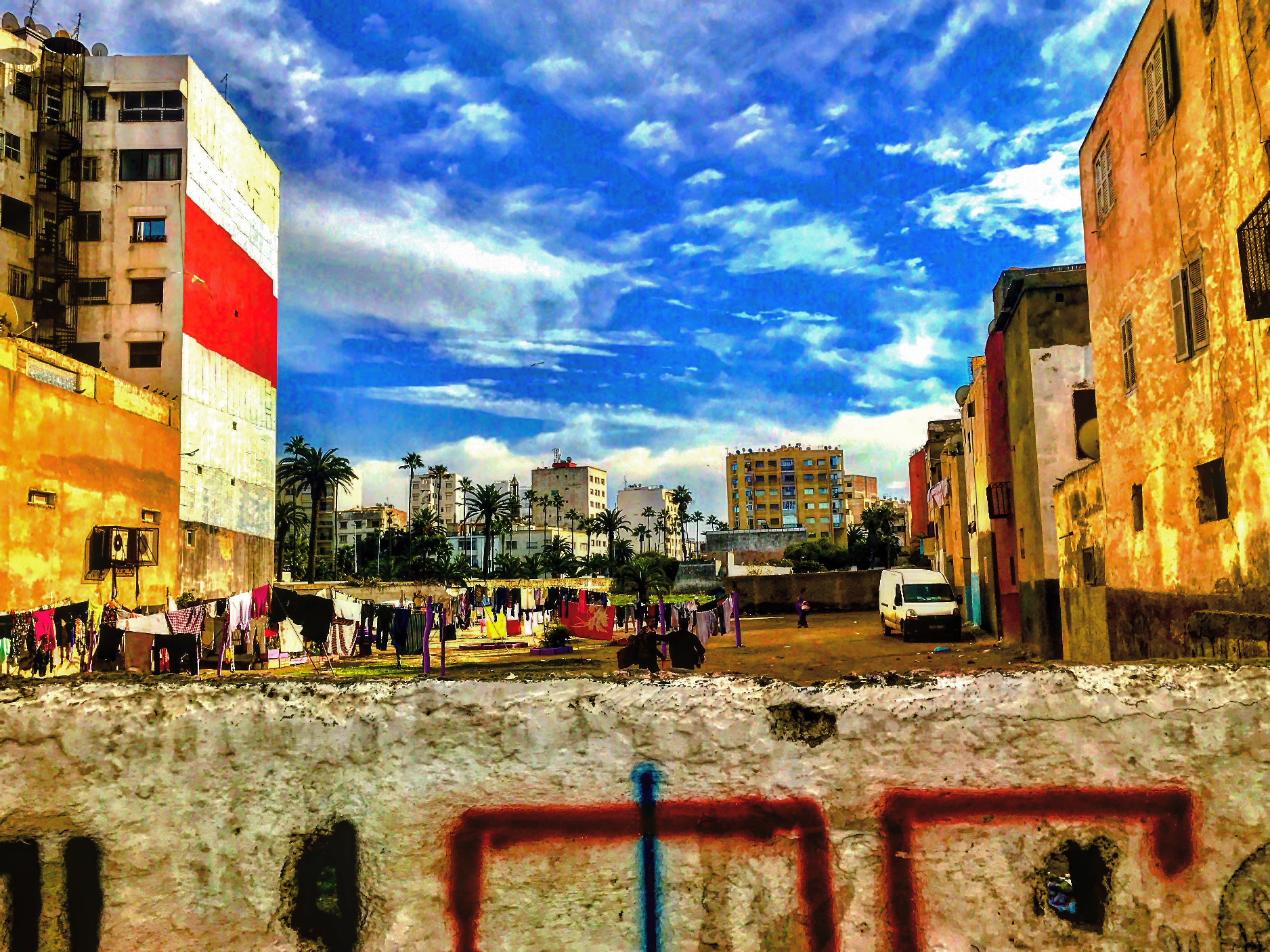 I stopped in for a really good coffee at one of the sidewalk cafés that looked like it was pretty much for locals only, my favorite kind of stops! I sat amongst the old men sipping my coffee and fired up the Facebook using the shop's WiFi. A high school friend of mine on Facebook saw that I was in Morocco and commented on how excited she was that I was in her husband's home country (shoutout to Stephanie, Poinciana High School!) She mentioned I should get a hammam while I was in town—that's a Turkish bath and a massage—and she didn't have to tell me twice! I was achy, sore and downright exhausted from the last 12 days of nothing but airplane after airplane; a rigorous travel schedule where I was averaging a new country every 1.5 days. A good massage was just what the doctor ordered right about now. And it included a bath? From a good looking (hopefully) young Turkish lady??? I'm in! Plus, I'd trekked and trotted through some pretty nasty African slums the day before—a thorough scrub down couldn't come at a better time!
Love You Long Time
I picked the number one rated hammam on TripAdvisor: Hammam Istanbul, which was on the other side of town. I grabbed a cab and could barely control my excitement about what was soon to come. I was already a fan of massages in general, but the thought of laying back and having a mysterious Middle Eastern woman soap me up and rub me down really excited me. What a day this was shaping up to be!
I arrived and ordered the "deluxe" package, which I only knew was deluxe because of the price and the long list of Arabic text underneath. If I'm gonna do it, I might as well go big! This was gonna be great!
And then it happened, the man at the counter pointed to a sign that advised that all massages were performed by men. Awwww damn.
For the next three and a half hours I went through a series of washes, scrubs, rinses and rub downs. I sat in a sauna for a while in between, and at one point was lathered up with a thick Eucalyptus gunk and then wrapped in plastic wrap. Had this been a woman doing all this, it probably would have been the best massage of my life, but instead it was a middle aged Turkish man wearing nothing but trunks. It was great, but at the same time awful. I'd just never had a man put his hands all over my bare body like that and it just felt weird. But no offense to the clinic, or the masseuse; he was indeed a master at his craft.
When we were finally done (it seemed like he worked on me for hours), I was instructed to put on a robe and relax in a lounge chair. They had me remove my underwear, which was left on during the whole process, and they placed it in a plastic bag. It was soaking wet from the multiple showers and rinses. The gentlemen brought me bottled water first, and then hot mint tea. It really was spectacular service.
2000 and Late
I noticed it was getting dark and I soon found out that it was already 5:38PM–I was so late! I told them I had to go and sprung up out of the chair to change. I darted out the door and on to the street to hail a cab back to the hotel, underwear in-hand, free-balling it and everything.
Only problem was, I couldn't catch a cab to save my life! They were few and far between, and the ones that did stop gave me the finger wag when I told them I needed a ride to the Sheraton. This went on until well past 6PM. It was now dark, and I started to panic. I still had to get back to the hotel, grab my stuff and then get all the way back the airport, which wasn't close to the city. I couldn't miss my flight to Mauritania! It was the country I was most excited about seeing on this trip, and there weren't flights there every day.
After about 15 minutes standing out on the street with no luck, I was getting downright frantic. I ran back into the massage parlor and asked for their help getting a cab. One of the guys took me to a street on the opposite side of the shop and managed to get me in a cab pretty quick. Only one problem: traffic was virtually at a standstill now. I took out my iPhone and watched our GPS location, as we inched through the city at less than a crawl. It was rush hour in Morocco; I hadn't accounted for this! I was so far away from my hotel and then even farther from the airport. I had made a monumental error and getting a massage (by a man nonetheless) was going to cause me to miss this flight!
My cabbie was a trip. He was constantly laying on his barely functioning horn, honking at cars who themselves had nowhere to go. We also picked up people along the way, and soon had a car full of passengers. Every time my cabbie thought he was taking a shortcut by whipping around the corner or cutting through an alley, we were just met with even more traffic. It was now 6:30 and we weren't even halfway to the hotel. My flight was at 8:45!!! As the meter approached $20 I became even more nervous. All I had left was a 20, and having to find an ATM to pay my taxi would just hold me up more.
By the grace of God we arrived a few minutes later, the fare coming to just under twenty bucks. As I ran in the hotel, my genie cab driver from the morning shouted and waved to let me know he was there and waiting for me. I was 45 minutes late, and he was still there—I was no longer upset about the upcharge that morning. He had officially earned it.
Getting to the airport was no easy task either, but the Genie was skilled. He was an expert at honking and flashing his lights, and weaved in and out of traffic with the skill of a Nascar driver. Sure, there were a few times I thought we might die, but we didn't. He got me to the airport just in time to clear customs, go through security and plop down in seat 32F for the ride to Mauritania, free balls and everything. Hey, at least I was clean!


This entry was posted in
Africa
,
Extreme Layovers