One of These Things is Not Like the Other
Dominica was part of a crazy 10-day, 10-island trip…yes, a whirlwind TEN islands in TEN days; it was insane.
And though I enjoyed every island I landed on, many of them just kind of "blended in." Ask me the difference between St. Kitts and St. Martin, St. Lucia and Barbados, etc.–I couldn't tell you. Beautiful beaches, fried seafood, snorkeling…everything was awesome, but to me, a lot of the same.
(Disclaimer: to be fair, I must remind you that I was spending sometimes less than 24-hours on each island, so I really didn't have the proper "opportunity" to get to truly get to know each island.)
But out of the ten island countries I explored, Dominica was the one that really stood out, above them all; and the one island that I really feel the need to go back to. I felt I left way too soon, with so much left to see.
Sadly, my stop in Dominica was one of the quickest of the trip: I landed at 7:50AM and wheels up at 4PM; not even an overnight stay, so I was determined to make the most of it.
The tiny airport was situated right off the water, in between lush green hills; the kind of airport that makes you feel as if you're really going to a tropical island: one small landing strip and a tiny building, that was it.
I lucked out and found a cab driver who was more than happy to be my spur-of-the-moment tour guide for the day; an older cabbie with a little taxi-van who agreed to show me around for a decent rate. In no time, we were off–on the way to Emerald Pool.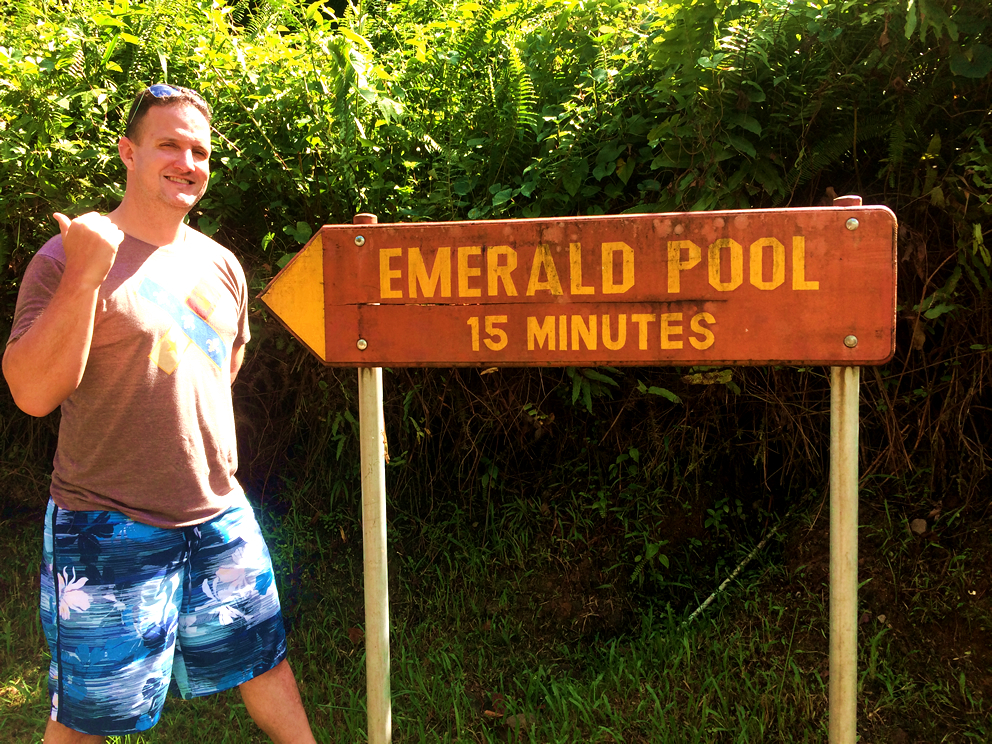 I had read about Emerald Pool in my Caribbean guide book and it sounded like a must-see. And indeed it was.
I paid a small entrance fee and then took a little walk through a beautiful trail into the tropical forrest. In just a few minutes I arrived, and wow! Emerald Pool was the kind of waterfall and oasis straight out of a Leonardo DiCaprio flick. Why even waste time "writing" about it, when I can show you the pics…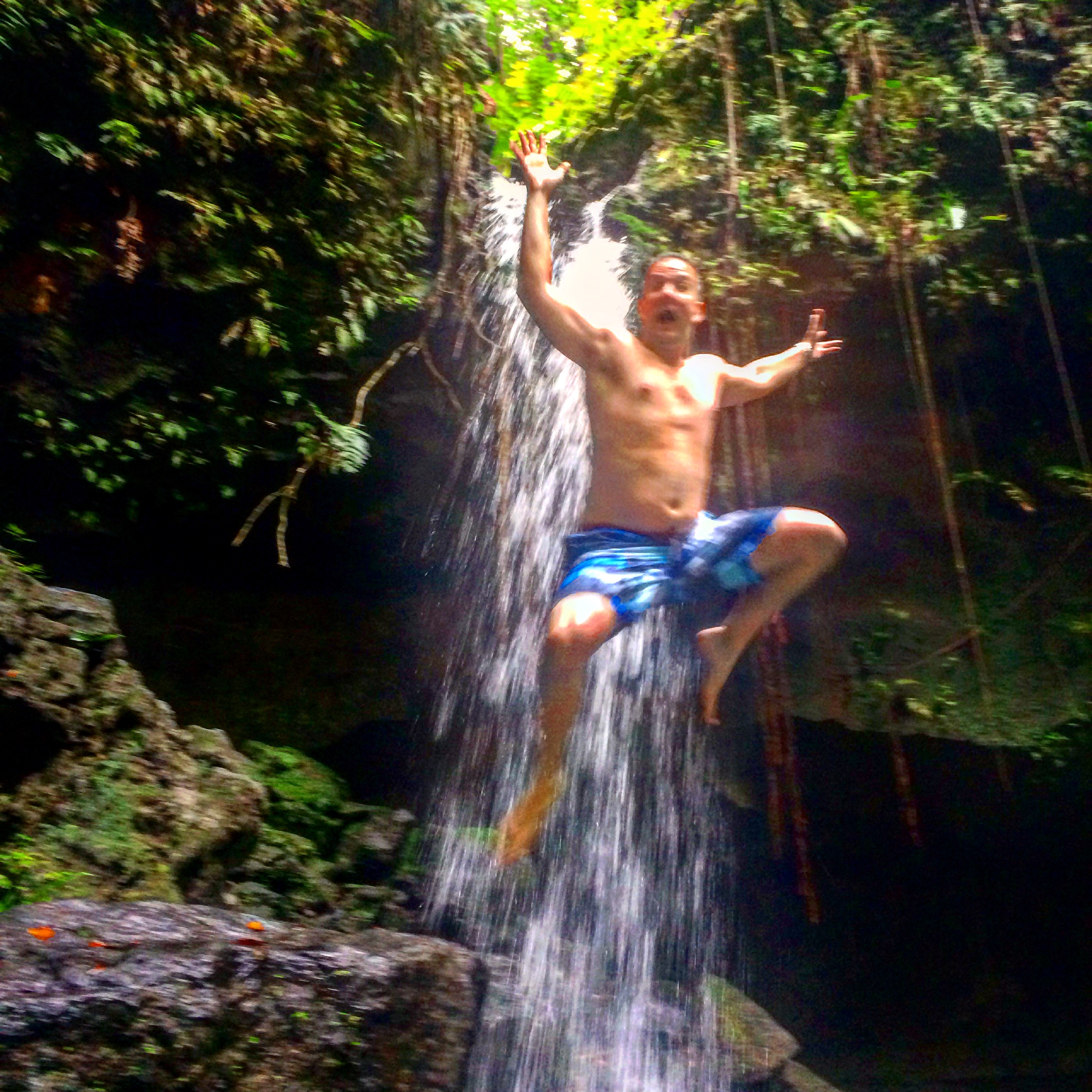 Emerald Pool was one of the coolest experiences I ever had. The fact that there was nobody else there but me was mind-blowing! Did people not know about this jewel? Or did I just luck out with great timing? I climbed up on the rocks and jumped in a couple times like the little kid I am, swam around, and took some selfies and video in the water, being cautious not to drop my phone in the water. I could have spent all day at Emerald Pool–it was the kind of place you should take lunch and have a picnic–but my time in Dominica was short, so I toweled off and headed back to my taxi.
It took us about 45 minutes to drive to the capital, Roseau. It's on the completely other side of the island, and would've been an easy journey if it wasn't for those darn mountains: 45 minutes up and down and round and round…enough to make an astronaut car-sick. The ride was beautiful though: we rolled in and out of little villages, lush greenery, over rivers and along steep cliffs with amazing views.
We finally reached Roseau where I took an hour stroll through the quaint seaside town, wandering through a small collection of souvenir vendors before stopping in to see The Fort Young Hotel; the doorman was very welcoming and invited me in to see the property; what a gorgeous hotel! Hanging right over the water, the open air corridors led me out to the railing with an open view of the sea. You can book a room at The Fort Young Hotel HERE.
I also passed by a radio station, and working in radio myself, I couldn't help but stop in and ask for an impromptu tour. I met Hazary Williams who was kind enough to show me around and give me some history of the radio station. Super fun!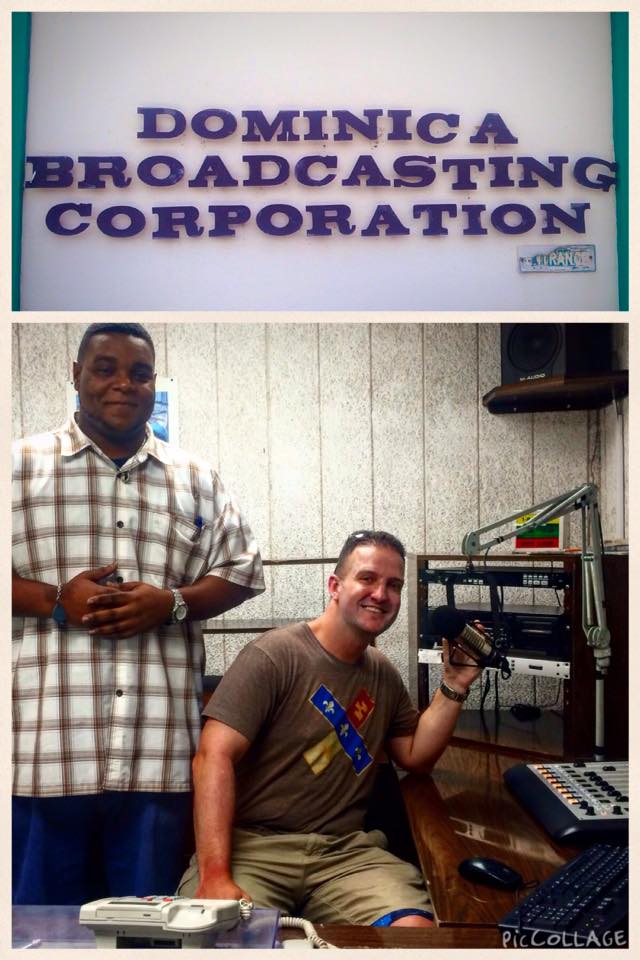 It was almost time to go, so I bought my cabbie lunch at The Cartwheel Café. A quaint little joint right on the main street with a limited menu: fish or pork! I had the pork, some amazing maracujá juice that tasted amazing on that hot day, and even a piece of chocolate cake for dessert. Good stuff.
Time to get back to the airport so it's up and through the hills again. That ride was grueling! I made it back to airport just in time for my flight out, but definitely left wanting to spend more time in Dominica. I later found out that Dominica is one of the world's 25 least visited countries! I'm so glad I stopped by and I encourage you to add in a trip to Dominica when you're in the area, and not just stick to the popular Caribbean standbys. Dominica had natural beauty, charm and a special mystique about it that will undoubtedly lure me back one day, for a longer stay.
This entry was posted in
Caribbean