Alrighty, Almaty!
Stepping off the jet bridge and into the airport, I saw an officer in a green, pressed uniform, with all the bars and stripes. He donned a matching, giant, flat hat, the size of a small satellite dish. Had I really made it into Kazakhstan?
Just months ago, I'd taken a cab from the capital of Uzbekistan to the Kazakh border to try and charm my way into the recently closed-to-tourists nation. I pled with the chief border agent on duty to let me quietly slip in for only an hour, just to enjoy a meal – promising I'd come right back – but it was a no-go. Later, I even wrote an official-looking "letter of request" to the embassy in D.C., but that didn't work either.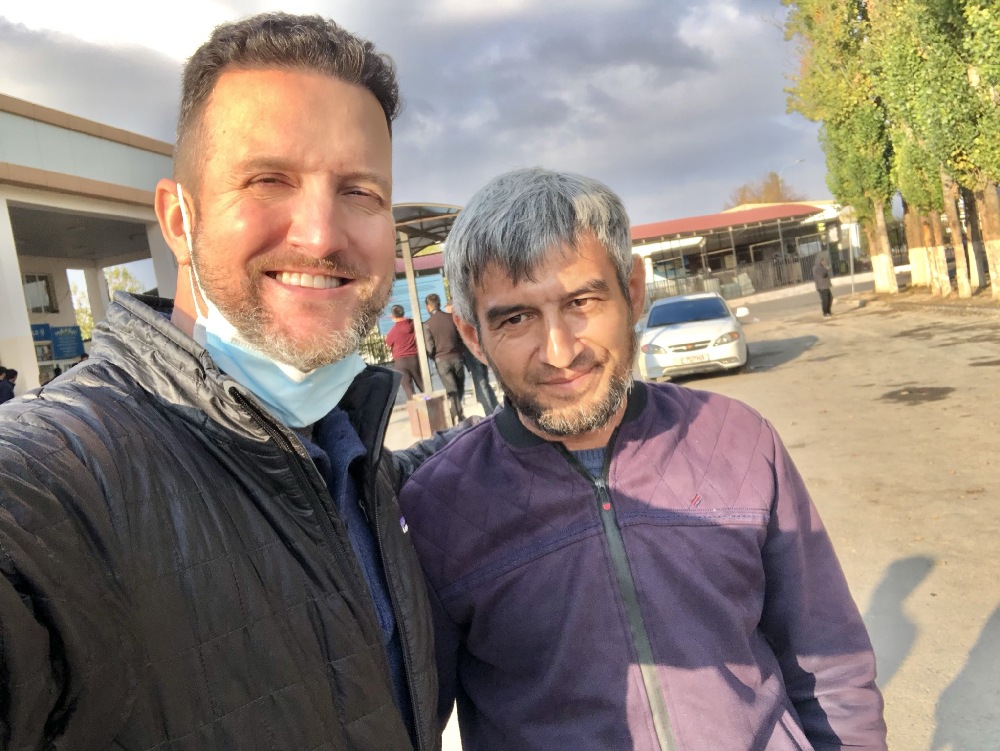 After the recent political unrest, I was sure I'd be waiting for awhile, but without notice, and to my delight and surprise, Kazakhstan's doors suddenly swung wide open. Visitors were not only welcome, but (Americans and many other nationalities) didn't even require a visa to enter. This was unbelievable news: switching from one of the hardest to easiest nations to enter, literally overnight! I was excited to add Kazakhstan to the itinerary, one that I'd waited pretty last-minute to complete, exactly for this reason. Rules are still changing by the minute.
Day 1
I'd have just under three full days in Almaty, but first, I needed a nap. I arrived at 4:40AM and would be tucked into bed just before 7. I awoke just after noon to freshen up and meet my friend Jason in the lobby for my first afternoon out. A fellow American and a teacher abroad, Jason was introduced to me by a mutual friend years ago and we made a plan to link up when I finally got to Kazakhstan. One pandemic and many years later, today was the day!
We started by taking a walk down Abay Avenue as Jason caught me up on the local scene. We ended up stopping at a little cafeteria to eat. I was so happy to see that they served plov, which is the Central Asian version of rice pilaf. I'd attempted to find plov in my last (and first) trip to the Stans, but came up empty in both Uzbekistan and Tajikistan. Apparently it's a lunchtime dish, and I kept trying to order it at night. I would not miss the opportunity here. It was everything I expected and more. This would not be my last plate of plov!
>>> RELATED: Three Stans and a Baby – Contrast and Compare Kyrgy-, Uzbek- and Tajikistan
On a Sunday Afternoon
After lunch, Jason gave me a tour of the Park of 28 Panfilov Guardsmen, which included an insane and enormous Soviet monument. We checked out Zenkov Cathedral and some cool statues, monuments and buildings in the neighborhood. Then, popped into the mall and up to the top floor where there were a handful of shops selling a ton of really cool souvenirs. I was a little surprised I didn't see any Borat shirts, keychains and Koozies. I figure those would be super popular with dumb tourists like me. It's ironic that most of the Western world knows Kazakhstan only from Sacha Baron Cohen's ridiculous character. How crazy that one silly movie had the power to shape half of the planet's perception of Kazakhstan. For most Westerners, the movie would be the first time they'd even hear of this country.
I Have Questions: Have most people of Kazakhstan heard of Borat? Have they seen it? What do they think of it?
I started to get sleepy – my body clock was still way out of whack – I felt like a bad friend cutting the afternoon short, but I was becoming not the greatest company as I slowly morphed into a punchy zombie.
Back at the hotel, I succumbed to an early evening nap. I awoke and grabbed sushi at the mall across the street (not my best decision), and then went back to bed.
I stayed at The Holiday Inn Almaty. You can check out the hotel and book a room HERE.
Faces of Kazakhstan
Now that we've got the elephant in the room (Borat), out of the way…it's time to be serious.
One of my favorite things about this entire region is the "look" of the people here. Sandwiched in between Russia and China, Central Asia is what happens when Europe meets Asia: You basically have (and I'm stereotyping here) 1. White people (that look straight up Russian/European), 2. Chinese-looking folks, and 3. And then, these beautiful "in-betweens."
I've become a geography nerd – more and more everyday. And one reason I love Central Asia is because the people here are so different looking – at least, from an American's eyes. I've grown up surrounded by people from all around the world – since Kindergarten in Los Angeles. I went to school and hung out with with Koreans, Chinese, Armenians, Indians, Persians, Mexicans, Cubans, Africans, etc…but I don't remember ever even meeting anyone from Kazakhstan (or any of the "Stans" for that matter.) These beautiful faces are just so foreign to me and I love them!
As I passed by so many different looking people during my trip, I really wished I had license to take a close-up photo of each of them. I had to settle for just enjoying their faces with my eyes – and had to constantly remind myself not to stare.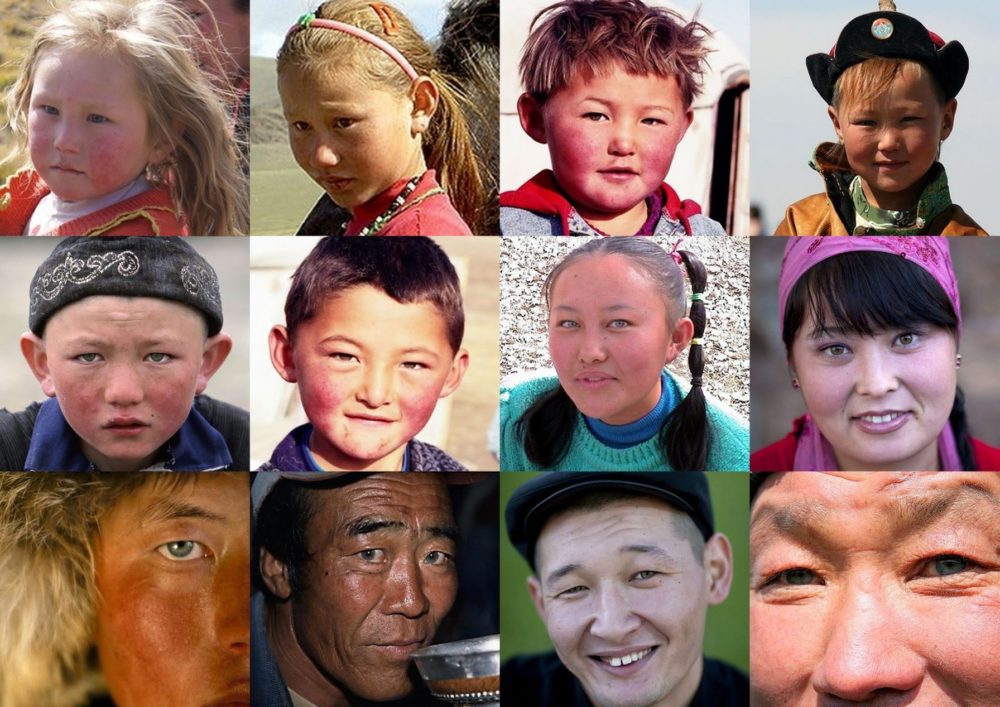 Day 2
I felt refreshed with the first night of real sleep on the trip under my belt. I'd spent the previous night on a plane. I was out the door by 7:30 and ready to take on the town. I couldn't believe I was blessed with such amazing weather! I'd packed scarves, hats, thick jackets and even thermal underwear – it was March and forecast to be super-chilly. Turned out it was t-shirt weather. I couldn't believe how lucky I got! The sun was shining on Almaty and I was ready to explore.
After cutting through a park, passing by Republic Square and zig-zagging through both residential and commercial neighborhoods, I'd made it to the Abay metro stop (one of many). Almaty's subway stations aren't as opulent as Moscow's, but definitely resembled the elegantly decorated and museum-like metro platforms I recently visited in Russia.
The subway cars themselves were no more than 75% full at any given time. It was easy to find a seat and I was never cramped or uncomfortable – unlike Uzbekistan's metro that made me feel like I was in India – not enjoyable whatsoever. Almaty's subways were awesome in every way. And I loved that they use subway tokens. 80 tenge per ride, or about 17 cents…wow!
Back up and out of the metro, I found myself at the park again, but this time, I had it almost completely to myself. Monday morning looked a lot different than yesterday's Sunday afternoon at the park – it was mobbed yesterday! Today, my selfies and photos of the monuments and buildings went unobstructed. I grabbed a latte at AB Coffee on Shevchenko Street before taking a walk over to the Central Mosque.
Next, it was a visit to Almaty's famous Green Market, only to find out they were closed on Mondays. I'd have to return tomorrow.
I stopped for a waffle and my second latte at Café Nedelka. Note that there are a bunch of really cool indoor/outdoor restaurants and coffee shops on Abay Avenue, especially if you're looking for breakfast.
Up
At breakfast, while scrolling around on my phone's GPS map, I stumbled upon a cable car. One thing I can never resist (besides pie) is a cable car ride. It's the kid in me, I guess. Sadly, the cars weren't running today (maybe under repair?), so I was offered tickets to ride a van to the top of the hill, called Kök Töbe. Certainly not as fun as the teleférico, but I wanted to see what was at the top.
Kök Töbe was cool. Definitely a tourist trap, but the views alone are worth the trip up. On the concrete plateau sat a Ferris wheel and few other carnival rides, a couple restaurants and a neat little zoo with a handful of animals and exotic birds. I couldn't resist the photo ops – with four or five young men boasting big cameras and offering professional shots. And now you'll never be able to un-see me in that fur and velvet robe, holding an falcon. This shot will be my Christmas card this year.
Find a great hotel in Kazakhstan HERE!
Beirut Nights
I clocked in over 25,000 steps before returning to the hotel to relax and freshen up for dinner. Jason picked me up and we headed to the Lebanese Shukran for dinner with four of his colleagues, all teachers at the same school. The food was absolutely incredible. I highly recommend a big meal at Shukran. While it's not Khazak food, it's amazing.
Day 3
It was nice be stationary for a couple nights. I got a later start on Tuesday, hanging around the hotel until 10AM to take a Corona virus test. A test wasn't required for my next stop (Mongolia) but Ulaanbaatar is such a hard place to get to – I wasn't taking any chances! God forbid they changed the rules and I would totally miss my chance to go – it's not like there's even a flight a day there. We'll talk more about getting to Mongolia in the forthcoming "Mongolia" blog. Now, it was time to see the market.
Supermarket Sweep
I made my way over to the market just as I had done the day before, taking the subway before popping up for java again at AB Coffee. Less than three days in, and things were already becoming familiar – I was memorizing the routes. What a satisfying feeling.
The market was nice. No big whoop, but I enjoyed walking around. Food on the bottom, merchandise on the second floor. The stalls overflowed into the outside. I looked for the butchery on the bottom floor (literally, an on-premise slaughter house, according to Jason), but I couldn't find it. Maybe that was a good thing. Green Market was a pretty calm one, as markets go. I talked to a guy from Tajikistan who was selling nuts and dried fruit. It felt good telling him I knew Dushanbe (the capital).
Find a great hotel in Kazakhstan HERE!
Plov 2.0
After the market, I was ready for a second helping of plov. This time, I'd bookmarked four or five plov-centric restaurants – I wasn't taking any risks! I needed one more big plate before this trip ended. I settled on a place with great reviews called Rumi Plov. It did not disappoint.
Music to my Ears
On the way back, I passed a music school. I stopped to get a listen to the classical melodies flowing out one of the windows, as students with instruments in cases walked in and out of the building. I got bold and decided I'd take a peek inside, with hopes I might be able to sit in the back of a classroom and observe a free concert – but as soon as got to the front door, I noticed the electric turn styles. This building was strictly for students and staff. What a bummer. As I walked away, I heard opera singing. Wow – what great music being made inside that big yellow building!
Moscow
Before heading back to the hotel, I decided to take Almaty's one and only subway line to its other end. There was something about a station named "Moscow" that sounded so intriguing, plus I just wanted to see what the other end of town looked like. Spoiler alert: It was pretty much a bust. The streets were a lot more spread out and there weren't many cool shops or cafés like in the center. This was more of a residential type of area. I did take a little stroll along a giant river/aqueduct-thingy before looping back around to catch the subway home. My curiosity had been satisfied.
On the mile-walk back to the hotel from the Baikonur station, I was excited to pop in to the McDonald's. I'm not a huge Mickey D's fan, but I do enjoy seeing the different regional items they have on the menu, from country to country. I hoped Kazakhstan's menu would've been a little more exciting, but there was nothing too crazy on the list. I did order a Tashkent Tea, which was fantastic! I sipped as I strolled back to the Holiday Inn. My last day in Almaty was an awesome one and it wasn't over.
I stayed at The Holiday Inn Almaty. You can check out the hotel and book a room HERE.
Taco Takeover
Earlier in the day as I rose from the Almaly underground station, I was taken aback when I ran smack dab into a taco joint. Tacos??? In Kazakhstan??? That just blew my mind. I was already full of plov but made a note to return that night. How could I not try tacos in Kazakhstan? And here I was.
My server Alisher was one super cool dude. I wanted one of each (four tacos total), but somehow that got lost in translation as I was brought a platter of eight tacos! And soon after the eight, the chef had cooked up two additional, special, complimentary tacos – if you're doing the math, that's a grand total of TEN tacos. I couldn't be rude…I had to eat them all. And I did! I was absolutely stuffed by the time I was done. Thankfully, I had a mile walk back to the hotel to work off at least a small fraction of these calories.
Alisher and the crew at Takito are awesome, and I recommend you pay them a visit when you're in town.
Contrast and Compare
I was up early the next morning for my flight to
Mongolia
via
Istanbul
. In the words of
Borat
, my trip to Almaty was a "Great success!"
I really loved Almaty – so much, that it passes the "Could/would I live here? test." The answer is an absolute YES! Granted, I was here during some amazing Spring weather. I have yet to experience the winter here. But as a city, Almaty is just wonderful. To date, Kazakhstan is my favorite "Stan" of them all. In order, it would probably go: Kazakhstan, Kyrgyzstan, Tajikistan and Uzbekistan, with Kazakhstan way out front. I just loved the vibe here. There was lots to do, the city was very clean and the subway system made it so easy and fun to pop all around. People were friendly. There was a sort of "traditional" vibe happening here: people dressed nice and were very well-mannered.
There is a very youthful feel to the city. In fact, I was awestruck by the amount of young people out on the street, at any given moment. They weren't loitering or goofin' off – they were on the move. I assumed to and from school or their jobs – but just so many young men and women out. And they all seemed to be having a good time – laughing, smiling, conversing. This was a happy city and the vibes were contagious.
Find a great hotel in Kazakhstan HERE!
This entry was posted in
Asia