#176
I'd been trying to get into Syria for years. Just as it was my turn, the pandemic hit. I'd even already bought my ticket to Beirut (the starting point for trips to Damascus.) But it wasn't in the cards.
When countries started opening back up again, I headed to Lebanon—which was amazing—but sadly Syria hadn't yet opened its borders to visitors again. Even more frustration, when Syria finally did again allow tourists in, in 2022, they welcomed everyone back except Americans. Grrrr, I was losing hope.
>>> RELATED: Hey Bey-Bey – Let's go to Lebanon!
Here it was, Spring of 2022, and I had just 18 countries remaining before I'd finish all 193. I was afraid of getting all the way to 192 and then being stuck, should Syria still be closed to Americans. So it was in late March that I decided to check the "Syria box" by visiting Golan Heights, inside Israel.
I never get political on this website, but it would be impossible to explain Golan Heights without a little geopolitics, so I'll give it my best to be accurate as I share the quick facts. Since the Six-Day War of 1967, the western two-thirds of the Golan Heights has been occupied and administered by Israel. No other country (besides Israel of course) recognized the Golan Heights as belonging to Israel until 2019 when the USA did. So today, know that 191 countries consider Golan Heights as Syria. You see where I'm going with this, right? If not, here goes: I'm traveling to Israel to visit Golan Heights and scratch Syria off the list. Many travelers have made this exact trip, just to "count" Syria. Would I have rather gone to Damascus for my Syrian badge? No question! Will I eventually go to Damascus? Absolutely! But right now, I needed to get my Syria credit to finish 193, so go-go-Golan, go!
The journey started off with an incredible bang, as I was a passenger on the inaugural Lufthansa non-stop flight from San Diego to Munich – the maiden voyage! There was a party at the gate featuring Lufthansa corporate. I met some great people and made a few amazing connections. A man in lederhosen played polkas on his accordion while staff served ginger beer, pretzel bites and cookies shaped as planes with "SAN-MUC" written on them with icing. I'm not sure any of the other passengers were impressed with all this, but I certainly was. I was photographed and interviewed by the local FOX and ABC affiliates and my photo appeared on the front page of the business section of The San Diego Union Tribune. I'd never had this much fun at the gate in my life.
Getting In
I had just enough time in Munich to spend about two hours in town before heading back to the airport to catch my flight to Tel Aviv. That's when the fun really started.
"Where the F is terminal F?" I grumbled, as I made two or three different laps around the airport. I was losing my mind. A Google search on the spot explained that all flights to Israel were in and out of its own terminal, the "dreaded" terminal F – a 10-15 minute walk away. Well this is weird.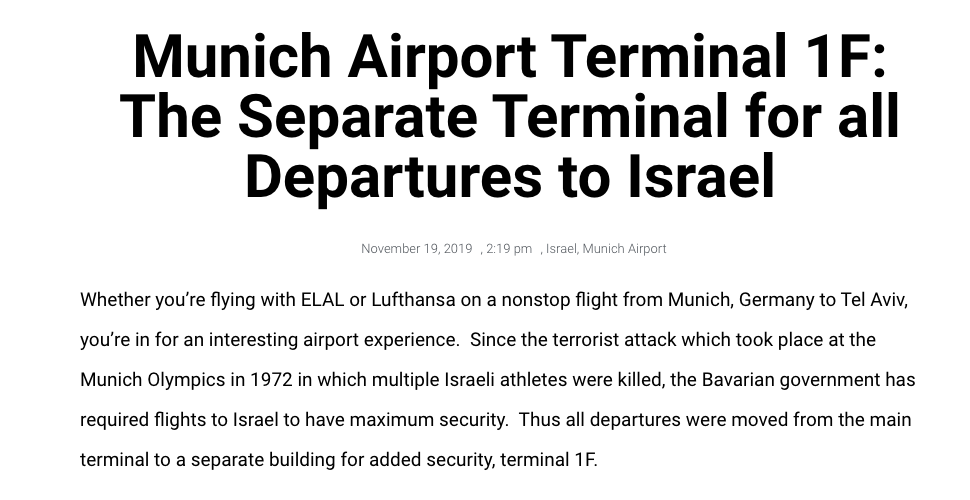 I finally found the passage and after the lengthy walk arrived to see guys with guns outside a little building where passengers were checking in. After the police on the outside checked my documents, I headed to a counter where an airline security woman began questioning me about my trip. I wasn't bothered by it at all and fully expected it: Israel's air security is known to be the best in the world. They are known to analyze who is flying instead of what is flying – meaning, they are trained to look at, talk to, and overall observe each passenger to see if anything seems "off." This is contrary to American (and most other countries') security protocols, where they are hyper-focused on "what" is flying: liquids, laptops, shoes, etc. Makes sense, actually – why pick on the grandmother in the wheelchair with her fruitcake, or the new mother trying to bring aboard baby formula? The Israelis make no bones about profiling people.
The lady from El Al Airlines, who looked to be in her early 30s was cute enough to take to dinner – which put me at ease. Who am I fooling, I love to talk about travel and "my trips," so I was actually excited for my "interview."
The questions ranged from how long I'd be staying in Israel, to why such a short stay and why did I choose Munich to get to Tel Aviv. After I explained my mission to see every country in world, the lady wanted to know why I was coming back to Israel if I'd already been there. It was a great question. I explained I wanted to visit The Golan Heights, but I didn't go into detail about counting it as "Syria." Not sure how they'd feel about that. I actually enjoyed the whole exchange, and minutes later, I was on my way, but not before being escorted to a little waiting room while security did a second search of my bag – this time without me.
>>> RELATED: My Mission – The Buffet
While I didn't have anything illegal in my backpack, there certainly was a handful of questionable items in there: like my second passport with stamps from some "unfriendly" countries (to Israel) like Iran, Afghanistan, Somalia, etc. And if that wasn't enough, my jacket with all the flag patches was folded up inside the bag and just screamed that I'd been to sketchy places. My Slowjamastan passport was also in the backpack – who knows what they'd think about that.
I was also afraid they might give me grief about the four fake Covid tests in the folder. I always perform real tests when I travel, but have fake ones on-hand just in case of emergency. For example, once the lab in Liberia never sent me my results – and I refuse to let myself get stuck somewhere! And finally, there was that letter addressed to North Korean leader Kim Jong-un. I'd planned on mailing it to him Mongolia – which would have a higher success rate in getting to North Korea—I surmised—than if I would've mailed it from the US. There were too many things in that bad that made me look like "someone of interest."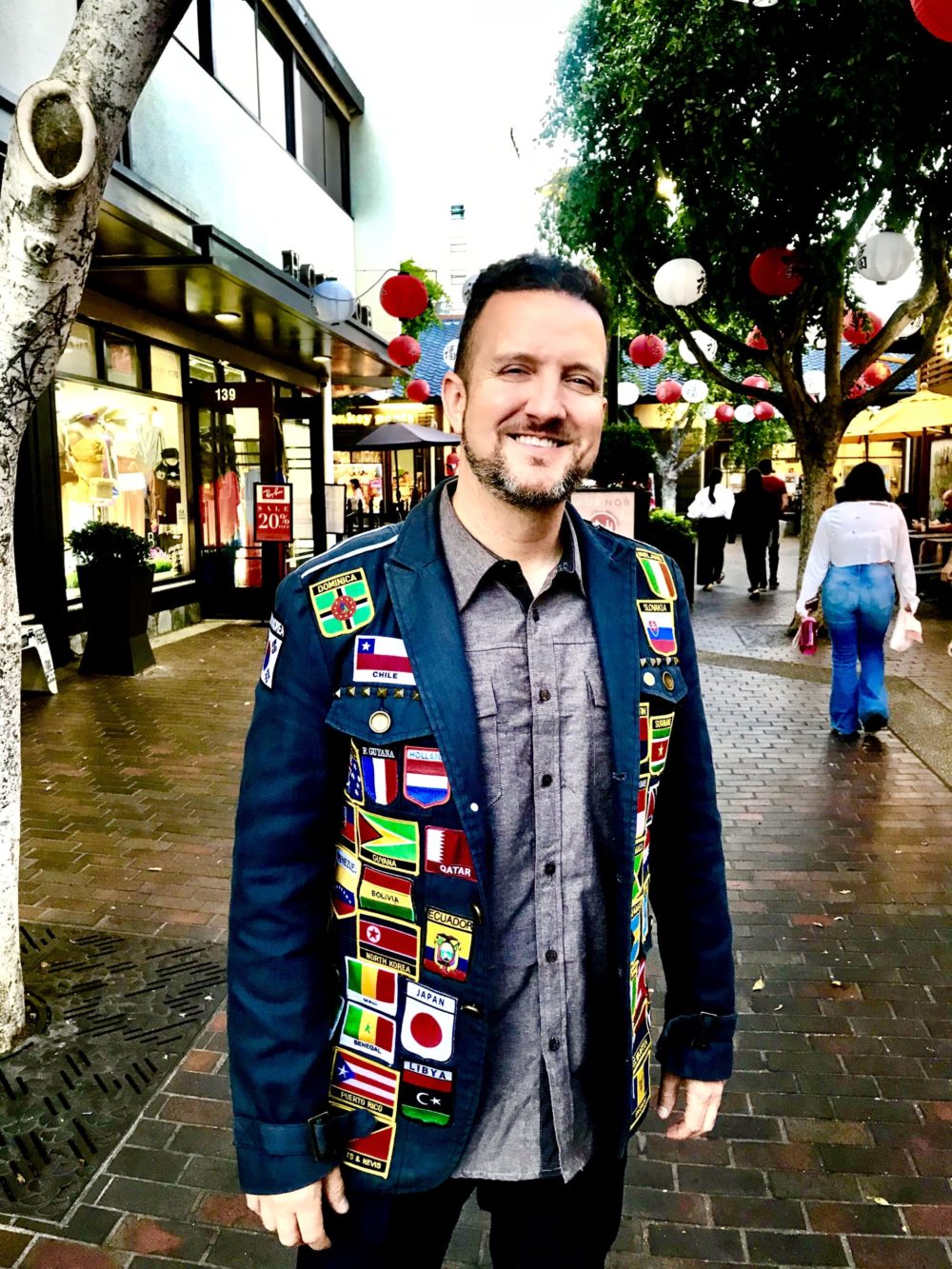 Five minutes later, the same young lady came back to speak to me in the little room.
"About your jacket with the flags…" she begins.
I figured she was ready to ask me if I'd been to some of those countries, when and why. But what happened next I would have never expected.
"What did you put inside the jacket?" she asked.
Oh jeeze. I instantly had a "Locked Up Abroad" moment. No, of course I didn't put anything inside the jacket, but now I was freaking out just a little. What in the world was inside my jacket???
She left and returned with the jacket, showing me one of the patches (Ecuador) that didn't "feel" like the others.
"What is it?" she asks, as she bended the patch to show me it was different than the others. I told her I had no clue and she informs me they'd have to cut the jacket open. What could I do? Plus, I figured the story would negate any damage to the coat.
She returned minutes later, apologetic. It was indeed nothing – just a different kind of patch with a plastic backing. The small cut was made to inspect it from the inside of the jacket – it was really was no big deal. I wasn't too worried, but for a split-second I did wonder, just what if, that patch I'd been carrying around on the jacket all these years did have some Ecuadorian drugs attached to it – some sort of elaborate scheme to get a tourist like me to bring back an illegal substance from Quito. Oh boy!
The flight on El Al was uneventful, although I was excited to fly the airline for the first time. I dined on a "farmer's salad," hot salmon and "Tel Aviv Souvlaki" with chicken and goose. It really wasn't my jam, but I had a long night ahead of me and couldn't be starving for the journey still to come.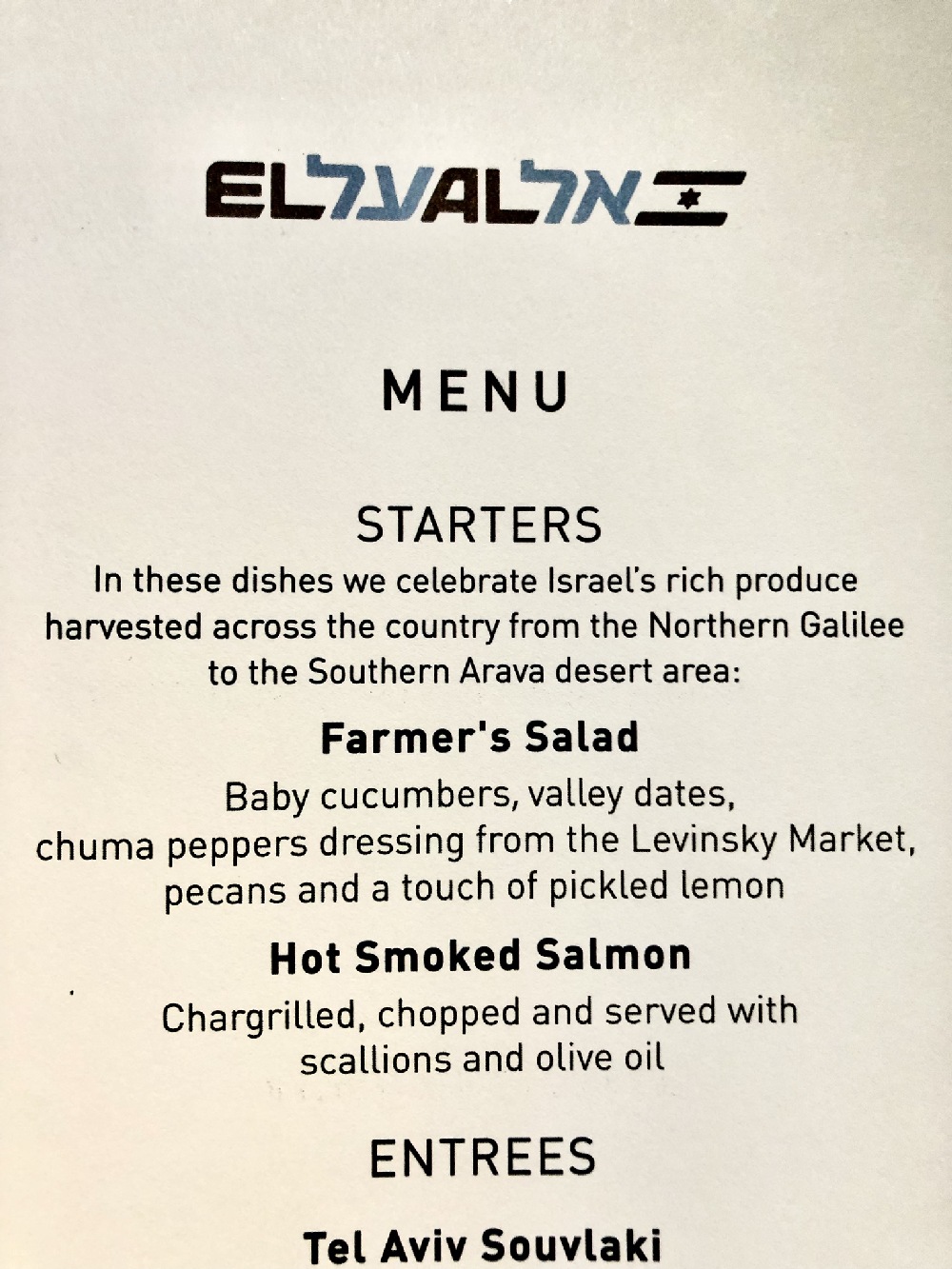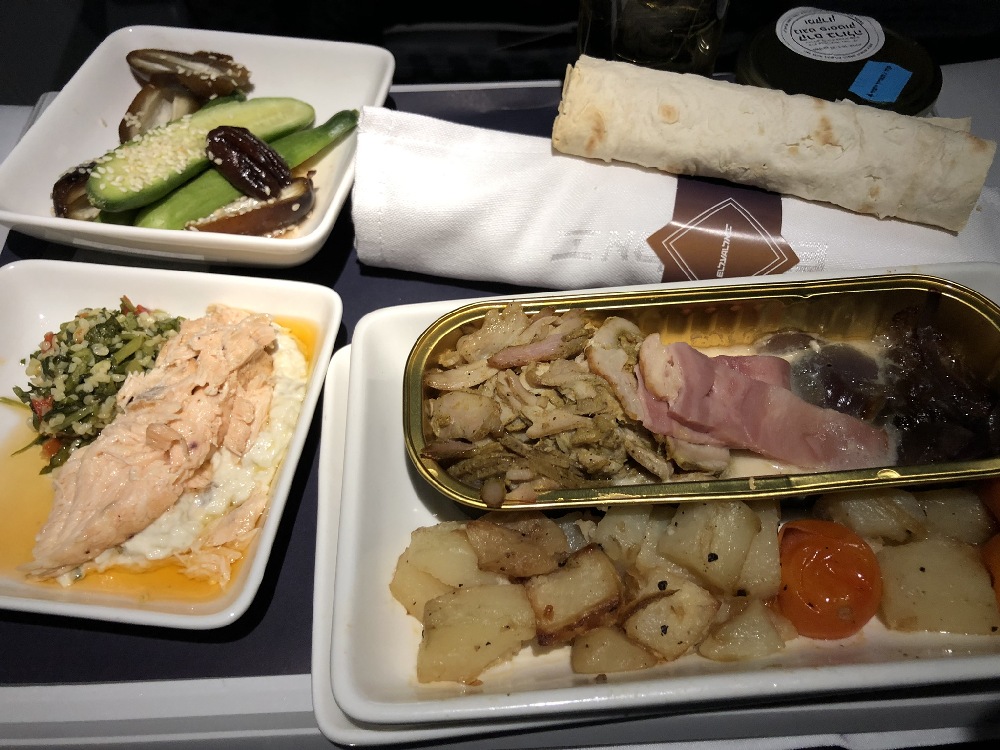 Is-Real
After touching down at Tel Aviv's Ben Gurion airport, it was a little bit of a mad house getting out. First, an immigration kiosk that takes your photo and spits out a ticket. Only I didn't get a ticket – just a red "X" that instructed me to see an agent. The line to see said agent was full of old women yelling at each other in Hebrew. I didn't know what the heck was going on. When I finally got my little blue ticket, I headed for passport control. Then I was corralled into a giant building to take a mandatory Corona virus test. There were thousands of people in this big warehouse and I lost hope that I'd get outta there before sunrise. Lo and behold, the line moved fast. I was soon taking a Q-tip to the nose and on my way outta there.
The rules read that I'd have to quarantine in my hotel until I received the results. I wasn't sure how strict or loose this regulation was, but my intel told me it was all self-supervised. I was relieved I didn't have to answer any more questions to leave the airport. I was finally out the door and I felt great. Unfortunately, I still had a two-hour-plus drive to Golan Heights…and it was almost 2AM.
The drive up was a lot easier than I expected. Leaving the airport, I was soon on the giant and well-lit Highway 6 North. Four lanes wide and completely lit-up, I had the entire road just about all to myself. It was my first time driving an Opel – the SUV was almost brand new and drove like a charm after I finally figured out how to start it, after ten minutes of trying.
The drive was pretty uneventful until I was routed off the 6. Then, just a few curves up and down some hills – nothing crazy like I'd feared. It was when I was twisting down the mountain toward a big lake when a giant—and I mean giant—porcupine casually strolled across the road. It was one of the most beautiful creatures I'd ever seen, and I had no clue porcupines were that big!
It was after 5AM when I finally arrived at my lodging. The "B Resort" was simply a family's guest house attached to the back their main home, in the small village of Giv'at Yo'av. It was a very nice suite and had just what I needed to catch some sleep: a firm pillow and some American TV. I was out in no time. I had to sleep good and quick: I could not waste the day ahead of me.
I awoke hearing the wind and the sounds of lots of wild birds. I was up, out and rolling north by 11AM. From the map, it was clear that I was already well inside Golan Heights, crossing into the area the night before. But I wanted to go further in – as close to the Syrian border as possible. And remember, according to 191 other countries, I was actually already in Syria at this moment.
RAMBLIN' TIP: Book a stay at B Resort HERE.
My first stop was to visit a new housing development called Trump Heights, named after and built in honor of our very own 45th President. I pulled off the highway and drove down a narrow asphalt road before reaching the closed gate of the neighborhood, with a giant sign and monument out front.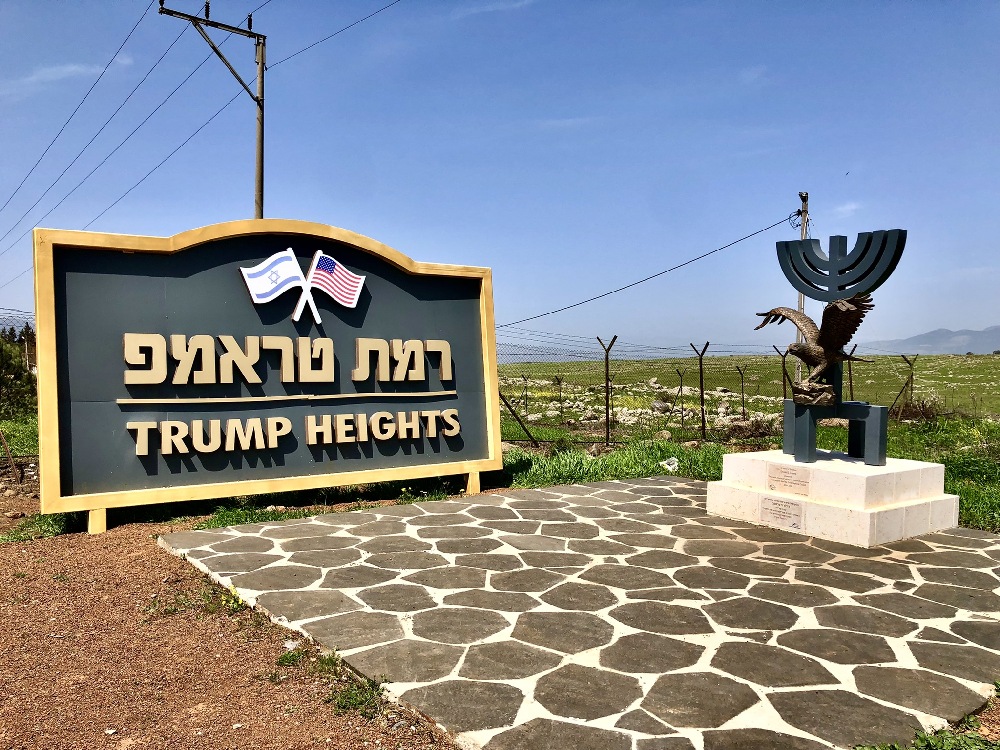 Neighborhood Watch
After taking a few photos and videos at the entrance, I worked up enough courage to pass through the unlocked pedestrian gate. I felt a little nervous just traipsing into a neighborhood that surely was private property – and in a country with such "prepared" security forces – but my intentions were pure. I figured the worst that could happen was that I might get yelled at and ordered out. Luckily, that didn't happen. The ten-minute walk around the community was chill and uneventful. Most people were indoors, with a few tots playing outside. I enjoyed poking around the same place I watched a YouTube video of from home just weeks ago. This was kinda cool! I didn't stick around long though – I would not want to wear out my welcome.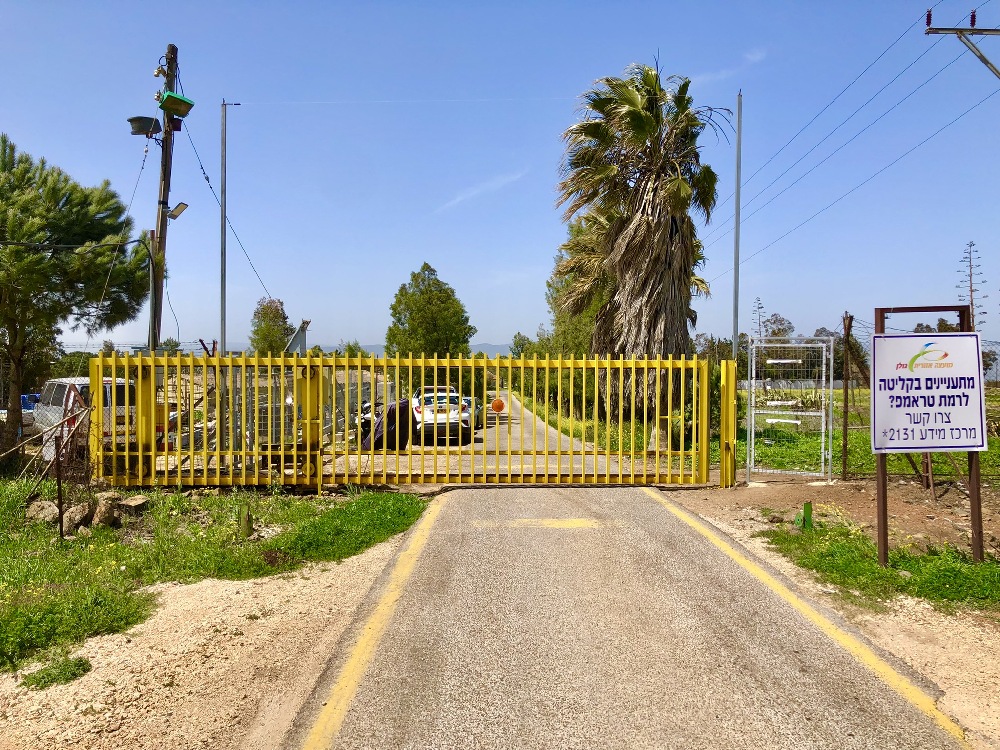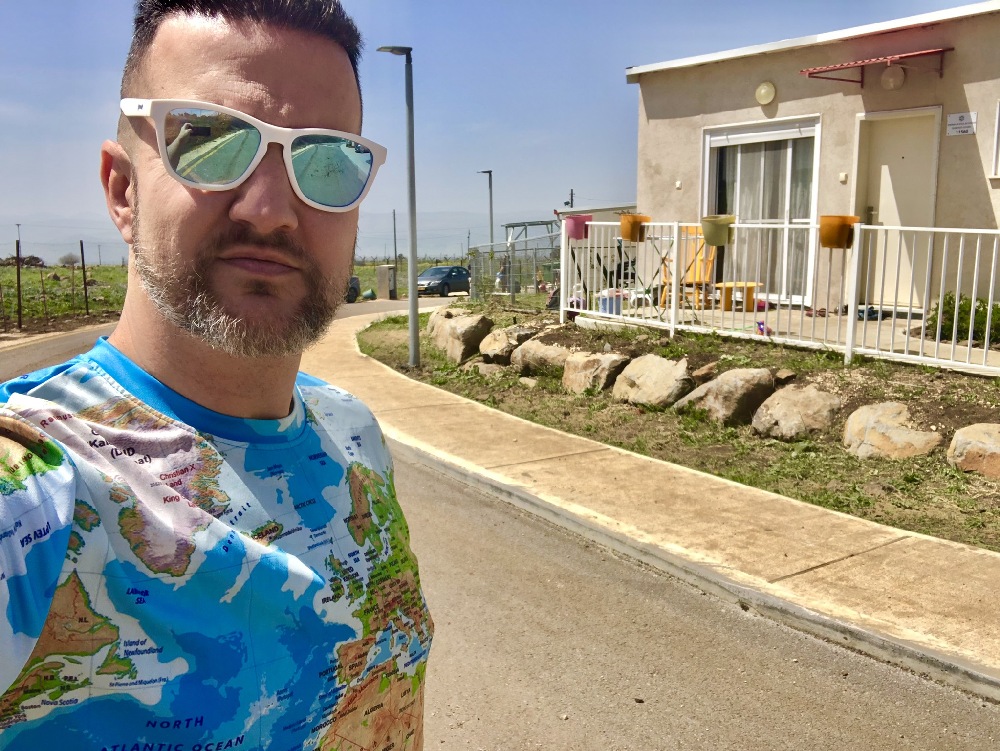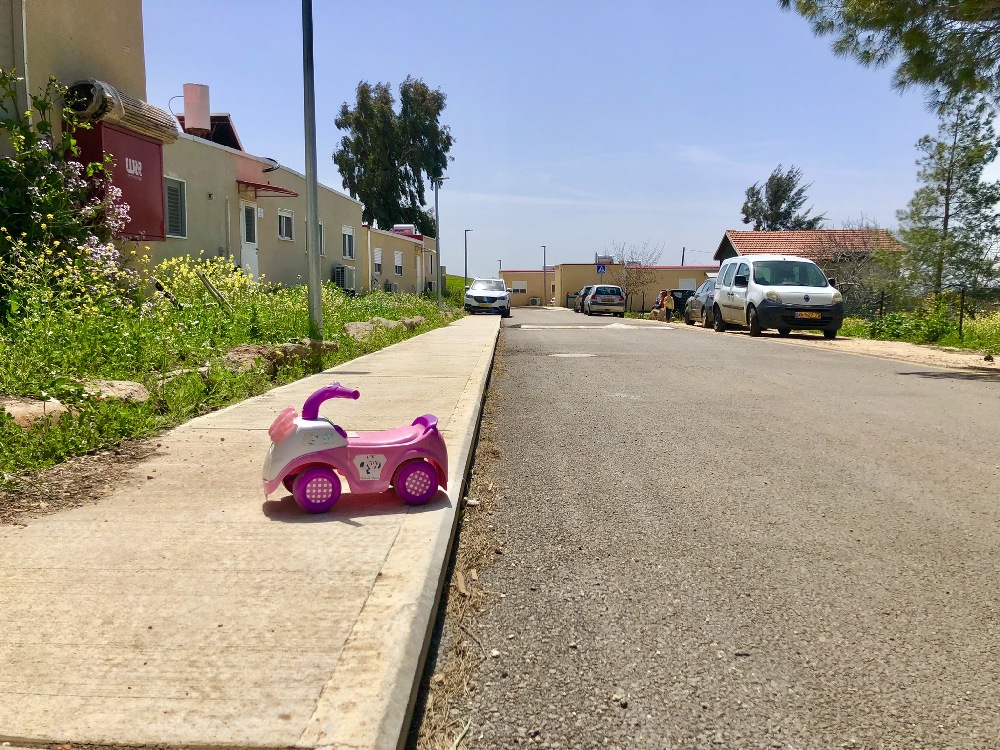 Druze Clues
Next up, I continued north to reach the town of Majdal Shams. This was another place I discovered while scouring videos on YouTube about Golan Heights. It looked to be the biggest town closest to the Syrian border; its inhabitants were the Druze. Druze are a religious and ethnic minority among Arab citizens of Israel and most of the Druze residents in Golan Heights consider themselves to be Syrians, refusing to take Israeli citizenship. This is exactly where I needed to be and who I needed to see! If I was going to count Golan Heights as Syria, I needed to see some Syrian people, eat some Syrian food and do some Syrian things…whatever that meant! I honestly had no idea what I was doing, but that was half the fun.
The village was beautiful, straddling the side of a mountain. I found a place to park (which wasn't easy) and then began my walk about town. The sun was shining down on me and the weather was divine. It was hard to believe that just yesterday I was back home, in the office – and now I was wandering in a strange place, so far away. This was living!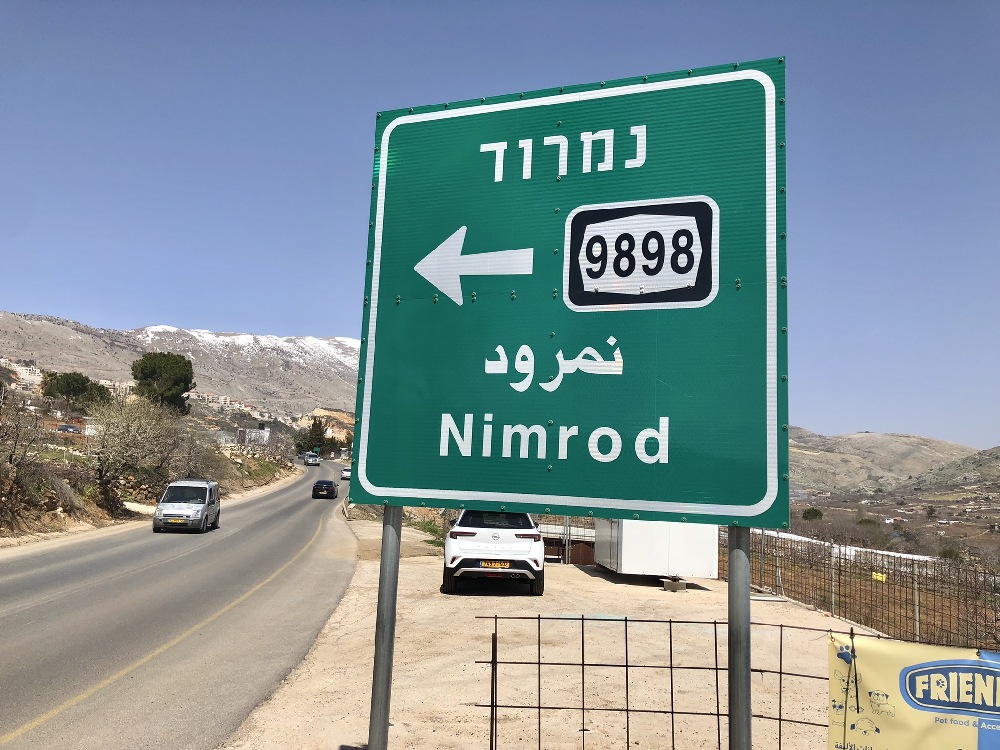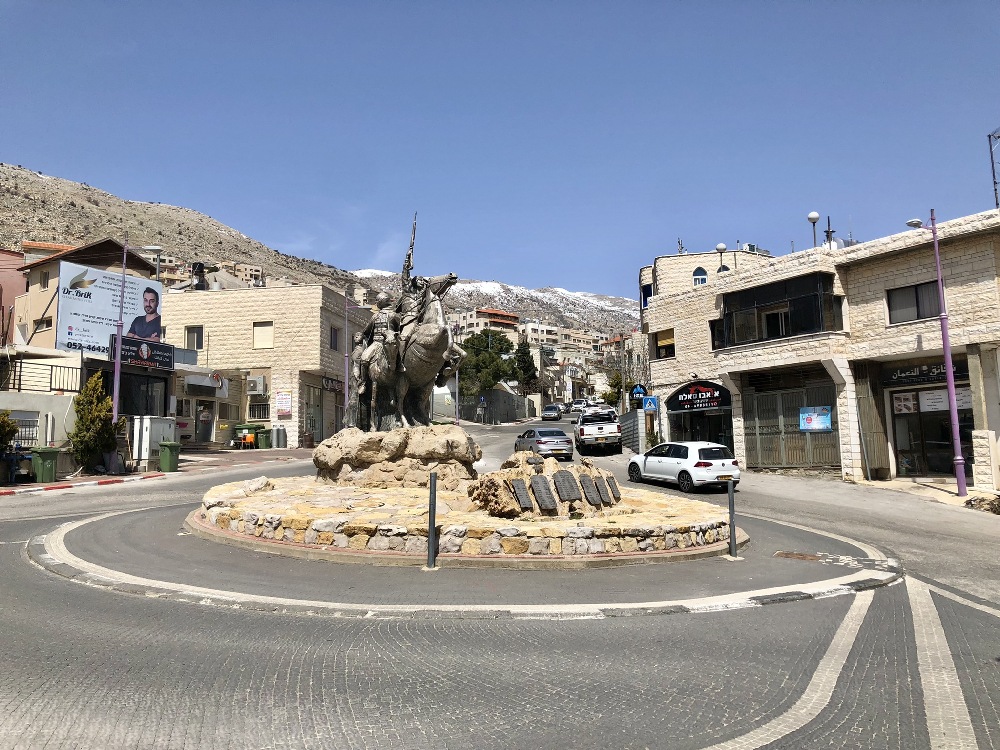 Foraging
I was hungry. I resisted every temptation to settle for an average meal in Majdal Shams. I passed a half-dozen little cafés and döner kebab joints, but with only one full day in "Syria," I absolutely had to make this meal special.
I popped into a small grocery store and decided to try my luck asking for a recommendation. The young man behind the counter didn't speak much English, but went out of his way to give me directions to a place he thought I'd enjoy. He was super nice, and by the grace of God, five minutes and four or five turns later, plus a climb up a steep hill, and I'd arrived. One look down at the tile, open-air courtyard below, and I quickly realized I'd hit pay dirt. And I hadn't even seen the food yet!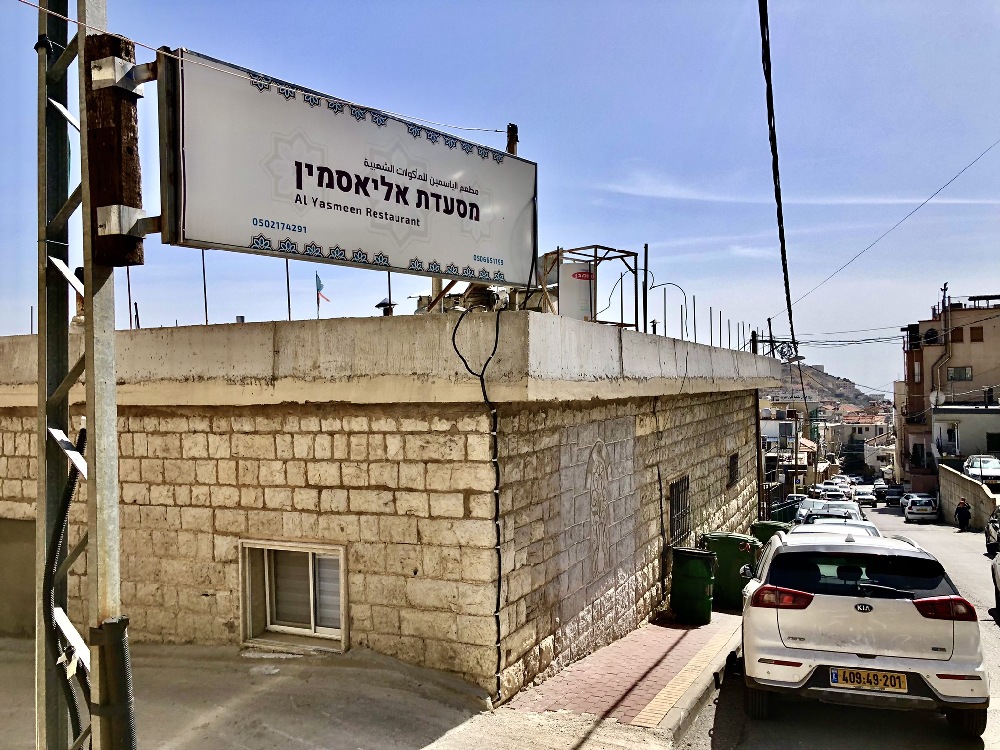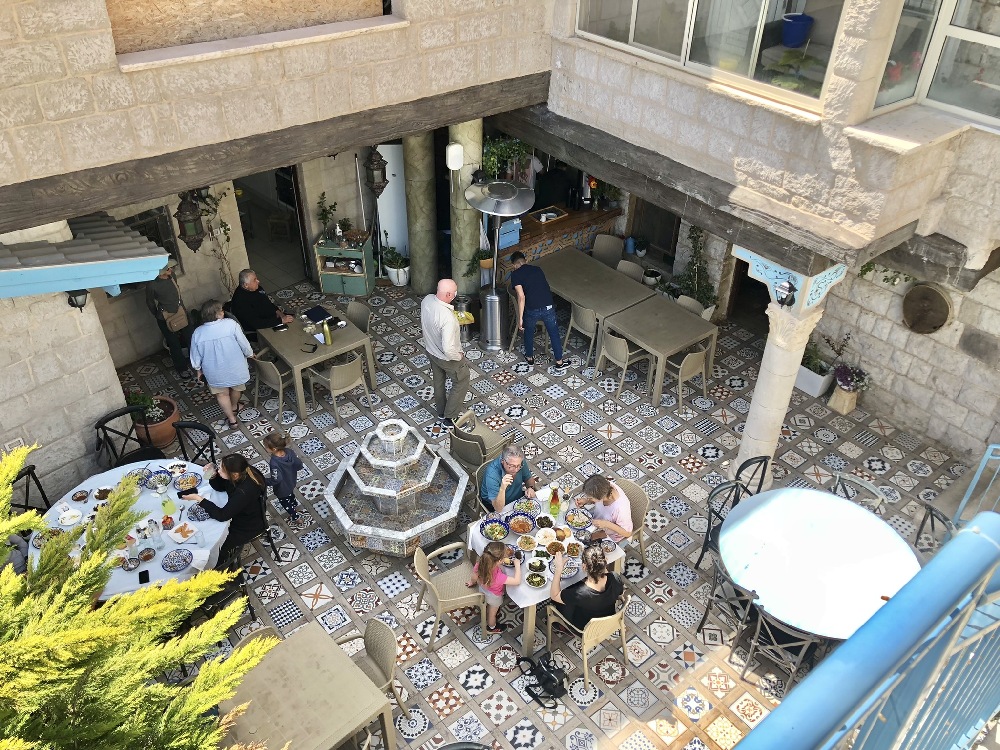 Table for One
A staff member quickly set up a table for me in the airy outdoor space, as I glanced over to the family next to me who were wrapping up a big spread. I couldn't wait to see what was in store for me. Soon, the waiter greeted me – a young man who couldn't have been any older than 17 – and informed me that they don't have menus here.
"I'm just going to bring out some different things that my aunt made today," said the youthful server. No complaints here.
First, a fattoush salad and bean soup to get things started. Then, what seemed like an endless barrage of little plates of treasures, one after another. I wish I remembered the names of every item, perhaps you can identify them. Each dish more delicious than the last, and thank goodness I hadn't eaten breakfast that day, or there was no way I could've even attempted to eat even half of this load of goodness. Just when I'd cleaned up almost every plate, the baklava with coffee arrived. Everything was phenomenal and my lunch at Al Yasmeen would go down in the books as one of my favorite meals ever.
I confirmed with the staff that they were indeed Syrian. I pulled up my phone's GPS and looked for the closest border crossing into Syria. It was just miles away. I had to see it. Part of me fantasized about charming the border guards and getting them to let me in for a peek. Silly, I know, but knowing Damascus was but a couple hours away by car made the hair on my arms stand up.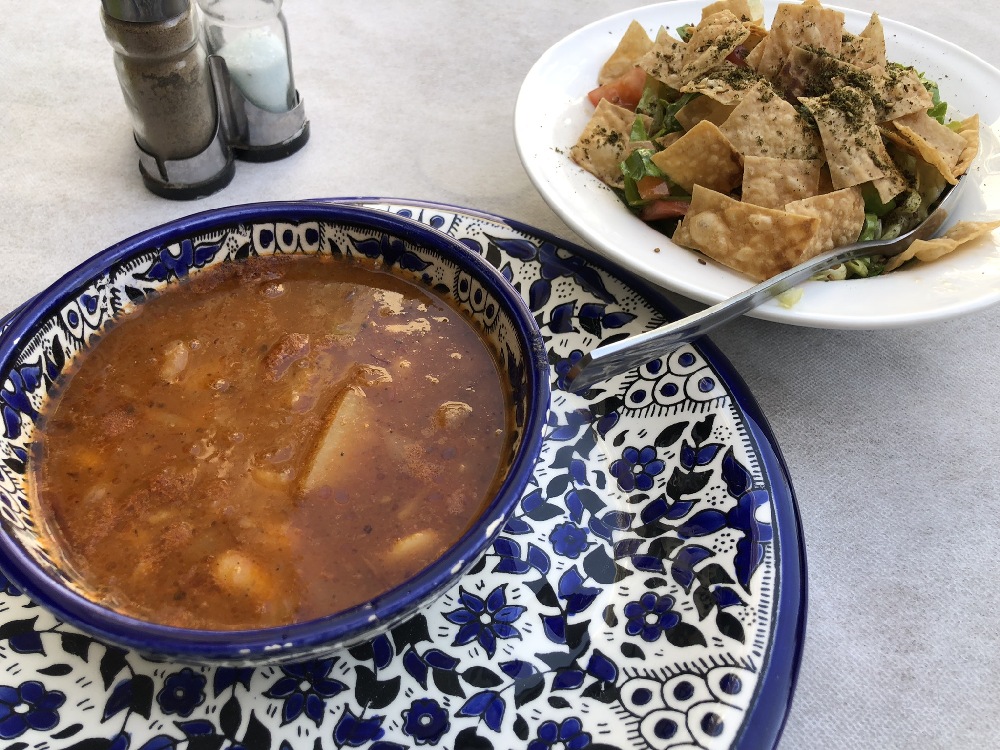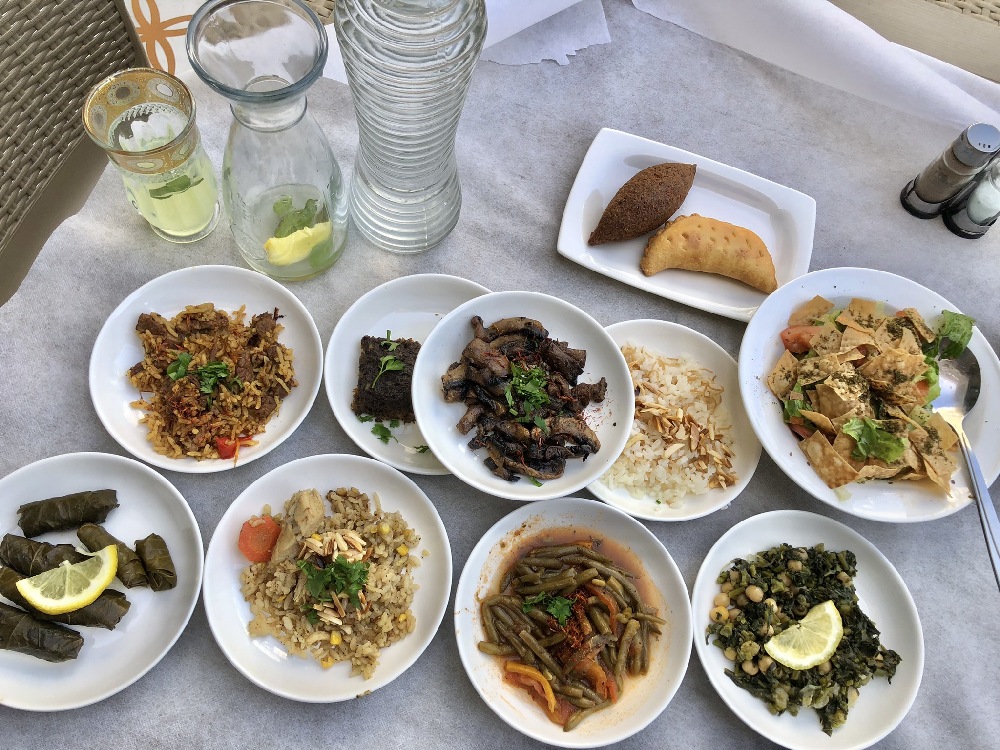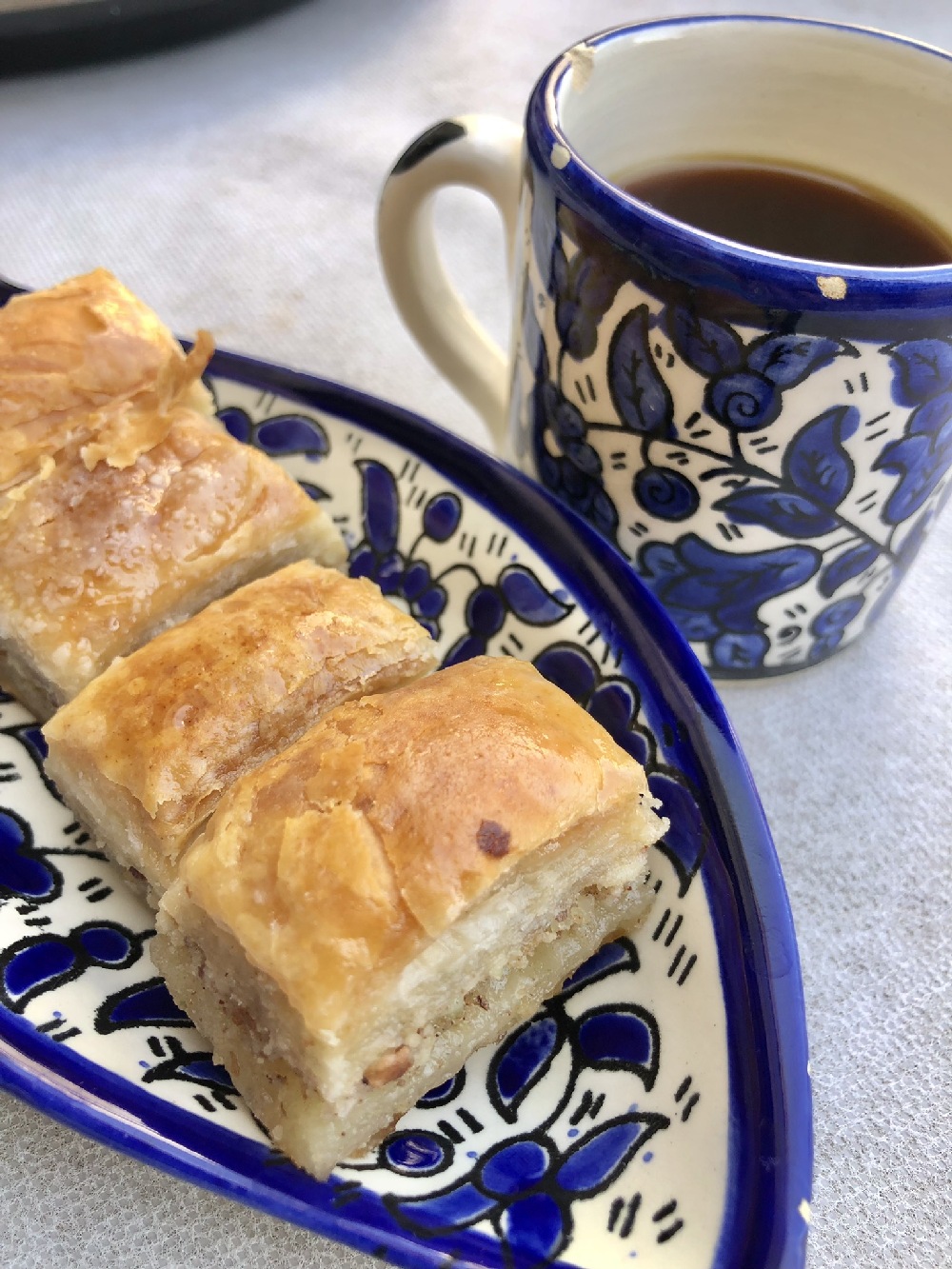 Walk it Off
On my way back to the car, I poked my head into the market where I received the lunch recommendation. I wanted to thank the young man who gave me such fantastic intel, but he was no where to be found. He'll never know that he was the reason for enjoying my visit to Golan Heights so much. I'd never have found Al Yasmeen on my own. If he only knew!
It felt good to move after ingesting that enormous meal. My pants were busting at the seams. I wouldn't need dinner tonight, that's for sure.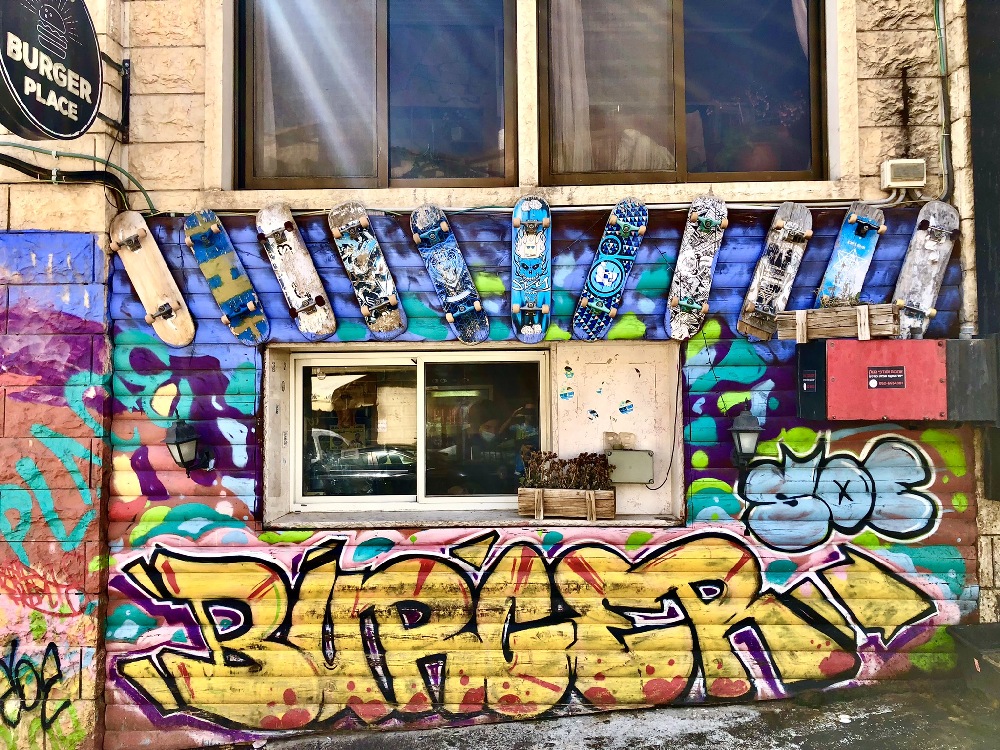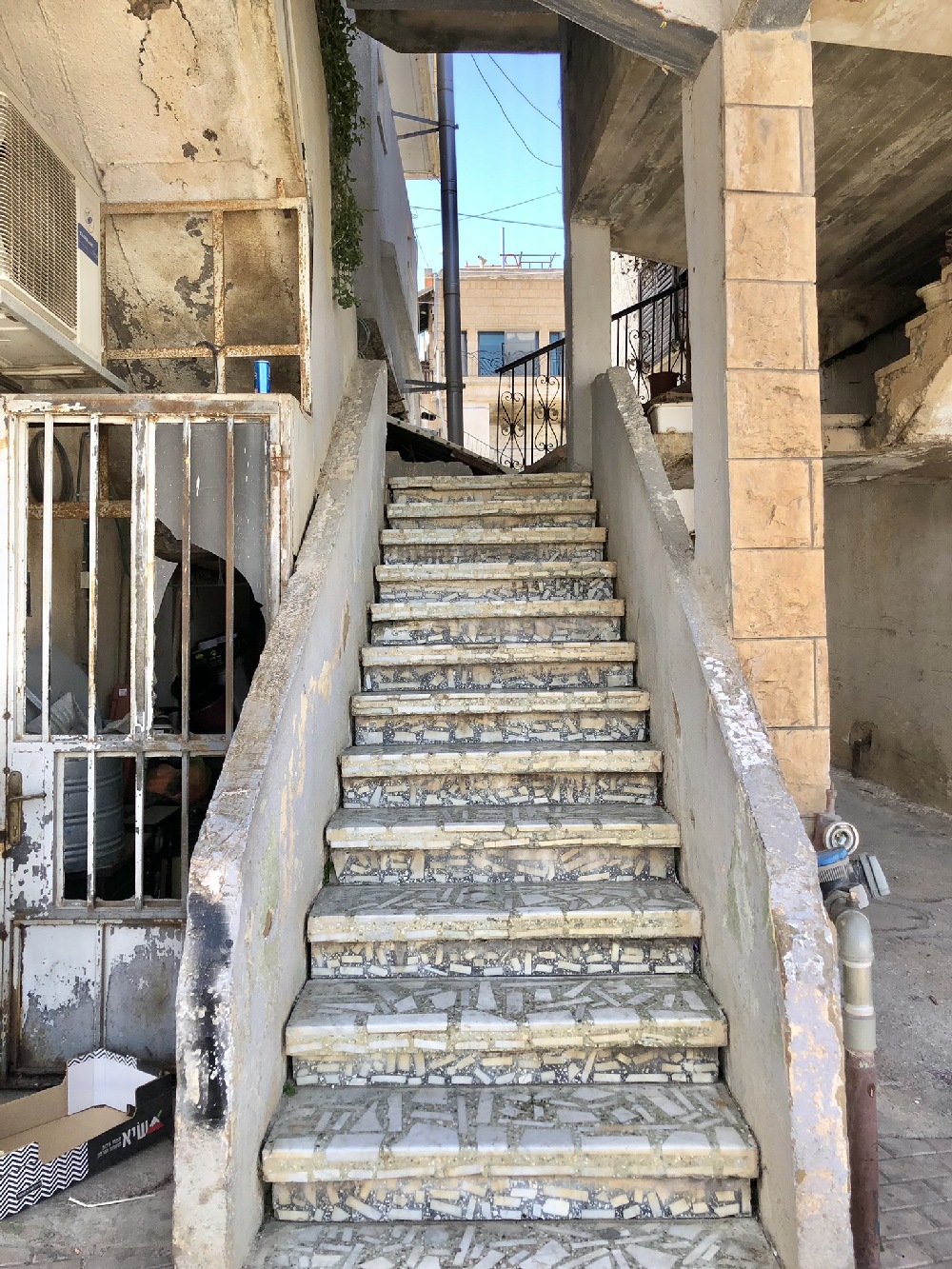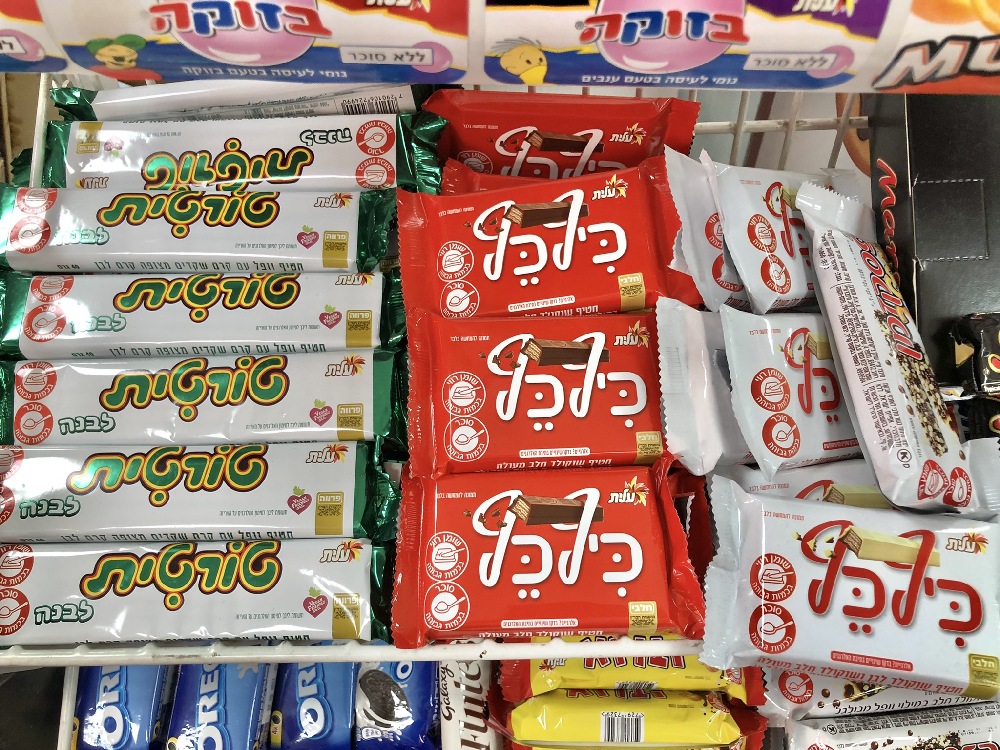 Look Out!
On the way to the border I stopped at Ronen Lookout where I enjoyed views over the border. There were benches, markers, monuments, and an old tank turret on the cliff. I bummed around there for a little bit before heading back to the car to drive to the line.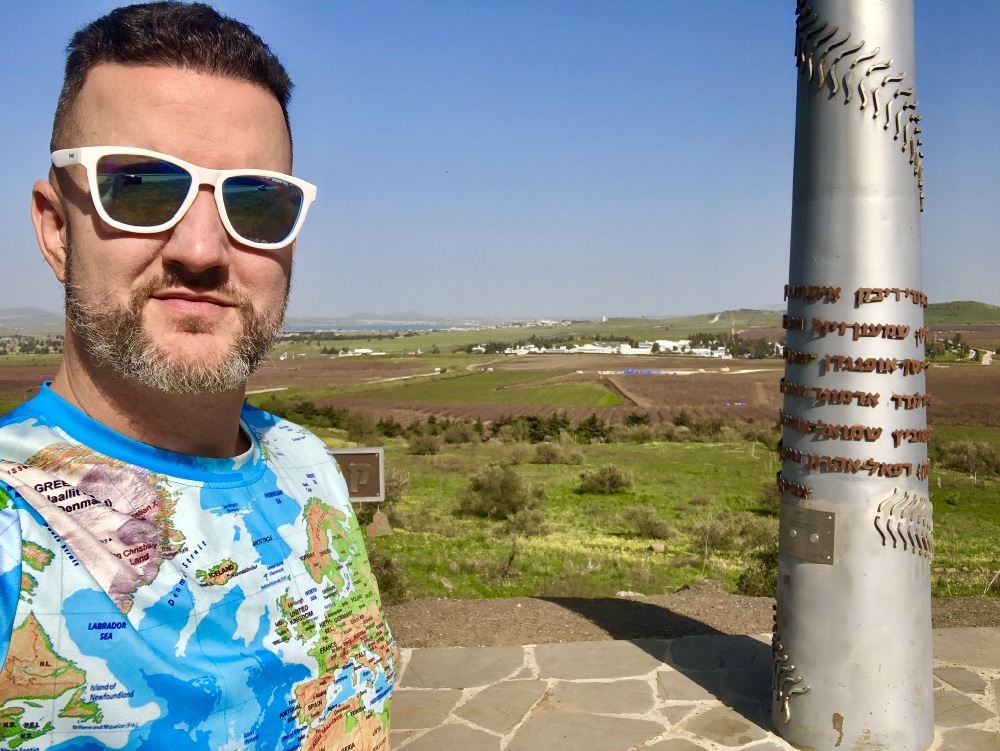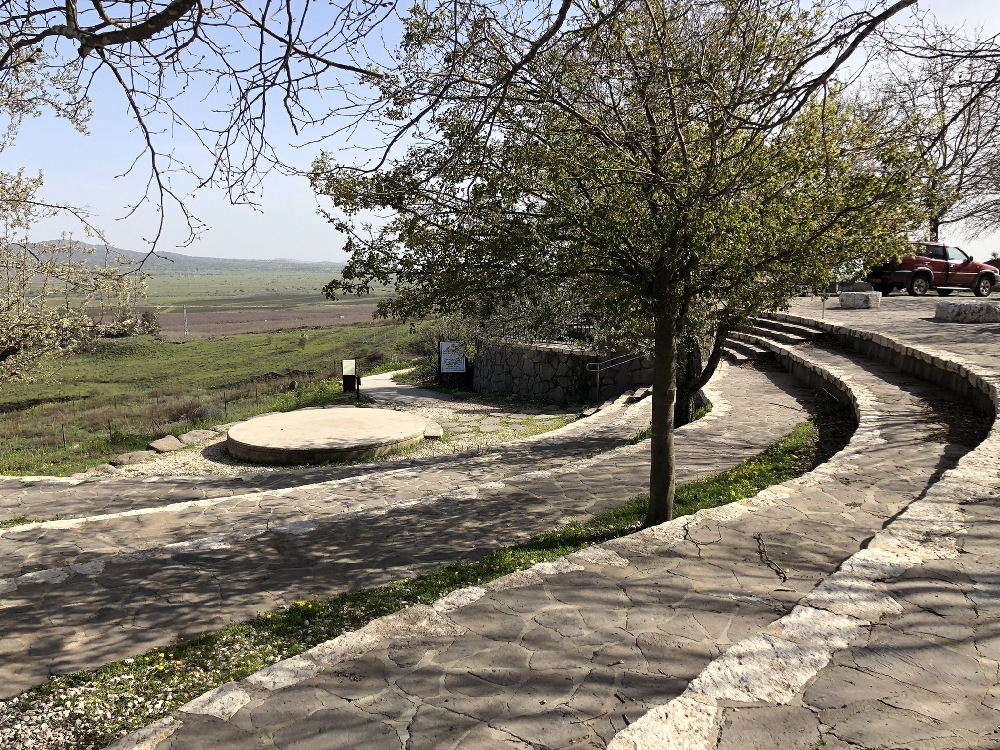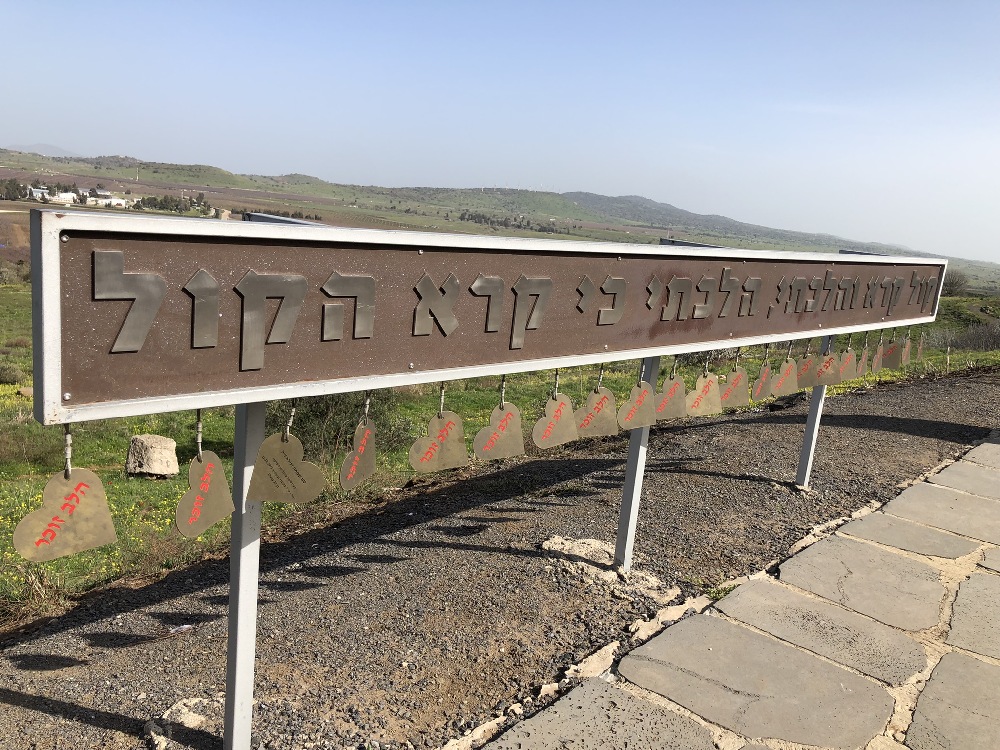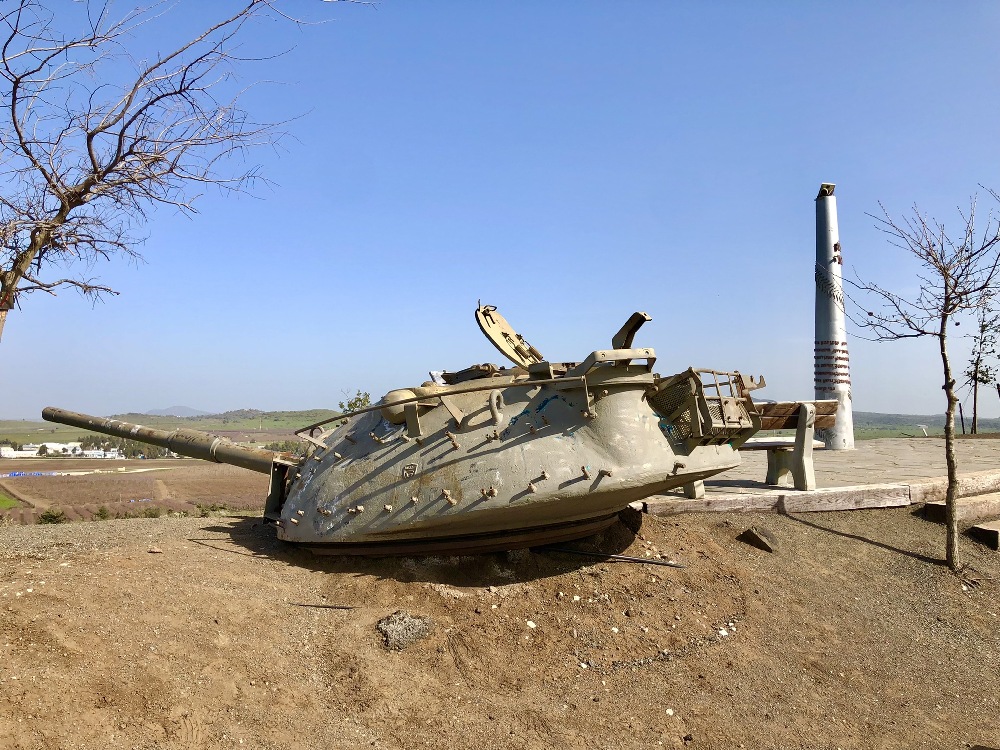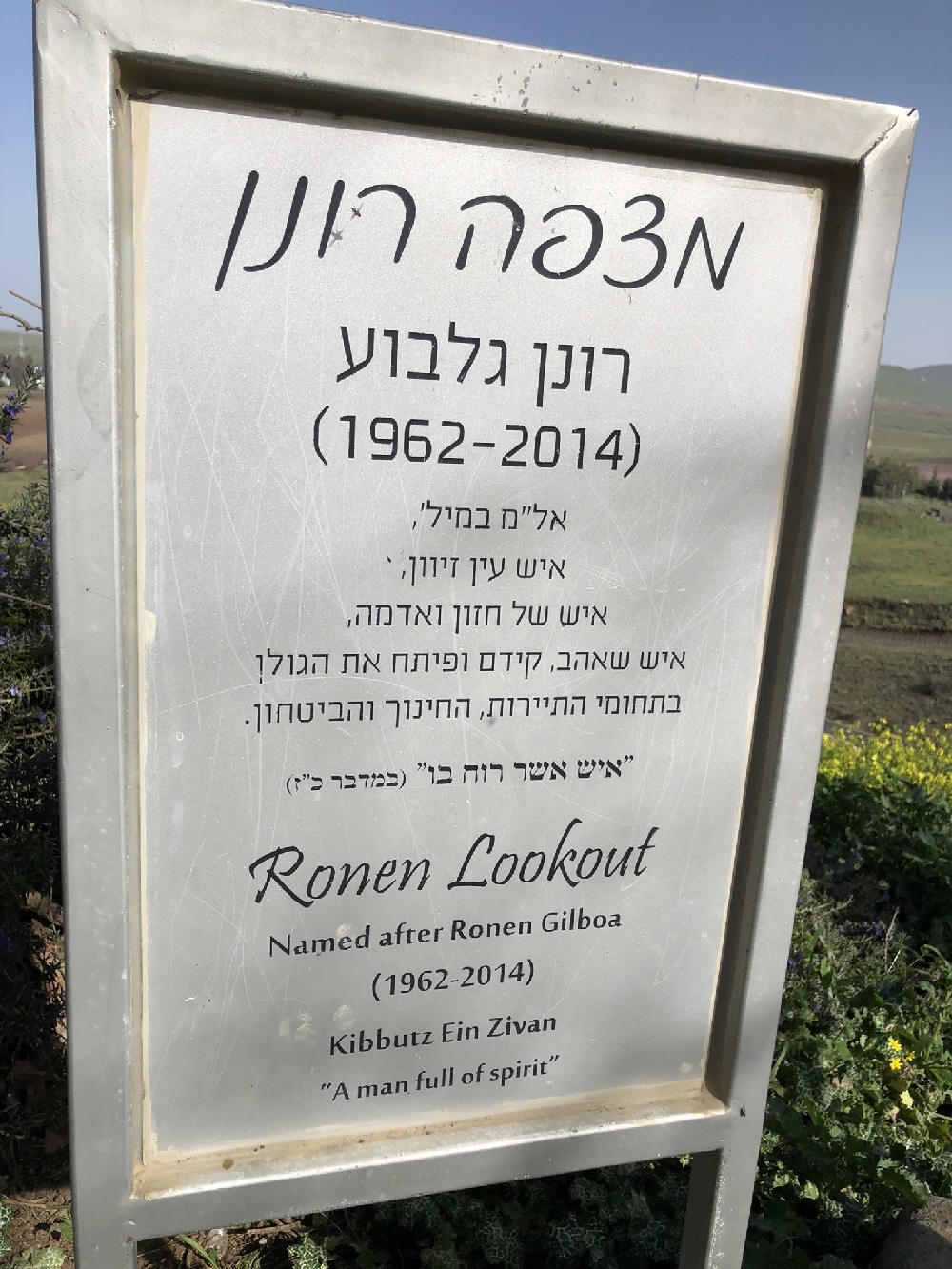 Borderline
There were zero "Syria This Way" signs on the way – my only guide was the GPS on my phone that showed a road cutting through the border. I drove along a stretch perpendicular to a crop field before hanging a right on an unkempt passage that didn't quite feel right. I double checked the map to see I was indeed heading in the right direction. But no one was in sight and this road looked so unused – this couldn't possibly be the route to a major border crossing.
On each side of me were signs warning of landmines. A normal person would've turned around now. But by now I'm sure you know I'm not normal. I did drive extra, extra slow, with my hands on the wheel – in plain sight. I imagined taking on a barrage of bullets as border security identified my strange car as a threat of some kind. As I crept by a UN base and slowed to a halt, a brown man in a bright blue uniform walked to the gate on my right and smiled as I waved. I let out a sigh of relief.
"Is it okay to drive up the border?" I asked, which I could now see about two-hundred feet in front of me.
"Sure," he replied, asking me where I was from. He was from Fiji and I was excited to tell him that I'd been to his country.
I drove super slow up to the closed-up border. It was apparent it was not open, for anyone. Two concrete blocks supported a big, yellow, metal gate. A watchtower loomed in the distance. I wondered if the structure was Israeli or Syrian and if anyone manned it. I couldn't help but wonder what was on the other side and oh, how badly I wanted to just park the car and meander in on foot. But no way. If the mines didn't get me, the police would. I already had one friend who'd been captured by Syrian police (and held for months) for being inside the country without permission. I wouldn't make the same mistake – but I sure would daydream about it. One day I'll make it in. One day.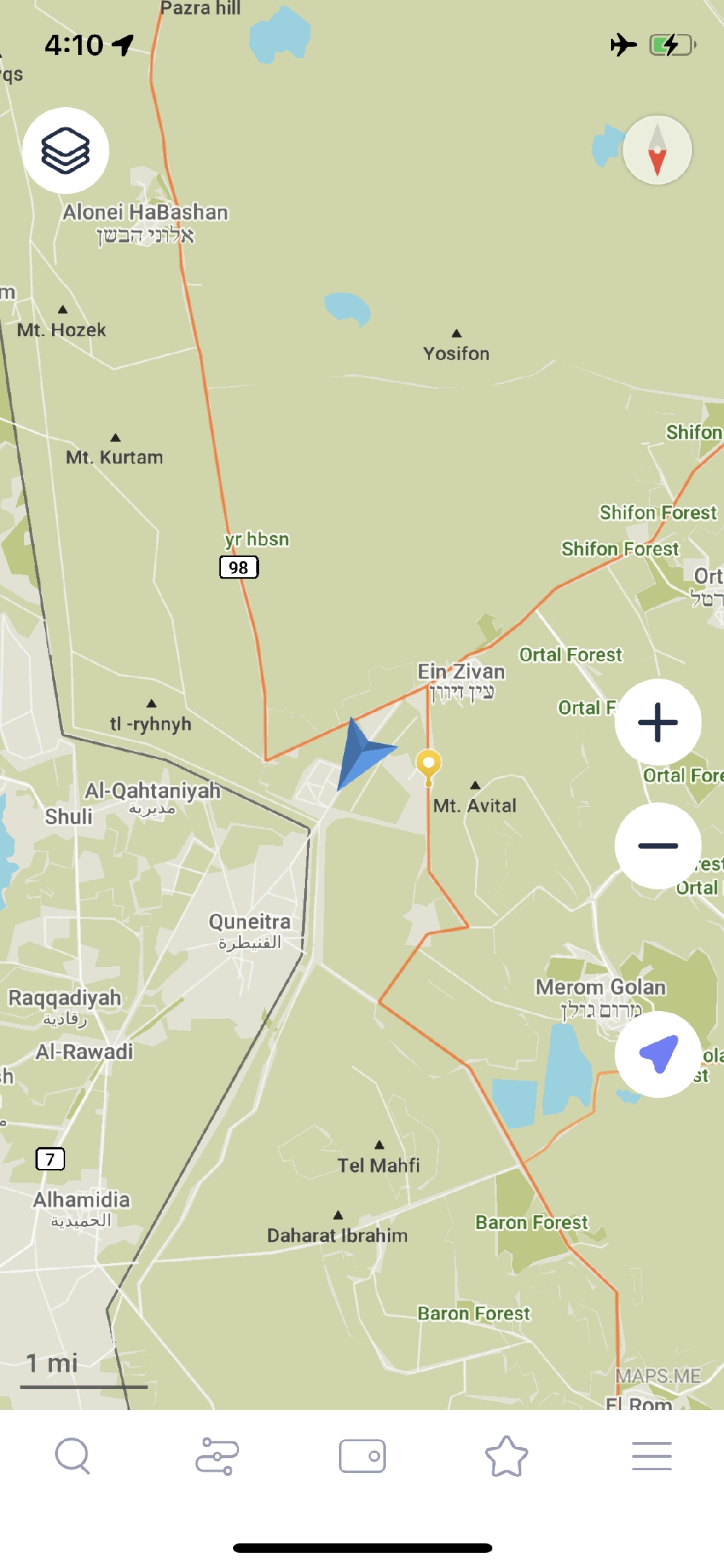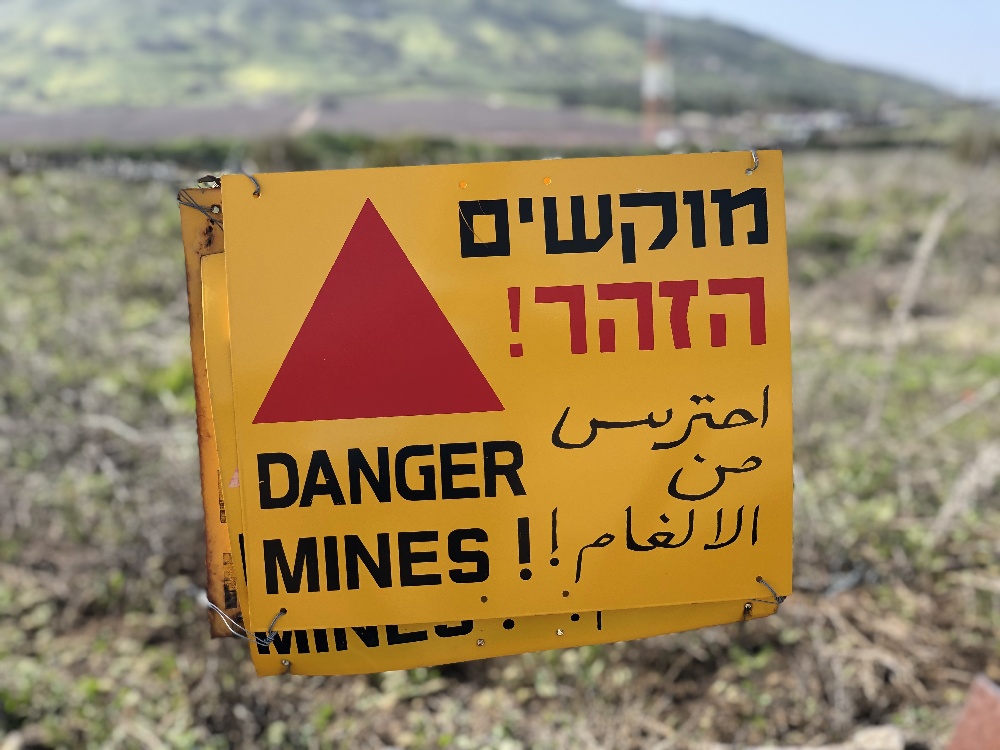 UPDATE: 2023
Hot dog, hot dog, hot diggety-dog – I am happy to report that in March 2023, I made it into Damascus, as only the second American tourist there since the pandemic. Full report coming soon – do check back!
This entry was posted in
Asia
,
Middle East