Why is/was Colombia so special to me? Colombia was the very last country in my challenge to see all of South and Central America before I turned 40. And I'm 39 and seven months old; cuttin'  it close, but boom, got 'er done before the buzzer. I'm almost kind of sad though…no more South and Central American countries; new ones at least.
I saw three cities in Colombia, all extremely different from one another. Let's take a quick look at all three:
Bogotá:
I had what I call an Extreme Layover in Bogotá: where I deplane, bop around town, and jump back on my plane the same day. I had about nine hours between flights, which is really about four or five, when you count the time it takes to get off the plane, go through customs and immigration, and get into town.
I actually wanted to arrange a tour of Bogotá, and the cool thing is that "layover tours" for this city actually exist; but alas, I planned poorly and was trying to book a tour the morning of. No-go. I'd be on my own this time.
When you hear "Colombia," many people think of drug cartels, smuggling, murder and kidnapping. I was a tad apprehensive exploring this city on my own, but that never stopped me before. Surprisingly, I didn't do any research on Bogotá before arriving; mostly because I devoted all my time to gathering Venezuela intel (that was a very dangerous trip), so I was coming into the city completely blind. But I've found that sometimes, that makes it the most fun.
The cabbie dropped me off at the gold museum downtown, but I didn't want to spend my time in a museum. I was cooped up under lock and key and beneath the protective wings of a guide for the past three days in Venezuela…I wanted to roam! And it only took me about five minutes to realize I loved Bogotá, starting with Mambo Records, where I stopped in to buy a Bossa Nova CD.
I very quickly felt the buzz and fast pace of Bogotá; this city was humming! It was the definition of organized chaos! I felt alive as I stepped through squares, around street corners, across intersections and down boulevards. So many people, like ants, all taking part in what is life here in Bogotá.
I soon found out Bogotá loves art! So many buildings I passed used their walls as giant canvases. Beautiful, colorful pieces of art, for all to see, around every corner.
I loved the art in Bogotá. The city is also known for is its graffiti. But awesome graffiti, if that's such a thing. The city has some of the most amazing graffiti "art" in the world. There are even official "graffiti tours" of Bogotá, which shows guests around the city to see the best displays. I saw an absolutely incredible graffiti painting of Eazy-E, but sadly it was under a bridge and we were moving too fast and it was too dark to snap a pic. Trust me, it was bad ass! I'd totally love to do the graffiti tour next time. This town loves its art!
RAMBLIN' EXPERT TIP: If seeing the world's best graffiti tickles your fancy, book an official "graffiti tour." It looks amazing and will have all your followers jealous of your instagram!
So lots of Art. And books. I've never seen so many books for sale, everywhere. I mean every, where. The first thing I stumbled upon was a giant book fair taking up an entire square. Dozens of different tents and vendors selling books. I mean tons!
I thought that was it, until I left the square to continue my walk, only to see book stores, a bunch of them! And then people selling books on the sidewalks! Either Bogotá is a super literate place or I just happened to stumble on the area of town that specializes in selling books; either way, I was bowled over at the sheer amount of book sales happening in this city. Book-overload!
I continued wandering the streets, with no map, direction or destination in mind. I just went with the flow as rush hour approached.
I had a really fun time running around Bogotá and what a refreshing break from Caracas, which almost seemed "shut down." Here in Bogotá, capitalism thrived, and you saw and felt it on every street, around every corner and down every alley. Most streets had their own theme, or type of product they sold: for example, a street full of suit stores, a street with just party supplies, one street had all office and stationary products…such a night-and-day difference from Venezuela, where they are running out of even many basic items.
It was getting dark, and I'd soon have to head back to catch my next flight on to Barranquilla. I could have "airport food" for dinner but I'd rather find something authentic on the streets of Bogotá.
I passed this door that looked intriguing. In I went!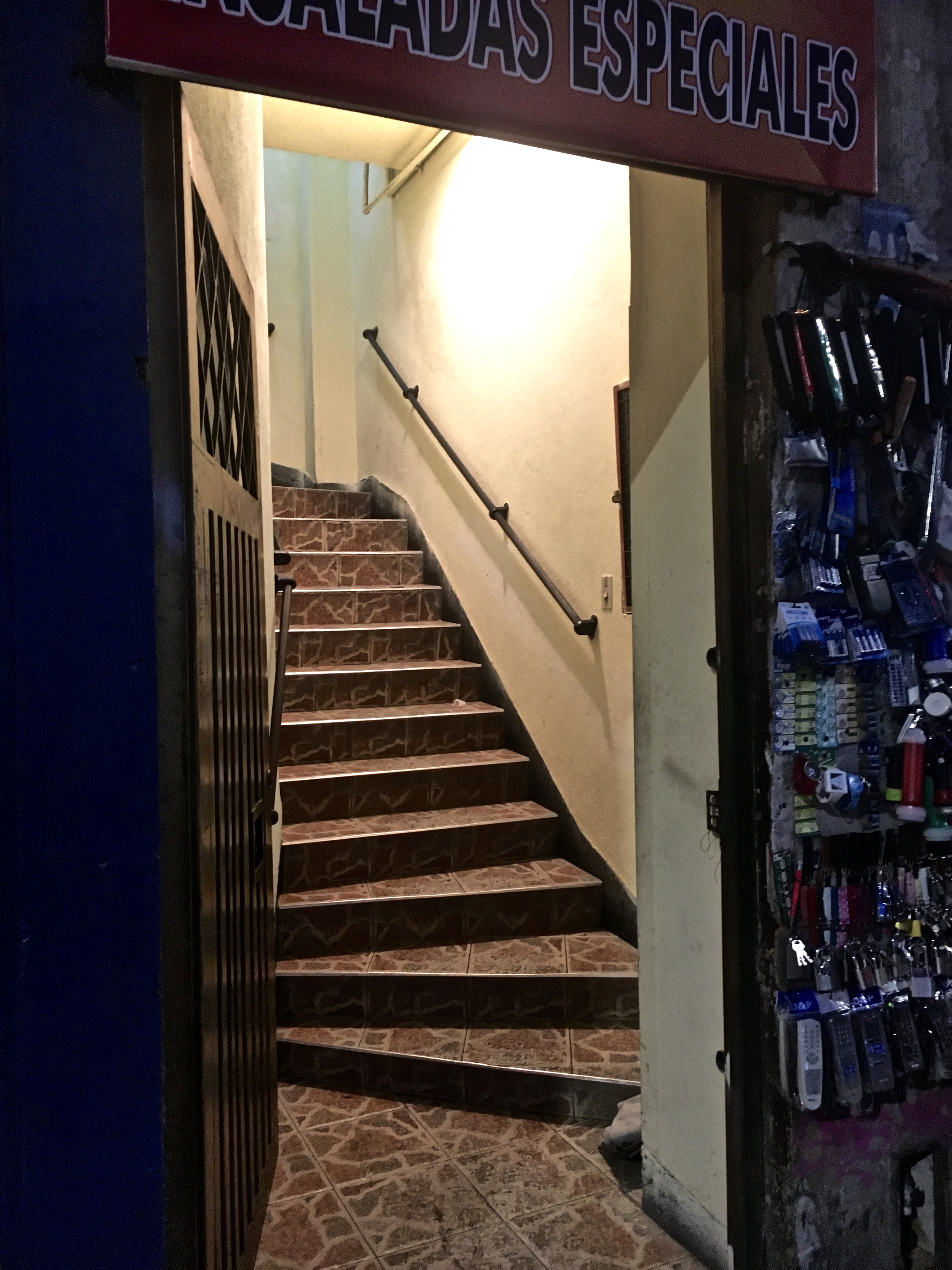 Surprises like these are the moments I live for…it's why I travel without a guidebook often. Here's what was inside that door and up those stairs:


Did you notice? There were zero tourists! Just old men playing chess. I didn't belong here…and I loved it!
I loved Colombiana soda, by the way…my favorite. The flavor? "Kola Champagne," or "Champagne Cola!" This flavor is found throughout the Caribbean and is sort of like a fruity version of cream soda. I first tried Kola Champagne when I was a boy in Florida, and now I always look for it when I'm in the Caribbean or Latin America. It's goooood.
It was getting late and I had to head to the airport if I was going to make my next flight. But I wanted to stay in Bogotá! I felt I was leaving prematurely; way too soon. There are plenty of cities I get bored with after three hours. Bogotá wasn't one of them. I wanted to explore other neighborhoods, meet more people, see more art and find more hidden hole-in-the-wall locals-only spots. I needed a minimum of three days here. But unfortunately it wasn't in the cards this time.
I grabbed a taxi, sat in some horrible rush hour traffic, but luckily made it onto my flight to Barranquilla. Bye bye Bogotá.
Barranquilla:
I landed at a small airport in the coastal town of Barranquilla at 10:30PM. I'll be honest, I chose Barranquilla because the name sounded cool. I had no clue what this town was about, but I loved the way the name sounds. Is that weird? I think that's weird.
I quickly discovered that besides being the birthplace of Shakira, this town was home to the worst taxi drivers in the world. I thought I was going to die on the way to the hotel. But alas, we arrived, without injury. Except my poor finger. It really started to hurt. I'd trimmed my nails five days ago, and ever since, the cuticle on my left-hand pointer finger had felt tender. It worsened very slowly over the last few days, and by the time I was in bed in Barranquilla, it was red, swollen and throbbing. It felt like my finger was stuck in fire and then hit with a hammer. Maybe I am a baby, but it hurt so bad. I soaked it and bandaged it and went to sleep.
The next day the pain was so bad, I could feel every heartbeat pulsate through my giant, ugly finger. I had to do something. Call me a baby, but it had to be infected; and if you don't treat an infection things can get really bad. I envisioned me having to tell people the story of "that one time in Colombia, where I lost my finger…" No way! I jumped in a cab and headed to urgent care.
I had no clue what I was in for. What kind of crazy hospital would I find, would I have to wait for hours to be seen, would there be chickens running around the waiting room, would they want to cut off my finger??? I was scared.
But within minutes I was in the tender loving care of Doctora Danny Pautt Arrieta. My high school Spanish paid off (and maybe a little a help from Google Translate), and soon Dr. Arrieta was writing me a prescription for an antibiotic, painkiller and topical cream. I think I might actually live, and my finger would make it too!
Finger throbbing, I cruised over to the pharmacy with my prescriptions and then it was off to lunch. The Villa Country Mall was down the street from my hotel, and let's face it, food courts in foreign countries are fun! Here was my first Barranquilla meal from Chalote…all this for just $3.70!
After lunch and my drugs, it was time to get out and explore! I wasn't going to let a sore finger keep me down. (There may or may not have been a nap involved sometime that day).
I grabbed a cab from my hotel and a few notes from TripAdvisor's "To Do" page for Barranquilla and hit the road.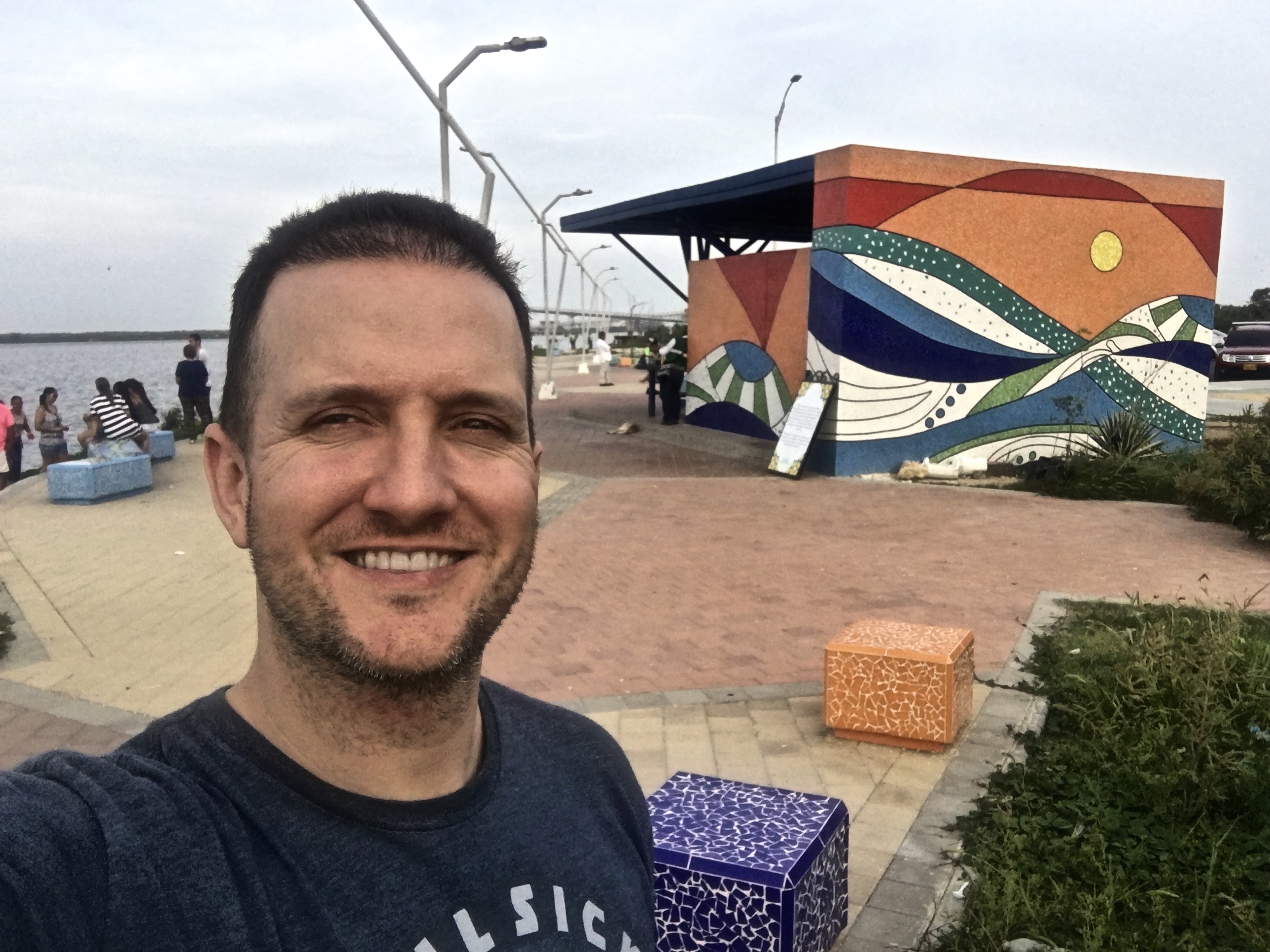 Next on to Castillo de Salgar.  I didn't even know what it was, and it was closed…but made for a nice visit at sunset. The building was on a cliff overlooking the sea.
As you know, my favorite part of traveling are the "surprises" I stumble upon along the way. I was enamored with this old theater-turned-restaurant in downtown Barranquilla called Rex. I couldn't help but notice the beautiful Art Deco building as we sped through the intersection. I asked my taxista to turn around and park so I could check it out.
My first and only full day in Barranquilla was productive! I got my finger fixed up (the medicine kicked in pretty quickly) and my taxi driver took me to see most of the notable sites in the area. I liked Barranquilla…pretty town with lots of movement and nice people. Crazy cab drivers! Food court for dinner.
The next day it was off to Cartagena. My original plan was to find a bus to make the 75-mile journey–that would be fun! But after finding out that a private van would be pretty cheap, and considering my tender finger, I opted for the van. It's called a Puerta a Puerta (door to door) and it took us about two and half hours to arrive in Cartagena. It would have been quicker, but we made several stops to pick up passengers, including turning around to get someone after we were already fifteen minutes out of town. It was a pretty smooth ride, although a little scary: the driver did not give a F about the solid lines, passing on hills, curves, etc. I was on the edge of my seat for most of the ride. We arrived into Cartagena just before the two-and-a-half hours of non-stop mind-numbing Reggaeton made me lose my mind! It's all the same song, I swear!!!
I checked into the bay-side Almirante Hotel and had a great view from the 15th floor. I guess I still had Venezuela on my mind. It was quite a stressful, yet exhilarating trip. And I had the most amazing sandwich, called arepa. So I was thrilled when I found a Venezuelan arepa joint two blocks away from my hotel. During my three days in Cartagena, I ate all but one meal at a El Arepazo Venezolano; arepa after arepa, all throughout the trip.
My hotel was located on a peninsula with all the other major ones, in an area called Bocagrande: tons of hotels, restaurants, clubs, bars and shops. It was a two-mile walk to the famous Walled City of Cartagena from Bocagrande.
I had fun exploring the inside of the Walled City that first afternoon. I met a local family who's seven year old kid was so excited to practice to his English with me, I enjoyed local music being performed in the square, and I got a kick out of seeing young lovers embrace each other while sitting in the frame of the Walled City's cut-out windows, overlooking the sea.
On day two I took the City Trolley Tour. As much I don't dig organized tours, I highly recommend this one, since Catagena's major points of interests are kind of spread out. You jump on this little trolley bus, with a very animated guide, and cruise around the city for a few hours. It must have been four or five hours, and was super cheap. Here are a few of the highlights:
I decided to take full advantage of my last full day in Cartagena by booking a tour of the Islas del Rosario. In the A.M. I jumped on a boat with about 25 other folks and hit the water. We stopped at a few different islands, including a private resort, did some snorkeling and had an authentic Colombian lunch. I lucked out and got to hang with three Brasilian girls on the tour whom I did my best to impress with my stellar português. Tudo bem?
My final night in Cartagena was super chill. I had my 37th arepa and took a stroll around Bocagrande like a senior citizen. One thing's for sure: if you want to have fun and party, Cartagena's a great spot. I saw dozens of open-air "party buses," being filled with tourists. Some of the buses had people playing live music on-board and there were plenty of open containers floating around. Lights flashing and drums pounding, these buses were moving discos, filled with inebriated party-people hootin' and hollerin' around every corner. I just smiled and nodded "no thanks" when the drivers tried to drag me aboard. They don't know I like to take it "nice and slow," just like my radio show, haha.
Possibly my favorite "surprise" was running into local rappers who flowed to the beat for tips. I was impressed not just by their lyrics, but how they managed to mix their vocals with the music, without a mixer of even a mic. They had it down!
Even though it was ultra-touristy, I enjoyed Cartagena. I do think it's the perfect spot for the beginner-South American traveler; the person who is a little apprehensive of traveling to Latin America…the amateur explorer who needs to "ease into" South America. Both The Walled City and Bocagrande were extremely tourist-friendly, with mobs of visitors strolling up and down the street: from white-haired senior citizens to college kids, to families with babies and strollers. Any stereotypical preconceived vision of a shady city with dangers around every corner is immediately shattered, as you stroll down Carrera 2 among gobs of tourists of every age, color and background. There was police everywhere, and not the scary Venezuela kind–but the type watching out for tourists. Gift outlets, coffee shops and lively bars and restaurants were lined every block. The city was almost too "touristy" for my taste–as you know, I like to be far away from the visitors and live like a local when I travel–but if you're into the fun, partying, taking shots and wearing straw hats kind of vacation, you will love Cartagena.
This entry was posted in
South America