I love posting pictures and updates of my travel adventures on facebook, and I enjoy the feedback and questions folks write as comments.
Here are ten of my favorite questions from readers, and their answers:



1) Are you a member of the Mile-High Club?  Submitted by Kelly Danek
Noooooooo! Do you know how dirty those bathrooms are???!!!

2) What do you pack when you go on these trips? Do you only do carry on?  Submitted by Rosa Pacateque
I can't remember the last time I "checked" luggage. I almost always pack a roller-bag full of clothes, and a backpack for everything else (laptop, chargers, books, etc.). I carry on both items, never "checking" them underneath the plane.
I do this for a few reasons:
1) Most of my trips involve anywhere from three to ten countries in a short amount of time. I save a ton of time not having to wait for my luggage at baggage claim.
2) Carrying everything on the plane eliminates the chance of my bag getting lost or stolen.
3) Since I travel solo often, three bags is just too much to lug around by myself.
4) Finally, the best piece of travel advice I've ever received: Pack half as much clothes and twice as much money. Really, you just don't need that much "stuff."

3) You have traveled to many countries with various security / safety threats. What safety measures, if any, do you take when traveling to these locations?  Submitted by Stephanie Romero.
Sadly, in 2016 there is danger everywhere. You can be sitting in a café in Paris, or working in an office building in San Bernardino…I really think it's the luck of the draw. My safety measures usually concentrate on doing heavy research on a country before I arrive. For example, when I visited Venezuela–the murder capital of the world–I learned so many things doing research: what to wear, not to take my smartphone out in public, not to trust the airport taxis, etc. Getting intel beforehand is so easy with the internet. So I study, study, study…and then plan accordingly.
Wherever I am, I practice common sense street smarts. I don't walk around with a lot of money and I always leave backup credit and ATM cards back at the hotel. One thing you don't want to happen, is to be robbed of everything, and then be completely out of resources (money, etc.). Never have everything with you! Even on flying days, keep a separate card hidden somewhere in your suitcase.
Talking to locals and hotel staff is also a great idea–for example, asking them if the neighborhood is safe to walk around in, etc. They know best.
So many people who don't travel much will tell me things like, "Aren't you scared to go here or there," but in reality, I tell them they should be just as scared living in cities like Phoenix, etc. Ever look at the crime rate in American cities??? These international cities I travel to are usually never as bad as what you see on the news–remember, the news highlights the bad stuff. Do your research, stay out of the bad parts of town, don't do dumb stuff, use common sense.
I also make sure my family and close friends have a copy of my itinerary, and everywhere I will be; including flight numbers and hotel information. I send them an excel sheet that lists where I will be at all times.
I also carry travel insurance, which includes emergency evacuation, should I get hurt and need to be flown home in an emergency. For Venezuela, I even purchased "special" insurance, that I'm not allowed to talk about, but use your imagination.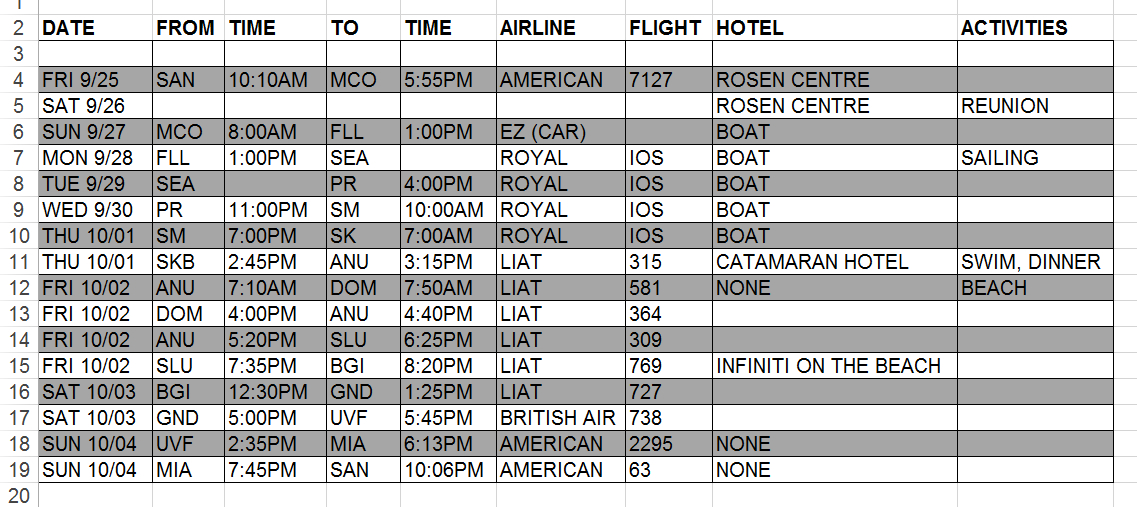 4) How do you choose your itinerary? In other words what is the process you go through to pick which cities to visit, where to stay, activities (self guide vs private guide vs group), etc.  Submitted by Scott Littleton
Great question, and it all just depends on what area of the country I'm going. For example, North Korea requires you to be part of a tour. Venezuela is so dangerous that I wasn't going to visit without a guide. Other places, like Europe and most of Latin America, I love to just arrive and explore on my own. Still, other times, like at The Sacred Valley of Peru, I would have been lost without a guide. Normally, I hate group tours.
Since I'm on a quest to see every country in the world, one thing that I do is look at the map and try and strategically put together an itinerary that includes as many countries as possible in the short amount of time I have to travel. I usually start at a main city and then map out my journey. I look at airports and flight routes, borders (sometimes I can visit a city close to the border and take a cab or bus across), and I spend a long time figuring out how to spend the least amount of money on travel. It's like a puzzle. I end up putting together a pretty comprehensive excel sheet that outlines the trip, including flight numbers, dates, times, hotels, and activities. As far as where to stay, I've only recently discovered the benefits of being loyal to one hotel chain to receive awesome benefits. I chose SPG.

5) If you had to "sell" someone on a trip to North Korea, why would you tell them to go visit a country the US just imposed more sanctions on? North Korea is a county people need to see. Tell us why.  Submitted by Paul Walker
I would sell it the same way it was sold to me: with one simple sentence, like, "North Korea is the most bizarre country in the world," and then encourage the person to watch HBO's Vice documentary on the country. No "person" sold me on North Korea. Once I started actually watching documentaries on North Korea, I was sold myself. Without doing the research, I would have never had the desire to visit. It's all there on YouTube, you just have to invest a couple hours. You'll then either be completely intrigued and "hooked," or you'll have zero interest. I don't think there's a middle ground. But you have to watch and see the visuals. I don't think anyone can sell another person on North Korea by simply "describing" the country. The whole thing is just too bizarre and far-fetched. You've got to see it on film to believe it. Then you'll want to go.
Alright, jeeze, I'll make it easy for you…here's the video. Now go, watch!!!

6) If you had to live in another country, which would you choose and why?  Submitted by Sally Peterson
Well, that actually happened, and the story is way too long for this article. At 26 years old I visited Brasil and fell absolutely head over heels in love with the country. Literally. It was an actual "love affair" with Brasil. I cried after leaving the first time. It took a piece of my heart. I visited a second time, two years later, and then shortly after that I made the decision to quit my job and leave the US for Brasil. Getting a visa, learning the language, making friends, and buying a place on the beach in Brasil–it was all such an amazing experience and a special part of my life that words can't even describe.
If you have a spare 40 minutes and care to read the entire story, from beginning to end, you can find it here.

7) Do you keep in contact with anyone you meet on your travels?  Submitted by Shannon Black
I do, especially Brasil. I've made lifelong friends from that very first trip to Brasil.

8) How is it that you have so much vacation time?  Submitted by Michael Becker
I don't. I just choose to use every single vacation day to travel. So while some people will take an international trip once every two years; I will squeeze in three or four in one year, sometimes using just a three-day weekend to see a new country. On week-long trips, instead of just one destination, I'll see three, four, sometimes five or more countries. I also always post my adventures on social media. So while it may seem like I am always on vacation, I have a normal job schedule just like everyone else.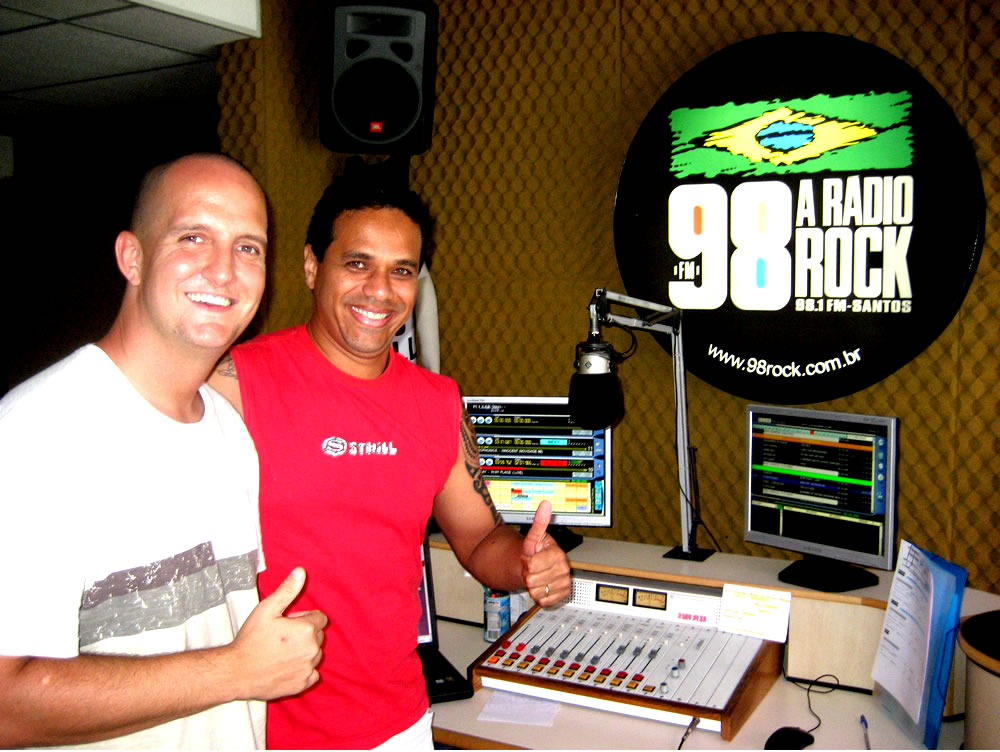 9) Do you ever visit the local radio stations on your trips?  Submitted by Michael Becker
Often! I'm such a radio nerd. I'm often found popping in on radio stations during my international travels. Sometimes my visits have even led to the stations putting my radio show on their station! Here's the article I wrote a few months back about all the foreign radio stations I've visited. It's always a blast!

10) Given that you try your best to fit in and assimilate, you normally don't have problems getting along with the locals. Describe one country where, despite your best effort, you just never did feel the warmth of the locals.  Jerry Beharry
I'm gonna my ass kicked for saying this, but I just didn't feel the love in Italy. Maybe it's because I've been spoiled traveling throughout Central and South America, where often random strangers become instant friends; but I've been all over Italy, numerous times, and didn't make any friends. But in Latin America? All day, everyday.

BONUS QUESTION) Pros & cons to a travel agency vs. you planning the trip?  Clarissa Felix
For the beginner traveler, I think a travel agency can be a great tool. They know the tricks, the ins and outs, can offer a variety of options and tours, and some great package deals. For me, because of my intense, fast-paced schedules and unique travel goals, I don't use them.
Which brings me to "electronic" travel agents, like Travelocity and Expedia, etc. My advice is to use them to shop around for a good price, but never, ever actually book through them. The two main reasons:
1) Their customer service is absolutely horrendous. If and when a problem with your flight happens, often they wash their hands of the issue and simply refuse to help, or pass the buck on to the airline, who then passed the buck right back to Travelocity. It's maddening. If everything goes smooth, no problem–but should there ever be an issue, you won't be able to depend on Travelocity's piss-poor service and out-of-the-country "script reading" agents that are clueless on how to actually "solve" complicated travel problems. Working with the airline direct assures you much better customer service, always. I've wasted dozens of hours, probably days, on the phone with the dumb-dumbs at Travelocity. I finally gave them up completely after 20 years of loyalty.
2) You miss out on important reward points from hotels. You forfeit your valuable hotel points and rewards when booking through a third party. Same thing with customer service. Book through the hotel direct to earn your points and ensure better customer service should you need it.
Check out this article which outlines the FIVE reasons you should never use Travelocity, including a recording of my call into Travelocity…you won't believe how they treated me when the airline canceled my flight.
—
That was fun! There were many more questions submitted…stay tuned for Part Two.
Have a question of your own? Submit it below in the comments section to be included in the next edition.