lusophone: adjective speaking Portuguese, usually as a first or main language.
I adore the Portuguese language and feel so fortunate that I've been able to visit every country that speaks Portuguese. I am especially intrigued by Portuguese-speaking nations that aren't Brasil or Portugal – other countries where the Portuguese colonists have left their mark through the food, architecture, and of course, the language.
In this short article, I'll show off just one photo from each of the Lusophone countries around the world I have visited, in the order I've seen them. Shall we begin?
1. Cabo Verde (country #61)
Cabo Verde was not only my first Lusophone country, but my first step into the continent of Africa as well. I loved the flight route from Recife, Brasil to Praia, Cabo Verde – it just made sense, connecting the the two continents from the points they are closest together. Who would've thought – South America to Africa in under four hours?!
Pictured: Colorful wooden boats bounce about in the port of Sal.
See my full Cabo Verde story HERE.
2. Timor-Leste (country #90)
Timor-Leste (or East Timor) is the only Portuguese-speaking country in Asia (Don't worry, we'll discuss Macau later), although to my surprise, I hardly heard it spoken in the streets there. The tiny country was a Portuguese colony for more than three centuries, but only an estimated 5 percent of its one million people now speak the European language.
Pictured: While I have much more beautiful photos on-hand from this trip, this one is special to me: I just love this grainy pic of the locals giggling at a tall foreigner (me) crammed into their local transportation – the tiny vans are called microlets. 
See my full Timor-Leste story HERE.
3. Moçambique (country #107)
Moçambique would turn out to be my favorite Lusophone country in Africa. Of all the former Portuguese colonies in Africa, this one had the most to do and see. I loved the endless–many crumbling–colonial buildings of the past, many featuring that fabulous Art Deco and 1960's modernism. The capital, Maputo, was a city stuck in time – everything stopping in 1964. The highlight of my trip here was staying at a very special guesthouse and getting to tour the Moçambique State Radio building.
Pictured: Porfilio pulls out a record from the shelves of the State Radio's basement and music vault.
See my full Moçambique story HERE.



4. Guinea-Bissau (country #159)
One of the least-visited countries in the world, Guinea-Bissau is a land shrouded in mystery. Most people haven't even heard of Guinea-Bissau. What I discovered, having a whopping five nights in the capital–an unusually long stay for me–was a very isolated and run down city, but nonetheless fascinating. Bissau was one of the least-developed capital cities I've ever been to, but the broken-down remnants of Portuguese colonization made the place extremely interesting. The classic buildings were much smaller than those in Maputo, but had all of the charm.
Pictured: Kids play on the giant, stone Independence Monument.
See my full Guinea-Bissau story HERE.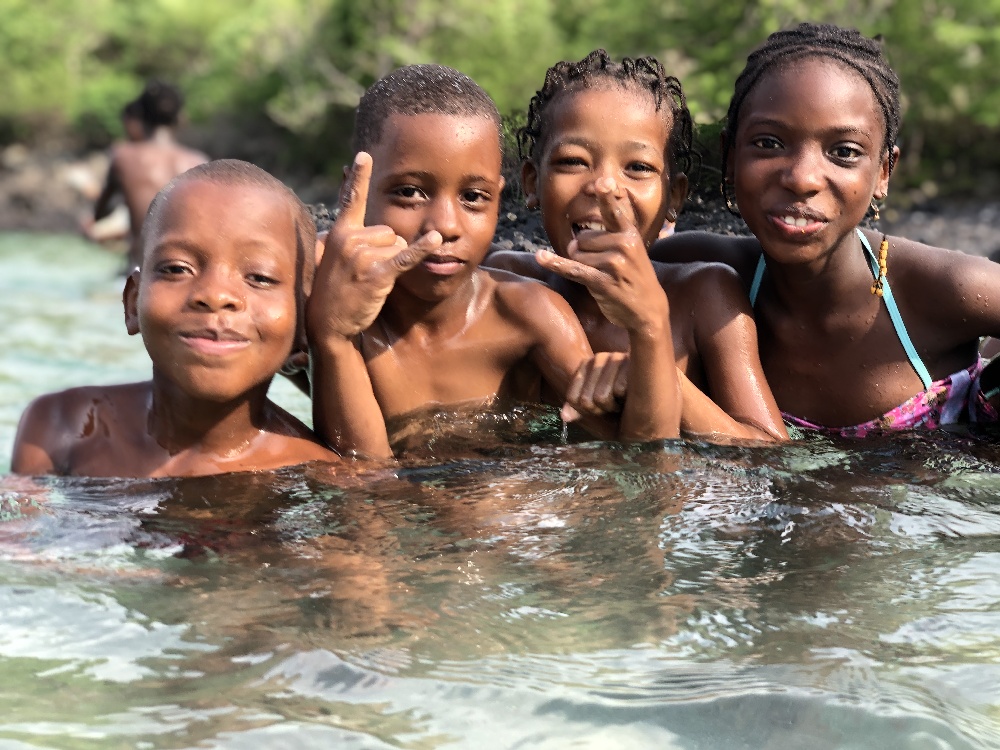 5. São Tomé e Príncipe (country #162)
My time in São Tomé was nothing short of a dream. The island is pure, unspoiled paradise. Remarkably, despite its plethora of beautiful beaches and outdoor activities, the country has not succumbed to floods of tourists. You won't find a Marriott or even a Holiday Inn on the island(s). No KFC or McDonald's either. A visit to the idyllic island(s) is like stepping back in time, especially when you drive through the little beach side villages and see kids riding their wooden scooters.
Pictured: Kids frolic in the crystal waters of Lagoa Azul.
See my full São Tomé e Príncipe story HERE.
6. Angola (country #180)
No doubt the biggest Lusophone country in Africa, I consider Angola the "daddy" of all other Portuguese-speaking countries in the continent. The thing that struck me most about its capital, Luanda, was the contrast between the old and new. Like the others, there were plenty of old colonial structures, but here they were dwarfed by the many giant steel and glass high-rises that rose up from behind. The capital also had plenty of North Korea-esque political signs, banners, mosaics and monuments.
Pictured: A very "soviet" style entrance to Fortaleza de São Miguel, complete with political mosaics on each side.
See my full Angola story HERE.
7. Macau (not a UN nation)
We'll count Macau as a bonus. Belonging to China, it's not its own country. The 45 square mile "special administrative region" of China is just a 50-minute ferry ride from Hong Kong. Sadly, I only spent but a couple hours in Macau–at nighttime–so didn't have too much time to soak in a lot of Portuguese, but the connection is apparent. From the black and white mosaic sidewalks, to the Portuguese names on store fronts, to the giant, colorful, flashing lights of Casino Lisboa – there's no denying the Portugal connection here.
Pictured: A nighttime stroll over the polished stones of a classic Portuguese-styled sidewalk.
Lusophone Links:
Here is a really well done Google "Arts & Culture" presentation on Lusophone countries.
Here's a "map" quiz you can take, if you think you can ID where the Lusophone countries fall on the globe.
Here's a deeper dive on the history and culture of each Lusophone country.