We rounded one tight corner and I swear a big truck missed our hood by a millisecond! My heart jumped out of my chest as I was certain this was a head-on collision. The big Jesus on the hill was watching over us – the vehicles missed each other by a hair.
—
Volver, Volver (To Return, To Return)
I'm a one-hitter-quiter when it comes to most countries – at least for the moment. I'm trying to finish all 193 nations of the world before I back-track and revisit some of my favorite places. So why have I been to Colombia so many times?
Besides Brasil (where I took up residency for years), and obviously Mexico (my neighbor), I'm pretty sure as countries go, Colombia is the place I've been to most, and the country where I've visited the most cities. It was the very last country in South and Central America (The Americas) I'd check off back in 2015, when I visited Bogota, Barranquilla and Cartagena in one shot. In 2018, I found myself at a work conference in Florida, where the cheap and quick flight to Medellin was just too easy not to take advantage of. And this weekend, I had some extra time in Panama, and the flight to Cali and back was just too perfect not to nab. I'd get in Saturday night, have all day Sunday to explore, and then jump on an early morning Monday flight back to PTY, just in time for my business meeting at 9:30AM. This weekend's trip to Cali would finish out the country's five biggest cities.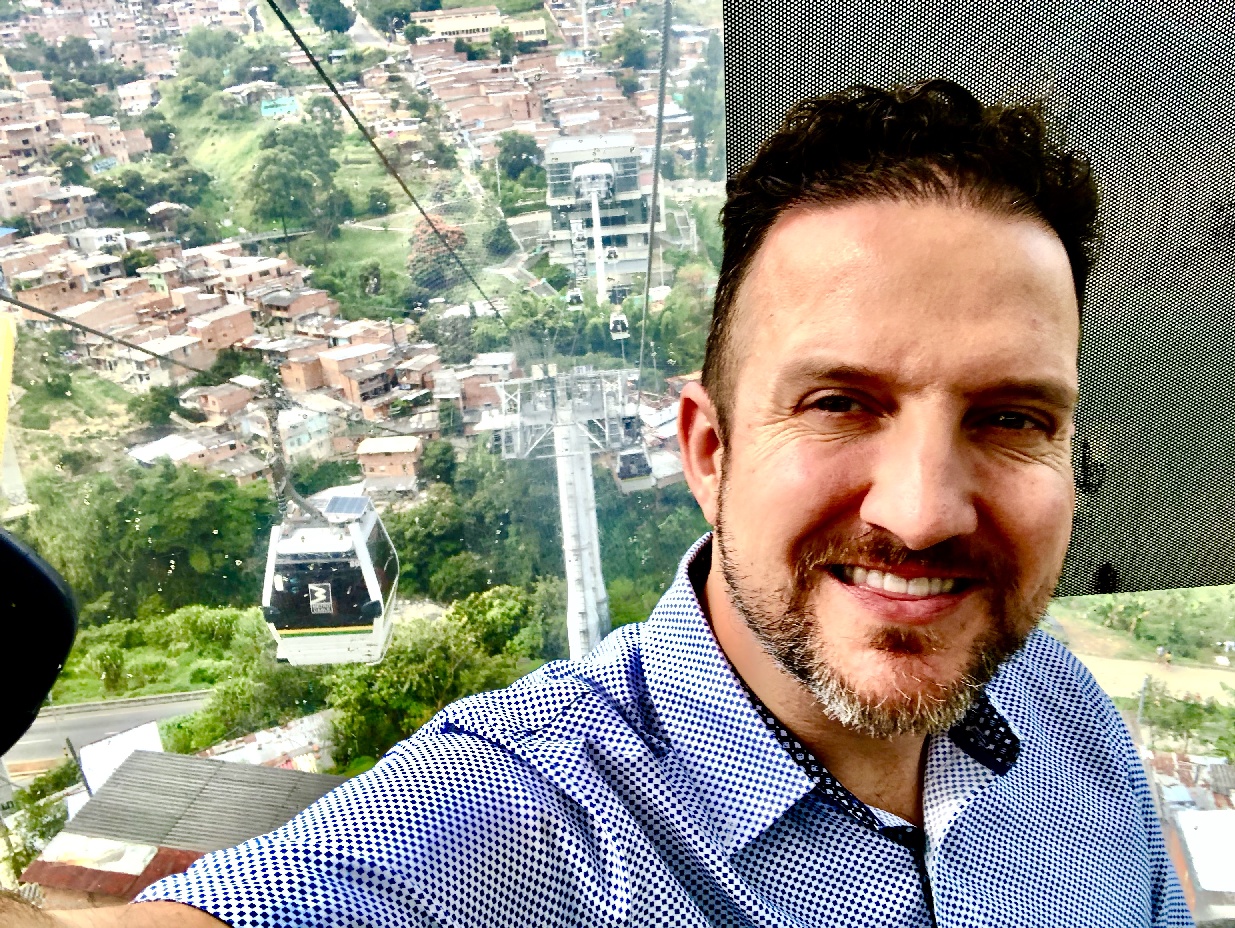 Knocked Out
By the time I arrived into Cali I was completely exhausted. The red-eye from San Diego through Atlanta and Panama City, with long layovers had me punchy and delirious. The room service spaghetti and two Unisoms hit the spot and helped me clock in a beautiful (and much needed) ten-plus hours of slumber. I slept a little later than I wanted to, but woke up feeling like a champ. I had only one full day to take in Cali and now I was ready.
I stayed at the Four Points by Sheraton. You can check out hotels in Cali HERE.


The day began with a walk along the water – the Cali River flows right through the center of town. I loved all the grass, trees, gardens and parks along the way. There were a significant amount of homeless in the area, but none of them bothered me. I got a great look at the magnificent Iglesia La Ermita before moving on.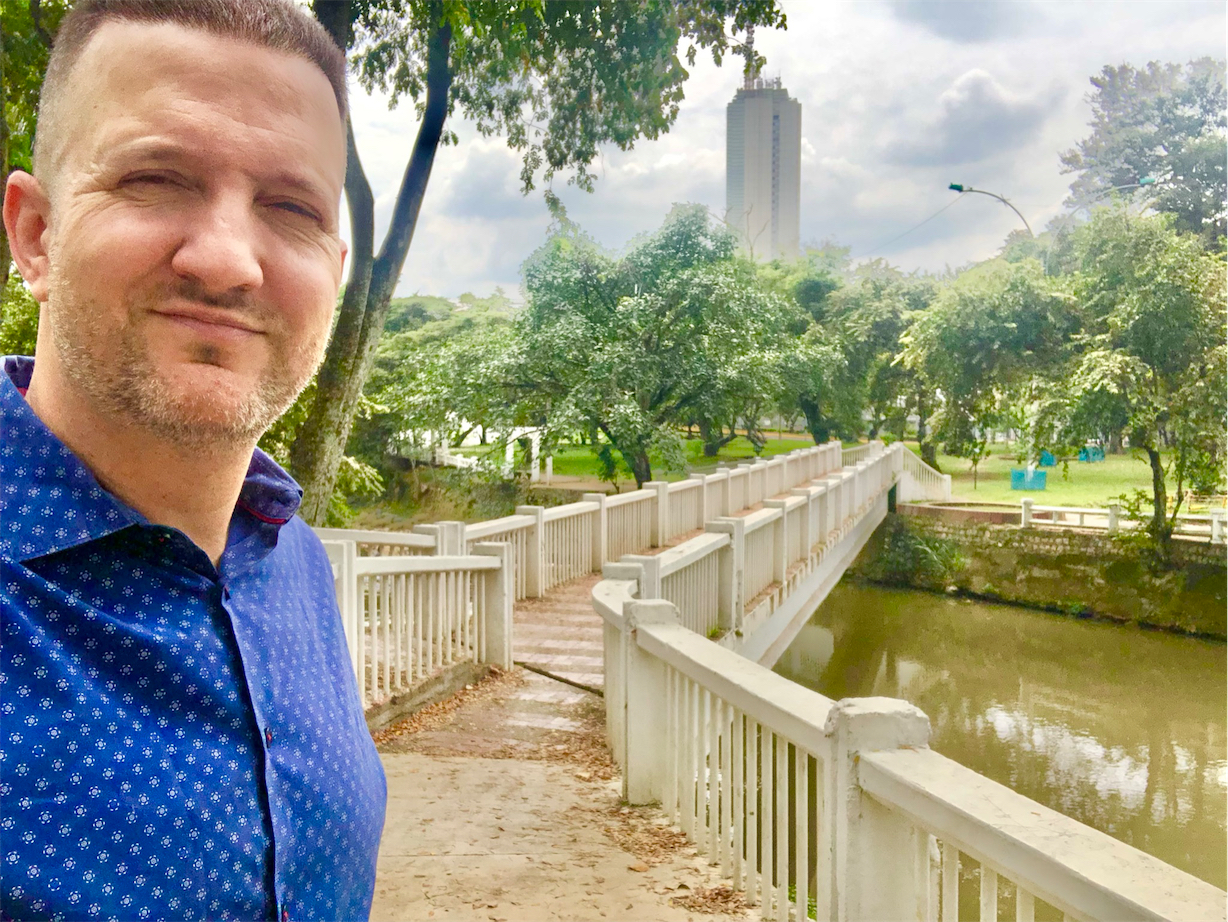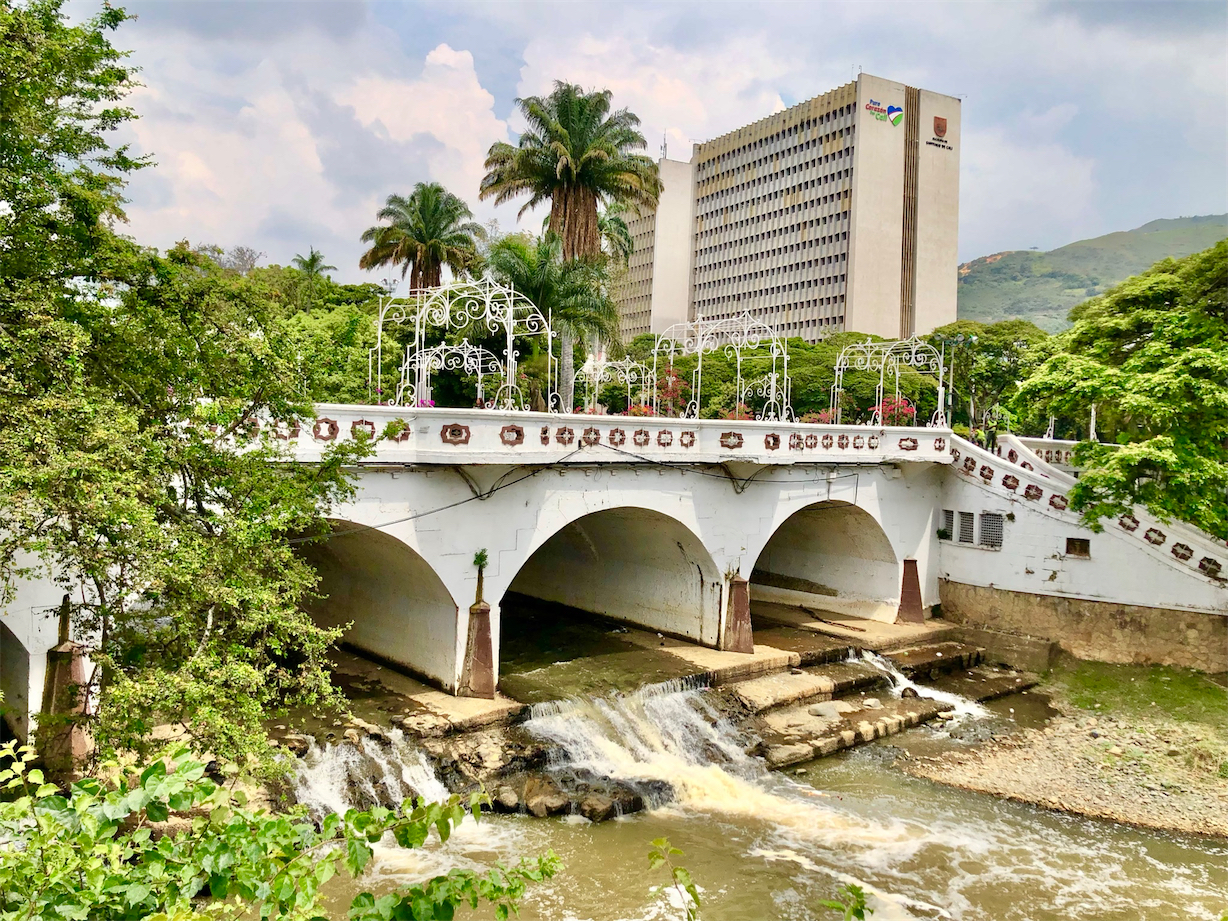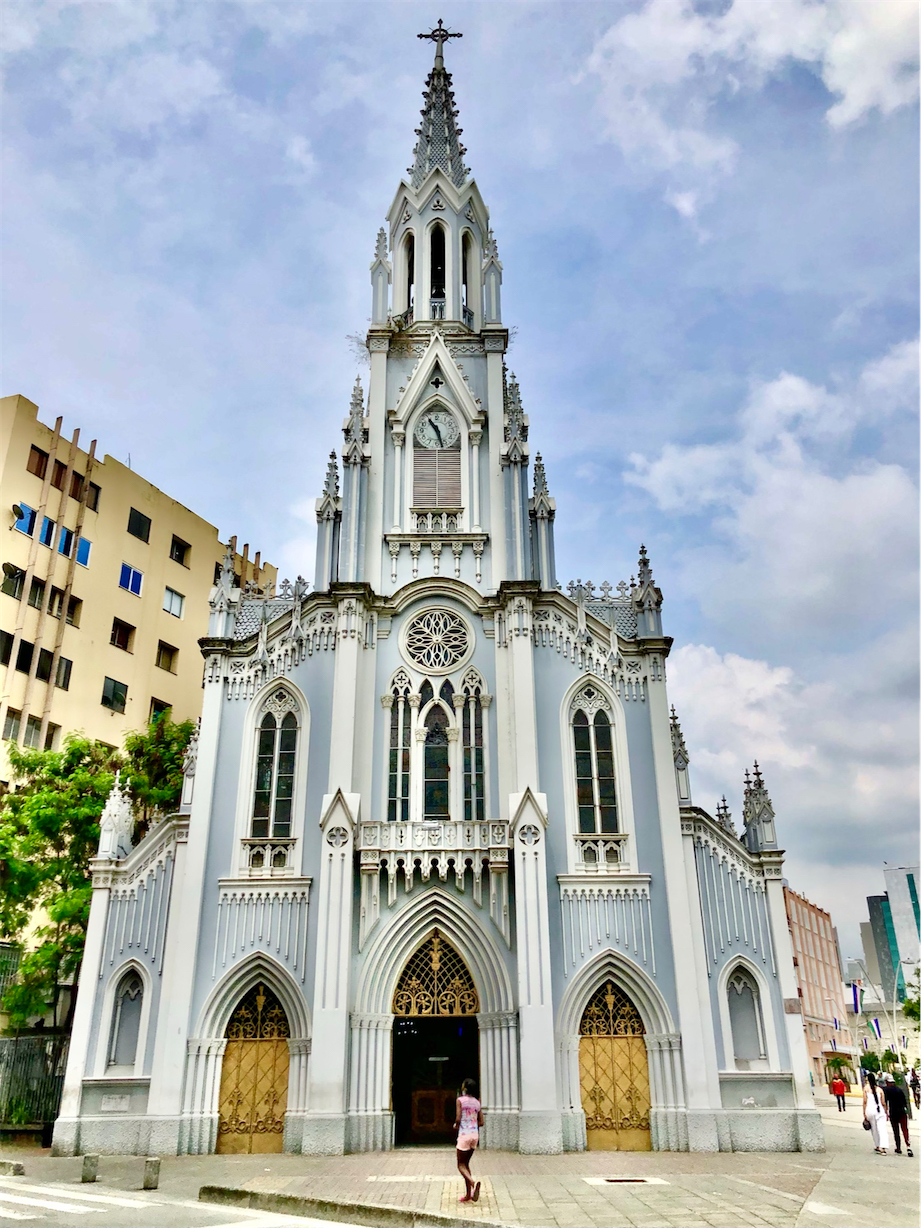 Cat's in the Cradle
Parque el Gato de Tejada or "Cat Park" was definitely one of the highlights of the morning. Situated along the river is a windy, gravel trail, featuring giant statues of cats along the way. Big, beautiful cats! Every kitty is very different from the last, each one created by a different artist. A plaque explaining each feline's "story" accompanies every piece. My favorite was the Siete Vidas cat: a feline covered in bandages, a cast and an eyepatch. Only two lives left – this poor cat has been through the ringer!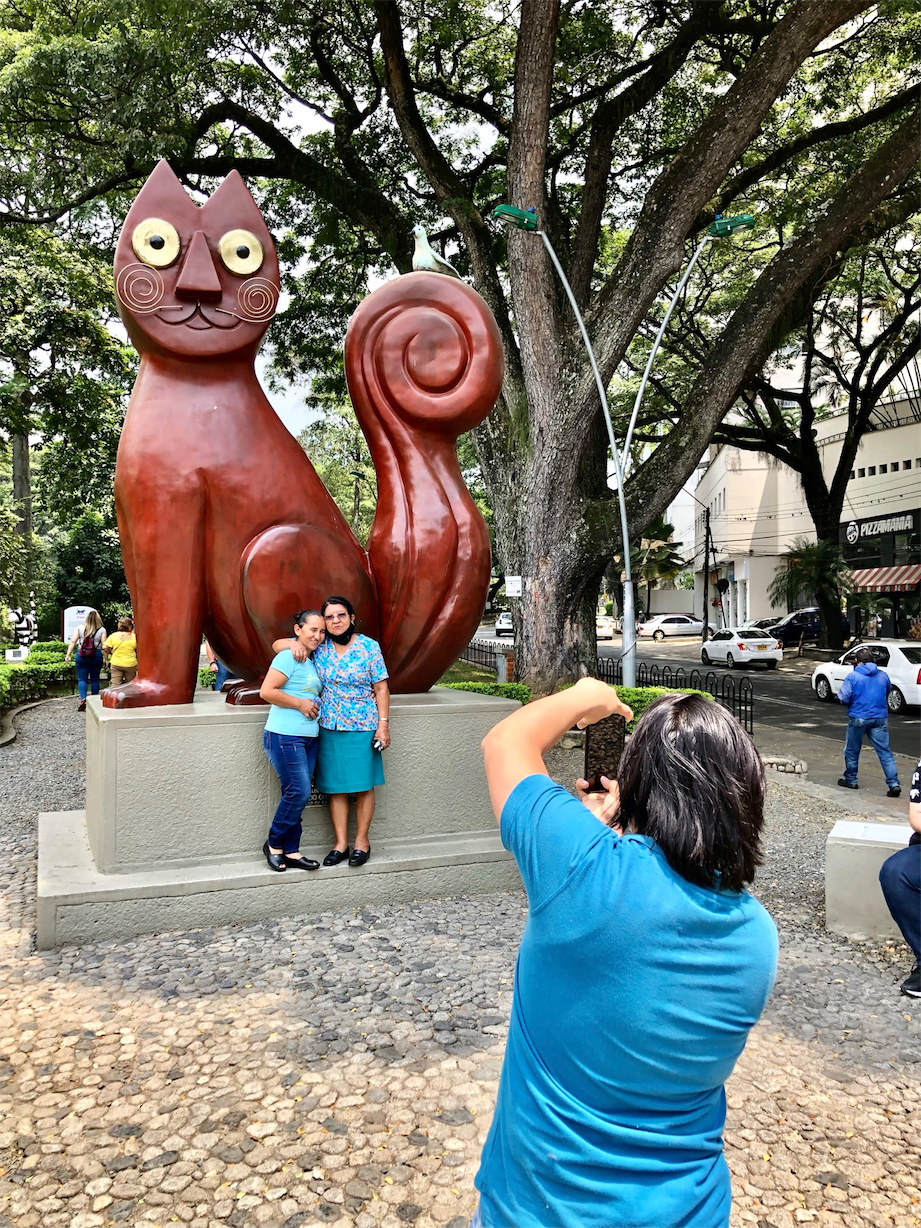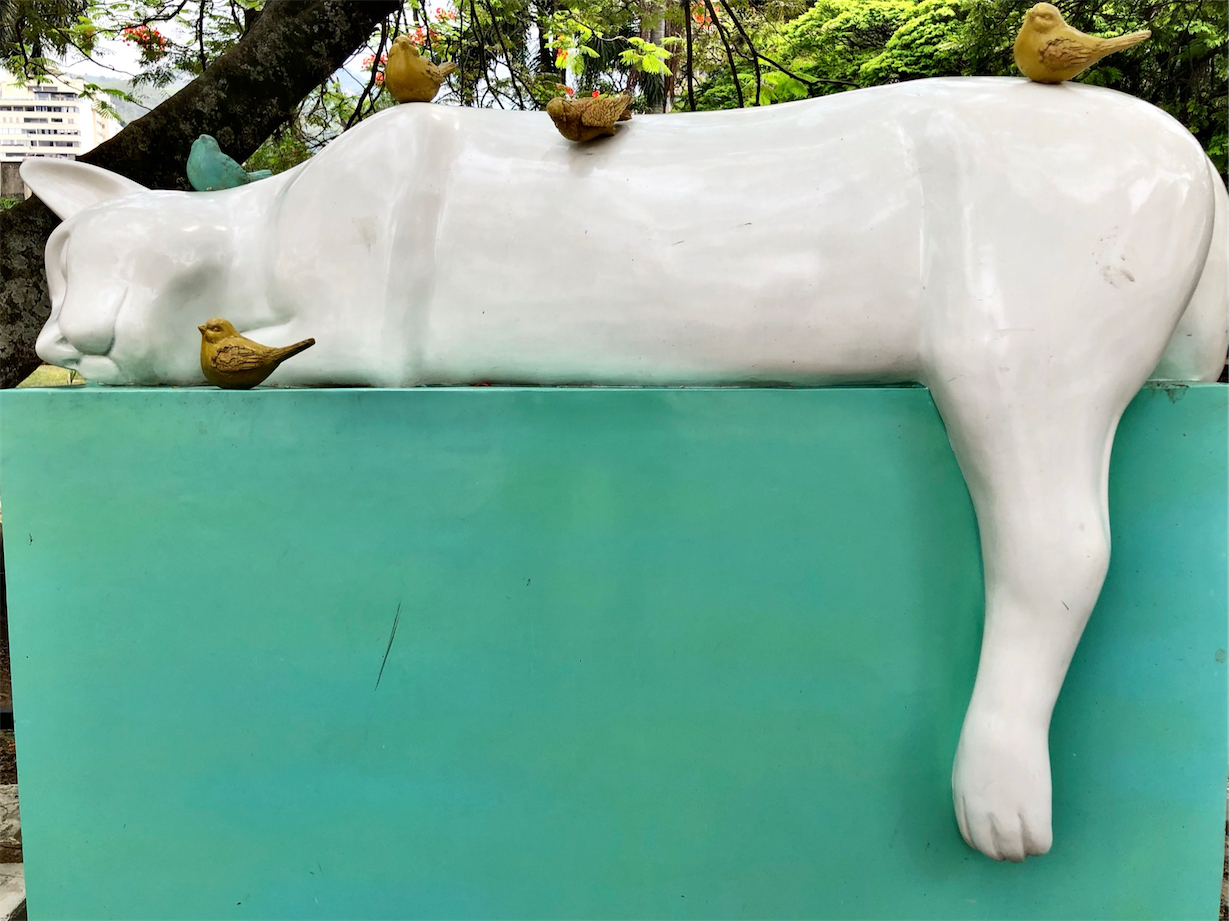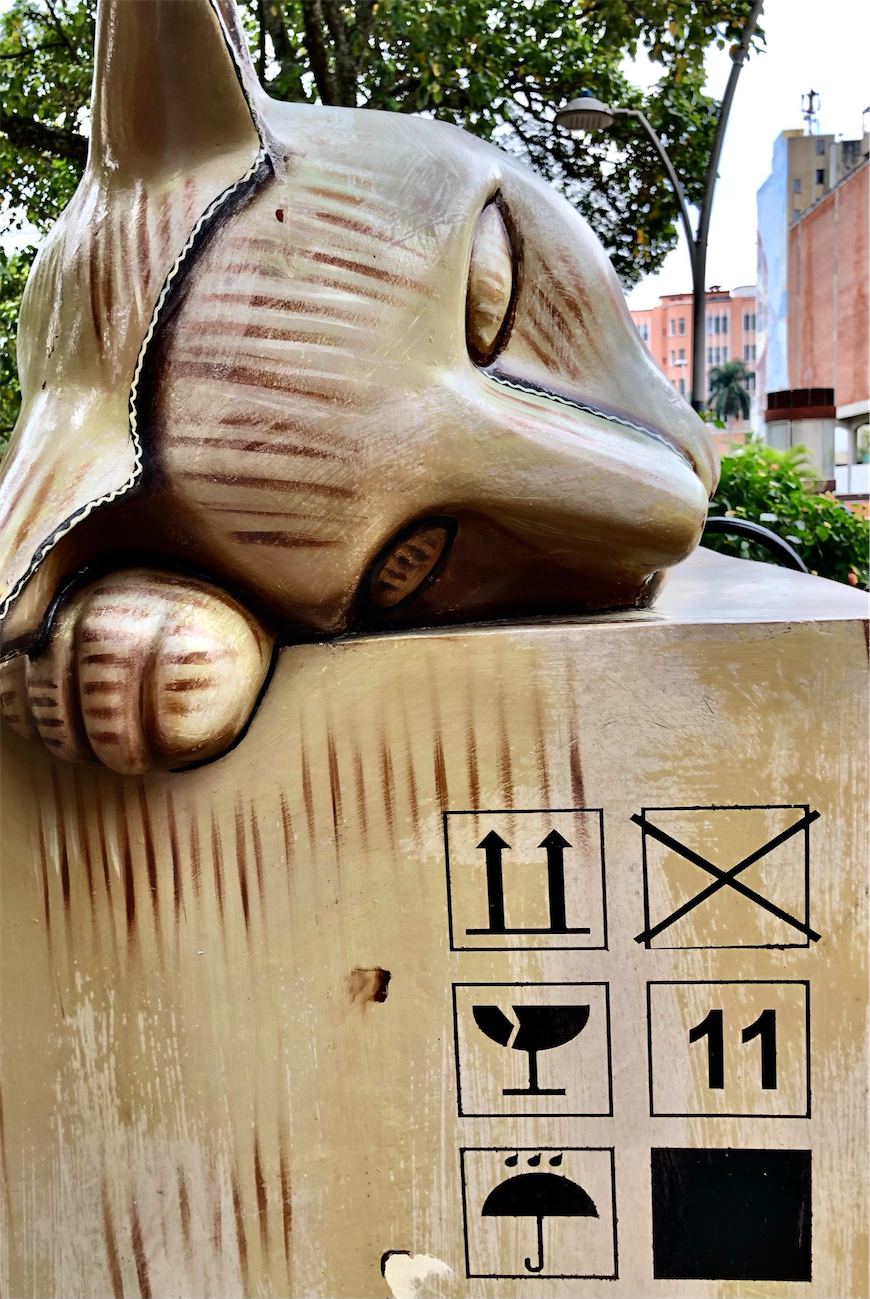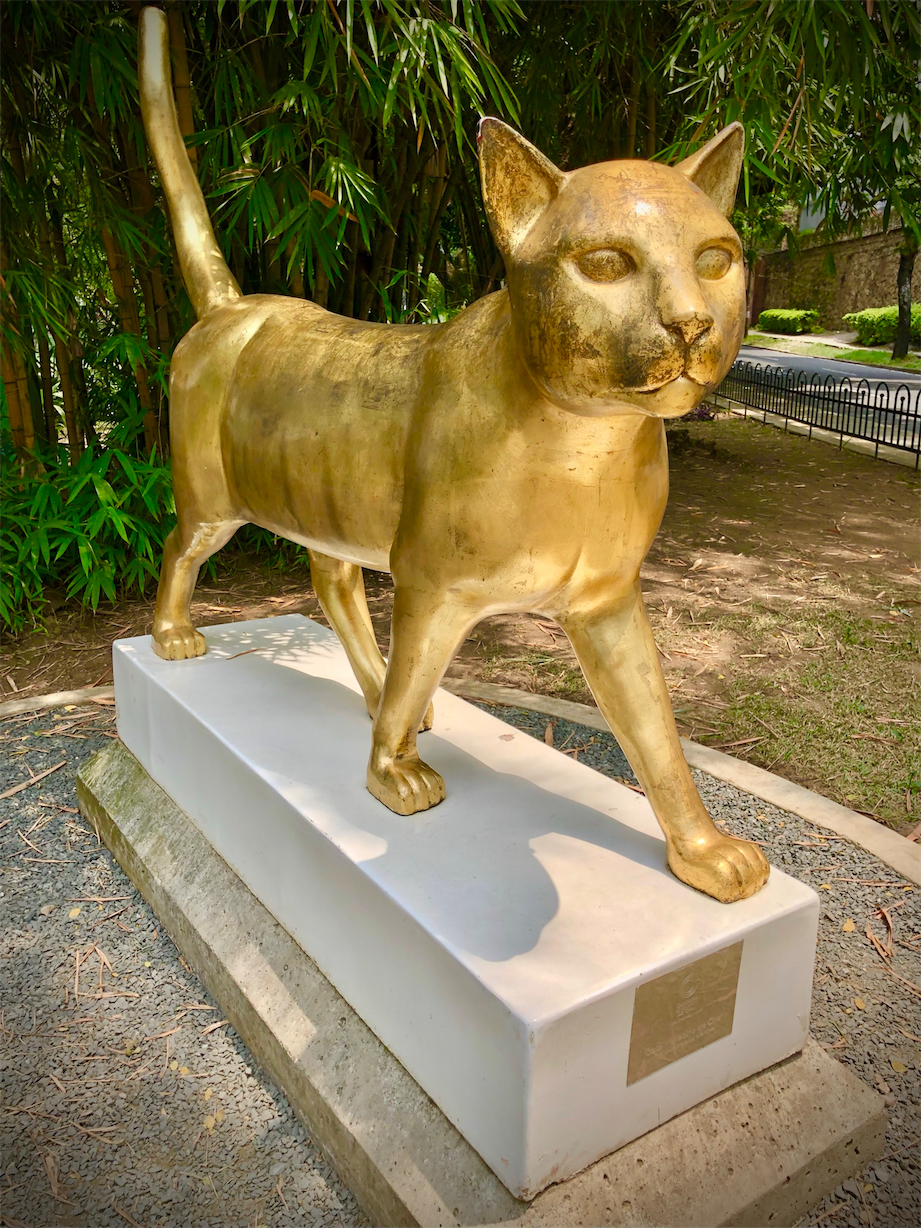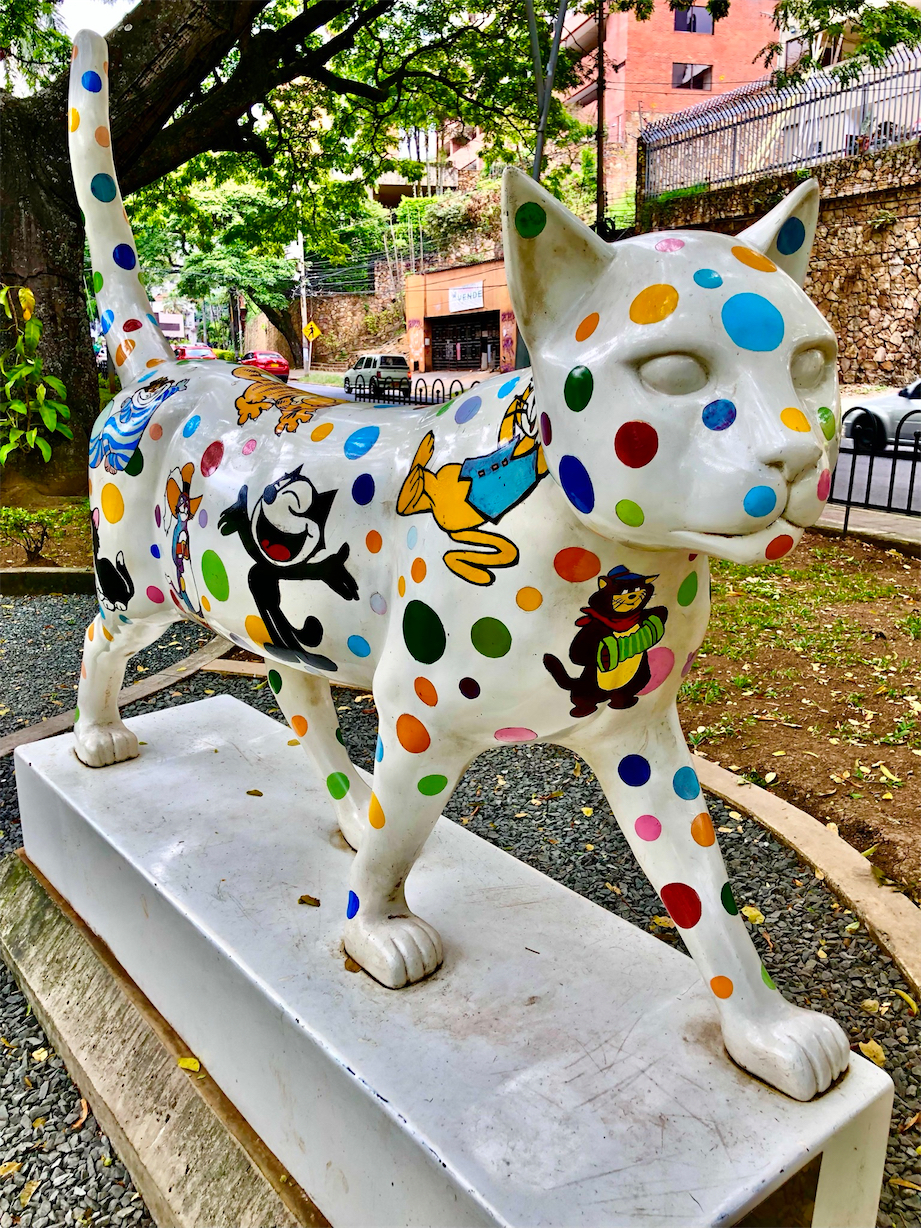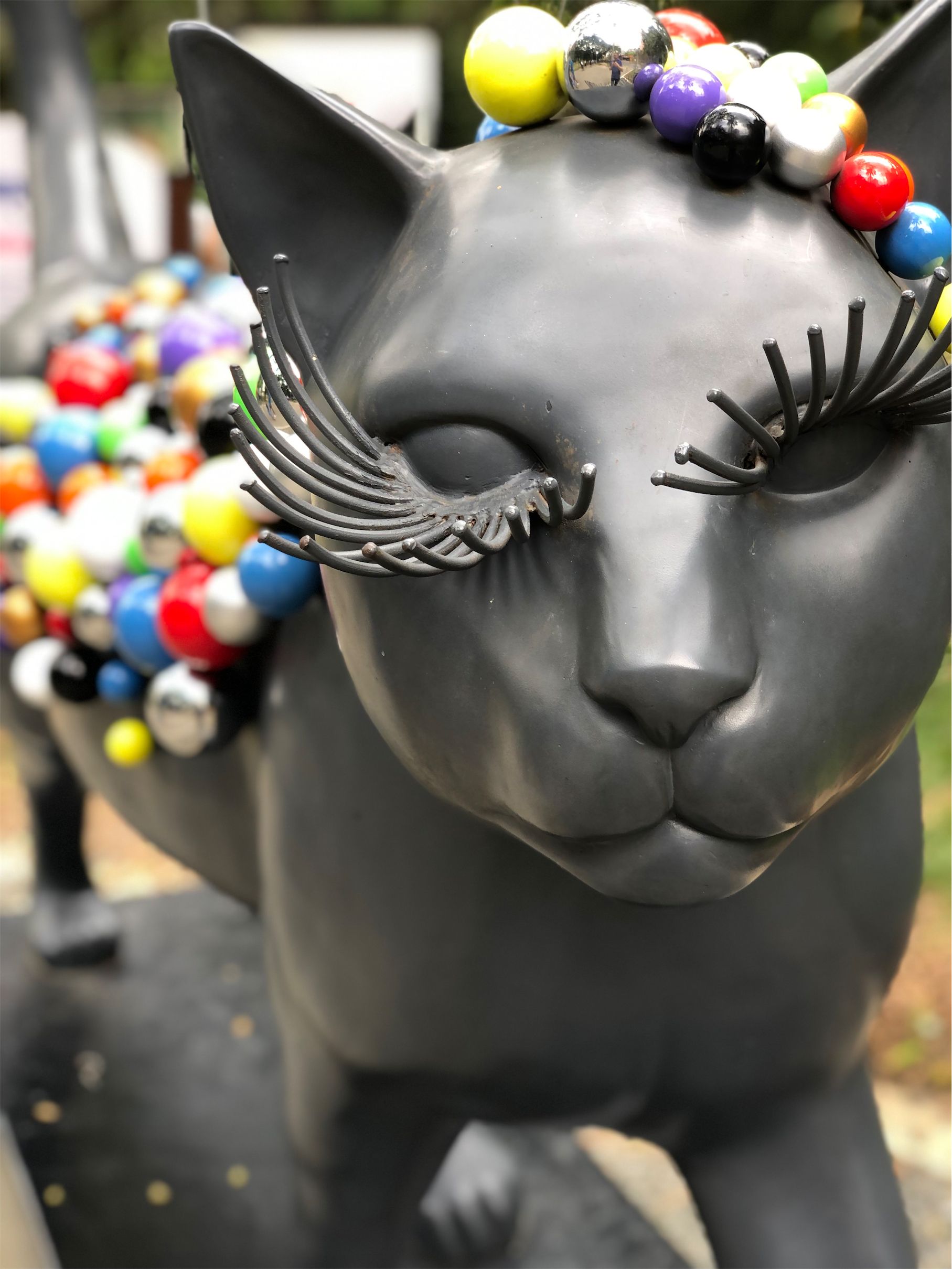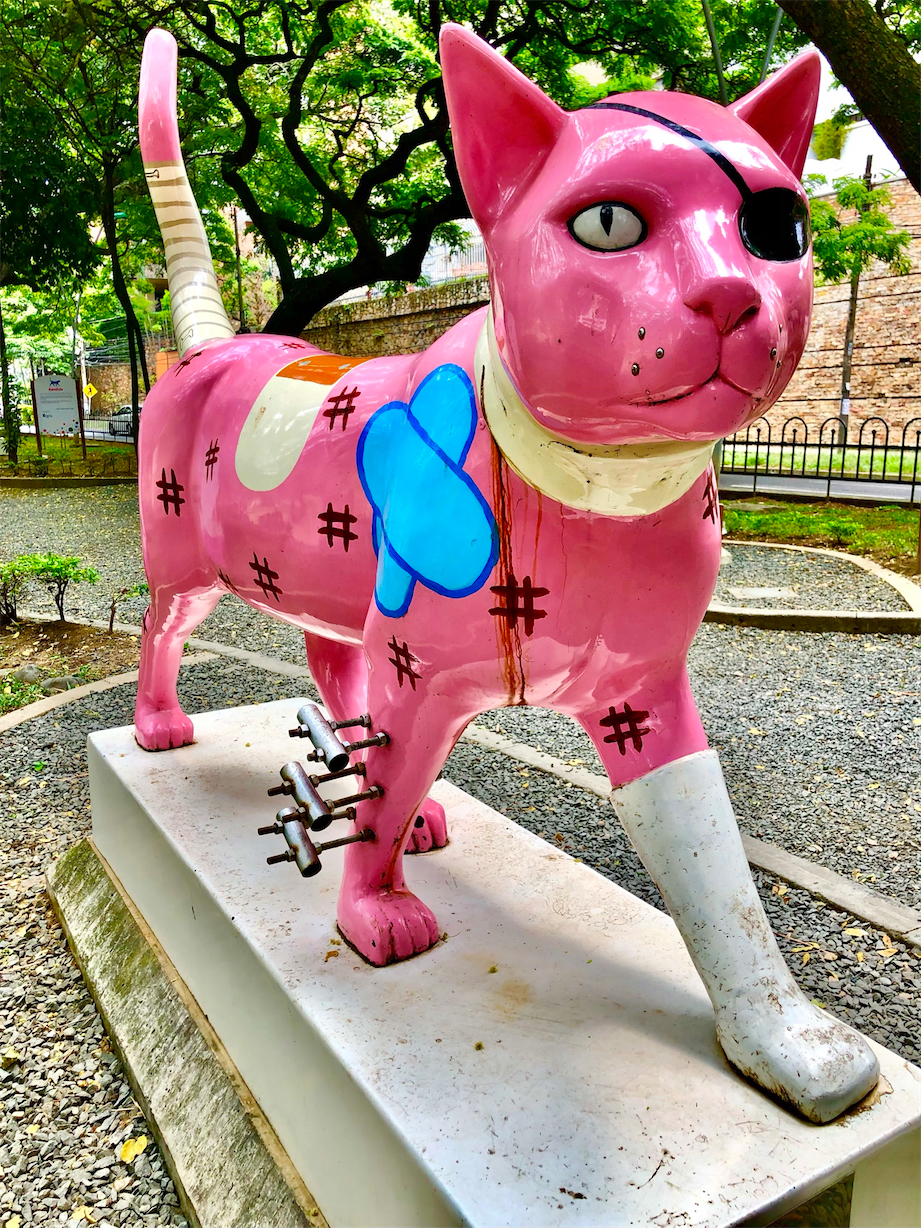 Cerrado on Sunday
I enjoyed roaming the streets of Cali, but most shops were shuttered since it was Sunday. I imagined how crowded and chaotic the city might have been if it were a weekday. I passed a half dozen really cool looking cafés – all closed. I was beginning to think I made a mistake coming to Cali on a Sunday. I made my way over to Barrio San Antonio for a stroll through the old neighborhood. Sadly, most of the storefronts there were sealed tight, too. I did enjoy looking at all of the quaint and cool casas lining the hills of San Antonio. A beautiful neighborhood!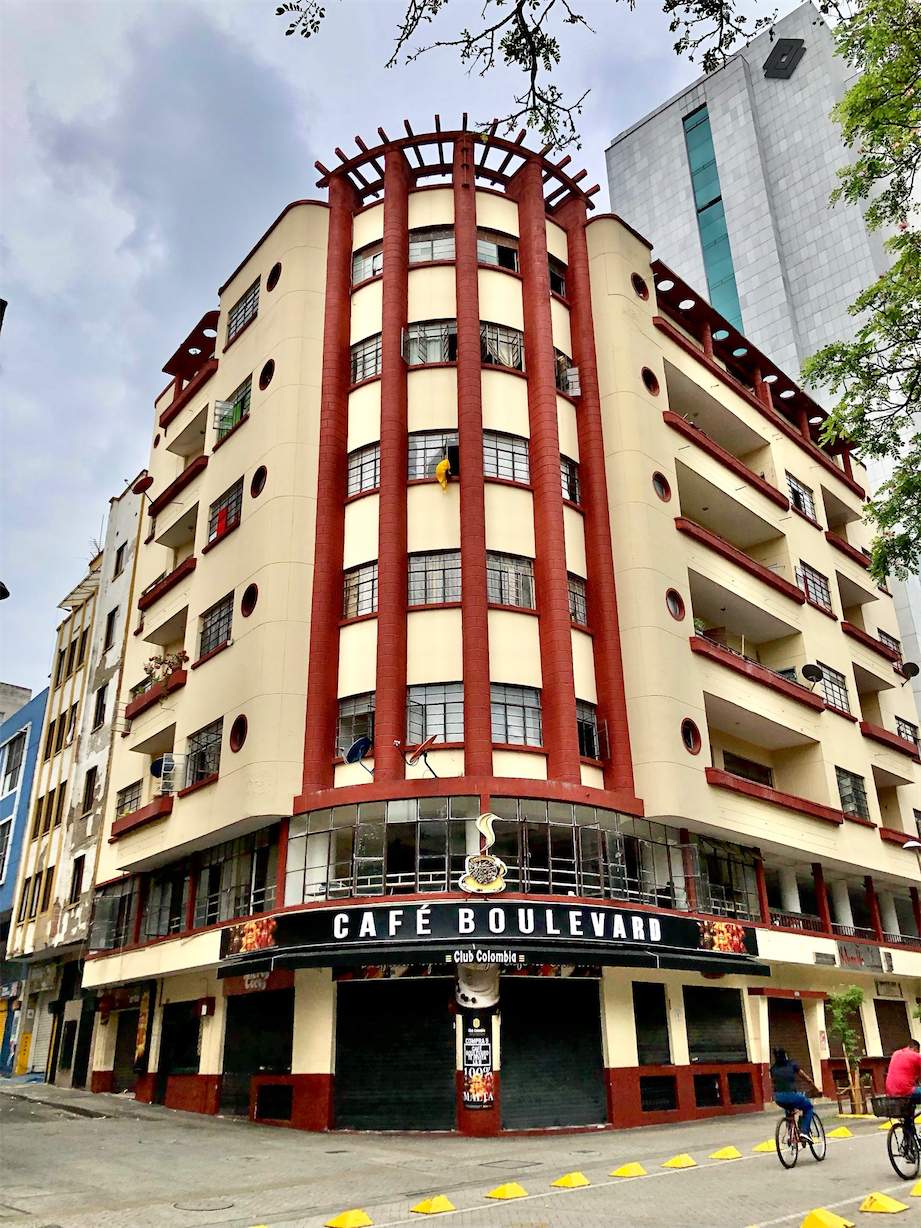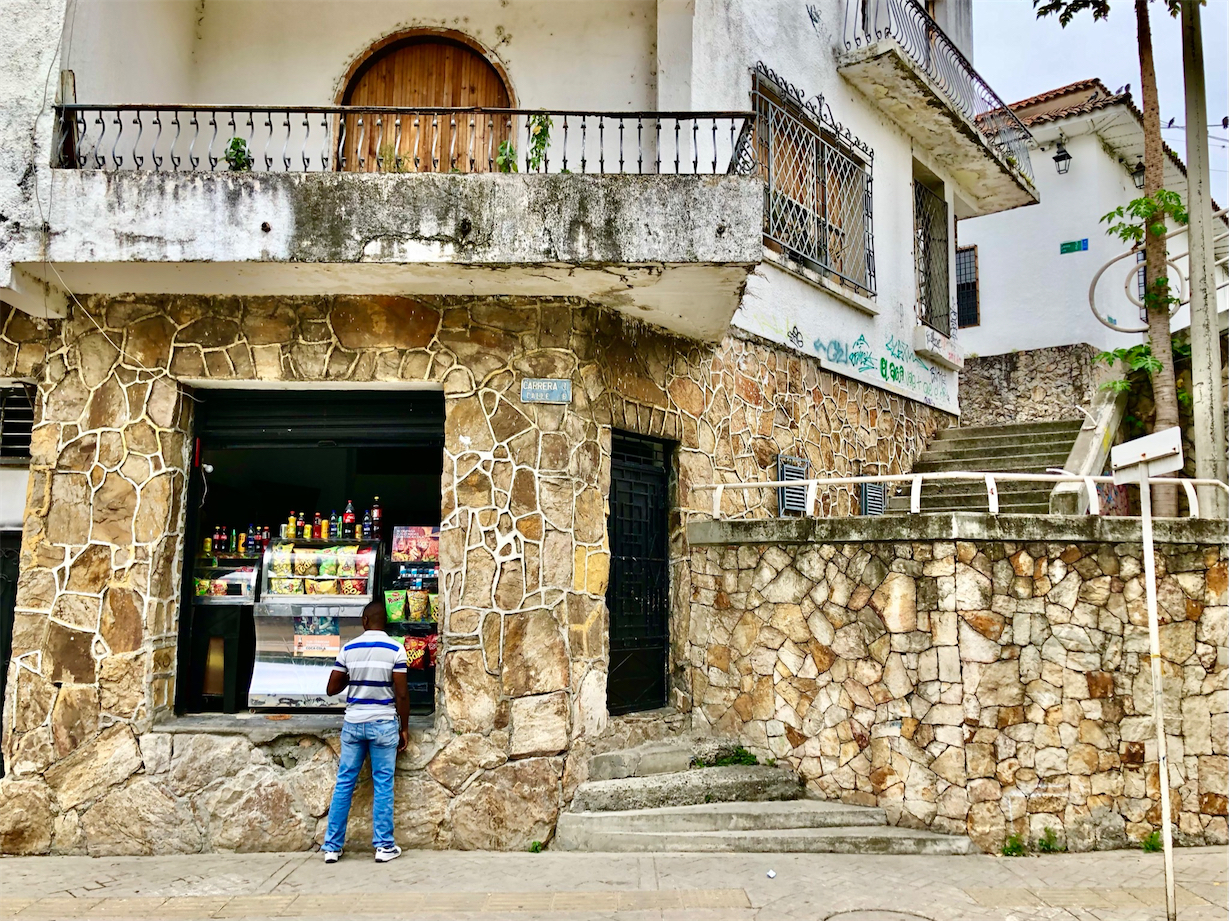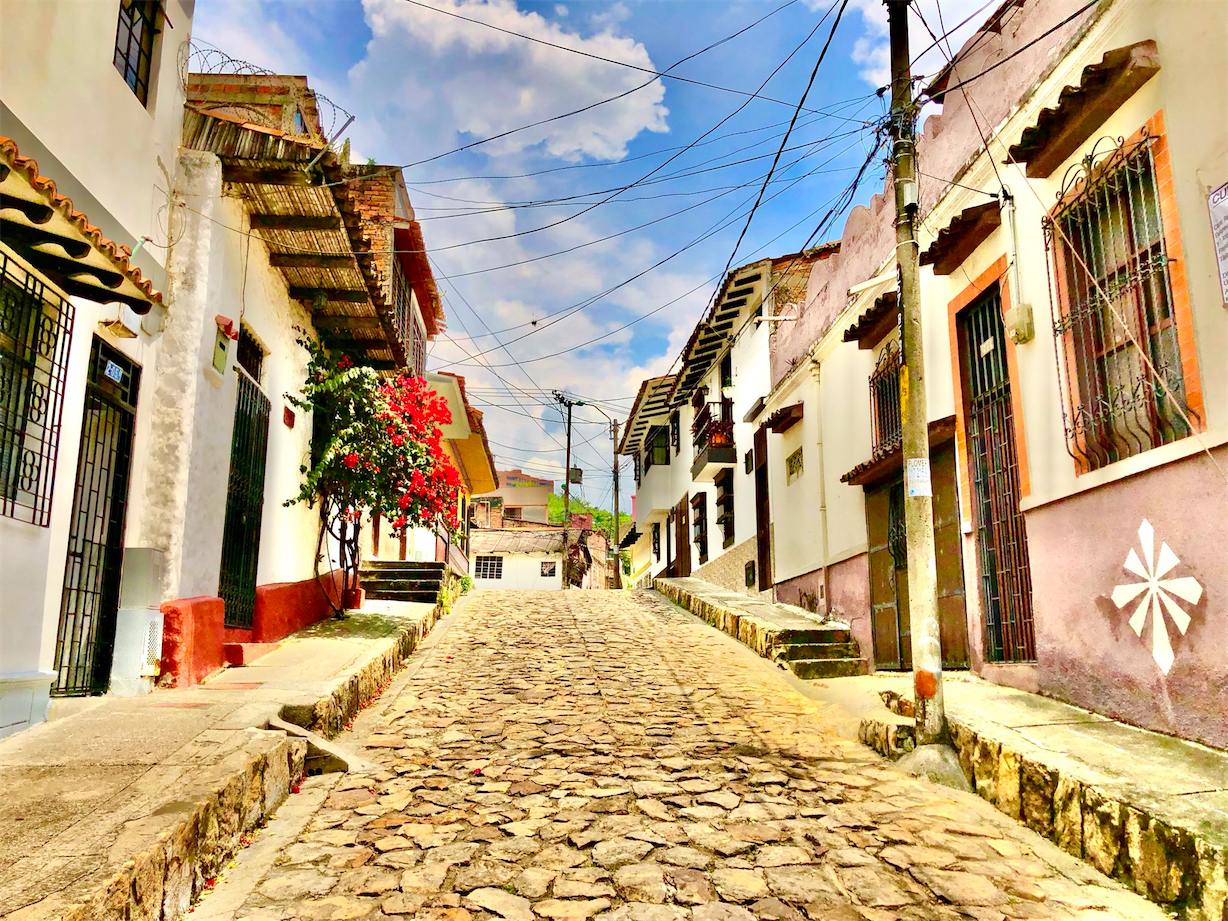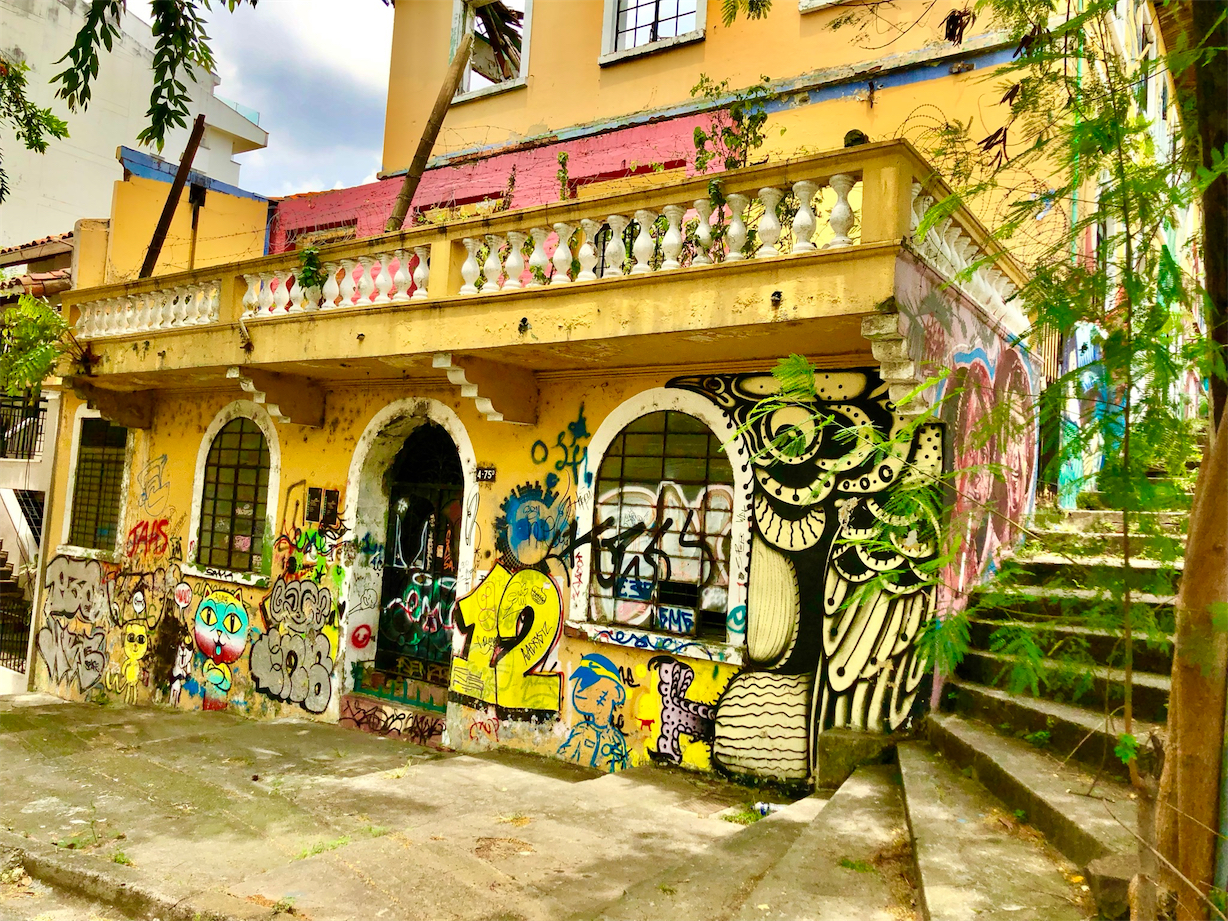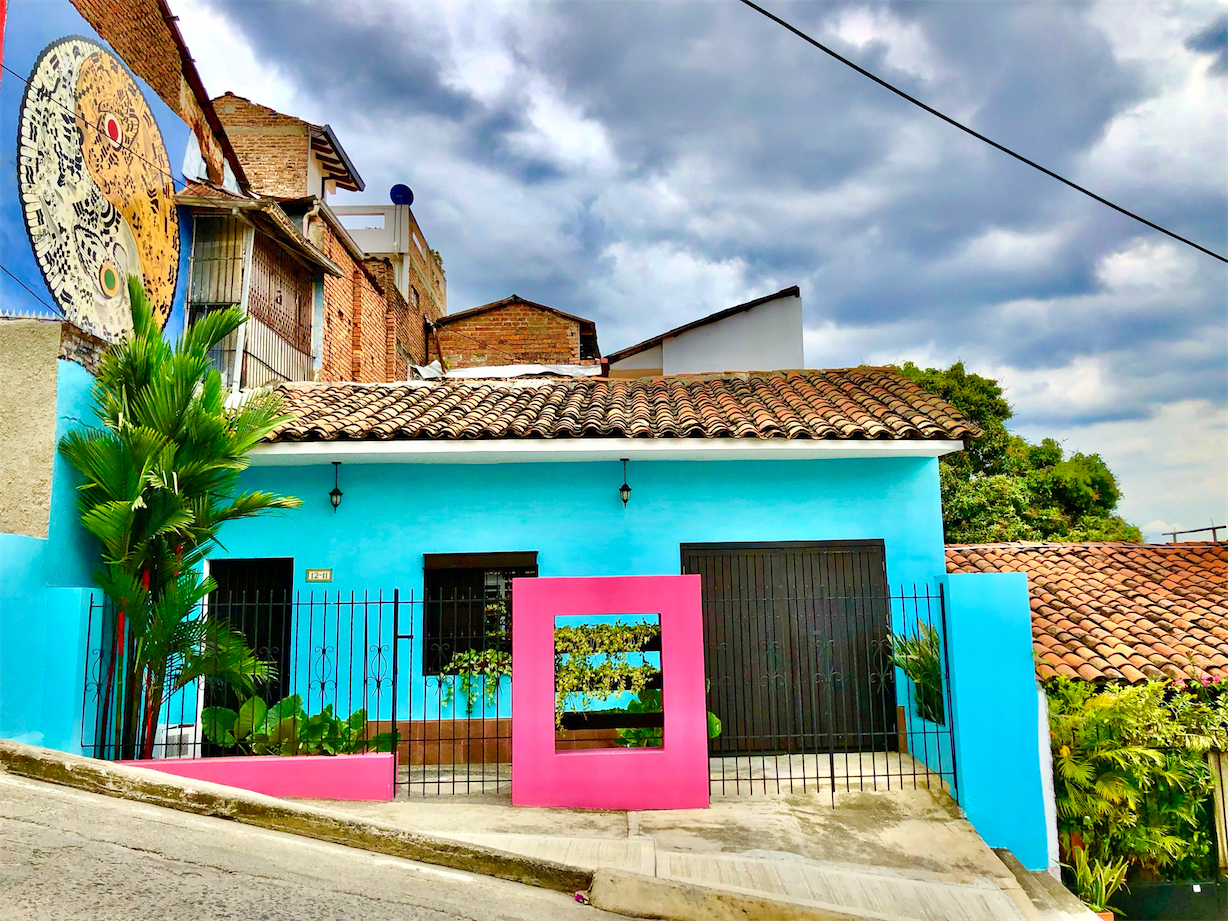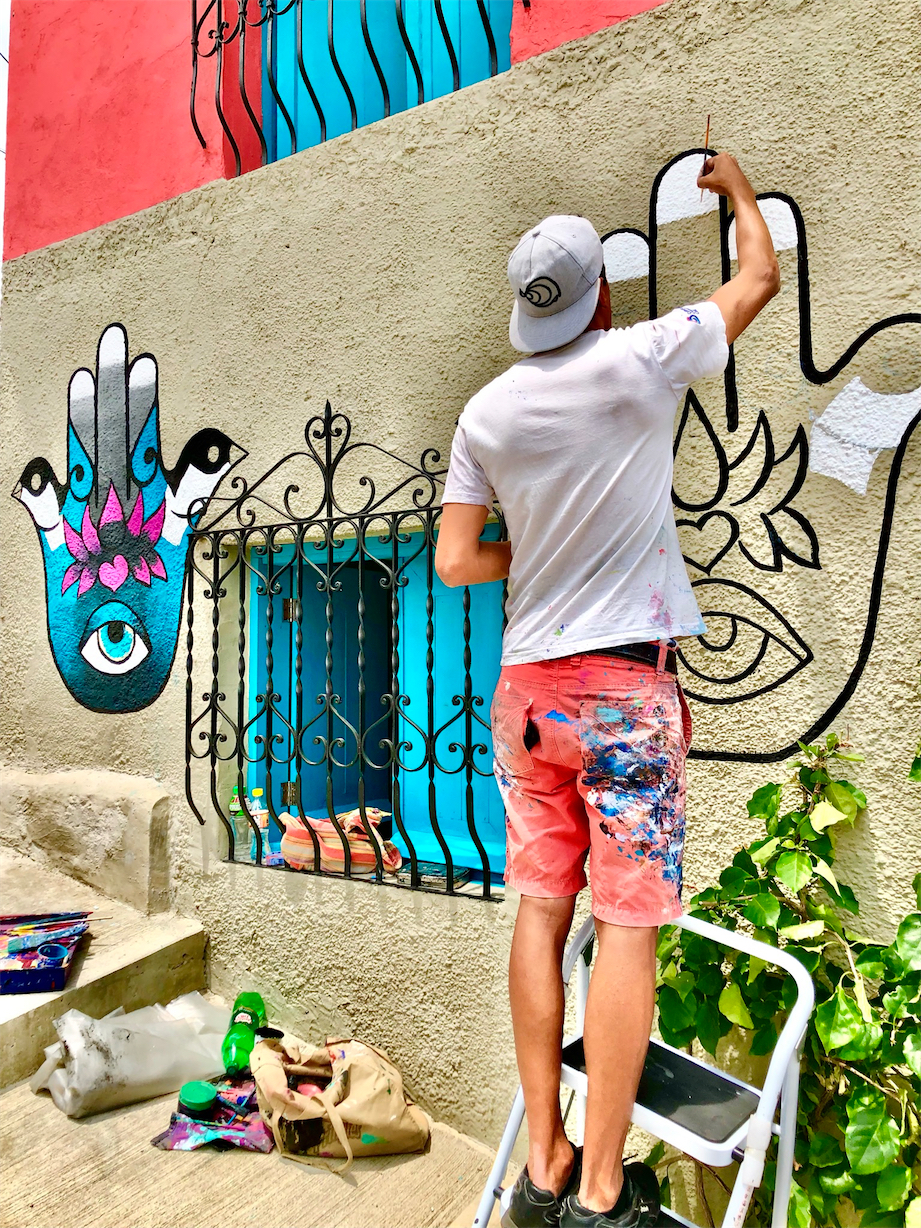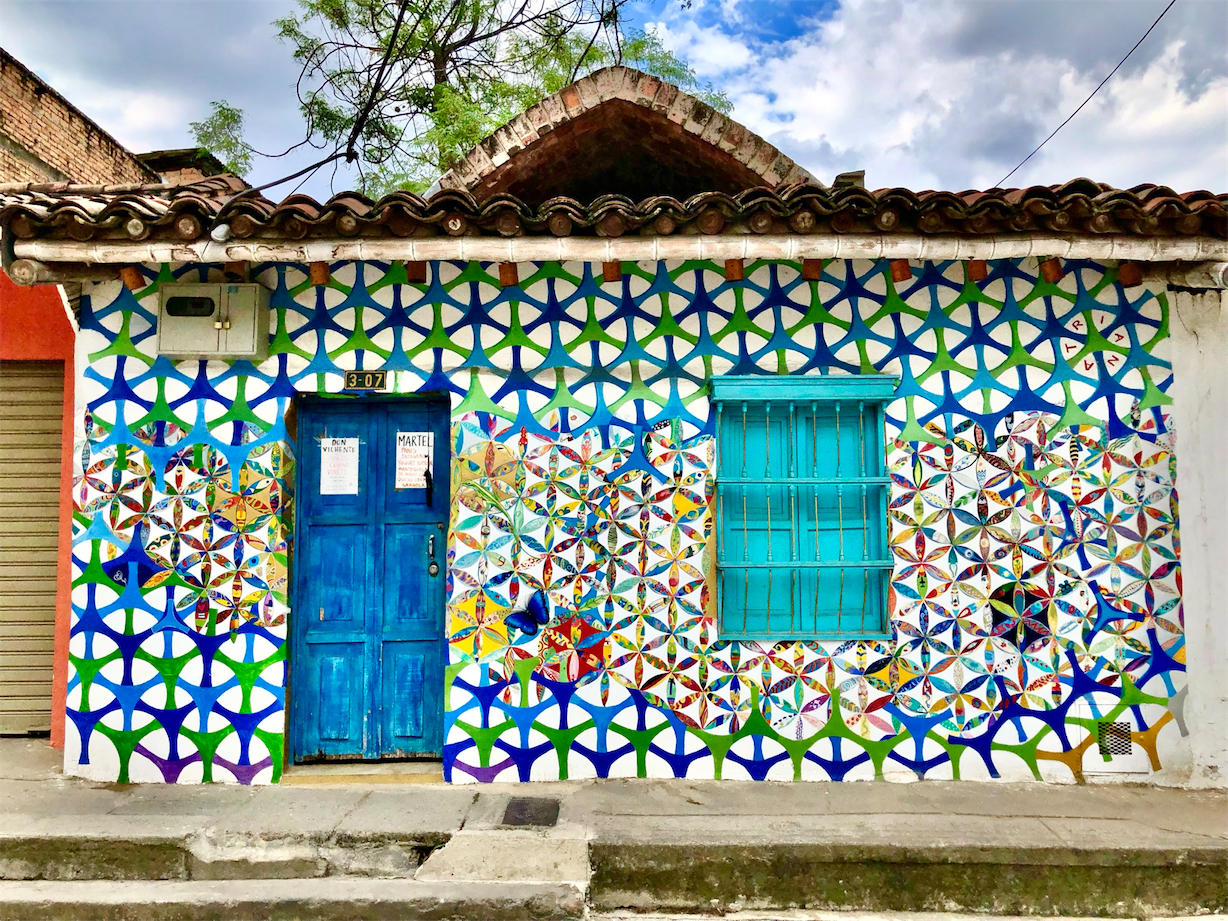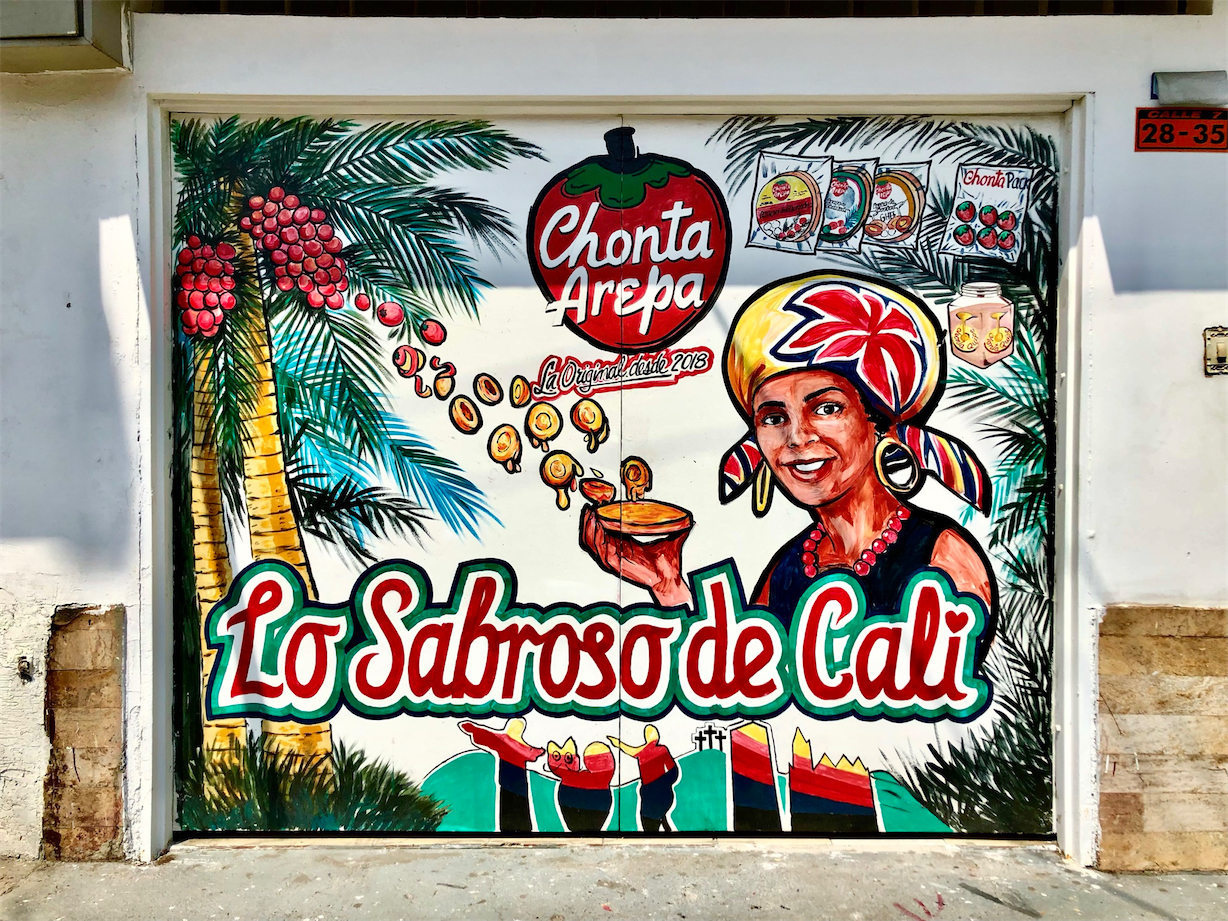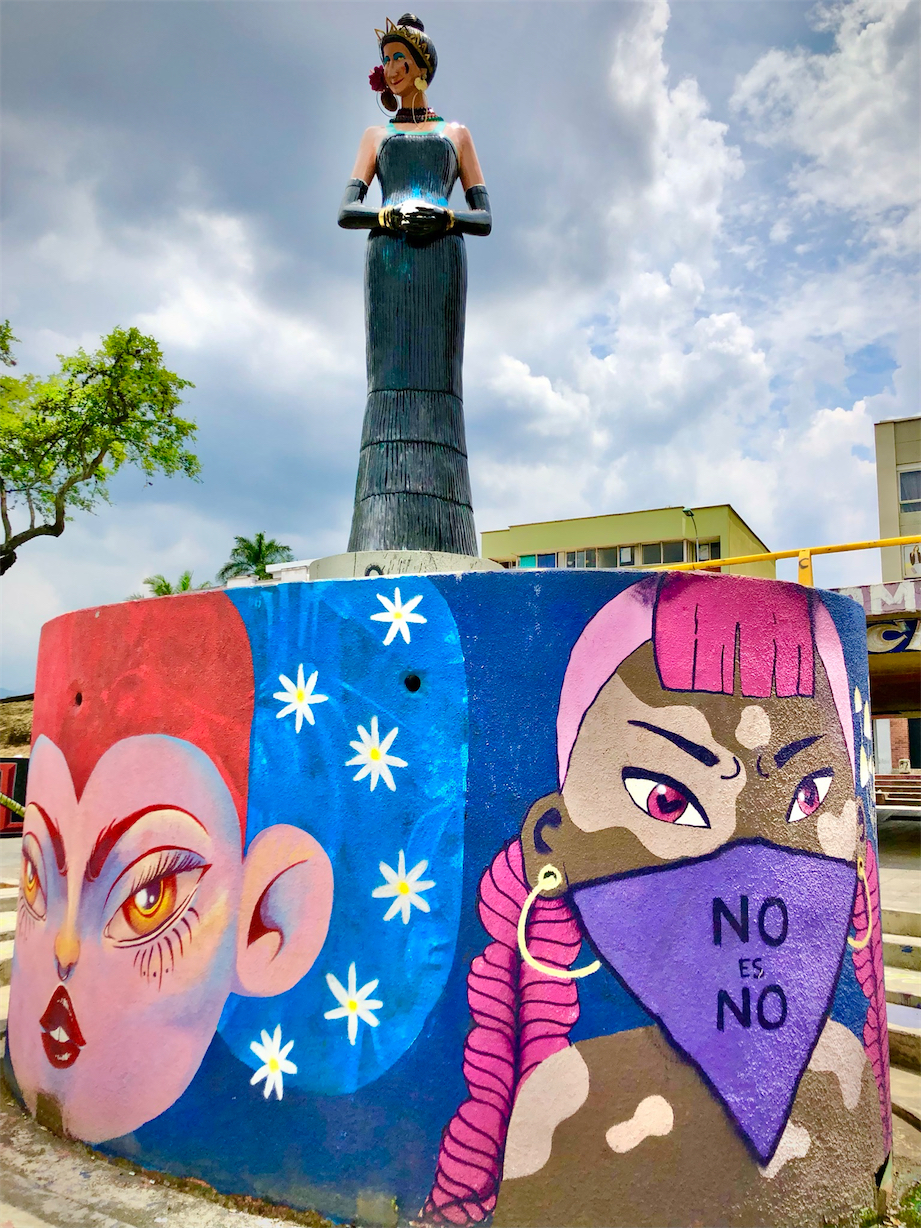 ¡Por Fin! Some Action…
Finally, and totally by mistake, I wandered smack dab into the middle of some action. Suddenly, I was on Carrera 26 – a street lined with little seafood restaurants (cevicherias), cafés and bars. It was not on my agenda nor in my notes – a total coincidence I stumbled upon this area. It, unlike the previous streets on my path, was humming with action. It got even better when I discovered the doorway to Plaza de Mercado Alameda. Jackpot.
Not only was Mercado Alameda a nice market, but it was about to get sabrosura! While perusing the aisles of meat, fruits and vegetables, I heard music in the distance – it was only natural for me to follow the sound. Soon I was sipping a latte and grooving to the sounds of a tropical quartet. As lively as the great music, were the people in the market, who danced, hollered and applauded the band. The audience was so into it! The scene was right out of a movie and I felt so blessed I stumbled upon it.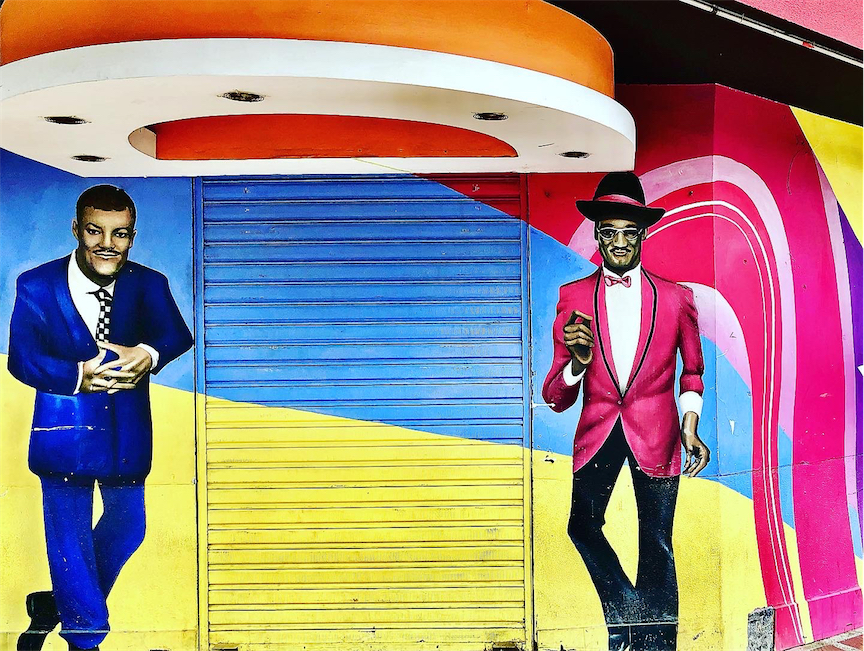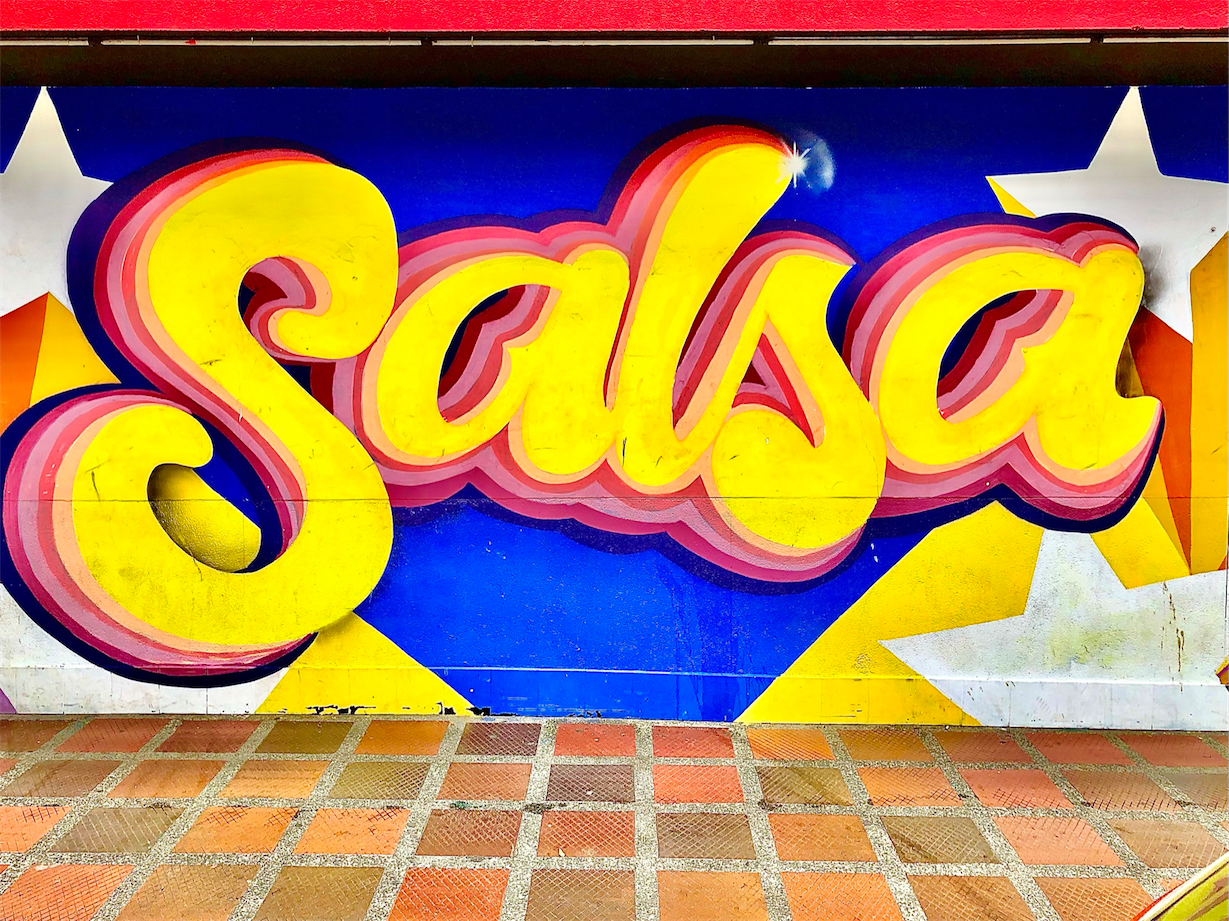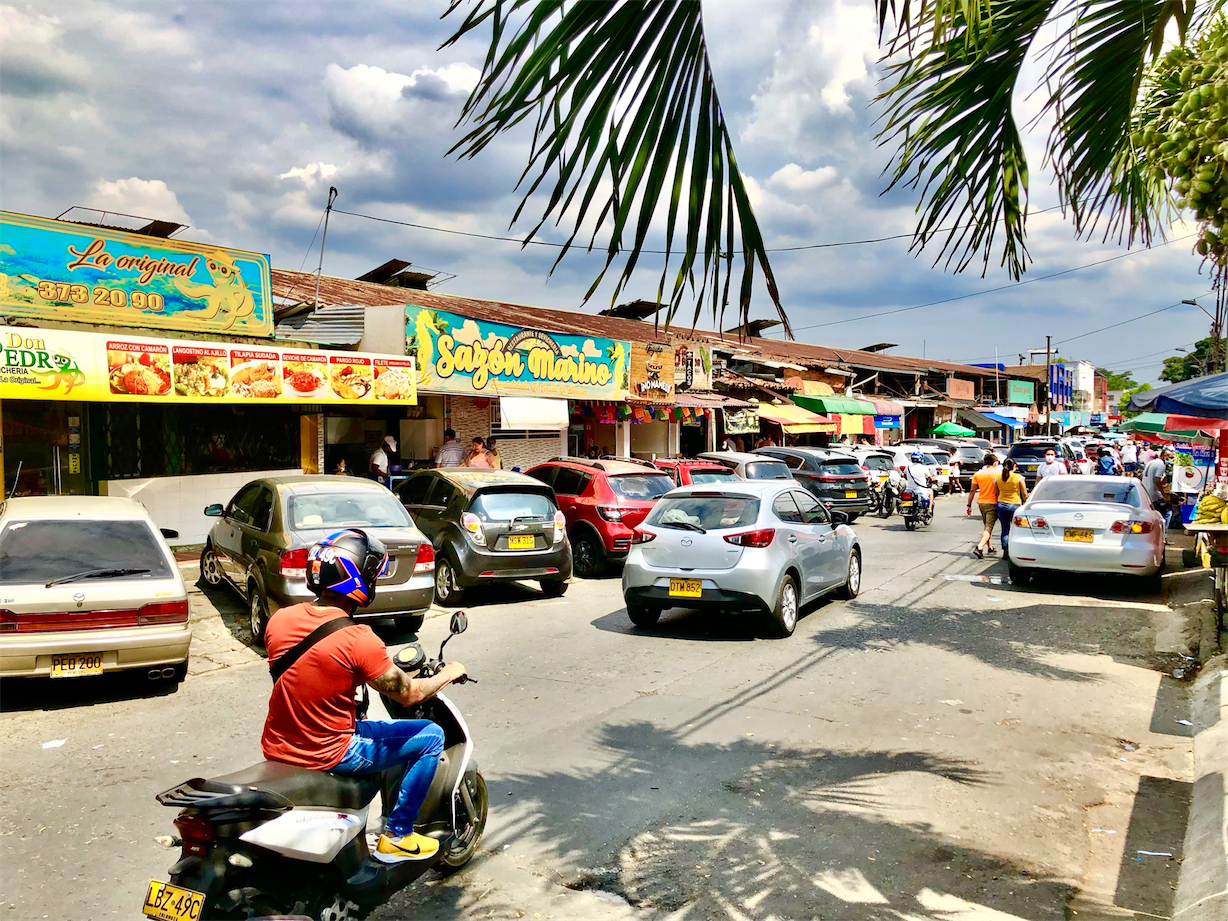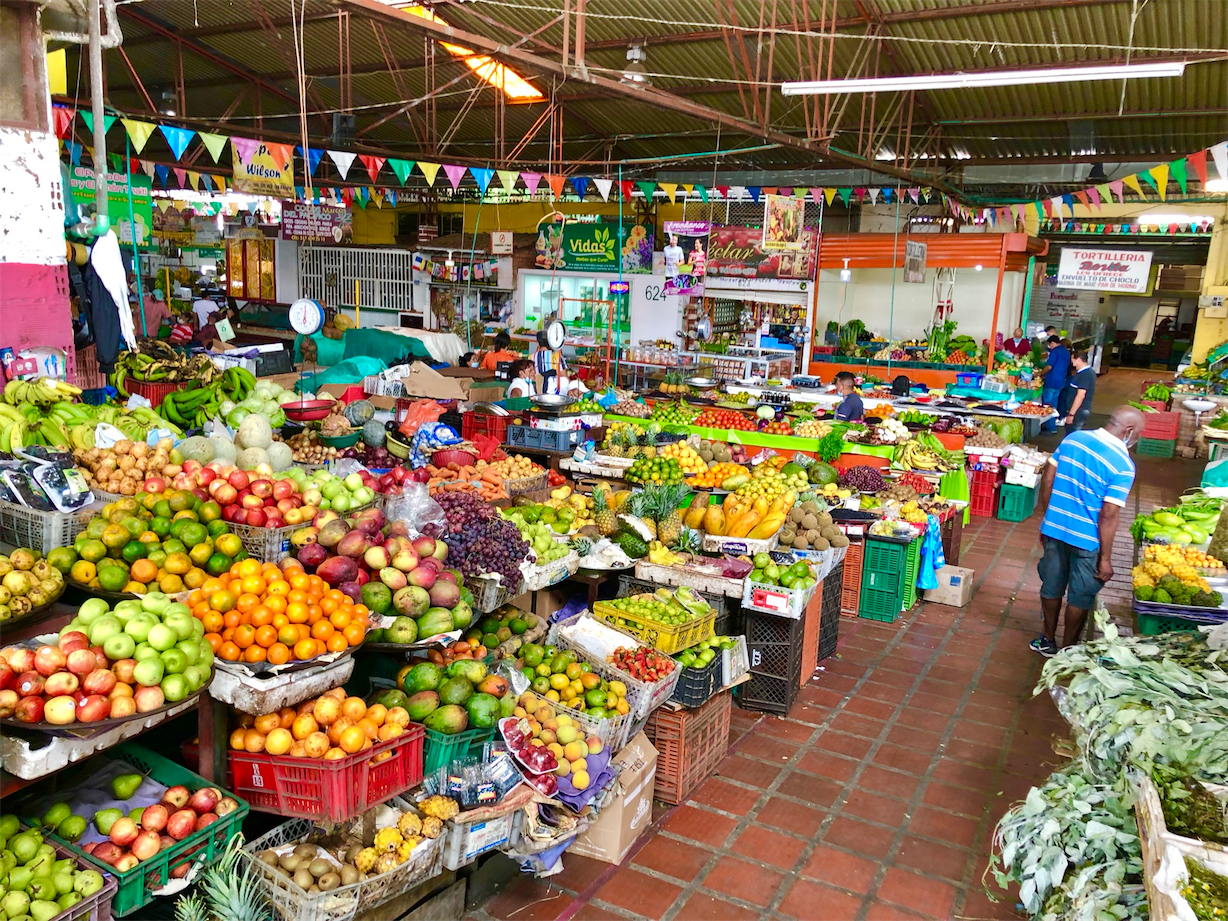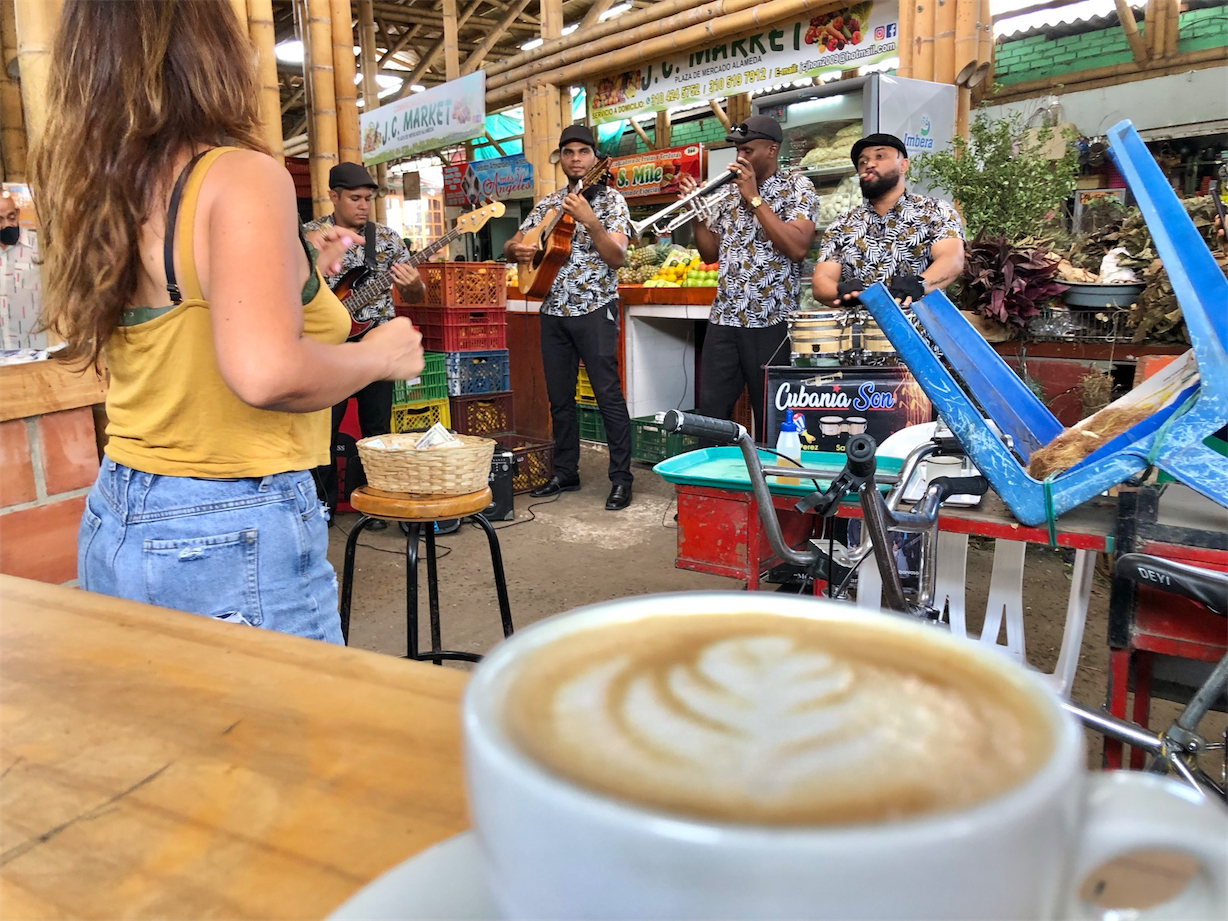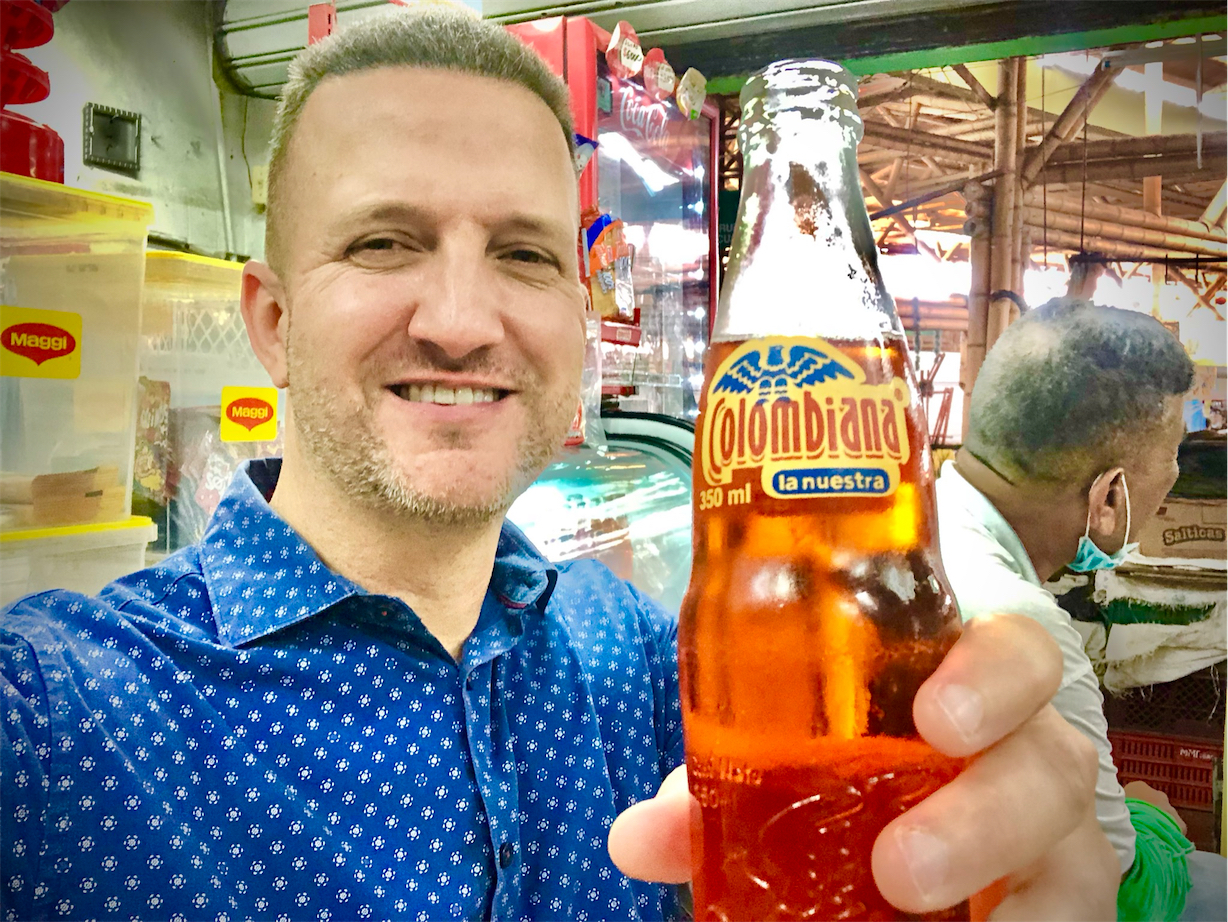 Cholado Hunter
While Mercado de Almeda was not on my agenda, trying a cholado certainly was. The cholado is the Colombian (Cali, specifically) version of the snow cone…but plus diabetes. Ice, syrup, condensed milk, ice cream, tropical fruits and even a cookie!
There must have been two dozen cholado stands, carts and tents – all lined up along Calle 9 outside of a sports complex called Canchas Panamericanos (or Unidad Deportiva Panamericana). But which cholado to pick? The blog that led me to this area recommended an actual "shop" right across the street, called Oasis. But before I even got five feet down the line, I was lured in by a sweet young lady at Cholados Los Niches. In Spanish, she made the bold statement that her cholados were the best. But more importantly, when I asked if I could film her making a cholado, she agreed with no hesitation. I was in! Enjoy the video below.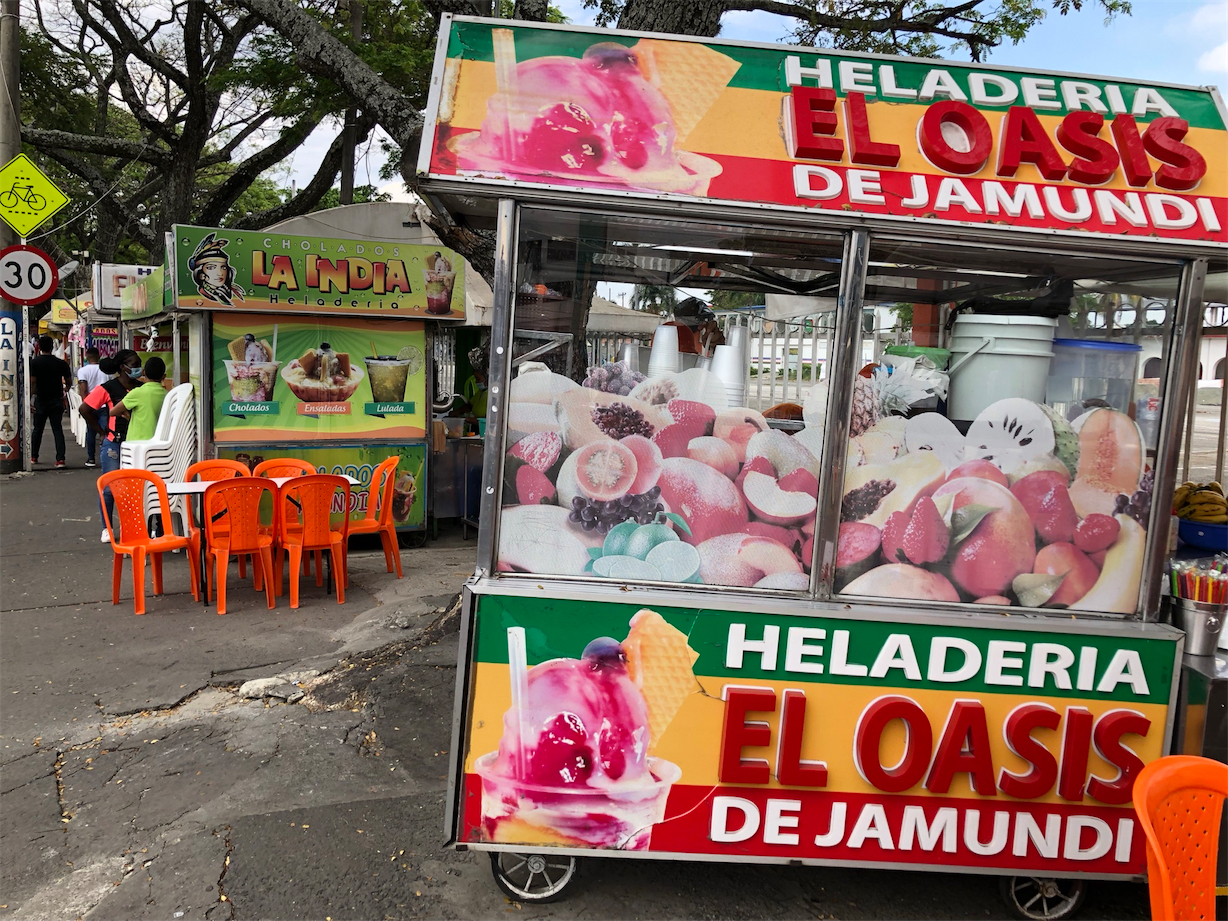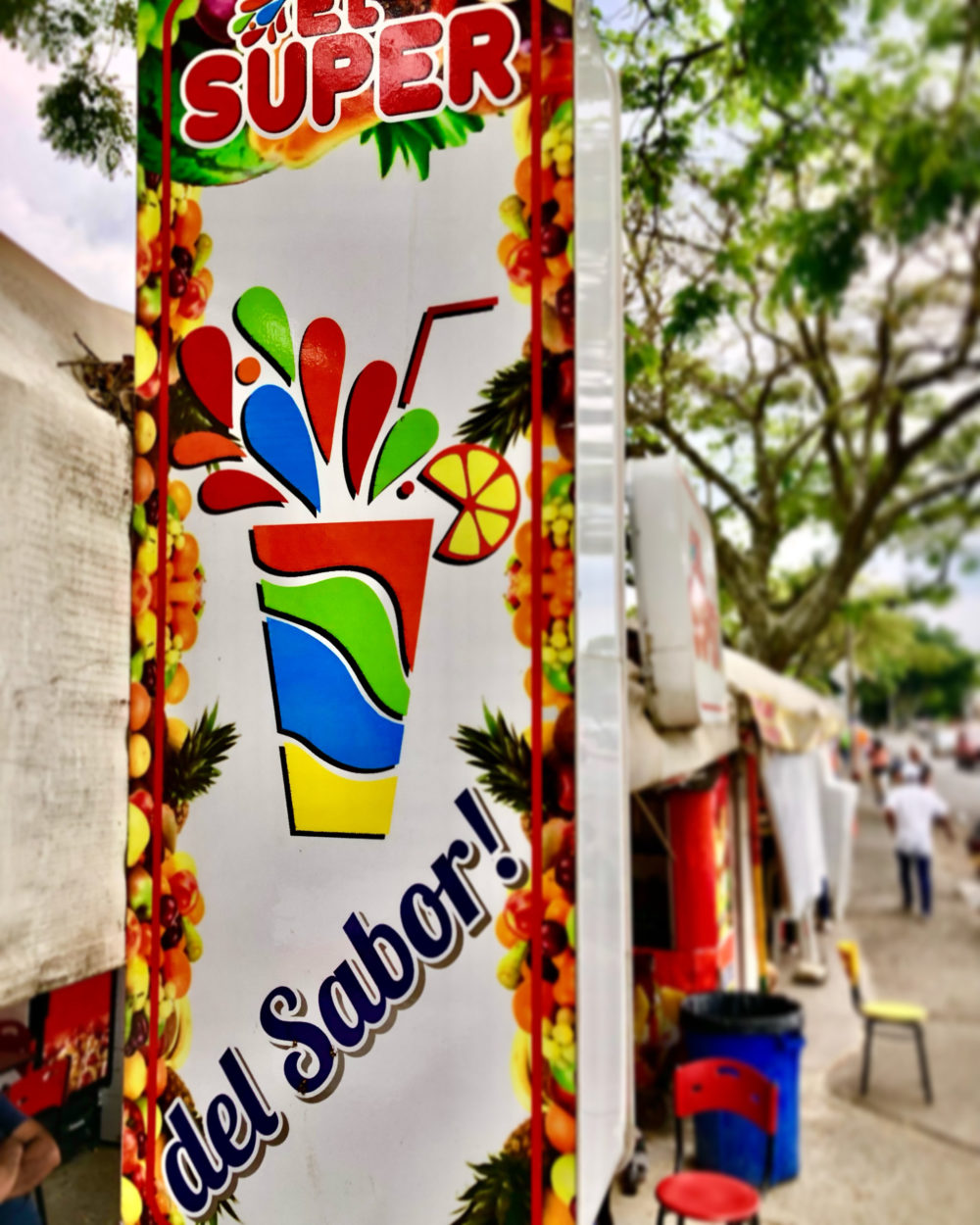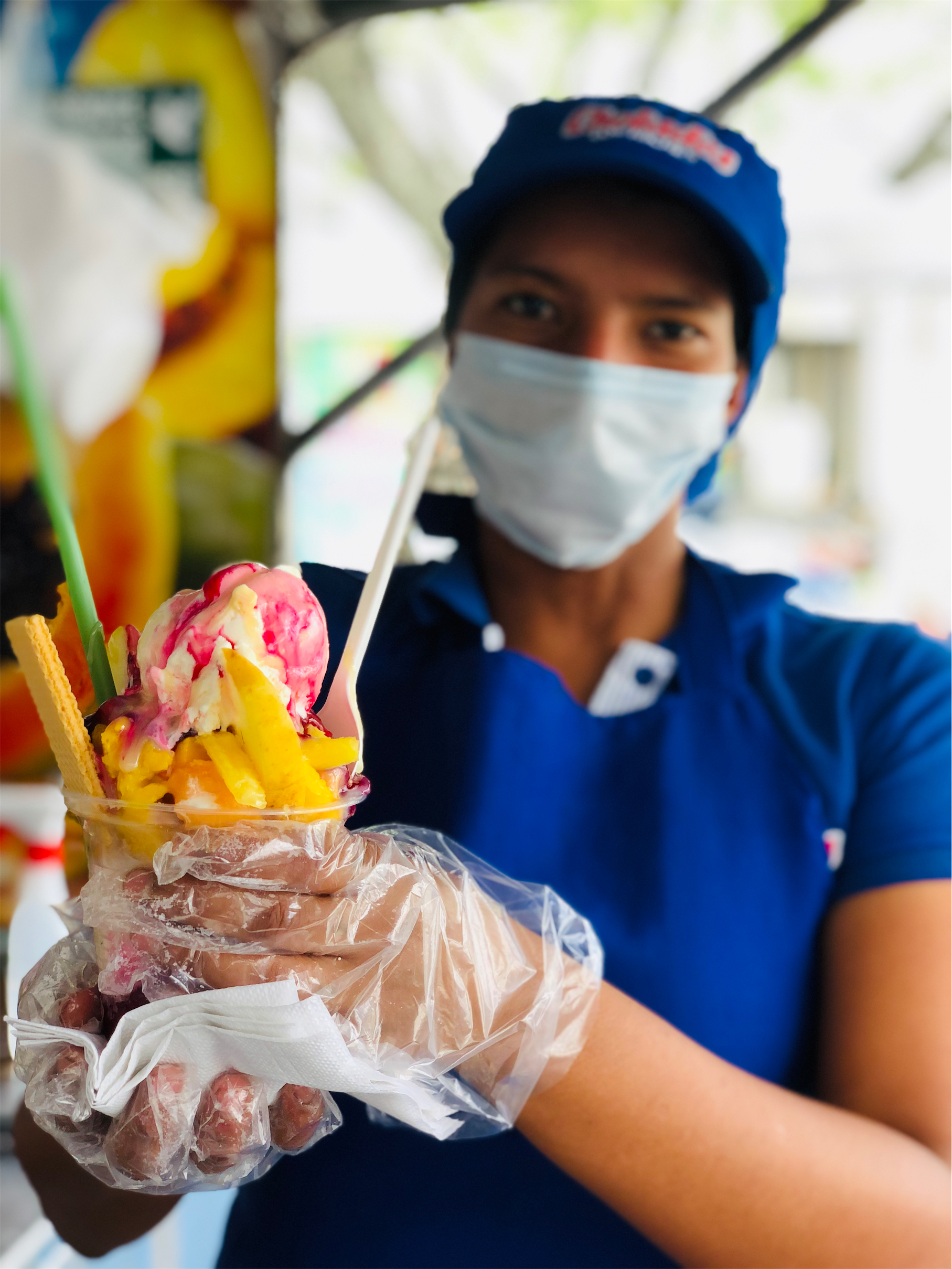 The Animals. And Jesus.
There were only a few more hours of daylight, and I'd heard great things about the zoo here. I jumped into an Uber to check out Zoológico de Cali. It did not disappoint. Flamingos, iguanas, monkeys, giant anteaters, tigers, otters, ostriches, etc…the list goes on. The animals were awesome and their surroundings were too – not many cages, but rather big, natural areas, with trees, grass, rocks, caves, etc. I could've spent the whole day there–there was a lot to see–but I was losing sun and still wanted to pay a visit to Cristo Rey.
My next Uber driver took me up and up and up into the hills. We rounded one tight corner and I swear a big truck missed our hood by a millisecond! My heart jumped out of my chest as I was certain this was a head-on collision. The big Jesus on the hill was watching over us – the vehicles missed each other by a hair. Man, this vacation could've really gone wrong quickly.
Once we got near the top, the traffic was so bad I just got out and walked the rest of the way. Apparently, this is where everyone hangs out on a Sunday afternoon.
I enjoyed the views from the top: looking down over the city and up at Jesus. The place was packed. There were dozens of food stalls selling all kinds of food and drink, along with souvenir shops, too. But the kites, oh the kites! Dozens (maybe hundreds) of folks were flying their kites, high in the sky. The whipping wind made it perfect for sustained flights. One of my Colombian friends later explained to me that August is "Wind" or "Kite" month, and that you won't see people flying them any other time of the year. The types of kites varied: Some were pro; others, sold on-location, were handmade, from sticks and (strong) cellophane.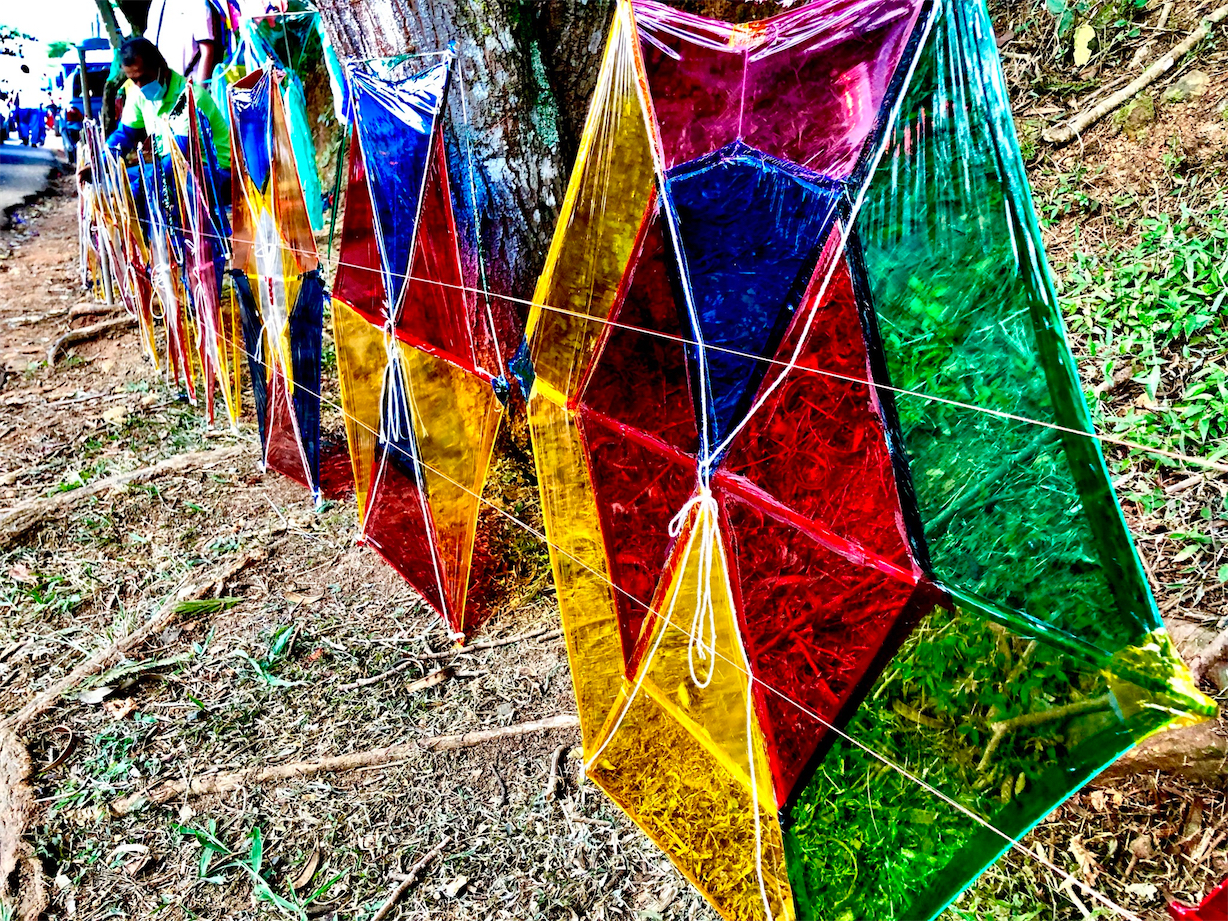 Back to the Hotel
I had the hardest time getting back to the hotel. I decided I'd walk partway down the mountain – to escape the traffic jam at the top. I figured I'd stop into one of the dozen-plus pizzerias that lined the road on the way up to Cristo Rey. I'd pop in for a bite, then order an Uber back to the hotel. I must've misjudged how far down those restaurants were: I walked and walked and walked. To make it worse, there were no sidewalks on those winding mountain roads and I found myself having to jump into the weeds every time cars would appear. Each time I rounded another sharp bend, I hoped I'd see those pizza joints, but I never saw them. The sun was setting and the last thing I wanted was to be walking down that mountain in the dark. Luckily I was able to get cell service and called an Uber to deliver me to Pizzería La Curva where I inhaled a pie and enjoyed views of the city lights below.
The problem came when I tried to get a car back to the hotel. I was still a third of the way up the mountain and there weren't many Ubers nearby. I was not upset by the fact that the driver who accepted the ride was more than 18 minutes out – but I got heated when after 12 minutes he canceled. This pattern repeated. One after another, they'd "accept" the ride and be "on the way," and then 10 or 15 minutes later, cancel the ride! This went on close to an hour, before one guy finally came through! My cell phone's battery was on life support and I was starting to panic. Uber's great until it isn't – then it sucks, and it's downright impossible to get any customer service whatsoever. Vent over.
RAMBLIN' TIP: If you go see Cristo Rey, make sure you arrange a ride back. Hire a cab to take you up, wait for you, then take you back. Do not count on Uber to get back down the hill – you may get stuck!
Over and Out
Whew! I sure crammed a lot into one day. I was up at 4AM that next morning for a 7AM flight to Panama City. I really liked Cali! I felt I got lucky and was able to do a lot in a short amount of time – including stumble on some cool stuff purely by accident, like the market and that awesome band. Thanks for coming along.
Check out hotel options in Cali HERE. I found some good deals!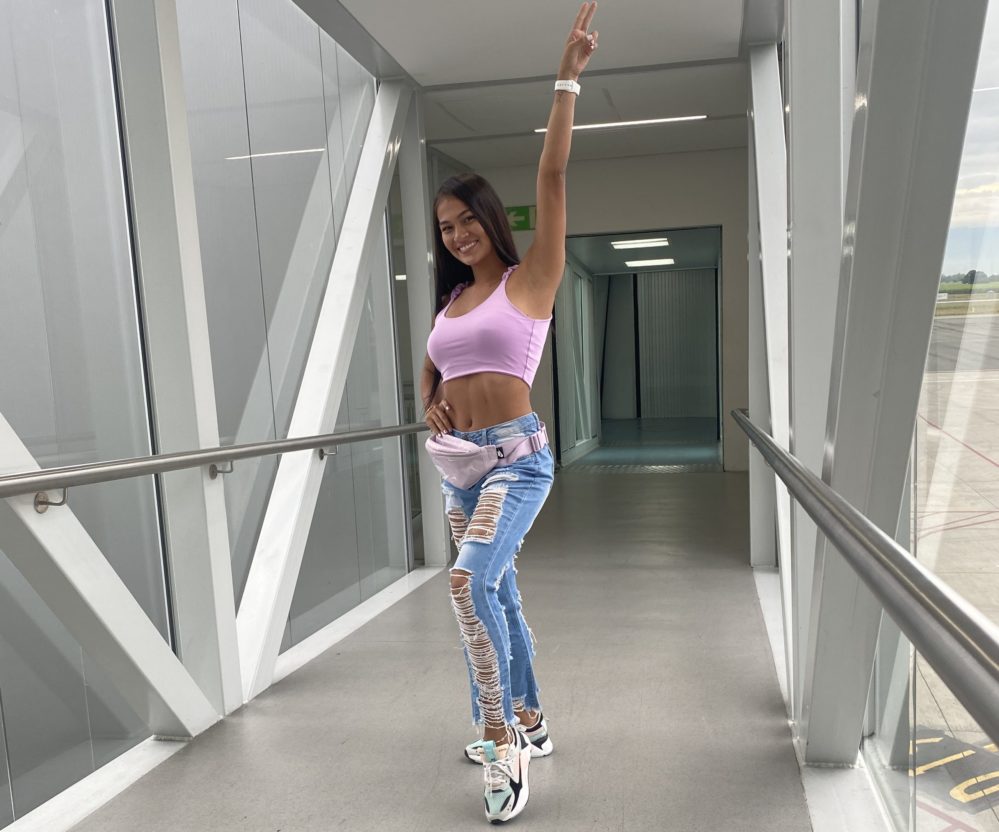 This entry was posted in
S America